Little do London tube passengers know as they travel through the maze of the underworld, what may lie just on the other side of a wall. As crowds of vintage and antique lovers leave the train at Notting Hill Gate for a day of treasure hunting at Portobello market, they're probably unaware of the most secret vintage collection of them all.
In the late 1950s, the Notting Hill tube station underwent a major overhaul when the old lifts that transported passengers to and from the train platforms were abandoned and replaced with modern escalators. The passageways to the lifts were sealed off too and everything within them was subsequently frozen in time.
In 2010, some new routine works were underway when the sealed-off passageways were re-discovered after 50 years, revealing a mini museum of well-preserved vintage posters from the post-war era.
The movie posters, as seen in the first photograph, give us a more accurate estimate of when exactly the tunnels were sealed. The Horse's Mouth and Too Many Crooks were both released in 1958. The old white tiling  hasn't held up too badly either and would date back to 1900 when the deep-level Central Line opened in the station.
Here we have two different plays being advertised, Around the World in 80 Days and one starring Rita Hayworth whose title I can't quite make out.
The Ideal Home Exhibition, founded in 1908 is still going strong, more commonly known as the 'Ideal Home Show'.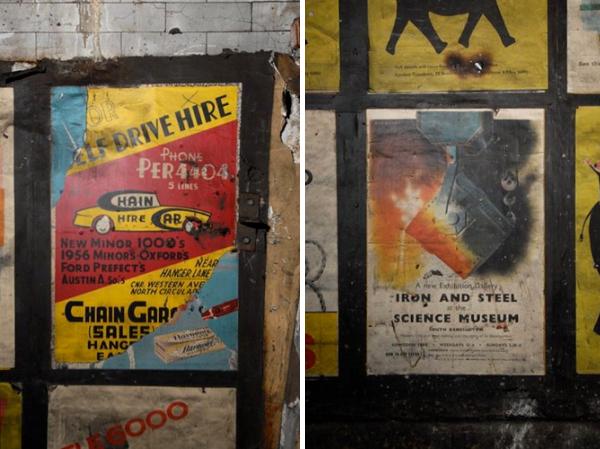 \
Toothpaste brand, Pepsodent is still sold in a few countries like India, Malaysia and Finland.
So the bad news is this place is so secret that for the moment, no one can actually access it. Once the lost passageways had been discovered and the Design & Heritage Manager of London Underground, Mikey Ashworth had photographed them for us, it was decided the posters and passageways should be re-entombed and left in isolation. "So please don't pester the station staff as please do not pester the station staff as the posters are wholly inaccessible" says Mikey, "which is why they've probably survived 50 odd years!"
Still I'd be surprised if some urban explorers out there aren't busy planning a way in.
I suppose the good news is riding the London tube might not be so dull if you know places like this still exist.
Photographs shared with the public by the London Underground. A full gallery can be viewed on Mikey Ashworth's Flickr account.