Promise you won't tell anyone…!
1. L'Etage de Pastavino – Saint Germain's best-kept secret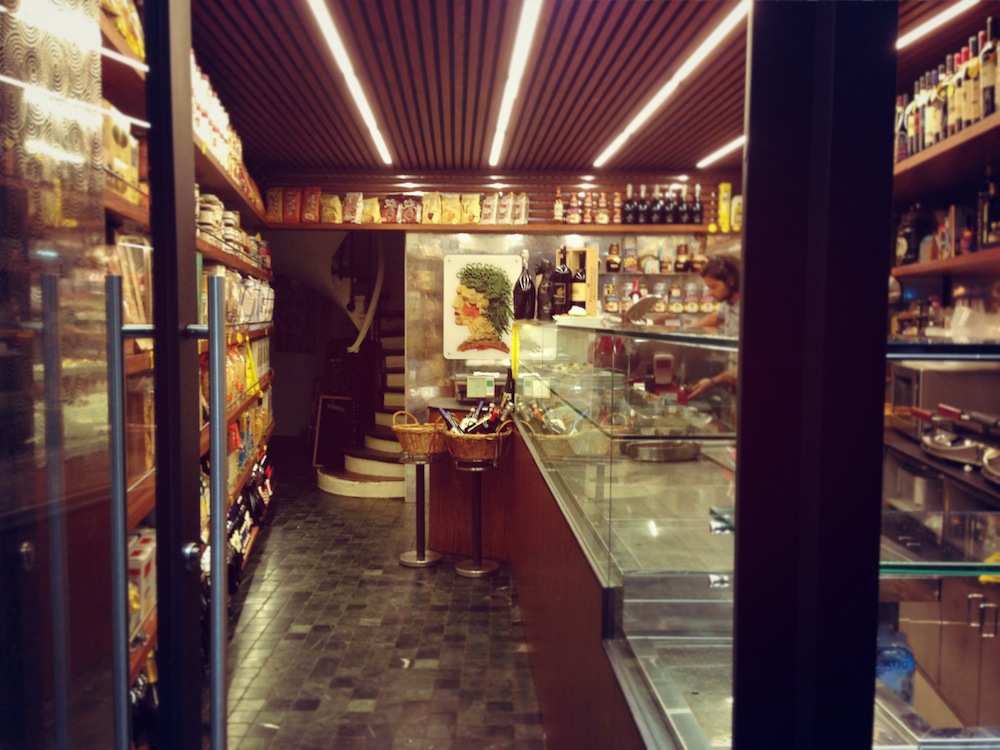 It just looks like an ordinary Italian deli (épicerie in French) on a bustling market street in Saint Germain … but it's hiding a secret in a dark corner at the back.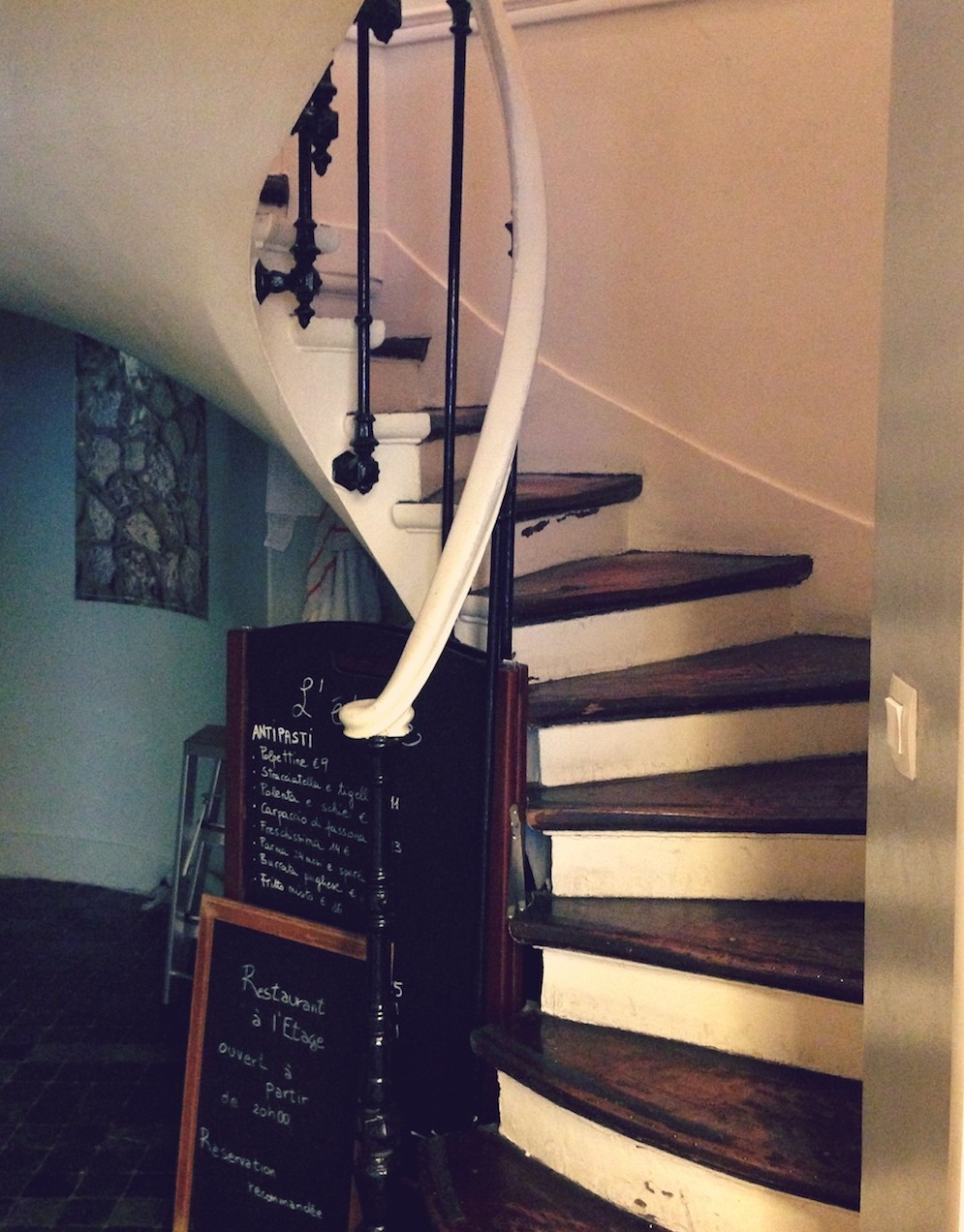 Indicated only by two blackboards nearly tucked out of sight, something well-worth discovering is at the top of this winding staircase …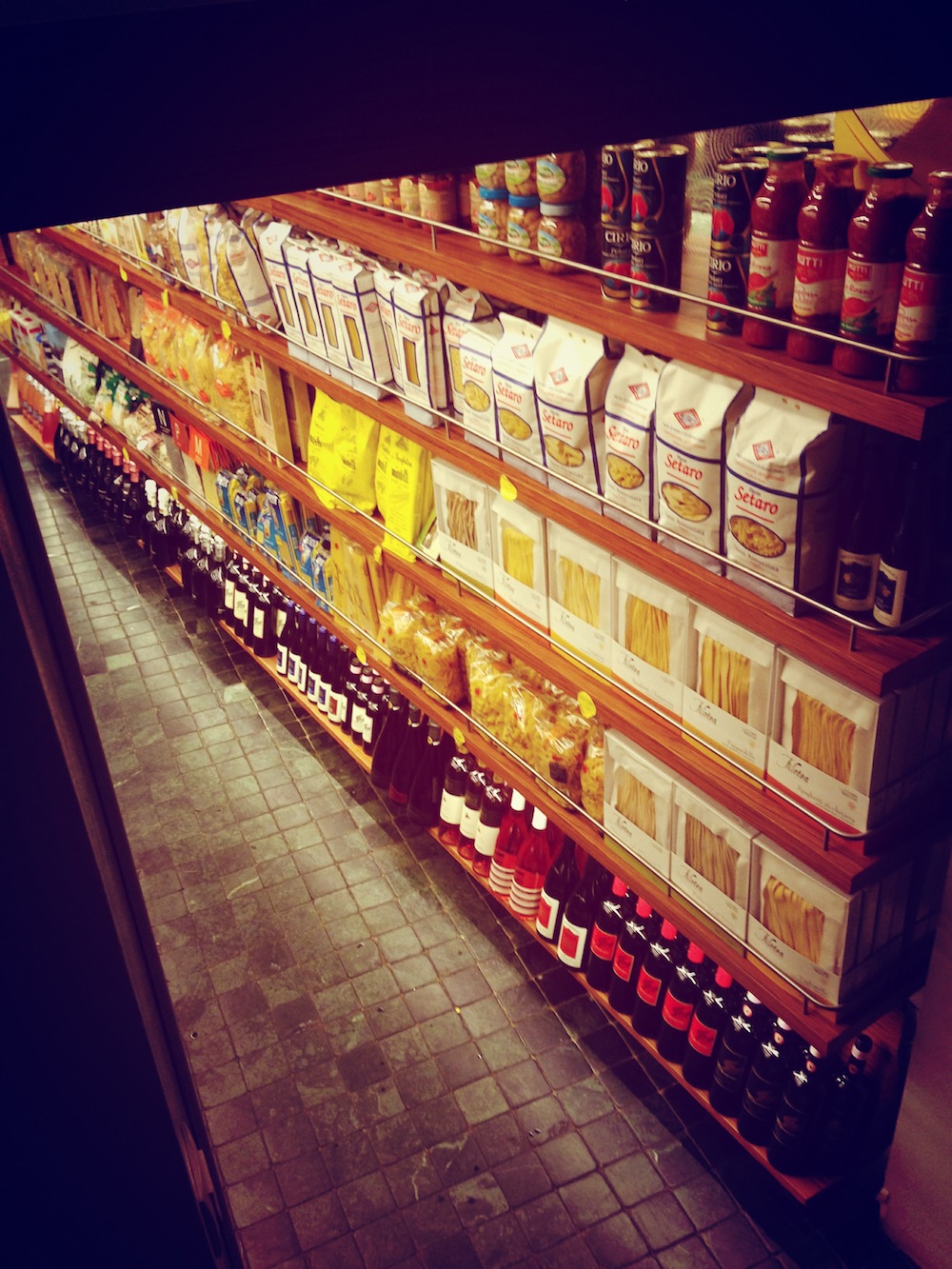 Disappear past the shelves of Italian produce and find yourself in a charming, chic and cosy dining room upstairs…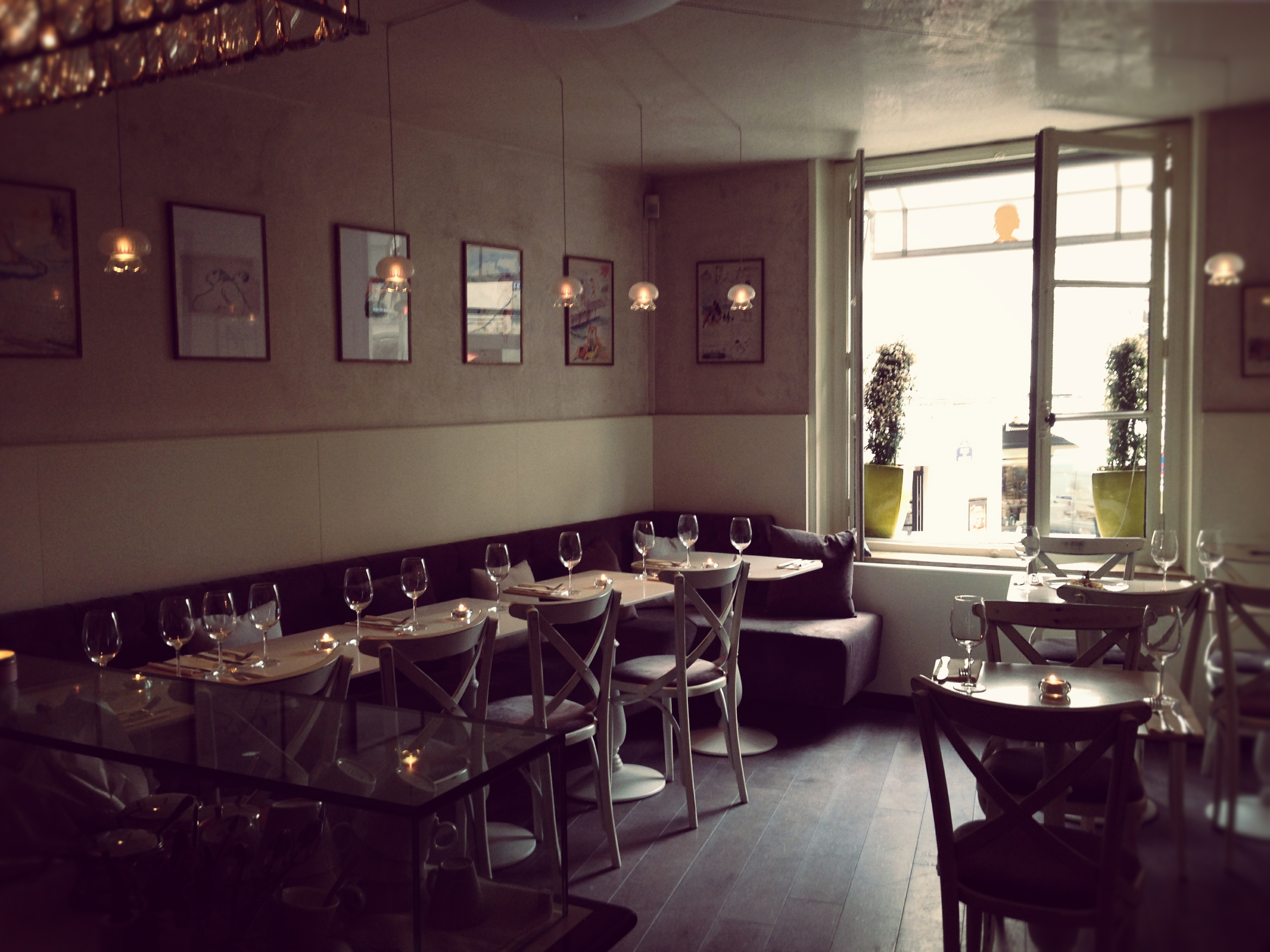 Jazz music plays softly in the background.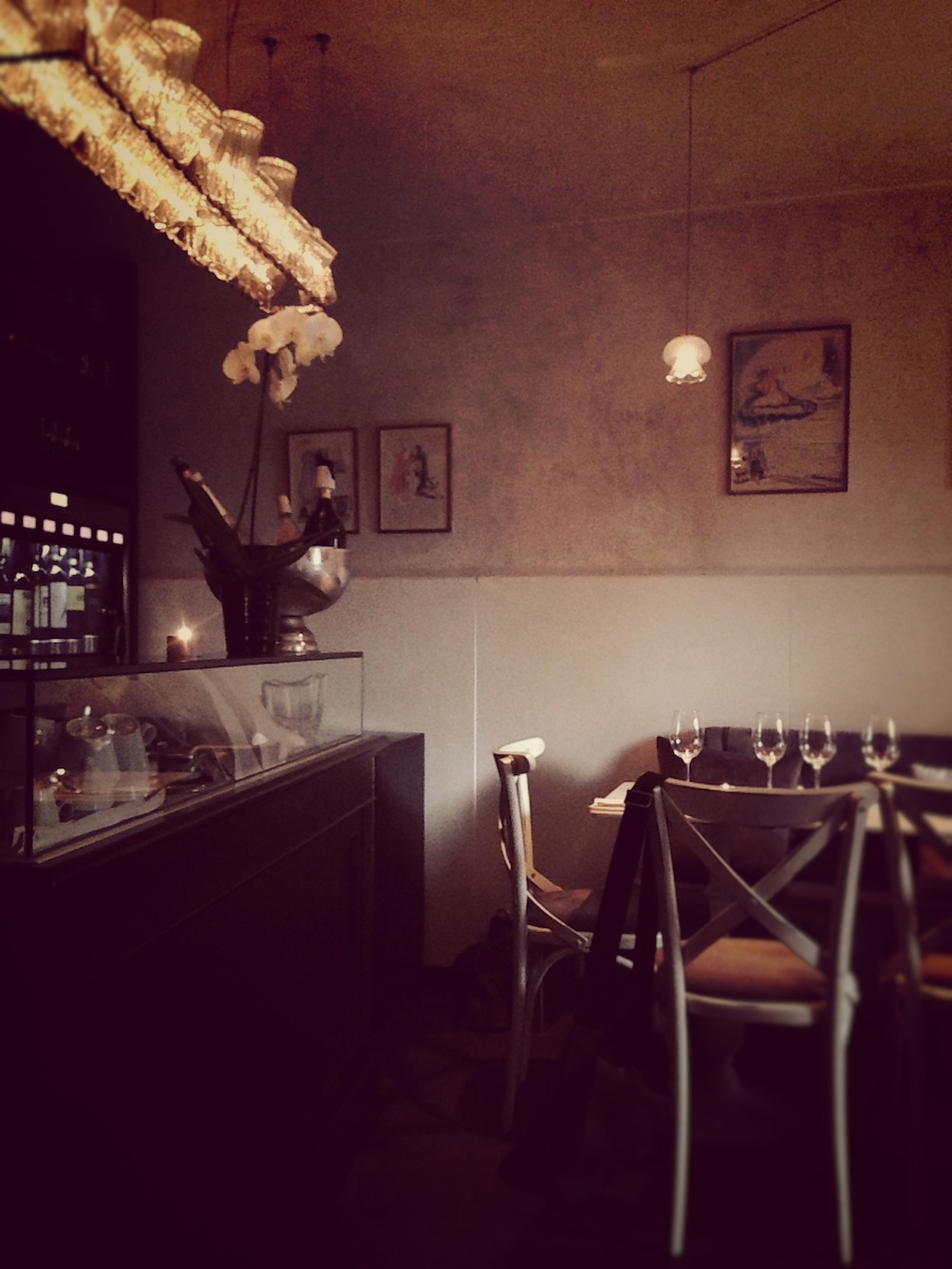 We didn't order this little plate, but it came anyway.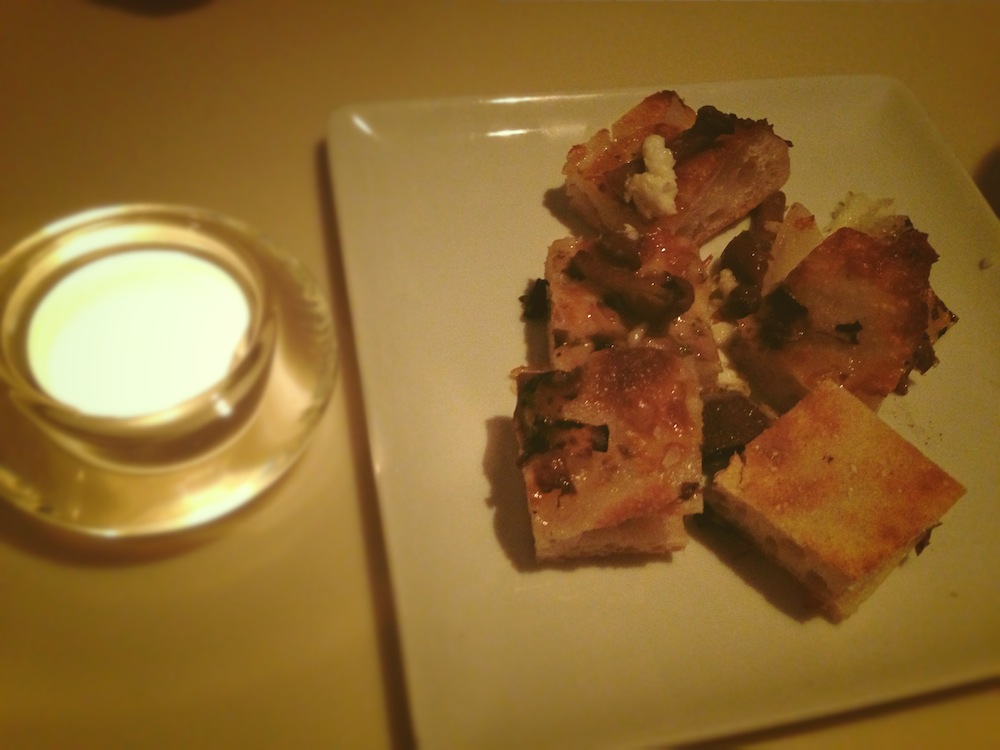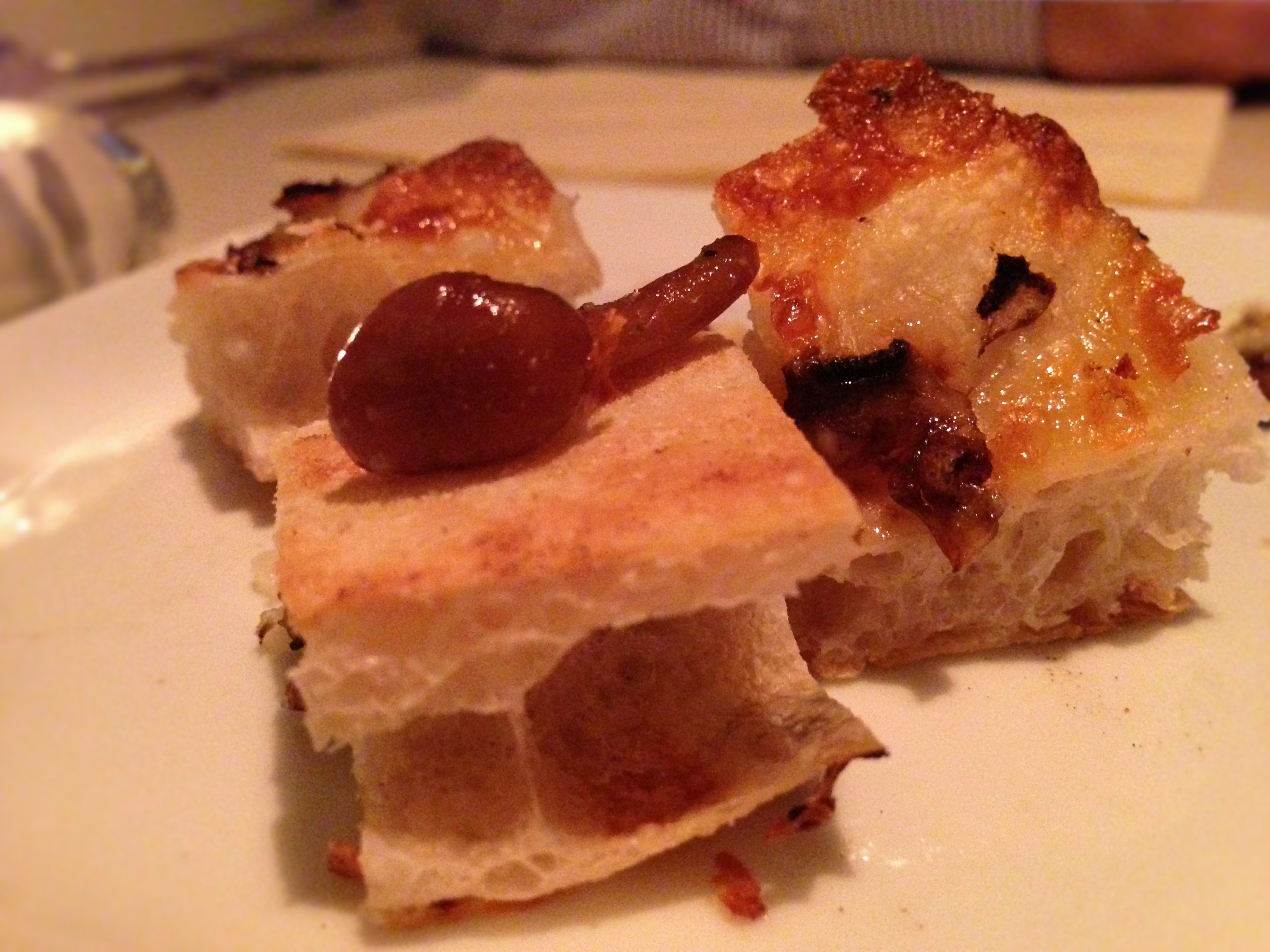 We tried the four house cheeses of the day. I didn't know ricotta could taste like that…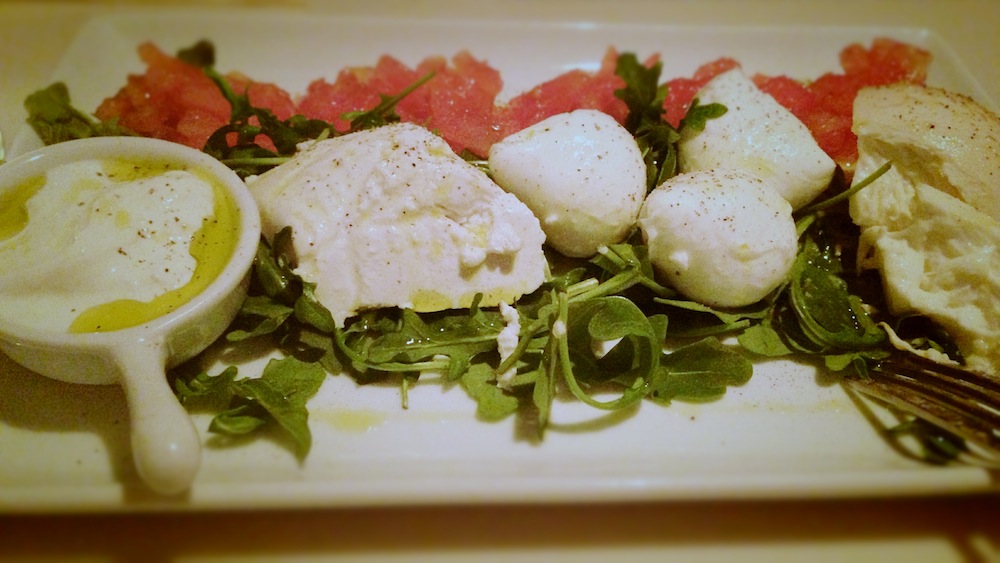 Look at that creamy heart of burrata…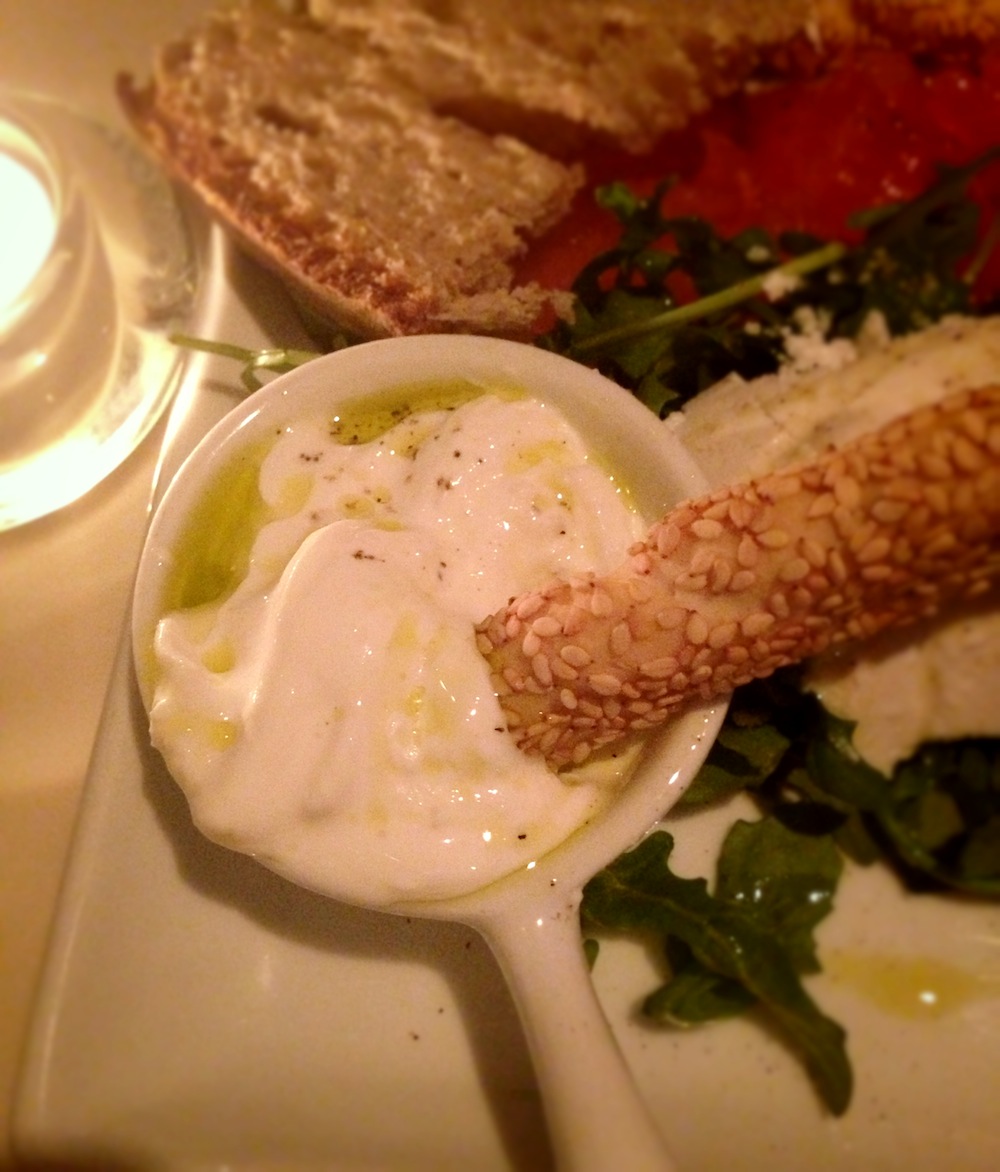 The menu is varied and written entirely in Italian (which the rather handsome waiters kindly translate and explain to you item by item). The meats and cheeses are especially good because naturally, they are fresh from the deli downstairs. I had a big ol' veal milanese on the bone that I washed down with a beautiful glass (or two) of Italian red.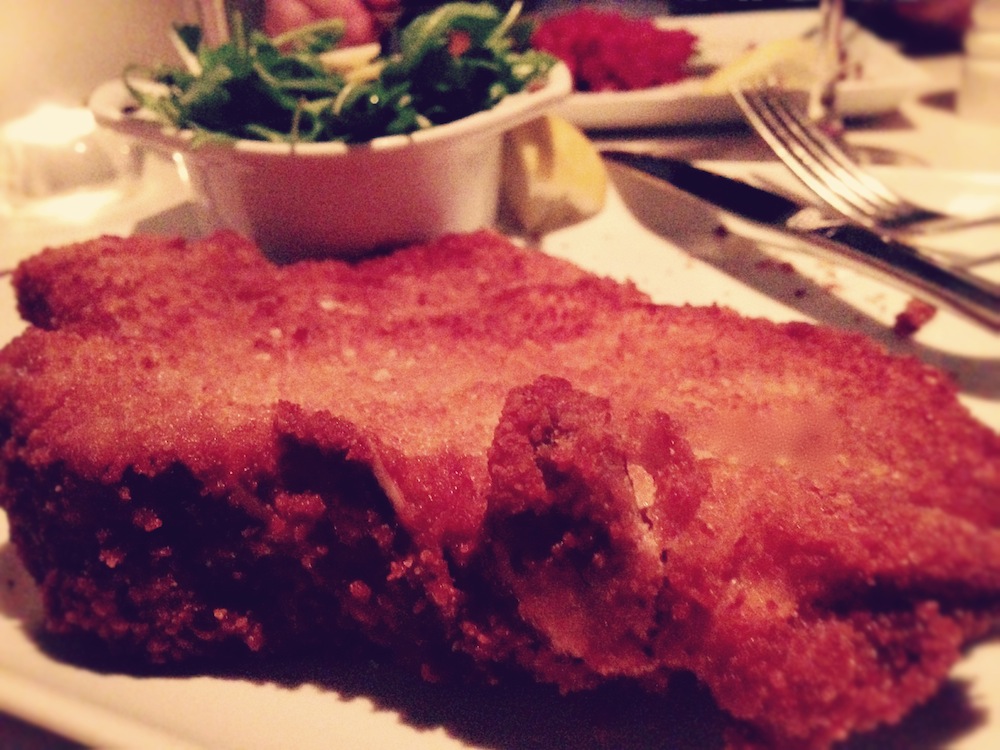 So next time you pass a deli-cum-sandwich shop, take a second look, it might not be all that it seems! I suppose it was obvious really, just look at the panini maker's face– he's definitely hiding something!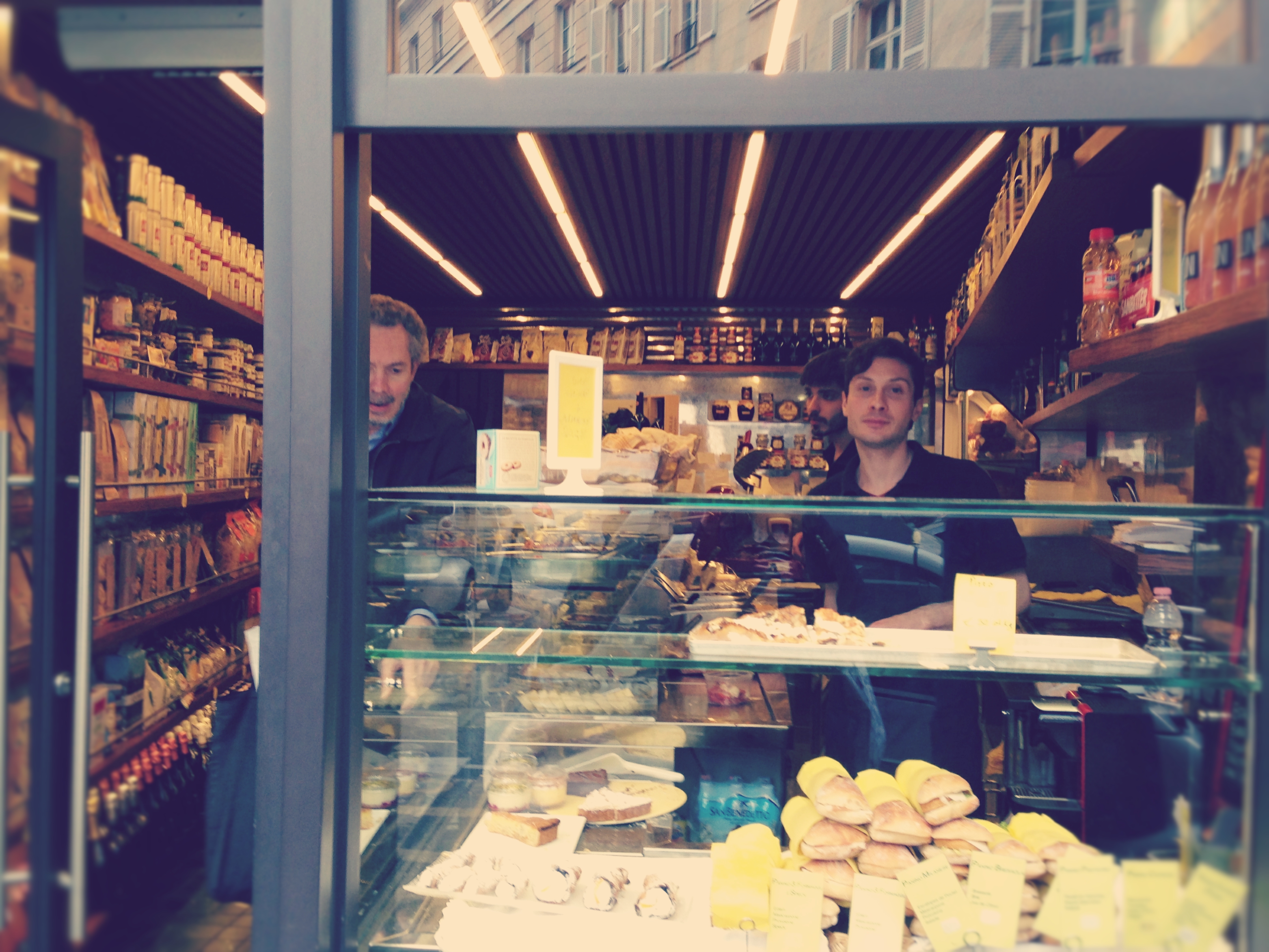 La Bottega Pastavino//L'Etage de Pastavino, 18 Rue de Buci, 6eme. (Advisable to give them a quick call to make a reservation before you go, open for lunch and dinner, 01 44 07 09 56).
2. La Maison des Frigos– Dining with artists in residence at the old ice factory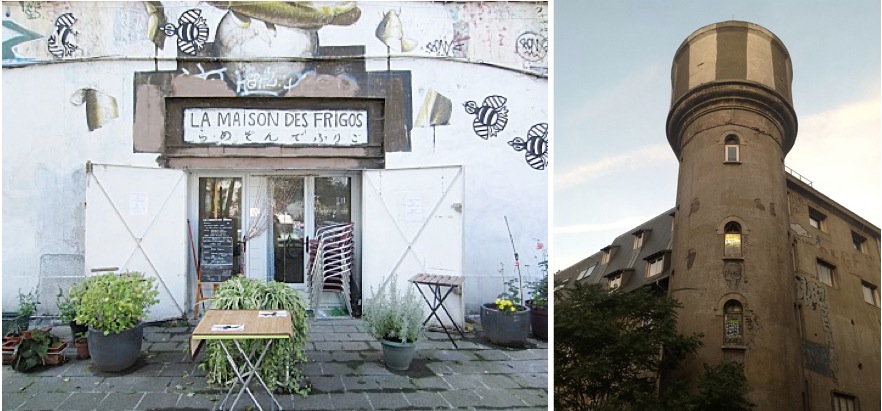 Smack in the middle of a modernized area in Paris, surrounded by contemporary glass apartment blocks and shiny new developments; defiant and fantastic is the 100 year-old abandoned ice factory, known as "Les Frigos", literally, the fridges. Hard-to-reach places are covered in impressive graffiti street art, and a large water tower soars above a leafy courtyard below. Although the factory workers might have abandoned this place years ago, 'les frigos' is now occupied by a community of artists that moved into the space during the 1980s. Since then, les frigos has flourished into an unlikely creative haven for artist ateliers. And artists have to eat right?

And so, La Maison des Frigos was born; a wonderful little restaurant tucked away in the back courtyard that is the best-kept secret of these artists in residence. From a seasonal market menu that has earned a place in the prestigious 'Le Fooding' guide, your simple and fresh dishes are prepared with love and attention to detail by the friendly Japanese owner, Mariko.
Open Mon-Fri (Saturday for dinner with a reservation only).
Read more about Les Frigos and abandoned Paris surviving through art.
La Maison des Frigos, 19 rue des Frigos (91 quai de la gare), 75013 Paris, 01 44 23 76 20 
3. Le Foyer de la Madeleine– A clandestine lunch beneath Napoleon's temple.
Most Parisians have no idea there's a restaurant hidden inside this most great and central Paris monument. While you might have the choice between La Maison de la Truffe and Caviar Kaspia on the ritzy place de la Madeleine, why not opt for lunch at a very reasonable price in a vaulted 18th century subterranean secret.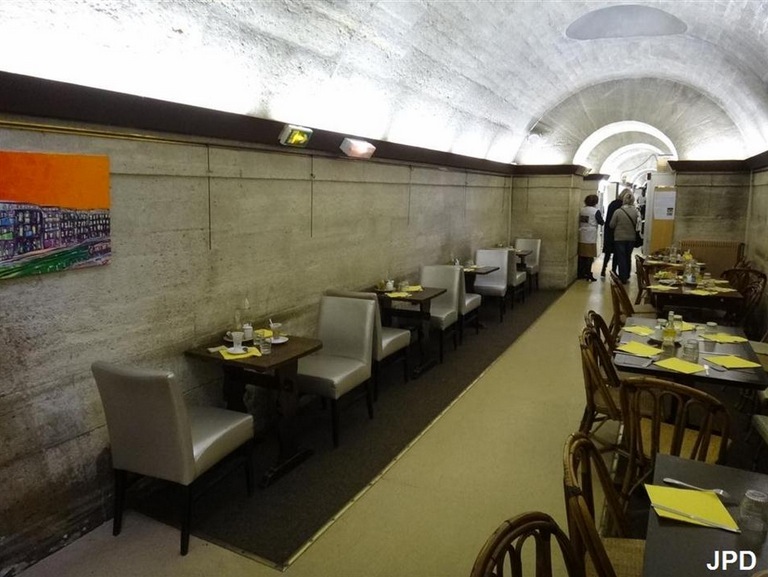 Le Foyer de la Madeleine can be accessed through a small side door of the church, behind the flower market. A favourite with very in-the-know customers working in the area, the service is provided by adorable ladies of the quartier who volunteer for the non-profit restaurant. You can get a complete meal for only 10 euros (15 if you're not a member) which includes starter, main course and dessert. The food is delicious, the atmosphere is unique and the gains are destined to help the less fortunate (hence dining in a church).
Mondays to Fridays from 11:45 am to 2:00pm. L'Eglise Sainte Madeleine, Place de la Madeleine, 75008
4. Chez Louisette– Hidden in the flea market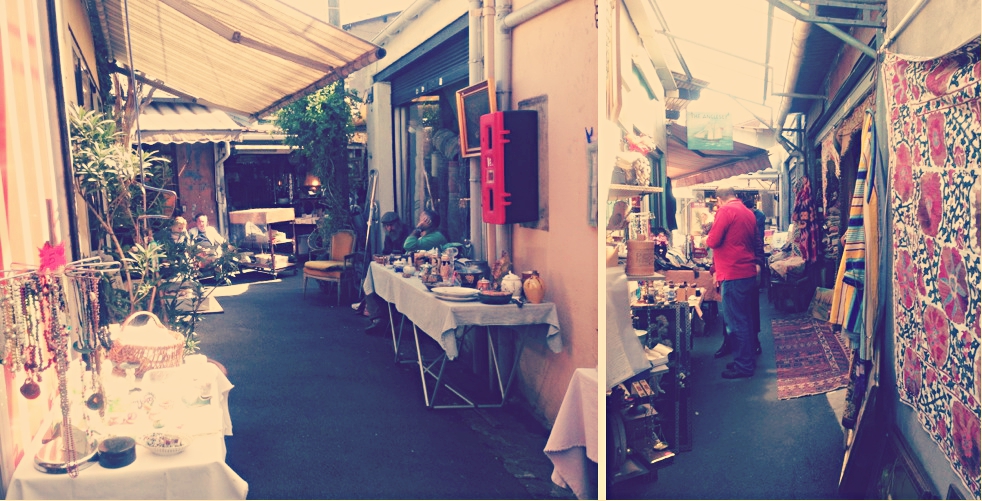 Lost in the maze of tiny alleyways in the Marché aux Puces (Paris' legendary flea market), the sound of a woman singing Edith Piaf songs filled the air. A few twists and turns towards the jovial music and there I discovered Chez Louisette, tightly nestled in between two sleepy antique dealers.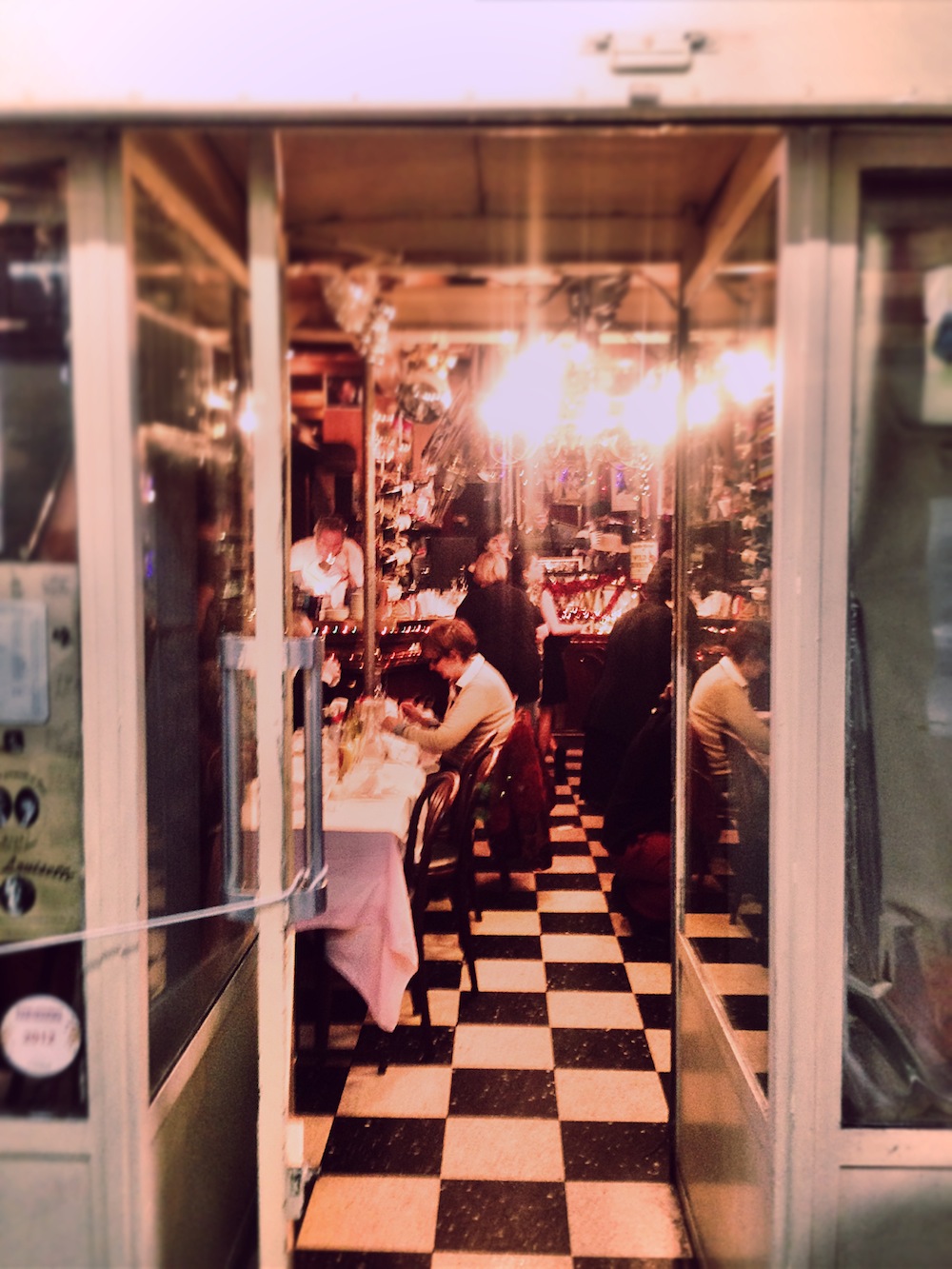 Fantastically kitschy, tacky and wacky, Chez Louisette lures you away from your quiet antique hunting and into her rowdy and gaudy 1930s lunch party. Everyone in this restaurant is like a character out of an old French movie and if you're seated at a table alongside strangers, they become strangers no more. The live entertainment is non stop– whether it's the singers themselves or the cook who might run out of the kitchen at any moment, dramatically yelling at the waitresses, like something out of a theatrical scene– which adds to the amusement ofcourse! All in the name of fun, you'll also find great wine, cheese and classic French dishes here.
Chez Louisette, 136 Avenue Michelet, 93400 Saint-Ouen, open only on Sat, Sun, Mon.
5. Café A– Keys to the courtyard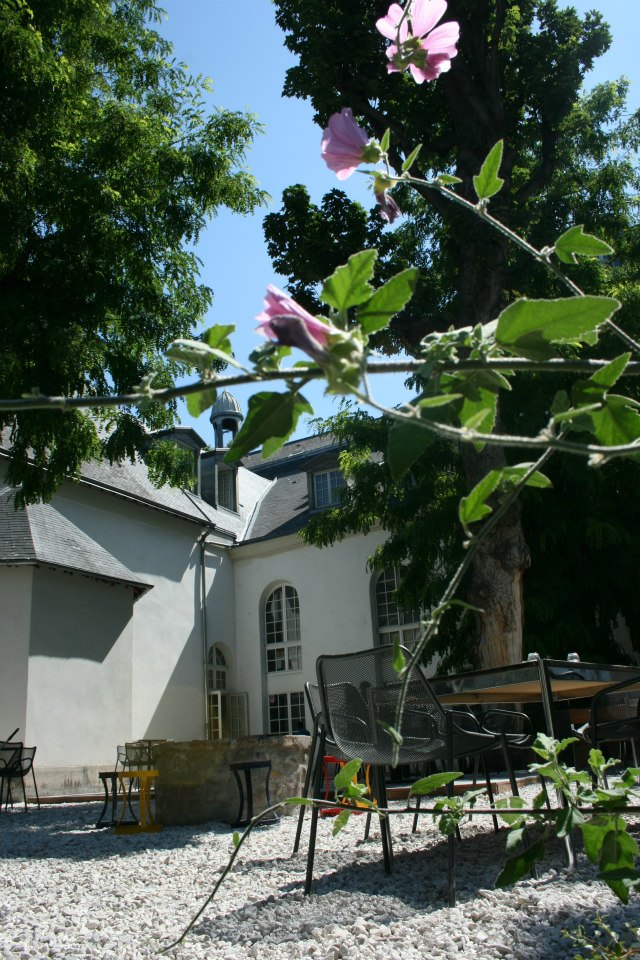 I don't know many Parisians that will give up this secret. Café A is a hidden al fresco haven in an architectural museum/gallery space in the 10th arrondissement. Enter a white stone 17th century former convent through the gates, pass through under the arcade and there you'll find an exceptional courtyard with tables and deck chairs for lounging the day away. The bio menu is simple and fresh– think bruschetta, cold cuts and a dish of the day. Open until midnight during summer, intimate concerts and movie nights are often organised on the weekend.
Café A, 148 rue du Faubourg Saint-Martin.