There's only one way we celebrate Halloween on this website, and that's by feeding our thirst for the abandoned and forgotten. But on the spookiest day of the year, there was only one explorer I could turn to– the master of abandoned night photography, Troy Paiva of Lost America.
Troy has been at it for over 20 years and get this: he only comes out to shoot his nocturnal scenes on or near a full moon. (Have we got the right guy or have we got the right guy?). The moon is his main source of light when shooting in the full darkness of night, but Troy's signature technique is to find his way inside the derelict cobweb-ridden locations and position xenon, LED and strobe lights to bring his abandoned subjects back to life (literally).
His photographs does for our imaginations what most abandoned photography doesn't. "I love that feeling of serenity, that feeling of being alone in this place that was once crawling with people, that's now empty and is just filled with the ghosts of those people; the ghosts of a culture". Troy Paiva summons the spirits of those ghosts.
[Lead image]: The British rail graveyard near Manchester. This car had been wrapped in a poly-woven tarp, which had decayed over the course of many years, it's lacy remains swaying and fluttering in the wind.
Barstow's Dixie Inn has been bypassed by freeway for more than 20 years. Now it's sandwiched between the streaming traffic and a stinky pig farm. [image link]
Shot at Paul's Junkyard. It's surfpunk band "The Mummies" tour ambulance. [image link]
"The Black Widow Snackbar", abandoned roadside in Yermo, California. When I walked though one of the interior doorways to do the light painting I felt a tugging on my pants at my ankles and up across my shoulder. I knew immediately it was a big web. Shivering with revulsion, I quickly did my yellow flash-pop and staggered outside. Shining a flashlight on my leg I found a Black Widow as big as my thumb making its way up my pantleg. A quick flick and stomp and it was over, but my skin still crawls when I think about it. [image link]
The Las Vegas Neon Museum boneyard, Las Vegas, NV. This is "Mr. O'Lucky", the gigantic fiberglass figure/sign for the old Fitzgeralds casino. A couple of years ago he was destroyed by a fire started inside his body by homeless squatters living inside. All that's left is a charred spot in the dirt and pile of melted fiberglass. [Full photostory link]
The abandoned Boundary Peak Motel at mount Montgomery, Nevada. [image link]
Morticians parlor in Bodie, CA, arguably America's best ghost town. [image link]
A 50s Panel Truck along the non-existent fence at an abandoned junkyard in Hodge, CA, a largely vacant Route 66 town near Barstow. [image link]
Orange drink stand alongside Highway 99, north of Madera, CA. Pretty sure it's gone by now. [link]
Critters love to build nests inside old gas pumps, I've seen this kind of thing many times. I think they like the warmth and safety being behind glass provides, but I'm no bird whisperer. [image link]
Founded in 1904, the town of Rhyolite, Nevada, peaked in 1907 with electric lights, water mains, telephones, newspapers, a hospital, a school, an opera house, and a stock exchange. By 1910, the mines played out and the town failed. By 1920, Rhyolite was totally abandoned, a classic American ghost town. Today, only a few shells of buildings remain, including this, the famous Cook Bank building. [link]
"The Mollusk" a 1956 Cadillac RV conversion. It's been moved around the yard several times in the last few years, so I've been able shoot this beast numerous ways as different angles open up. It was saved, moved into the new fenced compound. Undoubtedly, this will be the last time I'll get to shoot it. [image link]
An airplane boneyard at El Mirage Dry Lake in California's Mojave Desert. Aviation Warehouse services the film industry with aeronautical props as well as operating as a scrap and salvage operation. [image link]
Two customs inspection stations inside the abandoned 80s vintage international terminal at San Francisco International Airport. The entire multi story complex has been sealed since 2002 and is undergoing demolition later this year … [now demolished/ photostory here]
Aboard the S.S. Independence ghost ship. Built in 1950, the golden age of the luxury liner, the S.S. Independence was a 1,000 passenger ship specifically designed for high-speed, long distance cruising on the open sea. She was a first-class ship, transporting 2 presidents- Truman and Reagan as well as numerous film and TV stars.
By the 1970s her steam engines were already hopelessly outdated and incredibly expensive to operate, so she was refitted and demoted to low speed tours of the Hawaiian Islands where she served until 2001. She was decommissioned from her island hopping duties when American tourism ground to a halt for 6 months in the wake of 9/11. She's been laid up and left to rust at various locations in the Bay Area for the past 7 years, a ghost ship, shrouded in mystery. [image link]
[S.S. Independence continued]
She was towed from her berth in San Francisco 2/8/08 by an ocean-going tug, the beginning of her last journey. The official word is she's being towed to Singapore for refit, but most say it's the breaker beaches of India for the last (barely) seaworthy '50s American liner. [image link]
Derelict slot machine found in the back room of an abandoned truck stop on highway 6 in Nevada. [image link]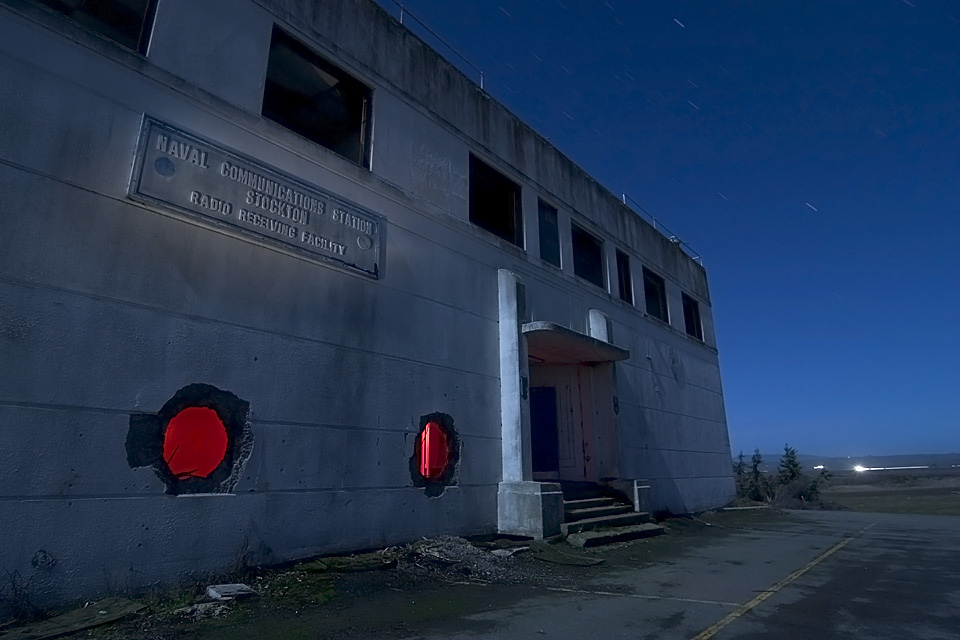 Skaggs Island was a Top Secret radio surveillance and cryptologic communications installation operated by the Navy. Opened in 1941, it was hidden in plain sight, between Sonoma and San Francisco Bay…. They were used to intercept secret radio communications from all around the globe and the cryptologists stationed there would then decode them. The base contained over 100 buildings including dozens of houses, a mess hall, recreation center, bachelor's quarters, and administrative buildings.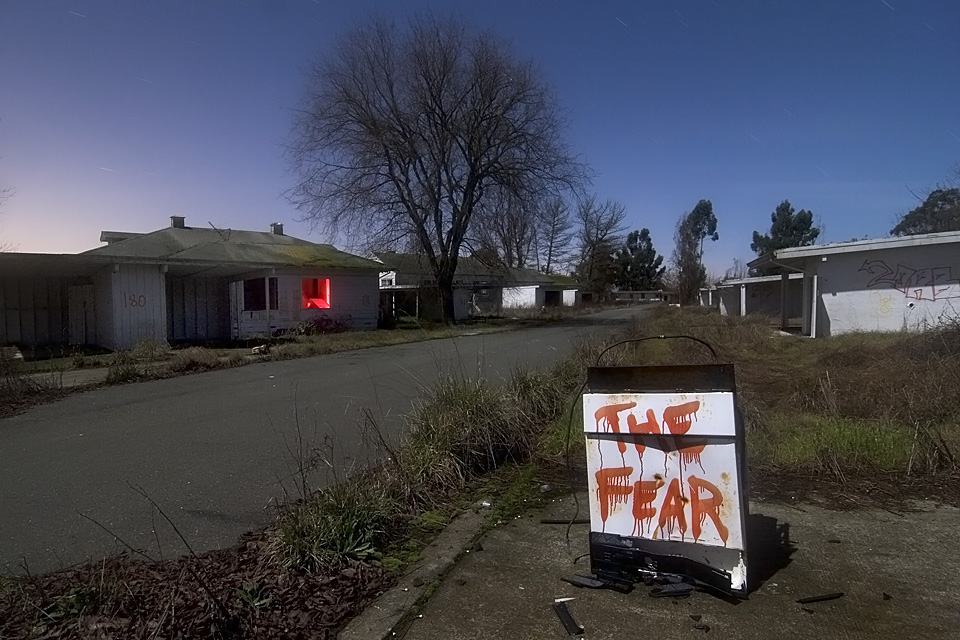 In 1993 Skaggs Island was decommissioned and simply abandoned. Over the years security was hit and miss at best… I frequently had to dodge late night vandals and copper thieves who were methodically destroying the site, building by building.
In 2011 the entire base was razed and turned back into marshlands. All the structures you see in this set are gone. [Full photoset link]
A 50's vintage bus at the legendary Pearsonville Junkyard. Once home to 4,000 vehicles, it's been 3/4 cleaned out in recent years after old man Pearson died. Still, there is a whole lot of interesting iron in here for a geek like me to shoot. No telling how long this place will be around ... [image link]
A yard adjacent to the US Military's aviation boneyard; Davis Monthan AFB in Tucson, Minden Air is a firebomber company. This yard is where they acquire decommissioned aircraft (mostly P2 Neptune's) from the AMARC yard and convert them for firebomber duty. The caretaker let me crawl into the plane through the front landing gear door to light it, note my face in the pilot's seat. It was a million degrees inside this thing and impossible to see anything. My knee squished a dead bird on the way up to the cockpit. [image link here]
Is there anything more ironic than an abandoned Real Estate office? El Mirage, CA. [image link].
One of the many houses in the abandoned company housing subdivision at Darwin, California. [image link]
Check out this video from Flickr to hear the abandoned ghost photographer talk about his work…
Troy Paiva has three award-winning e-books available, Boneyard, Lost America and Night Vision containing never-before seen photographs, as well as a technique e-book for photography enthusiasts.
Visit his website Lost in America or browse his Flickr stream for more.
:::
YOU MIGHT ALSO LIKE:
.