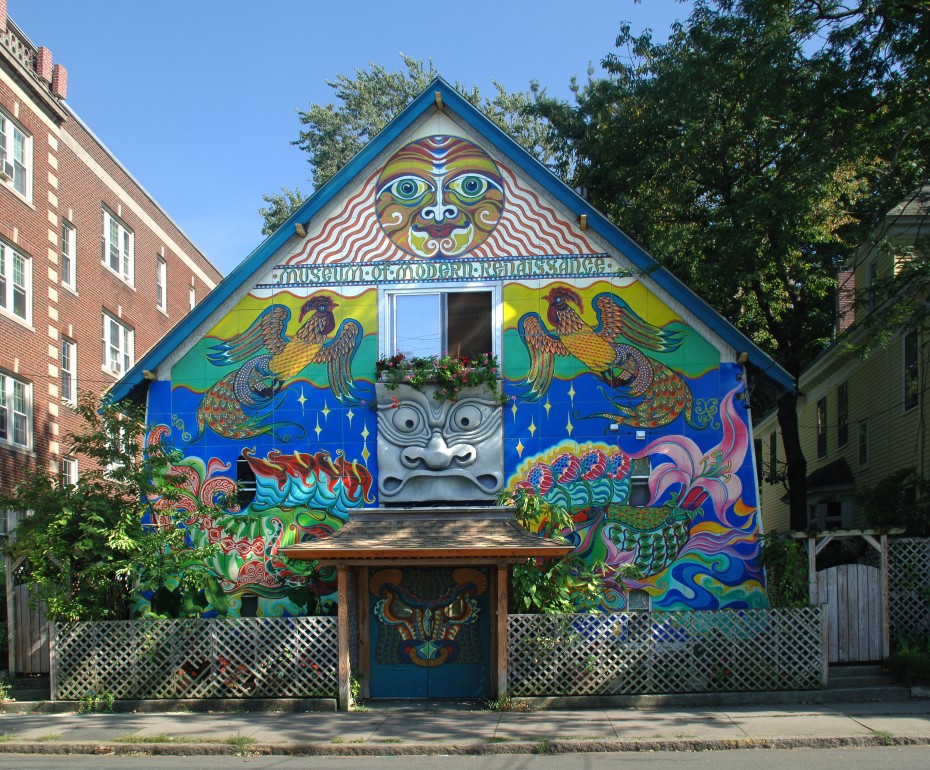 Let this story be a lesson to you to never, ever underestimate how many wild secrets are hiding under your nose. Your own small town is probably hiding more treasures than an un-excavated pyramid—probably because no one thinks to look there. Where are you right now? Who built the building? Who owned it? What's under it? A river? A burial ground? Another building?
Two years ago I visited my sleepy, innocuous New England hometown outside of Boston, Massachusetts for the first time after moving to Paris, an ancient city bursting at the iron-wrought windowsills with undiscovered bijoux. On my first night back, we were driving into the city for a dinner when something in the town of Somerville made me gasp out loud.
"That house has a DRAGON ON IT!"
Oh come on, they said. Someone is a little jetlagged, they said. But I swore by what I saw and made them take the same route on our way home.
Lo and behold what was politely hiding between the mundane suburban houses: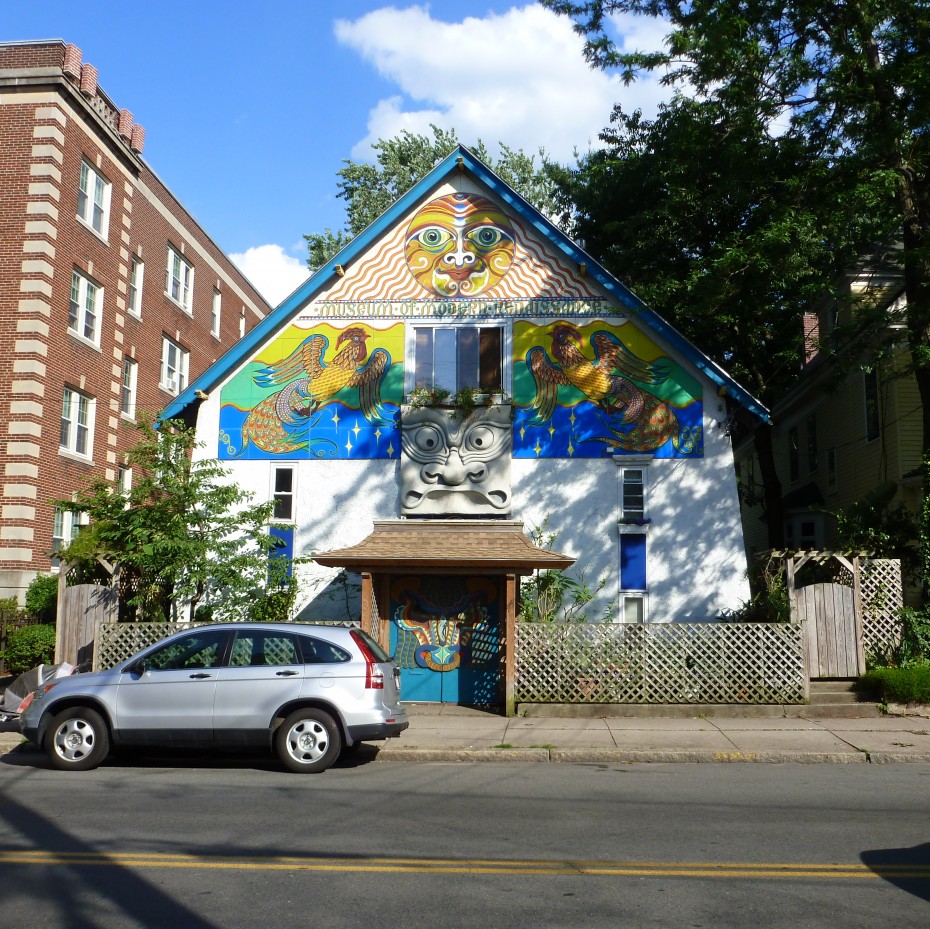 What you're looking at is the Museum of Modern Renaissance, a former Masonic Lodge …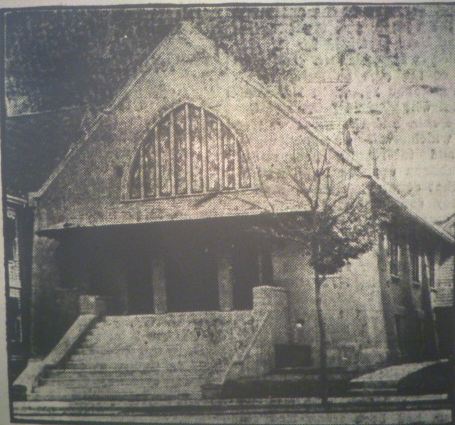 …. converted into a temple of art.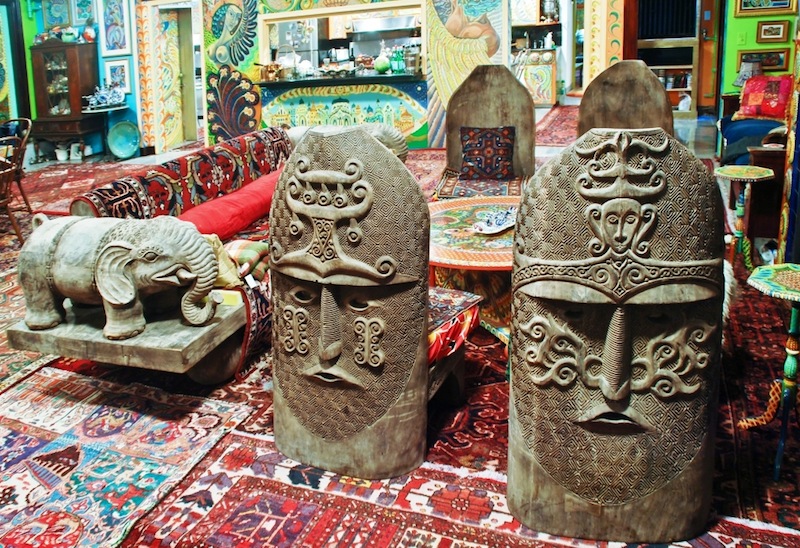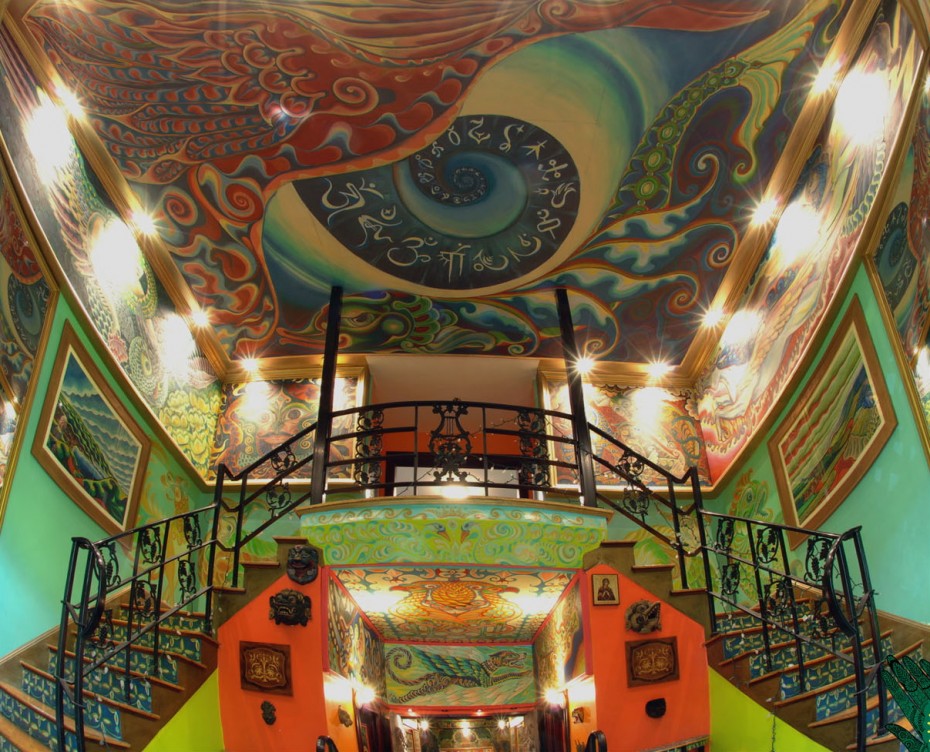 I had to go! Unfortunately, it's not the sort of place where you can just drop by. For a year and a half I obsessively checked its website and e-mailed the poor owners from the other side of the pond until, miraculously, they happened to be hosting a yoga class during one of my visits to the States. Once inside, it's hard to believe this place isn't a portal into a sideways universe. Going up the stairs, I almost felt like the murals were moving as I walked.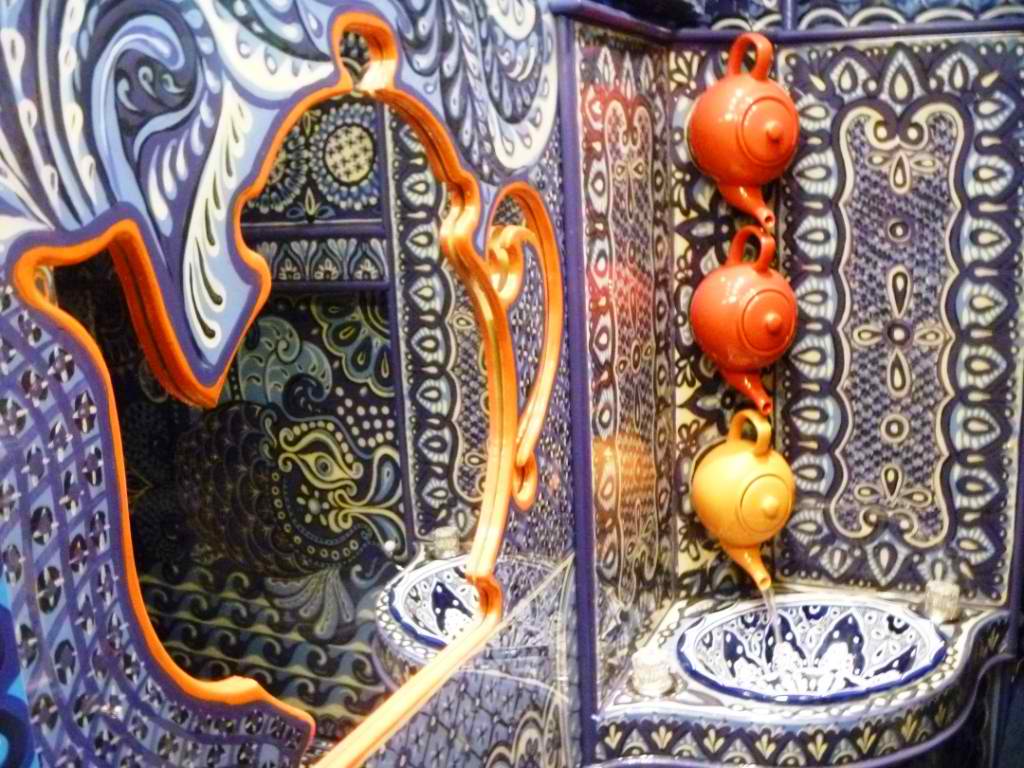 I'd been to a lot of yoga classes in my life but this was hands down the wildest backdrop to any downward dog I've ever done. And I didn't even know the history of the house yet….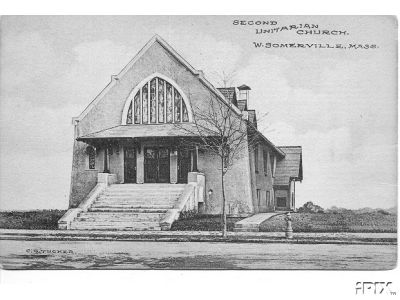 My yoga mat was on a floor that had seen over a century of urban and social transformation. Built in 1909 as the Second Unitarian Church of Somerville, Massachusetts, the building hosted lecturers such as Swami Paramananda, one of the first Indians to introduce Hindu philosophies to America, in 1916.*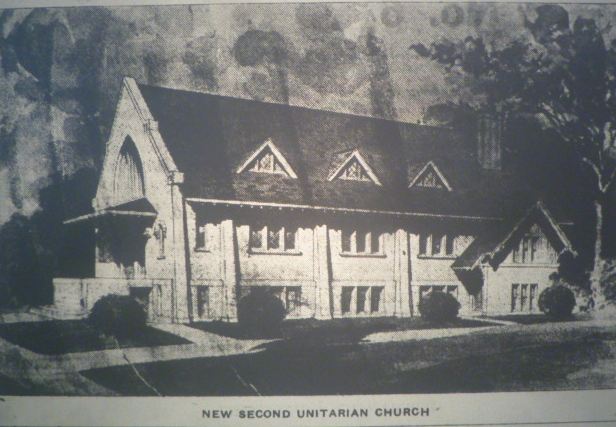 In 1932 the Independent Order of Odd Fellows, a fraternity associated with the Ancient Free & Accepted Masons, bought the church. The Freemasons themselves eventually took over in 1963 and the building became a Masonic Lodge.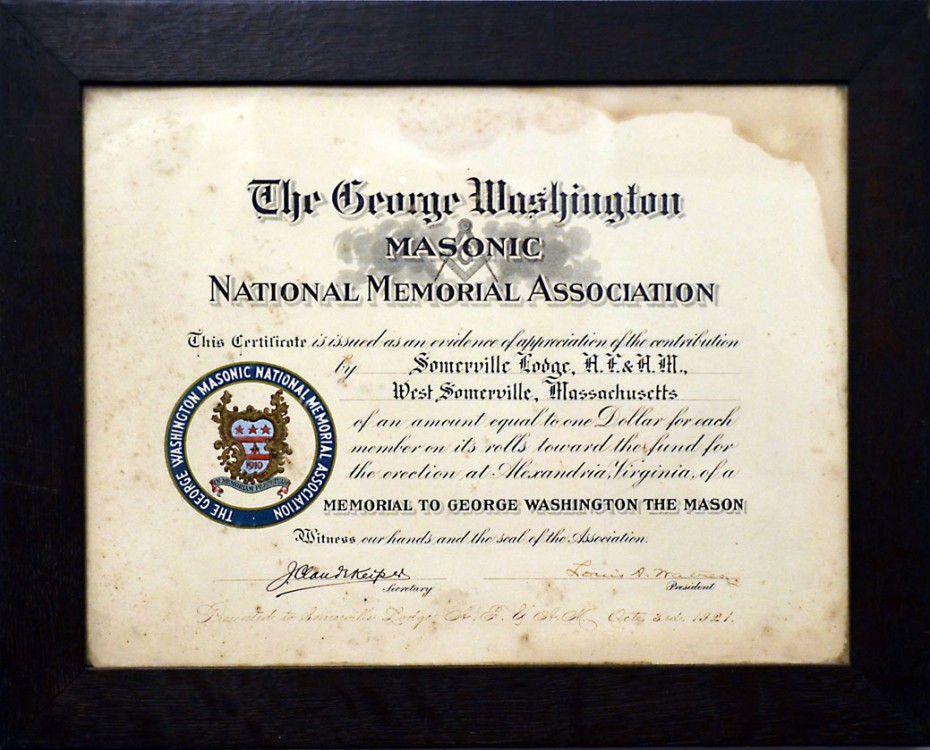 Does "Masonic Lodge" sound ominous to you? Then you've been reading too much of The Da Vinci Code. Although doing more research on the group doesn't make them any less mysterious. For example, no one really knows where they came from. Some say their origins lie in the creation of the Egyptian pyramids, others believe they are connected to the Knights Templar.
In any case, "modern Freemasonry" started when the first Grand Lodge was built in London in 1717.  Not long after, European governments became suspicious of the secret brotherhood and started banning, excommunicating and even murdering Freemasons. Lucky for the brotherhood, the early 1700s was prime American colonization time and they exported the Masonic order to the other end of the Atlantic. Since then, famous Americans from George Washington to Henry Ford have been sworn into this secretive society. Check out how many members of the Somerville lodge served in the US military: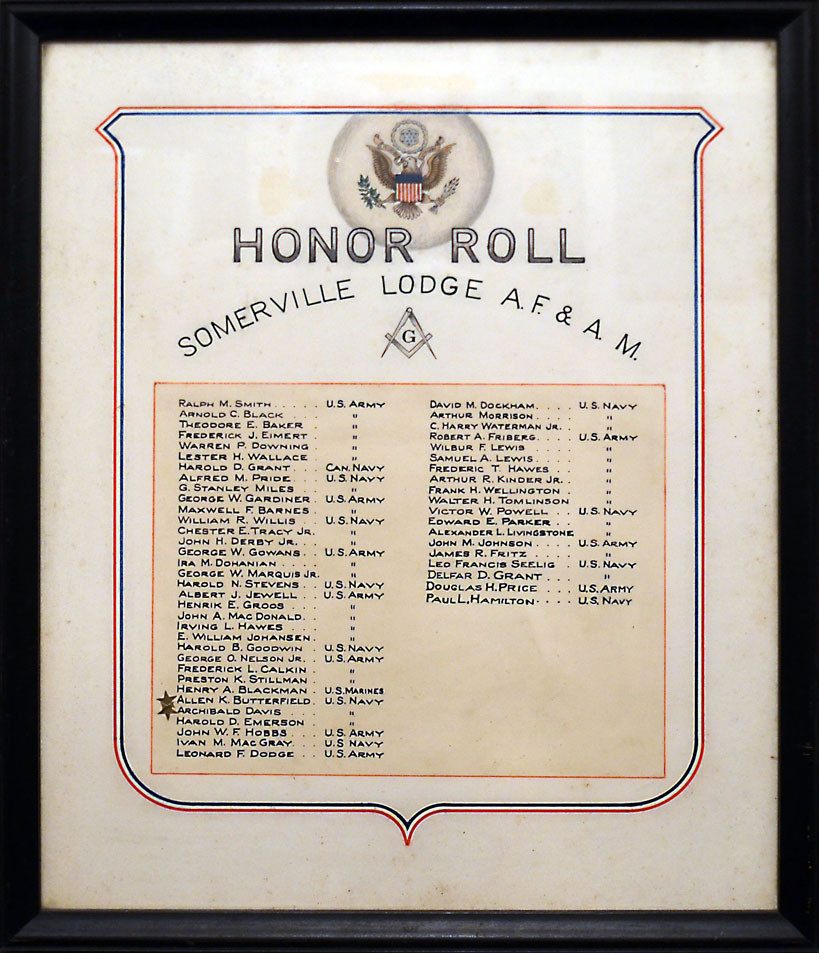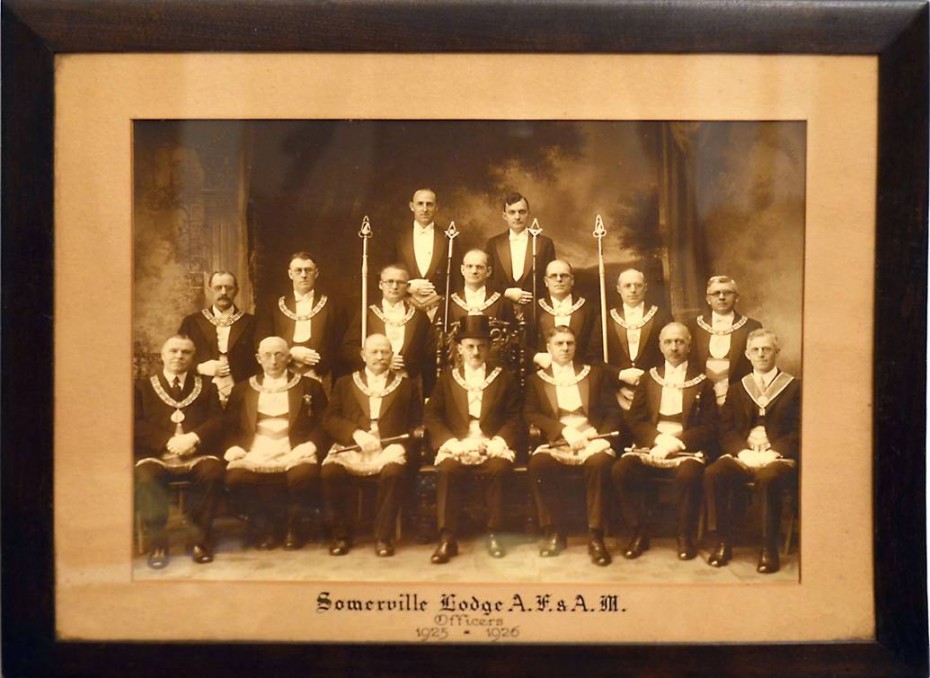 The Masonic Lodge got its psychedelic update one night in 2002, when Nicholas Shaplyko and Ekaterina Sorokina received a phone call from their friend, a broker:
[Our friend] called us at midnight. It was very mystical, other brokers were swarming around and there was kind of an uneasy feeling. We had never been in a Masonic temple before and there was a lot of strange furniture, hammers— all the symbols of Masons.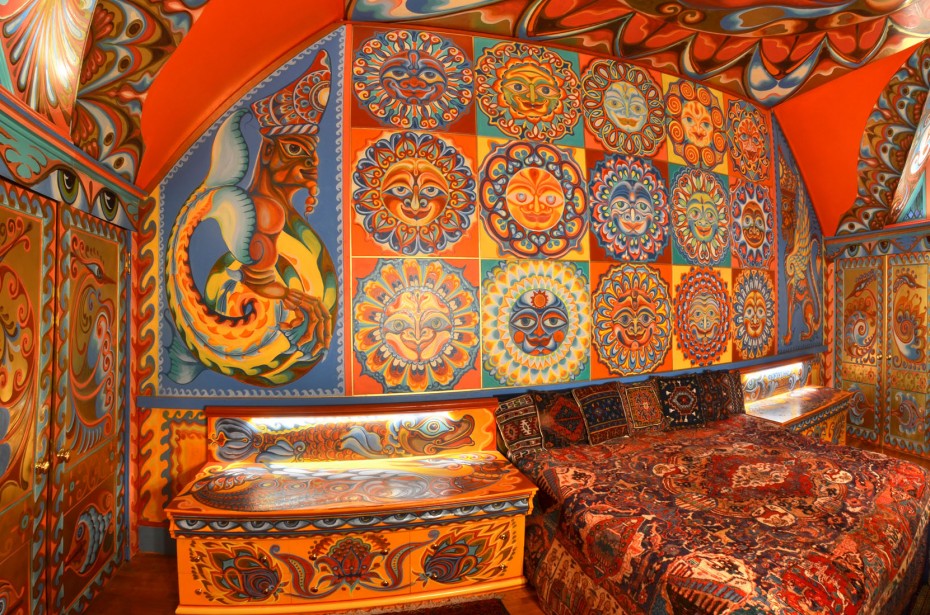 The two Russian artists had always dreamed of creating their own museum. Ekaterina's grandfather owned a museum next to Red Square, and although she holds a PhD in economics and building construction, she has been drawing and designing costumes since she was a child. Nicholas studied in a time before computers, when things were done "the hard way" and an architect needed to be able to "make everything from a doorknob to a general plan." Trained in sculpture, painting, drawing, drafting, world history, art history and the history of architecture, among many other things, he and Ekaterina use every practical skill imaginable in the continuous process that is the Museum of Modern Renaissance. The result is unlike any other museum on earth.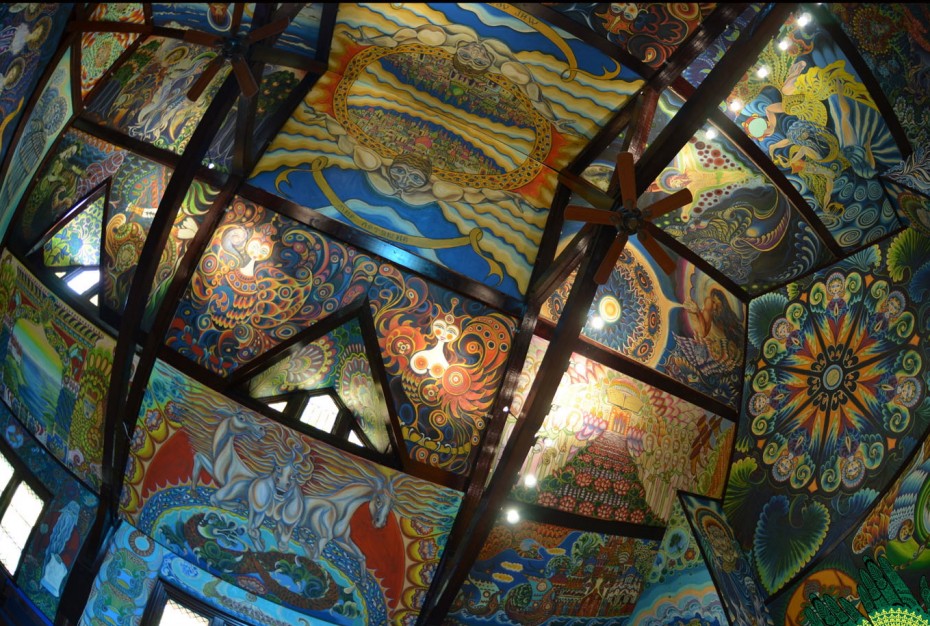 If you've never heard of the Modern Renaissance movement, it's because there isn't one. Nicholas Shaplyko and Ekaterina Sorokina aren't looking to crusade for a new form of art. Modern Renaissance, as they have dubbed it, is a response to today's art world, which, according to them, is "full of many violent things, nasty things with blood, which have become very popular." So they decided to stir it up.
We decided to do something different, like during the Italian Renaissance. It was like a song of beauty about the human body, the human soul, human creativity and human ability. It was like a resurrection of something that was before but then forgotten. 
Relics of the Freemasons scattered around the house were a reality-check that reminded me of the house's place in space and time.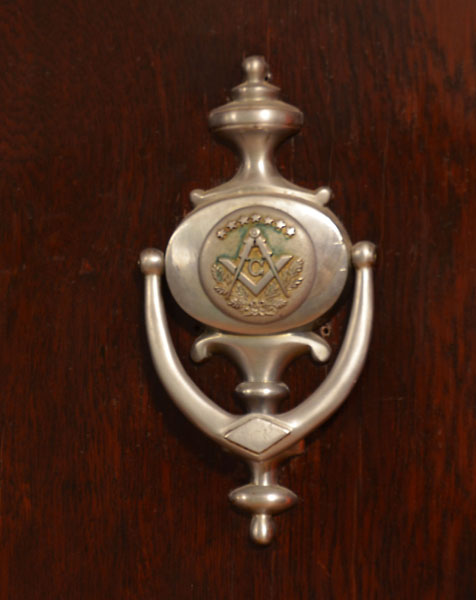 "Right on the door remains a symbol. The thrones still remain and we actually use all this masonic furniture because its good quality. We just lent it to our interior."
Here come the before & afters …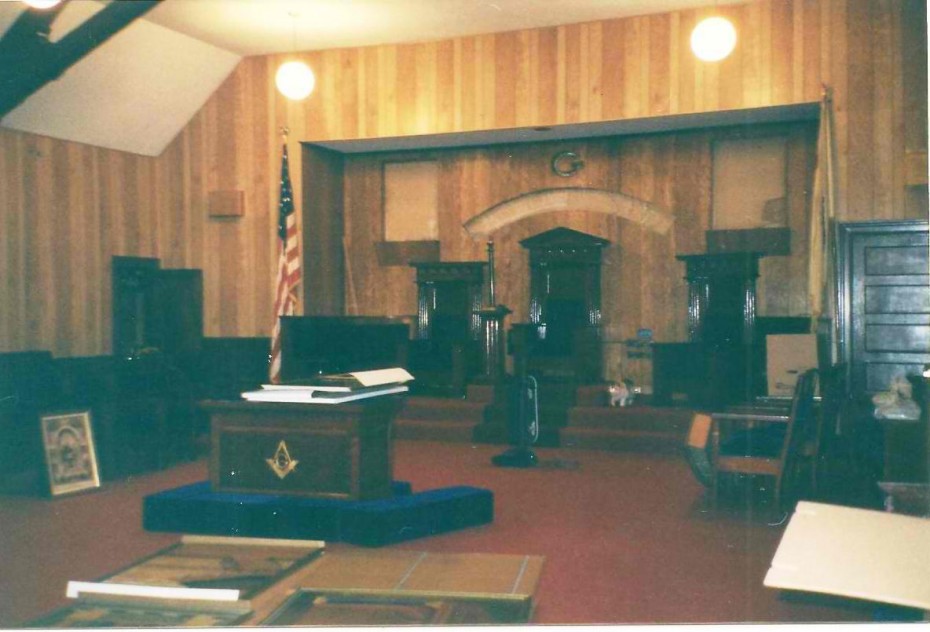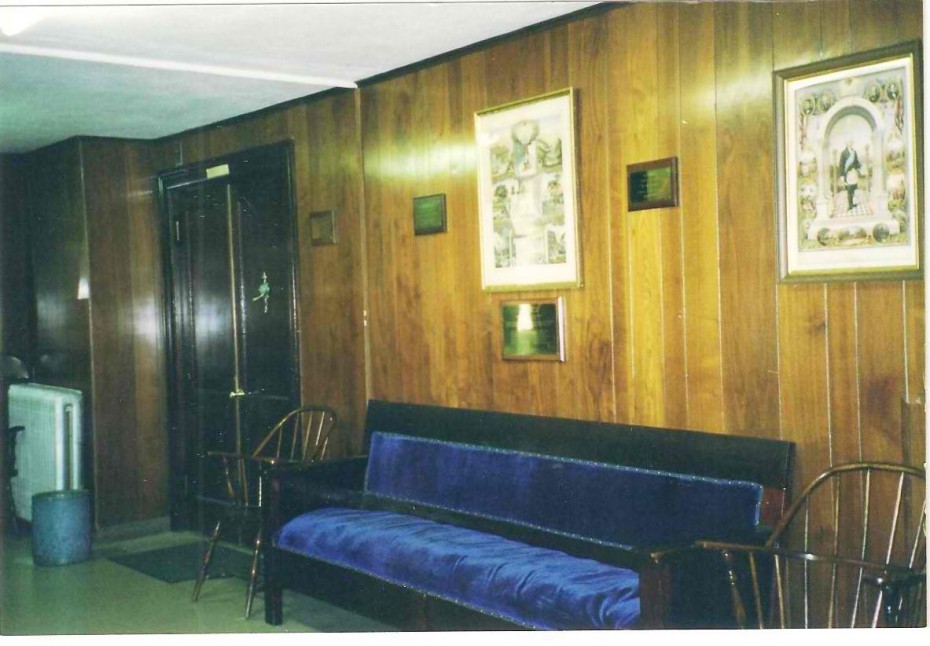 See the wooden thrones and those blue chairs? Wait for it…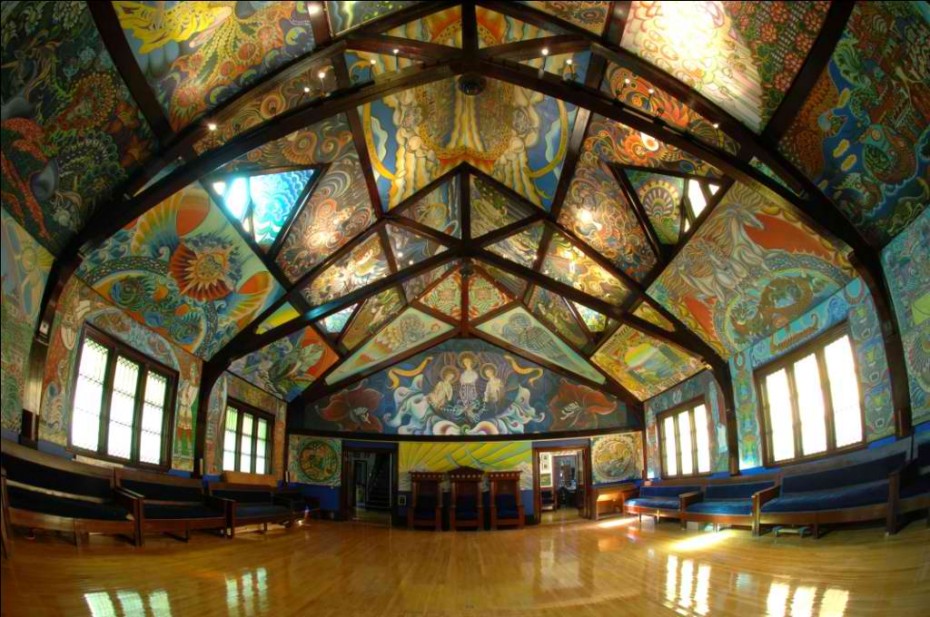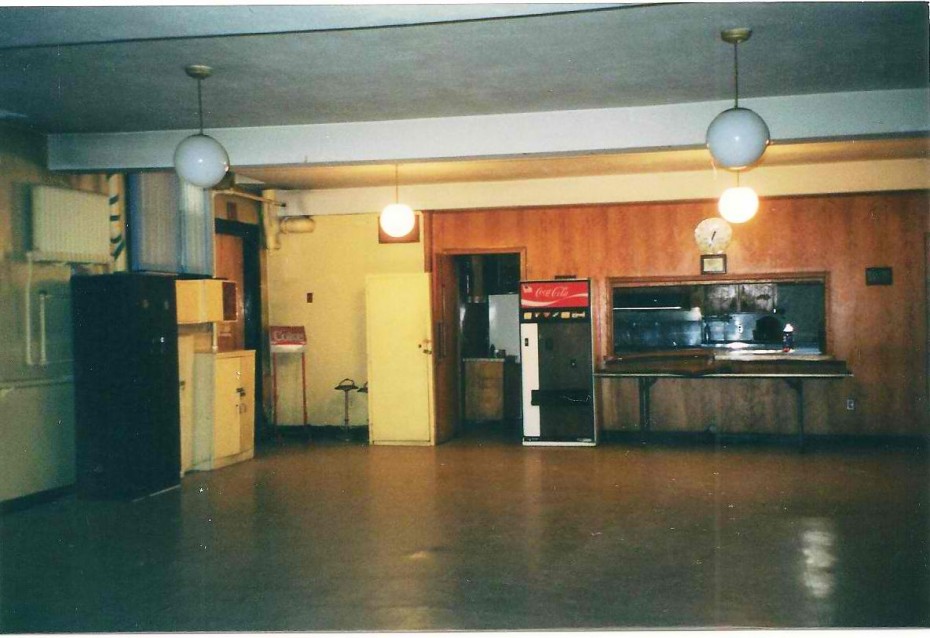 See that counter? wait for it….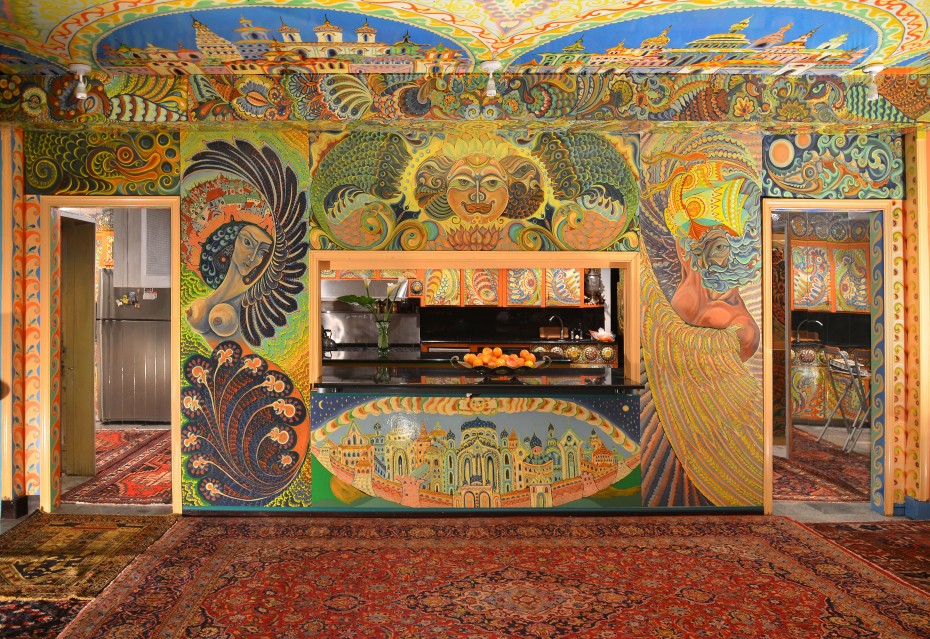 All of the artwork (and a lot of the furniture) in the house is created by Ekaterina and Nicholas– by themselves, with their hands, the old-fashioned way.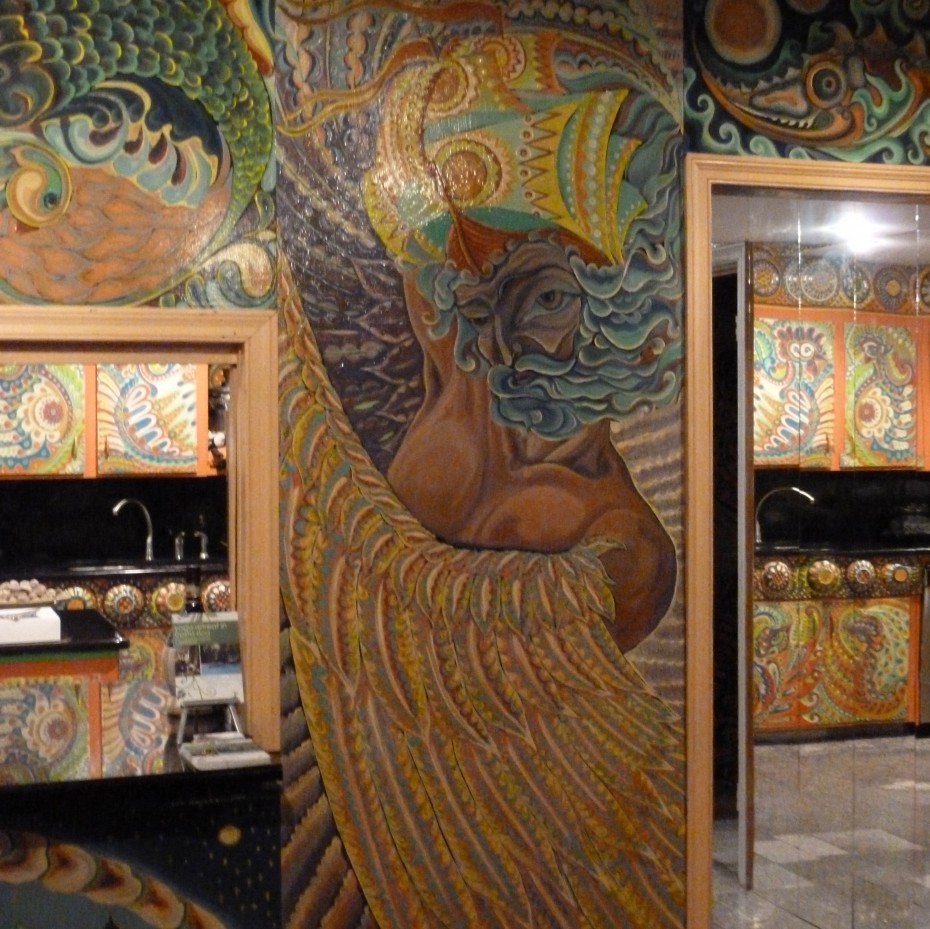 "Ekaterina actually started yoga because she spent so many days bent backwards, painting the ceiling like Michelangelo," says Nicholas, pictured above.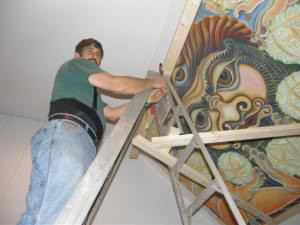 Although they've covered the former Masonic dwelling head-to-toe, they're still not finished. They are eternally creating and changing the house, as if it were a living being undergoing a continual metamorphosis rather than a stagnant and impersonal inanimate object.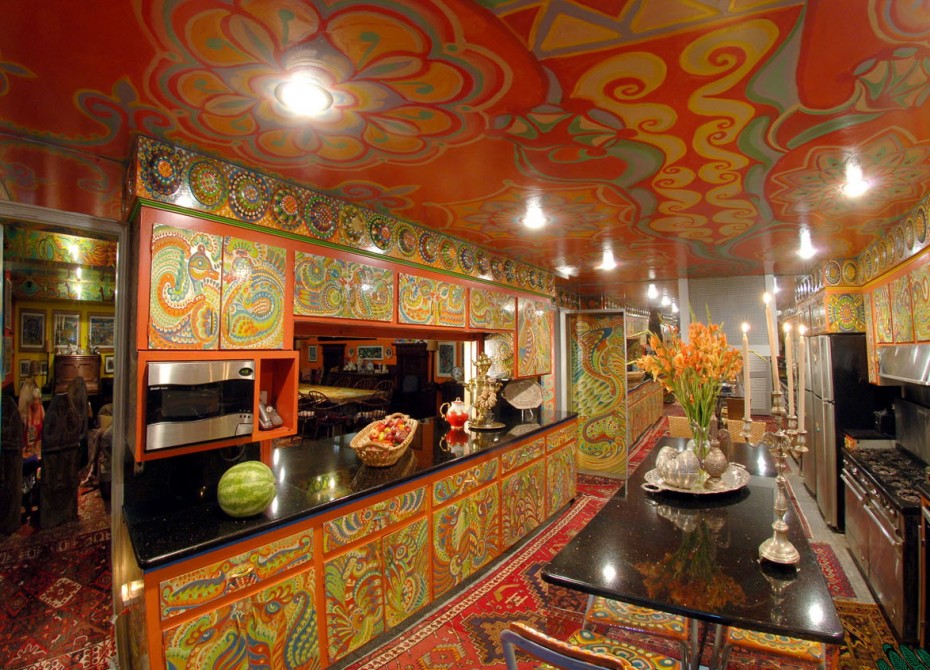 By the way, "museum" means "a house or home where the muses are living." And that's the most important thing. The muses need to be alive, not dead and dry like in a conventional museum. Everything should be alive, people should laugh and dance and drink the wine and sing the songs. It should be all the meanings of life. That's what we have here. A lot of people come here and become our friends and when we have a New Year's party we cannot invite everybody. Probably 50 people can fit comfortably but we have more than 50 friends !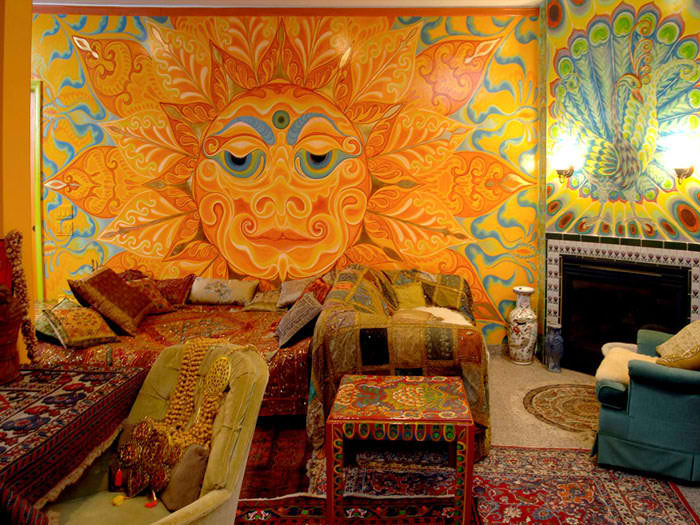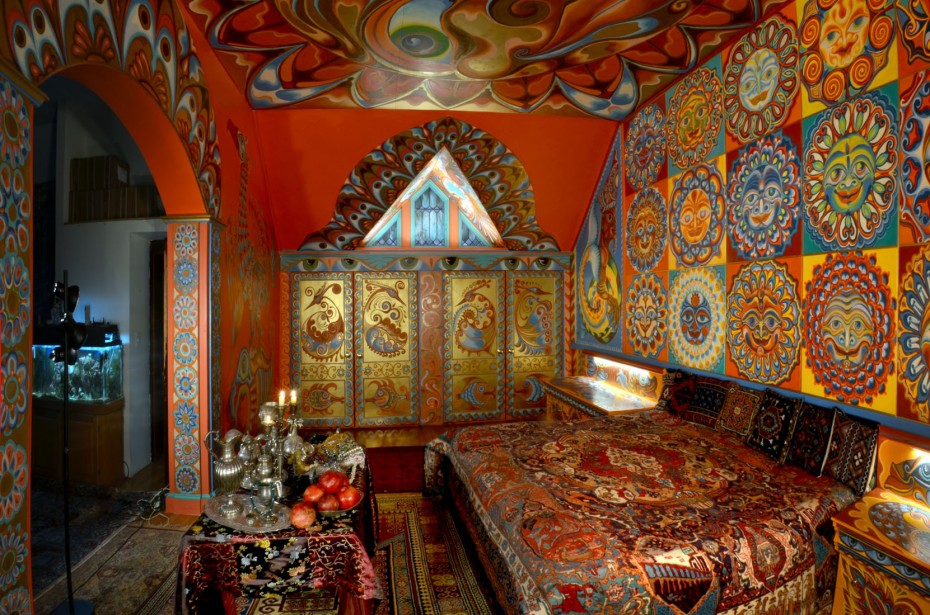 The muses aren't the only ones occupying the house. Nicholas and Ekaterina not only live in their museum but often host events such as yoga classes and concerts. Many opera stars from the Metropolitan Opera, the New England Conservatory and the St Petersburg Conservatory travel to this unusual space perform because of the great hall's amazing acoustics. In fact, singing at the Museum is rumored to bring good luck to young vocalists as many who debuted there ended up at Carnegie Hall and the Metropolitan Opera.
With musicians, we have a mutual understanding, I don't know why. Maybe because the most abstract art is music. Maybe because there is always music playing when we are working. Mostly classical, but also folk music. And even our cat, he likes the music. Especially Pavarotti. I don't know why Pavarotti but when he hears it he starts to dance. And he's a cat.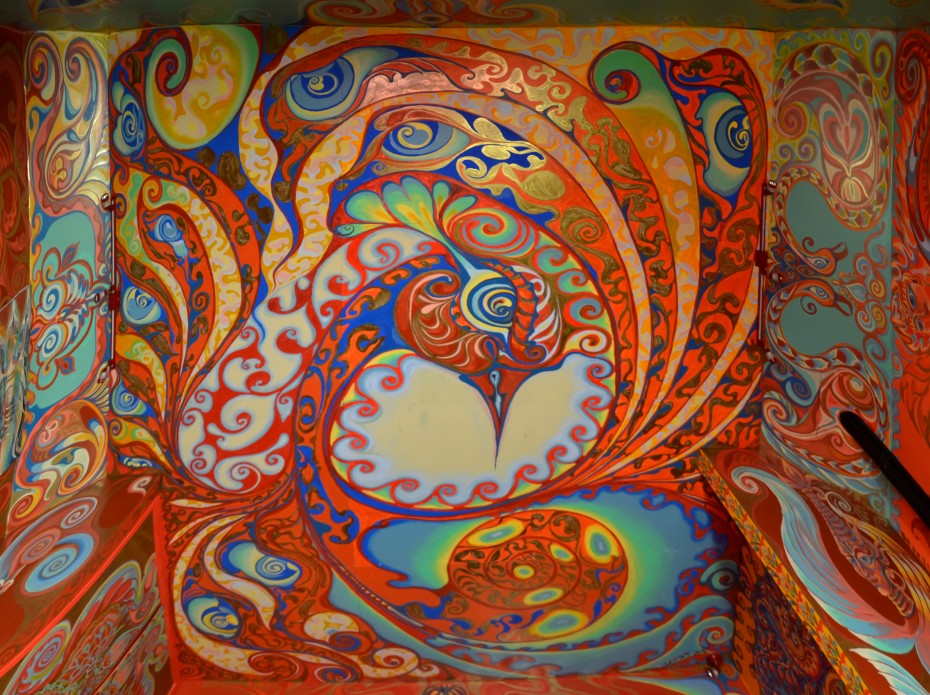 What will be the next phase of the museum? Any more renovations and the walls will probably start talking. And man, will they have some stories to tell.
To see the dancing cat and the phoenix of a building that just gets curiouser and curiouser, contact Ekaterina and Nicholas via their website.
About this contributor: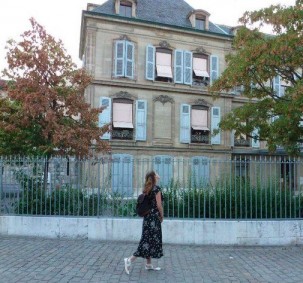 Rozena Crossman moved to Paris on a whim two-and-a-half years ago. Bilingual assistant by day and adventurer by night, she is relentlessly improving her linguistics in both English and French at the Graduate School of Life.

You can connect with Rozena via her Twitter / Instagram / LinkedIn profiles. 
Also by Rozena: Hunting for the Lost River of Paris