We leave Salvation Mountain behind us, dazed and dazzled. But there is more to discover in this most curious corner of the California desert…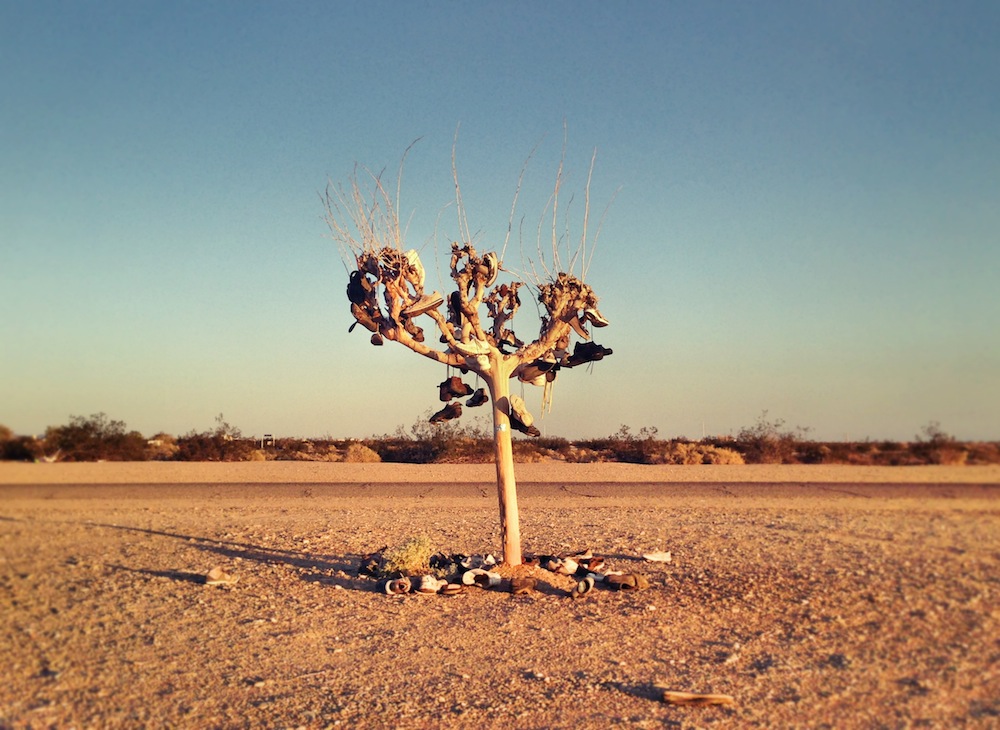 Past the lonely shoe tree standing at the side of a dirt road…
Slab City awaits us.
But this is no city, at least not as we know it. There are no buildings here, only outdated tin can RVs, make-shift shacks and various inexplicable structures.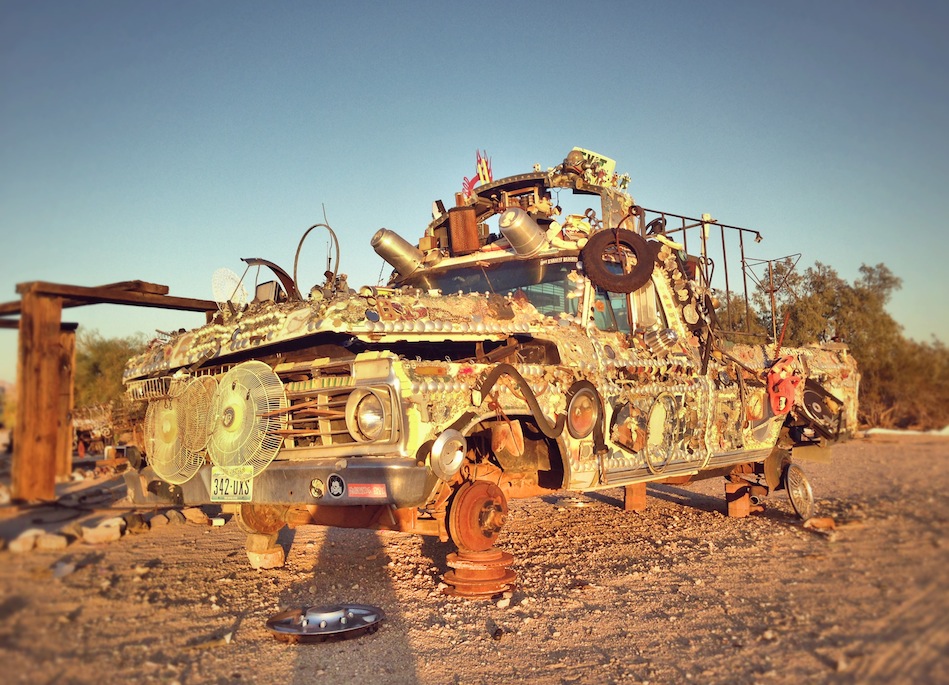 There is no electricity, no running water, no sewers nor toilets. As we slowly roll through the isolated community with our mouths slightly ajar, we can't help but wonder how anyone lives out here, what do they do and why?
But to ask the question is to answer it.
This is a place where misfits of traditional society have come to escape. There are no rules here. Nothing is expected or particularly comprehendible.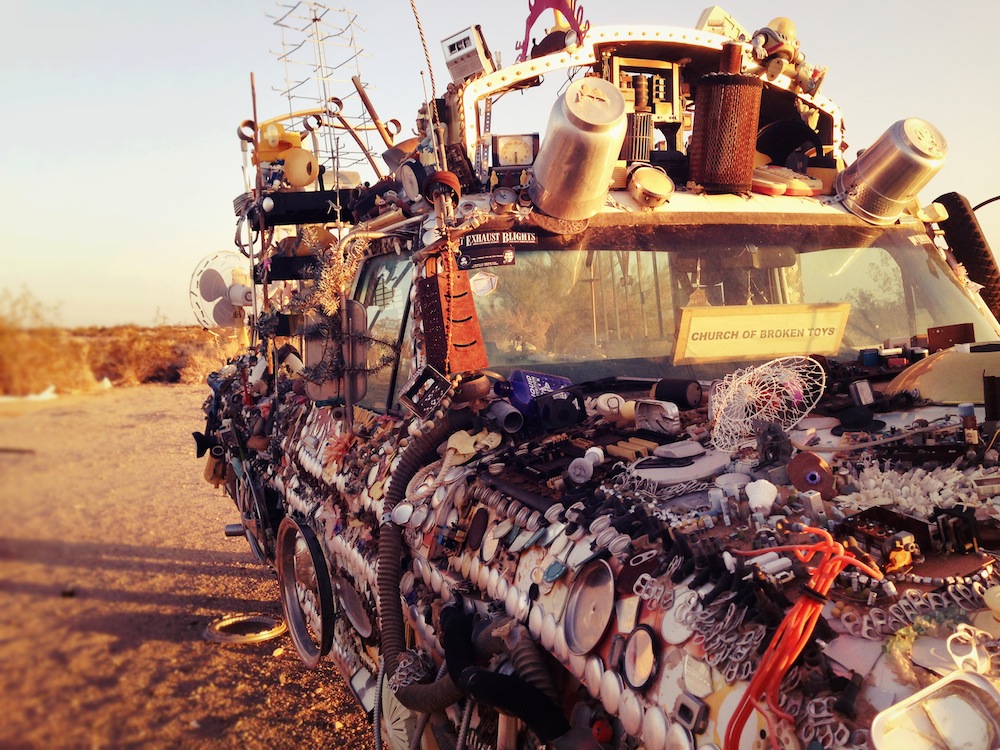 Slab City takes its name from the concrete slabs that remain from the abandoned World War II Marine barracks of Camp Dunlap, which stood here before it. After the army left, nobody claimed the land and in 1965, the squatters began moving in, drawn to the uncontrolled site for various reasons; some out of necessity to escape urban poverty and others as a choice to to live off the grid and be left alone.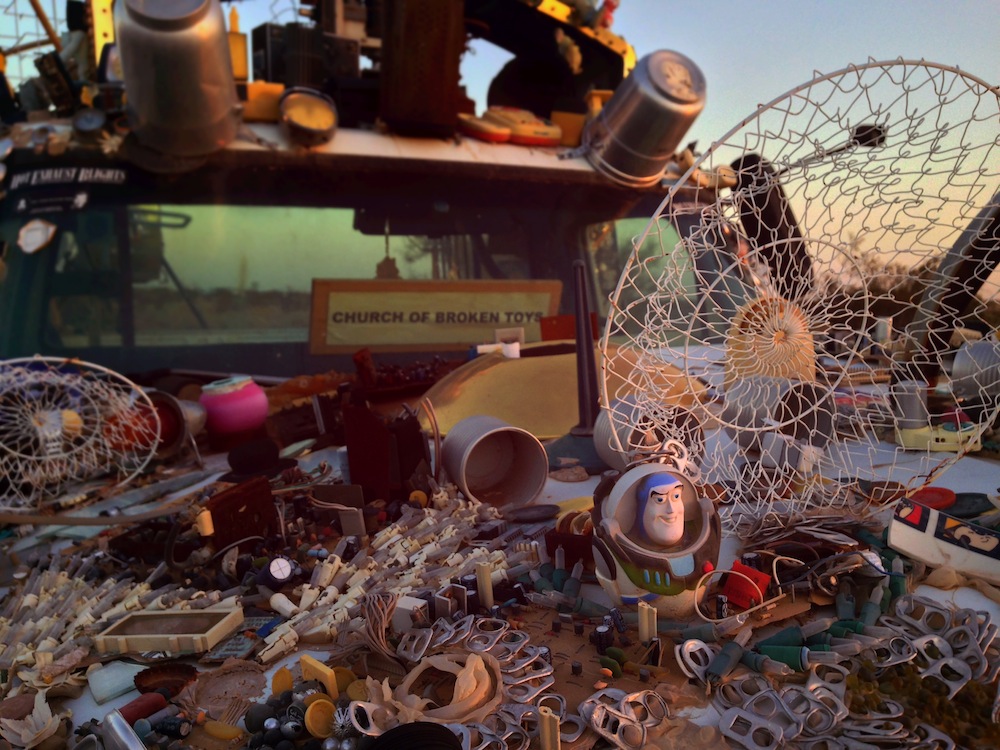 But we were about to discover that Slab City isn't all about being lonely and withdrawn from life…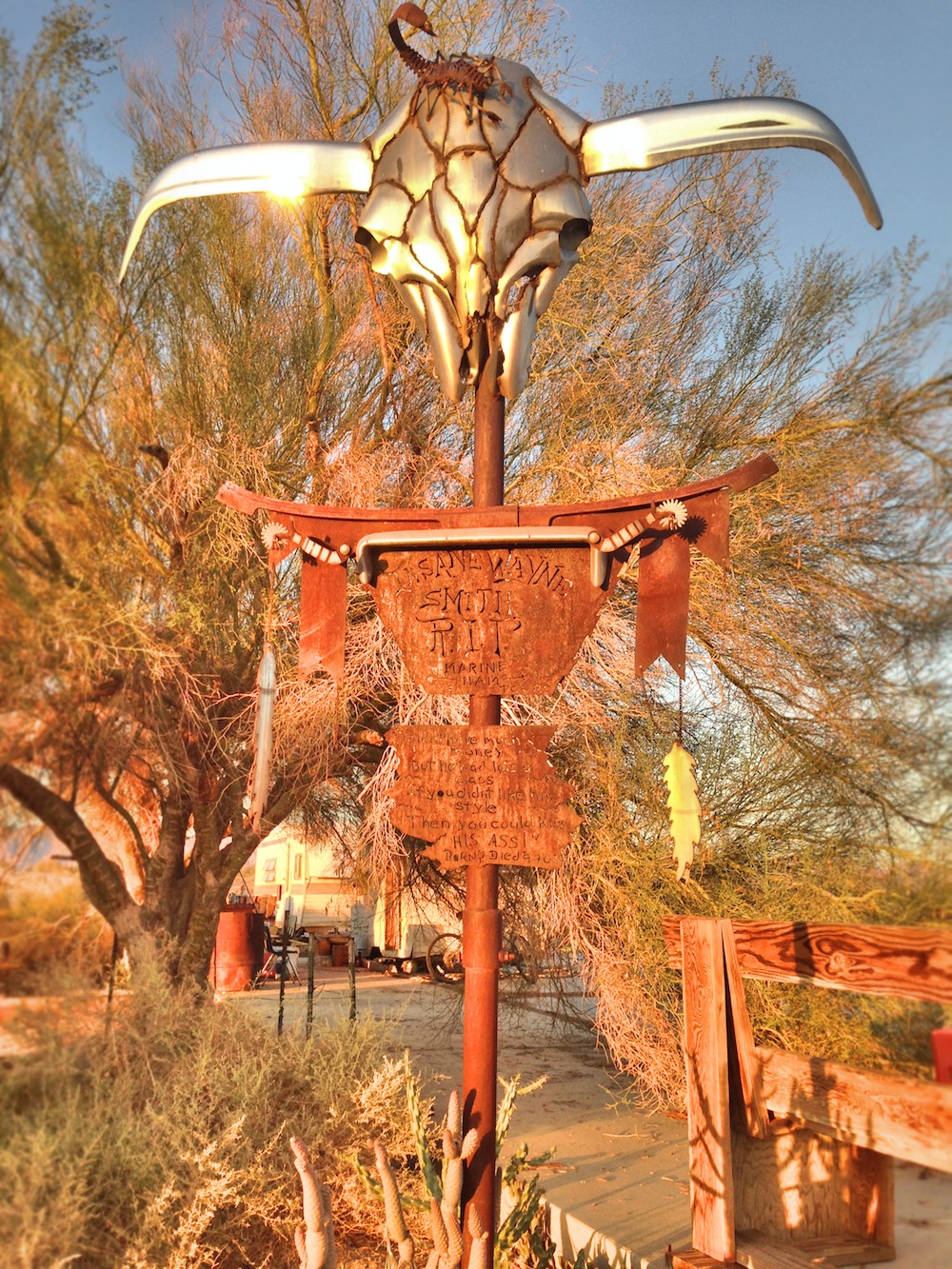 In the most isolated, remote and unexpected of places, a rather menacing metal bull's head and his scorpion buddy indicate that you've arrived at the outsider city's open-air music hall.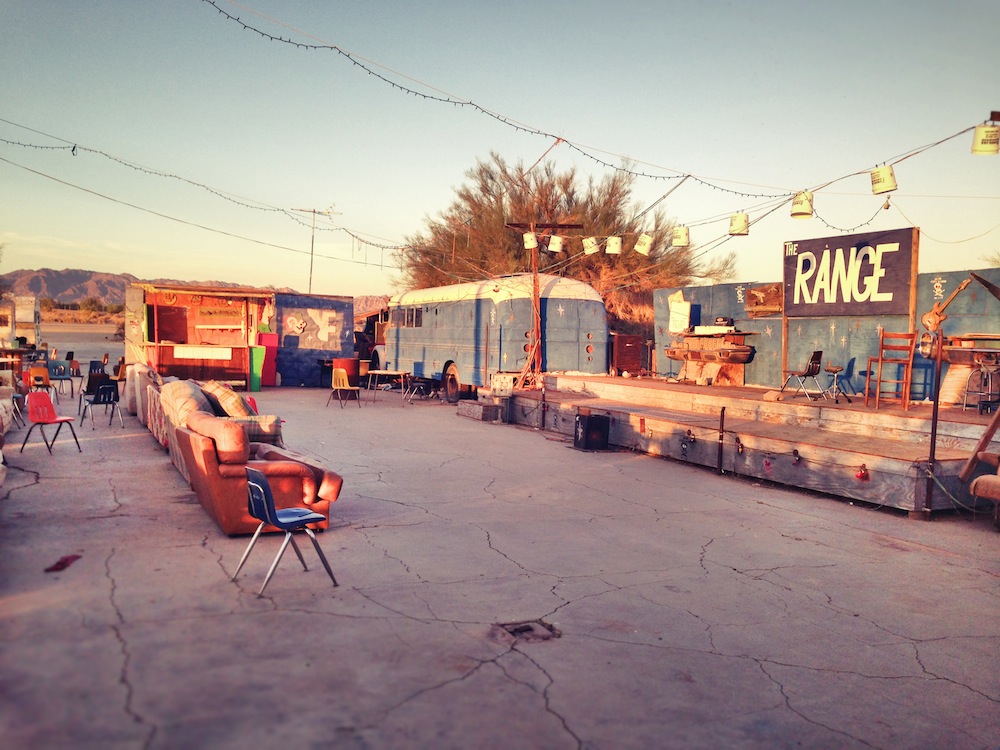 Welcome to The Range.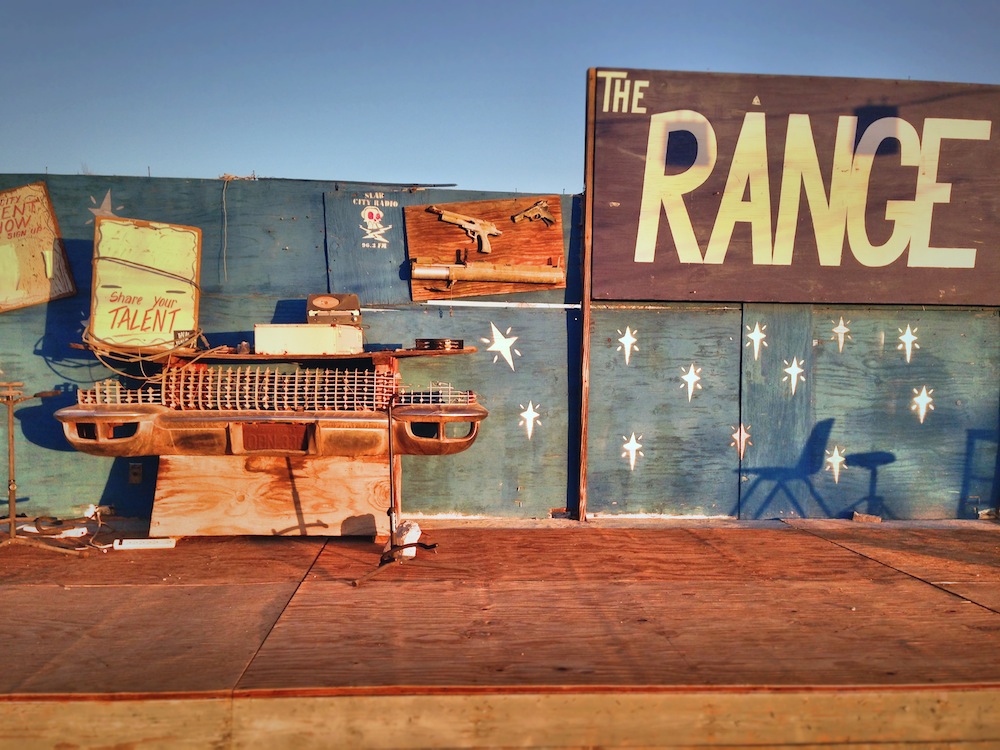 Complete with stage, make-shift twinkle lights, amplifiers, speakers, tattered couches and discarded cafeteria chairs for seating, The Range is the coolest spot in town. Then again, it's the only spot in town, but somehow has the promise of a better time than at any bar you could find in the big bad city.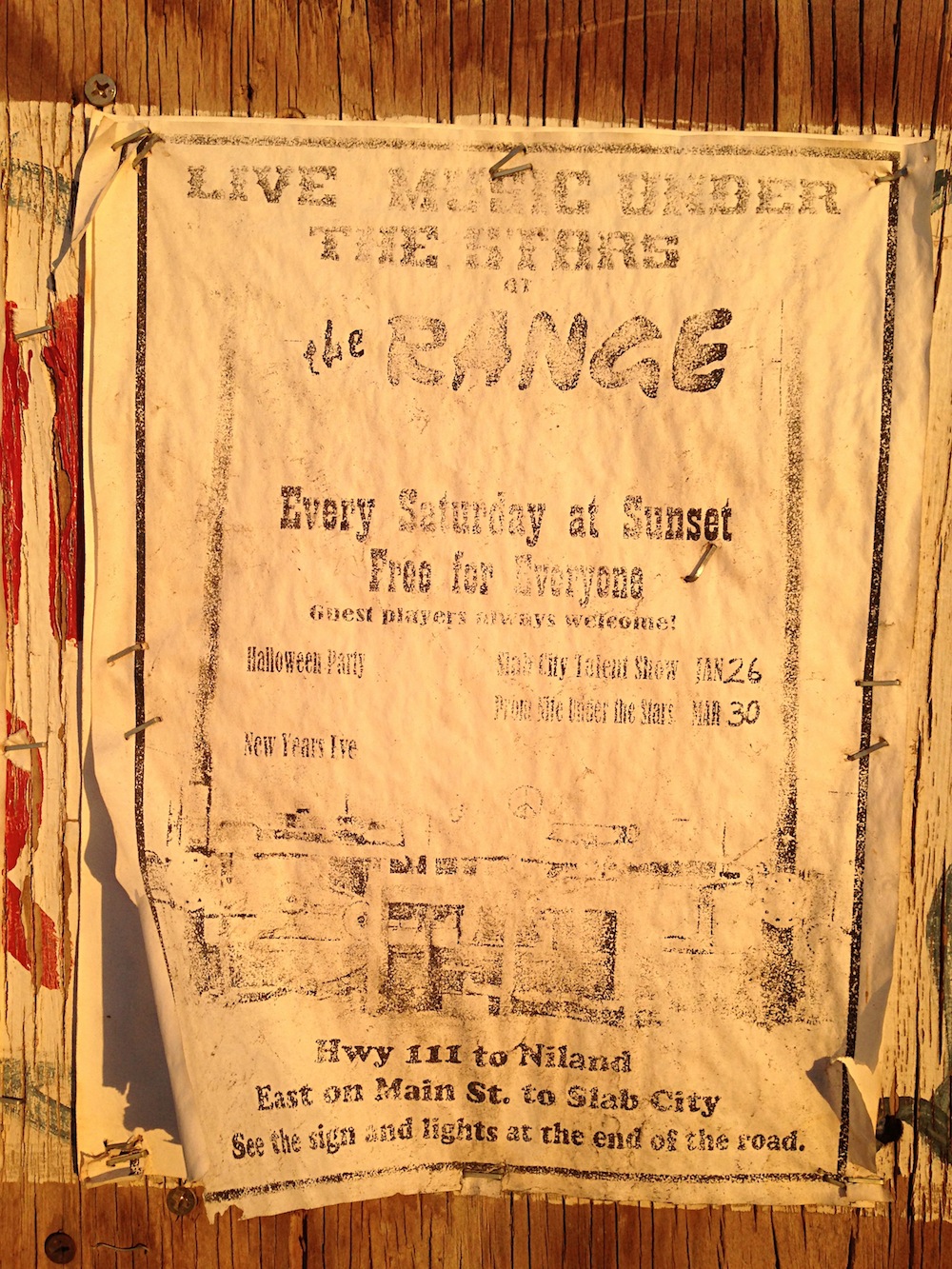 For fifteen years, every Saturday night at sunset, The Range has lit up its twinkle lights crafted out of discarded buckets and attracted locals and visitors alike for an evening of live music under the desert stars.
I can even imagine Salvation Mountain's late creator, Leonard Knight, would have often wandered on down the desert road on the occasional Saturday to hear his neighbours play a tune.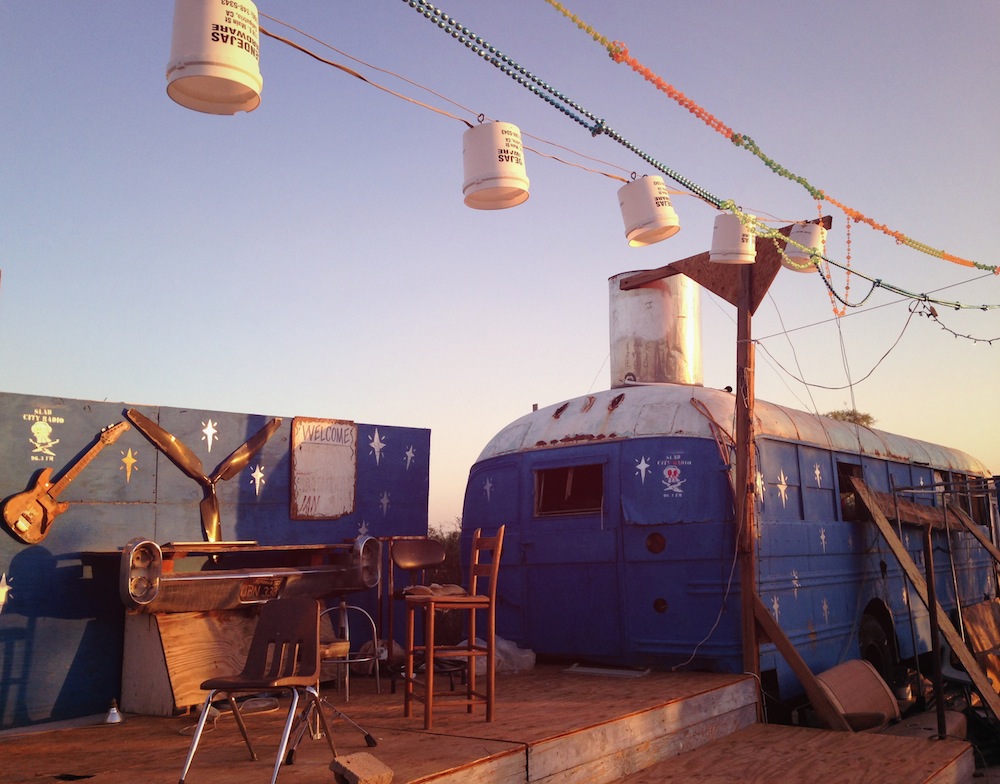 When we pull up to the Range, Builder Bill pops his head out of his onsite RV. With his long grey hair and timid smile, he greets us and begins to tell the story of how he built his desert music hall, piece by piece. Bill is what they call a full-time slabber. In winter, more campers set up house on the site for the cooler months and then migrate north before temperatures get into the 100-120°F range. They're called "snowbirds". But Builder Bill has been a full-time year long resident since he moved to Slab City 15 years ago. You meet him in this video he made here.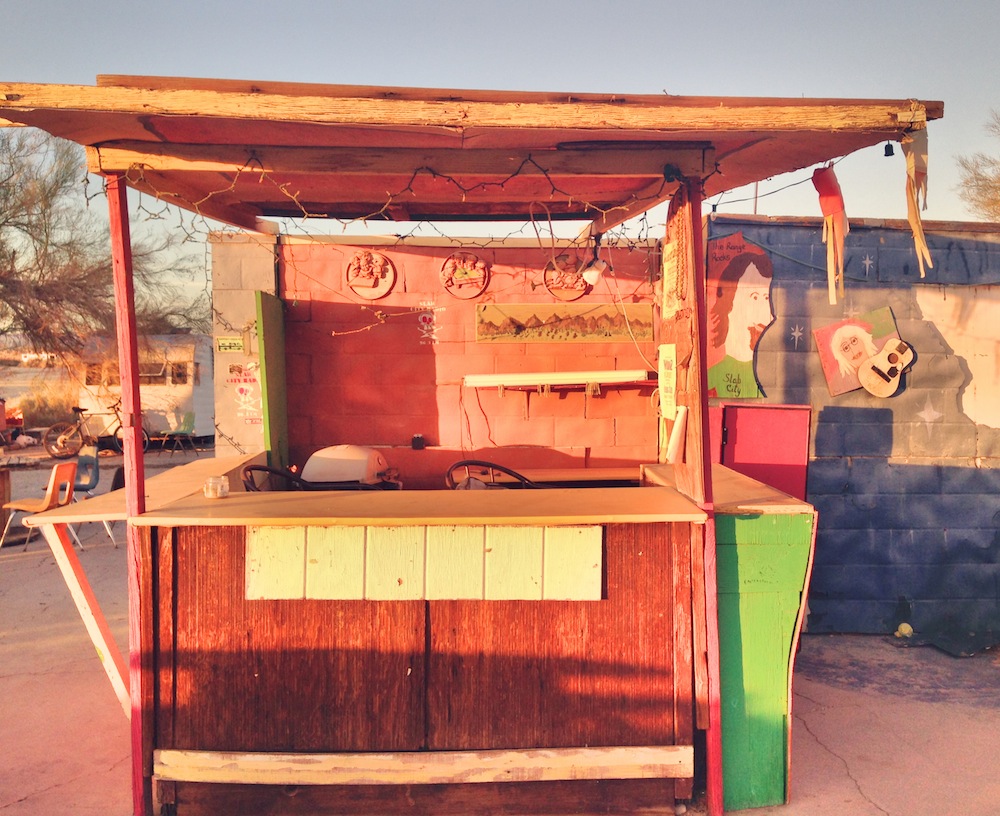 Nights at the Range during summer will draw in a crowd of maybe 20-30 people Bill tells us, but in "high season", up to 200 people from all walks of life come to enjoy the weekly event during winter.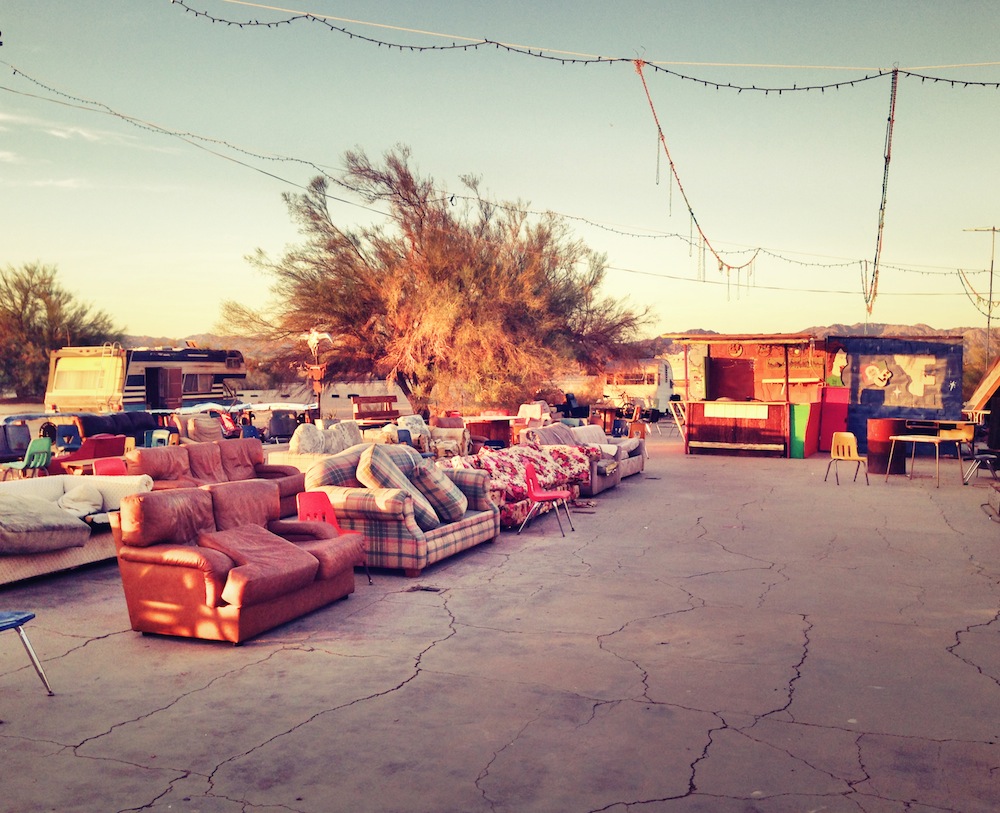 A memorable evening this would surely be, I'd love for some of you reading in California to go and check this place out on a Saturday in all its glory.
And hey, musicians– doesn't this look like a pretty unique location for a music video? Or even for filmmakers and photographers. Get in touch with Bill.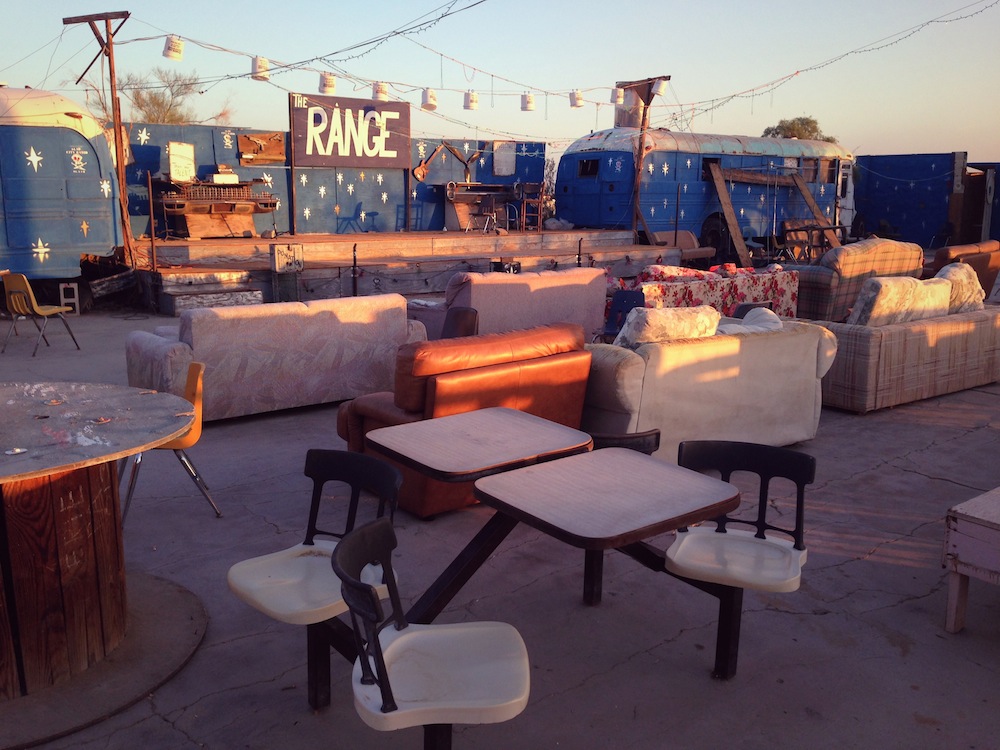 For the unlikeliest of music scenes and a seriously surreal party in the desert, head to The Range. Salvation Mountain, the Salton Sea and The Range in Slab City are all ten minutes from each other, filling your afternoon in the desert with unforgettable California memories.
You can follow MessyNessy's California road trip posts by searching #MessyNessyCalifornia in the search tab and on Instagram.