Palm Springs was nice. But we were looking for something a little grittier…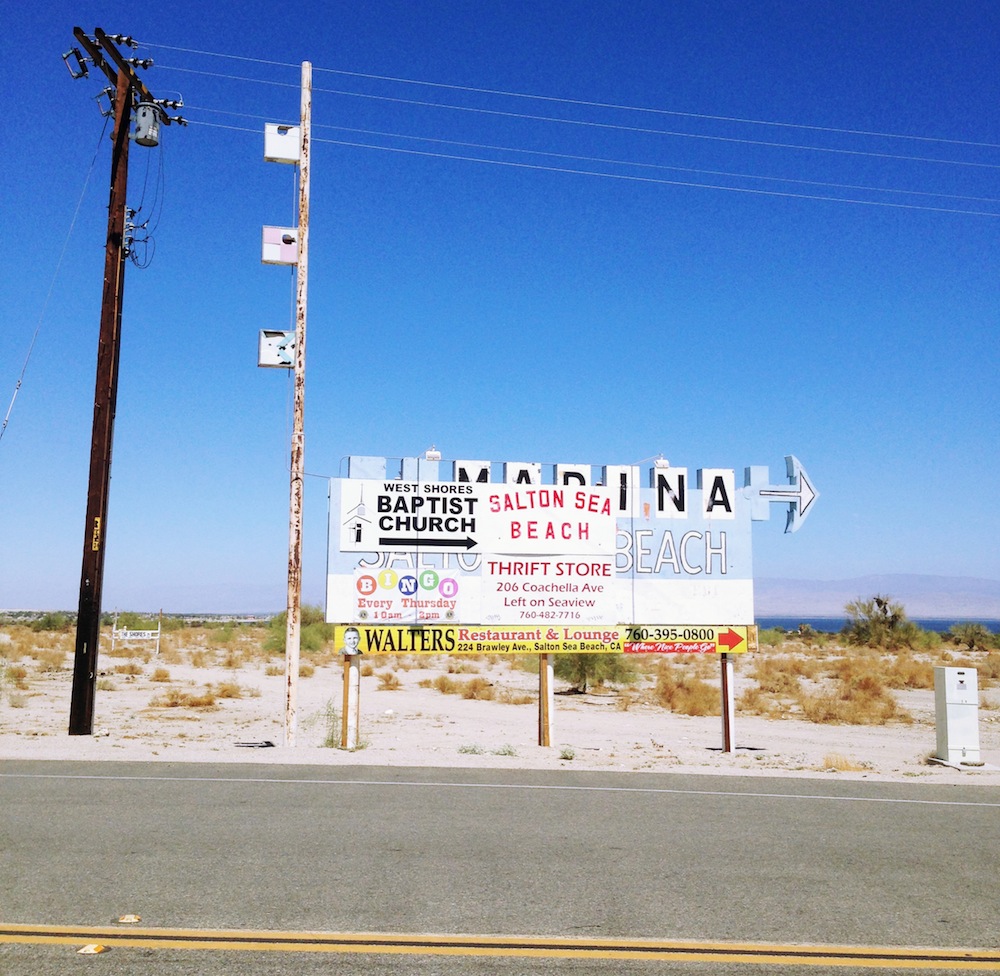 Sixty miles from the fresh golf courses and glitzy hotels, there is a forgotten place. Roads lead to nowhere, signs point to nothingness and the houses are home to no one.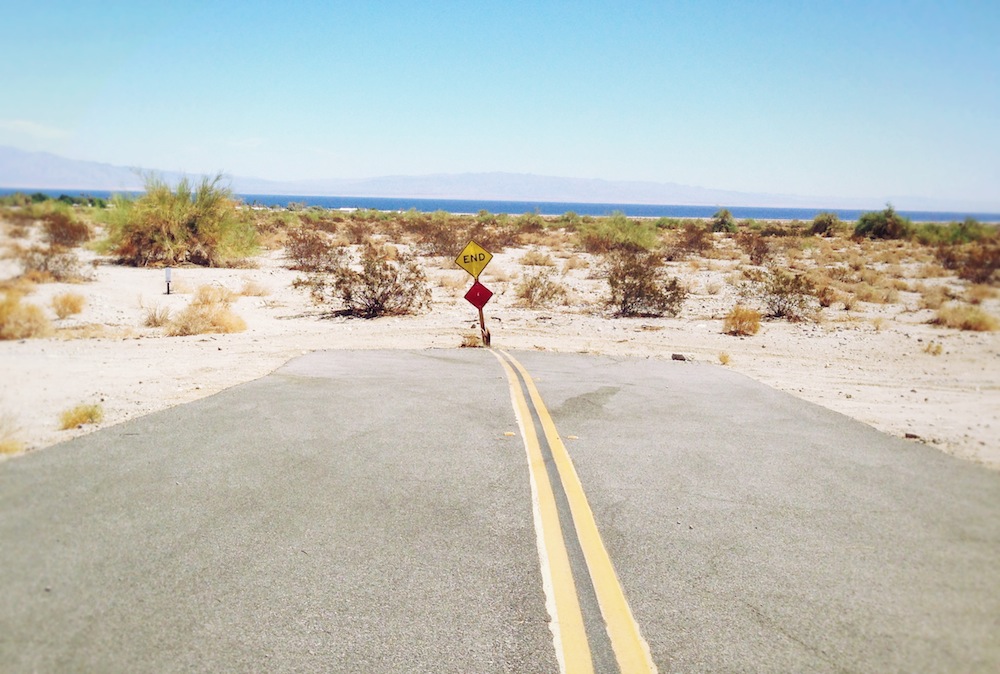 Welcome to the Salton Sea…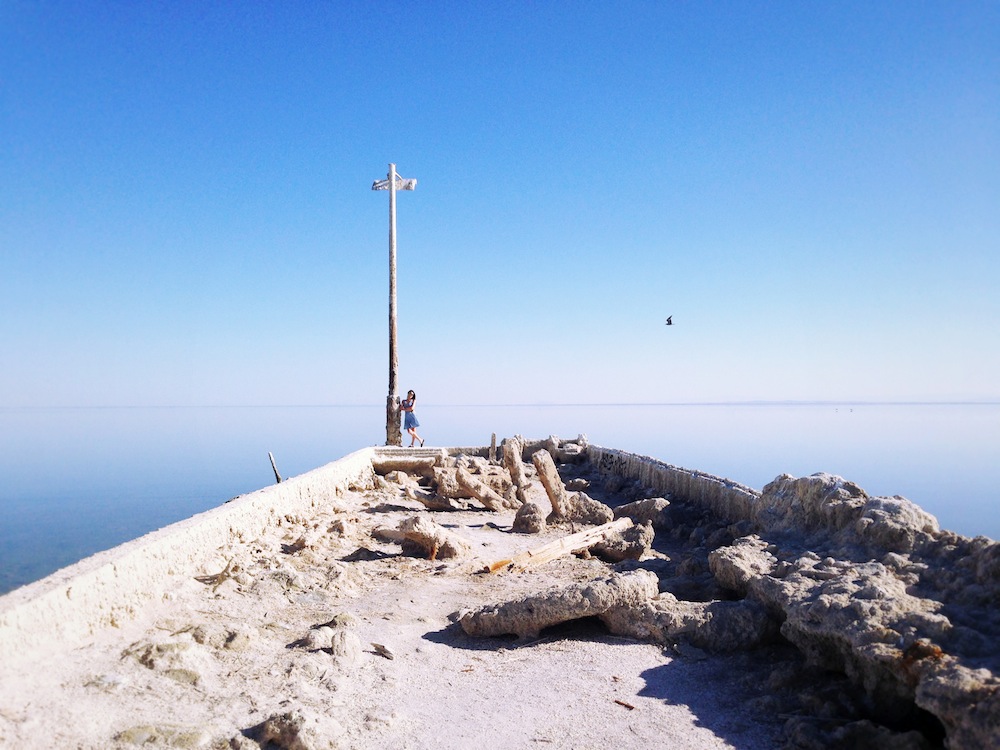 You may recall I've written about the Salton Sea before; such a place is hard to miss when you're searching for oddities on the internet. But seeing it (and smelling it) first-hand is quite another story…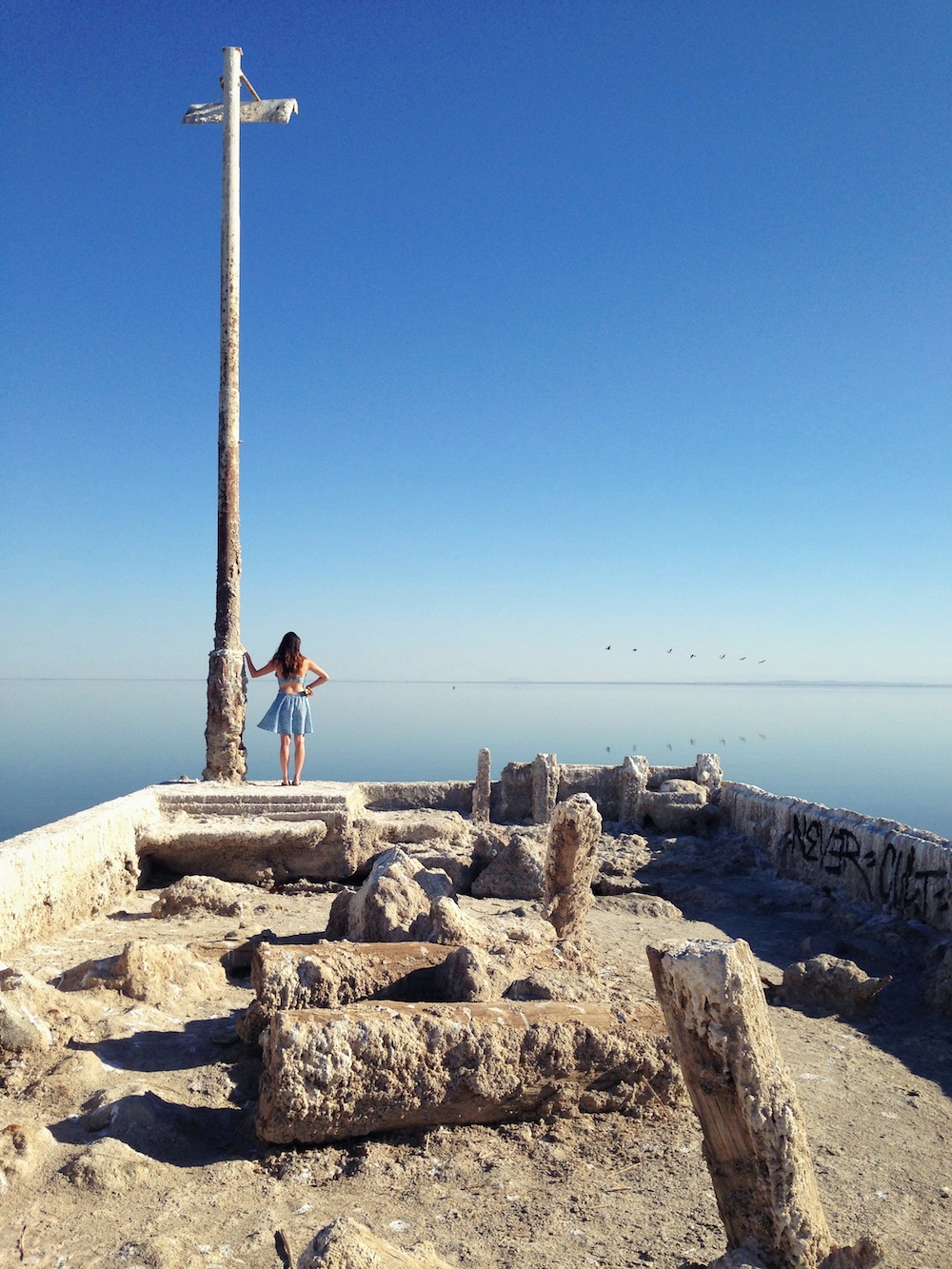 The apocalypse certainly did come early for the Salton Sea, although it's eerily beautiful and absolutely surreal if you can get past the lingering stench of the place, which is unfortunately now one of it's most infamous attributes.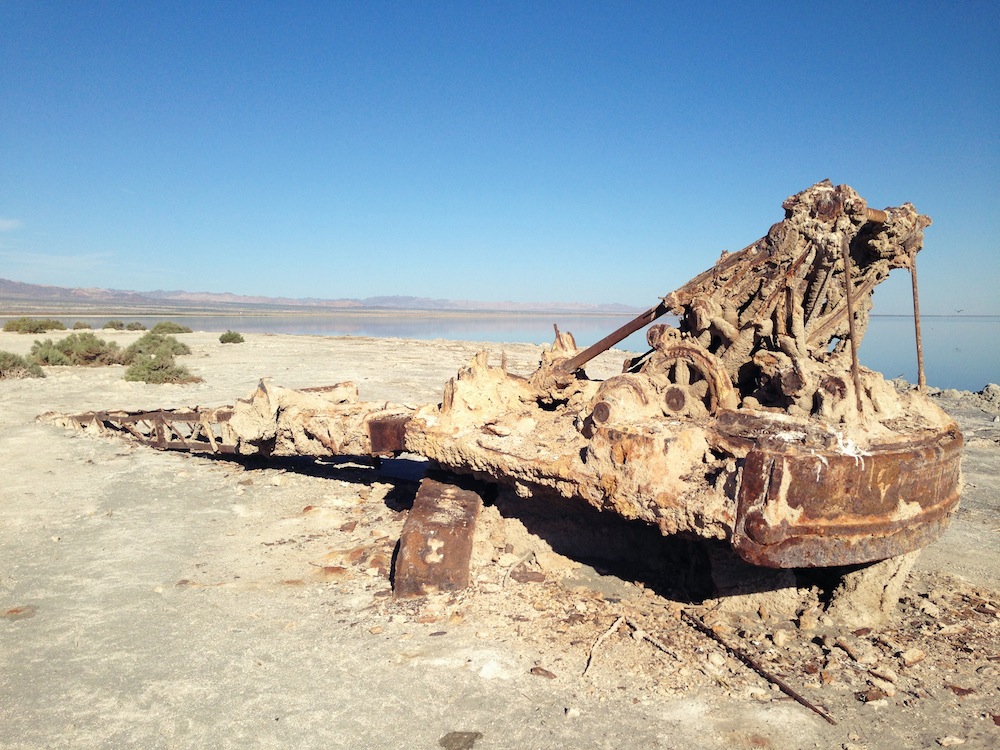 If you don't have time to read the full story about the resort where The Beach Boys used to party, here's a little snippet … (to quote myself):
Conceived as a resort paradise in the 60s and 70s for boaters, water skiers and vacationers, the Salton Seaside was once called the next palm springs, hailed as the American Riviera and a "miracle in the desert". Vacation homes popped up like cactus blossoms, holidaymakers flooded the beaches and yacht clubs served martinis with views of the sunset.

The Salton Sea is the largest lake in California. It's existence is also a total accident. In 1905, flooding caused the Colorado River to spill over the man-made irrigation canals to pour into what was then known as the Salton Sink– 40 miles of pure desert. It took two years to stop the flooding, by which time the largest lake in California had formed. Half a century later and this desert land had become a holiday paradise. The town's population grew to 15,000 people, with thousands more arriving on weekends. But the paradise would not last …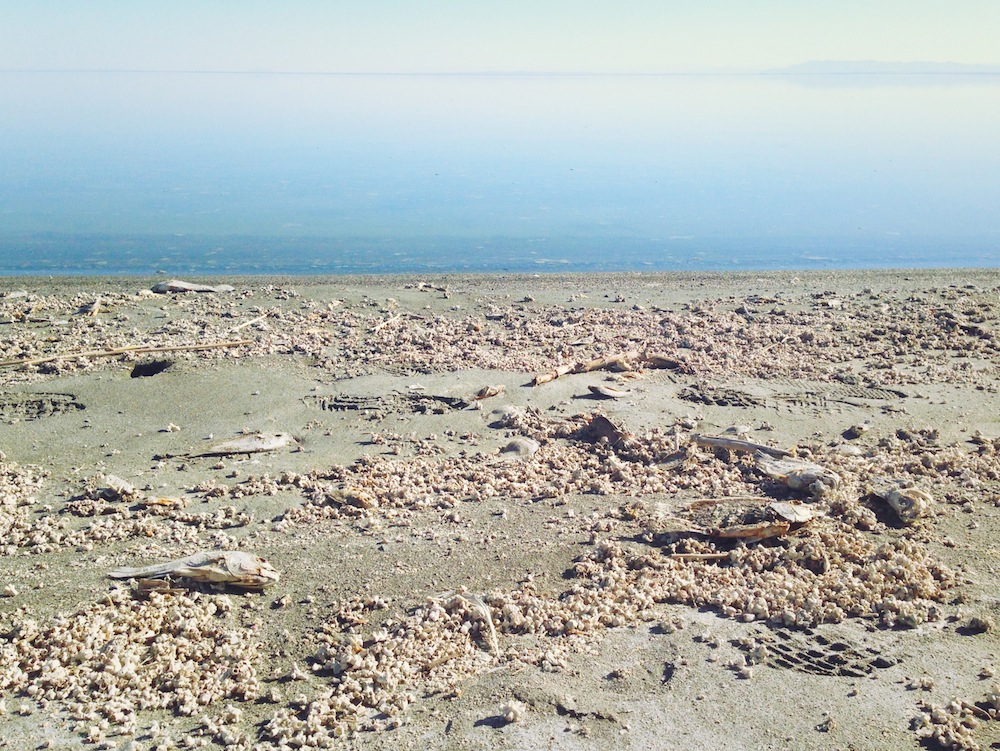 Disaster struck in the 1970s, when masses of fish suddenly died and floated to the surface. What was killing the thousands of fish was quickly identified as agricultural run off from local farms into the Salton Sea. The lake didn't have enough drainage (this was after all, how the body of water was formed) and had no ecosystem to refresh itself.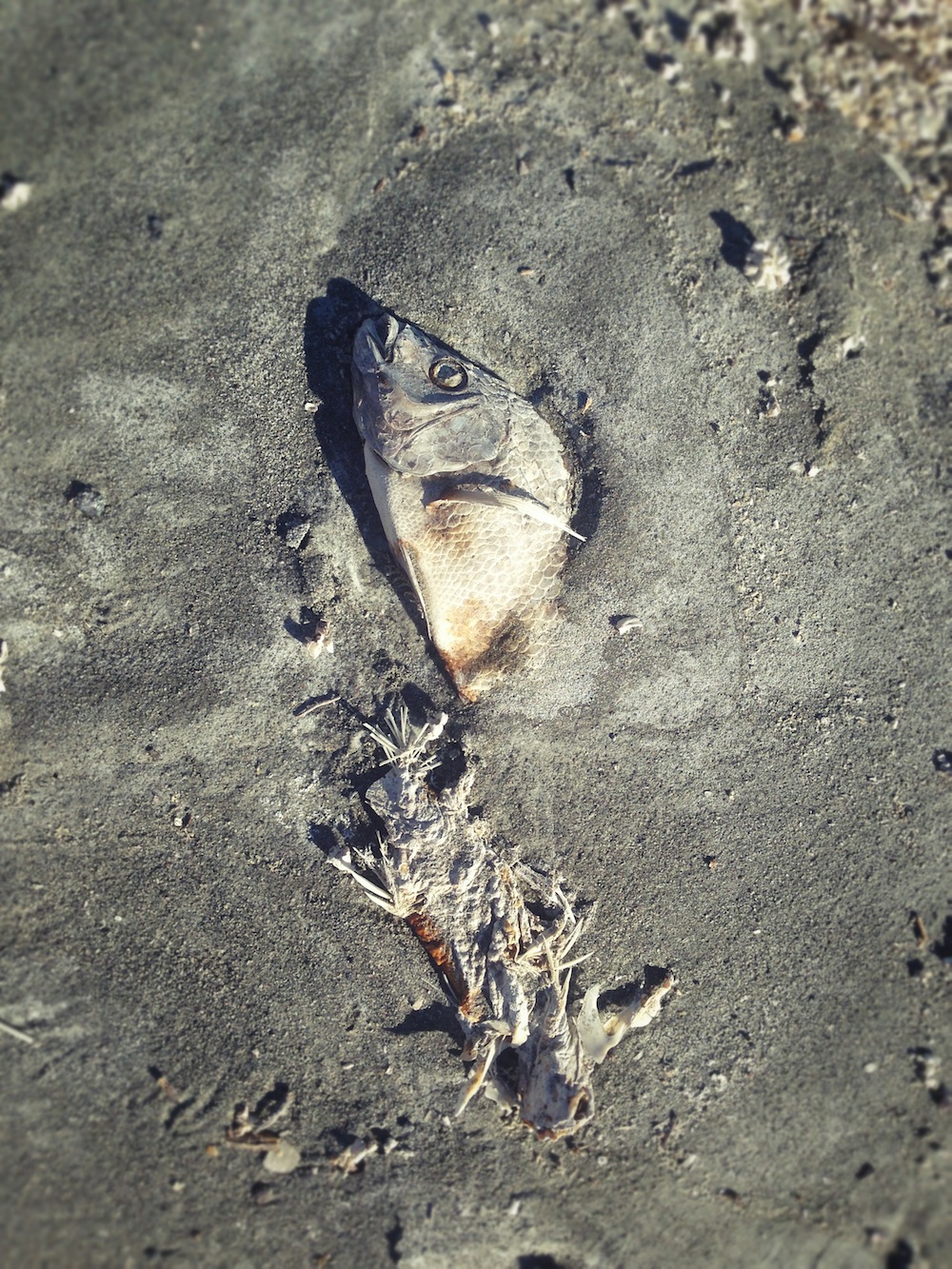 The toxic gas killed millions of fish, even up to 7 million at one time. Then the birds that ate the fish also got sick. Residents could smell and taste the gas in the air.
Today the sand has taken on an ashy white colour– that'll be the fish bones.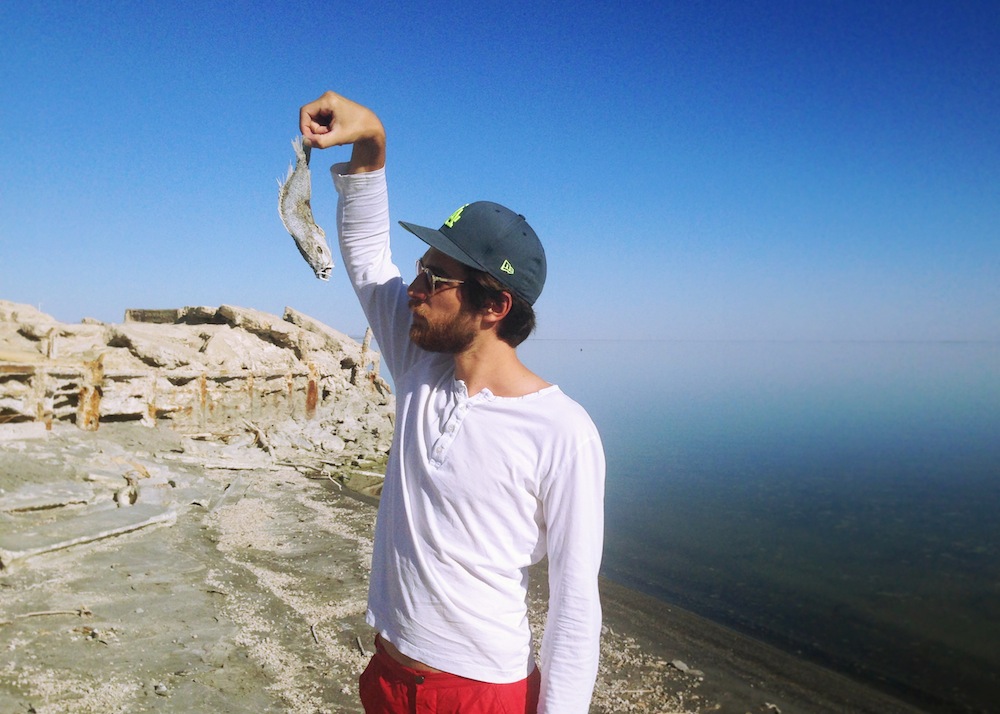 People stopped coming to the Salton Sea. Vacation homes were abandoned, resort developments stopped in mid construction. Neighborhoods to be, never were. RVs, boats, spas and yacht clubs, were all left behind. Today where thousands once lived and played, only a few hundred remain in each of the tiny shoreside communities, surrounded by the ruins of vacation homes. Decades after being abandoned, the effects of water, sun and salt, are clear.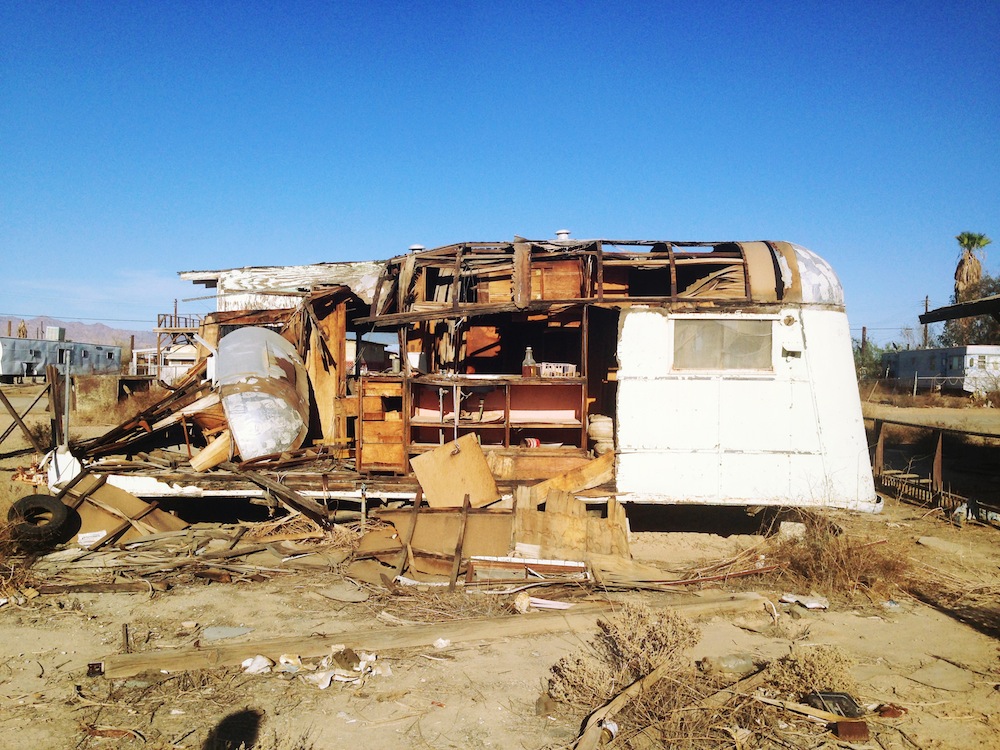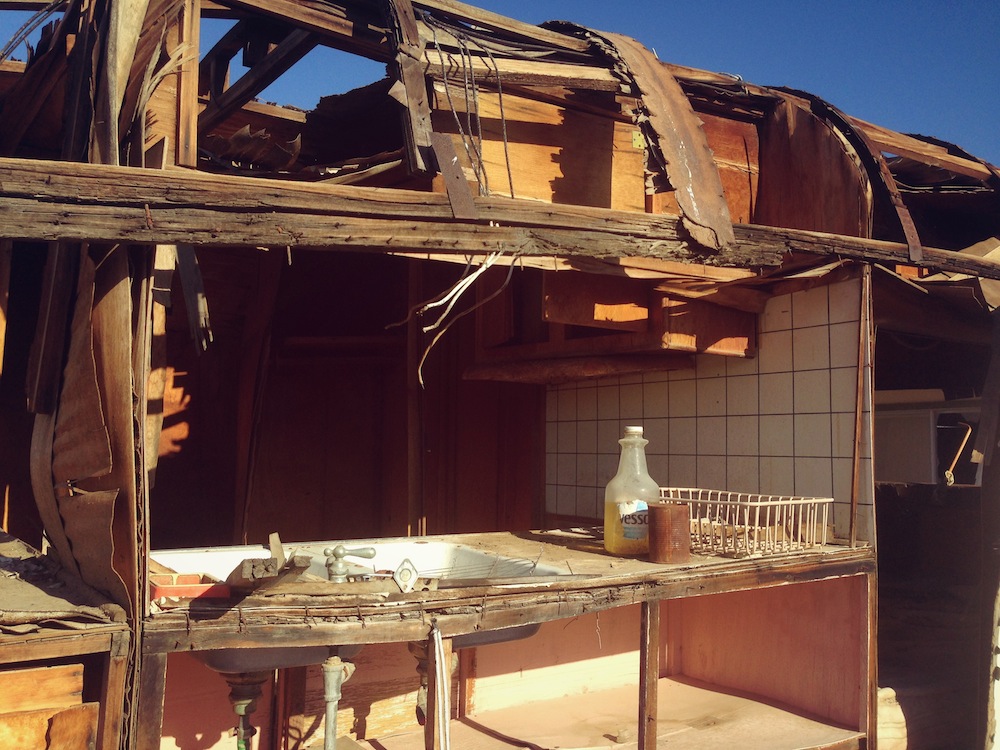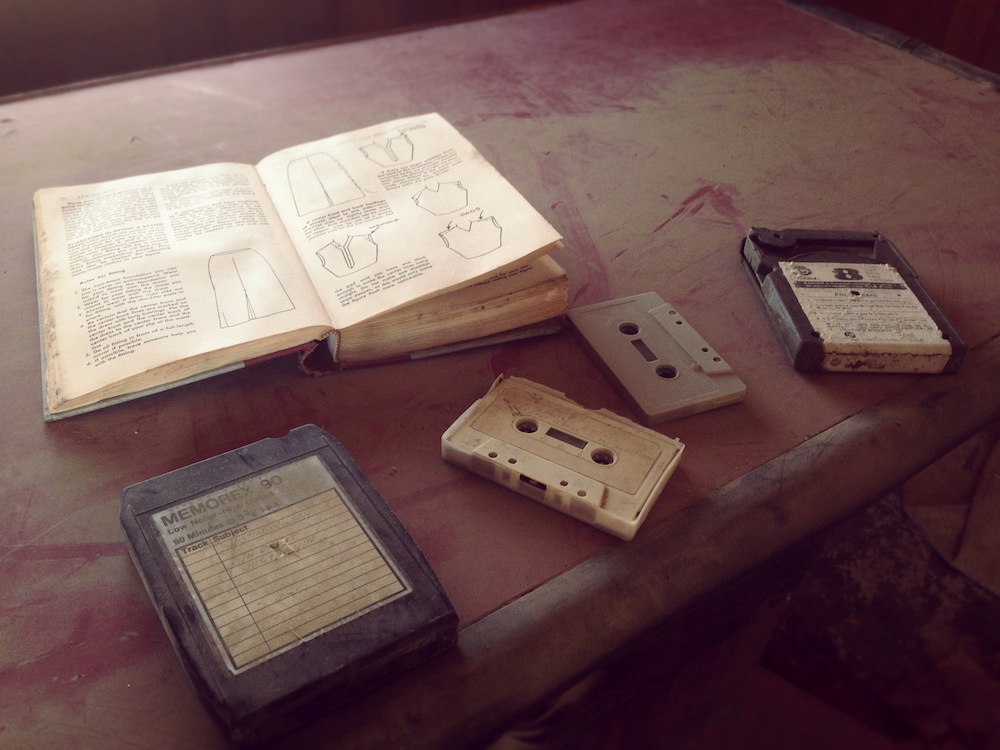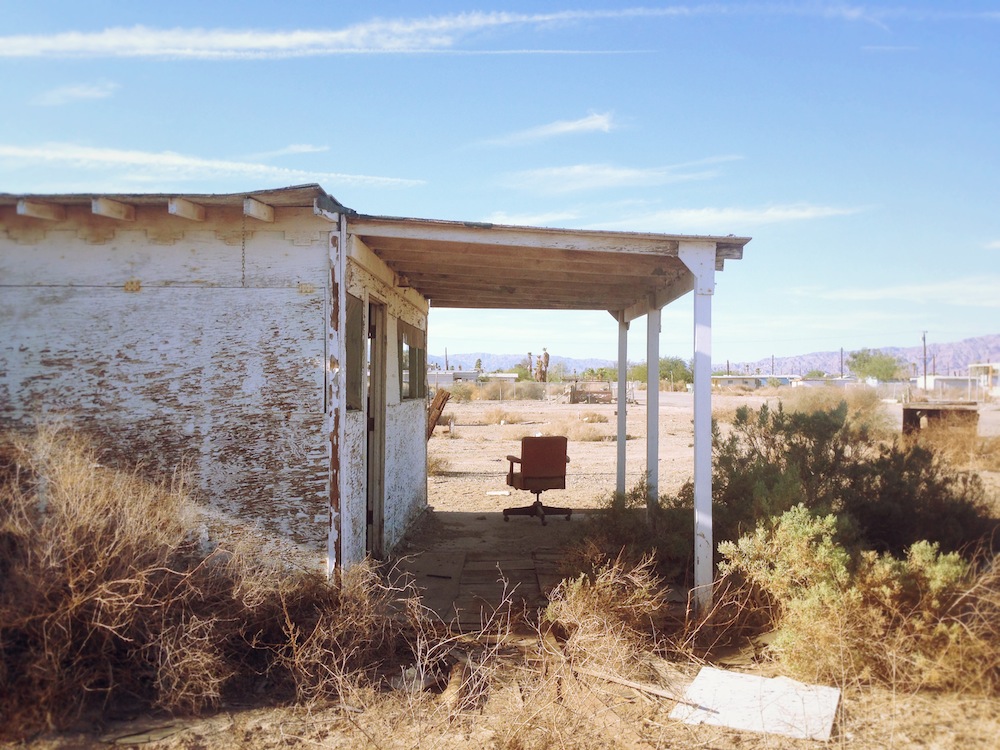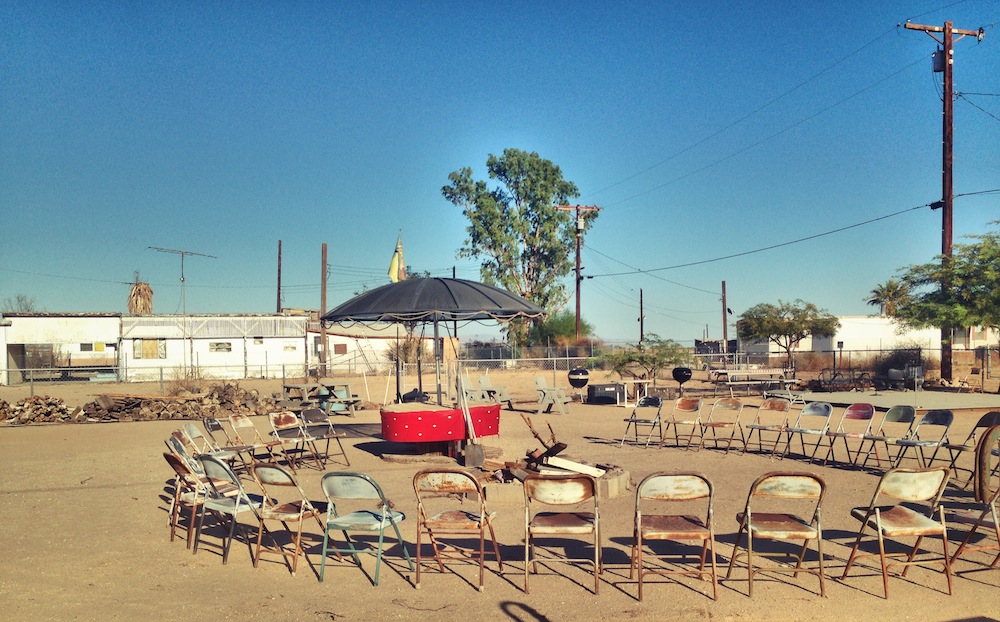 We made our way around the lake, turning off when we could at some semblance of a road to take a closer look at what remained of decaying beach resorts. Entire streets with assigned street names like "Sea View Ave" are just vacant lots where vacation homes were intended to line grassy, manicured sidewalks. These forgotten resorts don't look like much more than very gritty trailer parks now, where you can't stop wondering why even the last remaining residents have stayed. The most 'apocalyptic' part of Salton Sea is probably Bombay Beach on the eastern shore, a little ways after you pass the "World Famous International Banana Museum".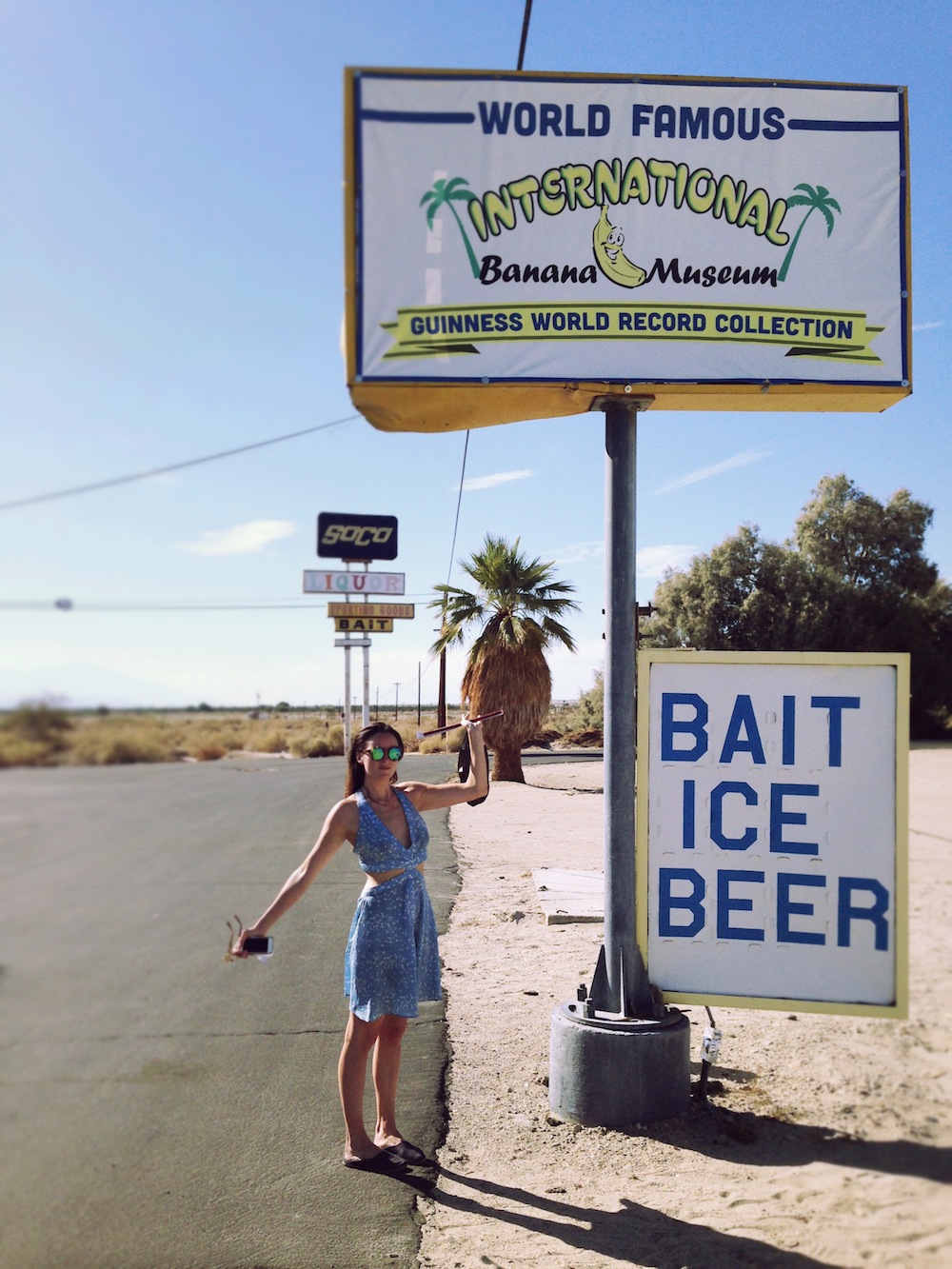 Unfortunately, it was closed when we turned up (we were warned about the unreliable opening hours). The clerk of the general store next door, who also happened to be carrying a hand gun in her jean shorts, informed us that the man who runs the museum was sick in hospital and she didn't know when or if he would return.
If you're curious however, there is this neat little film which goes inside the museum.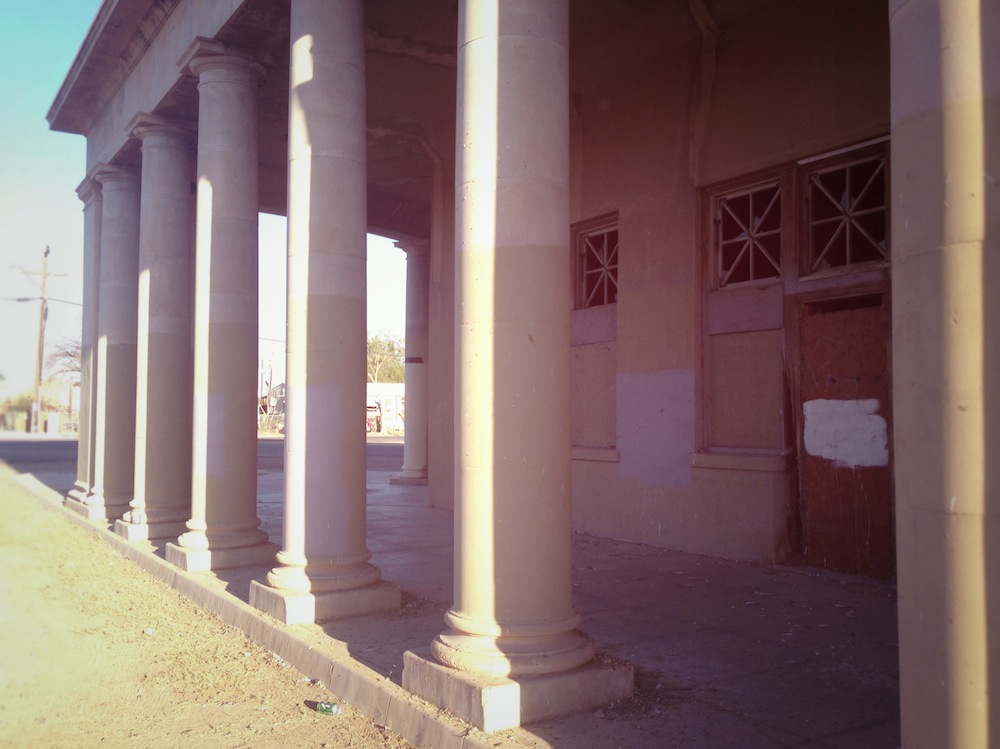 This dusty building might have been the bank or the town hall, but now only pigeons frequent its halls (giving me the fright of my life).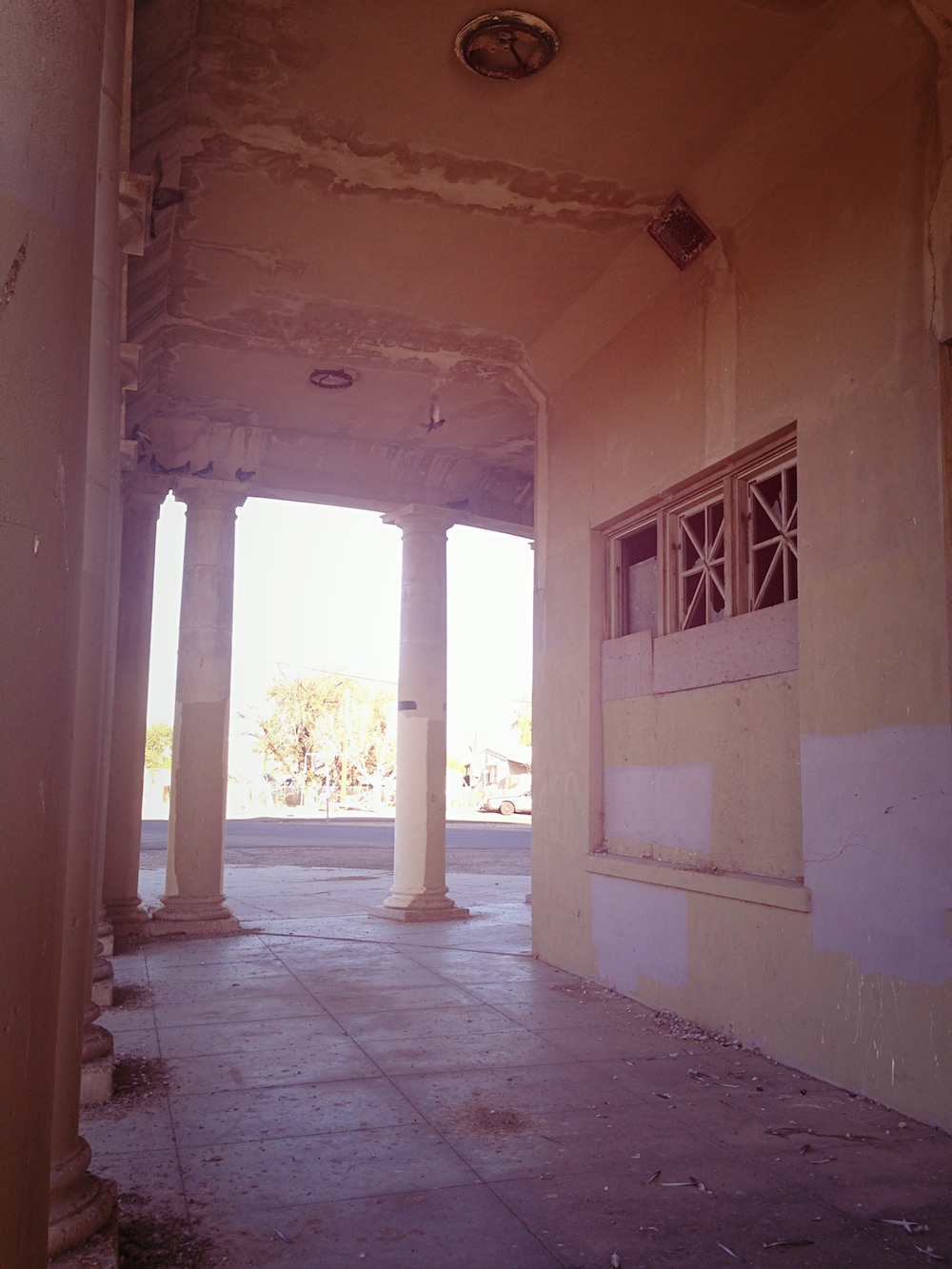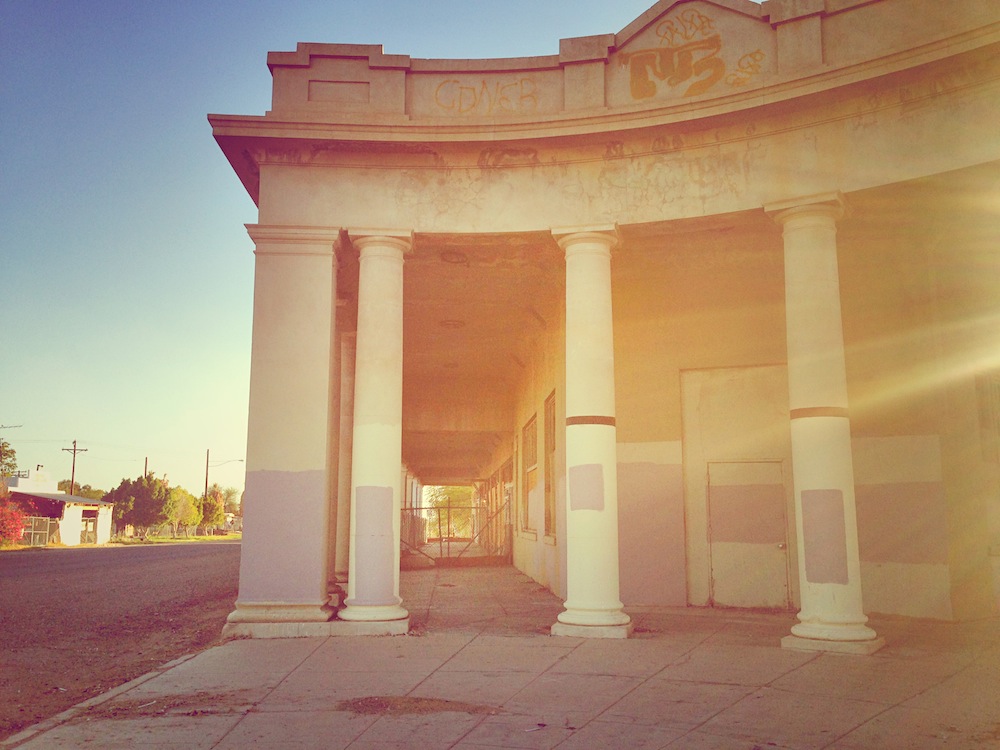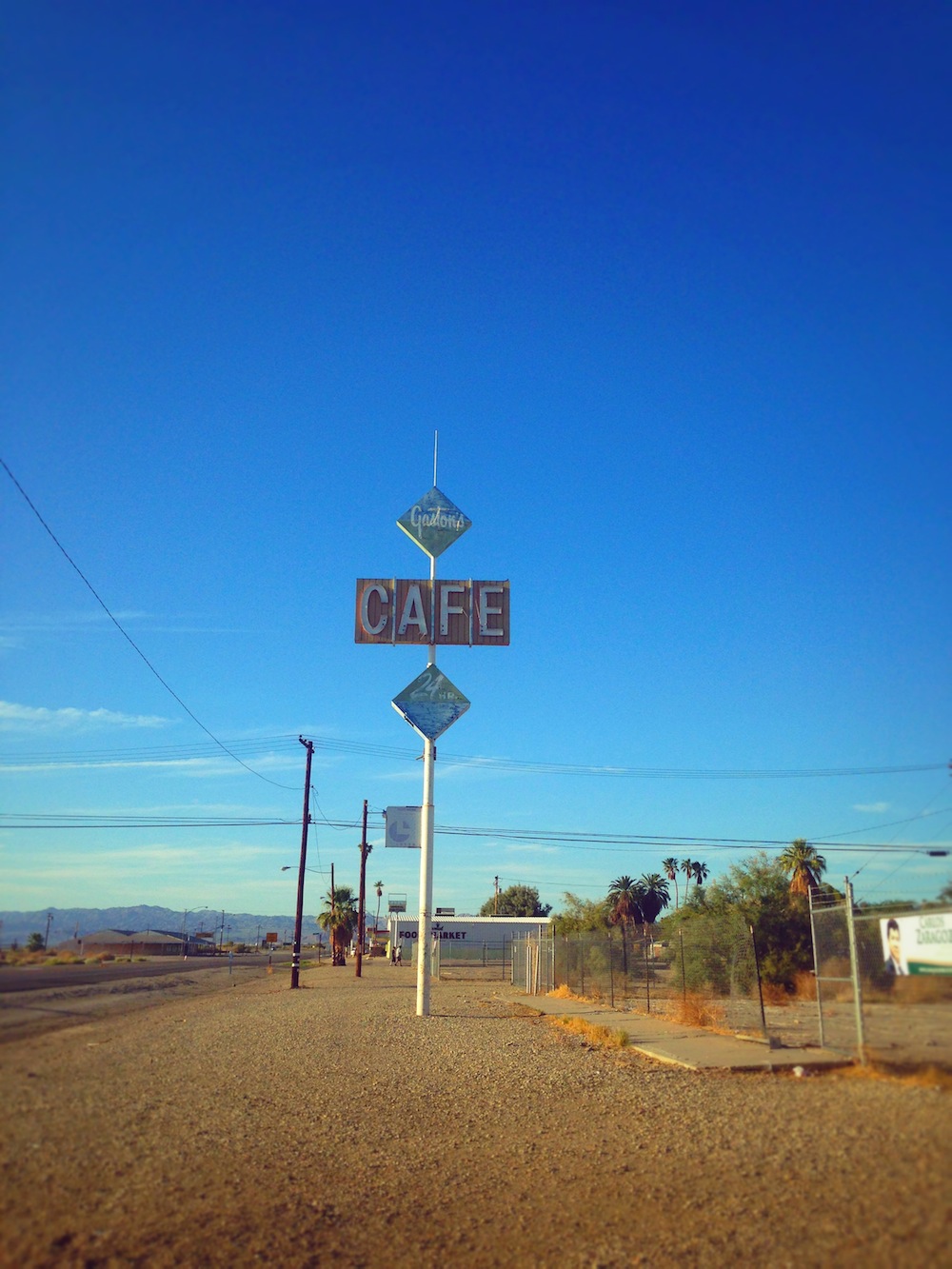 There is certainly no 24 hour café here anymore…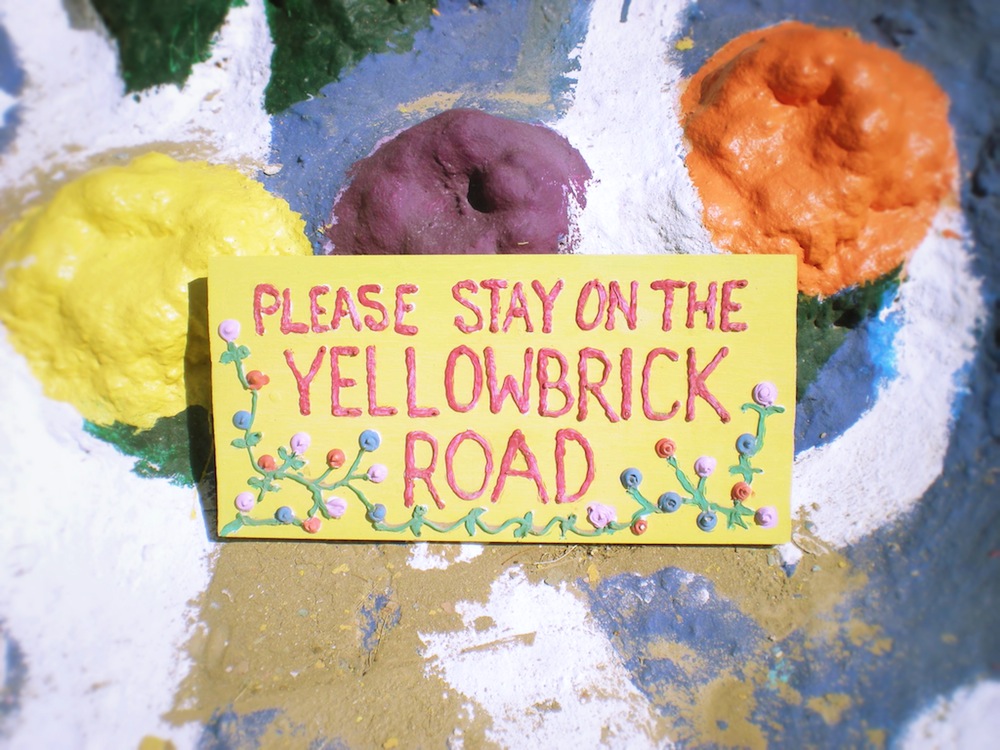 After a somber but surreal tour of the Salton Sea, you'll probably need something a little more cheerful…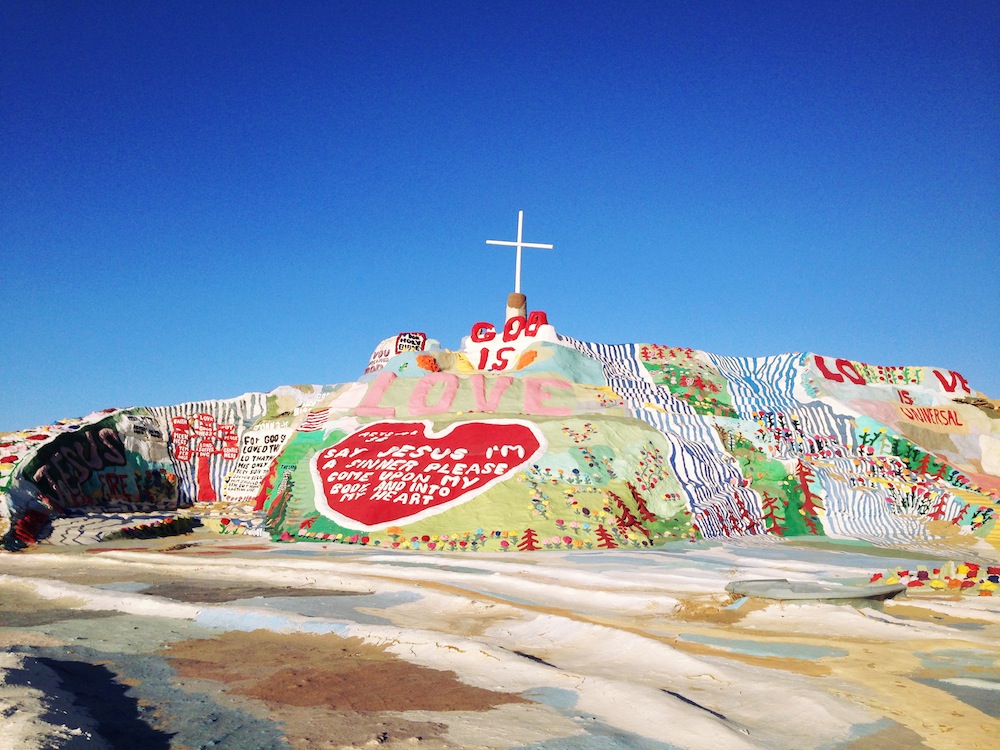 So it's pretty handy that one of the most whimsical places on earth is just down the road!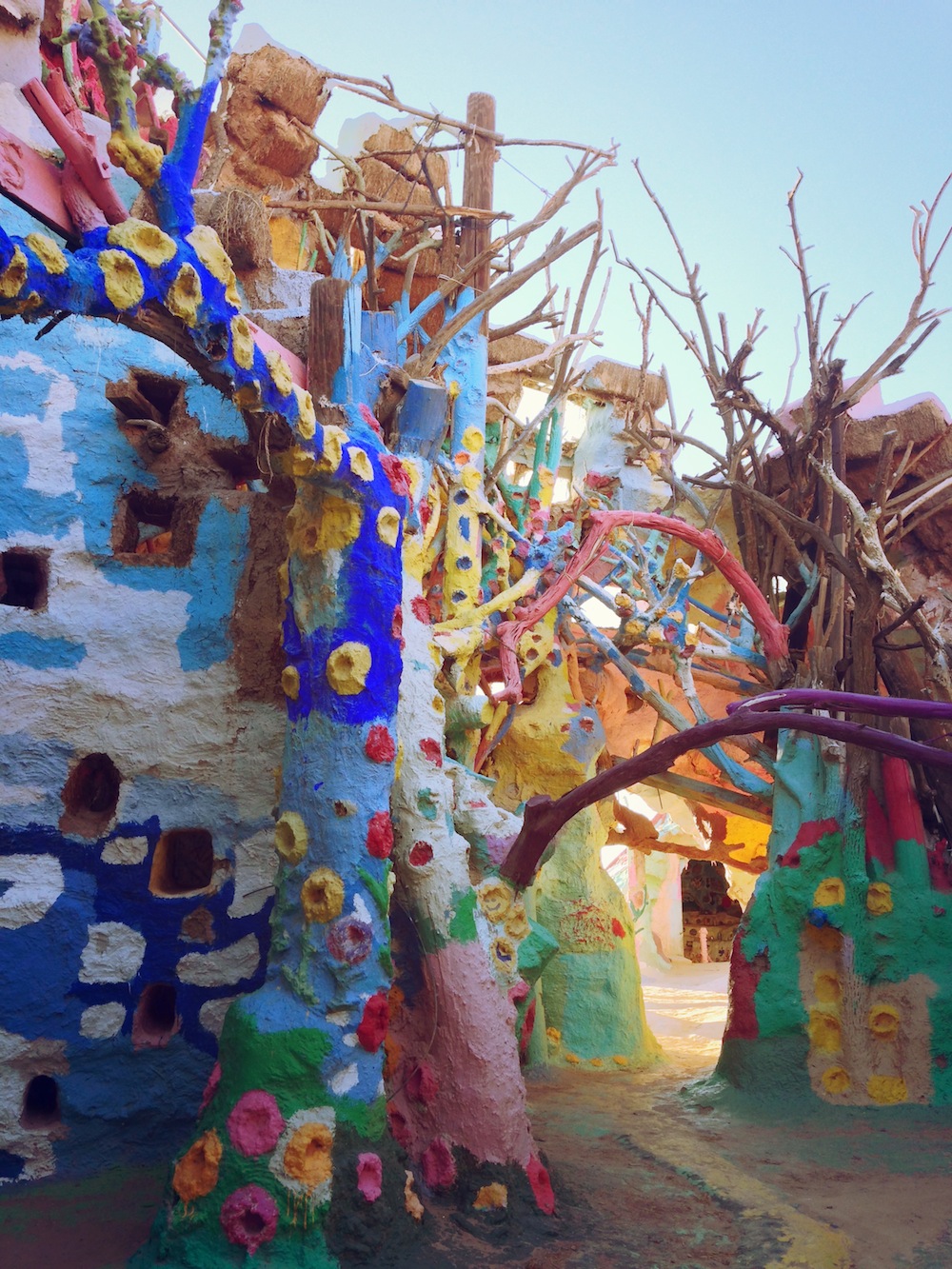 If you're a seeker of the off-beat and the off-grid, you've probably come across Salvation Mountain on your internet or real-life travels.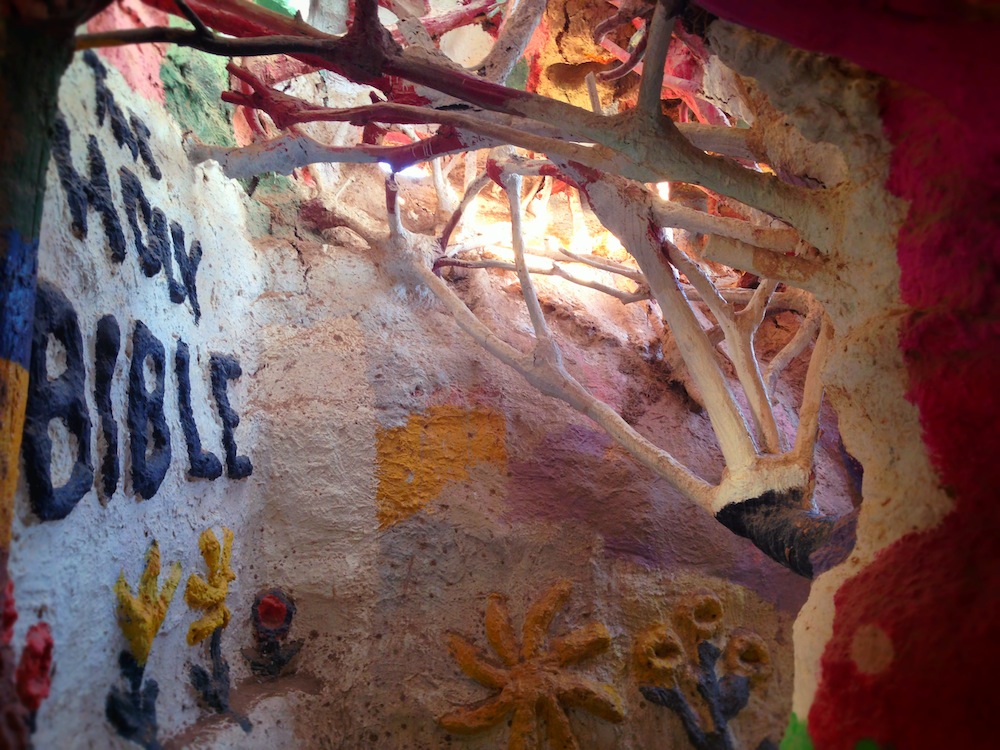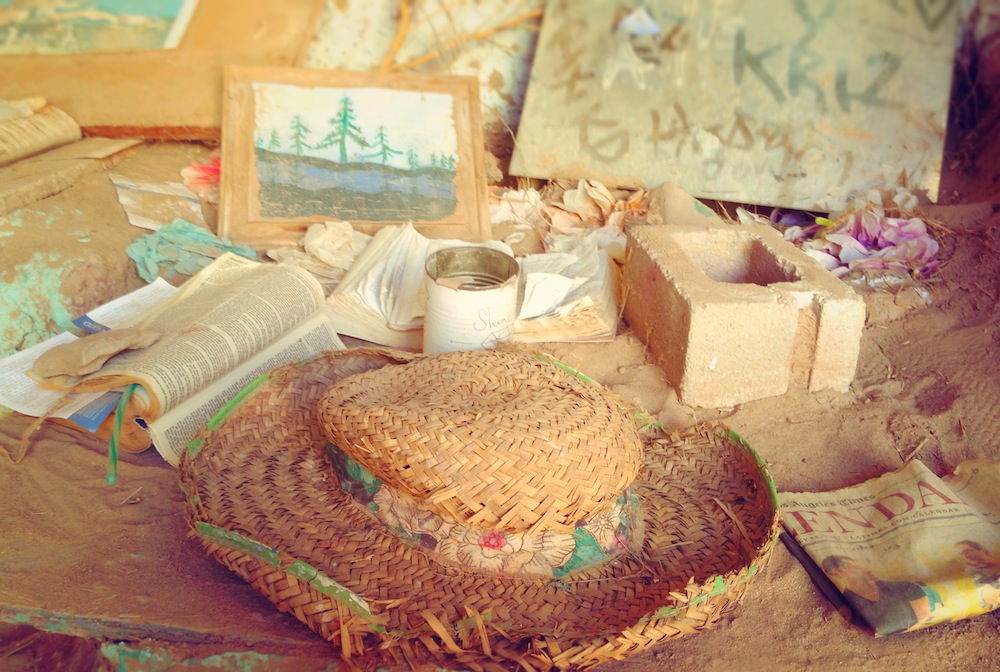 This ravishing burst of colour, a monument to hope, love and joy in the Colorado desert outside Niland, California, was built by one man over three decades, piece by piece. That man was Leonard Knight, who as you might have heard, passed away earlier this year after thirty years of living in the desert out of his truck.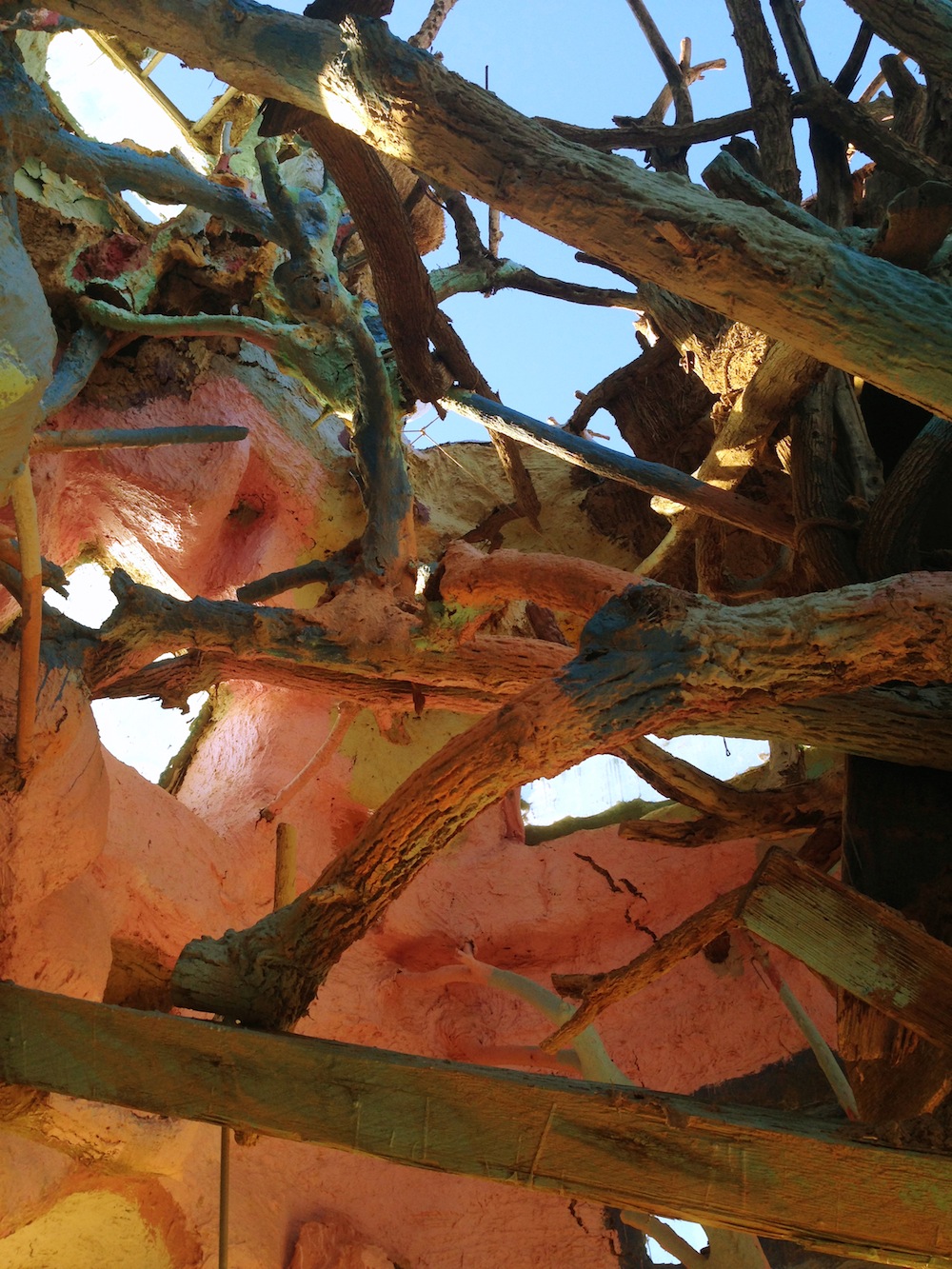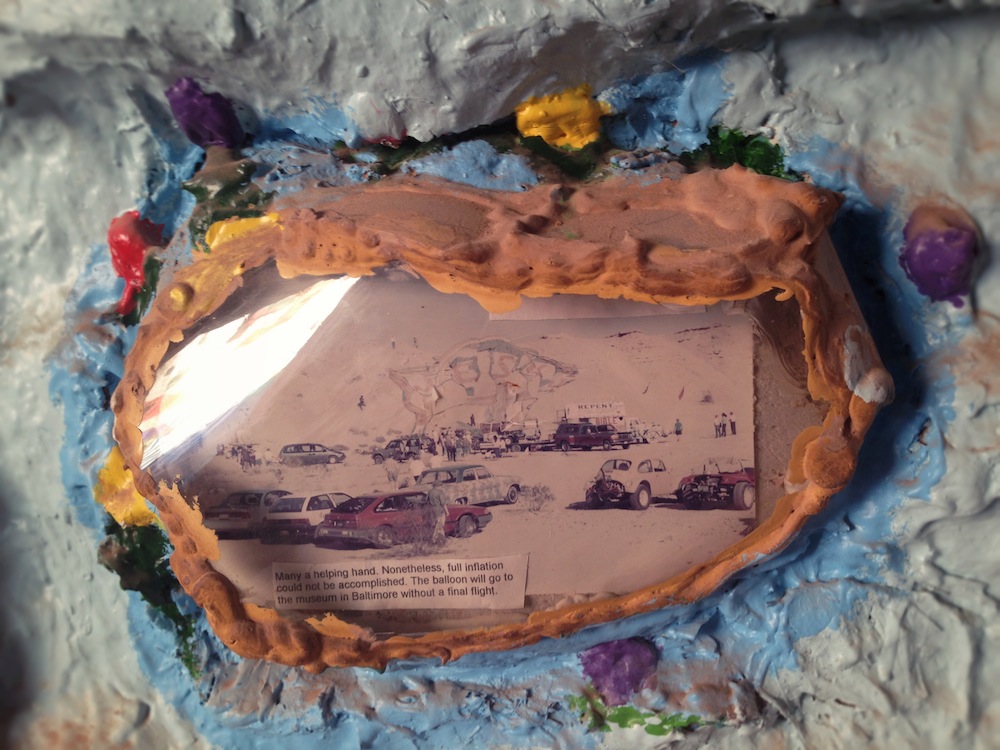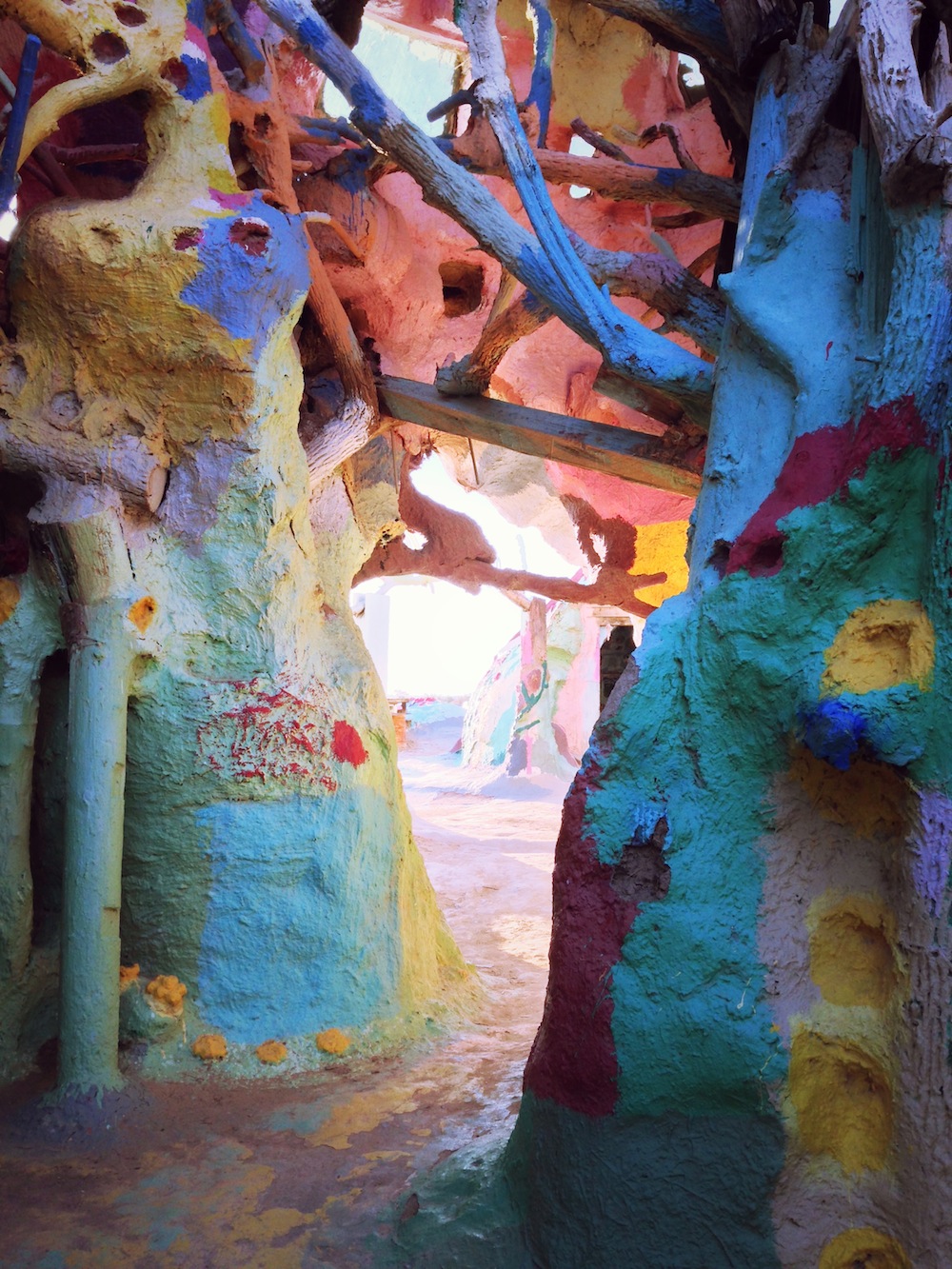 This place is nothing short of magical. Wondering through its passageways, nooks and looking up at its immense size, you feel a bit like Dorothy might have when she found Oz.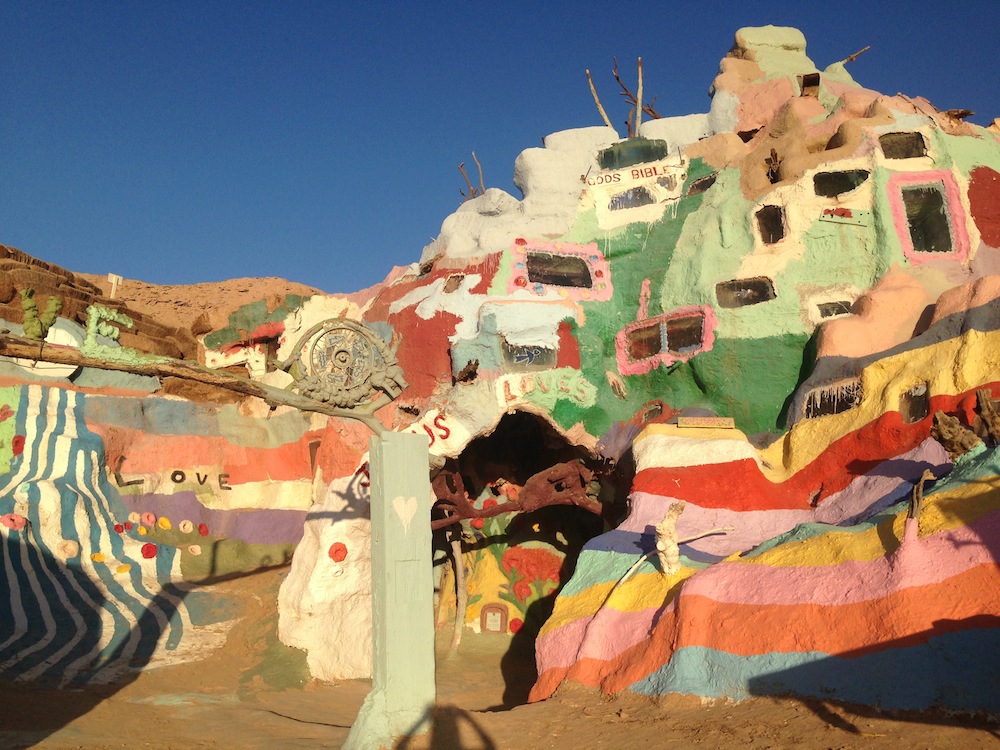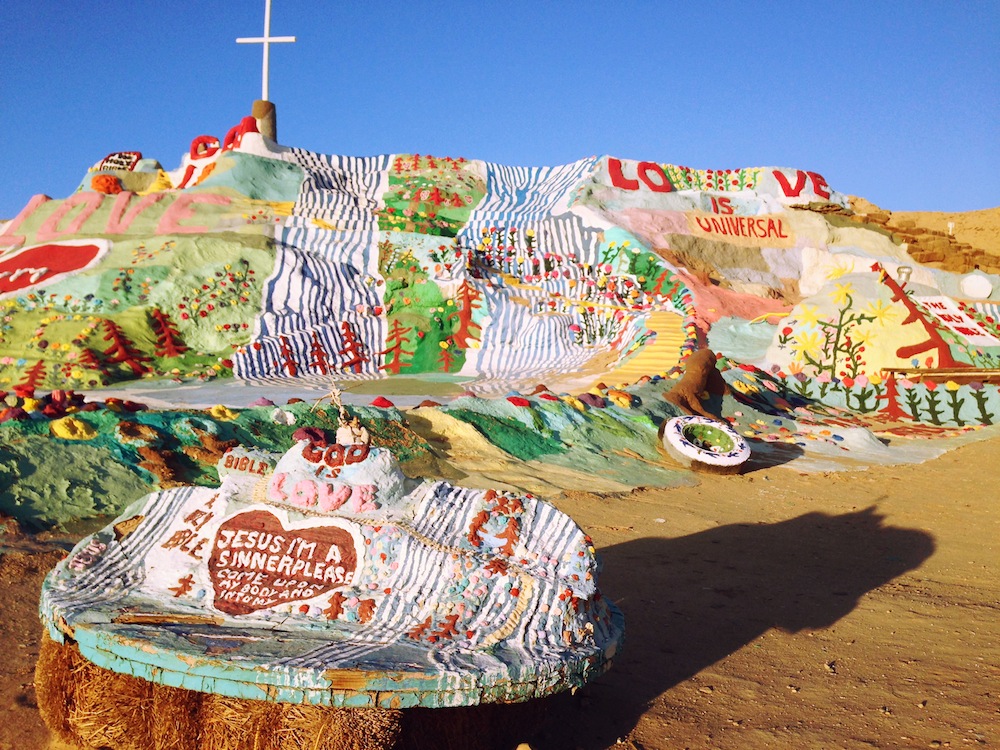 Look, Leonard even made a miniature version of his mountain!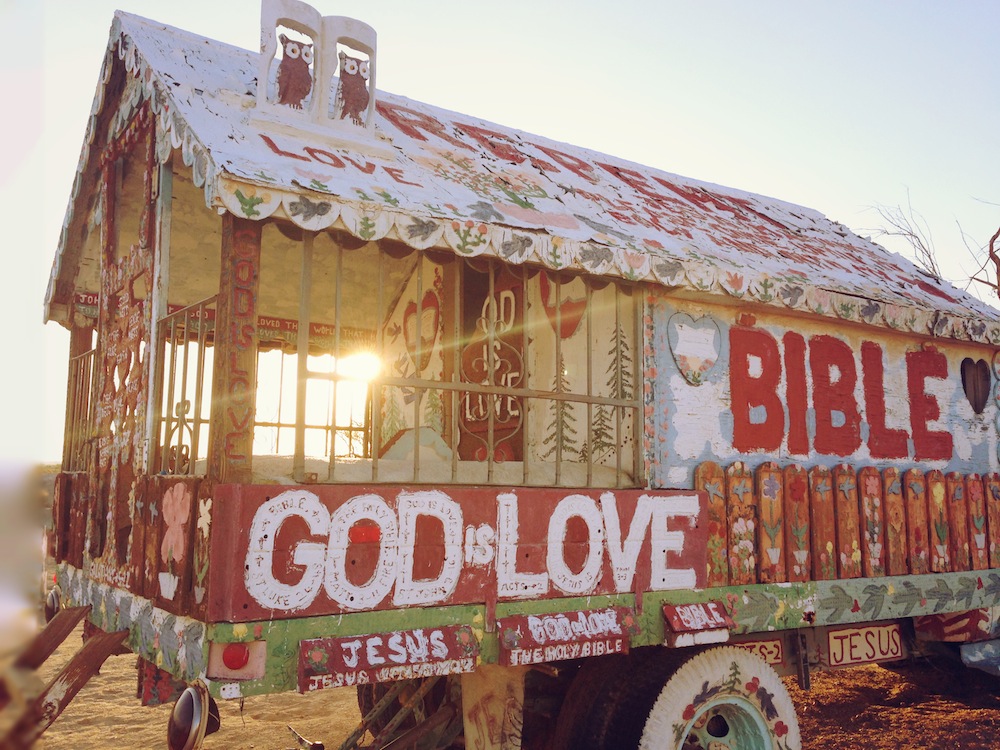 If the whole Bible thing makes you uncomfortable, watch this beautiful short film which pays homage to his story.
More than anything, Leonard's message was pretty much: "Let's all love each other and keep it simple."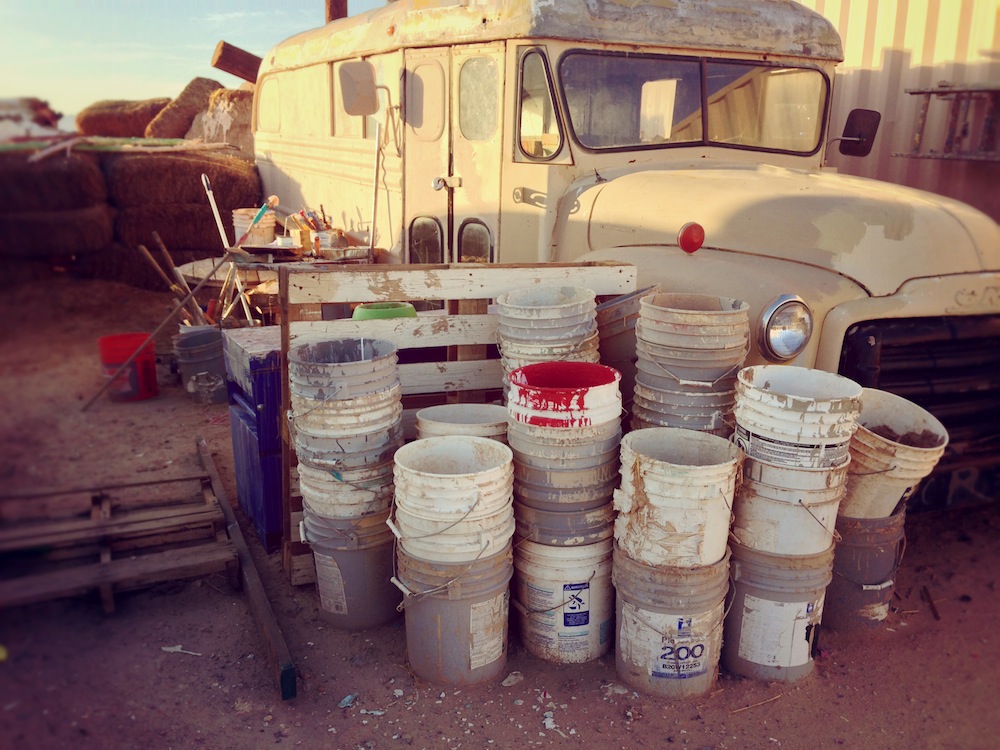 To the right of the mountain, you can find Leonard's "backstage area". Stacks of paint buckets serve as a melancholy reminder of his absence.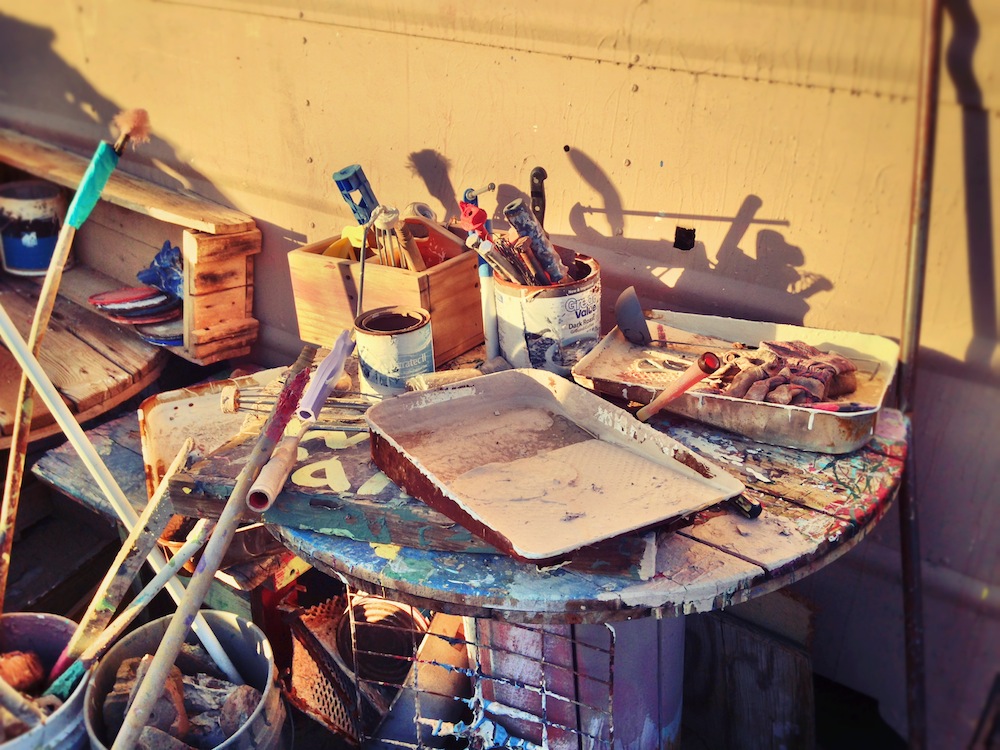 Despite having passed away more than six months ago, his brushes are still hanging out just as he left them behind his trailer, as if he might be coming back at any moment to continue painting his mountain.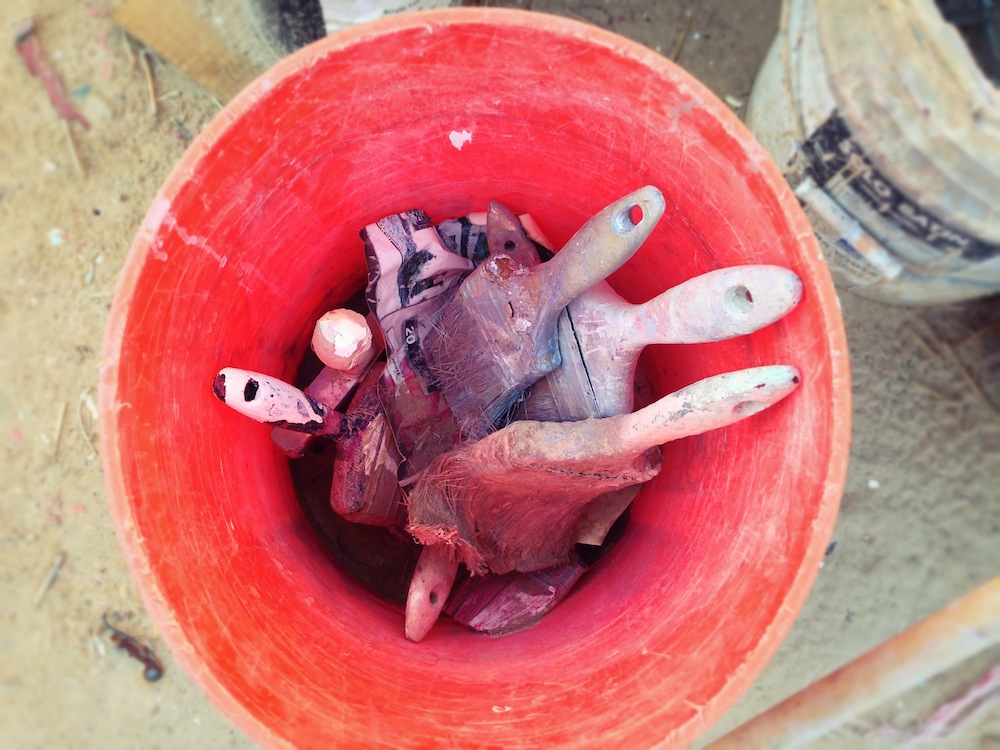 I hope they leave these exactly how they are.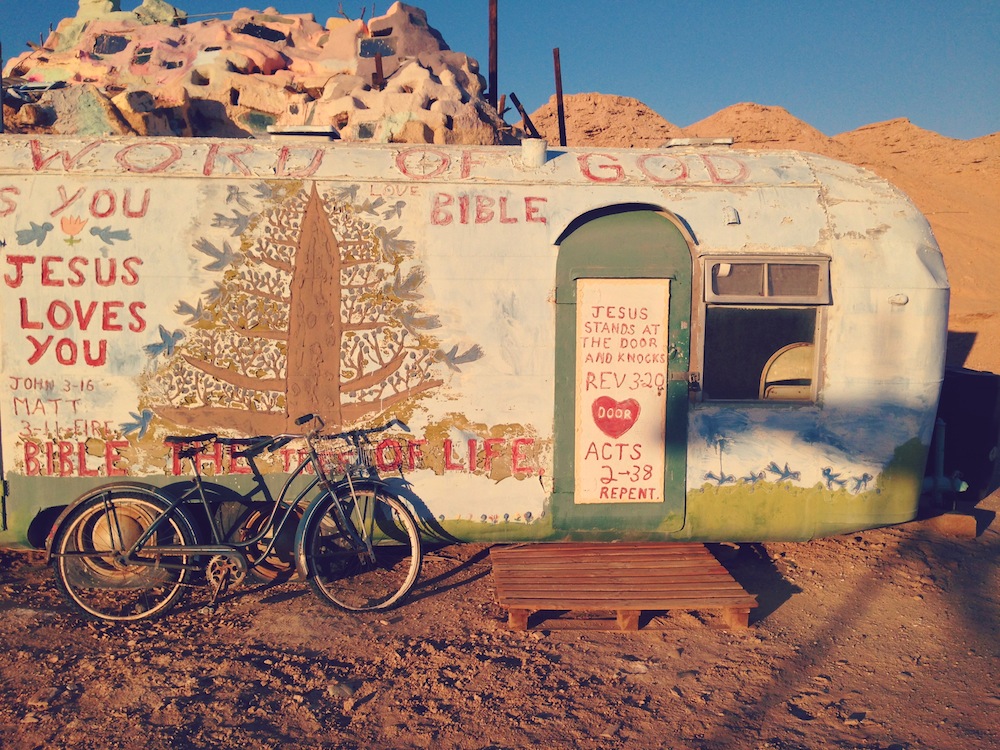 I don't know what the future holds for Salvation Mountain but I hope someone finds a way of preserving it without ruining its spirit. There seemed to be a friendly temporary caretaker walking around who lives in a trailer on the property.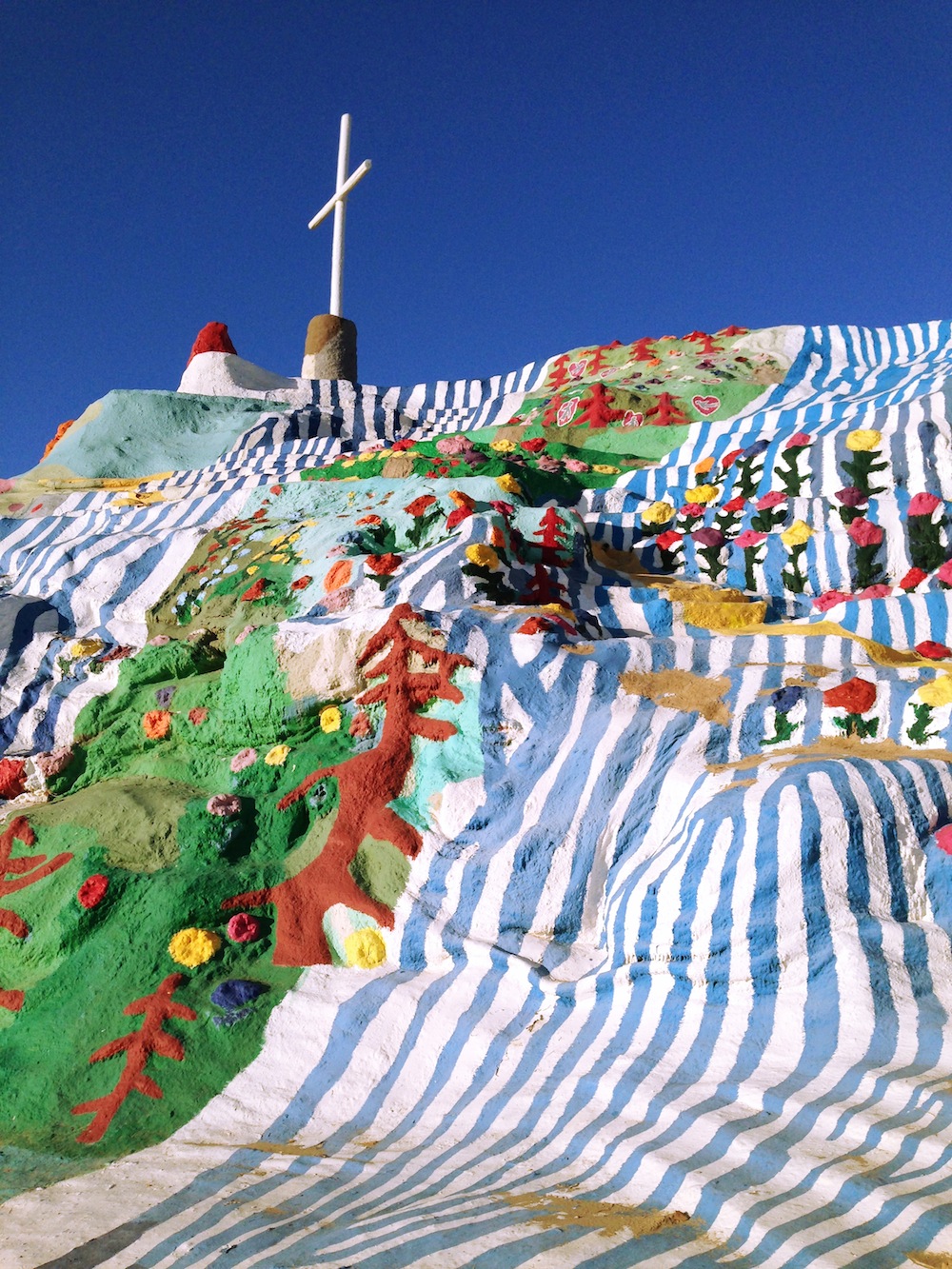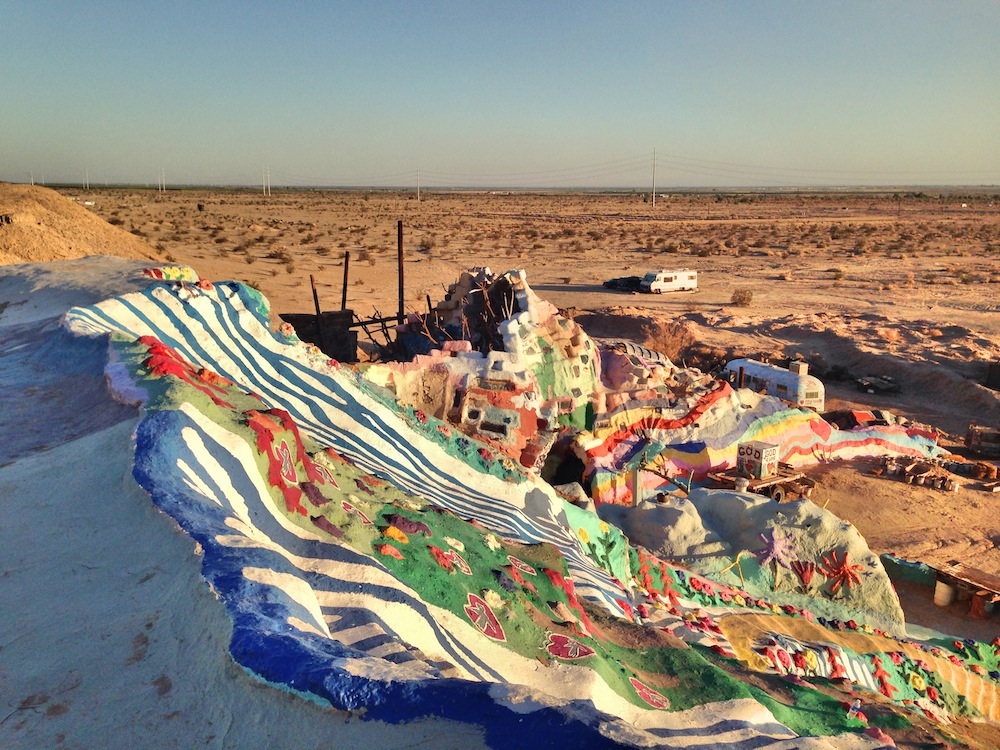 If you're in Los Angeles, you're about 2½ hours from the most unforgettably surreal places on Earth…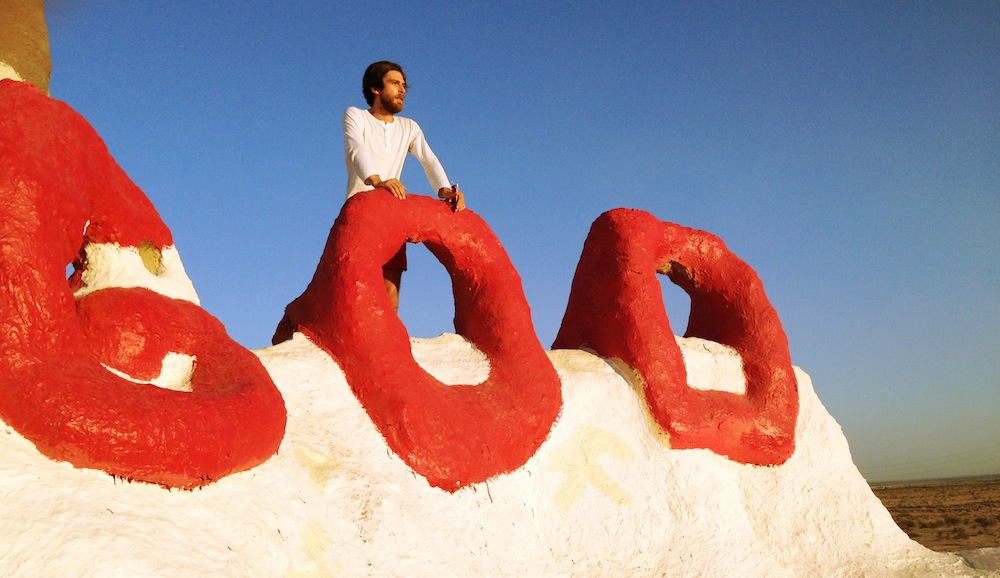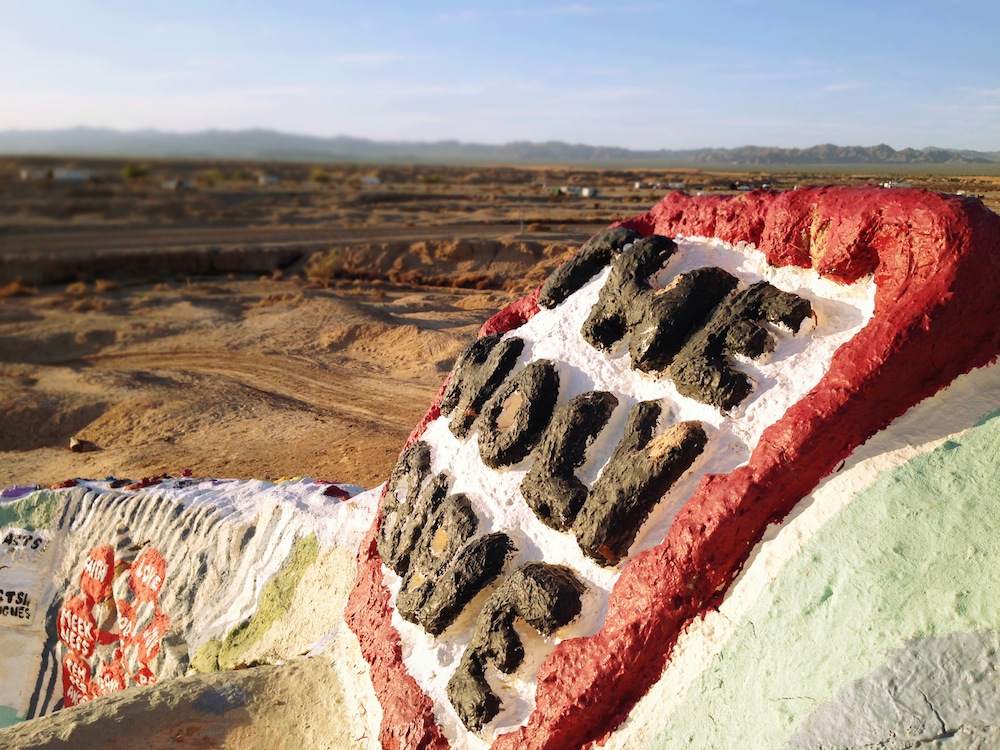 If you haven't already, get your butt up here.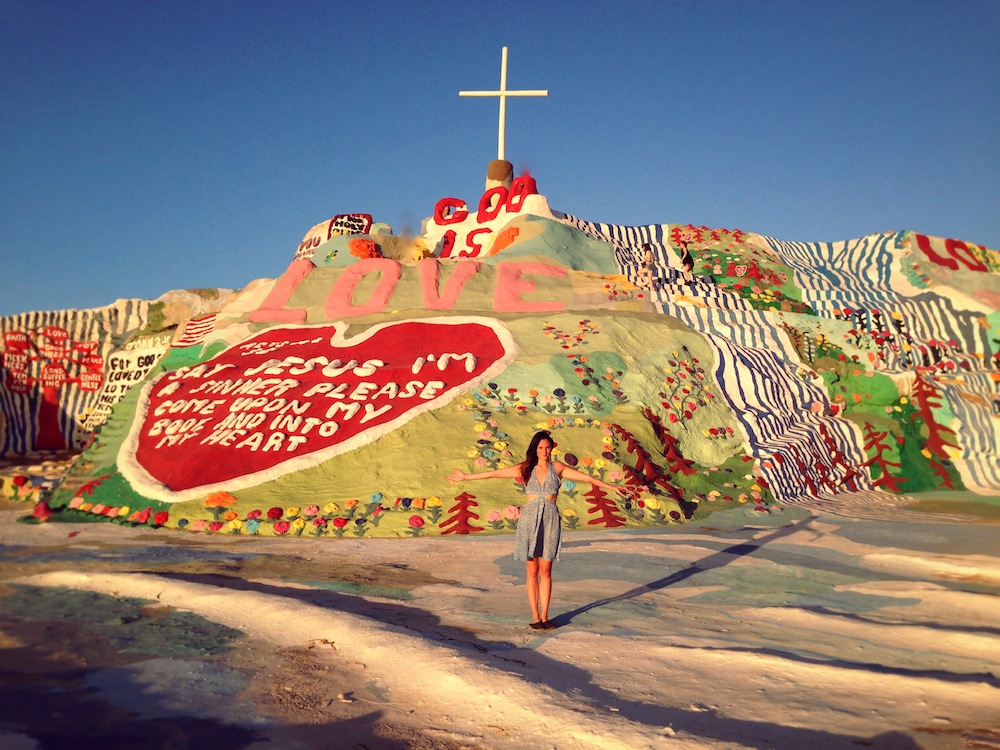 Stay tuned for more adventures around the Salton Sea this week…
You can follow MessyNessy's California road trip posts by searching #MessyNessyCalifornia in the search tab and on Instagram.