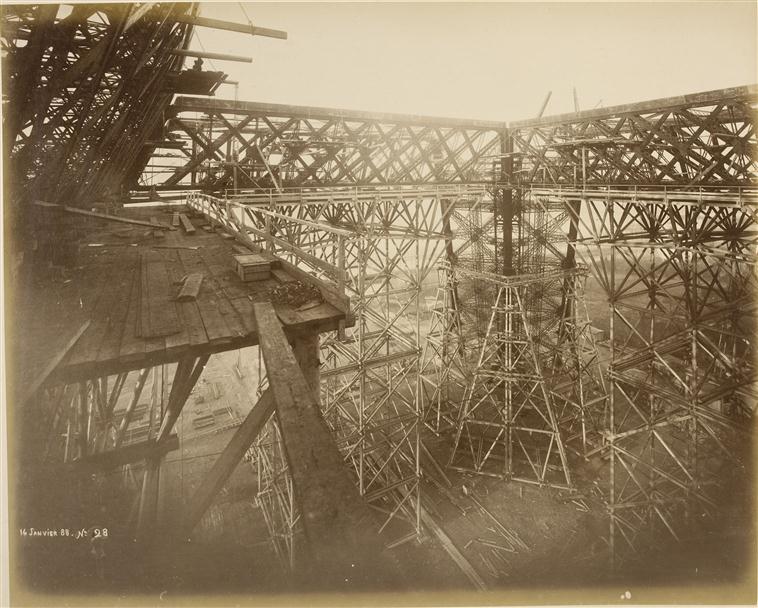 A Parisian friend dropped some very interesting photographs in my inbox this week, some that I'd never seen before of the Eiffel Tower in its earliest days. I had previously come across time-lapse photographs of the Eiffel Tower in its various stages of construction, but none like this; none that went behind the scaffolding, right up close inside the growing skeleton of what was to become one of the world's most famous monuments in history…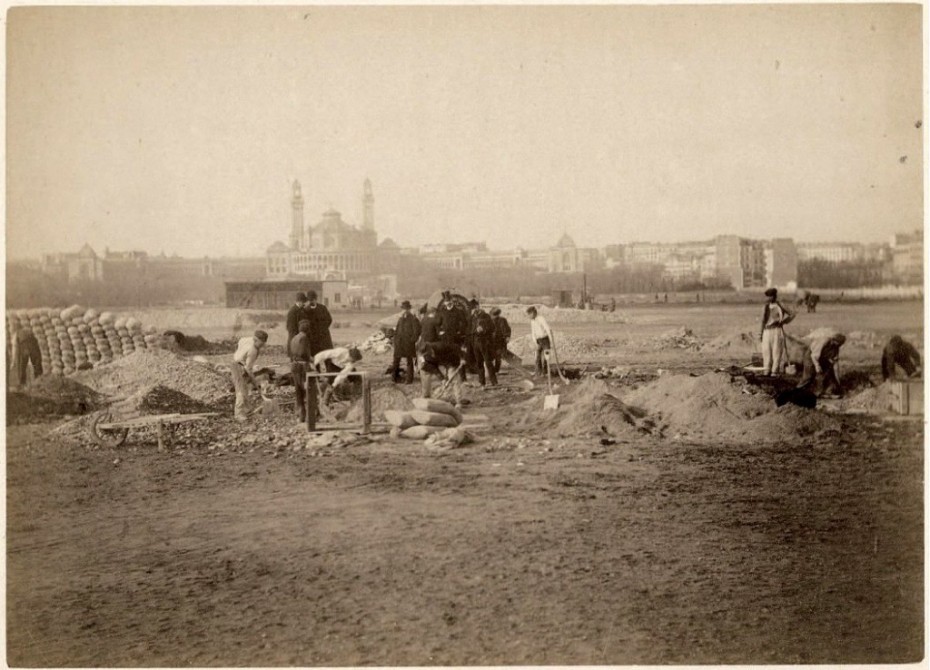 Laying the first bricks…
Construction began 1887, designed by Alexandre Gustave Eiffel (1832-1923) the tower was finished in time for the 1889 Paris Exhibition. Despite the 18,038 pieces of wrought iron, 2.5 million rivets being used to build the 10,000 ton and 984.25 feet high man-made structure, only 300 workers were employed to build it (some reports even estimate it was only 200 workers).
And from the looks of it– not a single hard hat (although perhaps the odd top hat)!
The tower was built as a symbol of modern science and engineering, but lucky for us history buffs, another technology was also in its infancy phase — photography. The foundations of the tower were captured by various budding photographers of the time, most of their work now archived by the Musée d'Orsay.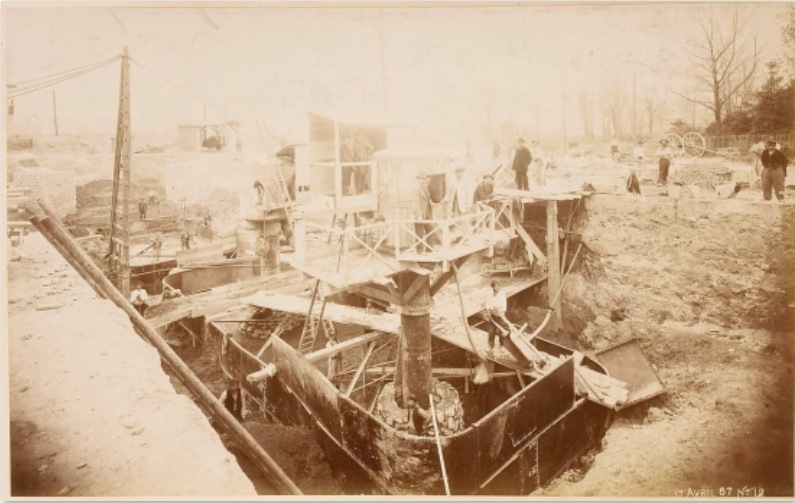 Showing the depth of the Eiffel Tower's foundations ↑ photographed by Durandelle Louis-Emile © Musee d'Orsay.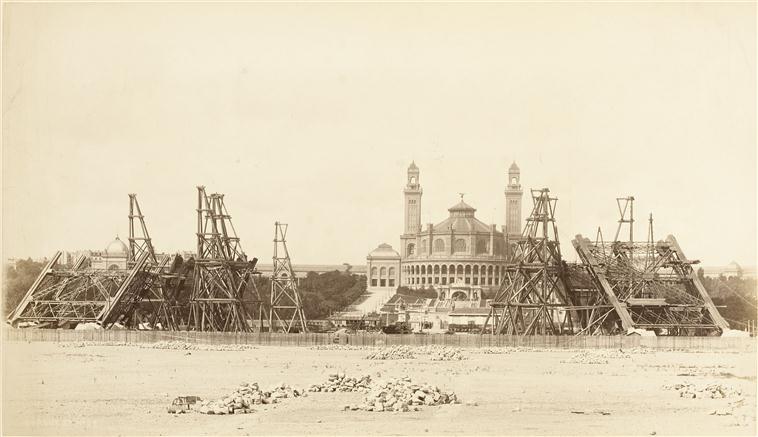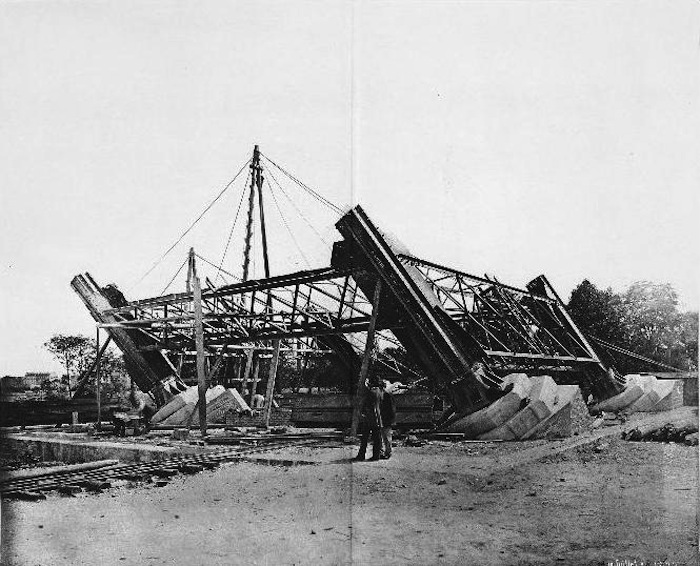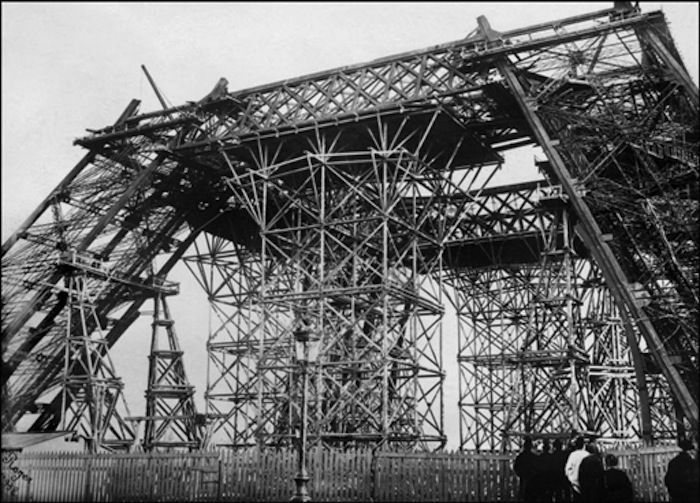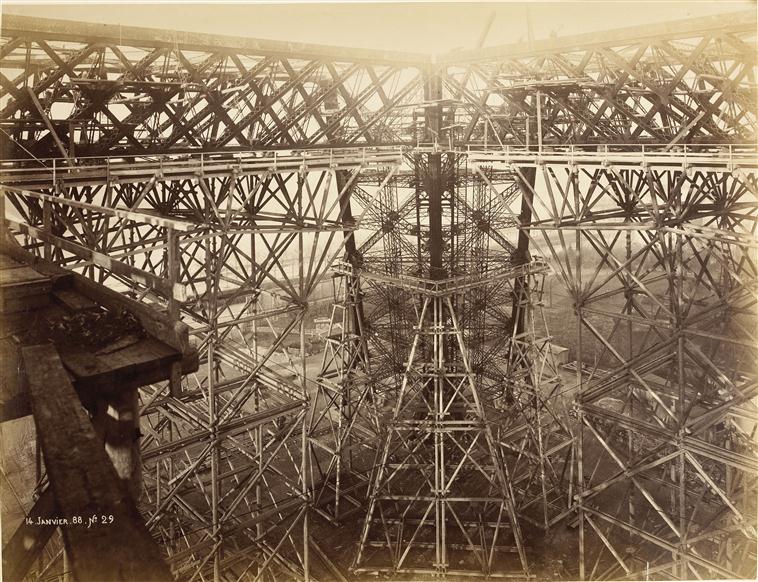 via Paris ZigZag.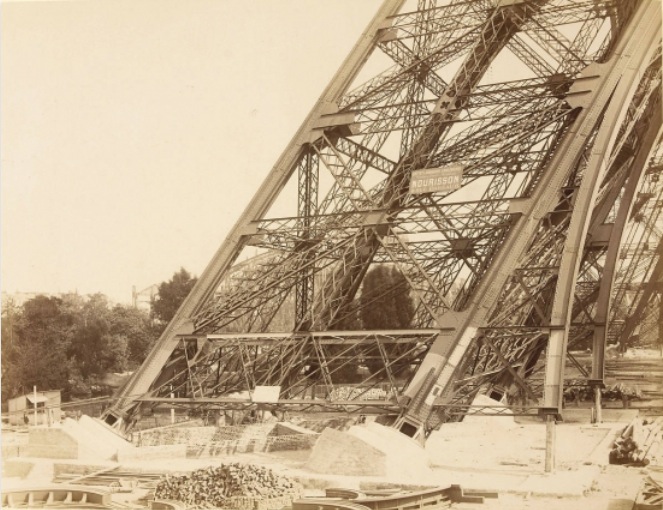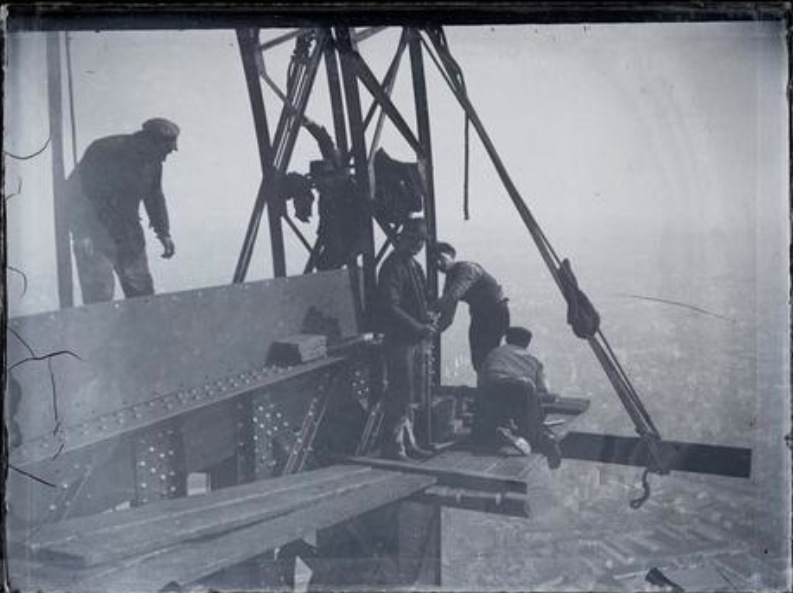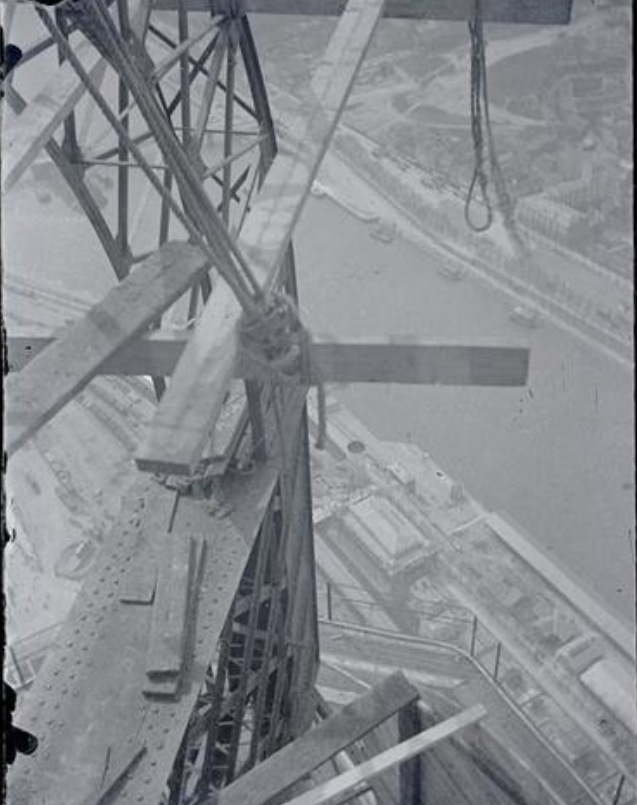 Those with a fear of heights needed not apply…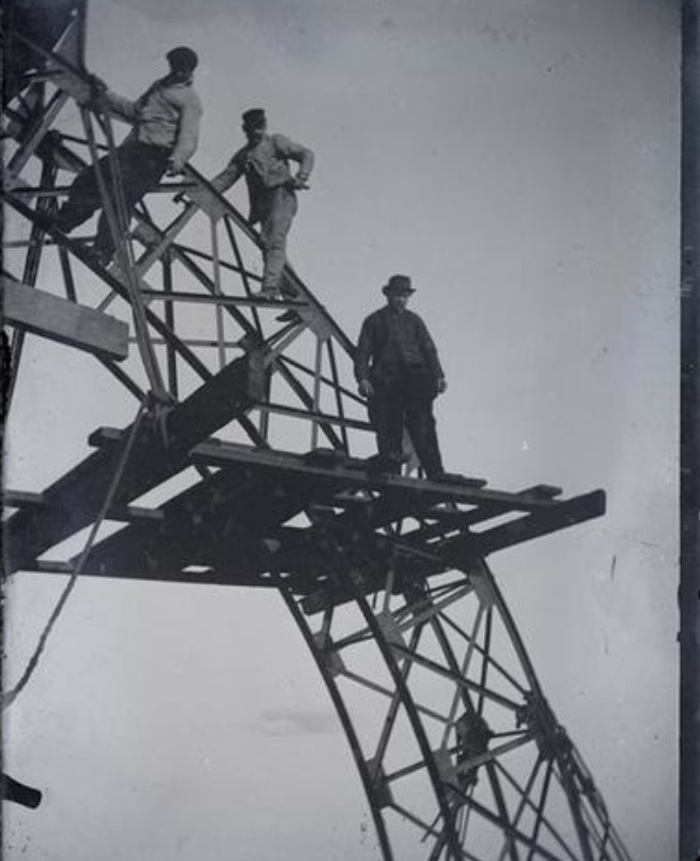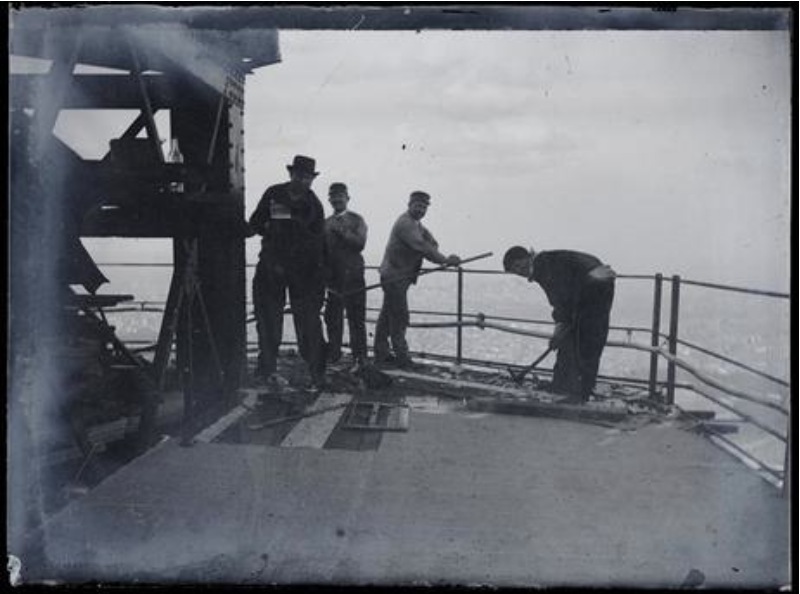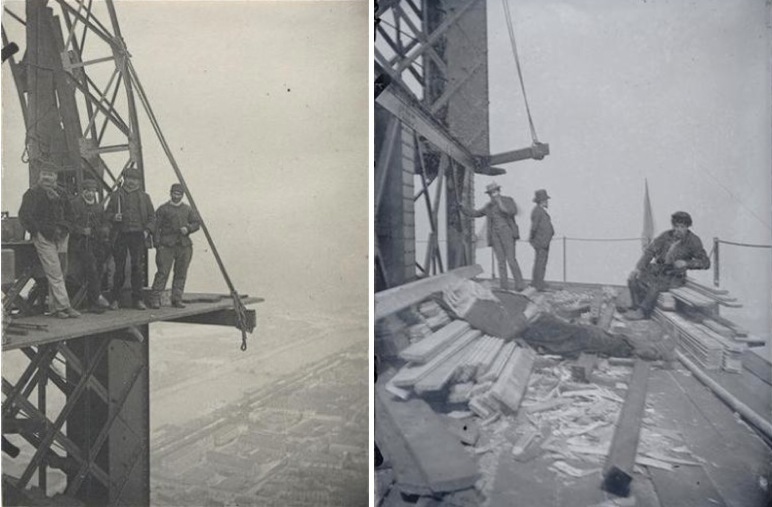 via Paris ZigZag © Photo Arago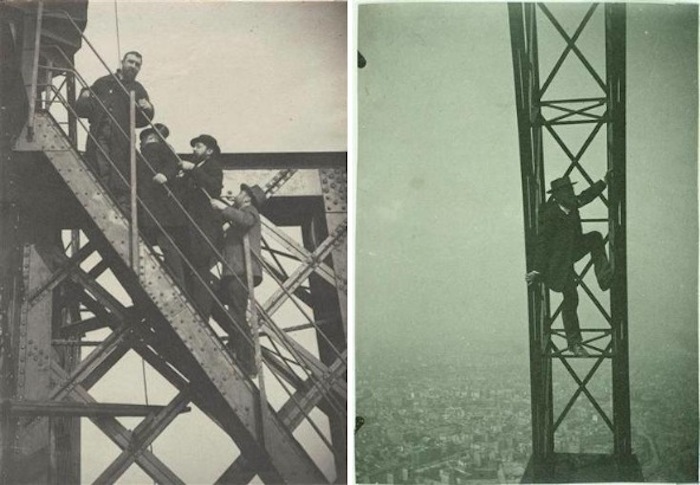 And here's Gustave Eiffel himself ↓ near the summit of his tower in 1889. When the tower first opened, the elevators weren't actually operational yet and the 30,000 visitors of the World's Fair had to climb 1,710 steps to reach the top.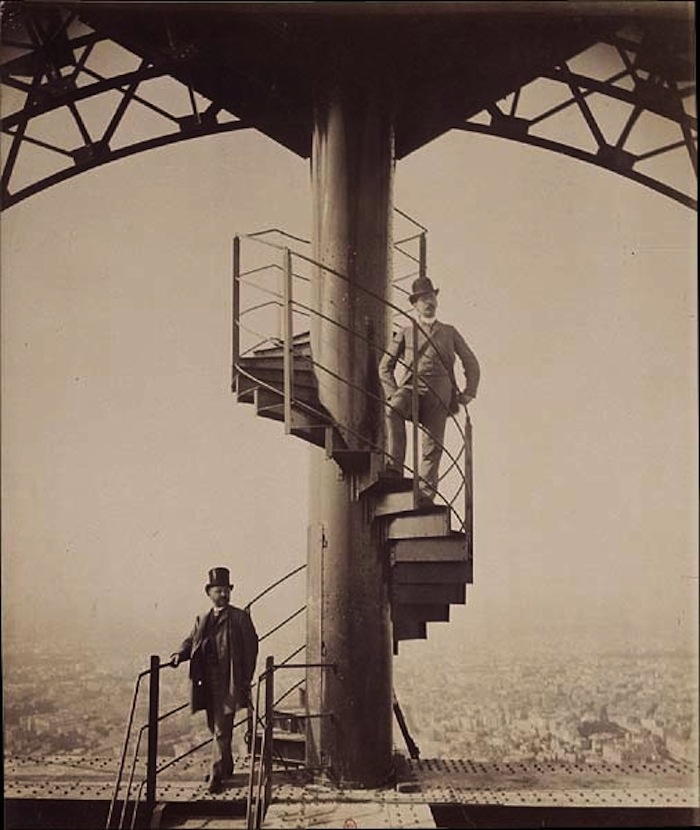 But of course, the Eiffel Tower wasn't just a hollow tower with a great view. During the opening year, French newspaper Le Figaro opened a print office on the second floor, producing a special edition of the daily newspaper on-site every day.
There was also a post office for sending postcards by balloon, scientific laboratories, and allegedly even a theatre! Now that would be a show I'd never forget…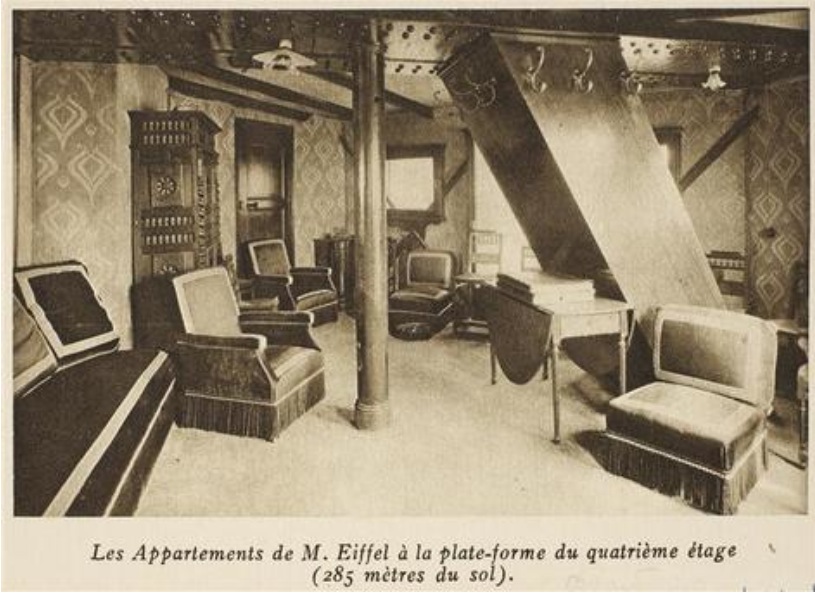 I went digging pretty deep for some more photography of the Eiffel Tower in its early days and found a few surprising images that I was certain didn't exist, such as this snap ↑ inside Mr. Eiffel's much-rumoured private apartment on the fourth floor of his tower, 285 meter above ground, where he entertained the likes of Thomas Edison.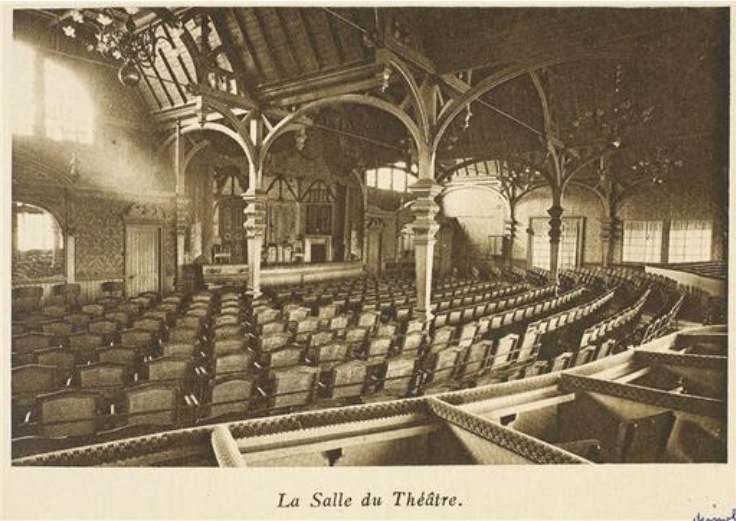 Taken by the official photographers of the Paris World's Fair in 1889, the "Neurdein brothers" were given full access to all corners of the tower and here's one they took which is what appears to be that alleged theatre ↑ (pictured above). I'm still looking for more information and material on the illusive theatre, but as the photo dates to 1900, it's possible it was temporarily erected in what is today's reception room on the 1st floor, for the Exposition Universelle of 1900, the second of three world's fairs to use the Eiffel Tower as its focal point.
I'd bet that my fellow Parisians reading are seeing some of these images for the first time too…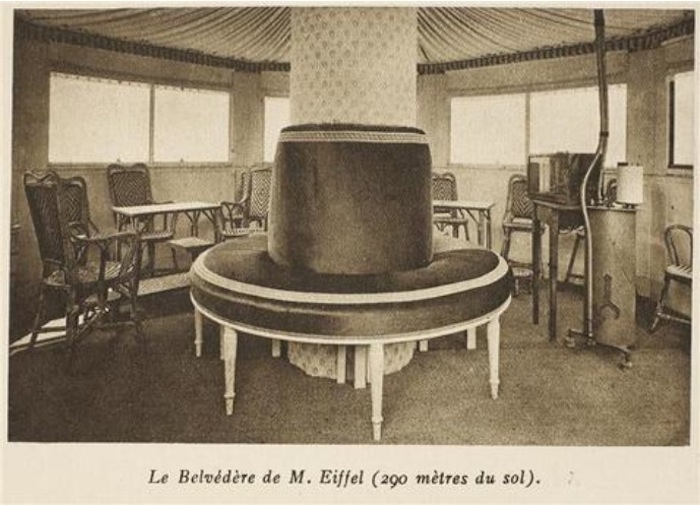 A year after the tower was finished, writer Henri Girard reported in his paper that Gustave Eiffel was "the object of general envy." Looking inside his plush lookout "penthouse" at 290 meters above ground, I think it's safe to assume this was because Mr. Eiffel had the best view in town.

Construction images via Paris Zig Zag and Muzéo/ Post-construction sourced from Photo Arago.