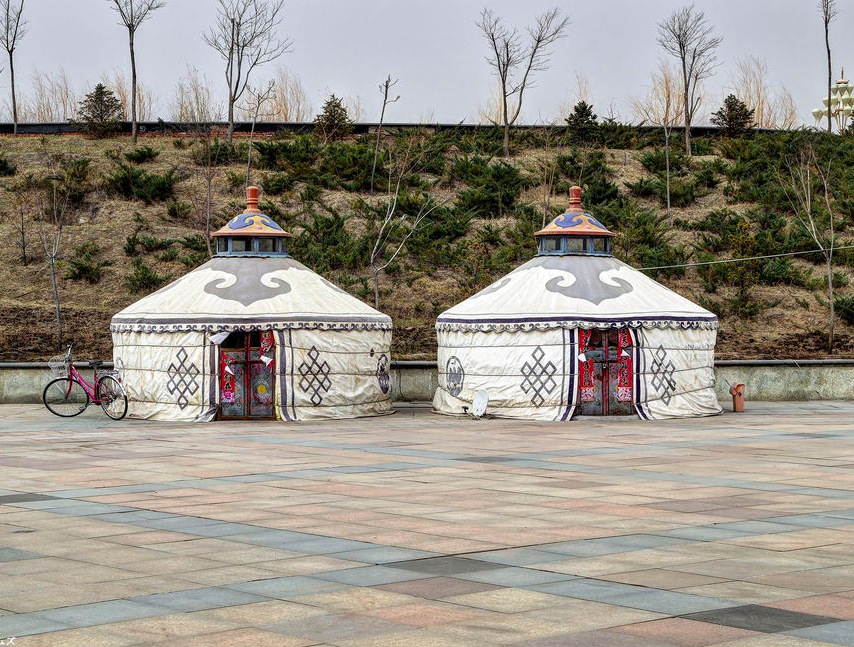 "I stumbled across some traditional Mongolian yurts plonked in the middle of this empty ghost city," said Shane Thoms in an email to me this morning. It's always exciting to receive news from my favourite urbex photographer who is usually based in Japan but took a break to spend some time in a Northern Chinese ghost city in the inner Mongolian desert. (What a life).
I eagerly devoured Shane's photographs and accompanying story of his latest find; the surreal discovery of colourful little Mongolian yurts sprouting up in a concrete, empty and barren ghost city…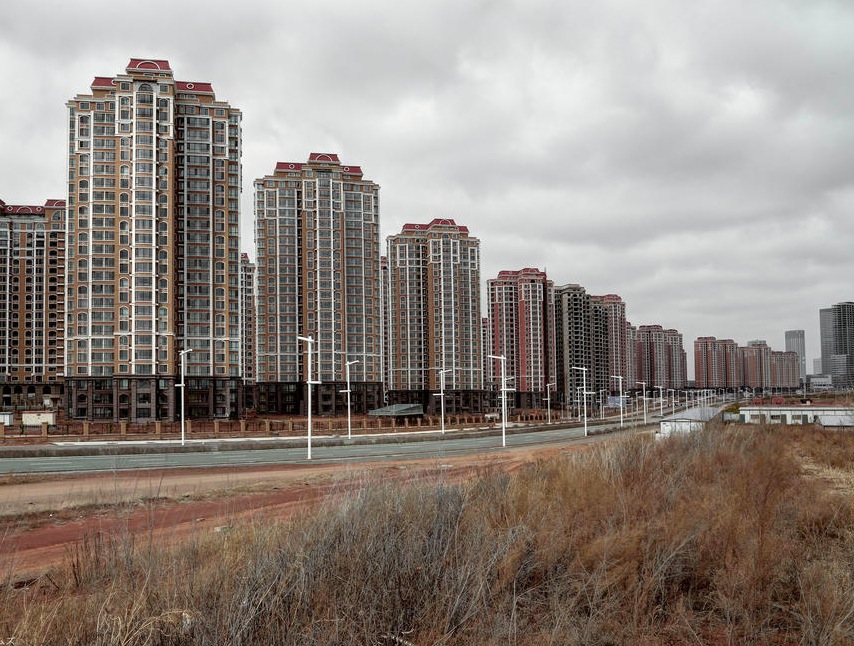 Kangbashi, has been known for a while now as one of the world's emptiest ghost cities. Construction of the city that promised to house 1 million people began in 2004 but deadlines weren't met, loans went unpaid and investors pulled out before projects could be completed. The 'new urban metropolis' just outside the existing city of Ordos, fell flat on its face. Ten years after its conception, the stillborn city became the subject of media attention, exposing its vast empty streets and abandoned grandiose facilities. Shane spent a week there last month, embarking on a photographic project and can confirm that as of March 2015, the majority of the area still very much remains uninhabited and disused.
There was however "an interesting and colorful patch of life dwelling in a small corner of this empty, red and dusty artificial landscape"…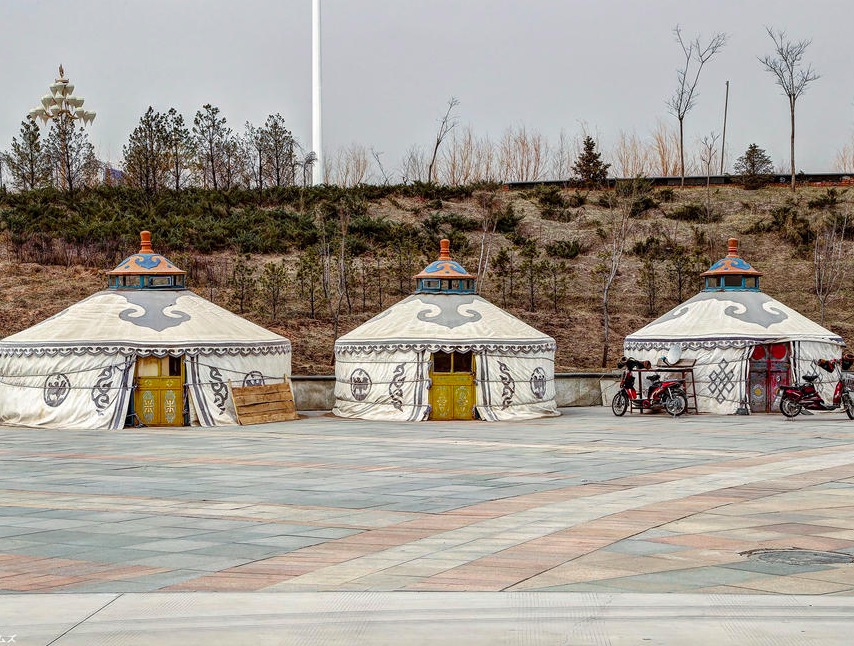 I walked through these large faded monuments and followed a dirt trail to a disused lakeside recreational area.  It was here that I found a small cluster of traditional yurts which had been set up by a group of Mongolian people.  I'd only ever seen yurts in National Geographic or on the Discovery Channel and they were always in the middle of the Gobi desert surrounded by nature, being circled by nomadic people riding horses, herding sheep and cattle…but here they were, sitting in this artificial landscape, surrounded by concrete, pavement and fake (and dilapidated) landscaped gardens.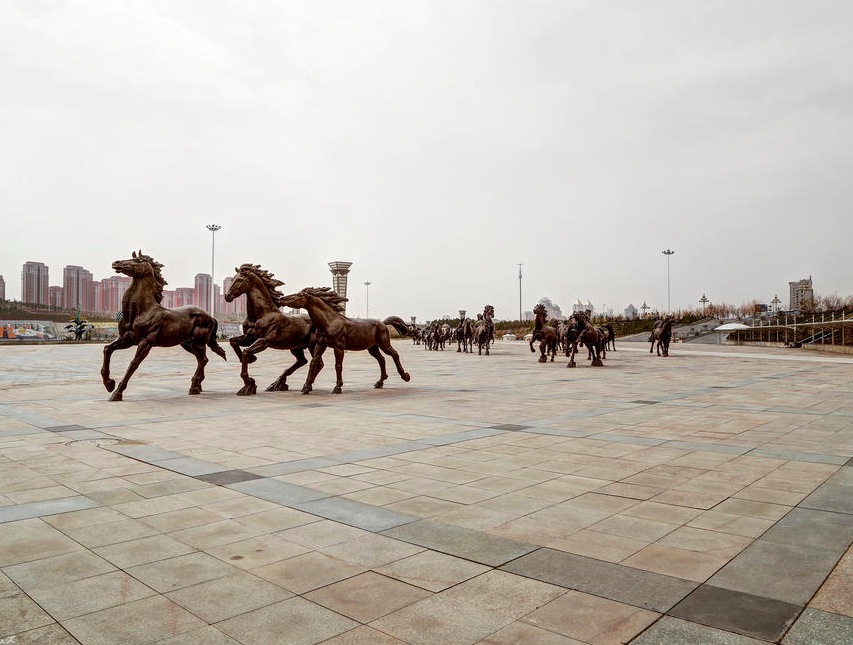 A row of huge bronze horse sculptures stood in front of these cute little white, circular huts while, on the other side, a small unused and slightly decayed amusement park sat lonely and silent, surrounded by red sand  (I don't think the park was ever active and the rides seemed to be either incomplete or missing motors and machinery).  On my way back to the city centre, I came across one more yurt plonked in the corner of the deserted town square looking totally out of place.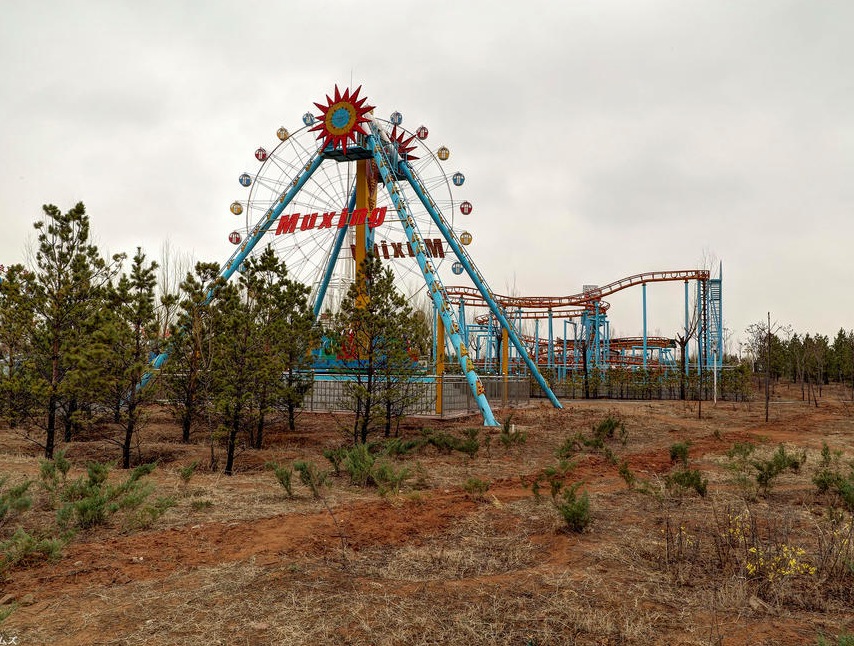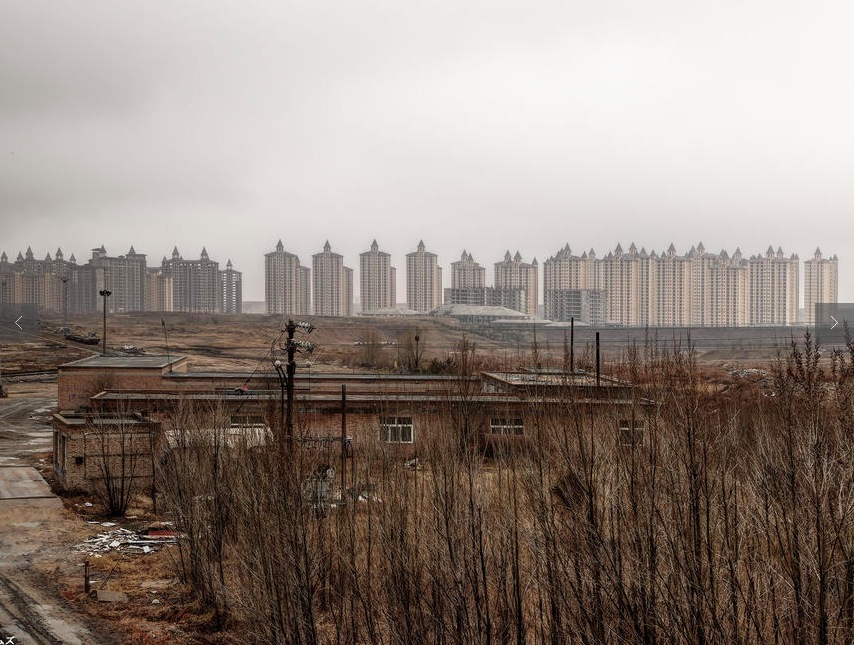 It was kind of strange and interesting that all around the area were hundreds and hundreds of empty apartment complexes…yet these traditional yurts were still being utilised as a form of housing in this modern and synthetic environment.
These little white huts added a touching and warm visual where colorful inner Mongolian culture clashed with this synthetic, plastic and almost film set like environment.  Like colorful desert wild flowers, I hope these little homes start to sprout up all over this empty place.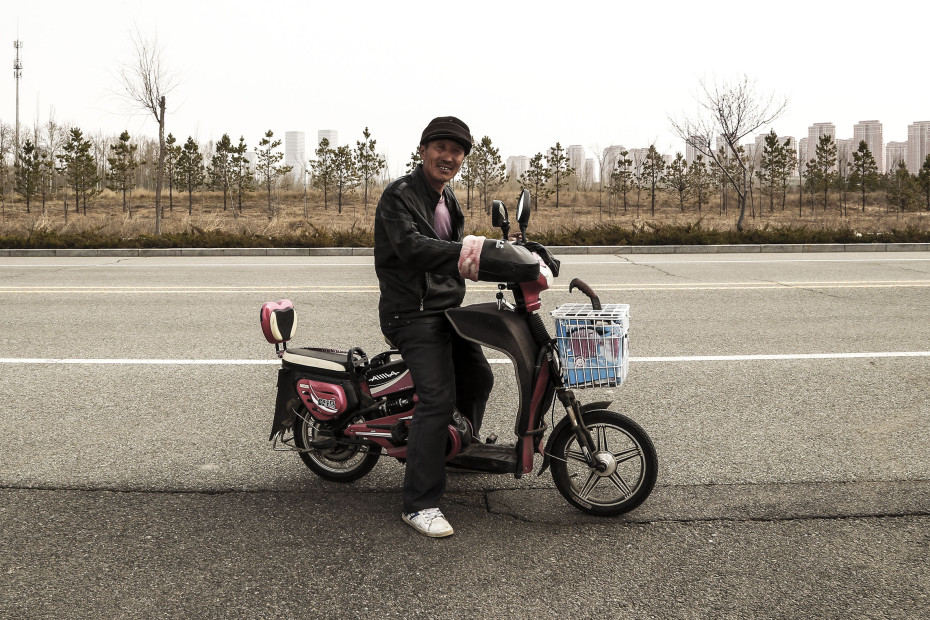 I asked Shane if he had had any contact with the Mongolian nomads living in the yurts, and if so, did they seem content living in this surreal landscape?
I only met one Mongolian the entire time I was there. It looked like they were all inside the yurts…it was around lunch time at the time I took the photos so I think they might have been eating … but I was shooting pictures in the middle of an empty road when a Mongolian man on a scooter rode past me (I hadn't seen anyone for hours in this particular area so it was kind of awesome).  He stopped and shook my hand and said something in Mongolian. He then let me take a picture, and then rode off into the emptiness again and disappeared.  He was a really awesome dude!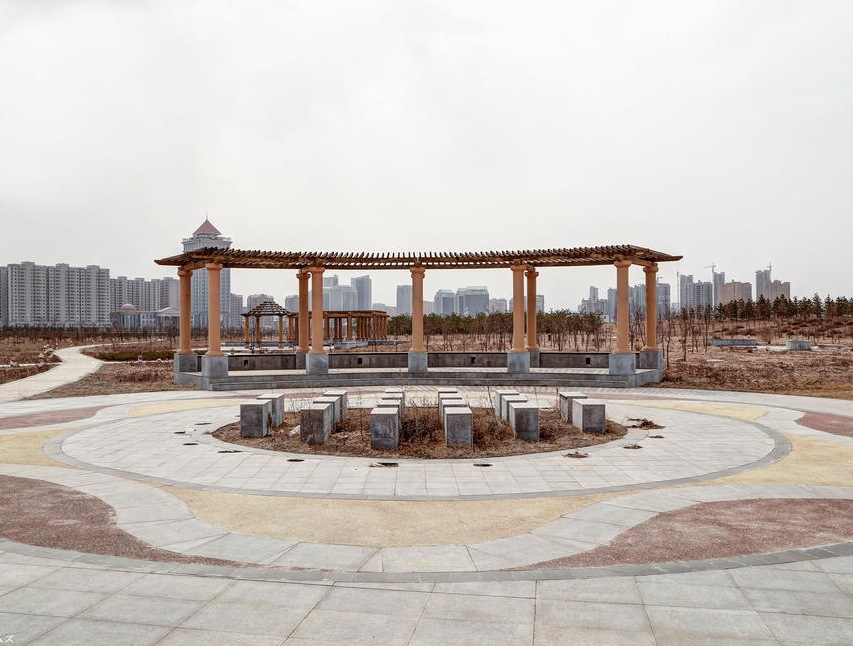 Kangbashi is a subdivision of the greater inner Mongolian area of Ordos which sits in the barren, arid desert of northern China.
I learned that Inner Mongolia is one of the only places in the world that still uses traditional Mongolian script, while Mongolia itself adopted the Cyrillic alphabet during the communist years. The Mongols of China however, have clung on fiercely to their heritage, and across Ordos and Kangbashi, the ancient Mongolian characters can actually still be found on street signs.
This is perhaps a small explanation as to why some nomadic Mongolians have felt at home in such a strange place.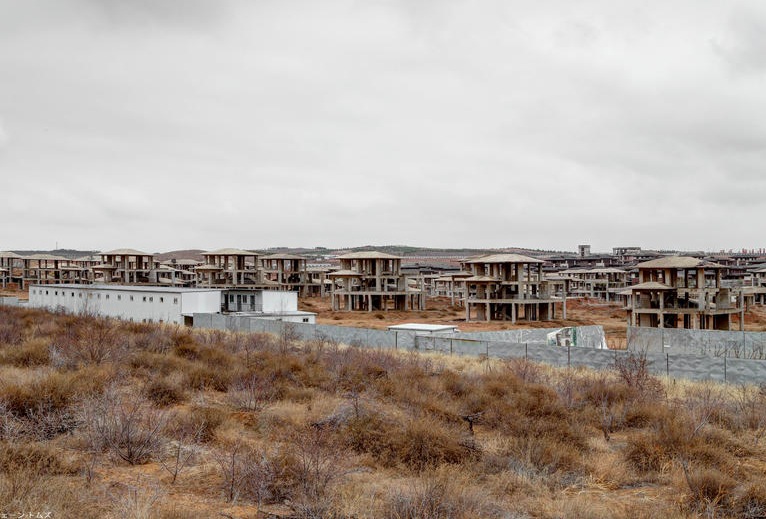 It is estimated  that approximatley  80,000 people now reside in the city…however after spending a week here, I came to the conclusion that this figure was either completely innacurate or perhaps Kangbashi was a city of day sleeping vampires.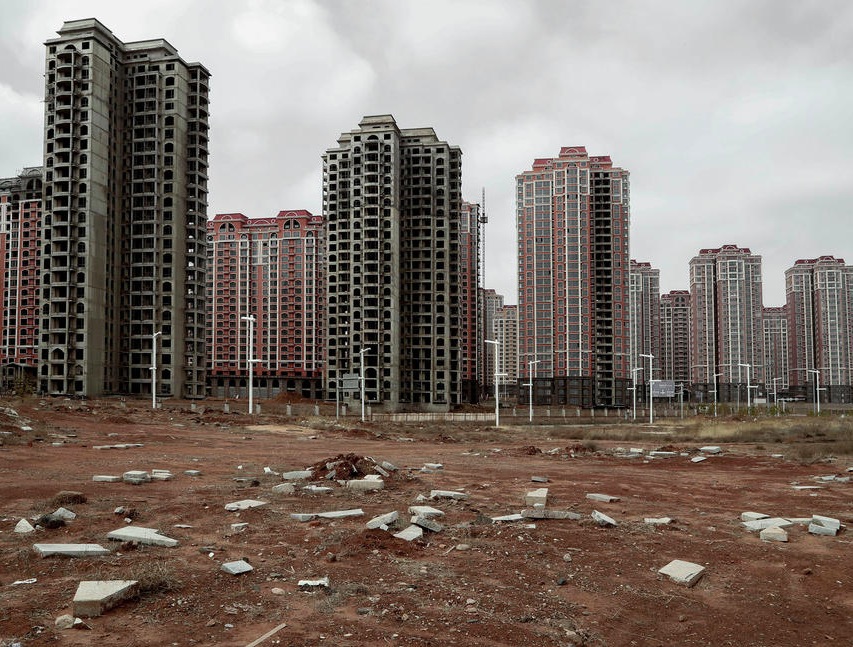 Red sand and dust blows down empty streets and tumble weeds roll down roads with no cars.  Traffic lights turn from red to green for non existent traffic and the howling desert winds are the only sounds to be heard.   The towns centre includes a massive square, a huge modern library (with no books inside) and an entertainment complex, but the people aren't there to utilise the amenities …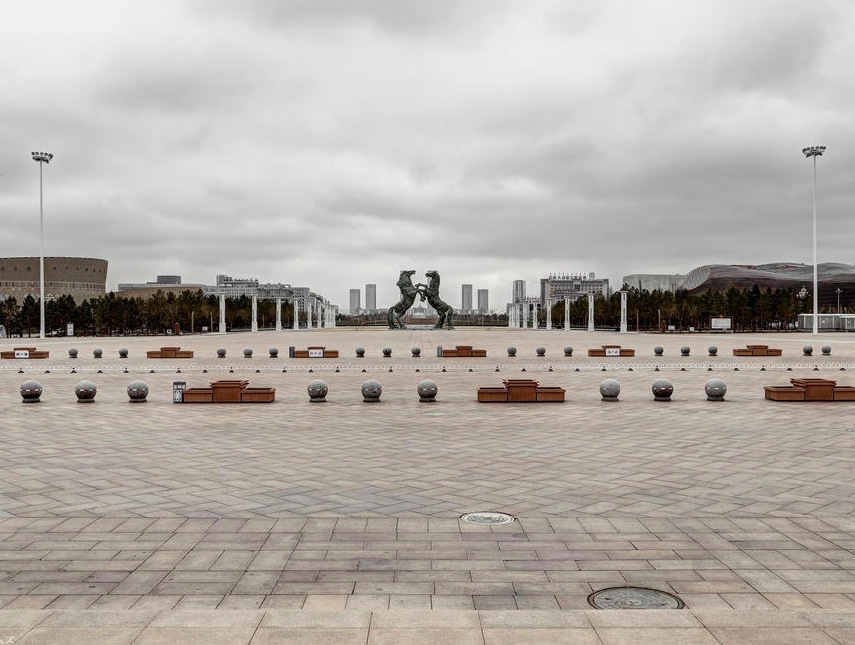 Sitting  In the outer areas of the city are clusters of dilapidated half built buildings with cranes rusting away on roof tops.  Construction in these areas seems to have ceased completely and no workmen or cars can be seen.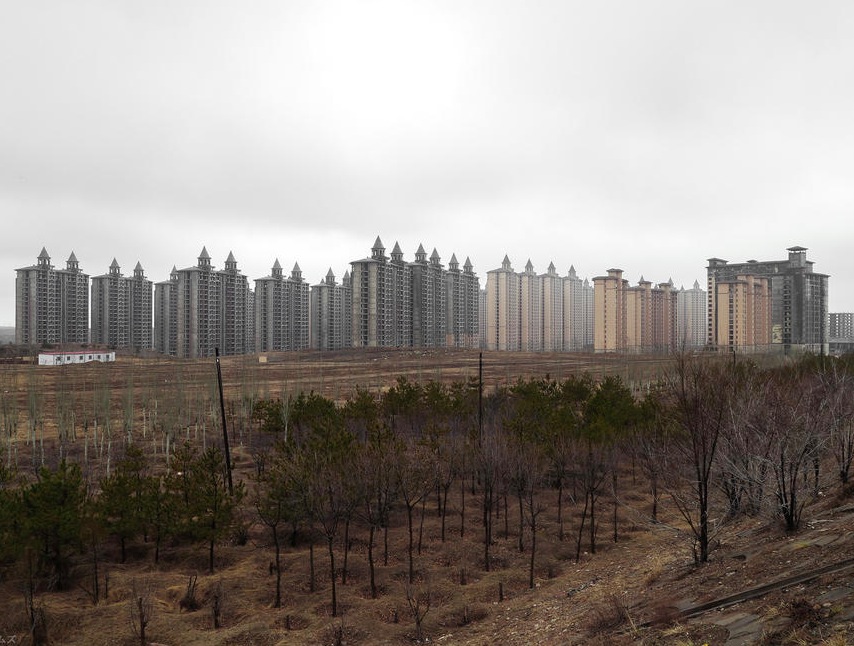 As for the fate of this stillborn city that a small Mongolian community is currently calling home?
The Chinese government are hopeful that the region will be filled to capacity within the next 15 to 20 years however construction seems to have come to a complete stand still, leaving many buildings to decay due to harsh weather conditions and lack of maintenance. The future of this city seems uncertain and it will be interesting to see what happens in the next 10 to 20 years.
Like Shane, I'm hoping the Mongolian homes continue to sprout up in Kangbashi, like colorful desert wild flowers.
Discover the full photo story here and more of Shane's incredible adventures on his website. 
And if you're not already following Shane on Instagram, boy your eyes are missing out.