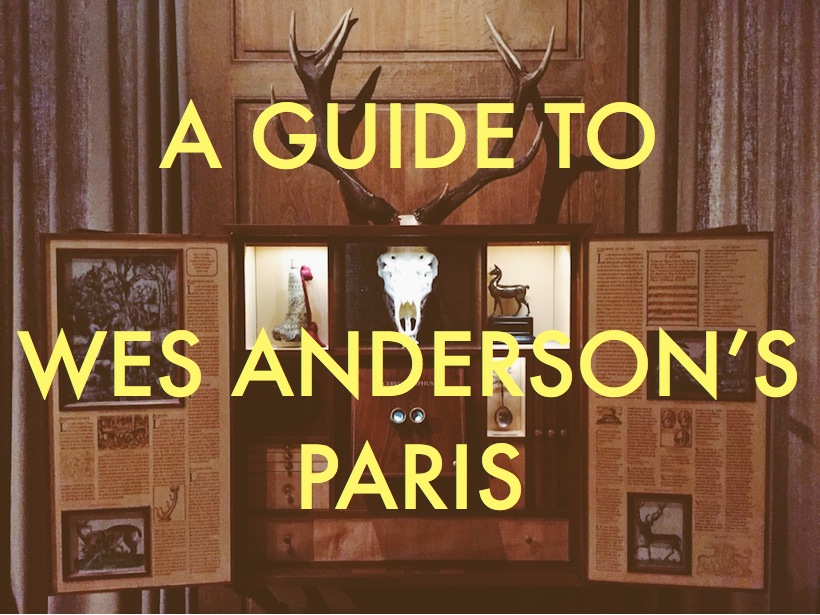 Did you know Wes Anderson lives in Paris? When he's not off making one of his beautifully idiosyncratic films, the director keeps a low profile in his Parisian apartment and office, no doubt decorated as charmingly as his movie sets. We've been invited into Wes' whimsical world through his lens, but we know very little about Wes Anderson's Paris. So while I impatiently await for the announcement that his next film will be set in the city of light, I thought I'd take an educated guess as to what a day spent with Wes Anderson in Paris might be like…
An Offbeat Museum of Fantastic Mr. Foxes (& friends)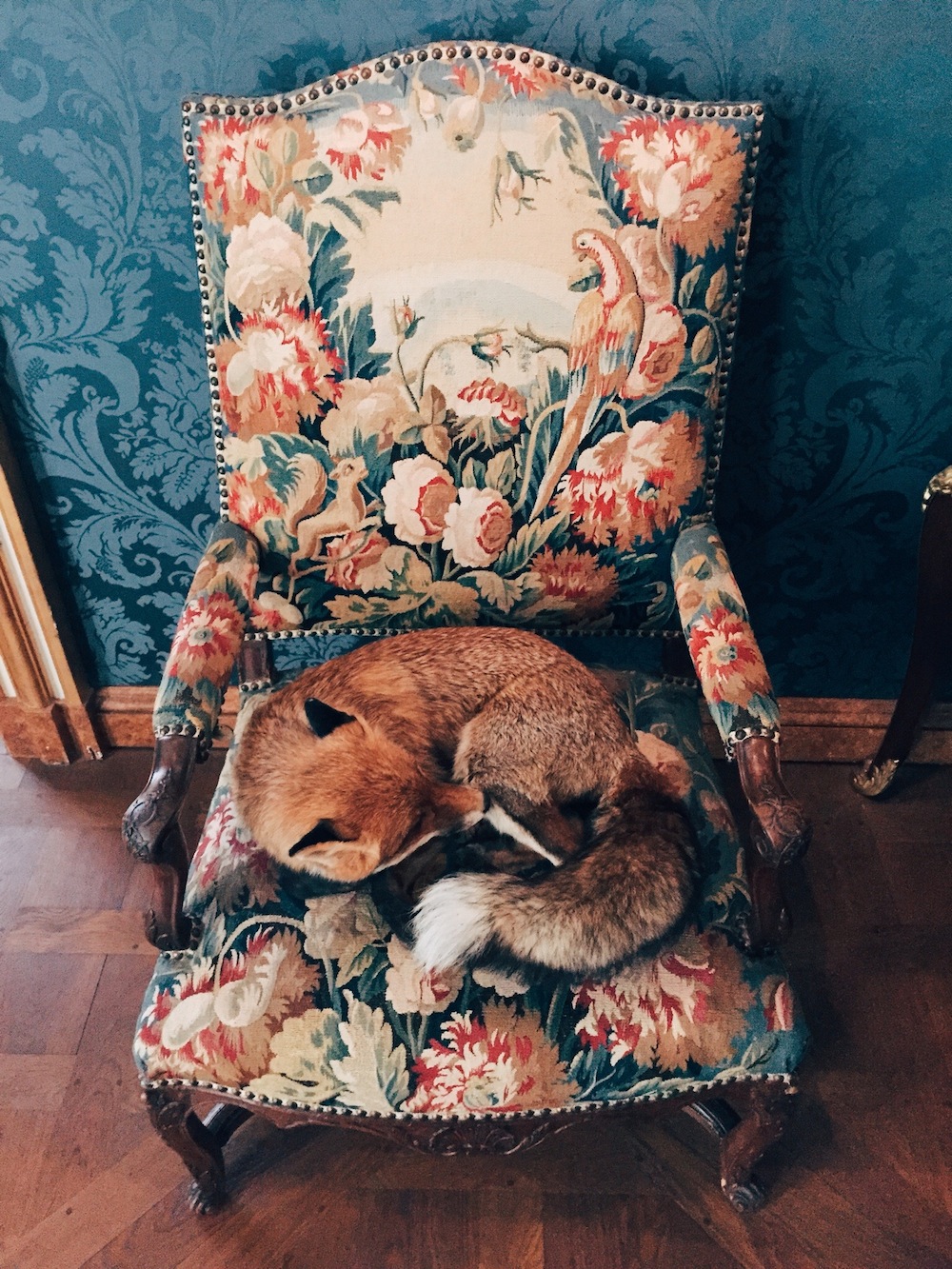 I have it on good authority that Wes likes a good snoop around a taxidermist. He's known to meet journalists in Paris at his favourite taxidermy shop, the legendary Deyrolles, open since 1831, but I wonder if he's been to my favourite museum hidden away in the Marais, la Musée de la Chasse et de la Nature (Museum of hunting and nature).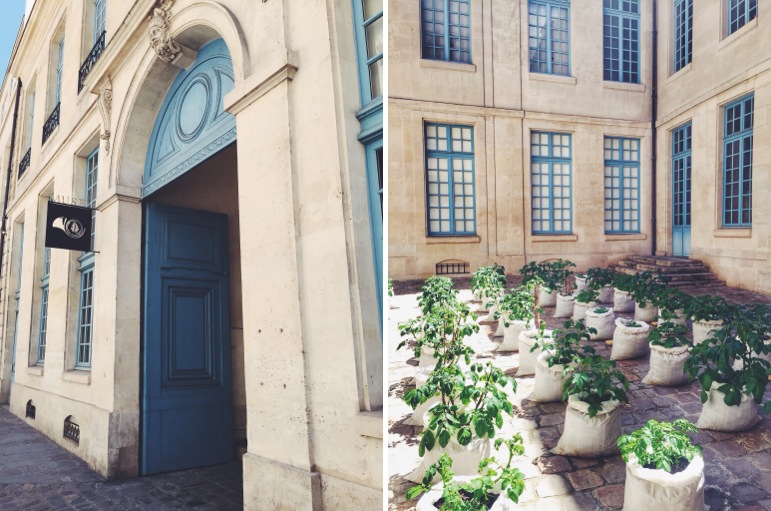 Probably the most underrated museum in the city, behind the terracotta blue doorway to two 17th century mansions, this place is an absolute gem. And the best part is– it's completely empty! Away from the crowds of tourists, have this incredible museum to yourself for just 8 euros per entry and peruse the eclectic collection of exotic taxidermy and natural history curios.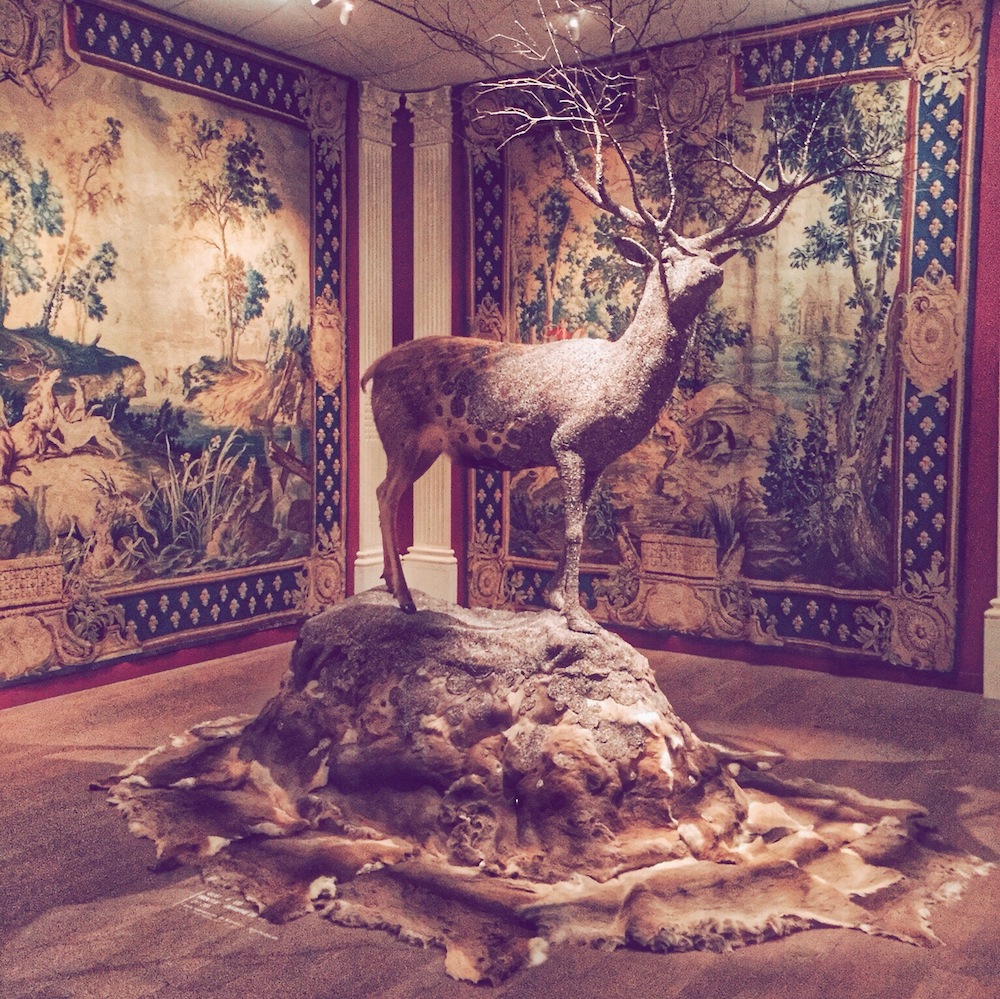 This looks familiar! ↑ An installation perhaps inspired by the deer of The Grand Budapest Hotel?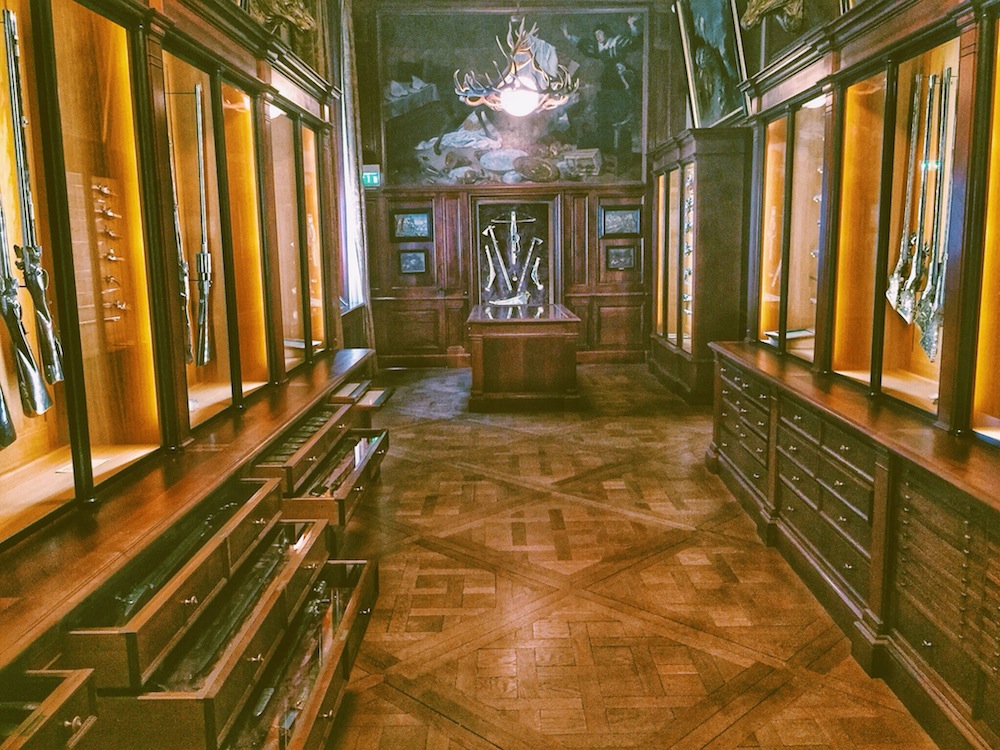 In the arms room you can have a good rummage through all the drawers. The size of their collection is absolutely staggering and I could spend hours opening each drawer filled with the guns that belonged to fabled warrior kings, rare antique hunting equipment and ancient tools.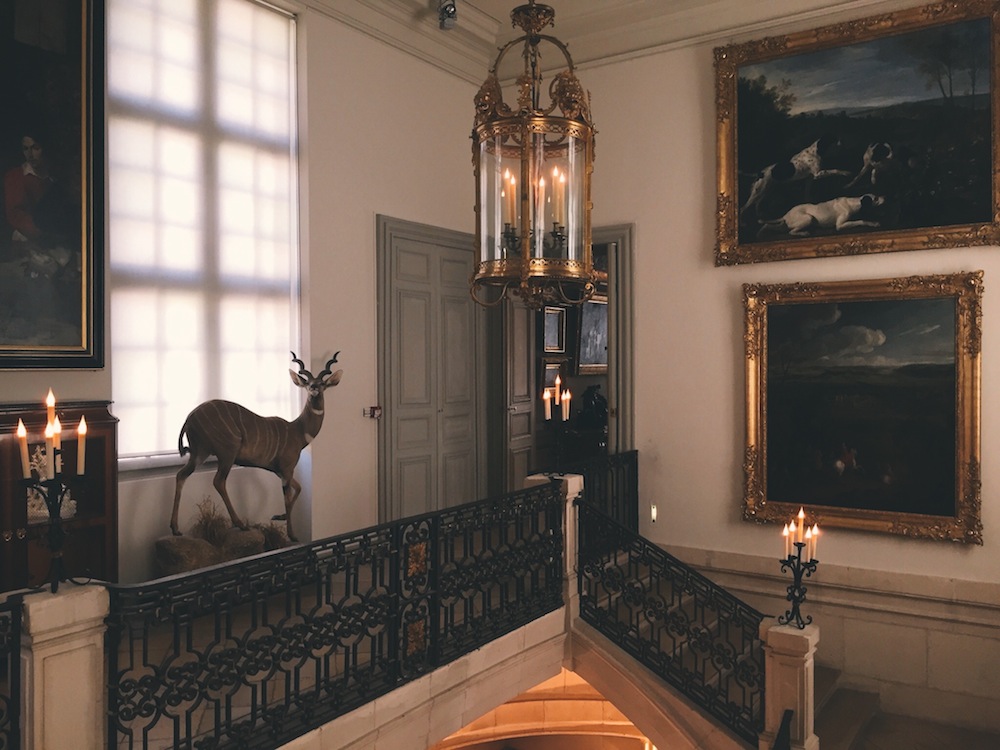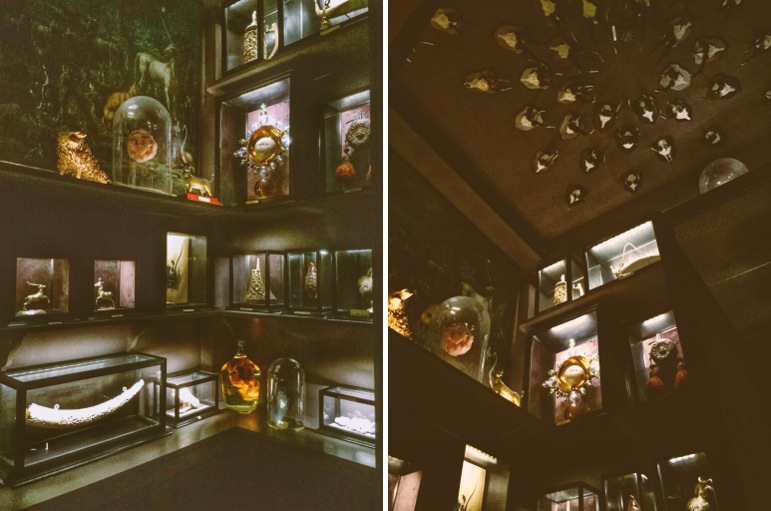 The Musée de la Chasse et de la Nature is not your typical stuffy and dusty old pompous museum. It has very much kept up with the times, mixing modern art installations and cabinets of curiosities alongside pieces that have been held in the French archives for centuries.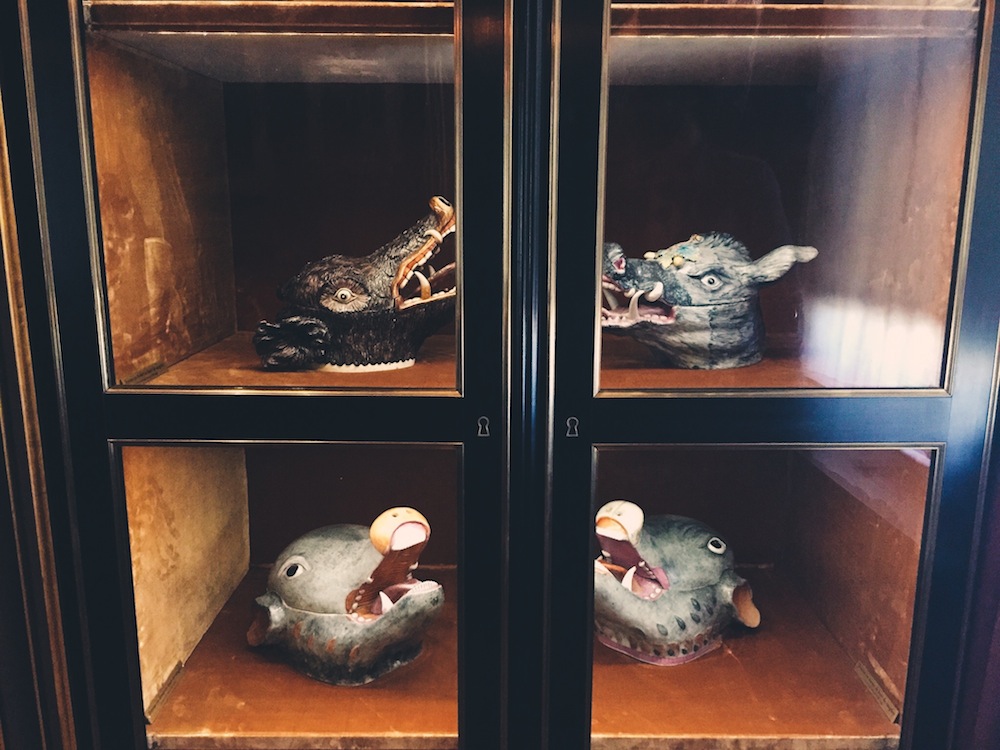 Check out these wild terra cotta terrine bowls, once used for serving up supper at royal hunting lodges ↑.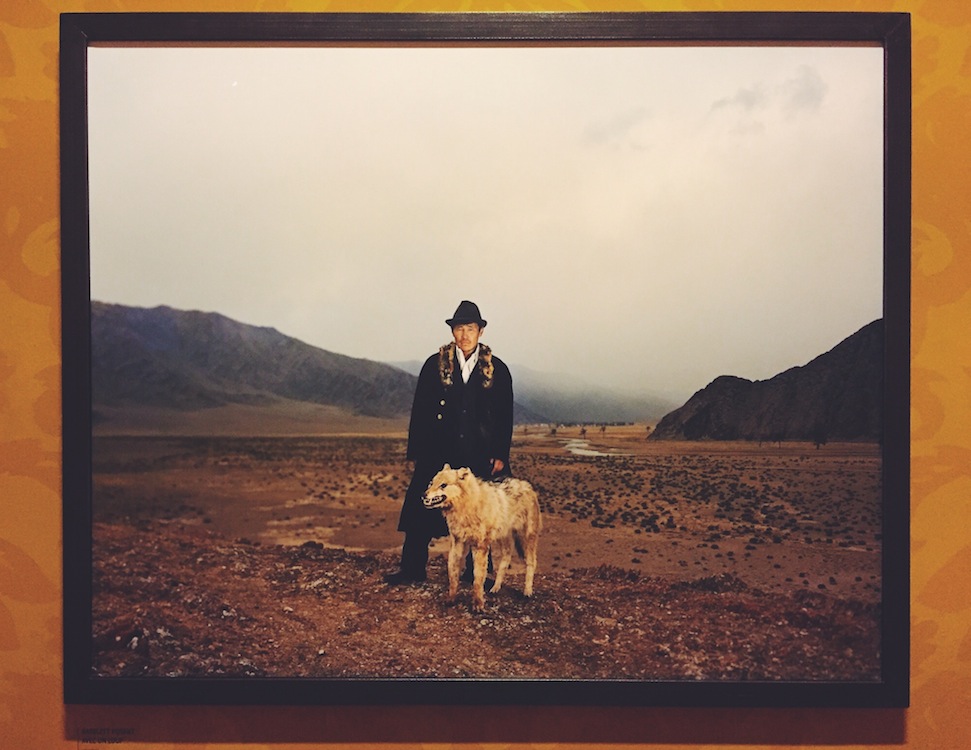 There are several exhibitions going on at all times, including this current collection by a photographer who takes portraits of hunters with their prey in the locations where they met their fate.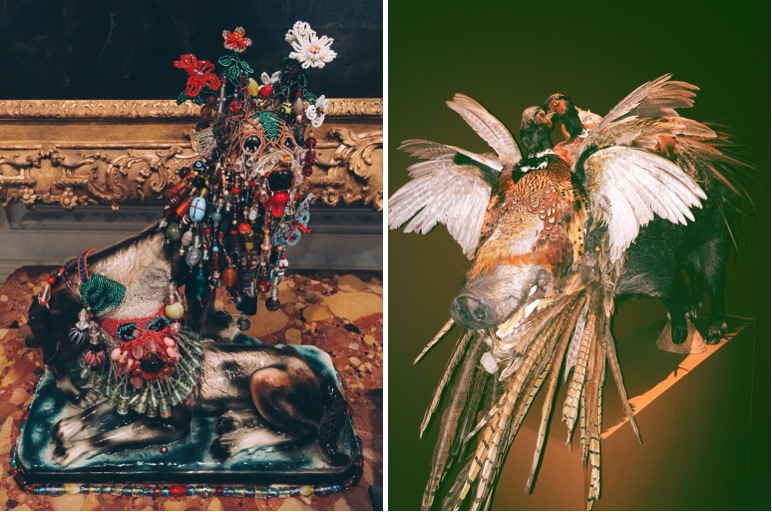 ↑ They get a little funky with their taxidermy too.
Wes would love this wallpaper, don't you think?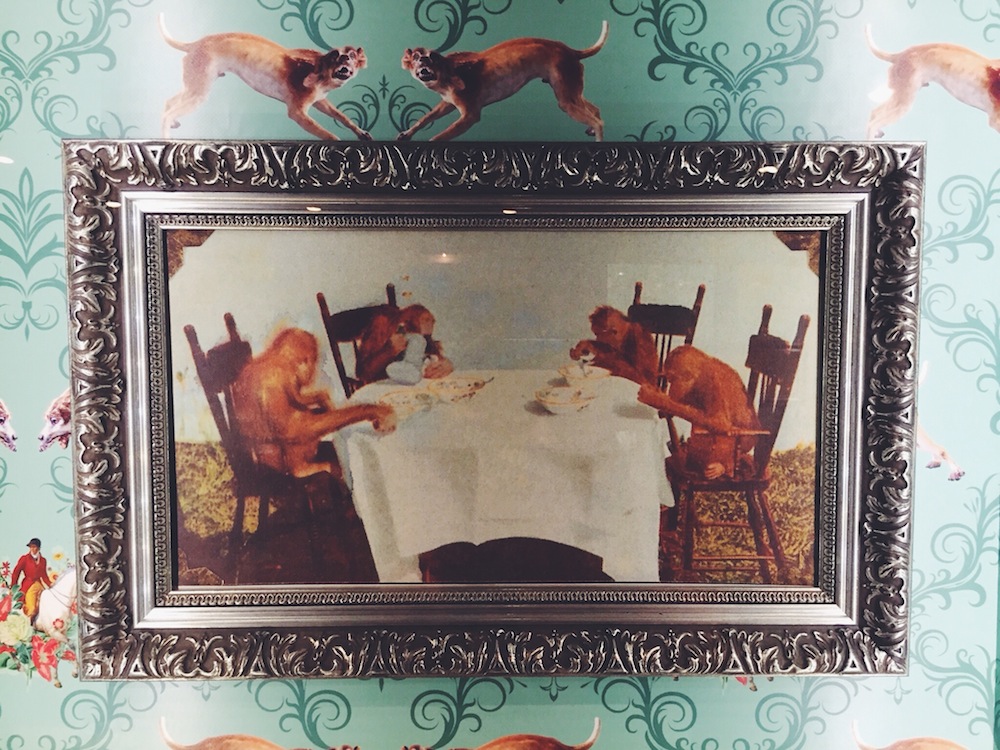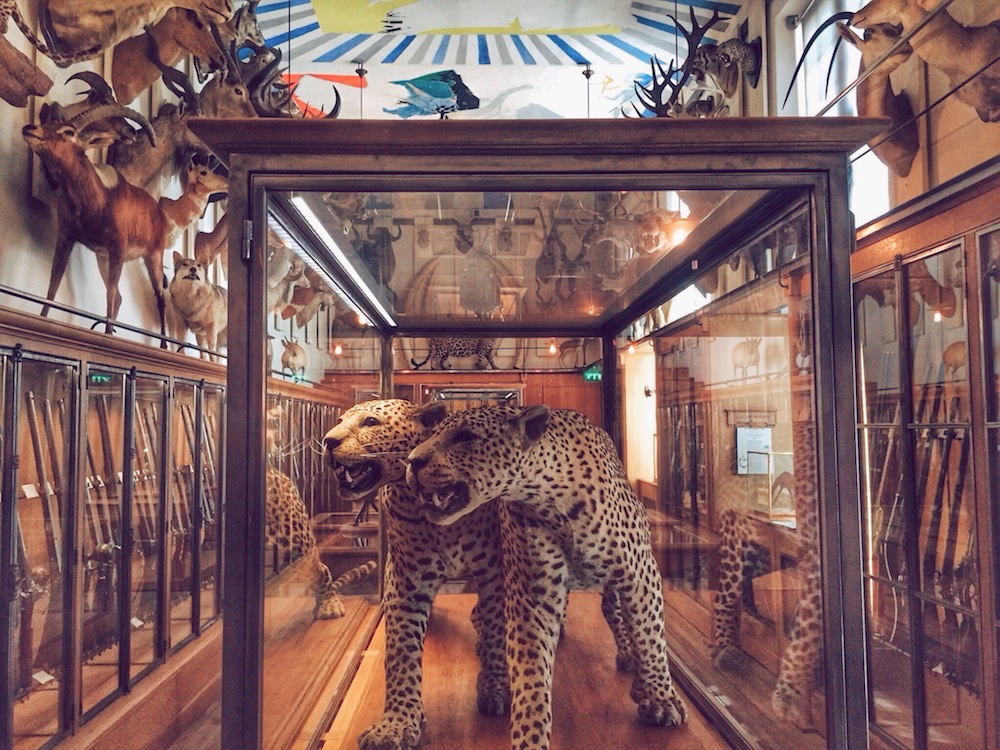 And they save the best for last, the trophy room.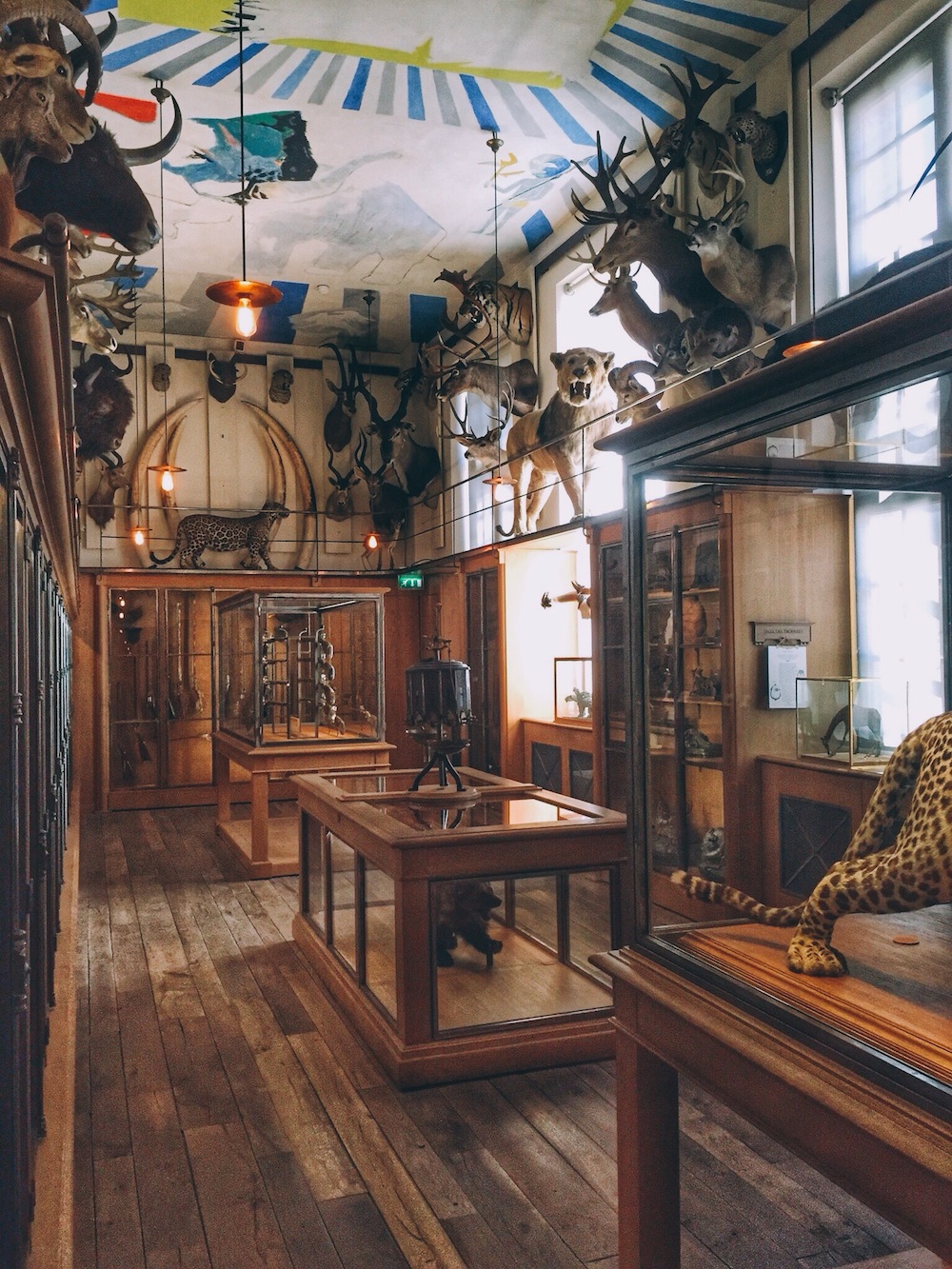 Now don't get me wrong, as a huge animal lover, I'm not exactly an advocate of hunting as a sport, but the artistry and aura of the museum seems to honour these animals in a way I didn't expect. There's a huge amount of respect for these beasts that allows you to leave your squeamishness at the door and just be in awe.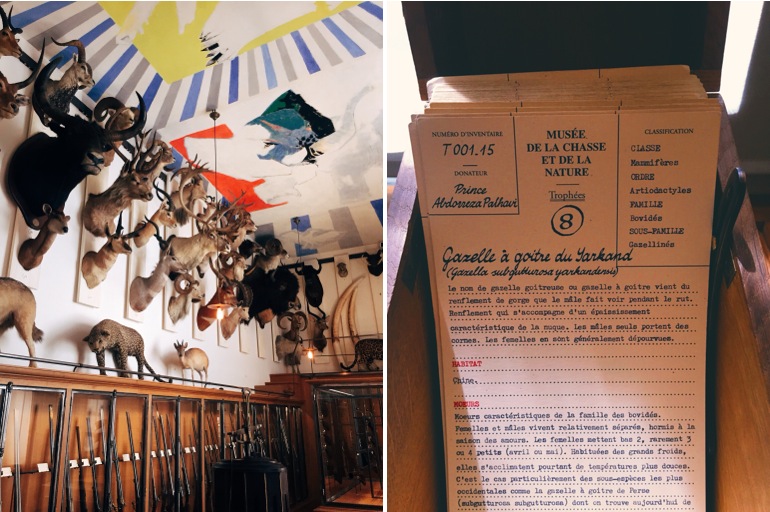 The collection has been put together from donations by Princes and legendary hunting parties from around the world, and for every animal on display, you can find its history documented in beautiful card catalogues.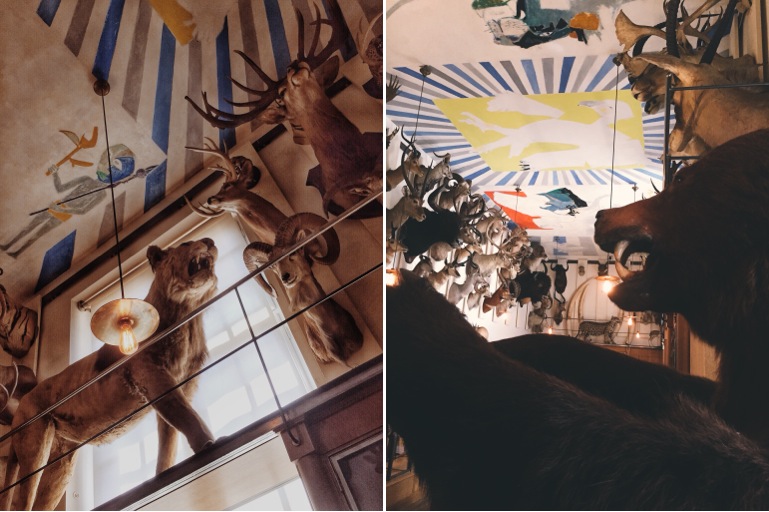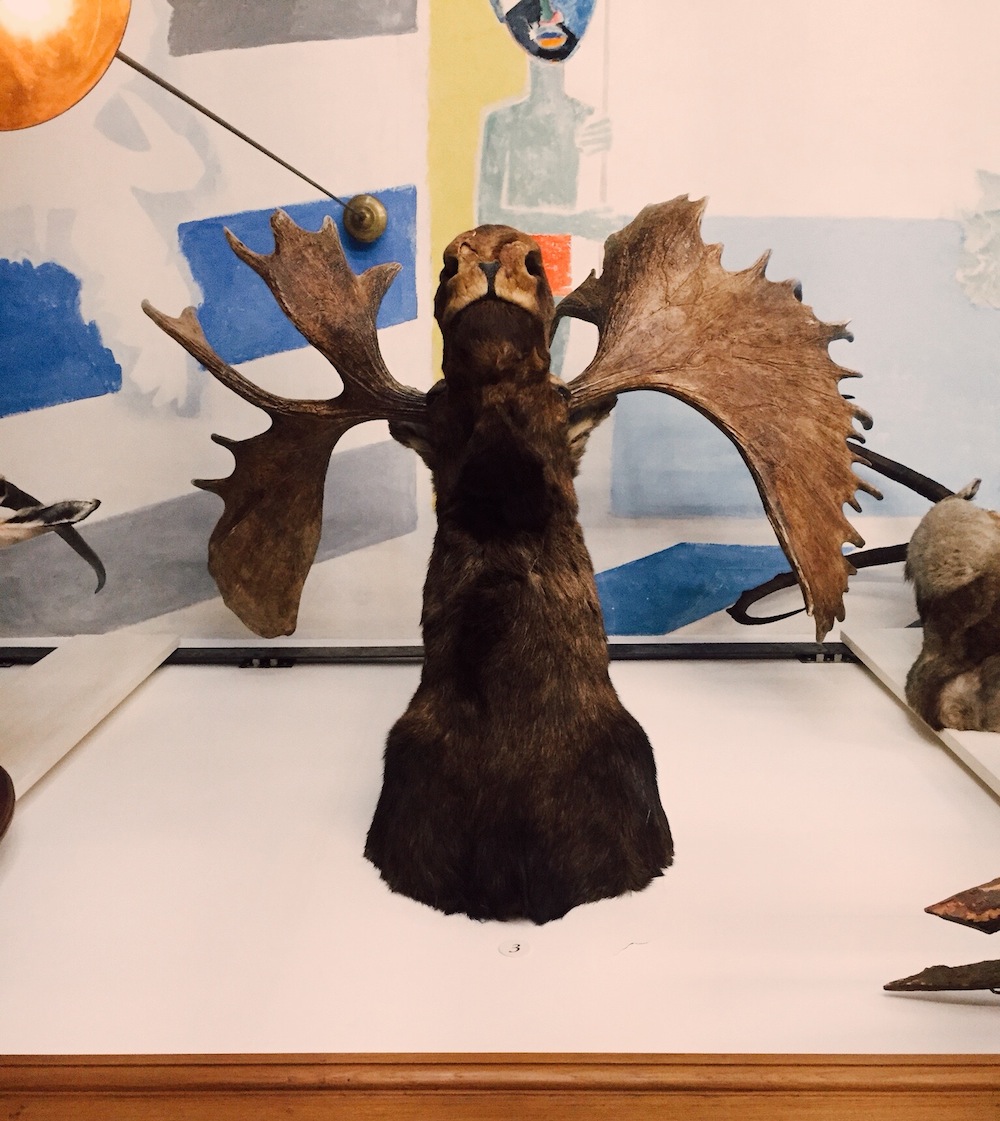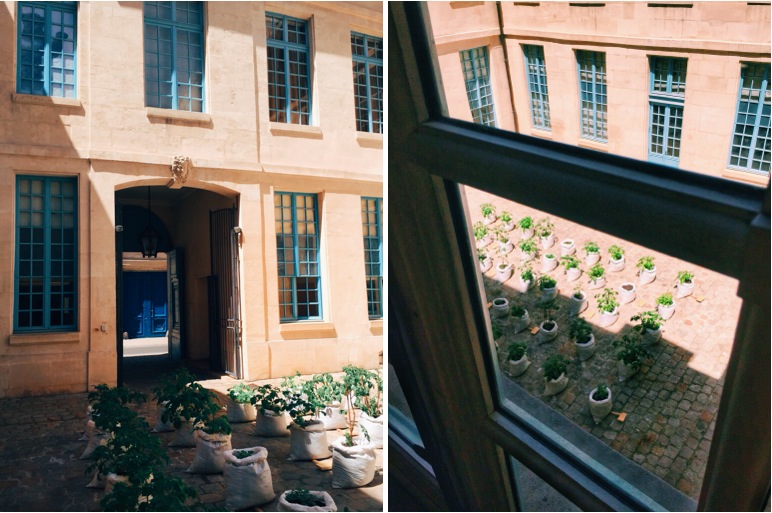 I can't recommend this museum more highly, and who knows, perhaps you'll bump into Wes in the courtyard where they're growing Parisian potatoes!
Musée de la Chasse et de la Nature, 62 Rue des Archives, 75003 Paris.
The Moonrise Kingdom Café
Boy scouts and girl scouts this way! A dreamy little hideaway for book-loving travellers awaits in a small backstreet of the Marais.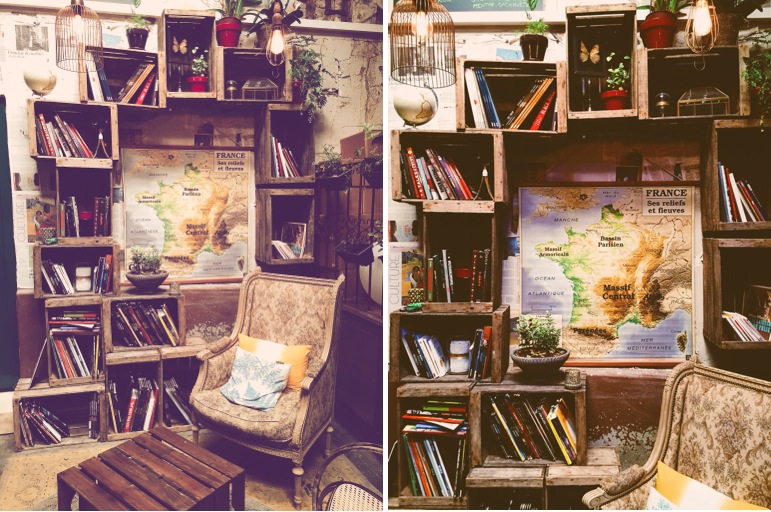 This campers' clubhouse popped up just in time for summer, serving up cold refreshments and snacks from a vintage trailer surrounded by old maps, adventure stories and bric-a-brac.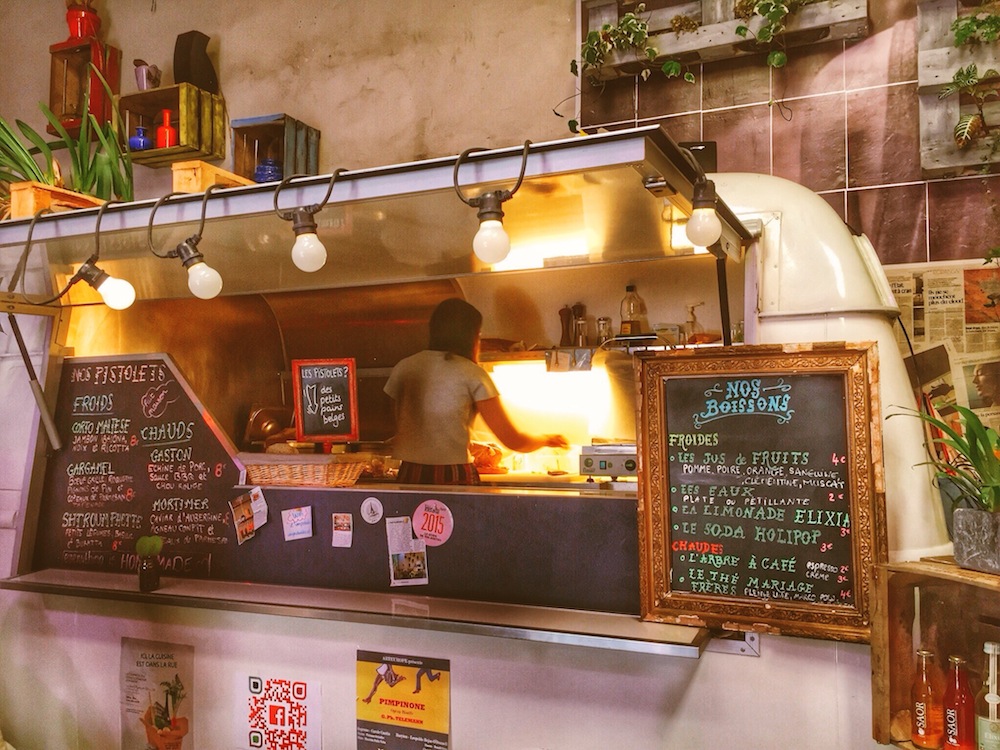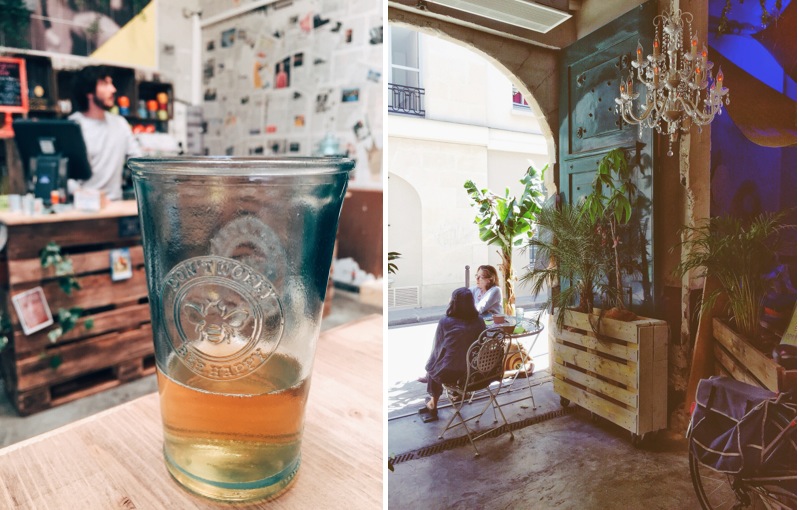 A place to rest your binoculars and backpacks, find your nook at L'Improbable Café, 3-5 Rue des Guillemites, 75004, Paris.
Also try: "Camping" under the Parisian Moon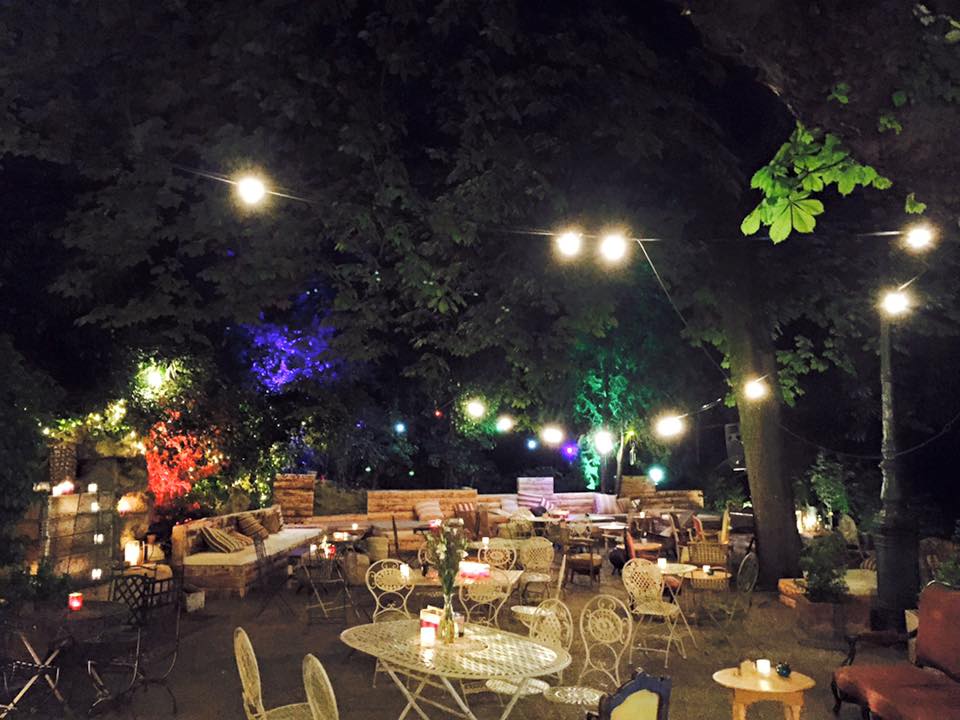 Venture a little further out to the Buttes Chaumont of the 19th arrondissement in Paris and find yourself a magical al fresco spot under the trees, complete with twinkle lights, cocktails, and of course, Françoise Hardy playing on the stereo.
Le Pavillion Puebla (their photo↑), Parc des Buttes-Chaumont, 43, avenue Simon-Bolivar, 75019 Paris
A Play in Paris with Margot Tenembaum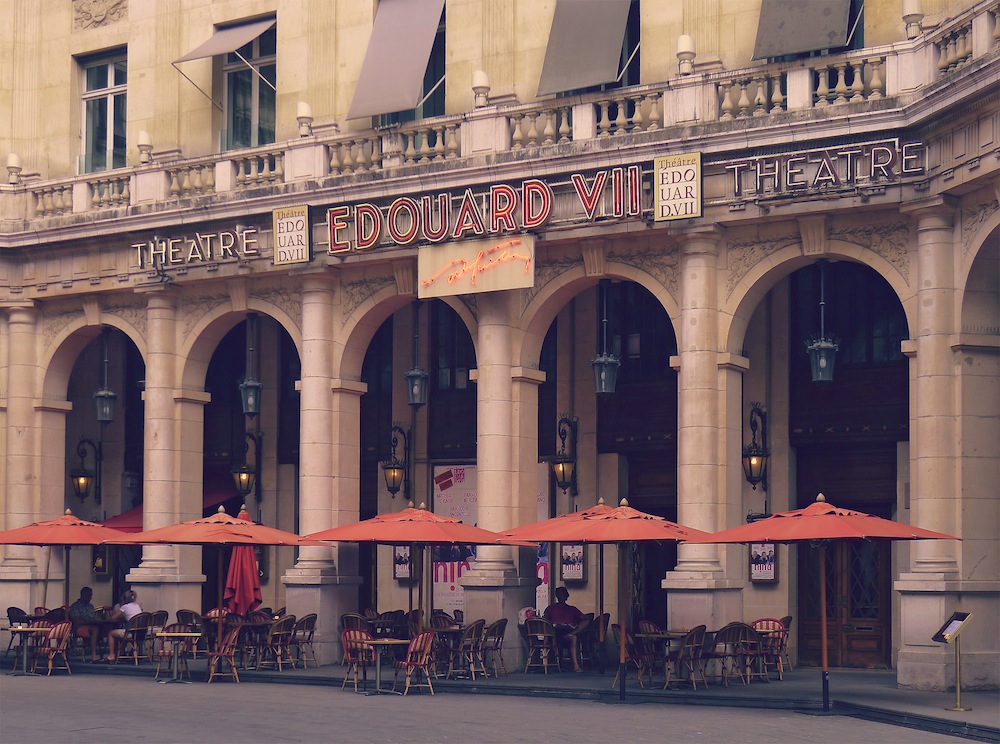 If you spend a considerable amount of time in your bathtub, have ever been described as "emo" in your lifetime or ever written a play, you can probably identify with the character of Margot Tenembaum. So what would the only daughter of an eccentric New York family of geniuses, prodigious playwright with a closet cigarette-smoking habit, do in Paris?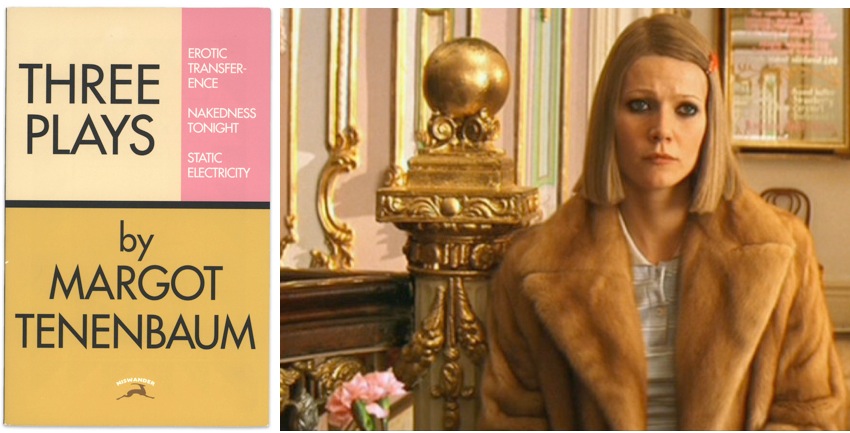 Why, she would go to the theatre of course! But, like Wes Anderson himself, an American abroad who admits his French "is no better than it ever was", you might struggle with the language barrier. Enter Theatre in Paris, a cultural start-up that's opening the doors of French theatre to Anglophones…

Through an exclusive English subtitling system, Theatre in Paris is welcoming anglophones and expats from all over the world into French theatres for the very first time. Their personal pre-show welcome and English "surtitles" (the theatrical equivalent of subtitles) ensure that Paris' most beautiful theatre venues are just as accessible and enjoyable to travellers as they are to Parisians.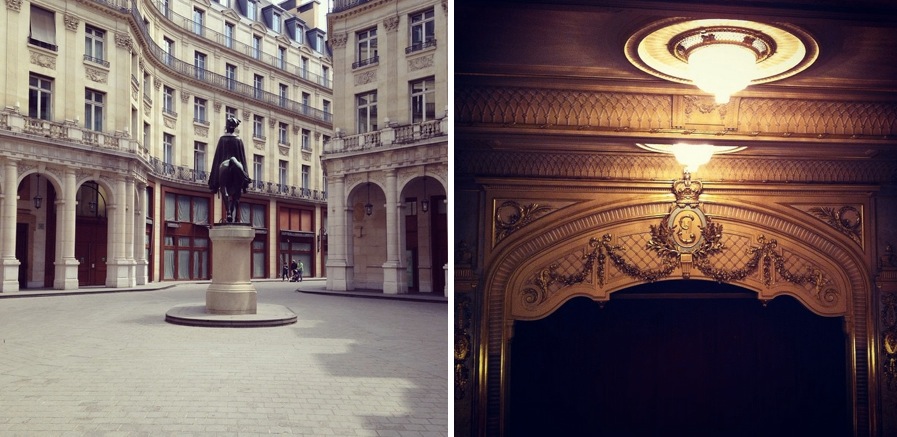 (c) EtienneAch/ Trentaireinparis
When attending an event with Theatre in Paris (they work with up to 300 locations), you will discover some of the most amazing venues in town, situated in parts of the city you might not otherwise discover, such as the nostalgic and stunning Theatre Edouard VII, tucked away in a hidden Parisian enclave that looks like a mini Roman palazzo in the middle of the French capital (pictured above).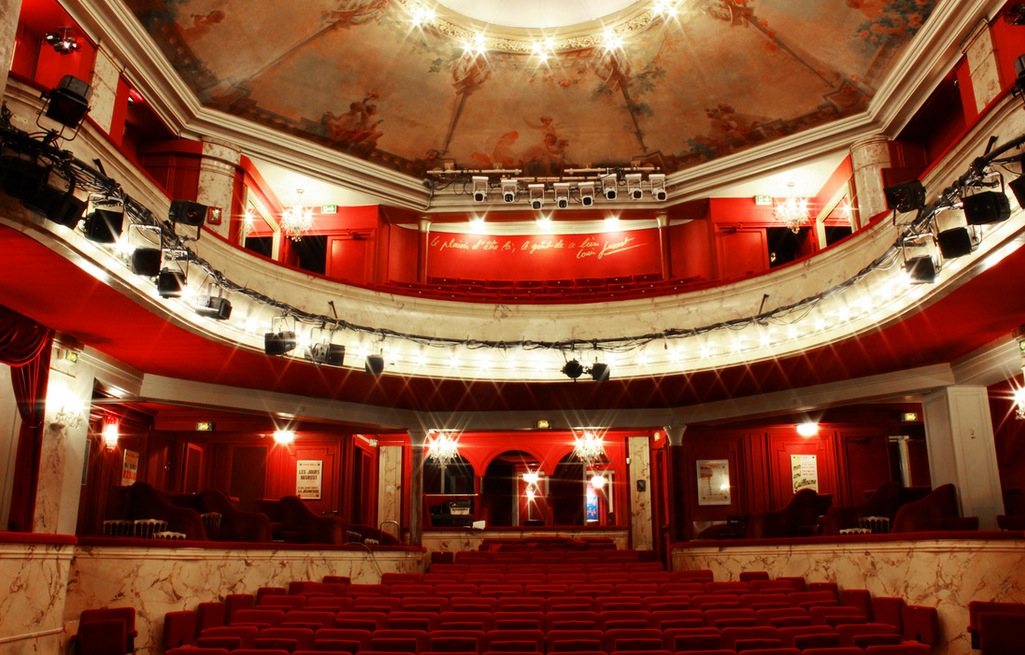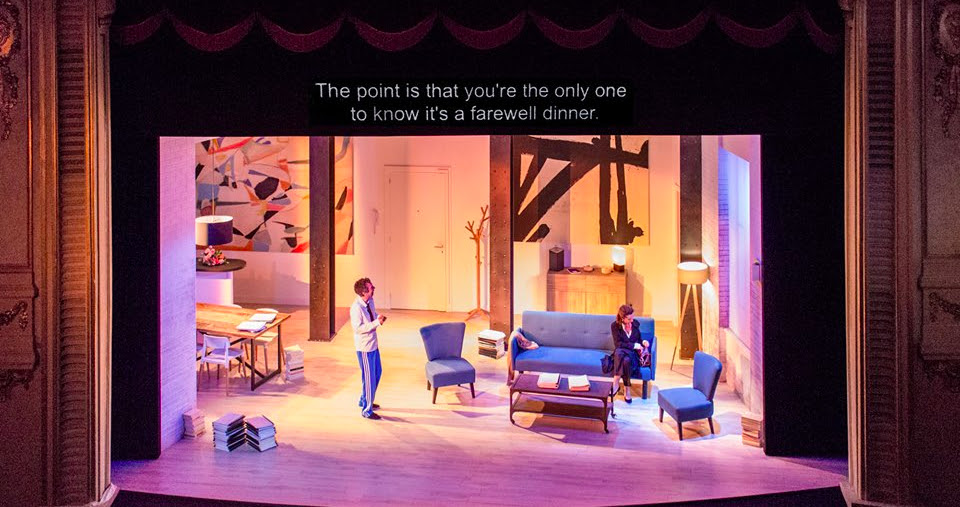 Theatre in Paris selects the best seats in the house to guarantee a perfect viewing experience of the projected surtitles. What better way to delve into French culture alongside the locals?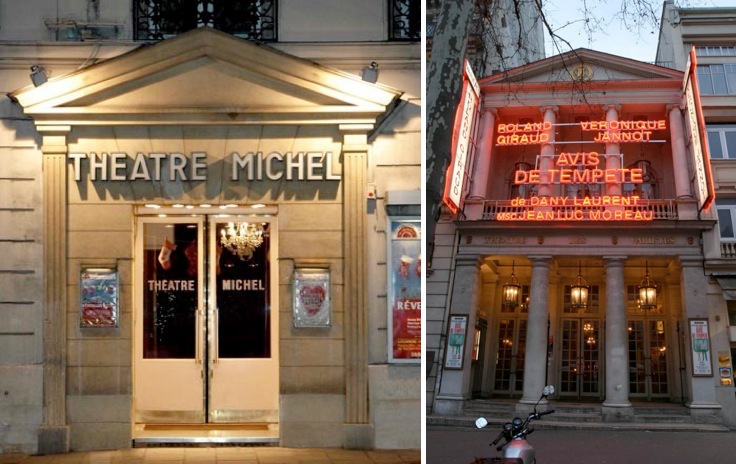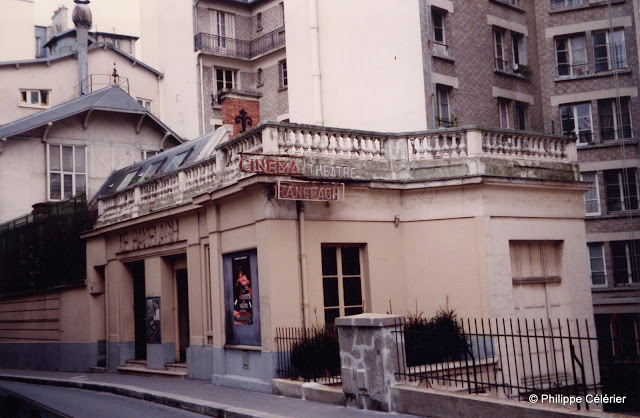 ↑ The Theatre le Ranelagh, one of Paris' oldest and most unique theatres which has recently been restored and now offers plays with surtitles with Theatre in Paris.

Book your seats for a very "Margot Tenembaum" evening in Paris, through Theatre in Paris.
Last Train to Paris on the Darjeeling Limited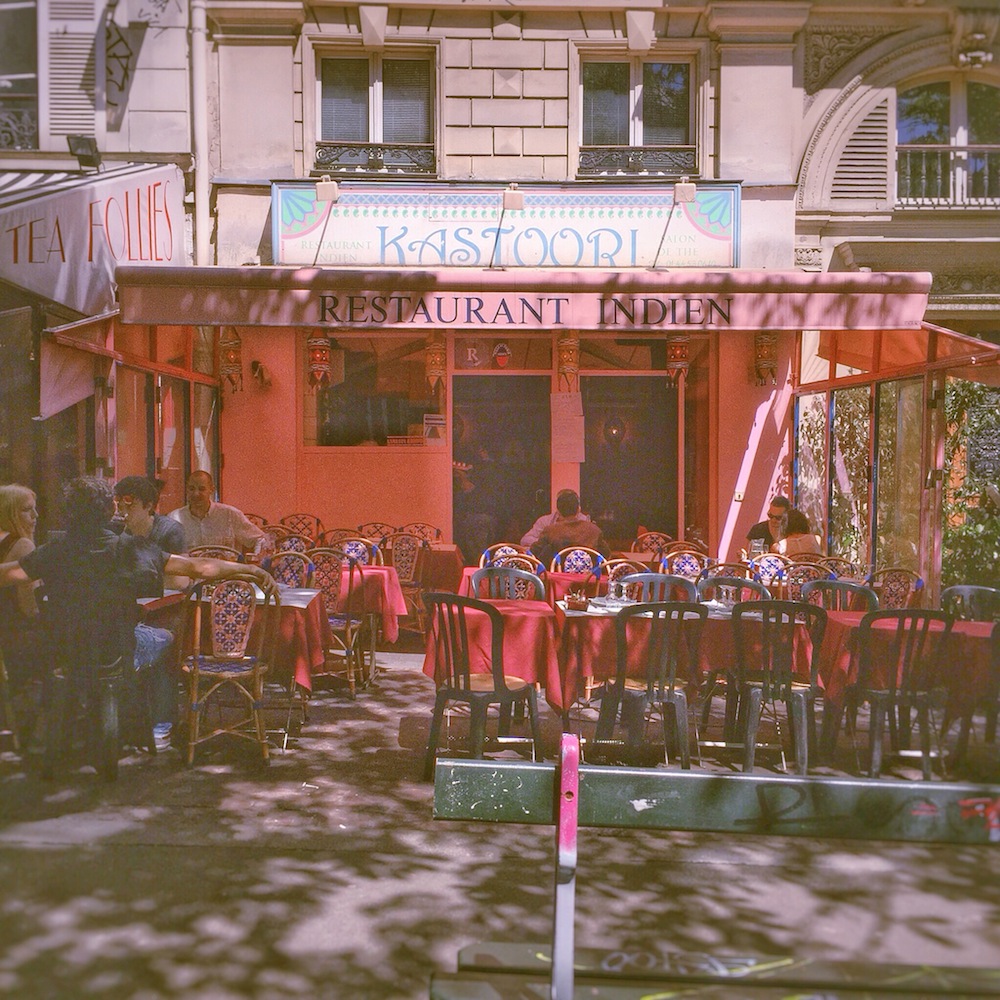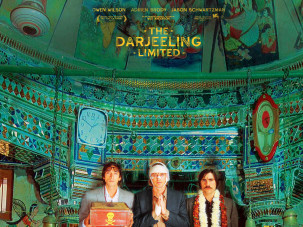 The Darjeeling Limited is probably my personal favourite Wes Anderson film. The wanderlust of it, the kitschy Indian colors and aesthetics, the train journeys; I loved everything about it. To seek out Anderson's Darjeeling aesthetics in Paris, I immediately thought of one of Pigalle's most picturesque squares where you'll find my favourite Indian restaurant in the city.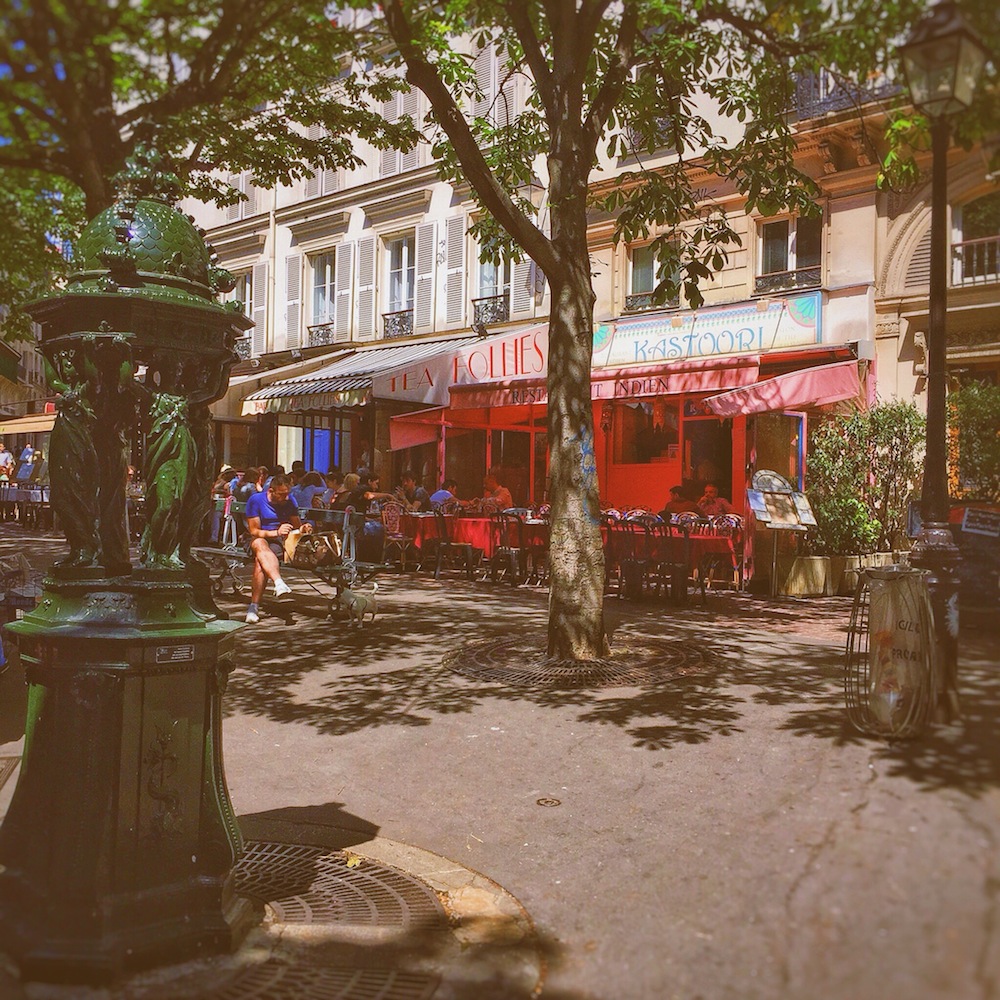 I imagine that Kastoori and its pastel Bombay chic decor, which sticks out like a beautiful pink peacock amongst the neighbouring Parisian cafés, is where you might spot Anderson sitting discretely in the corner with a pot of Darjeeling tea, reading Indian poetry.
Locals argue its the best Indian in the city, so when you need an eatery where everything isn't so French, head to an oasis of calm in Pigalle at the Place Goustave Toudouze and try out the curry at Kastoori.
4 Place Goustave Toudouze, 75009, Paris. (c) Daboytisba
Take a trip to Little India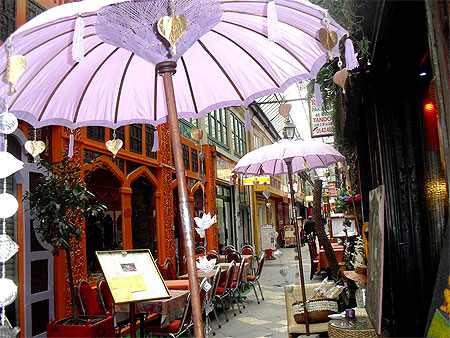 One of the longest covered streets in Paris near Gare de l'est, le Passage Brady is a little piece of India, right here in Paris, where the air smells of exotic spices, fruits, oils and teas. You can find authentic and inexpensive Indian restaurants and south Asian cuisine as well as a small food market selling specialty produce, hundreds of fragrant spices and rices. It's also the perfect place to shop for authentic brightly colored fashion, jewellery and other authentic goods sourced from faraway. If you've got the travel bug, get a temporary fix at Passage Brady.
43 rue du Faubourg-Saint-Martin, 10th arrondissement.
The Parisian Life Aquatic with Steve Zissou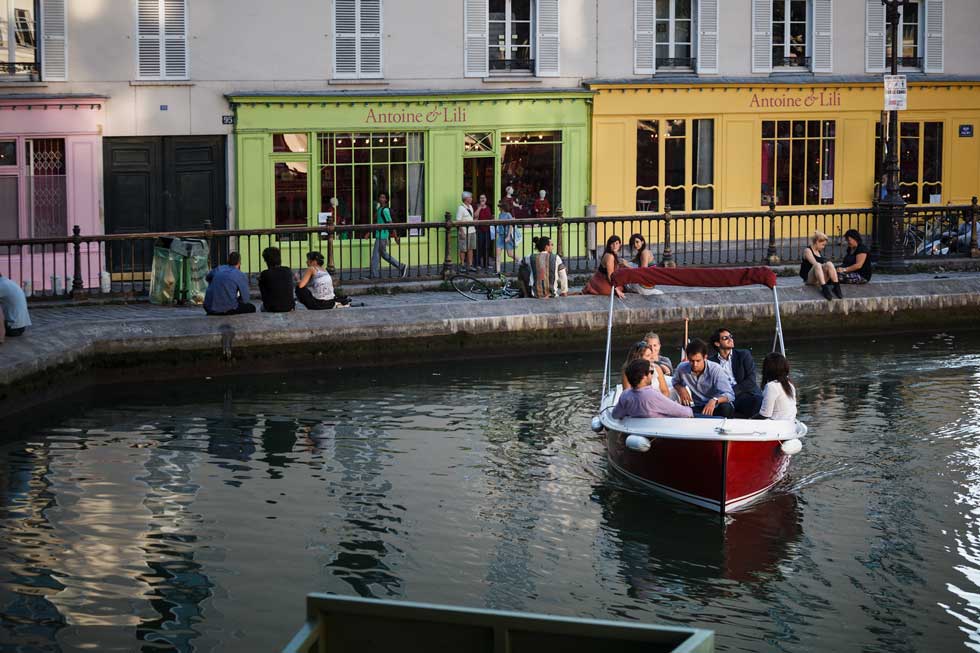 Okay, so it's not Steve Zissou's yellow submarine, but did you know you can be the captain of your very own boat on the charming canals of Paris? No license needed! Forget those big tourist boats that ferry up and down the Seine shouting out the names of famous monuments at you over the loudspeaker. Instead, grab a bottle of rosé, baguette and cheese, round up a few sailor friends to complete your team Zissou and hop aboard your very own Parisian aquatic vessel.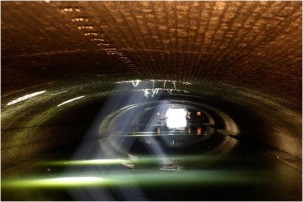 Rent your own electric boat for 5 people from €40 an hour or a boat for 7 people for the entire day goes for €200 (that works out to be €28 per person). You can leave whenever you want, they just ask that you return the boat at sunset. They'll even prepare a picnic basket for you for €7 euros per person and there are boats for rent to accommodate up to 11 people. You can find the details and prices here.
Mendl's Profiteroles to go with a Secret View of the Eiffel Tower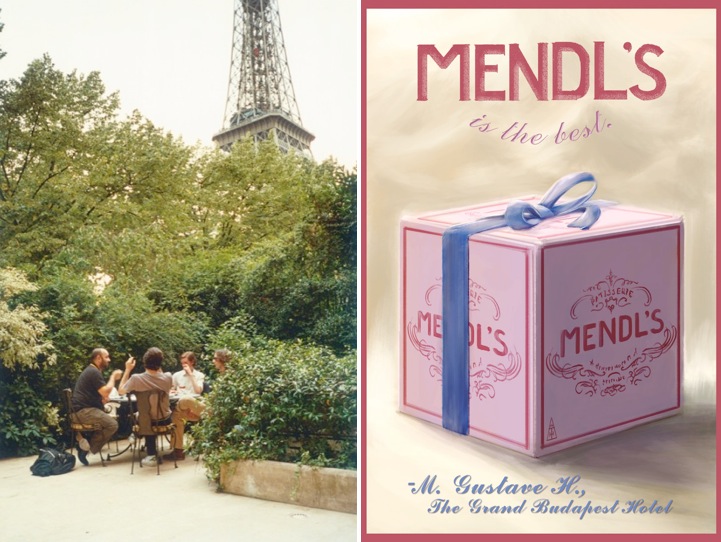 How I wish the Mendl's bakery from The Grand Budapest Hotel really existed! But I think I found the next best thing in Paris, along with the perfect spot to devour your morning profiterole. I found this photograph (above left) of Wes Anderson sitting with Jarvis Cocker and Marc Jacobs on a private terrace with their own secret view of the Eiffel Tower, so here's how to recreate a perfectly Wes moment in Paris.
(c) Wallace Kalkin
Head to the PariSeven boulangerie near the Eiffel Tower, a picture perfect pink bakery in the 7th arrondissement and pick up your profiterole, croissant or whatever tickles your fancy.
Then set off to find my own secret view of the Tour Eiffel (pictured above right) a few minutes away on the hidden art nouveau style enclave, Square Rapp and peacefully enjoy your breakfast and the French iron lady away from the crowds.
Find the PariSeven Boulangerie at 20 Rue Jean Nicot, 75007 Paris and my secret Eiffel Tower view can be found here.
The Grand Cocktail Hotel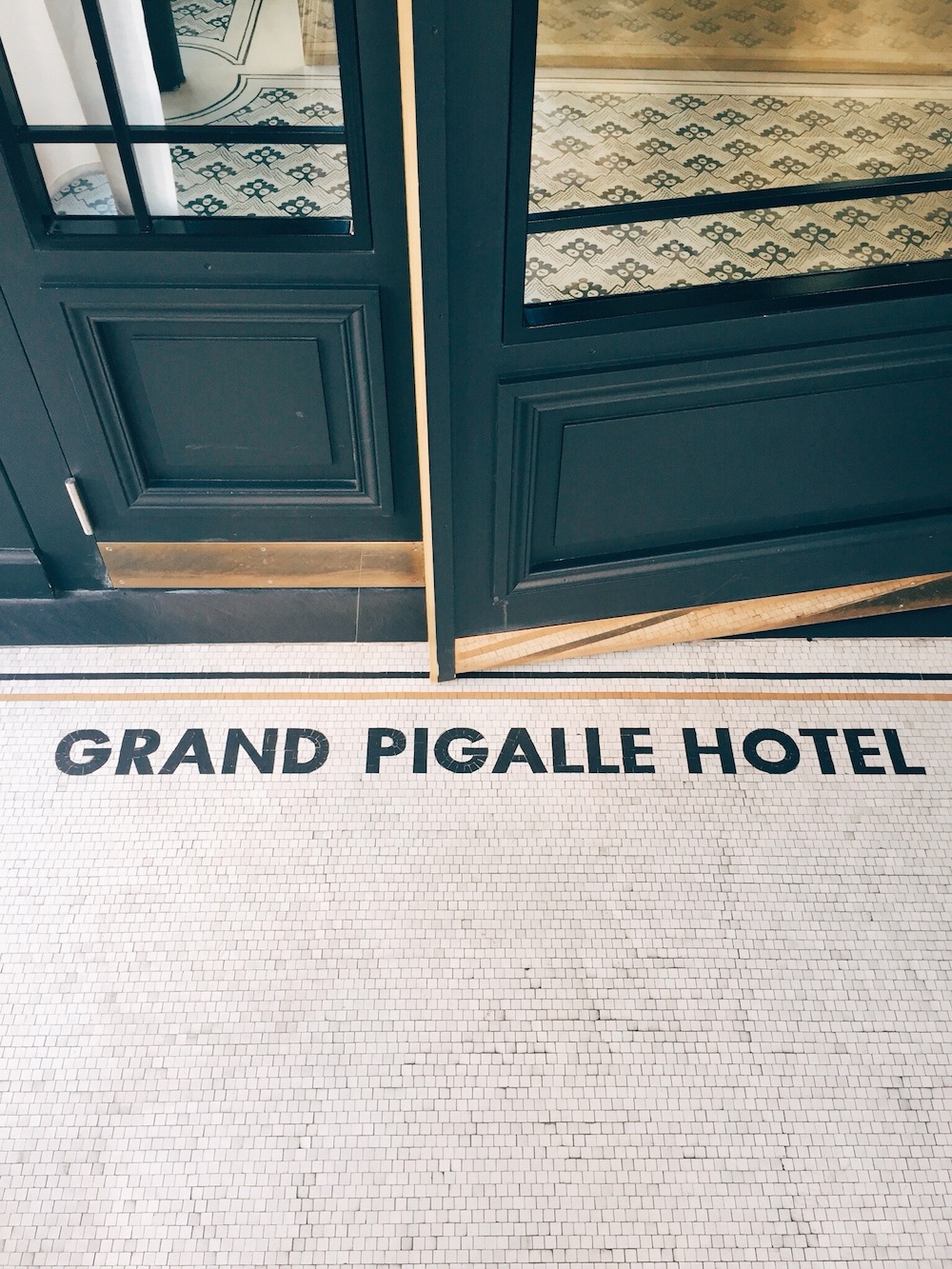 If Mr. Gustave, the legendary concierge of The Grand Budapest Hotel were to come to Paris, I'd expect he'd be looking to mix business with pleasure. And there are two addresses in particular I have in mind for him which combine artisanal cocktail making and the comfort of a boutique designer hotel. First stop, Le Grand Pigalle Hotel, where the trend-setting group behind the Experimental Cocktail Club have set up their first boutique hotel venture. No doubt Mr. Gustave would feel right at home with such a familiar name.

Further up the hill on a leafy avenue in Montmartre, inside the former villa of the Hermès family at the top of a secret stairway, the Hotel Particulier de Montmartre has relaunched their hotel bar, Le Très Particulier. If Wes Anderson's characters came to life, I could imagine them all gathering here for dirty Martinis and retiring to their rooms in the early hours of the morning.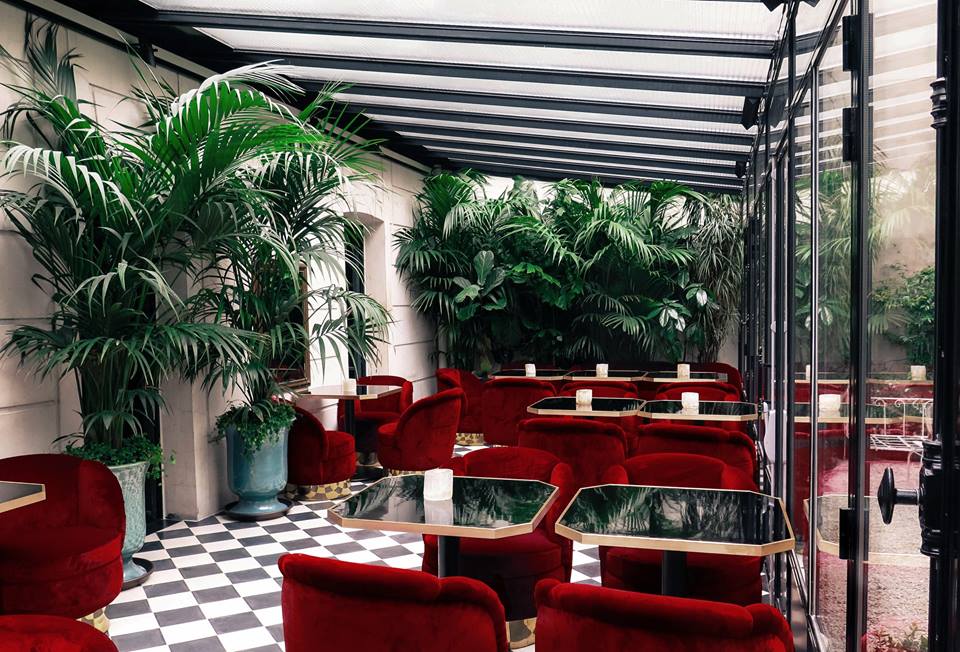 Le Grand Pigalle Hotel: 9 Rue Victor Masse, 75009 Paris/ Le Très Particulier: 23, avenue Junot, Pavillon D, 75018 Paris
Shop Wes' Prop Department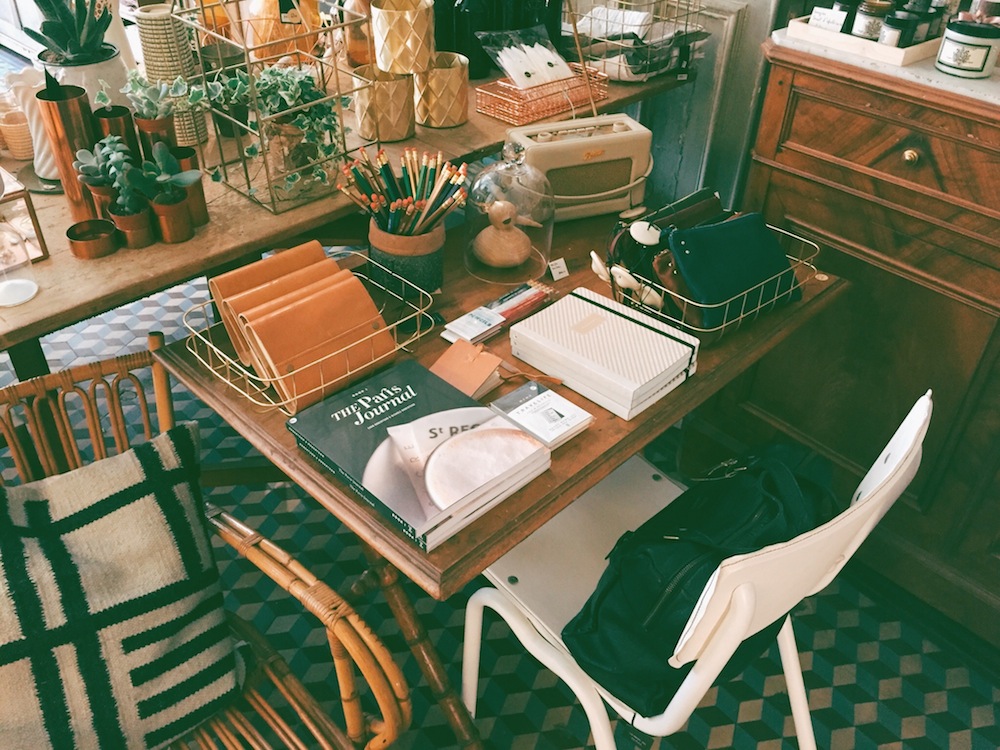 Does your ideal living room look like something straight out of a Wes Anderson film set? It'll be love at first sight when you find Les Fleurs, a boutique packed with whimsical nick nacks and quirky home decor ideas.
Les Fleurs, 5 rue Trousseau, 75011 Paris
I hope you enjoyed my guide to Wes Anderson's Paris and there's a lot more where that came from! I've just released by first book "Don't be a Tourist in Paris". It even has an entire chapter dedicated to Paris like it is in the movies (and on instagram). Check it out and you can pre-order your copy of the book right here!