The annual weekends of sparklers, parades and sending your neighbours smoke signals is soon upon us, and there's no other way I wish I could be spending the 4th of July than on the great American open road, visiting the weirdest and kitschiest roadside attractions America has to offer…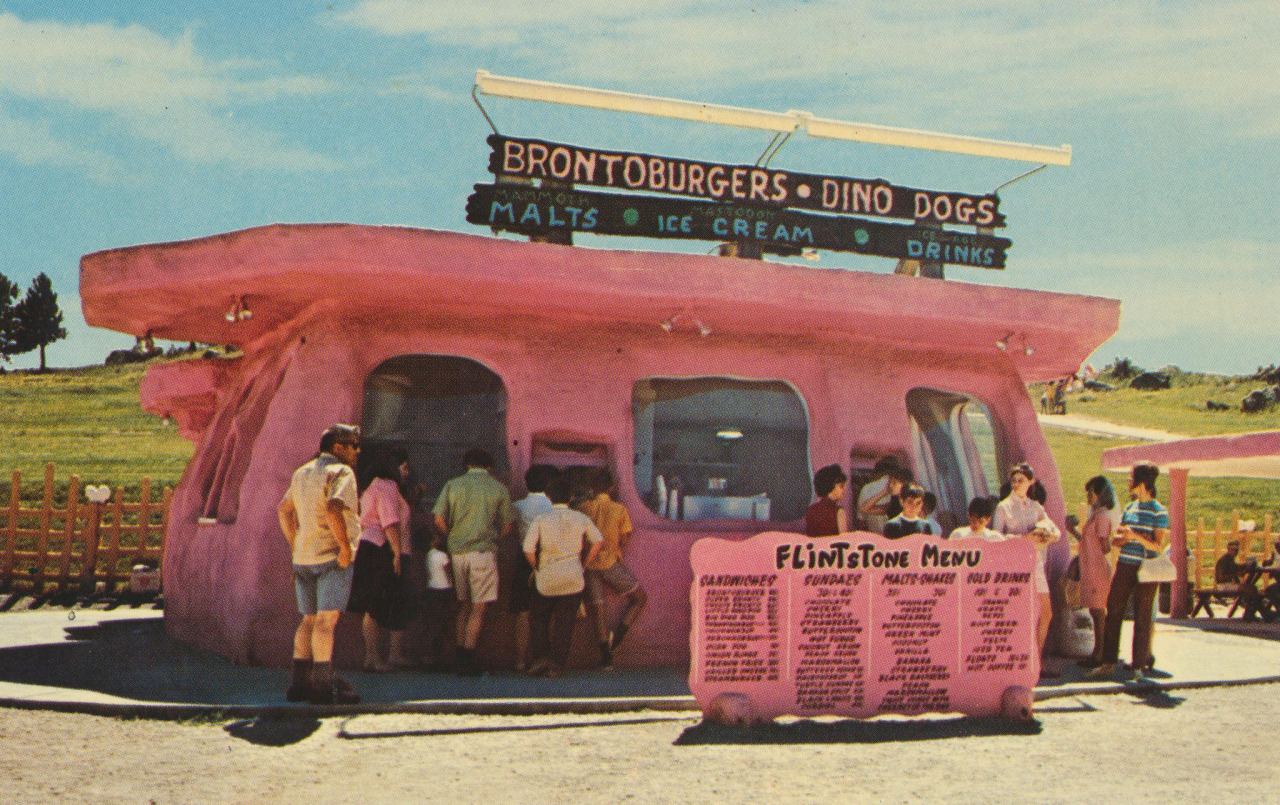 However, since I'm a (half) American in Paris, I've made do with wanderlusting over this endless and fantastic collection of vintage postcards from the Jordan Smith Archive called Cardboard America. The nostalgic website is definitely worth a little procrastinating in between BBQs this weekend and of course I've already gone through the entire thing to pick out my favourites…
Above: Flintstone's Bedrock City – Custer, South Dakota. "Be sure to stop at the Flintstone Drive-Inn after your tour of the village. Have a cooling drink and order from the prehistoric menu" (1969

).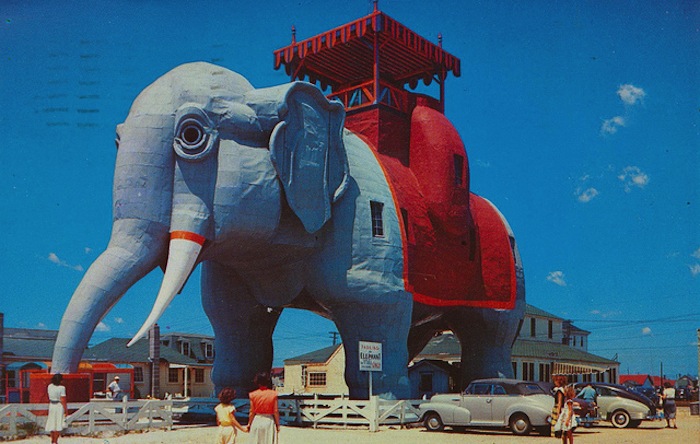 Elephant Hotel – Atlantic City, New Jersey
Written on the back: The only elephant in the world you can go through and come out alive. This famous building was erected in 1885. The elephant contains ten rooms; its interior is visited by thousands.
Mailed from Atlantic City, New Jersey to Mr. And Mrs. R. Scott of Newburgh, New York on July 13, 1956:
Here I am folks. Lovely weather got down here OK. Hope to get back. Very cool nights on Boardwalk. I think this elephant here is most interesting.
Sincerly,
Francis Sears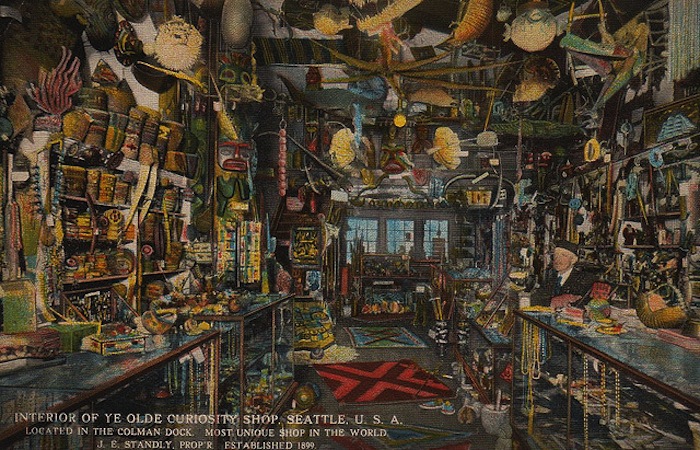 Ye Olde Curiosity Shop – Seattle, Washington
Written on the back: Ye Olde Curiosity Shop in Seattle, the only real Curiosity Shop today in the U.S. – GEO. G. HEYE, Founder of the The Museum of the American Indian, New York City, 1922.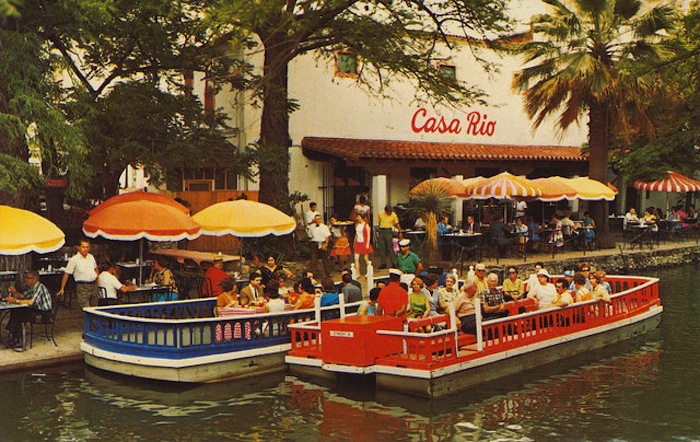 Casa Rio – San Antonio, Texas
Written on the back: Famous Casa Rio Mexican Restaurant on the San Antonio River, San Antonio, Texas.
Mailed from San Antonio, Texas to Miss Hetty Eitzenberger c/o Pat Standard Circulation Dept. of Syracuse, New York on January 13, 1973:
Dear Hetty:
We had lunch today in this beautiful place. It was warm enough to wear only a sweater. It's going to be hard to come back to our cold weather. Leaving for Oklahoma tomorrow. Regards to Frances and every one. See you before long.
Jo & Carl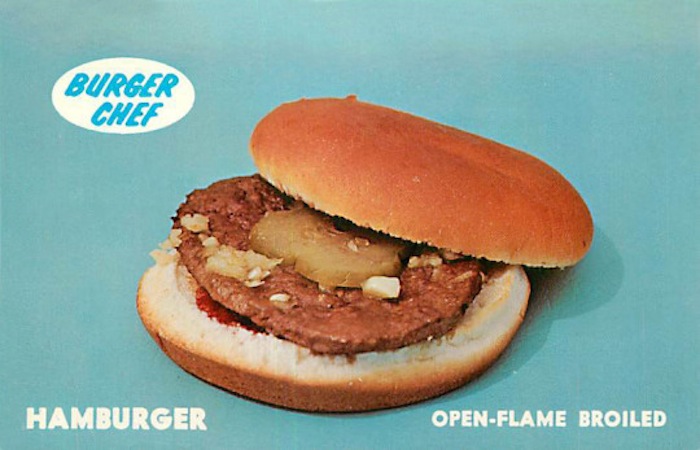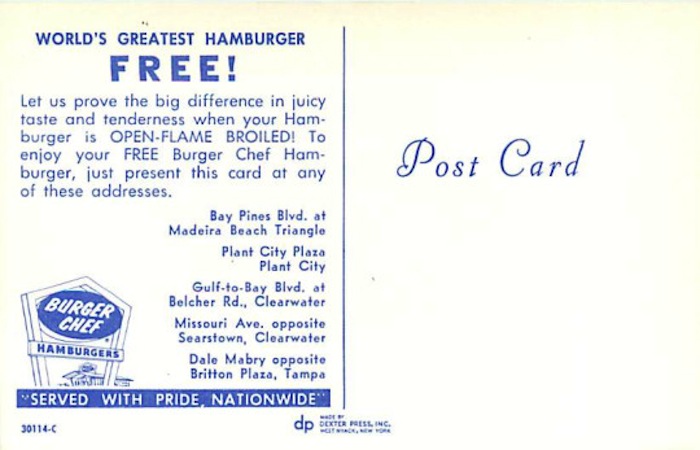 Burger Chef Hamburgers – Tampa/Clearwater, Florida
Published by Center Press NY.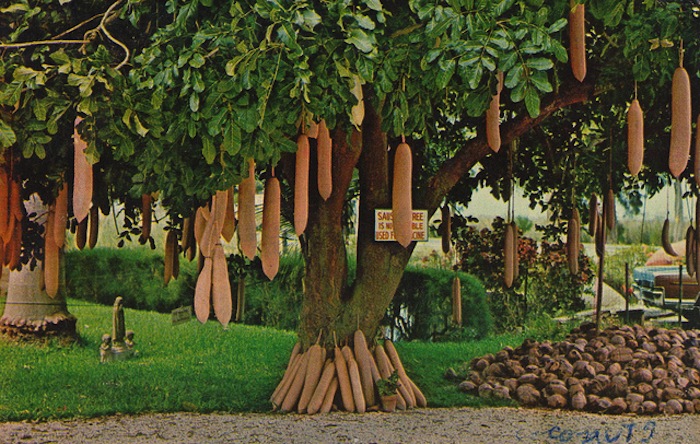 The Sausage Tree
On the back: The Sausage Tree (Kigella Pinnata) here in Florida is a native of tropical Africa. The odd fruit which resemble sausage suspended from cords are not edible.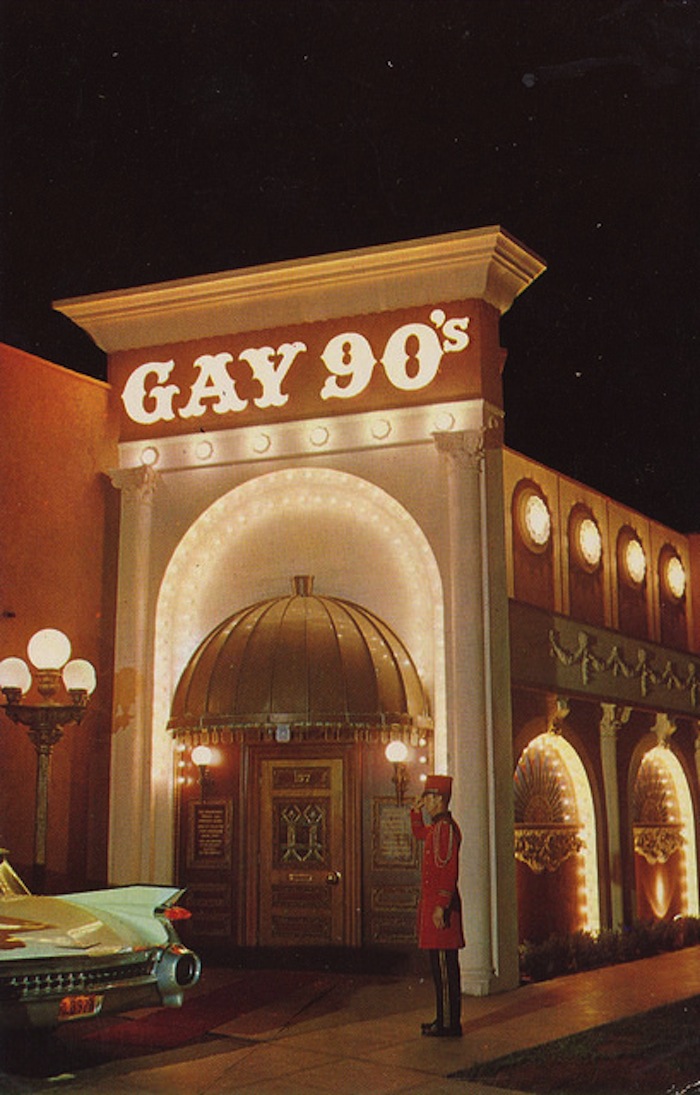 The Gay 90's – Beverly Hills, California
On the back: A Saloon Created For The Carriage Trade. Professors of the Piano – Beauteous Genteel Feminine Cupbearers – Gleaming Fire Pole – Amazing Hanging Oil Paintings – Luxurious, Salubrious, Pulchritudinous.Home of the Biggest Drink in the West. 157 North La Cinega – On Restaurant Row, Beverly Hills, California OL 7-1890.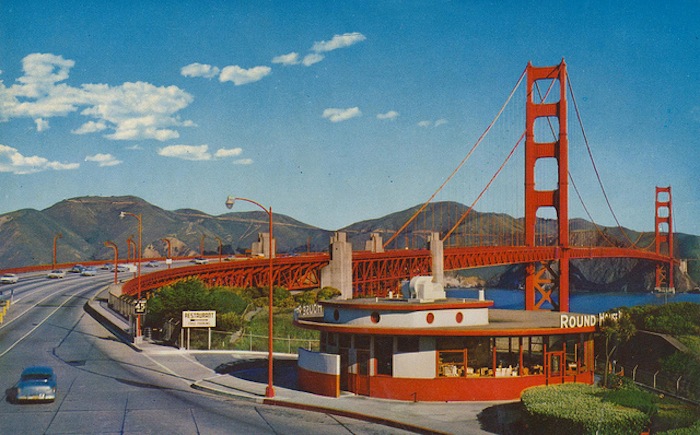 Round House Restaurant – San Francisco, California
On the back: Famous Round House Restaurant at Toll Plaza – Golden Gate Bridge, San Francisco, Calif.
Mailed from Pittsburg, California to Mr. and Mrs. E. Szues Jr. of South Bend, Indiana on August 30, 1960:
Hi – Everybody, every one is OK here and they all send regards. It's been hot here in the evenings it turns windy & it's one good thing that is does. Having a nice time, we go some place every day. And we have lots of co. Will be starting back for home this wk end so will see you soon.
Love, Mother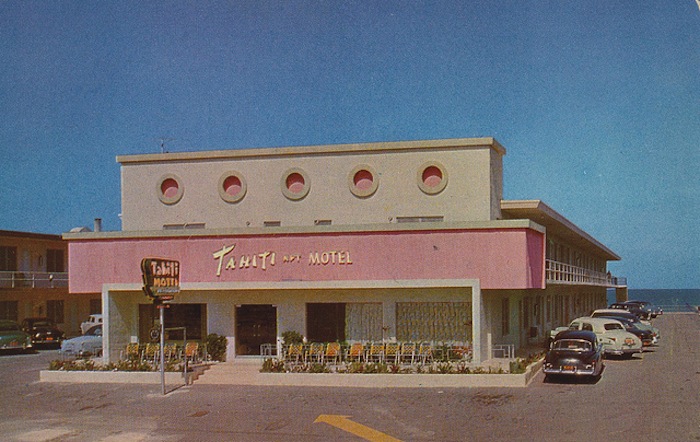 Tahiti Apartment Motel – Miami Beach, Florida
Written on the back: Directly on the Ocean – Completely Air Conditioned or Heated, Guest Controlled – Large Motel Rooms and Efficiencies – Private Tiled Bath and Shower – Coffee Shoppe – Dun Deck and Private Ocean Beach – Free Parking, at Your Door – Convenient to Shopping and All Sports – Phone 816-2644. 16901 Collins Avenue.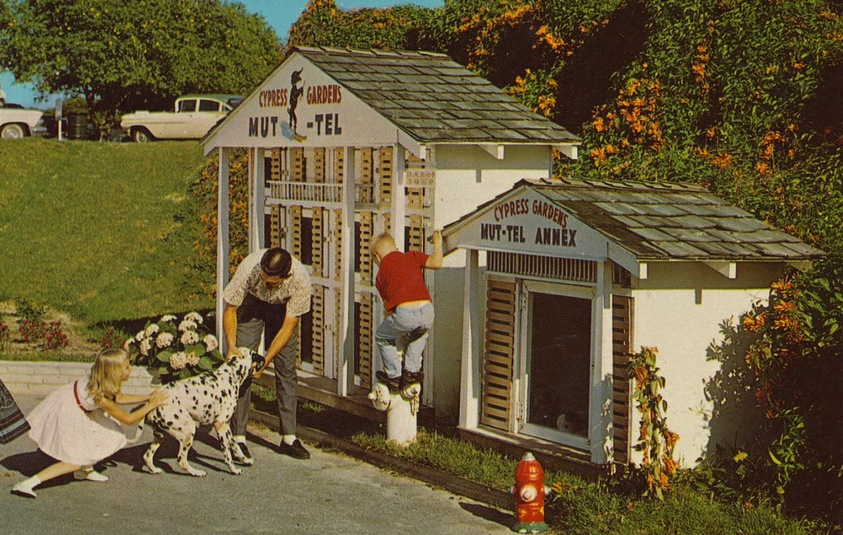 Mut-Tel – Cypress Gardens, Florida
On the back: Mut-Tel – The visiting dogs hotel at Florida's Cypress Gardens, Florida.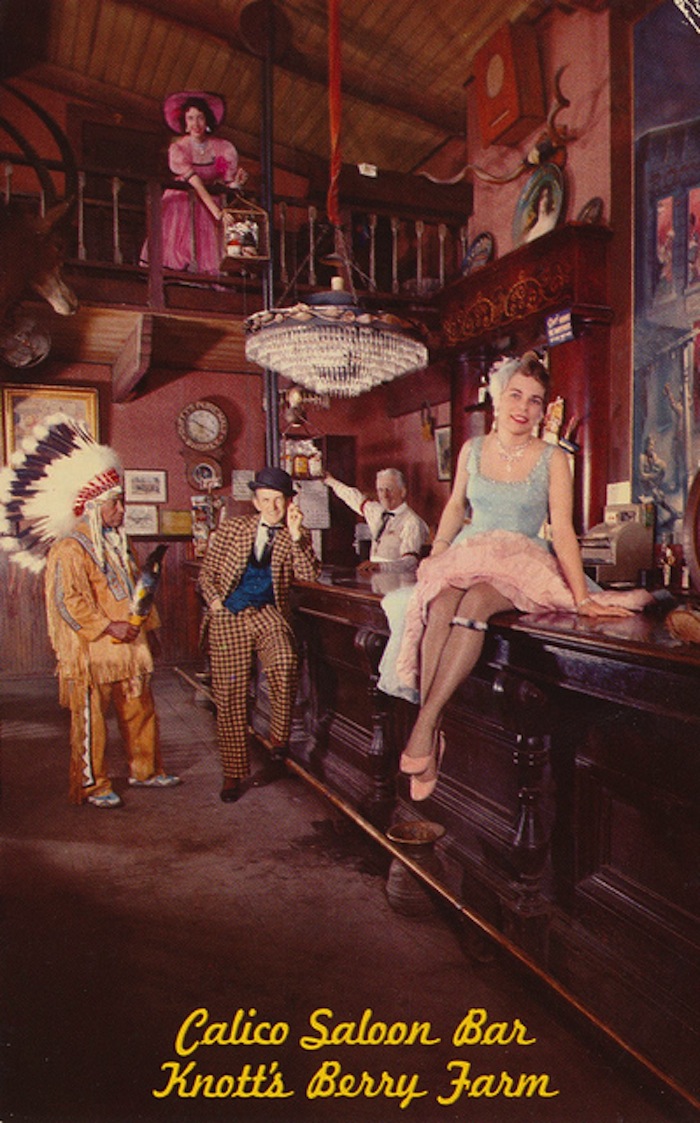 Calico Saloon Bar at Knott's Berry Farm – Ghost Town, California
On the back: Inhabitants of Ghost Town gather at this colorful frontier bar, to enjoy hilarious entertainment while they sup a cool glass of sarsaparilla.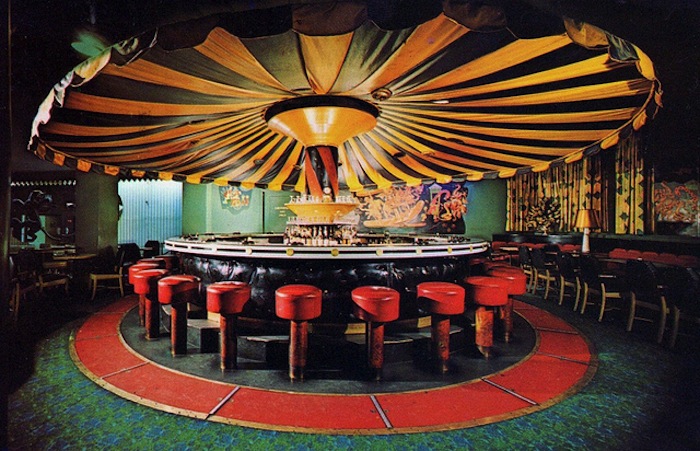 The Monteleone Hotel – New Orleans, Louisiana
Written on the back: Largest hotel in the fabulous French Quarter. 800 rooms, 500 car garage connecting hotel. All rooms air-conditioned and equipped with TV.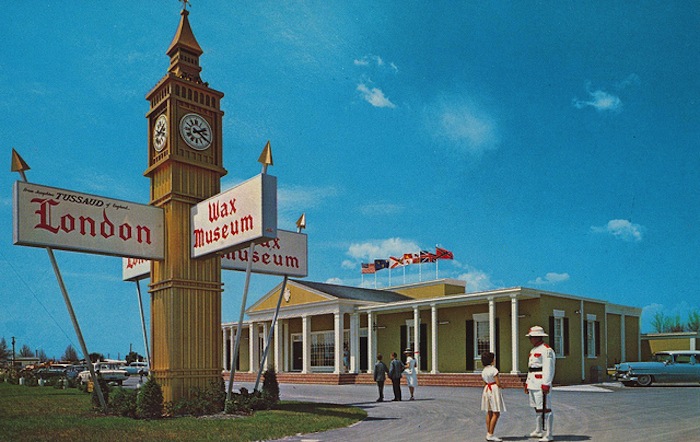 London Wax Museum – St. Petersburg Beach, Florida
On the back: Visitors never fail to marvel at the replica of London's famous Big Ben Clock at the entrance to the London Wax Museum, St. Petersburg Beach, Florida.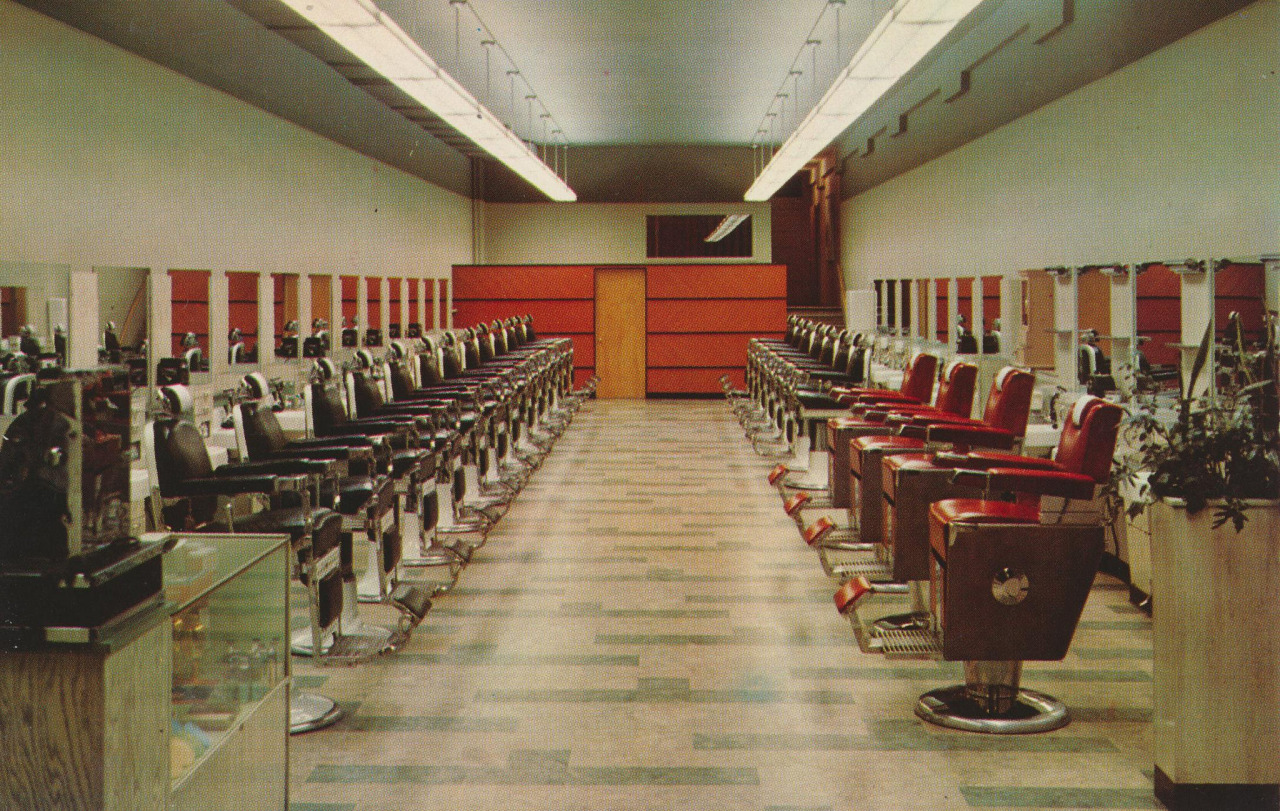 Iowa Barber College – Des Moines, Iowa
219 Walnut St., Des Moines 9, Iowa
Written on the back: Where the students cater to the desires of the PATRONS. You are CORDIALLY invited to visit our college. The FINEST school of its type in the nation. INVESTIGATE the advantages of the Barber Profession.  Let us tell you about our SUPERVISES Student Work. Bring this card with you, and Receive FREE of charge a very informative booklet "Your Hair and its Care."Phone 4-0971 for appointment.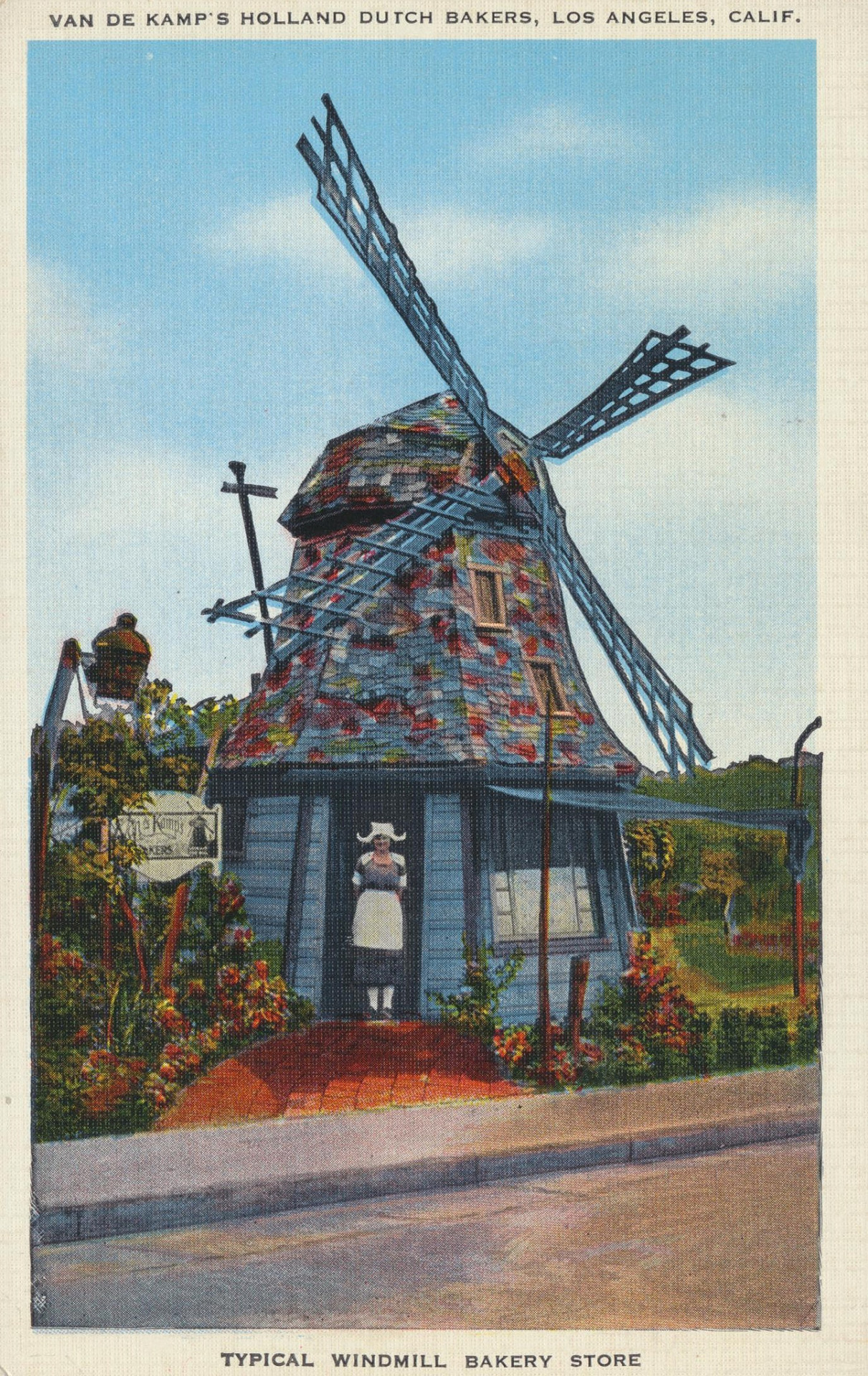 Van De Kamp's Holland Dutch Bakers – Los Angeles, California
Typical Windmill Bakery Store.
Founded in 1915, closed in 1990.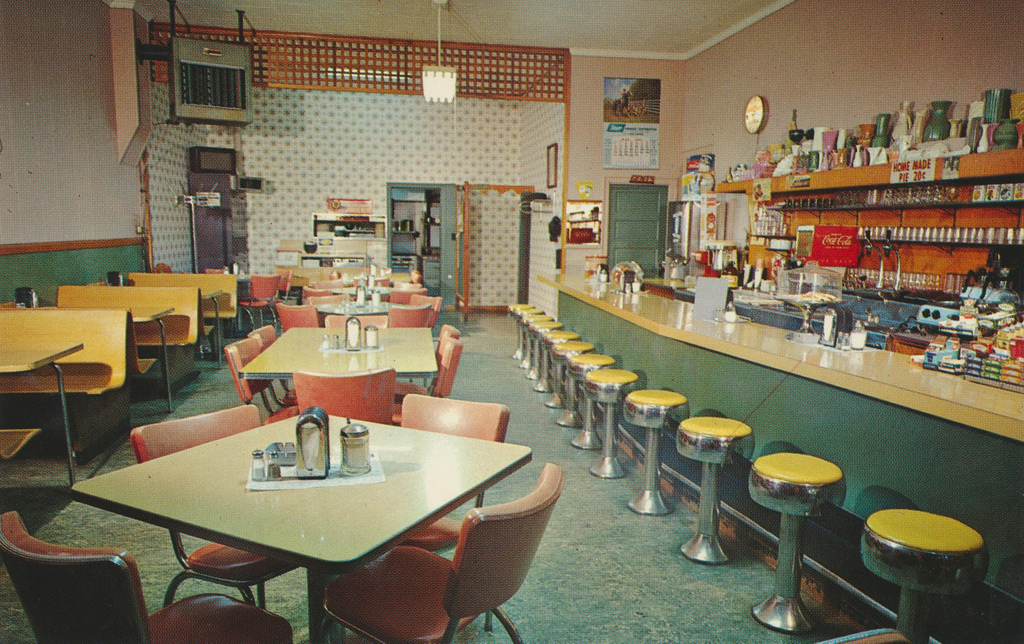 Nu-Cafe – Augusta, Wisconsin
Written in the back: Down Town in Augusta, Wis. Friendly family restaurant serving home cooked meals. Open 6 A.M. to 8 P.M. daily. Also caters to banquets, wedding parties and club meetings. Mr. and Mrs. Richard Pettis, Prop.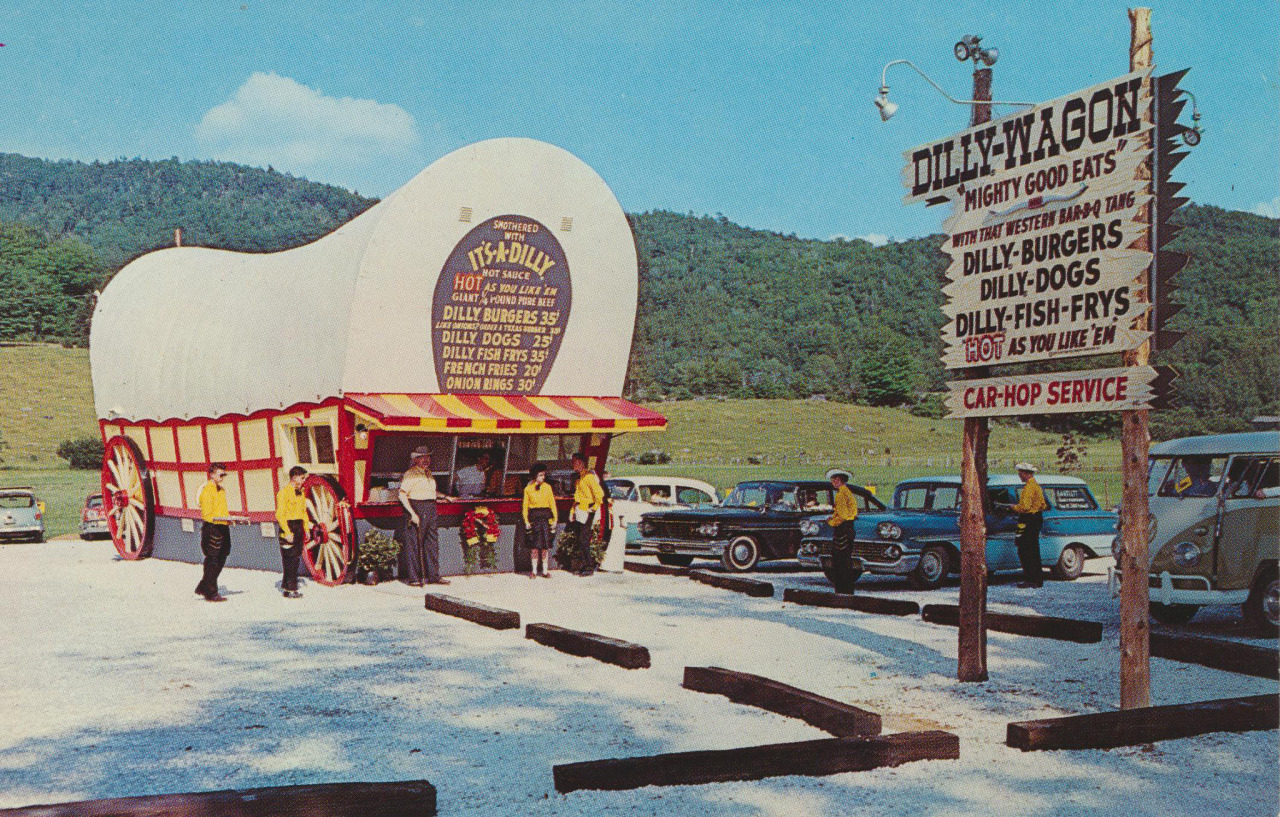 Dilly-Wagon, Pots Dam, New York
Written on the back: A striking replica of the covered wagon that won the West; featuring famous Dilly-Burgers and Dilly-Snacks with that western barbeque taste. Franchises available throughout Northeast. Dilly-Wagon Franchise Company, Potsdam, New York. For "Mighty Good Eats" stop at your local Dilly-Wagon.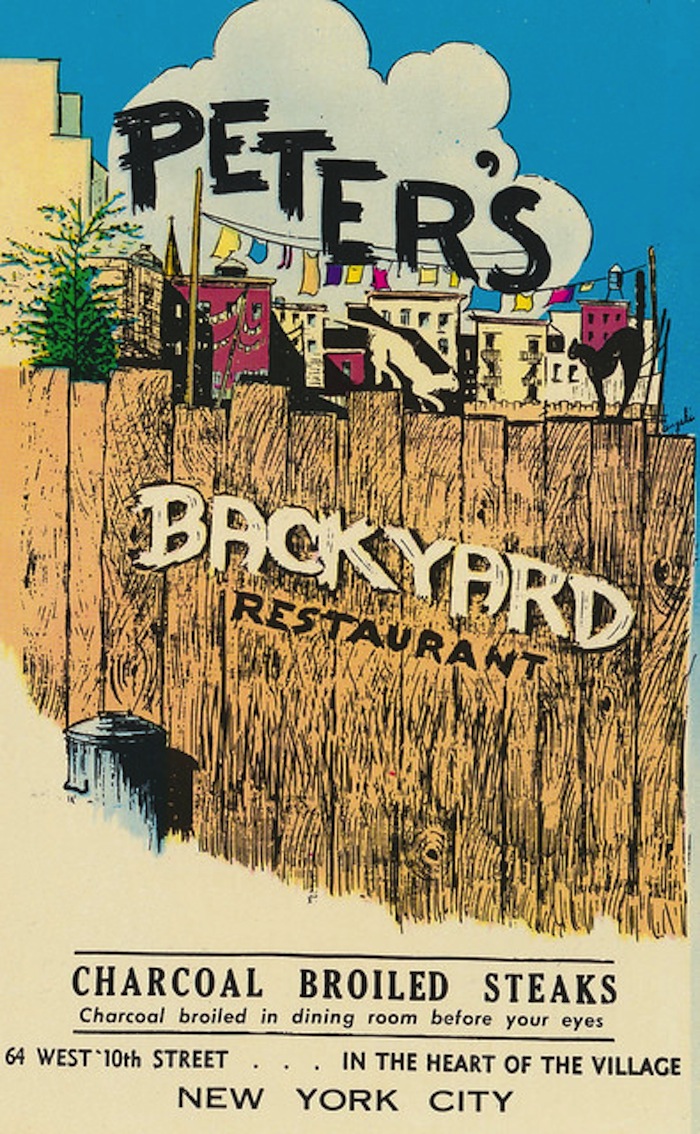 Peter's Backyard Restaurant – New York, New York
Written on the back: After Theatre Dining. Charcoal Broiler Steaks. 64 West 10th St., New York. Reservations – GRamercy 3-2400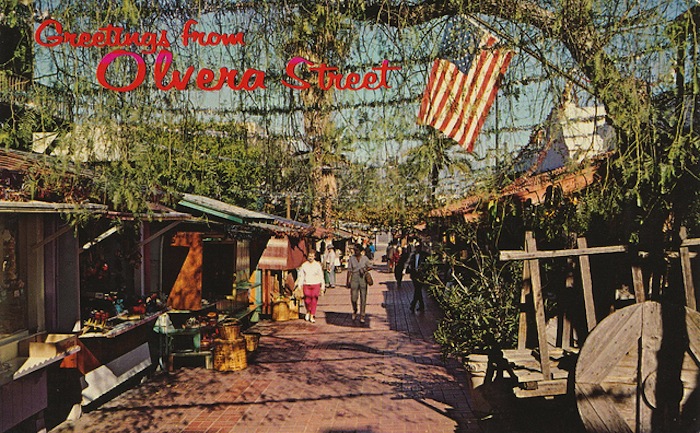 Olvera Street – Los Angeles, California
Mailed from Canoga Park, California to Mr. & Mrs. R.B. Lester of Chicago, Illinois on June 16, 1969:
Tues Morn.
Dear Mom & Dad,
We're really playing tourist! Went to Universal Studio City, Chinatown, Olvera St. Today is Farmers Market – then golf. Sun hasn't shown very much so no tan yet. It's nice out here.
Love, Les & Marion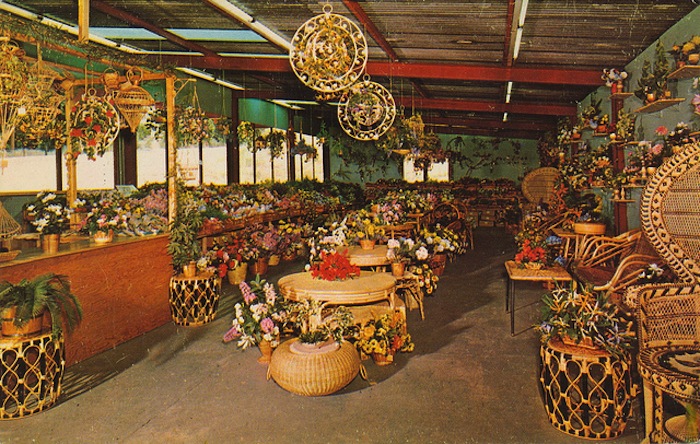 Basketville – Putney, Vermont
I think I'd be in heaven and apparently still going.
Written on the back: World's Largest Basket Store. Woodenware – Buckets – Rattan Furniture – Gifts – 9 Miles North of Brattleboro on U.S. 5 & 91.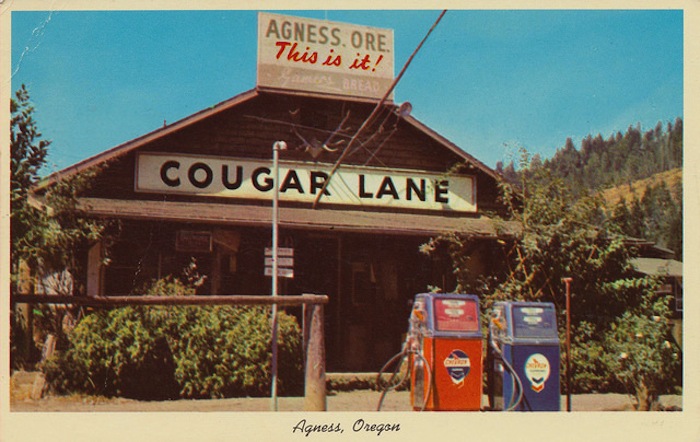 Agness, Oregon
On the back: One of the historic buildings of the Gold Beach gold rush area can be reached mainly by boat trip up the Rogue River.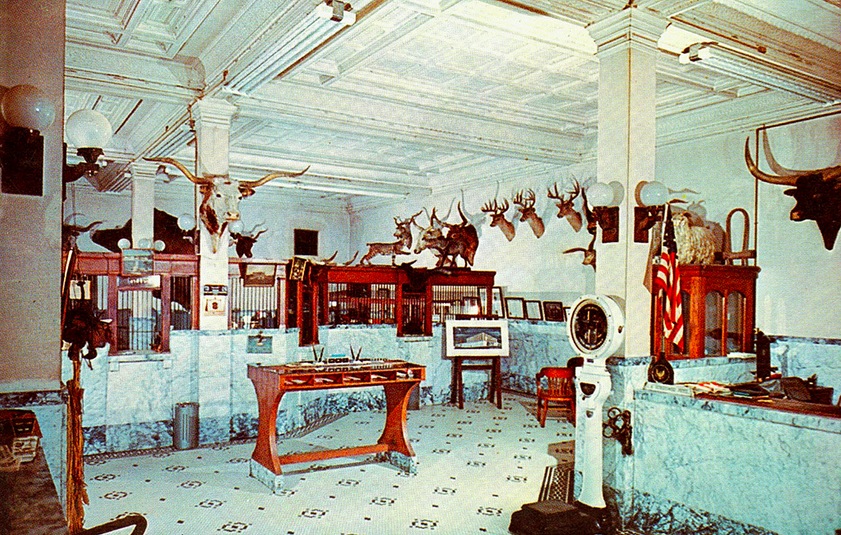 Chas. Schreiner Bank – Kerrville, Texas
On the back: Interior of the unique and colorful Chas. Schreiner Bank in Kerrville. Serving the Hill Country of Texas since 1869.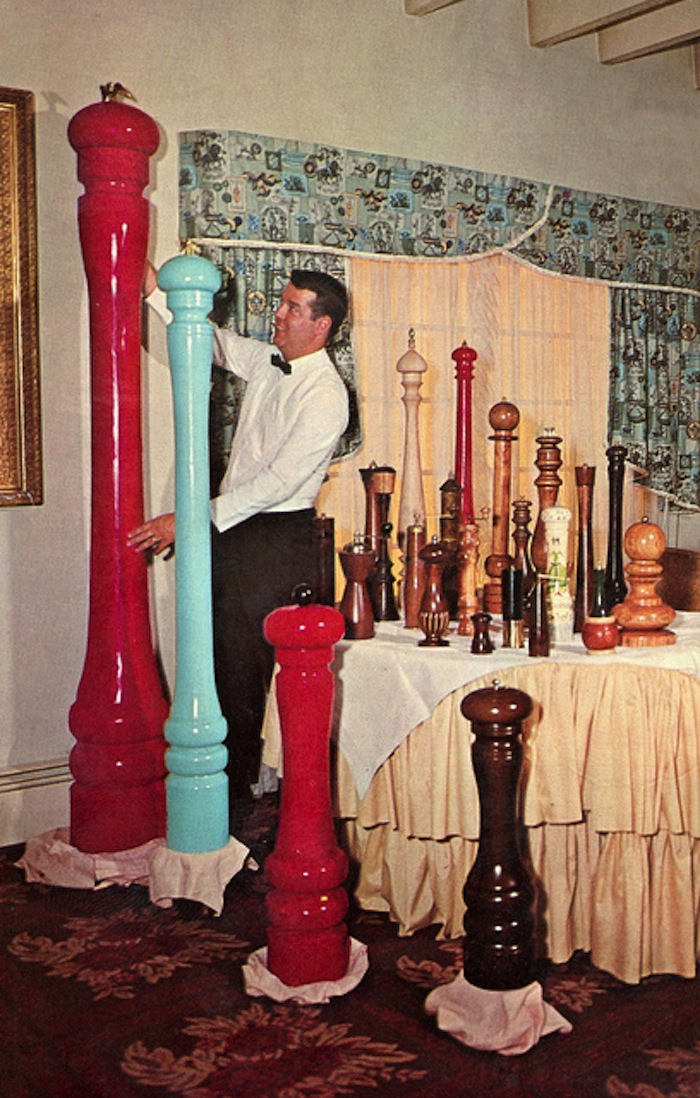 Minuet Manor Motel and Dining Room – Altoona, Pennsylvania
Rt. 220 – 5 Miles N. Altoona, Pa.
Written on the back: Pepper Mills ala Minuet! World's largest collection of unique pepper mills, ranging in size from 3 inches to 7 feet-6 inches. Just one of the many memorable pleasures in store for you at the Minuet Manor is being served freshly ground pepper from this outstanding collation.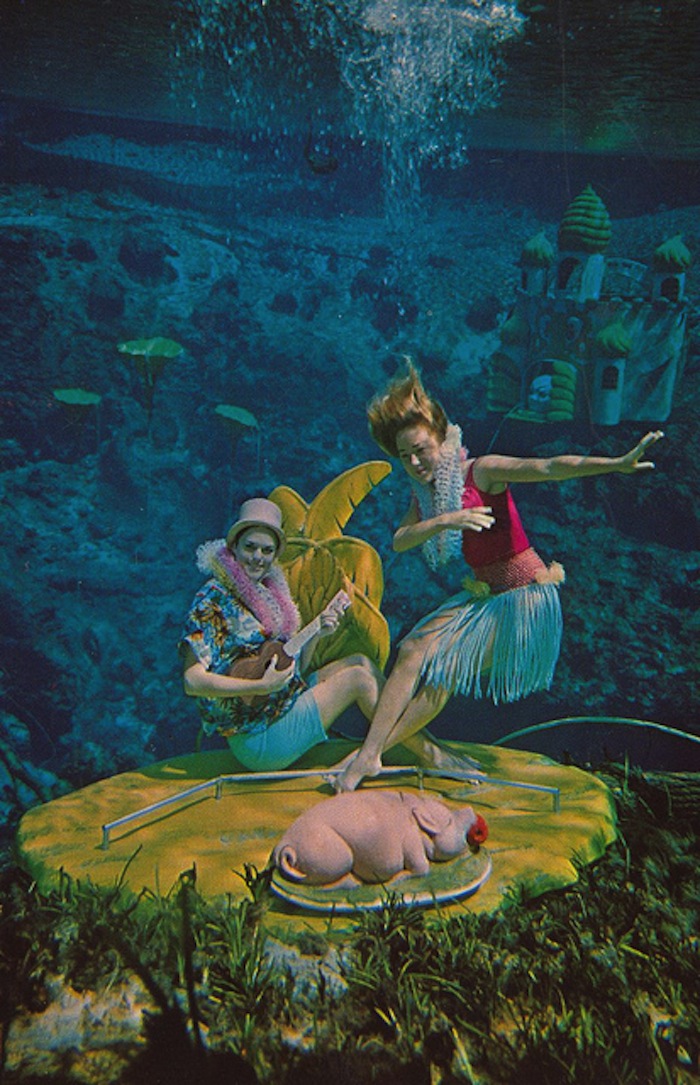 Two Mermaids on a Deserted Hawaiian Isle – Weeki Wachee, Florida
On the back: Two mermaids on a deserted Hawaiian Isle complete a beautiful picture in the depths of the picturesque Underwater Grand Canyon at Florida's Weeki Wachee on the West Coast of Florida.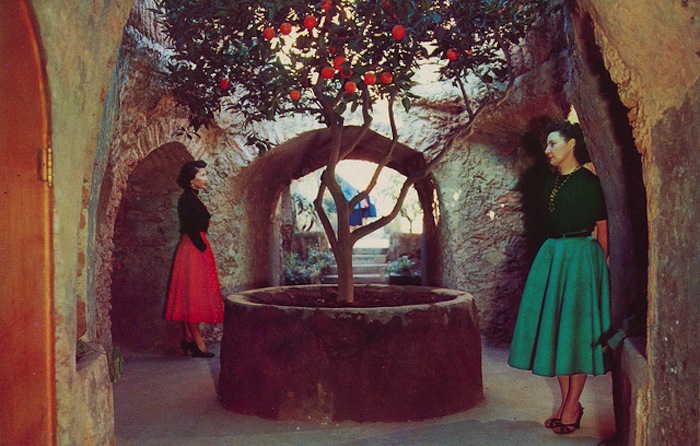 The Secret World of the Human Mole – Fresno, California
Written on the back: Entrance to "The Secret World of the Human Mole" – a fantastic labrinth of 65 rooms, gardens and grottos – created with prick and shovel and 40 years of labor. Foreground, one of many fruit trees flourishing in the subterranean wonderland.
The museum is still open and if you're curious, I wrote an article on it here.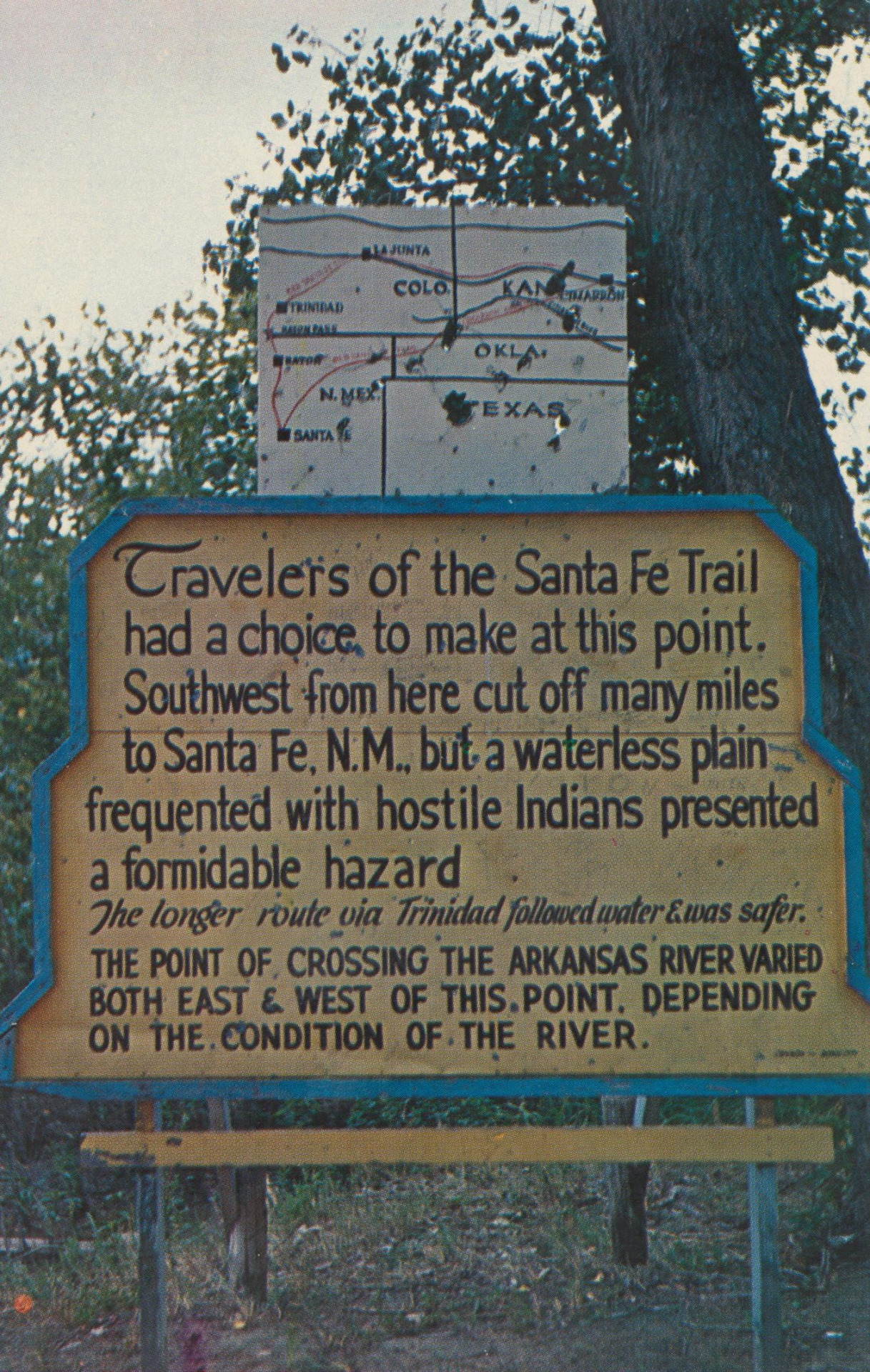 The Cimarron Crossing – Cimarron, Kansas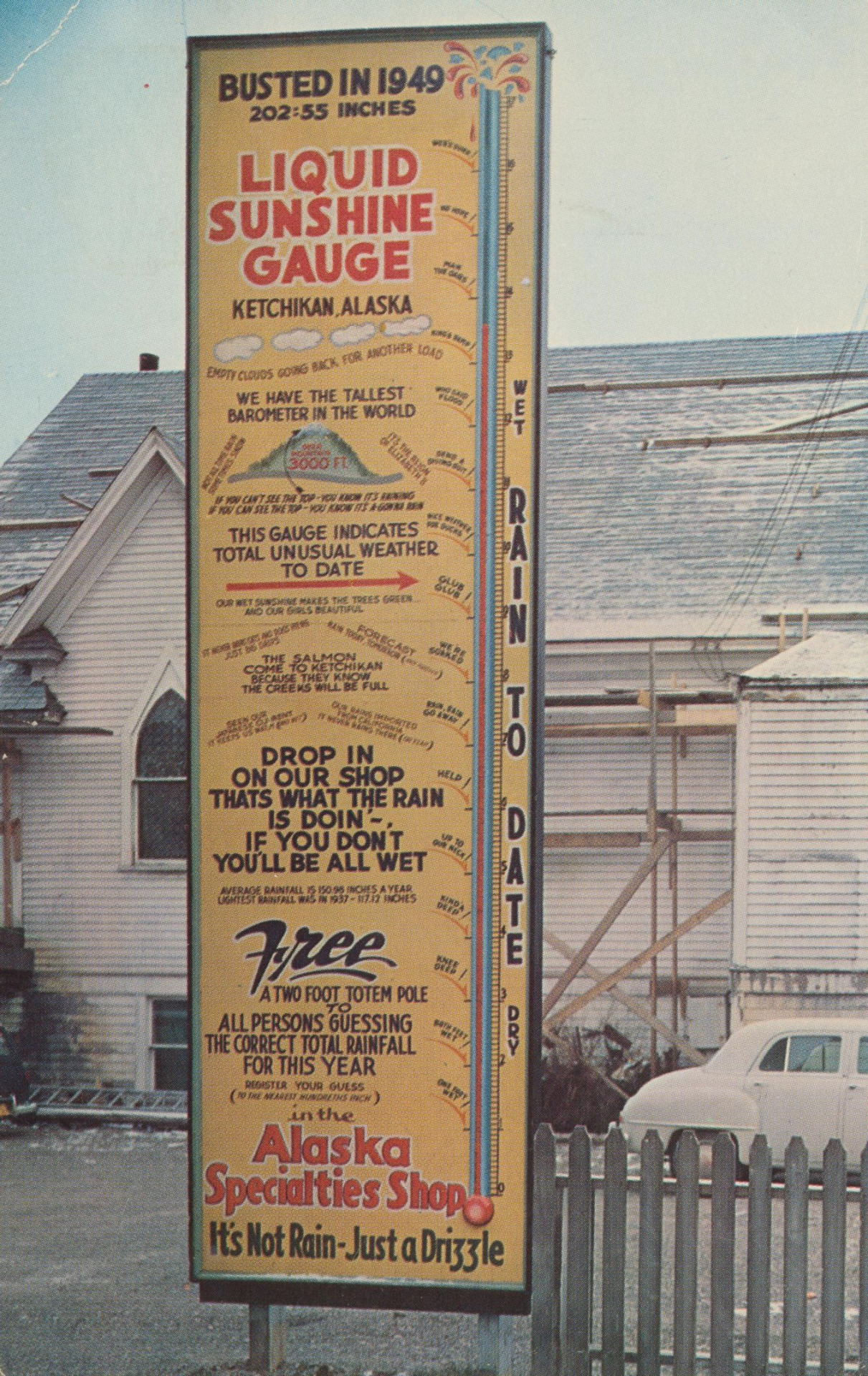 The Specialties Company Liquid Sunshine Gauge – Ketchikan, Alaska
On the back: Rain rain, go away! At Ketchikan, Southeastern Alaska, the Japanese current causes a year-long mild climate, but a heavy rainfall. The annual average is about 150 inches. The gift shop of the Specialties Company at 423 Mission St. maintains a humorous "rain gauge" to record the daily fall.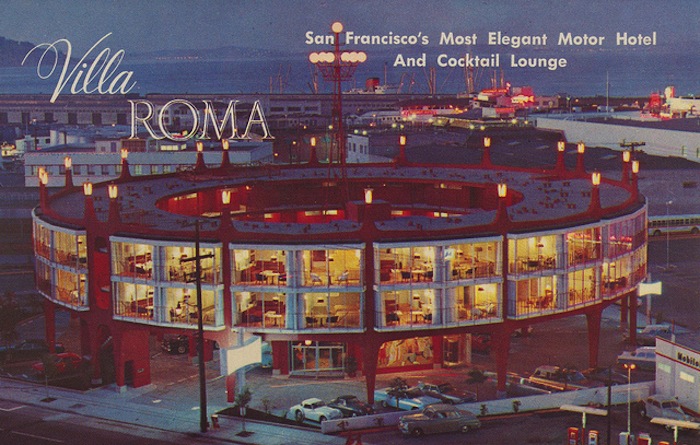 Villa Roma Motor Hotel – San Francisco, California
On the back: San Francisco's most elegant Motor Hotel and Cocktail Lounge located 1212 Columbus Avenue, Corner of Bay; in the heart of the Fisherman's Wharf – North Beach Area. 1 block from Cable Cars to downtown. Views from every room of the Bay or San Francisco skyline.
For reservations call Prospect 1-2000.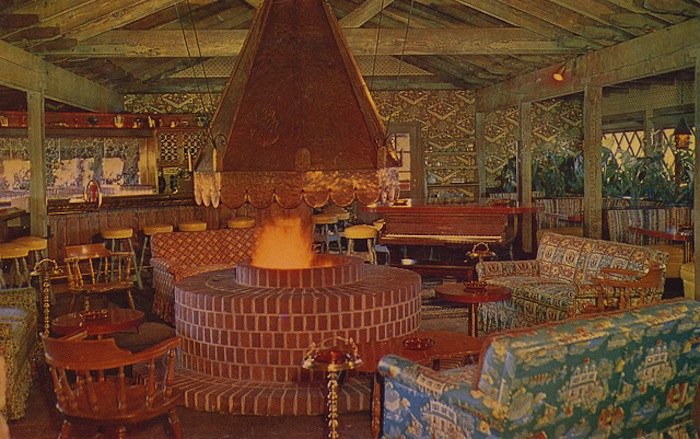 Rick's Rancho – Santa Maria, California
On the back: Dining Room and Cocktail Lounge. Featuring Barbecued Steak and Spare Ribs. Home-made Pies and the double Rickburger. Consistent high quality in the show place of Santa Maria is always maintained by the constant supervision of Mr. and Mrs. Rick. 90 luxurious rooms. Heated pool. Recreation room.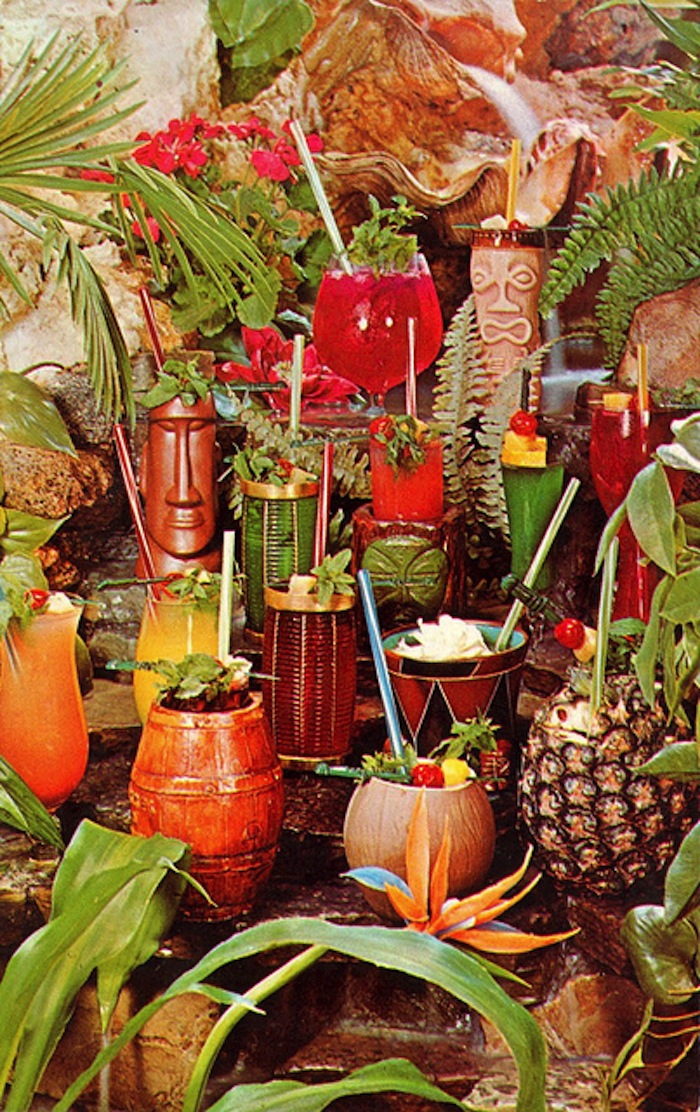 Kahiki Polynesian Supper Club – Columbus, Ohio
On the back: Polynesian Supper Club, 3583 E. Broad Street, Columbus, Ohio. A myriad of tastes and colors are blended into the many exclusive concoctions by Bar Manager Señor George Ono.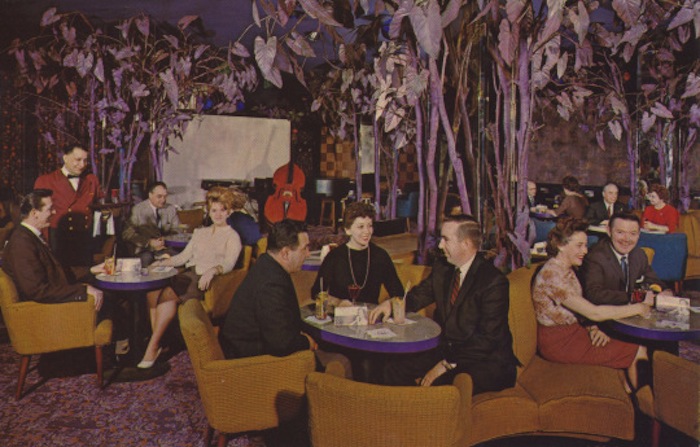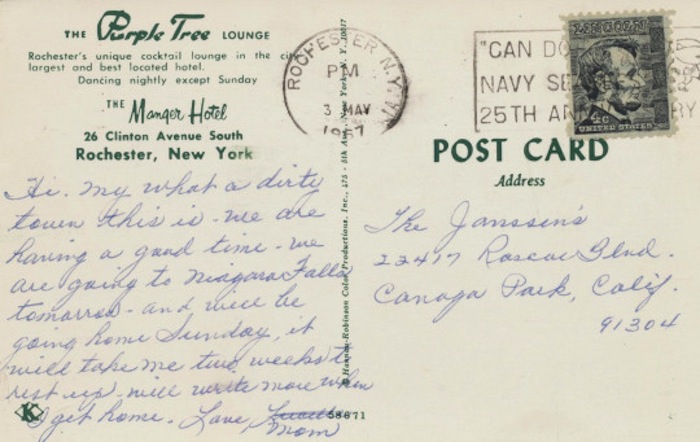 The Manger Hotel – Rochester, New York
Written on the back:
The Purple Tree Lounge 
Rochester's unique lounge in the city's largest and best located hotel.
Dancing nightly except Sunday.
Mailed from Rochester, New York to The Janssens of Canaga Park, California on May 3, 1967:
Hi. My what a dirty town this is – we are having a grand time – we are going to Niagara Falls tomorrow – and will be going home Sunday, it will take me two weeks to rest up – will write more when I get home. Love, Lucille Mom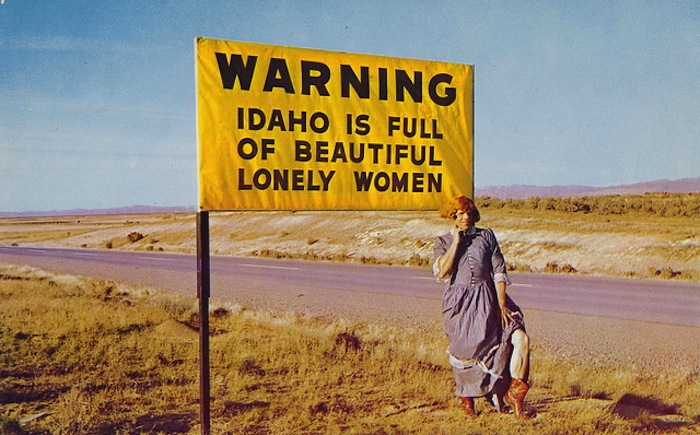 Fearless Ferris "The Stinker" Service Stations, Idaho
On the back: WARNING – Idaho is Full of Beautiful, Lonely Women
The Sagebrush covered valleys of the intermountain West harbor much animal life and holds panoramic beauty unrivaled. To the uninitiated or the hurried traveler the miles stretch monotonously until the road signs of, "Fearless Farris The Stinker", strikes the curiosity. The ex-sheepherding stinker kids the natives and Tourists Flora and Fauna with numerous signs that eventually lead to the Big Skunk signs that identify his, "horribly dignified", modern service stations.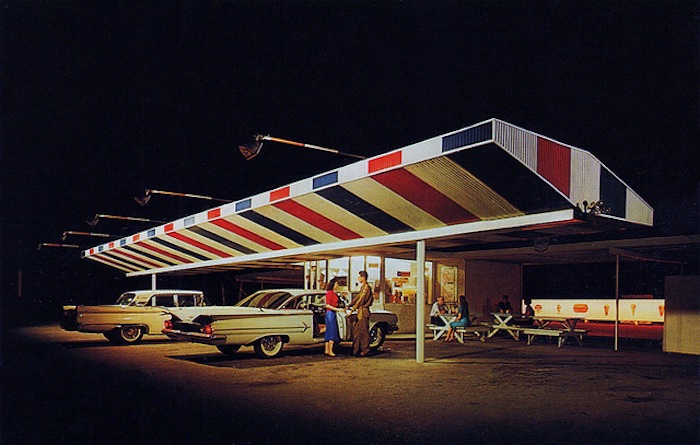 Jet Drive-In – Austin, Texas
On the back: Bright, natural light from mercury vapor Wide-Lites invites customers into the attractive Jet Drive-in at Austin, Texas. Their color-corrected light flatters food. Flatters faces, too.
I think I'll leave you with that red, white and blue one to discover the rest on your own and wishing you a Happy 4th of July weekend!
Take a trip down memory lane on Cardboard America.