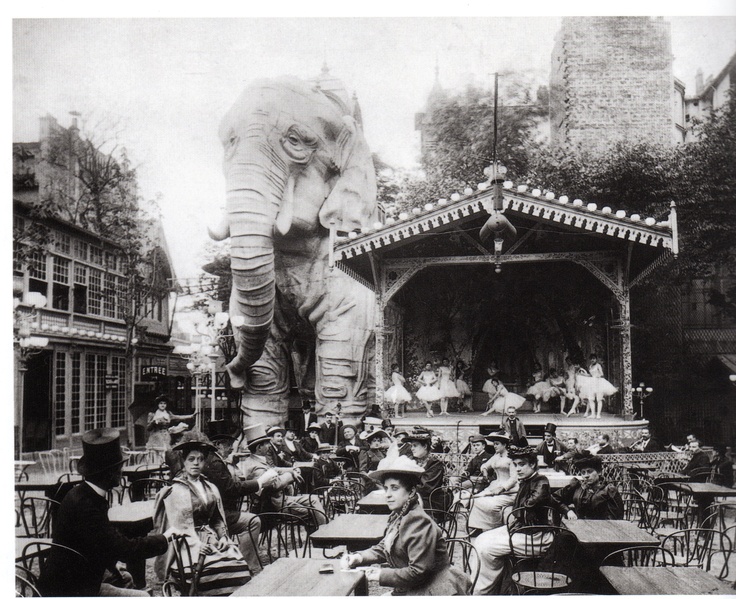 It turns out that Nicole Kidman's fantastical elephant boudoir in Baz Luhrman's 2001 motion picture, Moulin Rouge, was not a just a Hollywood embellishment added to the iconic cabaret, but in fact, a very real fixture of the Belle Epoque establishment, forgotten in the archives of Parisian history.
I found the uncaptioned black and white image, floating around on a Pinterest board of historical Paris photographs, and after a hasty Google reverse image search, I was admittedly amazed to learn that it was taken at the Moulin Rouge, circa 1900.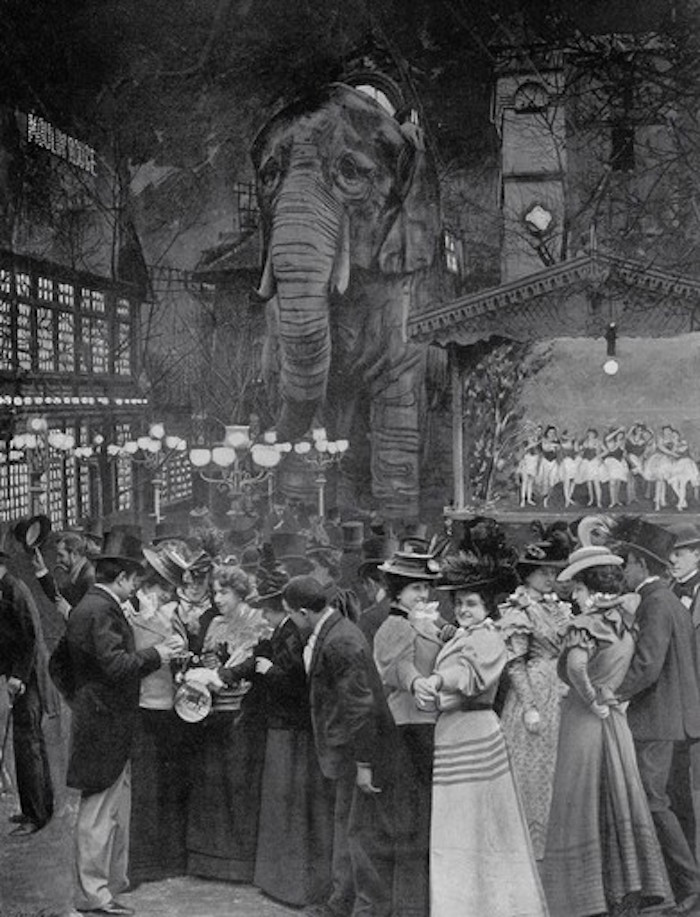 Of course, I went digging for more photographic evidence…
First of all, who knew the Moulin Rouge even had a garden, let alone a giant elephant in its backyard? When I think of the famous Pigalle cabaret, I think of a crimson red velvet cathedral of vice, not a leafy green garden party.
But the camera doesn't lie, and according to records, this is how the Moulin Rouge looked during its earliest years after opening in 1889 at the foot of Montmartre (check out Dumbo's bottom to the left of the windmill ↓).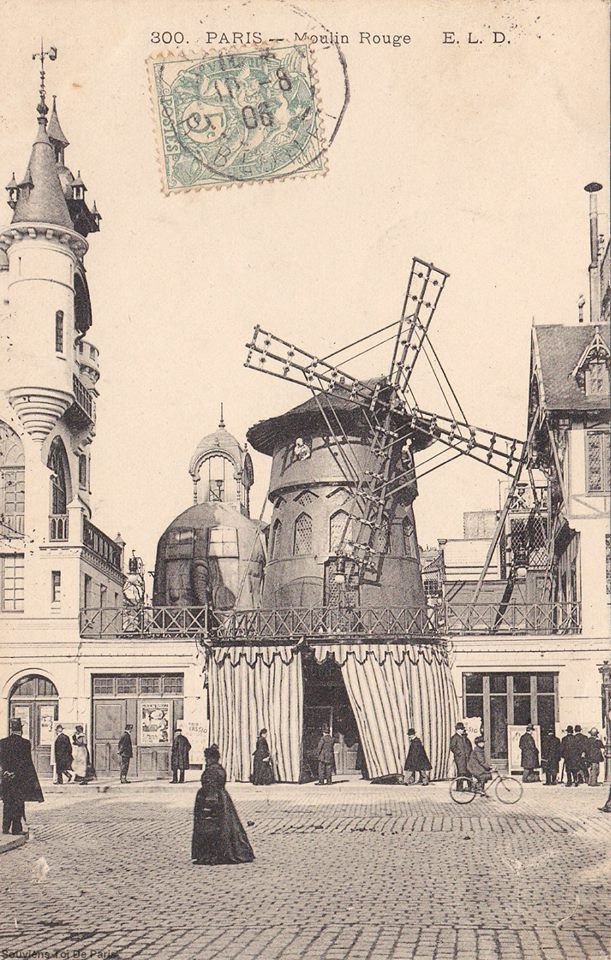 The garden and its al fresco café was known as the Jardin de Paris Elephant, after the founders Charles Zidler and Joseph Oller purchased a giant stucco elephant they had seen exhibited at the Paris Universal Exhibition of 1889. At the Moulin Rouge, the elephant served as a luxurious opium den where for a single franc, gentlemen could enter by way of a spiral staircase inside the leg and be entertained by belly dancers (inside the belly of the beast).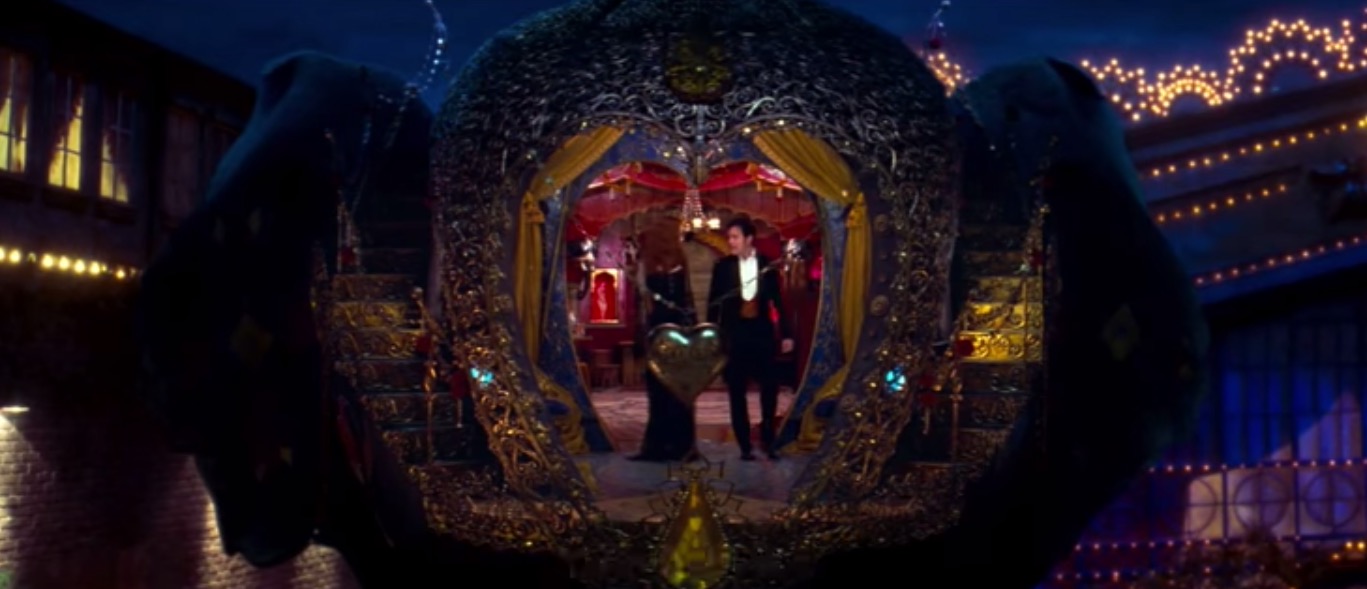 And so it would seem that Hollywood's story of a tragic Parisian courtesan living inside a giant elephant at the Moulin Rouge isn't so farfetched.
You can even see quite clearly from this photograph ↓ taken from the street at the front of the cabaret, there's a tower-like room on the elephant's back.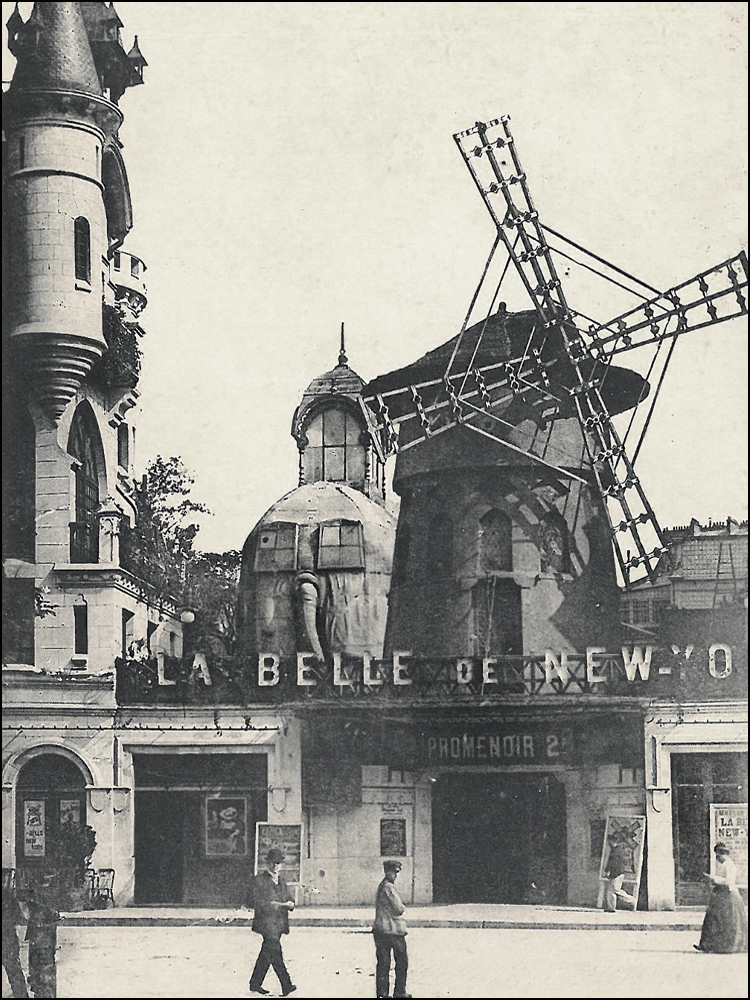 (And it's also worth noticing that fabulous castle to the left which has sadly long disappeared from the Moulin Rouge facade).
Just as in Baz Lurhmann's musical, Satine's balcony to her boudoir, indeed sits atop the crown of a colossal hollow elephant.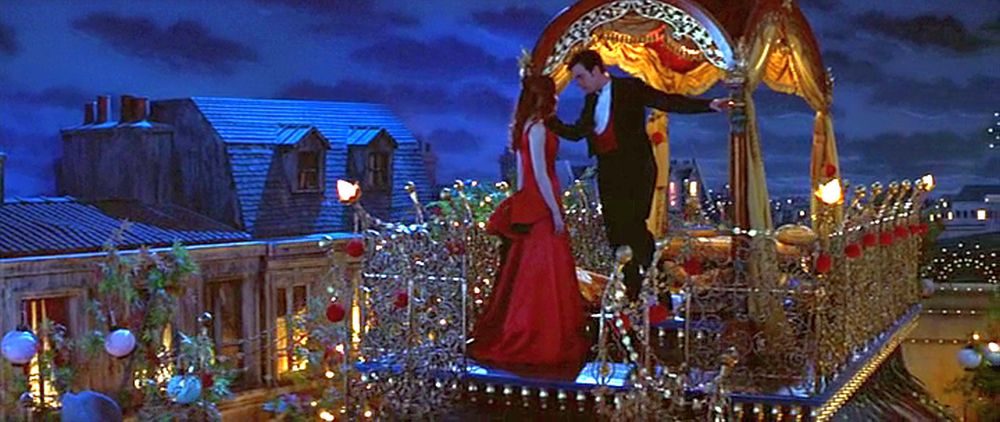 (You get a better idea of the full Hollywood set design of Satine's boudoir here).
This artist's impression circa 1900 below, shows that the Moulin Rouge might have even installed a roller coaster in the garden at one time, perhaps for the World's Fair, which was held again in Paris in 1900, celebrating outlandish inventions and machines.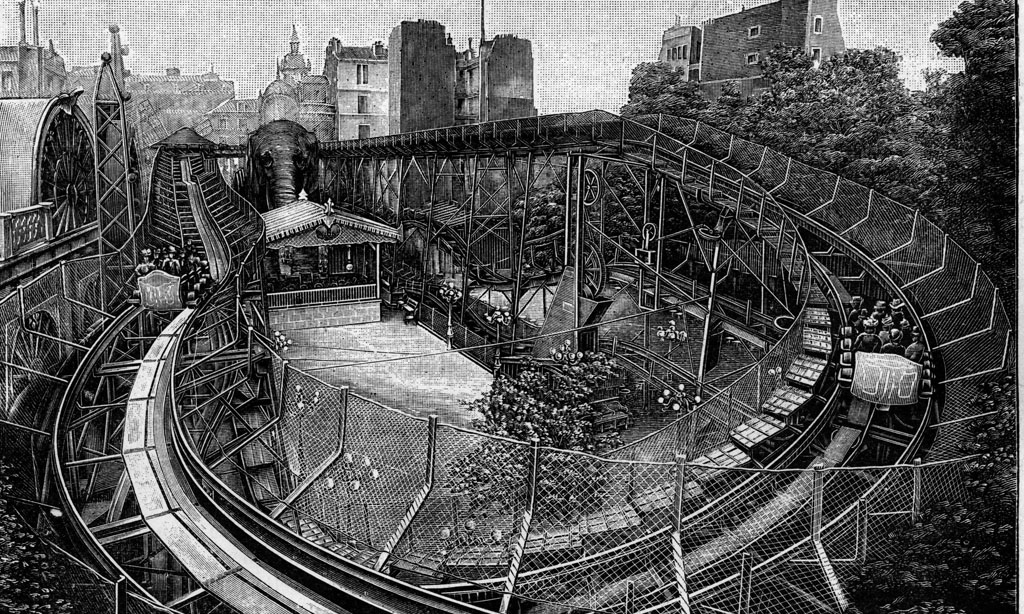 Charles Zidler and Joseph Oller wanted their Moulin Rouge, to be the attraction of Montmartre, and no doubt pulled out all the stops during one of the most expensive World Fairs in history.
But back to the elephant! Whilst digging, I also learned that the giant structure had been inspired by James V Lafferty's "Elephantine Colossus", a seven-story tourist attraction and hotel built on Coney Island in 1885, pictured below.
As well as a hotel, it served as an amusement bazaar and entertainment hall and from the observatory's telescopes in the elephant's eyes, it was claimed you could see as far as Paris. It later served as a brothel as Coney Island became more "established" and touristy, but it when it caught fire on a fateful summer night in 1896, it had not been used for several years.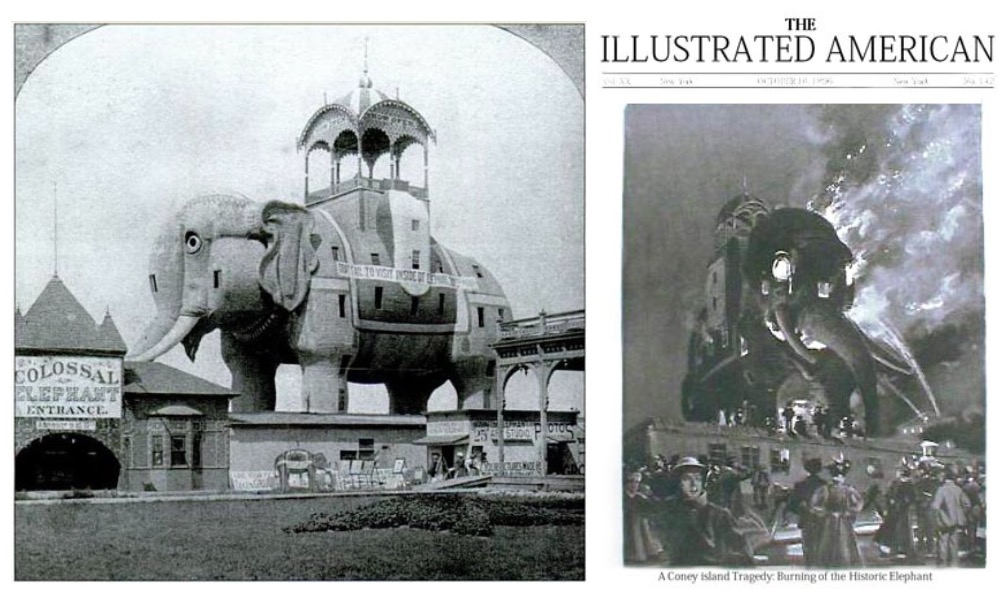 Unfortunately, Moulin Rouge's elephant wouldn't last very long either, and it was torn down prior to the 1906 renovation of the cabaret hall and did not reappear upon its reopening.
As for the garden…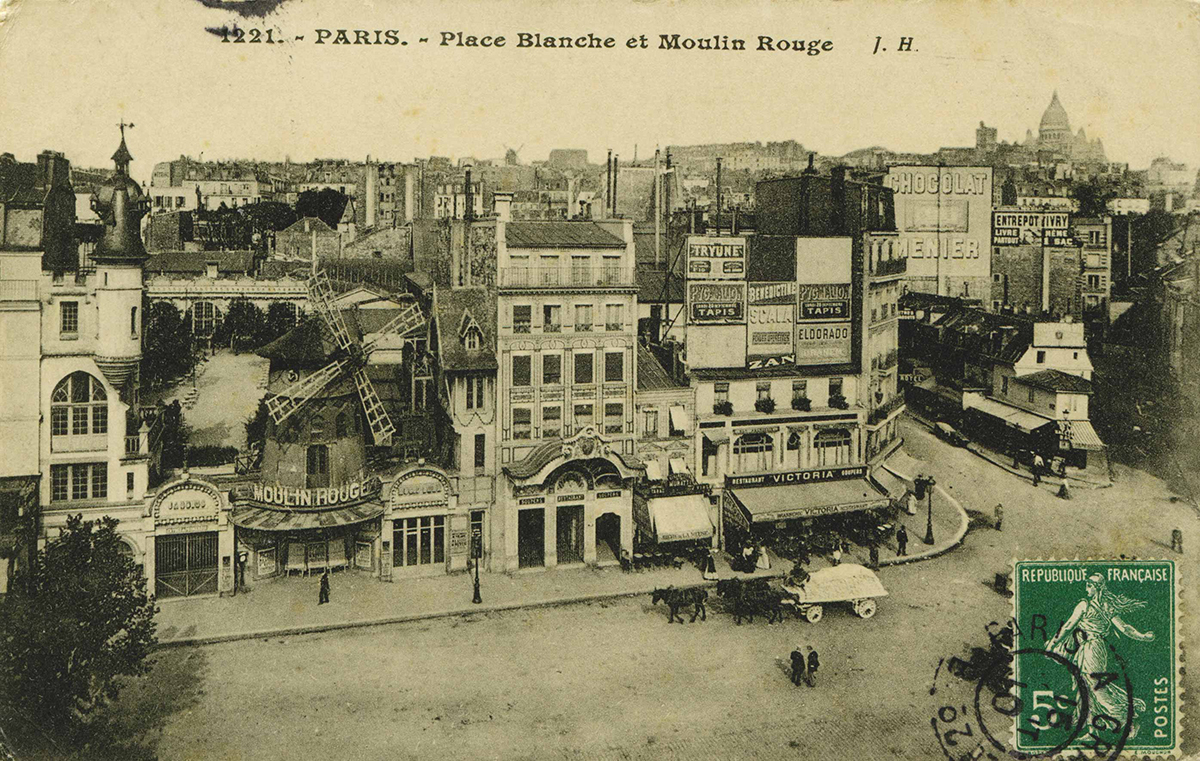 We can get a pretty good idea of just how much space they had back there from this old postcard overlooking into the back of the cabaret ↑, but a quick search on Google Earth, and you can clearly see, the al fresco garden party is well and truly over…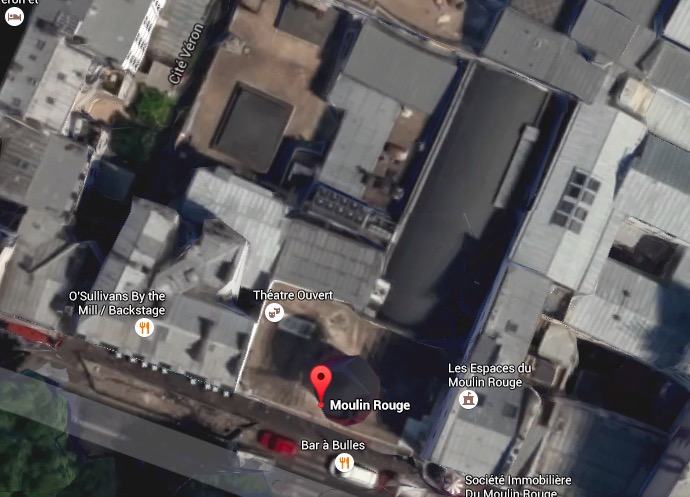 You might just have to re-watch Baz Lurhmann's Moulin Rouge! to see if you can't spot any other clues to a forgotten fantasy Paris…