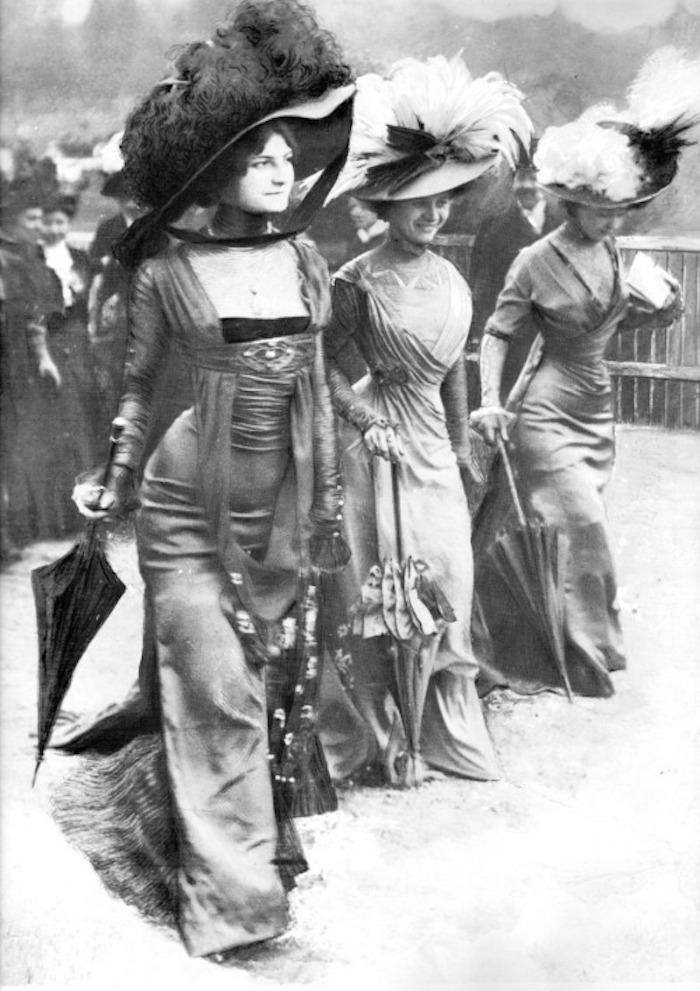 In the Spring of 1908, three women walked onto the Longchamp racecourse in Paris and jaws dropped. The elite society event was known for debuting the latest couture creations to the public, but no one had seen fashion quite like this before. Dressed in blue, white and havane brown creations, according to newspapers, spectators called the three women a "monstrosity", accused them of being semi-naked and showing revolting décolletage. It was these three dresses however, which would forever change fashion that day and launch the twentieth century silhouette. As for the designer? Well, no one really bothered to remember her name…
But perhaps you might like to know who it was. Jeanne Margaine-Lacroix was her name, a young Parisian designer who had taken over her mother's long-established couture house and was starting to gain popularity in turn-of-the-century Paris for her lightly corseted dresses featuring minimum boning and more elastic material…
Long before Lycra or Spanx came along, she soon began making dresses made from stretchy elastic silk jersey, outlining the hips and thighs and slimming the figure. To debut her creations to society, she hired three beautiful models and chose the Parisian racetracks of 1908 as her catwalk.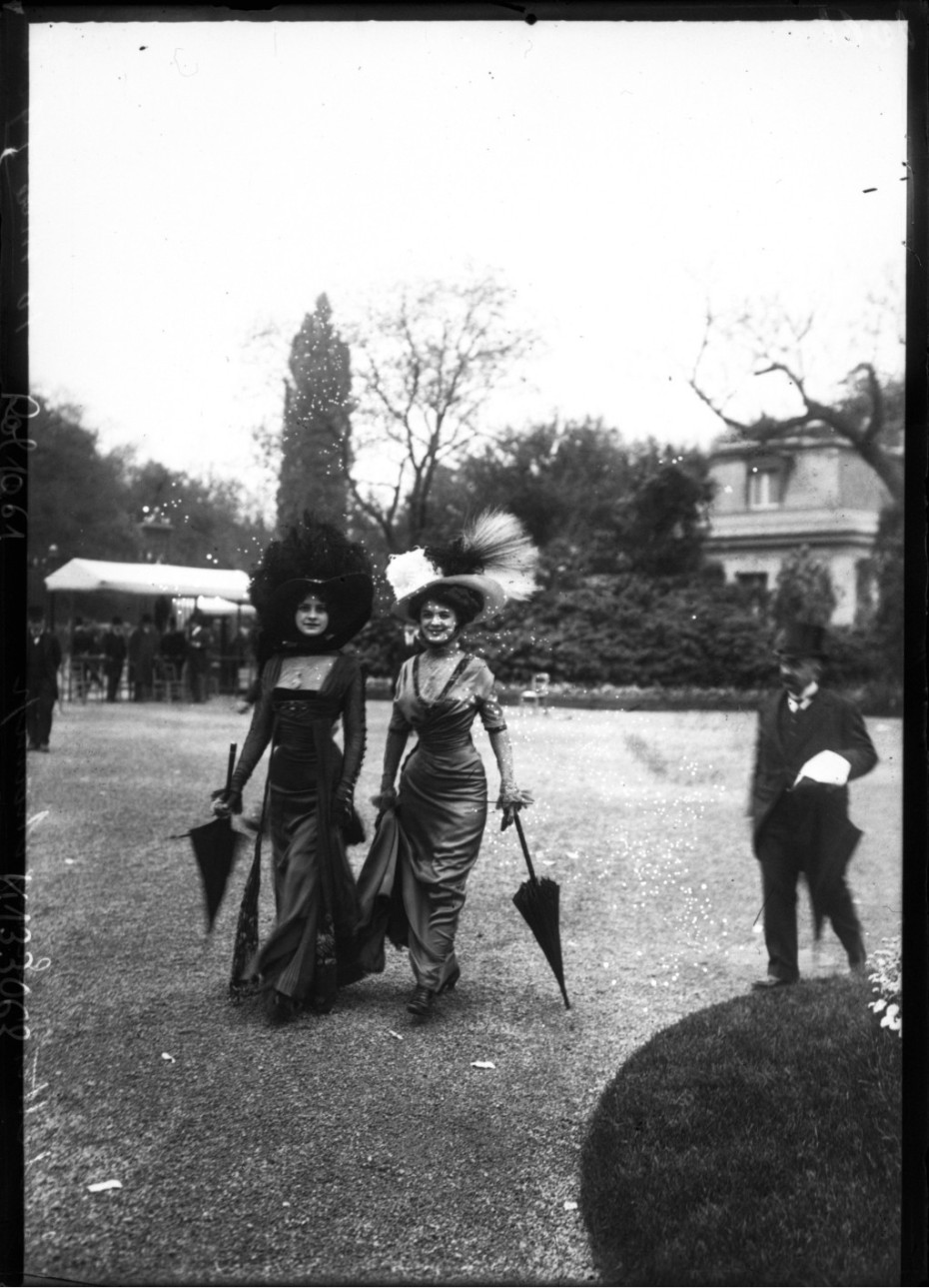 Her gowns clung to their bodies almost as tightly as a Hervé Leger bandage or body-con dress circa 2007. The gawking crowd at Longchamp could see that the women were not wearing what they considered to be underwear, which in those days of course consisted of bulky under-garments including a full corset, petticoat and chemise.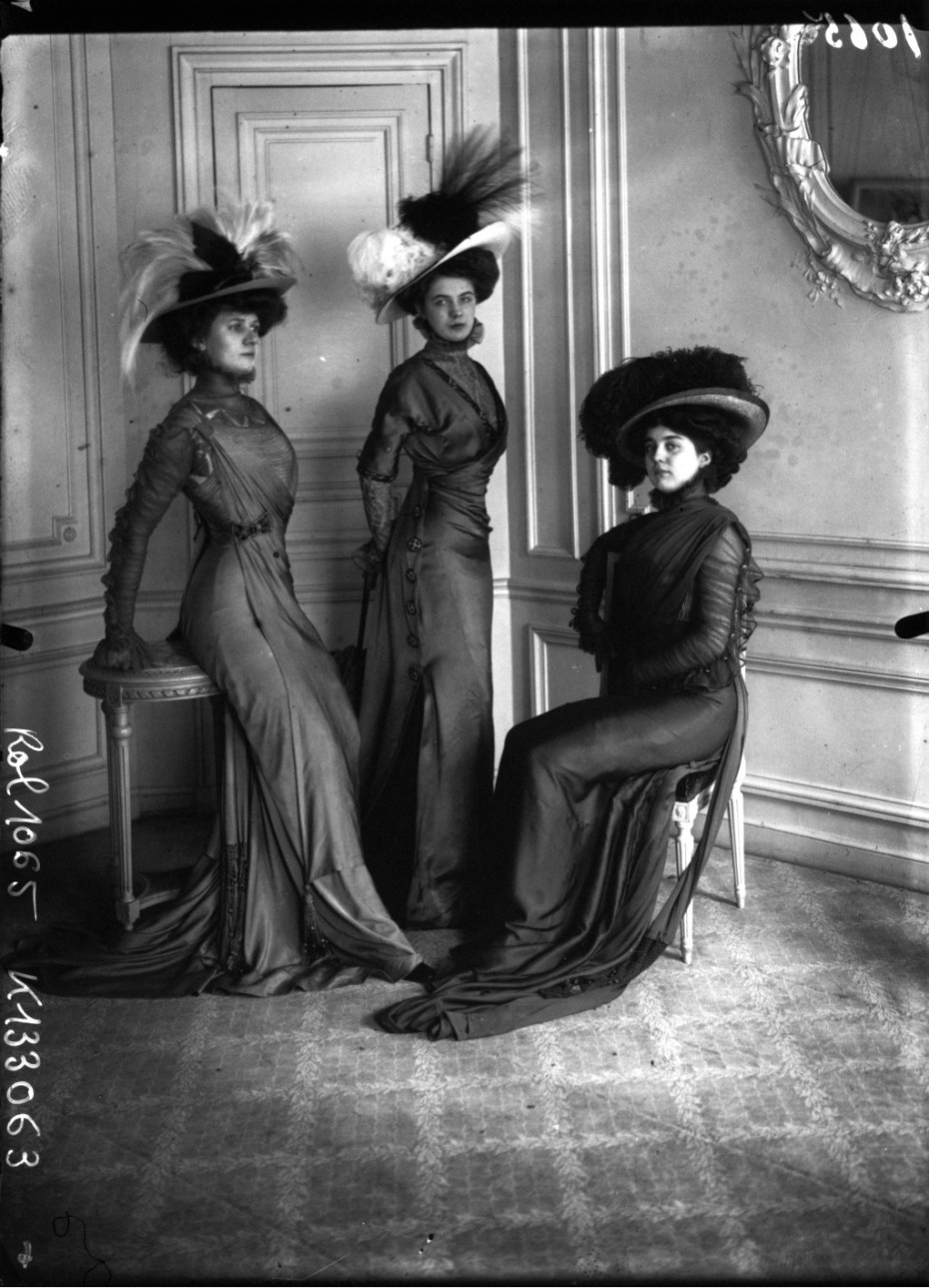 You could now see their real, natural, soft bodies, rather than stiffly corseted, heavy-bosomed artificial silhouettes. Their skirts were also oh-so-shockingly split to the knee, and the French weekly newspaper, L'Illustration, reported conservative Parisian women marching their husbands and sons out of the racing enclosure. But as with most PR stunts, there is no such thing as bad publicity.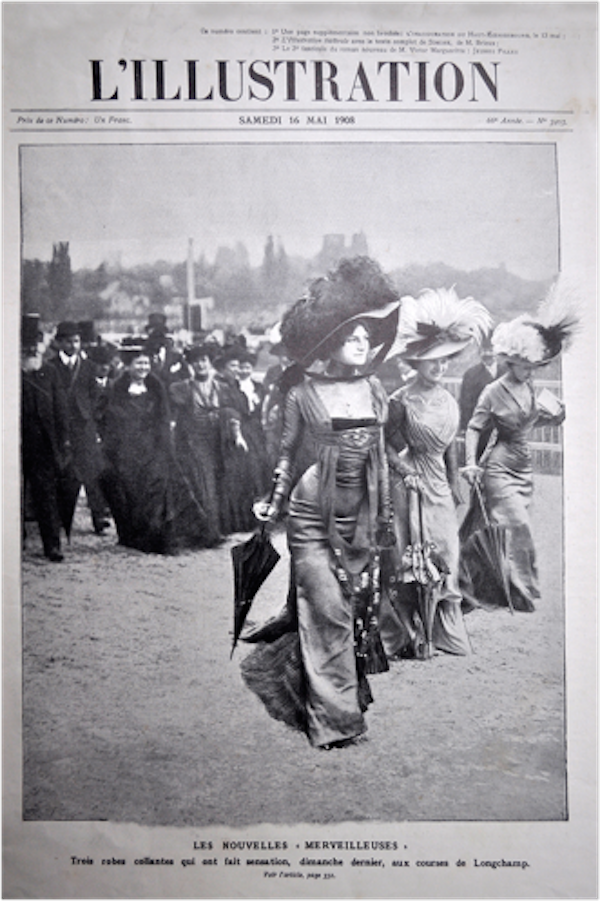 The very same newspaper put the daringly dressed women on their front page, calling them "Les Nouvelles Meirveilleuses". It was a headline borrowed from a fashionable but short-lived aristocratic subculture which had emerged a century earlier in Paris during the penultimate stage of the French Revolution, as a sort of counter-revolution.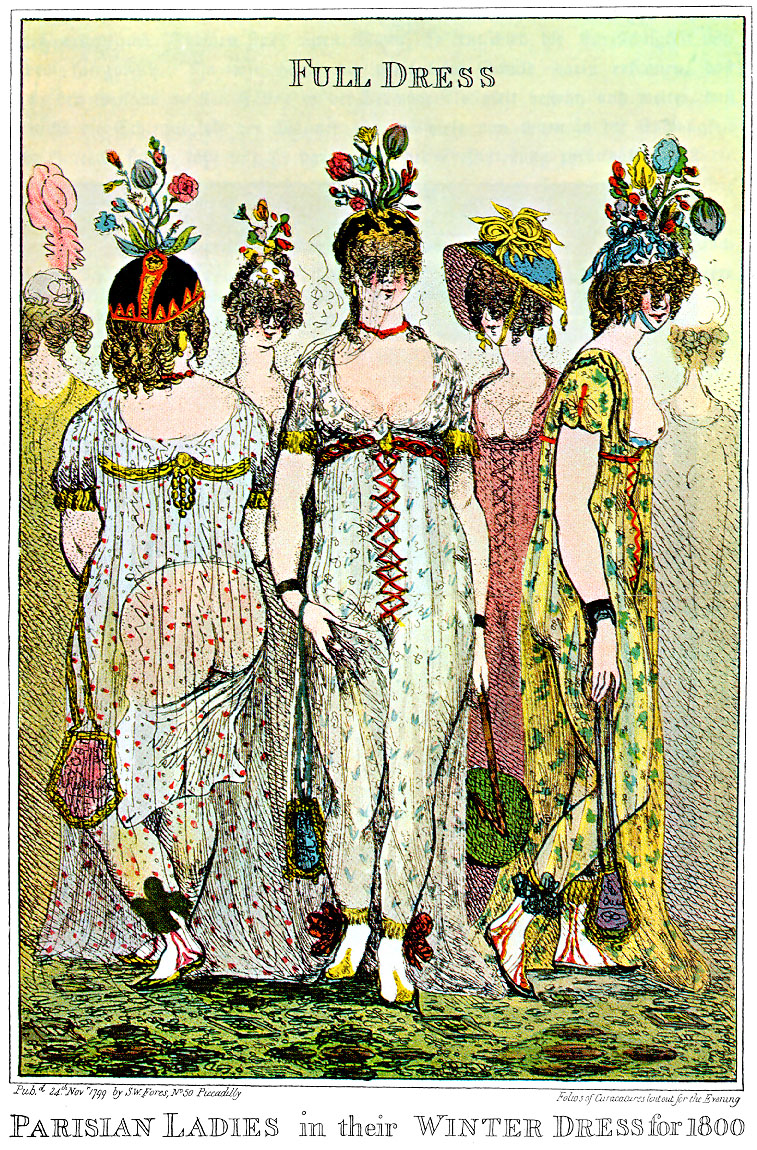 These "marvellous women" or "fabulous divas" scandalised Paris with revealing dresses and tunics modelled after the ancient Greeks and Romans, cut of light or transparent linen and gauze, often too tight to even allow pockets. For a brief period, young aristocrats who had survived the revolutionary "reign of terror" (the men were known as "les incroyables") greeted the new regime with a defiant outbreak of royalist luxury and daring decadence through their exaggerated clothing, silly mannerisms and indulgent behaviour. Alas, their open-sexuality and libertine attitude had perhaps come a hundred years too early, but at the dawn of the twentieth century, the young and the fashionable were once again ready for a "marvellous" renaissance…
It was Margaine-Lacroix's dresses that floated across those Longchamps racetracks in 1908 that sparked the desire for change. Almost overnight, every impressionable young lady longing for a change from the rigid Victorian dress wanted to be those three women in the sassy slimline dresses.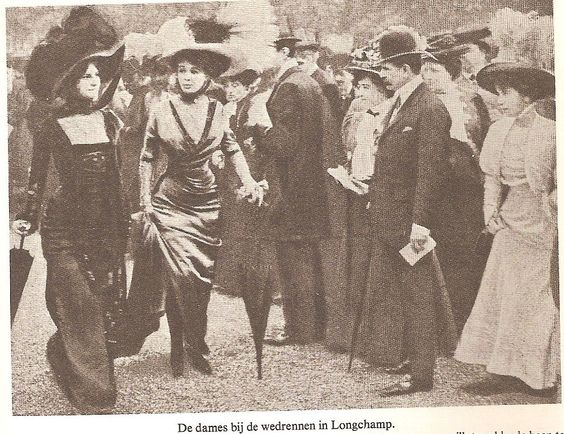 One of them, "la belle Möina", the most striking of the three, was offered a handsome contract by the director of the Moulin Rouge.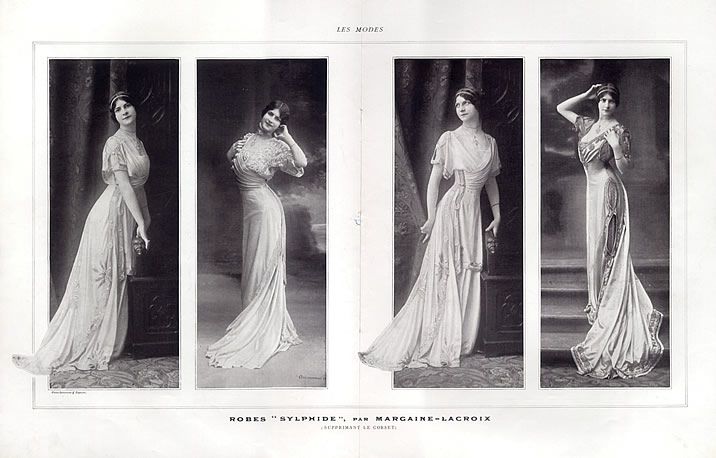 The twentieth century silhouette was born and the media called it "the directoire gown", infamous for causing road accidents involving riders being distracted by figure-hugging dresses. One reported incident in London caused by "directoire mania" allegedly involved a collision with Winston Churchill's horse.
But throughout all the sensation and the press reports, Margaine-Lacroix's name was left out of the headlines; not even given a footnote, and she was subsequently written out of fashion history.
A British fashion historian, Susie Ralph, has long made it her mission to see this once-prominent designer have her rightful place in history.
"Dedicated to her craft, but apparently not given to self-advertisement, the Longchamp incident seems to be the only occasion on which Margaine-Lacroix went out of her way to court publicity – and then for her dresses alone, not for herself," writes Ralph, who believes the 1908 sensation marked the true turning point in fashion. "Margaine-Lacroix has been forgotten, cast into shadow by the splendours of the Russian Ballet, and the exquisite illustrations of Poiret's gowns. But influential as these were, it was Jeanne Margaine-Lacroix who brought about the general adoption of the lean, modern look. She deserves to be recognised as one of the most influential designers of the late Belle Époque."
In researching the infamous 1908 dress and its sought after slender silhouette that "sounded the death-knell" for old-fashioned corseted waistlines and prominent chests, Susie found a statement printed at the time which I find really clarifies just how deeply Lacroix's design might have influenced the future of fashion…
To wear even a modified directoire style, women have had to change their figures; the hips are being reduced; the waist however is a little larger, in order to reduce the apparent size of the hips.
It does rather sounds as if they could be describing the 21st century fashion model…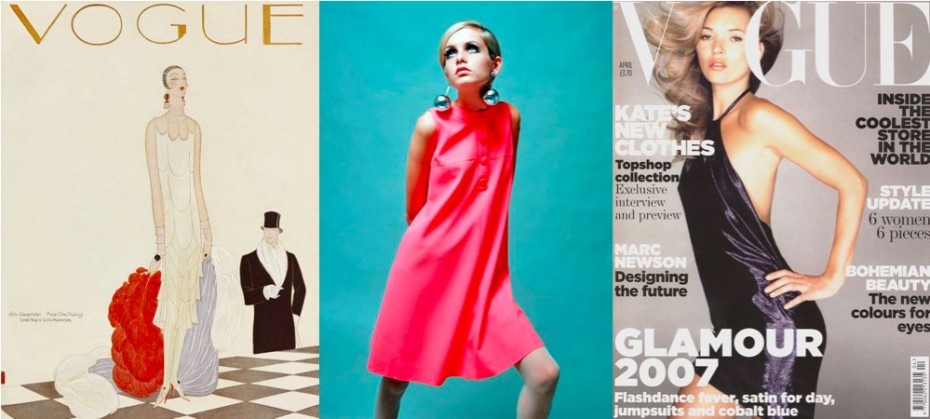 But with the Kardashians now promoting their waist-training corsets all over social media, Mattel giving Barbie a new body and launching dolls with bigger hips, does this mean we really are once again heading for change?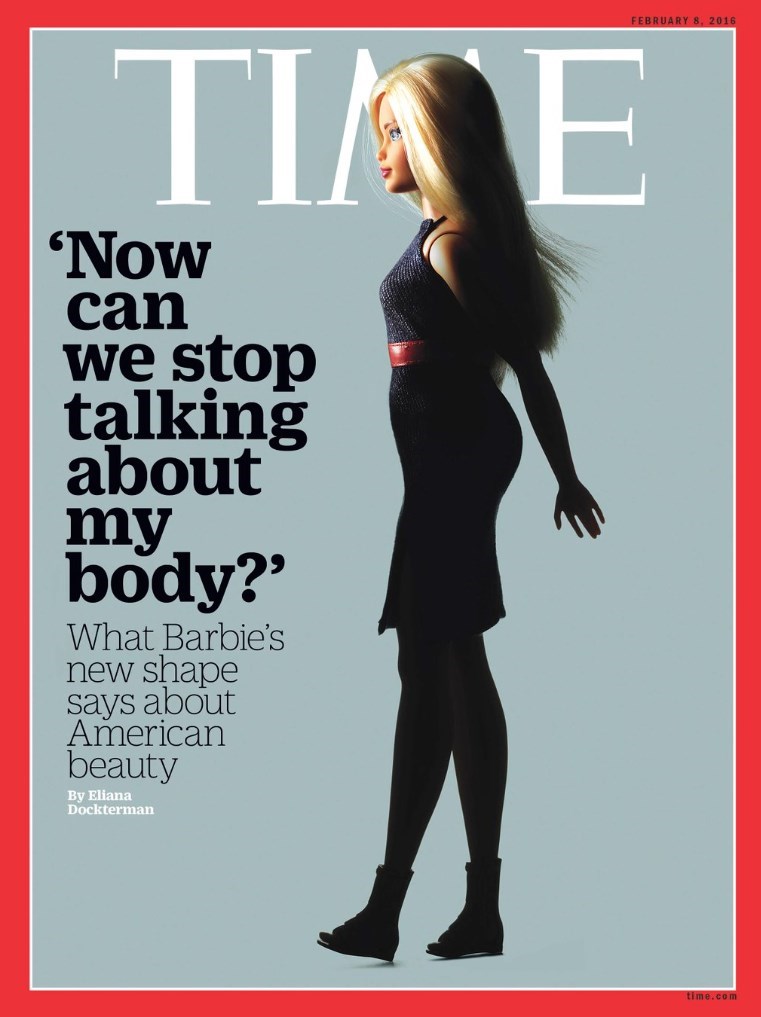 Sources: Susie Ralph on Margaine Lacroix / Gallica / Ornamented Life