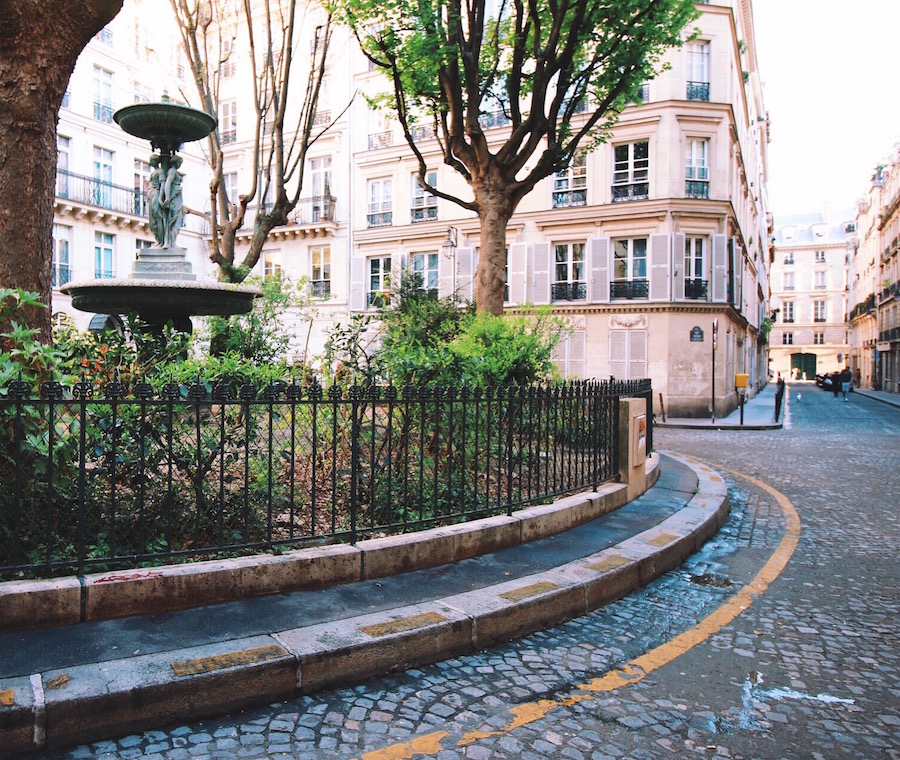 If you stay in Paris long enough, you'll no doubt end up with your own list of urban secrets. This city is full of them. All Parisians lay claim to favourite hidden spots which they unexpectedly stumbled across one day, feeling as if they had discovered a forgotten corner of the capital. It's part of being a Parisian. My list grows everyday and is by no means limited to 5 places, but I thought I'd share with you a couple of spots I've recently stumbled upon for the first time and a few I'm re-discovering after several years. They all feel like private little havens in the city, cut off from real world. Enclave (n.) any small, distinct area or group enclosed or isolated within a larger one.
1. Cité de Trévise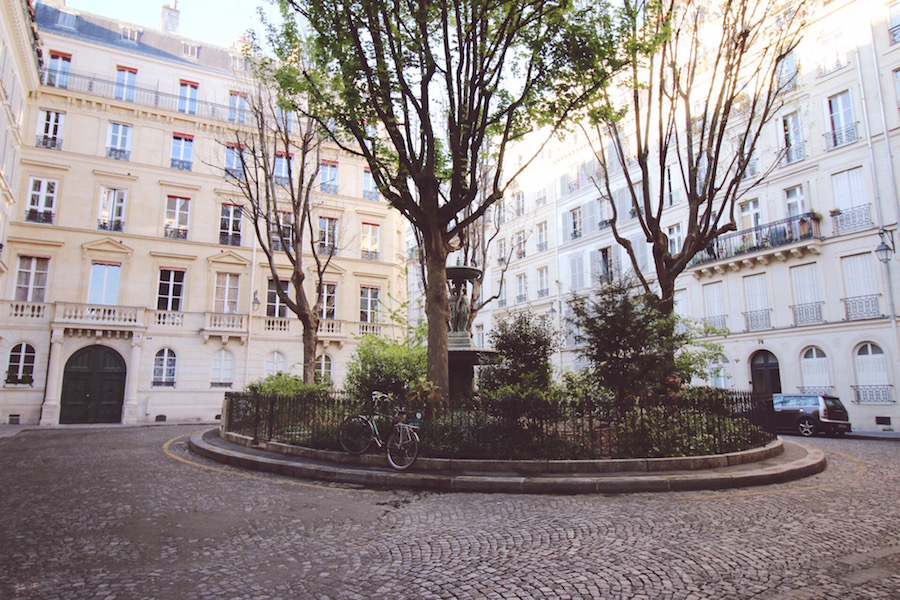 I found this beautiful roundabout by accident when I was driving around on my motobecane, utterly lost in the one-way system of the 9th arrondissement. I think I literally had sparkles in my eyes when I drove inside.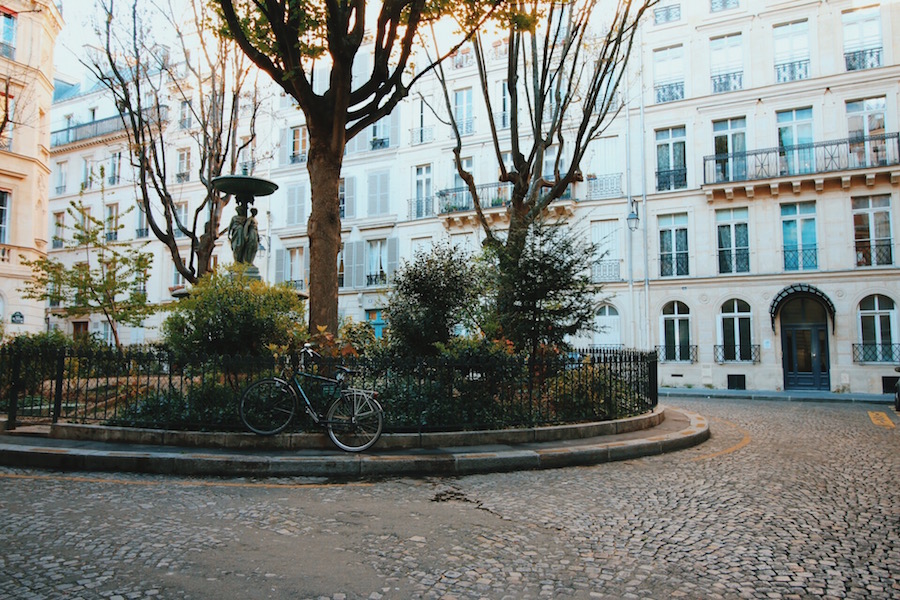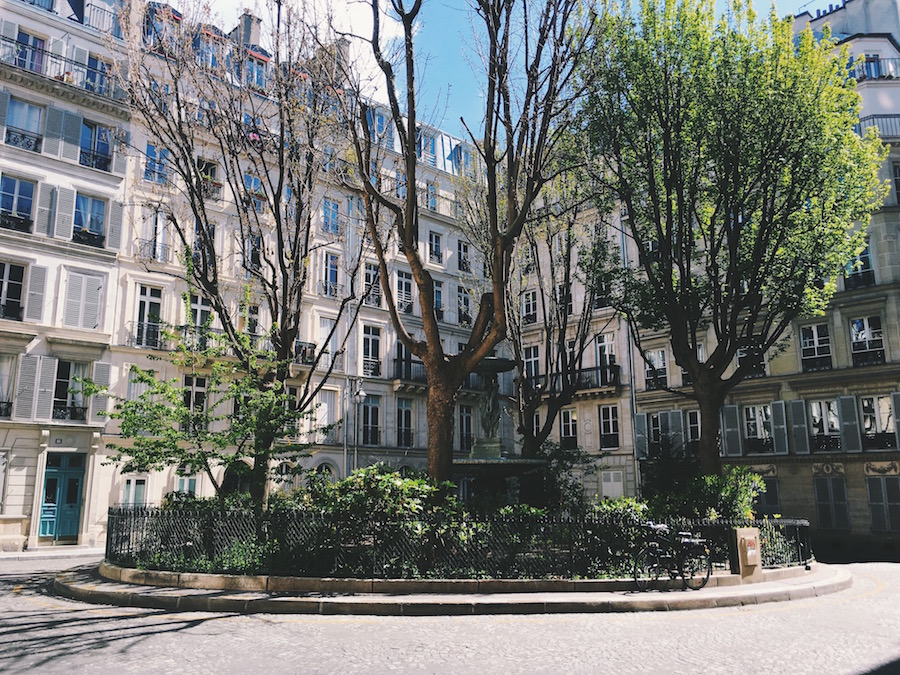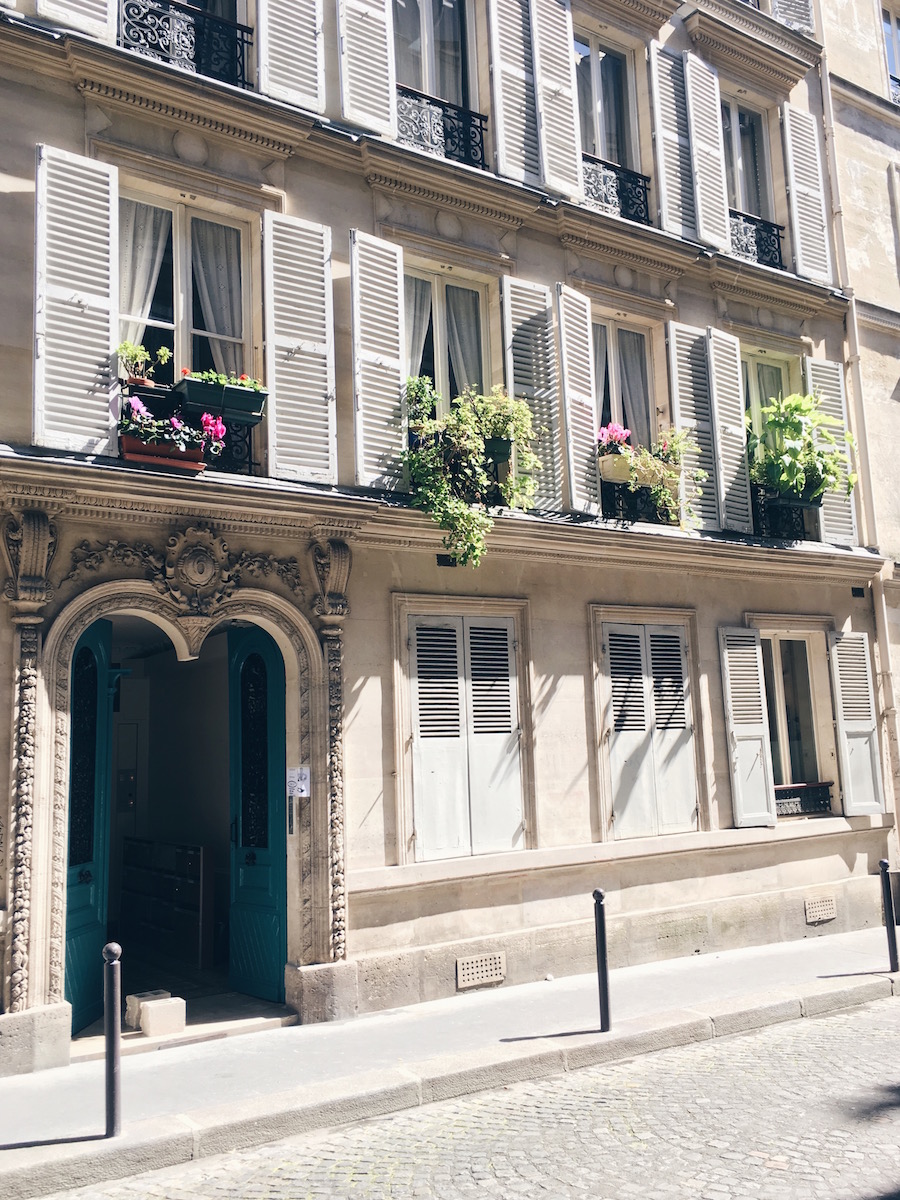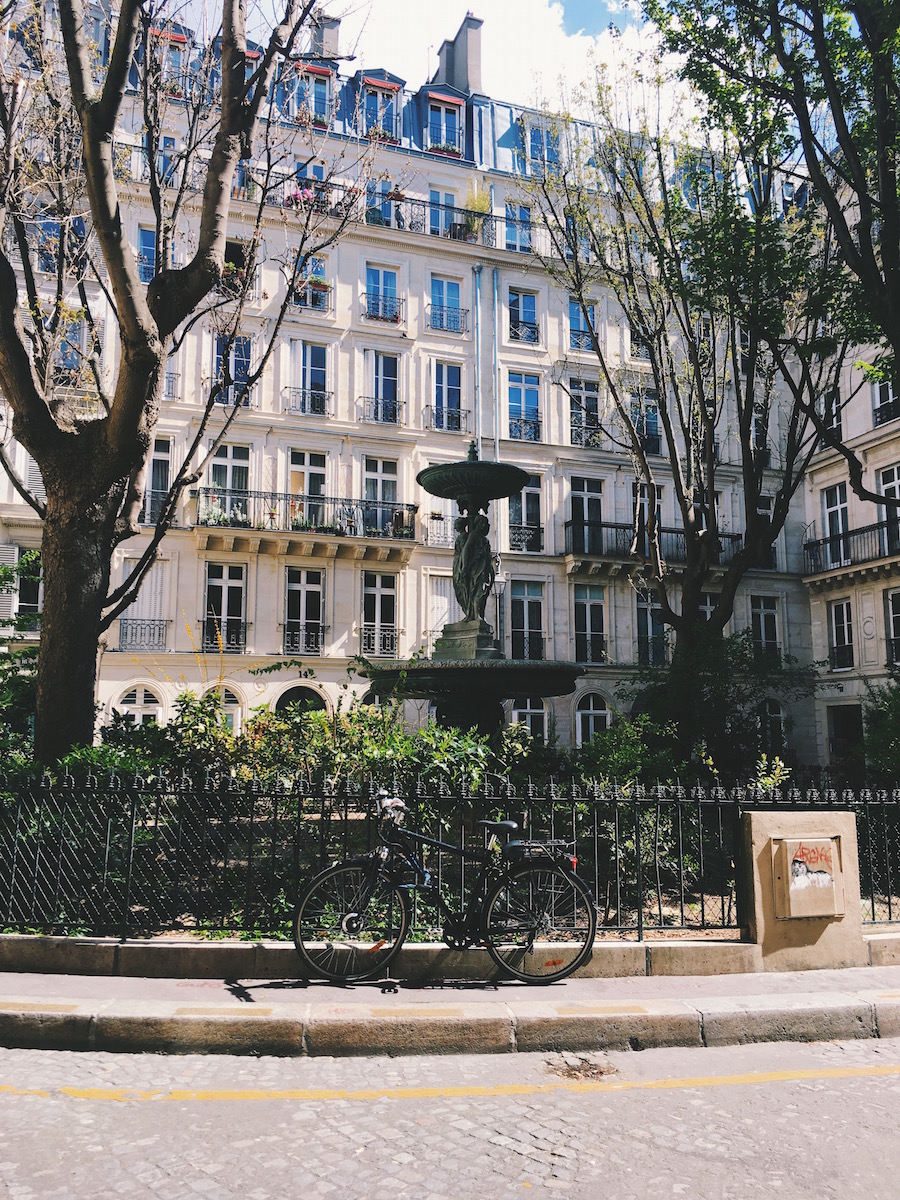 Apparently in the 1970s, the park was used as a public dumping ground by local inhabitants, filled with car bonnets and broken house appliances. One day a man who lived nearby decided to clean it up all on his own. Touched by what he had done, the locals stopped leaving their rubbish in the square and everal years later, a group of gardeners spruced up the park that surrounds the fountain to this day. Can you believe anyone would decide dump their trash in this place?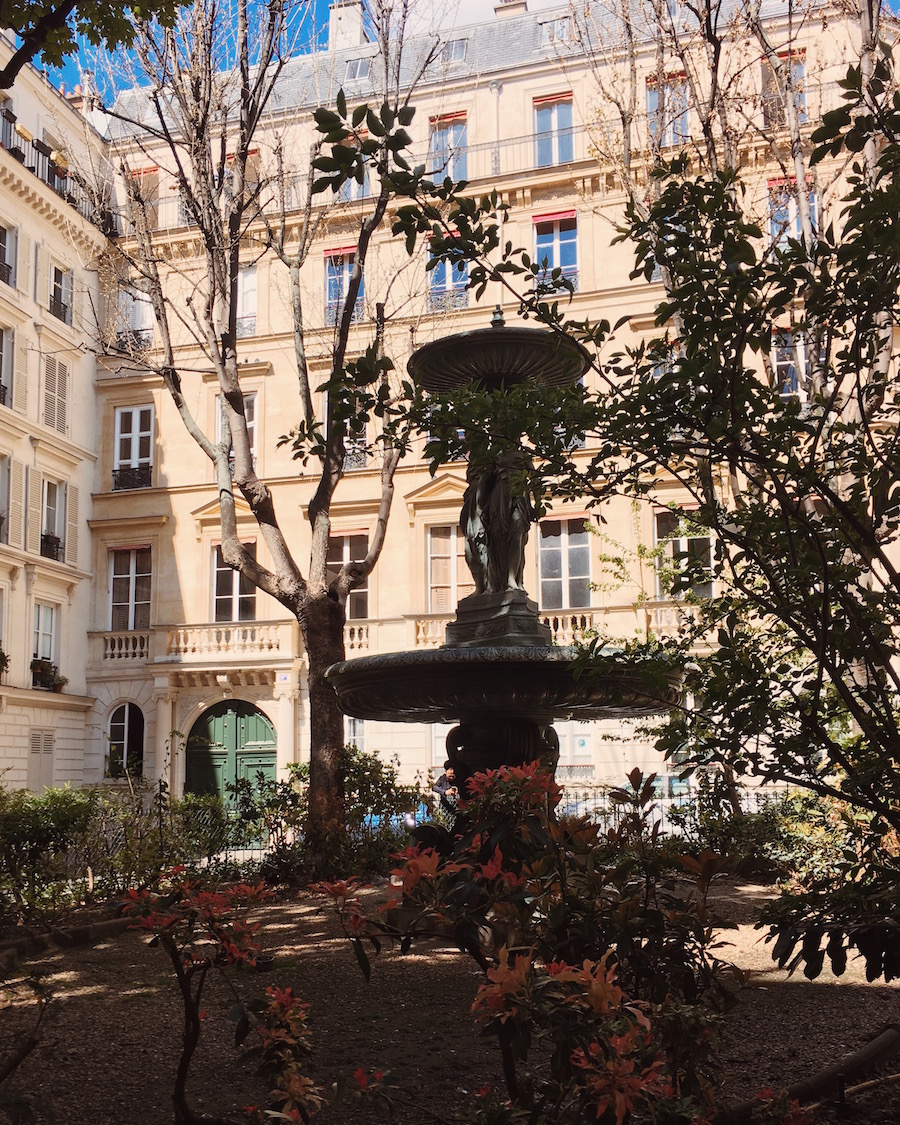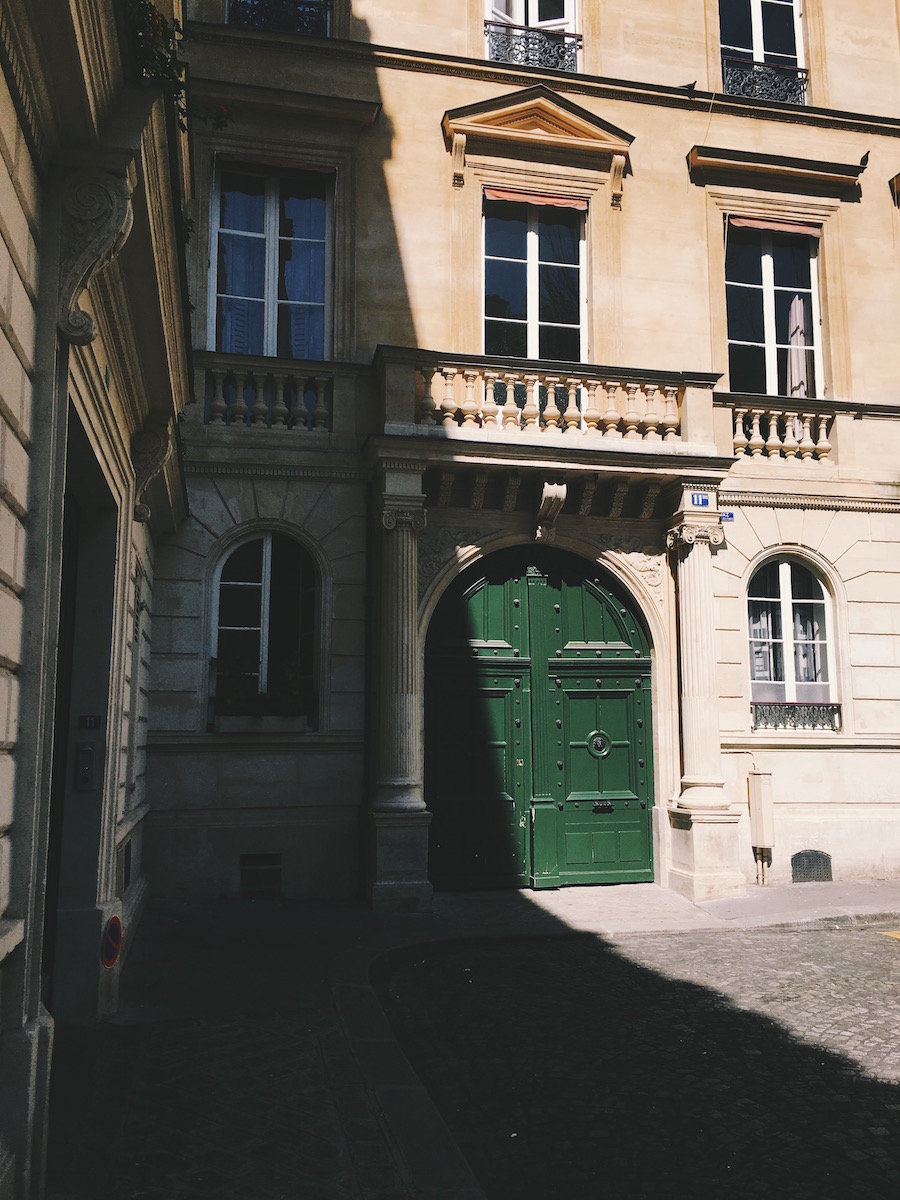 Find the Cité de Trévise in the 9th arrondissement hidden behind Rue Richer.
2. Square Edouard VII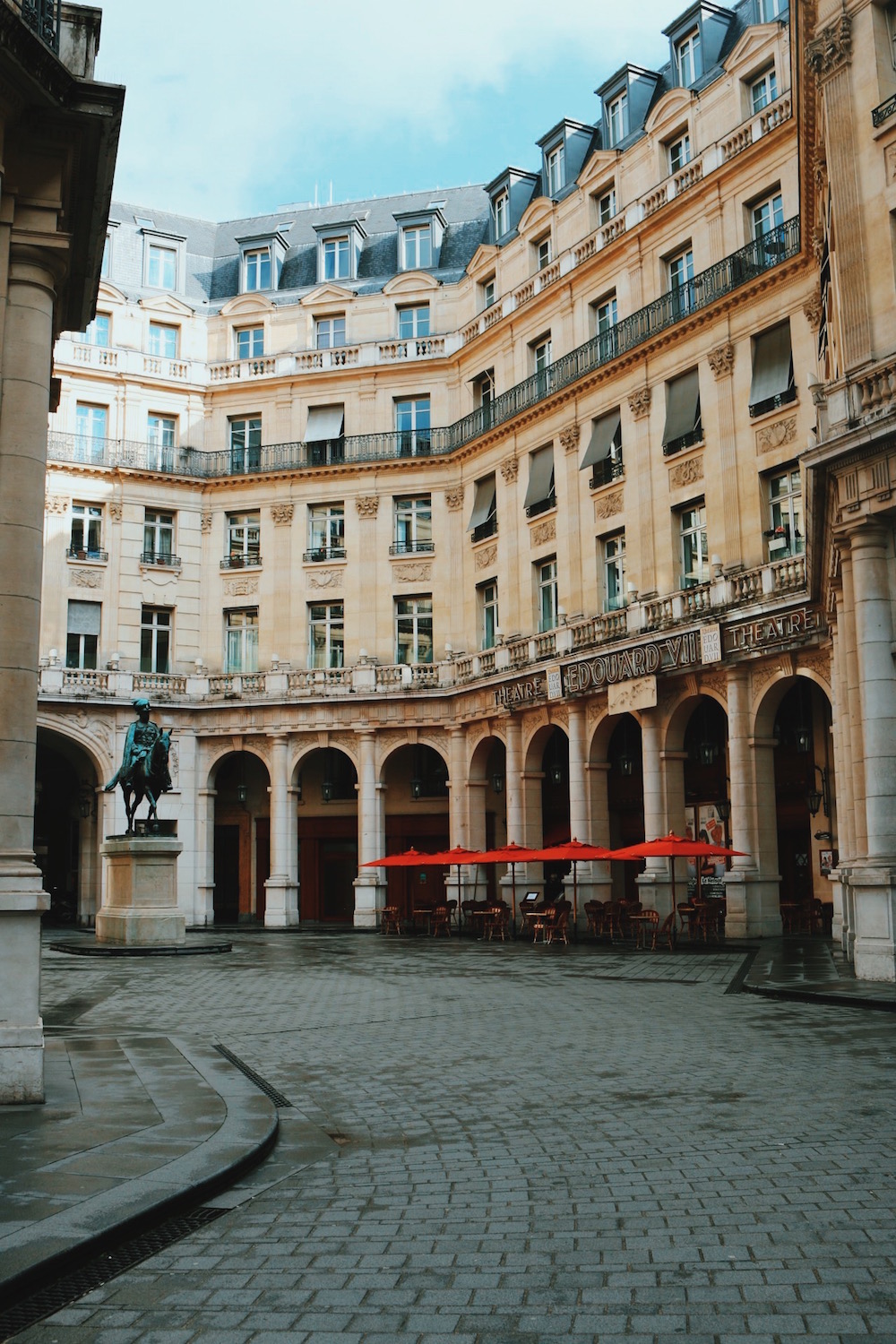 Just minutres from the Opéra Garnier in the busiest area of Paris is this fabulous urban gem. The square was built during the reign of its namesake, British King Edward VII and that's a statue of him in the centre. The square is entirely pedestrian and the opportune place to rest away from the hustle and bustle of the quarter.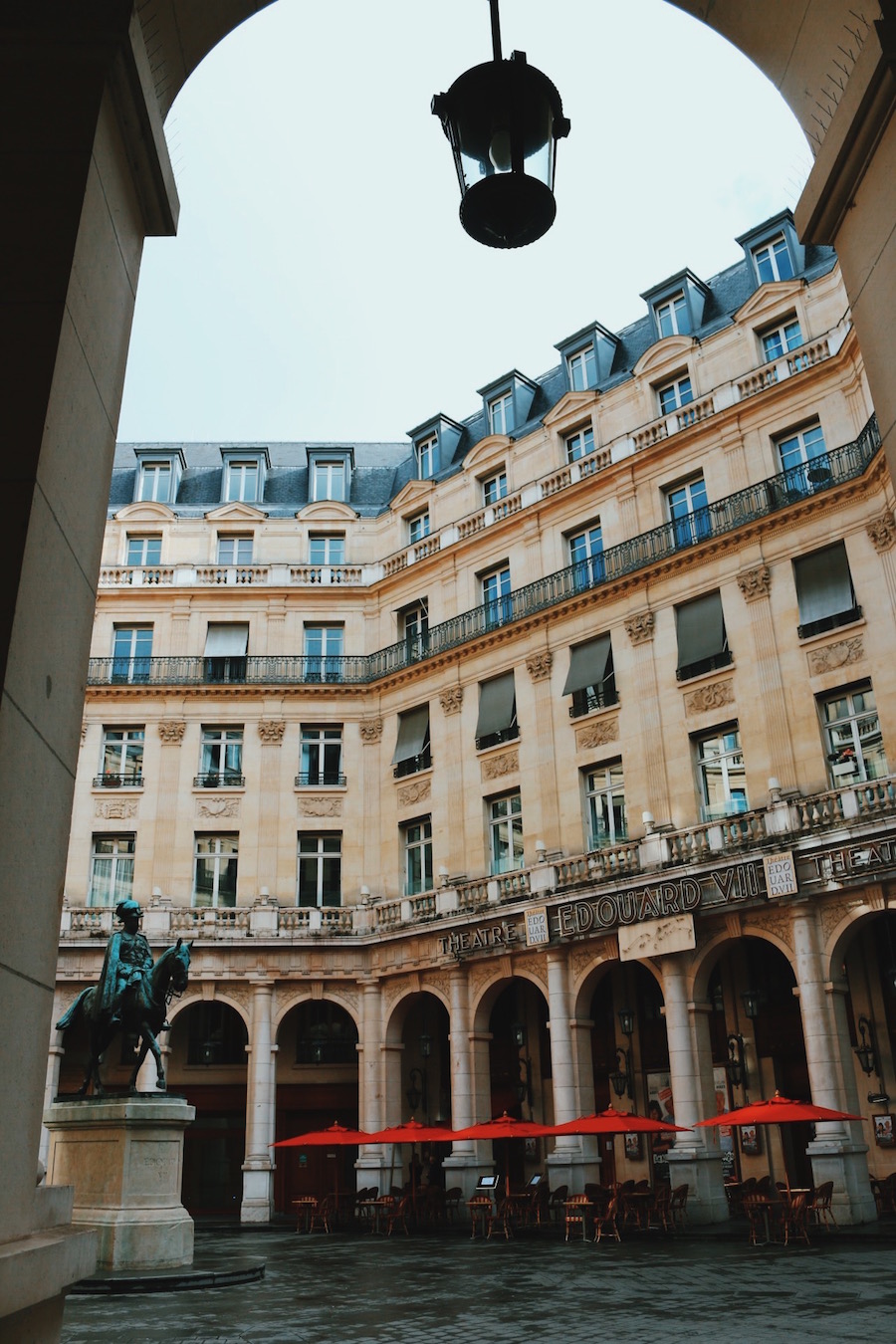 It's home to the Théâtre Edouard VII, one of Paris' most romantic venues to catch a show. This theatre even has english subtitles for its plays thanks to Theatre in Paris, a cultural start-up that's opening the doors of French theatre to Anglophones.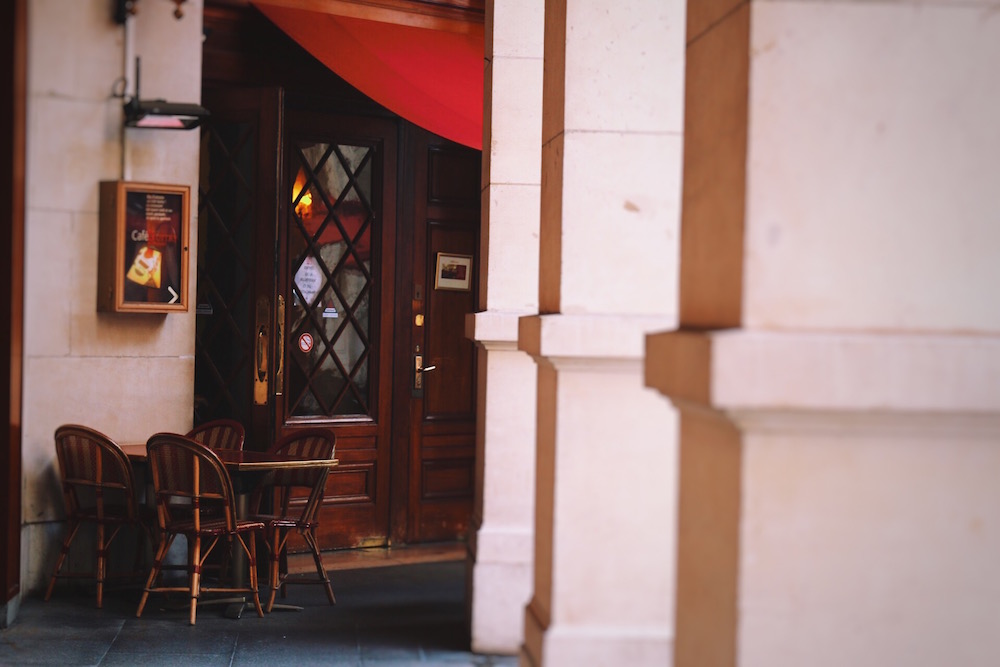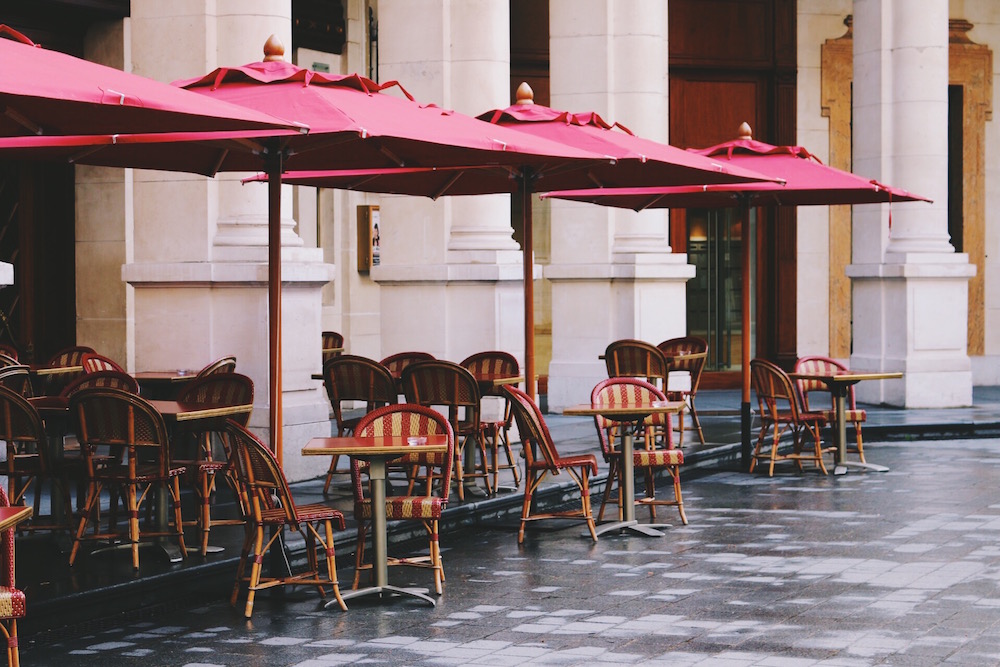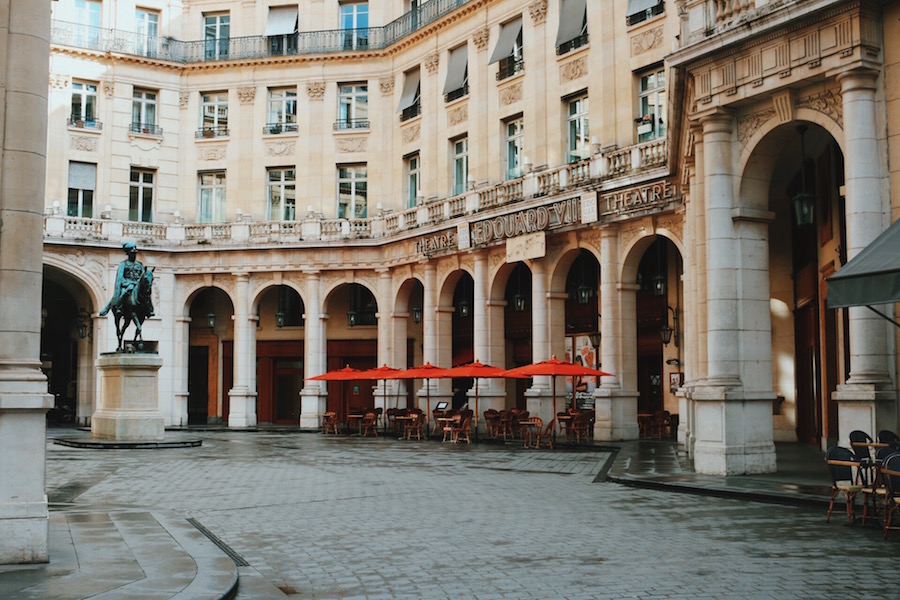 If you keep walking through the square, behind the statue, go through the arch and you'll find a second enclave…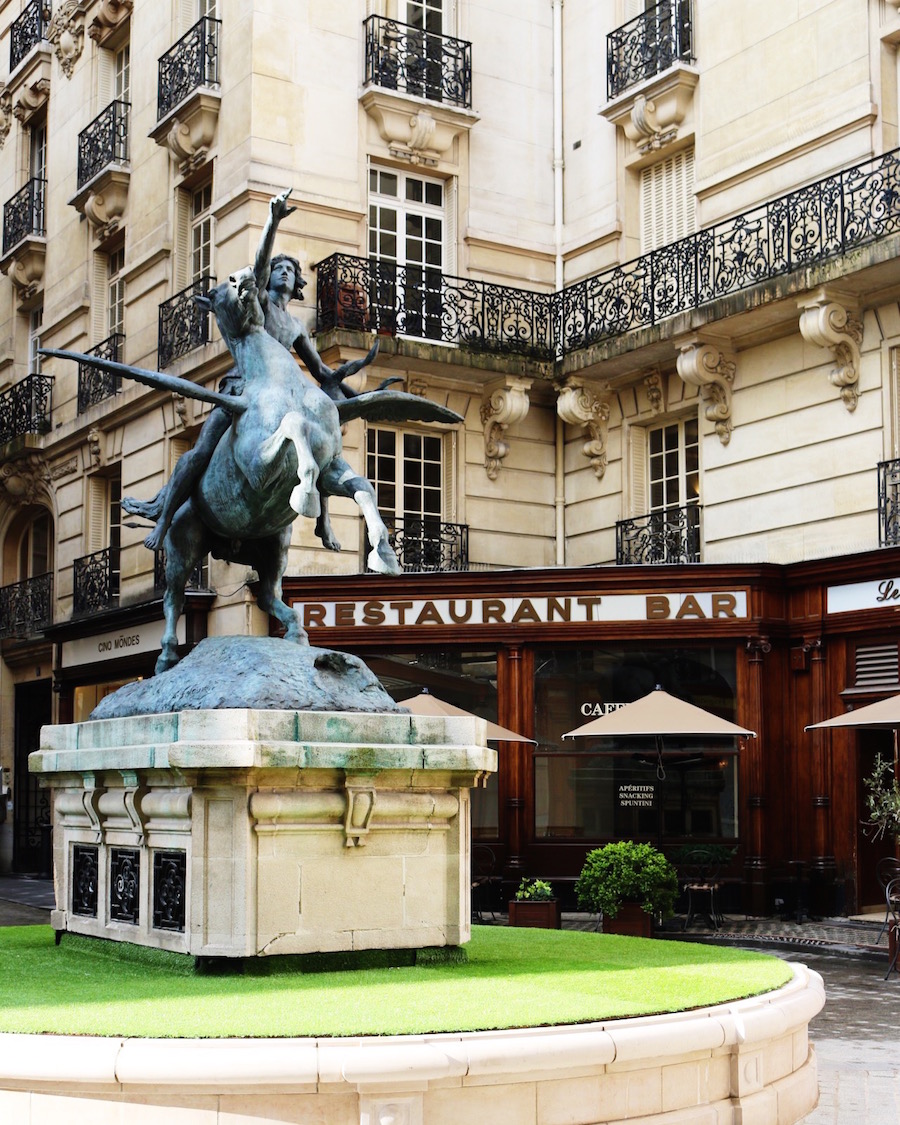 There you'll find a very good Italian restaurant called Paparazzi serving giant pizzas, and on the opposite side is the perfume atelier of Fragonard.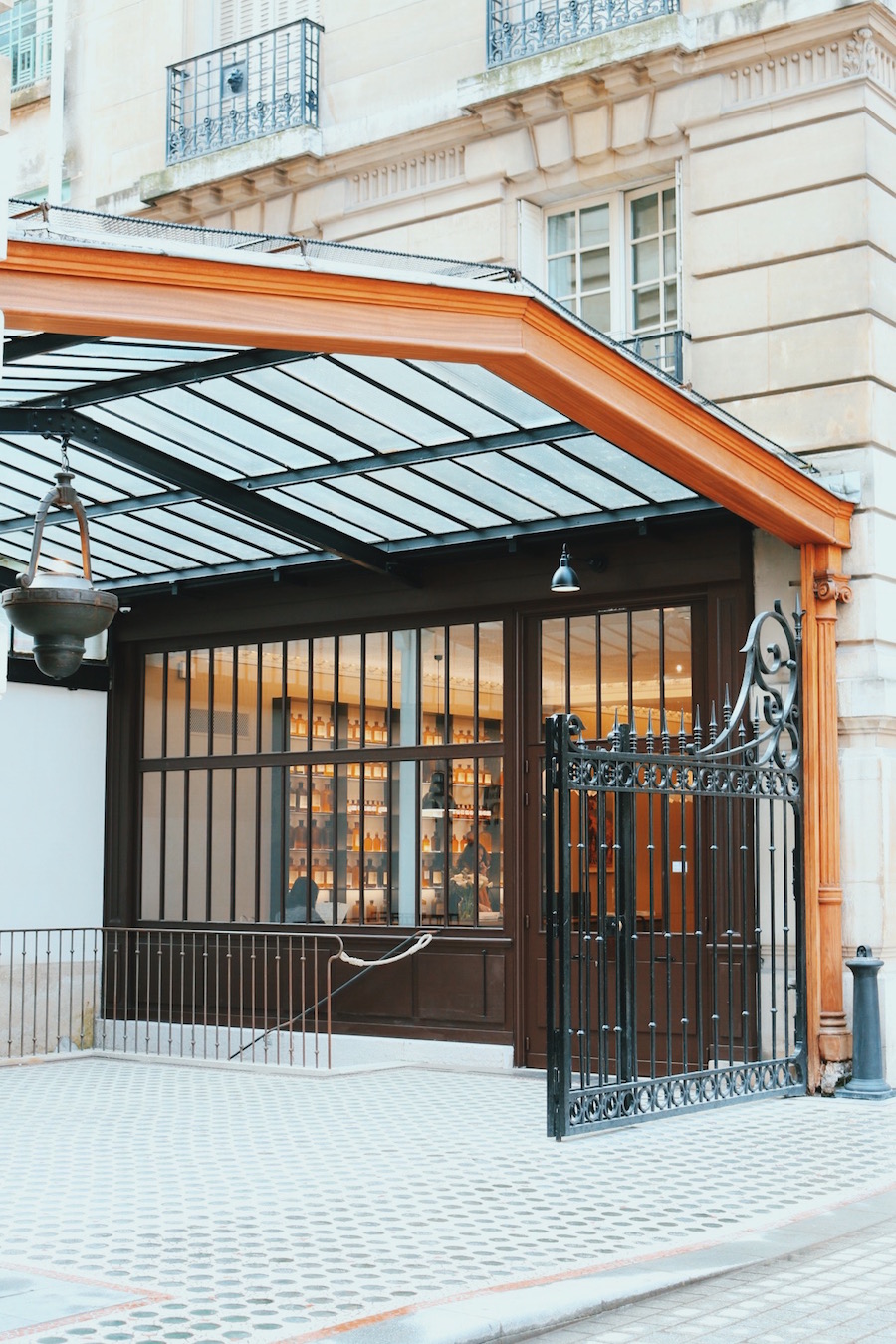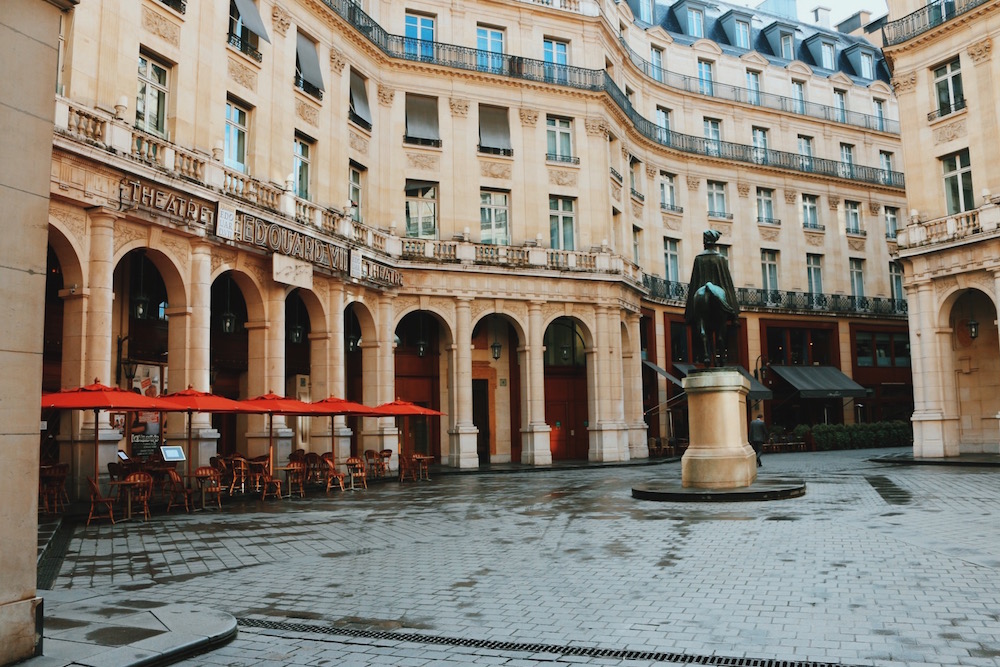 Find Square Edouard VII tucked away in the 1st arrondissement.
3. La Cité Florale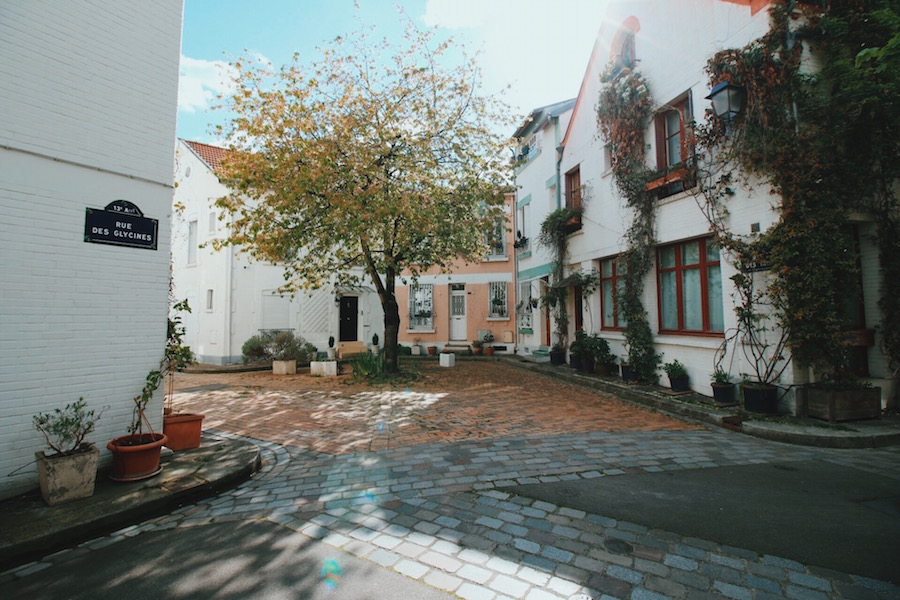 The 13th arrondissement in the East of Paris is the most underrated arrondissement of them all in my opinion. It's filled with treasures like the Buttes aux Cailles, a French countryside town within the city, endless art deco architecture, some wonderful street art and this little enclave, "the floral city"…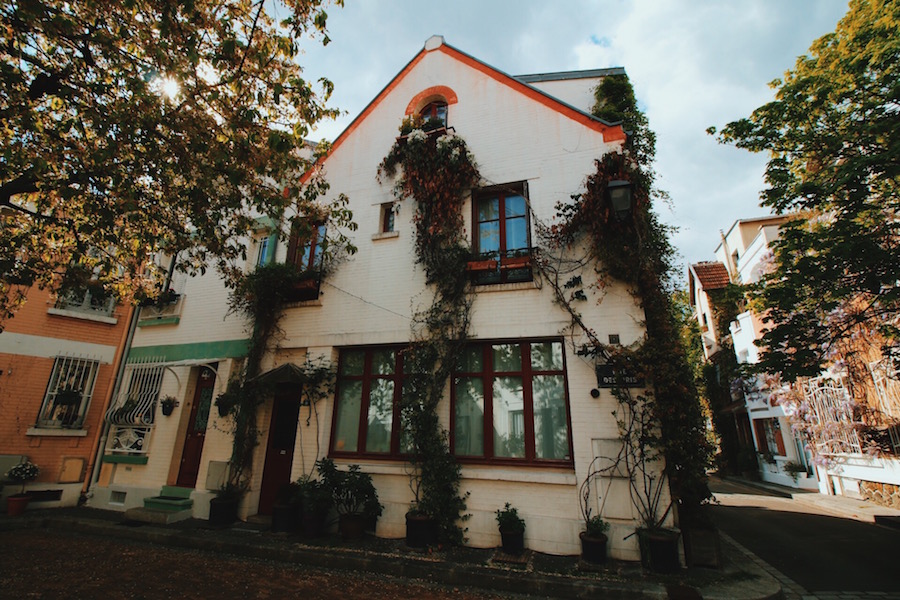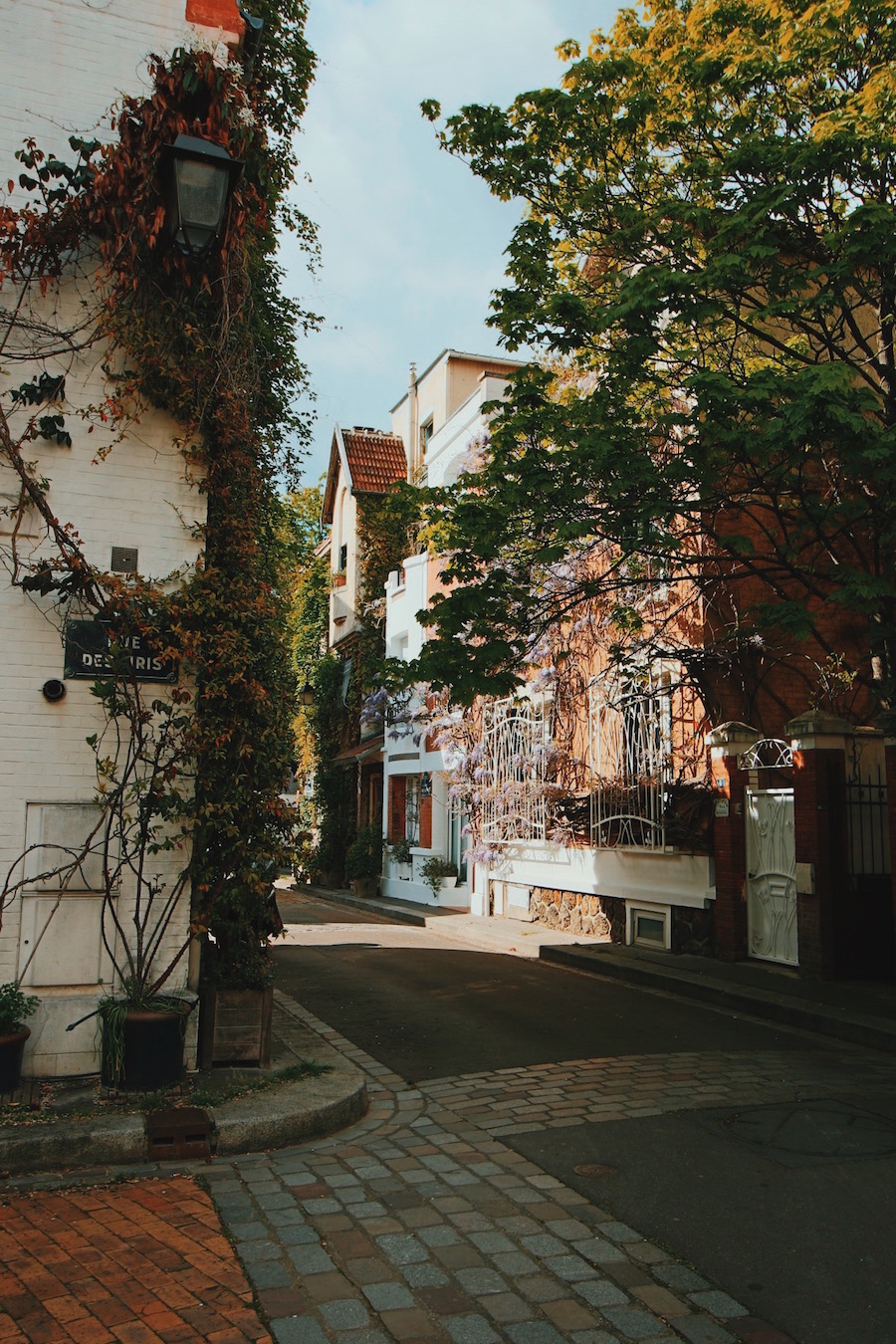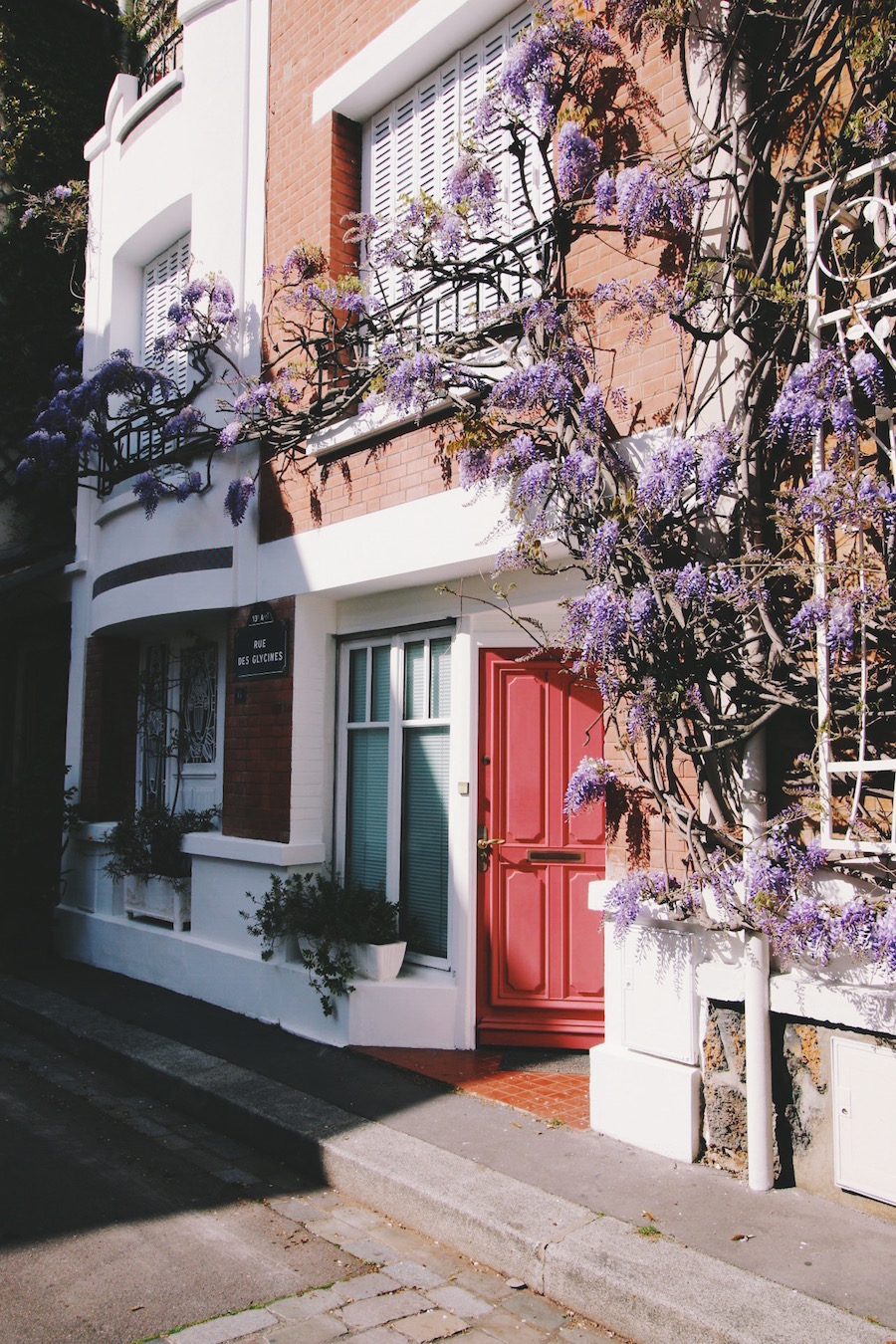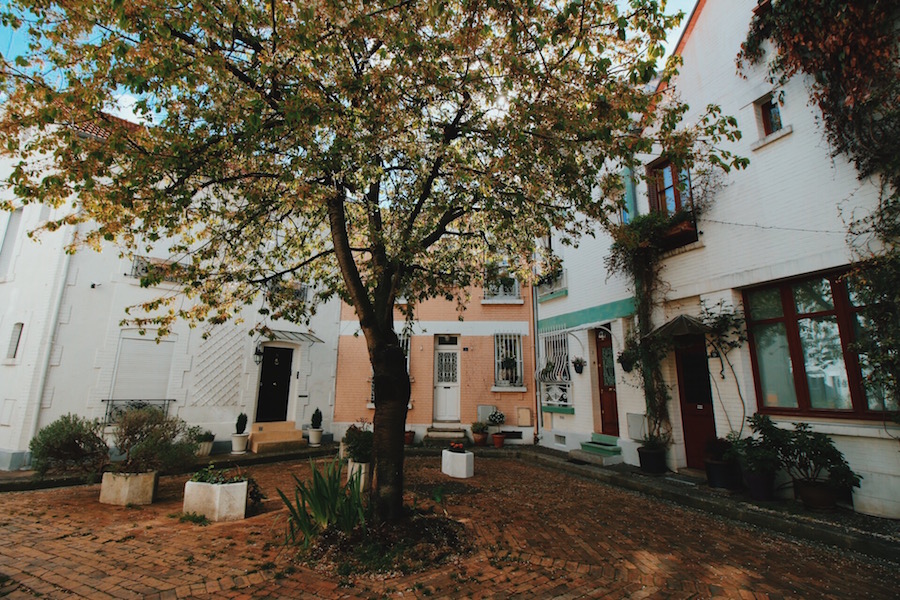 4. The Mulberry Tree Courtyard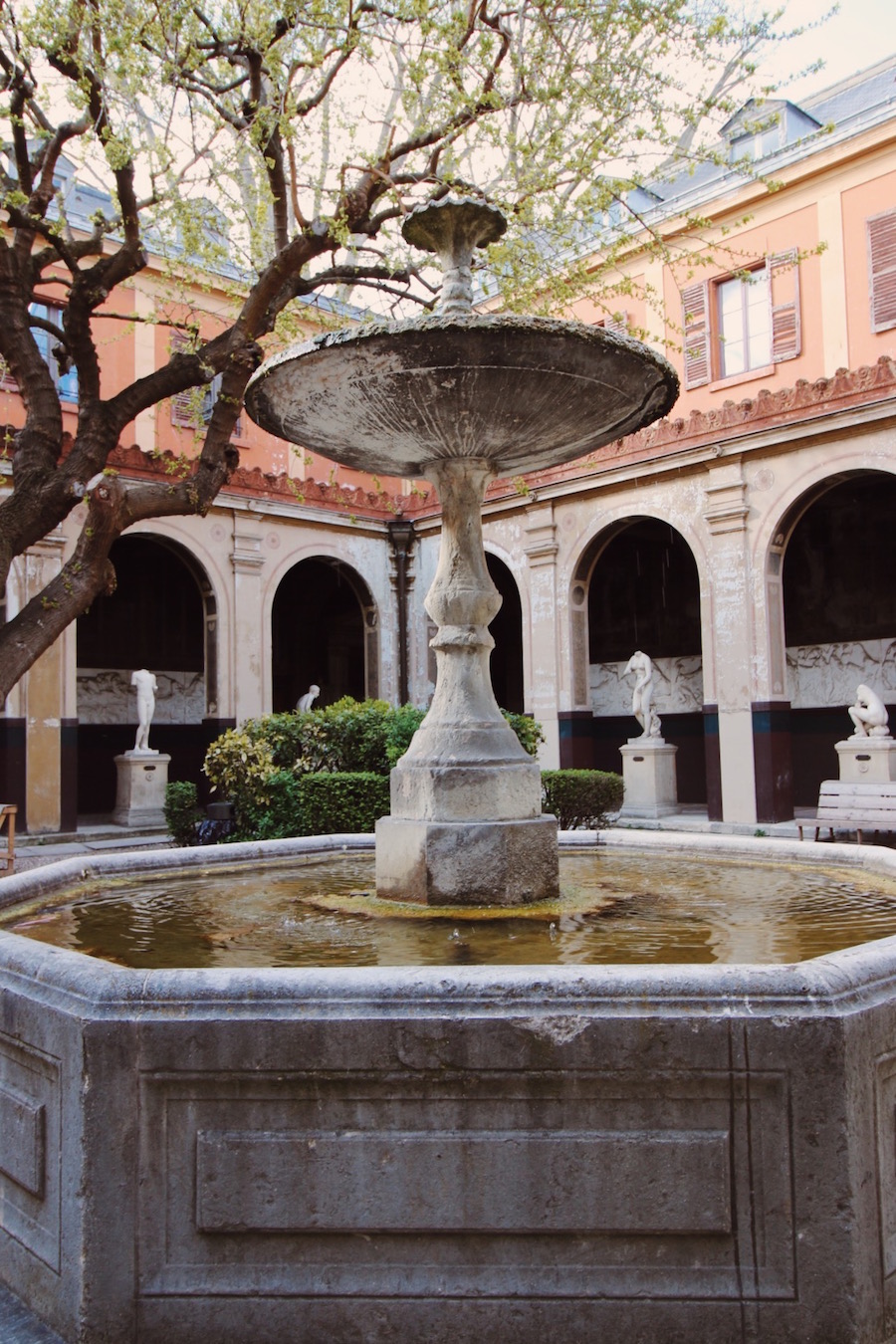 How does a quiet and secluded little courtyard with echoes of flowing water and architecture that could be mistaken for a Florentine renaissance villa sound?
Most Parisians themselves in fact don't even know about the courtyard in L'Ecole des Beaux Arts, the prestigious art school with a history spanning 350 years and such notable alumni as Renoir and Degas.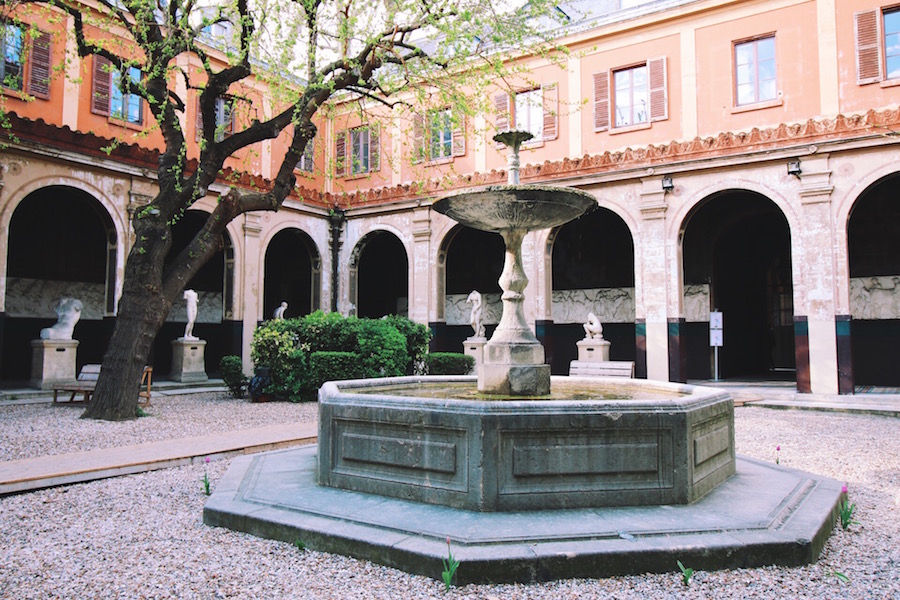 Cour du Mûrier, a charming little courtyard, created on the site of an original nuns' cloister and named after the Chinese mulberry tree planted there by Alexandre Lenoir.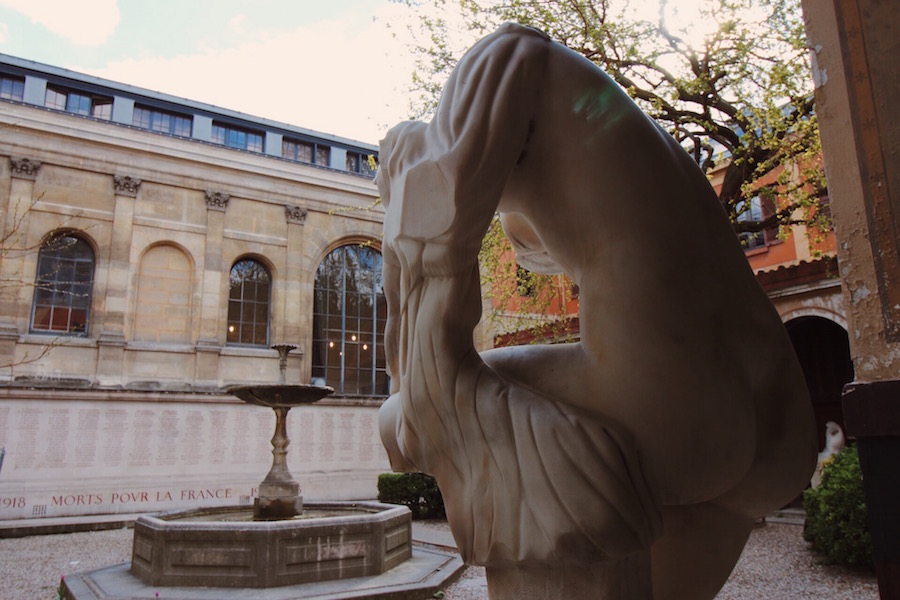 Enter the university gates by the small pedestrian door to the right at 14 Rue Bonapartes of Saint Germain. Walk straight into the school's foreground and notice the arches on your right. Take the first arch and enter the corridor. Don't worry, you're allowed in, it's all open to the public (unbeknownst to most).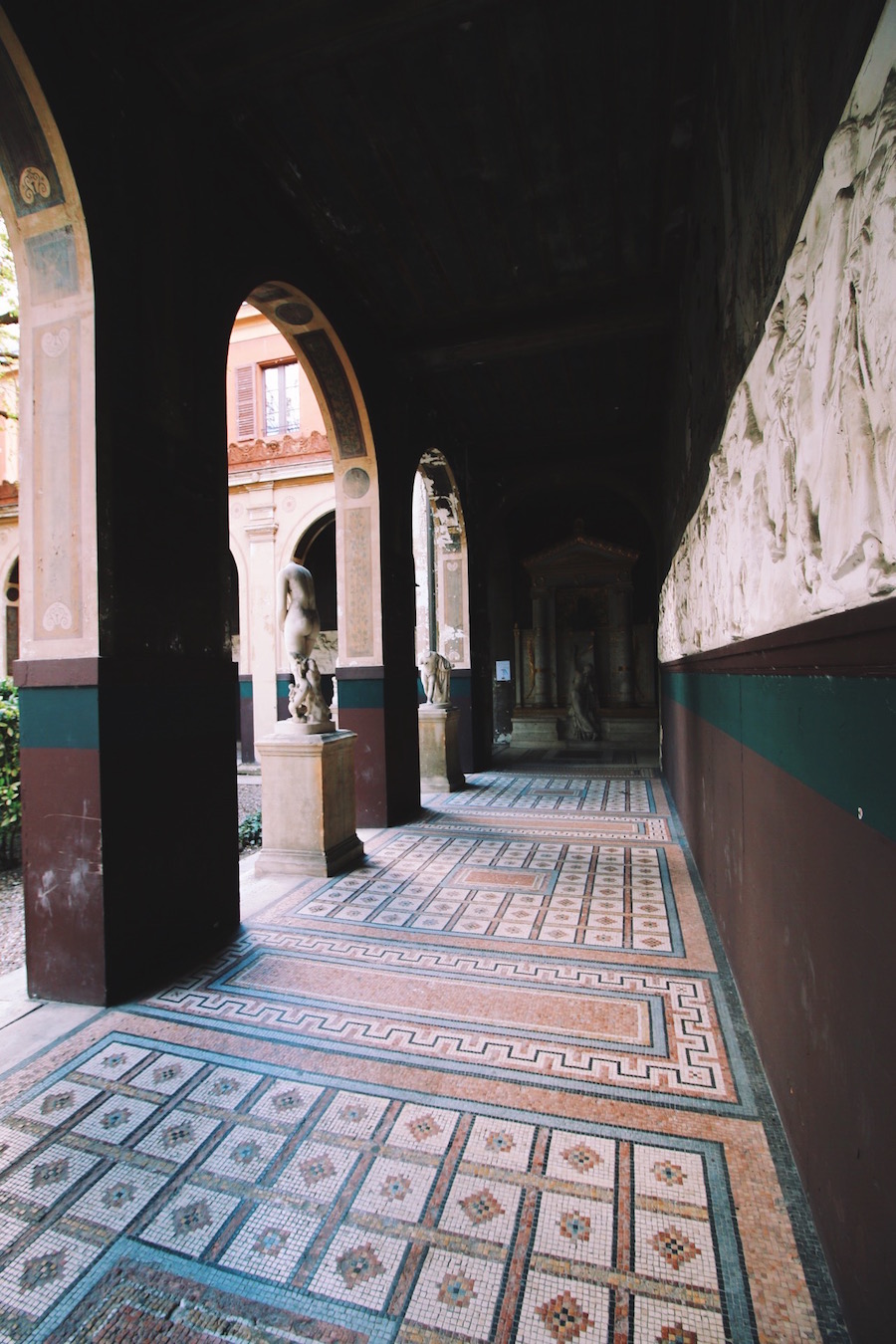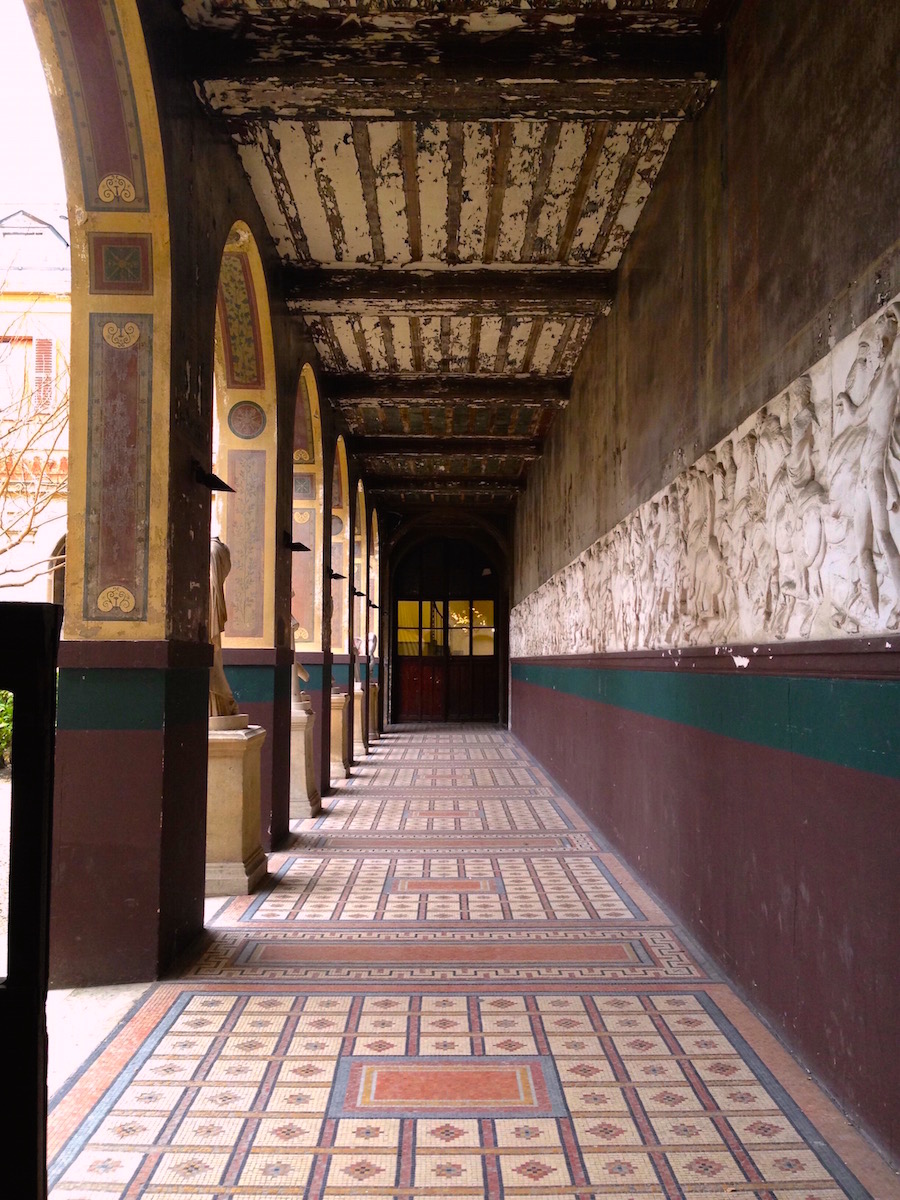 The first time I happened upon it, it was around one in the afternoon, there was only me and a young man who had brought his own deck chair and was he sunning in absolute tranquility next to the trickling fountain. I recall thinking he had the right idea.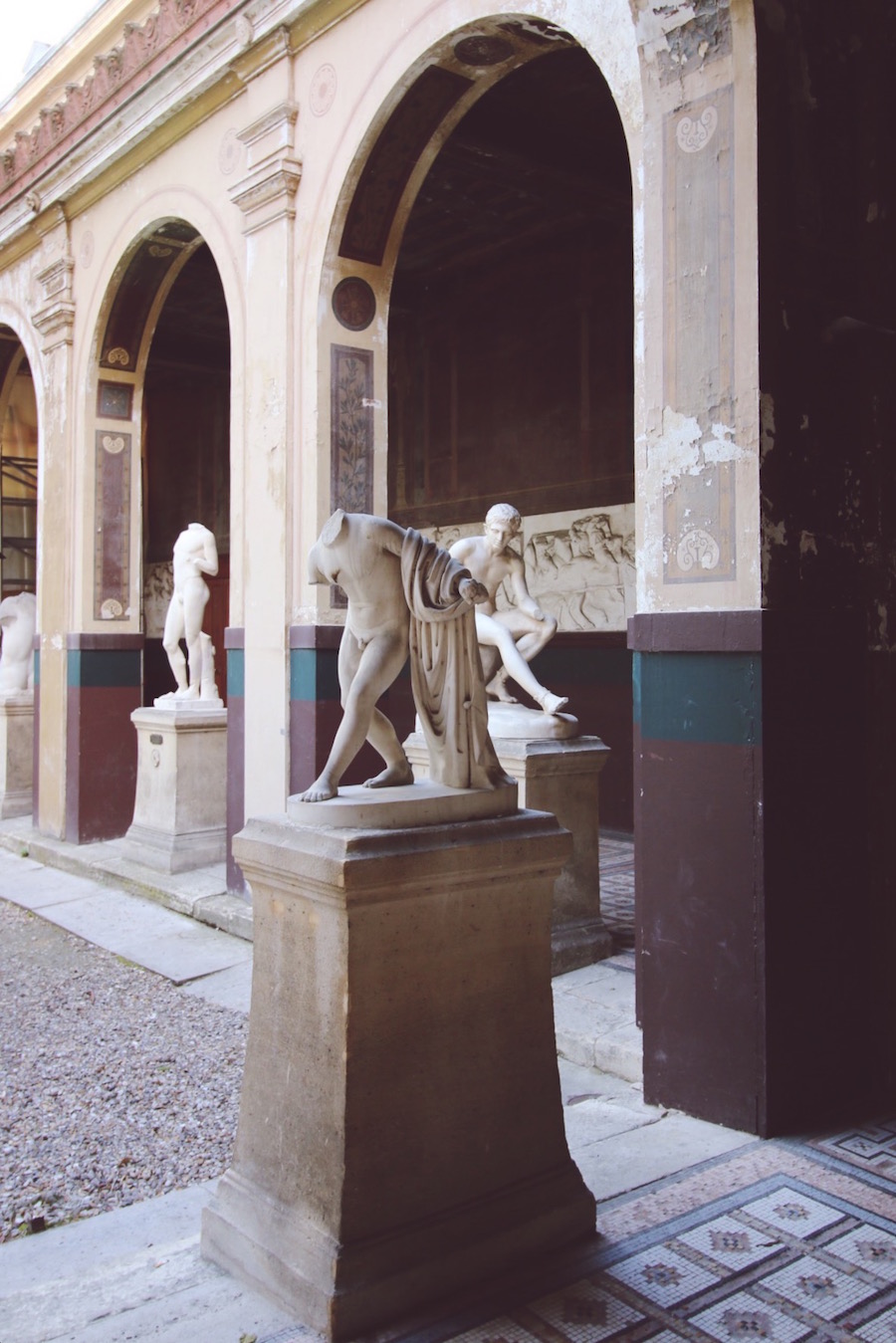 The Mulberry Tree Courtyard, École nationale supérieure des beaux–arts de Paris, 14 Rue Bonaparte, 6eme, Paris
5. 52 rue Saint André des Arts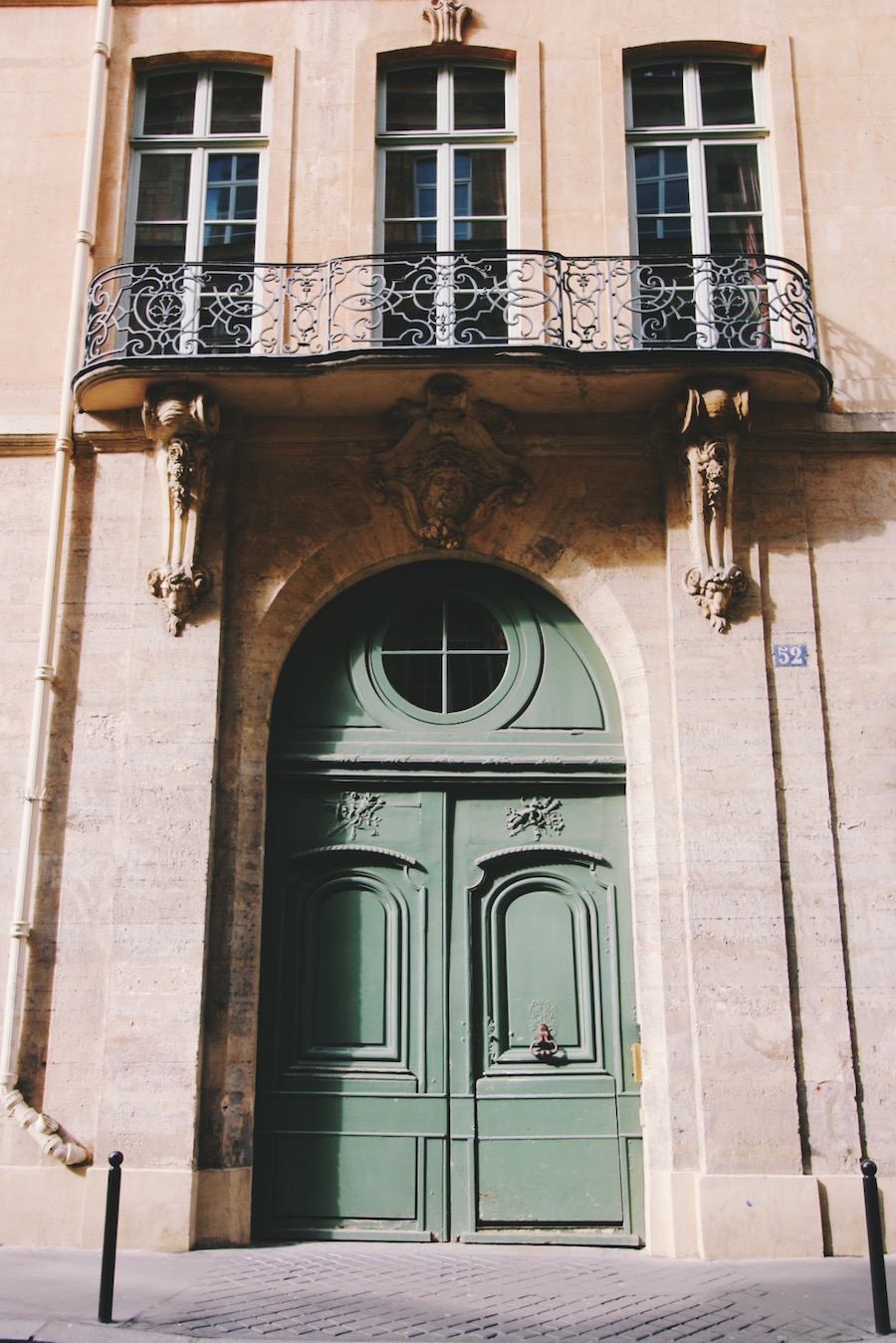 This discovery I owe to my mother when she sent me a text message a few days ago. It simply read: "52 rue Saint André des Arts. Fab court yard, door open."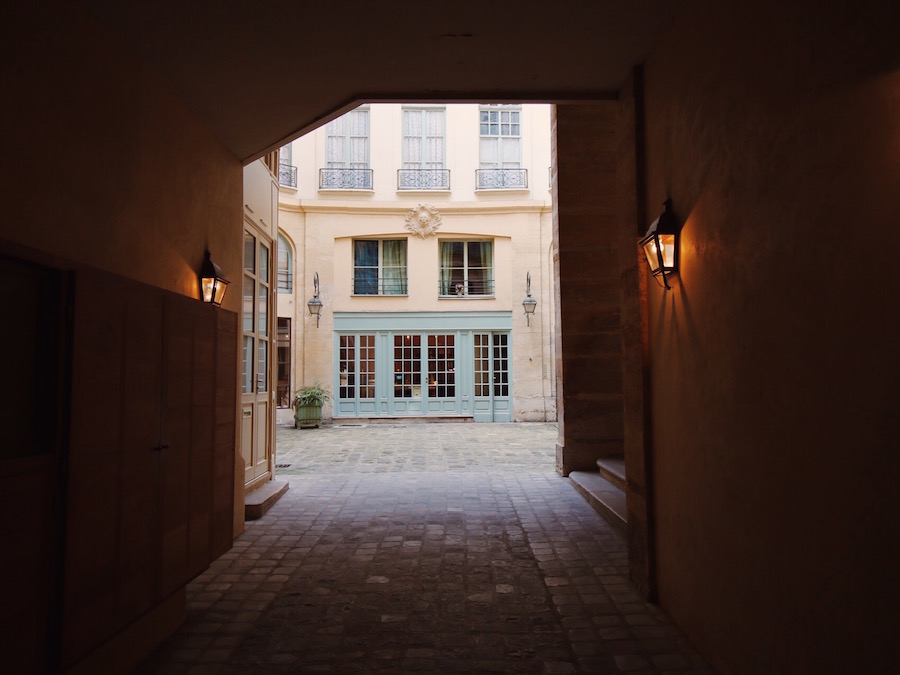 By "door open", in Paris this means the door to the building doesn't have a code during the weekdays and you just have to press the main button on the keypad and you're in. This usually applies to most buildings that have public offices inside them.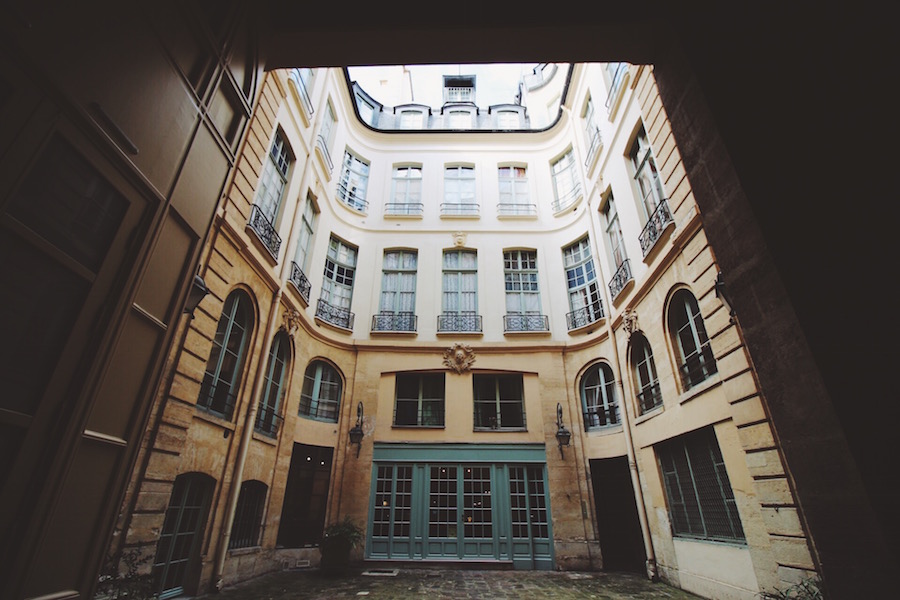 Number 52 Rue Saint Andrè des Arts is an unexpected hidden stunner well worth poking your head into if you ever happen to be walking by…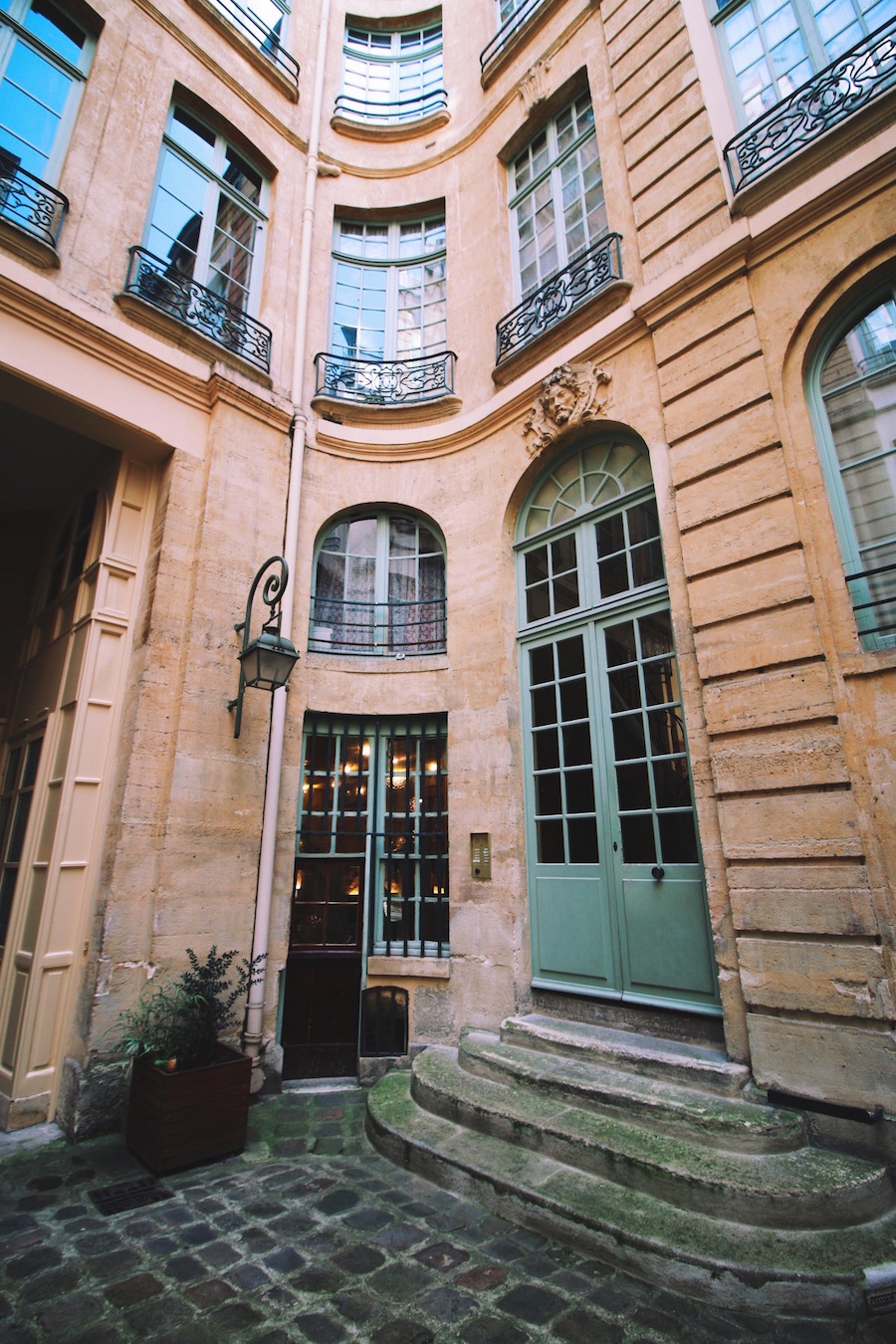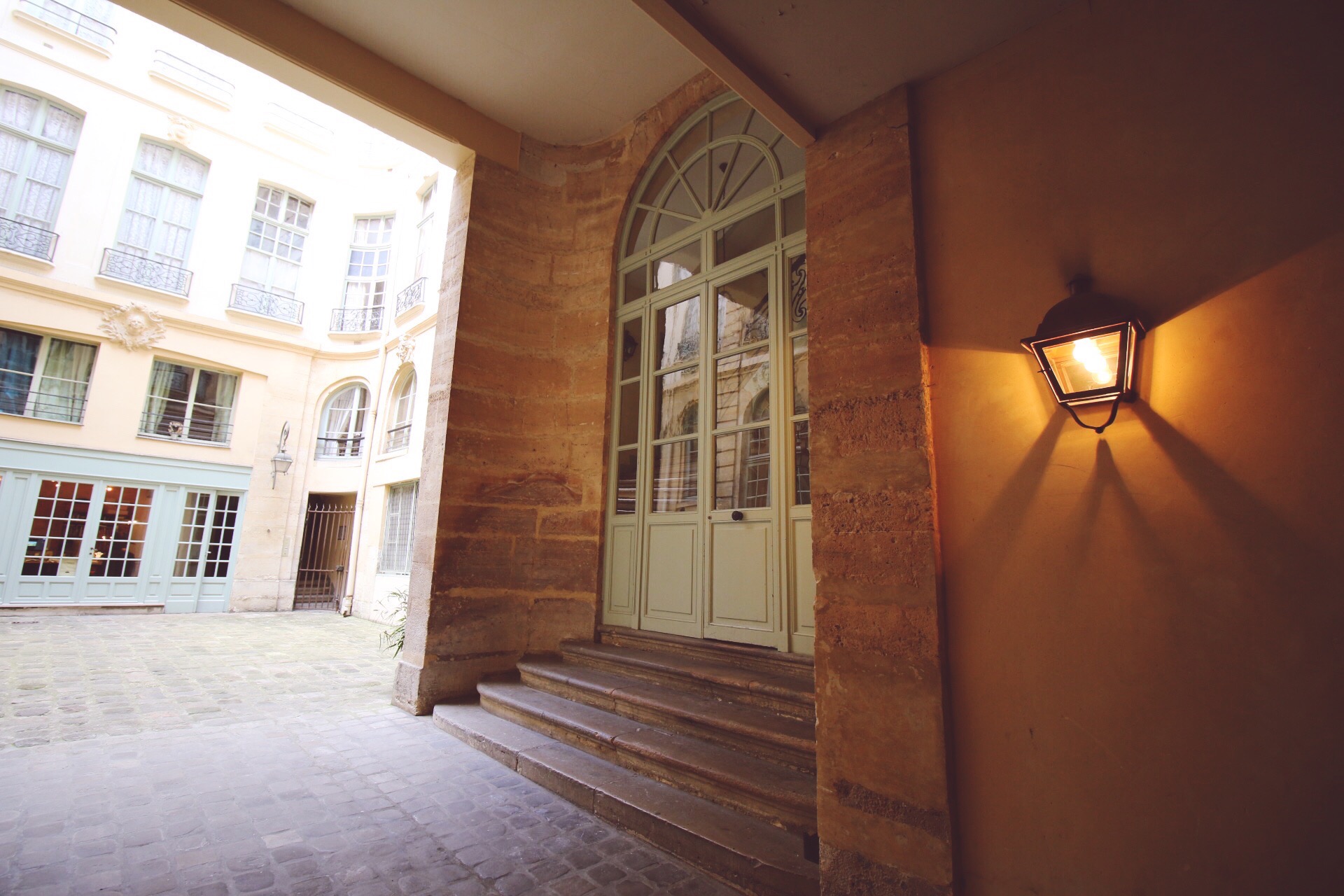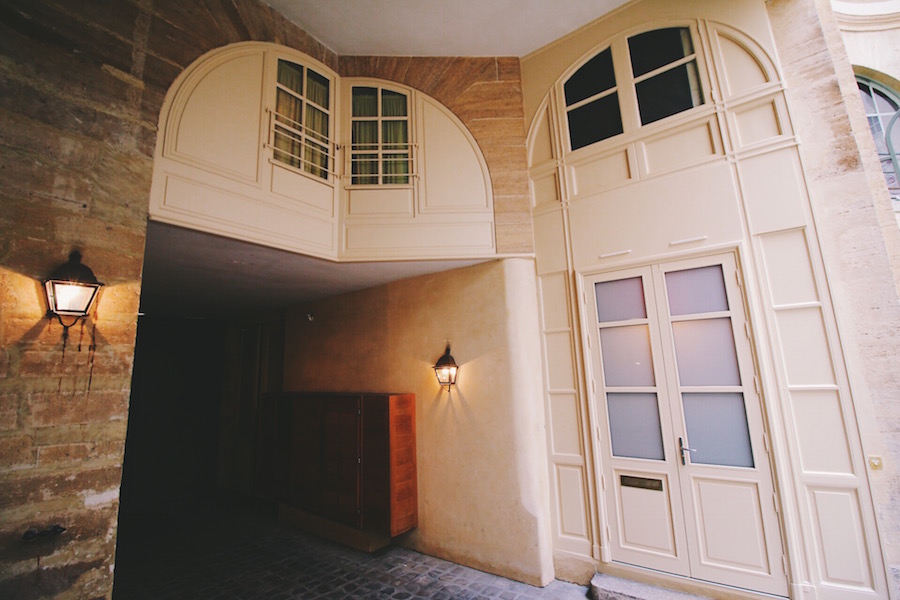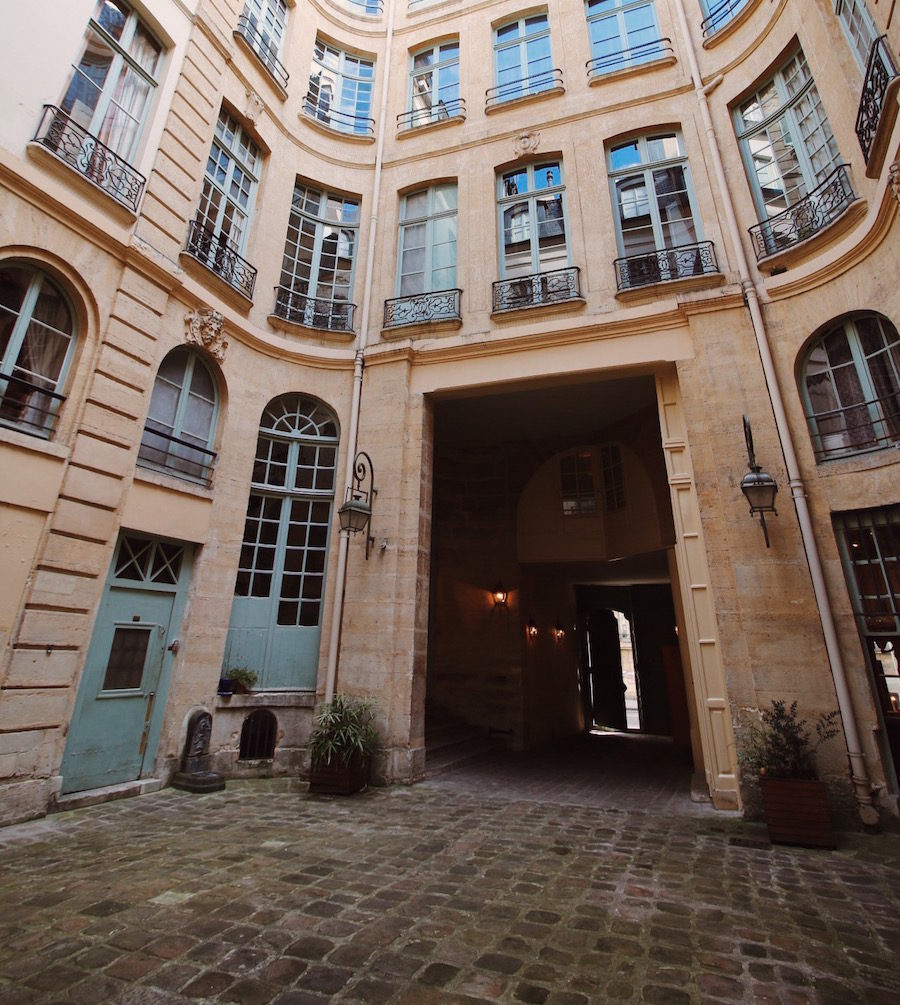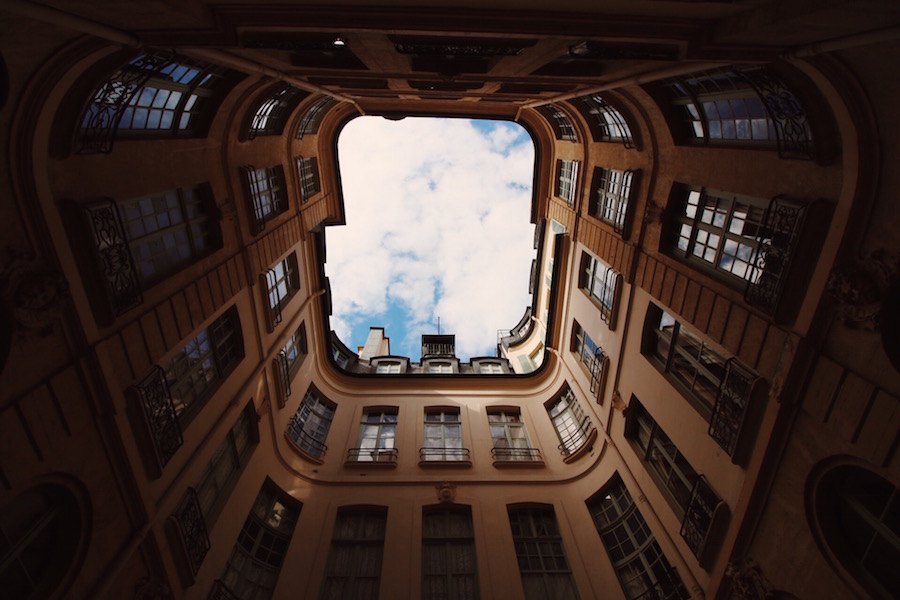 52 Rue Saint Andrè des Arts in in the 6th arrondissement.
Thanks for letting me show you around!
Hungry for more Paris? The updated edition of Don't Be a Tourist in Paris is now available. Or become a MessyNessy Keyholder to gain access to our Travel eBook library and a direct line to our Keyholder Travel Concierge to plan your perfect trip. Need help planning a weekend in France? Need some restaurant recommendations for a remote village in the North Pole? We're here to help.