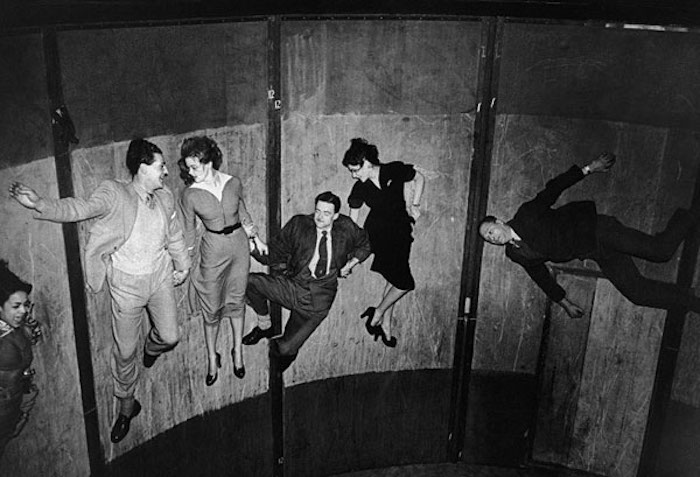 I'm no funfair prude. I'll get on pretty much any rollercoaster you dare me to– but this? This just looks like one of those things you can't quite believe was ever invented, like radioactive toothpaste or lime & cheese jello salad. From what I've learned, a modern-day descendent of the Rotor ride can still be found at a few theme parks around the world today, I just hope it's come a long way from the mid-century torture machine it used to be. With all due respect to these high-heel-wearing dames of yesteryear giving it a whirl in their tea dresses– what were they thinking?!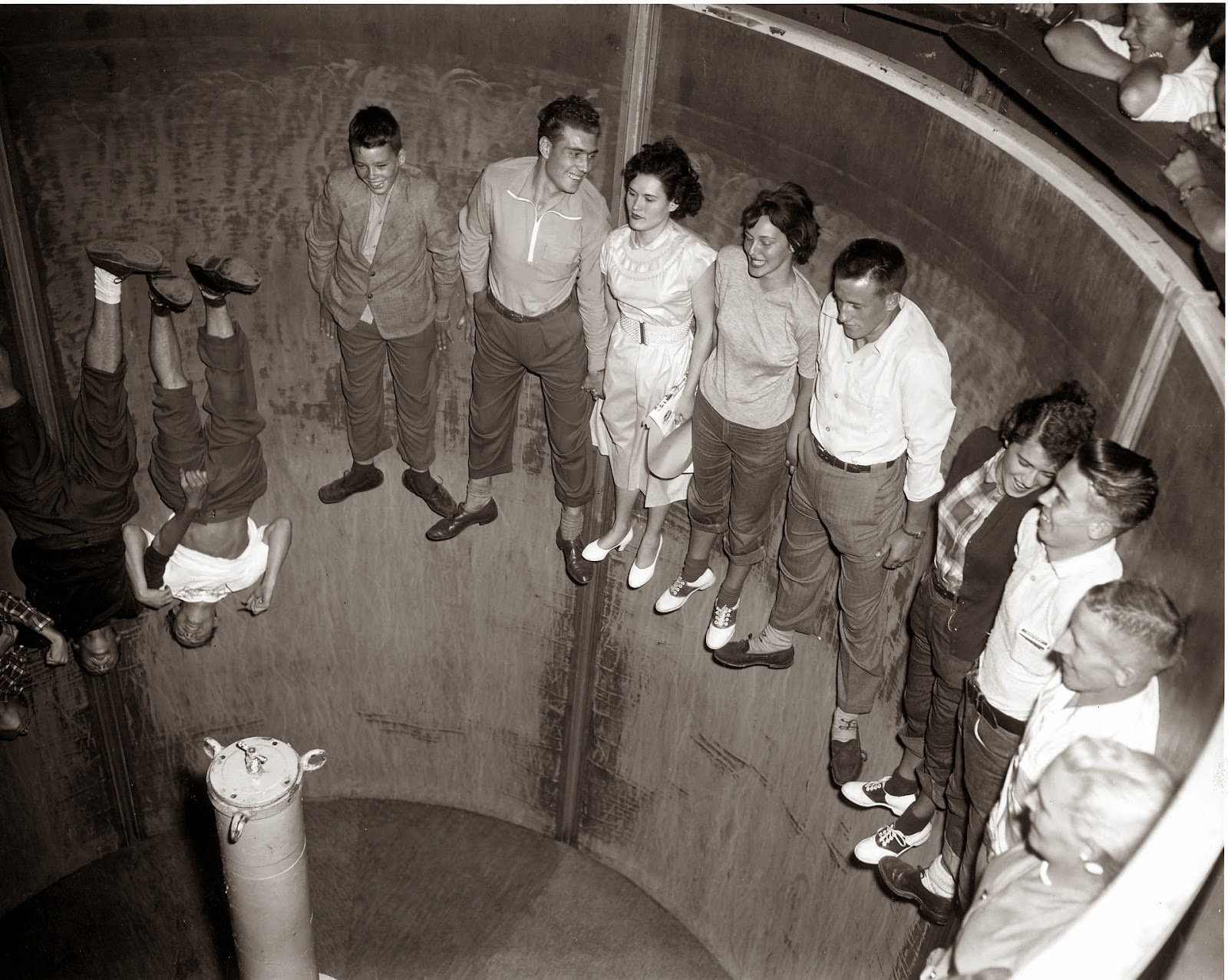 The Rotor, also known as the "Devil's Hole", was designed by German engineer Ernst Hoffmeister in the late 1940s and first demonstrated at Oktoberfest in 1949 before becoming popular at fairs throughout the rest of Europe and America during the 50s and 60s. The above photo was taken at Coney Island in the 1950s, and thanks to the low exposure time and high aperture setting, everyone looks relatively calm and still as they levitate above the ground, but the reality is, these folks were being spun around in a giant upright barrel at the speed of two rotations per second. (Notice the guy on the left, grabbing onto his neighbour's crotch for dear life).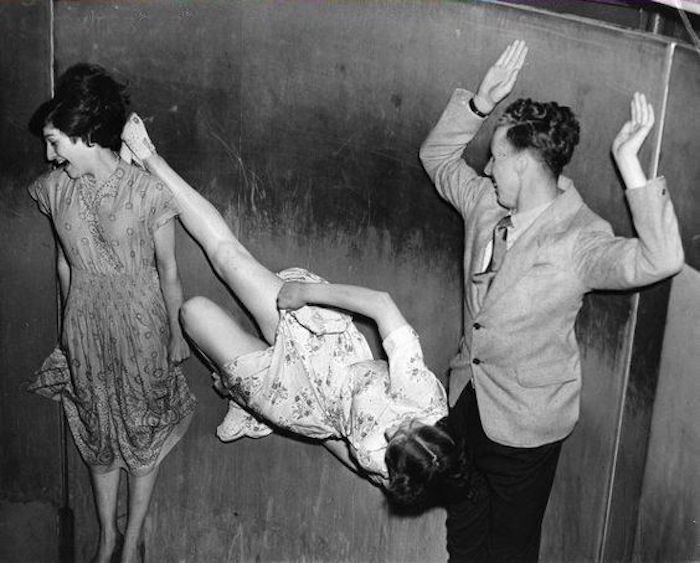 So here's how it works. The rotation of the barrel creates a centrifugal effect and once it reaches full speed, the floor is retracted, leaving the riders stuck to the wall of the drum. At the end of the ride cycle, the drum slows down and gravity takes over. If you're wondering how some of the people came to be upside down, it's likely they were doing a headstand when the barrel started spinning– because this was the 1950s and who cares about safety regulations?!
Of course, it's all fun and games until someone's penny loafer flies off, or worse, someone gets queasy enough to share their lunch with the crowd. The force at which the barrel rotated allegedly made it hard to even breathe.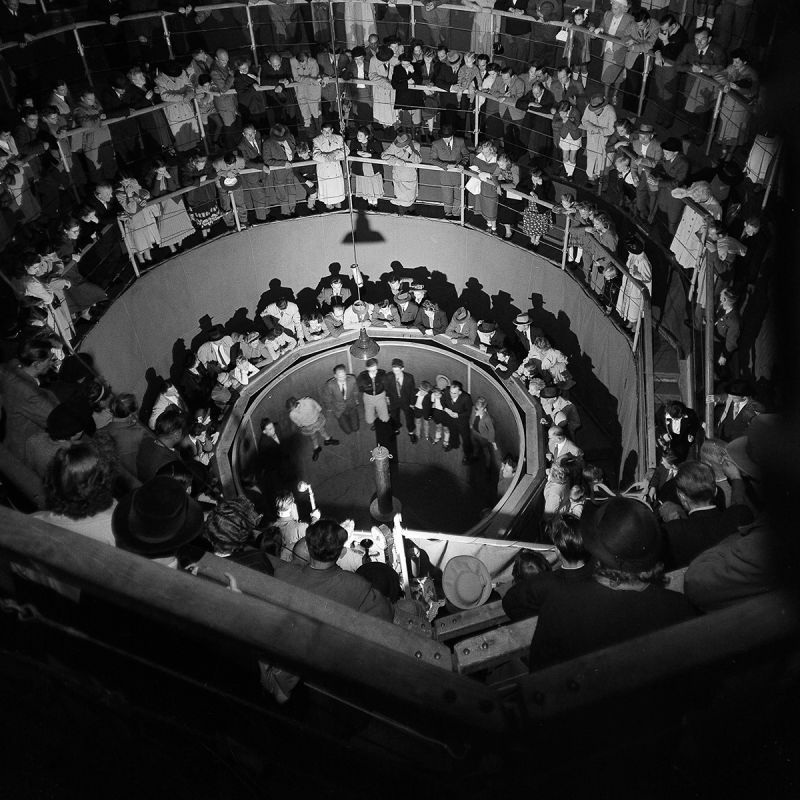 Most Rotors were constructed with an observation deck, and onlookers were charged a quarter to watch. With the promise of women's billowing skirts flying about, it surely brought in quite the audience.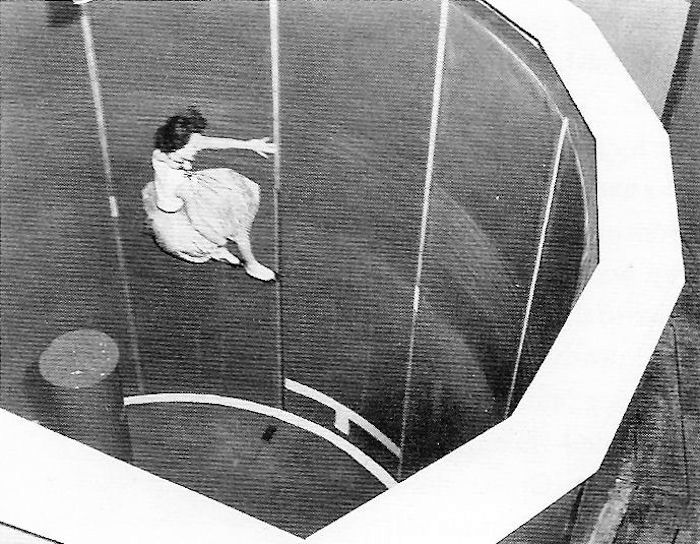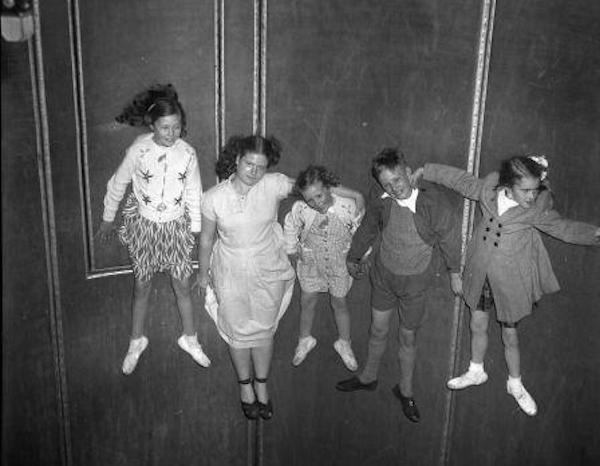 The ride could accommodate up to 30 thrill-seekers, who entered through a door at the side of the 12 foot-wide barrel. And again, because this was the 1950s, it appears there was no age limit and children were free subject themselves to neck injuries at their will.
Here's one in action (warning: it might make you a little car sick just watching):
Most of the original rotor rides met their demise in some some fashion or another– scrapped or re-themed to attract a new generation of riders.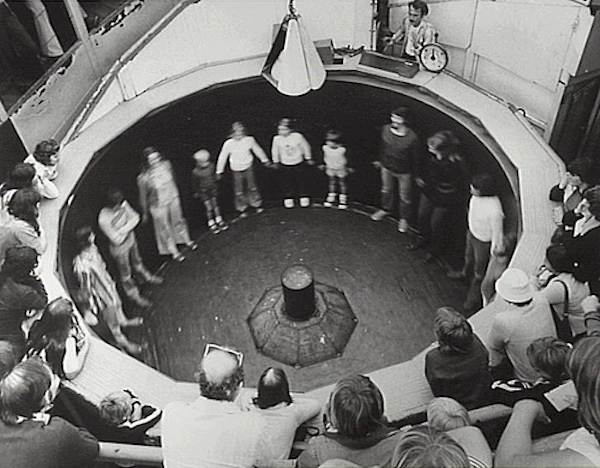 The one in Coney Island was removed after a terrible accident in 1995 that injured 13 people. When the metal straps holding the barrel together snapped, the nightmare contraption split open, hurtling terrified riders through the air, tossing them like dolls and severing one woman's leg.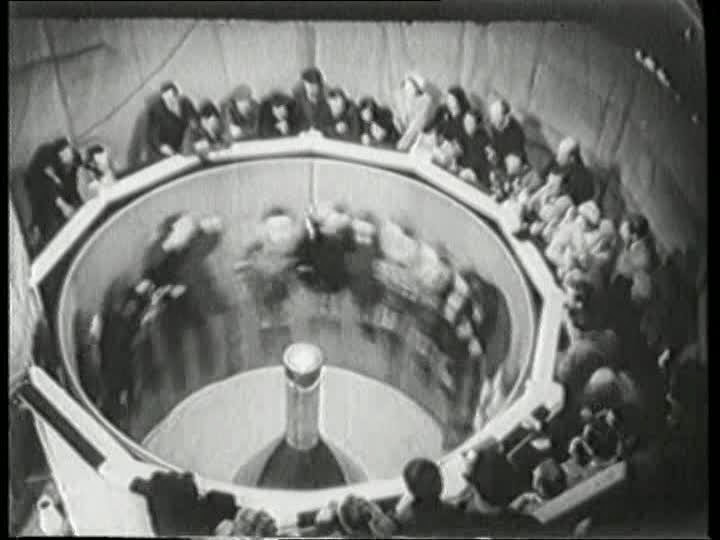 An almost identical ride going by the names of Gravitron or Starship, still appear in numerous amusement parks today, including Australia's Coney Island, as well as in Finland, Hawaii, the Bahamas, Canada an upwards of 40 models are currently travelling around fairs in the US.
Before you go, here are some similar rides that our more elegantly-dressed ancestors took a gamble on, such as the Spinning disk (above and below), at Coney Island amusement park. I'm feeling pretty sorry for the girl at 1 o'clock who looks like she tried to escape, hanging on in fetal position.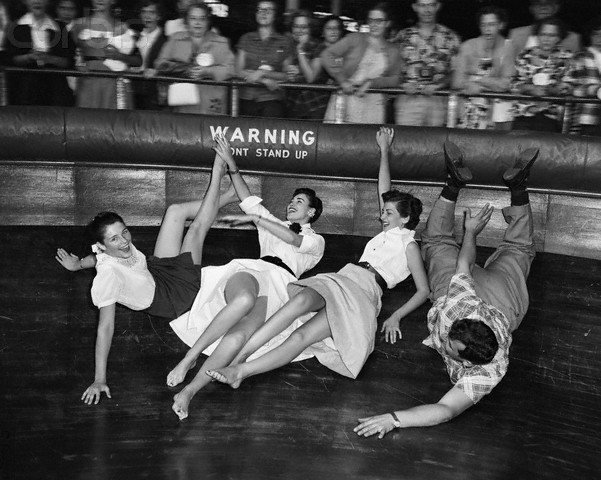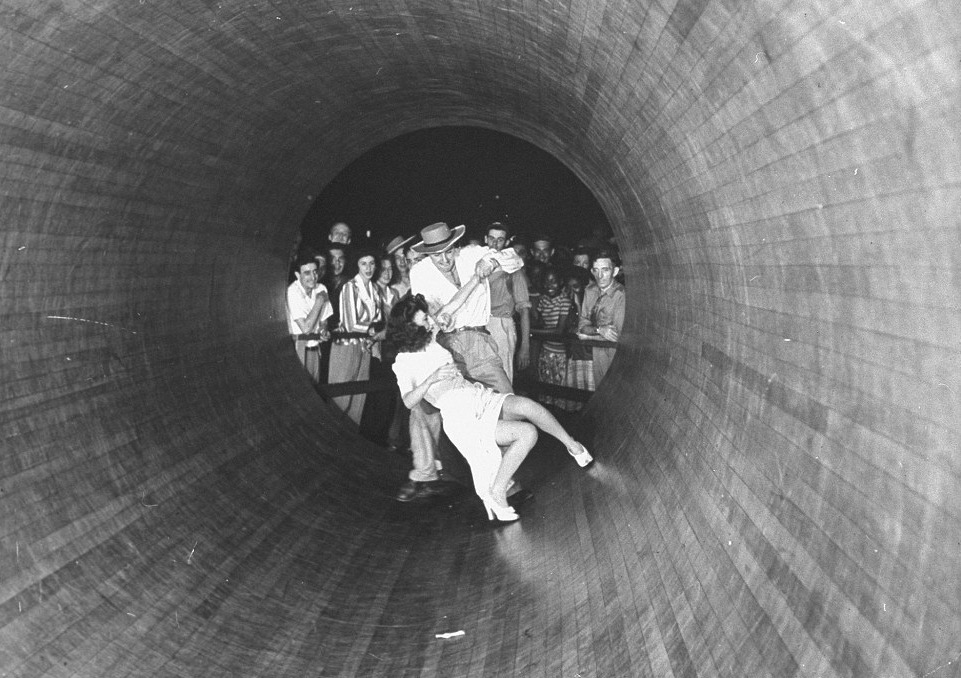 Steeplechase Park's Barrel of Fun ↑ Apparently our ancestors had a thing for getting inside barrels.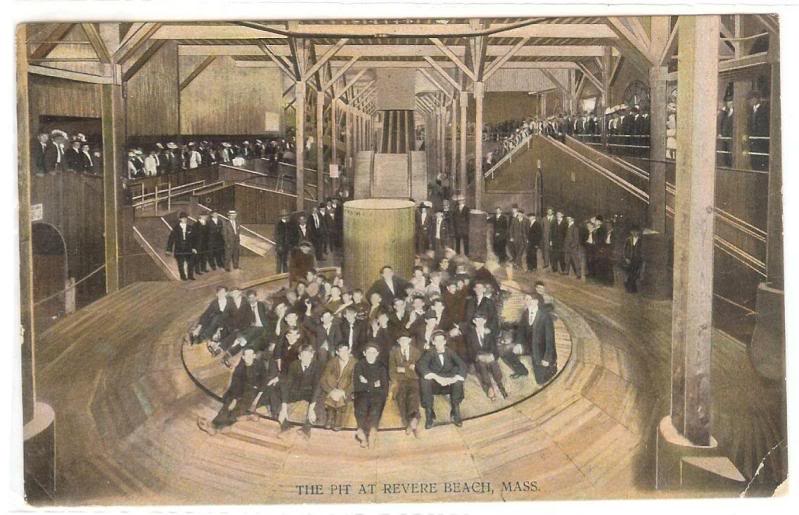 Behold, "The Pit", which opened on Revere Beach, MA in 1908. It was a huge structure that stretched along the beach that housed multiple small "amusement devices"  such as electrified handrails, moving staircases, shaker bridges and all sorts of things that would make for perfect lawsuits today.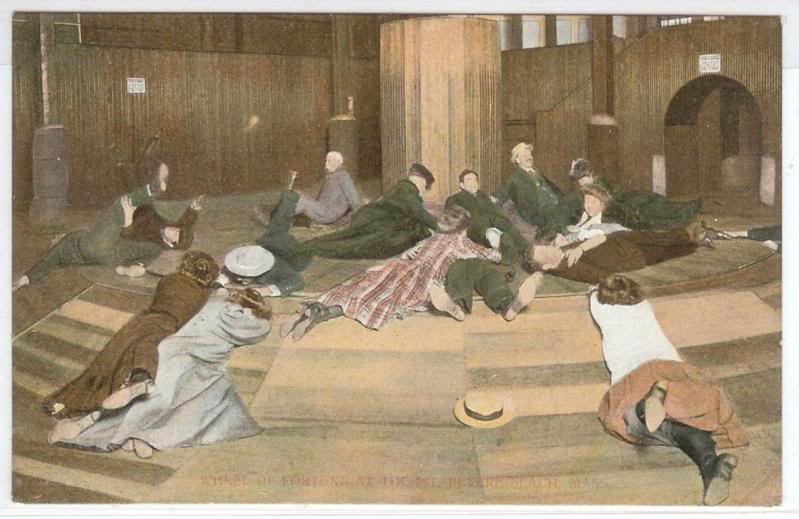 Above we have "The Wheel of Fortune", basically a large spinning wheel that would begin shoot its patrons outwards towards the wooden walls and support columns. While there was padding, allegedly a governor's son died on this ride.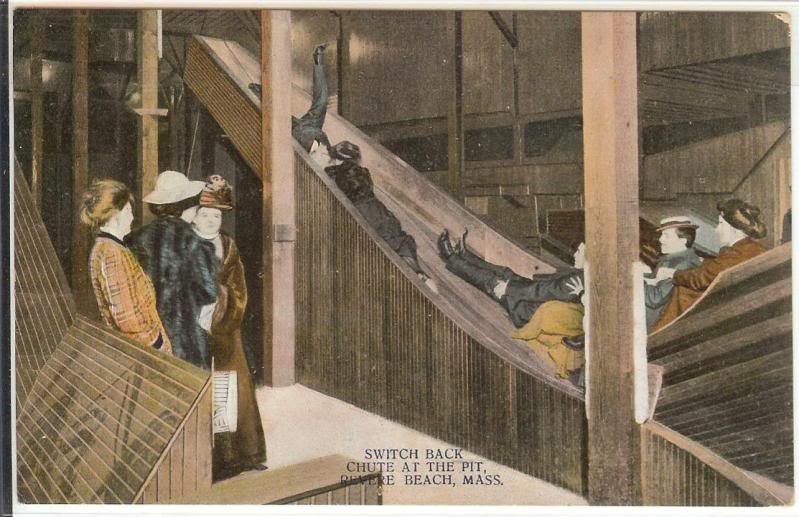 These wooden rides must have been terribly painful to have been tossed around in, not to mention, terrifyingly unstable.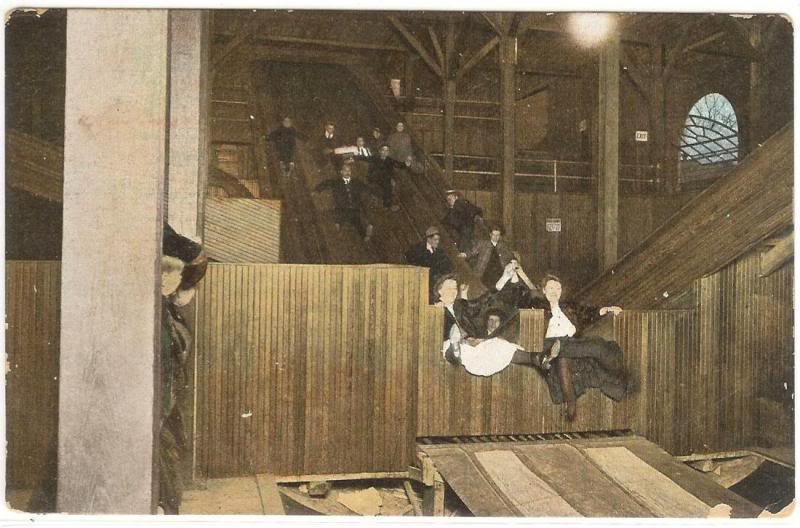 On the Leap Chute ride (pictured above), patrons slide down a large wooden slide and are ejected onto a sheet of tightly stretched canvas. You didn't have a tremendous amount of time to get off the landing zone before someone else came hurtling towards you, feet first. Rare glances at a women's knickers was the added bonus for the boys.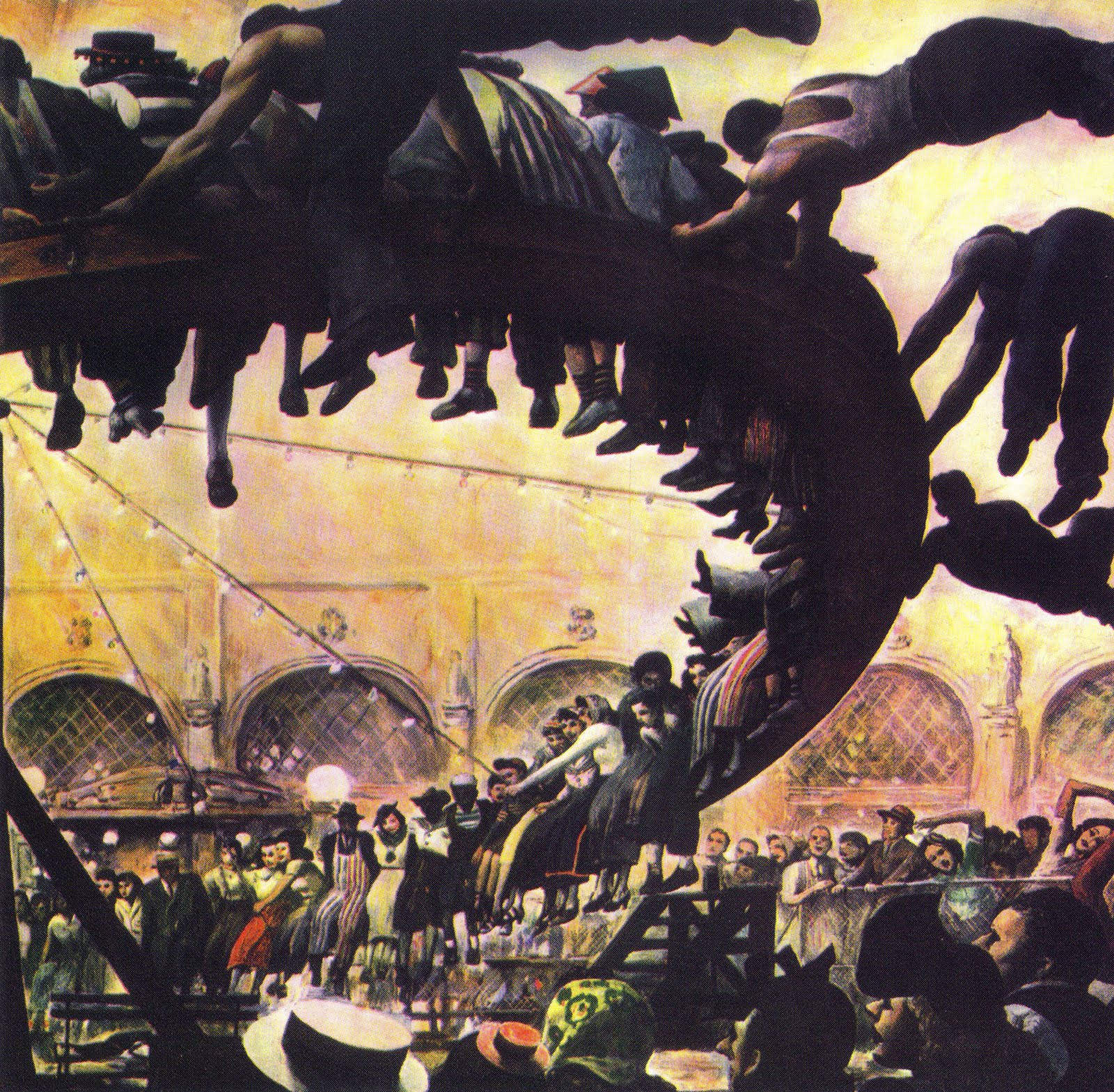 And last up, the Hoopla ride. Let's just assume that the requirement to get on this thing was to be at least two bottles down. Another one of Coney Island's brilliant ideas.