Behind every generation of revolutionary writers, there's usually a time-worn café. Hemingway had Paris's La Closerie Des Lilas; Simone de Beauvoir, the Café de Flore. For San Francisco, the cradle of the Beatnik movement – or at least, its caffeine source – was the Caffe Trieste.
High on a hilltop in Little Italy, Caffe Trieste was founded in 1956 by Italian immigrant Giovanni Giotta, or "Papa Gianni," as customers called him. Back in his hometown of Trieste, Gianni had been working as a modest fisherman, studying opera in his free time. In 1951, his family moved to the Bay Area for a fresh start.
Caffe Trieste was California's very first coffee house, and actually introduced the Cappuccino to the West. Initially, it was a little outpost for homesick Italians to gather and reminisce over bottles of chianti.
The unspoken philosophy of the place was "by-the-locals-for-the-locals", a mantra that still stands today. "Trieste is the blood of old Europe," explains customer Ben Grunfeld, "If you're a snooty entitled tech hipster, don't come here."
Little did the late Papa Gianni know that his humble café would become the stomping grounds for some of the 20th century's greatest creatives – namely, the Beatniks. It was conveniently up the street from City Lights Bookstore, whose founder, Lawrence Ferlinghetti, made a national scandal when he published Allen Ginsberg's poem "Howl" in 1955. Ginsberg, Jack Kerouac, Michael McClure, and Bob Dylan were all regular fixtures of the blossoming beatnik scene there…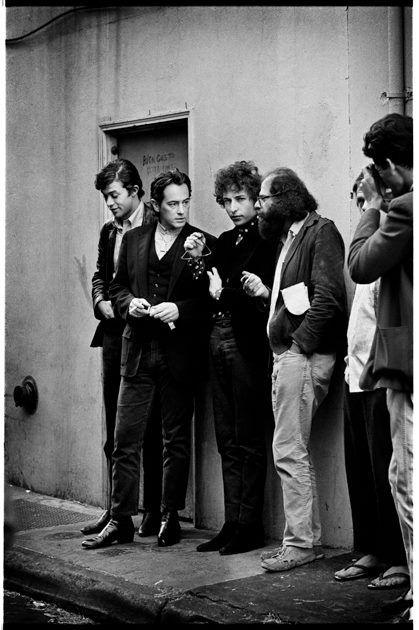 Trieste was also a stone's throw away from Vesuvio Café, the bar where, before the end of his short life, Jack Kerouac once stayed a little too late into the night and missed an important rendez-vous down the coast– blowing his last chance to meet his own hero, Henry Miller. The neighbourhood had become a part of a vibrant, bohemian trifecta…
"Tutti poeti (all the poets), it's incredible," Papa Gianni told SF Gate in 2006, "They spend hours and hours here. … They like Papa's personality because I love everybody."
Gianni wasn't exaggerating – long after the Beat Movement fizzled, creatives continued to flock to Trieste. Francis Ford Coppola (pictured below) claimed a table beneath a wonderfully kitsch ode-to-Italia mural, and toiled away on the script for the Godfather under Gianni's watchful eye.
Even the occasional Hells Angels member would pop into the café on his way up the California coast:
Somewhat miraculously, nothing has really changed at the café. Its tables are just as squeaky, and its walls just as jam-packed with yellowing photographs. The only threat to its future is a complicated Giotta family fued.
But for now, the site continues to support the local literary scene. "It's got this literary legacy, and that's probably what attracts people in the first place," writer Tony Long told SF Gate, "people who go to the Trieste are damaged people…who have had a lot of hard knocks in life. Those kind of people tend to gravitate to one another. (Trieste) is more than just the living room. It's a support network."
By Mary Frances Knapp, our Californian in Paris & beatnik at heart.