Secreted away in the heart of Manhattan's Chinatown is a small, peculiar street. Whilst most of the city is laid out in a uniform grid system, this tiny, one block long street is unusual in that it has a sharp, angled bend in the middle of it. On a map, it is marked down as Doyers Street, but in old New York parlance, it had a much more chilling name – Bloody Angle. Once, this was one of the most dangerous streets in the city…
Doyers Street has more the air of a foreboding alleyway to it, than a regular street. It was once home to an old opera house, crowded with tenements, opium dens and gambling houses, built upon a warren of subterranean tunnels and escape routes used by the Tong gangs.
It is also home to Manhattan's oldest dim sum restaurant. For those who love their soup dumplings and roasted-pork buns laced with a taste of the old Gangs of New York, there is only place to head – the venerable and delightful Nom Wah Tea Parlor. 
Doyers Street was originally named for a Dutch merchant, Hendrik Doyer, who ran a distillery where today you'll find a post office. The crooked street runs south from Pell Street, then sharply south east down to the Bowery. The narrow alley was thick with an atmosphere of mystery and danger.
For this cramped corner of Chinatown, with its sharp angled bend, was the home of the Hip Sing Tong, who waged vicious gang warfare with the rival  On Leongs. According to the Times, "law-enforcement officials say more people have died violently at Bloody Angle….that at any intersection in America."
The angle was the perfect ambush spot. Herbert Asbury in his slightly more salacious than historical 1928 book 'Gangs of New York', wrote how "armed with snickersee and hatchet sharpened to a razor's edge, the Tong killer lay in wait for his victim, and having cut him down as he came round the bend, fled through the arcade, or plunged into the theatre and thence into Mott or Pell Street through one of the underground passageways."
Whilst Asbury was prone to the over-dramatic, there's no doubting that Doyers Street was a violent and squalid corner of Lower Manhattan, rife with street walkers, gang members and denizens of the Bowery.
And nestled in the corner of Bloody Angle, the Nom Wah Tea Parlor has, since 1920, been a silent witness to all that happened on Doyers Street. 
We're starting our descent into the old stomping grounds of New York's underworld, by leaving the infamous Bowery, and turning into Pell Street, where once, according the New York Times, "bullets rained, hatchets flew and bodies fell."  The Hip Sings can still be found on Pell Street, operating out of number 15. Just over a century ago, the their headquarters were sandwiched between an opium den, and the home of their principal hitman, Sing Dock.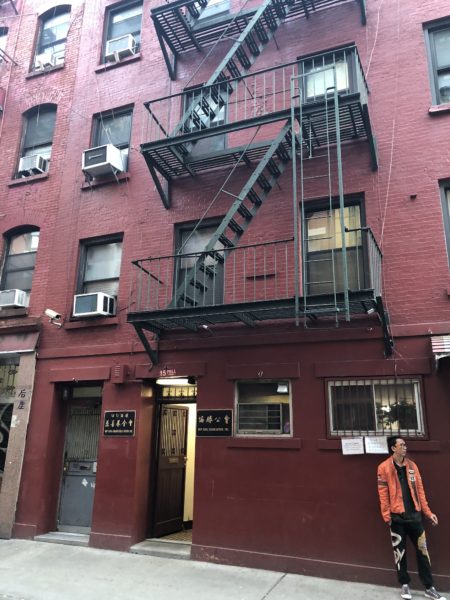 Making the narrow turn into Doyers Street, the Nom Wah Tea Parlor can be seen from its vantage point, right at the corner of the bend.
When it first opened, Nom Wah was principally a tea parlor, social club and bakery, famed for their mooncakes, filled with red bean and lotus paste. But gradually, Nom Wah began to become known for its dim sum. 
Doyers Street has seen its recent fair share of gentrification; next door to Nom Wah is the swish Apotheke cocktail bar, disguised as a bygone pharmacy. Next door to that is Tuxedo, a contemporary upscale Chinese restaurant situated in the former Chinese theatre, known as the Opera House.
During the heyday of the Tong wars, the Theatre was a traditional neutral ground. The tabloid New York Sun newspaper wrote, "no matter how many fights and gun-plays there were in the rest of Chinatown, it was always safe for all Tong men to go to the theatre and bury the hatchet whilst watching the show."
On the night of August 7th, 1905 however, the uneasy peace inside the old Chinese Theatre came to a swift and violent end; masterminded by Sing Dock, a number of the Hip Sings opened fire during a firecracker scene on their rivals. "Eight or ten Hip Sing men had revolvers out", reported the Sun, "shooting carefully at first…..the only wonder is that a dozen weren't ready for the hospital when they quit." As the killers disappeared into the maze of tunnels running underneath Doyers Street, four On Leongs were dead. Still today, no-one has ever been charged with the murders. The so-called Chinese Theatre Massacre would spark an outbreak of violent repercussions throughout Chinatown, that would give Bloody Angle its grisly name.
The Nom Wah Tea Parlor however, has pleasingly kept most of its nearly century year old patina. The windows are usually fogged up, ancient tin tiles decorate the ceiling, and old red vinyl booths line the wall. Behind the art deco counter top is the old cash register and seventy year old stove.
And at Nom Wah, everything is still made fresh to order.
For such an old New York institution, it may be surprising to learn that the legendary restaurant is owned by a man in his thirties. Wilson Tang took over Nom Wah from his uncle, whose first job on emigrating from China was as a 16-year-old dishwasher at the restaurant. Wally Tang would eventually go on to own Nom Wah. 
Nom Wah has been lovingly, and gently renovated, whilst keeping its old school charm. "I had an opportunity to preserve a piece of old New York", explains Wilson. "Chinatown is changing so rapidly these days, so it's a breath of fresh air for the old-timers to see that I didn't change anything. I'm that guy who kept old Chinatown old."
By Luke J Spencer, our gentleman explorer in New York City.