Stop what you're doing, and take a seat, because senator Valentina Petrenko's hair is about to sweep you off your feet with its gravity-defying fabulousness. This Russian politician has been captivating the internet recently with her truly one-of-a-kind look, becoming quite the Twitter starlet, and leaving folks bewildered as to how she manages to keep it all perfectly in place…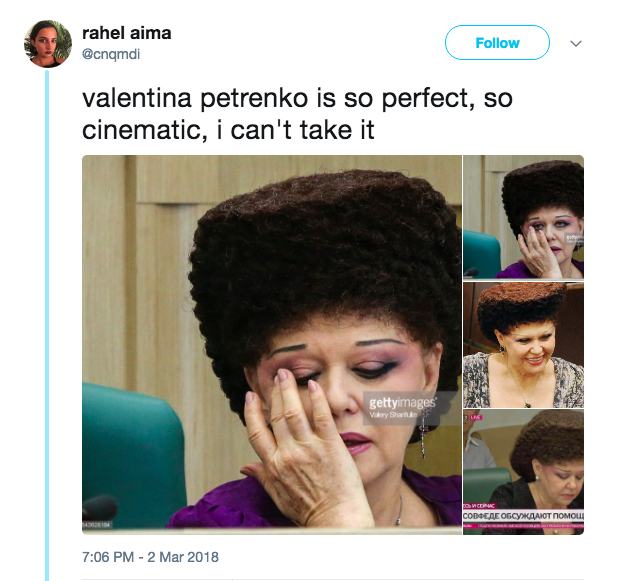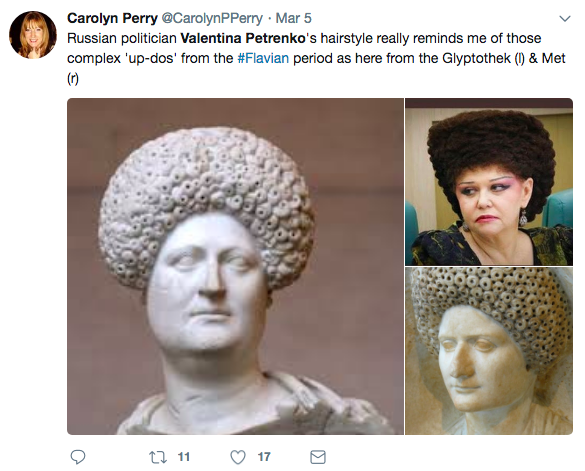 It all started when Associate News Editor of Pedestrian Daily, Alex Bruce-Smith, tweeted pics of Petrenko's hair.  "[I] have just discovered Russian federation senator Valentina Petrenko's hair," she wrote, "and need to share this news." The rest of the Web agreed. Has she pulled her look from the 1935 movie, Bride of Frankenstein? Was she slating herself to star in a live-action Simpsons reboot?
 "I just have curly hair," she explained to Echo of Moscow a few years ago,"I lift it upwards with some hair pins, that is all." We might add that this isn't just about the hair, even though it does steal the show — this is a total look: her face is framed by lazer-thin brows, which highlight her smoky, purple cat-eye and frosted lips.
As for the hair, well, it's not actually that uncommon in Russia. "To Westerners, the big hair trend brings back somewhat unfortunate memories of the '80's," reported journalist Anna Nemtsova in 2012, "But to ordinary Russians, the style is associated with an "important" woman who has reached a respectful age. The look is normally accessorised with large and expensive gemstone earrings, long nails, and broad-shouldered jackets. [It's a] self-defensive move." 
With mounting tensions between Russia and the U.S., her personal style has become a launching pad for Tweets like, "I hope when Russia takes over that Valentina Petrenko is made Governor of North Carolina," or "Holy hell. Has anyone checked Russian senator Valentina Petrenko's hair for poison, listening devices, bots? There could be a ton of shit in that hair."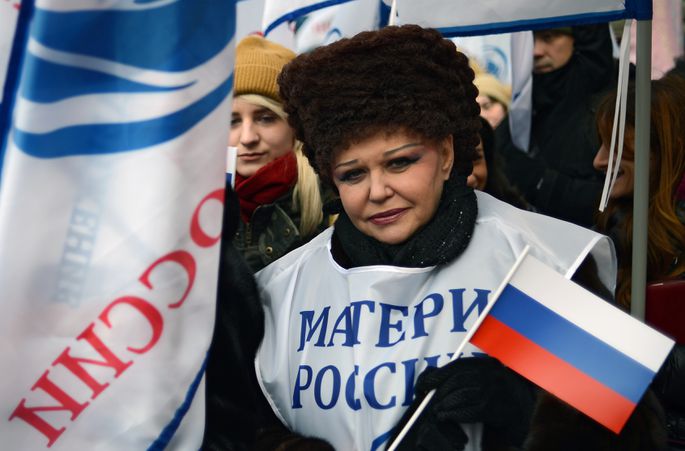 While Petrenko's hair might provide some light comic relief amidst the heated political discussions on social media, many have started raising a hand, if only digitally, in her defence:  "On December 23, 1993 terrorists took hostage 17 children in Russia's Rostov-on-Don school," tweeted one woman, "Valentina Petrenko volunteered to negotiate with terrorists ,offering herself as a hostage instead of kids. She was awarded a medal "For Bravery". Oh, let's laugh at her hair, shall we?"
As it turns, out. that's the thing about Petrenko — her heart is even bigger than her hair.