For a brief moment in the 1930s, one of the most famous celebrities of the day was a 100-pound mannequin named Cynthia. She had box seats at the Metropolitan Opera, received freebies from Tiffany and Cartier, graced the cover of Life magazine and was even invited to the wedding of Edward V111 and Wallis Simpson. She was designed by Lester Gaba, whose life-sized, carved-soap mannequins modeled after well-known New York debutantes, would change window displays forever. What started as a publicity stunt to humorously demonstrate how lifelike the mannequins had become, quickly turned Cynthia into an overnight sensation…
She was given a credit card from Saks Fifth Avenue, her own newspaper column, and despite suffering chronic laryngitis (according to her creator) Cynthia even had a successful radio show. Apparently she was a very good listener and received huge amounts of fan mail.
Her fame grew and grew until the beautiful Cynthia finally met her demise when she slipped from a chair in a beauty salon, and shattered into a thousand pieces.
Her death was reported in the press and while Lester Gaba played the distraught creator, there were plenty of clones, known as "Gaba girls", waiting to take her place.
But consider her the poster-child for a time when window dressing was much different; an escape into an impossibly glamorous universe ruled by mannequins that looked a little too life-like for comfort in the most unimaginable of settings. It was glamorous, it was weird, and we're really into it.
"A mannequin was the sculptural equivalent of a fashion model," explained Guardian journalist Barbara Brownie in 2013, "Like a fashion model, the mannequin was intended to reflect our social, professional and aesthetic aspirations. Although she was permanently frozen in an idealistic tableau – artificial in every sense – she represented a living human being."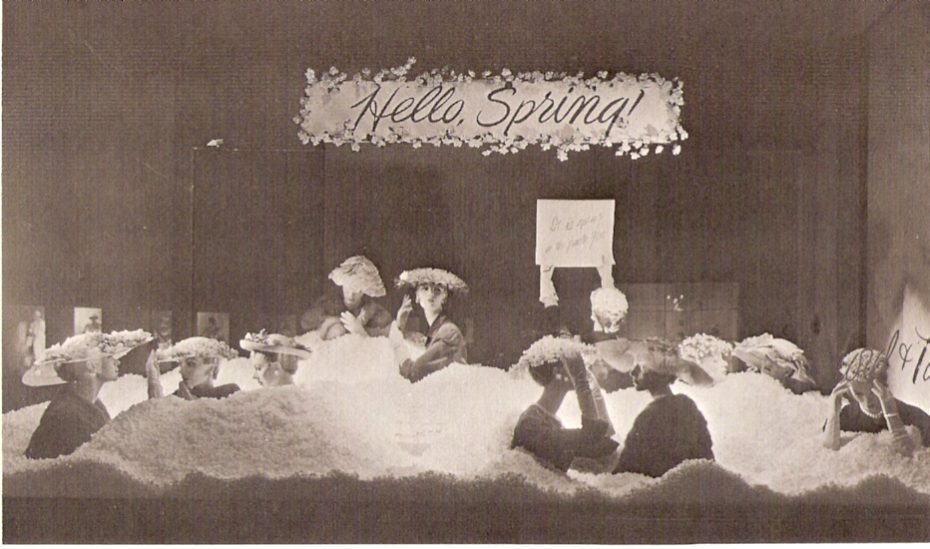 The first fashion mannequins, made of papier-mâché, were made in France in the mid-19th century, and it wasn't until the 1920s that they started to look more human, demanding more elaborate scenery to bring them to life.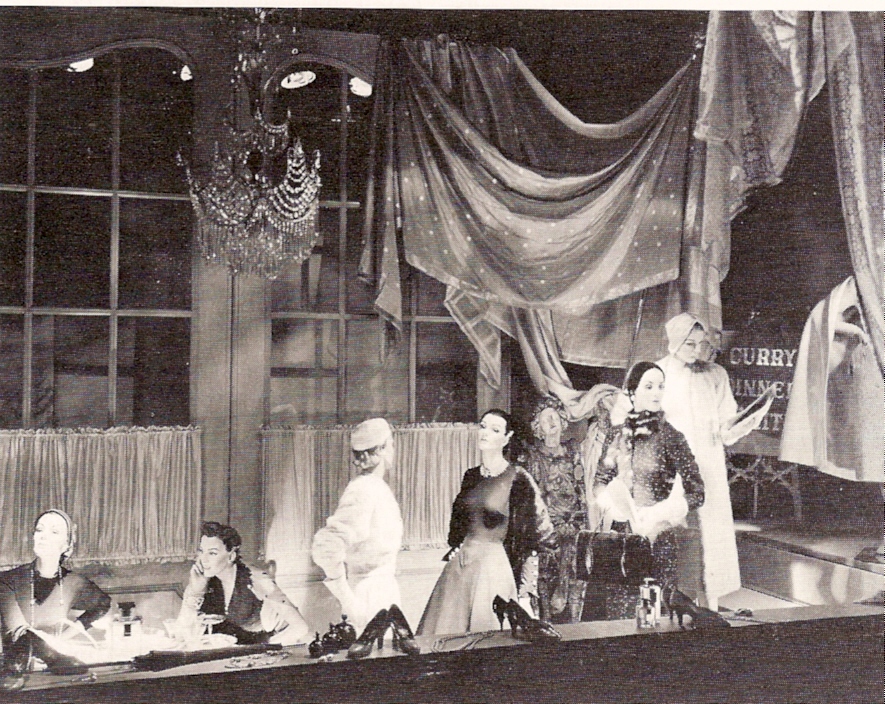 We stumbled upon a fantastic Flickr archive of department store displays (as you do), all thanks to a mannequin enthusiast we'll call Tom. We're not sure how or where he honed his love for the secret lives of mannequins, but we're happy he did. Take this one above from his archive, showing the glamorous gals at Lord & Taylor department store in the 1950s. "They are using the elevator windows to create perspective," Tom explains, "The ladies are lunching and walking down the steps into the restaurant which is actually below street level and you look down into the display."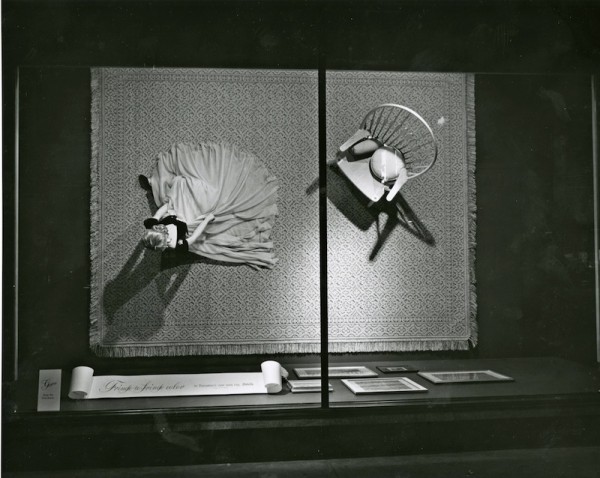 With the American economy booming after WWII, mannequins sold a perfectly polished version of the Nuclear Family. "The realism of the female mannequin is amazing for the era," says Tom about the display below, "The guy has a great pose but he has a 'potato' face and looks like a 'dummy' next to the female."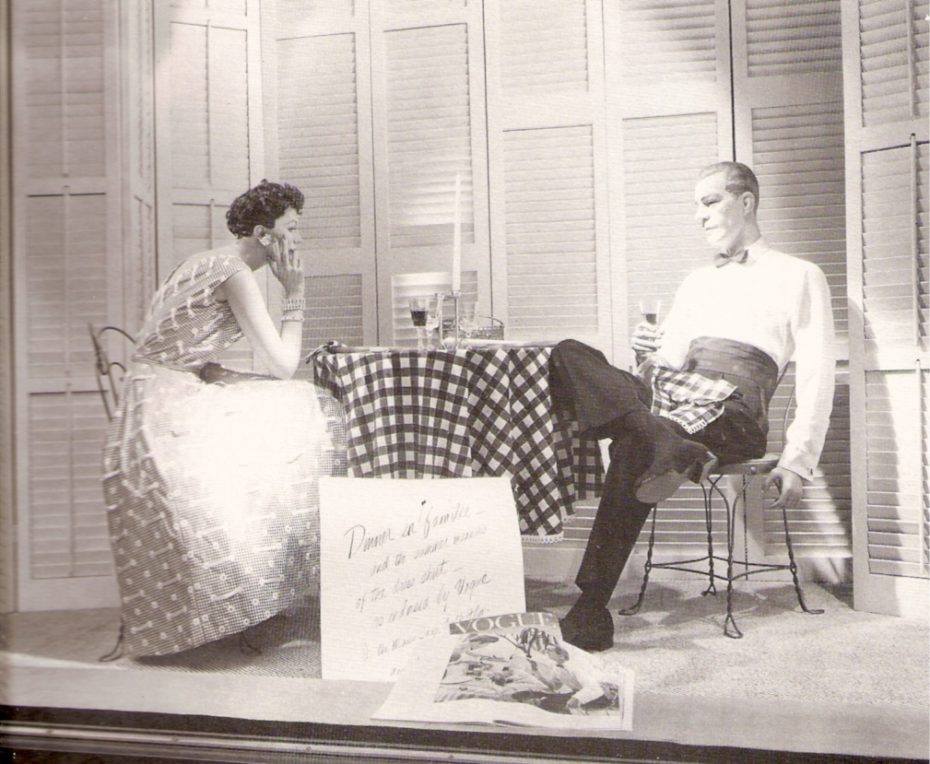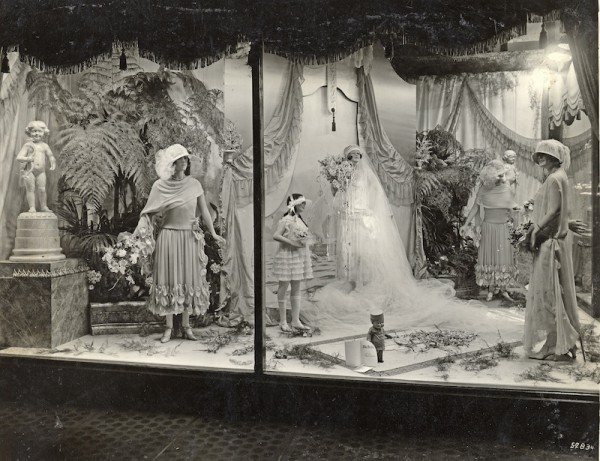 "Can you believe that this display above is from the Baltimore Gas & Electric company, and they had a display director?" he writes about the scene, "They had mannequins that they maintained, prop shops and did regular window changes. Now you know why your utility bills are so high…"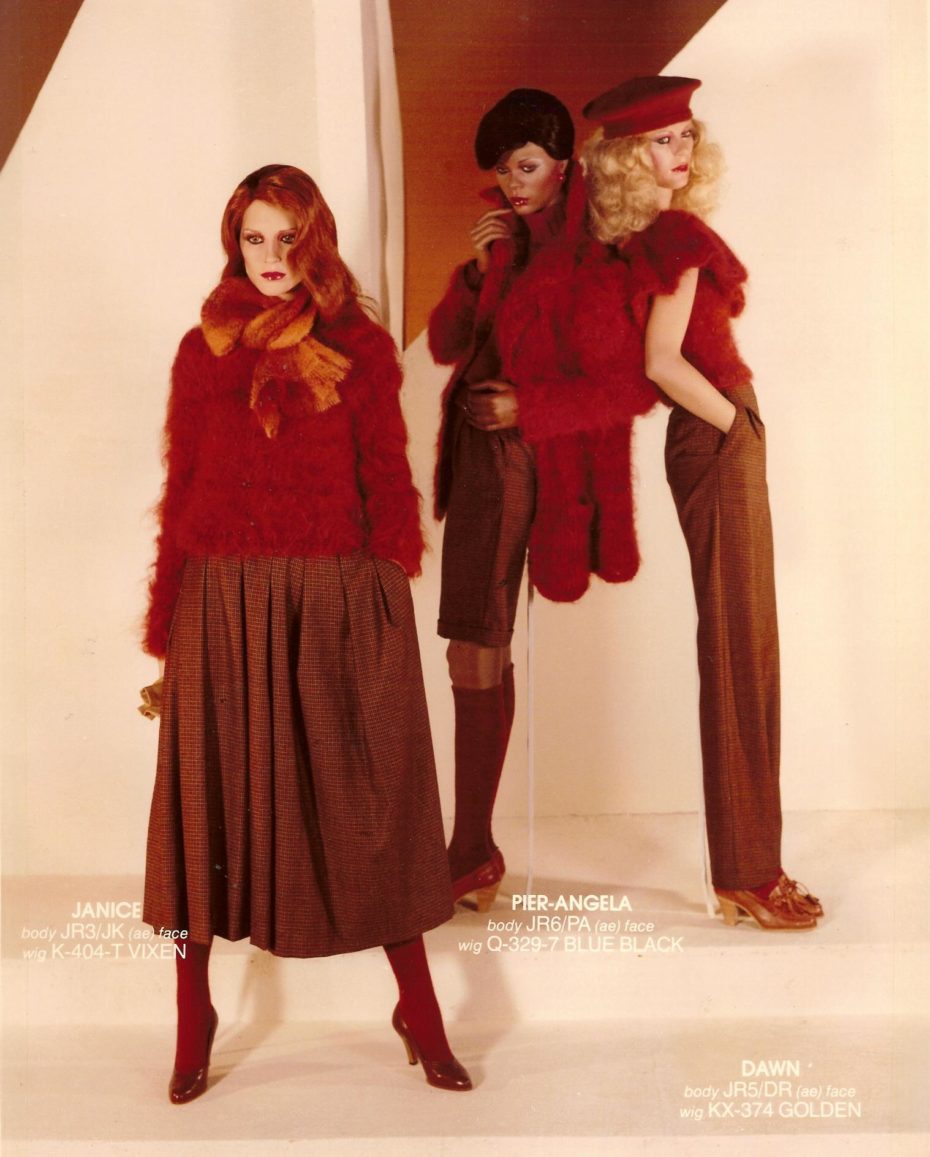 Next, we move into the latter-half of the 20th century, where the trending lifestyles evolved from the grooviness of the 1970s, to the rise of the Working Girl and her power suit. "I used to think that a well-styled, big, teased wig on a mannequin could compensate for a lot of fashion crimes back in the '80s", says Tom. Below, a mannequin from Bonwit Teller in Chicago from 1979 makes great use of the laughing Nissen pose…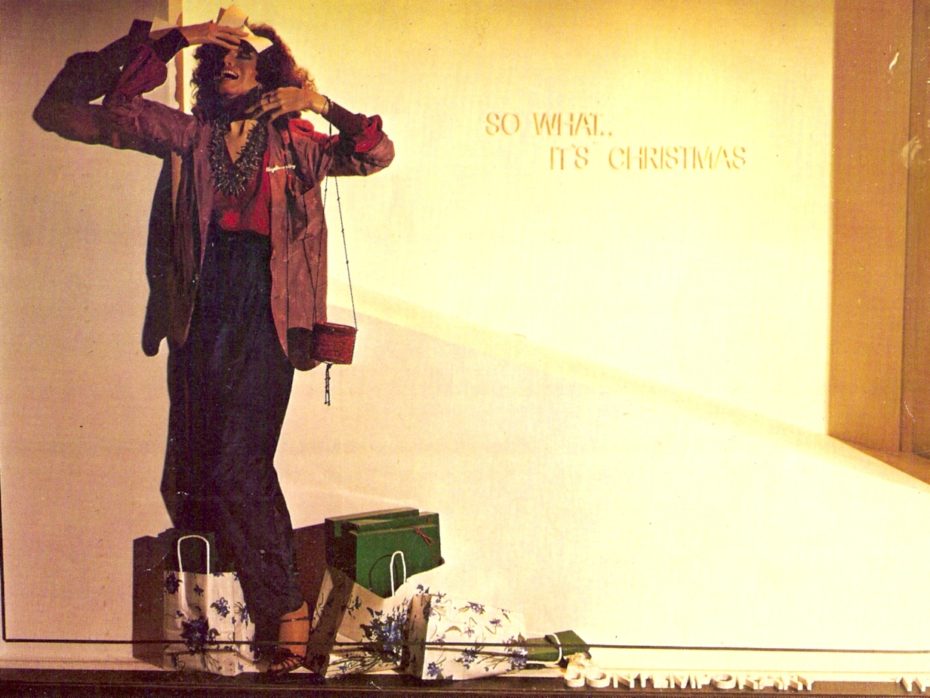 What's a "laughing Nissen" pose, you ask? Well, turns out there's an entire, secret world of classifying mannequins and the poses, moods, and even lifestyles they evoke. One store might be feeling the "Free Spirit" models, for example, while another required the "Aloof" set for a collection. Regardless of what you were looking for, it seems like the trend was to create incredibly lifelike figurines…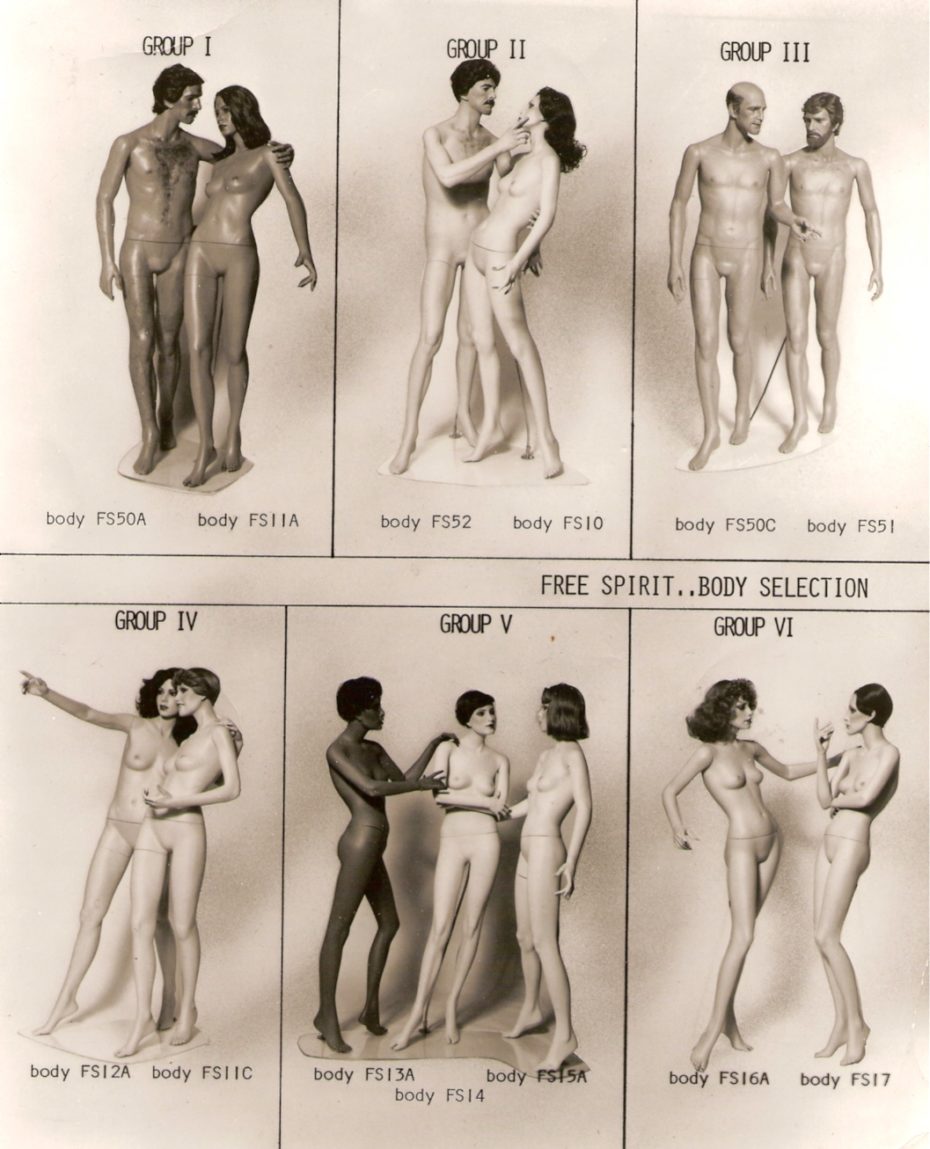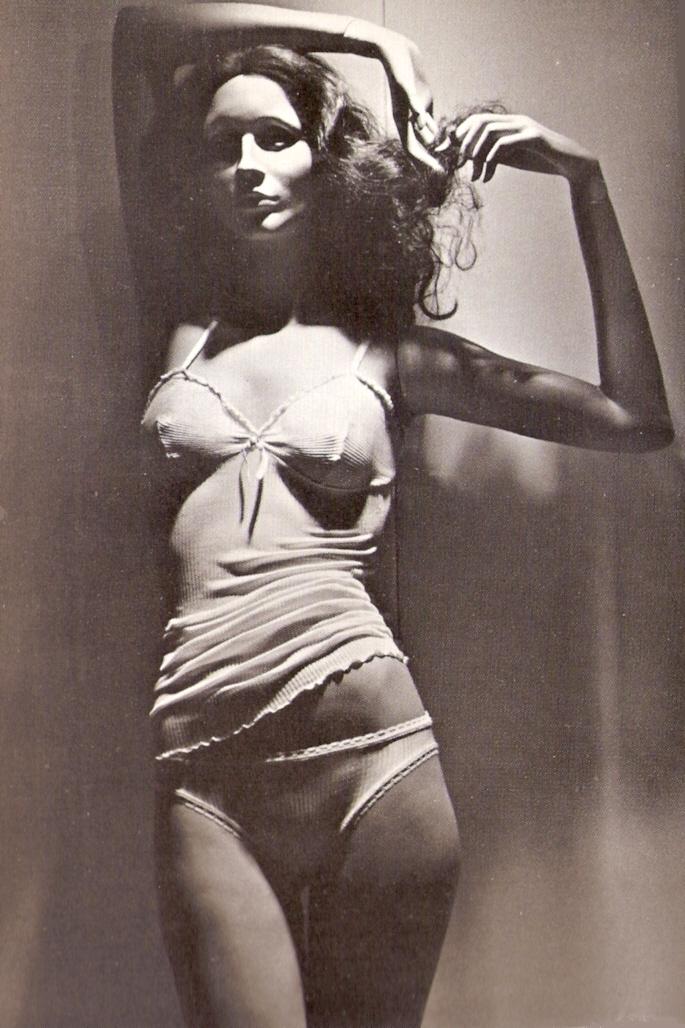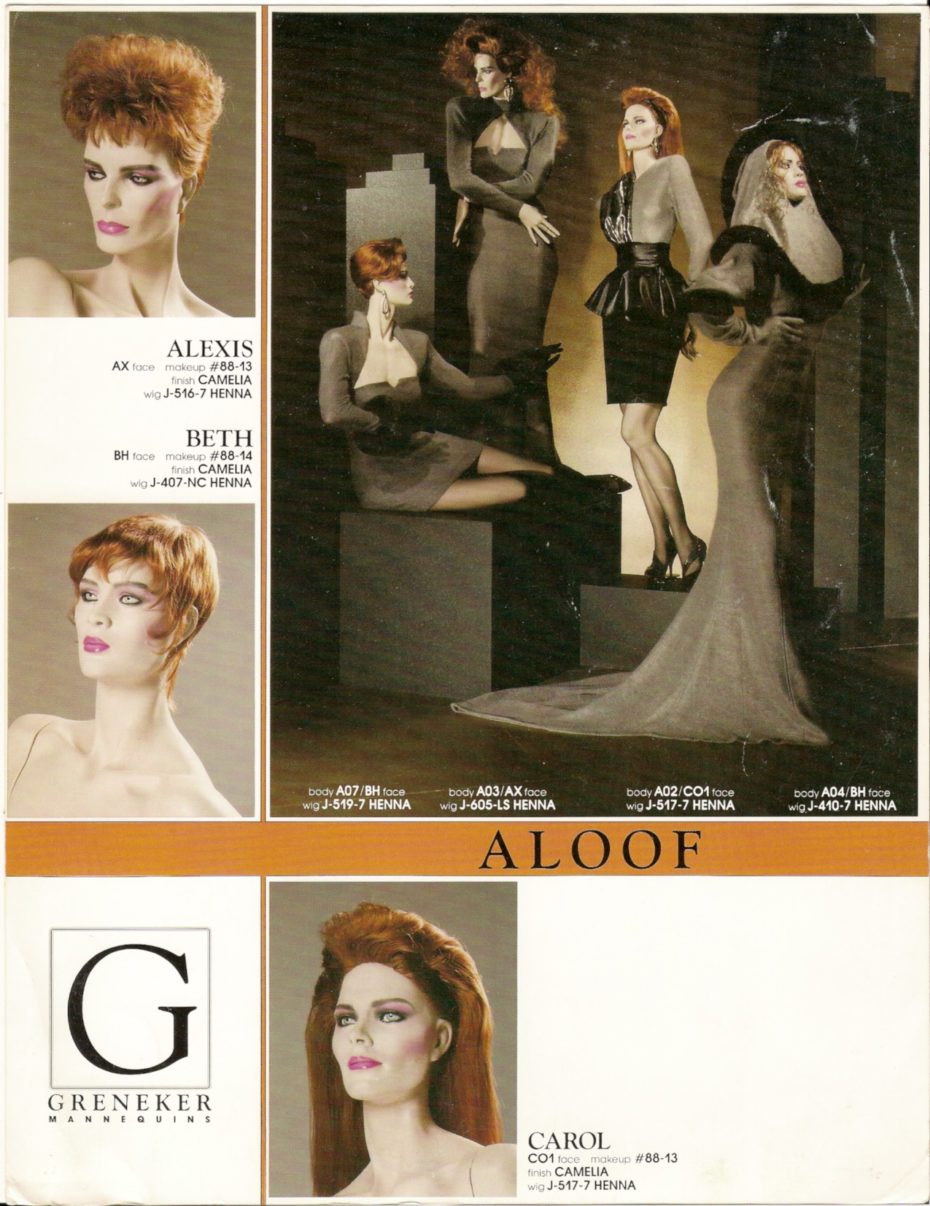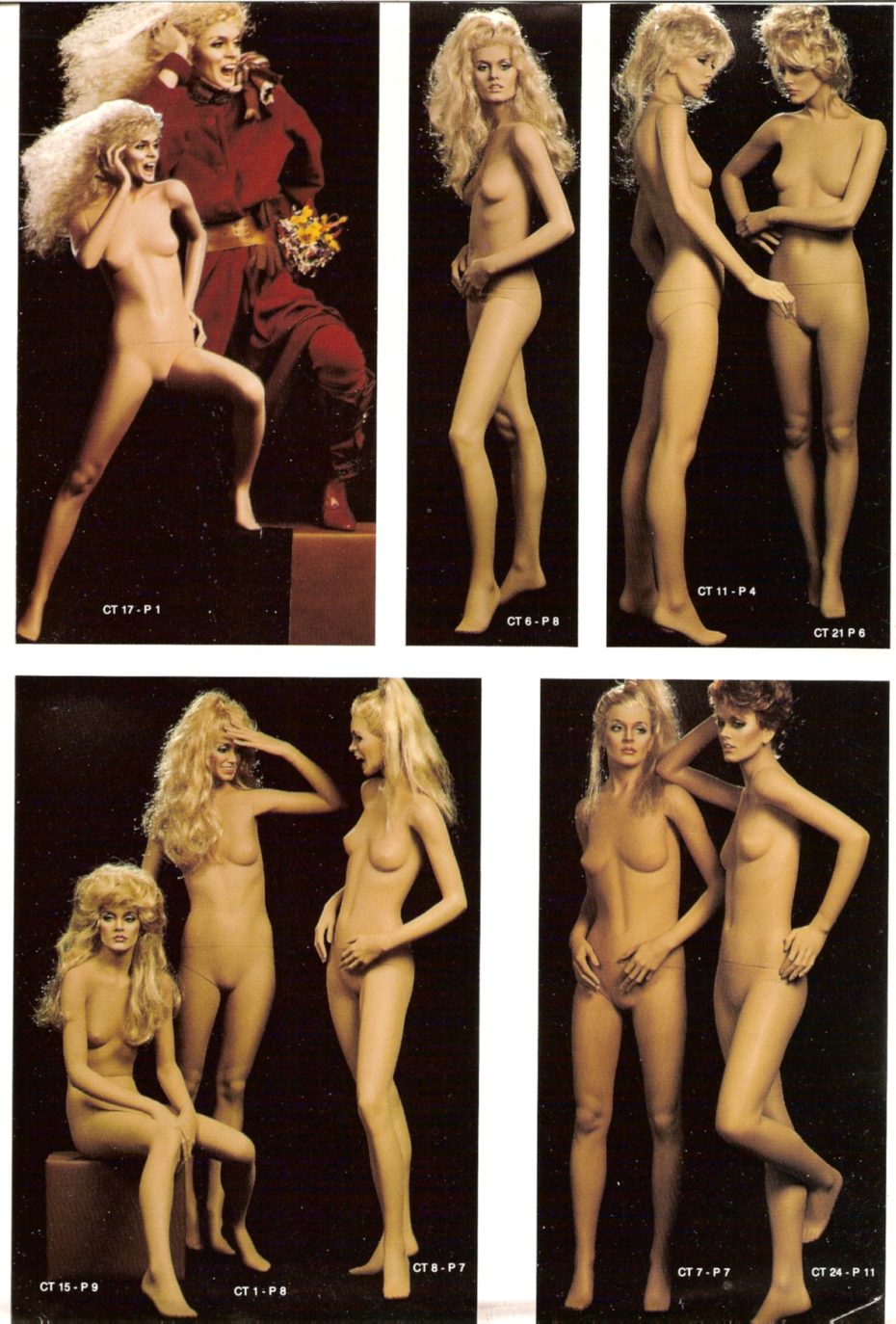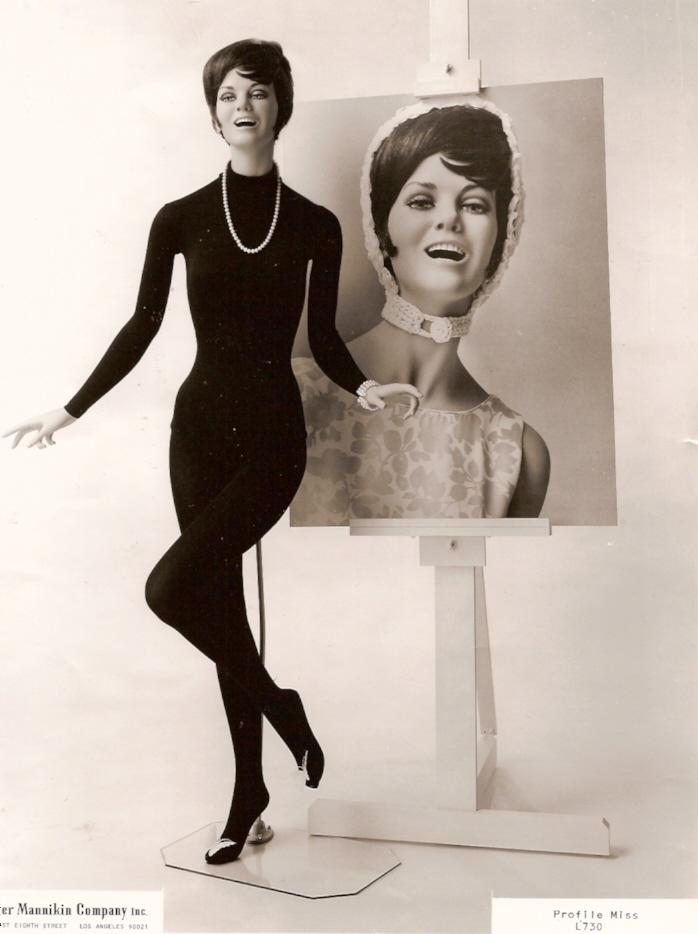 "This is from the Playgirls brochure from around 1978 -79," says Tom, who also points out that the girl on the left has a cigarette in-hand. No doubt ready to step out to Studio 54 or the Beverly Wilshire: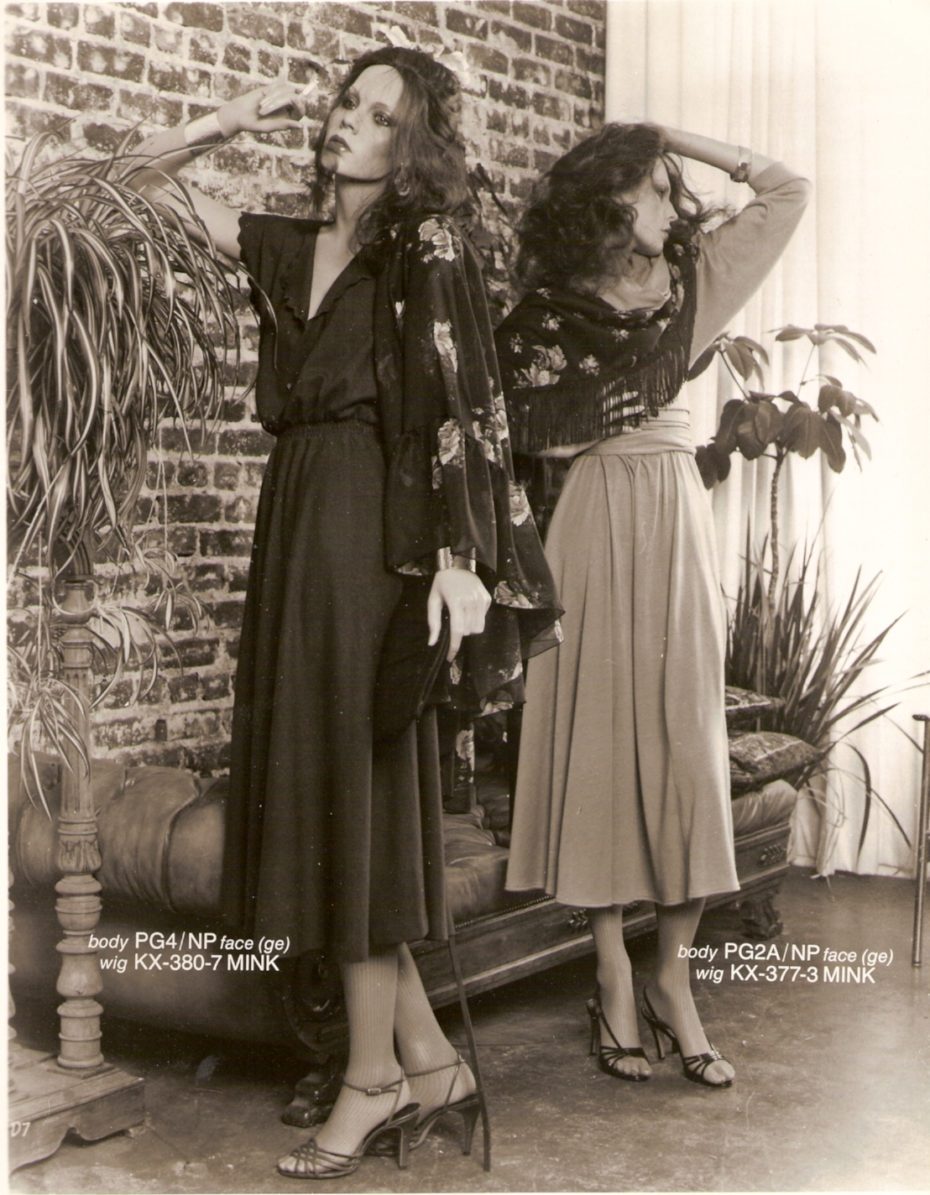 When it comes to these male "models", be warned, it gets creepy pretty quickly: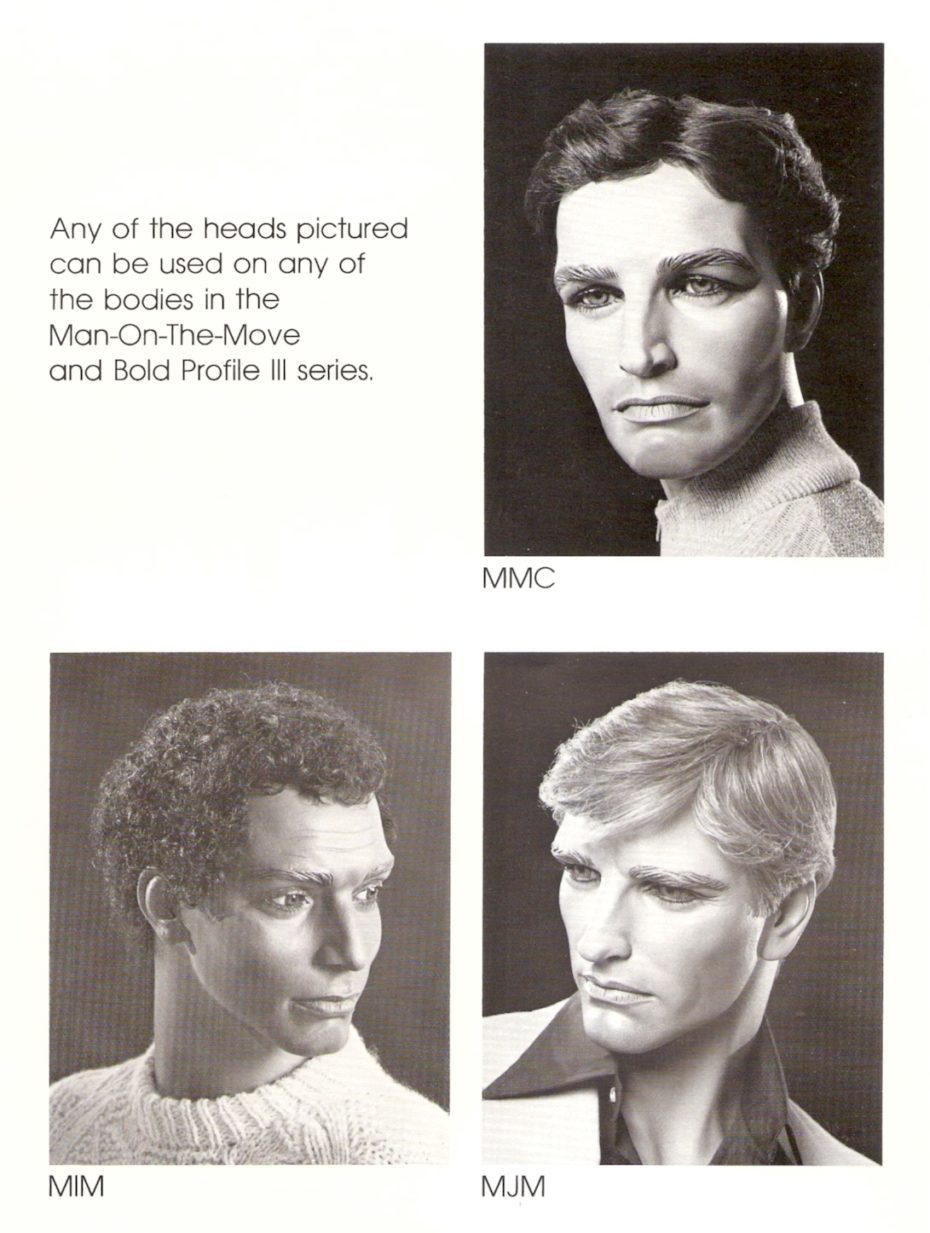 These are all mannequins from the late 1970s by a now-defunct company called Decter, which was the first mannequin company to make African American mannequins in 1967. Their detail was impressive, but in the early 90s, the mannequin industry went through a huge change and realistic mannequins got the boot in favour of more abstract, dressmaker forms. Many mannequin companies, including Decter went out of business.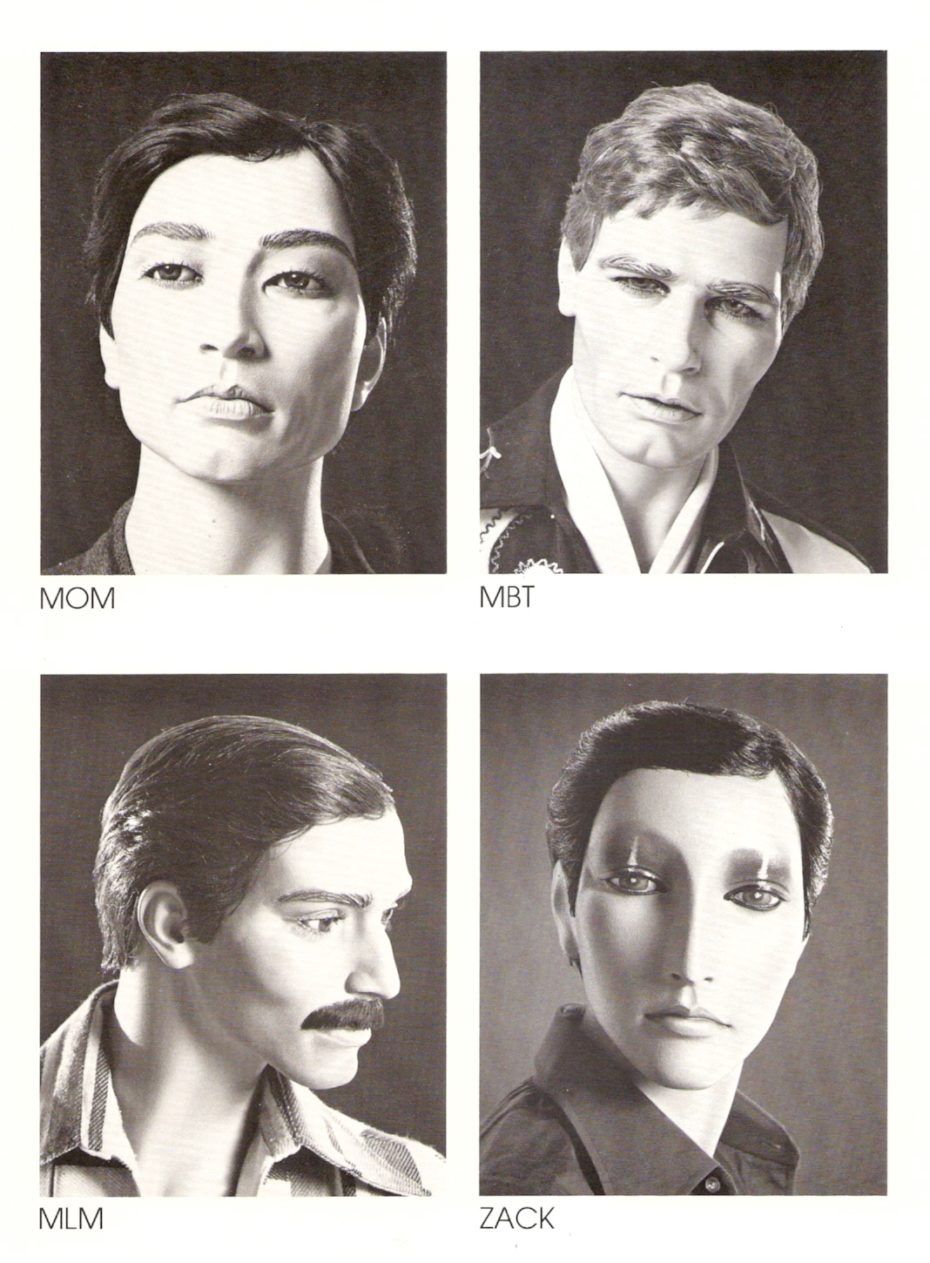 After being was sold a couple of times they're now part of Vaudeville mannequins, which has a diverse range of models you can browse (if you're into that kind of thing) here.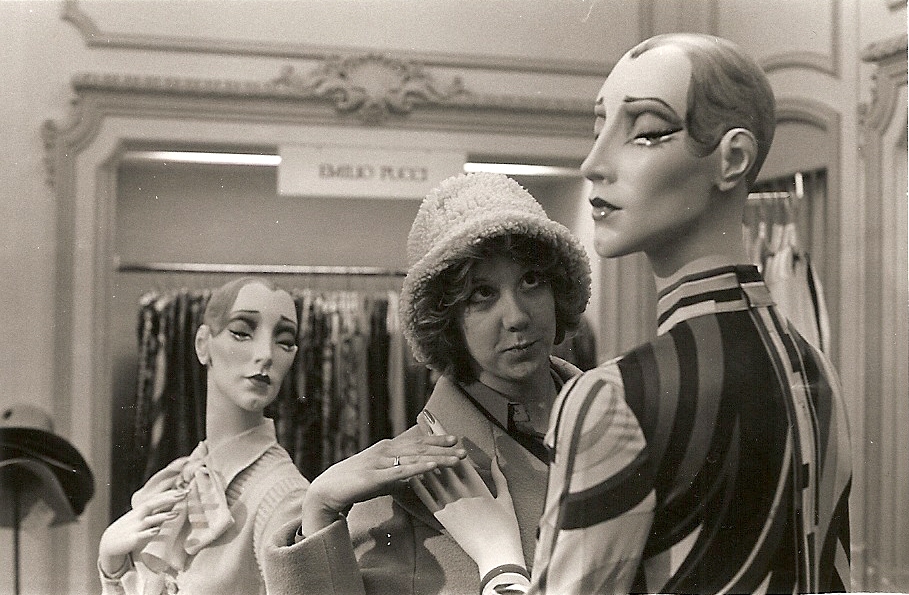 And before we draw the curtains, we'll leave you with this skit from "The Sonny and Cher Show", where Cher and Farah Fawcett play department store mannequins…