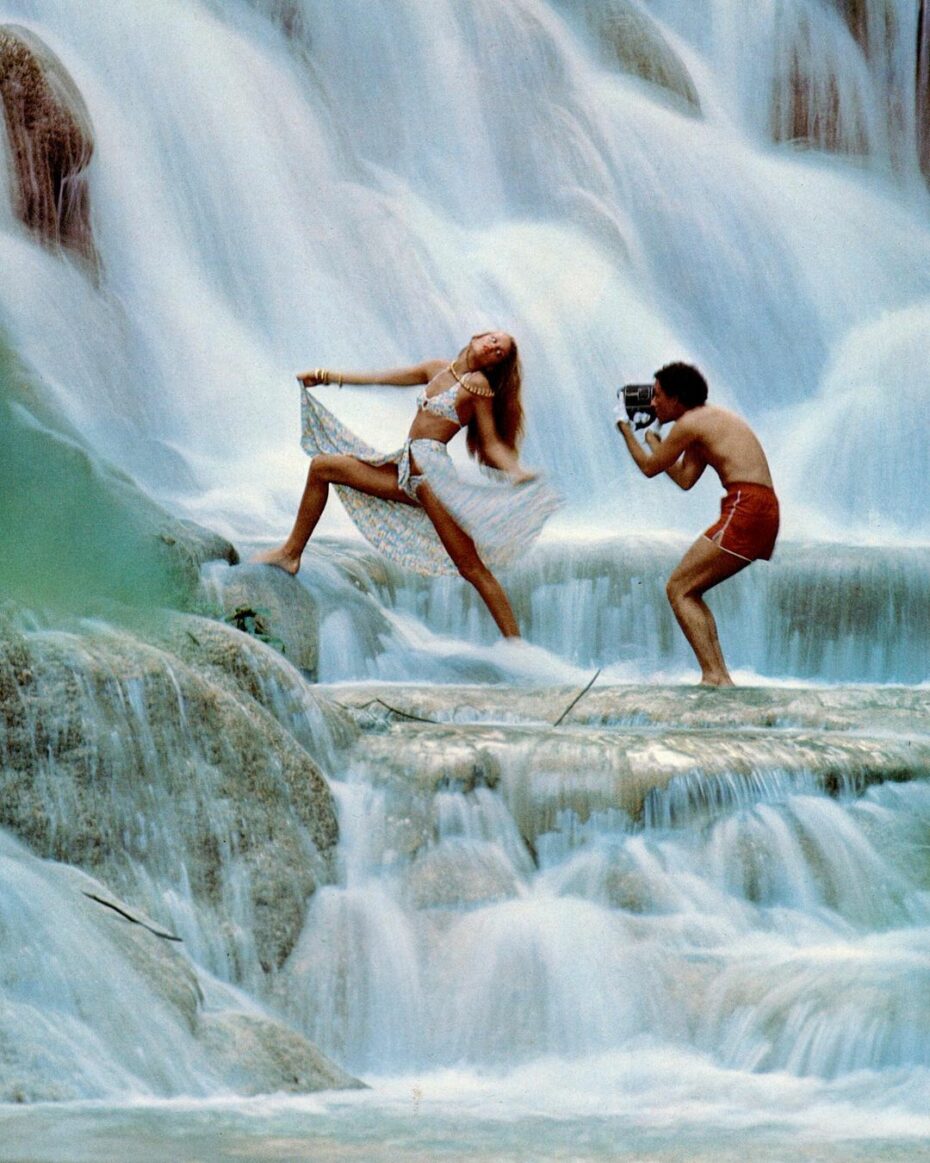 To be one of "Antonio's Girls", as they were known, meant you were going places. You had "it". Grace Jones, Jerry Hall, Tina Chow, Pate Cleveland and Jessica Lange are names that are much better known today than Antonio Lopez, but they were all key members of his unofficial talent school whose careers he launched into the fashion stratosphere. He is a figure with a fashion legacy to rival Andy Warhol's influence on pop culture, but the Puerto Rico-born creative mastermind seems to have gotten stuck behind the back of history's sofa lately. Fashion illustrator, designer of clothes, jewellery and textiles, conceptual window designer, stylist, photographer, performer, dancer, activist and night owl extraordinaire, Antonio Lopez gave the world his idealist view of the whimsical, of the fantastical, the ultra-sexy, glossed-up, uber-glam and somewhat rebellious new femme fatale, chiseled and sculpted, airbrushed and exaggerated to proportions not seen in the world outside queer publications before. Working in an era well before Steven Meisel and Mario Testino's style of crafted 'story-telling' fashion photography, Antonio Lopez revolutionised the way fashion was advertised.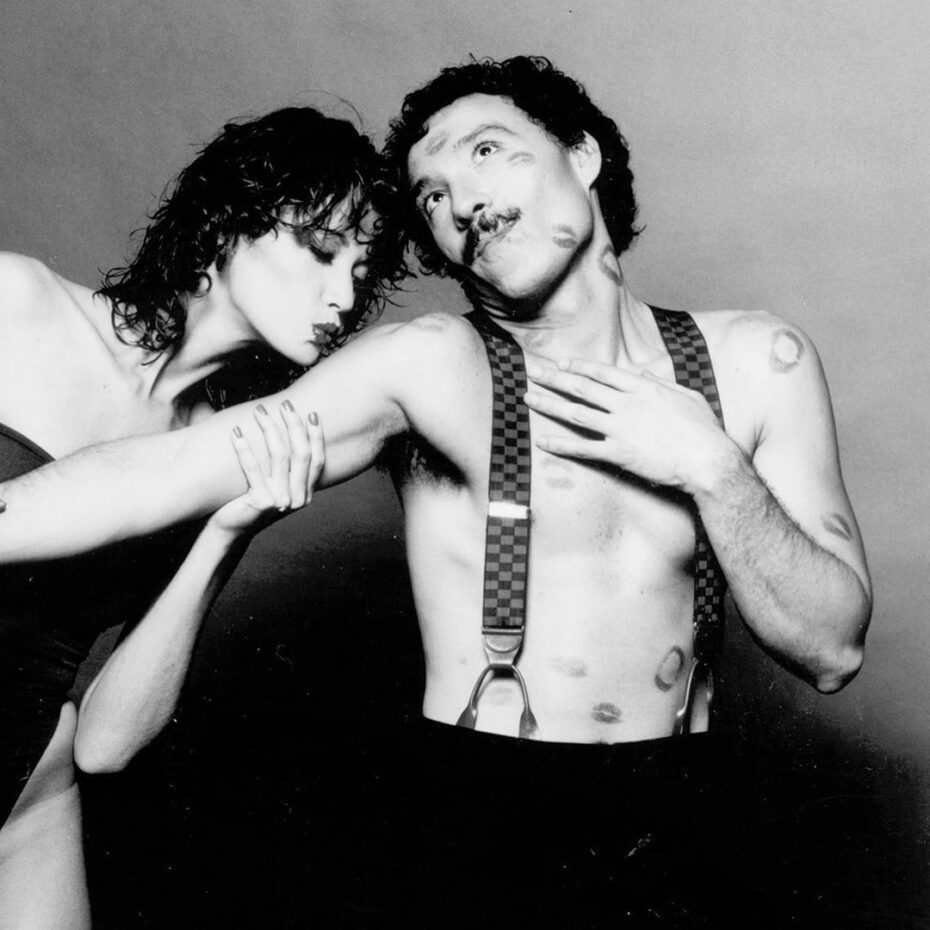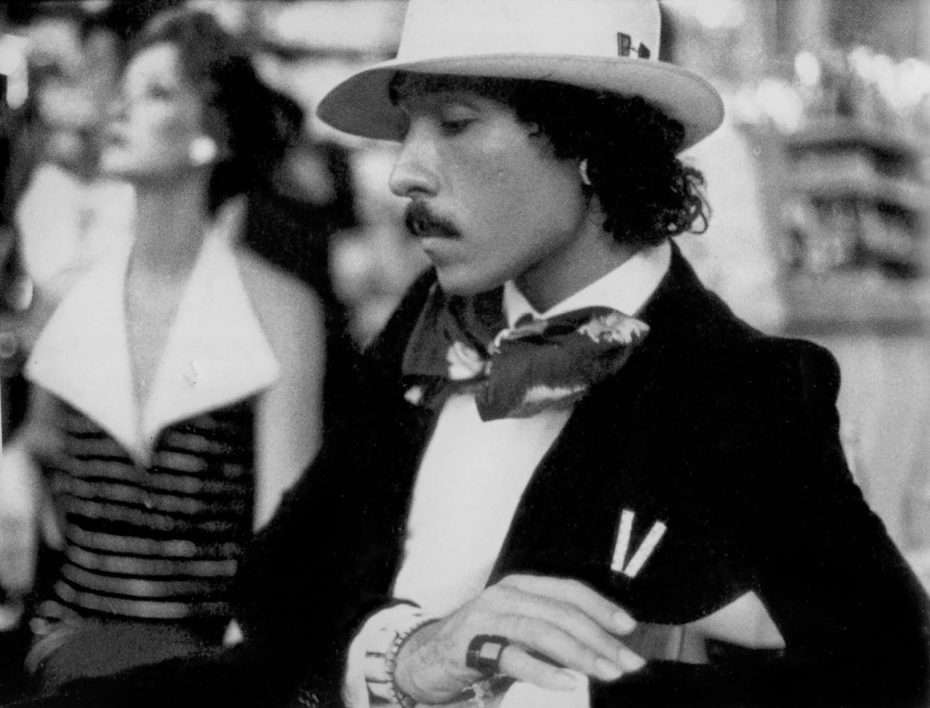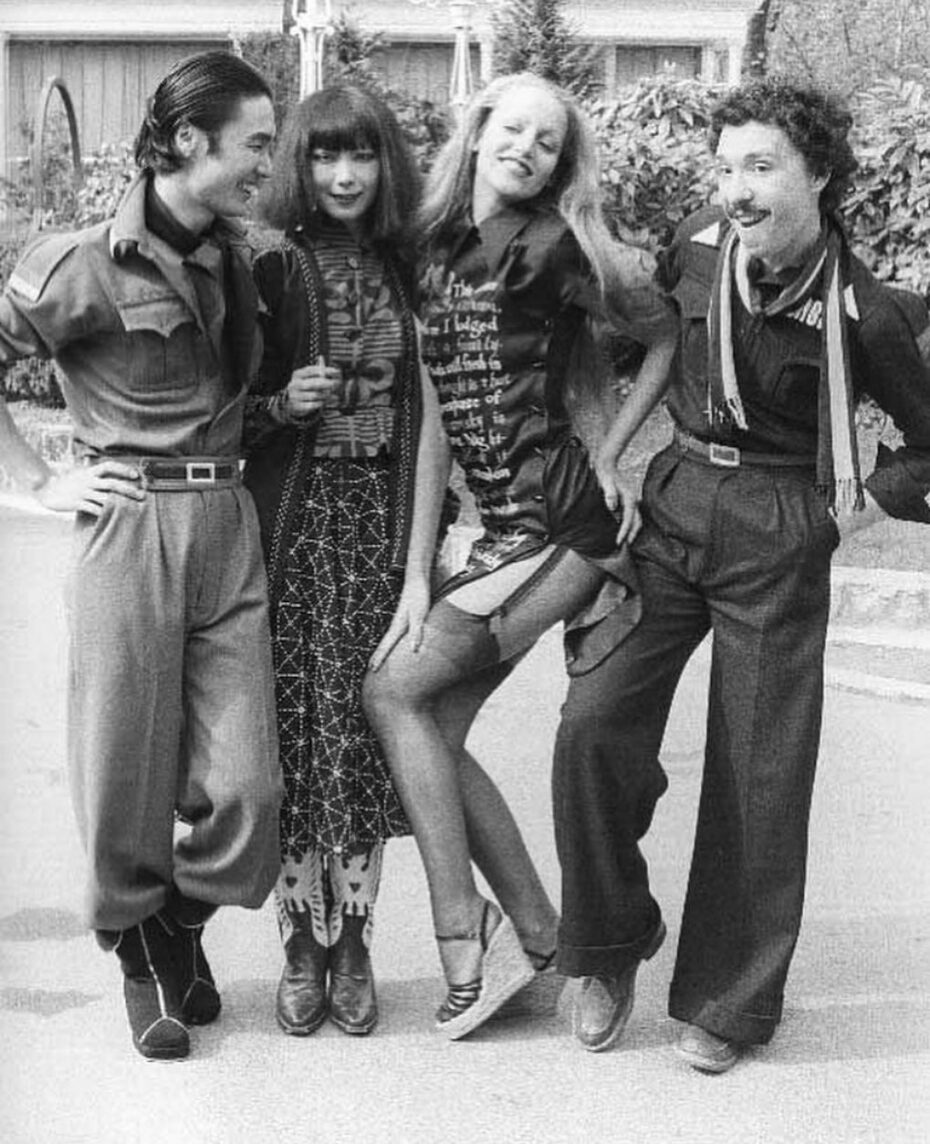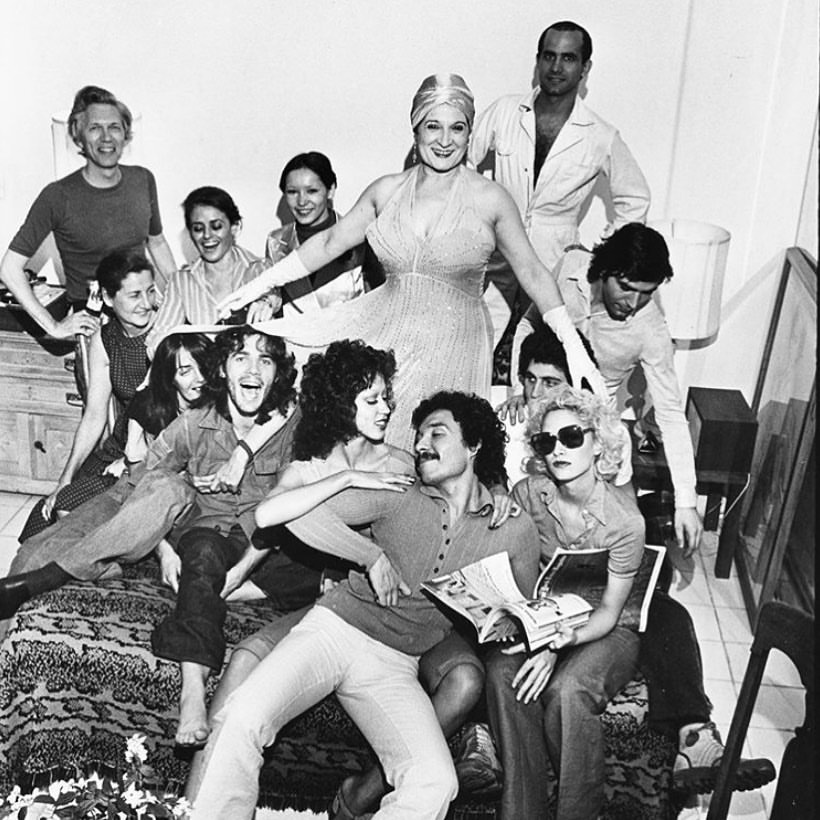 Immersed in the glossy and glam world of seedy New York disco; for Antonio, there was no pandering to the norms, just flesh and fantasy, gay and libertine fun. He was that cowboy artist, always sketching from the hip. With his apparently instant, intuitive and flamboyant, if somewhat kitsch style of drawing, he introduced movement, character and energy into fashion illustration, a far cry from the-then contemporary static, stylised and sanitised clothing presentation. Scribbled, scratched or polished, all Lopez' output has been used and treasured, indeed the immediacy of the dusty charcoal impressions are masterpieces in their own right. His style developed from late 60s muted and controlled flower-power illustration to his classic outrightly aggressive and explosive images in the early 80s.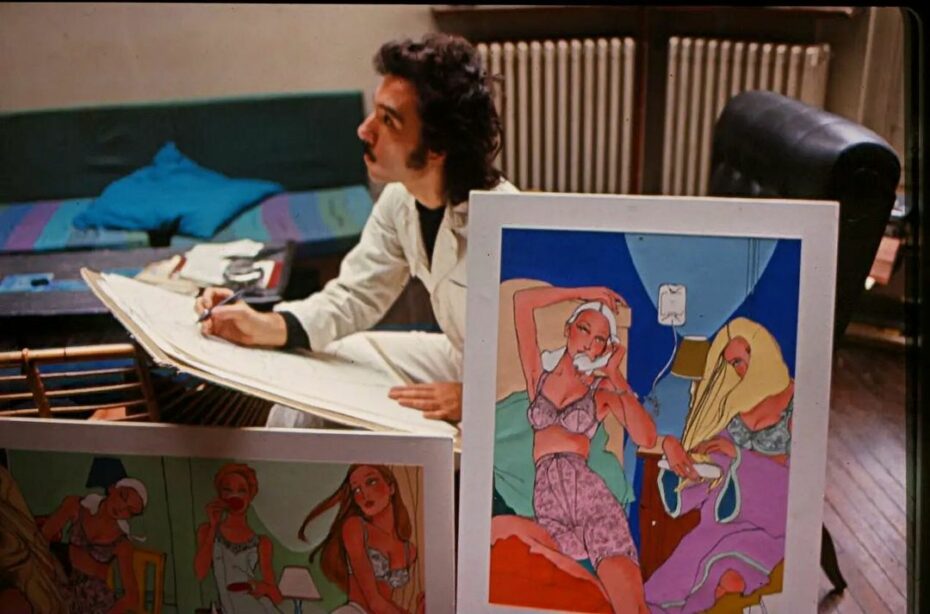 Born in 1943 in Puorto Rico, his short 44 years on the planet left an enviable yet overshadowed legacy to the world of fashion and beauty. As a 7-year old, his parents – his father a Stockman mannequin maker, his mother a seamstress – relocated to New York city, where he attended the High School of Art and Design, the Fashion Institute of Technology (from which he dropped out) and the Traphagen School of Fashion, all unmistakably pointing in one direction: a life in fashion. An internship at Womens Wear Daily and a freelance position at the New York Times propelled him in 1968 towards the eternal city of fashion: Paris.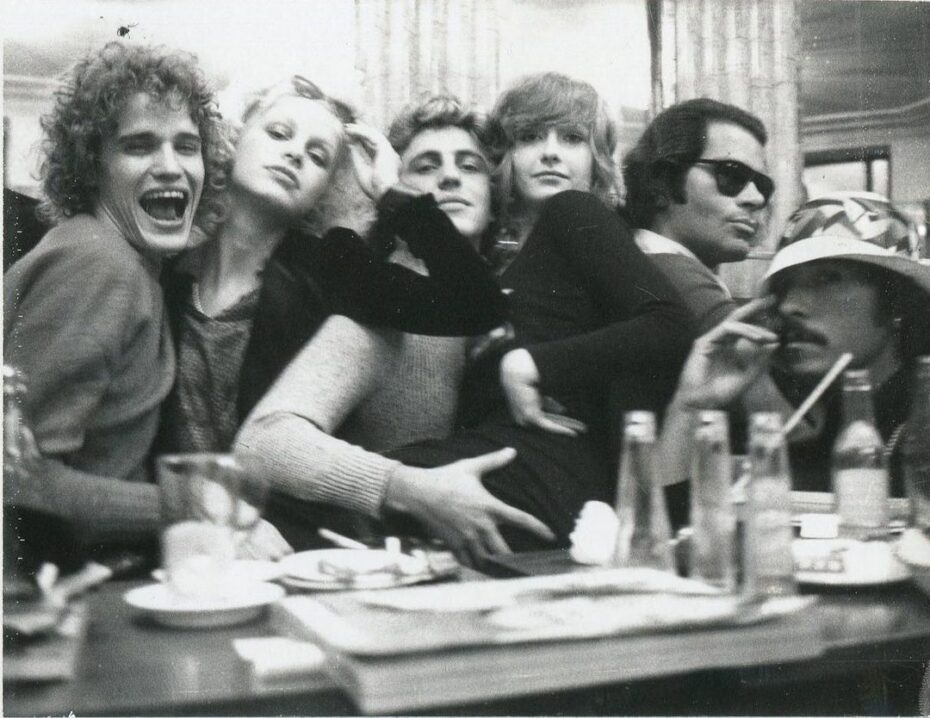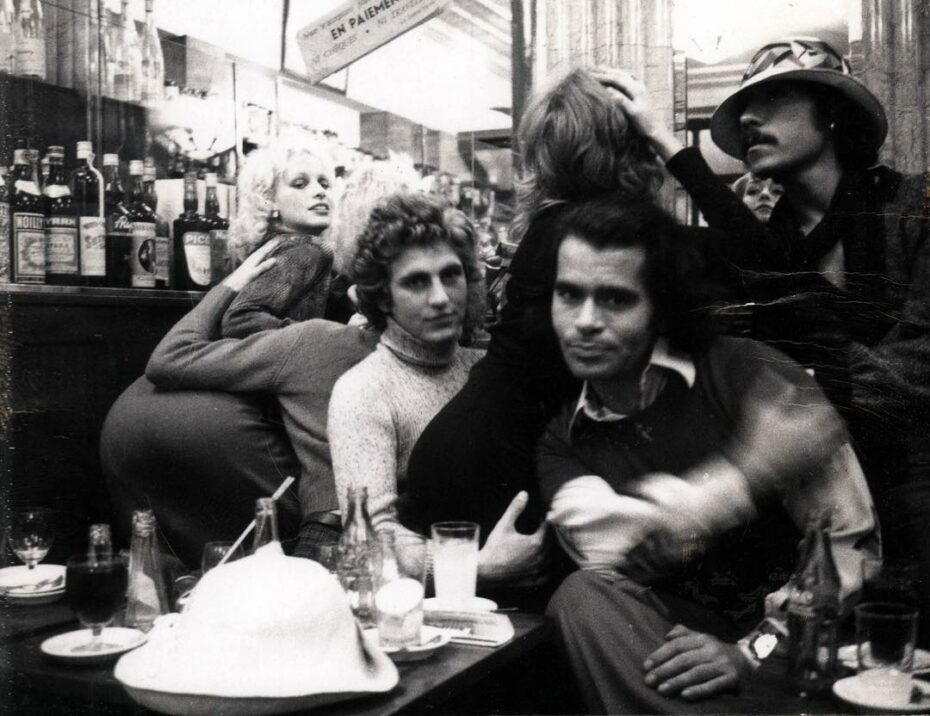 With his longtime collaborator, Juan Ramos, the duo arrived in Paris just in time to experience a European fashion renaissance. Women had gained increasing sexual freedom into the 70s and this was reflected in their fashion choices. The Swinging Sixties and its hand-crafted hippy fashion had evolved into punk, at the same time a sophisticated boutique scene (think Biba), affordable diffusion lines and ready-to-wear fashion produced from synthetic fabrics (in what became known as the 'Polyester Decade'), was giving women the fashion options they've not had in the past.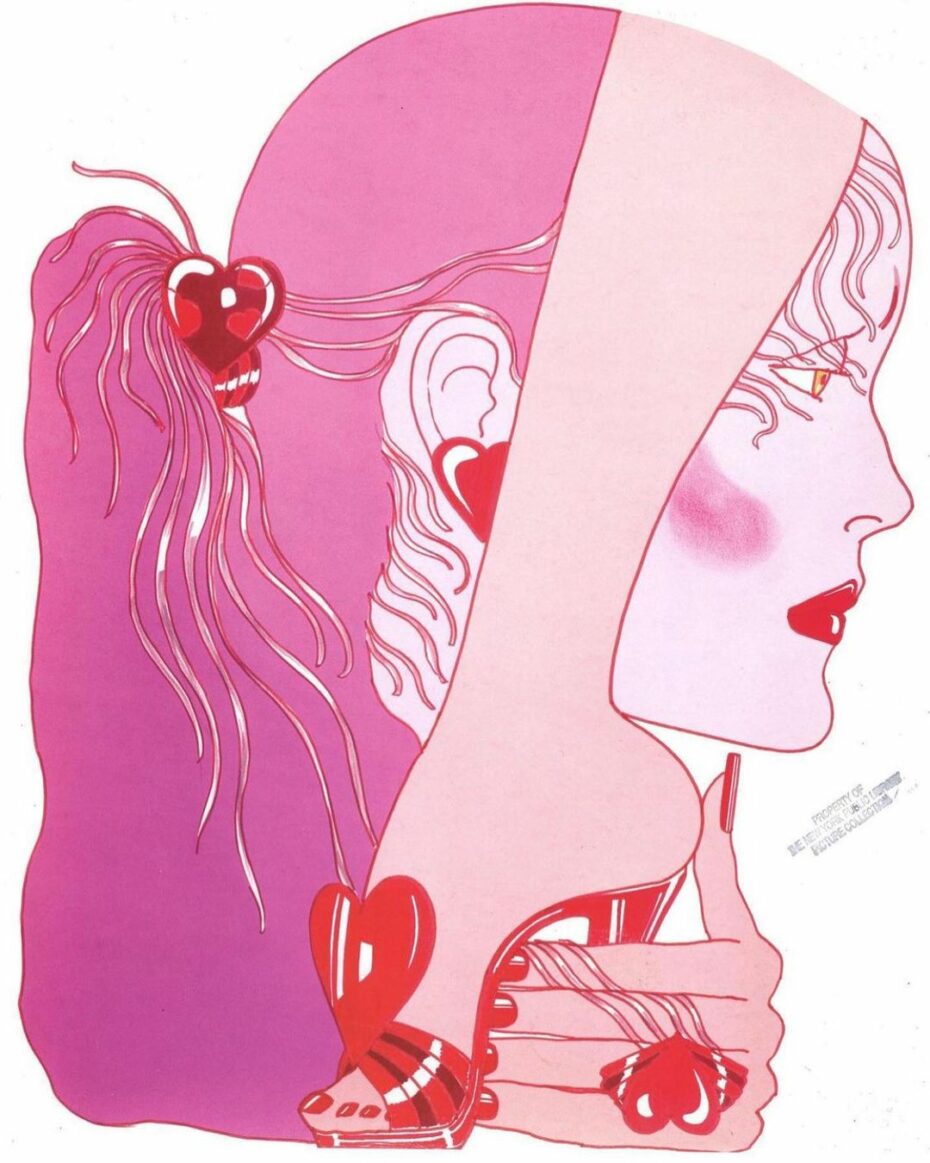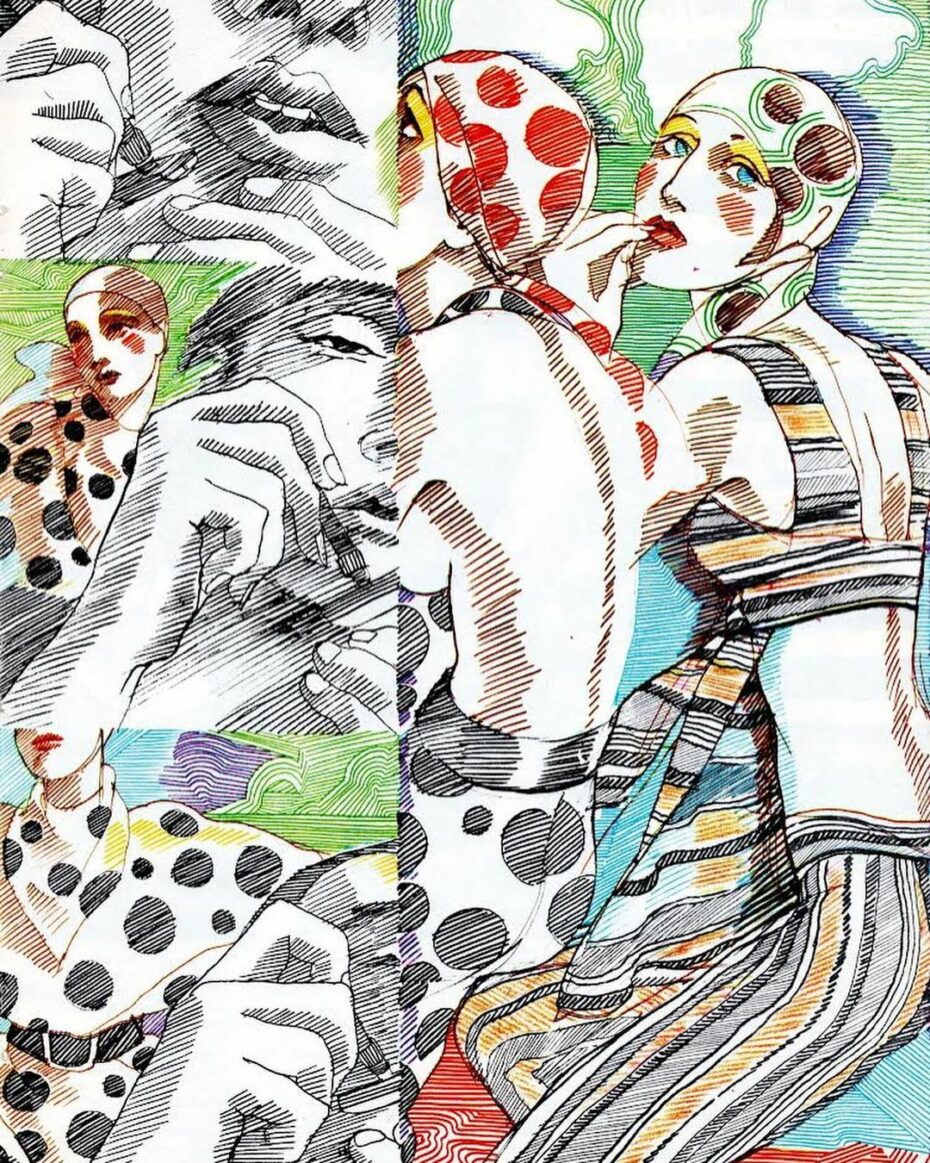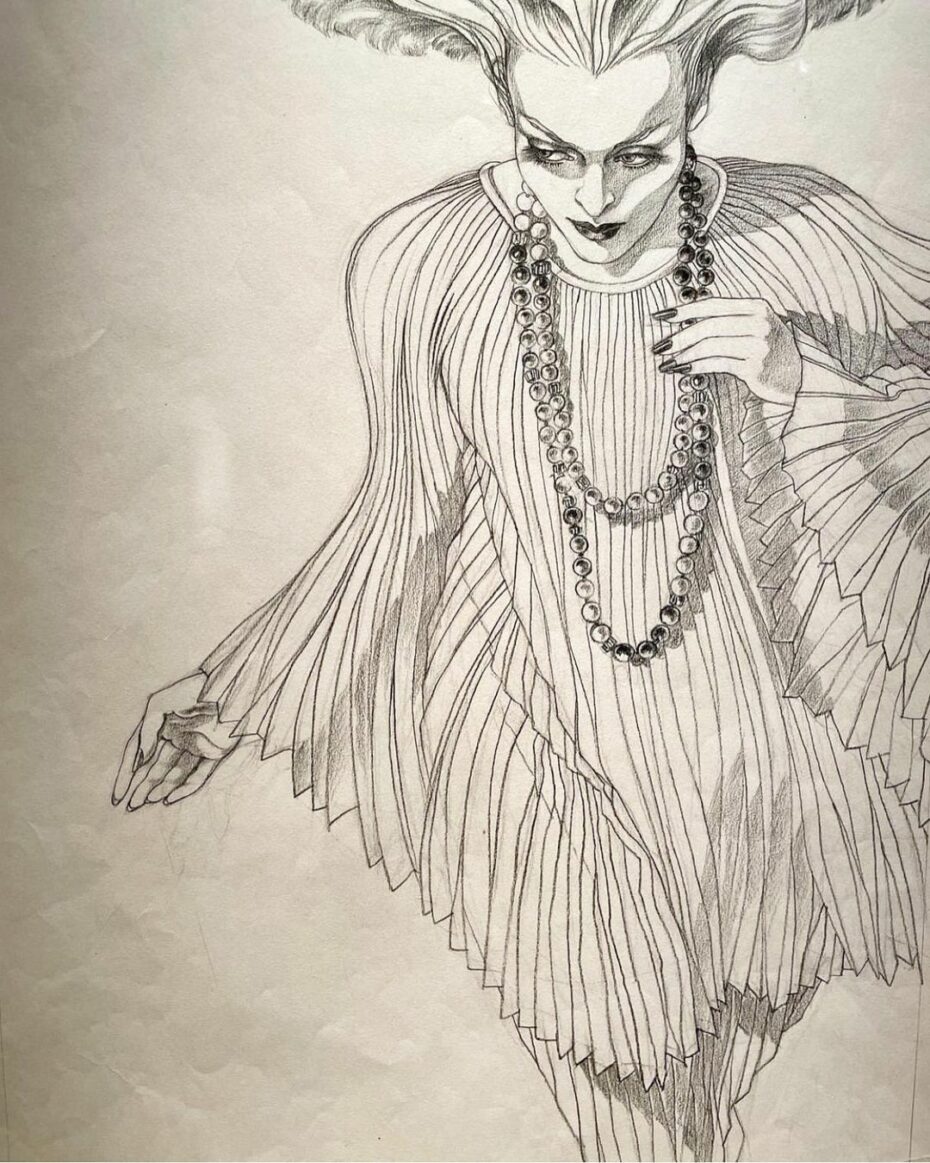 In parallel to this, the frenzied, glamorous disco scene demanded flashy, sparkly partywear, flirty figure-hugging latex and shimmering sequined bodysuits that oozed sex appeal on the dance floor. Lopez and Ramos would seize this exhilarating pop scene, perfectly document its zeitgeist in their photographs, styling and illustrations, putting their own flashy spin on every aspect of it. In more ways than one, they were the ultimate and original 'fashion influencers' of the day.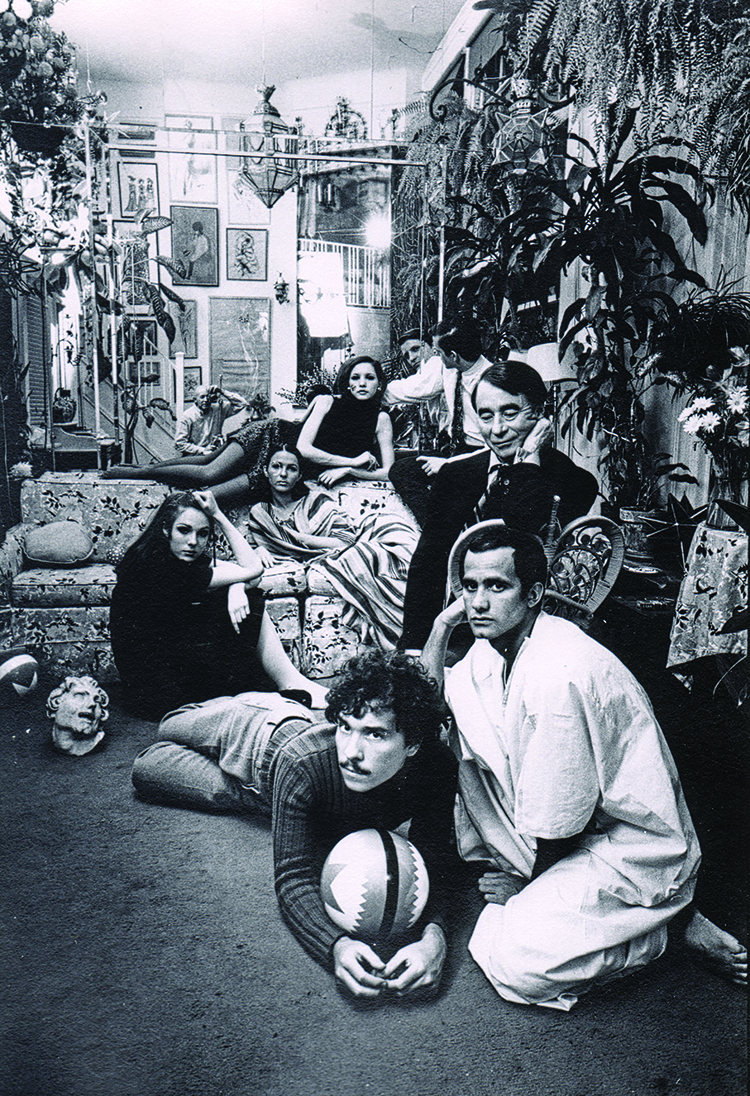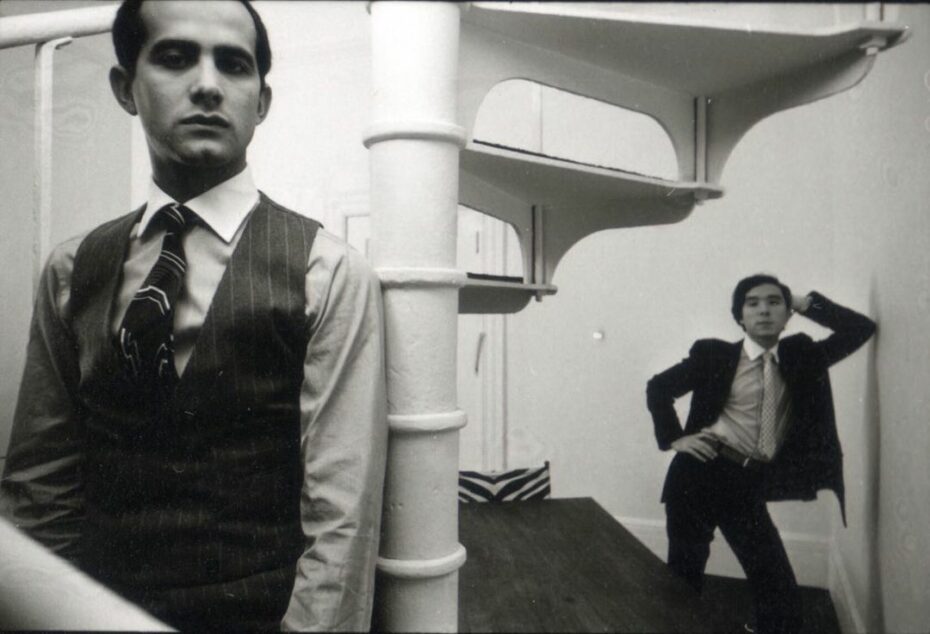 Together with his partner in romance, Juan Ramos, a likeminded creative spirit and perhaps the more cerebral contingent of this unbeatable duo, he encountered Kaiser Karl (Lagerfeld) who instantly spotted a potential synergy and collaboration. Europe in the 70s, especially Paris, let Antonio Lopez engage with all that was festering under the crust of a decaying 60's idealism.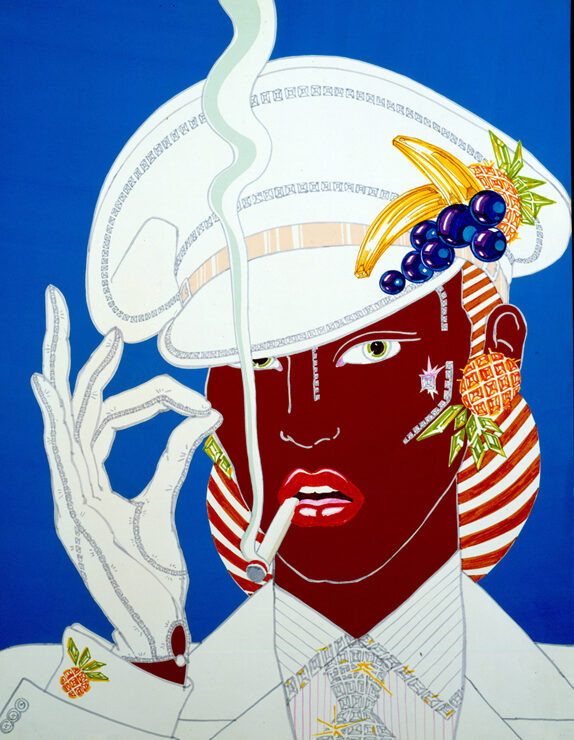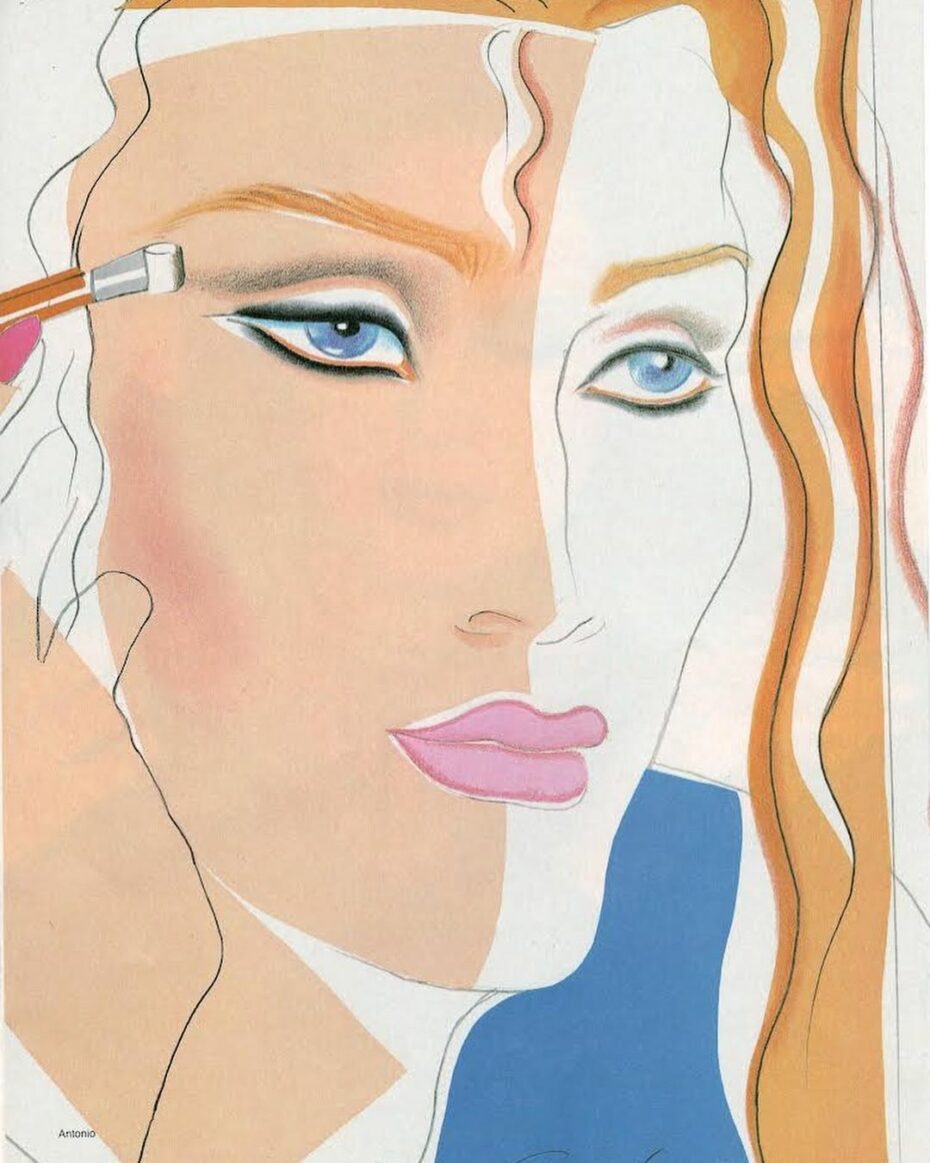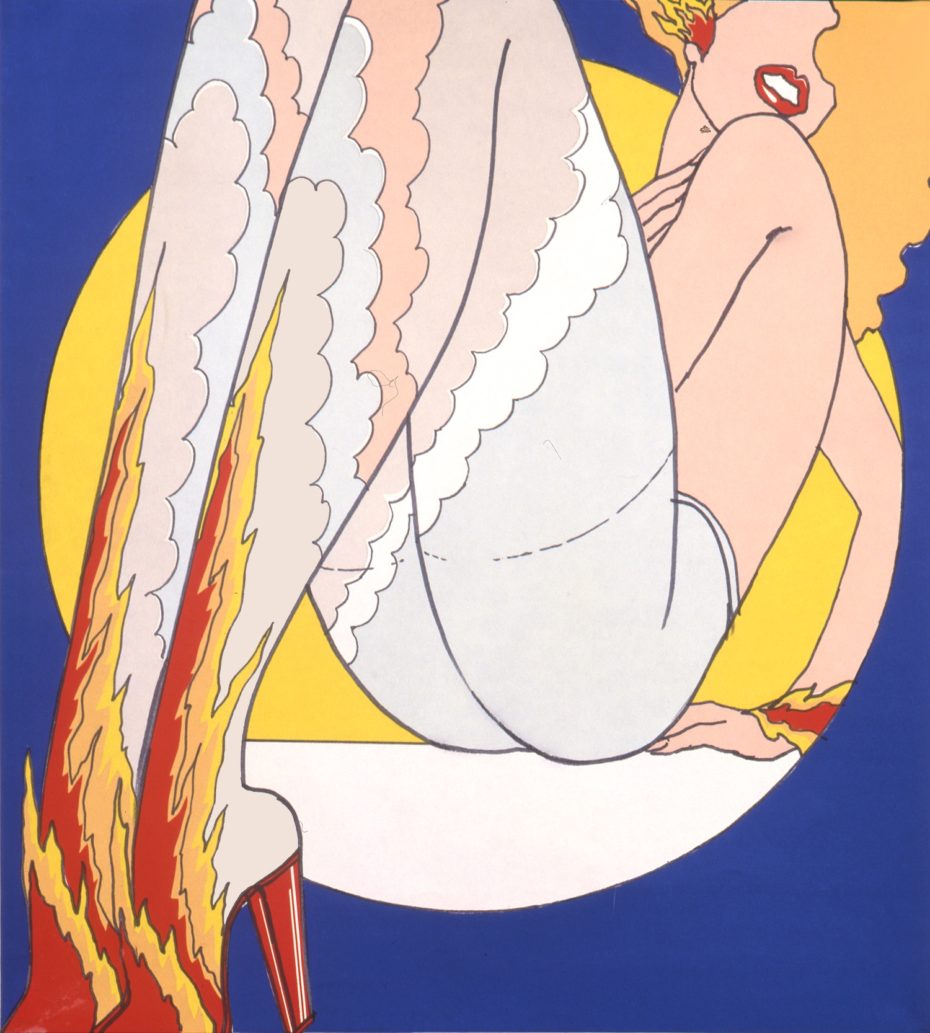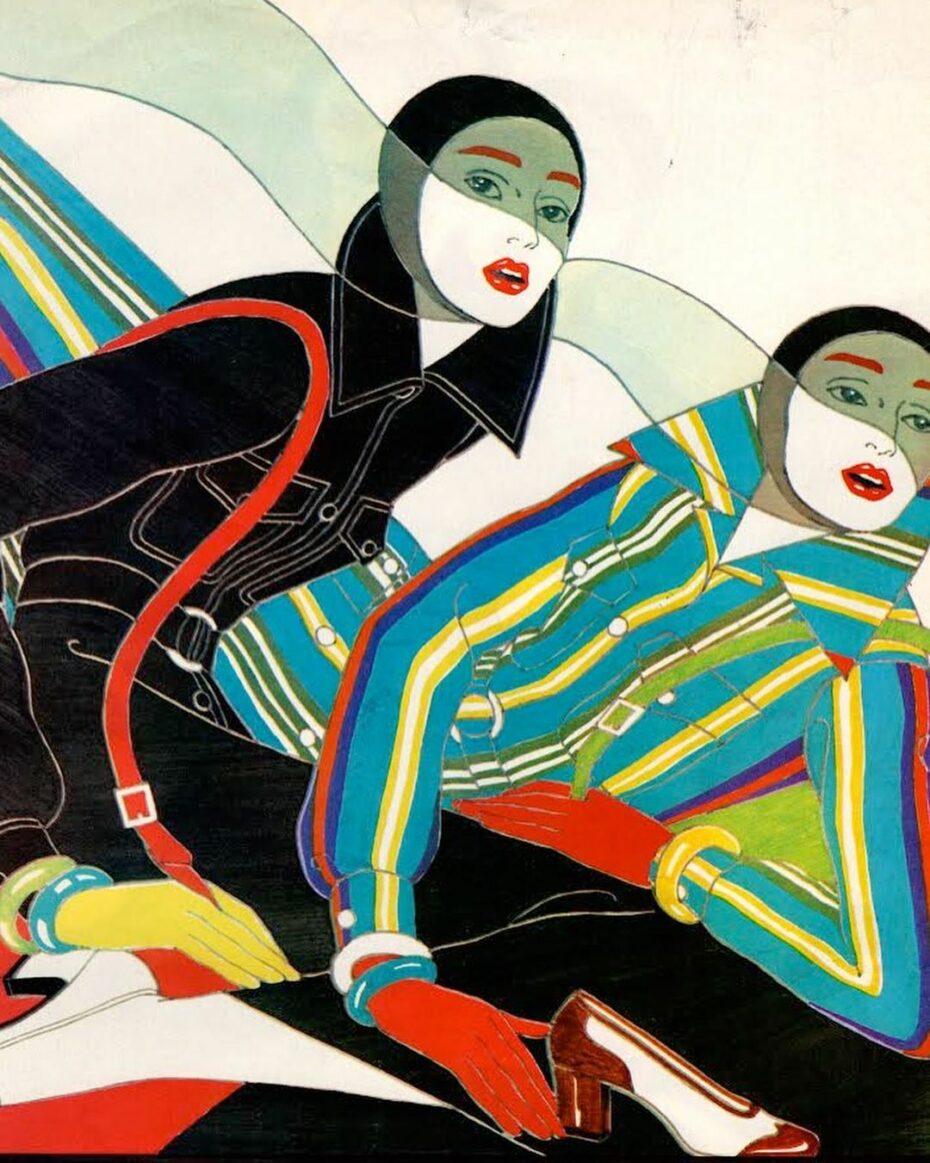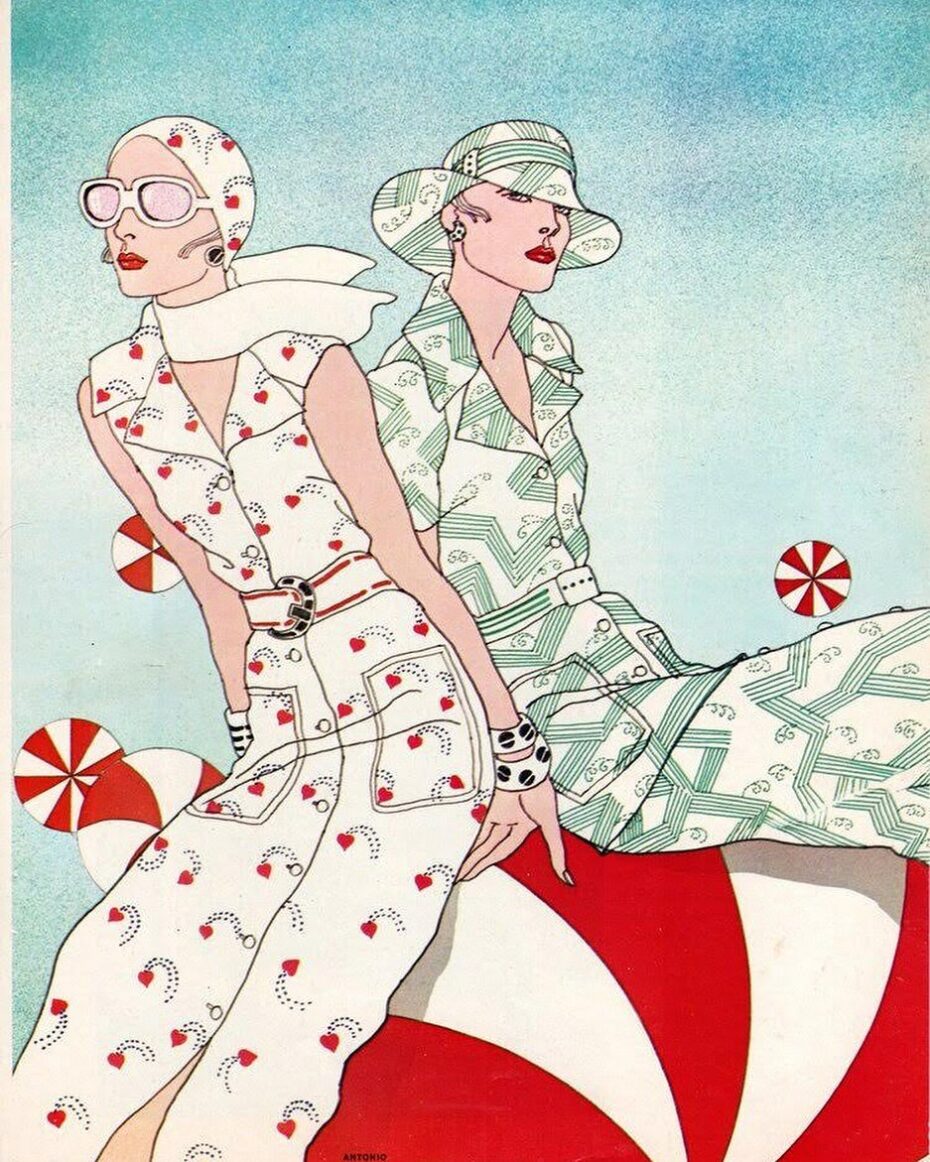 Punk and plastic, fetish and fun; an alternative trash culture took a lead from Egon Schiele's twisted and erotic expressionism. Warhol, a decade earlier, had rebadged art as a mass product. Lopez would use his art as an energised packaging for fashion; no punches pulled, erotic and sensuous, all tastes catered for. Flamboyant, dynamic and demanding, whether in ink, paint or pencil, Lopez' figures both leap out of their clothes and from the page.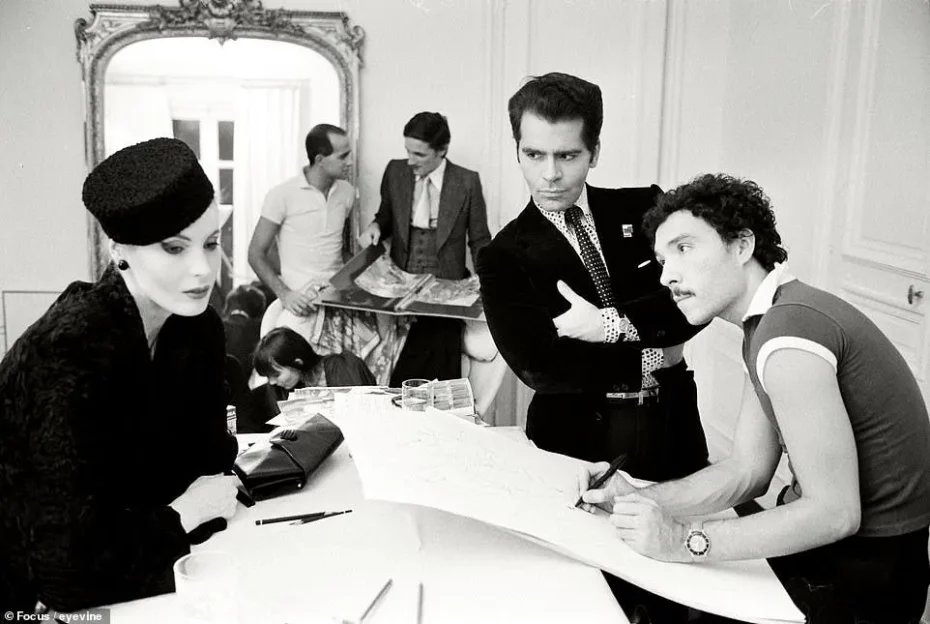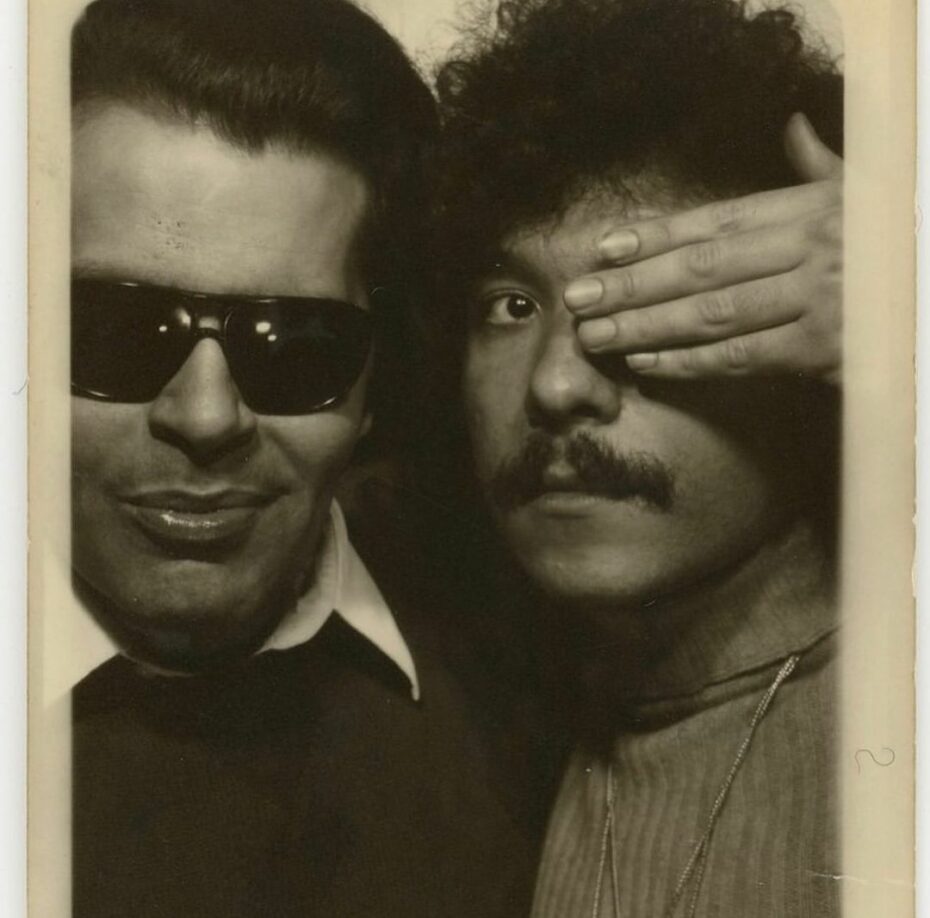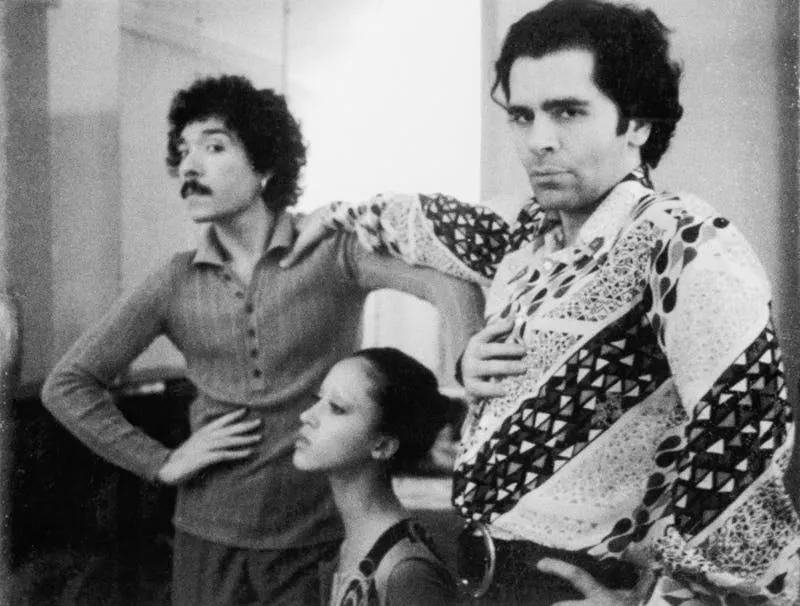 For seven years, Lopez and Lagerfeld ran an exclusive Paris salon for fashion personalities and models, presenting workshops, with his American pop culture rubbing off on the French. Together with Juan Ramos, who had a key interest in art history, the duo continued to overtly explore themes of gender and racial awareness in their work in a way that was unheard of in the fashion industry to that point.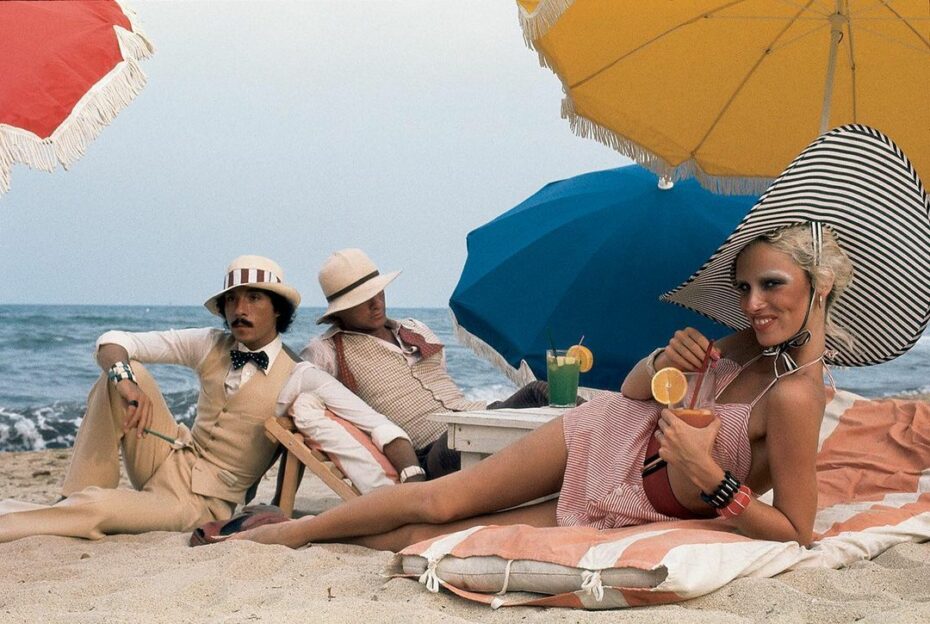 Apart from Antonio Lopez's immeasurable influence on the fashion media, he also had an uncanny eye for sniffing out new talent, in particular young models who'd become known as 'Antonio's Girls'; the likes of Jessica Lange in 1974, Texan Jerry Hall, Pat Cleveland, the statuesque Grace Jones and style icon Tina Chow.
Lopez and Ramos deliberately championed and showcased women of colour – most notably Carol LaBrie, Amina Warsuma, Pat Cleveland and Alva Chinn, and were continuously drawn to 'unconventional' beauty like the 'Warhol superstars'; an eyebrow-less Jane Forth and gap-toothed Donna Jordan, constantly challenging the status quo of the day.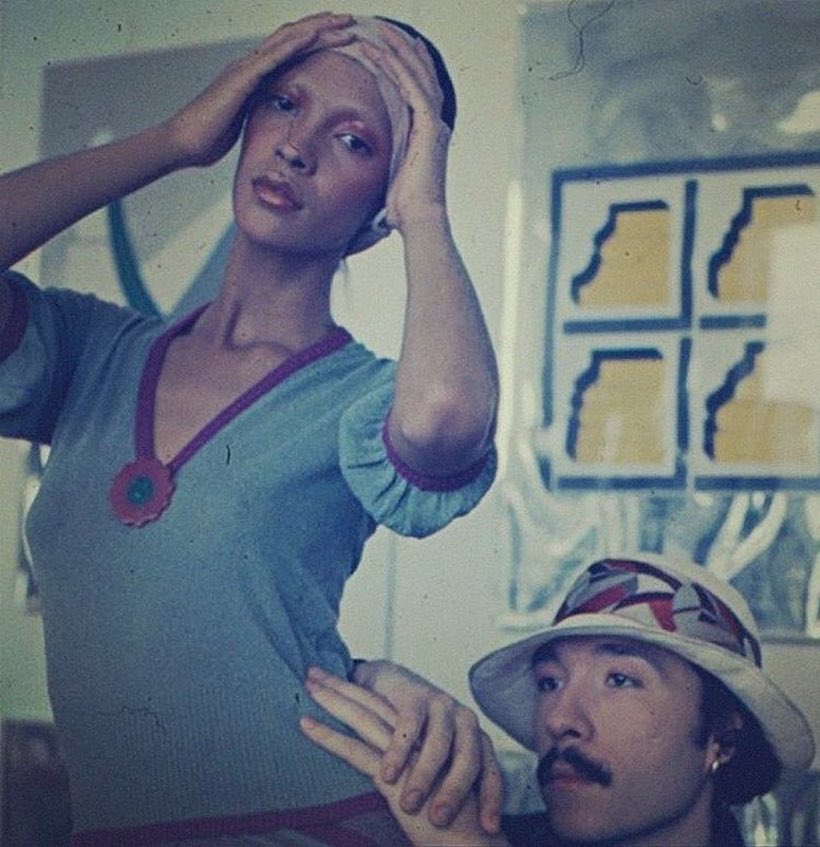 "Antonio was an innovator. If you weren't considered the standard beauty, he would make you beautiful through his eyes because that is how he saw you … There was never a dull moment with Antonio, even though he might have seemed shy and quiet when he was drawing. But, oh boy, when he danced. There wasn't a person in Club Sept in Paris who didn't want to dance with him … Antonio was fun to be with. He just loved people."

—Pat Cleveland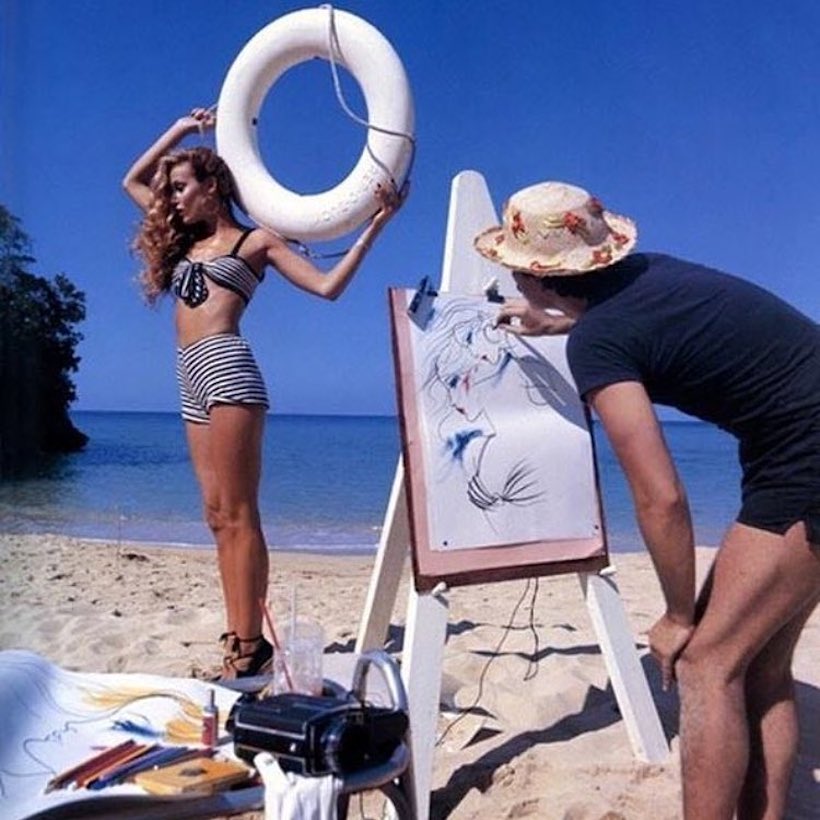 Lopez migrated towards muses with otherworldly proportions like Grace Jones and Jerry Hall, and managed to further amplify and glamorise their already inimitable features to levels that most women could only dream of and men salivated over. With Lopez an instrumental force on the seventies' fashion scene, his vamp queens would reign on the covers of Vogue, Women's Wear Daily, Harpers Bazaar, New York Times and Interview.
"Antonio lived in the future and loved anything new. He predicted the break-dancing craze in 1973 when he took up an interest in street mime artists in Paris. He adored movement and felt that fashion illustration, art, and photography needed to move across the page. He was daring in his creativity. He wore white gloves with swim trunks in the photos we did for British Vogue in 1974—way before Michael Jackson. He made women look beautiful and he taught me so much about makeup and posing. He was adored by Andy Warhol, Salvador Dalí, and Helmut Newton and many of the artists of our time. He inspired everyone around him."

—Jerry Hall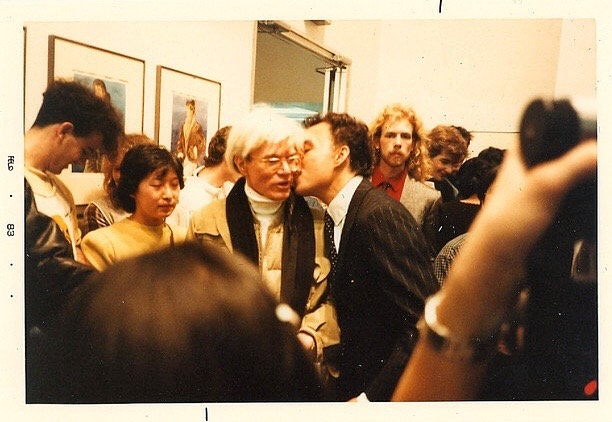 As for Antonio Lopez' private life, it was no less legendary. With his brooding dark and hansome looks and never-ending energy, he was sexy and appealed to both men and women, his work influenced by his sexuality and vice versa. He was open about his bisexuality, "a total playboy" and most of his muses, Jerry Hall included, were head over heels in love with him.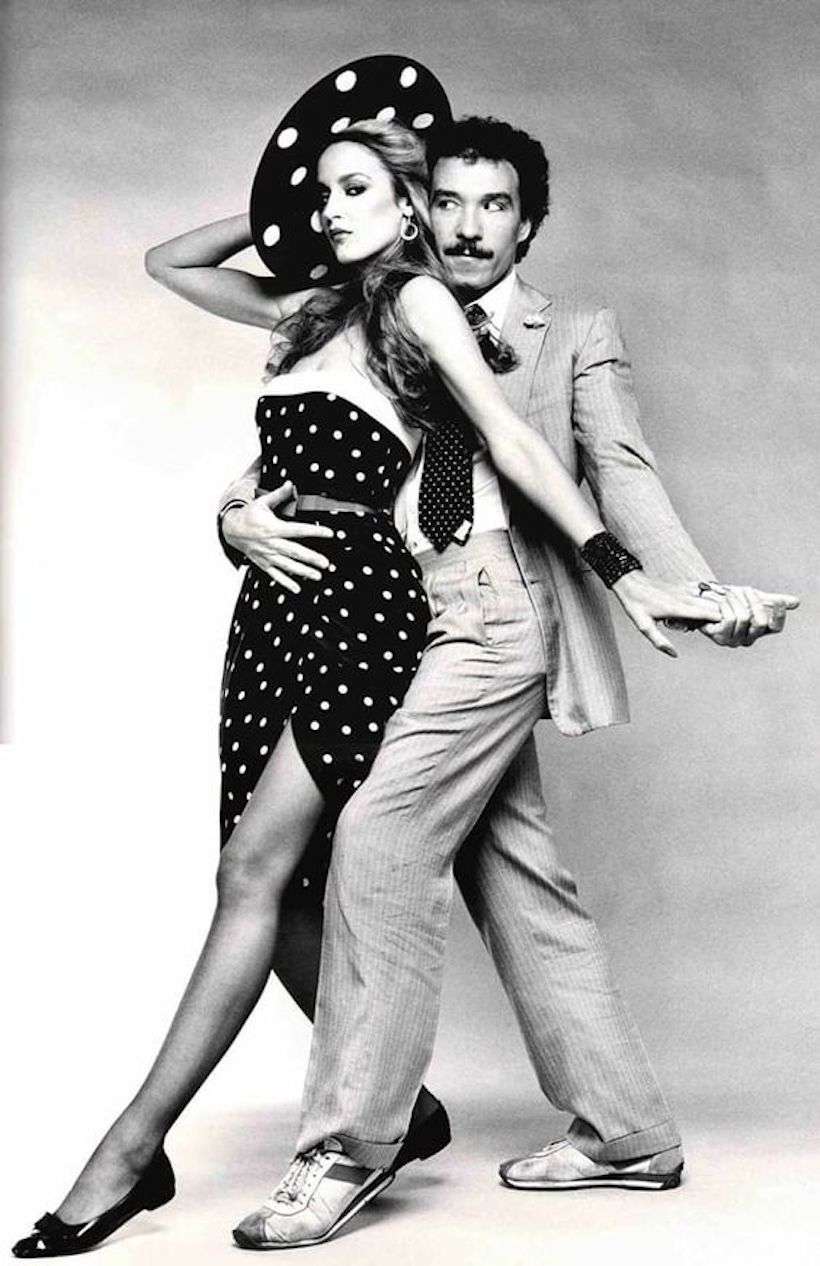 Moreover, he was smart, chic and talented – a combination of traits that made people naturally congregate towards him. Like the 'rival' Warhol and his groupies, armed with his polaroid, Antonio Lopez toured the famous clubs, from New York's Studio 54 to Paris' Le Sept flanked by 'It' girls, Grace Jones, Jessica Lange and Donna Jordan. They were truly the superstars of the day – a pack of glamorous, emancipated characters, pushing the boundaries of fashion and revolutionising the role of the media.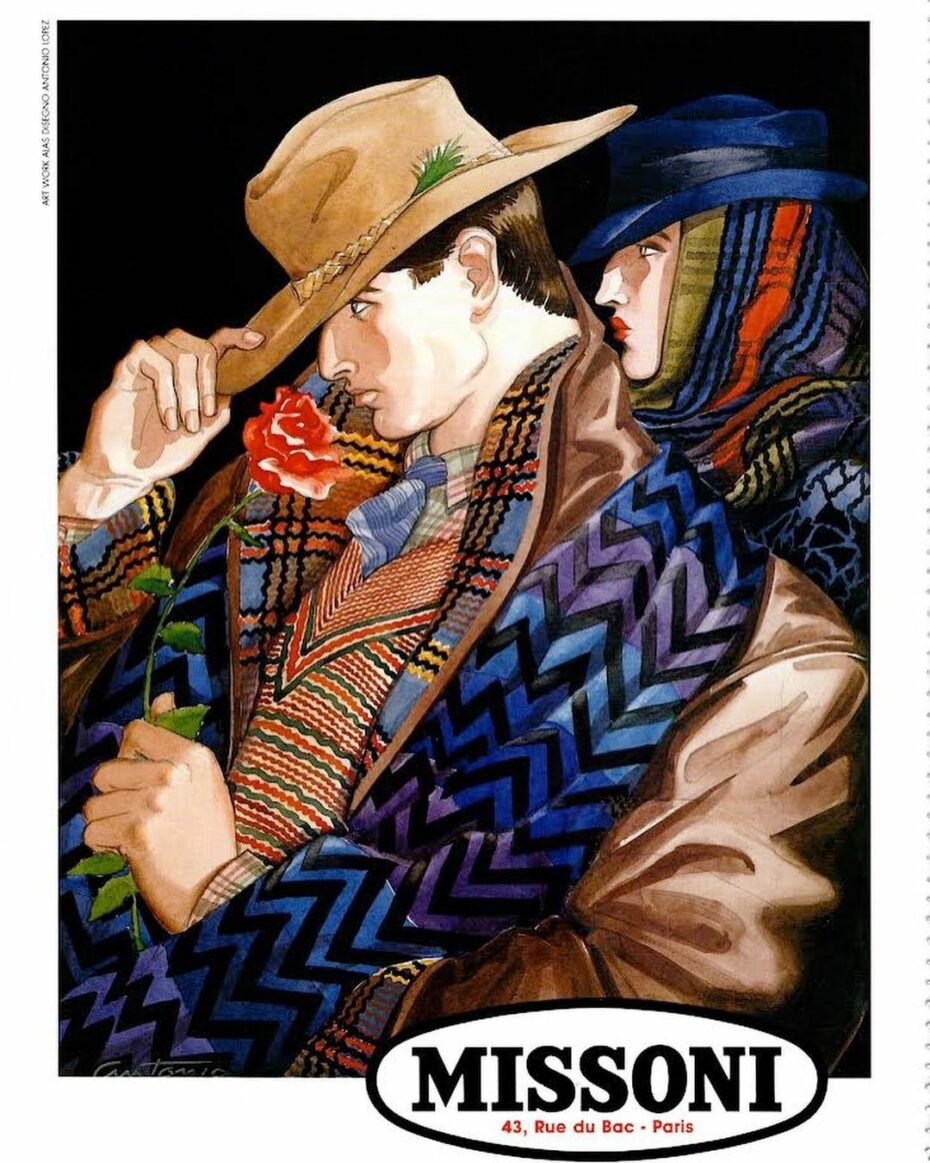 In the 1980s, Lopez' drawings of the human body personified his legendary rhythm, queer desire and phenomenal energy. These works are exquisitely apt and detailed, stylized and fun, and after years of working in fashion and drawing the human body clothed, these were a refreshing new direction. In the last decade of his life he started to devote his life to education, teaching fashion illustration to students.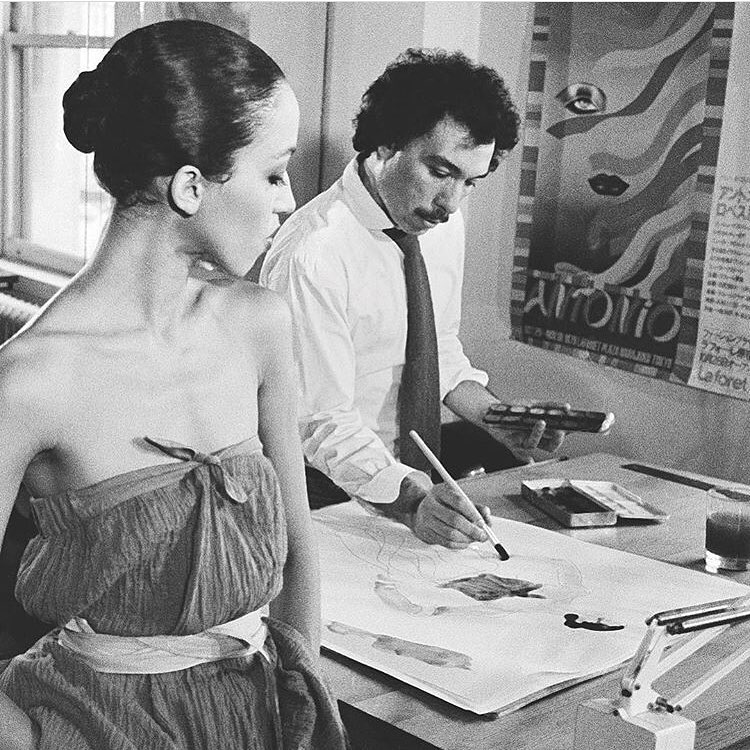 Today the Antonio Lopez Society (its president is painter Paul Caranicas, a life-long friend of both Lopez and Ramos) uses the funds raised by Lopez's exhibitions towards AIDS research. Lopez died from AIDS in 1987 at the age of 44. Too young. "He was a long time at the top, top, top in fashion," said Grace Coddington,"and would be still had he not died." His influence on fashion still speaks to the industry well after his death: designer Anna Sui cited Lopez as the inspiration behind her Spring Summer 2012 collection, similarly so Chloe's Fall 2009 collection and Suneet Varma's 2010 'The Pirates of Couture' collection. Antonio's Tales From the Thousand and One Nights, published in 1985 was the inspiration for Marc Jacobs' 2007 Arabian Nights collection. Kim Jones at Fendi celebrated the life of Antonio Lopez with their recent pop art-inspired Spring Summer 2022 collection.
A book (and also a film) Antonio Lopez: Fashion, Art, Sex, & Disco by Roger and Mauricio Padilha (foreword by Andre Leon Talley and epilogue by designer Anna Sui) was published in September 2012. In 2013, MAC cosmetics dedicated a campaign to Lopez featuring 'Lopez' girls' Jerry Hall, Pat Cleveland and Marisa Berenson. In 2016 Antonio Lopez: Future Funk Fashion opened in New York city at El Museo del Barrio. Manga artist Hirohiko Araki uses Lopez' work as inspiration, so much so that the design of the key protagonist Giorno Giovanna in JoJo's Bizarre Adventure, is based on a design Lopez did for a cover of the New York Times.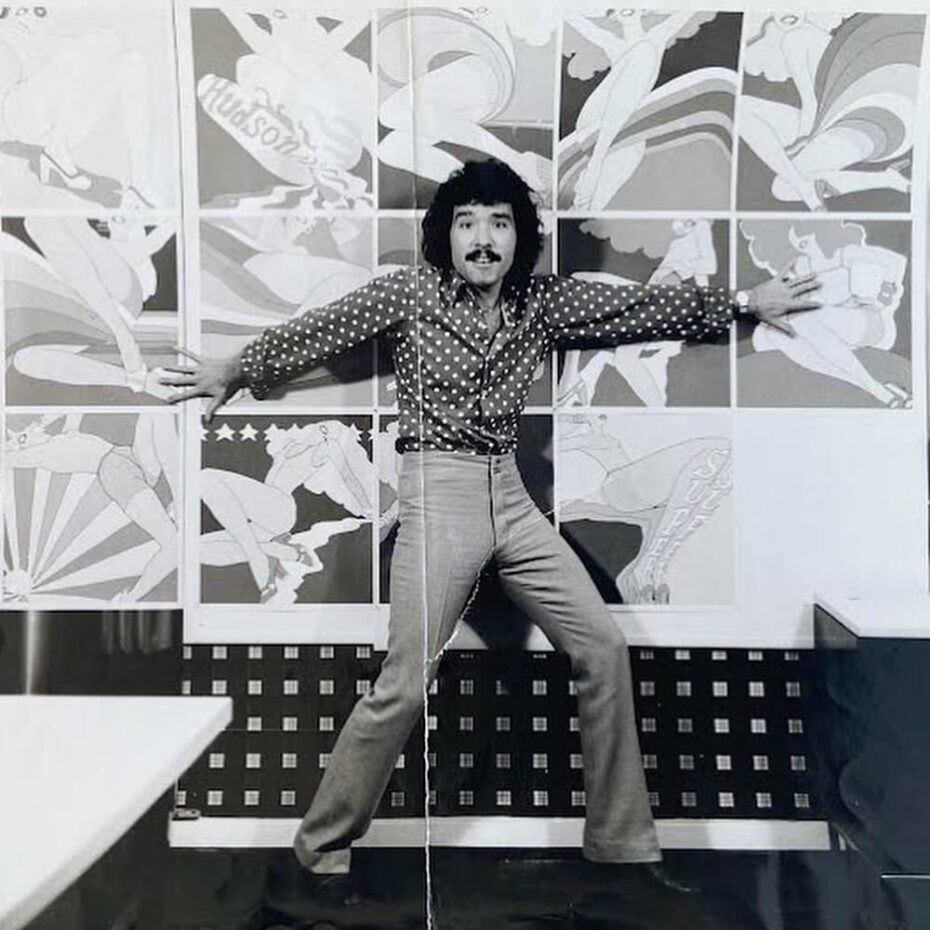 His work and his life story gel into an eternally glamorous, timeless and ageless tale. His legend is as relevant and influential to the fashion industry today as it'll be tomorrow and in decades to come. Ultimately his is the age-old story that'll forever be in vogue: that of an immigrant who grew up in the Bronx with a fearless, liberal view of the world, race, gender and fashion, who squarely made his mark on fashion history in his far too short a lifetime and crammed masses of fun into every minute of it.