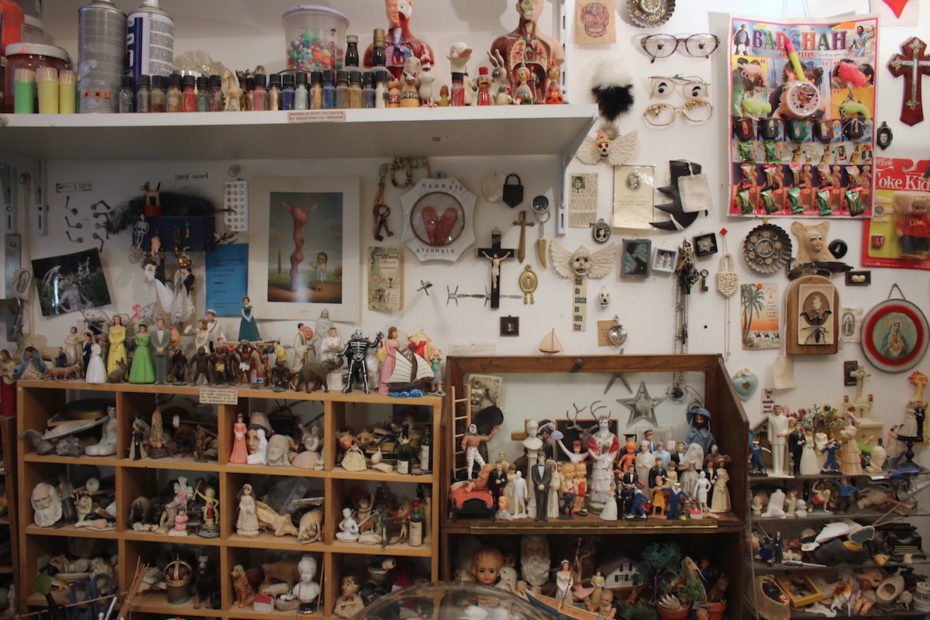 Behind what might be the narrowest door in Paris, at the back of a peaceful courtyard, I can hear the faint sound of a radio crackling as I approach the end of a corridor, hoping I've found the atelier of Maïssa Toulet. I'd found a photograph of her work on Tumblr and tracked her down to this address in the 11th arrondissement in Paris….
"I describe my website as a cabinet of curiosities online," I said to Maïssa as she welcomes me into her little artist's cave. "So I thought we probably had a few things in common."
In meeting what the industry calls an "outsider" or folk artist, I'd expected someone timid and weary of intruders, but Maïssa is an open book; full of energy, almost bursting to share her world with someone. In fact, this very weekend, she's hosting a "Portes ouvertes"– an open-door invitation for members of the public to discover her work, meet the artist in her creative environment and maybe take home a piece of her universe.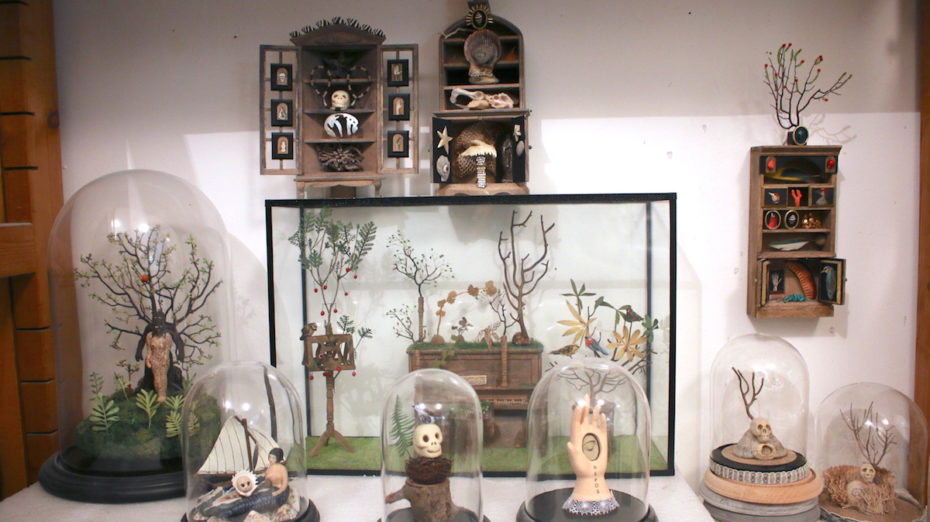 You could look at one of Maïssa's works inside a glass cabinet and never guess where any of its contents came from.
"When people look at my work, they often ask me questions like 'which flea market did you find these strange bearded mermaids?' But of course I didn't find them anywhere because no one ever manufactured transgender mermaid dolls (at least I don't think so)."
The truth is, she make moulds of everything she collects and then reinvents them entirely, changing their faces, body parts, clothing and even gender.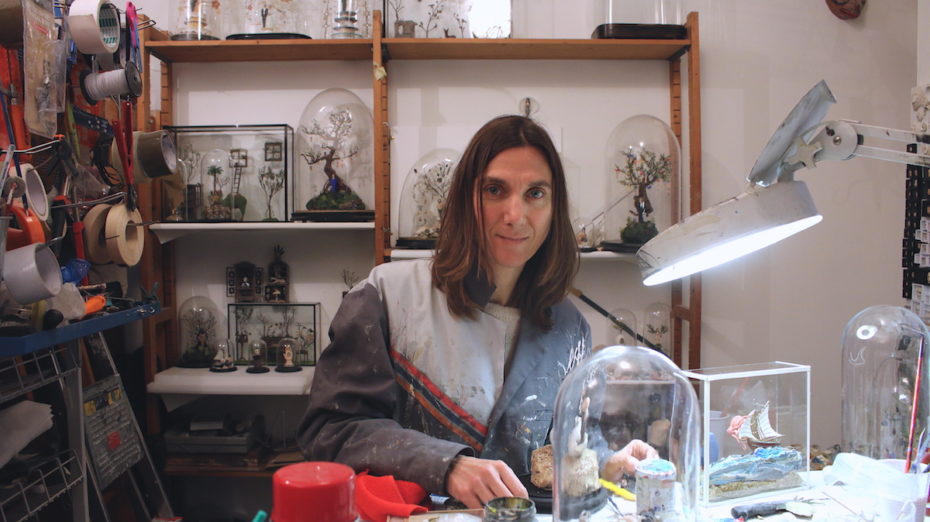 "For example, I found this little souvenir of The Little Mermaid statue," she picks up a brass paperweight of the famous Copenhagen landmark. "I make a mould of it and then create an entirely new character, perhaps using a different head moulded from this bearded sailor," she points to a vintage nautical figurine on the shelf. "In my next scene, I might use the mermaid mould again but give her blonde hair and crab claws for arms."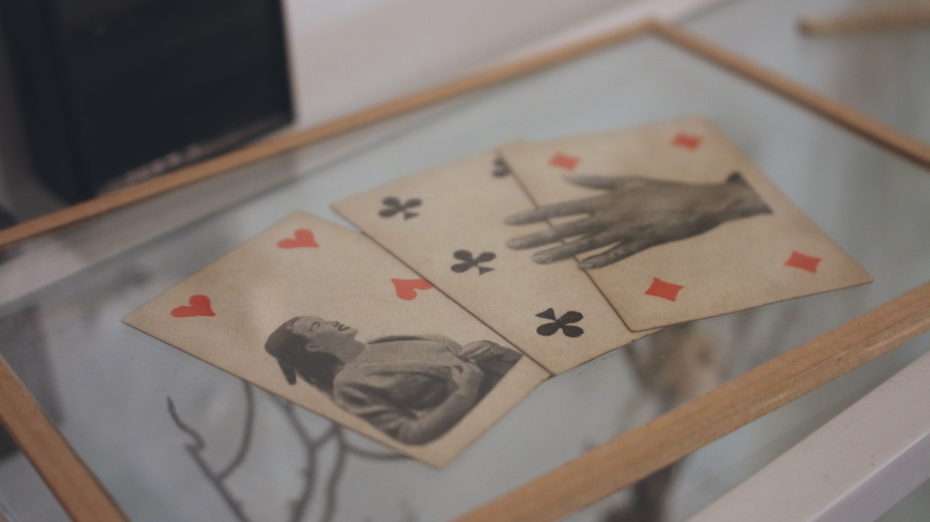 "So you're like the Dr. Frankenstein of forgotten objects" I proclaim. "Exactly", she grins. We both discover we're obsessed with Americana kitsch and miniatures. Maïssa fills her studio's shelves with wedding cake toppers, Mexican religious relics and tiny oddities to be moulded and transformed. When she was 12 years-old, she discovered the work of Joseph Cornell which inspired her to try building her own surreal scenes using the objects, toys and ephemera she had around her.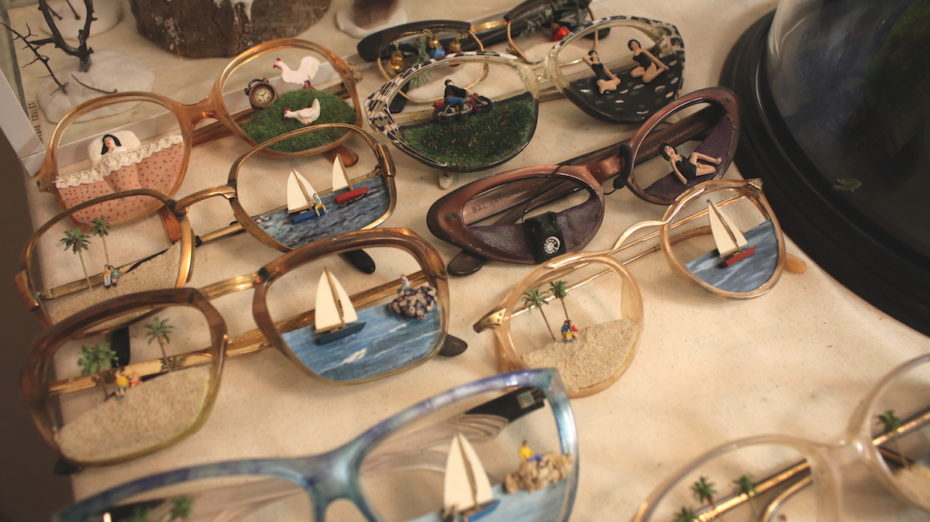 Today, her assemblage art comes in all shapes and sizes as she's continued to experiment with different mediums over the years. From large glass frames to the eye glass frames, Maïssa's work comes in a shapes and sizes– and budgets (prices start as low as 10 euros).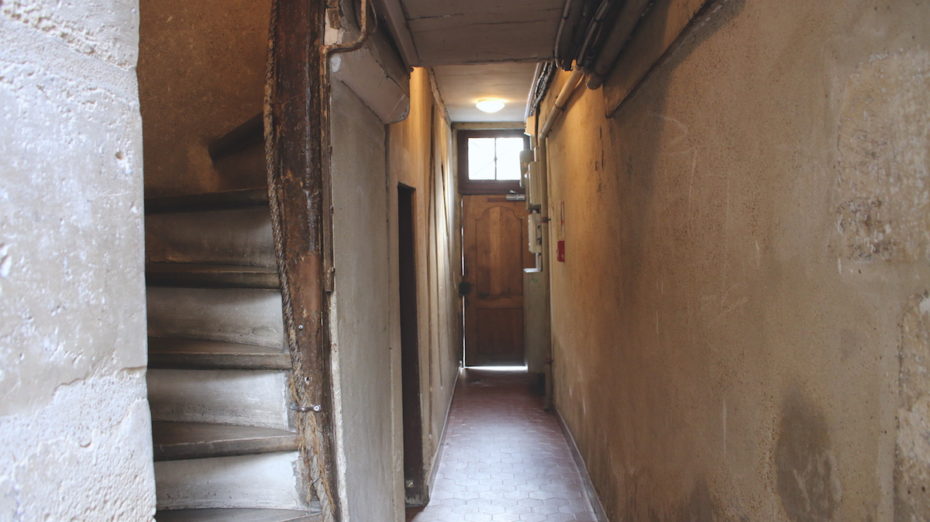 Maïssa Toulet invites you discover her world this weekend (or anytime by appointment). Give her a follow on Instagram here.
Find her studio at 89 rue de Charonne, at the very end of the courtyard, second door on the right after the letterboxes. There's no code on the street entrance during open days (14th & 15th December from 11am-7pm). To make an appointment at any other time it's here.