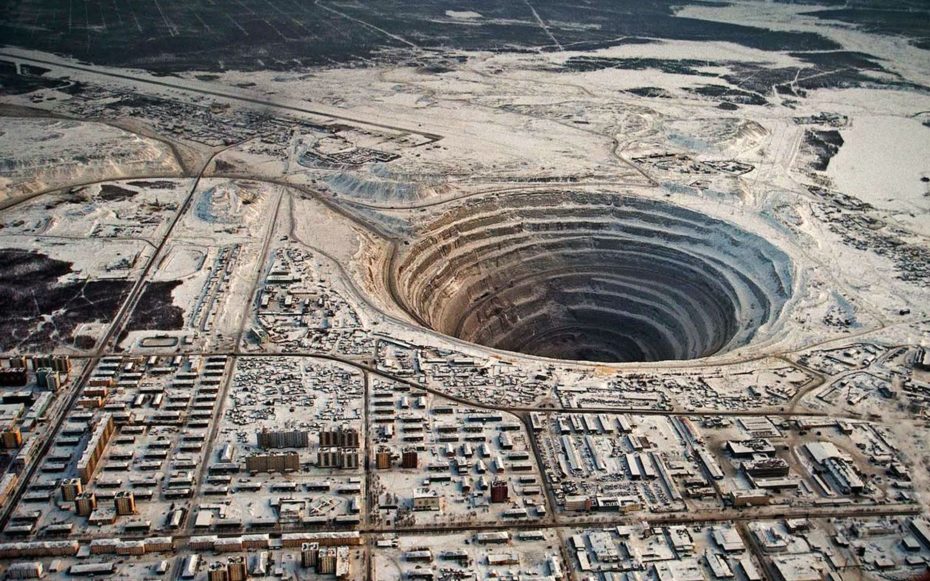 You might have seen photographs around on the web of this giant hole that's so big it can be seen from space (and very likely takes you straight to the devil's basement). But have you ever wondered what actually exists around a godforsaken place like this? What's daily life like? And can you find a decent pint at the pub? Let's head to the world's second biggest hole at the centre of one of Russia's "closed cities", for a spot of dark tourism…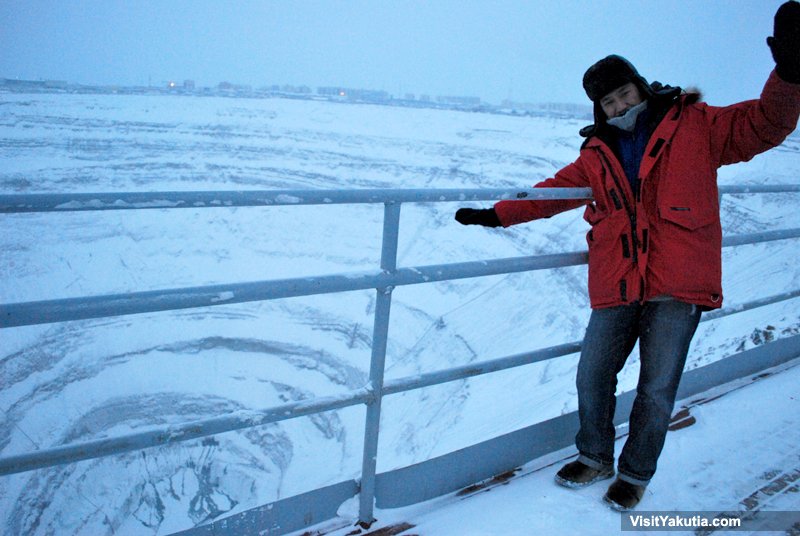 In 1955, during the Amankinsky expedition to the Arctic, 3 Soviet geologists hunting for kimberlite (an igneous diamond filled rock) struck gold, so to speak. In the depths of the Siberian snow forests, a kimberlite pipe was discovered. This lead to the development of one of the largest, diamond rich mines in the Soviet Union.
The miners were going to need a place to live, and the inhospitable climate of the taiga would take some fixing up. The isolated no-mans land quickly became a workers village. The future Mirnyans pitched up their tents and rolled up their sleeves and with a bit of strict Soviet elbow grease they built a habitable city in just three and a half years.
Mirny (meaning peaceful) was granted city status just four years after its discovery, and the town was named with a nod to the workers. The city became one of Russia's many "mono-towns", a town or city that is solely funded by one company. In this case, ALROSA, the world leader in diamond mining.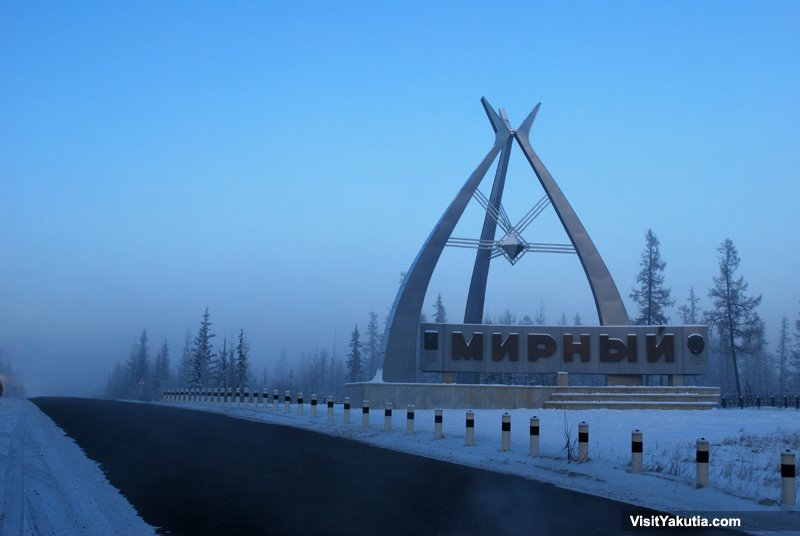 In the city where seasons cease to exist, residents endure 7-10 months of winter with just a few summer months in between. Temperatures can drop as low as -60C and in the rare sunny moments can reach up to 40 C, melting the frost and turning the streets into swamps.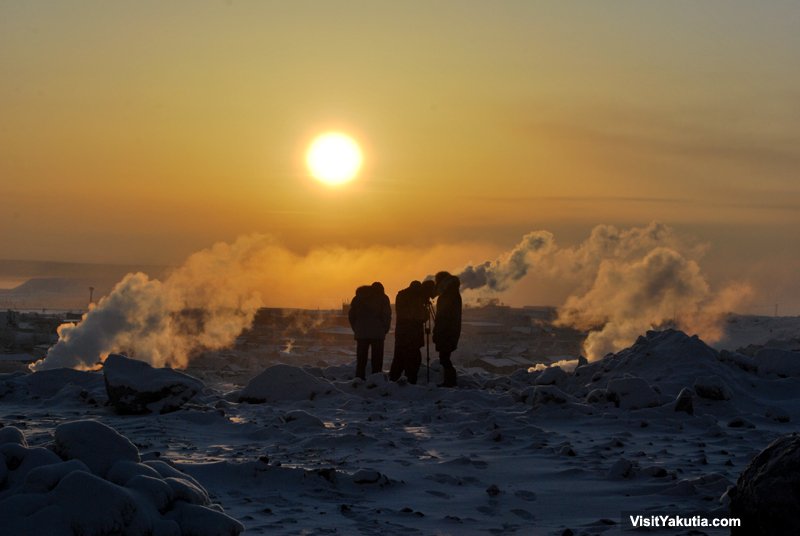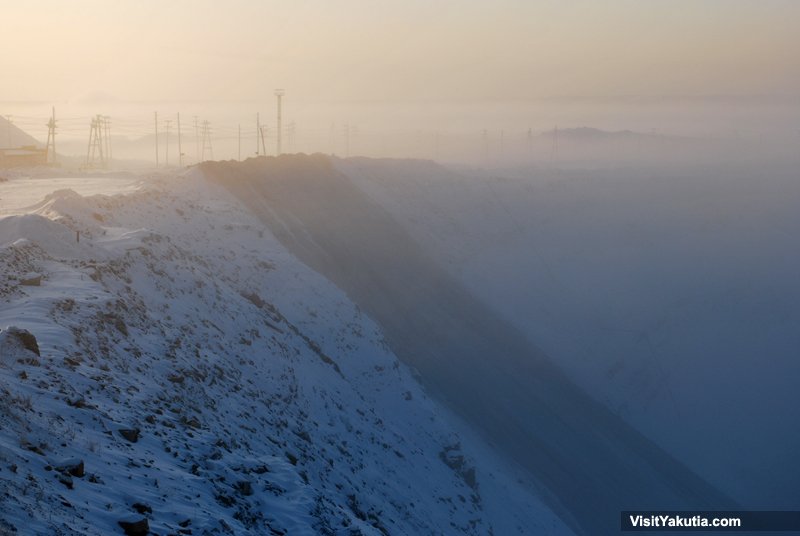 So why would anybody willingly live in such climates? Are all residents of Mirny living in carat encrusted houses? Is everybody walking around with diamonds on the soles of their shoes like it's some kind of Paul Simon song? Not exactly.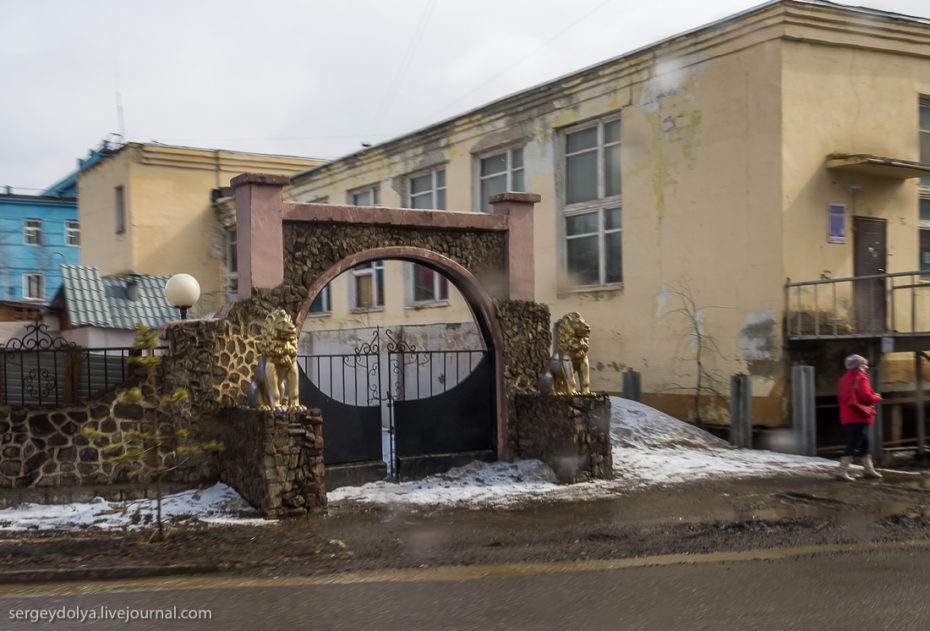 After forty-four years in action the pit dried up, forcing miners deeper underground in search of kimberlite and other resources. The hole is now so large that helicopters and small aircrafts are forbidden from flying over the area due to fears that they will be sucked into the void. Undeterred, one Russian blogger Sergey Dolya took a quadropter around town and explored the streets at the edge of the abyss. His candid photographs depict the raw reality of how diamonds are really not this town's best friend…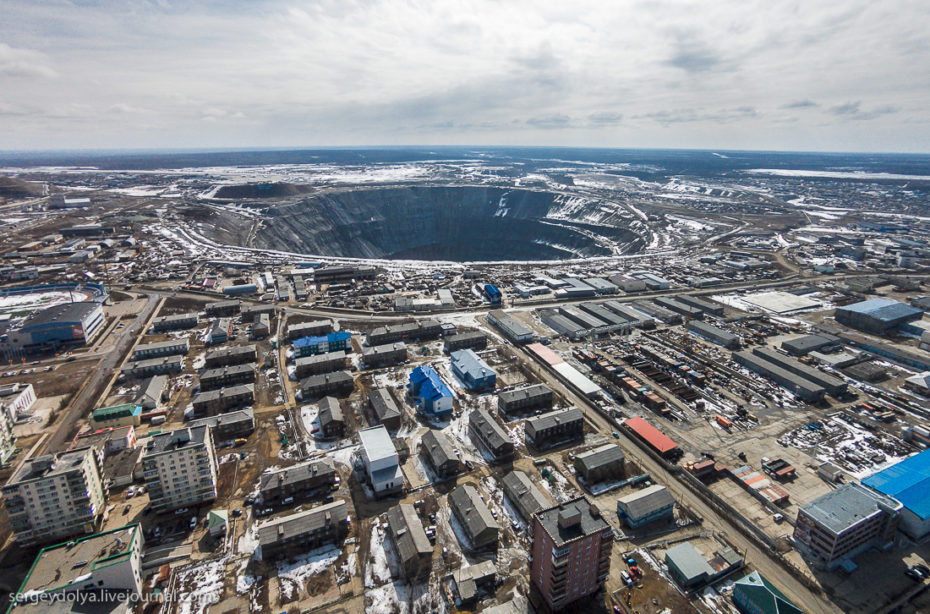 It's as "if someone built in Sim City" says Sergey. "Then demolished it, and started anew." Mirny is one of the country's most remote locations, with a population of approximately 37,000. The houses, built on stilts, range from 2 to 9-story Soviet style buildings that contrast with more traditional Russian architecture.
The population is made up of workers who moved here from other Russian regions and former Soviet states, lured by the incentive of a higher than average wages. But with the higher wages comes the higher cost of living. The main access route to Mirny is via the airport and all the food to feed the town has to be flown in, hiking up the price. Whilst the wages may be attractive to some, if you're not in the mining biz you won't reap the one perk of life in Mirny. A school teacher here earns 19,000 rubles a month, that's about $300.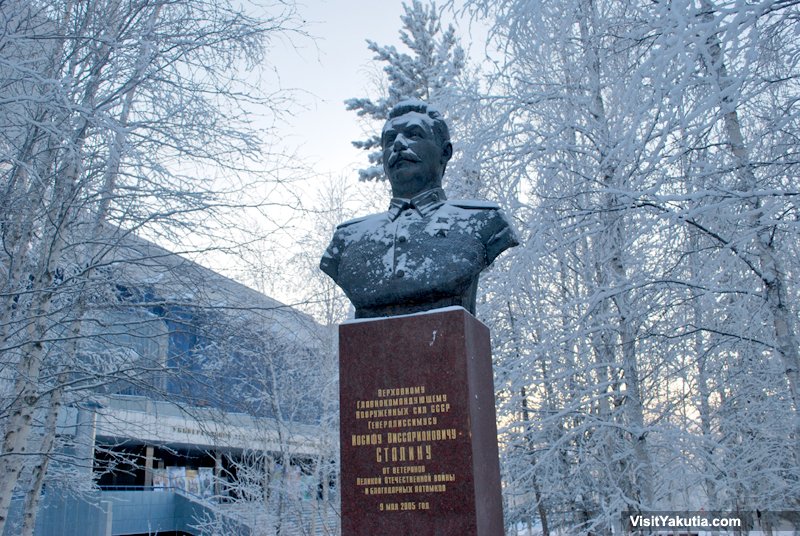 At the diamond heart of Russia, miners spend their days buried in billions but lead a modest lives in a Soviet time capsule. Some of the workers come to Mirny for 3 months at a time to earn money for their families living in other regions. Those that do choose to raise families here, often end up working for the mine as a family too…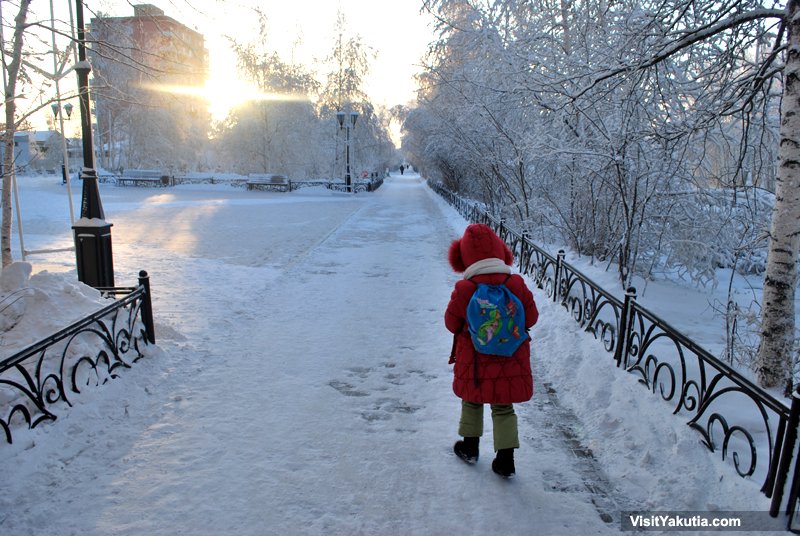 Women are designated a role in the sorting department. Children go to school preparing for Mirny's University, the Polytechnic Institute, where they can take courses on petroleum engineering and prepare for the industry. Mirny a town truly dedicated to diamonds, with not an ounce of bling in sight.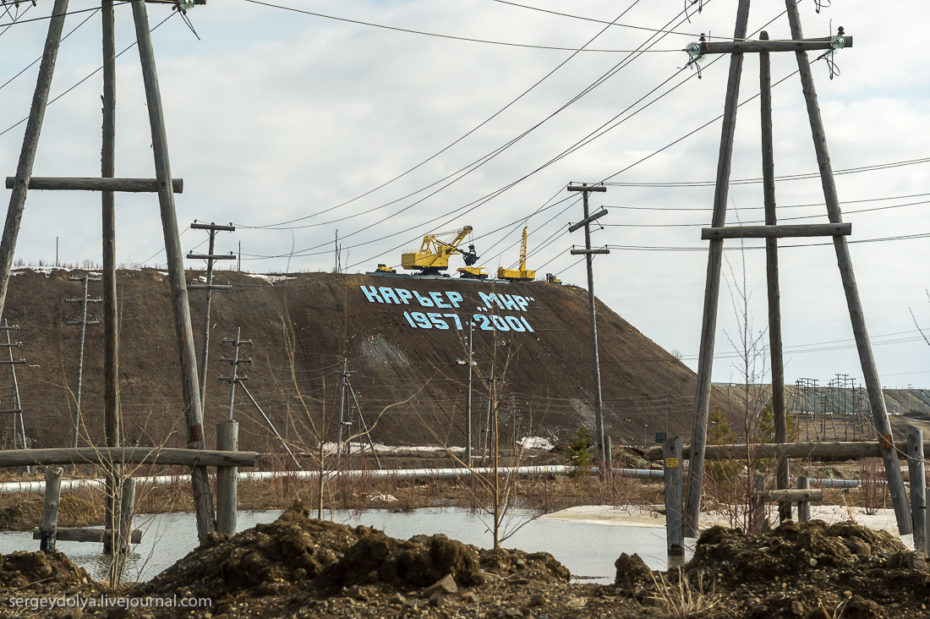 The open pit mine itself ran dry in 2011 and is no longer operational. All the mining has moved underground. In it's hey day the pit produced over ten million gem-quality carats of diamonds each year. As it stands now, Mirny is what's classed as a "closed city", restricting access to foreign and even Russian tourists. But is there a light at the end of the mine? According to reports, the town is hoping to develop tourism in order to boost the economy…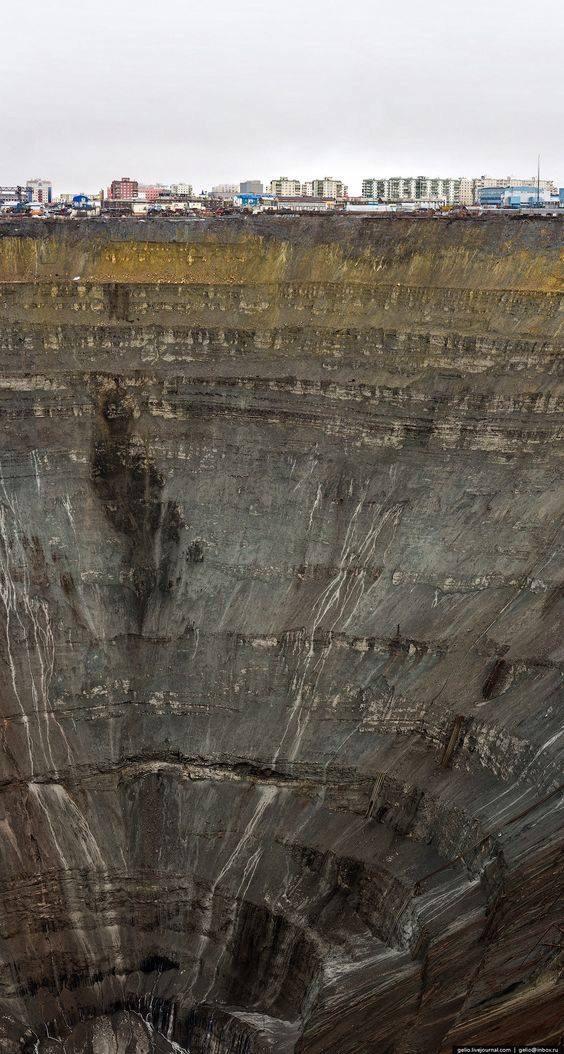 The abandoned diamond pit remains Mirny's biggest tourist attraction. A few years ago, one construction company had big ideas to build a self-sufficient eco-friendly city in the abandoned pit. At 3,900 feet wide and 1,722 feet deep, the idea was to line the hole with luxury apartments and fill it with parks, an oxygen producing arboretum and cover it with a big glass dome. Surprisingly, this Siberian sequel to The Truman Show never quite came to fruition…
And if a big hole in the ground isn't enough to suck you in, other sights include the Holy Trinity Temple, the Orthodox Church, Victory Square and the Diamond Museum.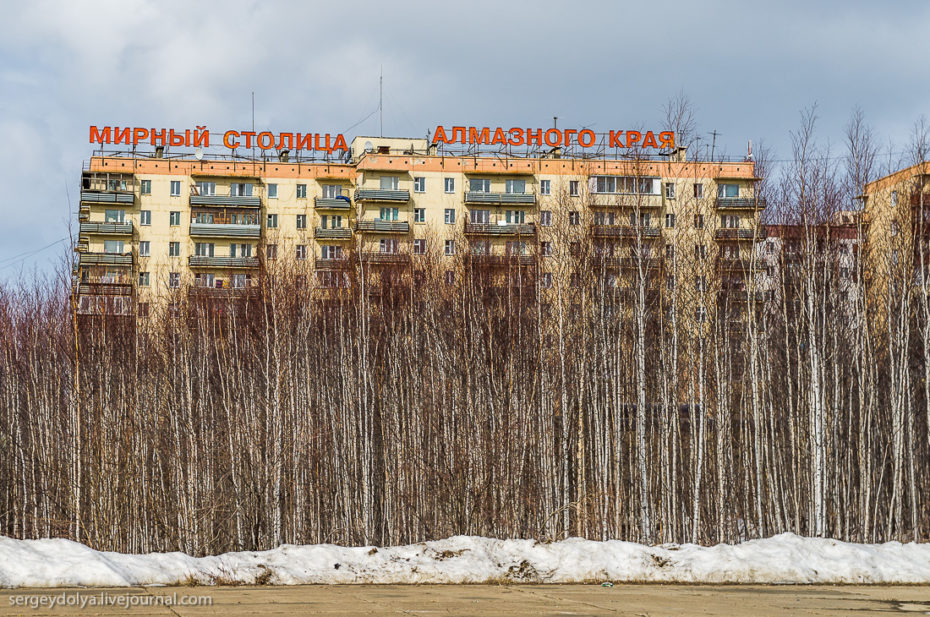 You can reserve a suite at the largest hotel in town for $208 per night. Breakfast is included, but you won't be able to post it on insta as there's no wifi in the hotel. Which is maybe for the best, as according to reviews, the breakfast was awful, and the slippers don't come for free…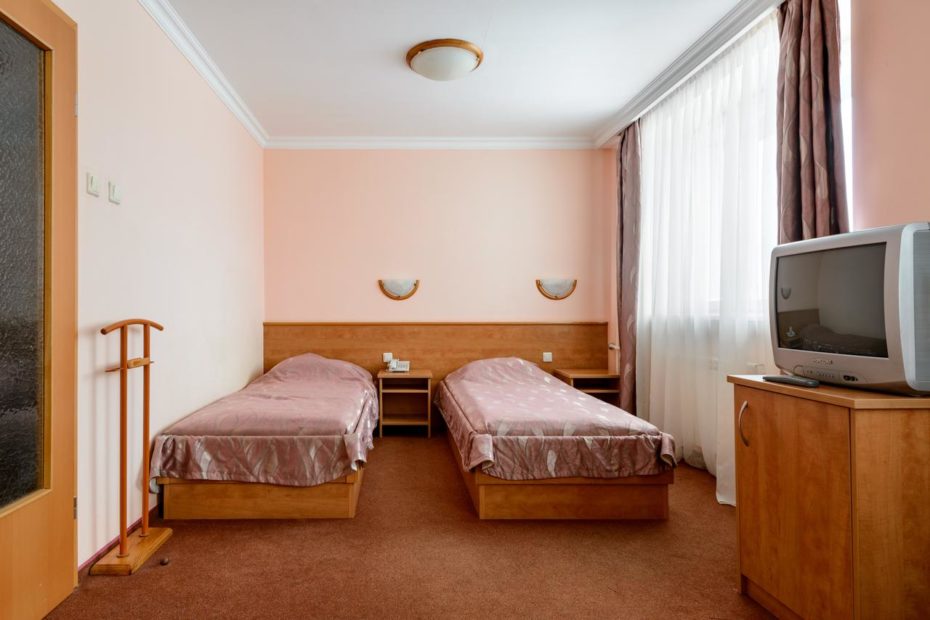 Accidentally Wes Anderson?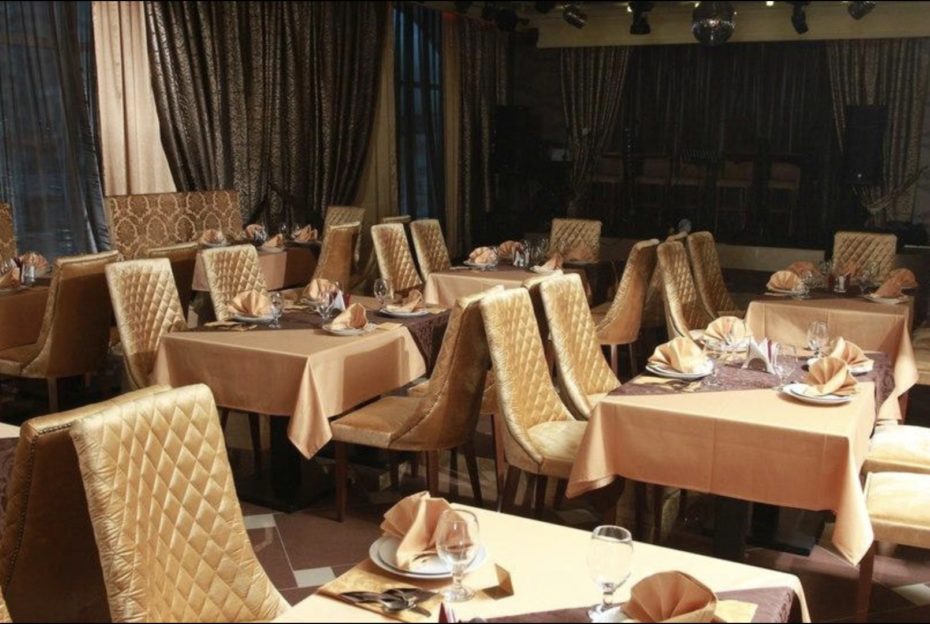 The town's top-rated restaurant however, seems to be a little more 'on theme' for a town that mines millions of diamonds a year (or at least, used to). According to one review of Jemujina: "High prices for the most simple hot dishes, drinks … [but] all this is smoothed out by a concert program, which takes place often". A German lager might be out of the question, but we're pretty sure the vodka is strong enough. Za Zdarovje! (yeah, that's cheers in Russian).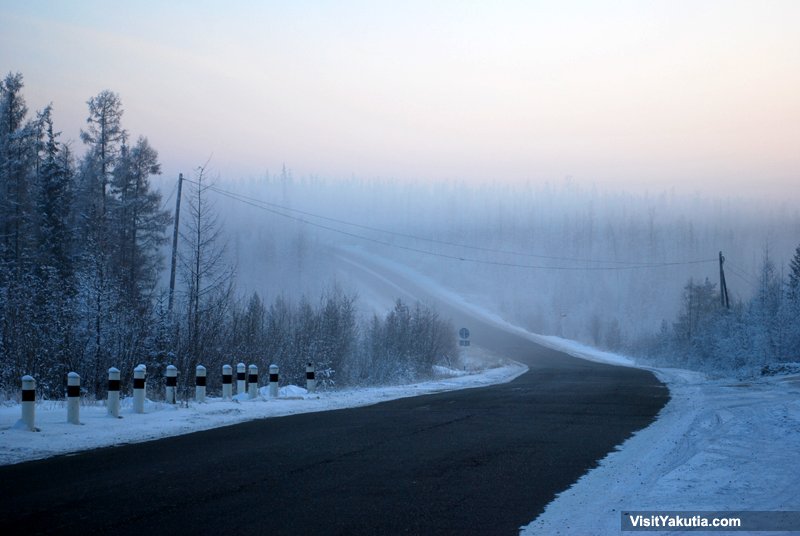 Getting to Mirny proves a little tricky as well, but there are 2-day tour package deals at $300 a head, which includes airport transfers and an English translator who will escort you around the surreal sights. Here's a look at the itinerary
Day 1: Guided City Tour
– The MIR mine (kimberlite diamond pipe "Peace") view deck.
– First Truck Drivers Stella with the Mirny city entrance sign.
– Visit the "Vilyuysky Ring" Architectural Memorial Complex with the statue to the reindeer herder who showed the diamond-rich place to Russian geologists.
– Three Swords Square.
– Holy Trinity Orthodox Church with Gymnasium.
– Regional Museum of Diamond Mining History owned by ALROSA.
– Kimberlite Museum.
– Yakutia Live Diamonds Nature Park.
Day 2: City Tour & Departure
– Breakfast at hotel (not included).
– Guided City Sightseeing by a car for 2 hours.
– Back to hotel.
– Check out.
– Transfer to airport.
– Flight out of Mirny.
And that concludes our virtual tour of a place you'll probably never vacation. But if you are looking for some dark tourism, well, it just doesn't get any stranger than a package holiday to Mirna. And we doubt many of your friends can say they've come face to face with tusked oxen (only the mascot of Mirna's National Park). So forget the beach, avoid the crowds, and while you're at it, pick up a diamond replica from the museum gift shop.
More information on (and images courtesy of) Yakutia.com