Crowned as the "original fashion blogger" by the New York Times, Diane Pernet has long been a one of a kind, spellbinding presence in the industry. She has filled so many roles – designer, filmmaker, curator, journalist and influencer (in the truest sense of the word) – that it's impossible to reduce her work to one profession. For more than 20 years, the New York expat has been shaking up Paris' sartorial skyline with her mysterious and iconic silhouette, while continuing to innovate content at the intersection of style, film and the last digital frontiers. We meet Diane at her favourite spot in Paris, Les Deux Abeilles, a tea salon near the Eiffel Tower where the vintage floral wallpaper contrasts perfectly with her all-black bespoke ensemble, ever-worthy of an Edward Gorey storybook. It felt only fitting to ring in Messy Nessy Chic's 10th online birthday by meeting with the most curious and fabulous internet maverick of them all, in the hopes of soaking up just a little bit of her grace and wisdom…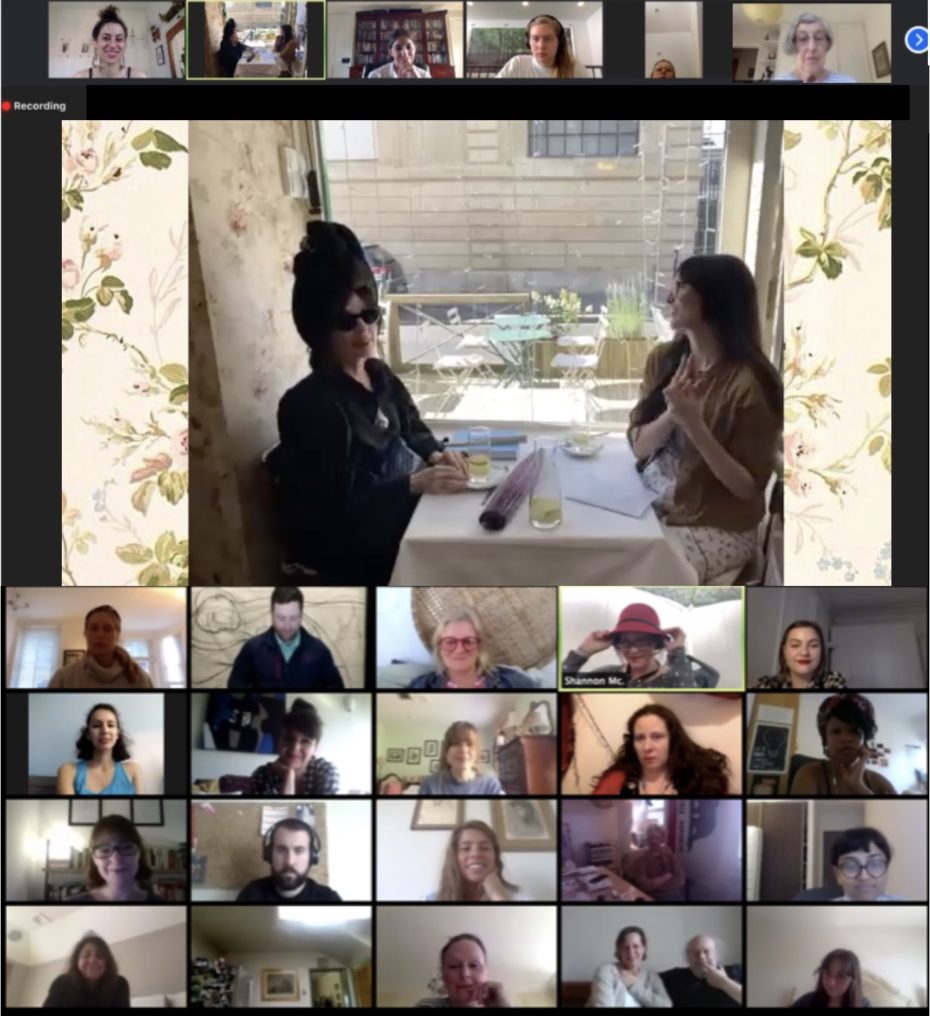 If you missed this Live Q&A with Diane Pernet, you can re-watch all the wonderful moments in the full Video Event here in the Keyholder Vault, but we've also highlighted some of the best bits here…
MNC: So we're at the cafe Les Deux Abeilles today in the 7th arrondissement. Could we say it's one of your favorite neighborhood spots?
DP: It is. I live about three blocks from here.
MNC: What's it like living near the Eiffel Tower?
DP: Well, there are more tourists if you go by Trocadero and the Champs de Mars. Of course the quatorze juilliet (Bastille Day) is unbearable with all those herds of people. But aside from that, I don't feel the tourist presence. It reminds me of where I lived in New York, in the West Village. I've been here 22 years. It's the same kind of atmosphere. It's not as uptight as the 16th where I first lived when I got here.
MNC: You said your first years in Paris were hell. Can you expand on that?
DP: Well in NYC, for example, you can buy a paper from a newsstand and it's perfectly fine to just nicely say, "New York Times" – you don't have to say, "How are you? How are your kids?" and so on. So at first, I'd just go to the kiosk say, "Libération" (a French paper) and it would cause a scandal! [laughs] just because I didn't start with "Bonjour" or "Ca va?"
MNC: We still get that. If you don't say "Bonjour" when you walk into a shop you'll get the evil eye.
DP: Yes, so you learn quickly.
MNC: Let's talk about your look. Did you have it before you moved to Paris in the 1990s?
DP: Yes. Normally I wear a veil but it's very hot at the moment – between the mask and the gloves, you could say this is my summer look.
MNC: How was your look received in Paris when you moved here?
DP: People stared all the time. I would say to my husband, "I don't understand why everyone is staring at me?" because to me it felt so normal. He said, "Because they're scared" and I said, "Well, what are they scared of? Because you're different? In New York, no one cares."
MNC: Yeah, in New York you can kind of be anyone you want to be.
DP: Yeah. So at first I thought, OK, this is so depressing.
MNC: You mention your husband – would you say you came to Paris for love?
DP: No. [Laughs]. To be honest! I came to Paris because I couldn't stand living in New York any longer. I was a designer there for my own brand for 13 years.
MNC: It was a famously difficult period of New York City life, the 1980s. A lot of crime and drugs, but also a lot of creativity.
DP: Yes. There is something about violence, and the energy of violence that creates a kind of electricity in a city. It took me three or four years of considering leaving. I had a business, people depended on me. But I thought, I have to live my life. So I went to the end of the bridge and just jumped off thinking, What happens, happens!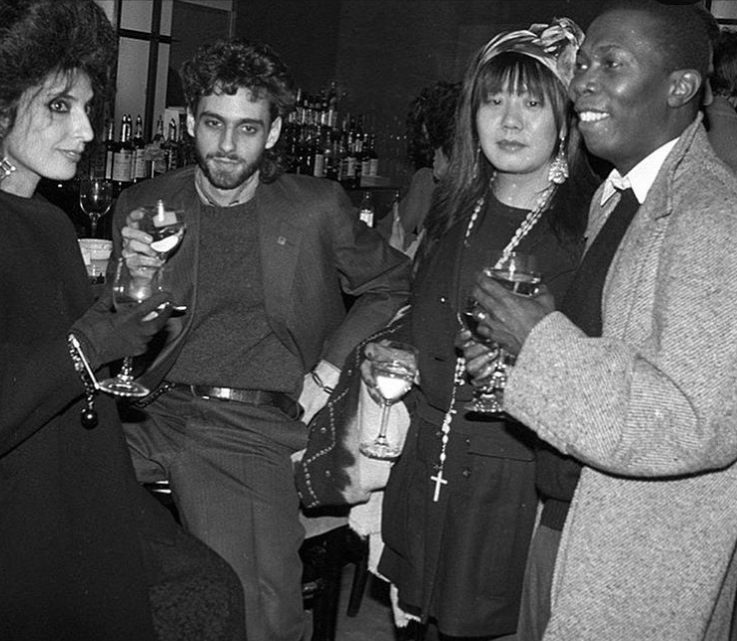 MNC: I also feel as if Parisians kind of wish they were New Yorkers…
DP: They have forever.
MNC: Really?
DP: They've always been like that. It's like a love-hate situation [laughs]. You know? I found the biggest change in the stereotypically distant Parisian attitude came after the Paris terrorist attacks. That's when I think Paris got a little friendlier.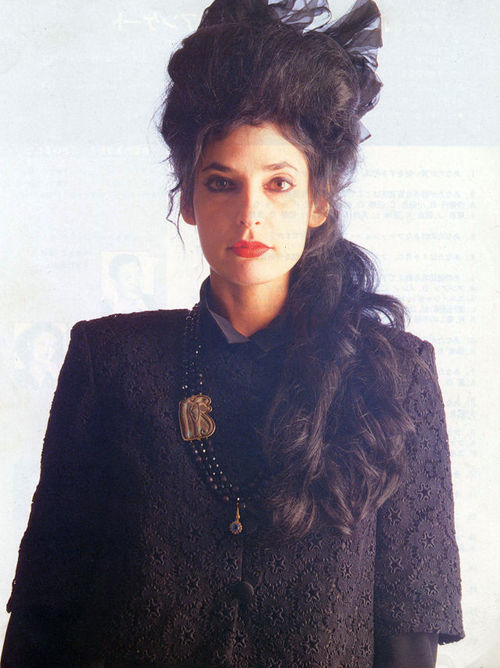 MNC: You mentioned you were a fashion designer in New York for 13 years with your eponymous brand, "Diane Pernet". Do you ever think about designing again?
DP: Never. [Laughs] I did it, and it was my life and my blood. It's not that I ever stopped my love for it… You know people keep bringing it up, and I just think Paris doesn't need another designer. It really doesn't. It's so hard to be an independent designer in this world of LVMH and fast fashion. When I was a designer, I didn't care what everyone else was doing. I wanted to create my own path. When I first came here I worked for the Fashion File program of CBC, a Canadian broadcasting company, and then I worked for Elle.com and Vogue.fr and then I saw so much fashion that I no longer would've been designing with this tunnel vision. I had seen too much.
MNC: Let's talk about your look a bit. Do you shop in Paris?
DP: Directly from the designers, yes. I go to the shows, or, you know the guy who makes my skirts – they're not in his collection. I have this sort of silhouette I like, but it's not the same skirt all the time.
MNC: So essentially, you only wear haute couture? That's amazing. I'm always thinking about who is still buying haute couture – or rather, supporting local, artisanal craftsmanship at that level.
DP: Yeah, most of my clothing is custom made. My shoes are custom made, too – because I wanted to be taller. I've never cared for trends, ever. In that way, I'm the original sustainable shopper [laughs]. I believe in buying better, and buying less. In wearing a piece until it falls apart.
MNC: Can I ask the secret to your famous hairstyle?
DP: Well…I'm not going to give you specific details. How dare you! [Laughs]
MNC: Is there something in there? Like a boat?
DP: Oh, like Marie Antoinette? Not exactly a boat but yes you need something to levitate – that's as much detail as you're going to get [laughs].
MNC: Do you enjoy the process of getting ready? Or sometimes, do you think "I'll just go out without the full look…"
DP: Nope. I look the same at 9:00 am in the supermarket as I do going to an opening. I dress to please myself. You know, I'm a Rooster in the Chinese zodiac and they're very into their look.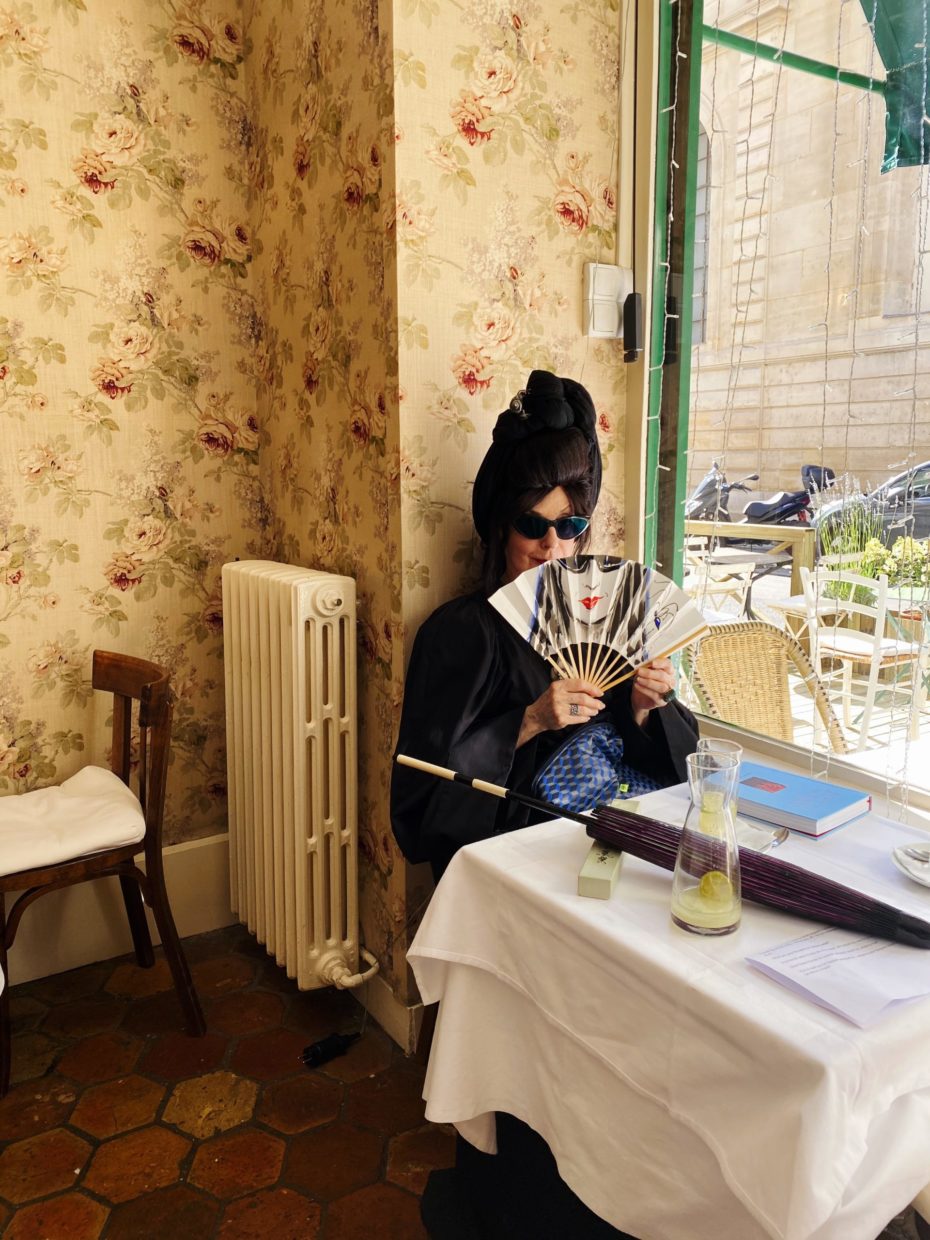 MNC: We often get asked by our readers, "What is the right thing to wear in Paris?" Do you have any advice for that question?
DP: I used to have a style column on Elle.com called "Dr. Diane" and I would answer those kinds of questions all the time. The way I feel about fashion is this: you should wear what you feel comfortable in. Not what's a trend. Some people they slip into a trend cause it's a trend even if it's not them.
MNC: I would say wearing black is a pretty safe way to not look like a tourist in Paris.
DP: Yes. Well, it depends on the neighborhood right? And the Parisian. If you're in the sixth it might be more beige colours, flat shoes. Maybe around République it's more black – I don't know. But black is safe, for sure.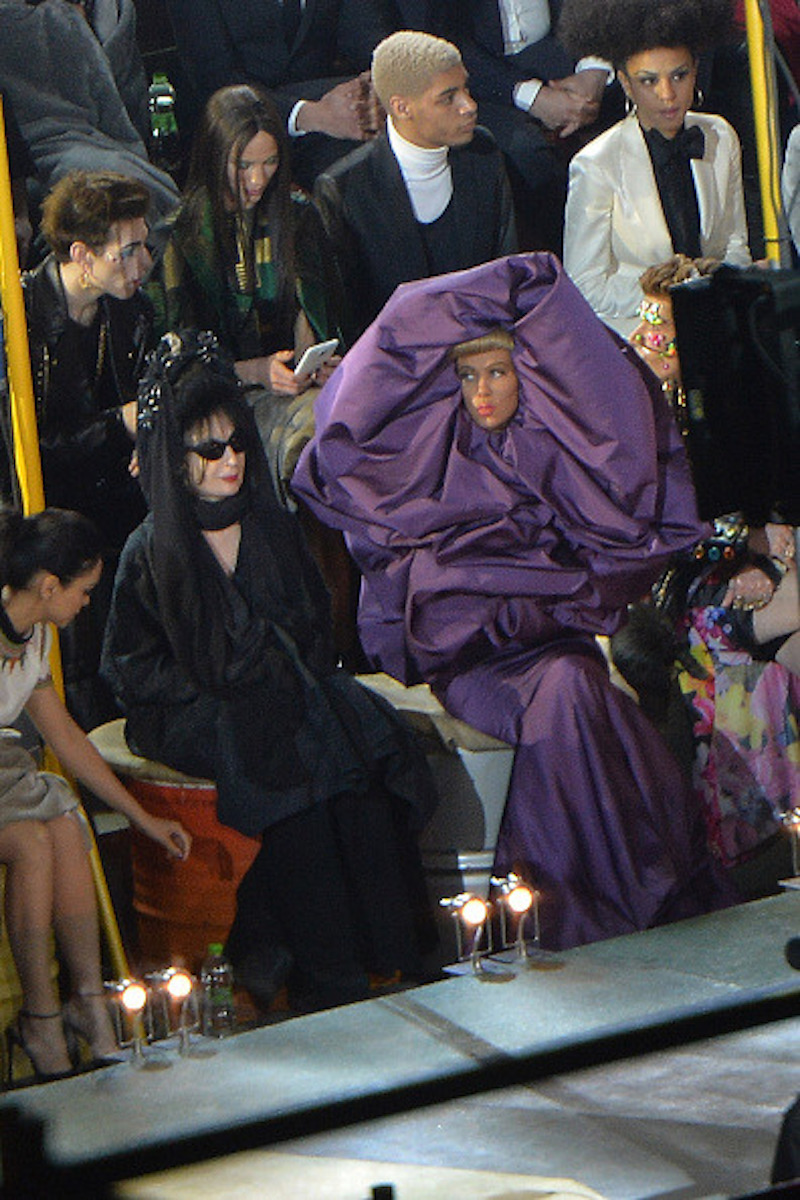 MNC: We've got a question from the audience, wondering how you think Fashion Week will change in light of Covid-19?
DP: I just got the news today from the Paris Fashion Council saying they're going to go forward with Paris Fashion Week live shows in September, which I'm not 100% in agreement with, because I don't know how many people are going to feel very comfortable in a closed space.
MNC: International travel has also changed, of course.
DP: Yes, especially with the new European and American travel limitations, you're going to have a more domestic audience at shows. Much smaller, I'm sure. In terms of when to show, I like the ideas coming from Saint Laurent, and Gucci, for example. They dropped out of the traditional show cycle and just show when they want to show. LVMH is not in agreement. I don't know. There are so many designers who are so fantastic live. My feeling, and it has been like this for 15 years, is that fashion shows should be a public spectacle. People should be able to pay for a ticket and come in, twice a year, and then find that the clothes shown are in-store. It's not that original of an idea, in Tokyo once there was an eight-hour catwalk – I didn't stay the whole time – but while models were going down the catwalk people were also on their mobiles ordering. Make them pay for it, let them enjoy it. Then organize something else for buyers and press.
MNC: Fashion is definitely your domain, but you are also the founder of a film festival which is called, "A Shaded View on Fashion Film" (ASVOFF) – and I would say that every fashion brand that now makes a video, be it an advertisement or short film on their Instagram, can thank you for being a pioneer of that.
DP: Yes, you could say I was a pioneer of using film in fashion. My blog began in February, 2005. My first fashion film festival was called "You Wear It Well" and started in LA on August 3rd, 2006. At that time, and for years, you had to explain so much about "what is a fashion film?" Well, fashion, beauty, style – I like story telling. I've always like it.
MNC: How do you think the pandemic will effect cinema, and the ritual of going to the movie house?
DP: Well, it's blowing up Netflix. I think it's going to come back, but more like the end of next year. I personally chose to have the 12th edition of the ASVOFF festival online. It's very scary to think of what is not going to be able to reopen. I love cinemas. I love being able to do my festival as a physical event where directors and people interact. They've been trying different things – directors, cinema houses – to raise money to keep those places open, to try and provide for the employees. So there is that kind of support. It's great. It feels very focused.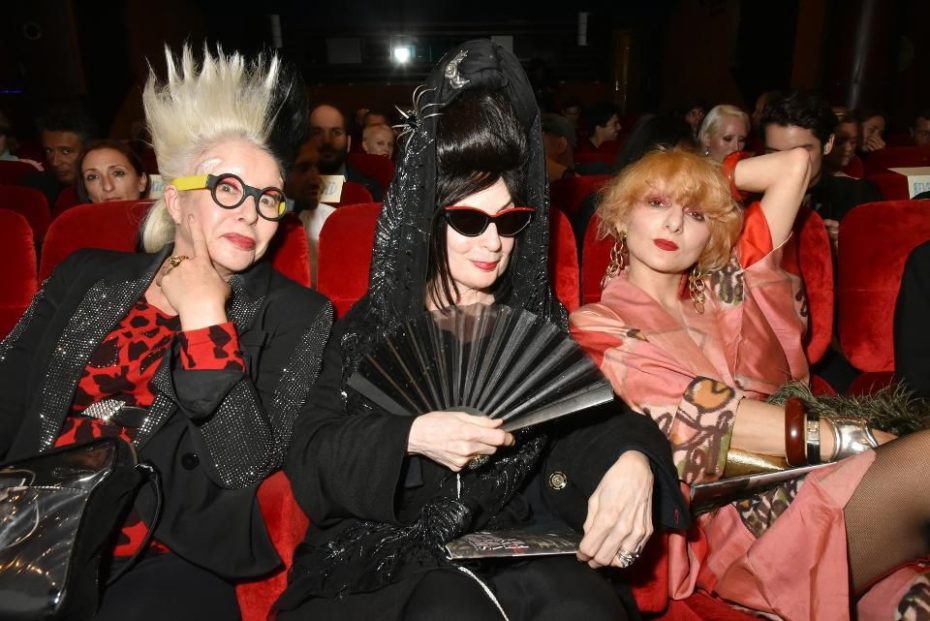 MNC: By the way, I read that in 2018, you hosted your festival at midcentury designer Pierre Cardin's famous house on the French Riviera?
DP: Well, that's another funny, really long story. They came to me to say, "We would like to have your festival" and so for six months, I don't know how much of the story I'm going to say, but let's say we worked with the mayor and things were going great. Then, at the press conference, I met Pierre Cardin for the first time…
MNC: Wow! What was he like?
DP: Well…
MNC: Oh no, did something happen?!
DP: Well, he had a violent health-related attack and he thought I was the angel of death coming to take him away. So just like that, the event – and 150,000 euros – just fluttered away. It was horrifying, the worst experience of my life. But hey, he's still alive. So now we know I'm not the angel of death [laughs].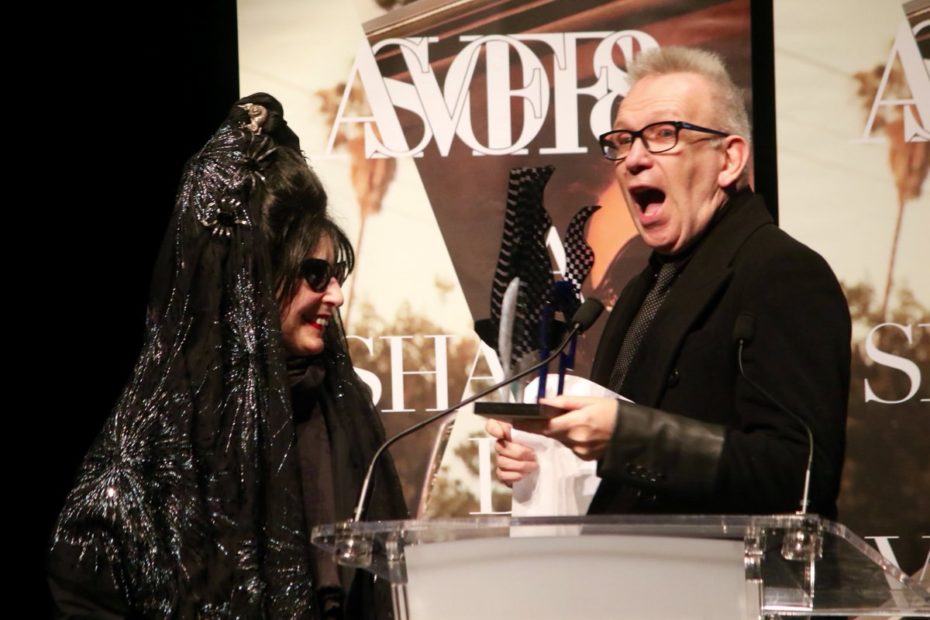 MNC: How did you find a new home for the festival?
DP: I contacted Jean-Paul Gaultier before his big fashion freaks musical, and he was making the time to come to my festival – I can't say enough good things about Gaultier – but I had to tell him, you know, "I met Pierre and the whole thing is off because he thinks I'm the angel of death coming to take him away. So I don't know where this festival is going to happen." So the next day Gaultier texts me, very elegant and graceful, as always, and offered his space in Paris on rue saint Martin for the festival awards ceremony. Rossy de Palma was the president, and Gaultier was the president of honour. It was wonderful.
MNC: Who is this year's president?
DP: Roger Avary, who shares the Academy Award with Quentin Tarantino for the Pulp Fiction screenplay. He's genius. Just amazing. Submissions for this year's festival are now open.
MNC: How has the festival evolved over the years?
DP: I'm trying to continue making it a more dynamic experience than just, say, the screening of competition films. Like, a screening of a documentary by actress and director Maria de Medeiros, Je t'aime moi non plus. She filmed it at Cannes, interviewing directors like Pedro Almodovar, David Cronenberg, everyone – even film critics. And you know, there's no love affair between film critics and directors [laughs]. So, yes, I'm trying to make it a more dynamic experience. During quarantine I put out an open call for anyone to do a submit a lockdown home movie. There's 68 of them that are online now – so I encourage you all to go vote! They're up for "People's Choice."
MNC: What does it take to really put on a film festival? It seems like such a big and intimidating task, to start a film festival. Is it something anyone can do? Would you recommend it?
DP: Oh, yes. If they want to. I mean I had essentially the first fashion blog and the first fashion film festival. Now, there are millions of blogs and thousands of film festivals. Sponsorship is of course important. But different people have different approaches. Mine has always been, to use that trending word of the moment [laughs] "authentic." I will assume that word. I love film, it's what I studied. I love fashion, I've been in it more than half of my life – and I can join them together within a network I've been able to build from being on this planet for decades. I always kind of think – and this is the American part of me – that if you want to do something, just do it. If it doesn't work? Do something else. It's not a French mentality.
In fact, I created a new illustration competition in light of Covid-19. You can see all the "Amabie healing monsters" designs online, submit your own and vote until September 1st, 2020.
MNC: I often talk about the golden age of blogging with a sort of absurd nostalgia, but as one of the originals, do you embrace how quickly the internet evolves today or do you think we'd be better off if it slowed down just a little?
DP: No, I like it. And I'm always into supporting people. That's what I do. If I believe in something, I'll just do it. I don't ever really have an agenda. Perhaps I should [laughs].
MNC: The evolution of blogging has been so interesting.
DP: Oh, traditional journalists used to hate the bloggers. And in the beginning they had less strategy. I remember when Brianboy and Susie Bubble and all these bloggers first started getting invited to fashion shows, getting seats in front of the journalists – now of course it's the influencers in front of the bloggers. I just think, hey, the more the merrier.
MNC: What are your thoughts on TikTok?
I like it, some of it's hilarious. You can't ignore something that big, you'd only be doing yourself a disservice not to just have a look at it and try to understand what's going on there.
MNC: Do you have any muses of your own? Historical or living?
DP: John Cassavetes and Gena Rowlands – she's alive, of course. I've met her daughter, who is great. Anna Magnani, the Italian actress who was my idol at 12-years-old. She was in a film with Marlon Brando, who I also love, called The Fugitive Kind (1960). They hated each other [laughs] it's funny if you watch it, it's not her best film but I love it because I love Brando. I also love Antonioni, Almodovar, Tarantino…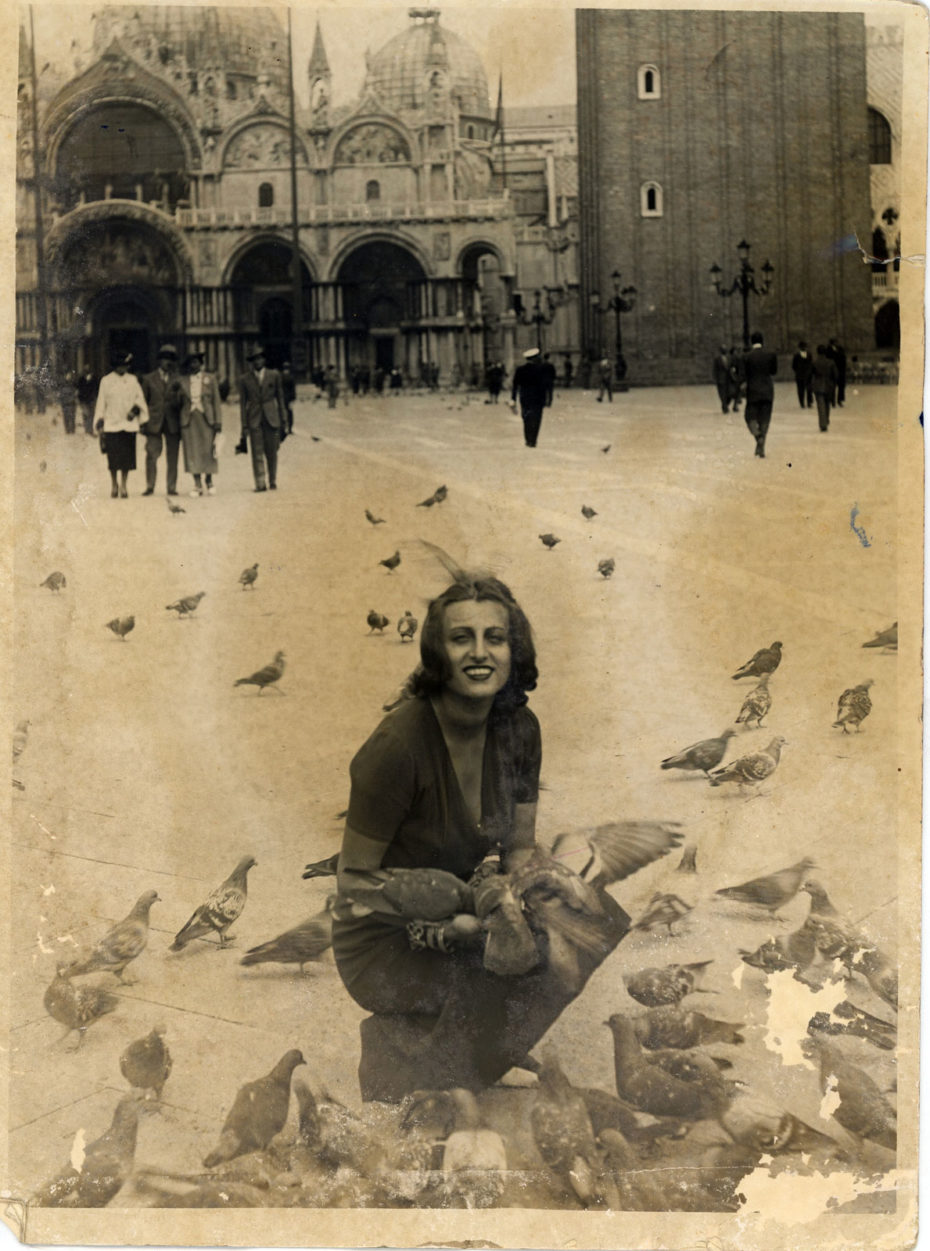 MNC: Ah, how I would love to get a movie list from you. What are some of the films that have influenced you?
DP: Opening Night by John Cassavetes. It's really great. It opens with Gena Rowlands going, "Everyone wants to be loved…" There's a Marlon Brando documentary where his head is all 3-D scanned. The Bitter Tears of Petra von Kant by Rainer Werner Fassbinder from the 1970s. 8 ½ by Fellini, and Juliet of the Spirits. I love Spike Lee. Criterion Channel is great…
MNC: What does a typical day off look like for you in Paris?
DP: Lately, it's been anything but typical these past four months of lockdown. I don't leave my apartment, generally speaking. I've been on the terrace [at cafes] three times in four months. Every week I'll maybe take a walk by the park of Quai Branly.
MNC: Does Diane Pernet do summer vacation? If so, what does it look like?
DP: Well, last summer I was in Tangiers in August. I consider my life a vacation. I do what I love. I've travelled all over the world, and continue to do so, normally, for the festival and press trips. I don't need the vacation time like I needed it when I was a designer – back then I really needed to leave New York for three weeks. But I love Paris in August. No one is here.
MNC: You've described yourself somewhat as a loner. Is that still true?
DP: Yes, I do need time to be alone, but, normally, in a world that's not currently existing, I do like to go to galleries and museums. To have lunch and tea with friends. Go to the cinema. Those are my main outings. I'm not ready for the dinner parties yet.
We spend our last moments before saying goodbye, attempting to convince Diane to write her own "little black book". Her style, her tales, her wisdom and wit certainly deserve to be immortalised on the page, so can someone please give the high priestess a book deal already?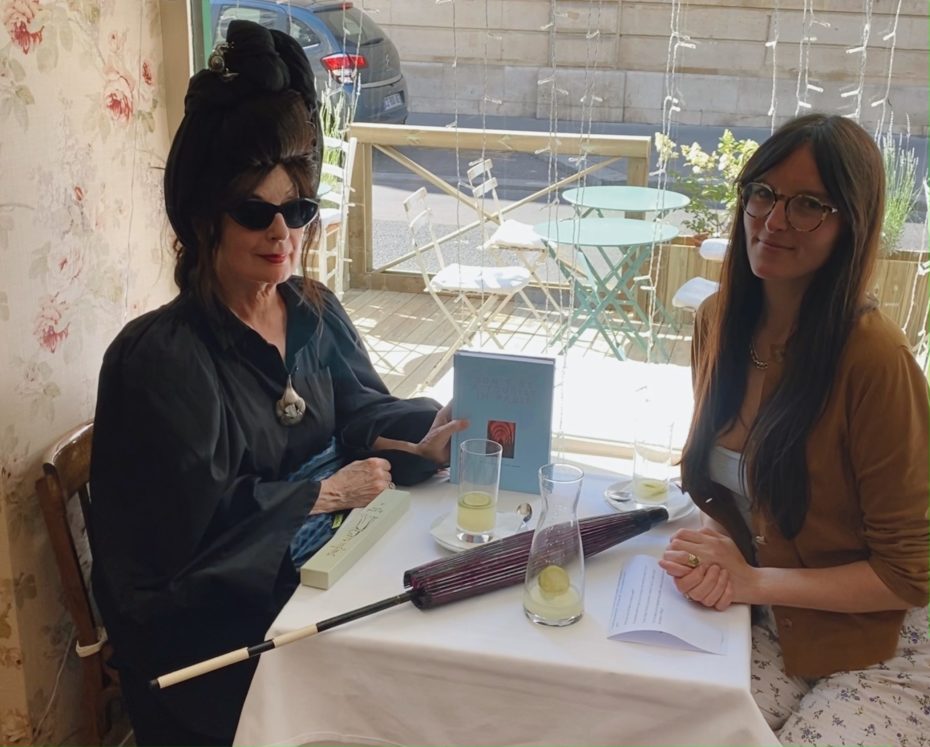 Explore the world of Diane Pernet on ASVOF on her website and Instagram.