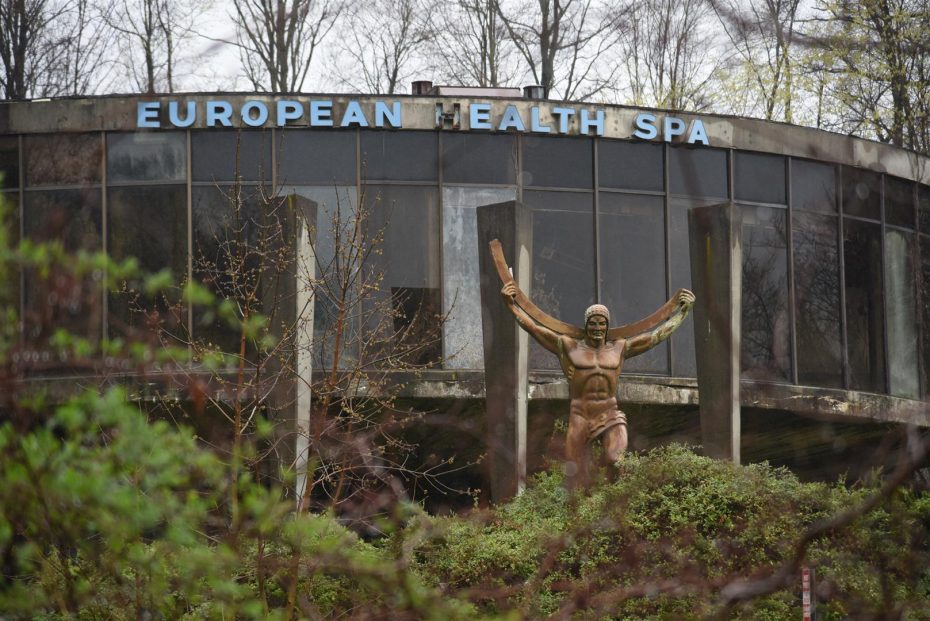 About a half hour north of Manhattan is a curious ruin: a giant, circular concrete drum resting on a narrow concrete plinth, and wrapped with floor to ceiling windows, most of them broken. More concrete can be found in the futuristic looking ramps that swirl around the peculiar structure, giving the abandoned building a Brutalist feel that wouldn't look out of place in the former Soviet Union. Standing guard over the dilapidated ruin is an imposing statue of Atlas, a bronzed colossus emerging from the dense undergrowth, that further adds to the Iron Curtain feel, even though this is one of the most prosperous counties in New York State.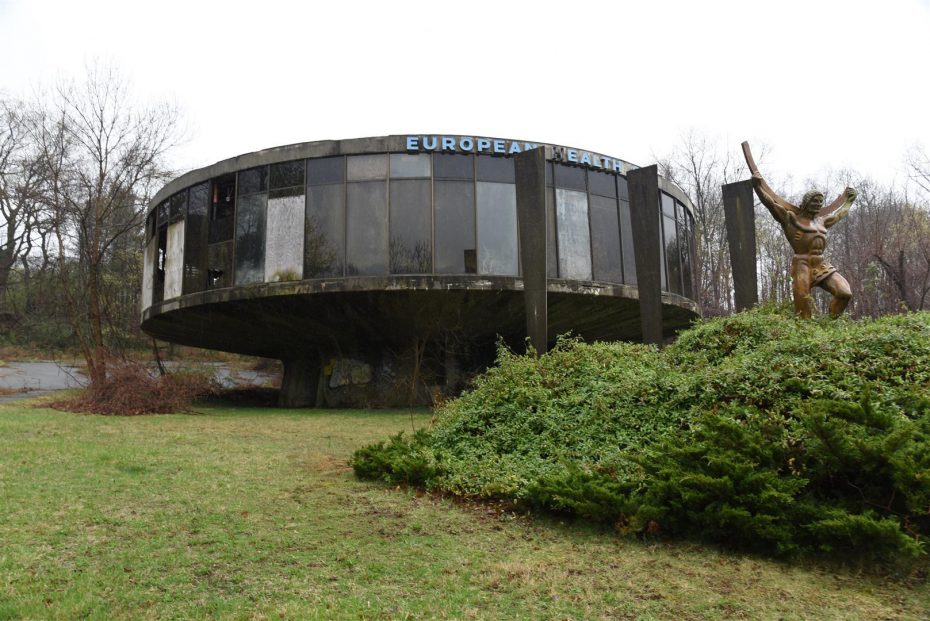 But despite the foreboding concrete appearance, back in the 1970s, this used to be home to something far more "entertaining"; a branch of the European Health Spa, once part of America's largest fitness empire. This architectural oddity was bustling with Finnish Saunas, Oil of Eucalyptus Inhalation Rooms and Hydro Massaging Swirl Pools, that bring to mind private steam rooms full of swingers. Advertising themselves as the "We Want Your Body People!", and enticing customers with promises of "lavish services and luxurious facilities," the Spa was a far cry from the sterile health centres and gyms we know today.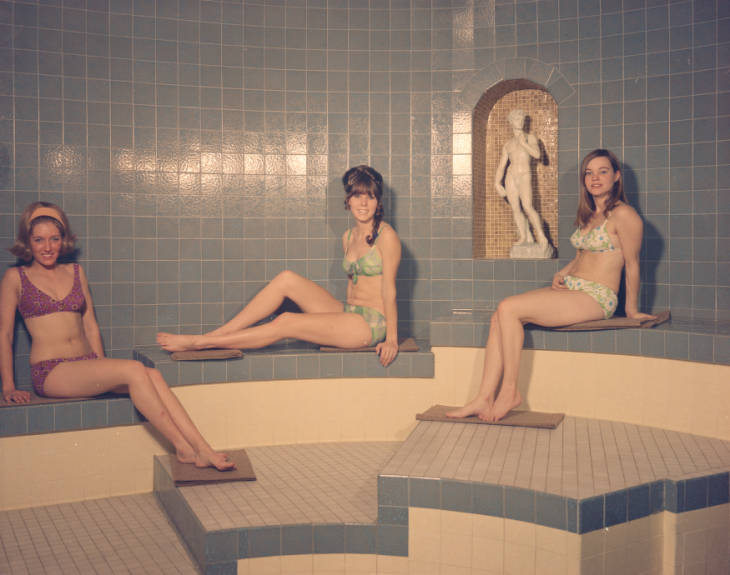 Decorated with mirrored walls, gleaming chrome showers, and a lounge area complete with faux rock walls and a roaring fire place, the Spa was so outlandish they used to keep an actual four hundred pound Siberian tiger called Tuffy, in a glass cage behind the bar. As the Spa's advertising manager put it to the New York Times in 1971, "We brought the tiger here as a symbol of strength and grace and speed."
Abandoned for nearly thirty years, we went to investigate the old Health Spa that seems far more "Boogie Nights" than a place for bench pressing.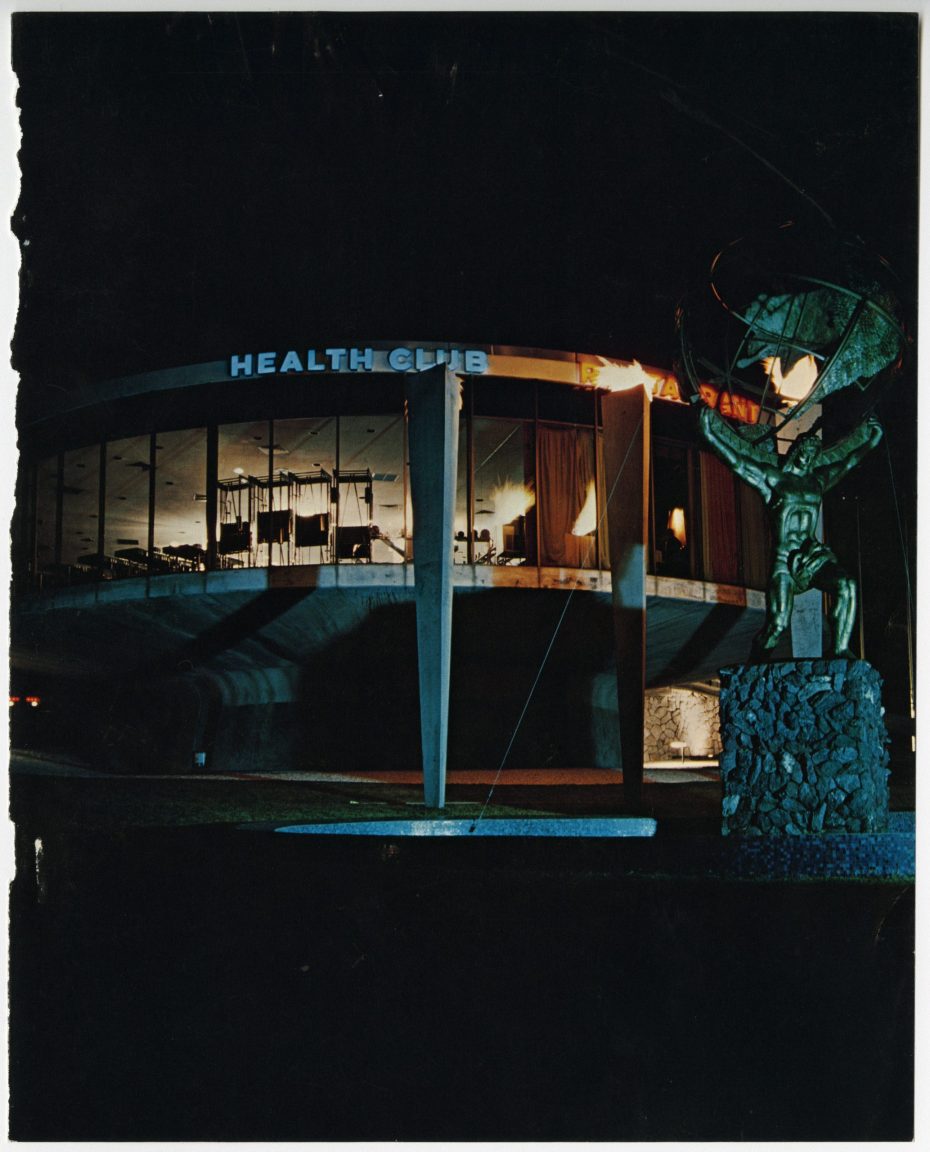 The old Spa rests on an unassuming stretch of suburban road in Scarsdale, NY. It's mostly filled with strip malls, bland office buildings and chain restaurants, which makes the Brutalist looking European Health Spa look all the more out of place. Rob Yasinsac from Hudson Valley Ruins, is a photographer and expert on all abandoned places in the area, who explains, "I made many trips down Central Avenue when I was younger, visiting one store or another with my Mom or Dad. The Health Spa building with the statue of Atlas in front certainly stood out. The Carvel ice cream stand, the first Carvel stand in the country and modernised in the 1950s, was also a visual attraction. That building is now gone. And the Curry Chevrolet dealership was a spectacular well-preserved Mid-Century business with fantastic neon signs. That is now all gone as the dealership was completely modernised a few years ago, but the Health Spa is the last, or one of the last, of the very bold attention-grabbing buildings from the 1950s to early 1970s era of "futuristic" design on that strip that retains its original architectural integrity."
The peculiar European Health Spa was designed to be eye-catching to passing motorists, but today is largely overlooked. Set back from the road on a crumbling forecourt, and fast being swallowed by bushes and weeds, even the majestic statue of Atlas is nearly half-hidden. Once he rose resplendent from a bubbling, backlit pool, but today he looks forlorn. Even his giant globe went missing some years ago. As Yasinsac puts it, "With the weight of the world relieved from his shoulders."
Crossing the barren forecourt, the first glimpse of the Spa's vibrant earlier life is an outdoor pool, hidden under a sweeping concrete ramp. "You'll love the European Health Spa's luxurious atmosphere" ran one of their ads, but today, the pool is filled with fallen masonry, empty bottles and cracked tiles.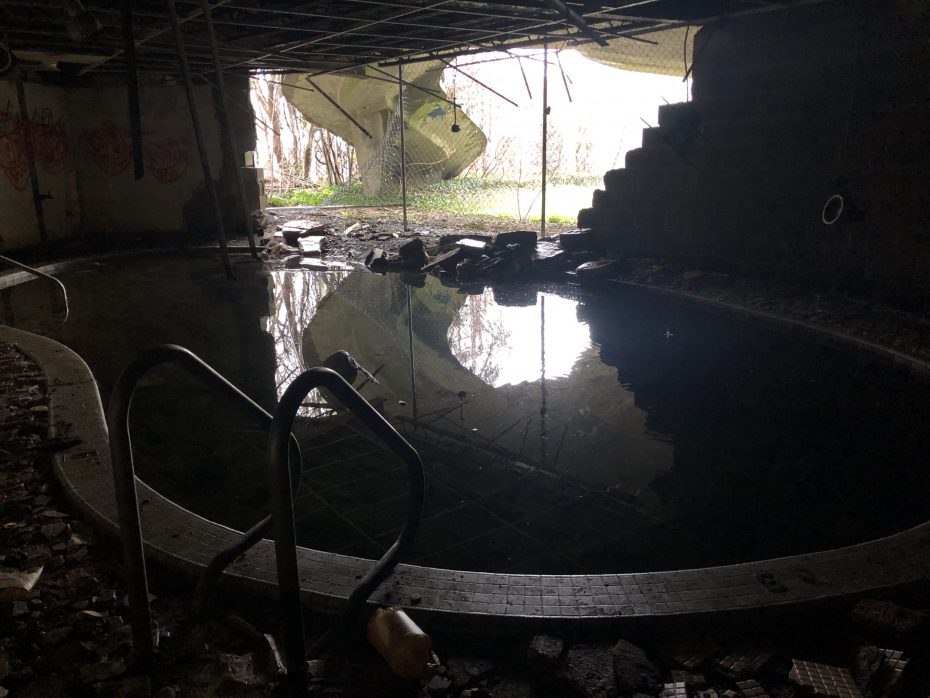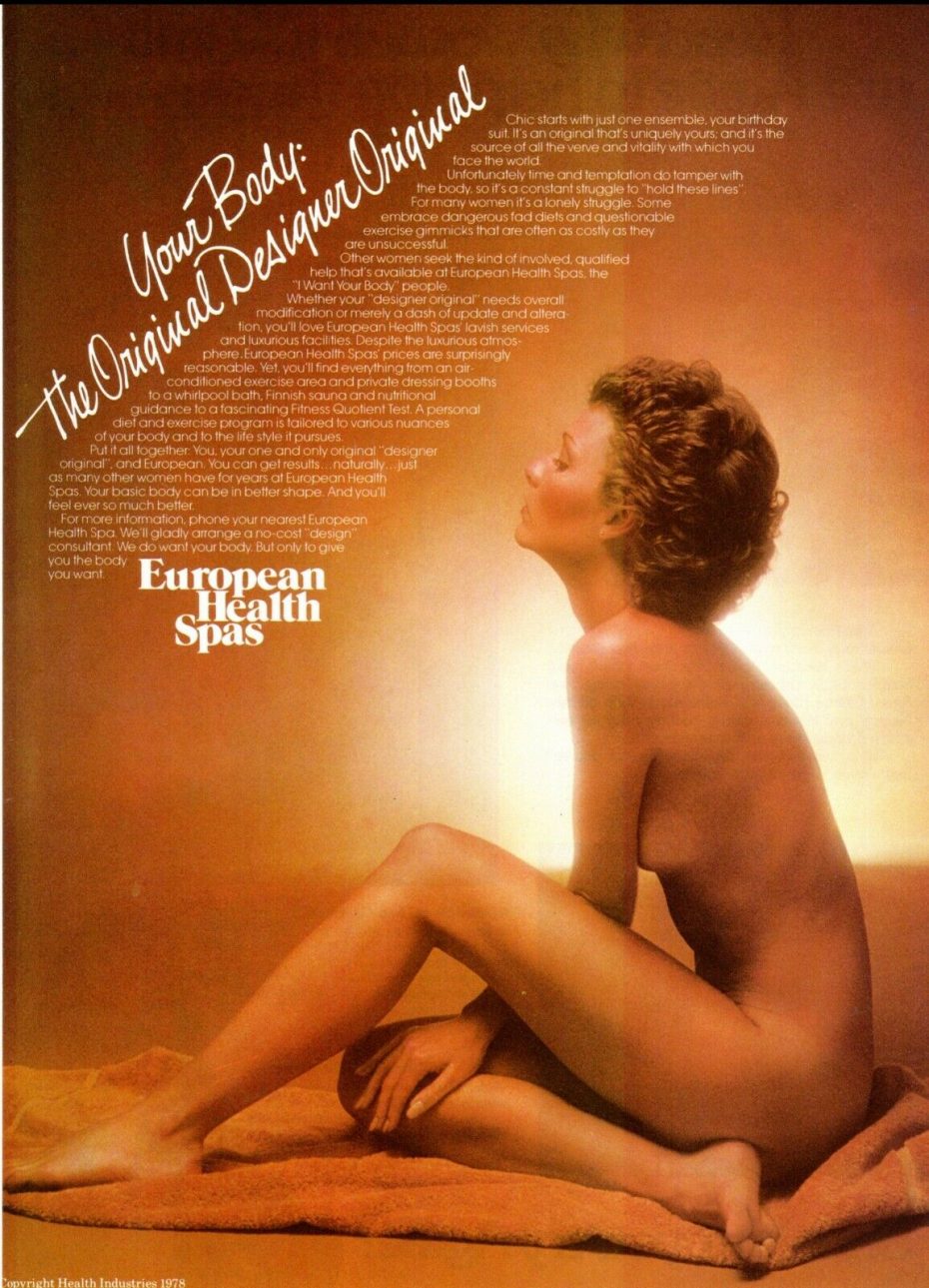 Stepping inside the main circular room, the once lavish surroundings have fallen completely into ruin. Caved-in ceilings, a carpet of green moss, and a forest of overhanging wires tell a sad story. Only fragments of the mirrored walls remains to indicate this was once the height of gaudy seventies interior design.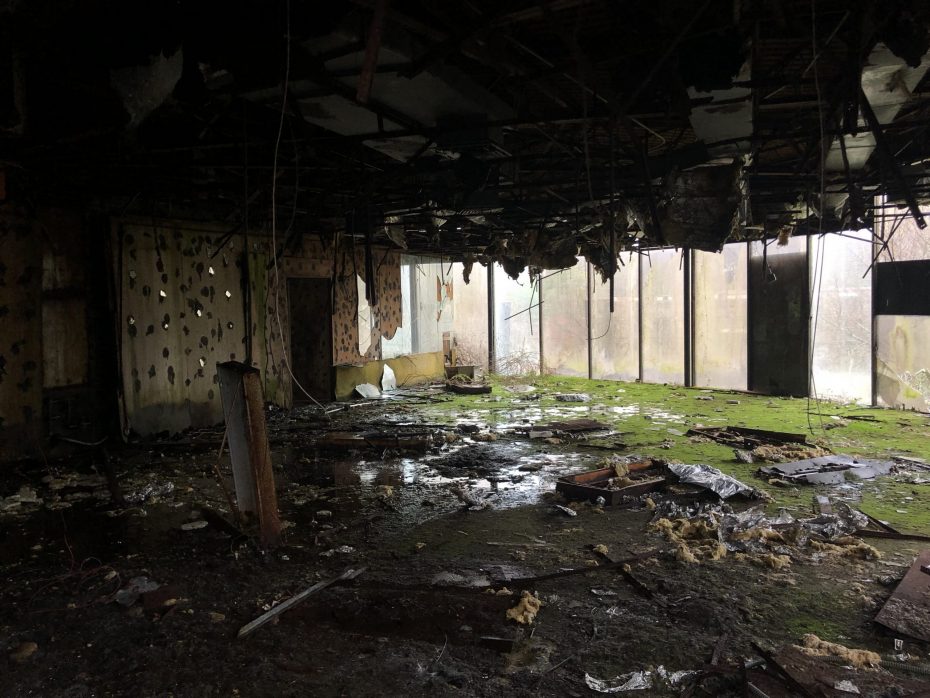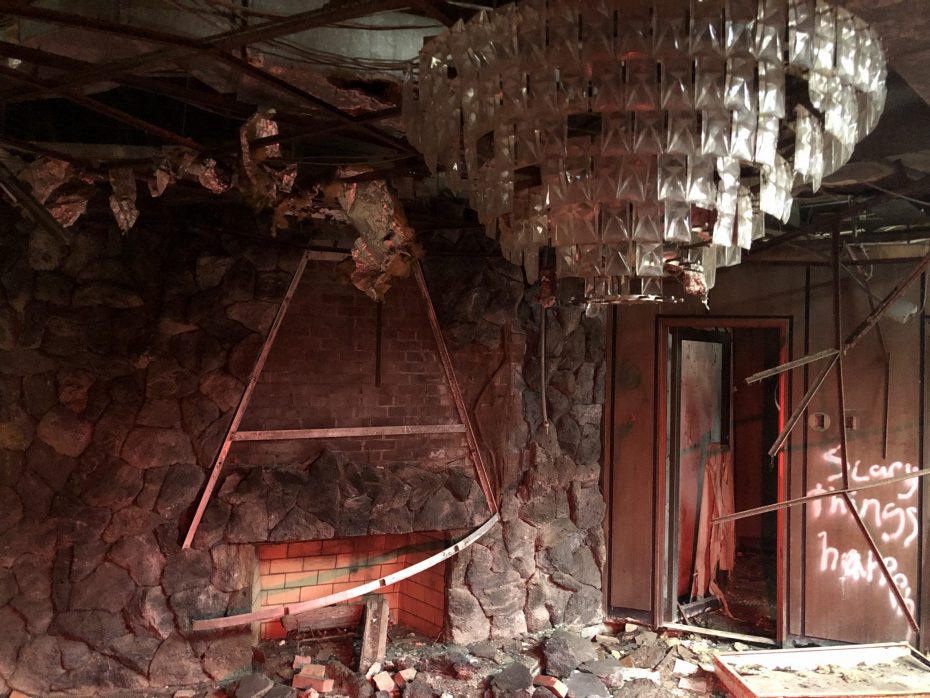 Following the circular corridor, you pass by an enormous fireplace, resplendent with a glittering glass chandelier, and an old sign for the Esquire magazine's 'Health and Fitness Clinic'. Small, private rooms line the main corridor, facing out to the street and hills behind, all with full length windows. Here you would have been able to enjoy 'luxurious figure contouring' and 'mechanical body repro-portioning machines', whatever that may have been, before heading to the 'tropical juice bar'.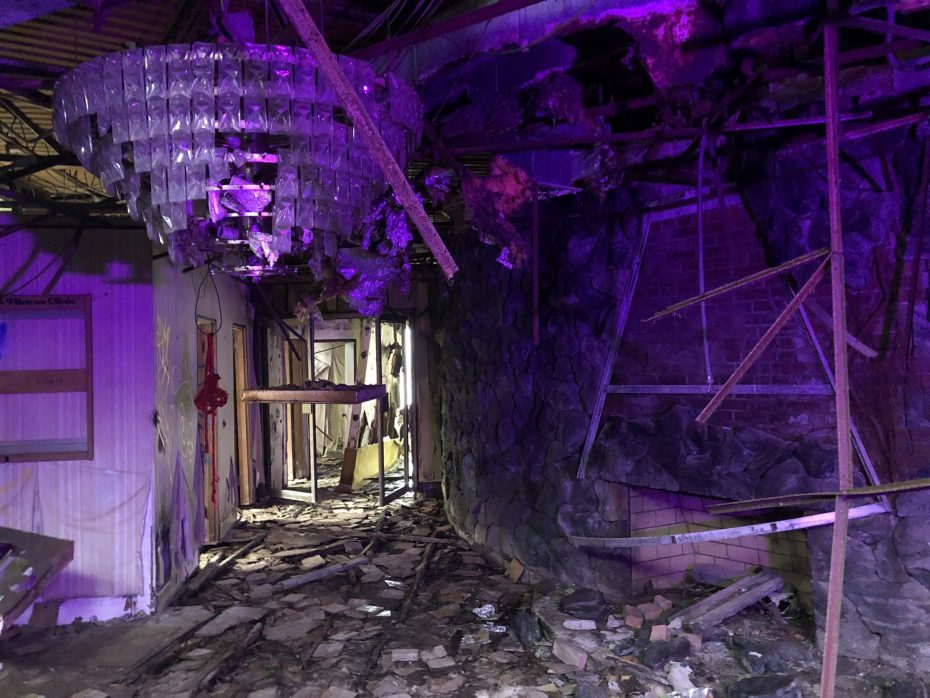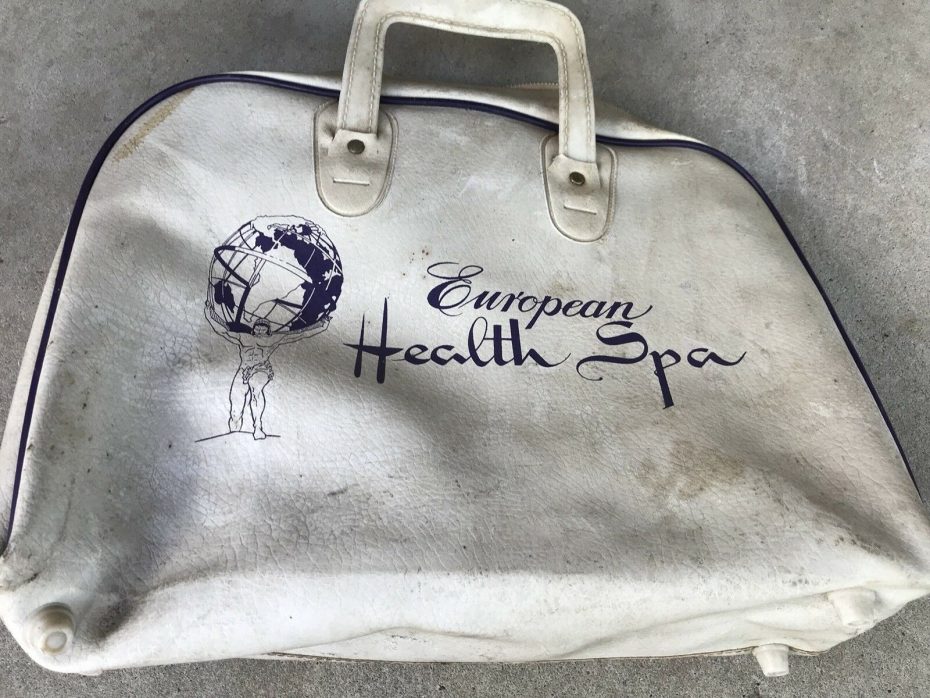 This was all part of the European Health Spa's mission to "Slim You! Firm You! Keep You Fit and Healthy!", but with a Siberian tiger thrown in for good measure. As one former member described, "It was awesome in its day. And JAMMED every time you went there…I joined this club in 1973. You needed to have been a young person like I was back then….strong healthy bodies meant lots of sexual encounters." Although one former employer, who worked at another branch in 1974, (only without the tiger) maintains, "No! It was not a swingers club!"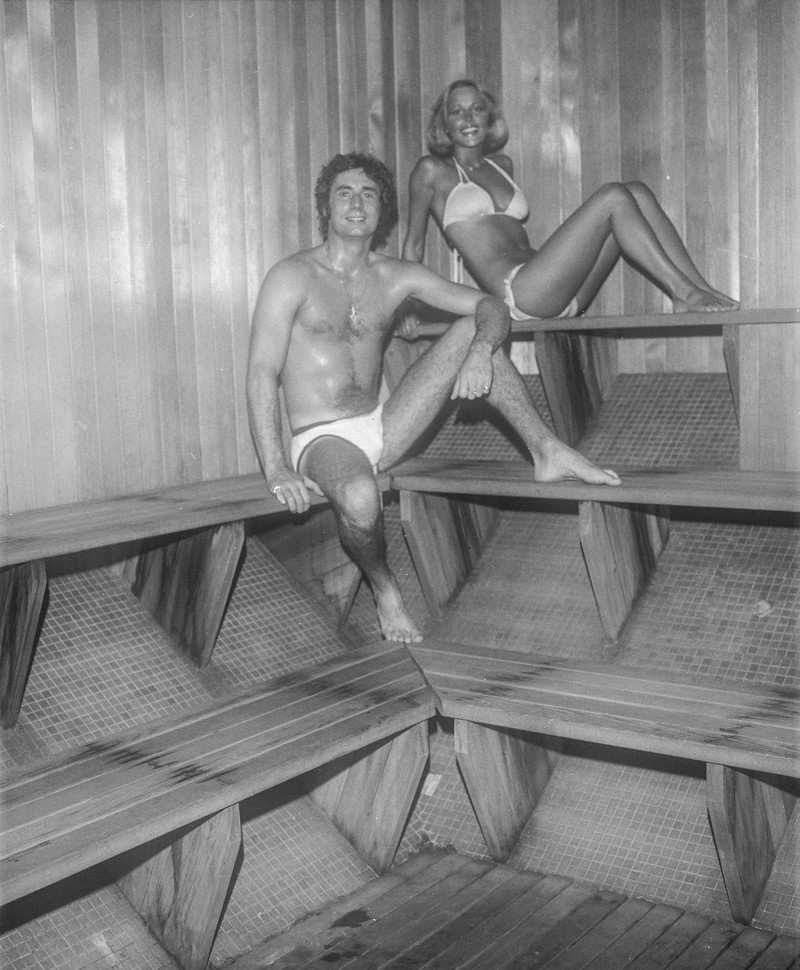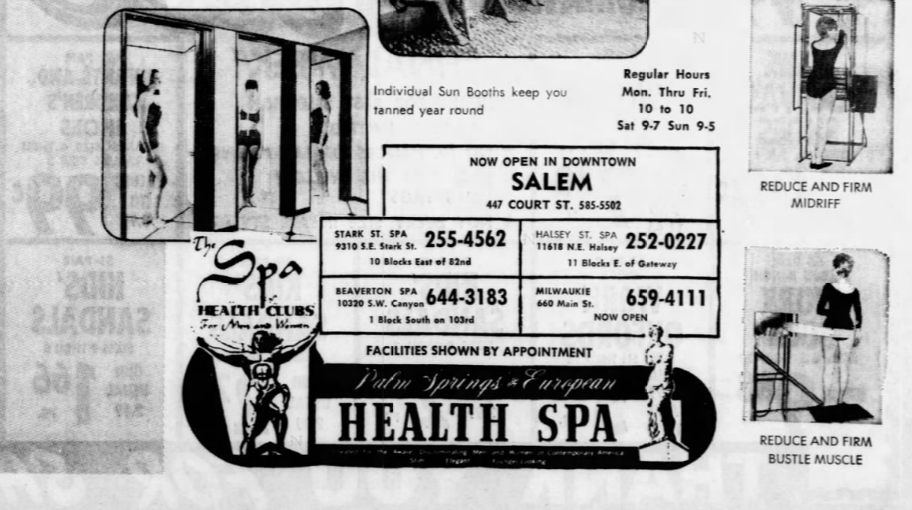 There used to be somewhere in the region of two hundred other branches of the European Health Spa in North America. Archival press releases from the late sixties and seventies show other bronzed Atlases cropping up in places such as Albany, New York, Clearwater, Florida and Englewood, Colorado, in front of banners boasting 'another beautiful $750,000 European Health Spa,' but none of them as architecturally arresting as the one in Scarsdale, which was built in 1969.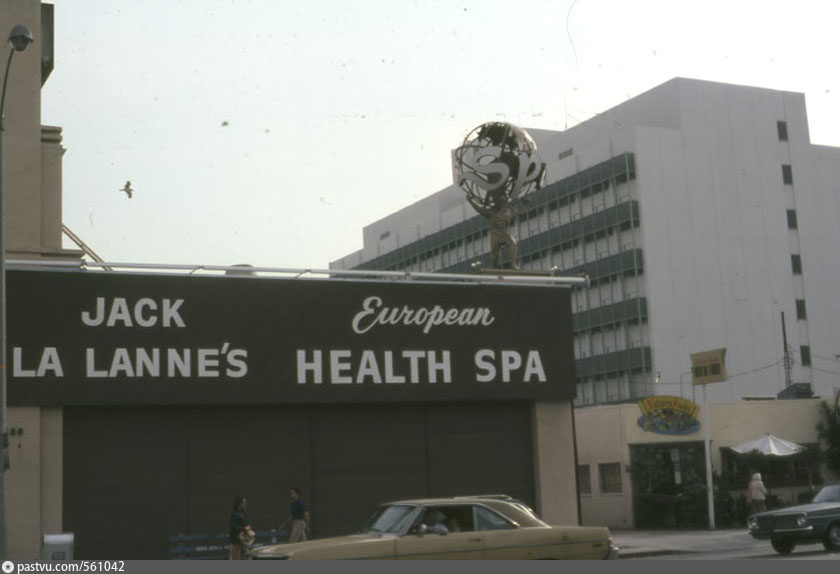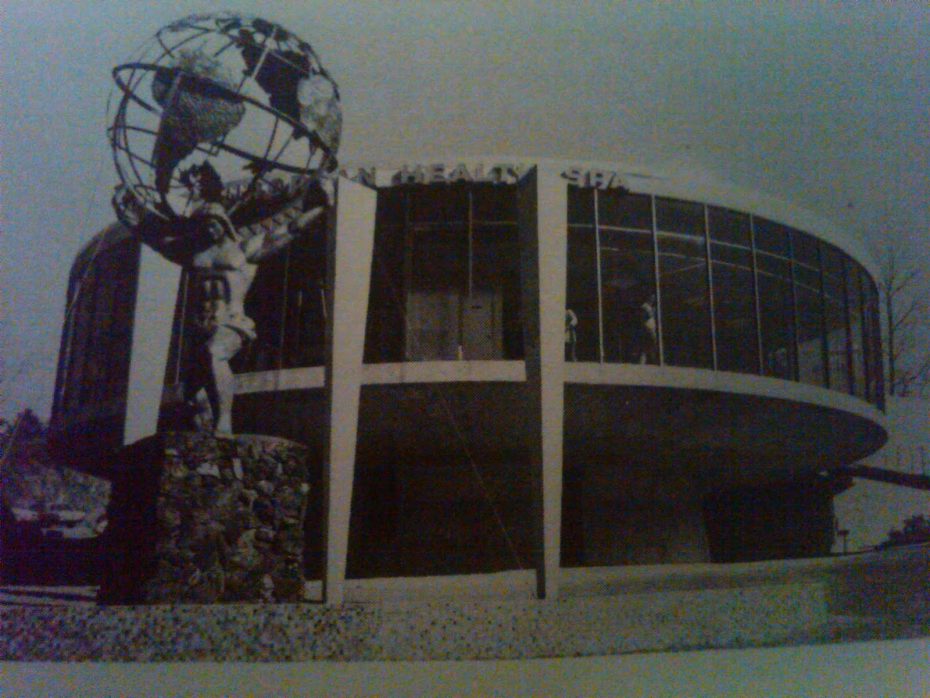 The company was founded in the 1950s by bodybuilder Robert Rice, pioneering the popularity of fitness centres in America, before being sold in 1974 to one man fitness phenomenon Jack LaLanne. When not performing such prodigious feats of strength such as swimming from Alcatraz Island to Fisherman's Wharf in San Francisco shackled in handcuffs, or towing seventy rowboats along Long Beach Harbour, Jack LaLanne was known to millions of stay-at-home housewives in the 1950s with his groundbreaking television exercise programme.
Running for over thirty years, the Jack LaLanne show inspired countless people to exercise in their homes, using everyday household objects such as dining chairs, paving the way for the exercise video boom in the 1980s. In his tighter than tight signature jumpsuits, Jack LaLanne would urge housewives into home exercise "with the enthusiasm of an evangelist" set to a kitschy Hammond organ soundtrack.
As well as his popular long-running television programme, Jack LaLanne devoted himself to promoting nutritional eating, weight lifting, creating a power juicer and designing his own gym equipment, all in the name of promoting healthy living.
But despite such lofty and healthy ideals, the European Health Spa is in an advanced state of decay. Leaving the main circular room, you pass by rows of empty lockers, until you reach a pitch black stairway, which leads to the real treasure of the European Health Spa…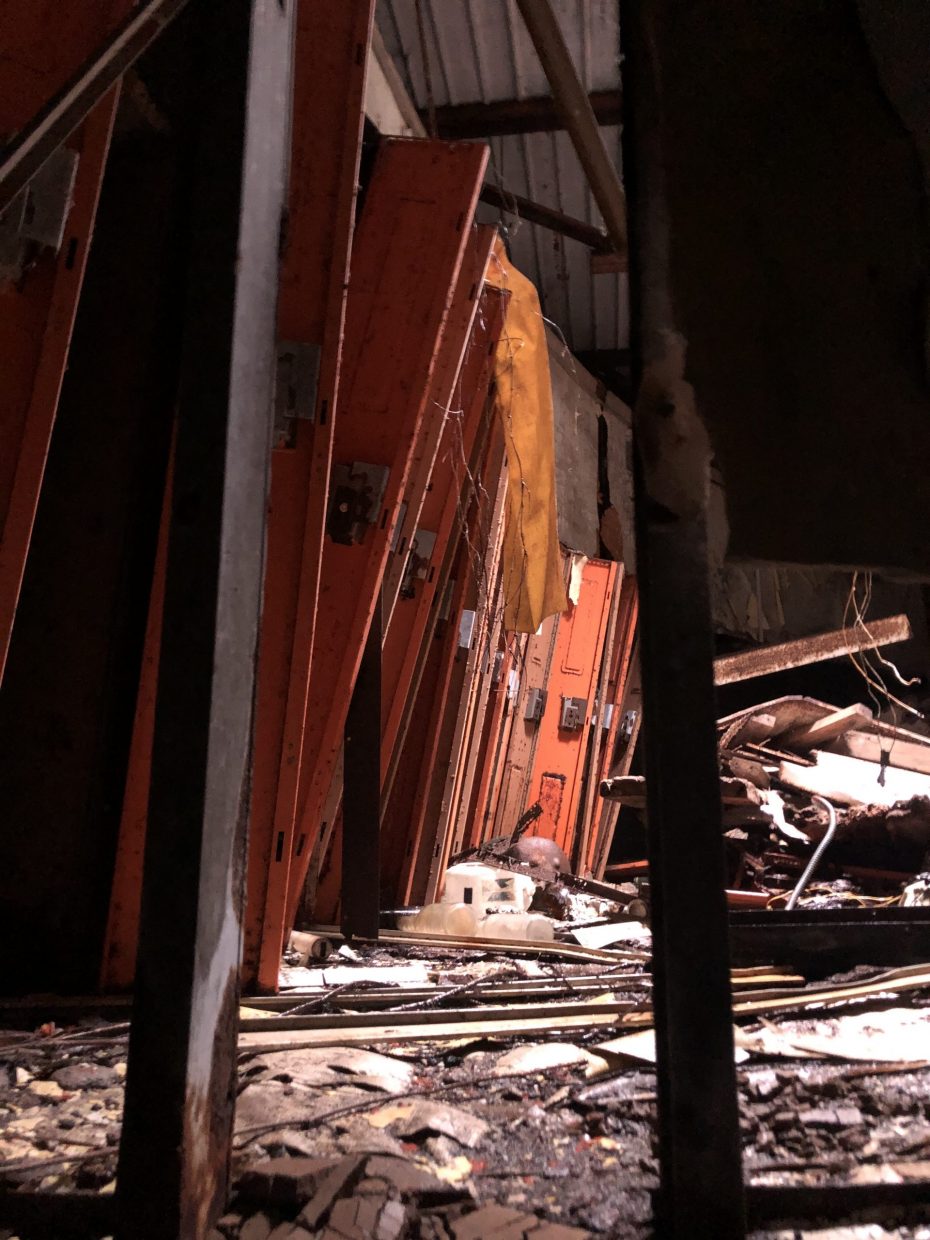 Lit only by torchlight, you descend into a cavernous room, where the only sound is rain coming through the ceiling, falling into a stagnant pool.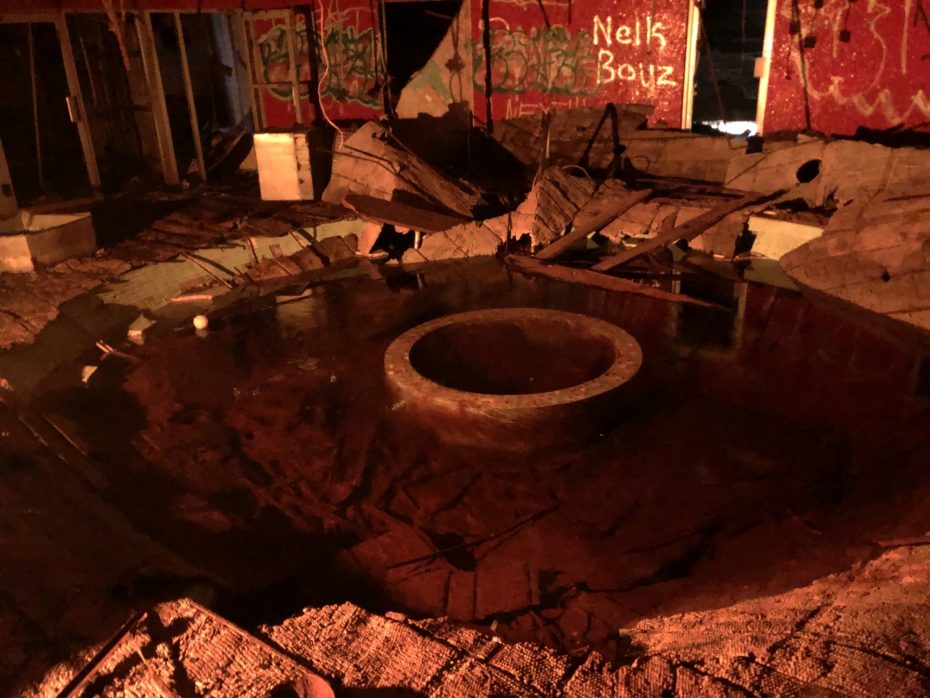 This was once the Hot Mineral Hydro-Swirl-Pool, 'Direct from Europe!', where you could sit in a circle, relaxing in "special seats while Hot Swirling Mineral Water explodes against you!" But shine your flashlight against the back wall to uncover an astonishing mural: naked Greek gods wrestle Minotaurs, carefully avoiding the Hydra serpent, alongside scantily clad, spear holding Spartan female warriors, all painstakingly rendered in minute, colourful mosaic.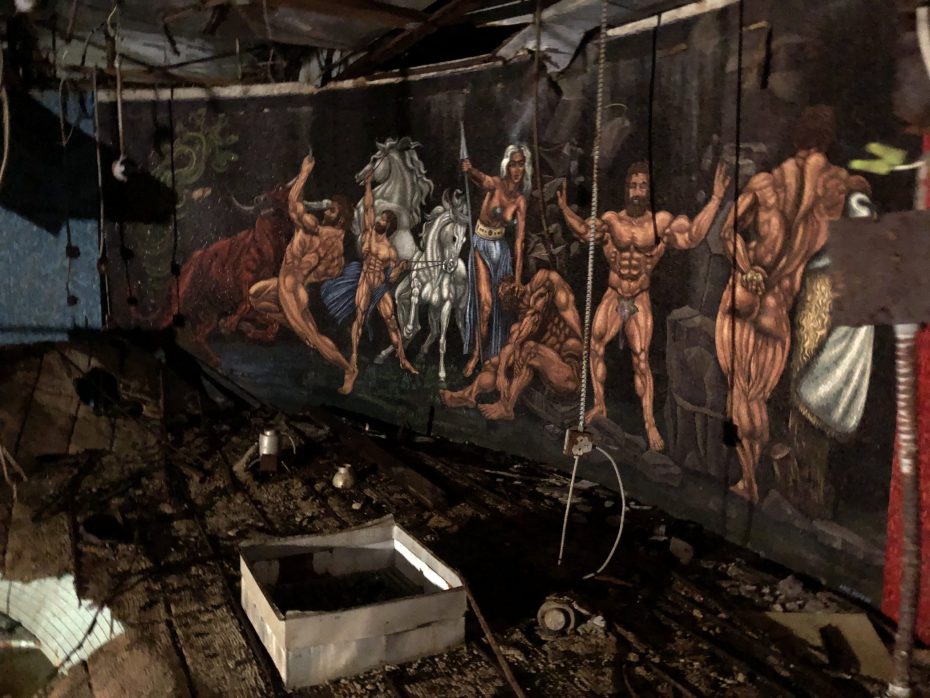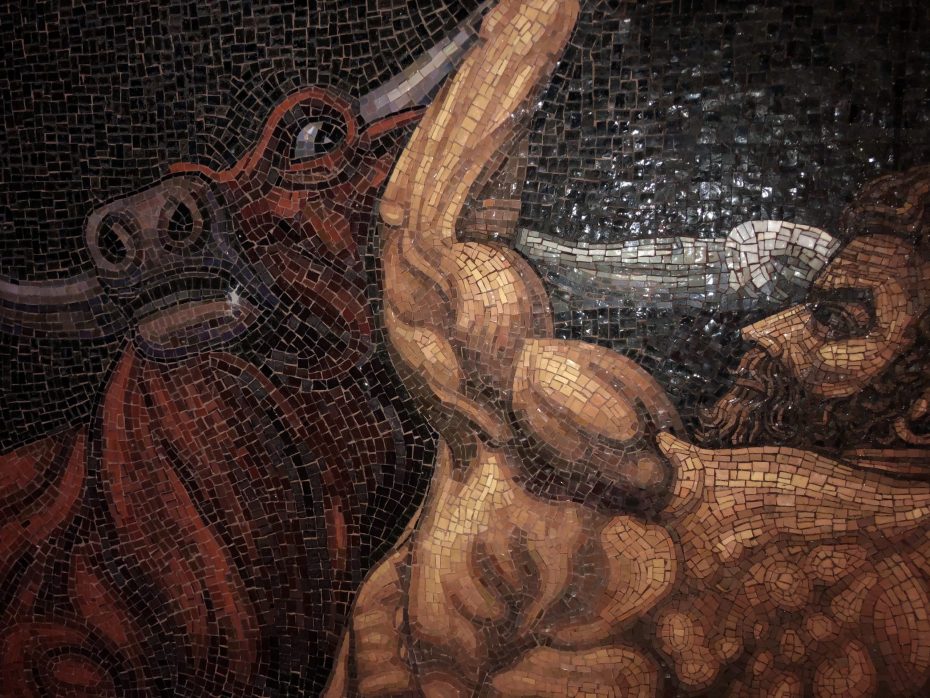 It is as though you've discovered the ruins of an ancient Classical bathhouse, but rendered in 70s kitsch, a feeling heightened by the silver mosaic tiled shower rooms next to the mural, and the blood red tiled individual 'Sun booths' that would keep you 'tanned all year round'.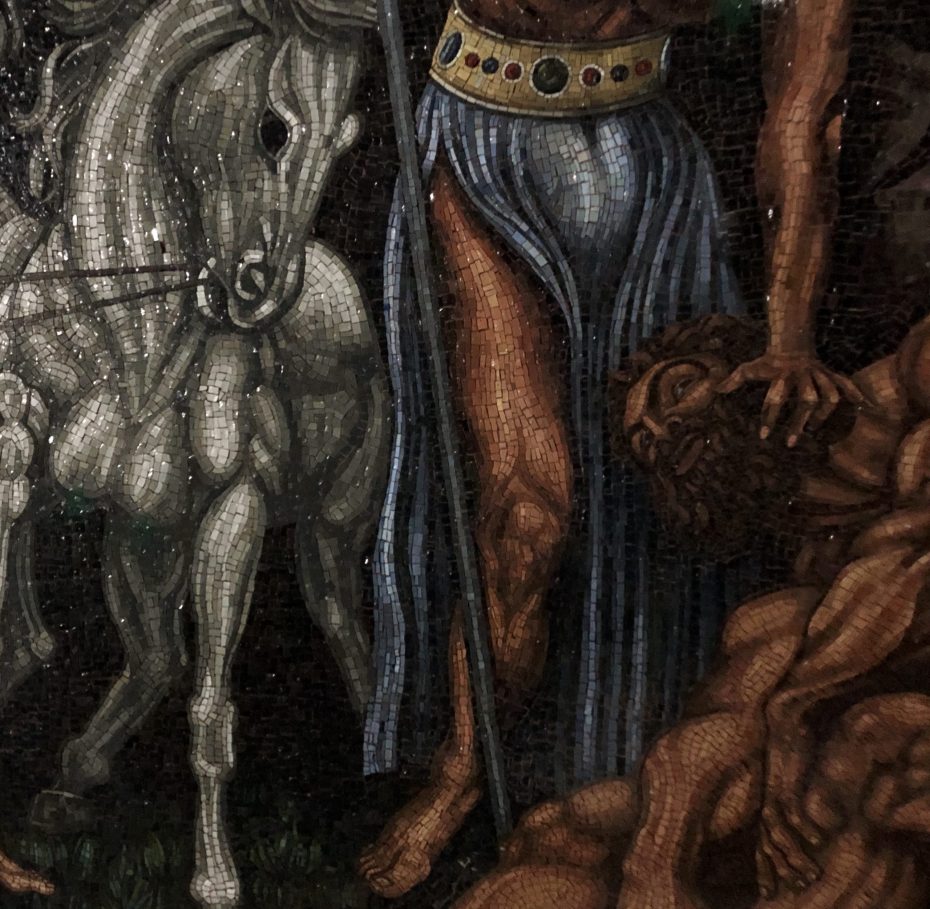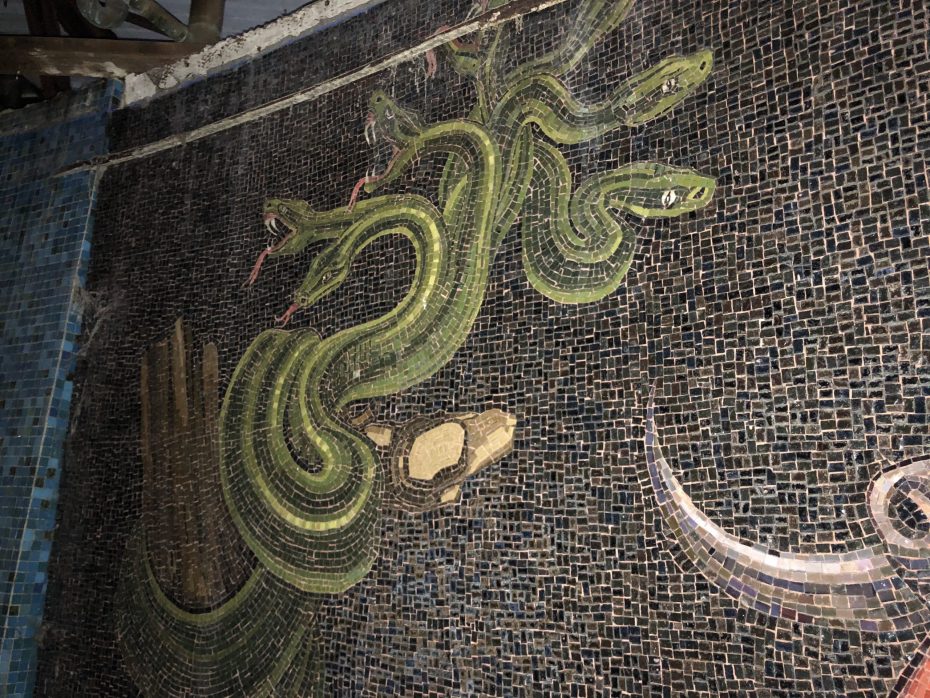 But the swinging times at the Scarsdale Spa would be short lived, and complaints about the caged Siberian tiger thankfully led to an investigation by the Humane Society of the United States. The New York Times reported in 1971 that the Society deemed the "glass cage was too small and urged the management to give up the animal. The club refused saying the tiger was healthy and well cared for. But complaints continued over the summer and […] the State Attorney General's office subpoenaed the club official."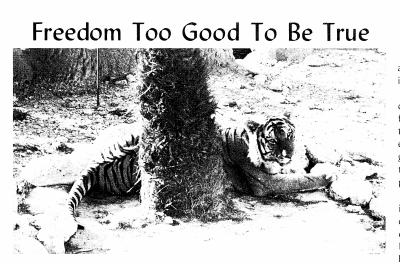 Tuffy the Siberian tiger was eventually donated to the Gladys Porter Zoo in Brownsville, Texas, where he initially suffered from agoraphobia: "He's been closely confined in solitary for so long he has difficulty relating to anything else," reported the newsletter of the Humane Society of the United States in 1972. But the tiger soon enjoyed his new surroundings at Brownsville Zoo. "He loves to roar at the top of his lungs," updated the HSUS, "as though to announce his freedom to the world."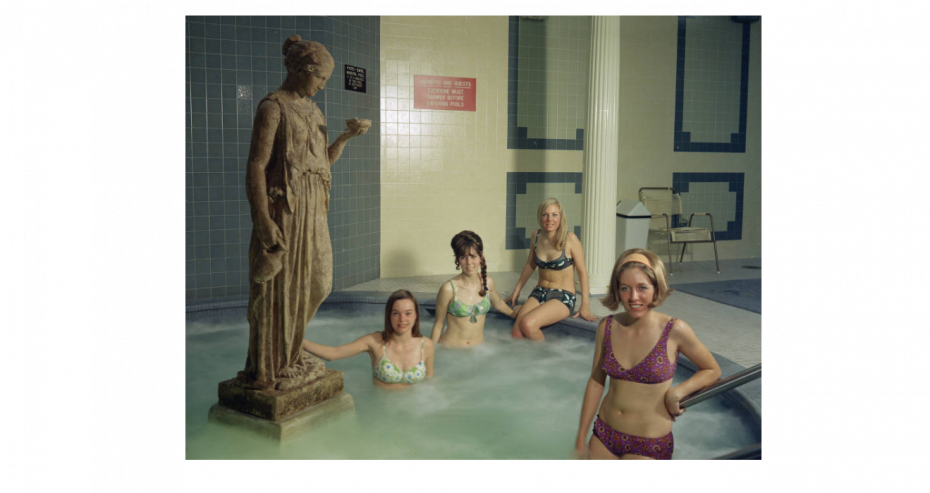 Jack LaLanne eventually licensed his European Health Spa empire to Bally Total Fitness in the 1990s, but that company would file for bankruptcy in 2016. Many of the buildings were demolished, the giant statues of Atlas mysteriously disappearing along with them, although you can still see one outside a modern fitness centre in Reno, Nevada.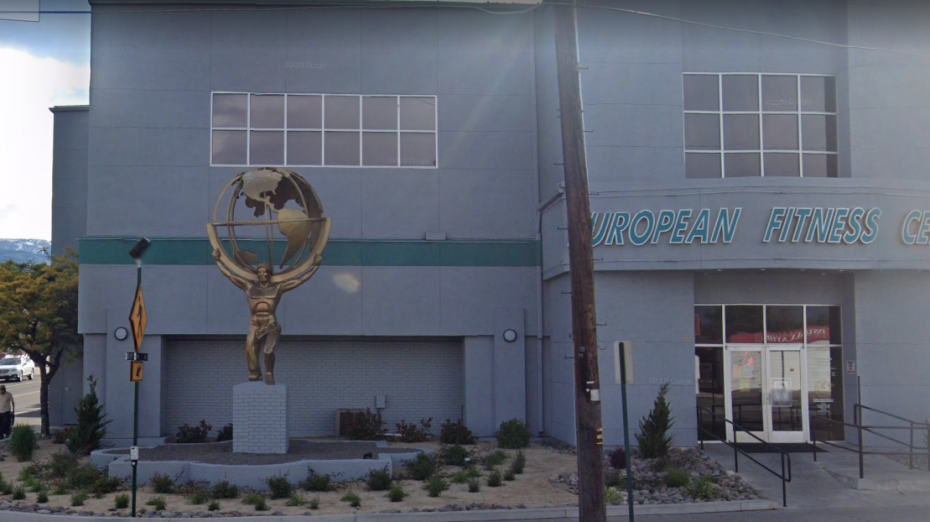 The futuristic-looking ruin Scarsdale is currently owned by a carpet company next door, but sadly the interior of the building appears too far gone to save.
"I can say that I've seen photos of its decay," explains Rob Yasinsac, "and that the ceilings and walls would certainly need to be ripped out and completely rebuilt. It would need all new mechanical infrastructure. As was the case with the contemporary Orange County Government Centre in Goshen, NY, [a striking Brutalist masterpiece of textured concrete blocks and large glass windows], I think the Health Spa can be stripped to its concrete core and frame, and rebuilt. And that tiled mural in the pool room is in pristine shape! It can be reincorporated."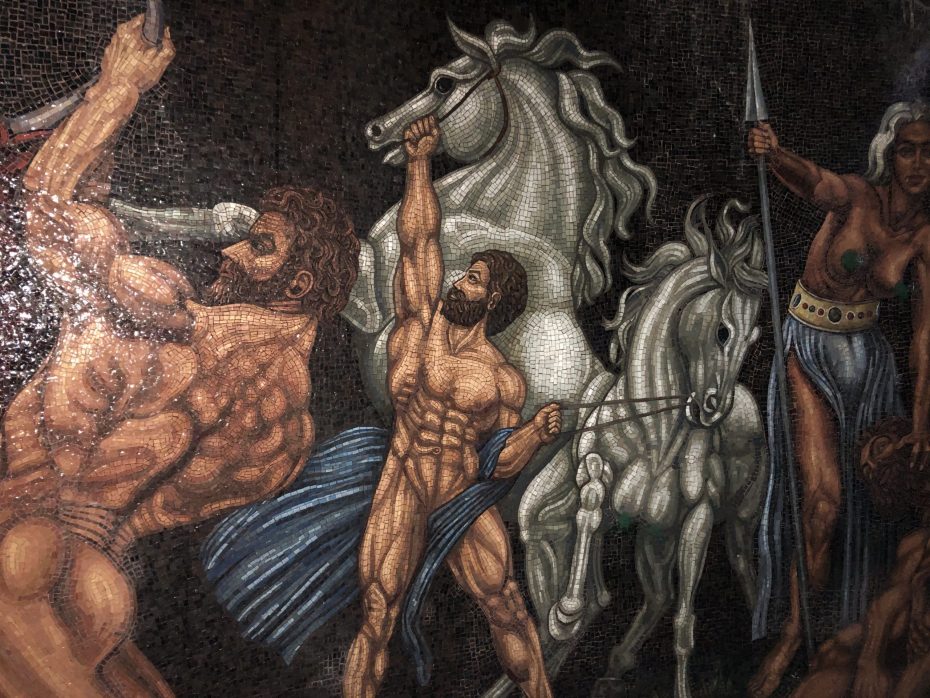 Today, the European Health Spa, arguably a gem of mid-century design remains empty, lying forgotten by the roadside. The fall of grace feels palpable: where people once thronged to hone their bodies and luxuriate in healing pools, there is now only decay and ruin. A little bit like our New Year diet plans.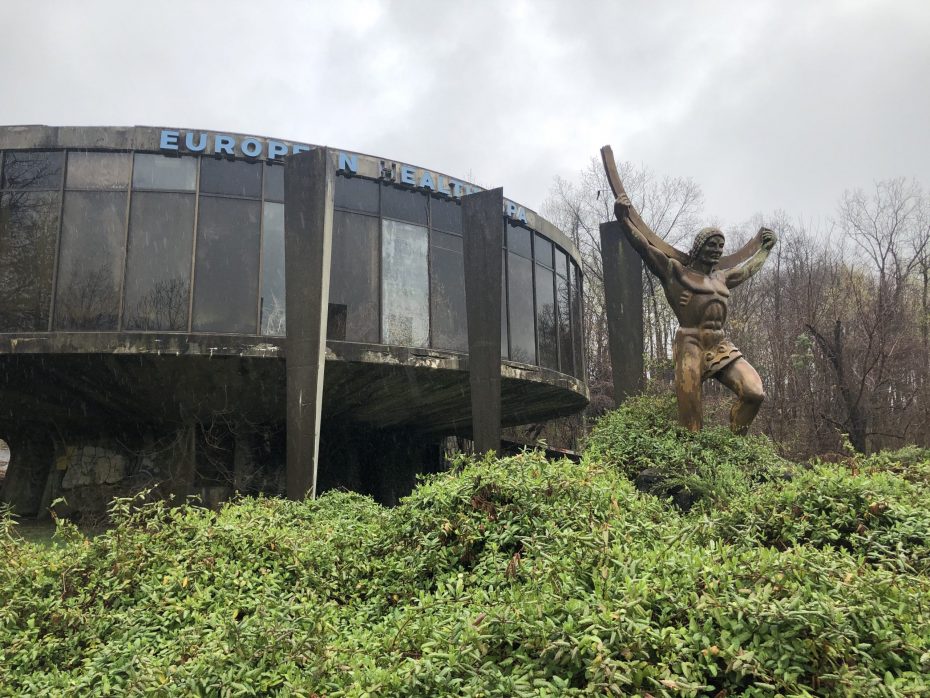 Written by our gentleman explorer, Luke J Spencer