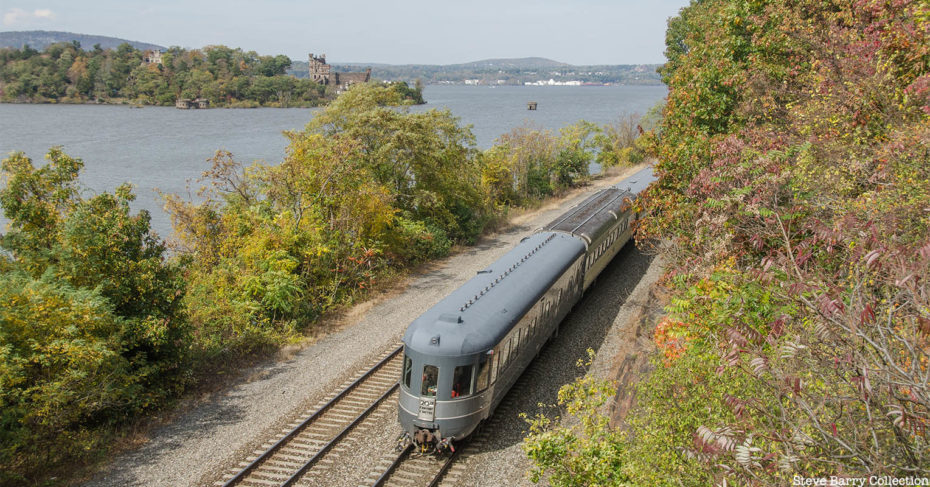 One of America's most iconic train journeys of the past is making a comeback, for it is now possible on special occasions, to ride the tracks that hugs the banks of New York's Hudson River northwards on one of the most luxurious trains to ever grace the rails – the 20th Century Limited.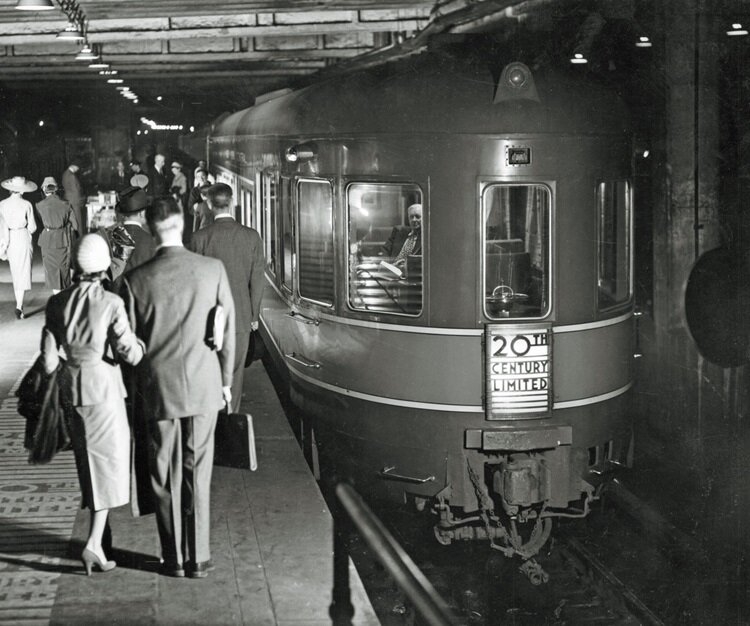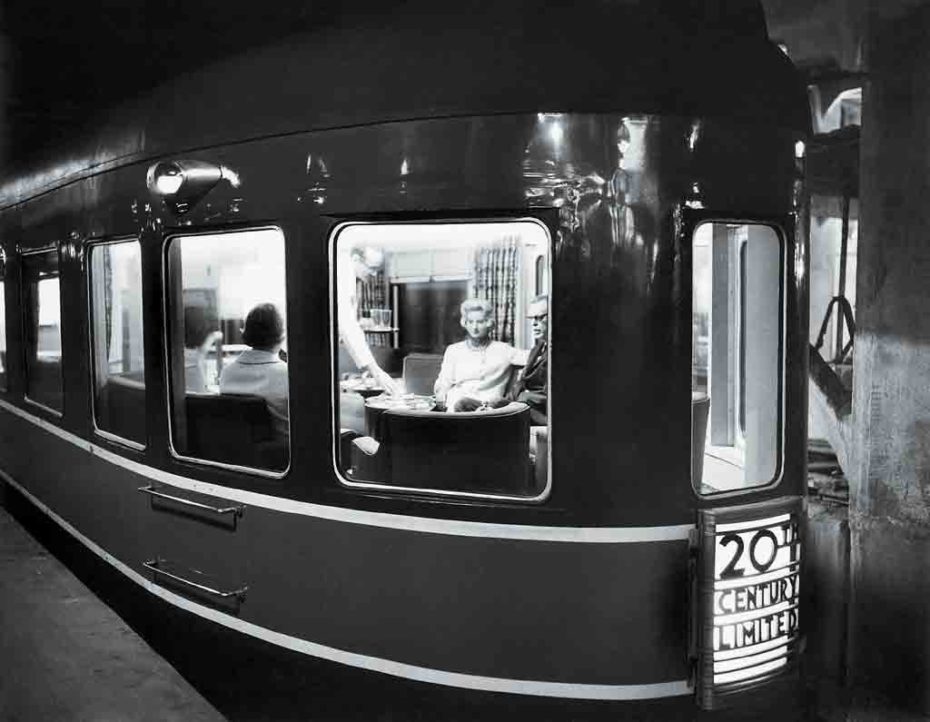 Thanks to the sterling preservation work done by the United Railroad Historical Society of New Jersey, on selected dates you can board an original, Pullman sleeper, observation and lounge car from 1948, and travel from New York to Albany, re-living the glamorous golden age of long distance train travel, on what was once known as 'The Most Famous Train in the World.'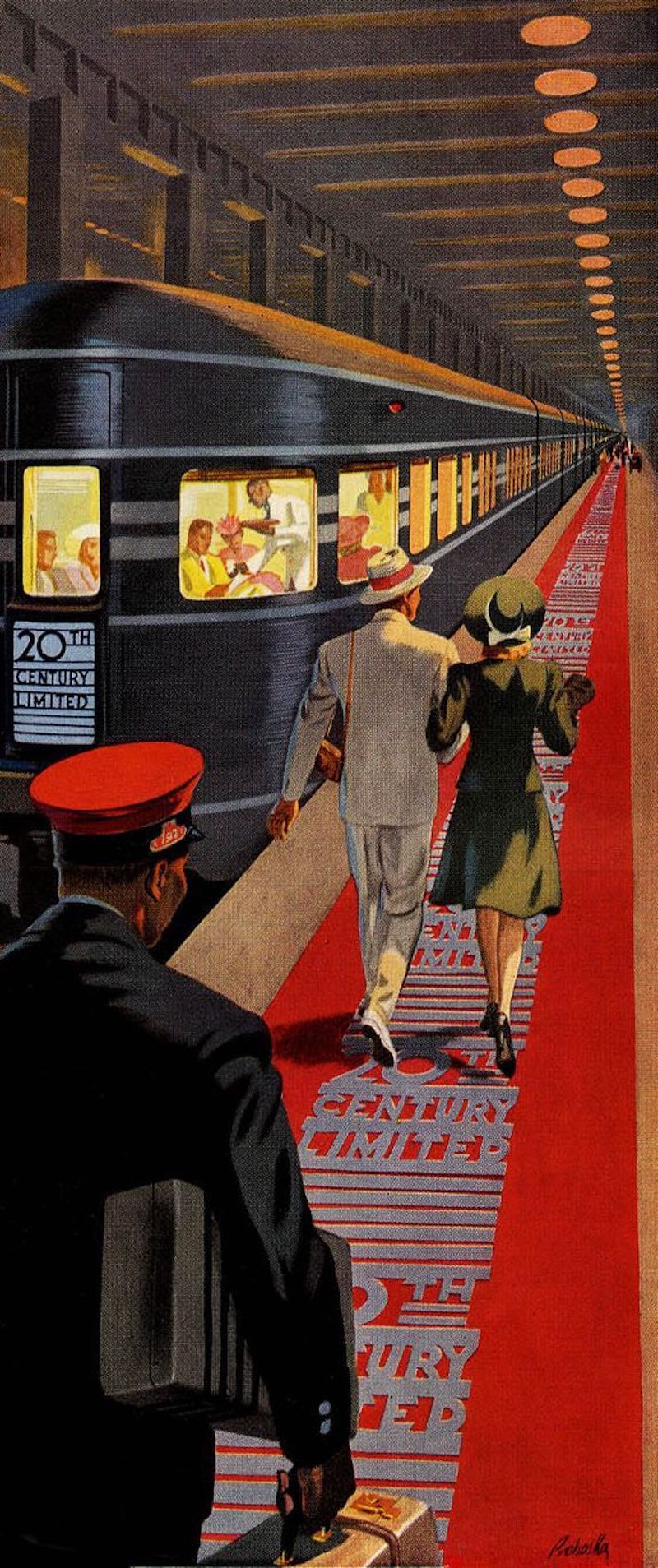 The 20th Century Limited originally ran from New York's Grand Central Terminal to La Salle in Chicago, from 1902 to 1967, and was the flagship train of the New York Central railway. From your journey's beginning in New York, every aspect of the 20th Century Limited was geared towards the glamourous. From the spectacular grandeur of Grand Central Terminal itself, well-heeled passengers would walk along Track 34 towards their berth along a football length crimson carpet, whose stylish Art Deco lettering of '20th Century Limited' would give rise to the expression 'red carpet treatment'. Gentlemen passengers were handed a carnation for their button hole, whilst ladies were given flowers and perfume.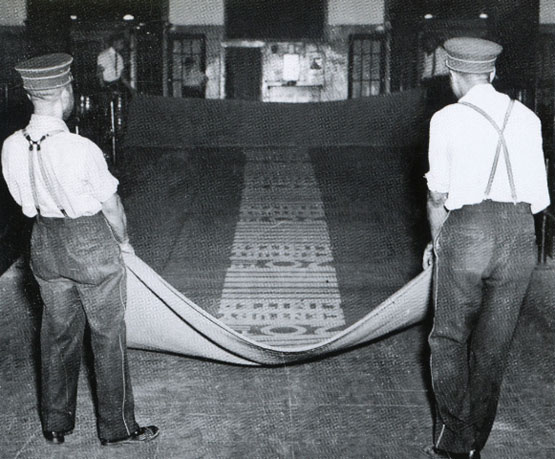 As one of their advertisements from the 40s enticed under the banner, "The Magic Carpet Rolls Out Again!":
"A minute ago, outside the station, you were in the heart of a great city, with crowds, blaring taxis, and newsboys shouting the evening headlines. Now you're in a different world as you follow that crimson carpet down the platform of Grand Central Terminal toward the softly lighted, streamlined cars that will be your club on wheels for the night."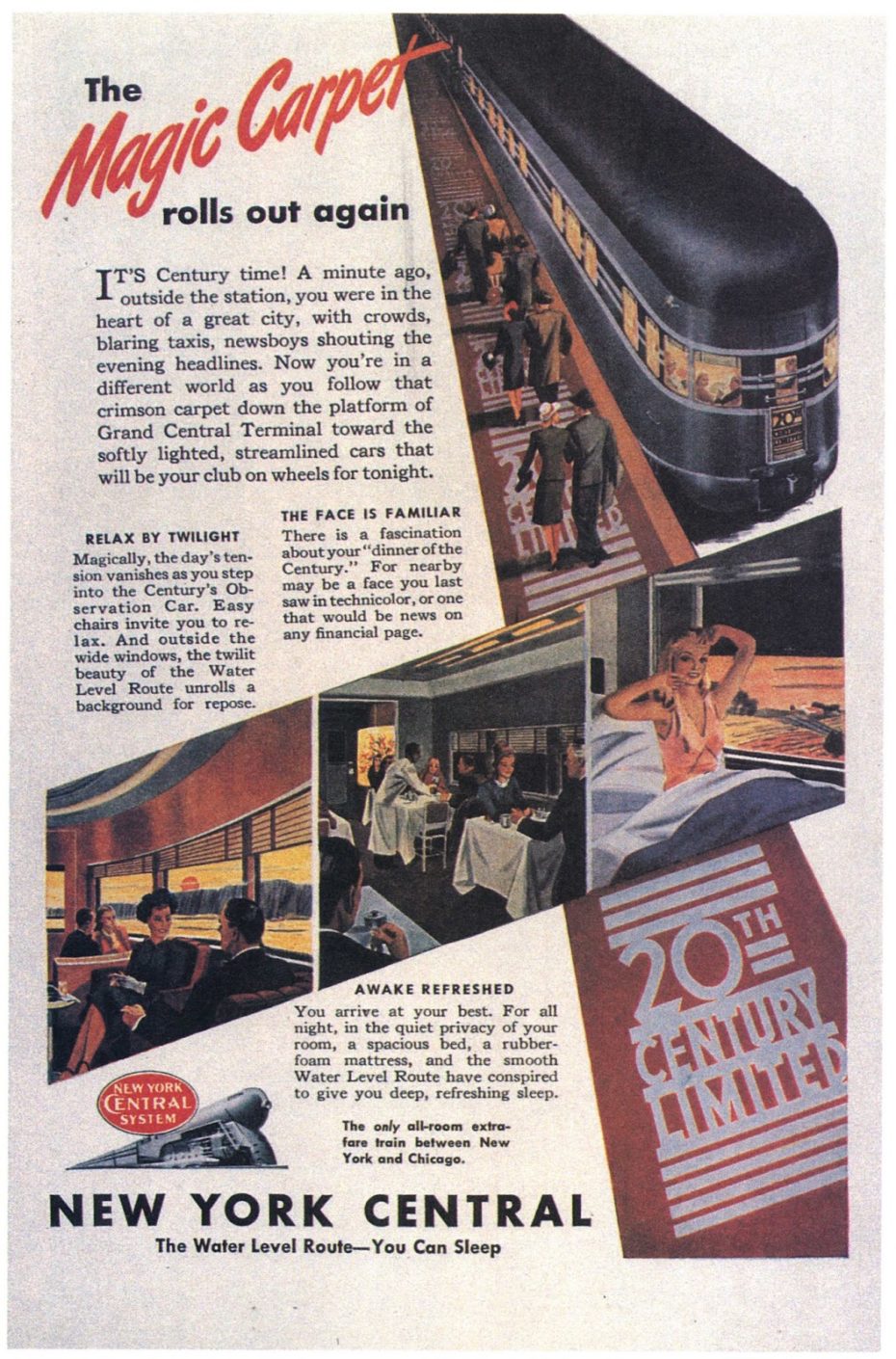 For those where the method of getting there is as much a part of the adventure as the destination, traveling long distance by train is far superior to flying. Still today it is possible to take overnight trains across America, far removed from the delays and crowded terminals of modern airports. From the moment you step aboard the train to being shown your own private sleeper cabin, to introductory cocktails being served in the bar car, before reserving and being later called to a dinner service served on white linen table cloths, the allure of long distance luxury train travel lies in its seclusion: there is nothing to do, but with a cocktail in hand, slowly watch the world slip by.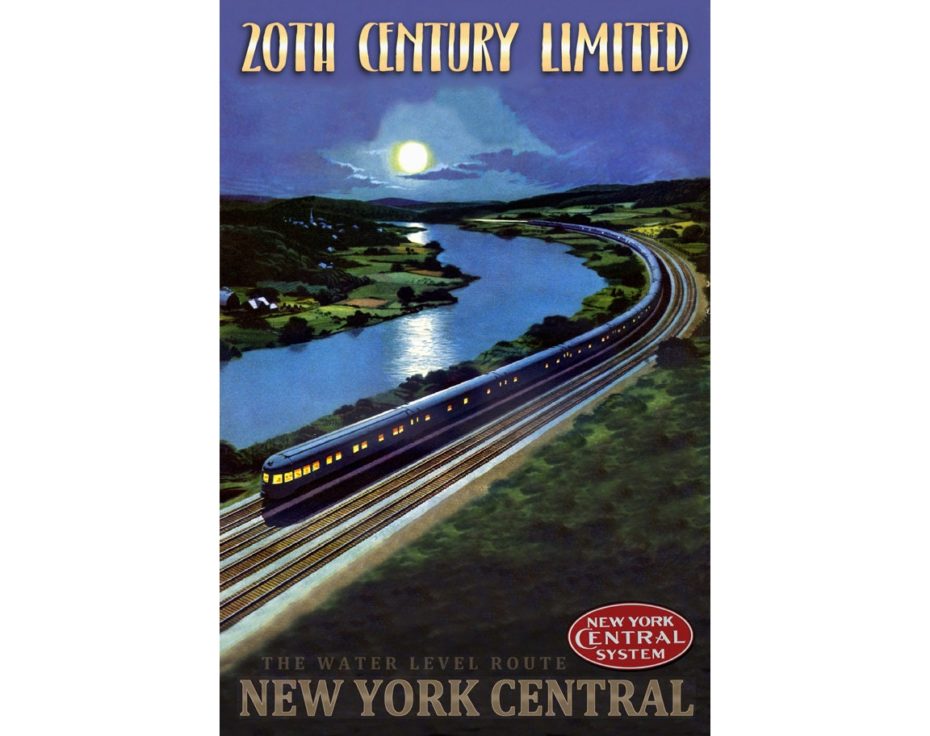 The 20th Century Limited would leave New York around 6pm in the evening, before bringing you, fresh faced and well rested in downtown Chicago around 8 the next morning. It would also transport you in some of the most spectacular trains ever seen in America. They were boldly designed with a streamlined Art Deco style by Henry Dreyfuss, a Brooklyn born designer who dreamt up everything from steamships and Park Avenue buildings to now iconic looking household products.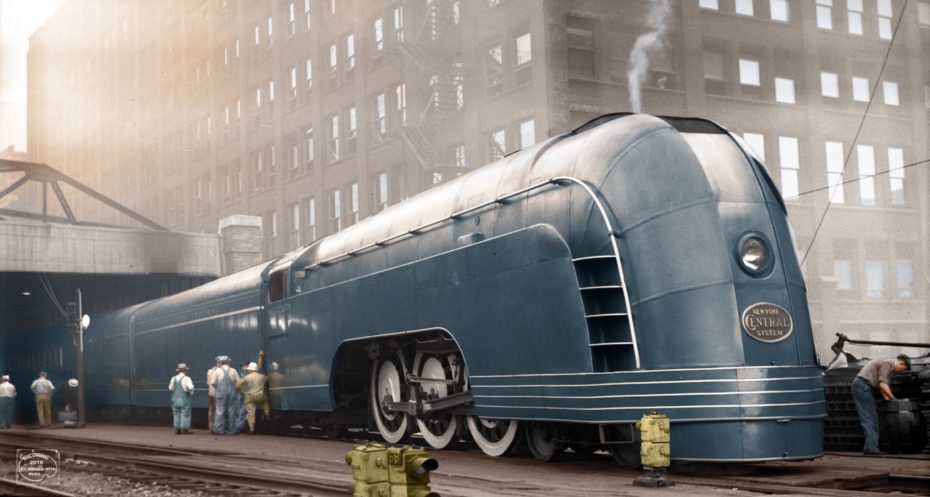 Dreyfuss created a sleek refrigerator for General Electric, futuristic looking vacuum cleaners for Hoover, and perhaps the most elegant alarm clock you've ever seen, the Westclox 'Big Ben'. And somewhere in-between he dreamt up grand train designs for the New York Central, trains with names such as the Mercury, the Dreamliner and an Art Deco masterpiece for a new 20th Century Limited.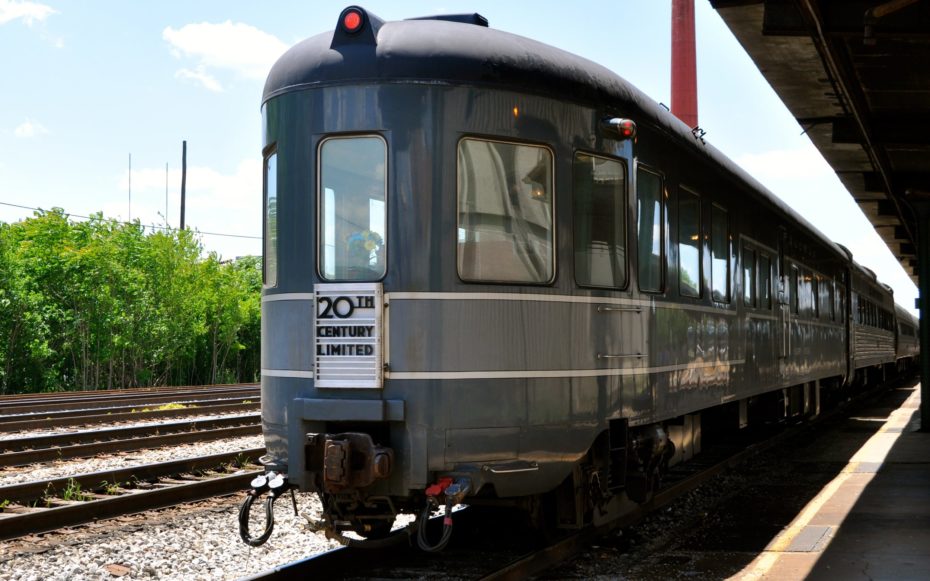 The train being put on today by the United Railroad Historical Society of New Jersey is an original 1948 Dreyfuss designed 'Hickory Creek' car that came complete with a curved streamlined front, oversized observation windows, four bedrooms and bathrooms, a kitchen, and dining seat. Connected behind is a restored 'Tavern Lounge No. 43', where passengers would be able to leave their sleeper berths and relax in an actual bar. No wonder one advert for the 20th Century Limited promised "Gentlemen – This Train is your Office of your Club'. On board, "hushed against the sound of travel, with cool fresh air, if there is work to catch up on, the Century Secretary is at your service. As are the barber and valet!"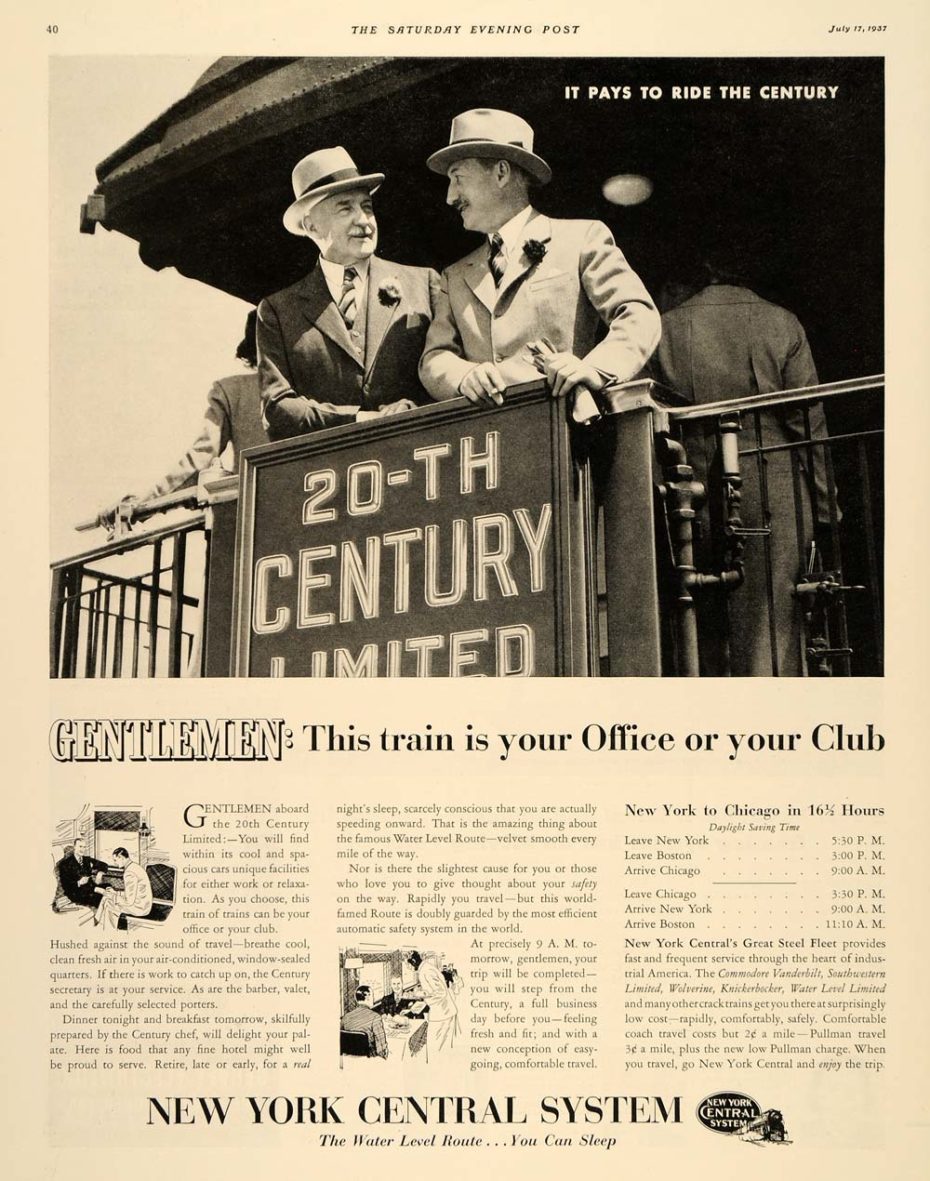 "It allowed us to get a taste for what luxury travel was like back in the day. Just the train car itself, with its picture windows, sleeping compartments and working kitchen, allowed us to imagine for a moment what it must have been like to travel in the 1940s and 50s. The ease of movement around the car and fine food is such a contrast to travel today. We really appreciated the hard work that went into restoring these train cars, and the attention to detail all the volunteers must have had to make the restoration possible. We were so lucky to experience this wonderful day with our fellow vintage loving friends, and hope we can do it again in the future!"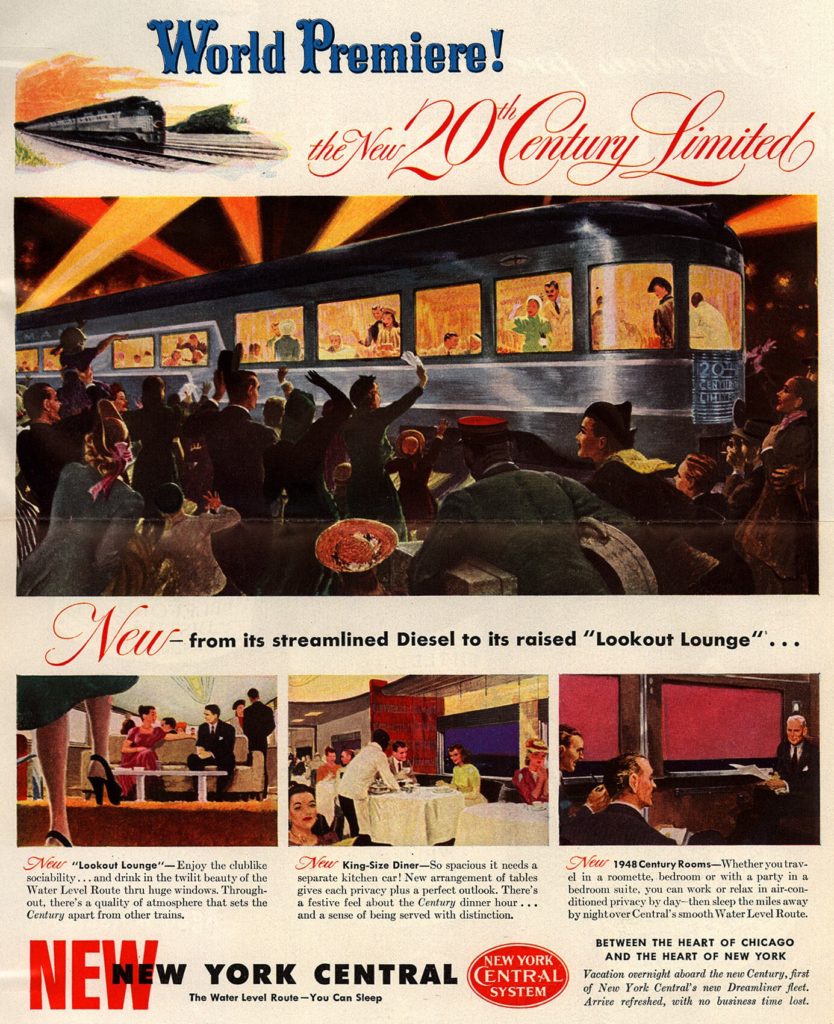 "Our day on the 20th Century Limited was magical," explains Michelle Coursey, co-creator along with husband Matthew Karl Gale of My Vintage Love, a treasure trove guide to all things vintage in New York. You can enjoy a taste of riding the historic vintage railway here: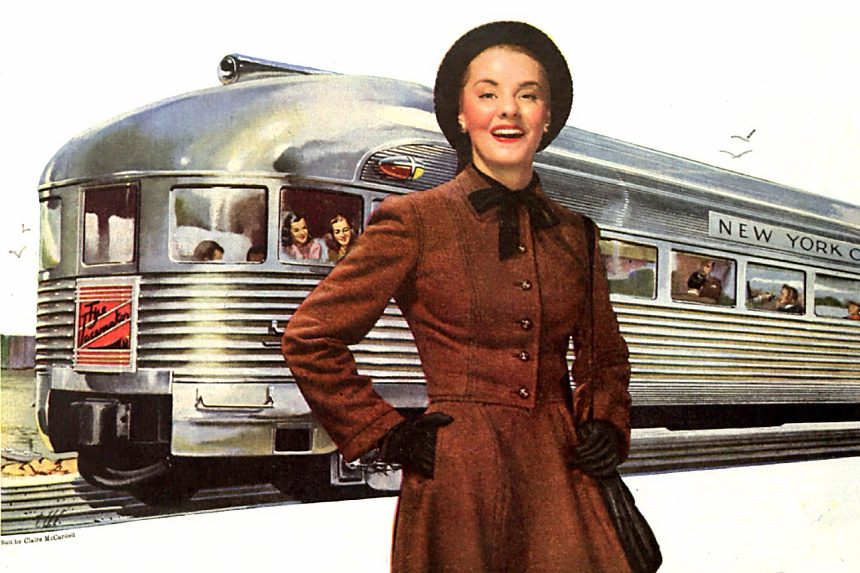 Traveling on the 20th Century Limited had all the hallmarks of staying in a luxury hotel. After settling into your cabin, and enjoying cocktails in the lounge car, dinner service would include delicacies such as baked grapefruit with honey, canapés of Foie Gras from Strasbourg, followed by New York strip steaks, and ribs of beef. After the last dinner service, the "magnificent decorated car is turned into a vintage nightclub, complete with softly coloured lights, swing music and secluded conversation nooks."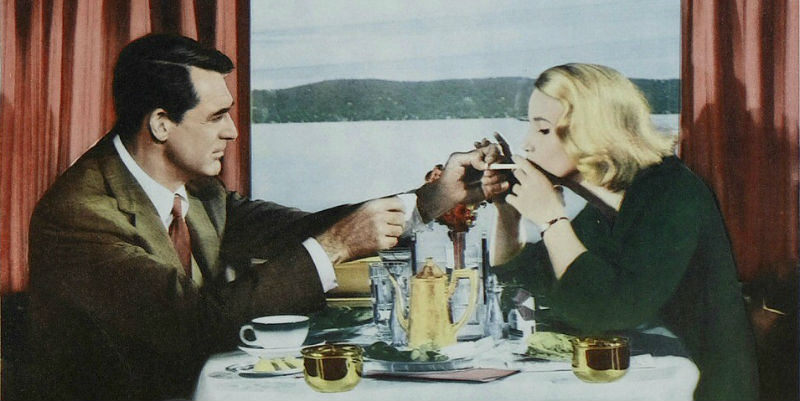 It is no wonder that the 20th Century became a roaring success. It was a key setting in Howard Hawk's screwball film 'Twentieth Century' staring John Barrymore and Carole Lombard. It became a cocktail in 1937 when the '20th Century' was published in the Café Royal Cocktail book, a refreshing mix of gin, Kina Lillet, creme de cacao and fresh lemon juice. In Alfred Hitchcock's 1959 classic 'North By Northwest' Cary Grant shares a memorable moment in the dining car and sleeper berths with Eva Marie Saint.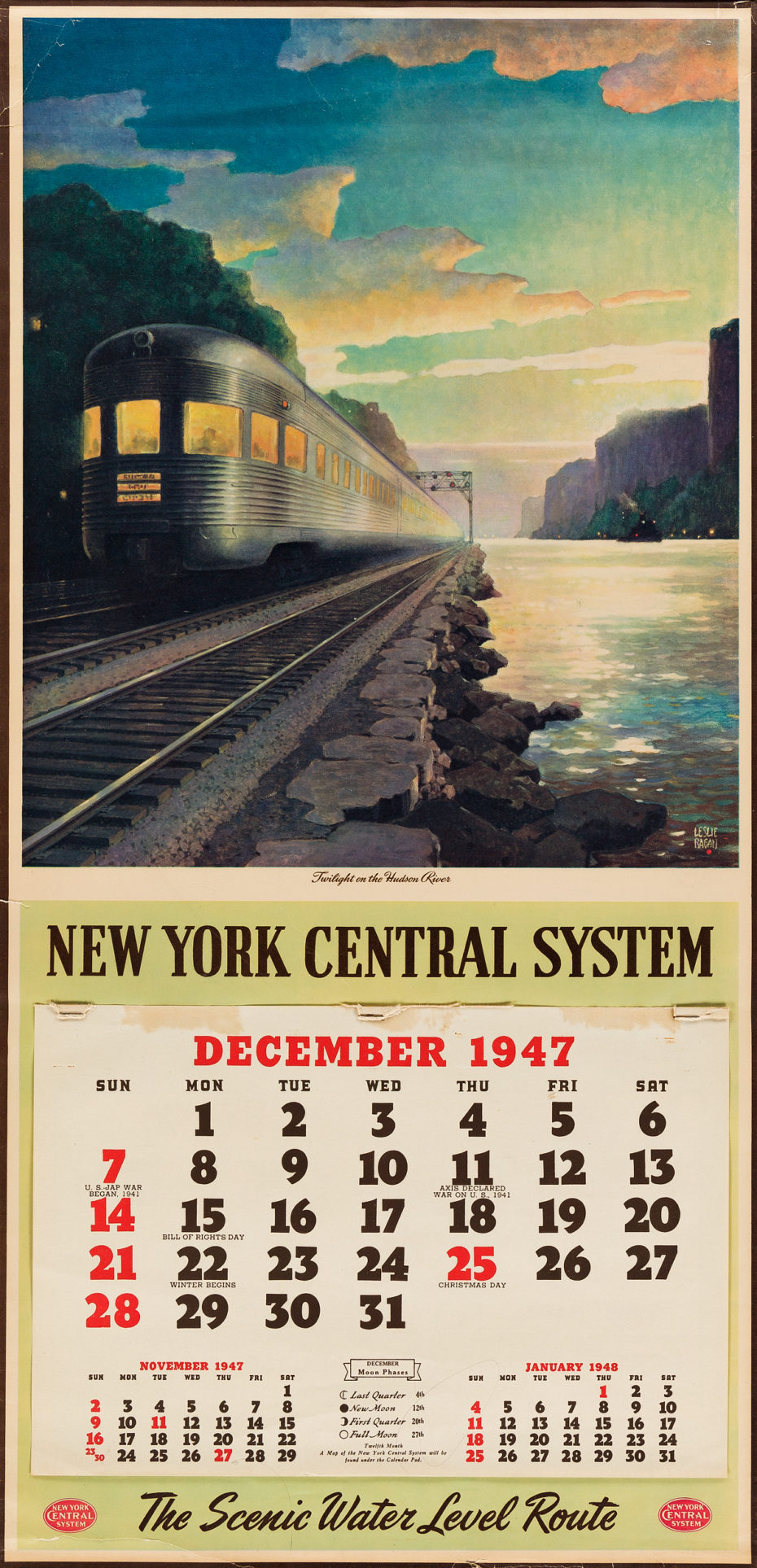 Today under the banner of the Society's 'Hudson River Rail Excursions' passengers can enjoy part of the same itinerary, but as an elegant day trip from New York's newly remodelled Pennsylvania Station northwards to Albany and back, complete with lunch and cocktails. The journey runs along the Metro North's Hudson Line, on what is essentially a suburban commuter train that connects Manhattan with quaint river towns such as Dobbs Ferry, Hastings-on-Hudson, Tarrytown, Cold Spring and Beacon. Passing through the majestic Palisades, and with the river passing right up against the train window, it is one of the most picturesque train rides in America.
"We are so lucky to not only own a railroad car as historic as the Hickory Creek," explained Kevin Phalon, the President of the United Railroad Historical Society of New Jersey, "but to be able to run it on its home rails. Those home rails just happen to be some of the most scenic in the eastern United States."
After the grand success of the 20th Century's rebirth, keep an eye on Hudsonriverrail.com for future trips and tickets in the New Year.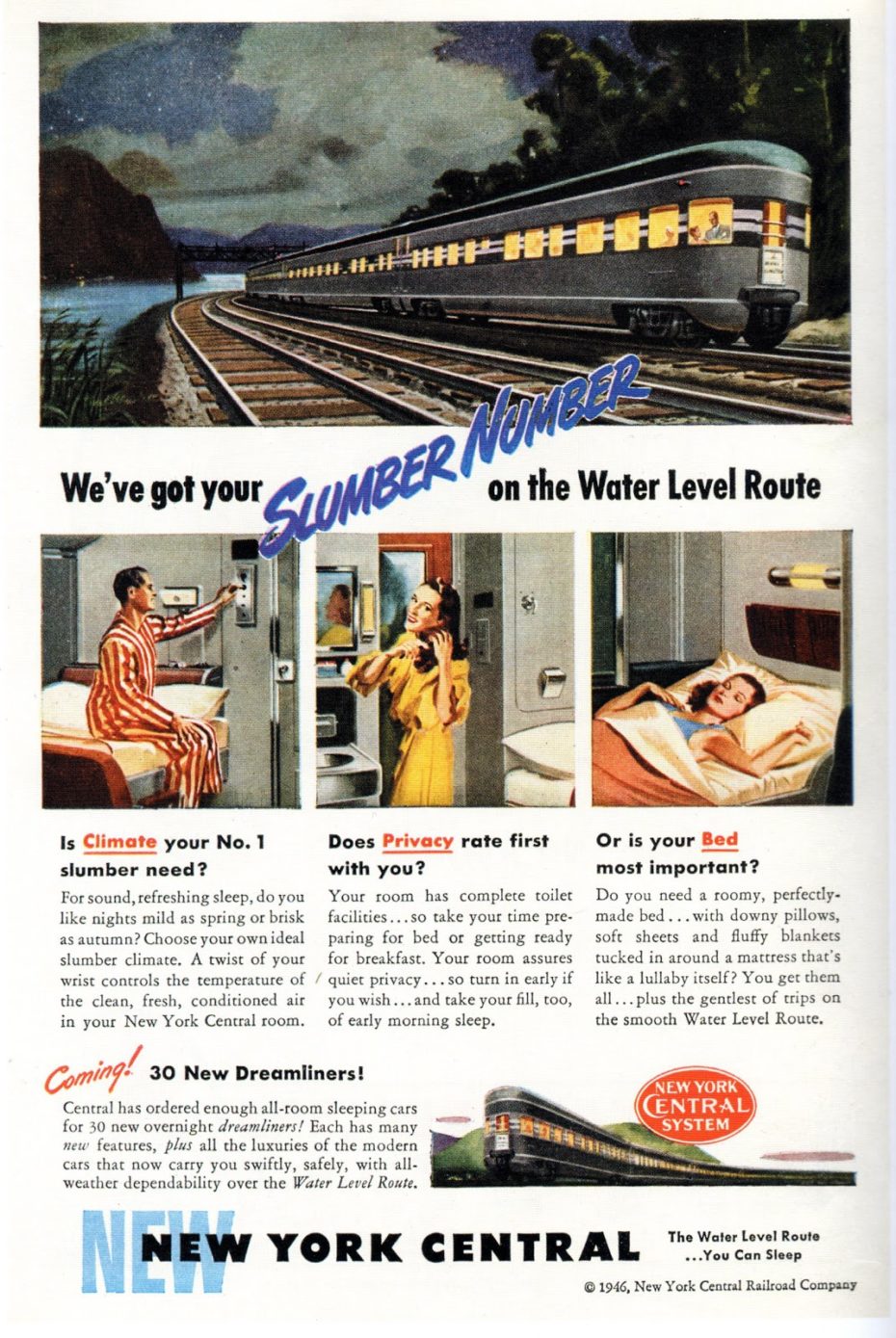 The national Amtrak rail network still runs an overnight service between New York and Chicago, the nineteen hour long 'Lake Shore Limited.' But nothing can quite hold a candle to the magnificent luxury of the 20th Century Limited, and thanks to the efforts of the a dedicated railway historical society, it is possible to once again enjoy "the sight of it flashing over the countryside as silently and majestically as a meteor."