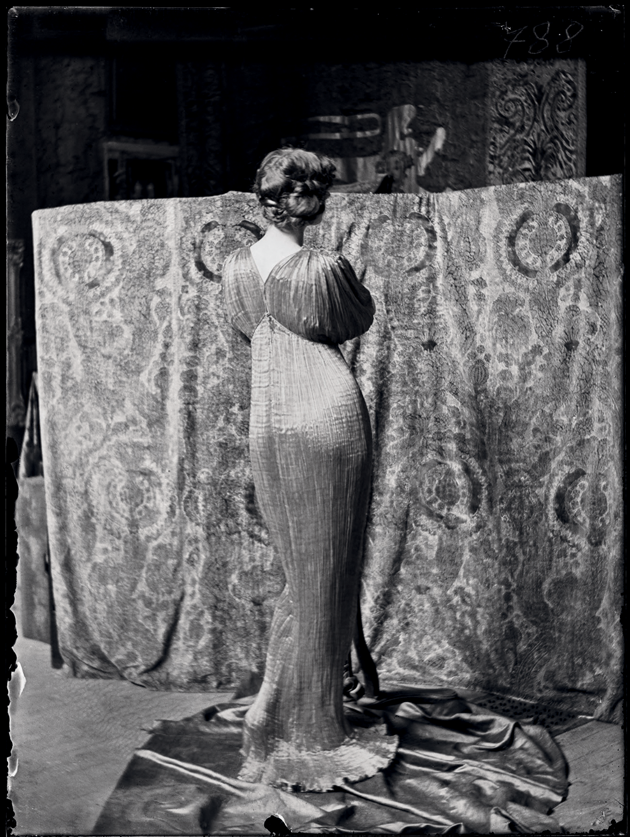 A couturier-friend of mine once wryly remarked (as she meticulously contemplated the exact landing spot of another rose-gold sequin destined for the bust of a ballgown) that her life effectively was a fashionable road-map signposted by all the memorable gowns she's made for brides, debutantes and society ladies over the decades. Similarly we fashionistas and consumers muse, marvel and reminisce over the most iconic frocks of our time, the ones that have become part of our generic fashion landscape and vernacular, each conjuring up a period in history with all its accompanying social commentary: the likes of the revolutionary drop waist dress of the 1920s, the eternally chic little black dress (LBD) immortalized by Audrey Hepburn in Breakfast at Tiffany's, Mary Quant's 1960s Mondrian-inspired mini shift dress and Azzedine Alaïa's uber-glam bodycon dress of the 1980s – to name but a few. And then, curiously, there's a gown that's managed to keep its shapely silhouette well below the parapet and somehow evade mainstream publicity. A a thing of ethereal beauty, a figure-hugging classic and yet eternally modern; a masterpiece that's as contemporary and sexy today as it was back in the 1920s: the shapely Delphos gown.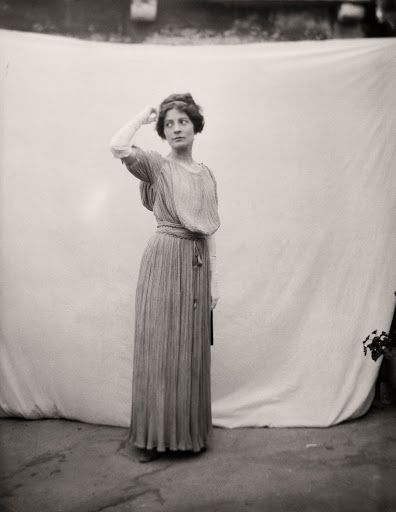 This sculptural gown was the brainchild of Spanish-born artist-turned-textile-designer Mariano Fortuny y Madrazo and his wife and muse, French designer Henriette Negrin and was first conceived of by the pair around 1907. The cut, fit and fall is most familiar to us from Classical Greek art and sculpture, the fine delicate fabric flows waterfall-like, splashing and cascading over the bust and hips to the ground. The ancient Athenian Acropolis Caryatids, those enduring columned ladies, still stare out, clad in their monumental fluted and pleated frocks as if the evening was still young.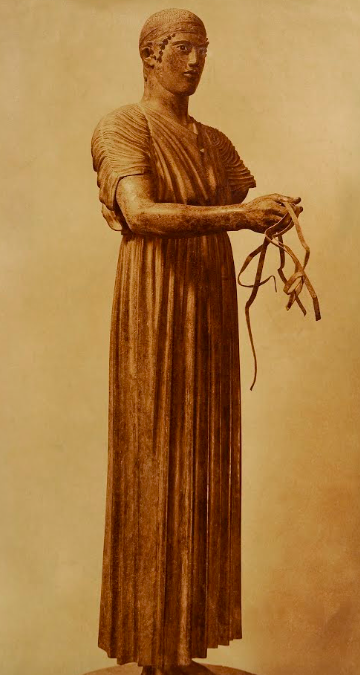 Discovered in 1896, Charioteer of Delphi, a classical Greek bronze is regarded as the inspiration for both the dress and the name. Mariano and Negrin worked from their Aegean base, a 13th-century Venetian palazzo and produced these exquisite gowns for 4 decades until just after Mariano's death, around 1950.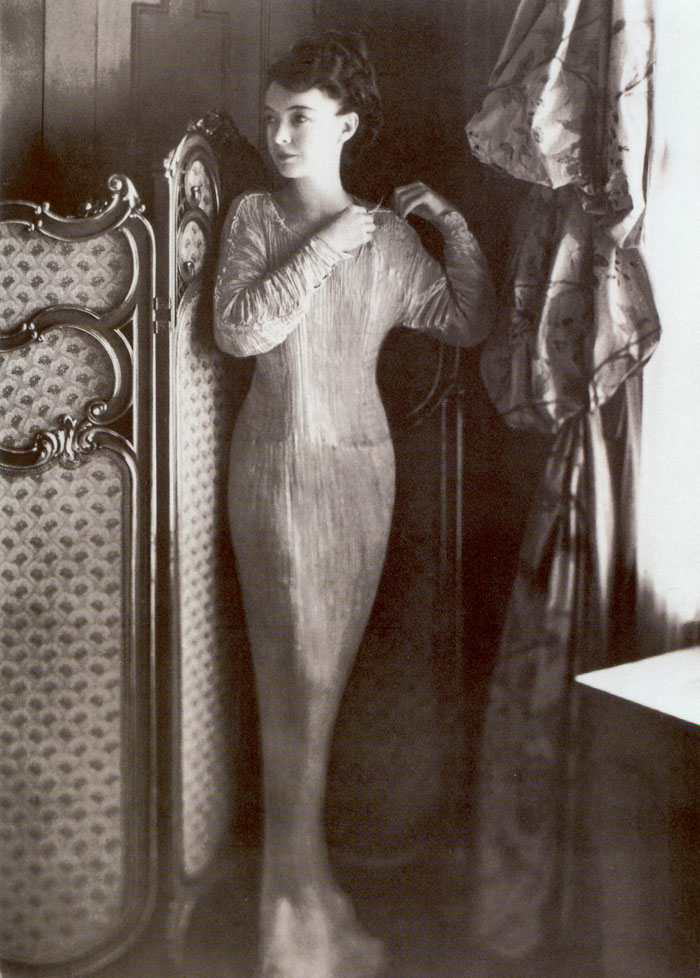 The magical quality of the Delphos gown – apart from the intrinsic elegance – is the design's ability to compliment a range of body shapes, as the depth of the pleating allows the dress to happily accommodate those with larger hips but is equally effective at cinching in a waspy waist. Another feature of the Delphos is that its wearer didn't really need much in the way of corsetry as the gown is pretty supportive in its own right.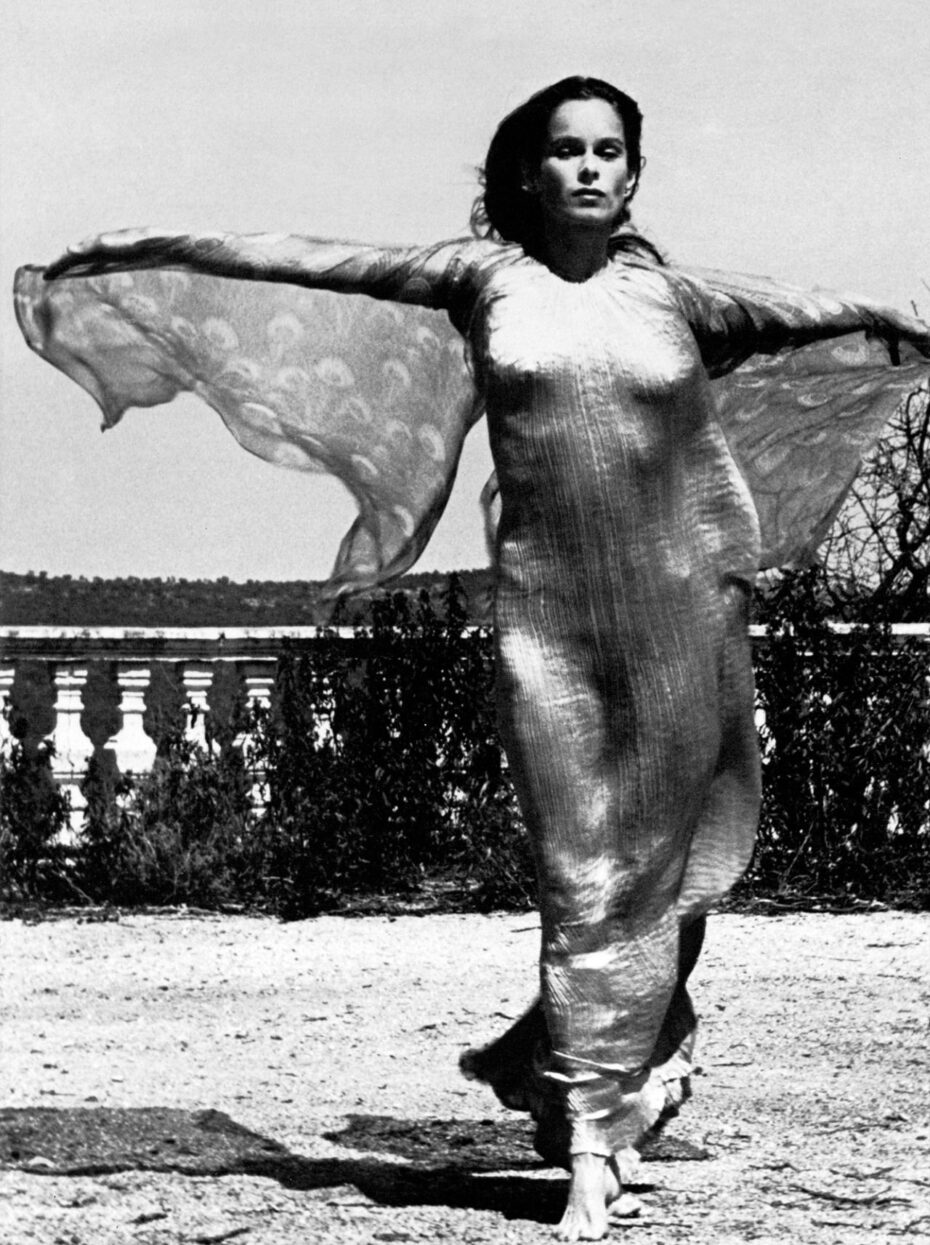 In fact, the Delphos was a nod to the chiton of ancient Greece, a light shoulder fastening tunic and a kind of undergarment. This in itself was a pretty radical and revolutionary feature in a world obsessed with and structured by bodices and foundation garments.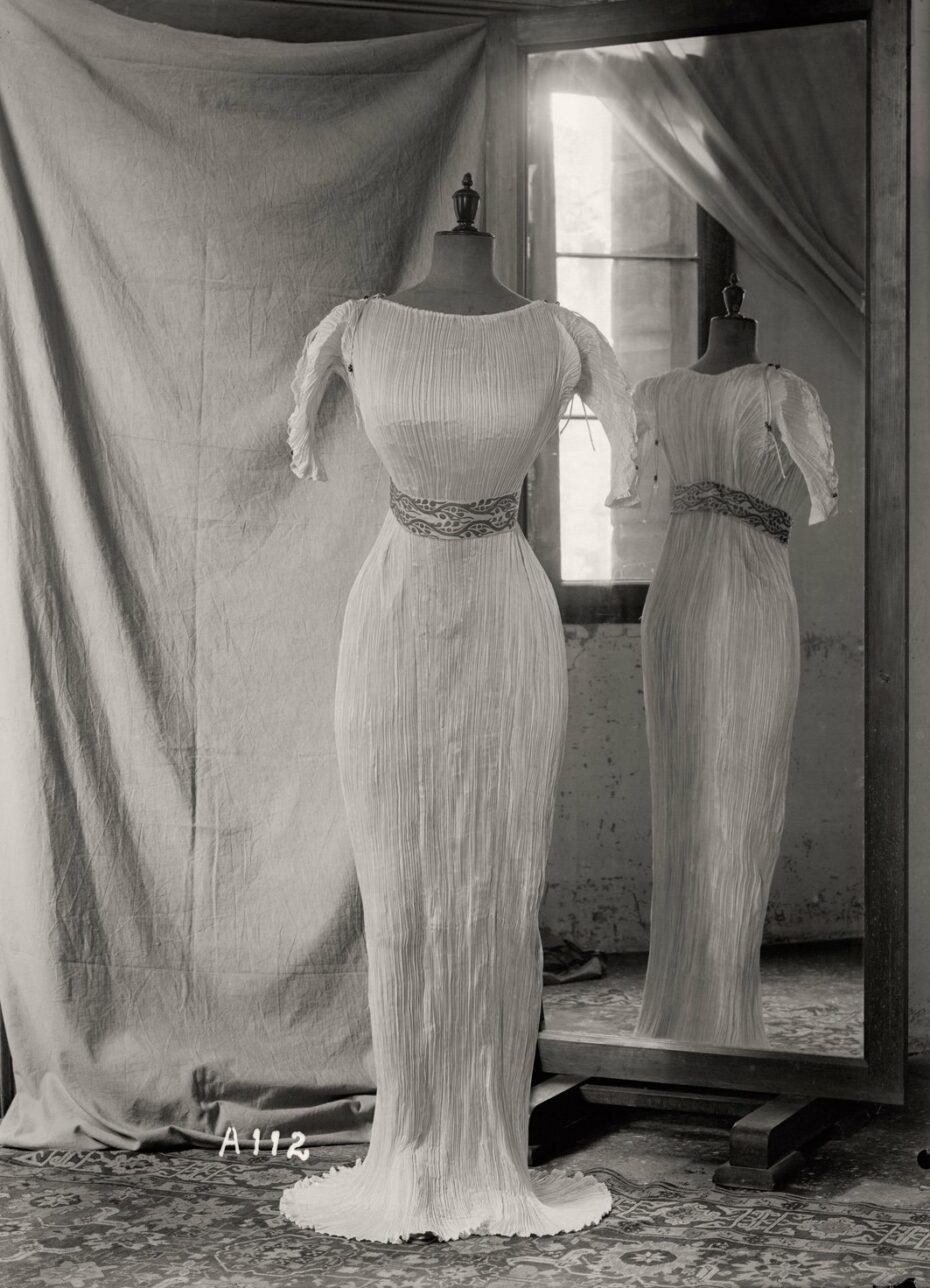 The Delphos was originally intended as a tea gown or an informal garment for lounging around the house (perhaps a modern-day equivalent to today's house-coat, kaftan or kimono) but soon became a public realm essential (a bit like how satin night dresses became the ideal cocktail dress). Couturier Paul Poiret imported Delphos gowns to Paris, with actresses lapping up these dramatic, tactile and sculptural creations that were dyed into every conceivable shade. When both Lauren Bacall and Cicely Tyson wore Delphos dresses to the Oscars in 1978, jaws dropped and since then they've become the stuff of sought-after vintage and niche antique collections.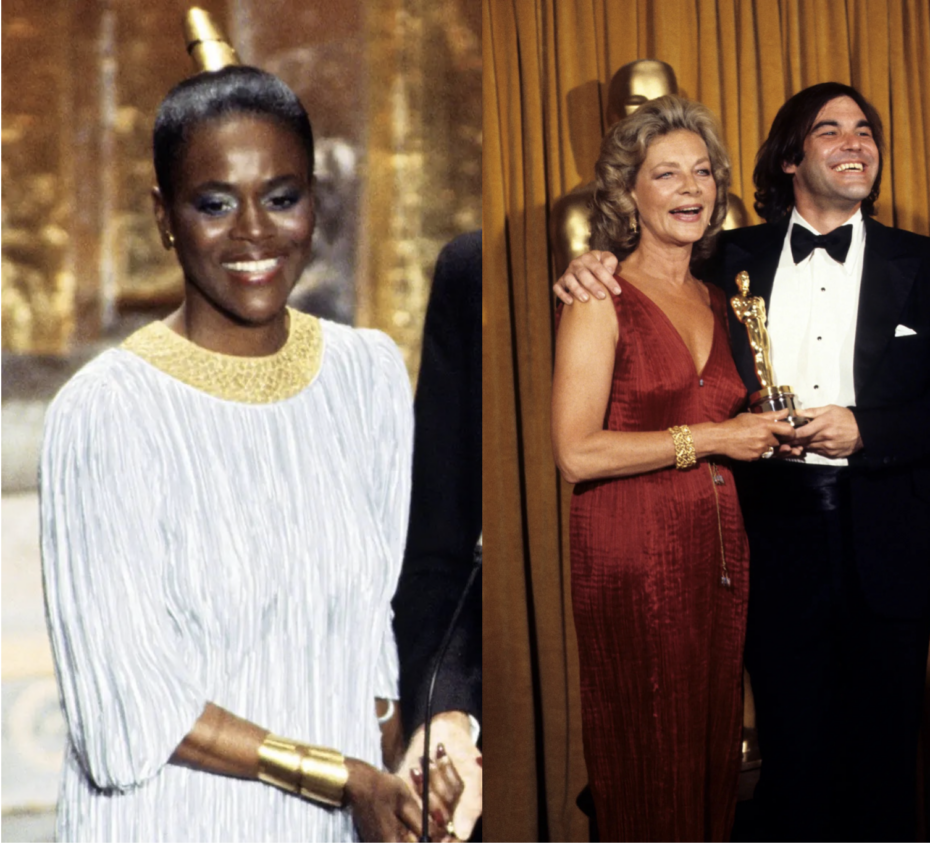 The Delphos gown is now a fashion history essential for museum collections – sought-after and universally recognized for its timeless smart design as well as its classic and sensuous silhouette. The dress inspired poets and writers to wax lyrical about its mysterious allure.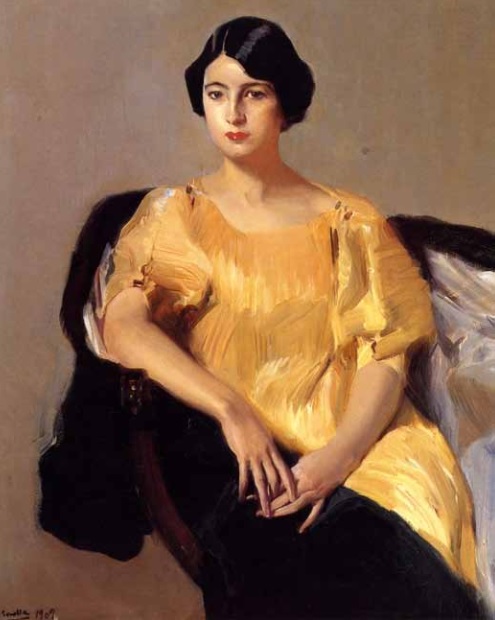 Painters immortalised the Delphos dress draped over their canvas goddesses; the Spanish painter Joaquin Sorolla for one, captured his wife and other models wearing the gowns and the sculptor Hamo Thornycroft describes his daughter Elfrida as looking mesmerizingly beautiful in a 'silk Greek clinging white dress'. (She later donated her dress to the Victoria and Albert Museum.) Marcel Proust, famous for his intense illustrative descriptions of scenes in his novels, equates the qualities of the Delphos gown to musical harmonies in In Search Of Lost Time.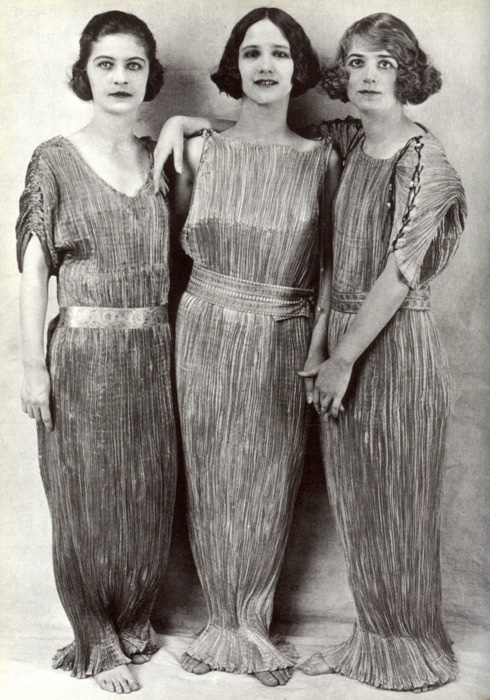 This fluid, fluted, column-like gown that perfectly complements the body's lines, has a silhouette now synonymous with the 1920s. Made from silk or satin taffeta, the most identifiable feature of the Delphos gown with its scooped neckline (adjusted by a drawstring) and criss-cross patterned lace-down sleeves (again, to ingeniously adjust the size of these) is the pleating. The Delphos gown's deep, slightly uneven, organic-looking, fine yet dense vertical mushroom-style pleats are what singularly define the dress. At first the pleating was done meticulously and rather labour-intensively (the vertical waves on a panel could be as many as 450 folds) by hand: using the fingernail and thumb, the pleats were folded manually, then stitched in place and ironed. Exactly how the pleats were created was a closely guarded secret process that used heat, pressure and ceramic rods. Unlike the 'permanent' pleating we do today with pleating presses and (mostly) man-made and synthetic fabrics, the pleats in the Delphos gown would disintegrate when washed as the natural silk or satin fabric used wouldn't have been able to be permanently moulded – which adds an endearingly finite and special quality to this timeless, classic design.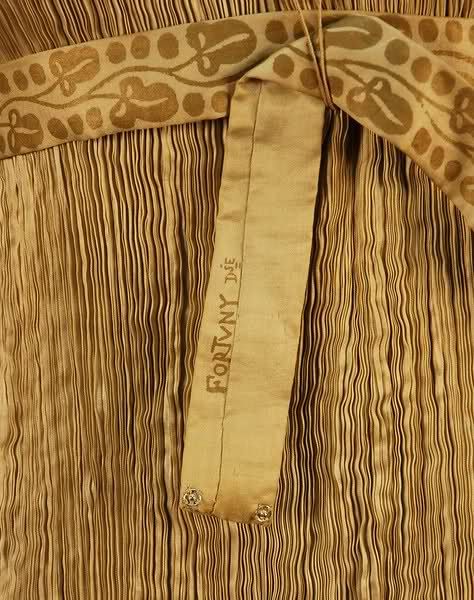 Structurally, the gown was shaped by internal tapes that were strategically arranged at an angle from the armpit to the shoulder to define the armhole. The gown cascades freely from shoulder to ground – but has over the decades been created in various lengths, anything from mini, midi and maxi to floor-sweeping. Variations also includes high necklines, sleeveless versions and some Delphos gowns were fashionably belted in the waist. The Venetian glass beads at the ends of the cords add a touch of boho glam to this dress that is as modern-looking and flattering today as it was back in 1907.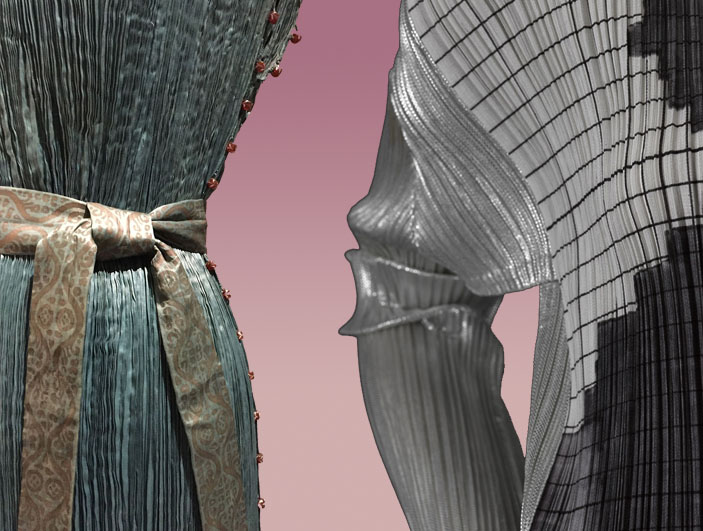 The exotic and sensuous Delphos gown has influenced so much in clothing design since its inception. There's a multitude of almost-there variations on the original theme available in our retail stores today – testimony to a brilliant concept. Perhaps the best-known designer to be inspired by the Delphos is Issey Miyake, who sent his first pleated pieces down the runway in 1989, but unlike Fortuny, the Japanese designer used polyester instead of silk and designed the garment shape first before pleating.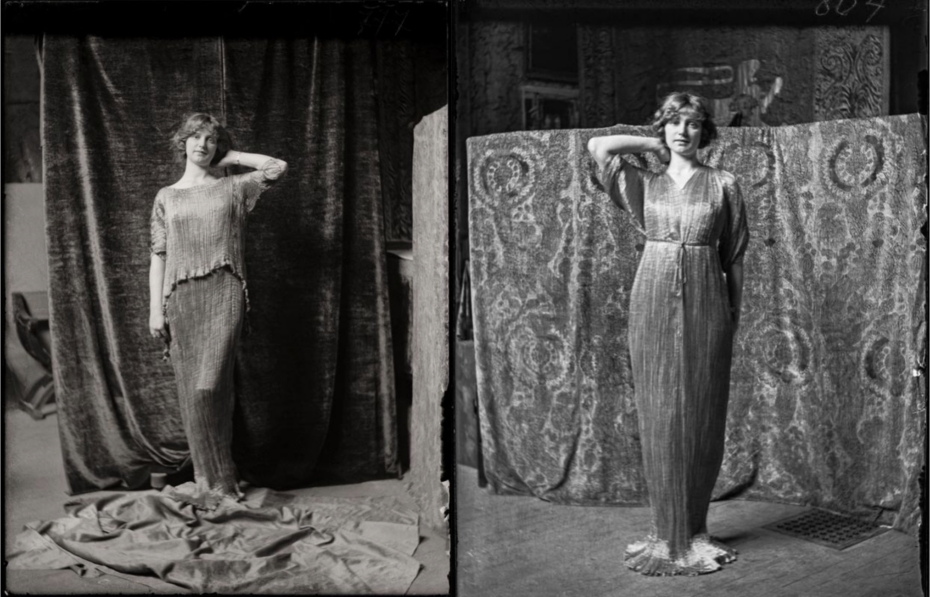 In many ways, the Delphos may be the near-ideal dress of all time: easy to wear and super flattering, it magically accentuates shape where and when it needs to. Statuesque, sculptural and elegant, yet offering complete freedom of movement. It seems a no-brainer for all of us to have a Delphos-inspired dress in our wardrobes.