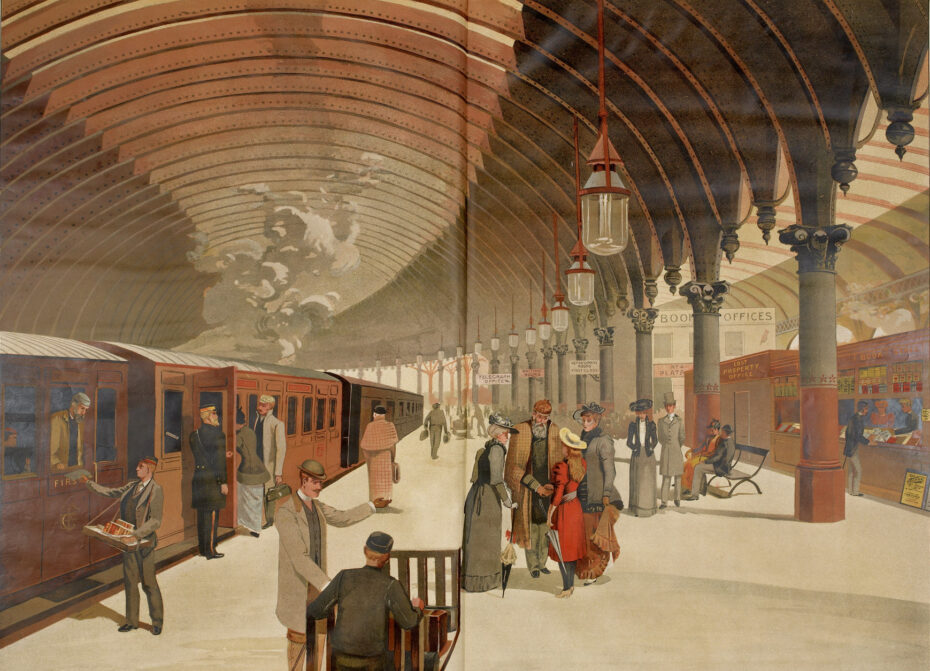 Are you looking for a way to travel back in time? Well, we haven't cracked the laws of physics yet, but we have the next best thing – a guidebook from another time. Move over Lonely Planet, Bradshaw's was one of the original guides that inspired the British to travel the Continent for leisure.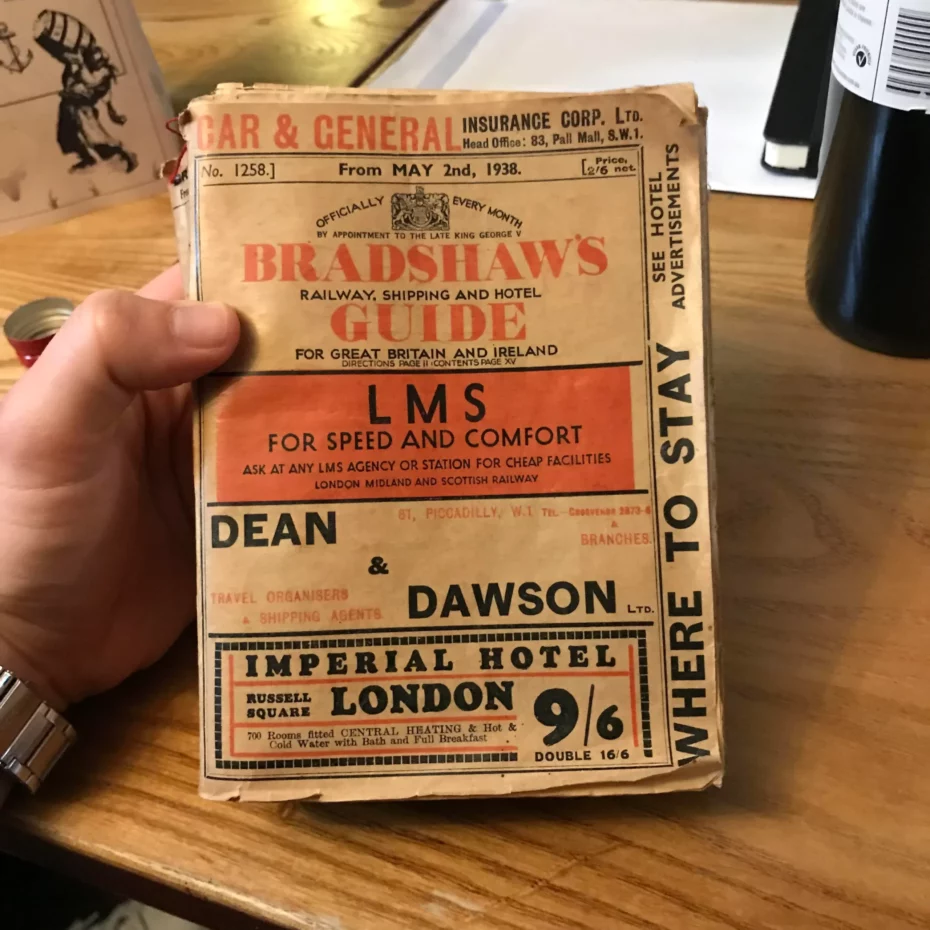 Bradshaw's also carries significant cultural clout. In fact, some of the most iconic travellers in literature confided in their trusty copy. Dracula is spotted reading an "English Bradshaw's Guide" as he prepped for his journey to England in Bram Stoker's classic, and literature's most iconic traveller, Phileas Fogg also carries a copy with him in Jules Verne's Around the World in 80 Days. If it's good enough for Dracula and Phileas Fogg, it's good enough for us!
And, just like the second Mrs de Winter says in Daphne du Maurier's Rebecca, "Some people have the vice of reading Bradshaws. They plan innumerable journeys across country for the fun of linking up impossible connections." Guilty as charged. 
So, Bradshaw's began life as a series of railway timetables that doubled up as a guidebook, becoming the first to be specifically organised around railway journeys. George Bradshaw produced his first timetable in October 1839; and in 1847, the first of Bradshaw's Continental Railway Guide was published. It was a cloth-bound tome spanning more than 1000 pages, including a compendium of train timetables detailed enough to get you from any starting point to any destination, as long as there was a train station at either end. Its unique design allowed for monthly revisions to its rail timetable. Considering it comprised a complex web threaded with hundreds of train lines covering an entire continent, is a mind-blowing feat.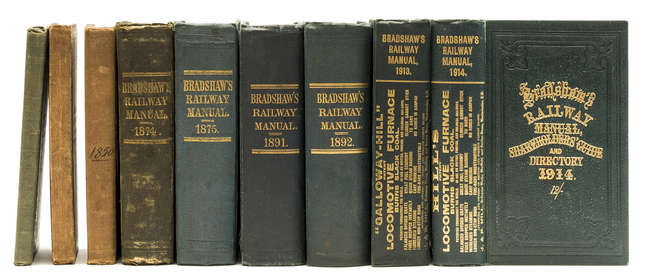 But Bradshaw's helped make travel accessible to a class of new travellers not just in Britain but across Europe.  Although the famed Mr Bradshaw died in 1853, his name would live on through the thousands of copies of these iconic guides, with the Bradshaw's British Railways Official Guide being published until May 1961, when issue number 1521 would mark the end of an era in travel. The Continental Railway Guide would sadly be impacted by two world wars. It temporarily ceased publication at the outbreak of World War I, making a comeback in the interwar period before permanently being put to bed in 1939. 
Now we've got the backstory, let's pack our bags for a trip around Europe. First, we highly recommend trying to get hold of a Bradshaw's guide for yourself if you can. If you're in the UK, you might find one in a vintage bookshop, charity shop or flea market but fortunately, there are some issues you can find online, like this one dating back to 1888. OK, flipping through it on your smartphone or iPad may not have the same vintage charm as an antique copy, so you can also buy the re-released 1913 guide if you prefer to hold something tangible in your hands.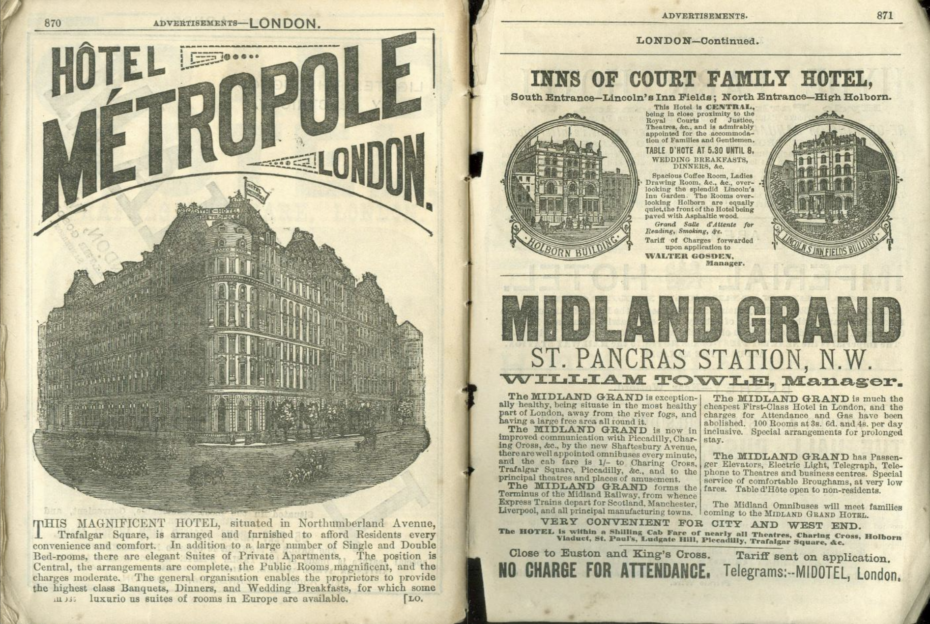 As you open the book, you'll find some rather charming advertising, like where to buy trunks to pack for your trip, the best tailors to get your travelling clothes ready, and even insurance. There are also more eccentric ads, like beehives for sale, which leaves us with a few questions…
But in the introduction, Bradshaw's reminds us of the therapeutic nature of travel, recommended in the words of a physician going by the name of Dr Granville:
"There must certainly be something more than mere fancy in the sudden improvement which many experience in their feelings and general state of health by leaving England for a tour of the Continent. I would say to the dyspeptic and the bilious, to those who labour under hypochondriacal diseases and a sorry state of the digestive organs–embark for the Continent (and pray Heaven that you may be sick in crossing the Channel), and take a journey along the banks of the Rhine by Steamer, which, with its soothing and diverting effects, I would not hesitate in my capacity of a physician to recommend amongst the most powerful auxiliaries for the cure of bad stomachs and the blues."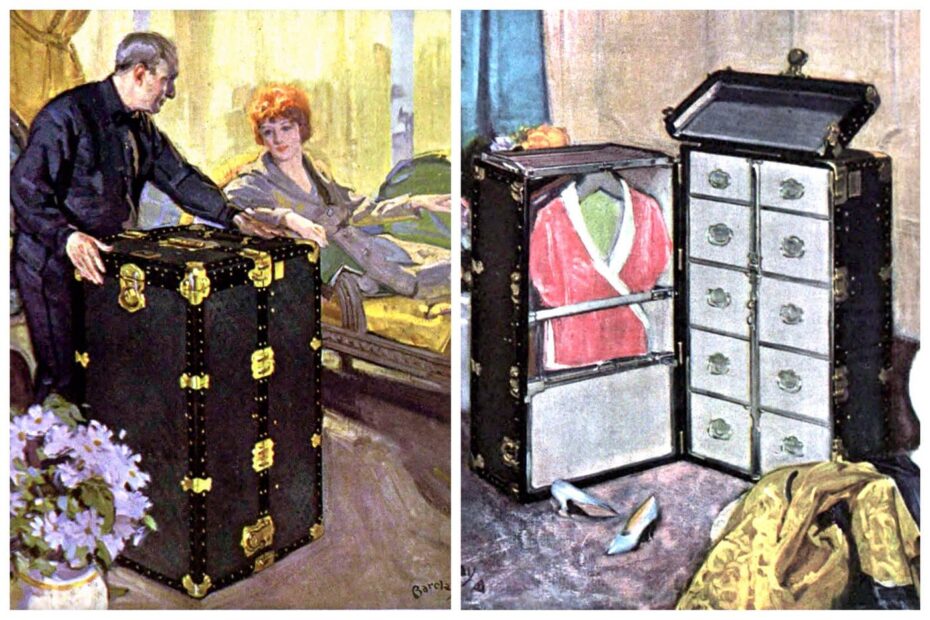 Once you've set up your vintage travelling trunk, you might want to draw inspiration from the detailed packing list in the book. Some of it is what you'd expect, a list of the necessaries for the average Victorian gentleman of the time: 
A plain morning coat of black cloth
Grey or tweed trousers and a light vest
Six shirts
The same number of pairs of socks
Two neck ties and six pocket handkerchiefs
Two pairs of boots
This seems doable, although a few other recommended items raise an eyebrow, "a portable bath is a useful thing," recommends Bradshaw's, along with a suggestion to take "door fasteners–useful to travellers to ensure privacy in Continental Hotels."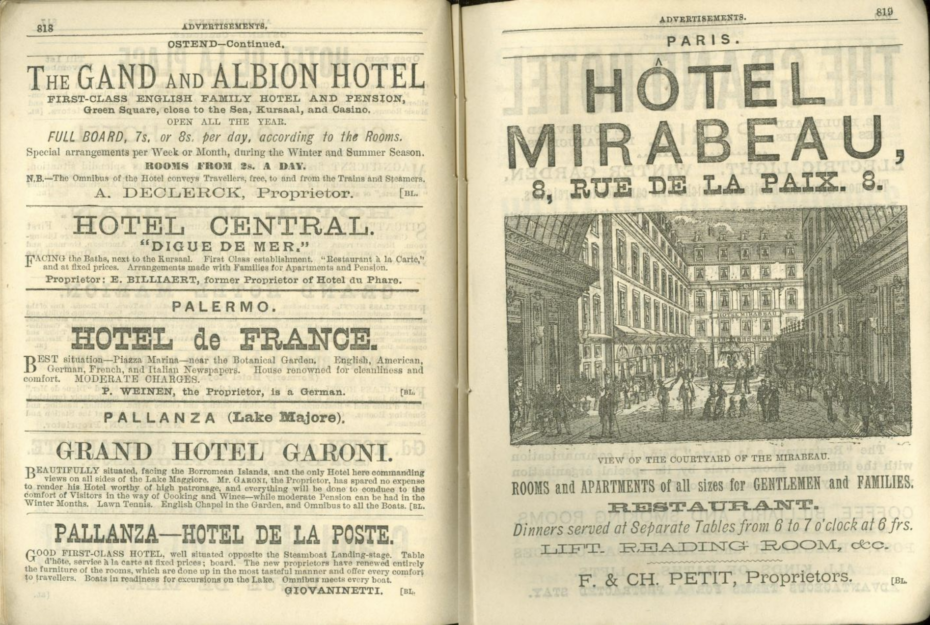 You'll also find some tips on how to remedy cholera and dysentery with charcoal made from burned bread mixed into some black coffee and an explainer on who the current emperor is ruling in Austria-Hungary.
Now a lot has changed since 1888 and if you're travelling from the UK for example, you won't be catching a steamer from Newhaven to Dieppe anymore, but more likely, you'd get the Channel Tunnel over (although you can go somewhat old school by taking the Dover to Calais ferry). The trains around Europe won't be old-world sleeper cars (unless you're in Switzerland or you're prepared to fork out for the Orient Express) but rather high-speed trains that cut the need for overnight journeys down to a matter of hours. You can however, still use your copy of Bradshaw's to trace a historic route across the Continent because there are many historic places recommended in the 1888 guide still operating. Let's highlight a few…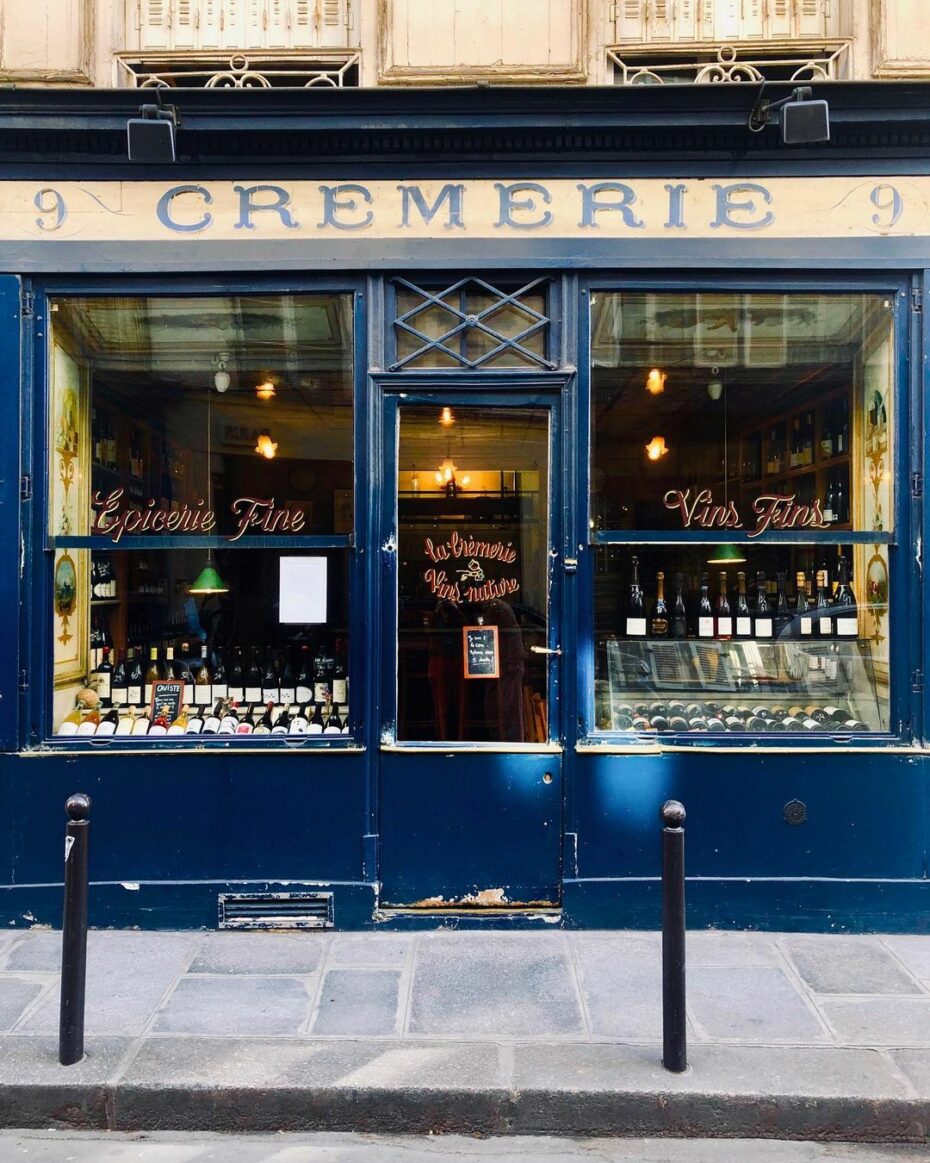 Recommendations for sites and restaurants may vary from your guidebooks of today. Under Paris, for example, Bradshaw's recommends finding an "Establishments de Bouillon" or a "Crèmerie" for lunch or a snack. The latter is a dairy shop that would have once been found on every street in the city, providing Parisian households with their daily dose of milk, eggs and butter, but they also became notably popular amongst students and bohemian intellectuals of the Saint Germain area, serving as lunchtime "cafés" before café culture became ingrained in everyday Parisan life. While they slowly but surely disappeared over time (thanks to supermarkets) there are a few old dairies on the Left Bank that have been lovingly preserved. La Crèmerie (9 Rue des Quartre Vents, 6ème) today is a wine bar and restaurant inside an old dairy, fully preserved inside & out, serving natural wines and sharing plates that stay true to the kinds of ingredients traditionally served at the crémeries. (Open for lunch & dinner Tues-Sat, open for dinner on Monday; Instagram: @La_Cremerie). As for the "Establishments de Bouillon" mentioned by Bradshaw, these are arguably still the most lively and iconic place to dine in Paris; über French and full of history; the quintessential Belle Epoque canteen of the people. In the early 2000s, only a single bouillon remained in Paris: the Bouillon Chartier (now a historic monument) but in the last decade, other Bouillons have been carefully revived at their original locations, such as the expertly restored Bouillion Julien.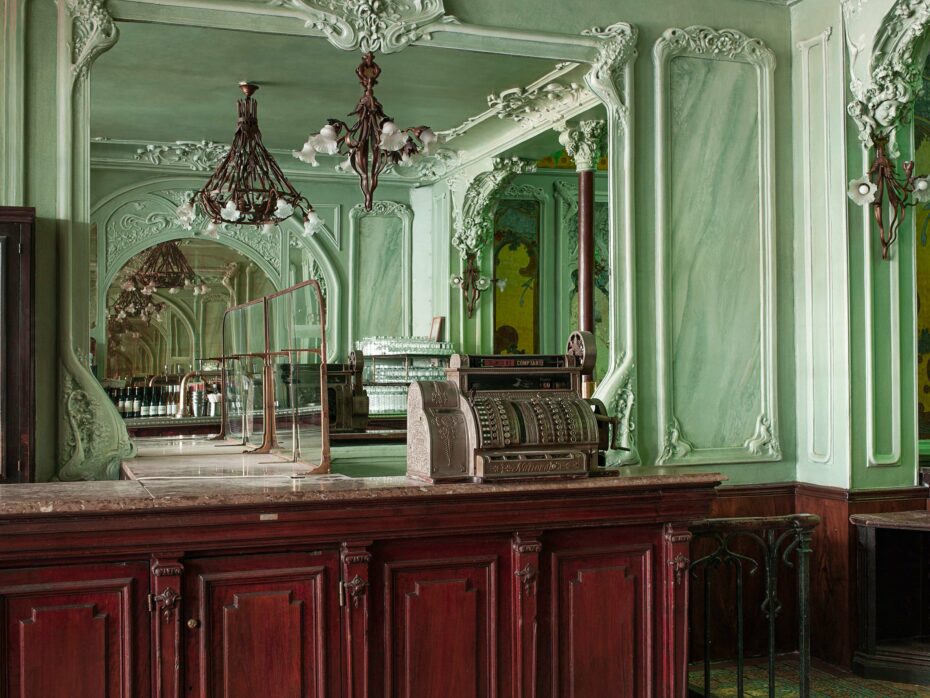 They're open seven days a week everyday of the year from 11h30 am to midnight –Covid was probably the first time Bouillon Chartier had closed since the war. You'll find mainstays on the menu that would have been on the menu in Napoleon times; it's not gastronomy that will blow you away, we just enjoy their towering plates of fries, the cheese, a massive dessert and the great people-watching.
Grand Hotel du Louvre (Paris). This is Paris's original "Grand Hotel," the first large luxury hotel in France, the Grand Hotel du Louvre opened in 1855–just in time for the International Exhibition. It boasted some 300 richly decorated rooms, but in 1888 it had just been renovated, so guests were treated to an updated look. Coincidentally, the hotel is temporarily closed from January 2023 till some point this spring for yet another renovation. Maybe it'll be a bit different to the hotel experienced by a Bradshaw traveller, but hey, it seems renovation and change was a thing even then. 
Hotel Imperial (Vienna). For that World of Yesterday vibe, add the heart of the Habsburg Empire to your itinerary, and there is nowhere better to book than this historic hotel housed in a former palace. Considering they also offer a butler service, if you're travelling with a coterie of trunks and valises, maybe you can get some help with all that luggage (especially if you stayed loyal to the packing guide recommended at the beginning of your Bradshaw). Although their cafe has been modernised, you can still enjoy your breakfast in the corner where Thomas Mann likely had a coffee. 
Hotel Grand Pupp (Karlovy Vary). If you want both a hotel in the Bradshaw guide and the inspiration for Wes Anderson's Grand Budapest Hotel, we've got the hotel for you! Continue your continental journey to Central Europe, to today's Czechia, but back then, the heart of Austria-Hungary in the famous spa town then known as Carlsbad. And since this iconic hotel can trace its roots back to 1701, it certainly deserves a spot in all of the Bradshaw guides. Not to mention it's a popular spot with film stars, so maybe you'll spot Johnny Depp in the lobby. 
Grand Hotel Beau Rivage (Geneva). Described in Bradshaw's as: "MOST Popular and Fashionable First Class Hotel. The finest in Geneva, best situation with a beautiful terrace. Concerts in Summer. Baths on each floor. New Sanitary arrangements with the latest improvements. LIFT." If you're looking for a place to stay as you get ready to leave Central Europe and head south, then this historic hotel may be a good pick. 
Danieli's Royal Hotel (Venice). Even back in the Bradshaw days, Danieli's had a reputation for luxury and excellence. This historic hotel used to be a palace, which was converted into a hotel in 1822 and got electrical power and a lift in 1895. So step back into a timeless Venice at a hotel that is likely to have kept its Bradshaw-era charm but with all the modern amenities.
The great thing about travelling with a copy of Bradshaw's is you can go quite literally anywhere in Europe. You can explore closer to home or head off on a train to far-flung places. The Bradshaw's guides recently went through a mini-renaissance, as the 1913 edition was republished in 2012. Former British Tory-MP, Michael Portillo, also travelled the Continent with this very edition in the BBC's Great Continental Railway Journeys. 
It might be a challenge to find some of the recommended places in the book – especially the older ones, but that's part of the fun. When you find somewhere or something from your vintage guide, you can be truly aware that you're in a spot that's seen its fair share of history, and that's got to be the closest you'll get to time travel in real life. 
You can also rediscover the personal joy of (experimental) travel with the Don't be a Tourist guides. Each chapter has its own mood, inspired by different traveler mindsets, shaped by life's relatable challenges. It's our own secret recipe for becoming an artful traveler in a brave new world. Start your journey here.