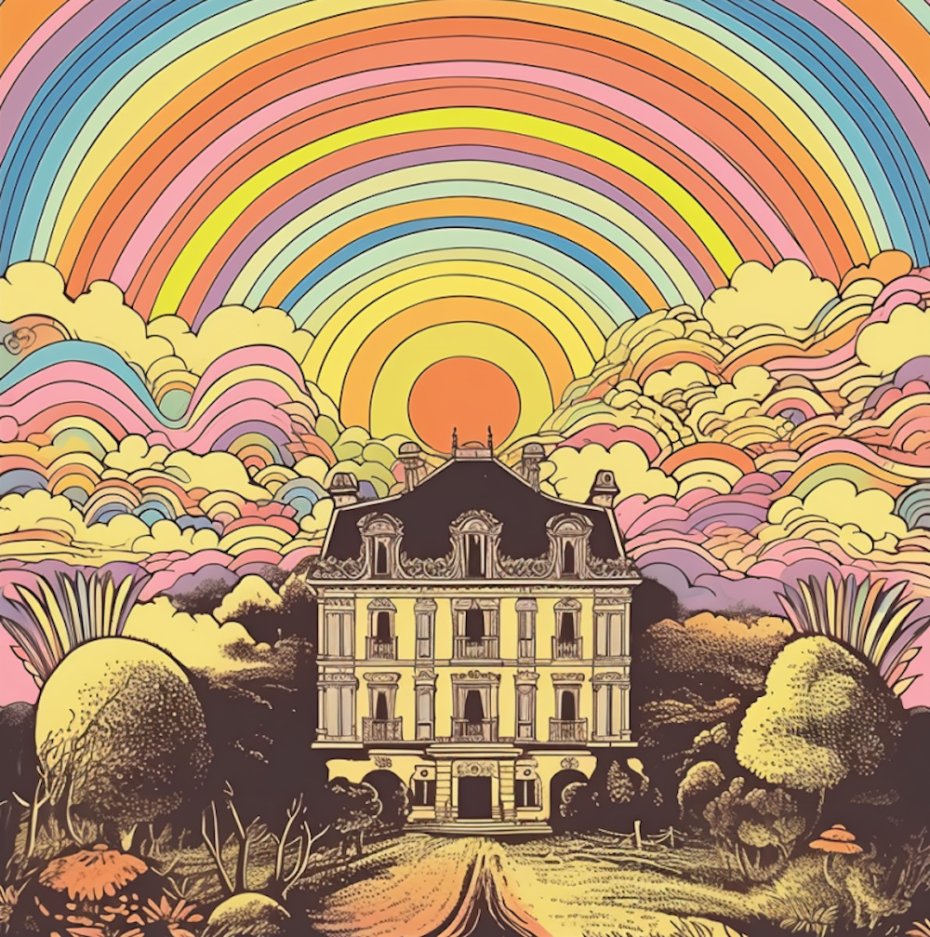 Imagine the sweet sound of a duet between Elton John and Frédéric Chopin, or a Van Gogh painting interpreted in song by David Bowie. What if the lyrics for a Fleetwood Mac verse or a Pink Floyd anthem were ghost written by the famed 19th century female novelist George Sand? There's only one place that all these names have in common, and it's not an imaginary music and arts festival spanning genres and decades, but a very real French château where all of these artists spent time recording, painting and even falling in love. Let's travel an hour outside of Paris to rediscover the lesser-known historical abode that rivals Versailles with its rock & roll legacy…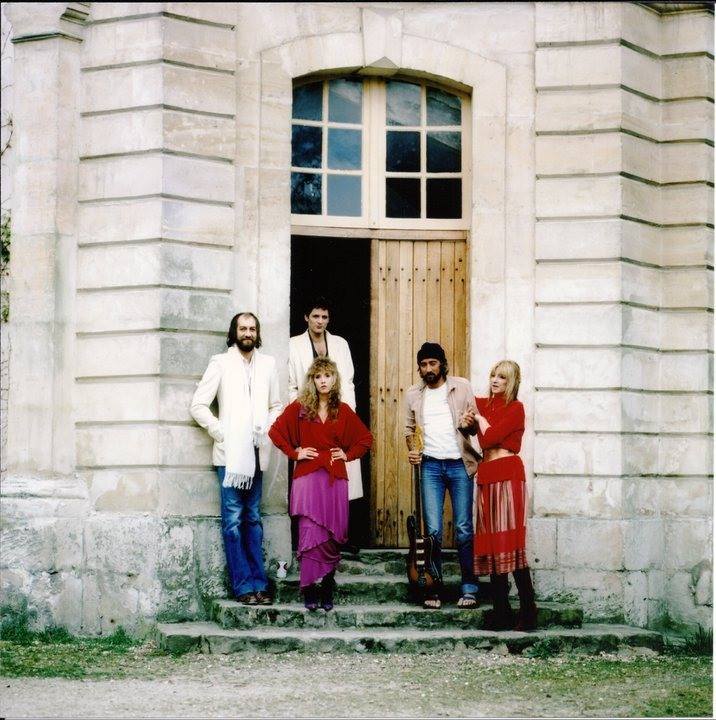 Among the castles in the Paris region, Château d'Hérouville, commonly known as the Honky Château, does not have the esteem of Versailles or even Fontainebleau. It was built in the mid-18th century on the ruins of a former castle, with 57 rooms divided over three wings, taking up a modest 1.7 hectares in the heart of the village by the same name. The really interesting history begins some hundred years later, when Polish composer Frédéric Chopin took up residence. It's rumoured that the châteaux is where he fell in love with novelist George Sand, who chose to take on a male persona and appearance in order to circulate more freely in society and a male-dominated world of publishing. Sadly, not much is known about this part of the château's history but Sand (née Amantine Lucile Aurore Dupin de Francueil) would later inspire the name of the largest recording studio during the height of rock and roll.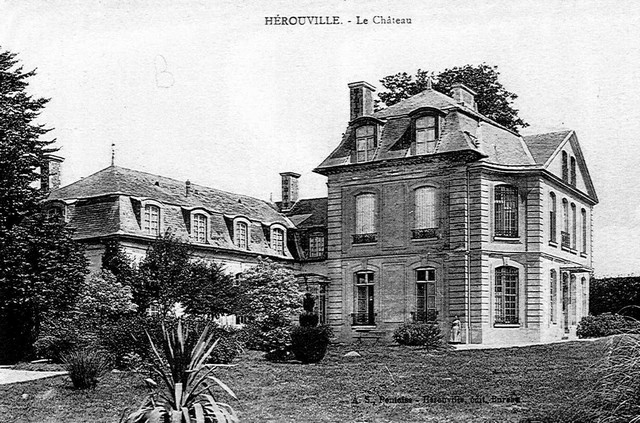 Not much happened in the intervening decades, besides one Vincent Van Gogh, who was buried nearby, painting the castle, and the abode eventually falling into disrepair. It was rescued from ruin in 1962 by composer Michel Magne, a close friend of the legendary Parisian jazzman Boris Vian who had already gained acclaim for his Oscar and Golden Globe-nominated film score for Gigot (directed by Gene Kelly and starring Jackie Gleason). Magne's decision to turn the château into a recording studio which had been severely damaged by a fire in its left wing, was rather revolutionary, not just for French preservation efforts, but for the music world…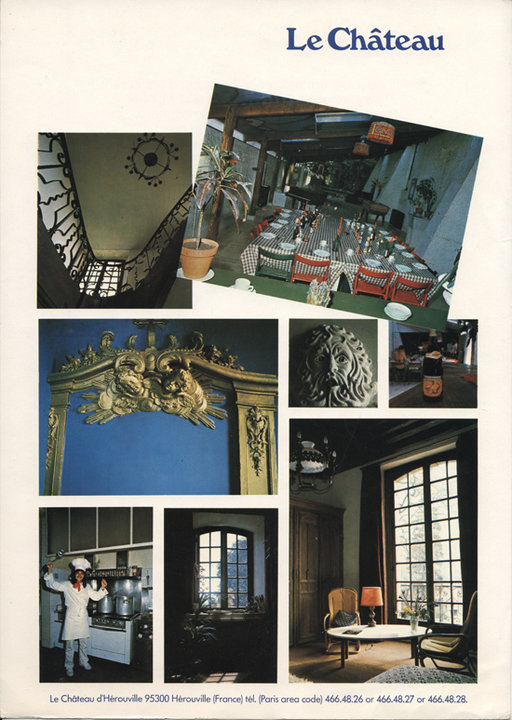 "A revolution, because even in the days of fading Swinging London, the musician's life in the studio was no laughing matter. Recording sessions were run by grey-coated engineers on the payroll of record companies, who left little room for freedom or experimentation. Smoking and drinking were out of the question, as was any discussion of technical choices. You had to arrive early in the morning, and put your guitars away by 5 pm. You go to the studio like you go to the office… Without realizing it, Magne invented what was to become the worldwide standard 10 years later: the residential studio." (French culture publication Télérama, 2017)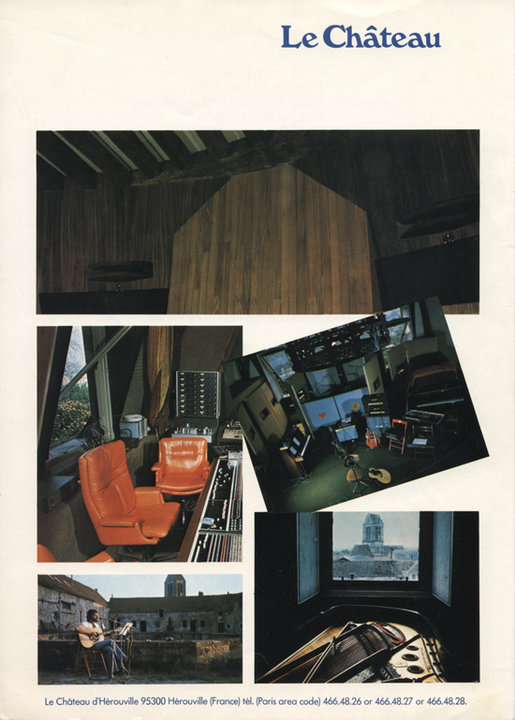 Michel Magne named his main recording area the George-Sand and American musician Rex Foster christened the state-of-the-art space with his album Roads of Tomorrow, which was recorded in 1961-70 and according to legend, gave the castle the name "Honky Château." In the many forthcoming album credits, it would go by many names: Château d'Hérouville, Michel Magne Studios, Strawberry Studios and Studio Hérouville.
Whatever it went by, the studio became a hub. Michel Magne wrote in his 1980 autobiography that "in Paris, I was told that no one would travel 30 kilometers to come and record in the middle of nowhere. Then people saw that American bands were crossing the Atlantic, so…"​​
One of those American musicians was Jerry Garcia, who came through the castle's gates in 1971 with The Grateful Dead. In the book Garcia: An American Life, the late singer and guitarist recalls the unexpected concert they gave in the garden (which was filmed and is available online) after a nearby music festival was cancelled due to rain.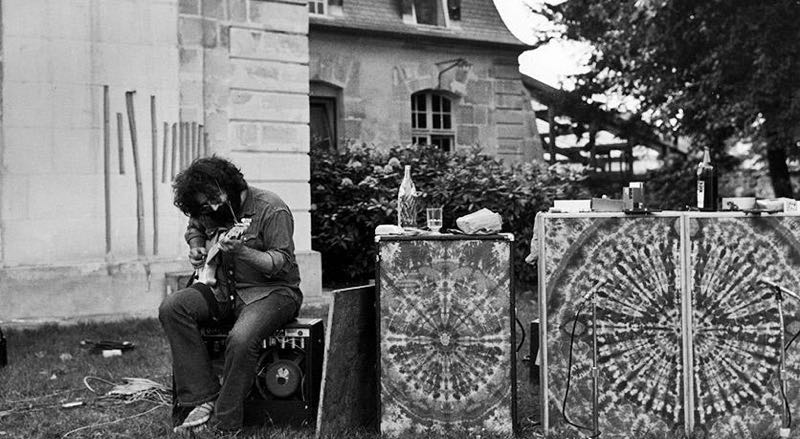 "We were there with nothing to do: France, a 16-track recording studio upstairs, all our gear, ready to play, and nothing to do. So, we decided to play at the château itself, out in the back, in the grass, with a swimming pool, just play into the hills. We didn't even play to hippies, we played to a handful of townspeople in Auvers… We played and the people came — the chief of police, the fire department, just everybody. It was an event and everybody just had a hell of a time — got drunk, fell in the pool. It was great."
The impromptu concert turned out to be quite the publicity stunt for Magne's recording burgeoning studio. Shortly after, The Rolling Stones' Bill Wyman visited the castle on his way back from a wild six month long house party in the south of France. The word was out, and it wouldn't be long before Chateau Hérouville became one of the most famous studios of the seventies.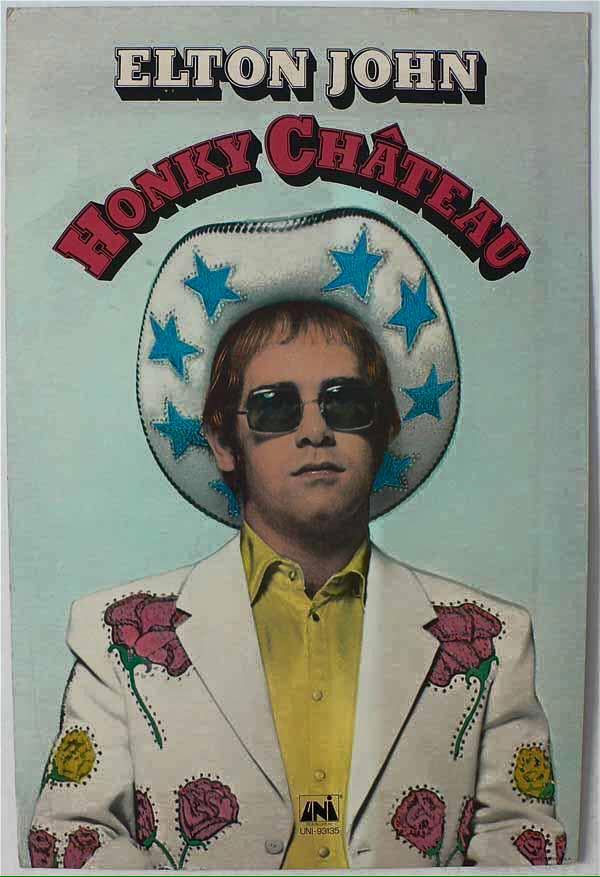 Elton John who was so enamoured with the Honky Château that he named an album after it. As his star power was skyrocketing, the pianist and singer recorded two more albums there, including 1973's seminal Goodbye Yellow Brick Road. Sir Elton recorded the iconic title track on Michel Magne's personal grand Steinway piano. In between vocal sessions, he would make trips to Paris to visit Yves Saint Laurent in Paris and fill his Rolls Royce with custom suits.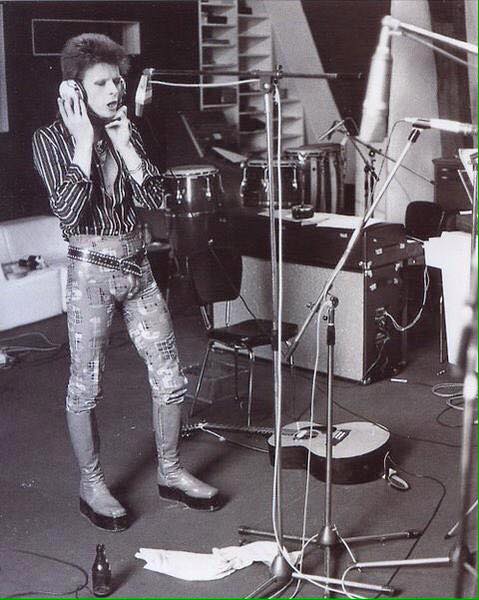 Another rising rock legend, David Bowie, recorded his 1977 album Low at the castle, with acclaimed producers Tony Visconti and Brian Eno. All three were supposedly influenced by the castle's haunted and spooky atmosphere. As Visconti later recounted:
"There was certainly some strange energy in that château. On the first day David took one look at the master bedroom and said, 'I'm not sleeping in there!'"
Ghosts aside, the studio witnessed the era's musical evolution from folk and rock to glam and the early days of disco. Sweet laid down part of their album Level Headed, including the hit "Love is Like Oxygen." And in the same year as Bowie, the Bee Gees also recorded the classics "Stayin' Alive" and "How Deep Is Your Love" from Saturday Night Fever in order to avoid the higher tax rate in Great Britain. The pop group wrote the songs in the chateau's stairwell, which, fun fact, Robin Gibb later spotted featured in a porn movie The Kinky Ladies of Bourbon Street. In between recording gigs, a number of erotic films had been authorised by Magne to shoot there – all in the name of financing the upkeep of the chateau of course!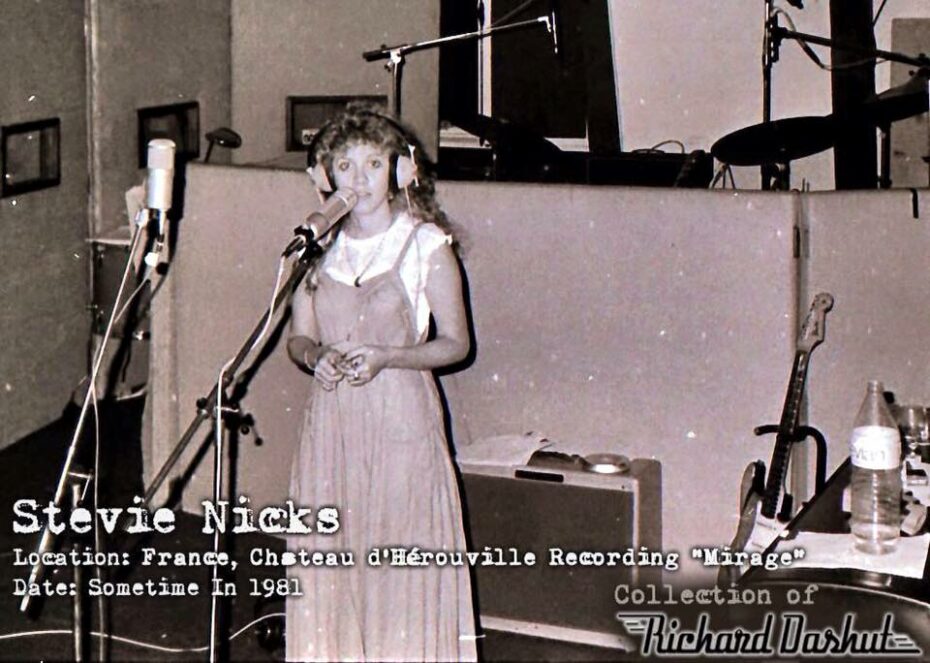 The bohemian, witchy vibe also unsurprisingly attracted Fleetwood Mac. Singer Stevie Nicks was convinced she saw ghosts: "The place is very old. You get the sense of what it must have been like to live there hundreds of years ago. It hasn't changed much, and it feels as if it's full of ghosts."
The list of recordings that stand the testament of time is long: Pink Floyd's 1977 Obscured by Clouds (captured here), T. Rex's 1972 The Slider and 1973 Tanx, Cat Stevens' 1972 Catch Bull at Four, Bad Company's 1977 Burnin' Sky and Iggy Pop's 1977 The Idiot. Chris Bell of Big Star also recorded his classic album I Am the Cosmos, which would only be released over a decade after his death in 1992.
The finest wines were served with every meal, and a private chef recited famous French poetry as he served up rich French cuisine. Not all artists were so happy with the space however. British rock band Jethro Tull was unsuccessful in recording its sixth studio album there, describing it as "Château d'Isaster."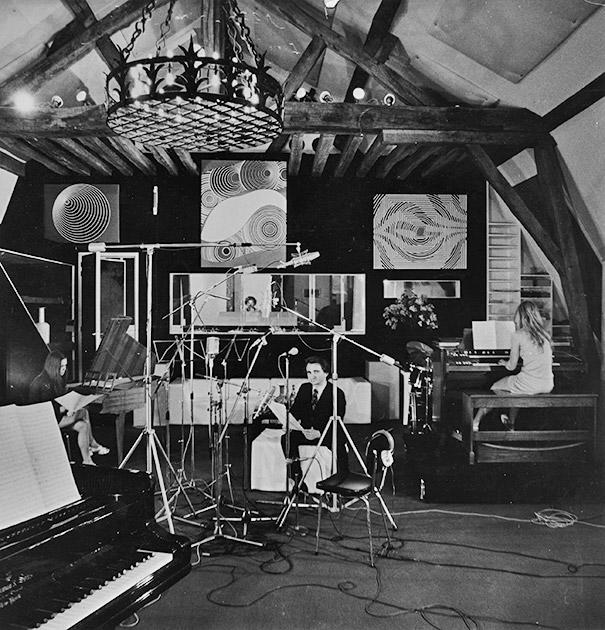 "Michel was not a manager," explains Magne's wife Marie-Claude. "Administering the castle weighed heavily on him, the bills were piling up, the tax authorities were demanding crazy amounts of money. He offered weeks of studio time to groups … I don't know how they failed there. No doubt the twenty rooms of the castle were full, with all the friends of the groups, and the friends of friends…"
Ultimately, a combination of financial and legal difficulties led Michel Magne to sell his beloved château in 1984. He committed suicide the same year.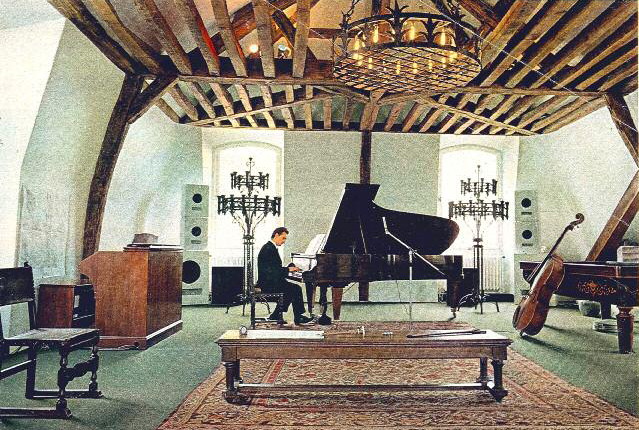 It wasn't long before space was soon taken over by squatters and finally put up for sale in 2013, with extensive and expensive restoration needed. After two years on the market, a group of four French friends and music industry professionals got the money together to purchase the chateau and restore the studios to their former glory.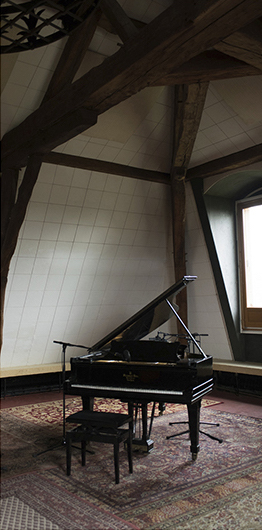 Up in the eaves of the chateau, Magne's original piano used by Elton John on Goodbye Yellow Brick Road awaits its next superstar, and under its new guardianship, artists such as Sting, Air and jazz singer Melody Gardot have already returned to the chateau's hallowed grounds.
As Stephane Marchi, one of the buyers, told the BBC in 2016: "We have been friends for 30 years, and for 30 years we have had a dream of building a place where expertise and creativity can be seamlessly associated. Ultimately we want to expand from sound recording to other mediums — writing, sculpting, painting. In everything we are inspired by the idea of recreating the state of mind that prevailed here in the early 70s."
Studio and residential bookings at the Chateau can be made through the website here.