Female Dandyism isn't just about donning a Pair of Brogues…
In her outfits made out of animal flesh, the gimp masks and alien egg-vessels (that thing she hatched from during her 2011 Grammy performance), you wouldn't think to describe Lady Gaga as a dandy. But if you take a closer look, you'll discover that much of Lady Gaga's style is in fact based very closely upon one of the greatest female dandies that ever lived.
Meet the Marchesa Luisa Casati
(1881-1957)
It's hard to imagine anyone as extravagant as Lady Gaga existed before Madonna, let alone before the women's female rights movement, but one such eccentric did exist in early 20th century Europe. At a time when the concept of dandy was expanding to include women, an Italian heiress, muse, and patroness of the arts, the Marchesa Luisa Casati emerged as the brightest celebrity style icon in European society. Before female dandyism was associated with the masculine look, it simply implied a beautifully dressed or over-dressed woman. Unbeknownst to many, the Marchesa is possibly the most artistically represented woman in history after the Virgin Mary and Cleopatra– her influence is all around us.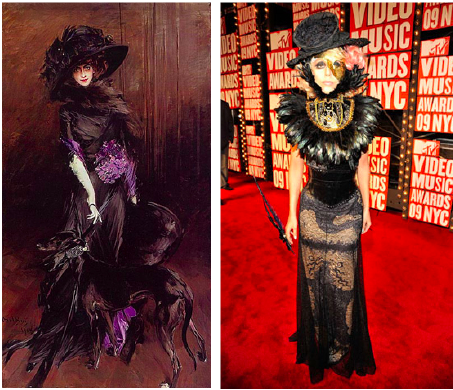 Just as male dandies represent extravagance through aesthetics and considered themselves artists, Casati was the first to embody female dandyism when she announced: "I want to be a living work of art".
In fact the Marchesa was so obsessed with her image that she made it one of her life's ambitions to have herself painted, sculpted and photographed by hundreds of artists that she commissioned.
Beat this Lady Gaga …
Tall, elegant with flaming red hair and unnaturally large green eyes, Casati dressed and carried herself in a manner that was absolutely scandalous for her time. She fascinated the society contemporaries she surrounded herself with, such as Coco Chanel, Picasso, Marcel Proust, Cecil Beaton and Robert de Montisquiou. A turn of the century jet setter (before private jets), she was legendary for parading around with a pair of leashed cheetas and became the inspiration behind the illustrious panther motif for Cartier.
The Marchesa wore live snakes as jewellery and the Ritz Hotel in Paris even allowed her to check in with her two boa constrictors (along with the live rabbits she brought in to feed them). I'm not sure the same policy applies today after one of the deadly reptiles infamoulsy escaped.
The extravagance didn't end there. Louisa had naked servants in gilded gold leaf to attend to her and guests inside the several palaces she collected with her immense wealth. Wax mannequins were strangely sat at the dining tables next to the international aristocracy attending her scandalous soirées and world-famous masquerade balls.
Every move she made was documented in gossip columns of the time and her ensembles were more outrageous than anything Lady Gaga has come up with yet.
Even though she was married, she had open affairs and continued to squander away her inheritance. The lifestyle, or the "spectacle", came before everything (much like the Sapeurs of the Congo)– see here if you don't know what I'm referring to).
When the Italian heiress had finally blown her $25 million fortune, Coco Chanel was among the bidders that attended the auction selling off everything Casati owned– from her residences in Versailles and Venice to her legendary wardrobe.
Luisa Casati lived off the charity of her daughter for the remaining years of her life, residing in London. The extravagant charade was over but she still kept her spirit until the very end. I've read that she is rumored to have been seen rummaging through bins in her old age looking for feathers to decorate her hair.
Her legacy remains…
With her unique, theatrical style, her masculine references, her fox furs and leopard skins, her neo-Gothic moods and oriental embroideries has and continues to inspire a legion of fashion designers…
Dior dedicated their 1998 Haute Couture collection to her 1920s style
CHANEL : Karl Lagerfeld held his resort 201o collection in Venice where the Marchesa spent much of her time, sending lookalikes of the style icon down the runway.
Yves Saint Laurent's S/S 2004 collection embodied her masculine references, wild hair, dark makeup and preference for exotic animals..
The brand MARCHESA, red-carpet favourite with today's celebrities, is indeed, named after the European style icon.
*****
Before you go….
let's take a peek at
THE EVOLUTION OF FEMALE DANDYISM!
After Marchesa's influence, women began to embody the male archetype of dandy…
Women can be dandies because they can be anything they put their minds to…