Bardot and Birkin: two of the most beautiful and iconic actresses that I have aspired to for their style and spirit ever since I first laid eyes on their photographs. When I visit the hairdresser for my seasonal make-over, I'll either be clutching a tear-out of Brigitte Bardot's romantic and tousled boudoir coif or Jane Birkin's signature hipster bangs. These two women also happened to be the great loves of Serge Gainsbourg.
For those of you asking who the heck is Serge Gainsbourg? Tut tut!
He is basically the French John Lennon.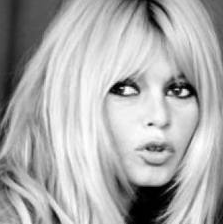 BARDOT
Bardot fell for Gainsbourg while she was still married to notorious playboy Gunther Sachs. Régine, a singer and infamous Parisian nightclub owner, recalls their passionate affair. "Serge and Bardot were in my kitchen all the time because she didn't want to go to restaurants. She was always laughing with him, and he was thrilled to be with her, such a beautiful woman."
When he met her, Bardot's film career was slowing down and he helped her move into music. Together, they recorded "Je T'Aime… Moi Non Plus," which featured the sounds of Brigitte's explicit sexual moaning.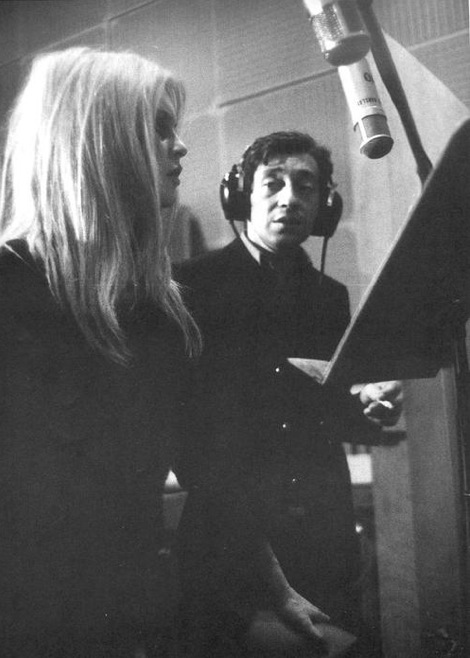 She begged him not to release it in fear of exposing their affair to her husband, and Gainsbourg later released it with Jane Birkin's vocals instead. The song was banned in most European countries. In 1968 they recorded a duet, "Bonnie & Clyde" together, written by Serge. They also made a video:
***
BIRKIN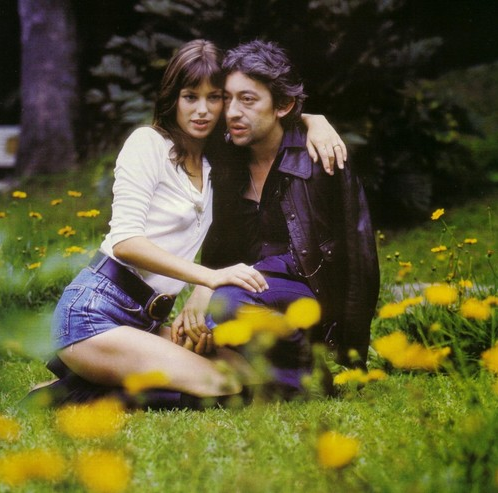 When Bardot returned to her husband, 4o-year old Serge fell for the beautiful 22-year-old Jane Birkin. Together, the British actress (whose style evoked the swinging sixties) and provocative French superstar were a force of nature on the Paris social scene. Castel's nightclub, which still exists on the Rue Princesse on the Left Bank, set the scene for many of their alcohol-fuelled theatricals. One night, Serge emptied the basket that she carried as a handbag and threw it to the ground. Absurdly, she retaliated by throwing a custard pie in his face. After he stormed out, she raced past him towards the Seine and as soon as she saw him catch up to her, she flung herself into the city's river to later be rescued by firemen. The lovers then strolled arm-in-arm back to their decadent home on Rue de Verneuil.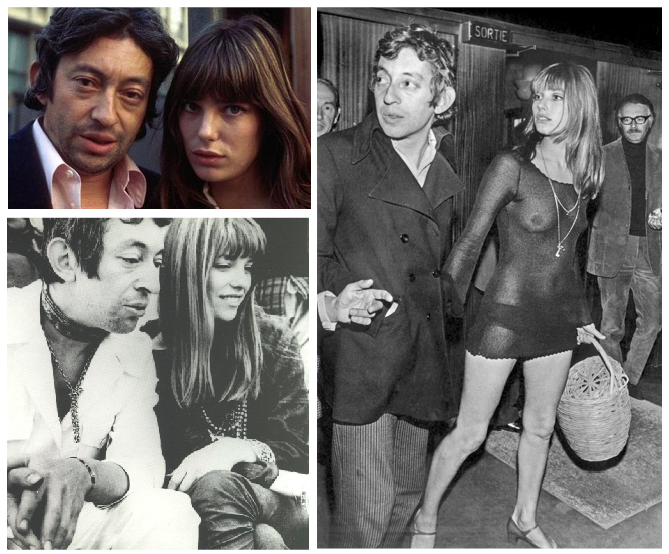 ***
BIRKIN ON BARDOT
Both Serge and Jane were known to be outrageously jealous lovers. When Jane made a movie with Bardot, while Serge felt threatened by the film's director, Jane confessed, "I wanted to see every portion of her [Bardot's] body to see if she was as beautiful as I thought she was, and she is. Checked from head to toe by me. There's not one fault in the woman."
The Story behind the Birkin Bag
On an Air France flight from Paris to London, Jane Birkin pulled her Hermès date book out of her bag and all her papers fell on the floor. She complained to the passenger sitting next to her that the book should have pockets. That passenger was the chairman of Hermès, Jean-Louis Dumas, and after hearing her complain he created the Birkin bag.
Charlotte Gainsbourg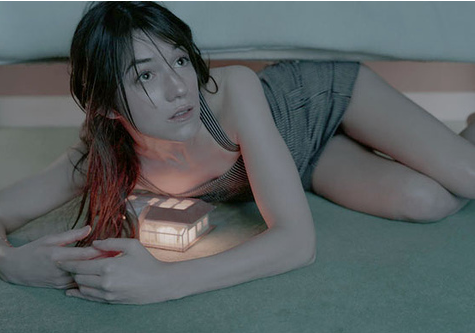 "If he [Serge] had seen me giving birth to Charlotte, it's possible he never would have slept with me again," said Birkin.
In 1971 Birkin gave birth to their daughter, Charlotte. She was constantly with her parents, even at nightclubs when she was still small enough to fit in Jane's infamous baskets that she used as handbags (see images above). At the age of thirteen, she did a duet with her father called Lemon Incest. The song included the lyrics, "the love that we will never make" and consequently shocked the nation, sparking outrage, but Charlotte still insists today that it was "a pure love song from father to daughter" and speaks fondly of Gainsbourg, who died of a heart attack in 1991.
"Every time I get into a taxi [in Paris] I hear a story about my father, because he used to take taxis all day long and [the drivers] tell me how sweet he was."
Charlotte is today a renowned actress in both Hollywood and independent cinema, not to mention, she's practically royalty in France.
WHAT IS IT ABOUT GAINSBOURG?
What was it about Serge Gainsbourg that he managed to seduce some of the worlds most beautiful women?
"I never actually had a relationship with him," says Marianne Faithfull, who first met Serge in 1965. "But I sometimes wish I had. You could tell that anyone who slept with him would come away very satisfied indeed. Ha ha! He had a wonderful aura of quiet confidence around him, an odd mixture of shyness and arrogance."
Some might suggest that it was Gainsbourg's women that made his career. One could argue that his records did not attract as much attention as the songs he wrote for women like Bardot, Juliette Gréco, Catherine Deneuve, Isabelle Adjani, Marianne Faithfull, and Vanessa Paradis, who all had hits with the songwriter (several, a few affairs).
"Serge liked to surround himself with women," says Birkin,"He was insecure about his looks and felt validated by their attentions."
Gainsbourg's friend Régine said, "He was feeling like he was not a beautiful man, but inside he was a beautiful man, and his charm was more important. And when a man like that has success, he starts to have beautiful women."