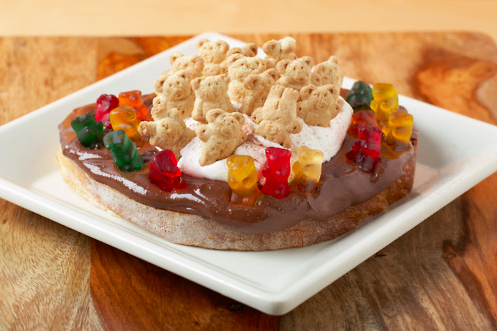 It's Friday and I'm feeling a little silly/ immature.
Do you ever have one of those days when you're willing to put just about anything in your sandwich?

I've come across a very fun photography blog which I happen to relate to in every which way. It's about one thing and one thing only….
…All the wonderful ways you can incorporate peanut butter into your sandwiches.
(in my opinion this is art of a very high standard, an art form in itself)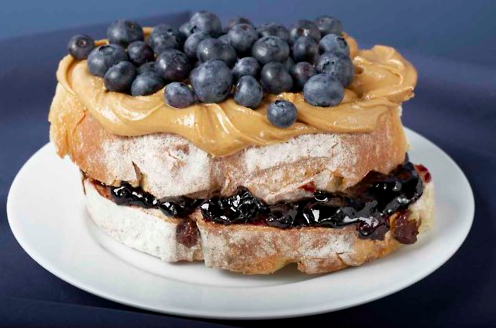 True Blue :Blueberry preserves sandwiched between raisin bread and topped with white chocolate peanut butter and fresh blueberries.
Fig-ure it Out: Whole wheat bread, smooth peanut butter, and fig jelly, stuffed with pieces of fig fruit and caramel kettle corn.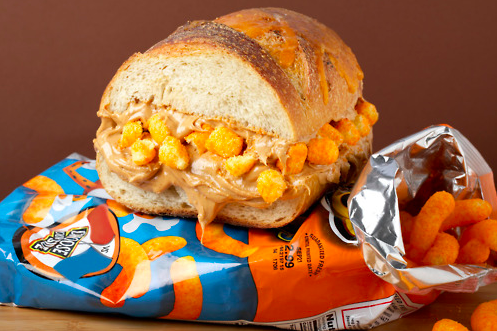 The Cheese Puff: Italian cheddar bread with Smooth Operator peanut butter and Cheetos® cheese puffs.
(Before you say EW!… Well actually this one kinda makes sense; in France, a very popular brand of chips sells peanut flavored cheese puffs)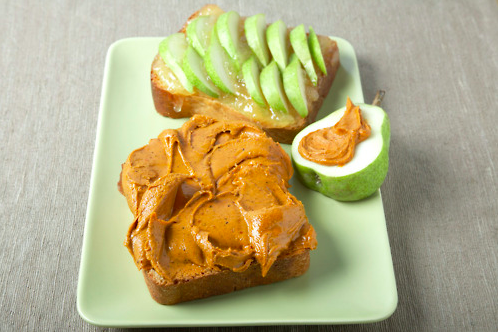 The Angry Pear: White bread spread thick with peanut butter on one side and pear jelly and sliced pears on the other.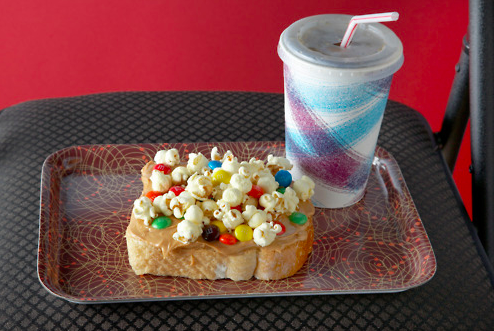 Movie Night: Open-faced bakery style white bread with Smooth Operator peanut butter, buttered popcorn, and chocolate M&Ms.
(F.Y.I. Next time you're in the cinema, dump your bag of peanut M&Ms into your popcorn and mix. You'll thank me later!)
Peanuptial Agreement: Layered rounds of white bread covered with vanilla frosting and white nonpareils with white chocolate peanut butter piping for decoration (don't pretend this wouldn't be the yummiest wedding cake ever).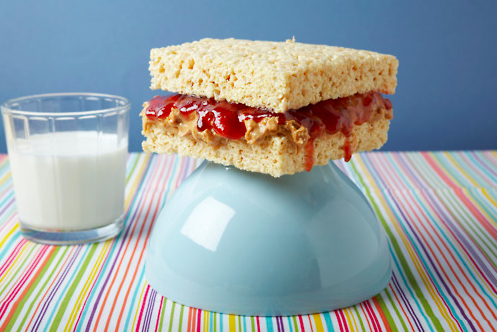 Rice Krispies, Neat: Rice Krispies squares with peanut butter and strawberry Jelly (for that crunchy extra-something. Genius thinking here).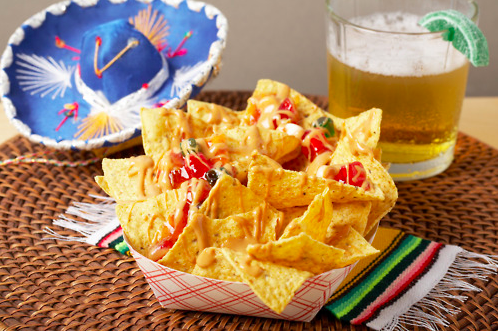 Nacho Everyday Toppings: Corn tortilla chips drizzled with melted smooth peanut butter topped with strawberry dip, chocolate chips, and strawberry jam.
Someone get me some nachos, I need to try this RIGHT NOW!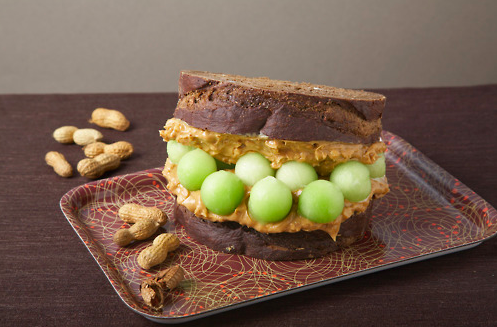 Crunchy Melon Munchy: Pumpernickel sandwich with crunchy peanut butter and balled honeydew melon.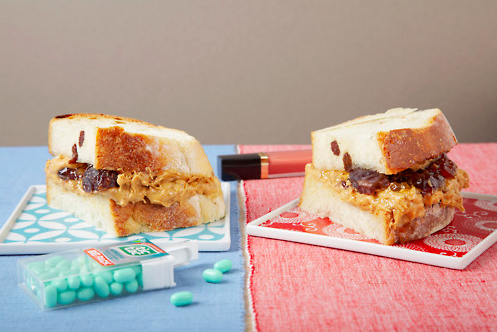 First Date: Artisan bread with crunchy peanut butter, apple preserves, and sweet dried dates. Get ready for a date with deliciousness.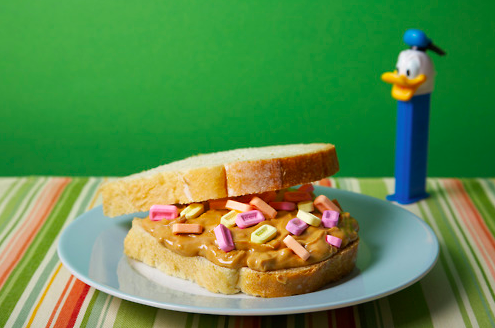 Peanut Butter & Pez (PB&P): Bakery style white bread with smooth peanut butter and assorted candy. Who doesn't love Pez?
Brought to you by Peanut Butter & Co (where you can find all those white chocolate, crunchy brands of peanut butter described in the recipes above)
Conceived By Lee Zalben, Photography By Theresa Raffetto, Food Styling By Patty White, Bread By Orwasher's
Check out the Nutropolitan Museum of Art to see more peanut butter art here
:::
Or if you thought this was a completely immature and inappropriate article; an insult to the art world, how about you pull that stick out of your ass and look at this instead…
:::
Do a Double Take: Cinemagraphs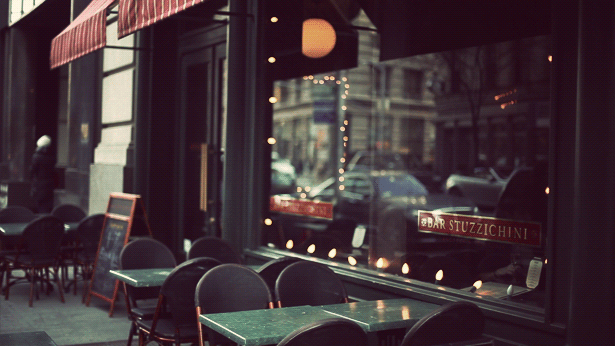 Did you miss it?
Take a second look at the photograph above.
Look out for the passing yellow taxi.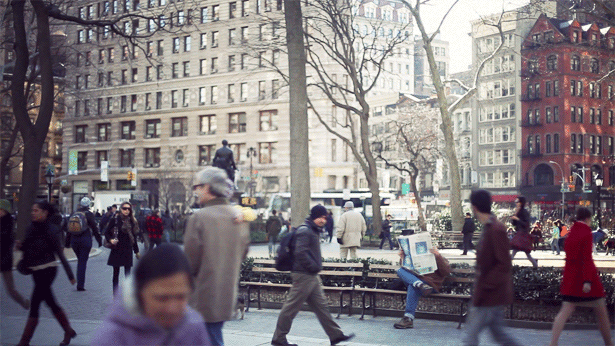 See the guy still casually reading his paper while everyone else frozen stopped in time?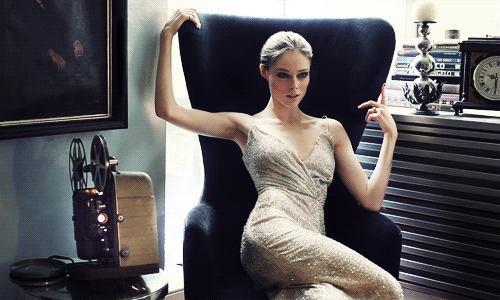 This is the work of New Yorkers Jamie Beck and Kevin Burg that they're dubbing "cinemagraphs."
Using animated GIFs to come the closest to capturing the true essence of a moment, the genius of their vision lies in the image's simplicity.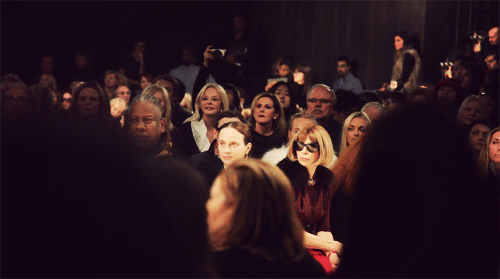 Movements are so subtle. The flash of a passing car, the slight turn of a head…
I bet at first glance you didn't catch Anna Wintour's moving ever so slightly as the model passes by.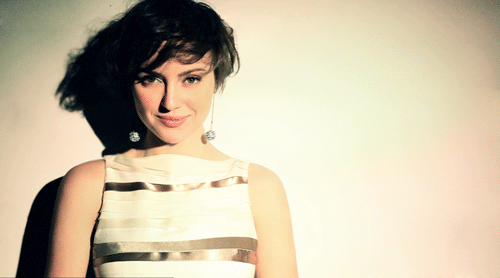 Creepy or cool? Get used to them because GIF images are slowly becoming the thing for advertising  …
Check out more of these cinemagraphs here
:::
Just Your Average Wooden Bicycle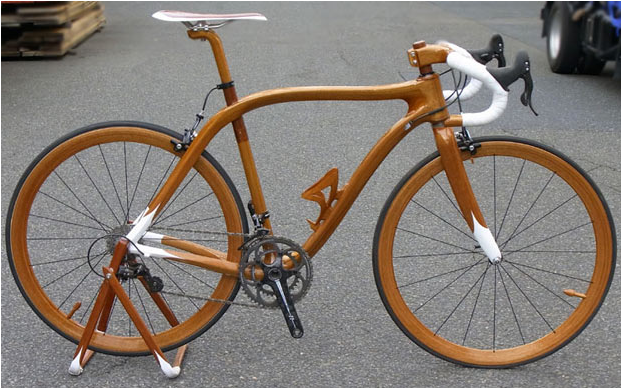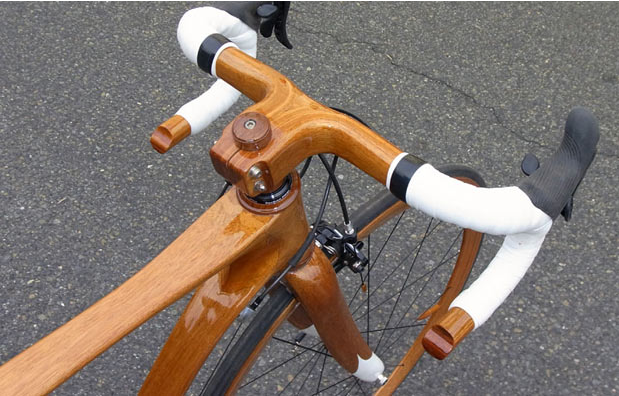 Okay I'm not going to start pretending I'm some bike connoisseur or anything silly like that (even though it is Friday). I just thought this looked pretty cool. And if you are a bike connoisseur who would like to see more work by a guy from Japan who has 17 generations of ship building in his family … click here 
:::
So I heard Needlework is Cool Now…
Embroidered Portraits of Hipsters!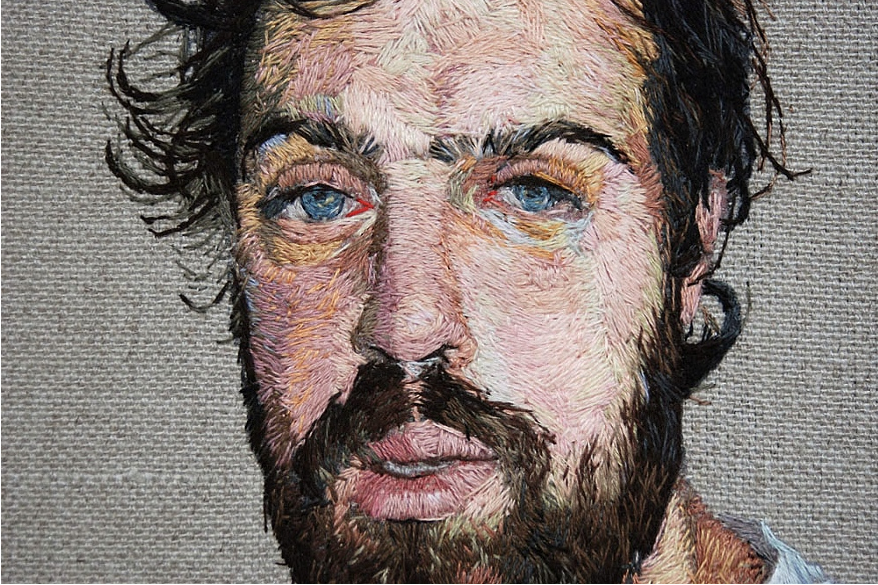 Click on images to enlarge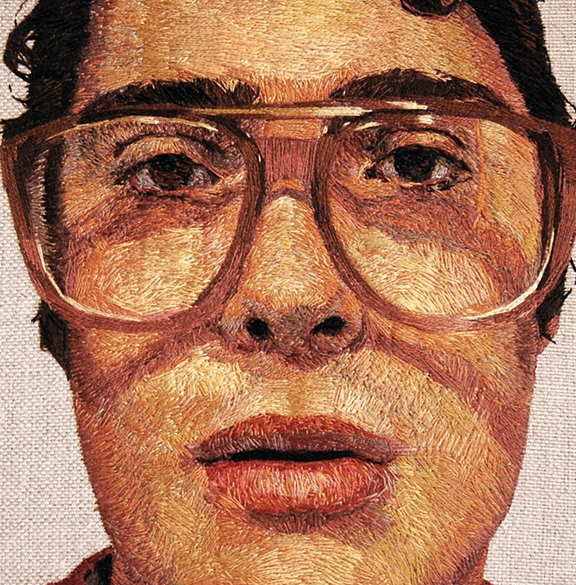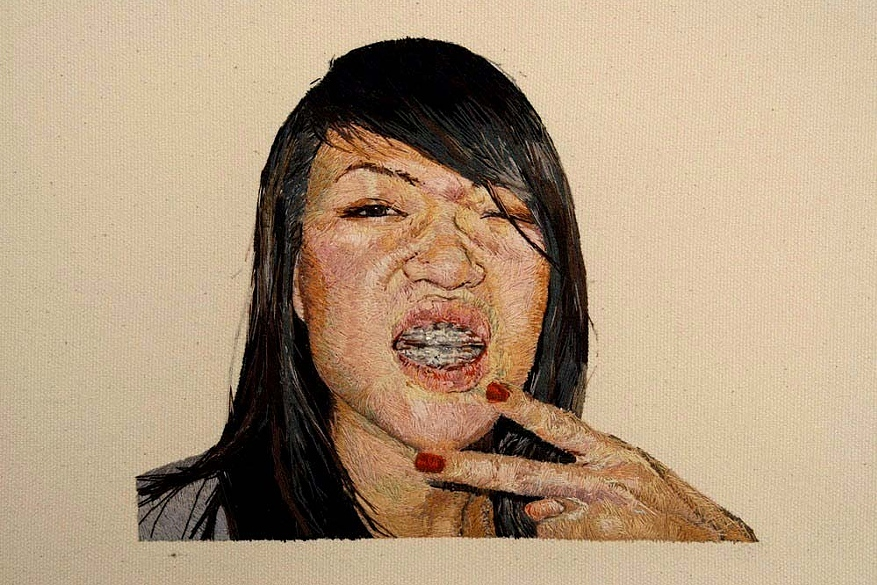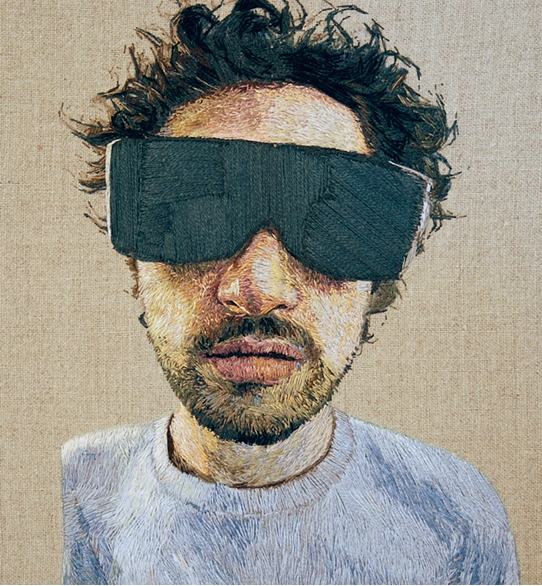 All works are hand-stitched portraits by Pennsylvania-based artist Daniel Kornrumf
:::

:::