This is a little inconsiderate of me.
Posting an article on the world's most alluring swimming pools right smack in the middle of a summer heatwave.
While that little drop of sweat rolls down your forehead and plops onto your work desk. Not terribly kind of Nessy is it?
Well tough.
I've been hibernating inside for the last 48 hours, decorating my room with no less than three high speed, top-of-the-range fans, evian body spray at the ready, and I want to talk about swimming pools.
I want to talk about that turquoise infinity pool that isn't on my balcony.
At this point, I would gladly drink pool water. Chlorinated and all.
For those of you that think this kind of heat is fantastic? I hope you melt. For those of you on summer vacation with a swimming pool at your doorstep? I hope your swimsuit falls off when you jump in.
Sorry. But I'm really hot.
 It's not a mirage. Every cottage at the Singita Sasakwa Lodge in Tanzania boasts its own private infinity pool that looks out onto the vast plains of this East African nation.
::::
It looks like a swimming pool of cranberry juice doesn't it? Or fans of Jaws can enjoy the optical illusion of the red tiles in the pool at the Library Hotel in Koh Samui…which, when planted next to the whitest Asian sands, makes for quite a colour combo.
::::
Badeschiff or "bathing ship" is the most unusual swimming pool in Berlin. It is an old cargo container converted into a pool on Spree River. During the summer it is an outdoor pool with the beach, bar and DJs. In the winter the whole thing is covered, and a few extra saunas are added.
:::
The calm, emerald-green swimming pool is floating above the Ayung River valley in Bali's lush foothills. The pool's home is the Alila Udubu resort, Payangan, a traditional Balinese hill village, near Ubud.
:::
Art-Deco lovers eat your heart out.
::::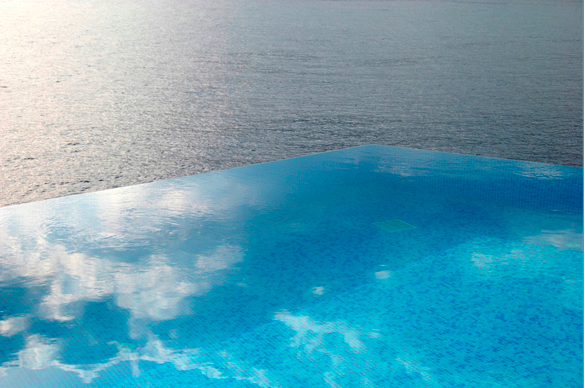 An infinity style pool that does what infinity pools were made to do; give you the illusion of a pool that drops into the sky.
::::
Before the Playboy suite in Las Vegas did it, this swimming pool projecting eight feet over the sidewalk was around since 1927, designed by a famed architect, Adam D. Tihany.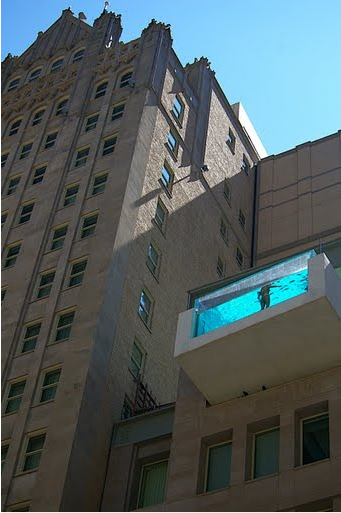 ::::
The deepest indoor swimming pool in the world at 33 meters (105 feet), you can get a variety of scuba certifications at this amazing, solar-heated pool. Plus, the water is so warm you don't need a wetsuit!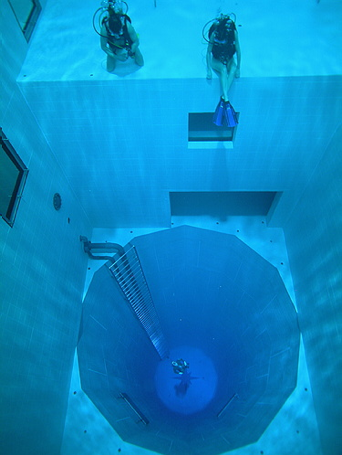 ::::
At 200 metres high, this is one swim you probably wouldn't forget..
::::
But the award for the most unforgettable pool has to go to a natural pool. The Devil's swimming pool, Victoria Falls.
:::
I suggest you go and splash some water on your face now, you know, to get back to reality.