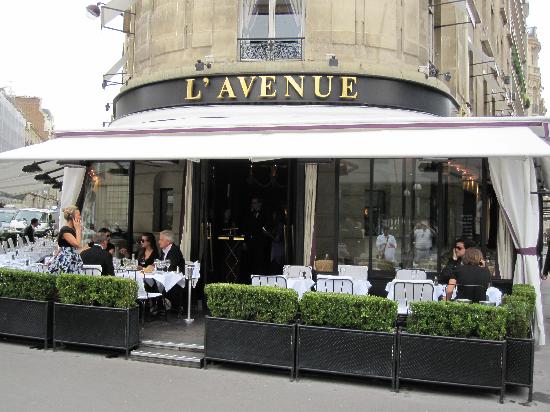 With Paris haute couture week currently in full swing, American celebrities are flocking into town, including tabloid darlings du jour, Lana Del Rey and Kim Kardashian.
…And they're all being spotted at the damn same place, paparazzi heaven, L'Avenue. Just a few steps from the grand Plaza Athenée hotel with its top designer boutiques, L'Avenue is the go-to eaterie for big spenders– and probably one of the blandest restaurants in Paris.
With its snobette waitresses, average food and flashy euro trash clientele, this really is the last place you want to be spending your money in Paris. Then again, did you really expect the likes of Kim Kardashian, Jay Z, Justin Bieber and Rihanna to be in touch with the real Parisian restaurant scene?
As expected, these celebrities are giving the lack-lustre venue an annoying amount of press and since we all tend to mindlessly browse the DailyMail website and reluctantly pick up a tabloid now and again, I wanted to make sure none of you are fooled into thinking L'Avenue the best Paris has to offer.
So voila, MessyNessy's top 12 suggestions for trendy restaurants that are better than L'Avenue. Because you shouldn't trust Kim Kardashian for restaurant ideas in Paris…

1. Apicius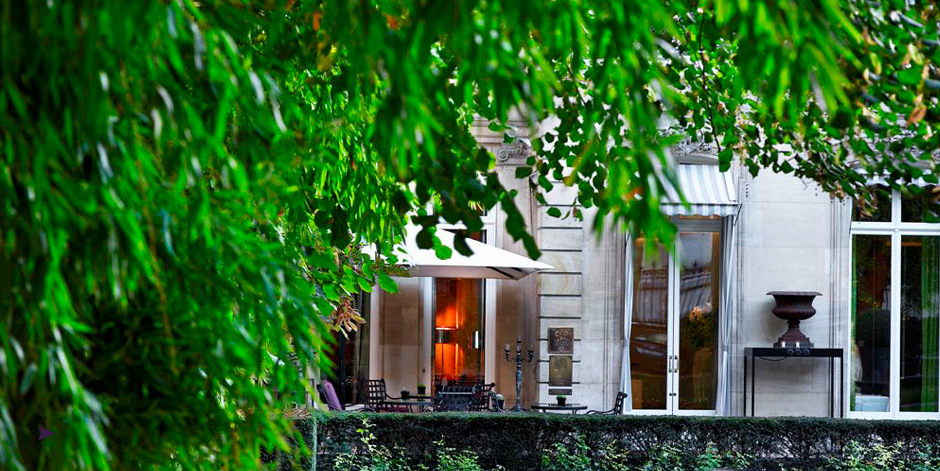 You probably didn't think it was possible to eat in a chateau in the centre of Paris did ya? If you have money to burn, a reason to get dressed up and you're looking for a very special romantic setting, this hotel particulier hidden behind a wall in the 8th arrondissement is your best bet. The food is regal, the service is impeccable, and the beautiful cream decoration and perfect lighting makes anyone look good. Yes, it is expensive – but well worth it.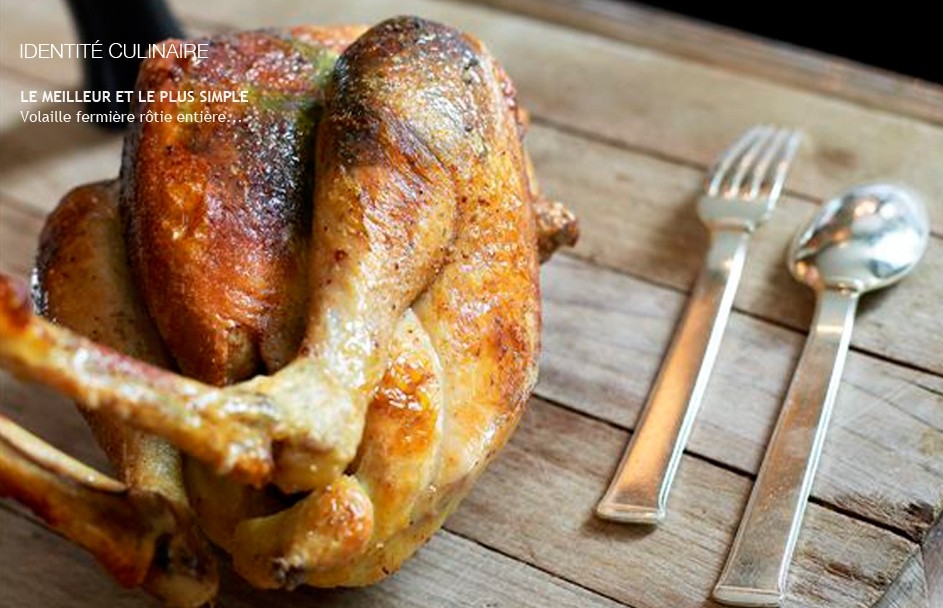 Be warned you need to book very much ahead of time, although cancellations do happen.
20, rue d'Artois, 75008 Paris, France
  :::
2. La Gare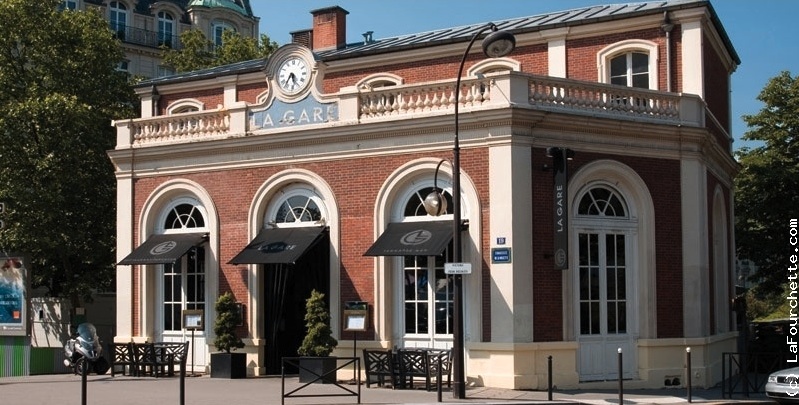 La Gare is more than just a restaurant, it's a piece of Paris' history. The restaurant used to be an actual train station and the main dining hall has been designed around the old train tracks and platforms which have been kept in tact. They even left the old iron tracks. It's a very nostalgic place to dine and the space extends out onto a large terrace if you feel like dining al fresco. The prices are extremely fair for such an fabulous setting and even the fussiest of eaters can't go wrong with the food here.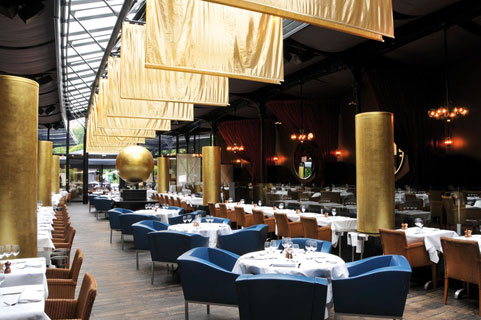 19,chaussee de la Muette, 75016 Paris, France website:
restaurantlagare.com
:::
3. Quai-Quai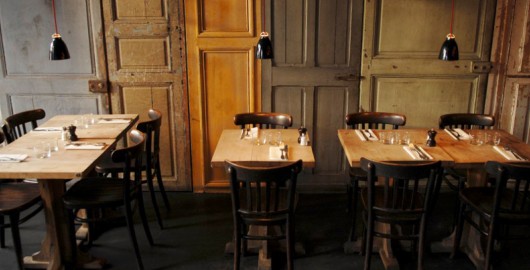 Owned by young, cool Parisians and frequented by young cool Parisian patrons who start filling this place up by 10pm. Situated in a lovely spot right on the river with quirky decor and tasty food, this is an 'in-the-know' hotspot where they still make you feel right at home even if you're not 'in-the-know'. Sit at the front to be in the buzz or at the back you have comfy cushioned couches for a quieter meal.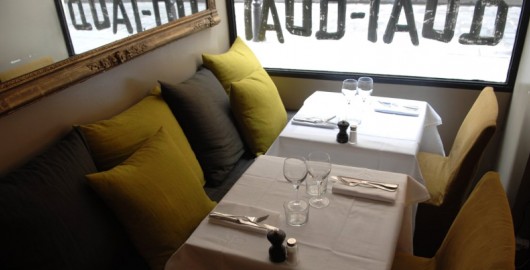 74, Quai des orfèvres, Paris, France
:::
4. La Petite Cour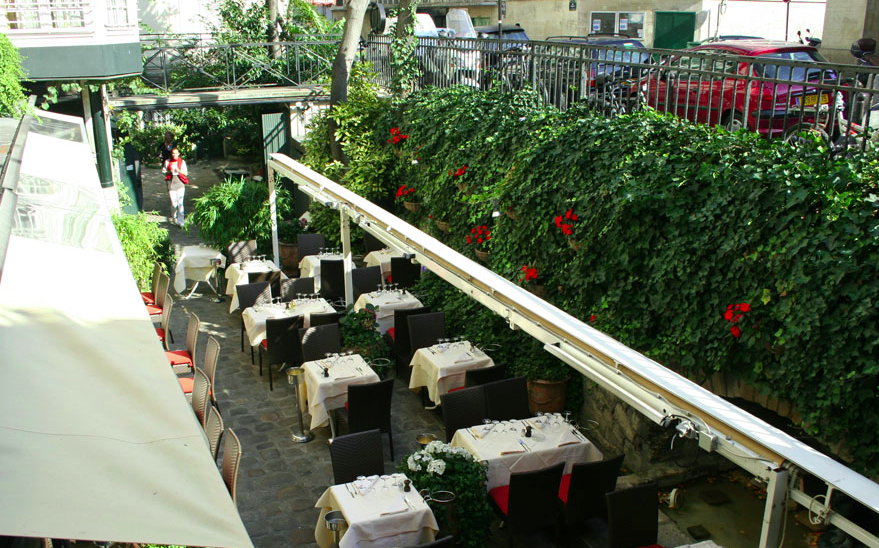 Coming across this little bistro feels like you've discovered something hidden from the world but this subterranean courtyard bistro is a local Parisian favorite for romantic dinners, serving beautifully presented and delicious food.
8,rue Mabillon, Paris, France
5. Le Comptoir – Relais Yves Camdeborde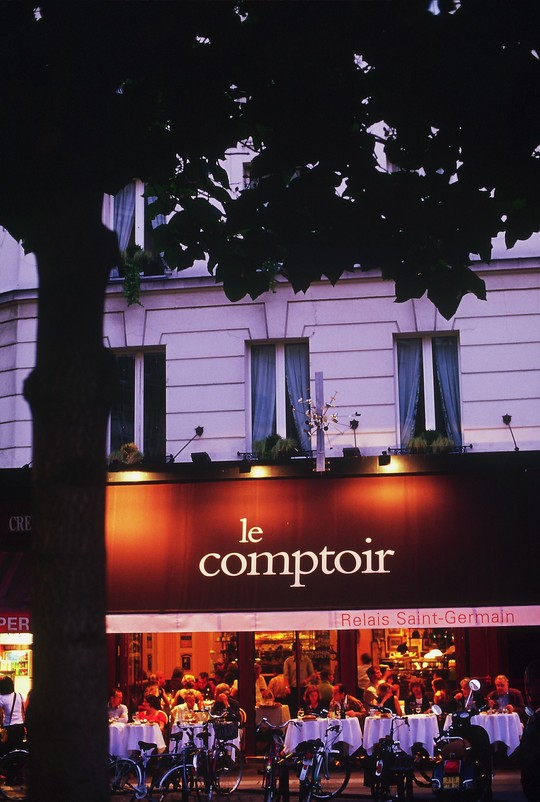 If it's a legendary celebrity chef and people-watching you want, Le Comptoir has managed to combine both without losing that Parisian magic. In the hub of Saint Germain, the terrace of Le Comptoir is packed with stylish Parisians sitting on outward facing tables– the place to see people and to be seen.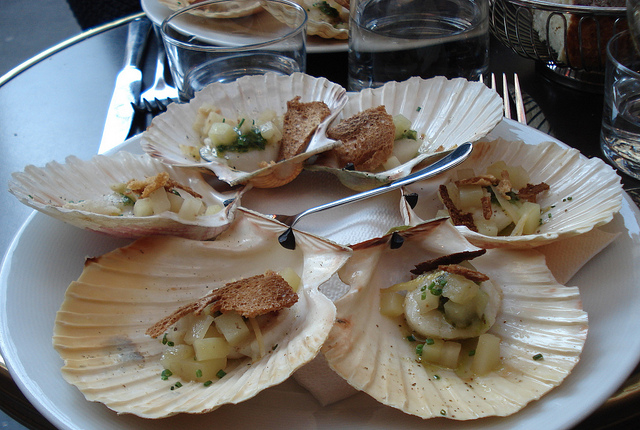 The chef is Yves Camdeborde who left the rather stuffy La Régalade for a more friendly and casual but chic atmosphere at Le Comptoir. The range of terrines, hams and saucissons are a must. Booking in advance for dinner is recommended but lunch has a no-reservations policy.
9, Carrefour de l'Odéon, in the 6th Arrondissement.
01 43 29 12 05
:::
6. Chez Julien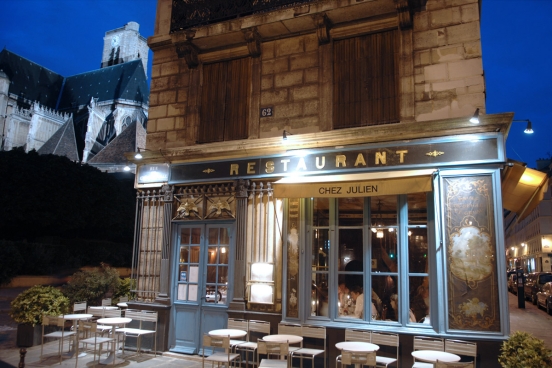 Lively, chic, romantic, fabulous decor in honor of the bistros of the Belle Epoque and a hit with trendy Parisians. Their mojitos as good as they are in Puerto Rico and refined comfort food dishes like prawn risotto to die for. Chez Julien scores high with the foodies. Situated at the gateway to the Marais and overlooking the Seine, you're at the perfect starting point for a picturesque after-dinner stroll in Paris to walk it all off.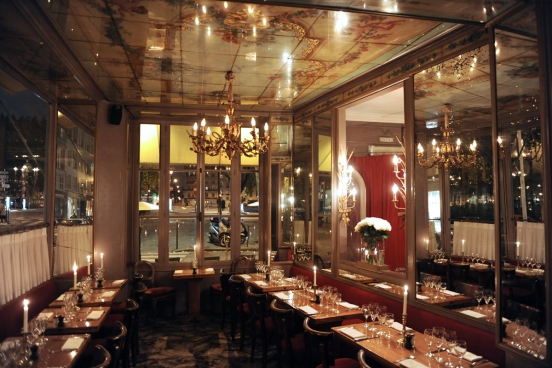 1 Rue du Pont Louis Phillipe, 75004 Paris +33 142783164 Website:
www.maisonthierrycostes.com
:::
7. Caveau du Palais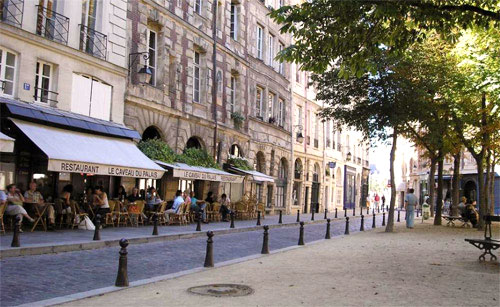 Ah Place Dauphine, my favorite square in Paris. No need to come here if you can't get a table outside overlooking the sand gravel square with locals playing petanques and some of Paris' most beautiful townhouses in the background. Don't get me wrong, the food and wine is excellent and the clientele is chic, but it would be a shame to spend the money and only get half the experience. Oh and Johnny Depp keeps his pied-a-terre next door and often dines here. Thought that was worth a mention.
  17 Place Dauphine 75001 Paris 01 43 26 04 28 :::
8. Cinq Mars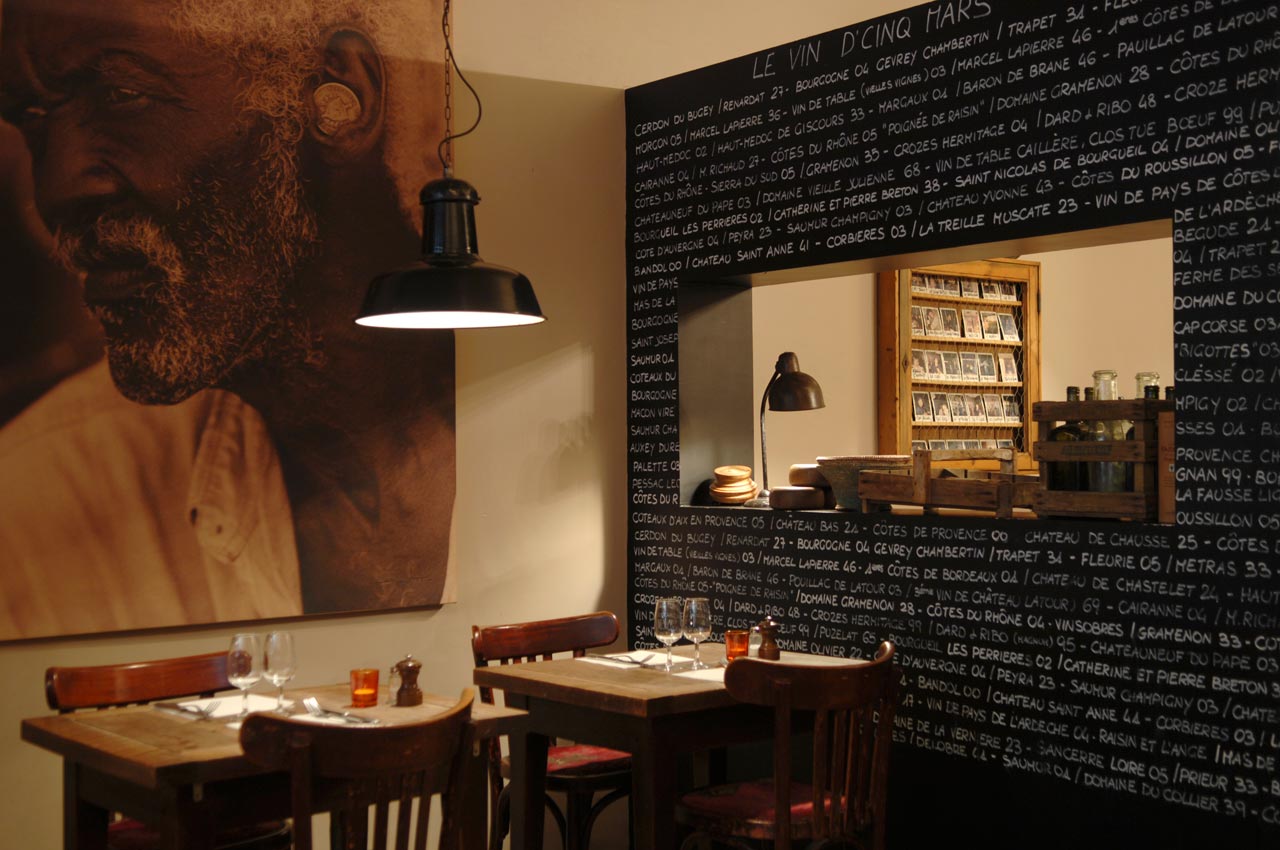 Le Cinq Mars is a small, dark and cozy place with a cool, distressed wood decor and candle-lit ambience. Totally unpretentious even though they do receive high profile clientele such as quasi-royal Pippa Middleton (taken there by her Parisian friends), the food is home-made style, baguettes are warm and the prices are just right.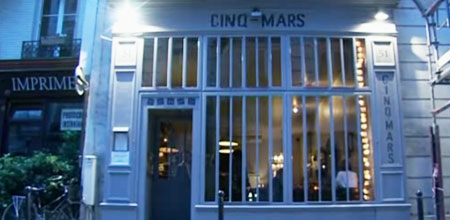 51 Rue de Verneuil  75007 +33 14 54 46 913
:::
9. Restaurant Amour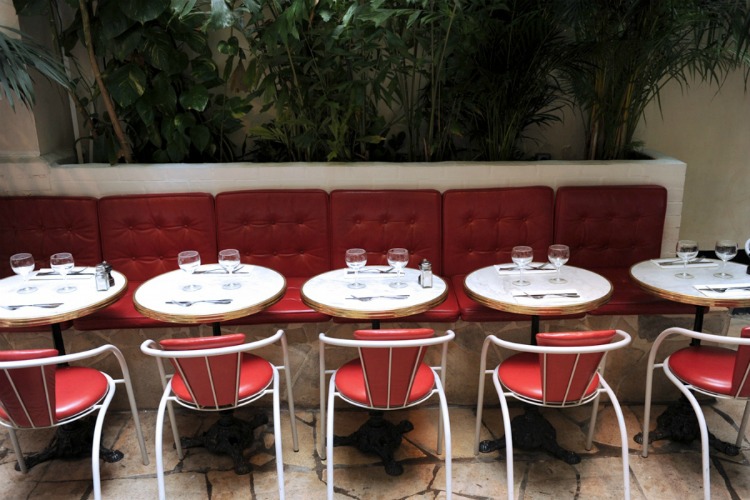 In the heart of trendy Pigalle, the restaurant of Hotel Amour is full of hip young Parisians dining and having cocktails on the outdoor patio. You can often spot a French movie star (if you can name any) dining on exotic salads for 15 euros a pop. A perfect single's scene.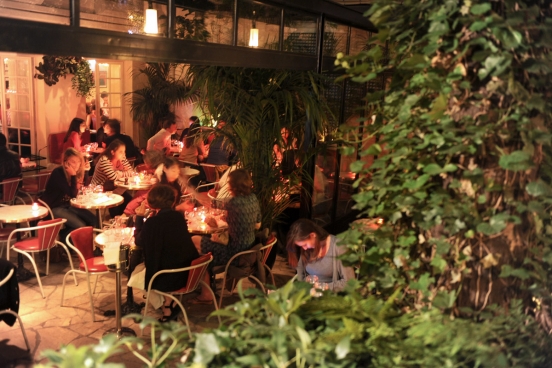 8,rue de Navarin, 75009 Paris
01 48 78 31 80 
:::
10. La closerie de Lilas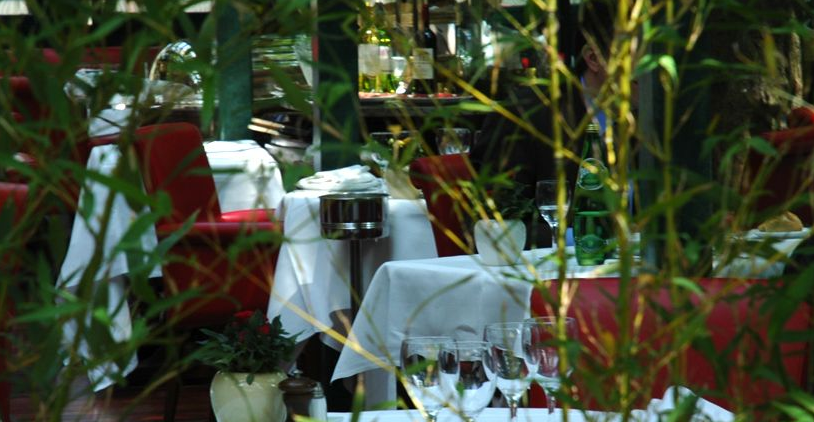 Some things will never go out of style and La Closerie de Lilas fits nicely into that category. The first café restaurant to establish the reputation of Montparnasse during the Belle Epoque, Cezanne, Apolinaire, Hemingway and Fitzgerald were all regulars. Today it is still frequented by the most beautiful minds and faces of Paris. The young Parisian elite come in and out for pre-soirée drinks so you won't feel like you're eating in a museum despite it having gone unchanged for over a century.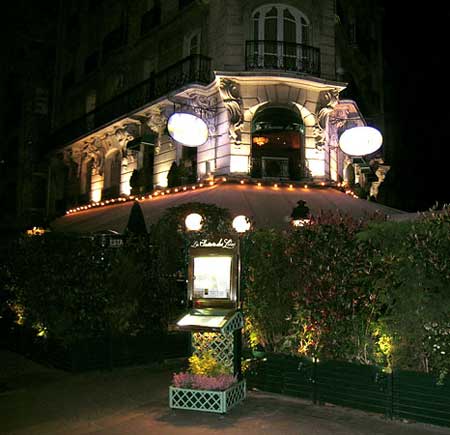 Some say if you only visit one restaurant in Paris, make it this one. Order the lobster, order the Hemingway fillet, order the oysters– go all out and it will probably be one of the best and memorable meals of your life.
171,boulevard du Montparnasse, Paris 01 40 51 34 50 Website:
www.closeriedeslilas.fr
;
Photos via here