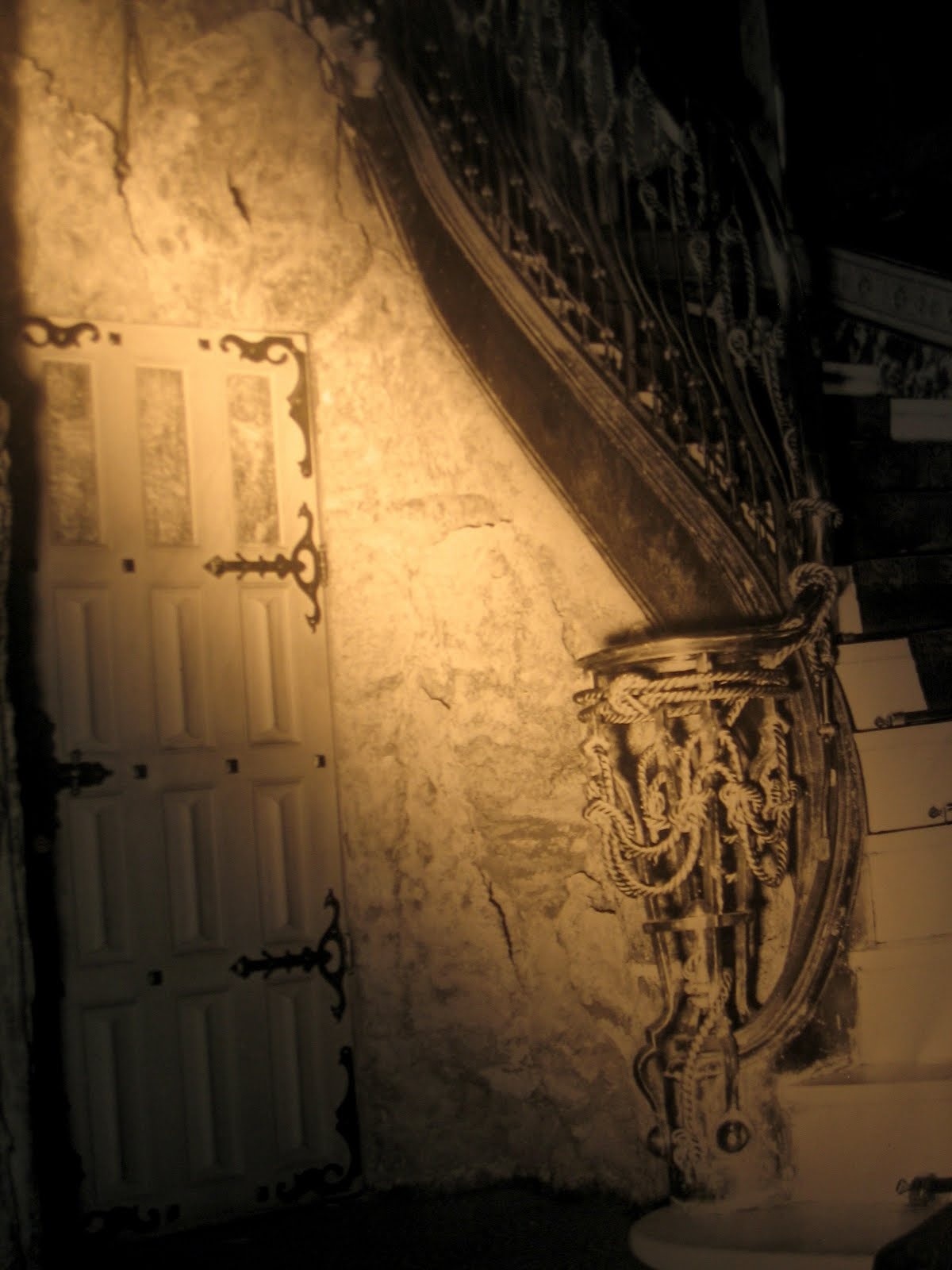 Behind the number 12, rue Chabanais, a typical building on a typical back street not far from the Musée du Louvre in Paris, used to be one of the most notorious and prestigious bordellos of the golden era. Today, it's an apartment building, but just across the road at number 11, an inconspicuous little boutique gallery is keeping the sordid secrets of its lustful past alive.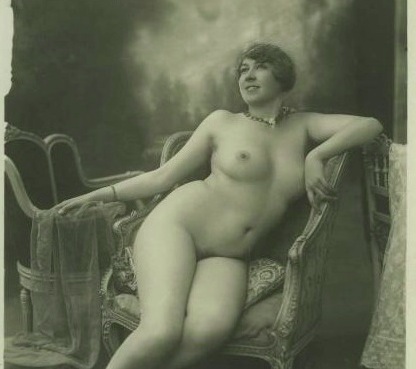 World's apart from Paris' vast official art galleries and museums, Au Bonheur du Jour is run by a fifty-something former cabaret dancer, Nicole Canet, who refers to herself as an 'archeologist of erotica' … [that's not her in the photograph above].
Her unusual intimate gallery sits facing the old site of Le Chabanais, one of the most luxurious 'maisons closes' that Paris had ever seen during its heyday of authorized brothels. The Prince of Wales (future King of England, Edward VII, son of Queen Victoria) had his very own room at the establishment that carried his coat of arms above the bed.
As a frequent visitor, the Prince, better known as "Bertie" would bathe with Parisian prostitutes in a giant copper bath filled with champagne and enjoy threesomes in a lavish chair he called his "love seat" (which might explain where we get the name from). Salvador Dali later bought the copper bath tub adorned with a half-woman-half-swan figurehead for 112,000 francs, a few years after the brothel closed in 1946.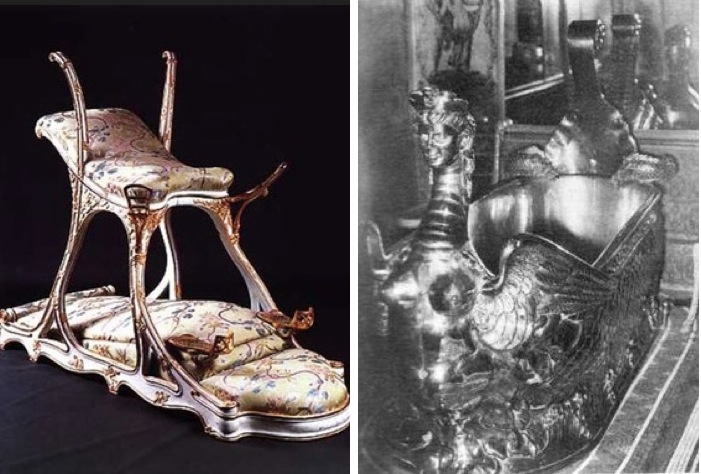 Edward VII's love seat (left) and his bathtub (right)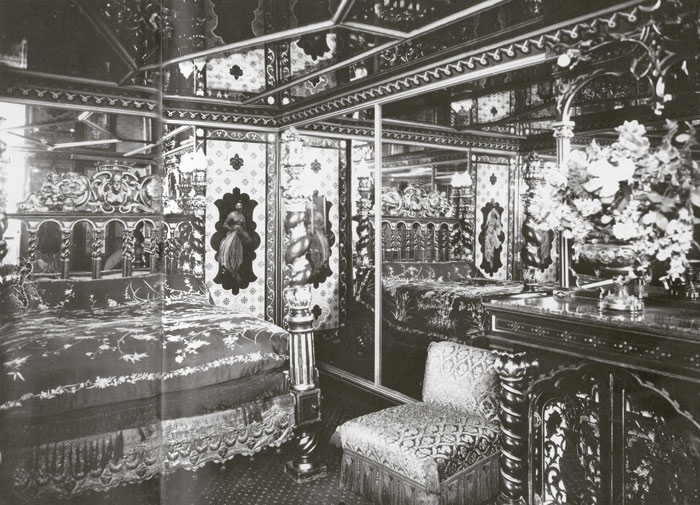 Adorned like a luxury palace to cater to any fantasy, le Chabanais was no back-alley hotel. "The Chabanais was practically a national monument. It was listed as a site to see by the travel agencies," says Madame Canet who began compiling and selling old erotic photos at the Paris flea market after giving up her career as a cabaret artist.
It was 'by chance' that she found her boutique-cum-gallery space opposite le Chabanais where she now sells and exhibits exquisite items that revisit the life of the brothels. From photographs, books and paintings to antique sex toys and original pieces of decor from the houses, Nicole is dedicated to uncovering the lost world of the 'maisons closes'.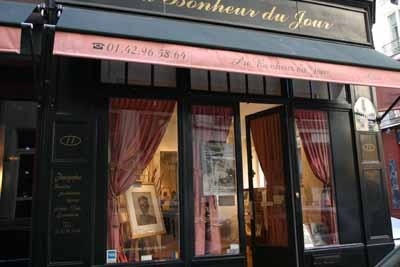 At a past exposition, Canet displayed an old wooden box fitted with stereoscope lenses which were used by the male patrons to view pictures of the women on offer. The exhibition highlighted brothel décor which also featured rare insights into the Disney-style themed rooms of the maisons closes. Famous painters even helped decorate the most palatial of the bordellos. Renowned artist Henri Toulouse Lautrec, also a frequent patron, was commissioned to paint 16 tableaux for the boudoirs in le Chabanais.
A post WWI brothel, the One-Two-Two opened in 1924 on Rue de Provence and became the main competitor of Le Chabanais. Not as exclusively elitist, One Two Two was popular with soldiers and celebrities alike. On Thursday nights, the venue even held a special free night for wounded soldiers. Catering to all fetishes, each of the 22 rooms were inspired by a different time and place. A pirate room featured a mechanical boat swing and water jets that sprayed clients and courtesans as they did the dirty. An Orient Express room allowed patrons to live out their fantasies of sex on a train inside a replica of a bouncing carriage with a railway soundtrack.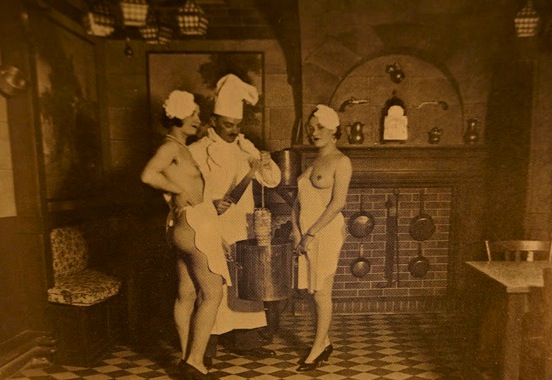 The famous restaurant Le Boeuf à la Ficelle saw waitresses serving diners like Cary Grant and Edith Piaf wearing nothing but their high heels. During the Nazi occupation, the x-rated establishment was highly popular among the German officers and when the war ended, the French persecuted the courtesans of One Two Two and publicly shaved their heads.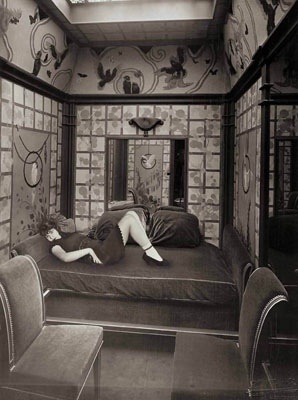 "I love going back in time, discovering the stories behind the pictures and playing detective," she Madame Canet, "it's the work of archeologist."
One of the items missing from her opulent brothel memorabilia however, is the much sought after "Guide Rose" (Pink Guide), the little black book of the Belle Epoque; a pocket-sized Michelin-style guide to the pleasure establishments in Paris, the provinces and even it's foreign colonies. "I know two old grandfathers who have copies, but they won't sell. They're rare and people just won't part with them," says Nicole.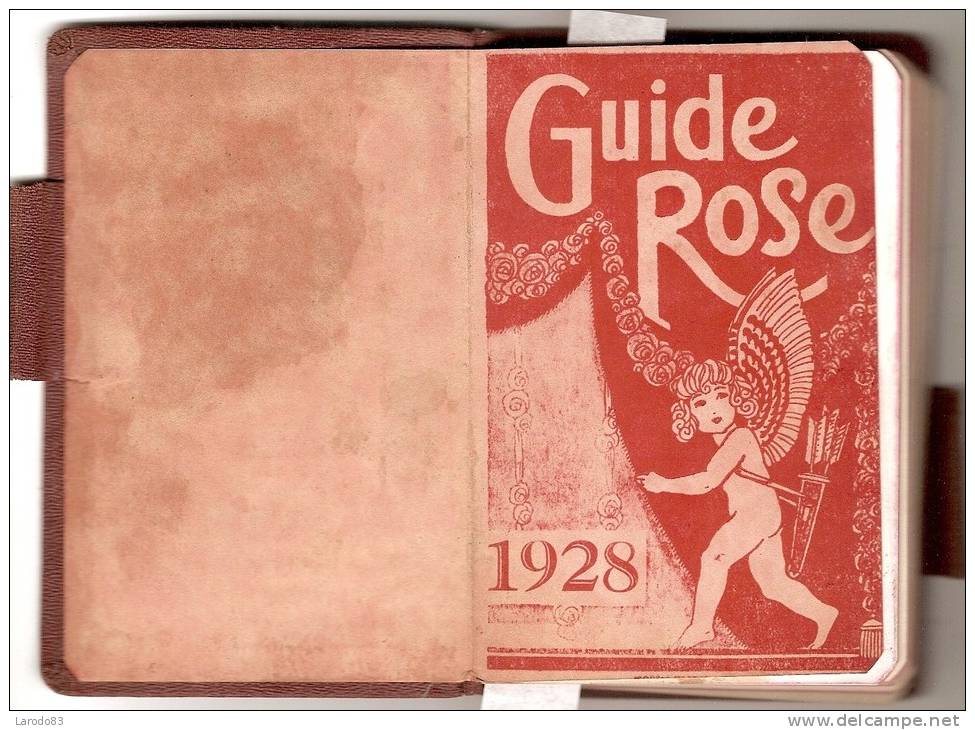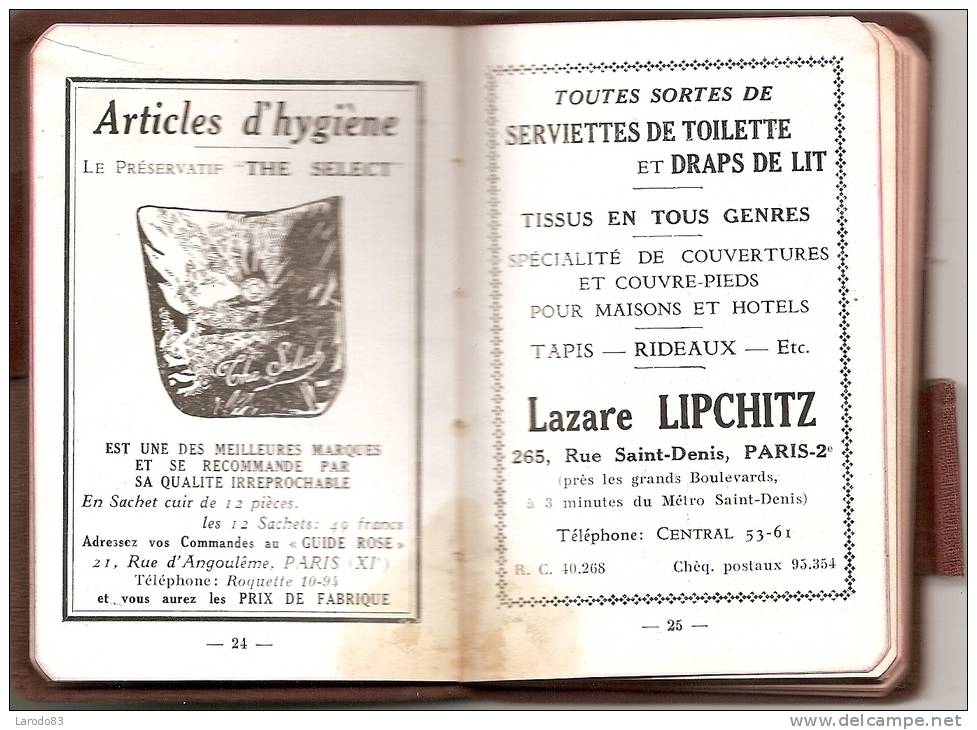 I did a quick search for one myself however and found this copy that was sold recently on DelCampe.com for 311 euros.
Currently on show at Canet's Au Bonheur du Jour is an exposition about the lesser documented practice of male prostitution from 1860 to 1960. Famed novelist Marcel Proust was a frequent patron of brothels for men whose tastes were male-inclined and even joined other high society figures in investing in two of Paris' specialist maisons closes for gay men.
At one of his investments, the famous l'hôtel Marigny, he made a deal with the brothel managers. To satiate his curiosity and desire, Proust was allowed to spy on the crème de la crème of society through a small window enjoying steam baths in the company of soldiers or erotic torture sessions; scenes that would later appear in his writing.
Madame Canet has even written a book to accompany the exposition which runs until the end of December 2012. Unique illustrations, archival police documents, photographs are on display uncovering all the facets of the clandestine industry.
Visit the Au Bonheur du Jour website to keep track of new exhibitions or visit the gallery boutique at 11 Rue Chabanais in the 2eme arrondissement. F.Y.I: Au Bonheur du Jour in English means "afternoon delight," alluding to the pleasures of stolen trysts.
How to spot a former brothel/ maison close in Paris…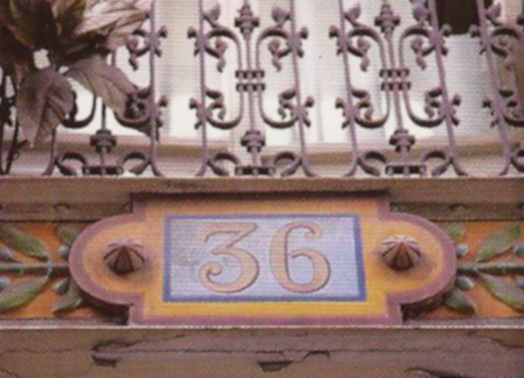 If you were a Belle Epoque Parisian man on the lookout for a maison close, you would keep an eye on the number plates on buildings above the door. If they were larger, more colorful and elaborate than the standard blue and white version, like this one for example, you would automatically know it was a house of pleasure. The photograph of the above number plate 36, is indeed the number plate of a former maison close on Rue Saint Sulpice in the 6th arrondissement. The building with a large doorway was Miss Betty's brothel, a bordello that specialized in dominatrix role play. Priests in particular were said to be drawn to the "crucifixion parlor" and the "Satan's Hell" torture room.
Image via here
Stay the night in a former brothel…
HOTEL ROTARY, PARIS

Remaining tight-lipped about it's sordid history, the hotel describes itself as a "small and calm hotel located a few minutes from the Moulin Rouge". But at the turn of the 20th century, this four story hotel was once indeed a Belle Epoque brothel. While the maisons closes were outlawed in the 1940s and the hotel is certainly no longer operating as a bordello, a few clues remain of its secretive past. The intricate stairs, dollhouse architecture and even some very boudoir-esque beds indicate the Hotel Rotary is hiding one or two secrets behind its doors.
Hotel Rotary: 91 euros a night for a piece of history.
HOTEL AMOUR, PARIS

The trendy Hotel Amour is not afraid to admit that it was once a serviceable, pay-by-the hour establishment. In the center of the red-light district of Paris, rooms adorned with romance novels, erotic art and old photo magazines.
Photo by Ricardo Tinelli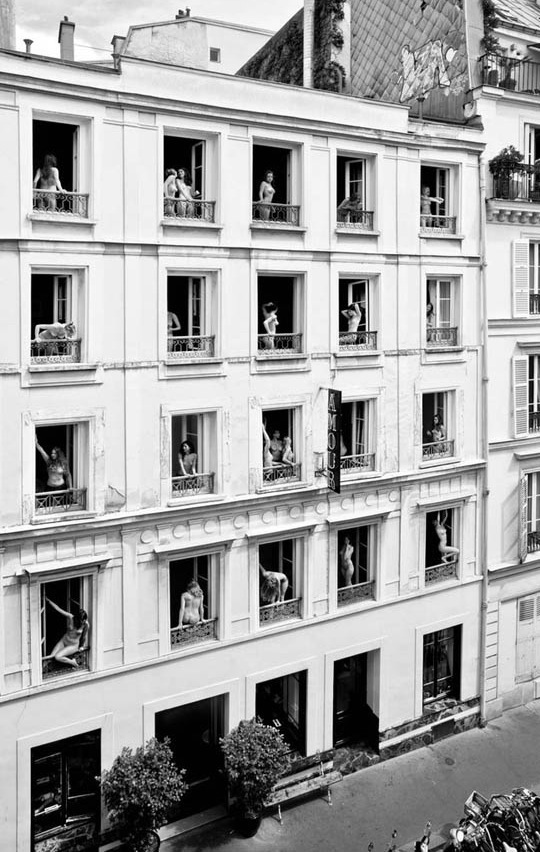 Images thanks to Au Bonheur du Jour