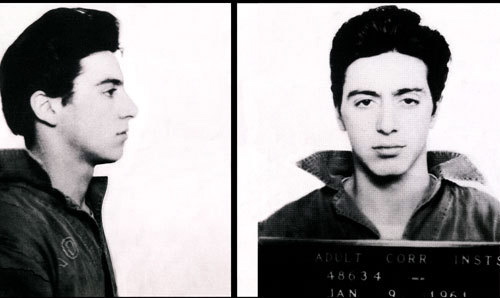 On the night of January 7th, 1961, in Woonsocket, Rhode Island, a police car pulled over a suspicious vehicle that had been circling the block and passed the officers several times. When they approached the car, they found three males wearing black masks and gloves. In the trunk the officers found a loaded 38 calibre pistol.  All three men were charged for carrying a concealed weapon and brought to the police station including driver Vincent J. Calcagni and passengers Bruce Cohen and 20 year-old Alphonse Pacino, from New York City (that's his mugshot above). Bail was set at $2,000 but none of the young could pay and went to jail, where Pacino reportedly spent three days. It's worth noting that the arresting officer remembered Mr. Pacino had been "very helpful" during the interview process and had explained that all three men were actors and had been on their way to an acting job for which needed the weapon as a prop. Charges were later dropped.
Do you believe Mr. Pacino was on an acting job (at night, circling a block, wearing masks)?
via here
:::
YOU MIGHT ALSO LIKE:
.