What is more enchanting than an artist's studio? When these painters, sculptors and creators make a space their home, it changes the environment forever. The living space inevitably becomes a rich source of inspiration for the artist; from the furniture, the objects and books to the colour of the walls, floors and most importantly, the perfect light.
1. A former barn house in Normandy, France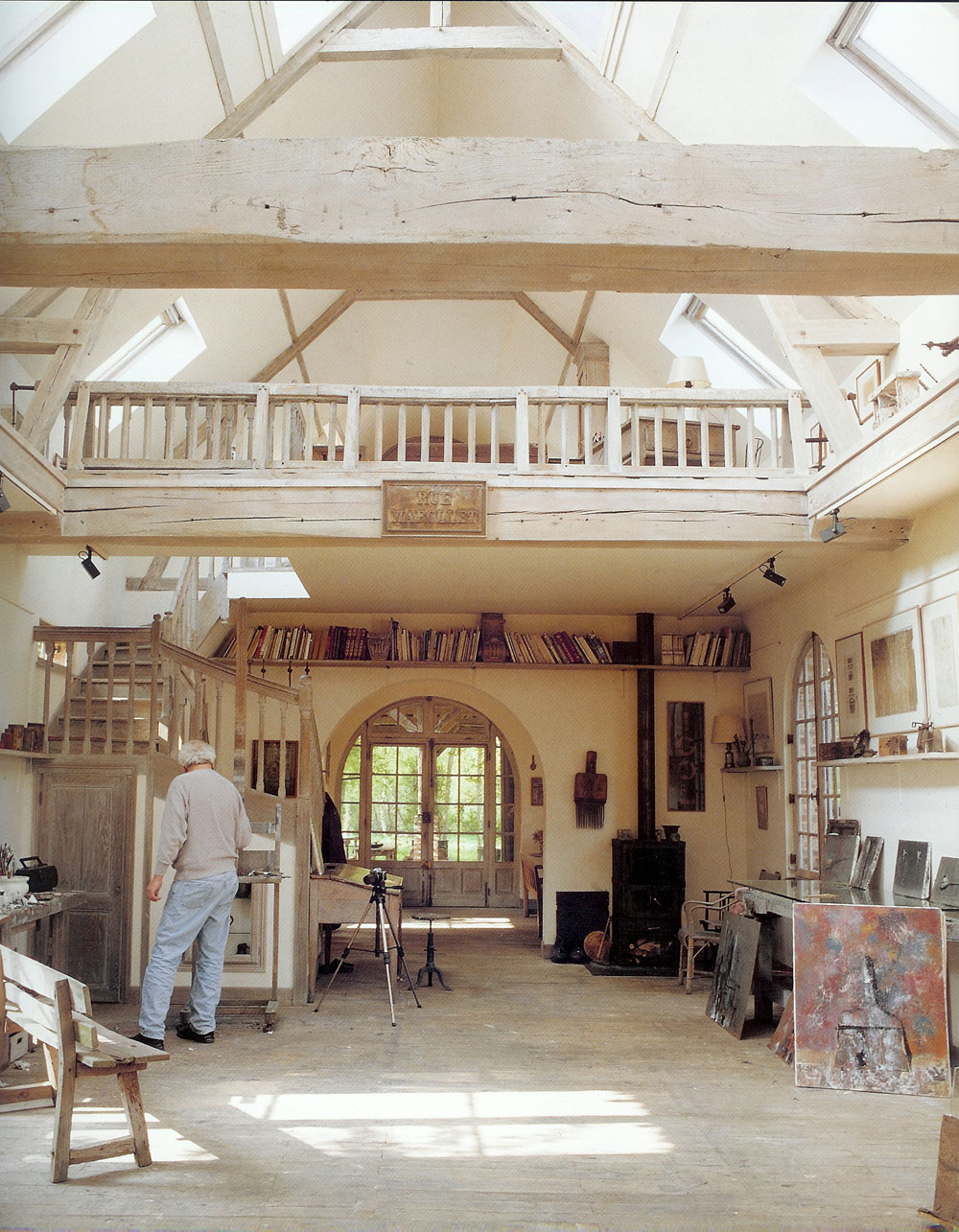 This beautiful old barn was converted into an artist's studio by France-based Russian painter Yuri Kuper's. Restored in 1980, Yuri says his house and studio which dates back to the 15th century 'is made out of and decorated with poor man's materials'. When he found the old manor in Pays d'Auge in Normandy, it was in a bad state, almost beyond repair and decaying after possibly centuries of neglect.  It took Yuri a year to turn it into the beautiful and sleek space it is today, paying homage to its history by using salvaged materials and antiques he sourced locally. Photographed by The Essence of Good Life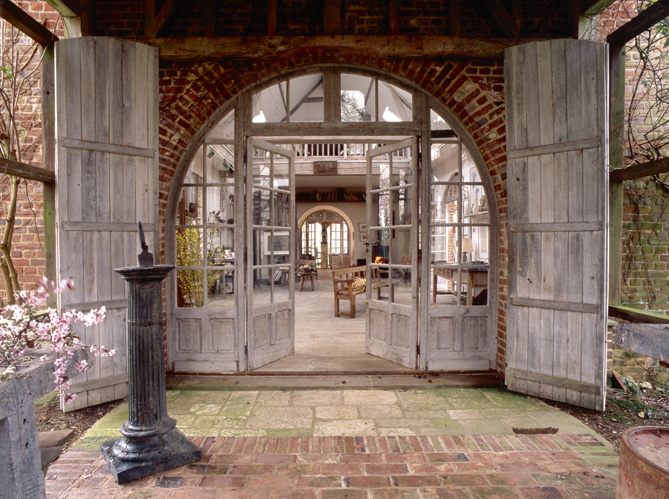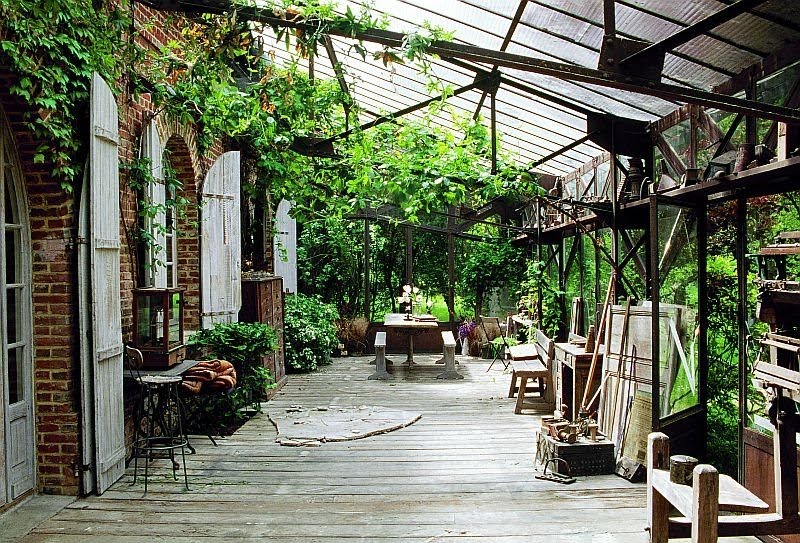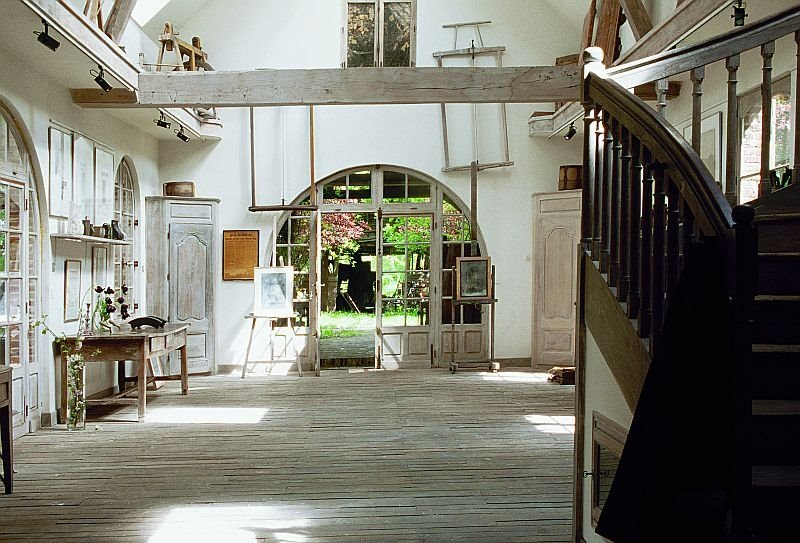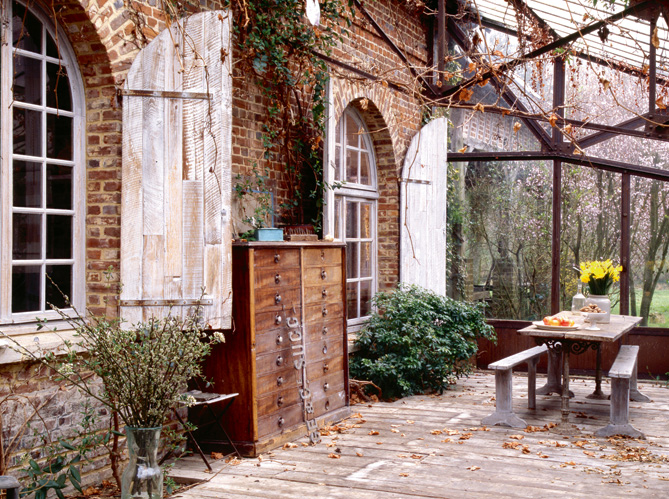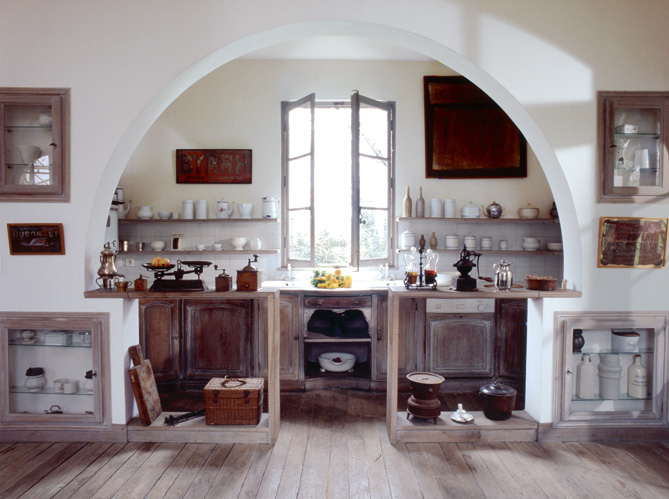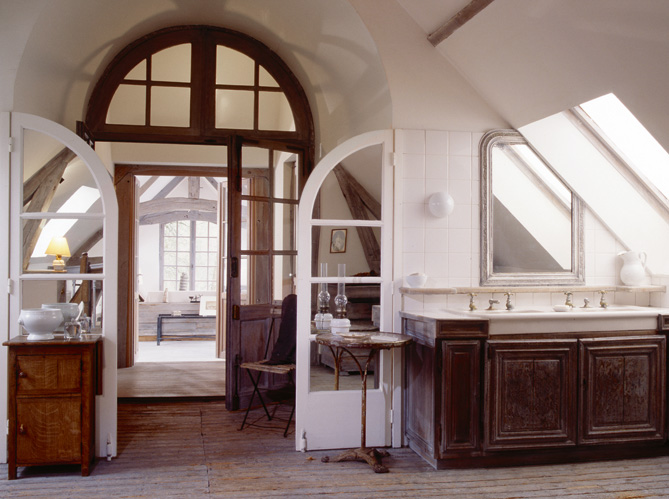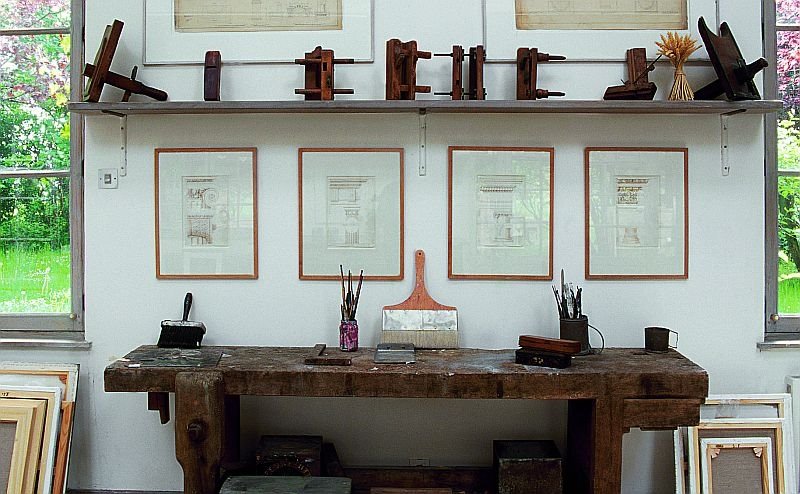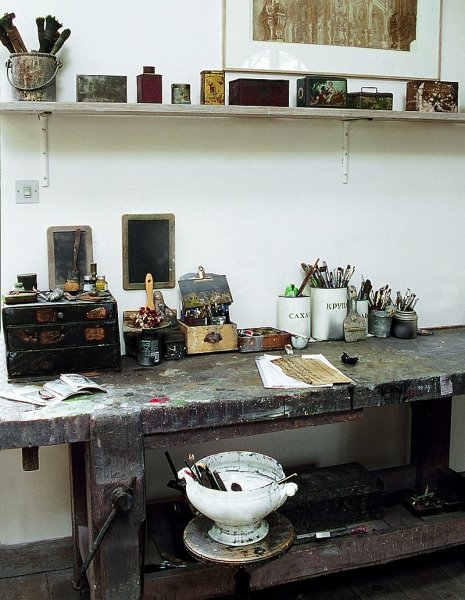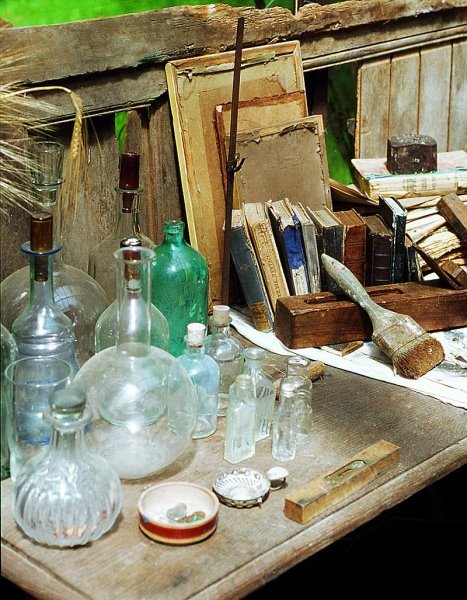 See more photographs of Yuri's studio and home on The Essence of Good Life. 
2. Picasso's "La Californie" Atelier Villa in Cannes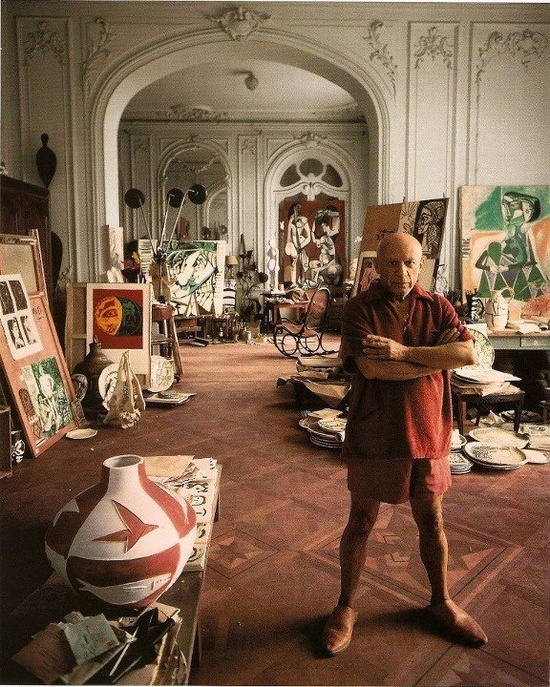 In 1955, Picasso relocated to Cannes where he bought an eccentric 19th century house which became known as "La Villa California".  He settled there with his last wife-to-be, Jacqueline Roque and created some of his most famous works in an art nouveau studio space with uninterrupted sea views.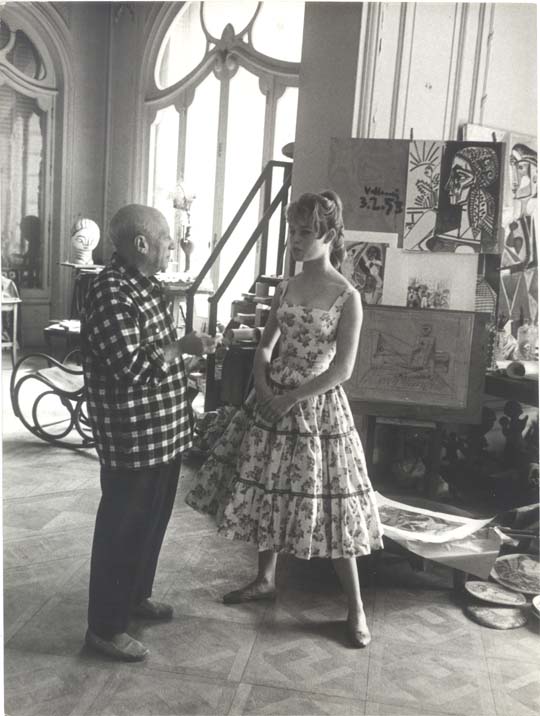 Villa de la Californie has often been dubbed the 'court of Picasso', where movie stars, poets, and bullfighters would 'entertain' him. One can only imagine what the list of names would have looked like if everyone that passed through the villa had signed a guest book.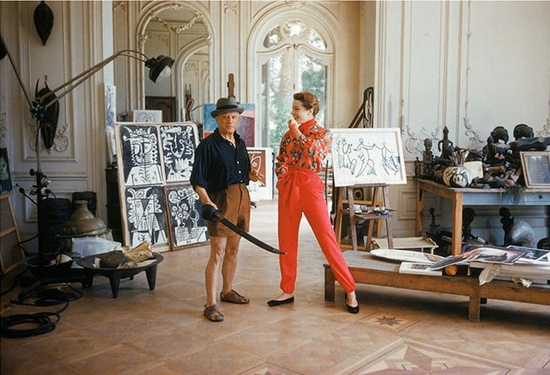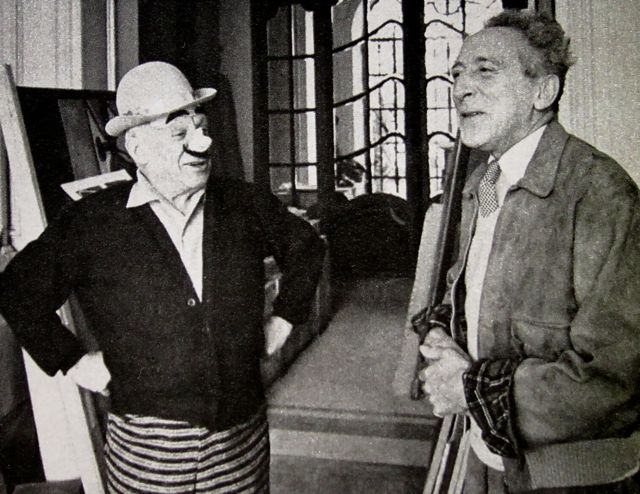 Picasso with Cocteau in his studio.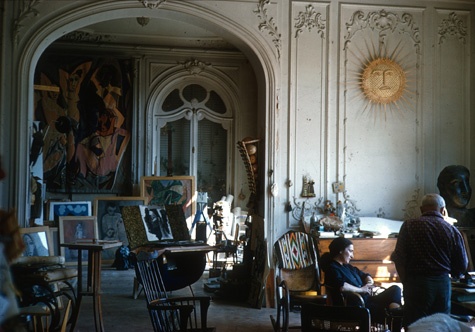 Waiting for Picasso…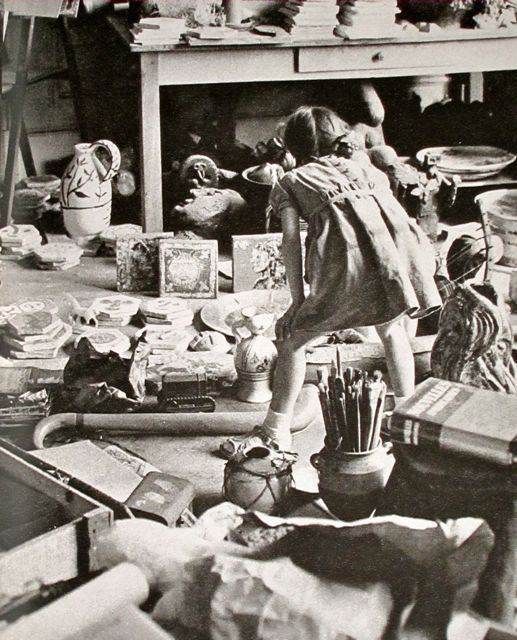 The daughter of a guest explores the studio.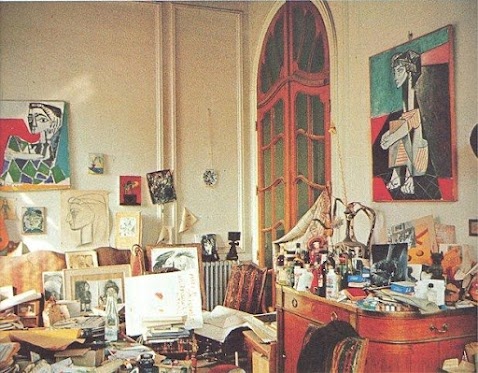 In 1961, the construction of a building interrupting his sea view prompted Picasso to relocate to a new house in nearby Mougins, where Picasso stayed until he died in 1973. While he kept ownership of the Villa California, Picasso abandoned the residence with all its contents– including his art. After his death, it took three years to complete the inventory of the considerable number of works left behind and 'forgotten' by the artist in his various houses. La Villa de la Californie had the biggest treasure. There were so many unseen drawings, sculptures, ceramics and paintings discovered there that the Picasso Museum in Paris was founded specifically to house the finds.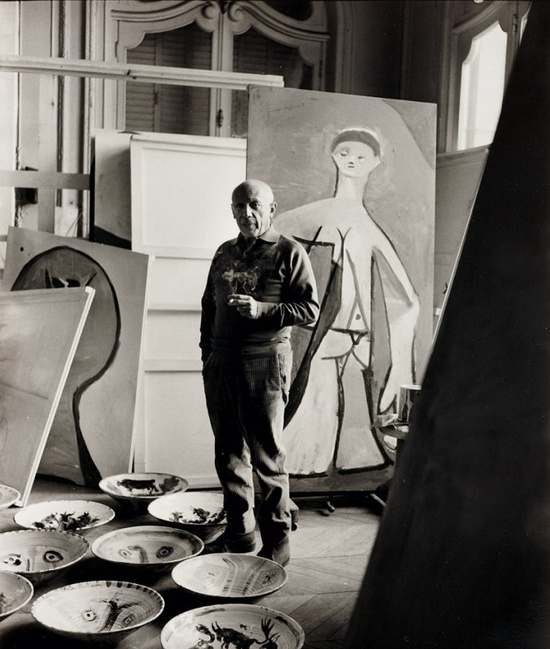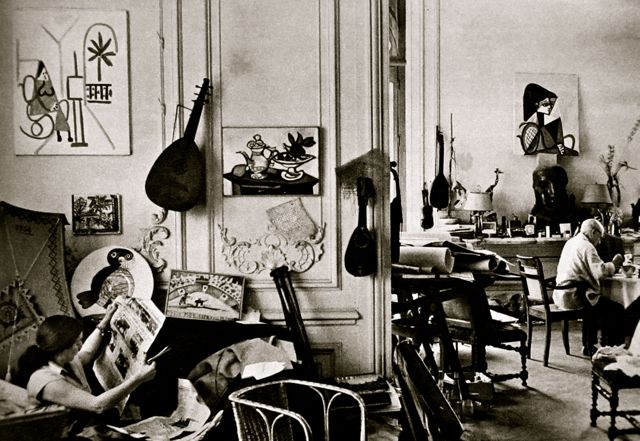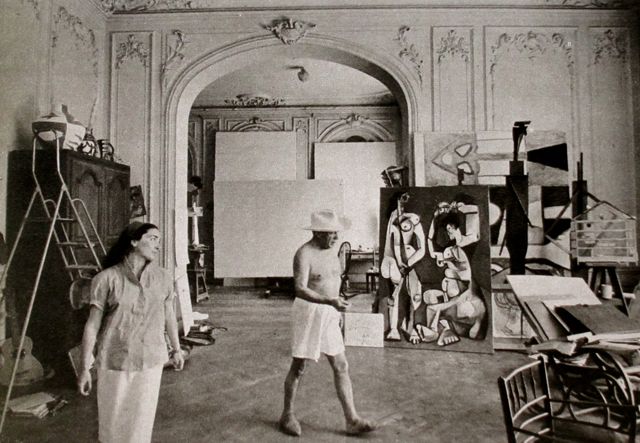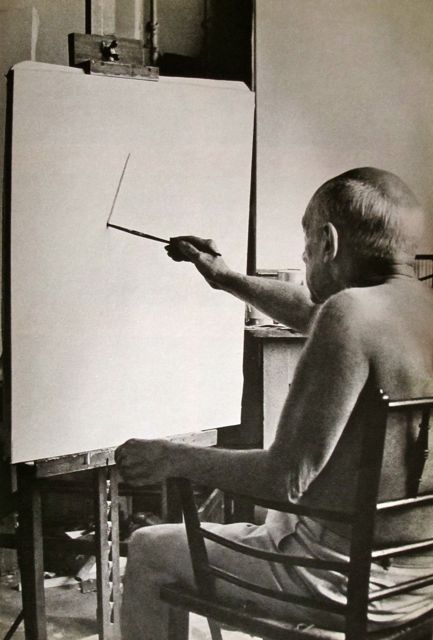 Many of the images you see here were displayed in an exhibition of photos of Picasso, taken in the villa's atelier by Edouard Quinn and Lucien Clergue. You can see a larger selection of these rare photographs here.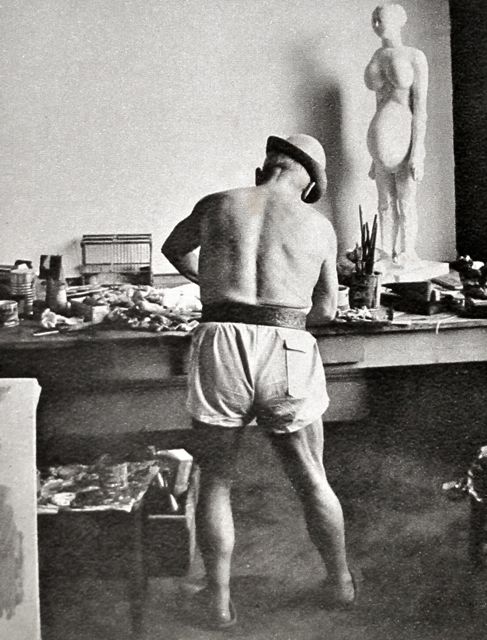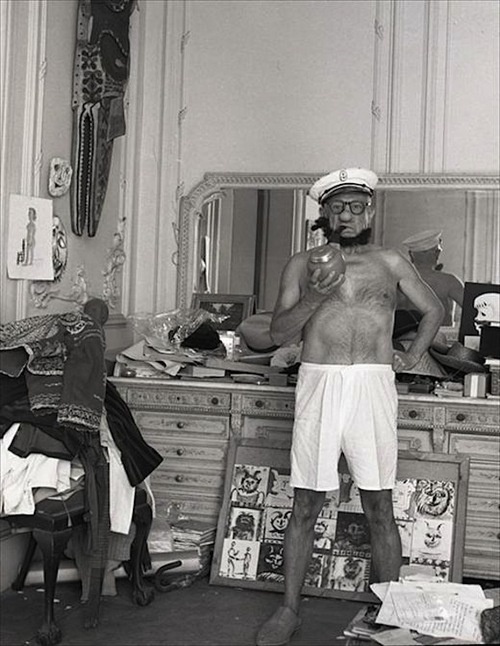 In the 1980s, Picasso's grand-daughter Marina inherited the villa and restored it to its former glory.  It has since been renamed as the 'Pavilion de Flore'.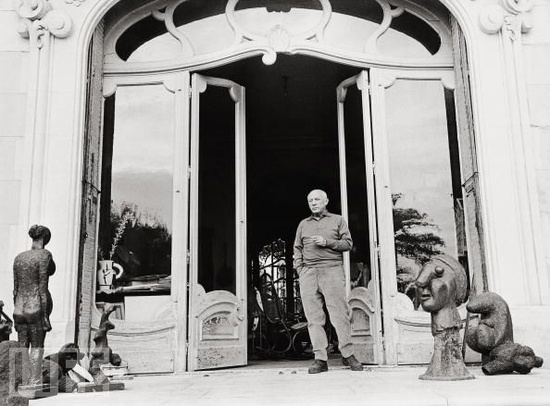 P.S. Picasso didn't always paint in such lavish digs! Famous Parisian photographer Brassai took this photo of his atelier on the Rue des Grands-Augustins in Paris, May 9, 1944.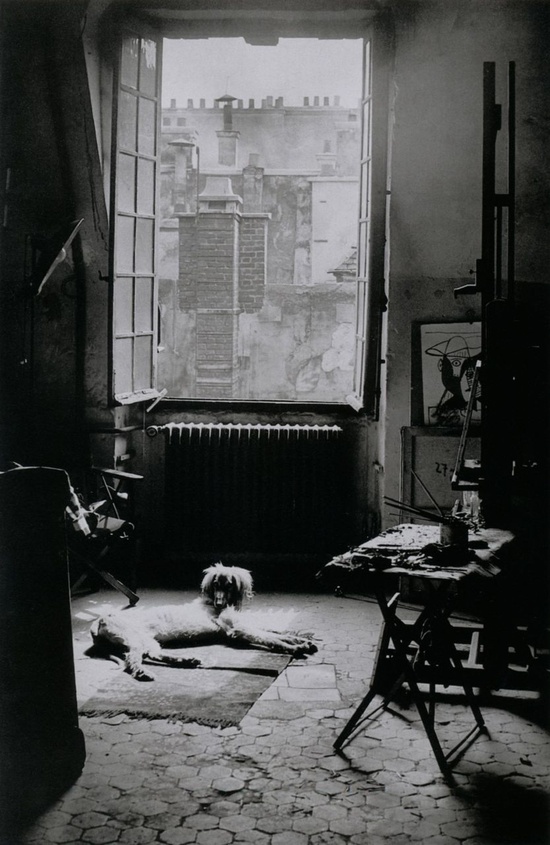 3. Frida Kahlo's Studio Re-Incarnated in Brazil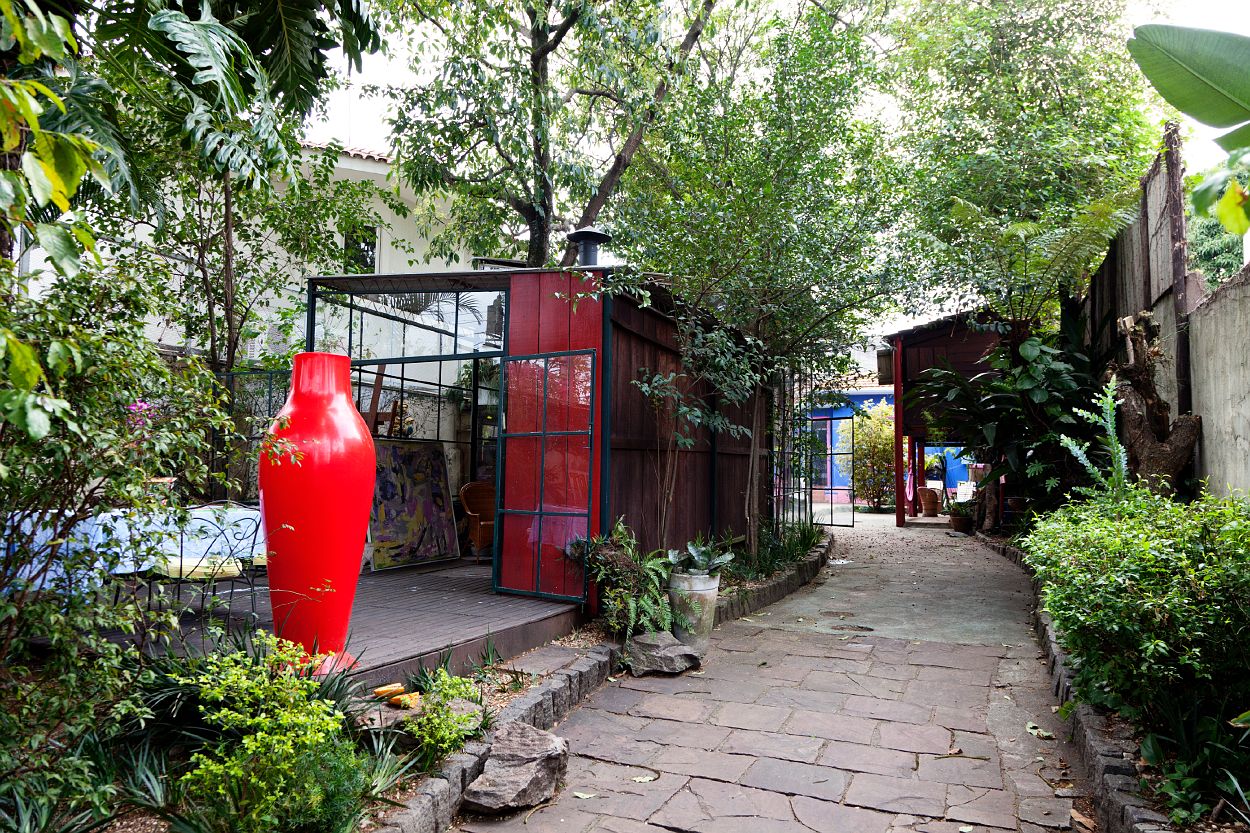 Frida Kahlo's studio is sadly no longer dripping with fresh paint and smelling of her cigarette smoke, but interior design blogger The Selby found artist Isabelle Tuchband's studio in Sao Paulo, Brazil, a beautiful homage to the Mexican artist's famous residence, The Blue House (La Casa Azul).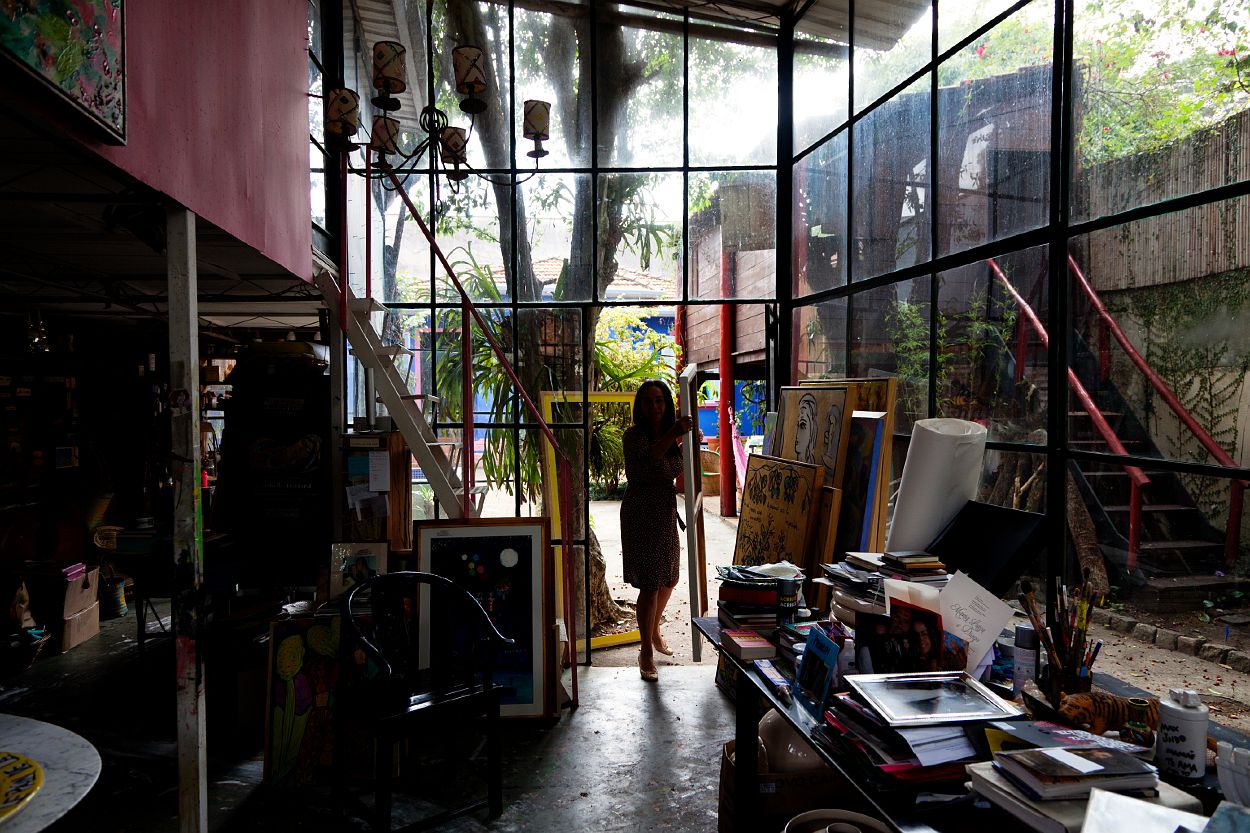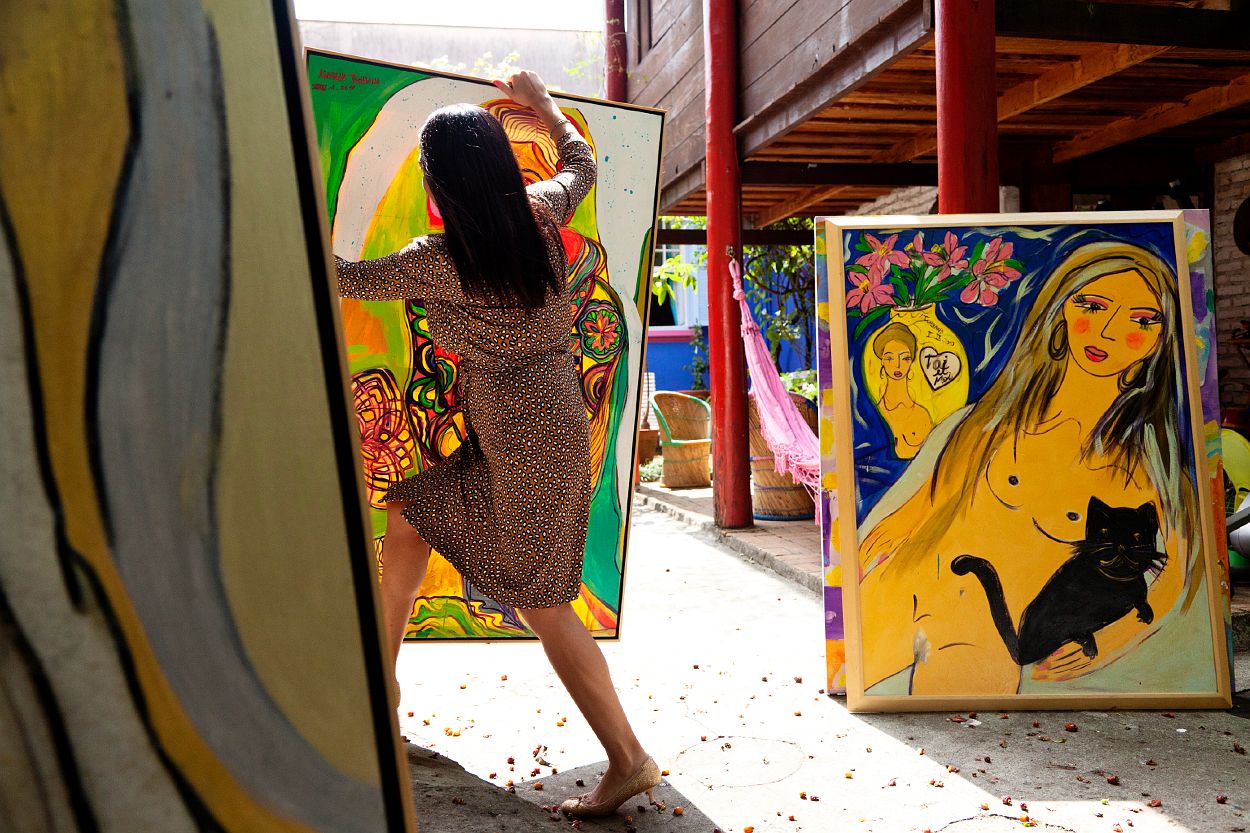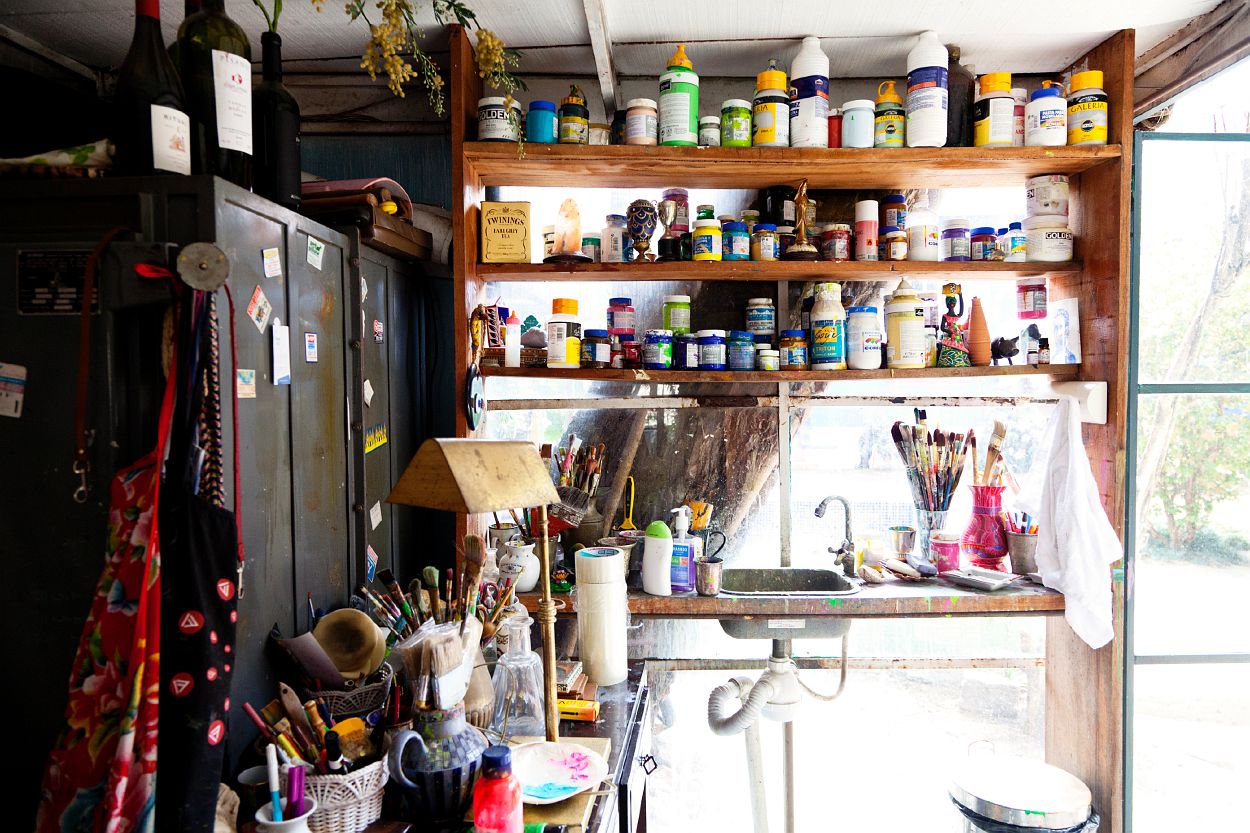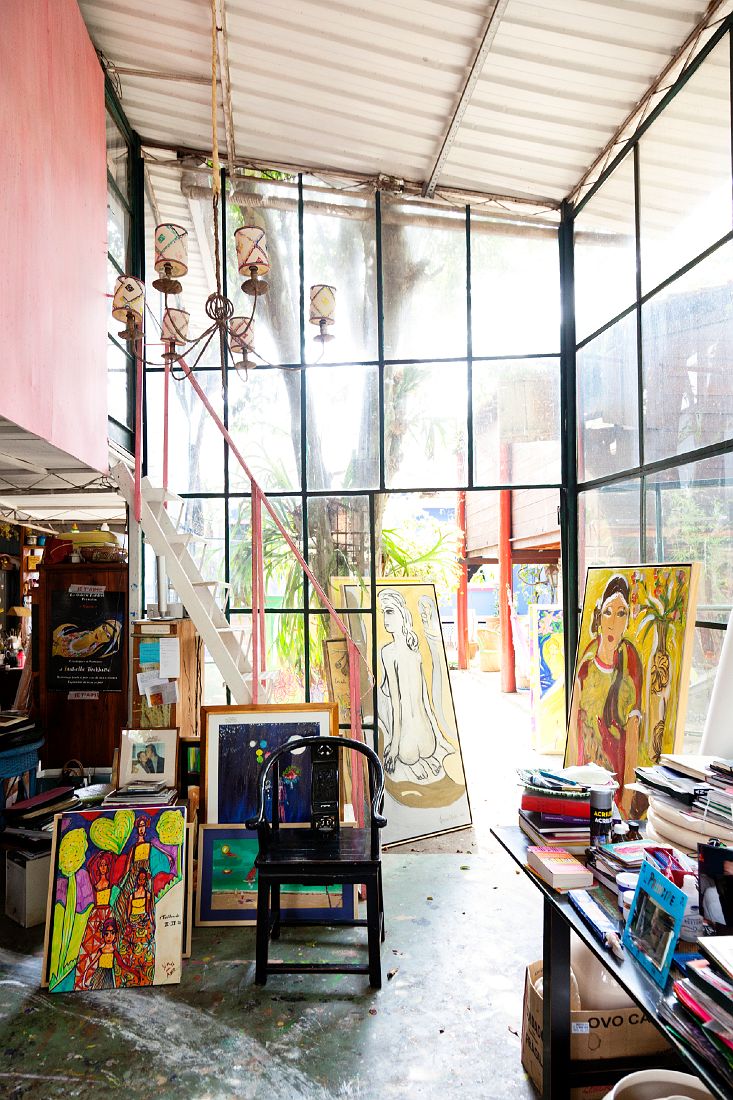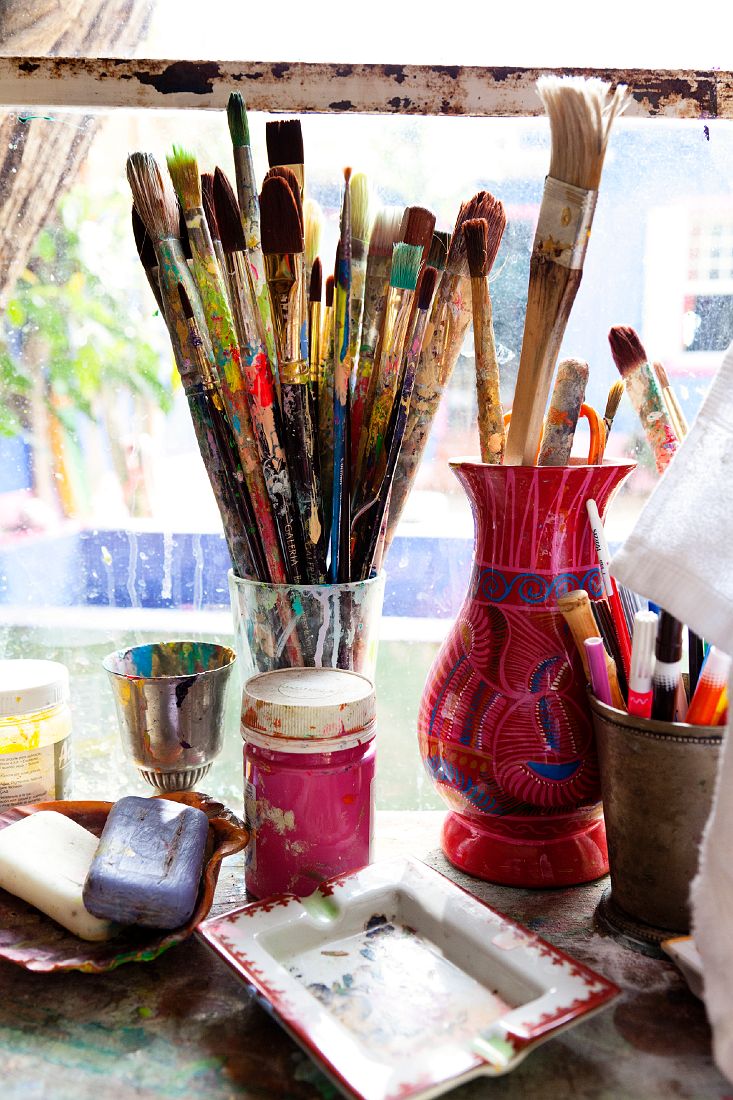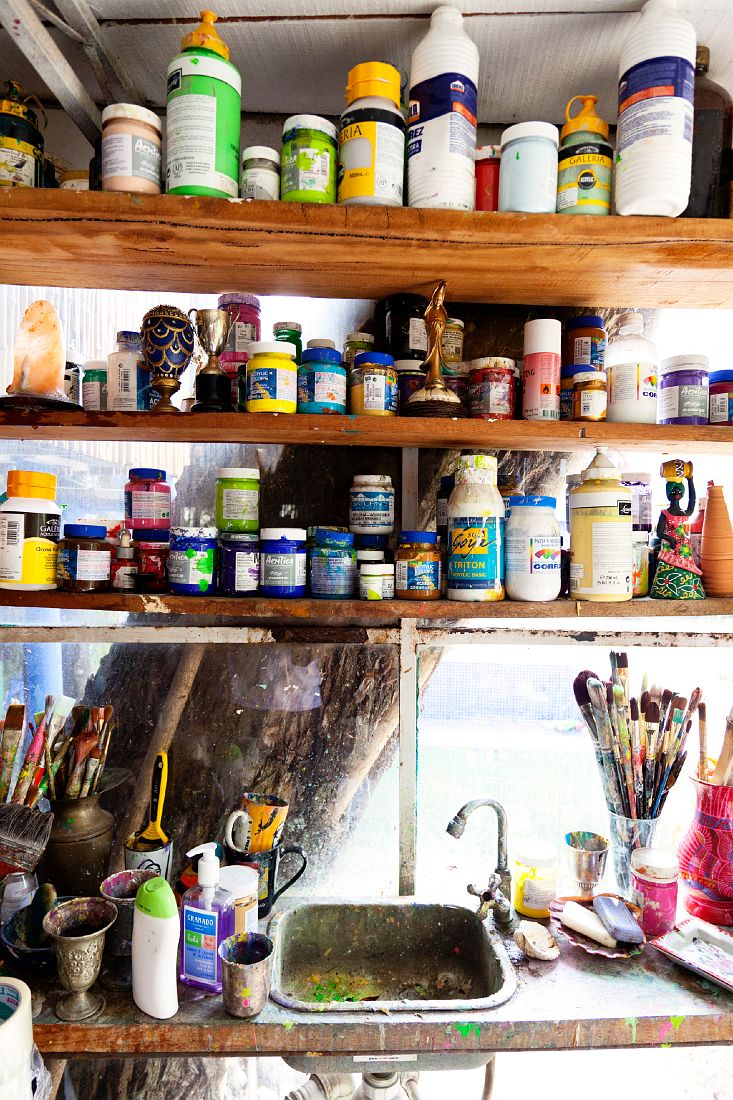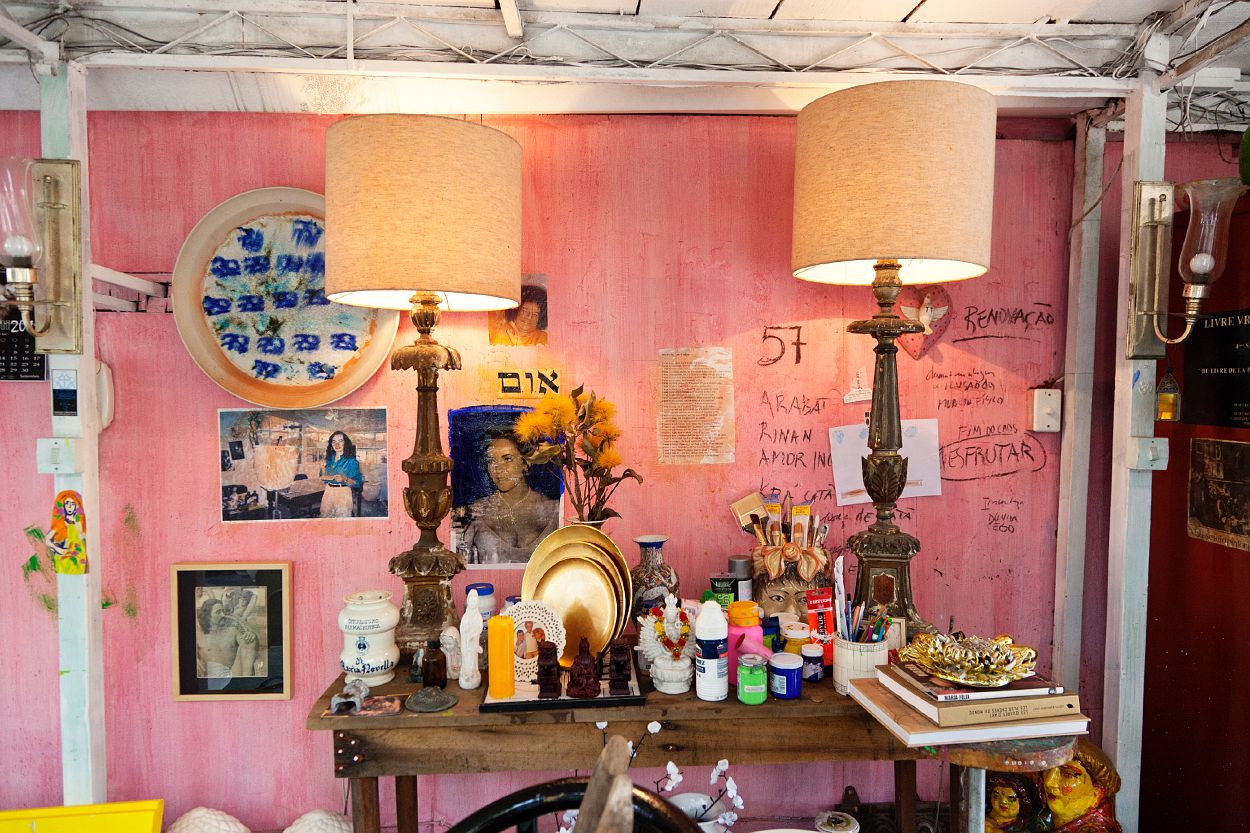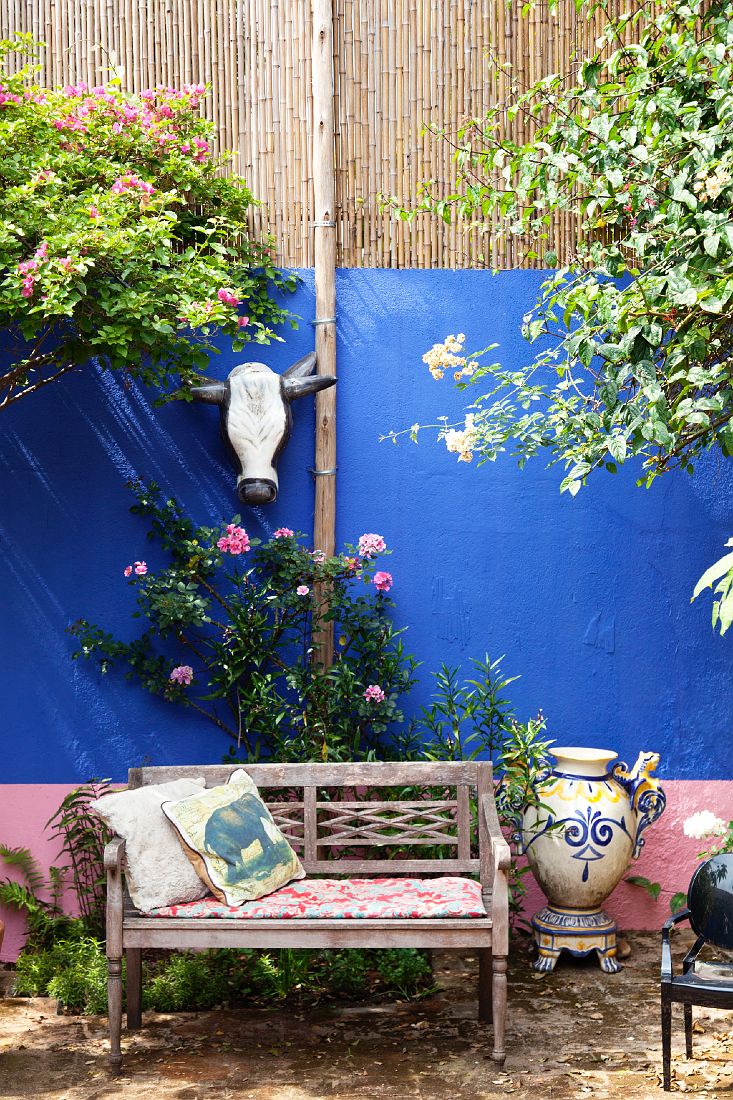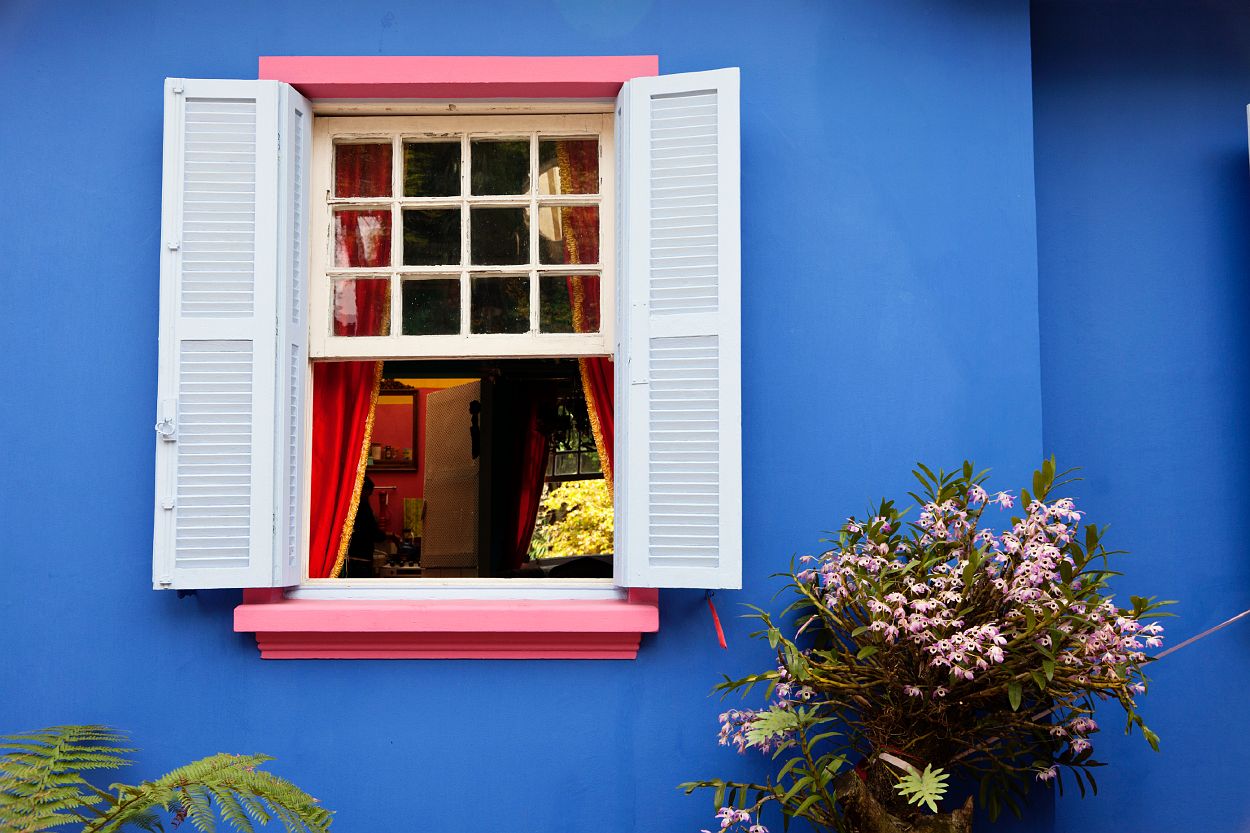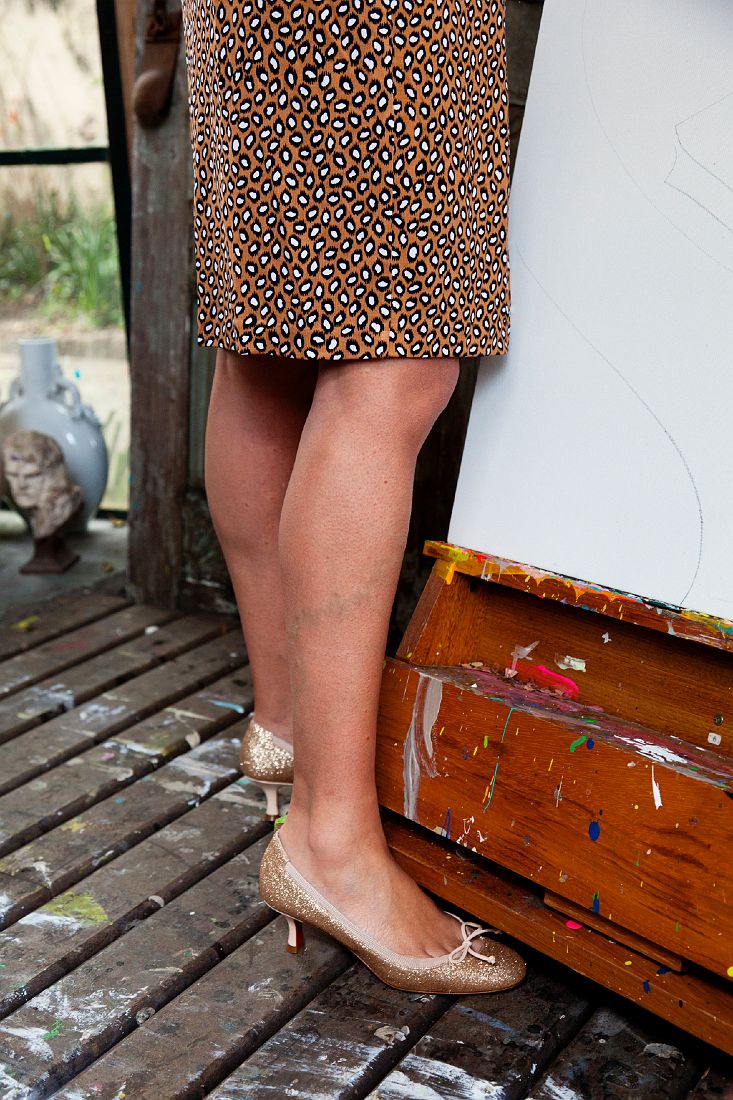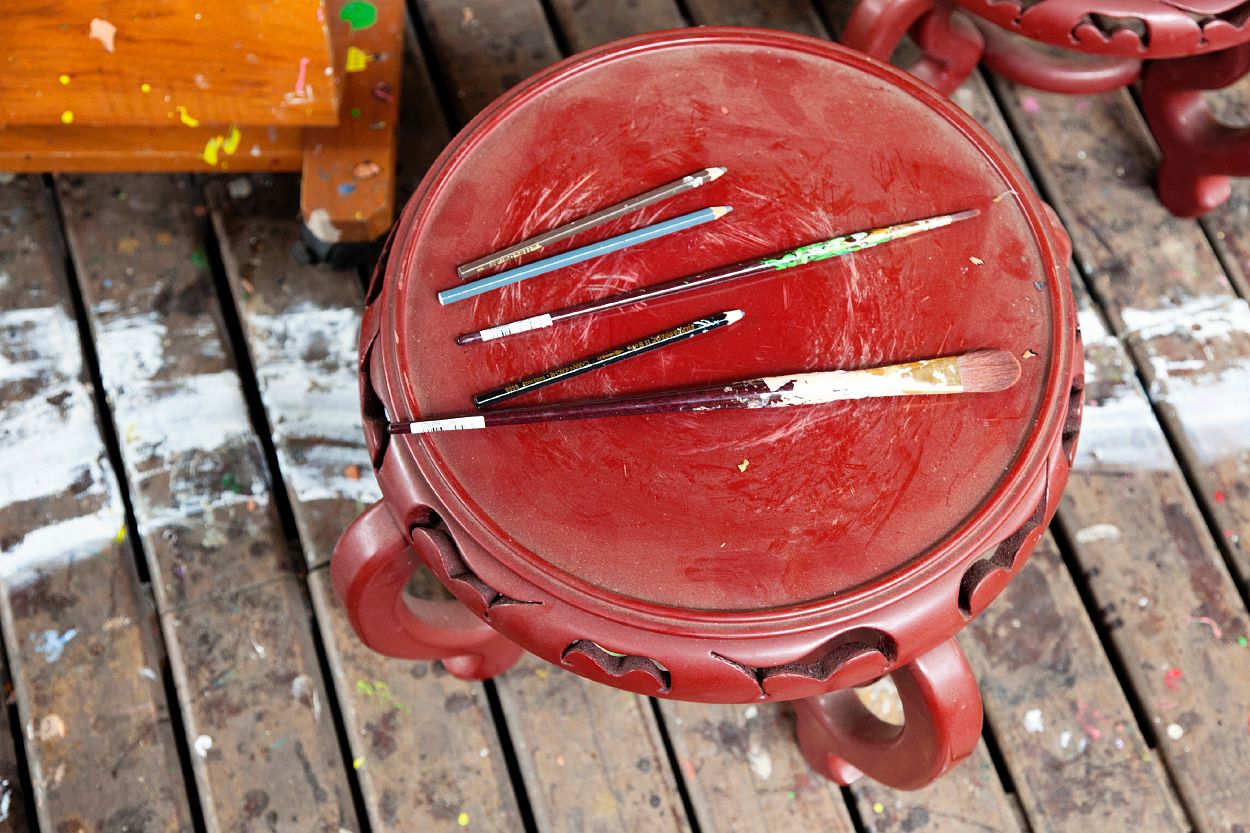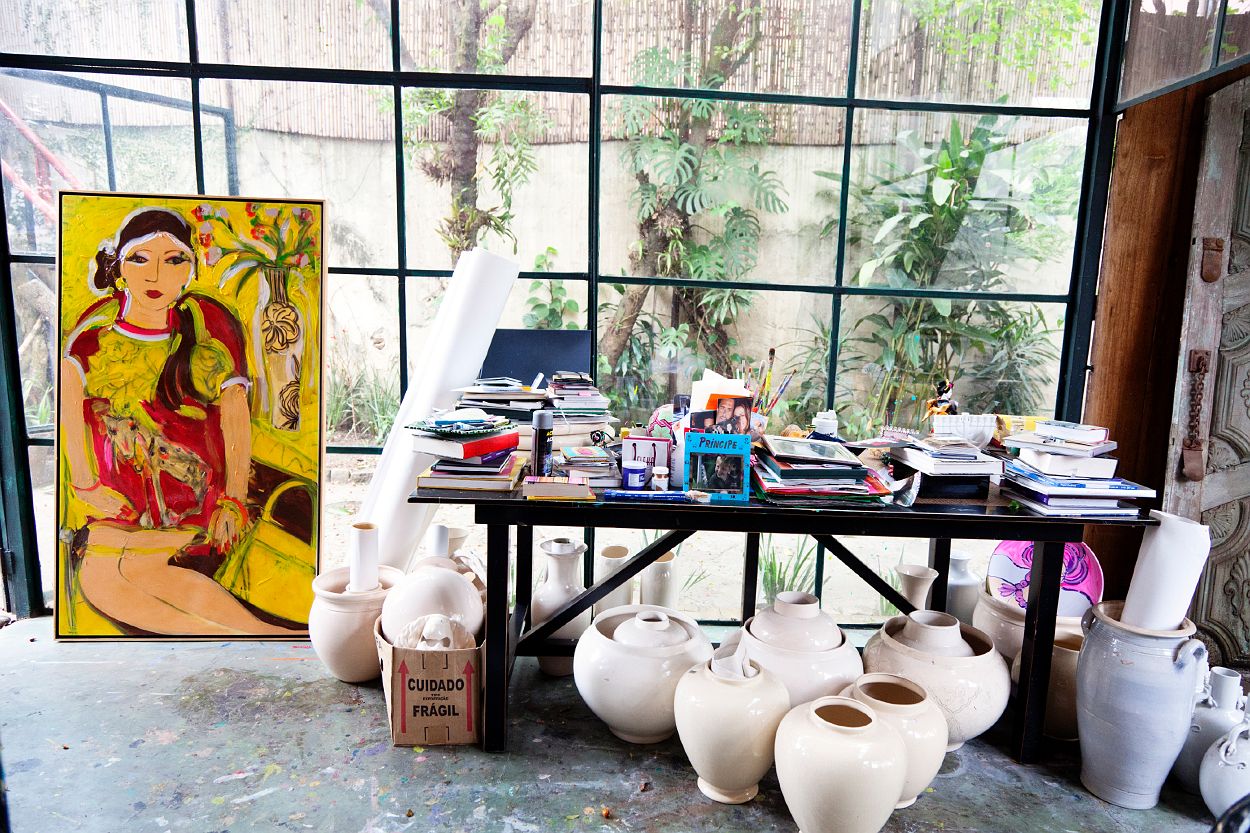 Discover Isabelle Tuchband's art here.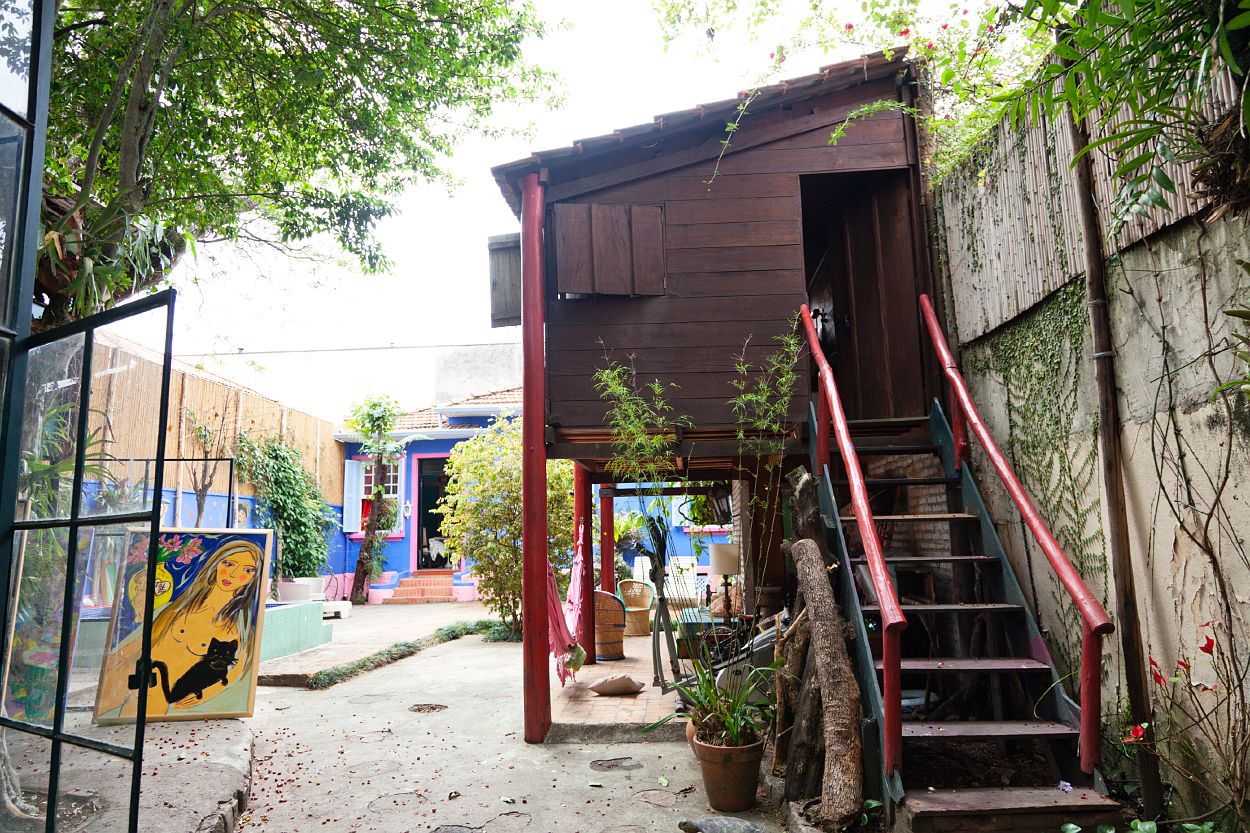 There are more photos of the rest of the house and studio here on the Selby.
(c) The Selby
4. Loft of an Anonymous Artist in Paris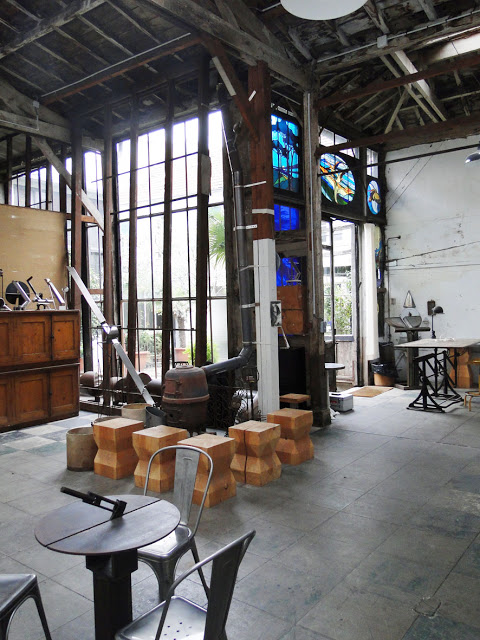 This exceptional atelier in the heart of Paris on Rue Cherche Midi is a real creative's paradise; floor to ceiling windows with volumes of space, and even an inspiring private garden and terrace.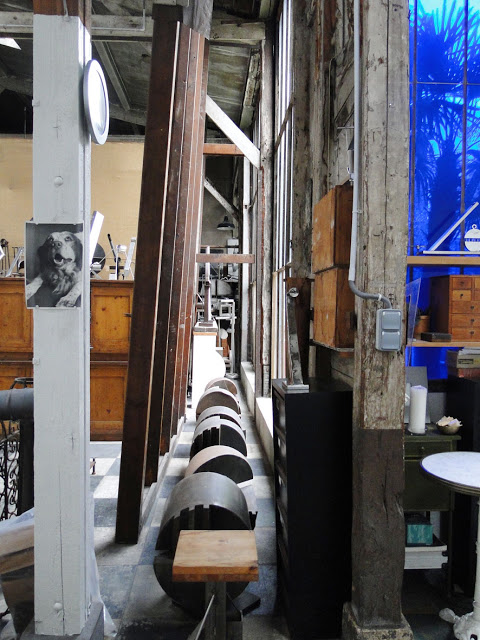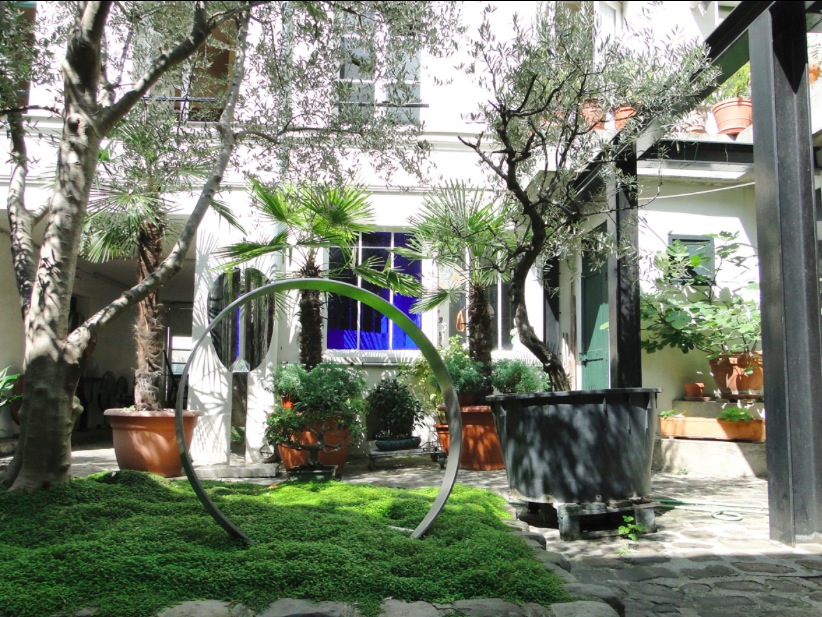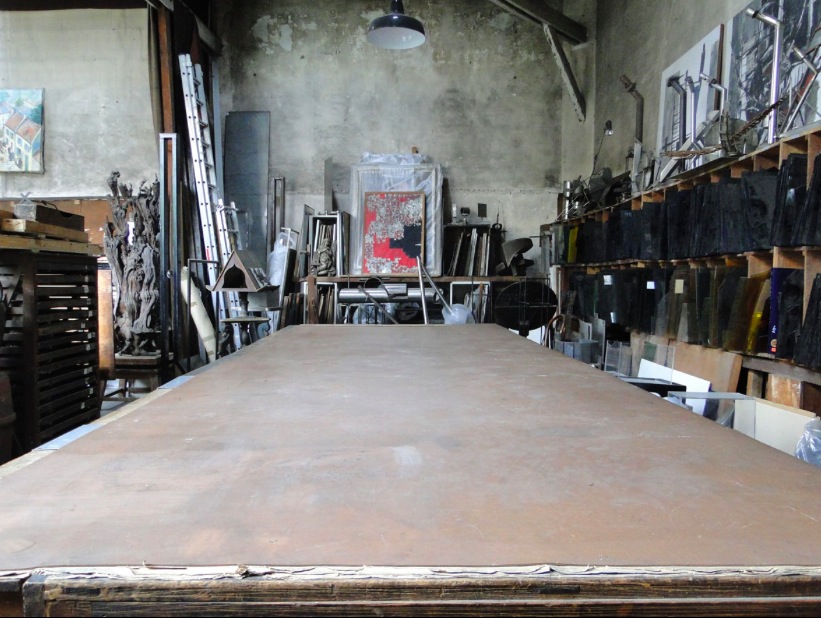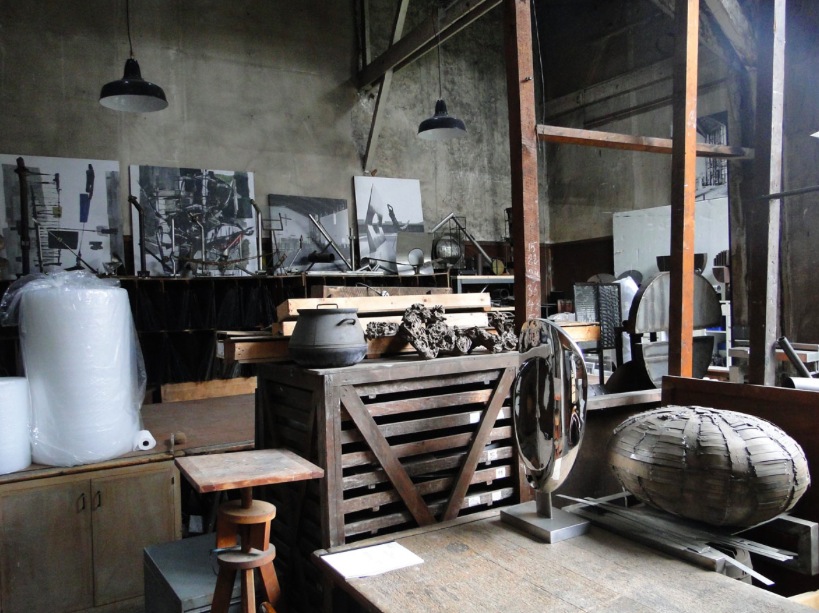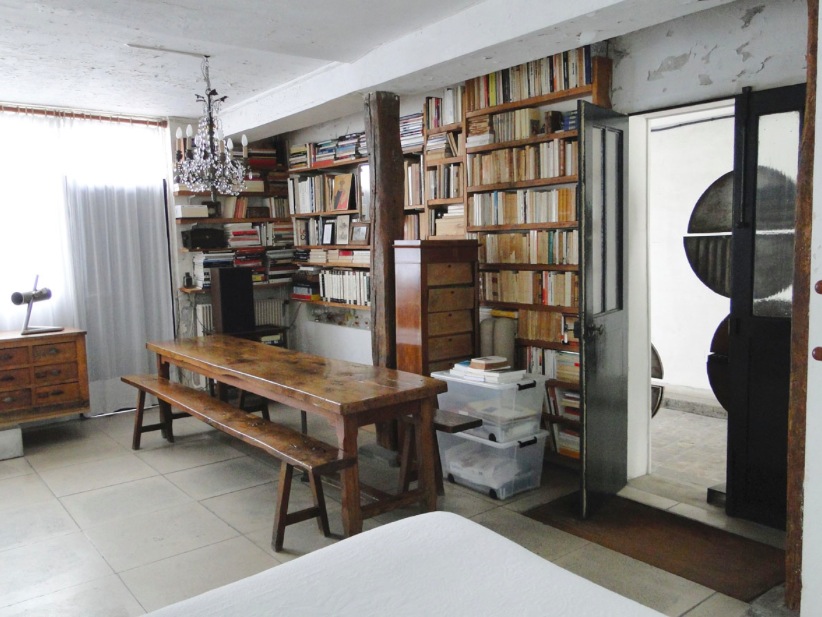 See the rest of the space at  Loft Connexion, curated by Samuel Johnde, who searches Paris for real estate treasures.
5. Villa D'Alesia in Paris: Matisse was here
Technically this is not just one atelier, but a whole street of them– in true Paris fashion of course! Villa d'Alesia in the 14th arrondissement, is dotted with a beautiful line-up of art deco facades, one in particular that used to be the former atelier of none other than Henri Matisse. Today it still serves as an atelier called Terre et Feu where you can actually attend classes for painting, ceramics, sculpting and pottery.
My favorite hunter for hidden gems in Paris, 'Et si on se Promenait à Paris', snapped these photographs on the charming little street, you must go check out the rest of them here. 
Images (c) Et si on se Promenait à Paris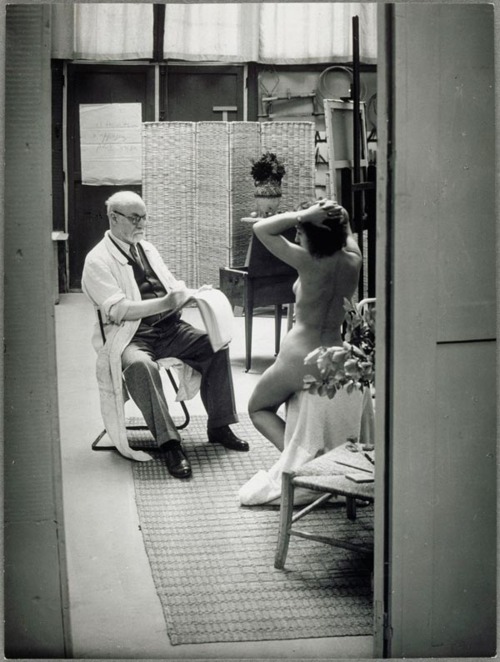 Et violà, Henri Matisse hard at work in his Villa d'Alesia atelier!
:::
YOU MIGHT ALSO LIKE: 
.