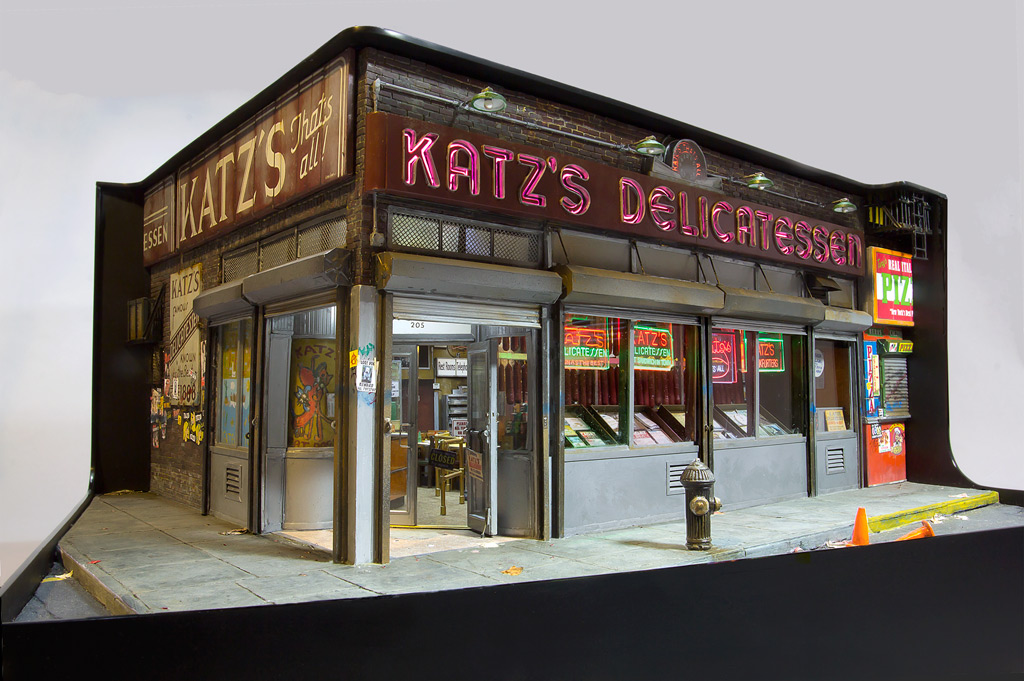 Oh boy, look what I found. New York City has never looked more alluring than on a ½ inch to 1 foot scale– that's half the size of 'dollhouse scale' by the way. Grit, graffiti, grime and all, Alan Wolfson's urban sculptures aren't your typically 'twee' miniature artworks. A Brooklyn native, Alan is a night person and generally finds what goes on in the big apple after dark makes for a better subject matter. From neighbourhood delis lit up in neon to seedy hotel rooms and strip joints, these are definitely no kids dollhouses.
In fact, the intricacy and story behind his pieces are pretty mind-boggling, so I scoured his website's Q&A section to try to un-boggle the mind…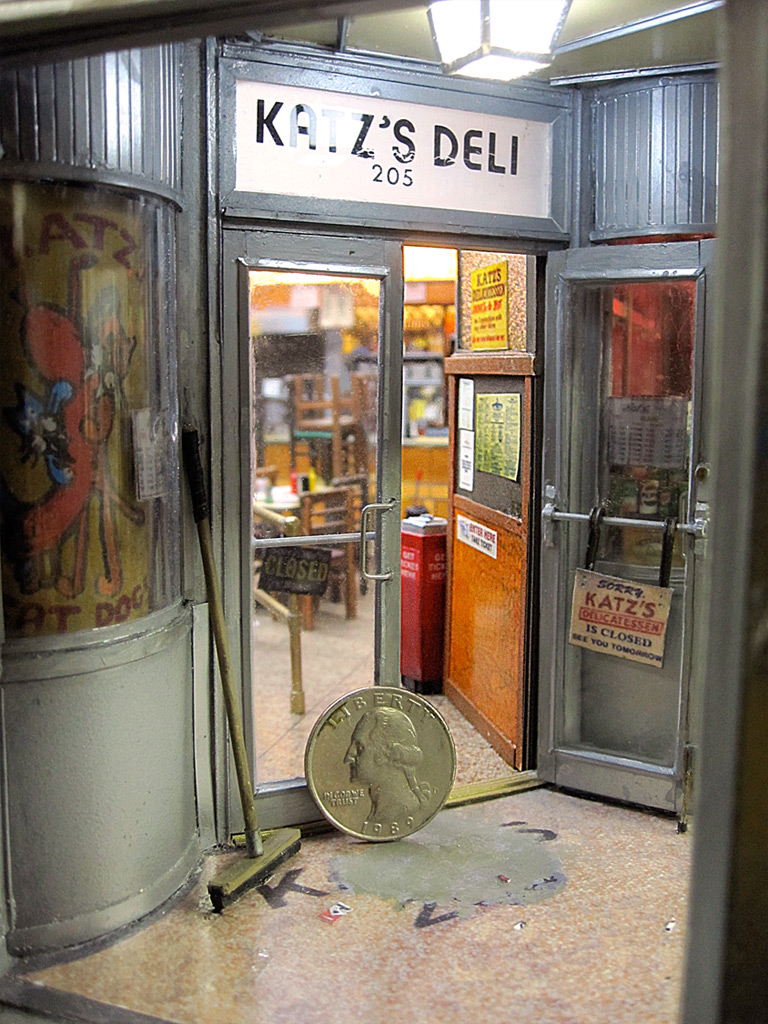 Some of the handmade miniatures are based on existing places in New York and others are a combination of different locations, often from 1970s/ 80s NYC, with much of the detail coming straight from the artist's imagination.
All photos © Alan Wolfson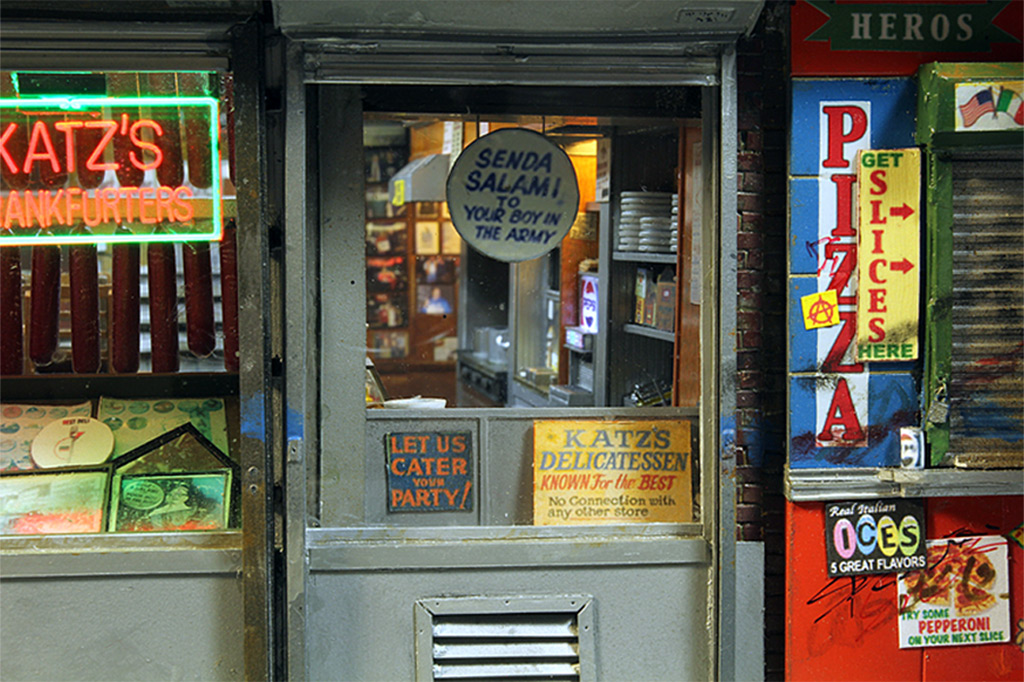 Alan on how it's made:
I'll take photographs and do as much research as I can on the details of the location.  Then I'll make a couple of scribbled thumb-nail sketches, and then I'll start drafting out the scene on cardboard and build up a cardboard mock-up …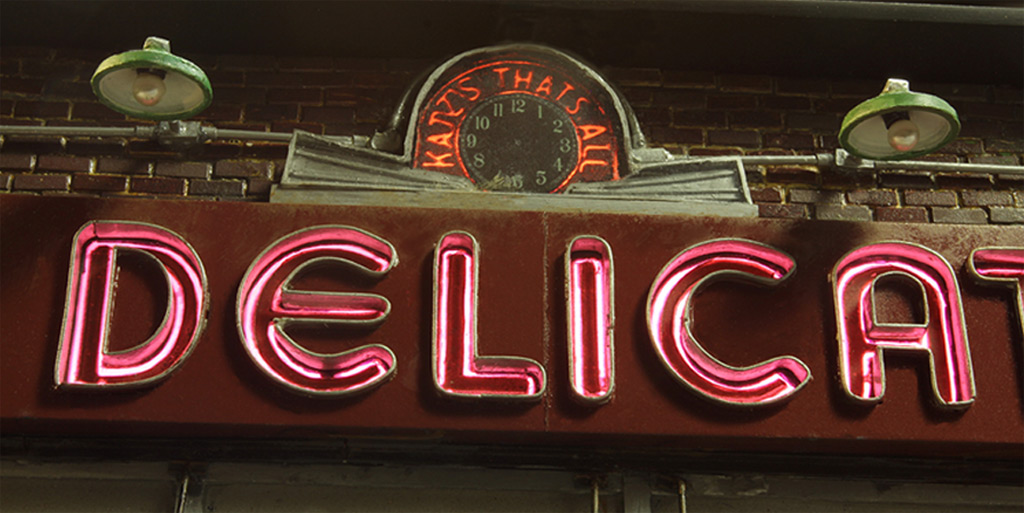 I make everything — that's one of my rules.  Though, as a matter of necessity, I've learned how to make a lot of the graphics in Photoshop.  You used to be able to get hundreds of different typefaces in transfer type, which came on a sheet.  You'd rub it off the sheet onto the model one letter at a time.  I'd get them in different sizes and all these fonts.  They just don't make that much of it anymore because so much is done in Photoshop.  I'm still not 100 percent happy with Photoshop; it always looks flat to me.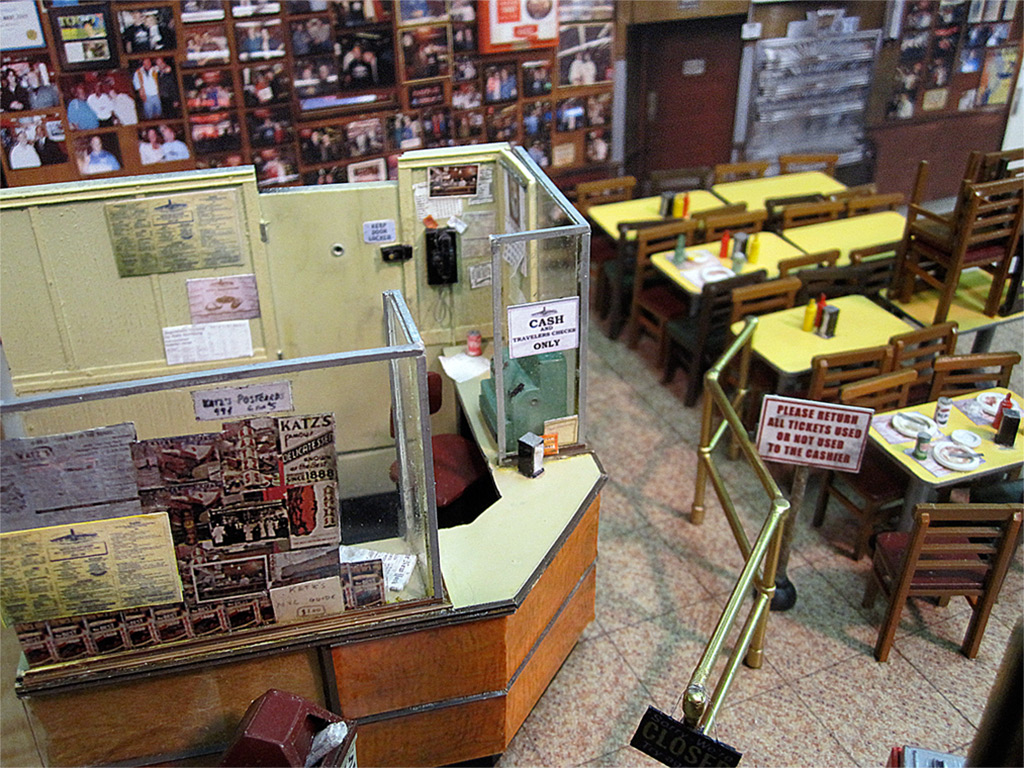 The good thing about Photoshop is that you can reuse files … before Photoshop, I made probably 50 "To Subway" signs over the years.  Now I pull up the file that says "To Subway" and I can move the arrow around, make it "To Subway" to the left or "To Subway" to the right or whatever I need to do.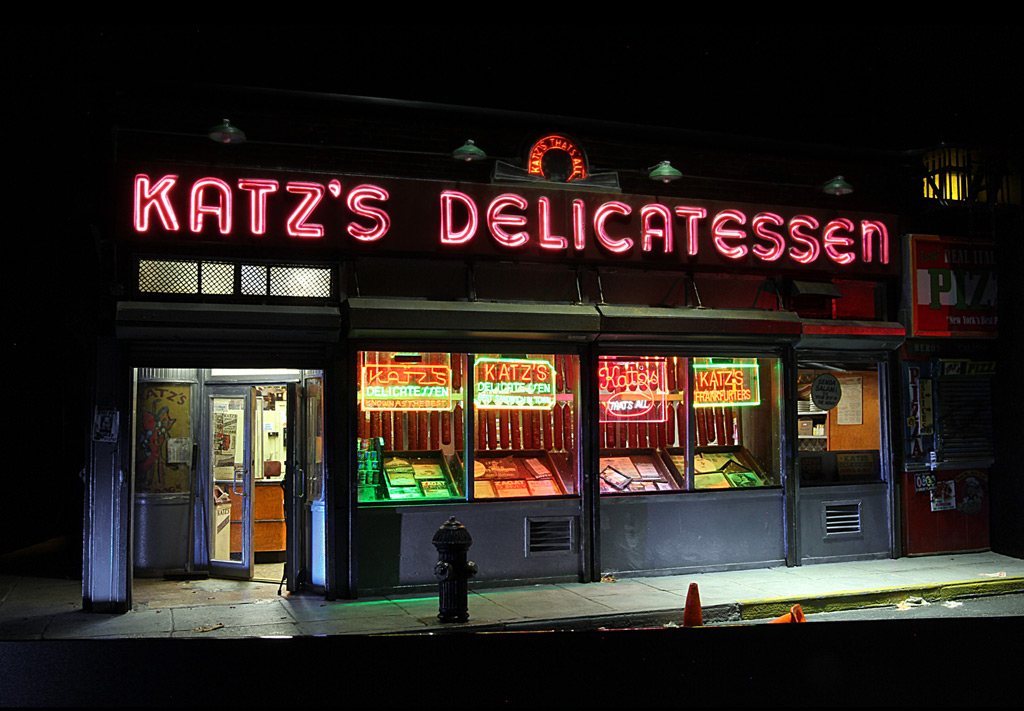 Katz's Deli, 2012
How long do they take to make?
I will frequently think about a project for years before I start doing it; I thought about [one piece] for maybe 10 years before the time was right to build it. 
A major piece typically takes me anywhere from three to nine months.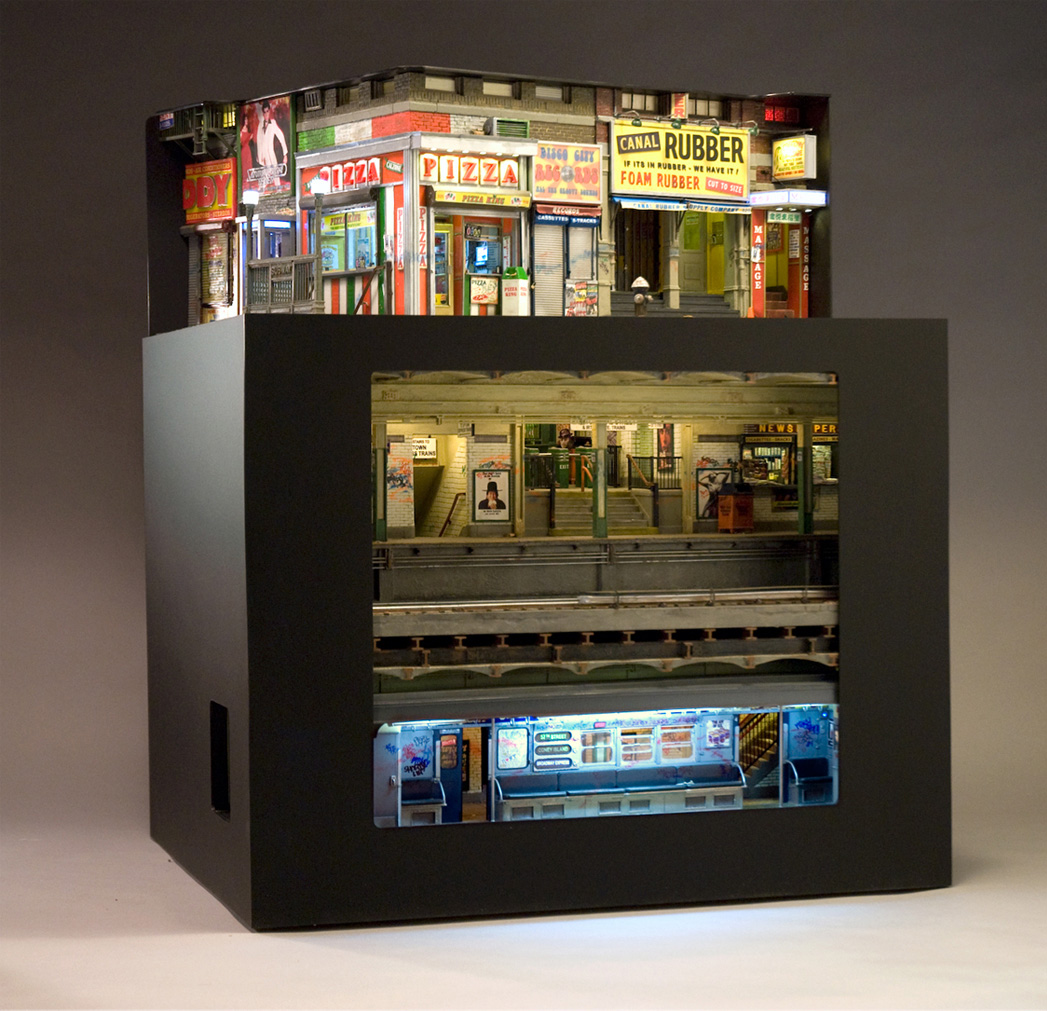 Canal St Cross-section, 2010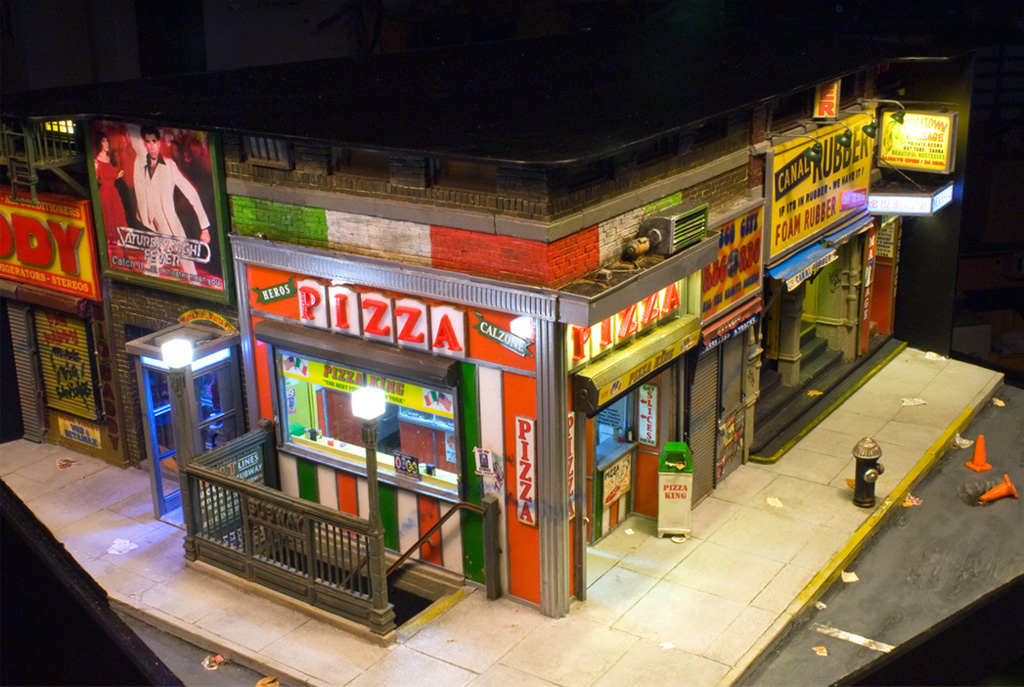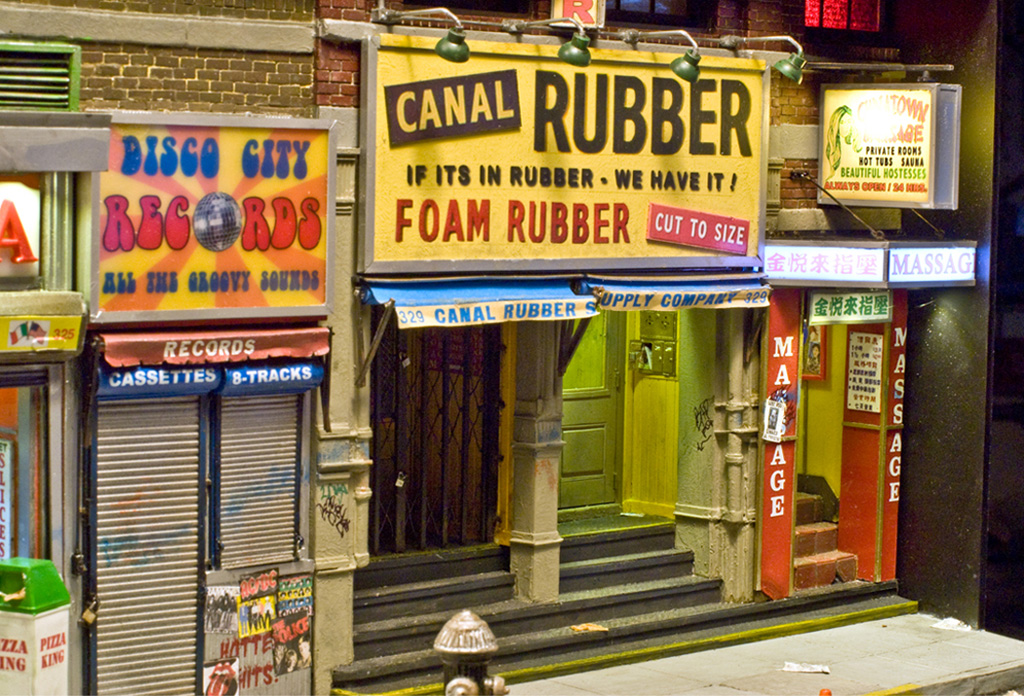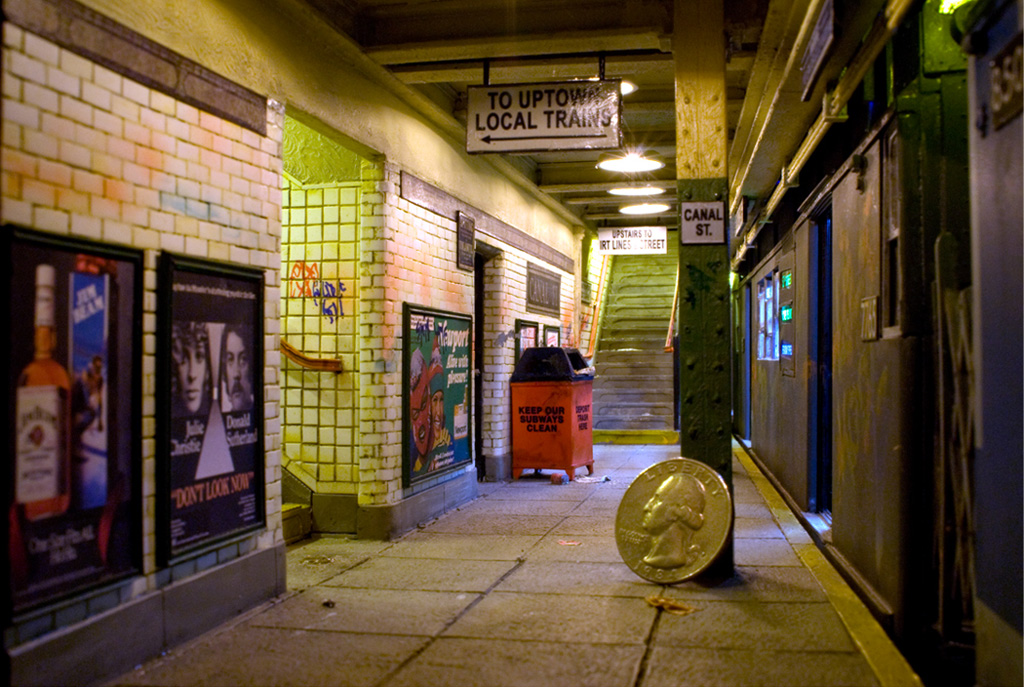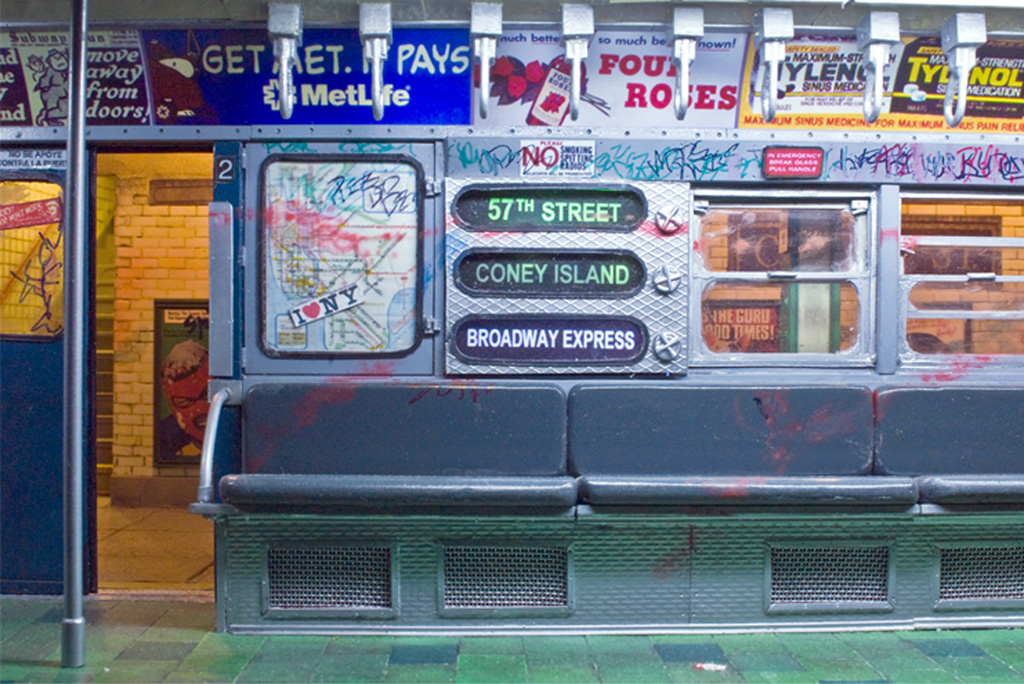 Where did he learn to do all this tiny stuff?
My father worked as a commercial artist; he did mostly lettering, sign painting and graphics.  I think if times had been different, if he hadn't been raising a family, he would have just done his own work. A lot of the technical stuff I do now I learned from my father. He taught me how to use tools. 
I was always building something.  I used to build things in cardboard boxes.  You know those projects they give you in school — you build little things in shoeboxes?  That's essentially what I'm still doing; I just kind of got carried away with it.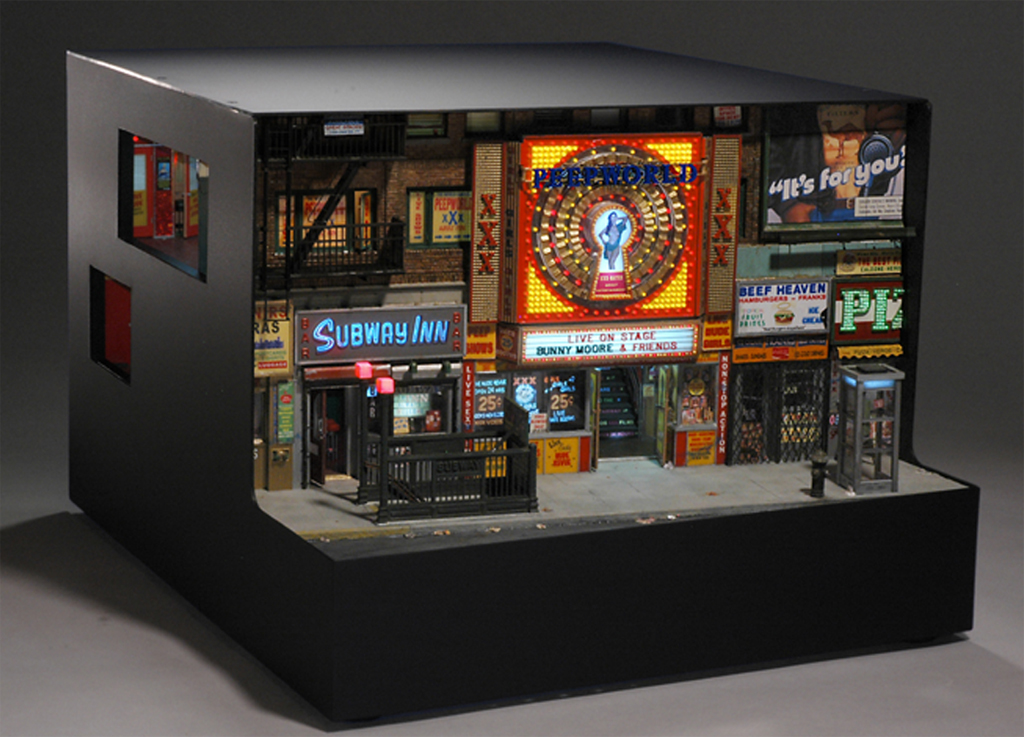 Peepworld, 2007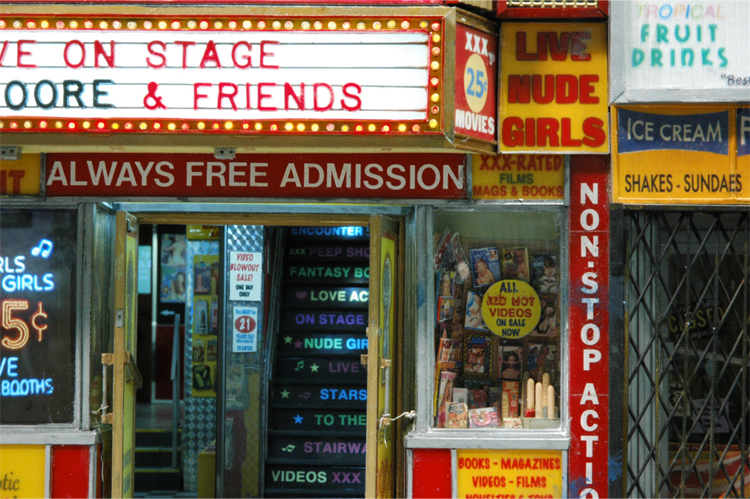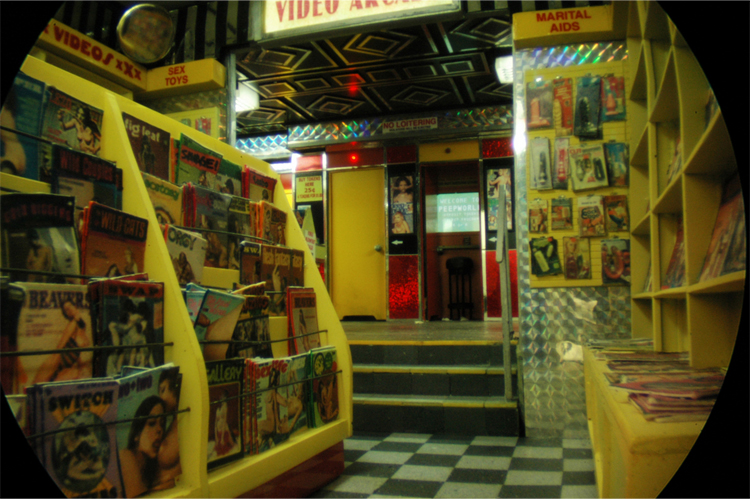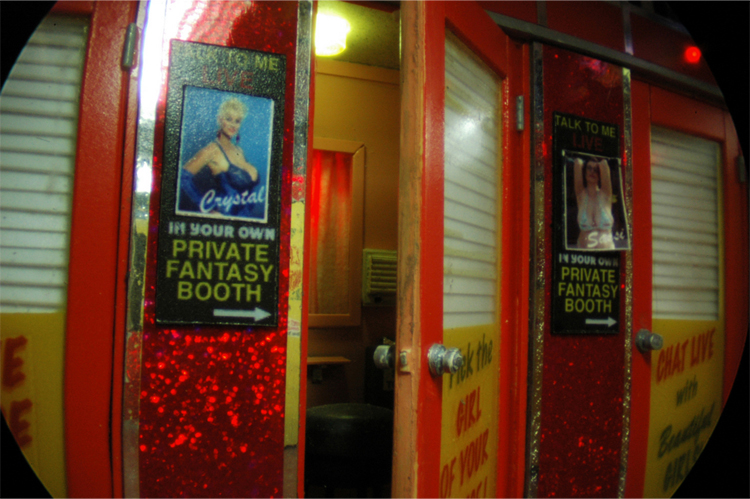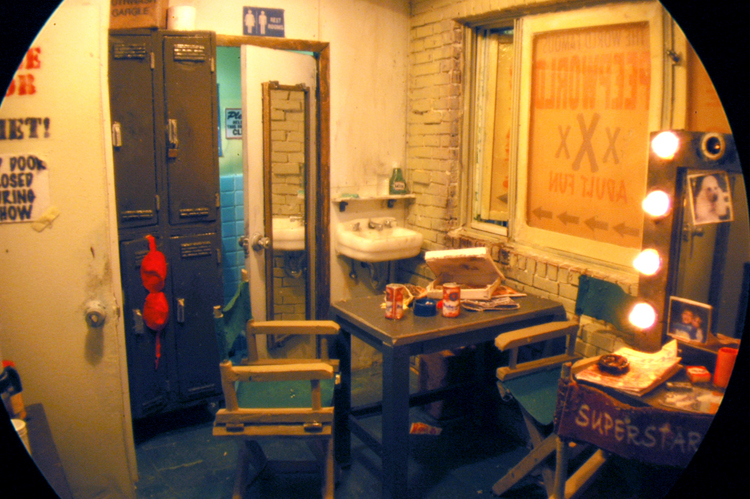 This guy has had a pretty interesting life too…
I learned how to do lighting when I was studying theatre arts, and before that, when I was in the service, I went through 16 weeks of electrician's school.  I was a shipboard electrician in the Navy, which is when I learned basic wiring.
I moved to Los Angeles in 1979 to get into the film business doing miniature effects. When you see a building or a spaceship blow up in a movie or on TV, they'd have the model crew build it.  Or if they needed to create a place that didn't exist, we'd build it as a miniature.  Even with all the CGI you see today, practical models are still used because sometimes they look better than CGI, and they can frequently be more cost-effective.
I've worked for Disney Imagineering building models for theme park development.  I've built props and scenic elements for various film and TV productions.  I've also worked as an extra for film and television — I was a patient on "ER" and a policeman in the movie "Lemony Snicket's A Series of Unfortunate Events."
The schools I went to were pretty bad, probably some of the worst in the city at that time.  Their curriculum wasn't very heavy on the arts.  When I was about 15, my parents finally moved us out to the suburbs, but I wanted to kill myself living in suburbia.  It was deadly boring, and it was so far away from everything I was interested in I graduated from high school when I was 16.  I skipped 8th grade.  It was survival — one year less my life was on the line in that junior high school.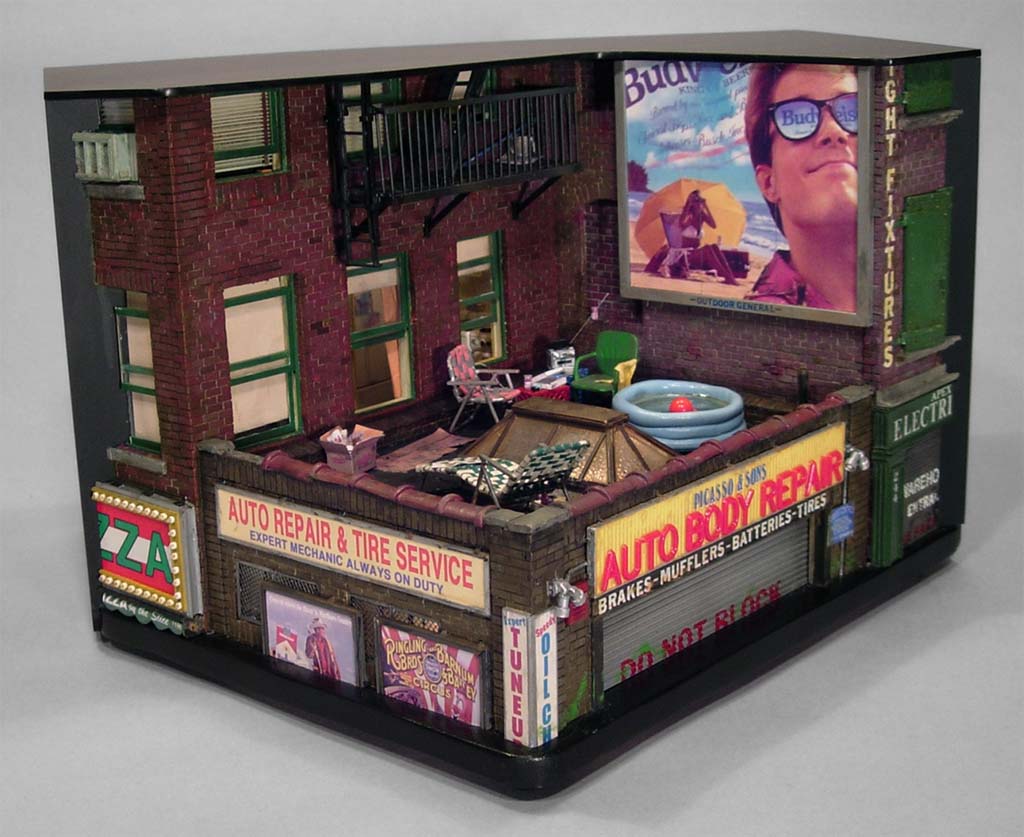 Brooklyn Rooftop, 2005
On the coolest place he's seen his work (other than major galleries and museums)…
I have found my work in collections where I'd never expect to see it.  I once went to the home of a collector to install a piece.  I walked into this huge Park Avenue apartment — it took up half a floor of one of those prewar buildings in Manhattan — and it was filled with these very traditional, museum-quality paintings.  I was wondering, where is this guy's contemporary collection?  As it turned out, my piece was his contemporary collection; it was the only piece in that apartment made in the 20th century. 
Hopp's Luncheonette, 2008
Wolfson is a big fan of Edward Hopper, this sculpture (above) is inspired by Hopper's painting, "Early Sunday Morning".
Here's a few of Wolfson's closely replicated miniature NYC street scenes, with their reference photos…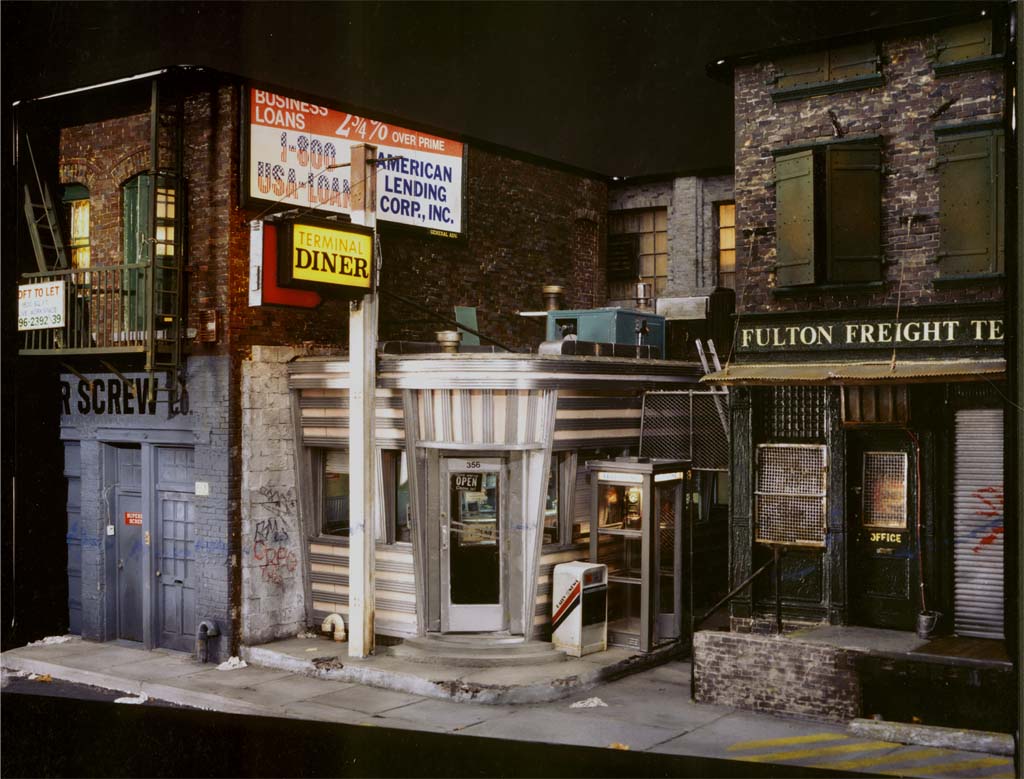 Terminal Diner, 1990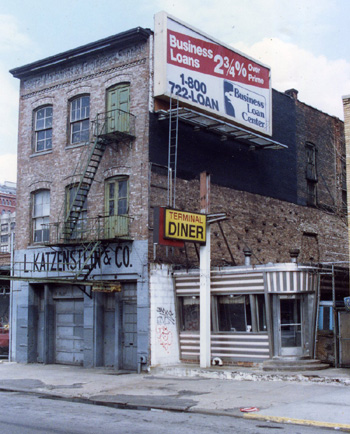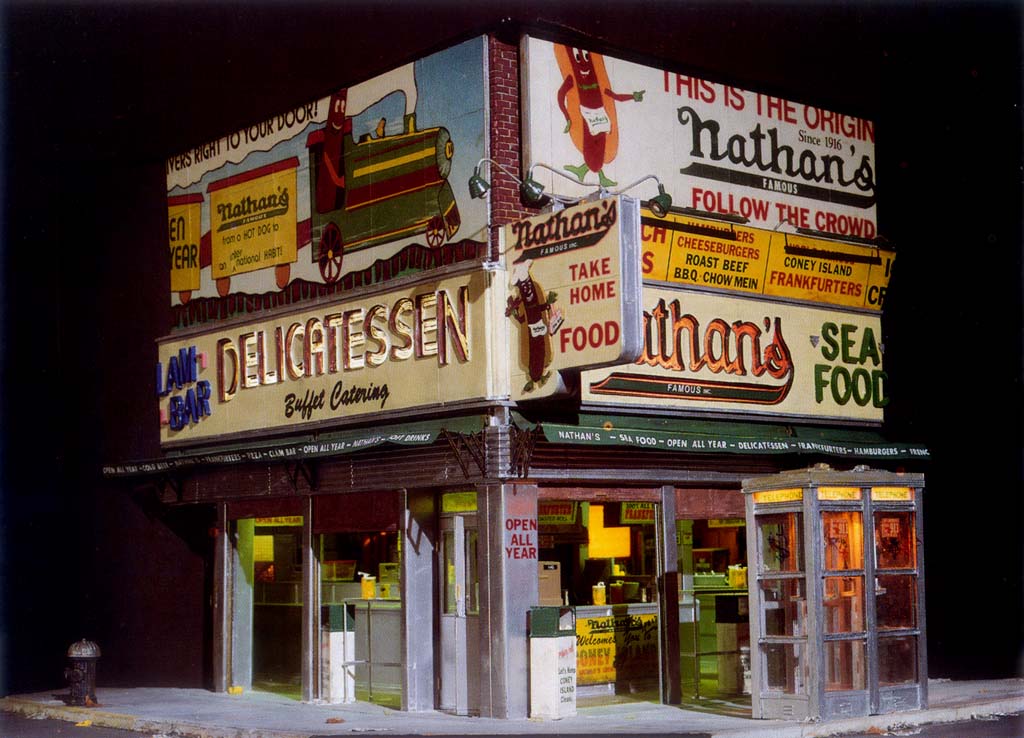 Nathan's Coney Island, 1986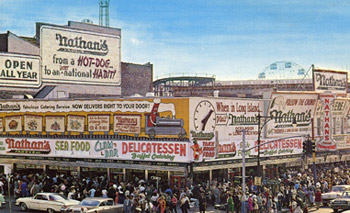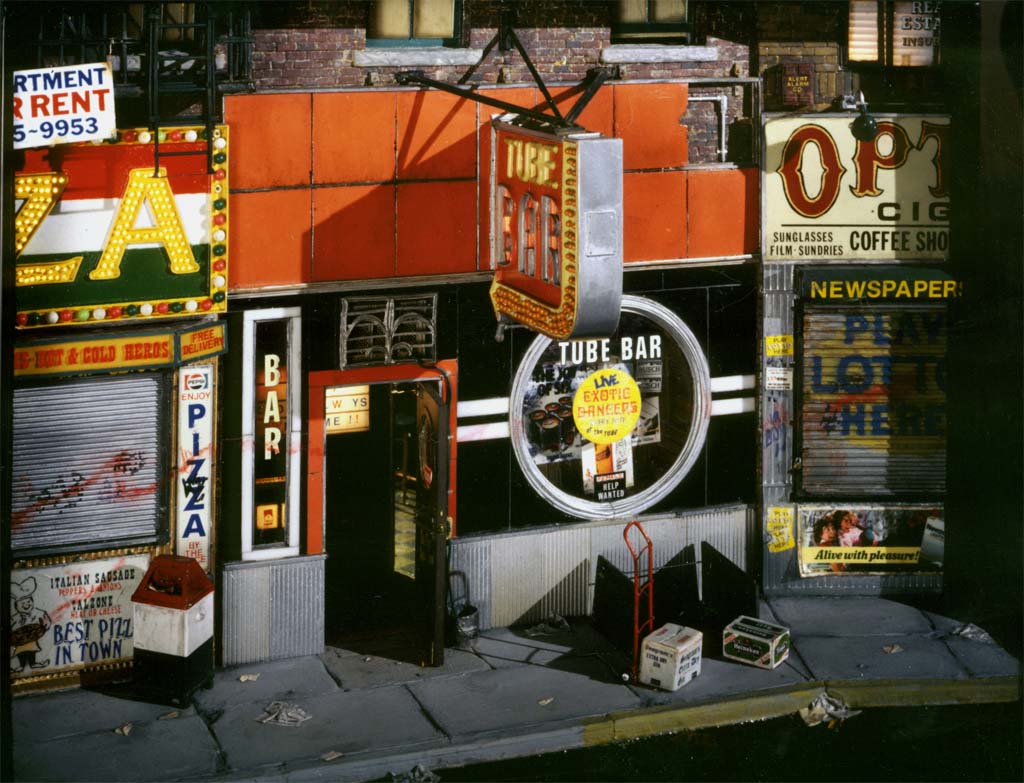 Tube Bar, 1992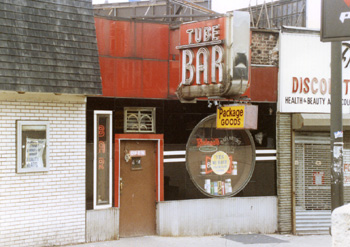 On what it's like being a miniature artist…
I get a real sense of satisfaction from it, a sense of accomplishment, especially after finishing a major piece.  Though I don't think I've ever done a major piece where halfway through I didn't say to myself, "What the fuck am I doing this for?"…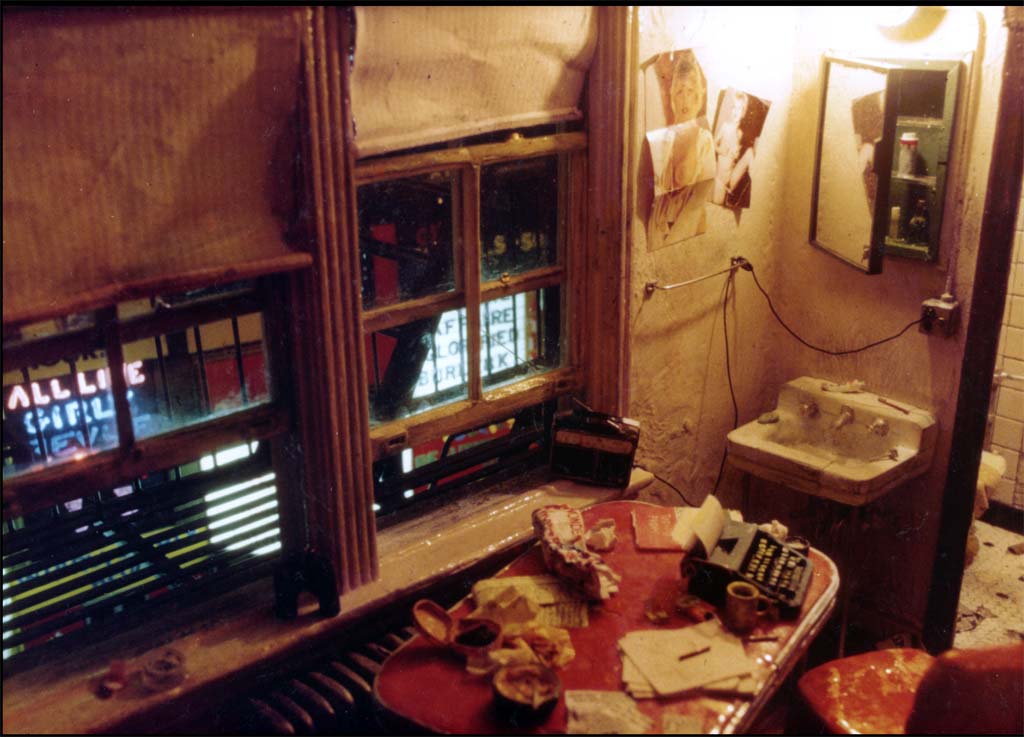 Well I for one, am glad he's doing it.
See more of Alan Wolfson's works on his website.
:::
YOU MIGHT ALSO LIKE:
.