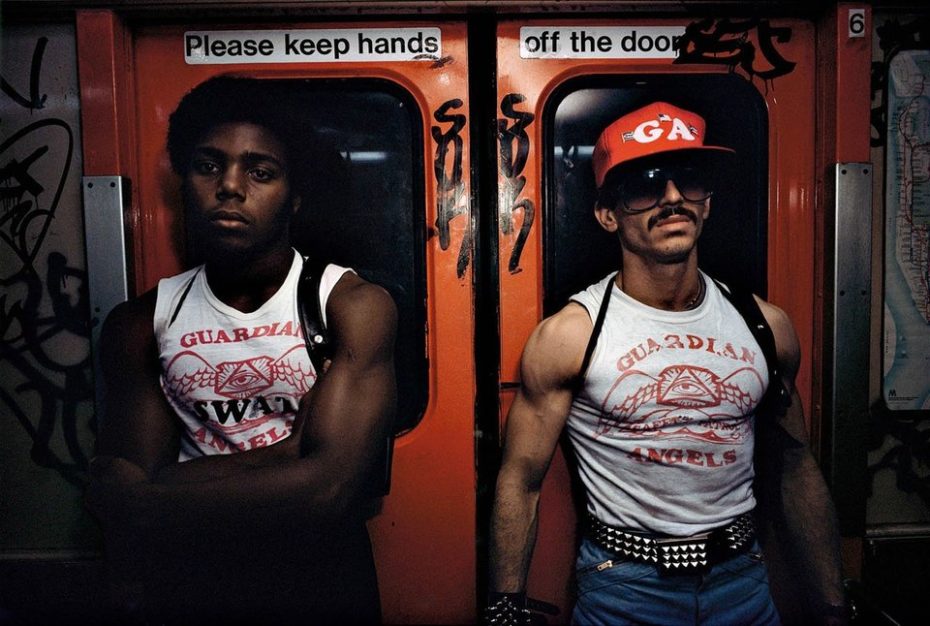 People forget that in 1979, New York was burning. To relive it today would almost be like entering an unrecognisable dystopian society where street gangs ruled the city after the sun went down. Times Square's Disney stores were occupied by peep shows and drug dens, and you could go as far as saying that some neighbourhoods even resembled war zones with burned out buildings, marred by urban decay. The subway? It was the scariest place you could think of. In 1979, if someone boarded your train or came towards you on a dark street corner dressed in the red and white Guardian Angels uniform, it meant you were going to be safe.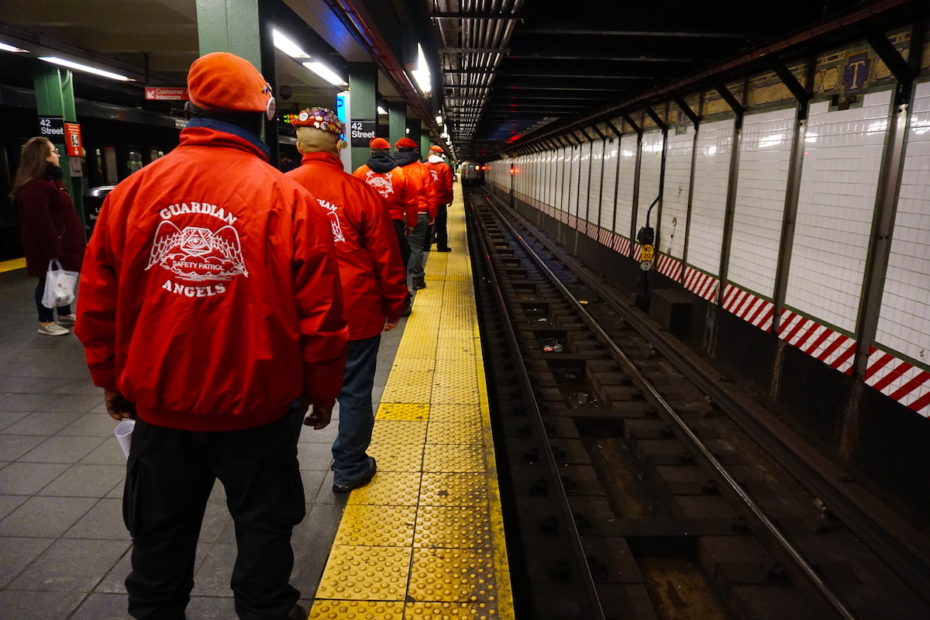 The Guardian Angels put themselves in places where the police wouldn't go and put their lives on the line in a way most people wouldn't, which is where the organisation ran into its fair share of controversy over the years. For most New Yorkers however, those red jackets and berets were a very welcome sight, and still are, particularly if you'd almost forgotten they existed after Rudy Guiliani's crime cleanup saw them fade from public consciousness in the early 90s. When crime rates dropped, it seemed like they were no longer needed by the public, but the Guardian Angels are still very much in operation today, tackling crime not just in New York City, but internationally, through its various chapters around the world. They're still taking on the bad guys of Gotham's underworld too, which in 2019, and in the midst of the new #MeToo era, means turning the heat up on the subway's notorious sexual predators, a mission entrusted to a new female-driven patrol unit of Angels, known as the "Perv Busters".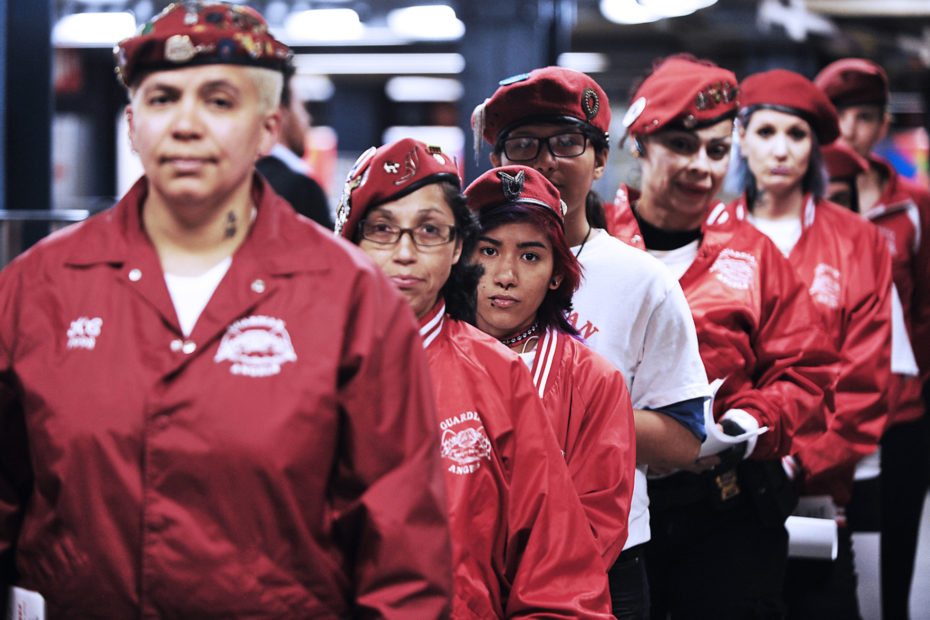 Intrigued, we sent MessyNessy's NYC editor Francky Knapp to shadow the mysterious men and women in red while out on their Saturday afternoon patrol. It's impossible to miss the team at their meeting point, Columbus Circle: the dozen or so members make up a cherry red mass that wakes up the grey metro humdrum – commuters suddenly look up from their iPhones, and old-timers give them the thumbs-up or ask to take a picture with them. The younger generation, not so much. The L train hipster youth told us they "recognize the [Guardian Angel] logo," but couldn't explain what it meant.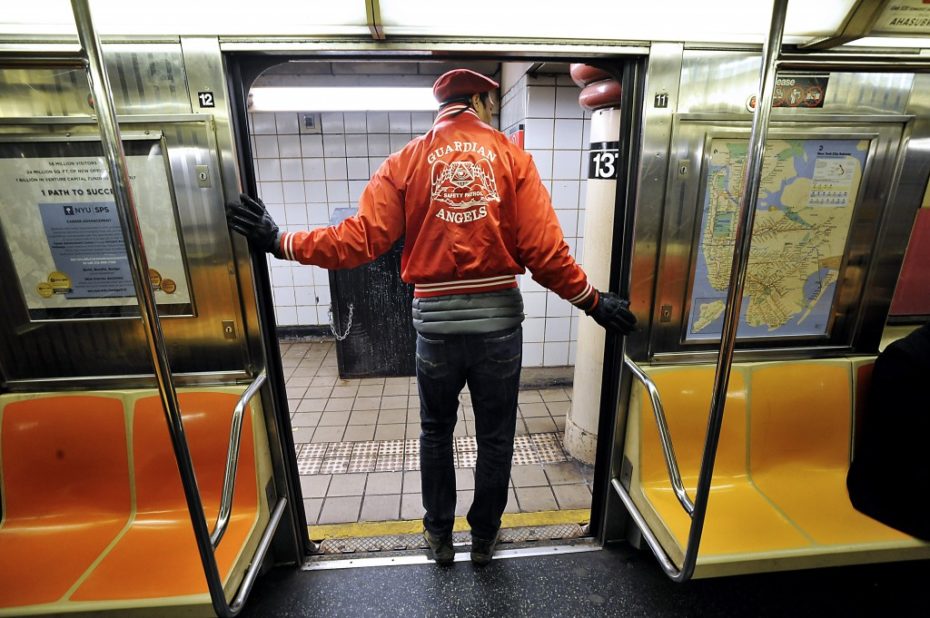 This year marks the non-profit's 40th anniversary, but it all started with just one guy at the boiling point of a crime epidemic. In 1977, Curtis Sliwa was the 23 year-old night manager of a McDonald's in the Bronx, overwhelmed by the violence that was unfolding all too regularly in his restaurant and decided to take matters into his own hands. He formed the "Magnificent 13", a group dedicated to combatting crime primarily on the subway. They trained in basic martial arts, learned first aid and devised a special subway patrol system. They would ride the worst trains in the city, each member to a car. At every stop they would all pop their heads out of the open subway doors and if an Angel didn't step out, it meant that someone needed backup and they would all converge on that car.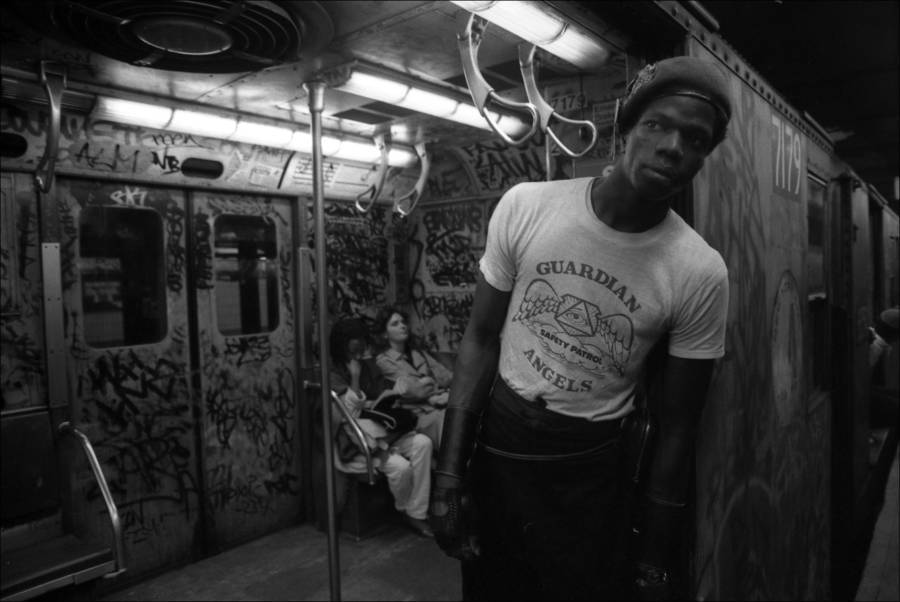 Within two years, 13 had grown to over 500, with Curtis at the helm of the expanding group that officially became "The Guardian Angels" in 1979. Silwa, who was born in Brooklyn to Polish and Italian parents, recruited his Angels from all walks of life; black, white, hispanic, male, female, young, old; many of them reformed gang members who wanted to put an end to the wave of crime that plagued their communities. Curtis outfitted his diverse team of crime fighting citizens in military-style red berets and gave them jackets and t-shirts embroidered with their logo; angel wings and the all-seeing Freemasons eye.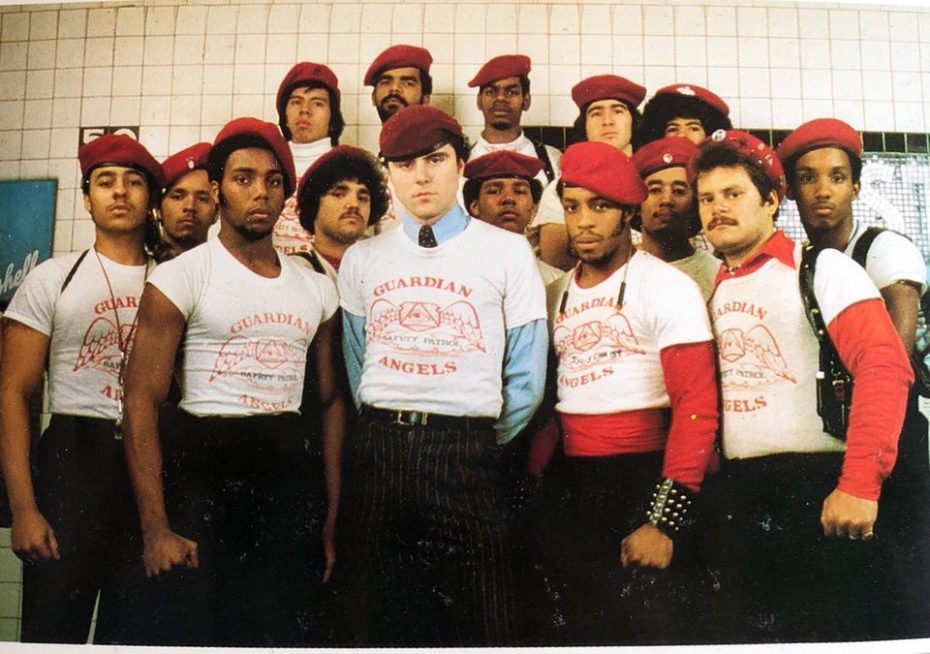 They weren't allowed to carry weapons, but on the streets, the red berets would break up fights where knives and firearms were involved, talk down gang members and protect countless vulnerable kids from beatings and gang-related violence. The Guardian Angels became NYC's coolest crime-fighting squad in their red berets and baseball jackets. And who wouldn't want one of those t-shirts? Around the same time, the 1979 cult movie, "The Warriors" portrayed a lawless New York underworld and its vigilante street gangs, further romanticising the rise of these unlikely street heroes….
While they were championed by the public on the subways and the streets, historically their relationship with the New York City police was very different. Where did one draw the line between a Good Samaritan and vigilante? "That's a big media headline," an Angel named Gregory tells us in the belly of a Manhattan subway stop. "Back in 1979 when it all started, we had a very bad relationship with the police. [They] despised the Guardian Angels 'cause they believed we shouldn't be on the subway doing their job. But they weren't doing their job."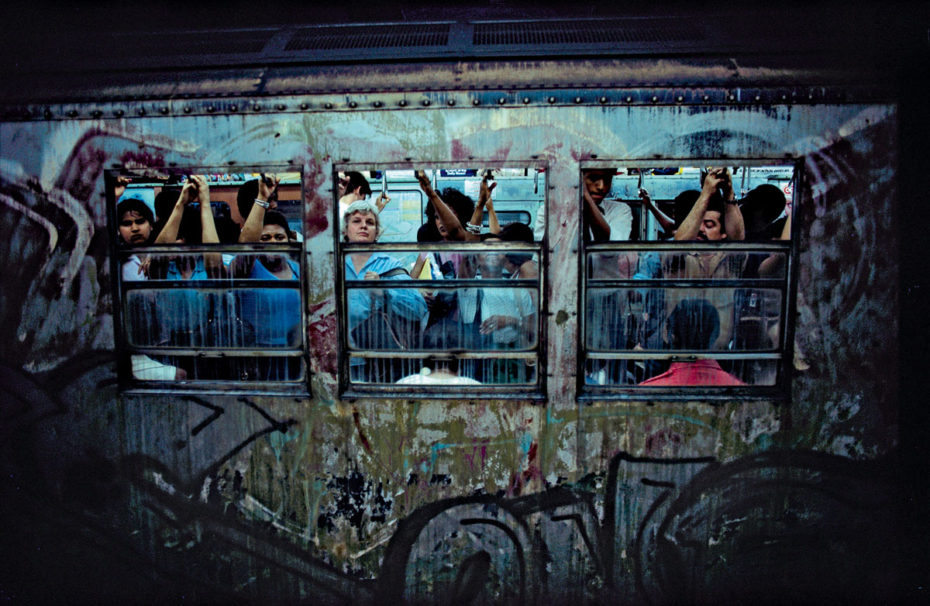 Ask most people who visited NYC as a tourist for the first time in the early 1980's and they'll almost always have a harrowing story to tell. Hotel managers were known to provide guests with fake wallets, so they could give that, instead of their real wallets, to the inevitable mugger.
In his stunning 1986 book, Subway, photographer Bruce Davidson describes the atmosphere of fear and dread on his daily journeys into the New York subway system to document underground life.
"As I went down the subway stairs, through the turnstile, and on to the darkened station platform, a sense of fear gripped me. I grew alert, and looked around to see who might be standing by, waiting to attack. The subway was dangerous at any time of the day or night … Passengers on the platform looked at me, with my expensive camera around my neck, in a way that made me feel like a tourist – or a deranged person."

Photographer Bruce Davidson
Alongside the release of A Most Violent Year, the memorable 2014 film that shed light on the rampant violence and decay of 1980s New York, producers interviewed Curtis Silwa and several New Yorkers (including familiar face, Harlem legend Dapper Dan) for their accounts of the "third world" reality they faced everyday…
"Crime has gone down overall," says Curtis today about the state of the city, "especially violent. A lot of it is good policing, but a lot of it is technology. There are cameras everywhere." The Guardian Angels founder wasn't always so diplomatic about the NYPD however, and in the 1980s, he was particularly vocal about the shortcomings of the local police with the media. But the more Curtis courted the press to raise awareness for the Angels, the more it backfired on him.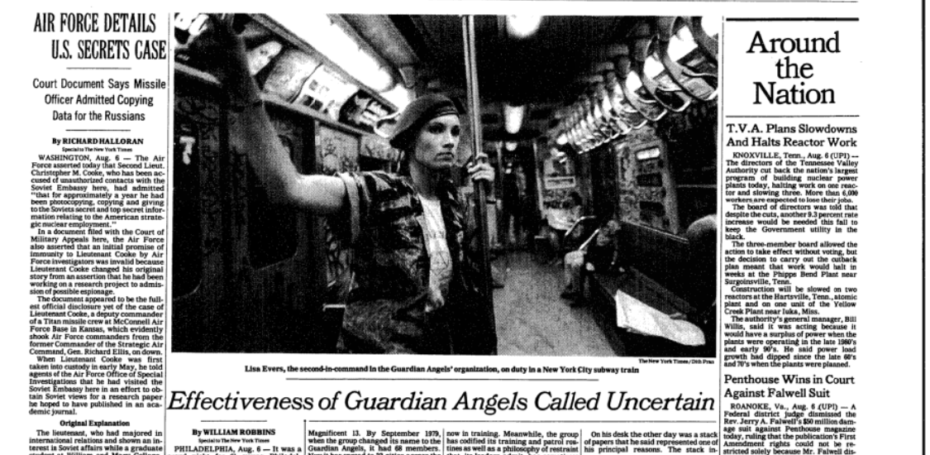 At the height of the organisation's notoriety, he pulled some rather questionable and outlandish stunts, which included staging several of the Angels' sensational crime busts and even fabricating his own kidnapping at the hands of the NYPD.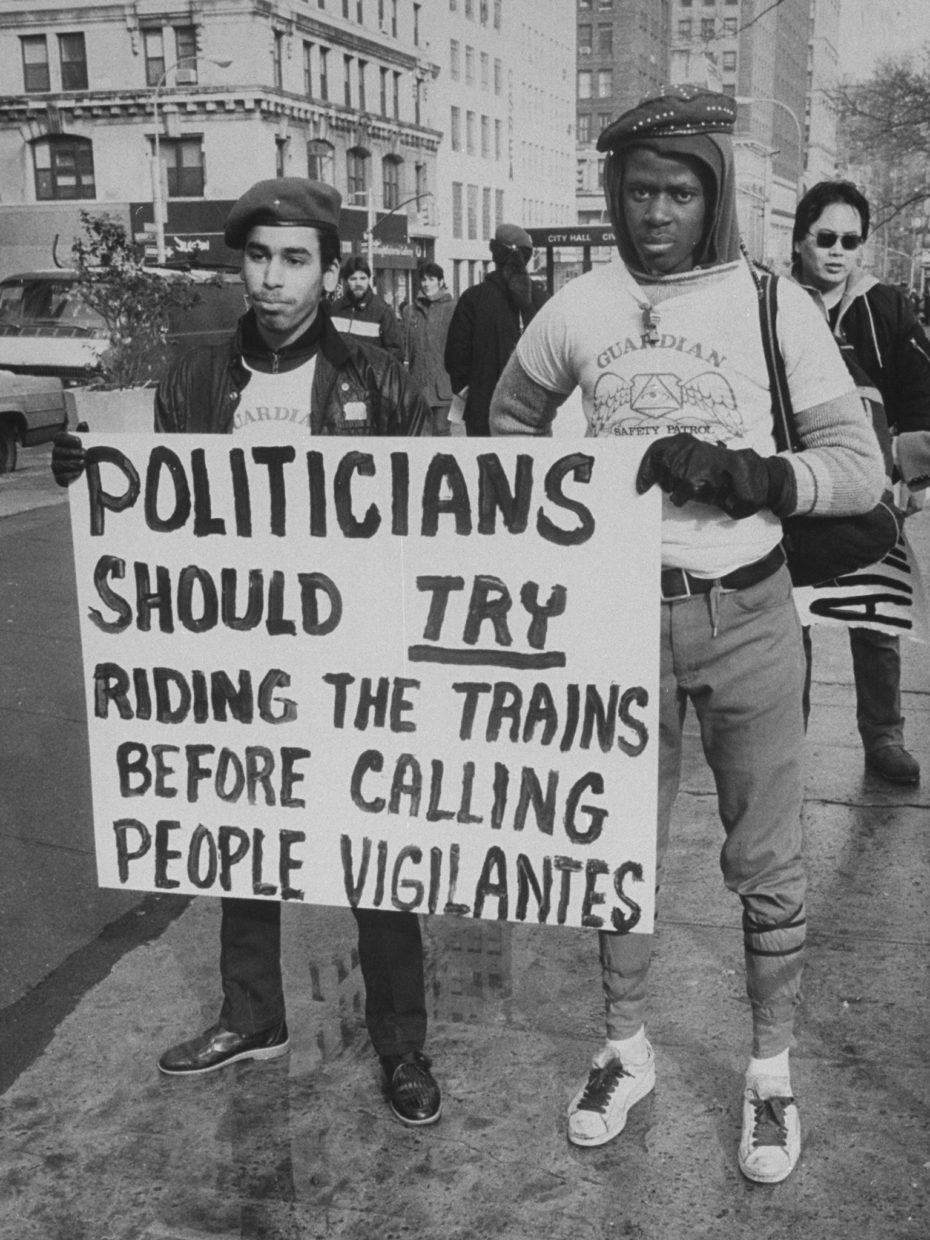 From very early on, Curtis Silwa and his group of "vigilantes" had been vilified publicly by city officials, as well as the police and the media. Silwa admitted that the falsified kidnapping claims were intended "to make himself seem more valuable to the public". With crime through the roof in the early 1980s, New York City was at the centre of a nationwide debate on race, crime and the legal limits of self-defence. And The Guardian Angels were right in the thick of it.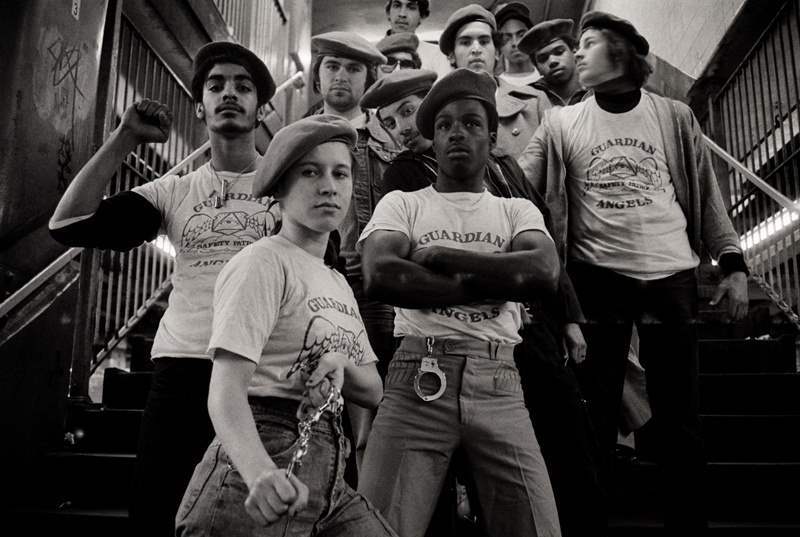 While the organisation set out with noble intentions to protect New Yorkers first and foremost, there were also reports of bullying, racial profiling and harassment at the hands of some members on the subway during the height of their patrols in the 80s.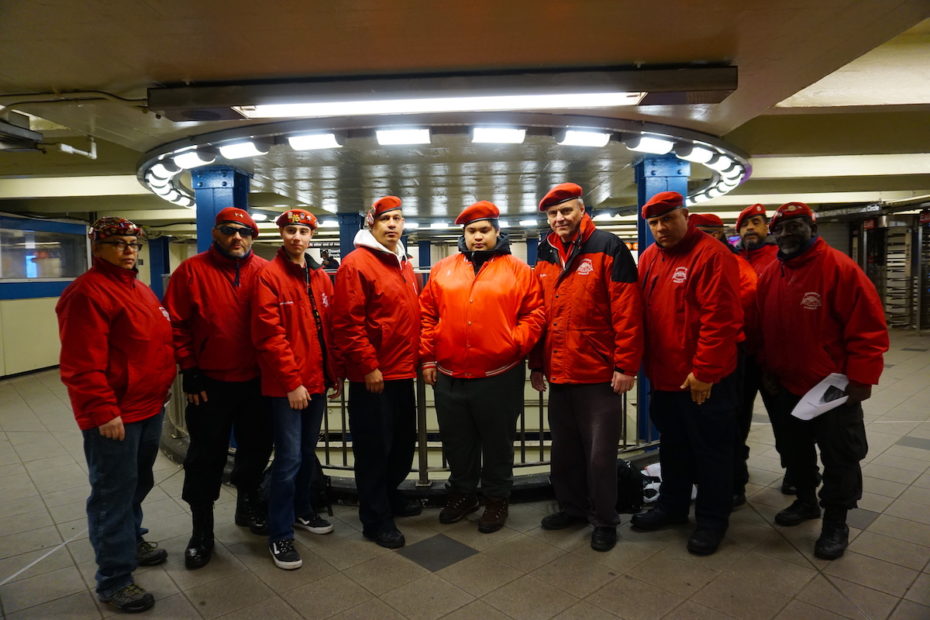 Riding the subway with the Guardian Angels today, it's clear that no such members are present. "When I saw a group of Angels patrolling I thought, 'Man, I wanna be a part of that'," says Guardian Angel Gregory, formerly of the US Auxillary. "I've gotten beat up by cops, just because I'm black." The Angels offered an opportunity to be a community safety net that, for once, he says, actually looked like the community.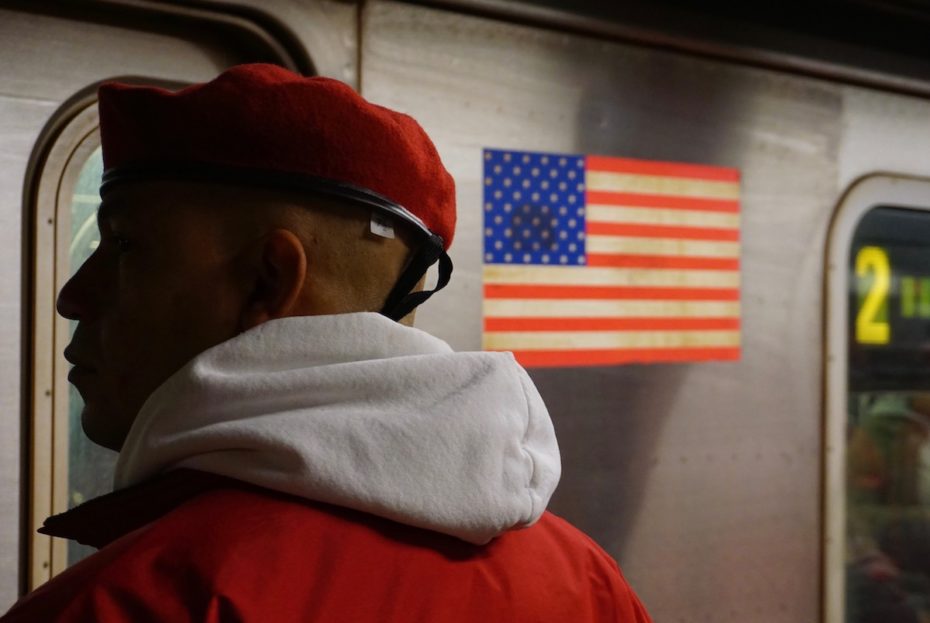 New members – who are heavily vetted – go through a 6-month, team-based training period in martial arts at the GA headquarters in Brooklyn to learn how to defend themselves, others, and detain criminals while police are being called. Absolutely no weapons, Curtis says, are ever carried by Angels and members are physically searched by each other before patrolling the city for a minimum of 4 hours a week, both in the subways and on the streets.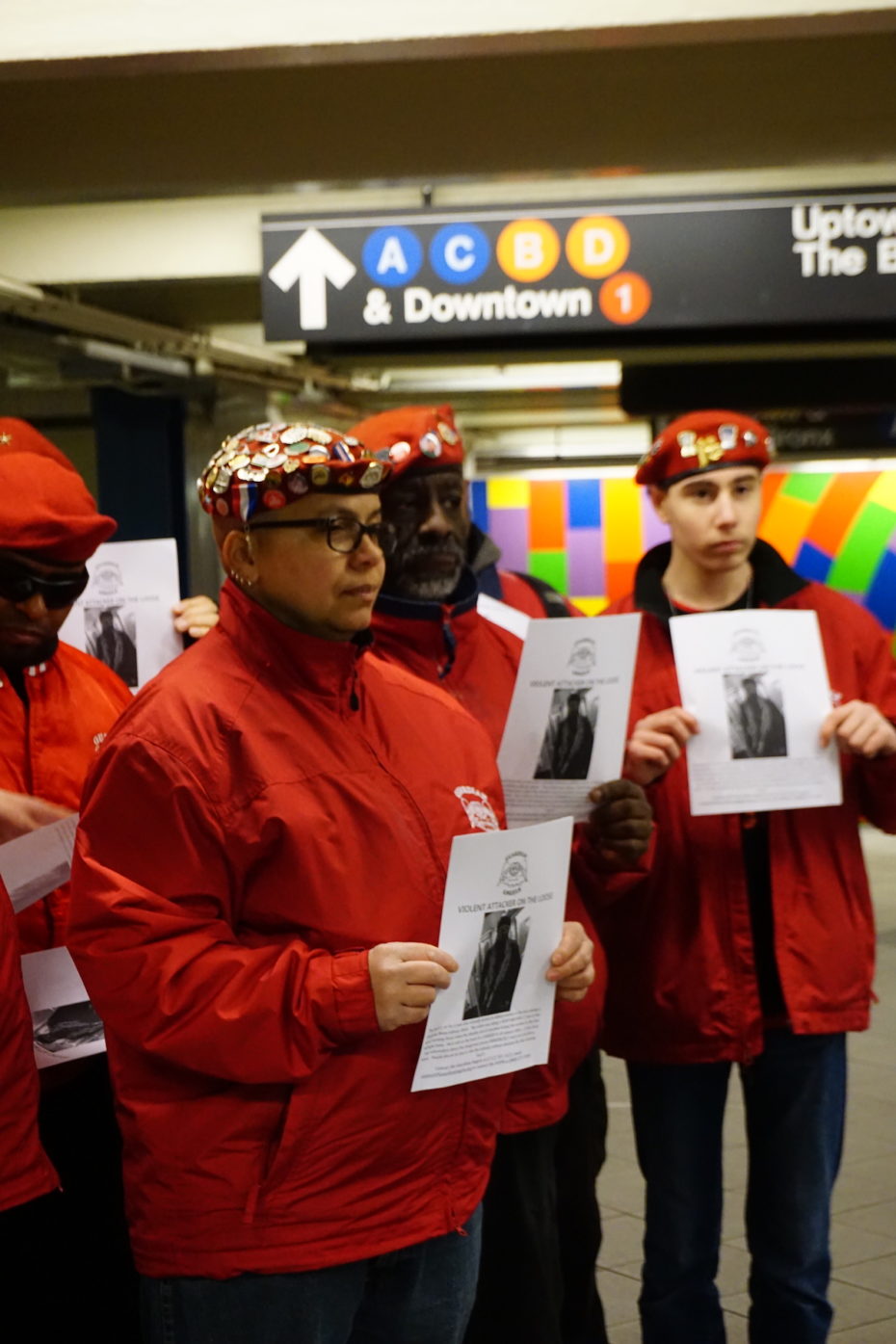 As in the old days, the majority of members on patrol with us today are non-white people of colour, like Benjamin Garcia, 55, who joined the angels in 1986 after seeing a woman attacked on the 4 train. "No one was helping her," he says, "They were all watching. I grew up in the projects in East Harlem, and people mind their business. Like this man we're after today, people were recording it instead of getting involved."
Today, the Angels are trying to track down a man who, Curtis says, "stomped and beat an elderly woman on the 2 train." They have one potential suspect, so we're heading deep into the Bronx to find him, or at least spread awareness about him with fliers. Curtis brings everyone together to film a message about their happenings for social media.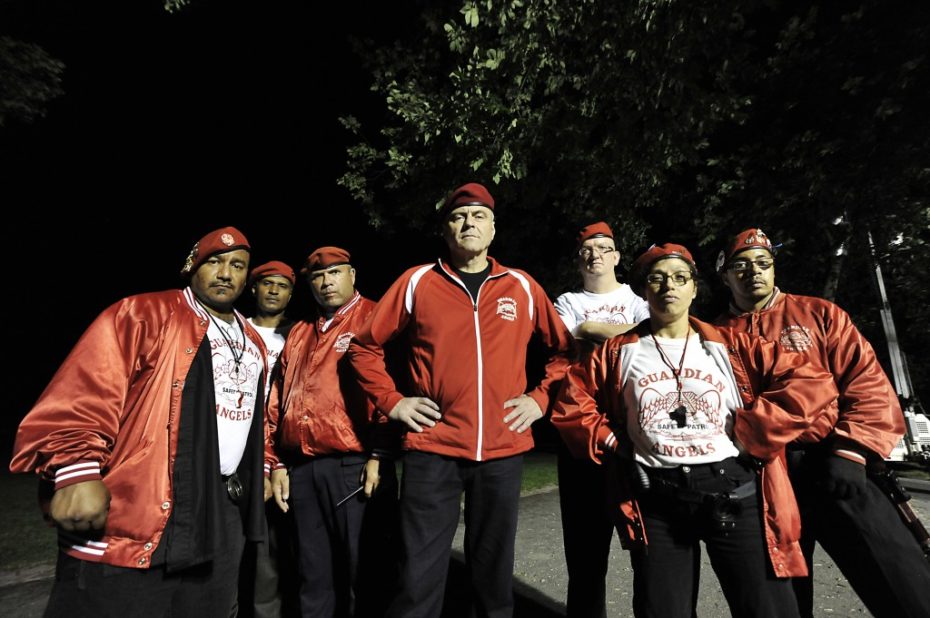 Depending on which Angel you talk to, social media has been a double-edged sword. All of them praise the speed at which it helps crimes get reported, etc. But "everyone is on their cell phones," says Benjamin, who stresses that "people should keep their awareness up." Curtis, however, adds that "people used to get on the subway and the physical setting was [filled with] so much urine, graffiti, defecation, and now everyone has their own earbuds with music to calm down." Dead, he says, is the true era of the boom box. "Now everyone is in their own cone of silence. Almost like a form of Prozac." In that sense, he sees it as a tool to help lower the crime rate. "This," he says, holding up his phone, "has become a tremendous mood elevator, and pacifier for people."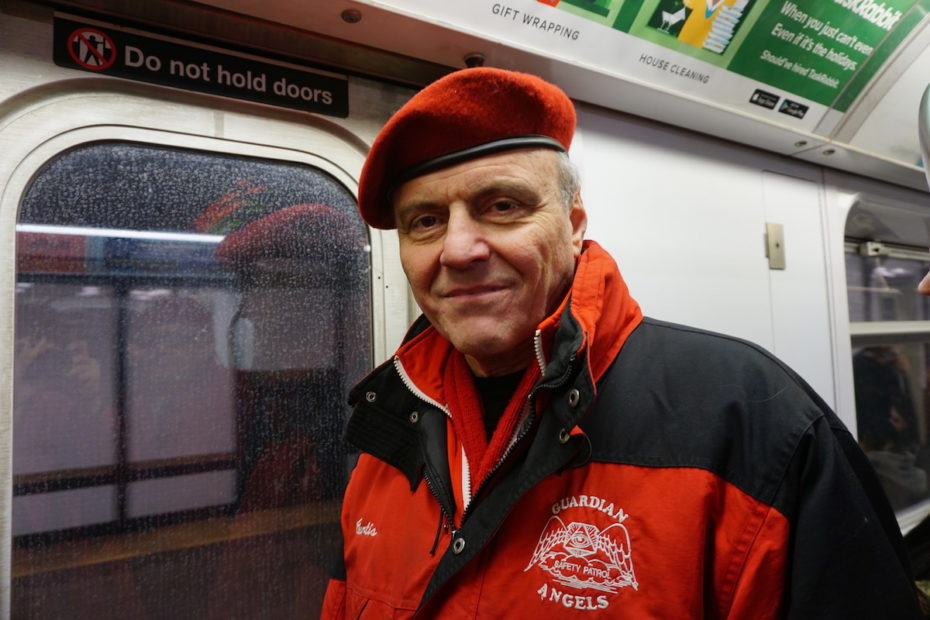 Curtis is certainly the golden orator of the crew. Which isn't to say the other members aren't articulate, but there is a fanfare with his language that shows why the Angels have become so legendary – and controversial – with his voice as their megaphone. His opinions ring out hard and clear, and earned him a second career as a radio host on a local conservative station for the past two decades. But his opinions also nearly got him killed in 1992, when Silwa was allegedly kidnapped (this time for real) by crime family boss John Gotti after publicly offending the mobster on the radio. As the story goes, Curtis was picked up by two gunmen in a yellow taxi who shot the Guardian Angels founder twice before he was able to leap from the front window of the moving cab and escape. John Gotti was charged with attempted murder but never convicted.
If one thing is certain, Curtis Silwa deserves his own movie biopic. It's hard to hold a conversation with him without being politely interrupted by a fan, this time a man who said he saw Curtis in the 1970s. "You were with a tall girl. A lovely girl. Anyways I always listen to you on the radio, and I actually have a situation…" the fan continues to confide in Curtis for several minutes.
That "tall girl" was Curtis' first and now ex-wife, Lisa Evers, whose archival on-patrol photos are indeed pretty epic: Lisa towers over most of the crew, her sleeves rolled up and red lipstick on. She was also a trained black-belt. Today, she's a general reporter for FOX 5 News in NYC.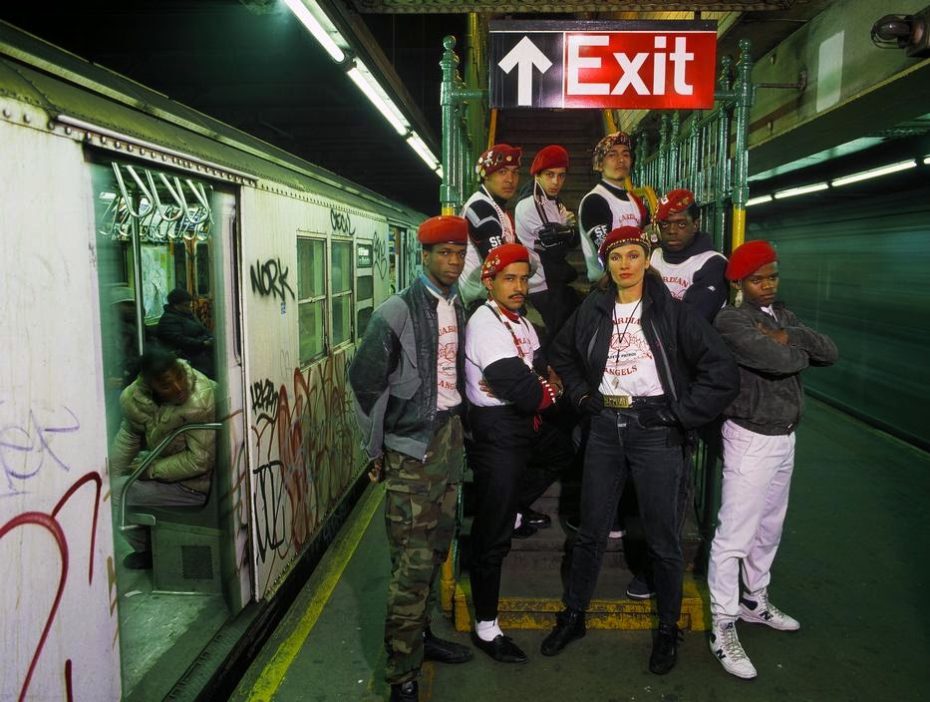 When asked what it's like to be a woman on the crew today, Mary Gethins, a middle-aged member and the only woman on patrol on this particular day, says it's "No different. When you put on a uniform, I think you can think of it as gender neutral. We've been coming across a lot of women who ask us how they can be safe, what can they do to avoid it – of course it's not on them to change. I say, 'It's never about you. You can't apply logic to it. Being a woman walking is not an invitation".
In 2016, the Guardian Angels launched a new program called "Perv Busters", which comes with a catchy tag line, who you gonna call? (when you see a perv). Mary, who goes by the nickname "KC" says they specifically noticed "a rise in that kind of crime. We all have a lot on our plate, but this really got my attention and Curtis specifically approached me to lead that effort."
Perv Busters brings us to one of the most exciting new initiatives in the Angels: an all-female squad that specifically targets sexual harassment in the subways. "I think sexual harassment should be considered a felony to a degree, not just a misdemeanour slap on the wrist," says KC. Since the Perv Buster Patrol started three years ago, Curtis says they've documented "about 150 cases [and] been helpful in about a dozen cases in providing specific information."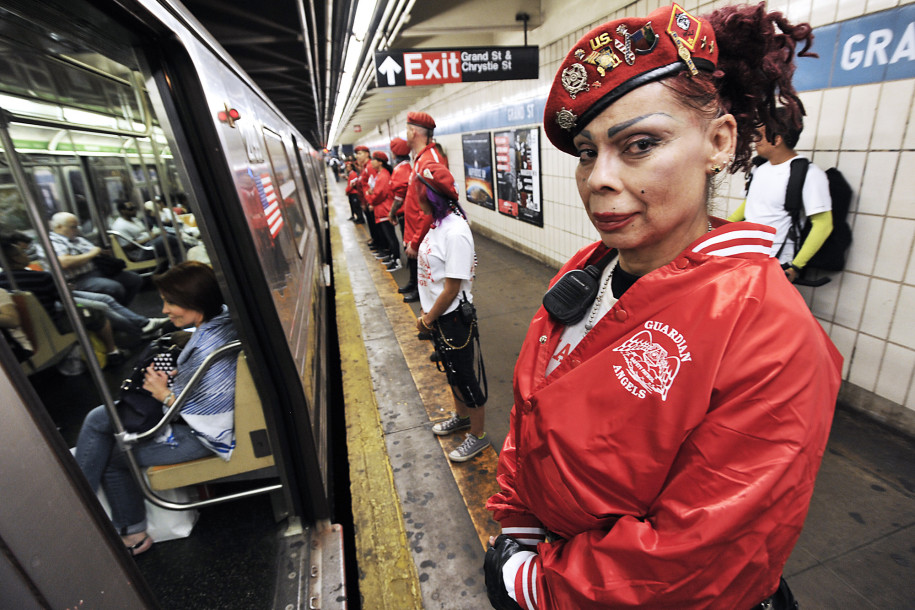 There is new energy in the group through this female task-force, which is really what one hopes from an admirable group of "vigilantes" born in the spirit of 1980s Robocop lawlessness: that it doesn't just move forward, but evolves. That it remains authentic to its spirit, but not tone-deaf to, say, the #MeToo movement. Every one of Curtis' NYC Angels we meet today is a testimony to that awareness – but KC's Perv Busters burn a particularly important beacon.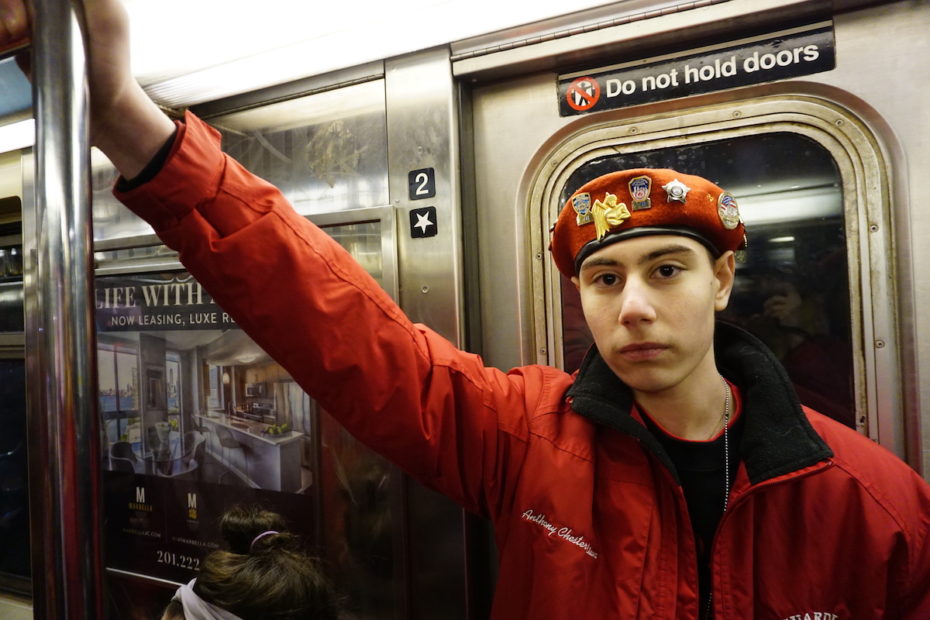 "More than misconceptions, I would say there's just more. More to what we do," Jose tells us as we ride away into the Bronx. Today, the Guardian Angels have chapters around the world as far as Japan, as well as anti cyber-bullying and pro-animal rights work. "On Christmas Eve my chapter has a big dinner for the homeless community," he says. Every Thanksgiving, he says his ex-wife makes sure he has their son with him to serve the homeless; along with Curtis' son, Anthony, 15, he's a Junior Guardian Angel getting ready to serve into a new generation.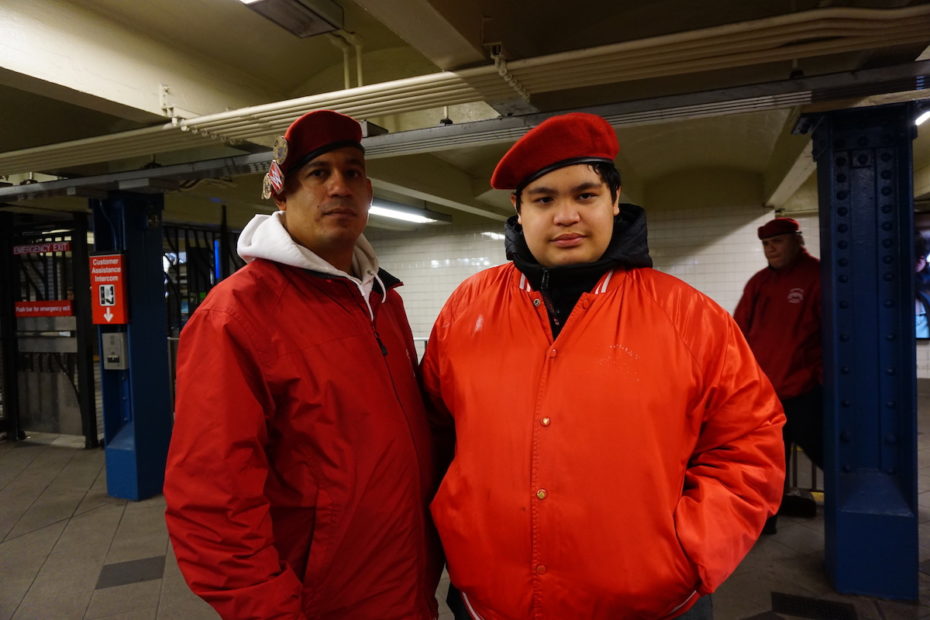 We're about half-way to our Bronx destination when a woman asks Jose what they're on patrol for today. He explains, and she happily shows him the breaking news on her phone that the man in question has just been caught. "Well that means the tip to the police worked," he says, adding that this is the perfect example of the kind of work their namesake speaks to: that which is not always seen or heard from the shadows, but is always there – even after 40 roller coaster years (and perhaps a few embellished crime-fighting stories along the way).
Modern-day vigilantes or forgotten Knights in red? When and if you do cross paths with a Guardian Angel, just remember it takes a certain kind of person to put on a uniform and go looking for trouble … and no hero is perfect.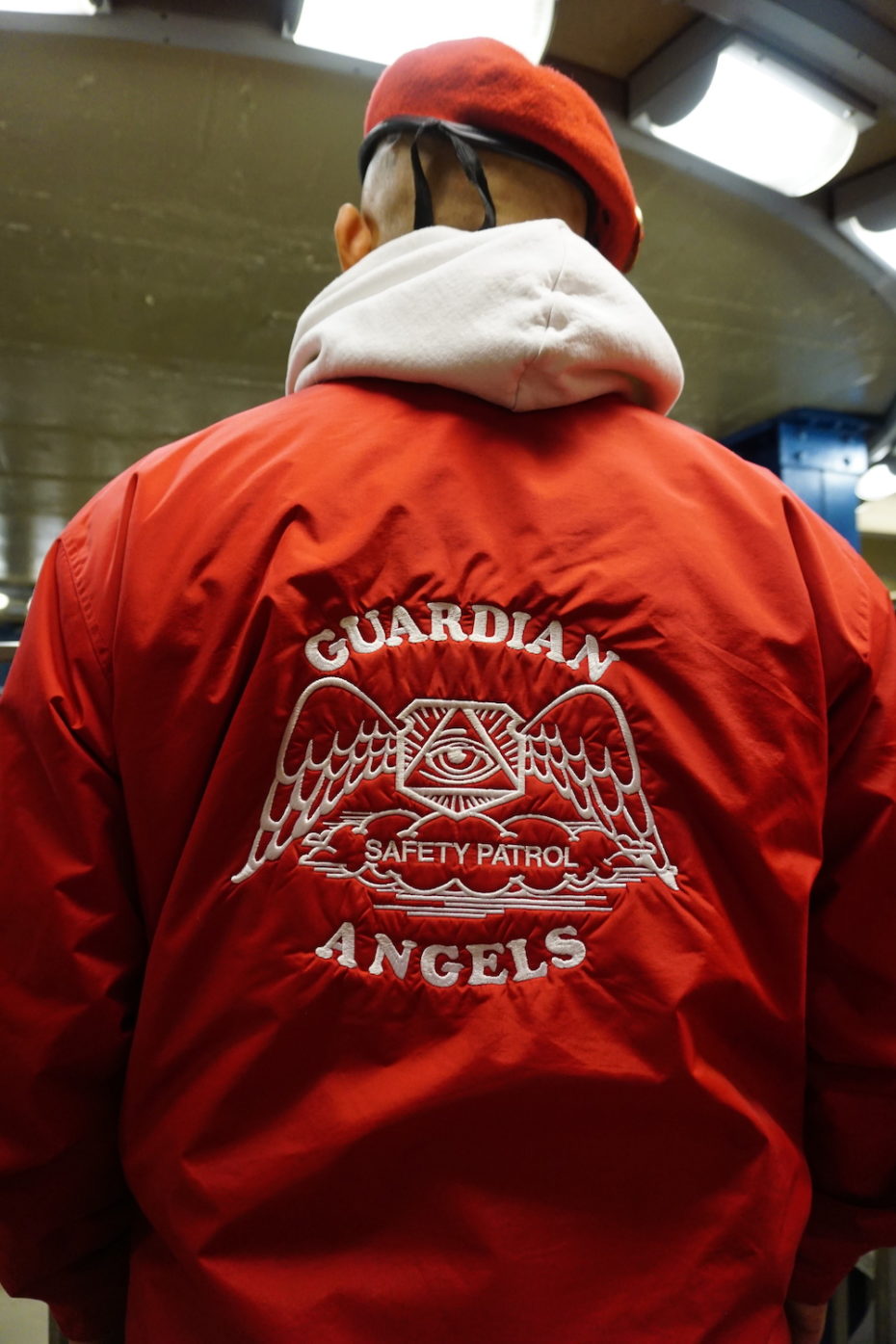 Learn more about the Guardian Angels on their website.