Today I stumbled upon an incredible collection of vintage cameras– an encyclopedic Aladdin's cave on the internet. Assembled by a French guy the name of Sylvain Halgand, we don't know much about him except that he has collected a lot of cameras. There are thousands of different models on his site sourced from all over the world, dating as far back as photography was invented, each one faithfully photographed and catalogued by Sylvain. Now don't get me wrong, as a blogger, I love the convenience of my smartphone camera, but there are some stunning models in this vast collection that I'd love to just have sitting on my desk or on a bookshelf staring back at me. Here are some of my favourites from the Collection Appareils vault that I'll be looking out for on eBay…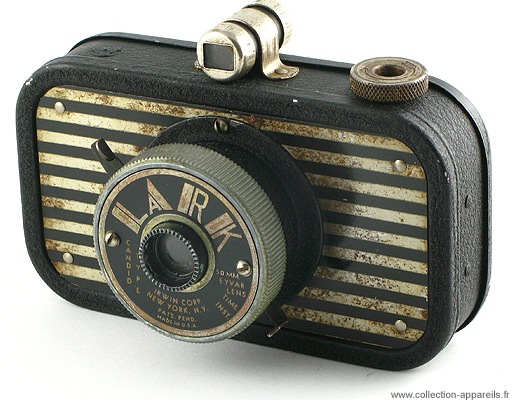 Irwin Lark, made in the USA by the Irwin Corporation, 1940. Typically known as the "sardine can", when looking at it, one understands why, but some of the originals made by the company were actually made of sardine cans [link].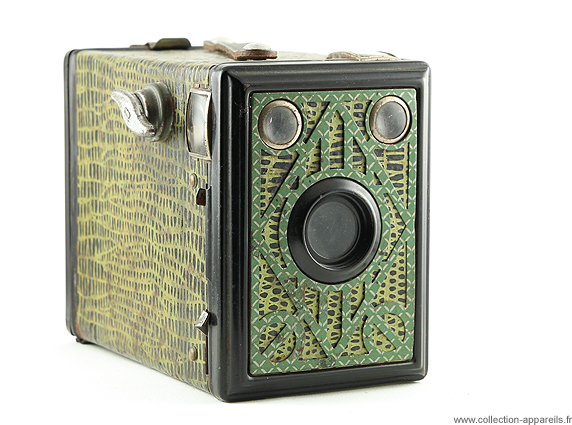 Gap Box 6 x 9, made in France, 1950, box cameras played a very important role by making photography accessible to the general public. They meet the requirements of today's disposable cameras : to allow anyone to take pictures at the lowest price and in the most simple way. They were the first "point and shoot" cameras. [link]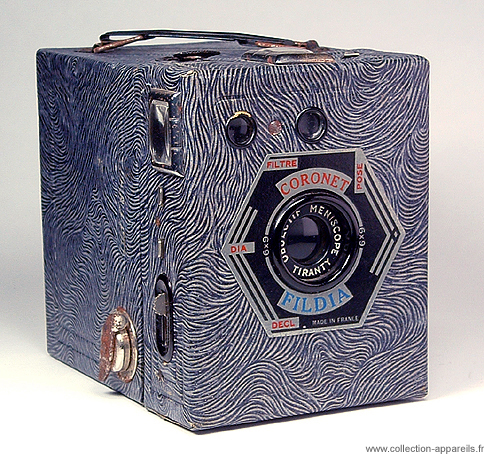 Coronet Fildia moire, made in France, 1942, far less common than the standard version because of its pattern [link]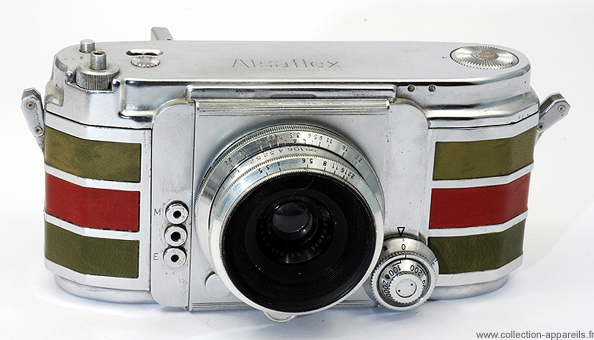 Alsaphot Alsaflex, made in France, 1952 [link]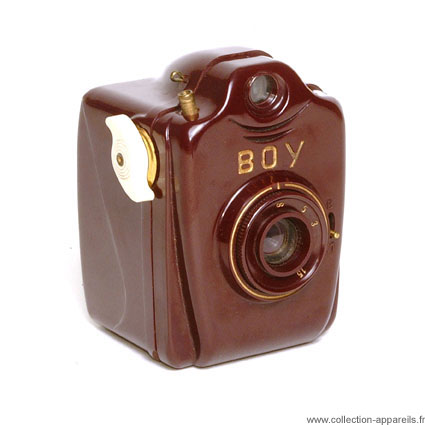 Bilora Boy, made in Chilli by the German company Bilora, 1950 [link]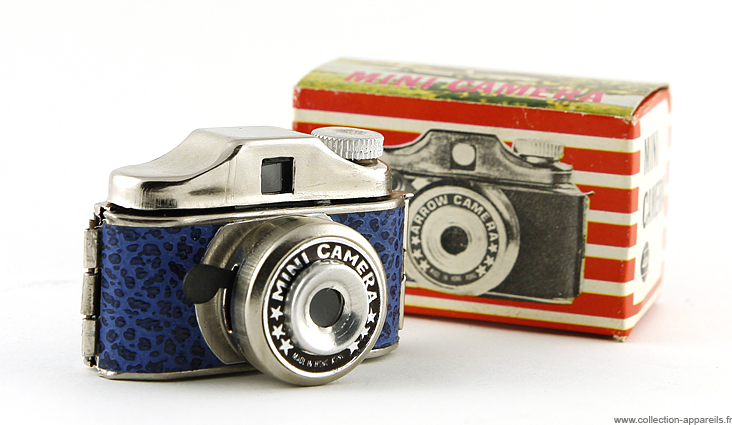 Hit Mini Camera, made in Hong Kong, 1970. At barely two inches (50mm) across, They are quite easy to find and unlike many collectable cameras of today are very reasonably priced. All Hit types are designed to take tiny rolls of film, normally with 10 shots per roll and return negatives just 14x14mm.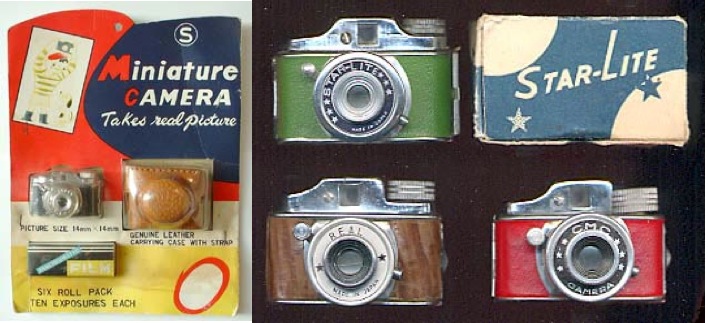 The film, usually wrapped in silver foil or some other protective covering, was placed in a tiny pressed tin holder [link]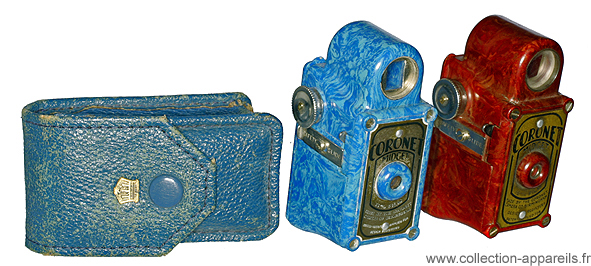 Coronet Midget, Made in England, 1934, cost around five shillings. The Coronet Midget must be one of the most popular of all small cameras to collect. Coronet company marketed their own 6-exposure film specifically for the Midget.

As the negatives produced by this camera were very small, just 17x12mm, to make viewing the small prints easier, Coronet also made a pocket print viewer/magnifier called the Scope. If you preferred your photographs a bit bigger you could ask your camera shop or chemist to produce large prints measuring 2 1/4ix3 1/4in, although these would have cost you whopping 2d (tuppence) each! [link]
Albini Alba, made in Italy circa 1900 . Although faded, this detective camera is very nicely manufactured. Made of blackened wood assembled with care and covered with leather. Under the name Alba, in golden letters, appears the symbol J. C. L, which may have been the owner's initials [link].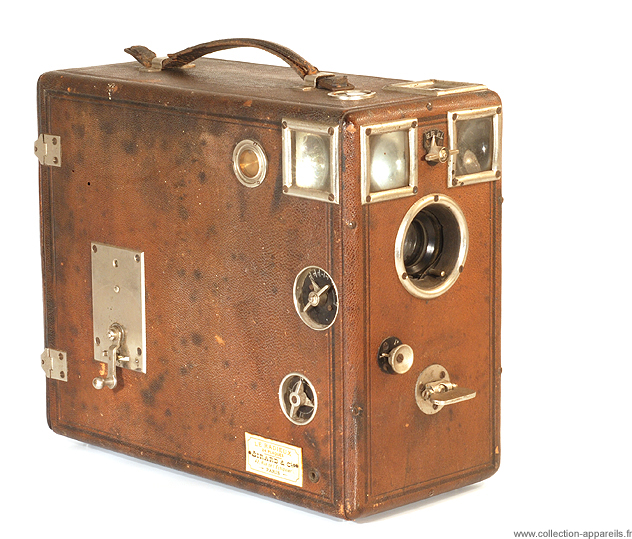 Girard Le Radieux, made in France circa 1901,  offers different shutter speed, the fastest one being 1/60 sec. The total price of the camera, bought on credit was 135 francs. Offering two spirit levels, It was a top class detective camera. J. Girard et Cie was located at no 42 Rue de l'échiquier in Paris, close to the Gare du Nord/ Advertisements for the Girard cameras are often found in the newspapers and magazines dated around 1900 [link]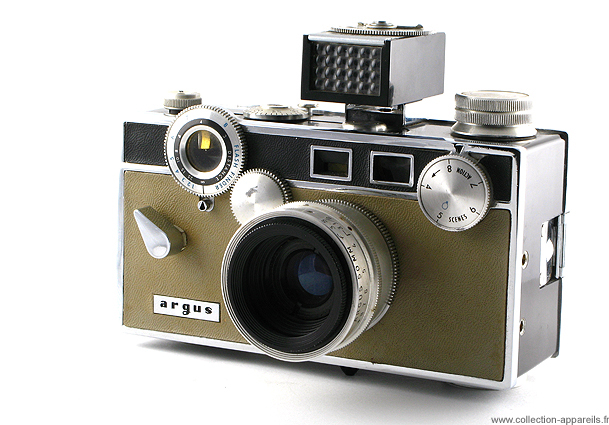 Argus C3 Matchmatic, made in the USA. It was a low-priced rangefinder camera mass-produced from 1939 to 1966 by Argus in Ann Arbor, Michigan, USA. The camera sold about 2 million units, making it one of the most popular cameras in history. Due to its shape, size, and weight, it is commonly referred to as "The Brick" by photographers (in Japan its nickname translates as "The Lunchbox"). [link]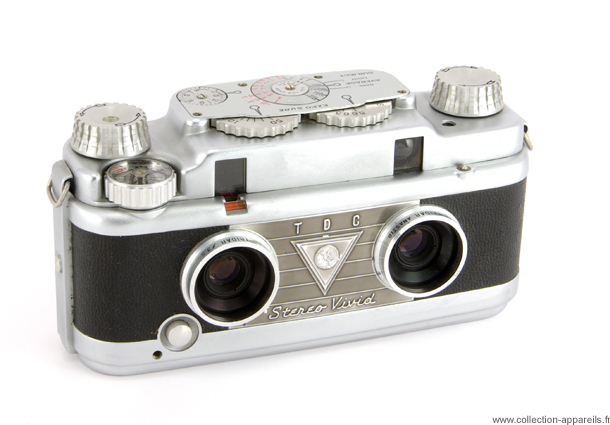 Bell and Howell Stereo Vivid, made in the USA, 1954. Long before the recent spate of "3D" cameras stereo-vision equipment like this was being used by enthusiasts in many countries across the western world. The Bell & Howell Company started life back in 1907, they specialised in making projectors and 35mm film cameras but they dabbled in many other areas – even building and selling black-cased Apple II computers under license in the late 1970s. [link]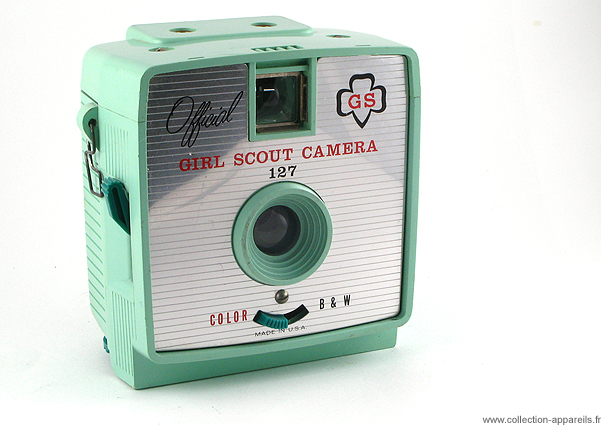 Herbert George Official Girl Scout Camera, made in USA, 1961. When boy scouts were discovered as a market for cameras and several camera makers offered their "Scout" products Herbert George of Chicago discovered that there were girl scouts too. His reaction was the release of the Official Girl Scout Camera, a box camera for making 2¼×2¼ exposures on type No. 620 film rolls [link].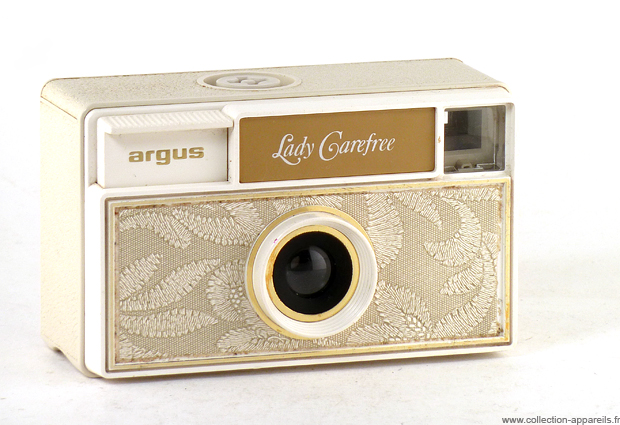 Argus Lady Carefree, made in Germany, 1967 [link]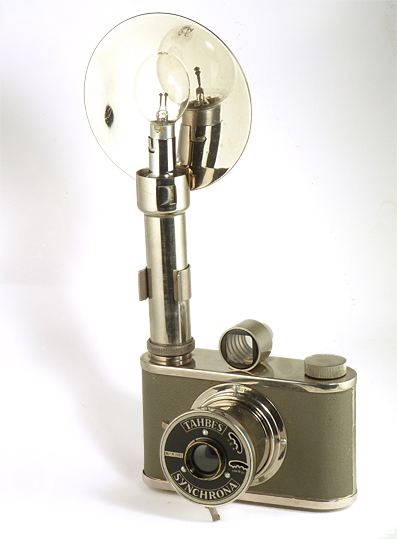 Tahbes Synchrona, made in the Netherlands in 1948-1949 [link]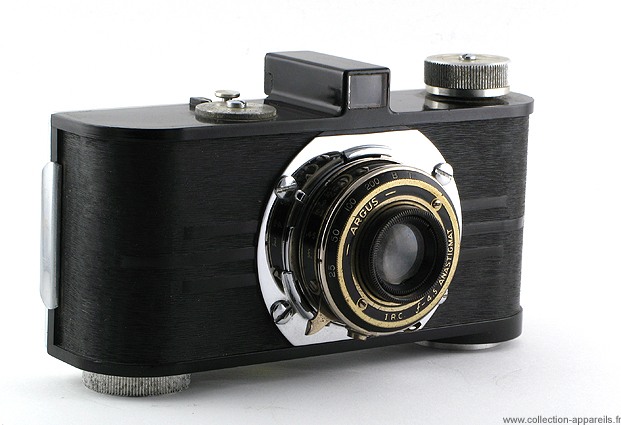 Argus A, made in the USA, 1936-1941 when you could buy it for $10. Arguably the most important 35mm camera of all time after the Leica A. It's a safe bet that Argus sold more cameras in their first twenty years than Leica has sold in their first 70 years [Link].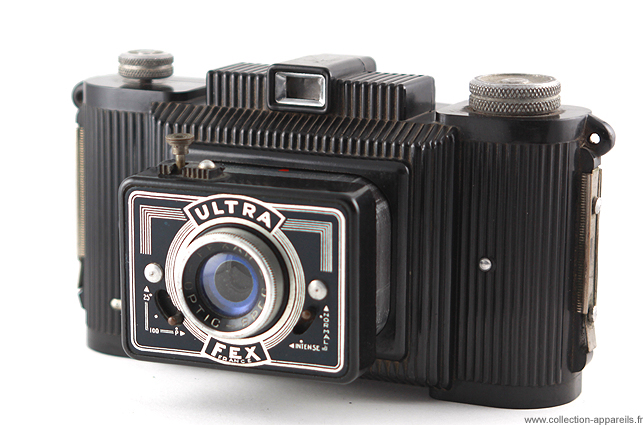 Fex Indo Ultra-Fex (version 14) Himalaya, made in France 1952, in commemoration to a French expedition to the Himalayas [link].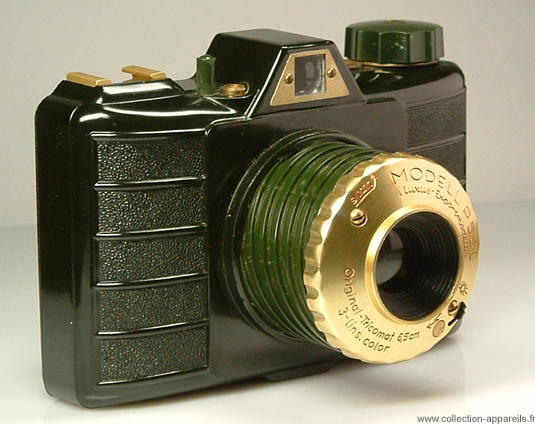 Apparatebau und Kamerafabrik P56L, made in Germany, 1956 [link]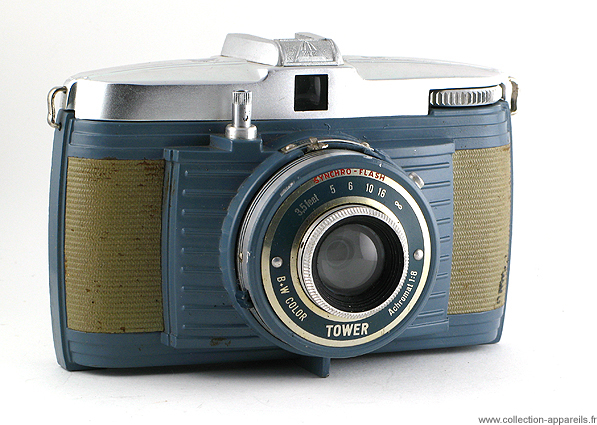 Sears Tower 5, made for Sears by Iloca of Germany, 1958 [link]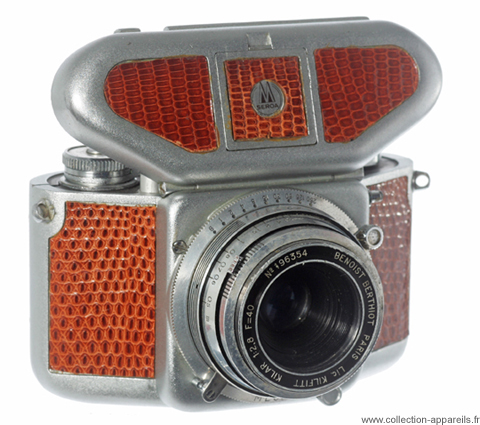 Seroa Mecaflex, Made in Monaco, 1958 [link]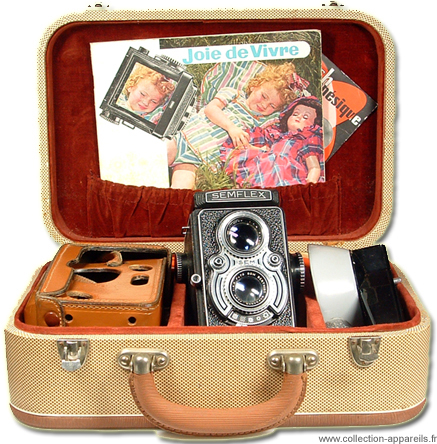 Sem Semflex Joie de vivre 3,5 (Type 51), made in France from 1956-1960 [link]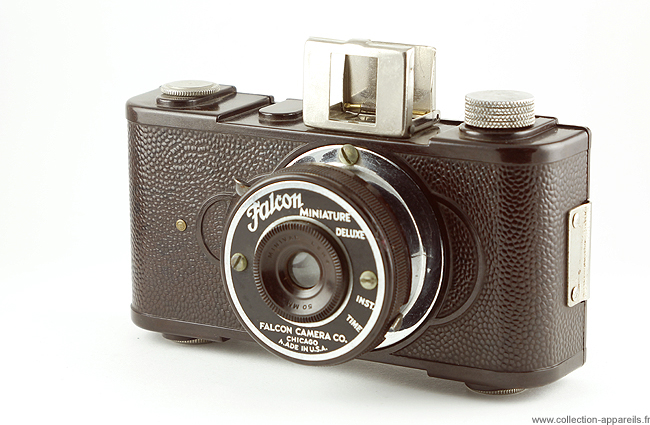 Falcon Falcon Deluxe Miniature, Made in the USA, 1938 [link]
The Compass, designed by Christmas Pimberton Billing, was manufactured by the Swiss watchmaker Le Coultre between 1937 and 1940. Approximately 4,000 cameras were produced [link].
Gilles-Faller Chambre 13 x 18, made in France, 1950 [link]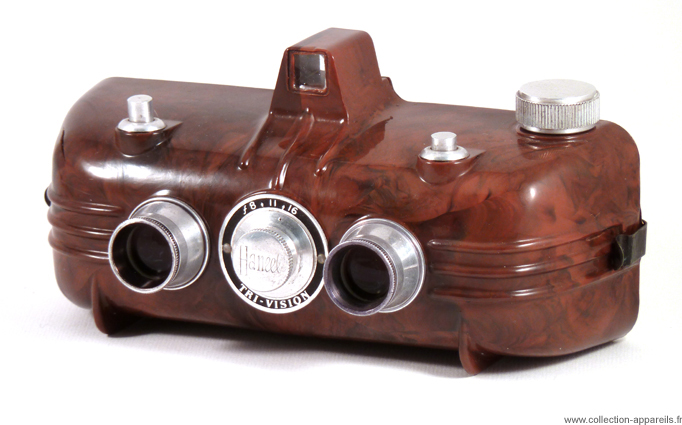 Haneel Tri-Vision, viewers and cameras were produced in Los Angeles, USA around 1946. The camera used Eastman 828 roll film and took 12 exposures. When new it sold for $28.85 [link]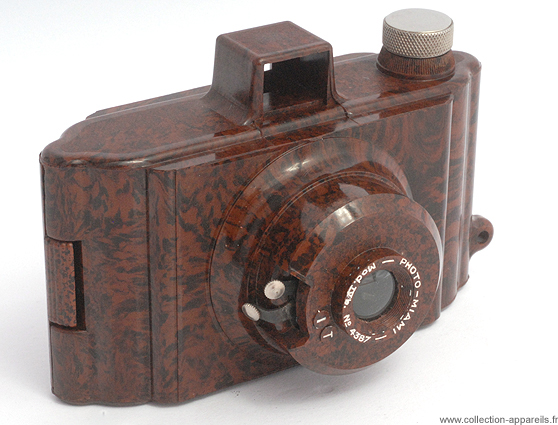 Artima Photo-Miami, made in England, 1950, moulded out of mottled bakelite [link].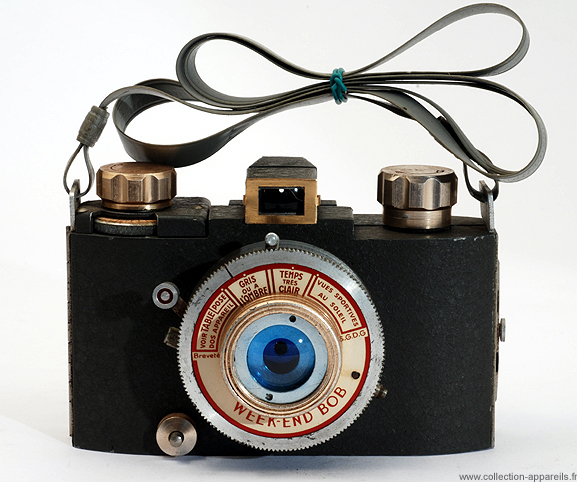 Weekend Bob, made in France, 1955 [link]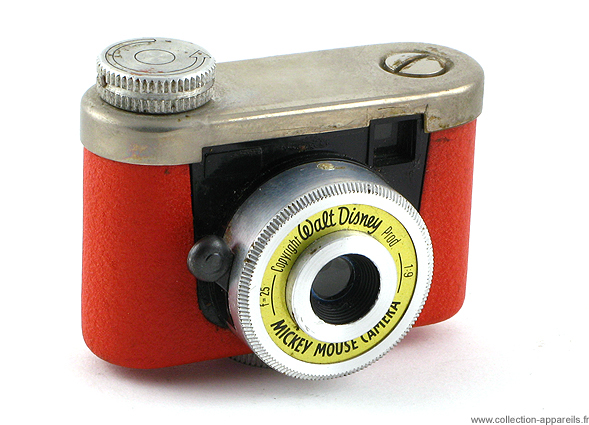 Kunik Mickey Mouse, made in Germany, 1958. These where sold with a large cardboard Micky Mouse that 'held' the camera. The short production run was possibly due to them not actually being sanctioned by the Disney Corporation [link].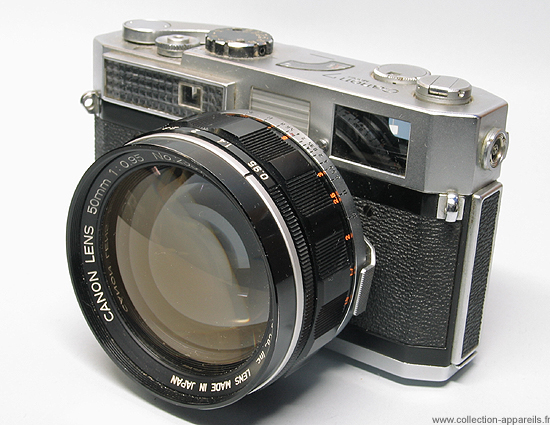 Canon 7, made in Japan, 1961 [link]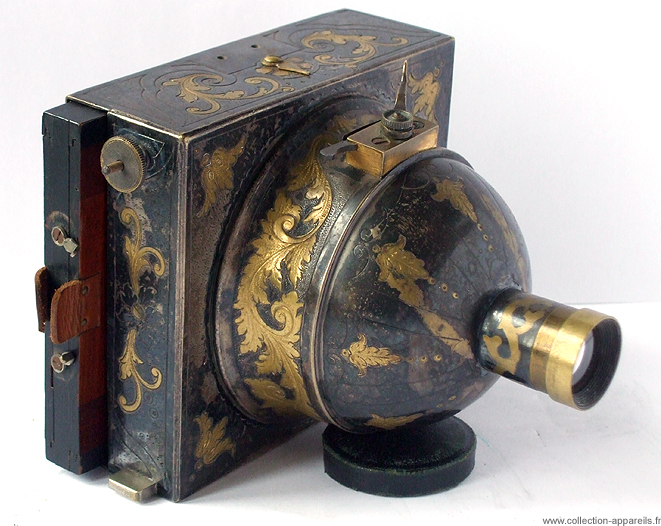 Compagnie Francaise de Photographie Photosphere no1, made in France, 1899 [link]
Discover the Collection d'Appareils
:::
YOU MIGHT ALSO LIKE:
.