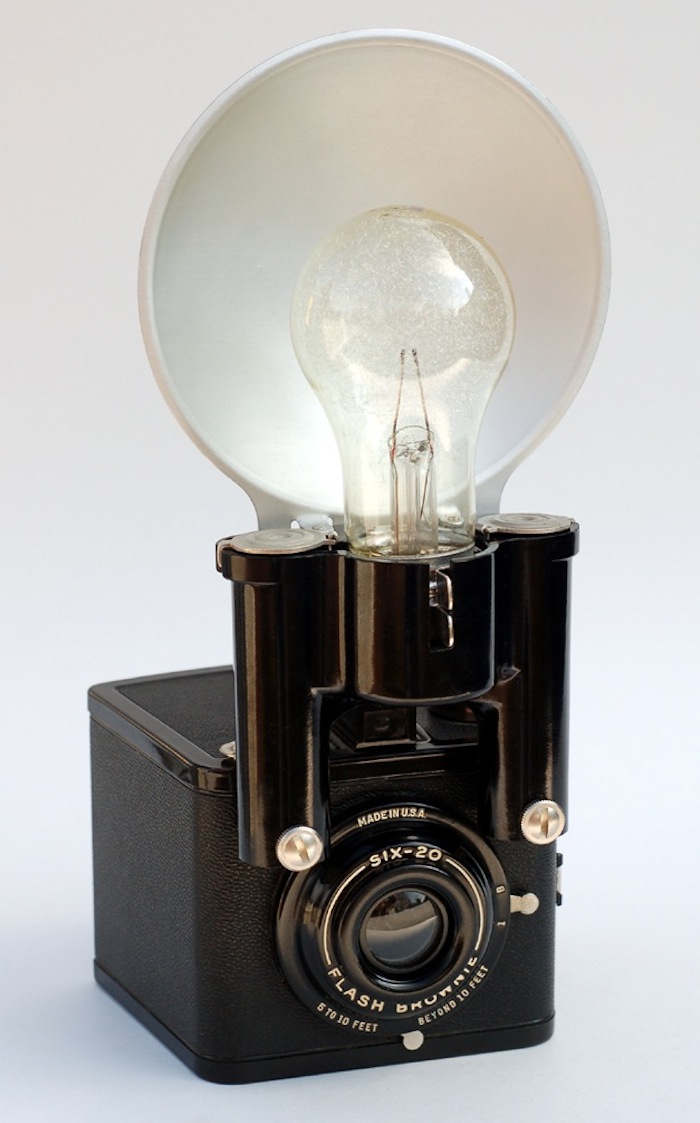 I found John Kratz and his camera collection on another one of my internet browsing adventures and was immediately taken with his sharp eye for vintage design. I love how some of his cameras just look like miniature art deco buildings. John is an experienced photographer, but here's the thing about his collection– he hasn't used a single camera…
People often ask me where I get my cameras (eBay), but the number 1 question I'm asked is, "Do you use them?" The answer is no. Some people consider that a crime, but hey, someone used them. I don't rule out the possibility of someday trying out one of my 120-film cameras, but I have no desire to re-spool film, or cut down film to fit into some camera that's sure to produce unremarkable results. I'm quite happy to shoot digital, especially since DSLRs became available. Why do I collect these things? I think each one stands out in its own way. Some may have been marvels of engineering. Some are just fun or silly, good for a laugh. Most of them, I think, are beautiful to look at – wonderful achievements in design. So no, I don't use (most of) these old cameras, but that doesn't mean they aren't loved.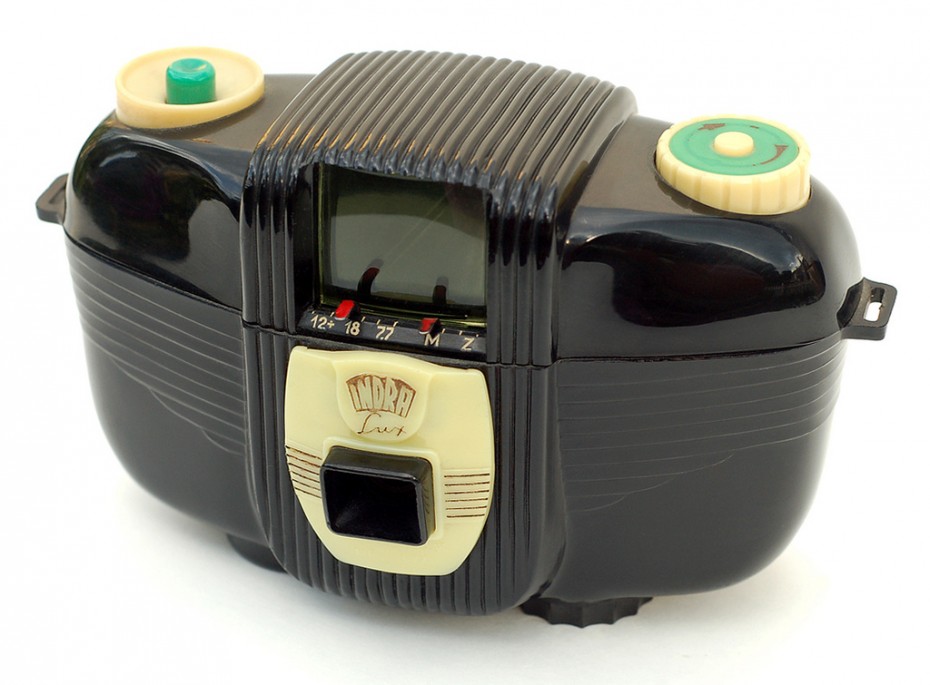 As product designs go, it doesn't get much better than this. Manufactured in 1949, the Indra Lux is a plastic camera that was made in Germany by Indra-Camera G.m.b.H. It's got a fixed-focus 60mm/f7.7 lens and a large viewfinder which is tinted to simulate what you'd see on black & white film. The Indra Lux was advertised as being unbreakable, and the purchase price included a one-year warranty against breakage. Unfortunately, they were actually quite breakable, a fact that most likely contributed to the demise of Indra-Camera; apparently they were only in business for a few months. These facts make the Indra Lux very rare, so I feel rather lucky to have acquired one, and at a good price. Not to mention it arrived intact from France!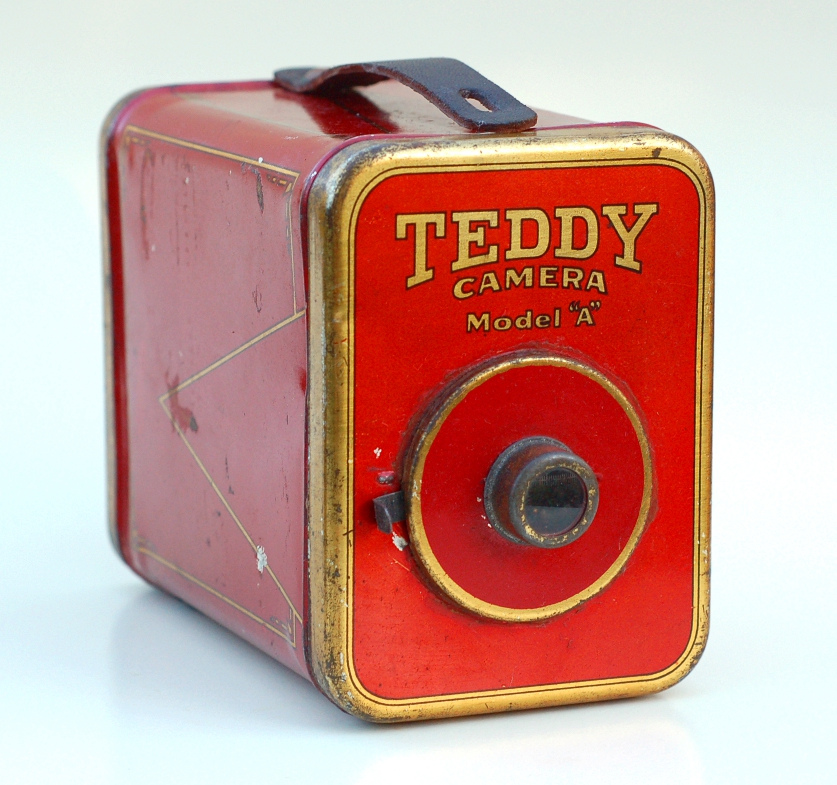 The Teddy Camera is a stamped-metal box camera, made c.1924 by the Teddy Camera Company of Newark, NJ. The camera came with a set of sensitized cards, and made 2″ x 3½" prints, developed on-the-spot within a tubular developing tank which attached to the bottom. My example is a bit banged up, and doesn't have the developing tank, but as a collector, you take what you can get with a camera as hard-to-find as this one is. I figured I might have a better chance of finding one locally, since I live in New Jersey, but not so much. This one came from Iowa. As you can imagine, this red and gold beauty is now among my favorite possessions!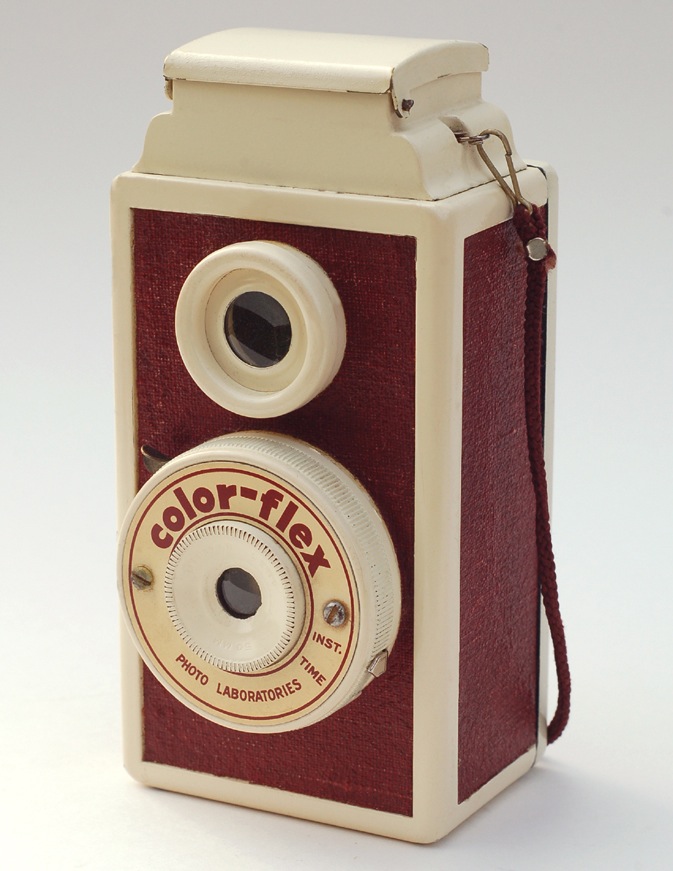 I think the appeal of this camera is obvious. How many cameras do you see that have cream-colored enamel and a burgundy covering? As far as I know, the styling of this camera is unique. The burgundy covering is interesting in that it has two textures at once; it's a linen-like fabric with a pebbled texture. The Color-Flex takes 127 film and was made c1947.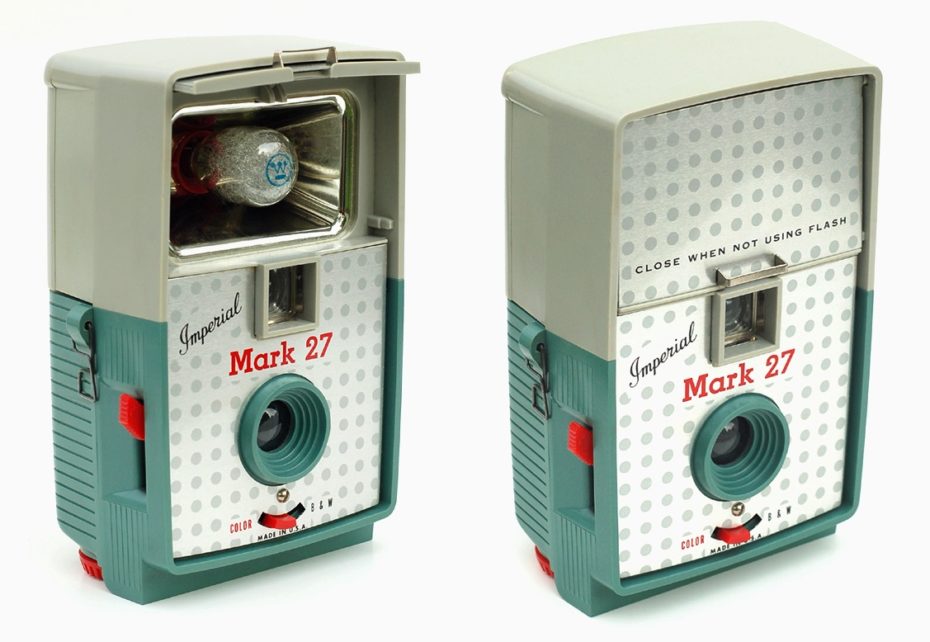 The Imperial Mark 27 is a nifty plastic camera made by the Herbert George Co. of Chicago, probably in the 1950s. It's called a "3-way flash camera" on the box, and a "3-in-1 hideaway flash camera" on the instructions. Apparently, this is because the camera can: 1) Take color slides 2) Take color snapshots 3) Take black & white snapshots.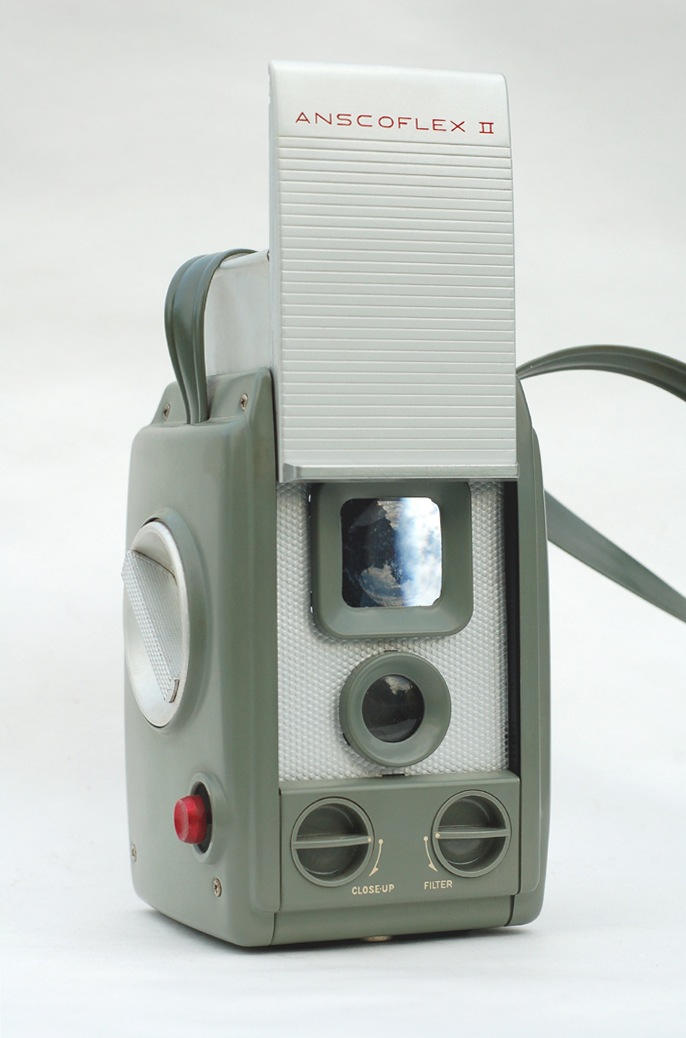 If you have an interest in classic cameras, you're probably familiar with this one. Designed by Raymond Loewy and made of metal, the Anscoflex features a protective front panel which, when raised, opens the viewfinder cover at the top via a clever mechanical linkage. The difference between this model and the original Anscoflex is that this one has the addition of a close-up lens and yellow filter, which swing into place by turning the knobs beneath the lens. Made by Ansco (New York) c1954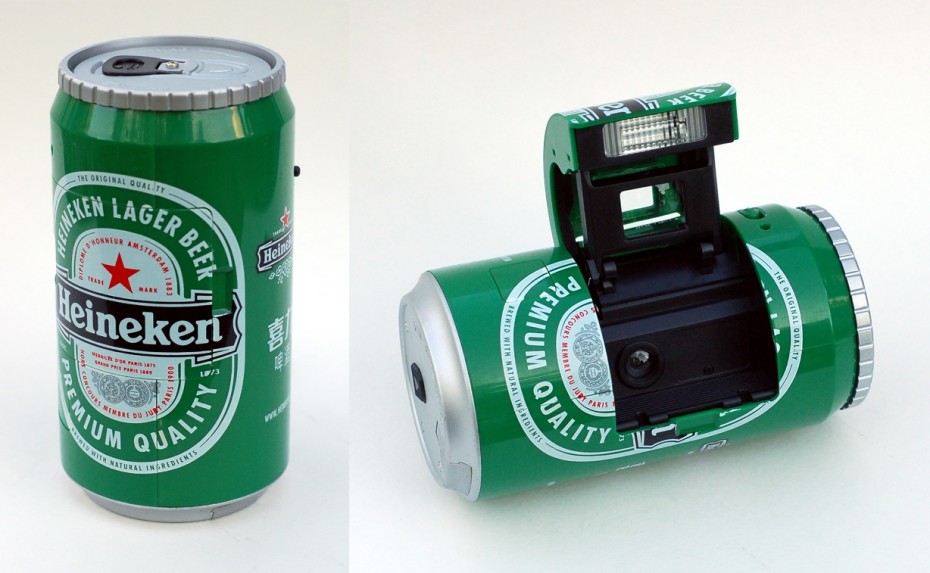 Not exactly an antique, but who wouldn't want at least one "can camera" in their collection? These 35mm cameras were made with many different labels, to look like various brands of beer and soda. Variations were also made, in the form of oversized batteries, film cartridges, etc. Manufactured in Hong Kong, c1998.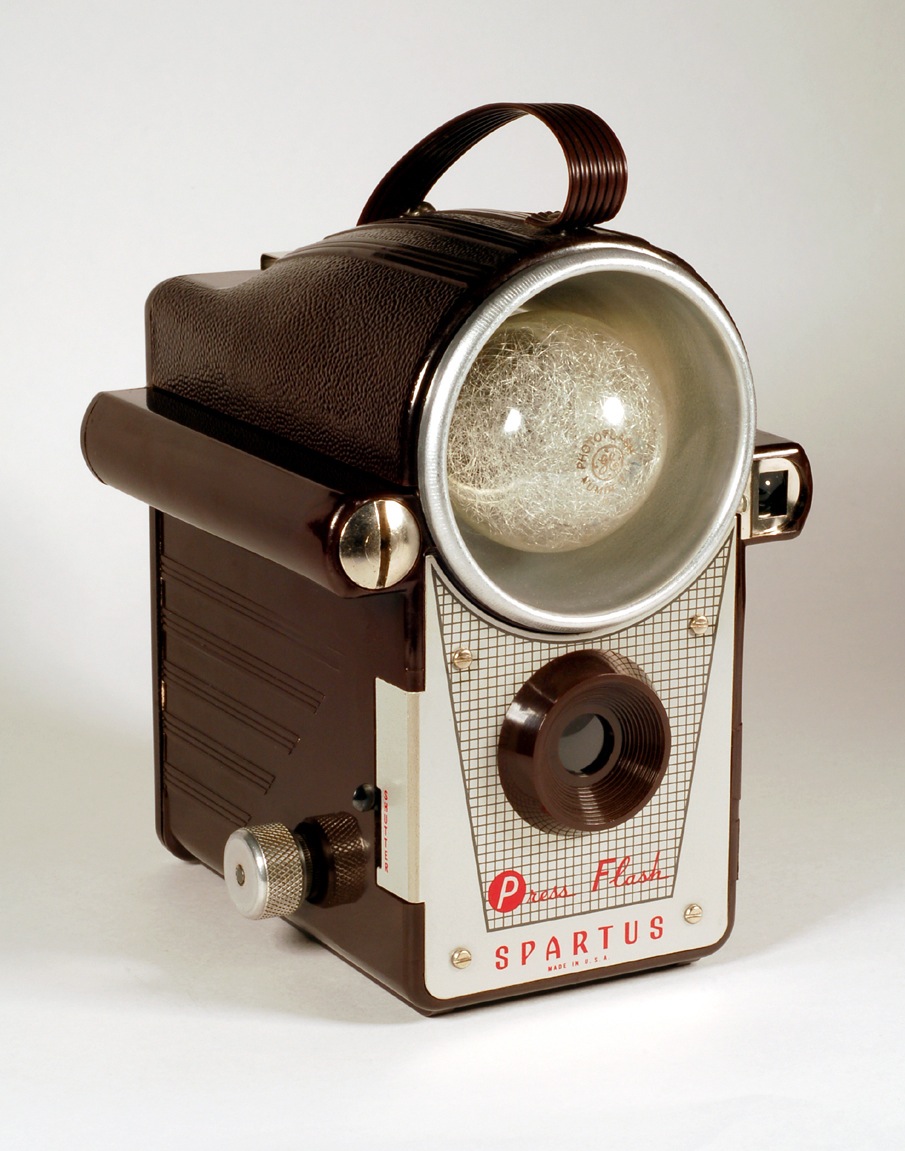 This camera has also been manufactured as the Falcon Press Flash, the Galter Press Flash, and the Regal Flash Master. Made from 1939 to 1950, it was the first camera with a built-in flash reflector. This mint example is unusual because of the uncommon faceplate design, and because it's made of brown bakelite rather than the usual black.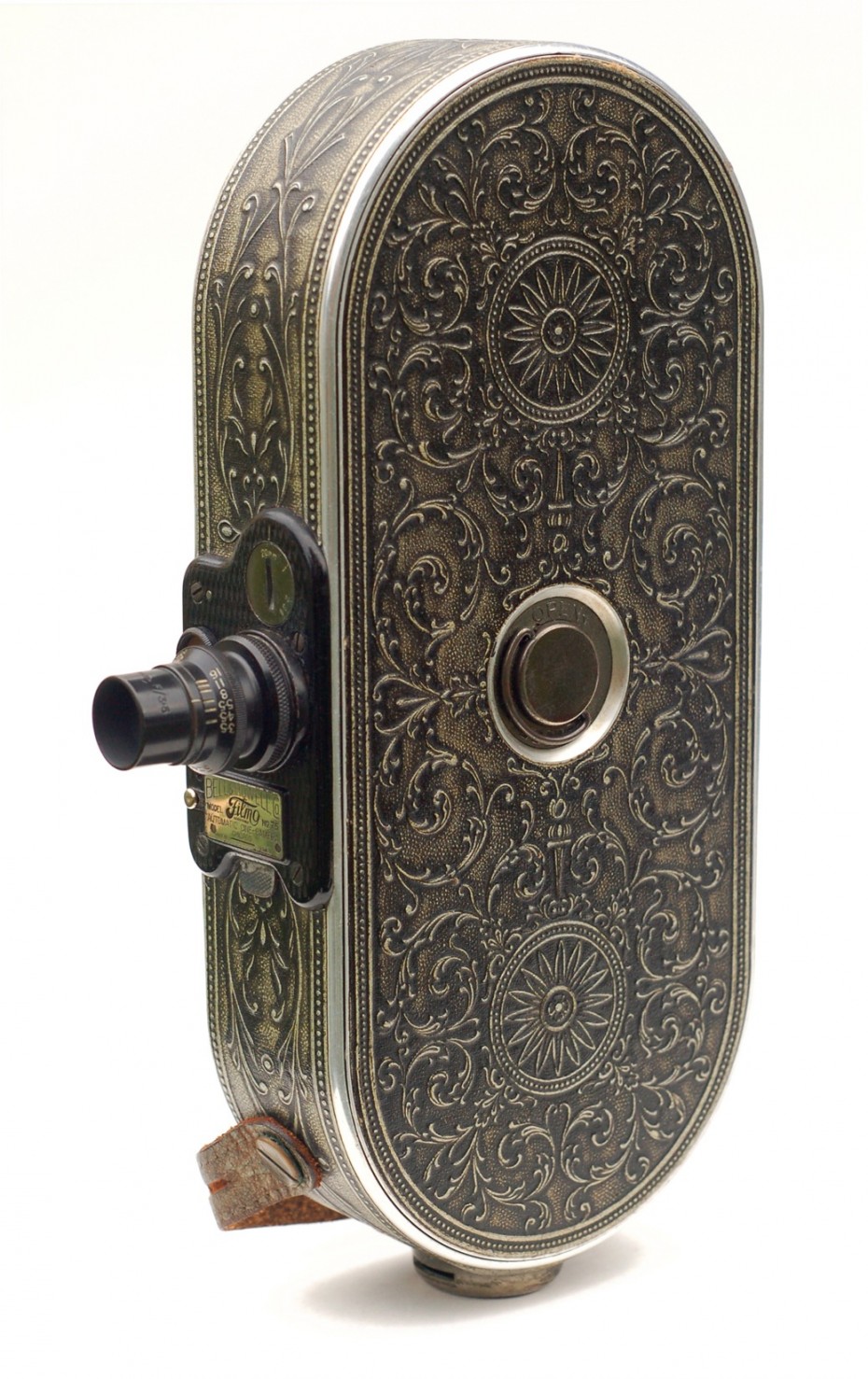 The beautiful Filmo 75 is a 16mm movie camera, produced in Chicago beginning in 1928. It was intended for amateur use, but the quality of its construction makes it easy to see why Bell & Howell cameras were the tools of choice for Hollywood studios in the early days of motion pictures. Although rather heavy by today's standards, the 75 was quite compact for its time, and was marketed as a ladies' camera. Its ornate leather covering was available in Walnut Brown, Ebony Black, and Silver Birch. Truly a work of art.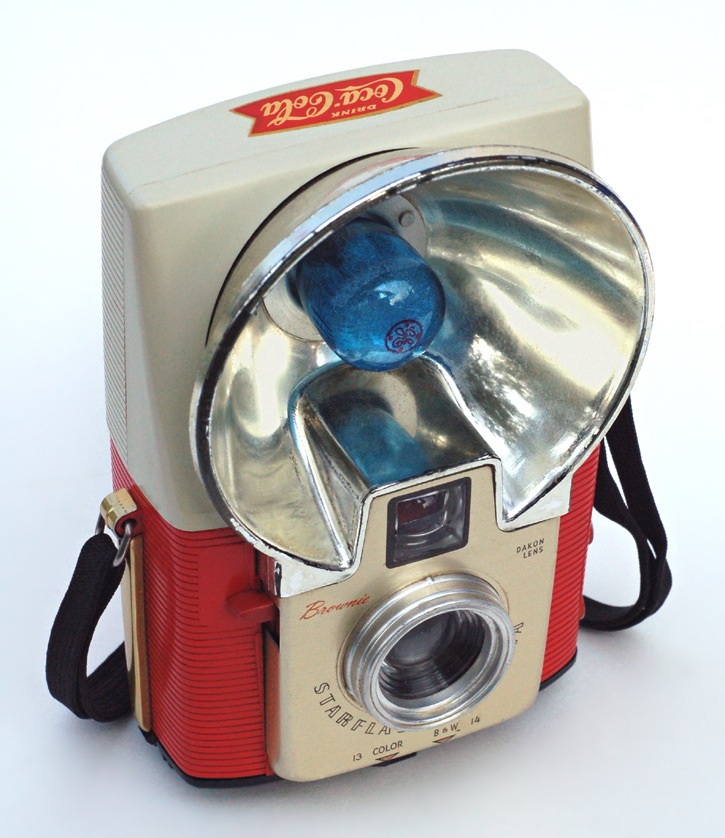 Like so many Kodak cameras, the Brownie Starflash sold well in its time, making it rather common for collectors today. Not so common is this two-tone version, available only as a premium and not for retail sale. It sports appropriate Coca-Cola colors as well as a "fishtail logo" decal on top. The original black Starflash was introduced in March of 1957. Other colors followed a year later, and production of the Coca-Cola model began in October 1959. This example was made in November of 1959.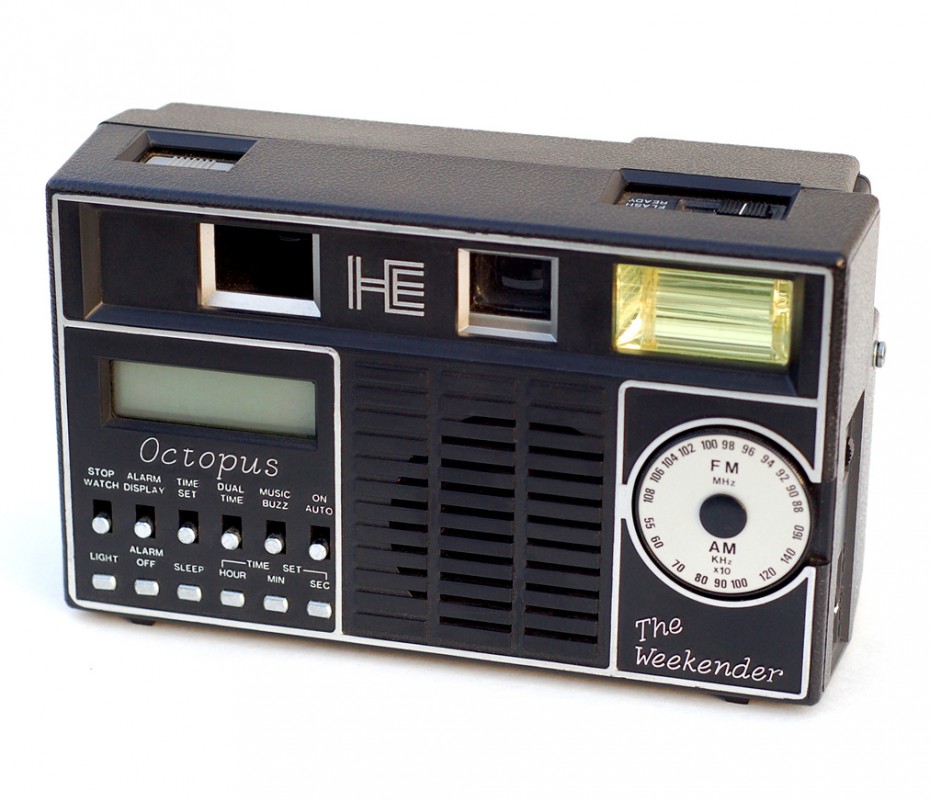 This is a multi-function device, made in 1983 by Hendren Enterprises of Harrodsburg, Kentucky. The unit consists of a 110 camera, AM/FM radio, flashlight, clock, stopwatch, dual time zone indicator, wake up alarm, and a storage compartment. Hendren Enterprises wasn't in business for very long, as the Octopus apparently had quality issues. This may have been more tolerable if it had been inexpensive, but this thing sold for about $75 in 1983. If they created a product with all those functions today, it would probably be the size of a credit card, and free with the purchase of a magazine subscription! In 1990, the trademark registration was cancelled, and these days there are several products called The Weekender.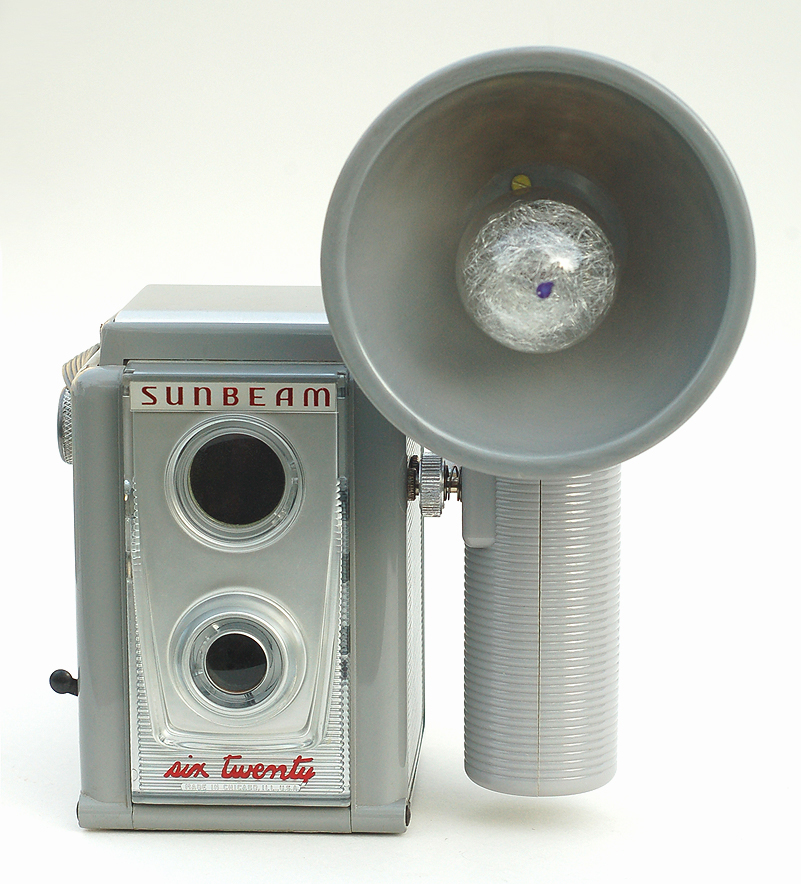 The Sunbeam Six Twenty is a simple plastic TLR-style box camera, made in the 1950s.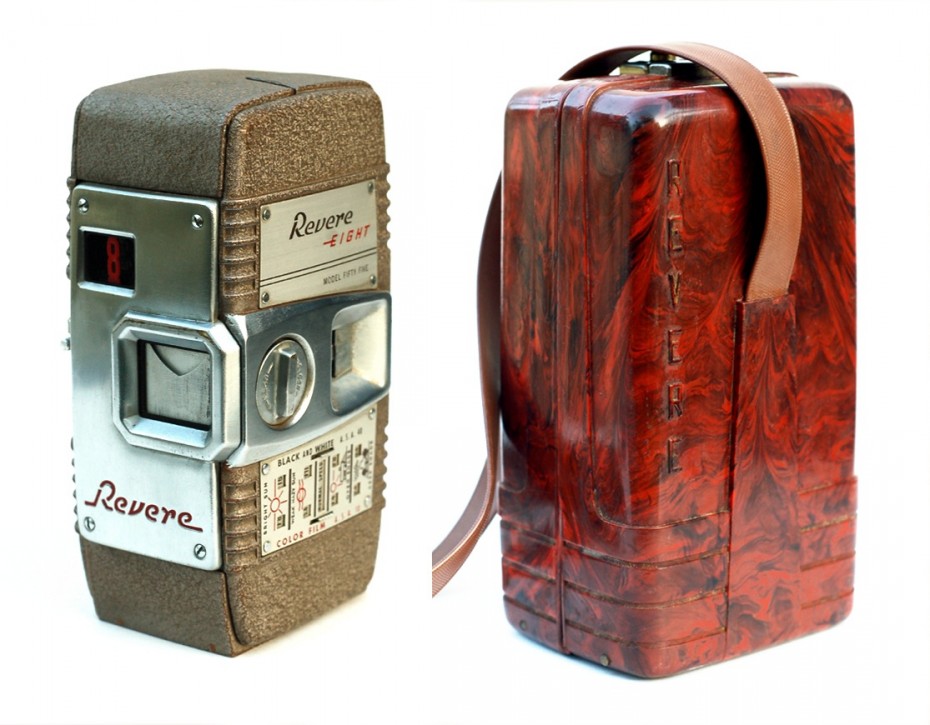 Revere Model 55. I generally don't collect movie cameras and would normally not buy one as unremarkable as this, but one look at the case should tell you why I bought this one.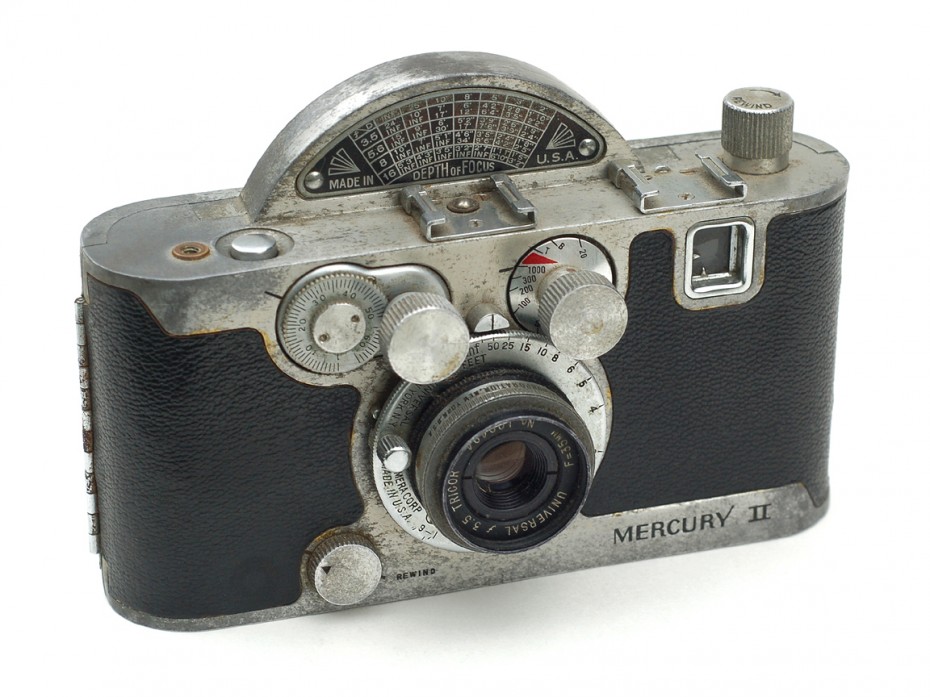 Postwar reincarnation of the Mercury I (c1945). Universal Camera Corp. suspended their normal camera-making operations during World War II in order to manufacture binoculars for the armed forces. By the time the war ended and Universal resumed camera production, they had decided to revamp the popular Mercury in order to allow it to accept standard 35mm film rolls. The Mercury II was made from a different alloy which quickly lost its luster, making clean examples hard to find today. Also, the Mercury II was covered with a synthetic material instead of the leather found on the Mercury I. This may have necessitated the use of a different adhesive, as most examples of the Mercury II have what looks to be glue that has oozed out at the edges of the covering. Despite these issues, the Mercury II was a popular camera in its time, and popular among collectors today.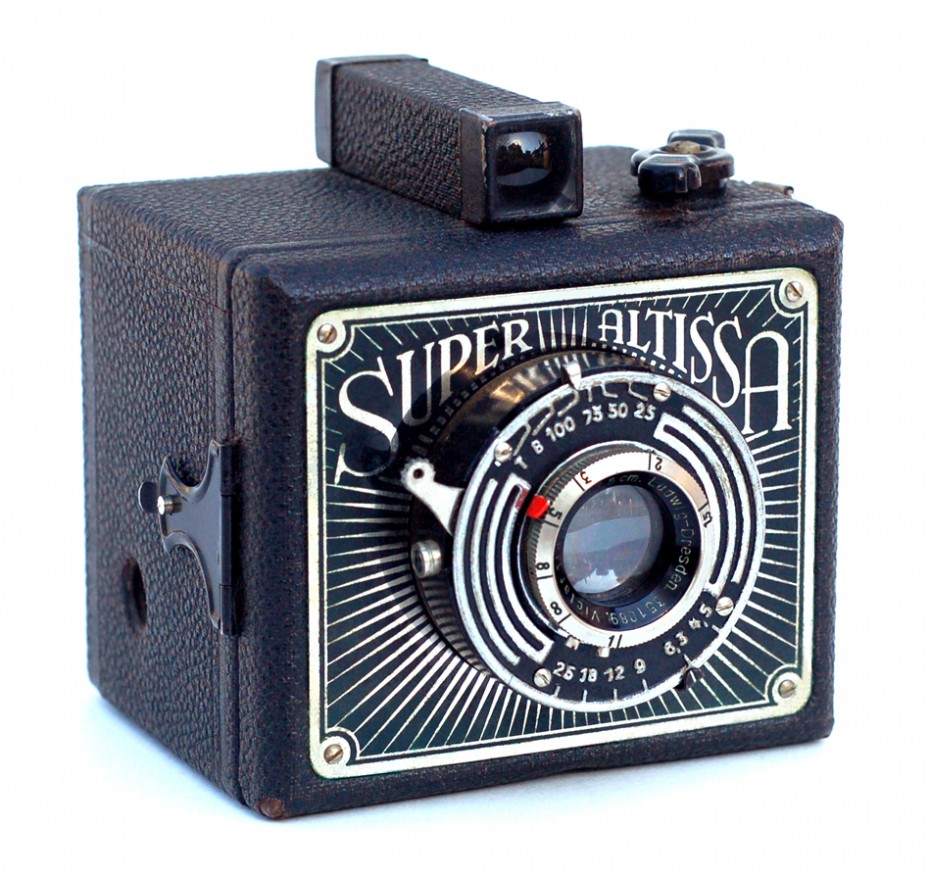 The Super Altissa is a leather-clad box camera for 6x6cm exposures on rollfilm. Aperture & shutter speeds are selectable, and it's got a focusing lens. This rare and beautiful camera was made c1938 in Dresden, Germany by Eho-Altissa.
The popular and aptly-named Ansco Panda is a TLR-style box camera that takes 620 film. Many sources say the Panda is made of bakelite, but I'm 99.9% certain it's not. The word most often used to describe the Panda is "cute", and with good reason. This example has a stamp inside that says 7-48. If it's a date stamp, that would make it 60 years old!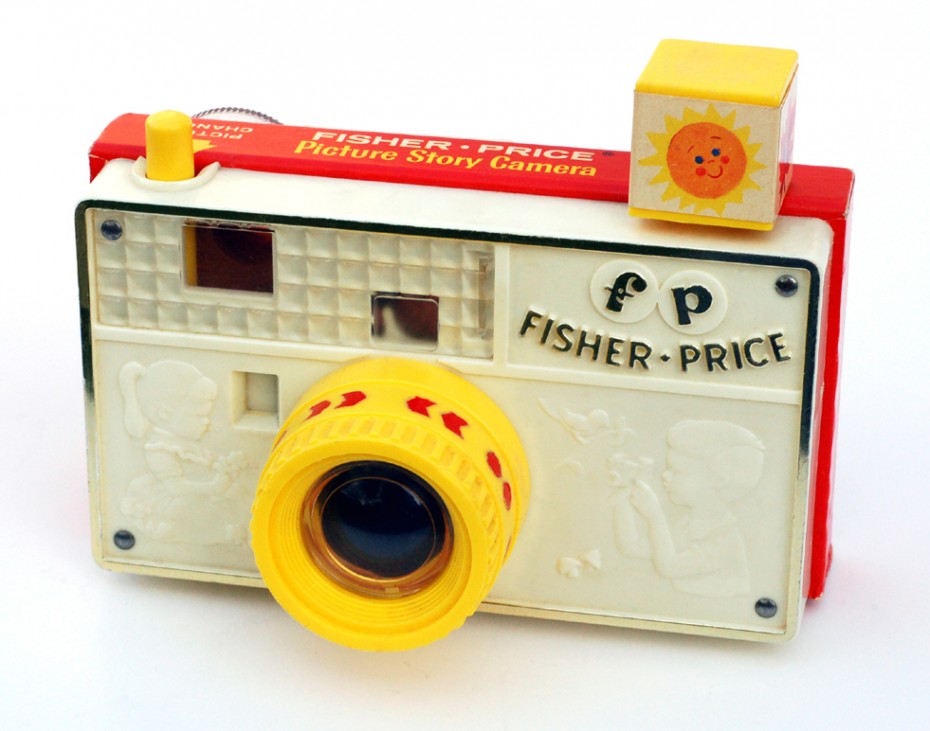 This is my first camera ever — the Fisher-Price Picture Story Camera. It's made of paper-covered wood and plastic. Inside is a little disc with eight scenes. When you press the shutter button, the scene changes and the flash cube turns. The flash cube has a picture of the sun on one side, then a brown leaf, a snowflake, and a flower, representing the four seasons. There's also a transparent wheel at the back (seen behind the shutter) with colors in it. You look through the second viewfinder and turn the wheel, and you can see the world through the changing colors. The lens turns but has no actual function. This wonderful toy was made in 1967.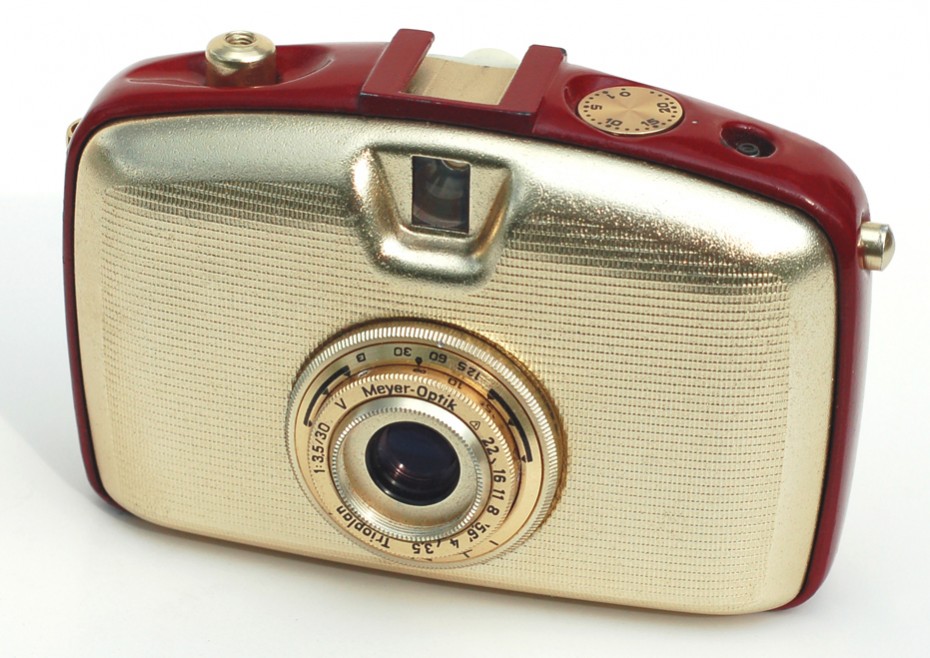 It was only $13, so there was no way I was passing it up! This is the first model of the Penti, made in Germany in 1959. It takes 35mm film in special cassettes.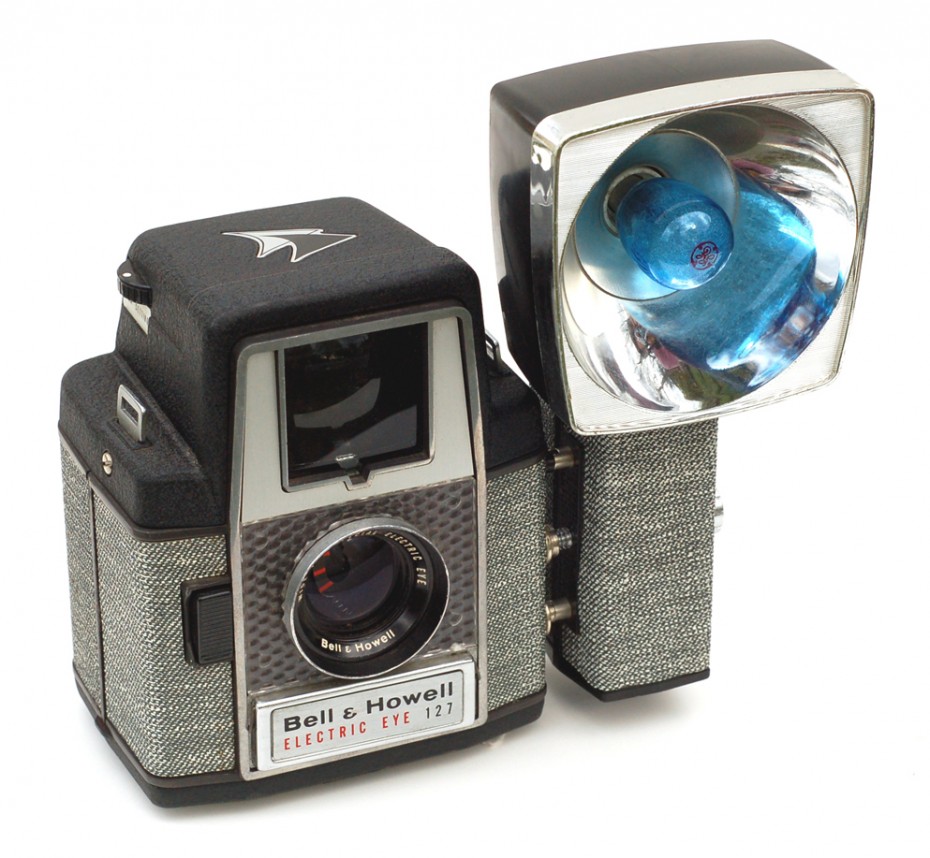 Bell & Howell was primarily known for their popular movie cameras, but they made several still cameras as well. The Electric Eye (c.1958) is a metal camera that was available in two color schemes: silver enamel with black leatherette, and black enamel with a grey, denim-like covering, as on this example with its matching flash unit.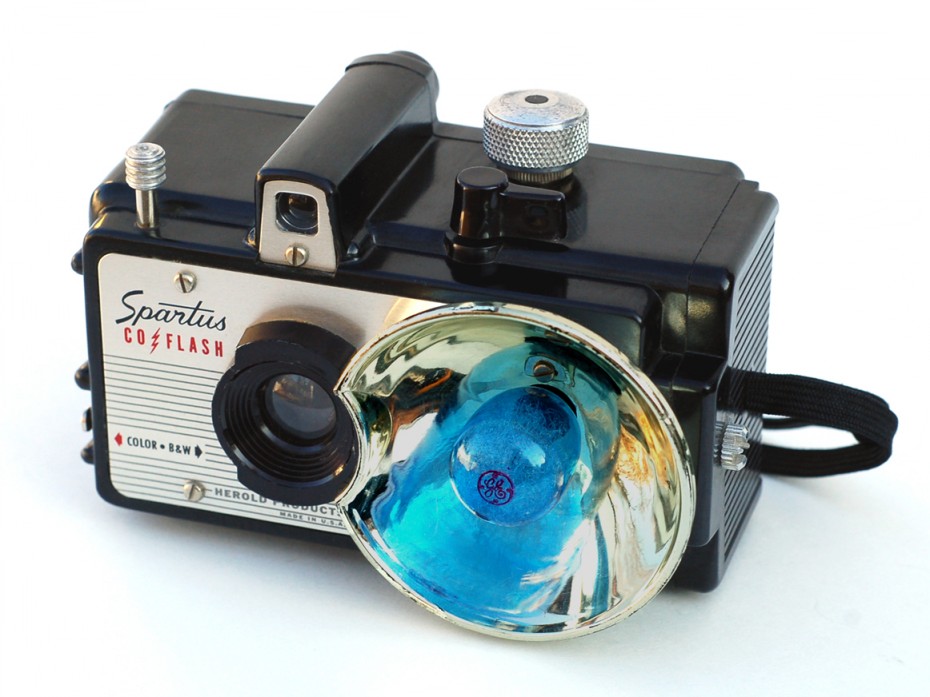 Made c1960 by Herold Products of Chicago, the Spartus Co-Flash is a small bakelite box camera for 127 film. All you strobists out there will appreciate this great design, with the built-in flash reflector as close to the lens as can be!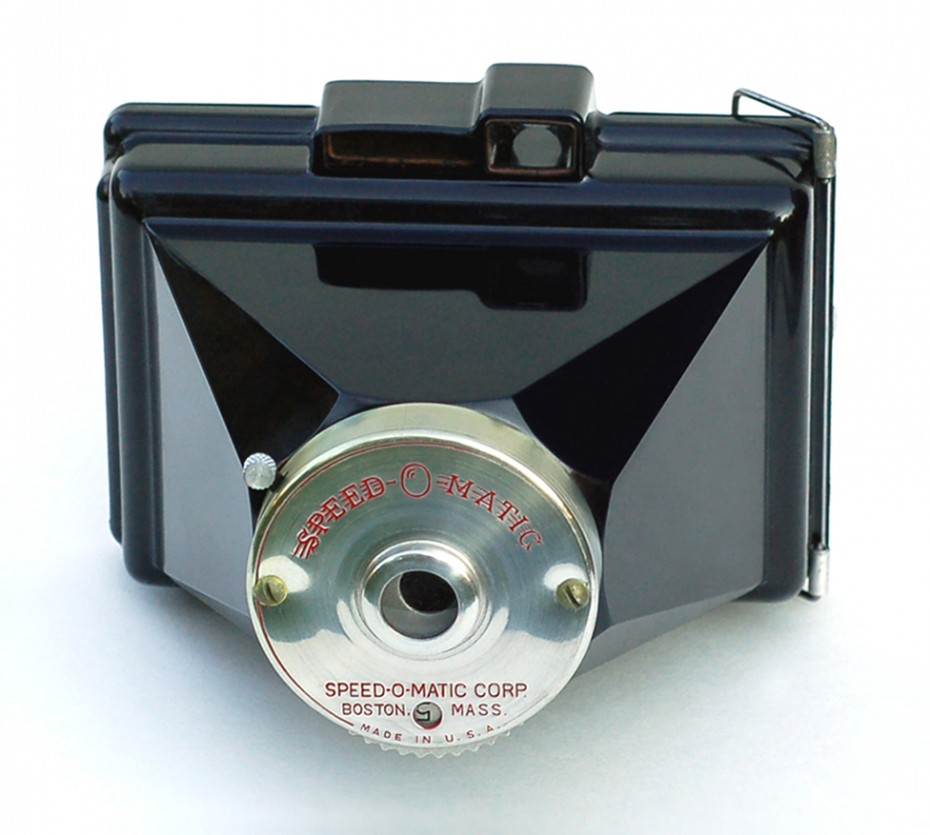 The Speed-O-Matic is an instant-picture camera, manufactured in 1948 by the Speed-O-Matic Corporation of Boston. The process required to make pictures with this camera was actually anything but speedy. You had to load the film pack into the camera, shoot the first picture, then remove the film pack, flip it, reload it, and shoot the second picture. At this point, you'd remove the film pack, plug it into a development tank (provided in the camera kit), and transfer the exposed paper sheets into the tank via a sliding metal injector. Next, you fill the tank with "solution 1", wait two minutes, empty the solution, and rinse the tank with cold water. Fill with solution 2, wait one minute, rinse. Fill with solution 3, wait 45 seconds, rinse. Fill with solution 4, wait another minute, and rinse once again. This was required every two shots! It probably seemed fast though, because of the cool Speed-O-Matic font on the front!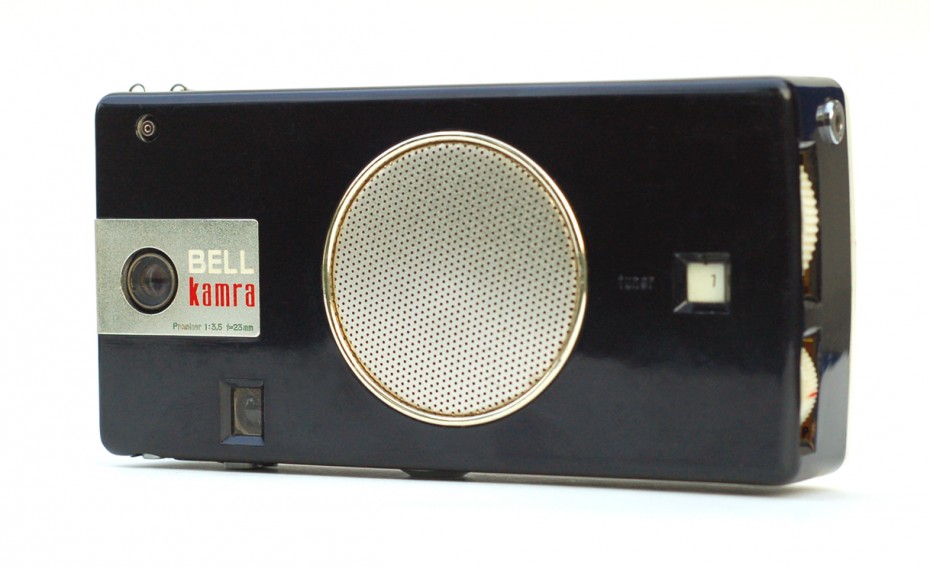 The Bell Kamra is a transistor radio with a built-in camera. These nifty items were manufactured in 1959 by Bell International Corp. The full name is Bell Kamra Model KTC-62, but I don't know why they needed a model number, since this was the only "kamra" they made.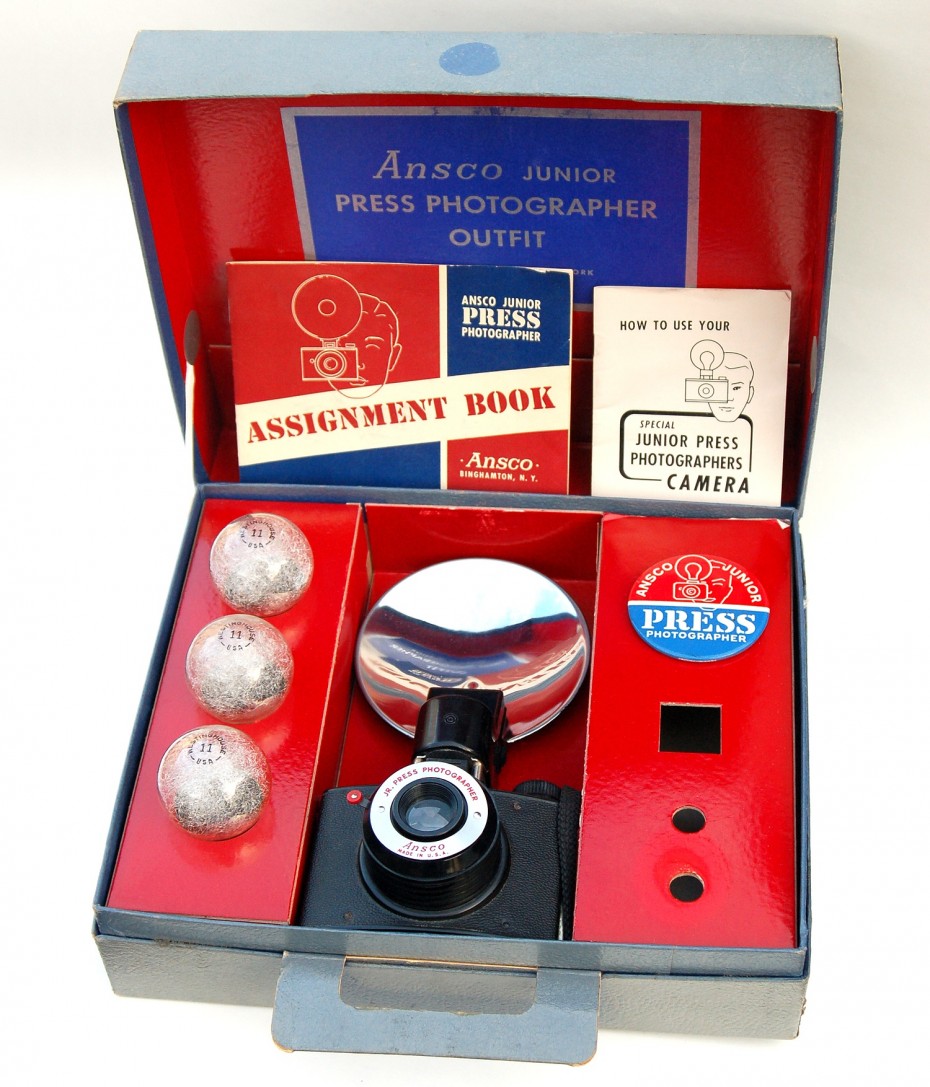 Introduced for the 1949 Christmas season, the Ansco Jr. Press outfit was created for children to play photojournalist. The outfit came complete with everything seen in the photo, plus two batteries for the flash unit and a roll of film (missing from this example). For the 1950 Christmas season, the outfit came in a restyled "luggage-type" carrying case with rounded corners. Advertisements for the 1950 version state that the outfit includes a "special portrait lens" and an identity card. I do not know whether the 1949 version included those items as I cannot find an ad for the '49 outfit. The camera itself is actually an Ansco Pioneer with a "Jr. Press Photographer" nameplate added to the front. Of course, the best part of the outfit is the PRESS PHOTOGRAPHER button, which will certainly allow me access to exclusive red-carpet events!
Discover John Kratz