Before the trail grew cold, you could once catch a bus from London to Delhi with just $45, and for a little extra, you could take the scenic route into the Indian subcontinent via Turkey, Lebanon, Kashmir, Iran and Afghanistan, stopping at hotels, restaurants and cafés along the way that catered almost exclusively to cannabis-smoking Westerners.
They were known as the overlanders; mainly young Europeans, North Americans and Australians in search of alternative tourism, who  traveled as cheaply as possible from the late 1950s to the 1970s, networking with other adventurers and hippies as they traversed the off-beat routes by bus, rail or thumb. The roads were also shared by the overlanders who chose to make their own way across the foreign landscapes in banged up second-hand cars, VW vans and motorcycles, many of which would never make it back west (vehicle or perpetual traveler).
I found myself curious to discover this lost and forgotten era of adventurous travel, so I went digging for photographs and stumbled upon a pretty interesting image pool on Flickr filled with old snapshots taken by veterans of the trail.
Pictured above: Sandy and Iris, an English couple who had ridden out to India on a BMW motorcycle and sidecar combination. 
Australians Bruce Thomas and Stuart Harper purchased a 1961 Fiat 600 Multipla for $175 (perhaps $2000 today) for their overland voyage (see the full album here). Pictured in Rameswaram,  1969 (c) Bruce Thomas
In the late 1960s, more and more students in search of an escape and hippies in search of enlightenment, began to sell their record collections and save up for the voyage of a lifetime to the "mystic east". The Beatles had just been on a highly publicised visit to India in 1968, and with no internet or Lonely Planet guides, cheap tickets and tour operators were hotly advertised in the underground press and music magazines.
The Fiat overlanders decide to travel on together with Sandy and Iris, who they met at the Ellora caves. Pictured in Rajasthan, India (c) Bruce Thomas
Loading an overland car onto a small ferry, the TSS Irwin Talaimannar, in Sri Lanka, 1969 which would cross the narrow Palk Strait to India (c) Bruce Thomas
Hippie chicks in Kathmandu, 1969, image (c) Bruce Thomas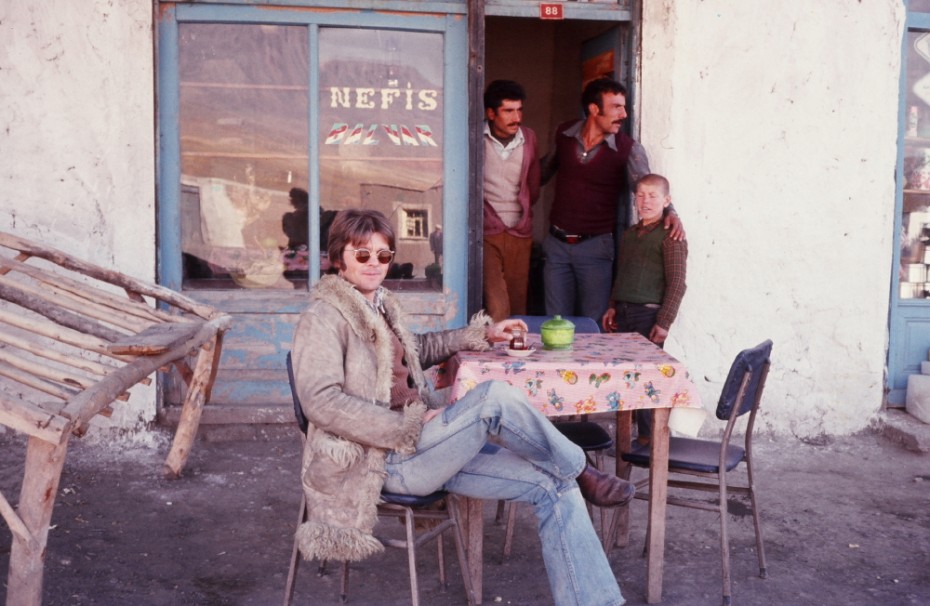 Overlanders were not in search of luxury accommodation; wealthy or not, the goal was to rough it and "go native". Overlanders on the hippie trail often adopted the native style of dress and spent a lot more time interacting with the locals than traditional tourists in other parts of the world.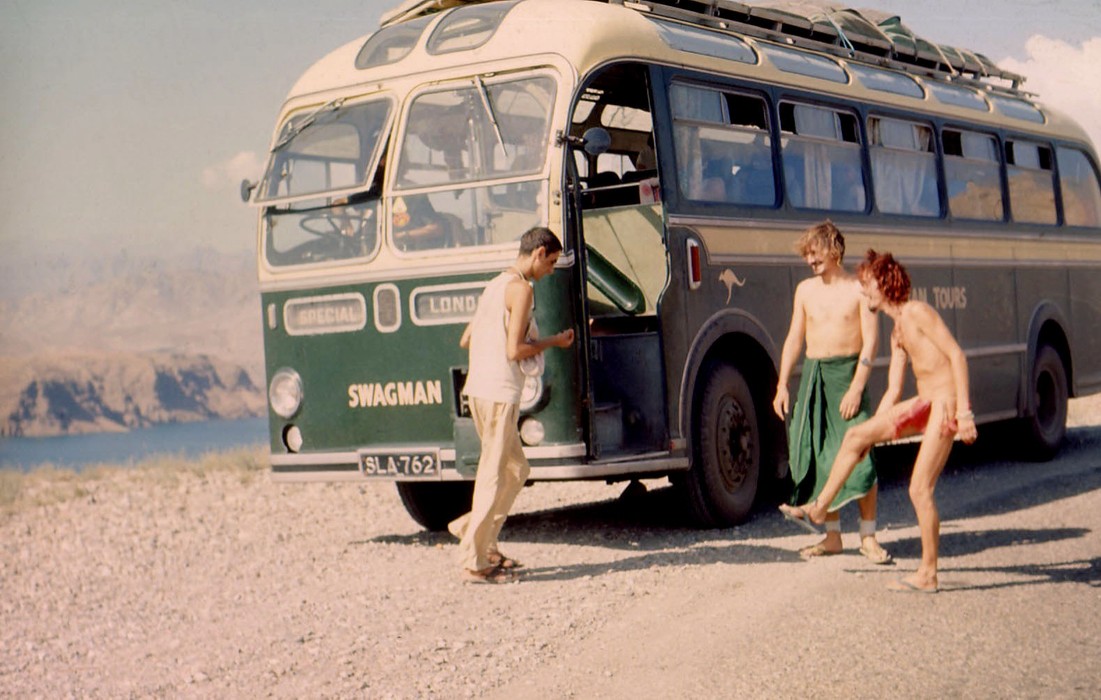 Swagman overland bus, Kabul, 1970
But of course, they were also there for one very specific reason: pot. What defined the hippie trail was that it led to the major hashish-producing centres of the world.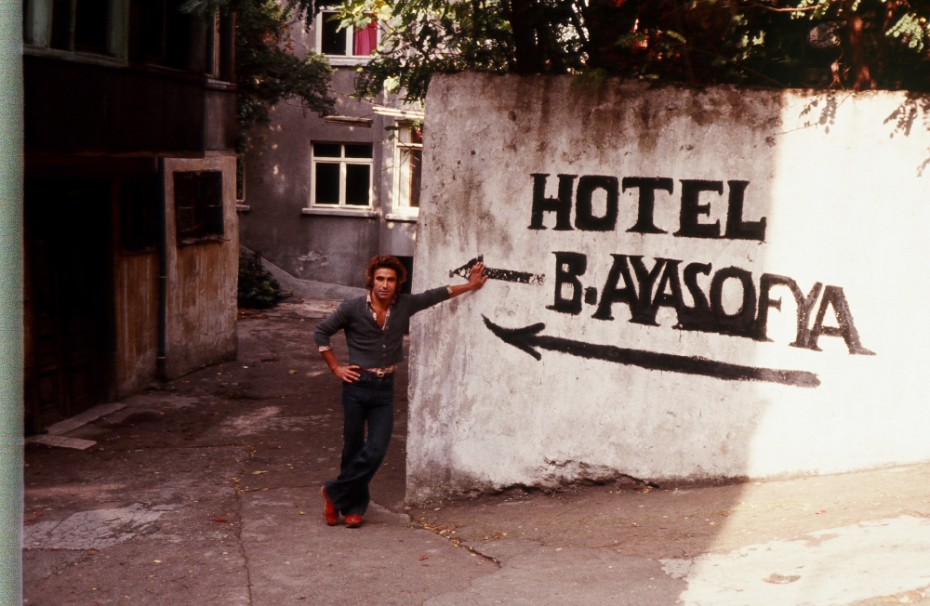 Where the European rail routes ended in Turkey is where the hippie trail essentially began. Overlanders could catch cheap local transport from Istanbul or meet other western travellers with vans and talk their way into hitching a ride with them. This usually went down at the infamous hippie spot in Istanbul, the Pudding Shop, the nickname of the Lâle Restaurant that served cheap but excellent Turkish pudding. It was just about the only place in the city where tourist information about transportation to Asia was readily available.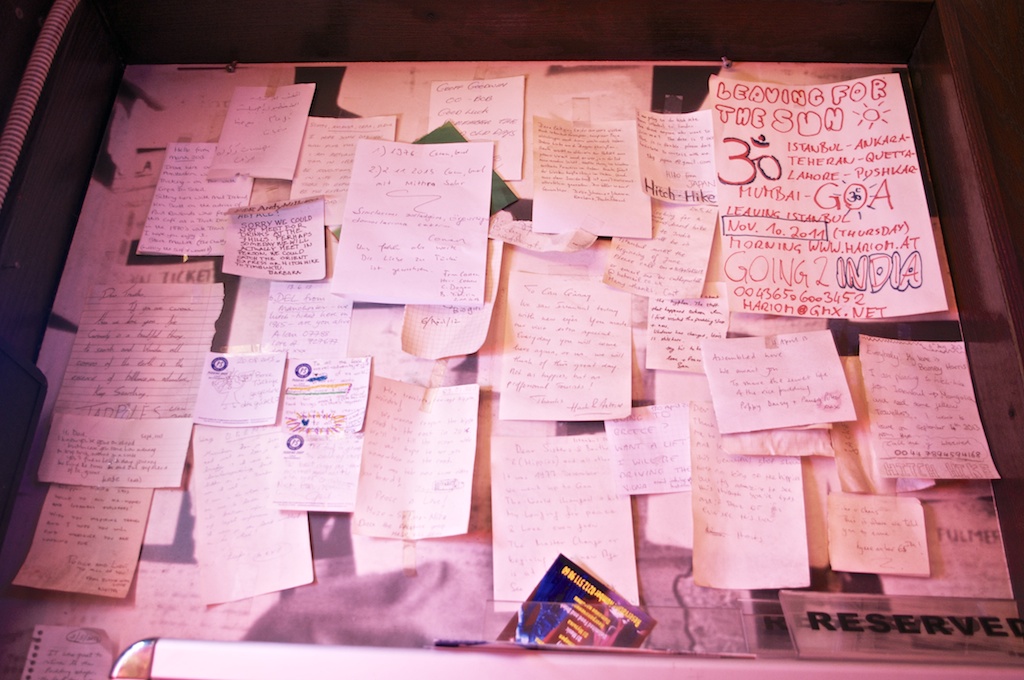 The owners put up a bulletin board that was used by many overlanders of the 1960s and 70s to communicate with friends and post open love letters to fellow travellers they had met. The restaurant is still going strong today and some of those messages are even still up posted up on the board as homage to the establishment's rich traveler history. However, the hippies that passed through forty years ago would find the restaurant has sadly lost much of its original character.
Some routes headed through Lebanon, the main hashish producer of the Middle East for a very long time. Next up would be Iran, (then a secular country run by the Shah and on to Afghanistan), the ultimate destination of the hippie trail, a land where foreigners were made very welcome and where a large proportion of the population used hashish themselves. Kashmir, Pakistan and Northern India were also popular stop-offs for enthusiastic cannabis smokers.
Overland travellers in an Afghan lodging in Bandamir, 1968 (c) Curt Gibbs
A western tour operator in Kathmandu advertises the Trans-Asian Shuttle on the back of an embroidered shirt (c) Rocket Jon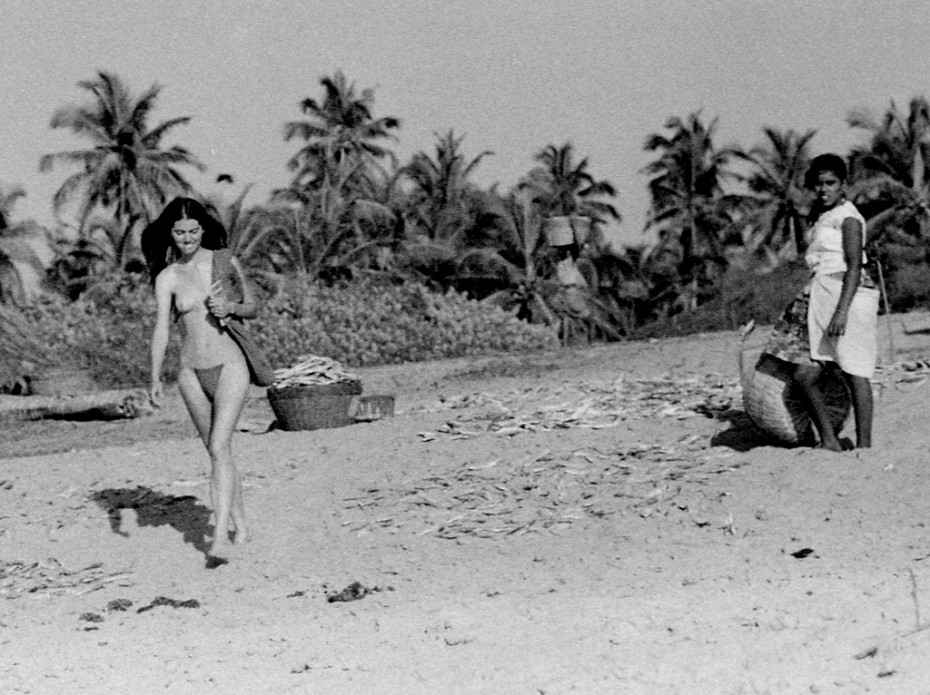 A hippie girl hits the beach at Calangute while a local woman drying fish in the sand makes a break to look, 1972 (c) Bo Kage Carlson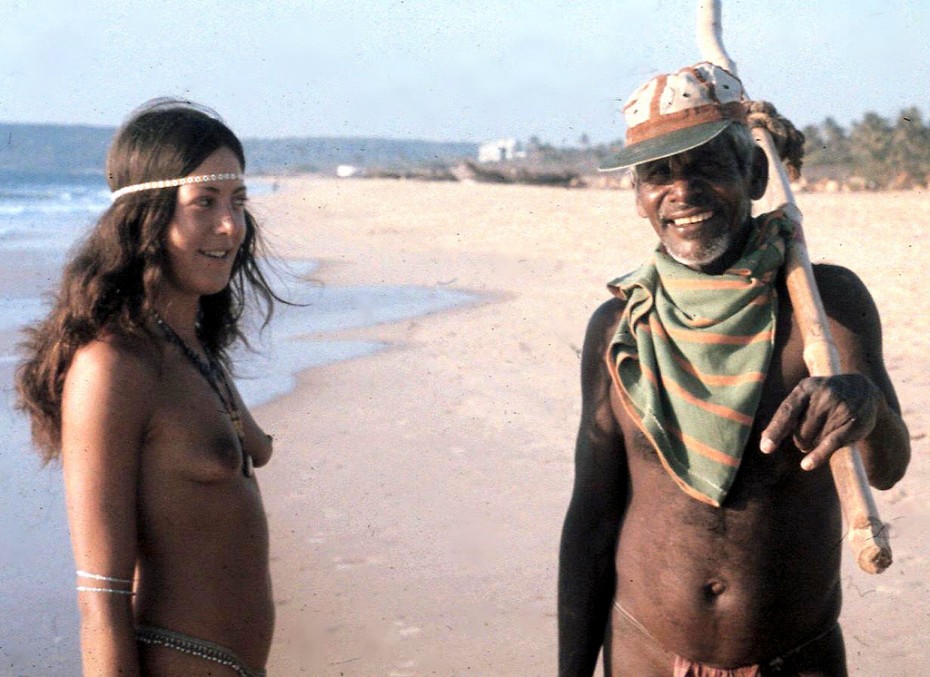 Hippie girl chatting with local fishermen, both in similar garb (c) Bo Kage Carlson
"No matter how isolated the place seemed to be a couple of Afghans would inevitably stop by for a brew." (c) Rob Smiff
While some overlanders were rumoured to have made it from Damascus to New Delhi on $6 and spent months traveling the east, others would eventually run out of money, occasionally get into trouble and land themselves in jail, or even worse, have to be flown home by their parents! A determined few found ways to support themselves and still live there today, mostly in India.
Hitch-hiking from Tehran to Turkey (c) Dimayon
But in the late 1970s came the end of the road for the overlanders. 1979 was the year Russia invaded Afghanistan, plunging the country into years of armed conflict, while in neighbouring Iran, the Shah was overthrown and 52 American diplomats and citizens were taken hostage at the US embassy in Tehran.
Today, such a welcome mat for Westerners in countries such as Afghanistan and Tehran is hard to imagine. The overland hippie trail is long lost, but hopefully not forever…