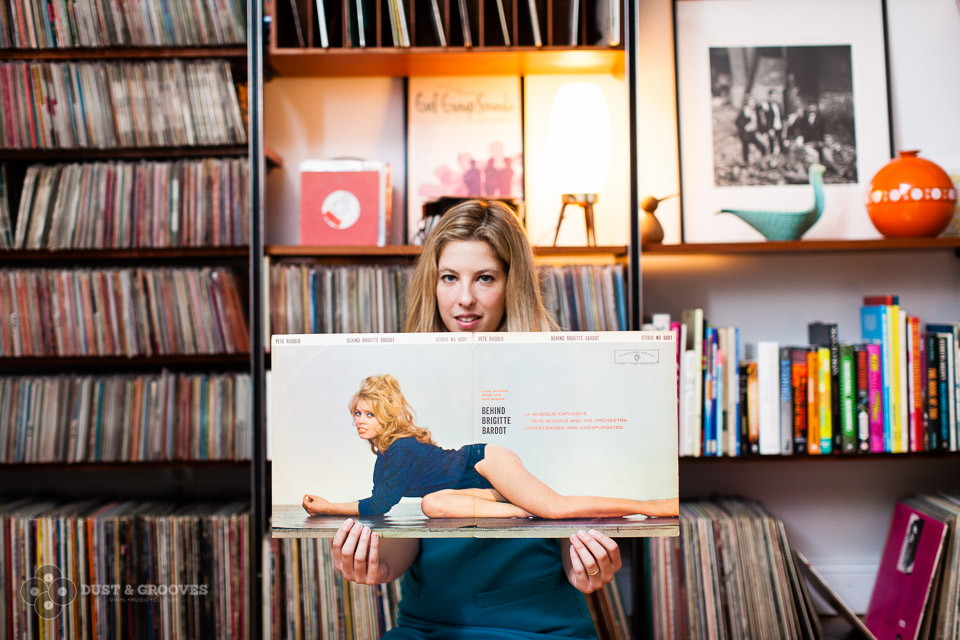 Some of the most interesting people I know also happen to be vinyl collectors. Maybe it's because they spend so much time in record shops digging through the past, but they always have such great stories to tell. And when I'm invited over, I secretly enjoy observing them handle their collection; so carefully, so contently, temporarily lost in their own little world. Wherever the records are kept and arranged is usually the most visually alluring part of their home.
Eilon Paz photographs and interviews record collectors. His website Dust & Groove started out several years ago as nothing more than a way for the Brooklyn-based photographer to make use of his idle hours. Eilon, who emigrated from Israel, also collects records on the side and thought it might be fun to start taking photos of people whose record collections were both "larger and weirder than his own". Thanks to a Kickstarter funded roadtrip, he began travelling the world, from Paris to Ghana to Cuba, unearthing the soul of vinyl music culture. The people he met and portraits he took would become part of the fascinating online archive, Dust & Groove. His website is now a book.
I've eagerly gone through them all and picked out my favourite interview quotes; so here is a taste of some of the collectors Eilon has featured…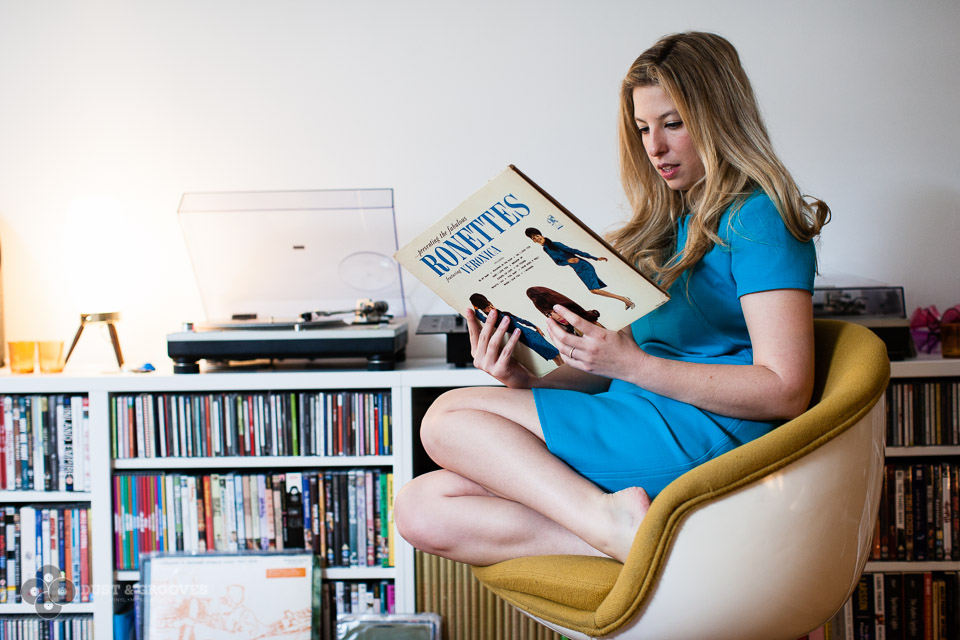 Sheila Burgel, the 60s Girl Pop Collector born in Tehran, Iran, in 1977, raised in New York City, currently living in Brooklyn.
"I have always been partial to the female voice. I remember when my dad told me the Bee Gees weren't women. I was devastated."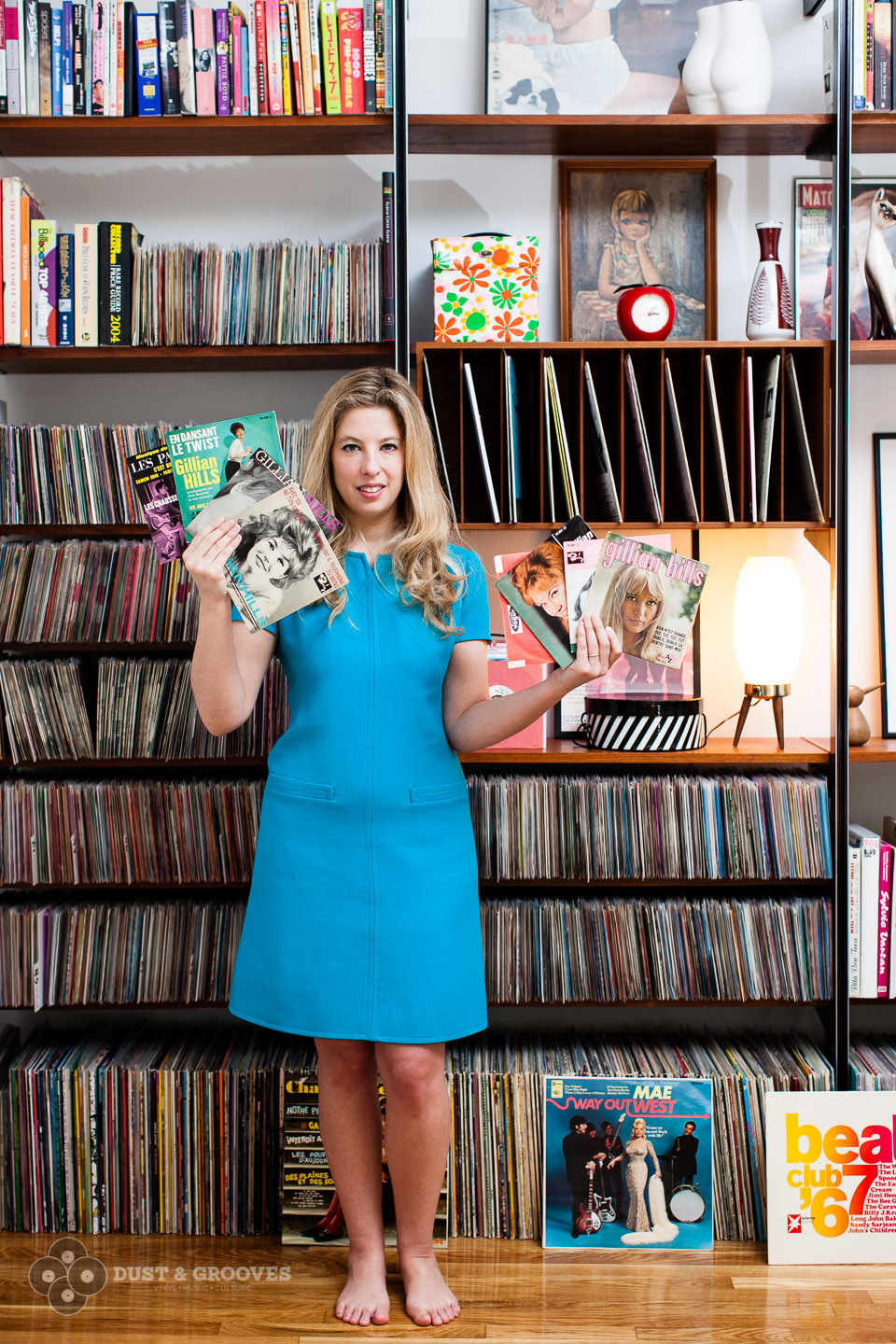 "I think many would agree that the '60s were the renaissance period of the 20th Century, especially for music […] This was a time when every songwriter, producer and artist was striving for a hit, and as a result the output of material was top of the line, exceptionally high in quality. Every drop of talent, every gorgeous melody was put into those records because competition was fierce, and only the greatest records made the top of the charts."
See the full feature with Sheila on why she thinks there are fewer female collectors and her take on Brigitte Bardot style.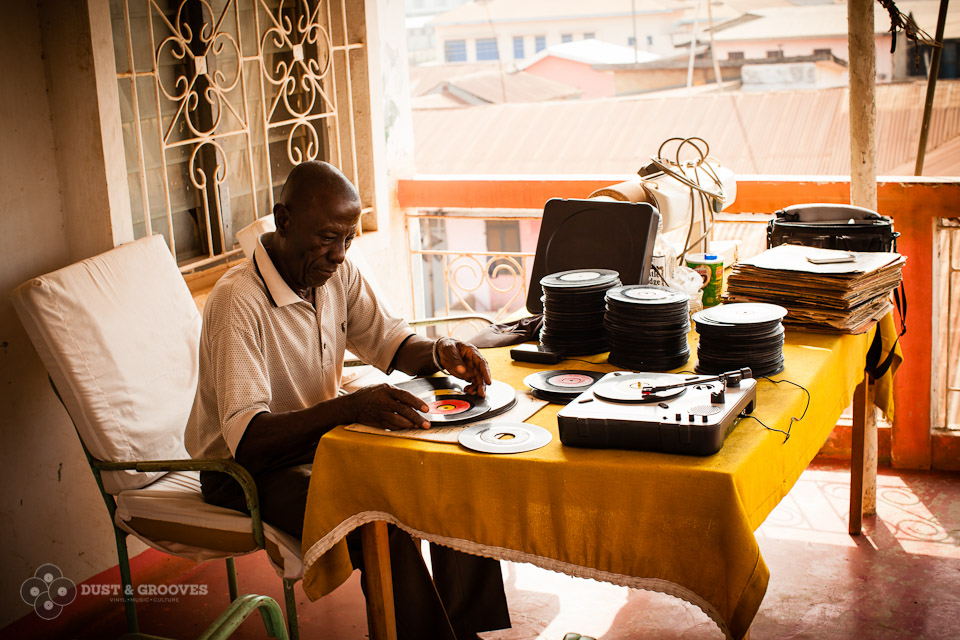 Philip Osei Kojo, Ghana, West Africa.
Eilon traveled to Ghana in 2011 with Frank Gossner who "has literally spent years crate digging in Africa for the Afrobeat, Funk, and Disco records that are the main focus of his collection." Frank agreed to let Eilon tag along for a short leg of his digging trip to the West African country, where they met Philip.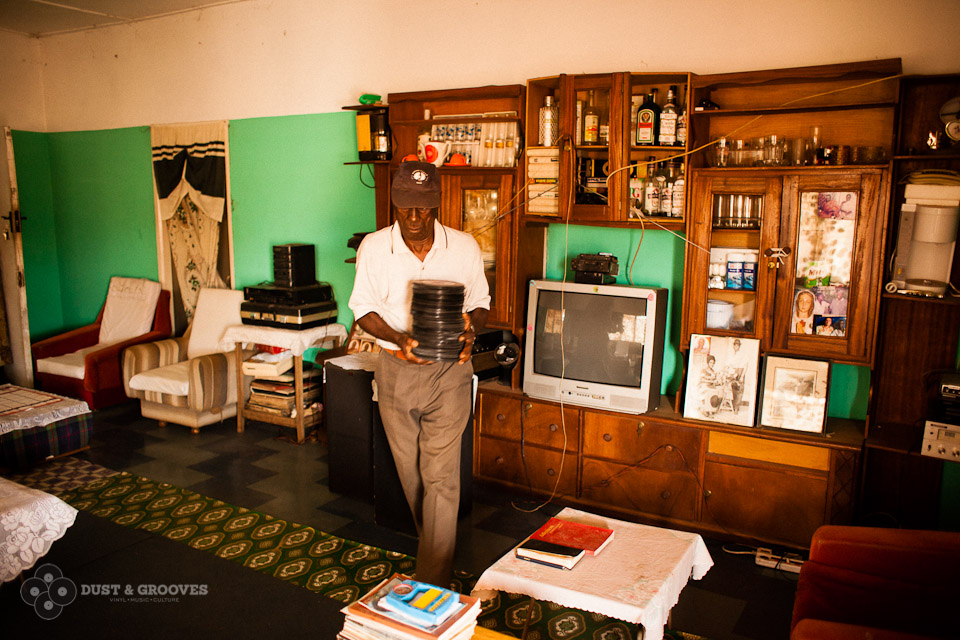 "One fascinating thing we learned about Philip that day was that he hadn't listened to his records in over 30 years. He used to pride himself on his habit of replacing his Zenith turntable needle when it got too worn down so it wouldn't mar his records. But at some point the Zenith needed repairs that Philip couldn't make, and, with no record repair shop in town, his collection laid fallow."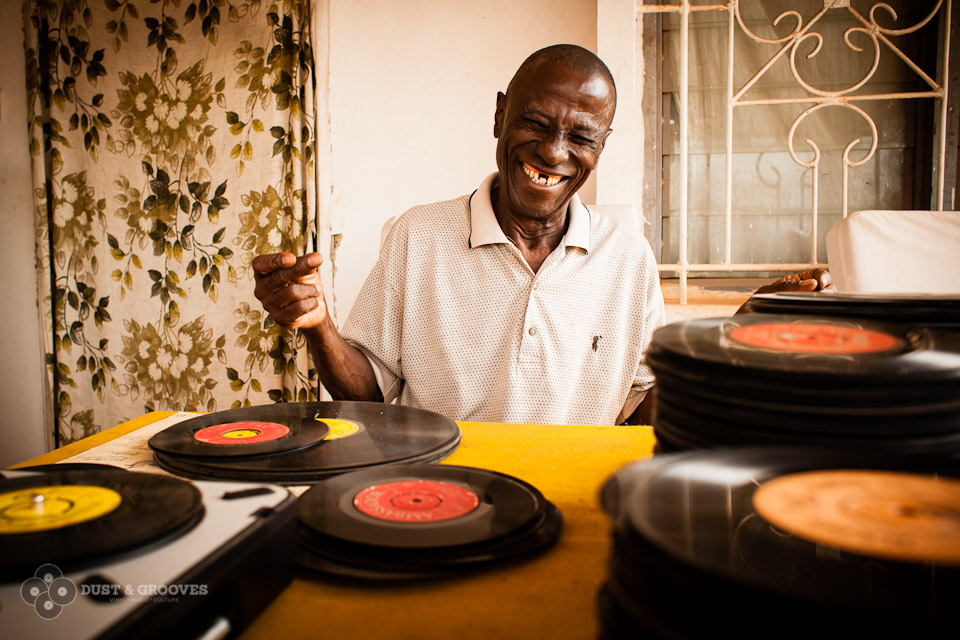 Eilon suggested borrowing Frank's portable turntable and bringing it Philip's house so he could listen to his records once again, even if only for an afternoon…
"He searched through the house and collected stack after stack of records to bring out. Many weren't in sleeves and had become laced with the dust of years past […] He came alive, even throwing his head back joyfully and moving his hips like he was on the dance floor to some of his favorite tunes. It was a wonderful and special thing to watch Philip reconnecting with music that had once been a part of his life but that for so long had been silent."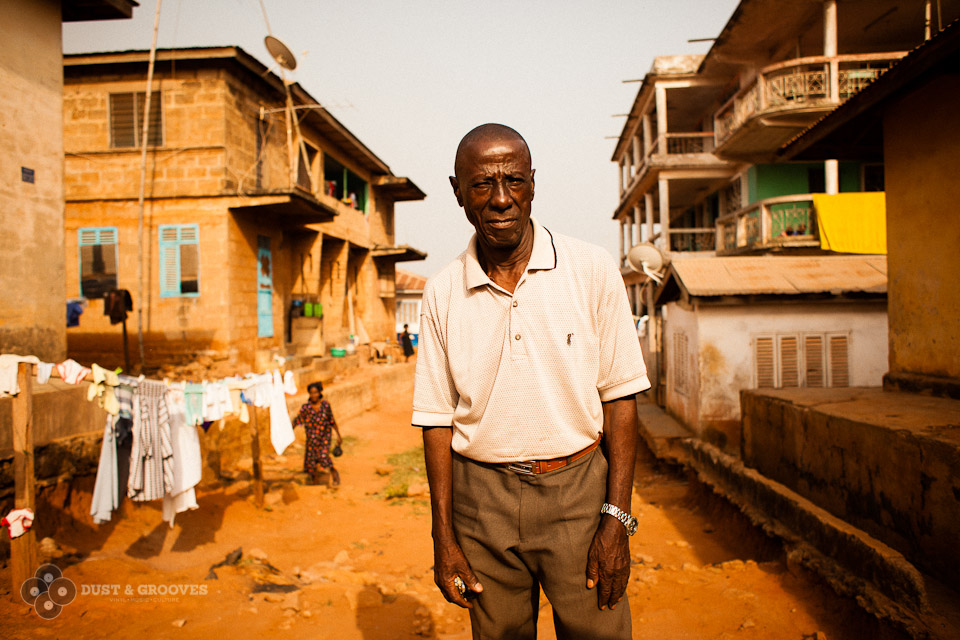 Phillip is a  90 year old father of 24 children. He often sits on the Video City patio and has an afternoon beer. He's a fixture in the community.
Read the full feature "Digging in Ghana with Frank Gossner: Bribes, beers and bus rides from hell."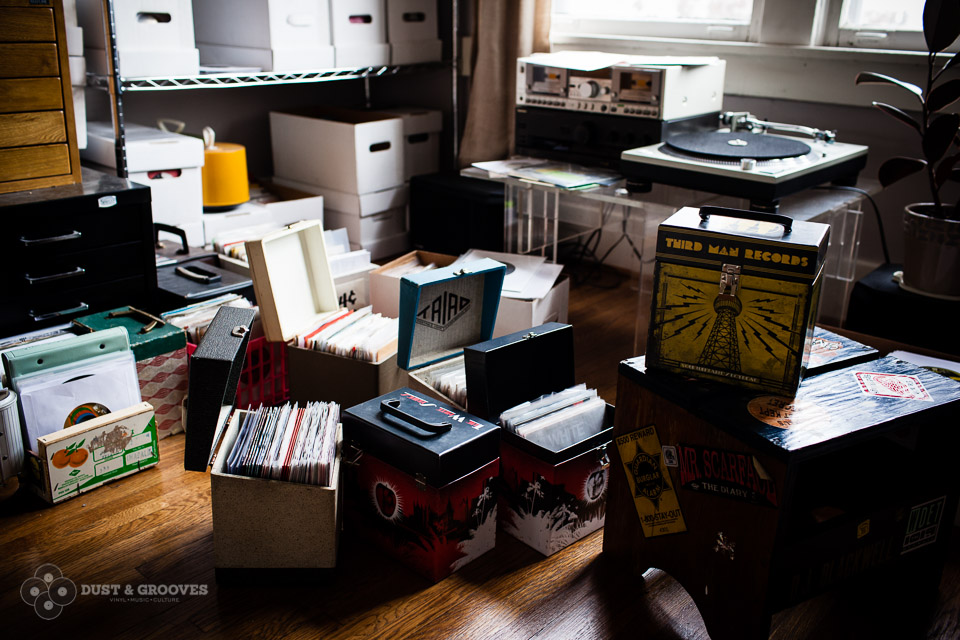 Ben Blackwell, Nashville, TN
"While I don't collect 45 boxes, the White Stripes and Third Man have made a couple custom 45 carrying cases that come in handy. For vintage cases, I love the company Triad…nice sturdy wood, wrapped in an impressive cover, strong handles. These things will survive a fire no problem."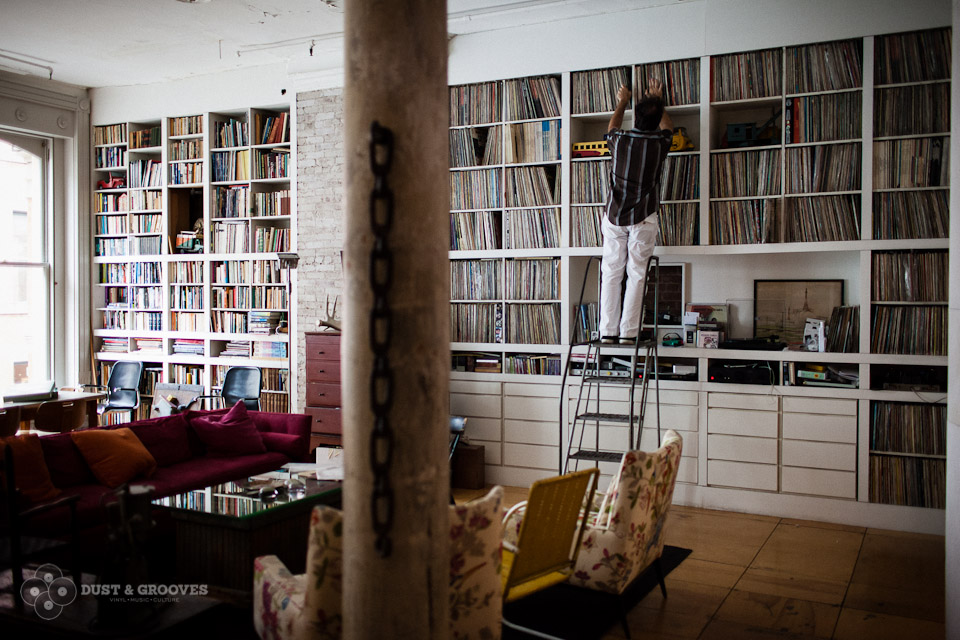 Yale Evelev, New York
"I moved to NYC in 1977 and worked in a record store two blocks from my house, Soho Music Gallery. The store was owned by the Mob. We were only allowed to answer the phone with the extension number "Hello, 1670." The mob was planning to bootleg cut-outs. Nobody was watching cut outs and so they could press up ones that were in demand, it was literally like printing money […] In 1979, after three years at the store I took a three-month trip to Indonesia. I had a ticket on Afghanistan Airways to New Delhi and worked my way overland to Java and Bali. When I came back I thought, though I loved working in the store, I should get a different job. So I got a job at The New Music Distribution Service. I replaced Kip Hanrahan as the radio and publicity guy. Kip was going to Yemen and Madagascar (where they thought he was a CIA spy and held under hotel arrest for three days and then tossed him out of the country)."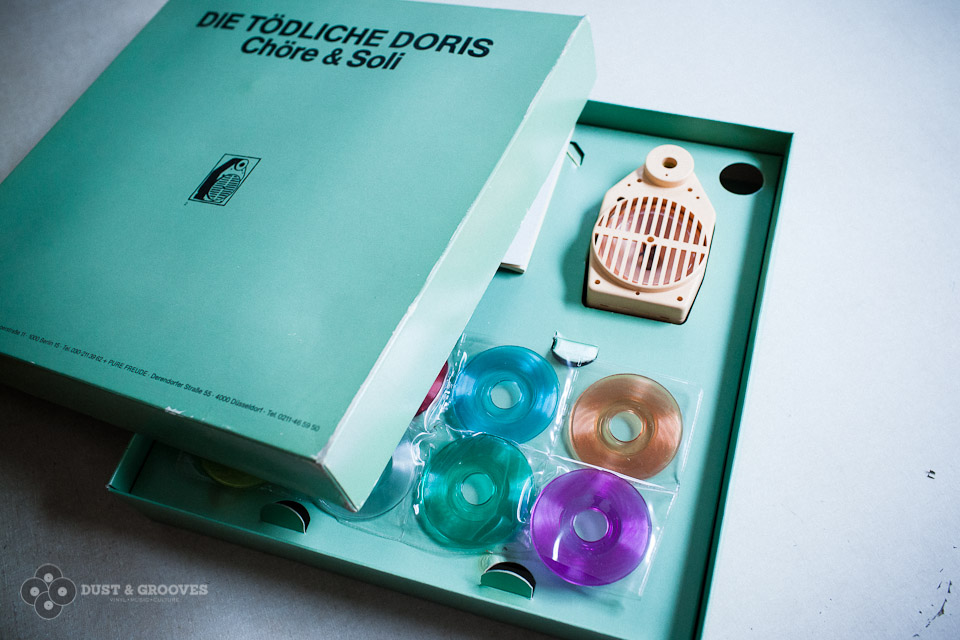 "If people ask about the records I usually show them this box, just because it plays with the whole idea of what a record is. Here we have a dolls voice box plus a series of little records that play on it. It is a 20th Century Classical piece of some sort. Don't think I've listened to it in many years."
Full feature with Yale.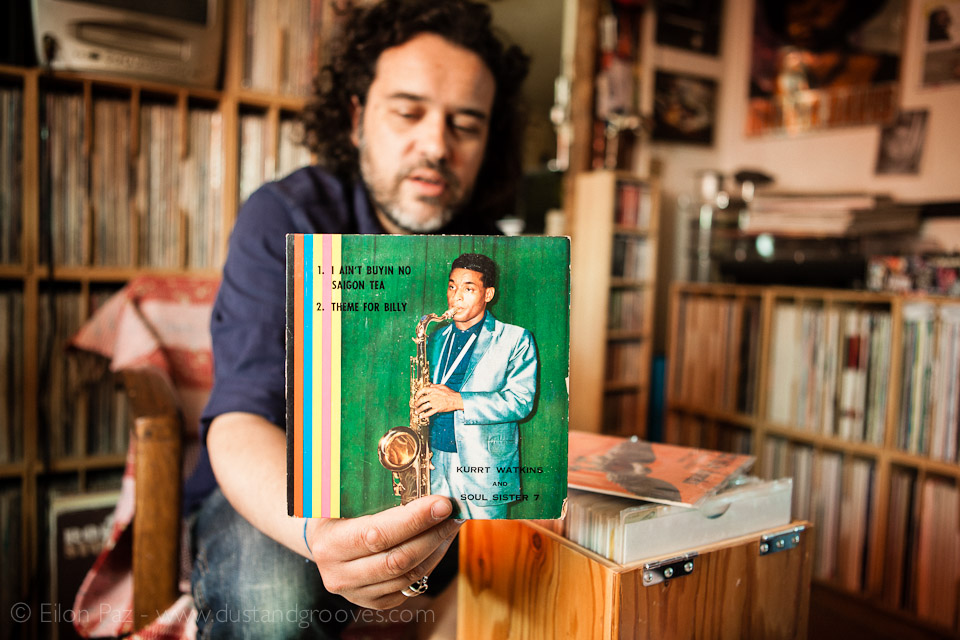 Manu Boubli, Paris, France.
"Even though it's not as good as it's been, Boulinier is still one of the best diggin' spot in Paris! New records every day, unqualified staff and super low prices… but a lot of competition with a few diggers almost slipping in front of the shop!"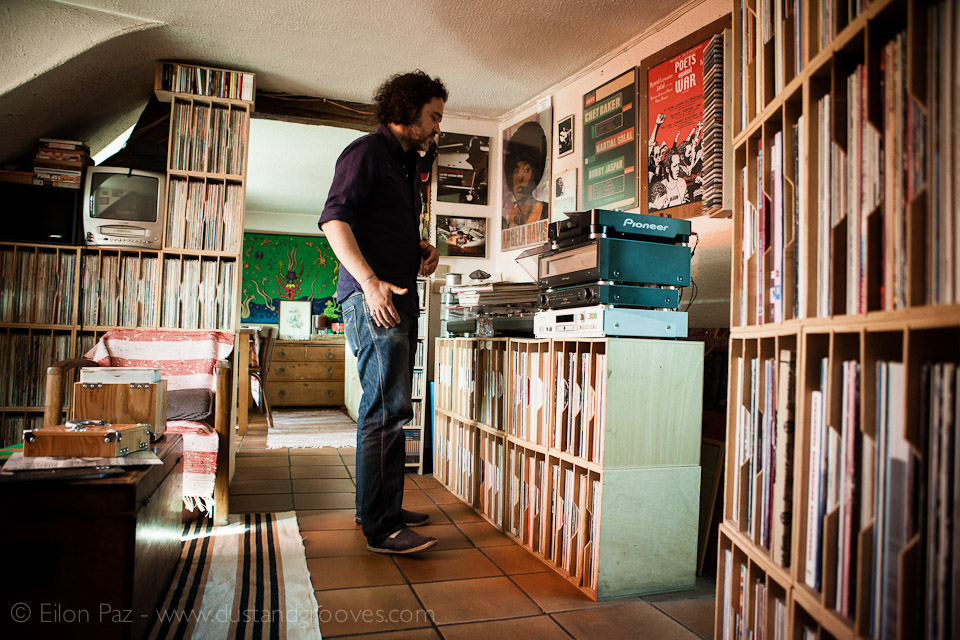 Father of four, DJ, founder of Comet and Mind Records, co-owner of Superfly record store—and he still has time for digging.
Full feature with Manu Boubli here.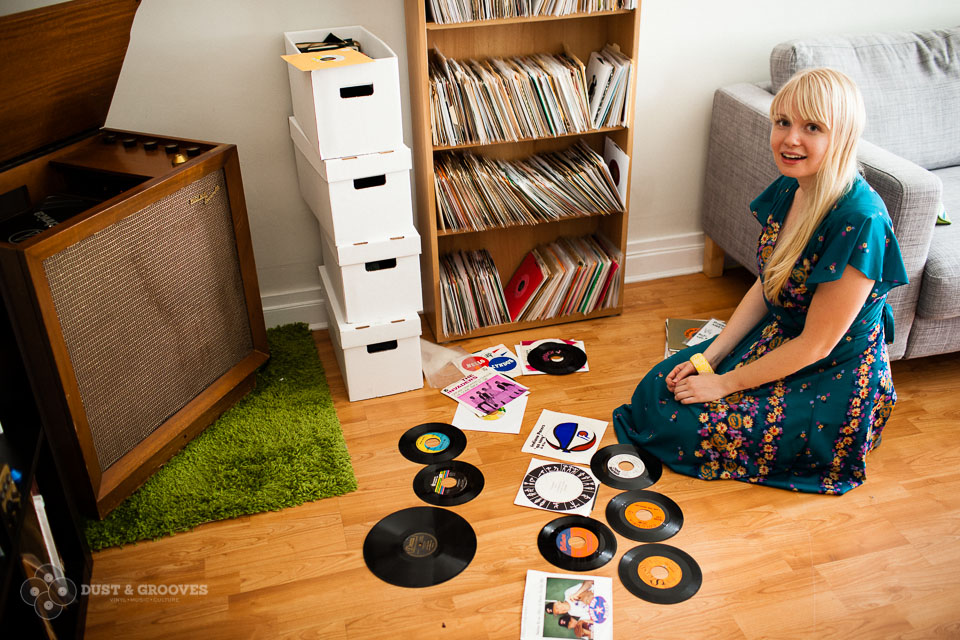 Rebecca Birmingham, Brooklyn, NY.
"I was born in 1985 […] I wasn't watching Saved By The Bell, I was watching reruns of Welcome Back Kotter and Match Game 75. Nearly all of the music I love was created for turntable formats (whether it be 78, LP, or 45), so that's how I prefer to listen to it. Plus, physical records can give you all kinds of clues and insight into the history of a particular performer or song. You've got the label, the publisher, maybe the city it was recorded in, the songwriter, lots of other tidbits. On a 45, there are two songs that were released together, on an LP a series of songs meant to be listened to in a certain order."
Full feature on the collector of soulful 78s and honky tonk records, here.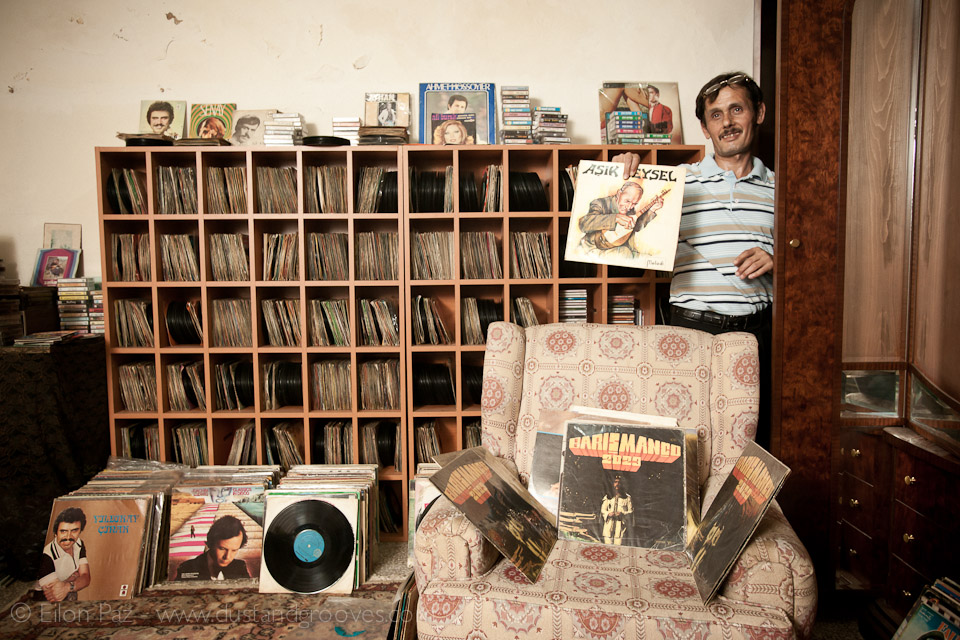 Mustafa Anaz, Istanbul, Turkey, pictured in his basement filled with hidden Turkish retro delights, tea cups, and psych records.
A former truck driver, Mustafa collects mostly Turkish music with a strong affection to a specific artist, The Transvestite artist Zeki Muren. His favourite record is a psych track of Anatolian rock king, Baris Manco and his track named 'Daglar Daglar' [Mountains Mountains].
"I used to sing this song with my wife and son, while driving across the mountains on our way to Istanbul."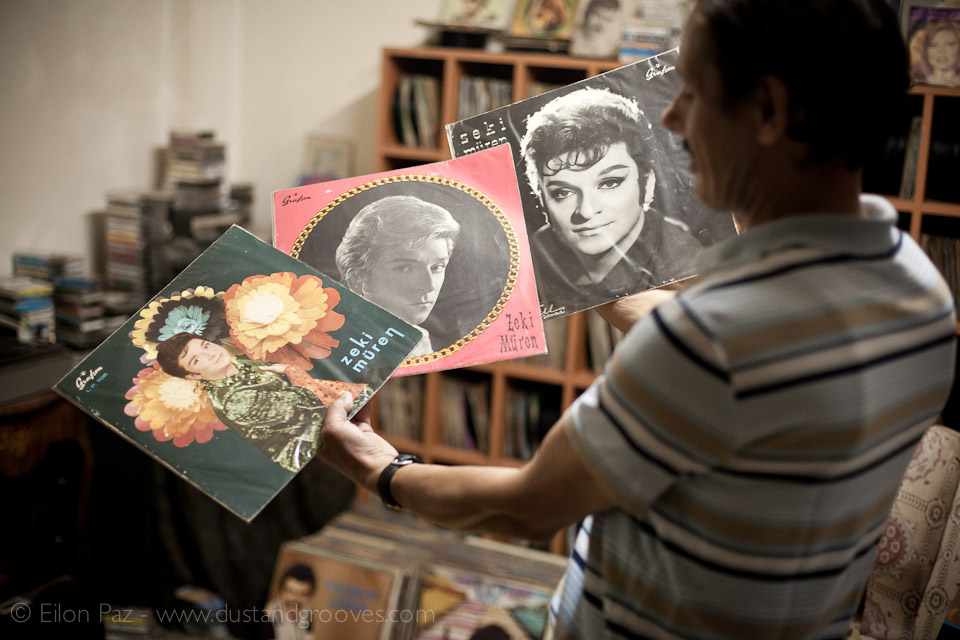 Full feature on Mustafa here.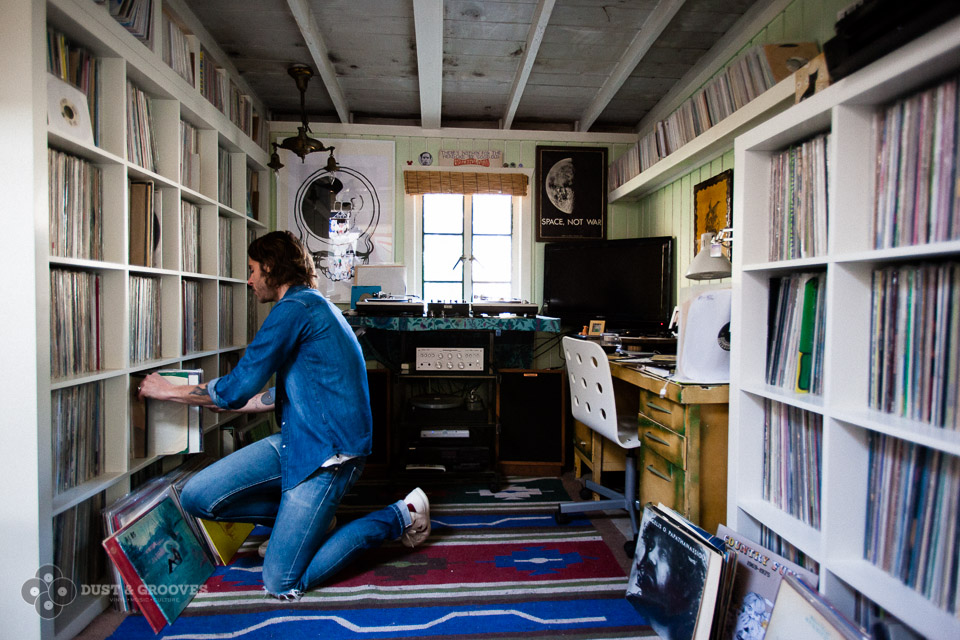 Zach Cowie, Los Angeles, Venice beach.
"A dude who spent his late teenage years working at a record shop and his 20's working at record labels".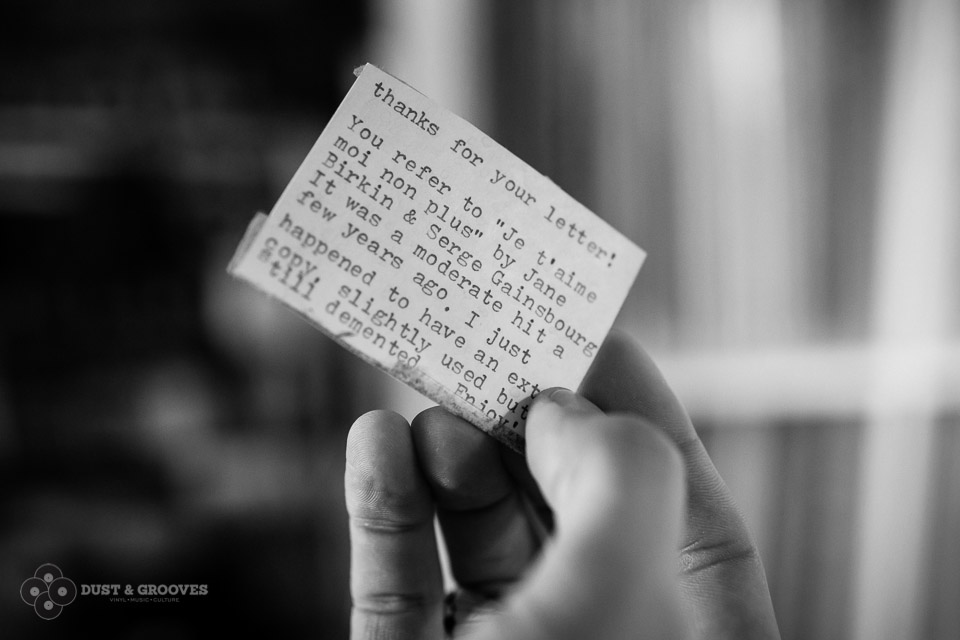 "I LOVE finding old notes inside of records." (Above:  A note from Dr Demento that Zach found in a Serge Gainsbourg 45.)
Full feature here.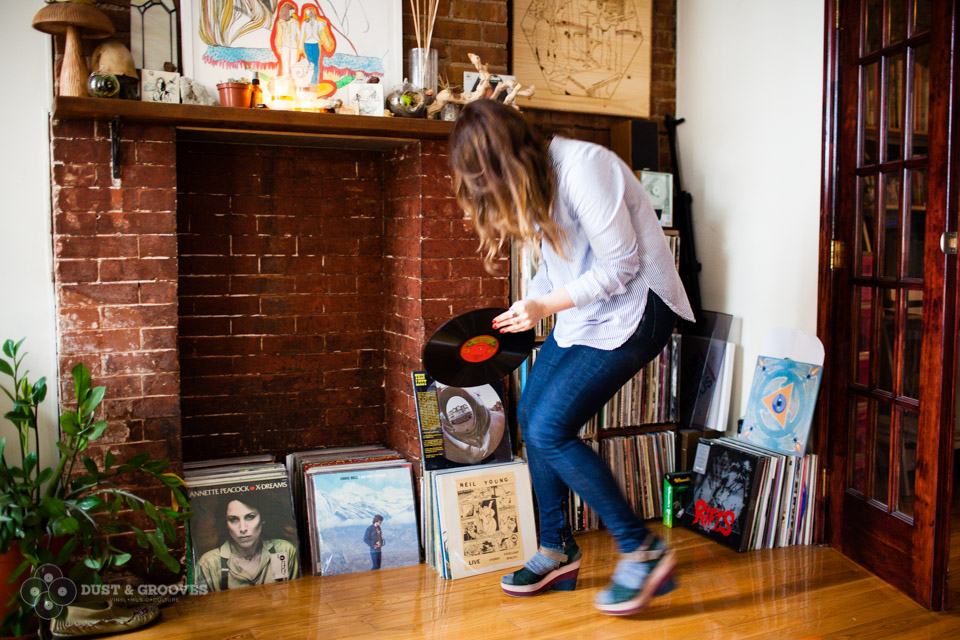 Jess Rotter, Brooklyn, NY, illustrator and collector of classic seventies cuts.
"A dream day is to wake up, grab a coffee, and quietly hit the shops for inspiration. Personally, record stores are like little art galleries and I enjoy them also greatly when out of town […] I love when people draw on used record covers-it happens a lot with The Beatles, arguing who is the cutest one with little arrows and hearts. (For me, it's George)."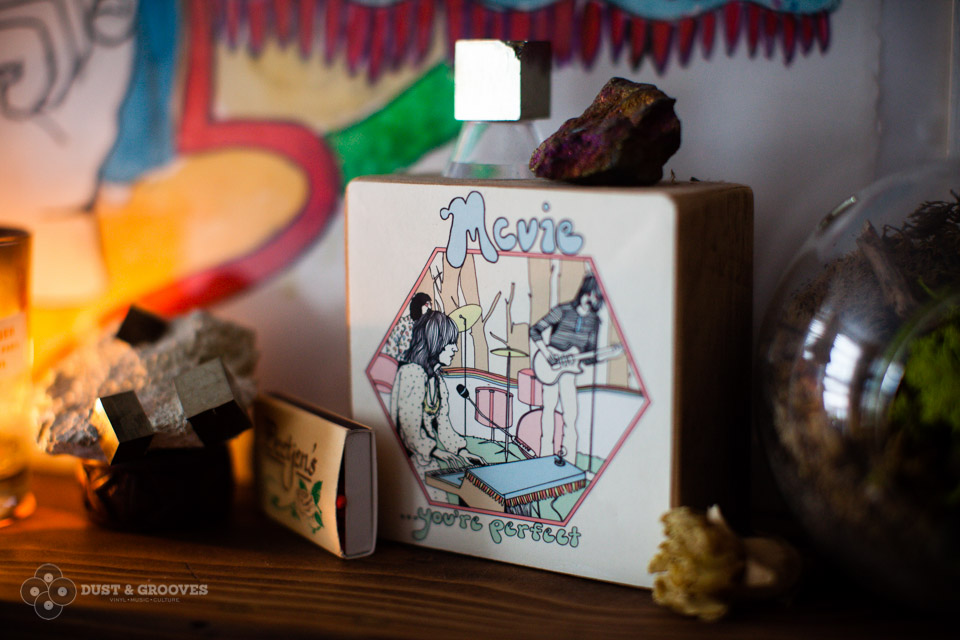 "I remember having a crush on this guy ages ago and basically giving him a giant vinyl Bob Marley box set hoping I'd get a date out of it and that was far from the case. So lame! Gimme that back!"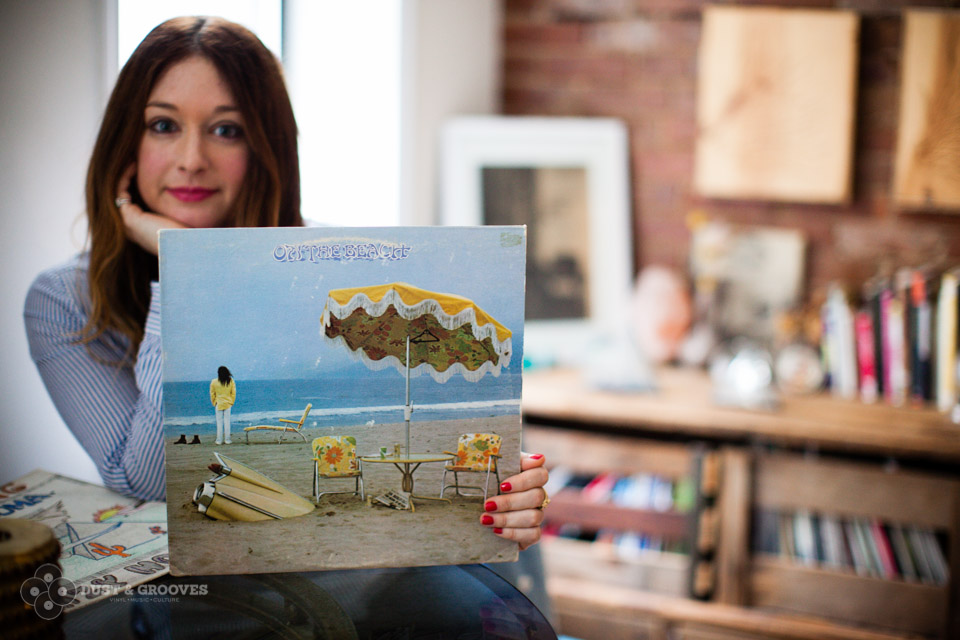 "I was recently in Japan for an art show, and my dear friend […] had recommended a spot called "The Lion" to check out in Tokyo. Amongst the Shibuya'd chaos, the old 1920's building quietly sat and when you entered, it revealed a 2-story gorgeous church-like atmosphere, where instead of an altar, there is a humongous pair of speakers and vinyl everywhere-however there are rules: no talking allowed, no booze, and only classical music is played. It was one of the most spiritual joints I had ever been."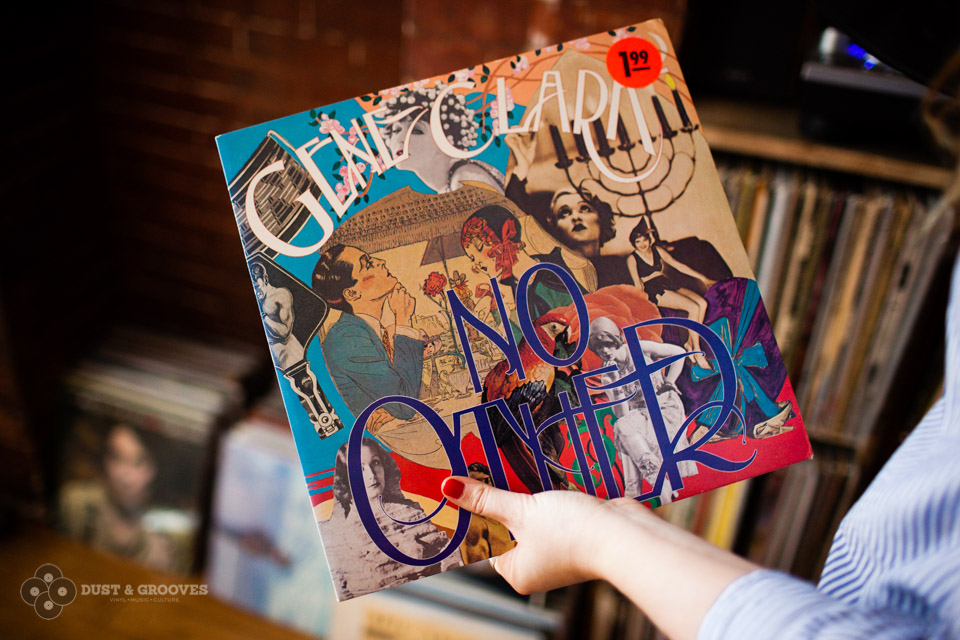 See the full feature with Jess Rotter.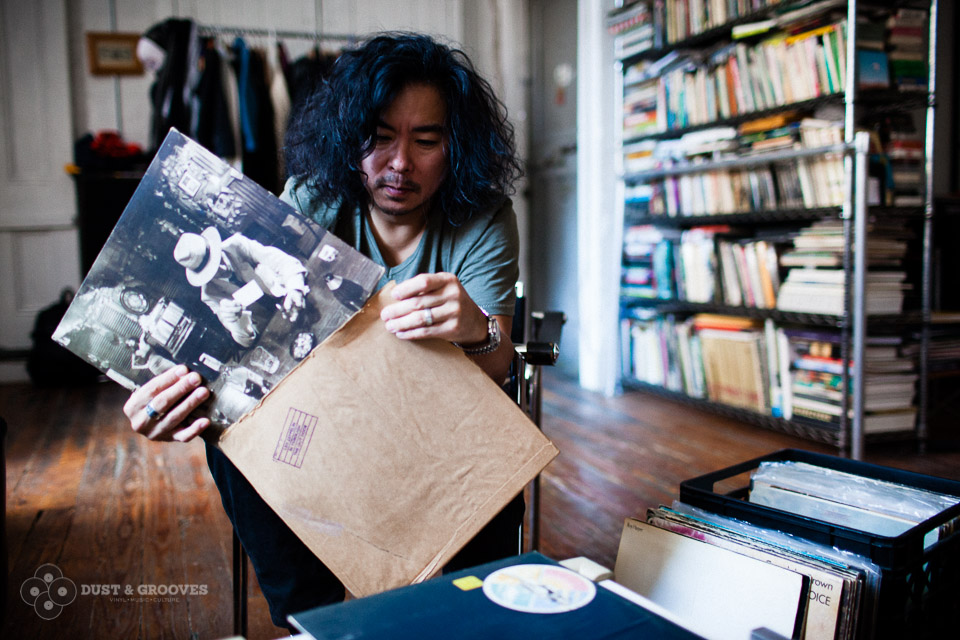 Rody Bogawa, NYC.
"Mom and Dad were the original MC's. Dad was heavy into Nat King Cole, Mom die hard Elvis. We had a big stereo, turntable console with flip/vent speakers on each end that I remember as the coolest thing in the living room. Mom also played piano in the house. They have to be credited also with getting me my first guitar and 35mm Canon still camera."
A film maker and a vinyl collector who made a documentary film about British graphic artist Storm Thorgerson's iconic album covers.
Full feature here.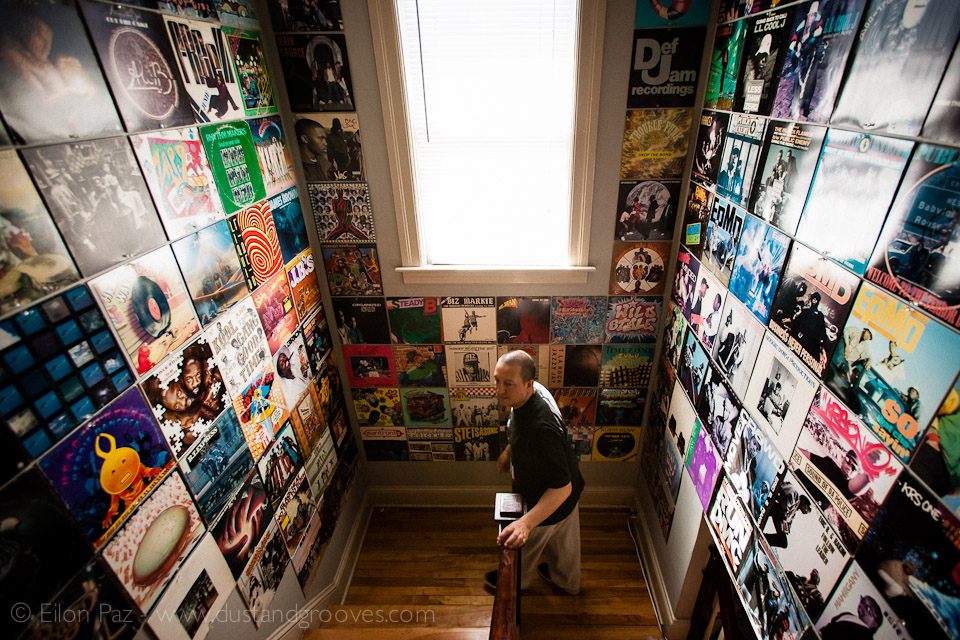 DJ Shame, Worcester, MA
His most memorable digging experience:
"It was at a Jamaican record store. I was with my boy Sean from the Vinyl Re-Animators. He found this place in New York where you had to know the people to get inside. In the back, they had a special door that you'd lift up to go to the basement. You had to climb down a ladder to get to the basement and it was full of 45's that had been there for years."
Read more.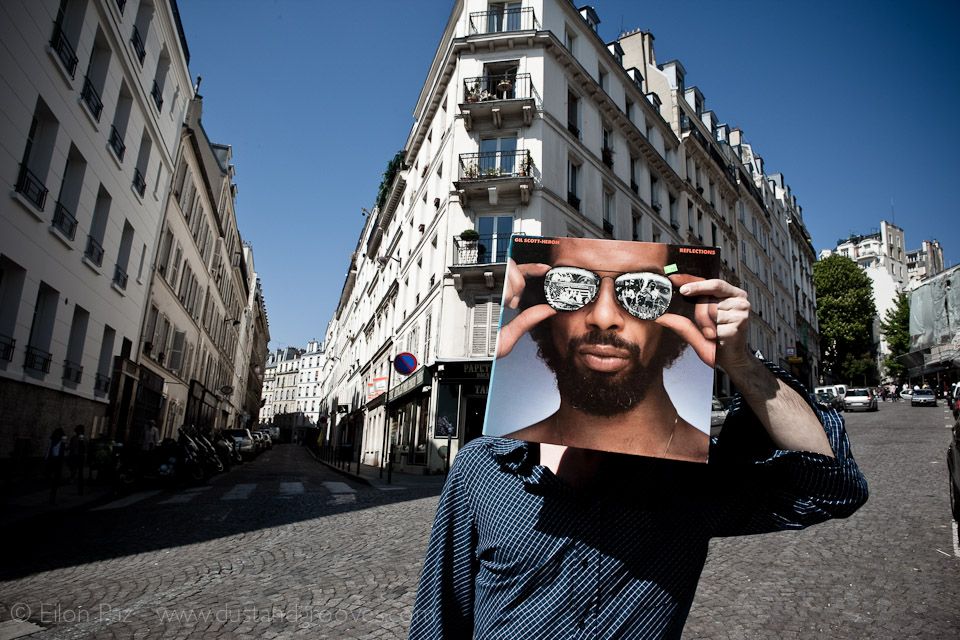 Victor Kiswell from Paris, France, owns an online record shop.
"Girls also had an undirect influence on me… When I was 13, girls in my class were all fond of black boys. Tall, strong, playing basket ball, listening to Hip-Hop. No place in their heart for a young white boy, ah ah. My only chance was to be Black inside. This might sound strange, but that's how I felt at that time."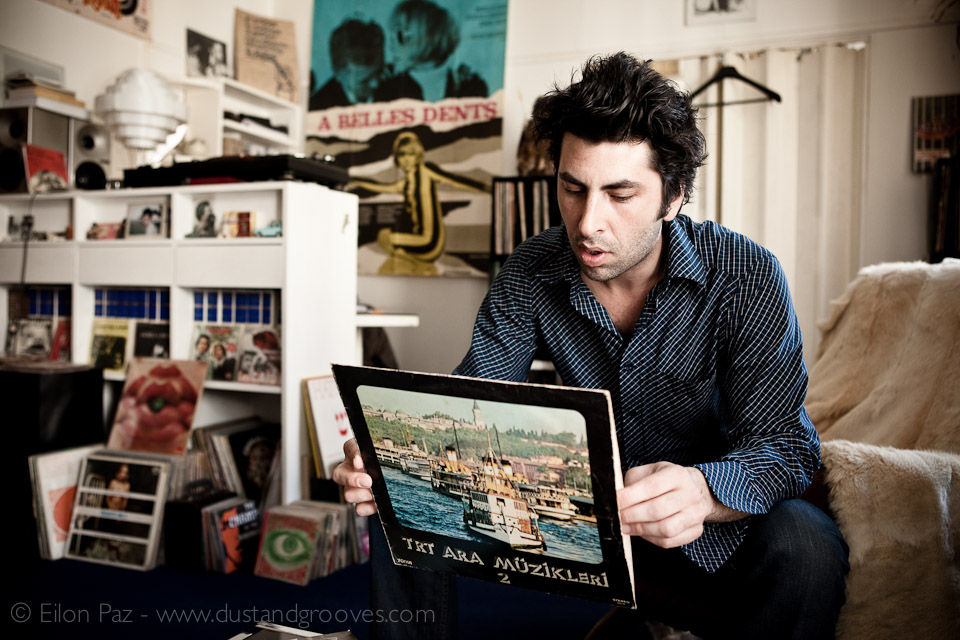 "My first move was towards American black music… Rhythm n Blues, then soul, funk and jazz. I was also listening to a lot of Hip-Hop and I tried to build bridges between all these sounds. Listening to a rap tune and finding its source, the original sample…long before all these sites existed thanks to internet. Then I followed that idea, trying to catch this black sound everywhere in the world… Italy, Nigeria, India, Venezuela, Finland, West Indies, Japan… Be it played by black or white musicians. I was not searching a specific sound, but a feeling, an attitude… In this quest, there are a lot of opportunities to discover unsuspected sounds. While looking for Bollywood funk, you might discover Indian or Pakistani folklore."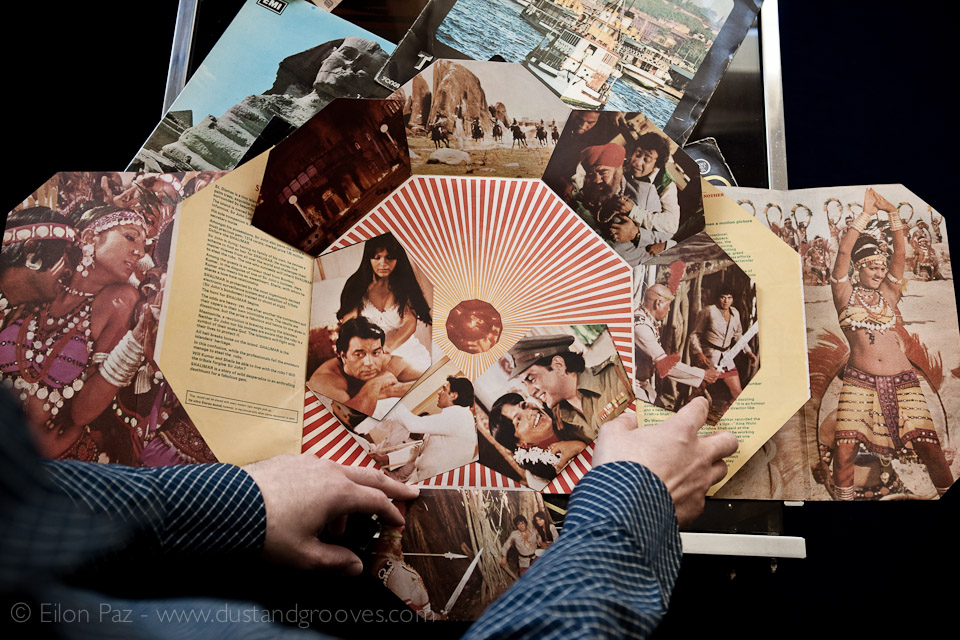 "I remember a good experience in Calcutta, almost 15 years ago, a warehouse full of Bollywood albums on a building roof. If was 5pm and night was already there. So I tried finding my way among the records with a flashlight. In this warm and wet atmosphere of the Bengale, the experience was unique ! But I also found records in cellars, garages, theatres, schools, thief markets, garbages, trains, hotels and restaurants… The world is vast for someone who looks for records […] People older than me always talk about "Champs Disques" with emotion in their voice. It was a shop on the Champs Elysées, open from 9 in the morning till 1 in the night […] the best spots are still shining… Intoxica in London, the Fleamarket at Clignancourt, near Paris, and Porta Portese in Roma."
See the full feature with Victor.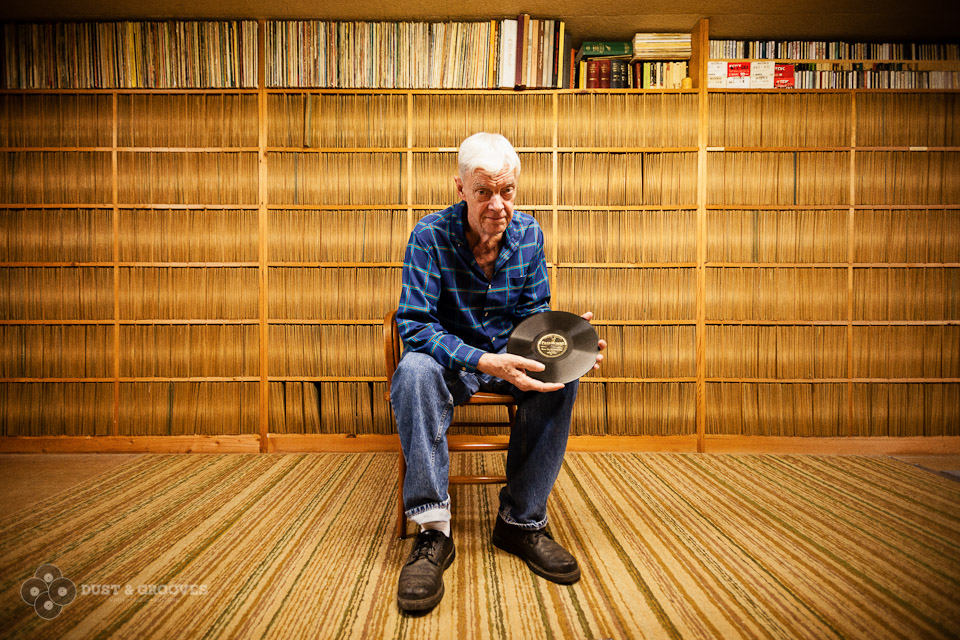 Joe Bussard, 76, Frederick, MD
Q: Is there a music genre that you avoid?
A: Rock-n- roll. Period. Any of it. Hate it. Worse thing that happened to music. Hurt all types of music. They took blues and ruined it. It's the cancer of music….ate into everything. Killed Country music, that's for sure.
Don't like the sound of it, the meaning of it…doesn't promote anything beautiful or meaningful. Idiotic noise, in my opinion.
Q: So artist like Miles Davis, John Coltrane don't deserve your time?
A: Oh my god, you gotta be kidding me. None of that music moves me.
Q: Do you know what's an MP3? Do you know that people can share songs today over the internet, download music for free, listen to it from their phones. what do you think of that?
A: A computer isn't? I don't have anything like that. Most of the music they're getting for free ain't worth a penny anyhow.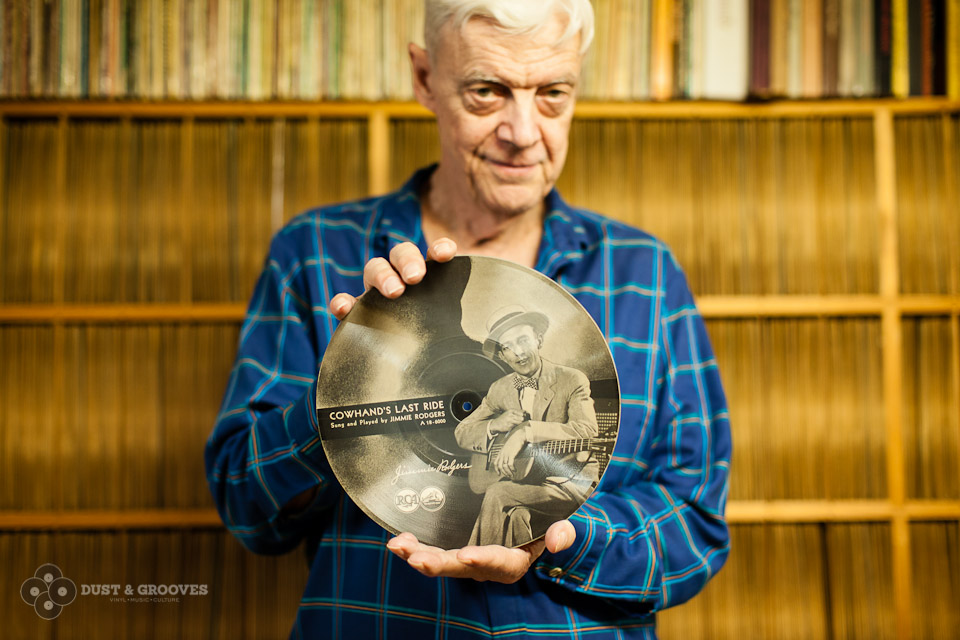 "[…] In the 1960s … we were driving north out of Bluefield, WV, and came to this real little town. The main street was no more than five feet wide but they had a few shops. There was an S.S. Kresge Five and Dime Store with the original sign from the 1920s so we parked the car up on the sidewalk and went in. You wouldn't believe the mess! Broken records all over the floor. Apparently they'd pulled bunches of them off the shelves to throw away –when nobody cared about records anymore – and they dropped all types of records on the floor. I saw Robert Johnson and Carter Family records that probably had never been played cracked and scattered on the floor with people just walking all over them. But this guy at the only filling station gave me a tip. We then went into the hardware store across the street, and oh my God! This guy had all these records upstairs, dealer stock, and he'd stopped selling them during the depression and never got back into it. An entire floor of mostly unplayed 78s. Jesus, I must have gotten about 2000 really choice records from the guy. Paid him $100."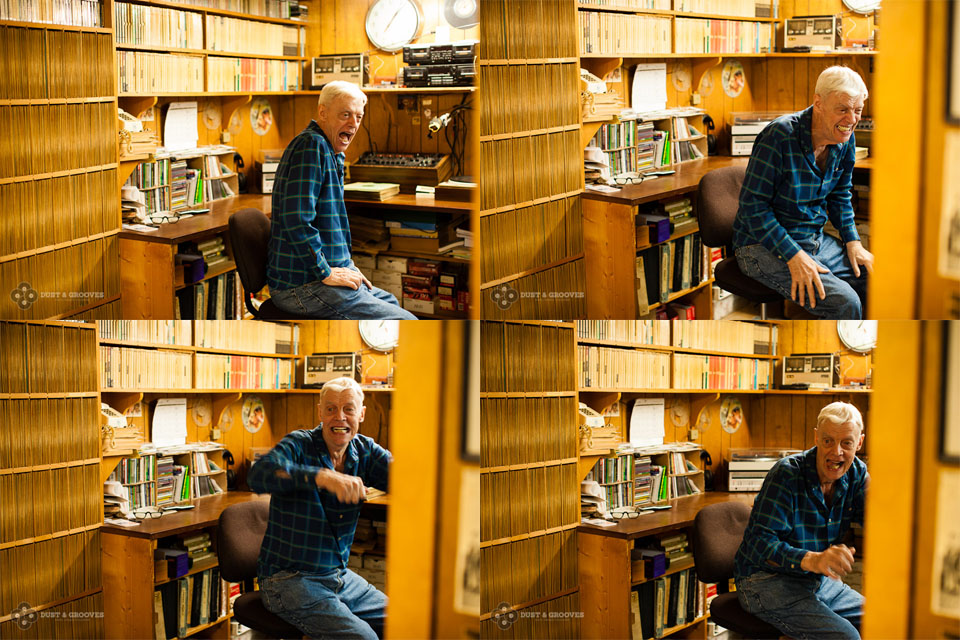 50,000 records have passed through Joe's hands or circulated through his collection. 
 In addition to his status as a collector, Joe is single-handedly responsible for the creation and operation of Fonotone Records, an independent record label responsible for documenting and preserving bluegrass, folk and blues music of the 1950s,1960s and 1970s
He has also been hosting radio programs since 1956, when he set up his own pirate radio station out of his home. 
Joe Bussard is the subject of the excellent documentary film by Edward Gillian, "Desperate Man Blues" (2003).
Read the full feature here.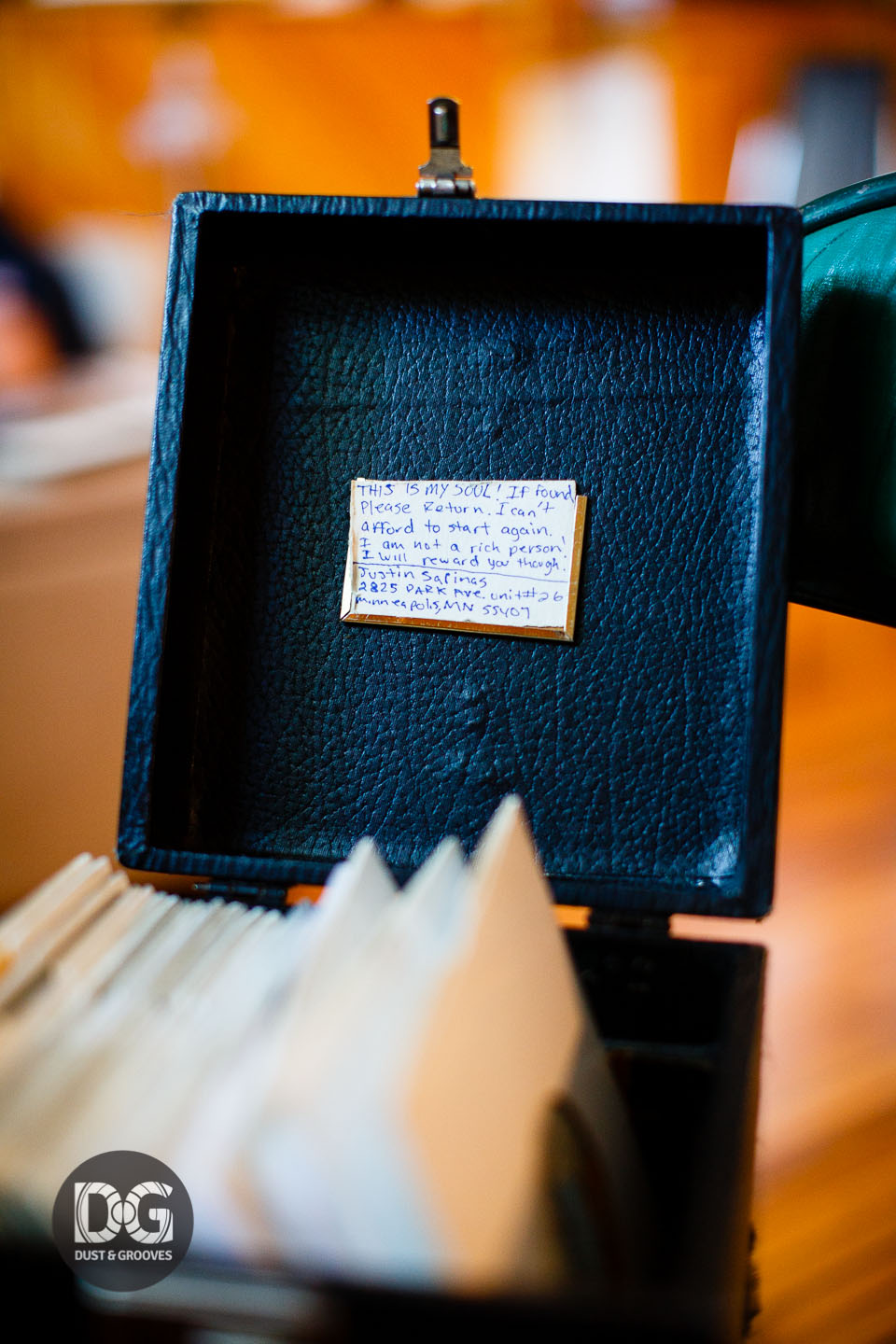 "You have to let them go. I always love to have records in my possession, but when their time comes, I'm ready to let them go. Using one to pay for another is how I go deeper. That's how I'm able to find the things I really want. And that way, you're letting someone else enjoy the record and that feels good."
Justin Rambo Salinas, collector of Chicano Soul, Minneapolis.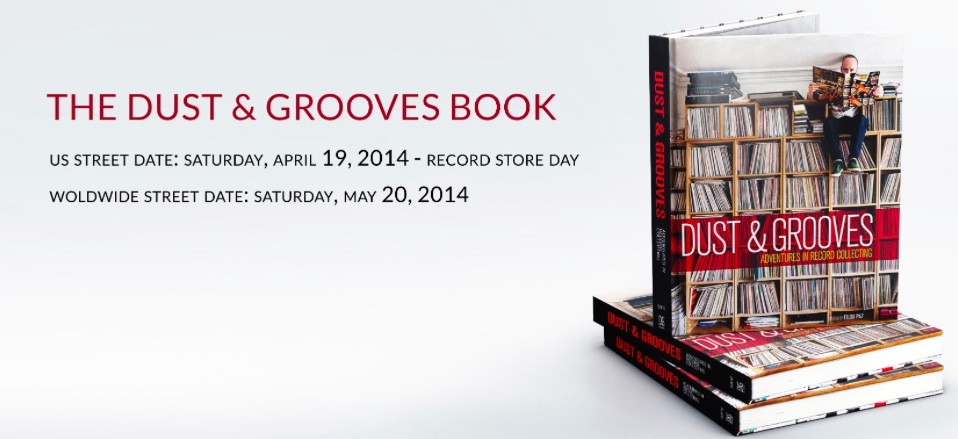 If you know anyone that loves vinyl culture or heck, anyone who loves music, and you're in need of a gift idea, this is just too good. Eilon Paz's 416-page coffee-table book illuminates over 130 vinyl collectors and their collections in the most intimate of environments—their record rooms.
Discover Dust & Grooves on Facebook page, Twitter or Instagram.