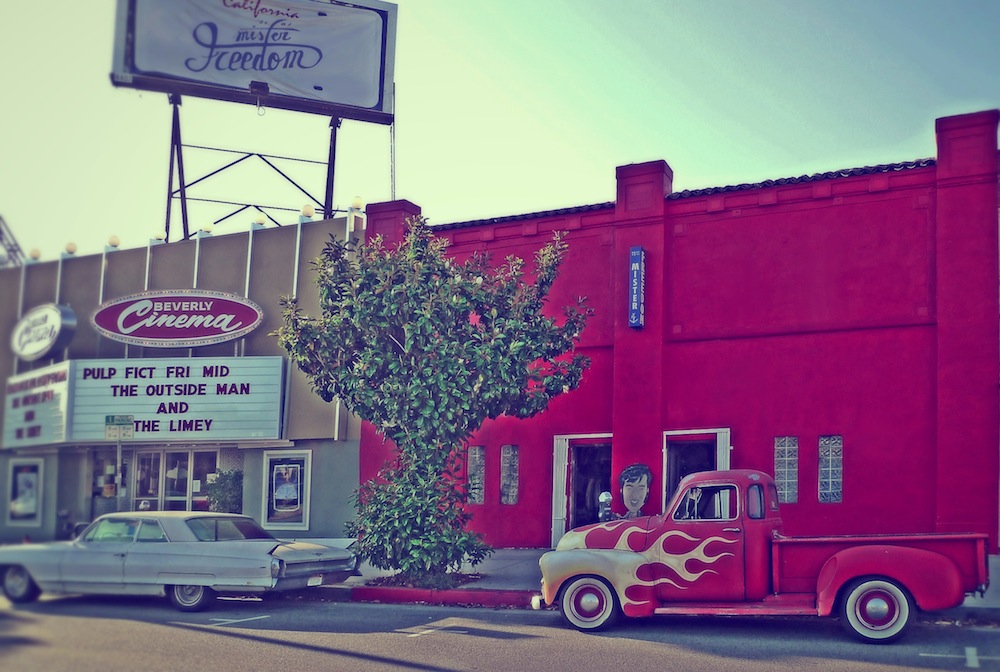 If any of Johnny Depp's characters went clothes shopping, whether it be the sea-faring Jack Sparrow, the cravat-wearing Mad Hatter, the 1930s bank-robbing John Dillinger, or Roux and his band of river gypsies from Chocolat, this would probably be the place you'd find them digging through the rails. And seeing as Johnny Depp's personal style looks like he might have been raiding the wardrobes of his own film characters over the years, it's no surprise that he himself is indeed a faithful patron of Mister Freedom.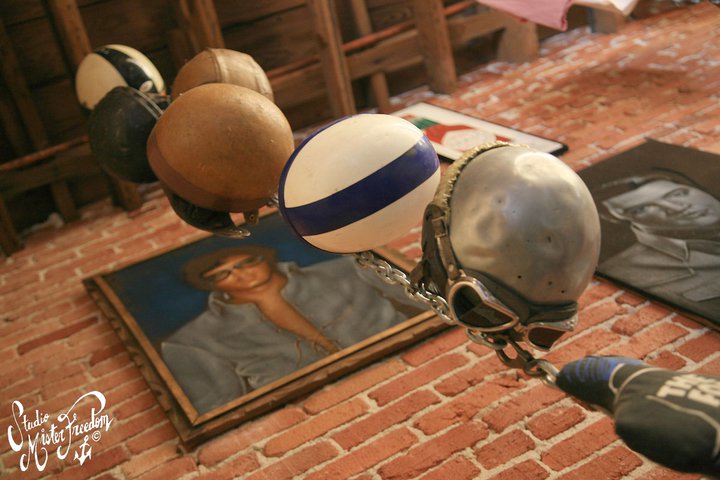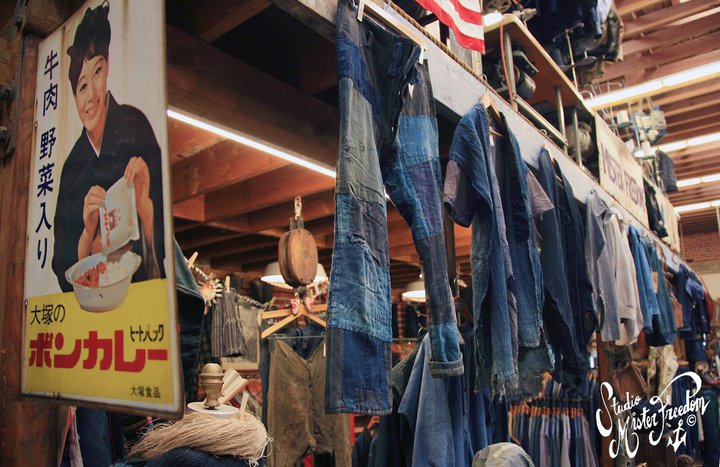 Now you can imagine that anywhere Johnny Depp buys his threads from is not going to be your average clothing store. Mister Freedom is very much like a movie set of its own, with 3200 square feet of space on the ground floor alone dedicated to various concept islands with themes such as ' tropical colonial' and 'depression era work-wear'. The 1930s brick building in Los Angeles houses an incredible inventory of vintage clothing dating as far back as the 1850s as well as rare textiles, books and antique props.
But we can't really talk about Mister Freedom without finding out about the man behind it all…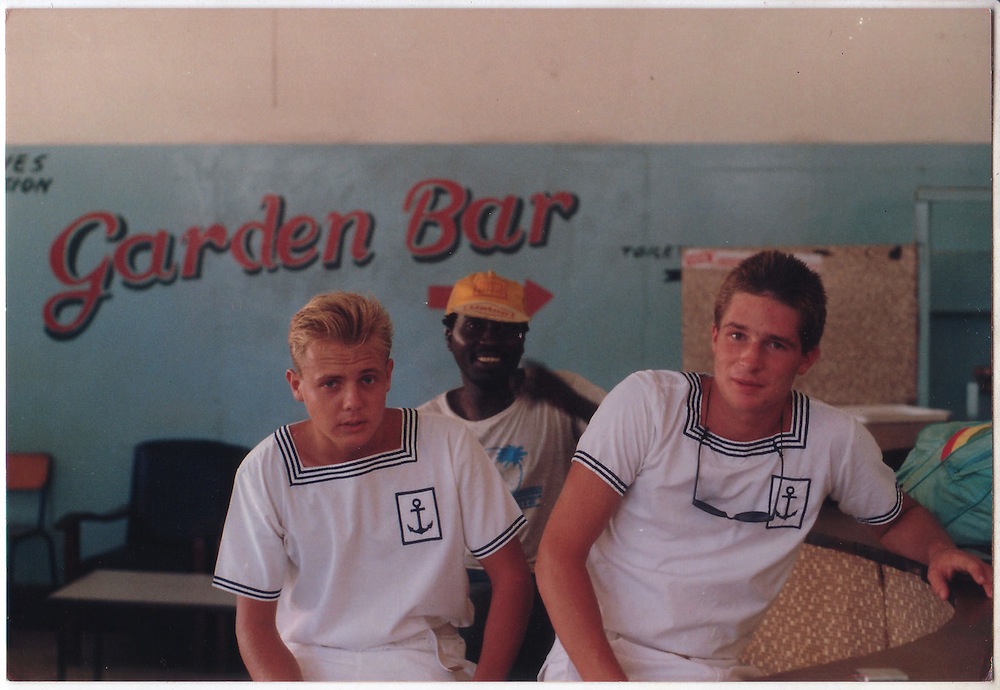 Christophe Loiron (pictured above left, circa 1980s) is a French expatriate who was raised mostly in Africa and moved to California at the age of 24 after completing his service in the French Navy. Thirteen years after arriving on American soil and having found his luck in the clothing industry, the well-traveled Frenchman set up his own shop on Beverley Boulevard. As well as selling vintage one-of-a-kind finds, Christophe began customising clothing, turning the store's 1200 sq ft mezzanine into his own atelier.
Inspired by his own boxes of personal photographs, discoveries from his travels, old movies, books, documentaries or simply a good story, the self-proclaimed 'expert at nothing', built his own unique brand of adapted vintage collections, starting out with just a handful of Japanese buyers to then having some of the coolest players in Hollywood knocking on his door.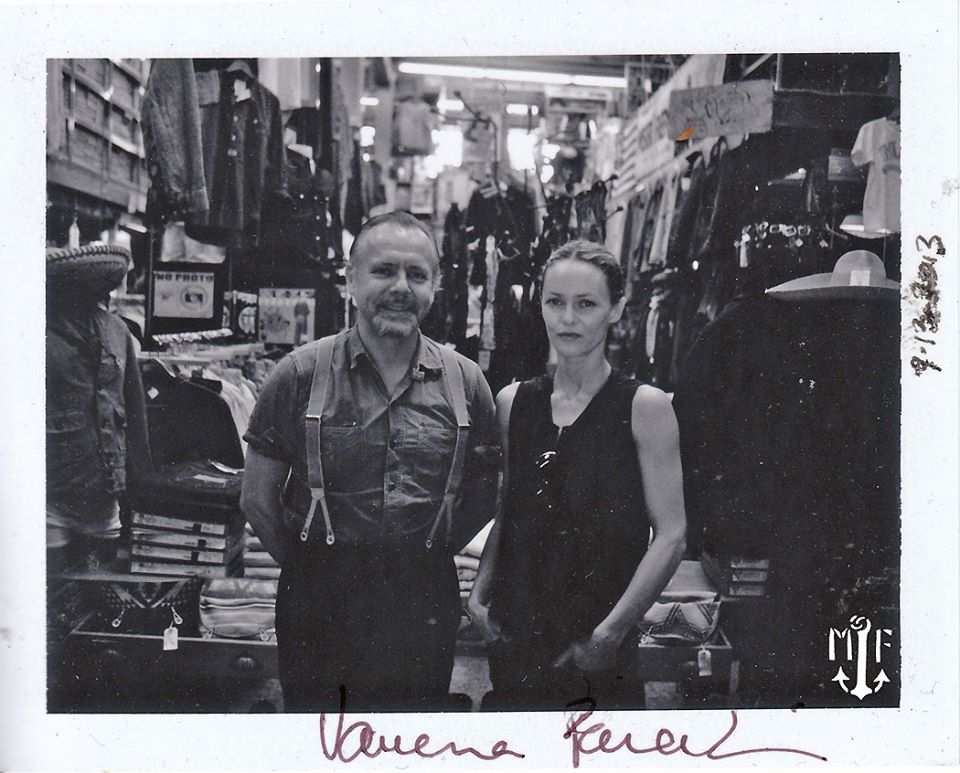 Christophe pictured with fellow Frenchy, Vanessa Paradis, mother of Depp's children (perhaps Johnny snapped this one) and below, just a few of Hollywood's coolest hanging out in the store.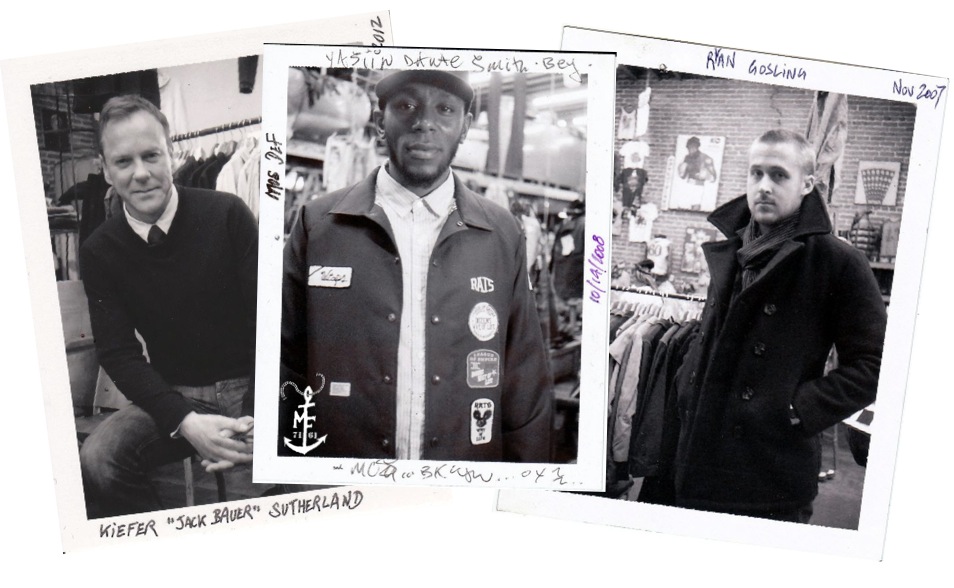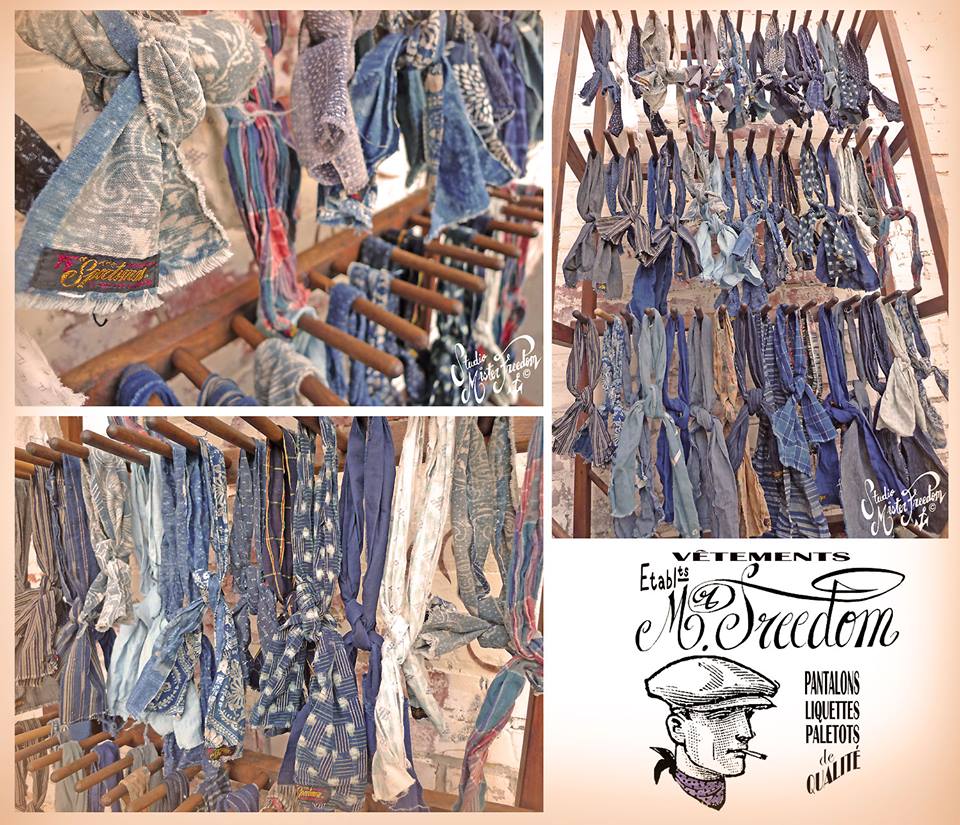 Do these scarves look familiar? Johnny Depp is a fan of Mister Freedom's Boro ties, usually worn by Depp in a similar fashion to Native American neckwear of the late 1800s-1930s..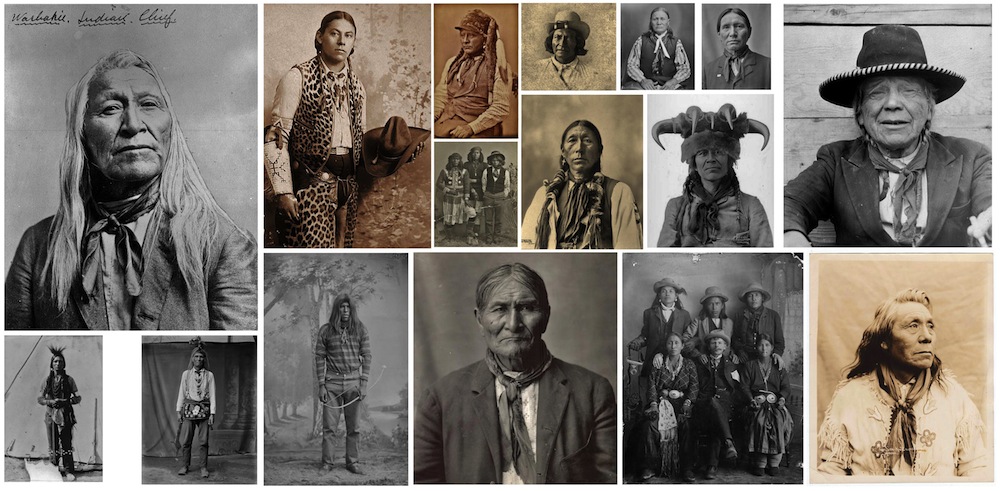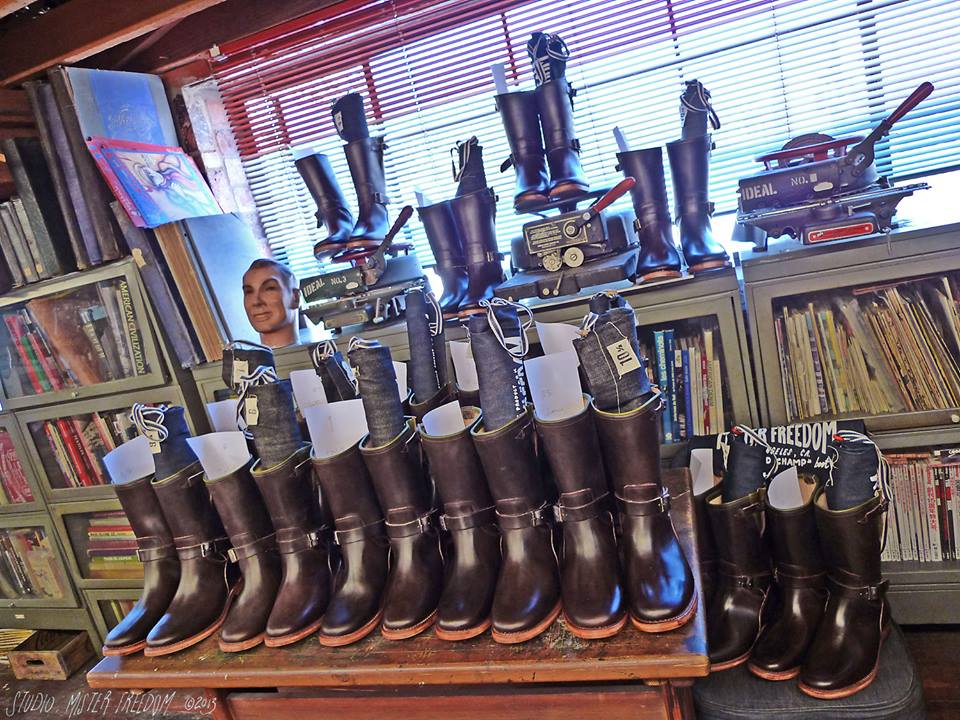 Each collection, heck, each piece from Mister Freedom comes with its own story. For a fall 2009 collection called "Speed Safe Clothing for Modern Riders", Loiron recalls the fascinating story of how it came to be…
In late 2008, as I was driving around and lost my way in a run down neighborhood in Los Angeles, I stopped in front of an old boarded up store. The sidewalk had puddles of dried up oil…past traces of leaking engines. On the store facade, all that was left from the heydays was a crooked rusty tin sign…

The brick building seemed to have been abandoned for years. The sign read: "Speed Safe Clothing for Modern Riders"…

Inside were the real gems: stacks of merchandise covered with 40 year old dust and walls filled with old photos retracing five decades of motorcycle riding… This was the discovery of an incredible story, that of a Southern California family of three brothers: Lino, a local prize fighter and trouble maker, Marlon, an Army trained airplane mechanic turned hill climber and Eddie, the artist with tailoring skills.

Feeling the need for specific motorcycle riding gear, Eddie started designing and making clothes all the brothers could wear, on and off their bikes. Lino, Marlon and Eddie road tested each and every clothing prototype and modified it until it worked. Due to friend's demand, small production runs were made and sold at the Club House, which turned into a full blown store in the 1930's. It closed its doors in the late 1960's.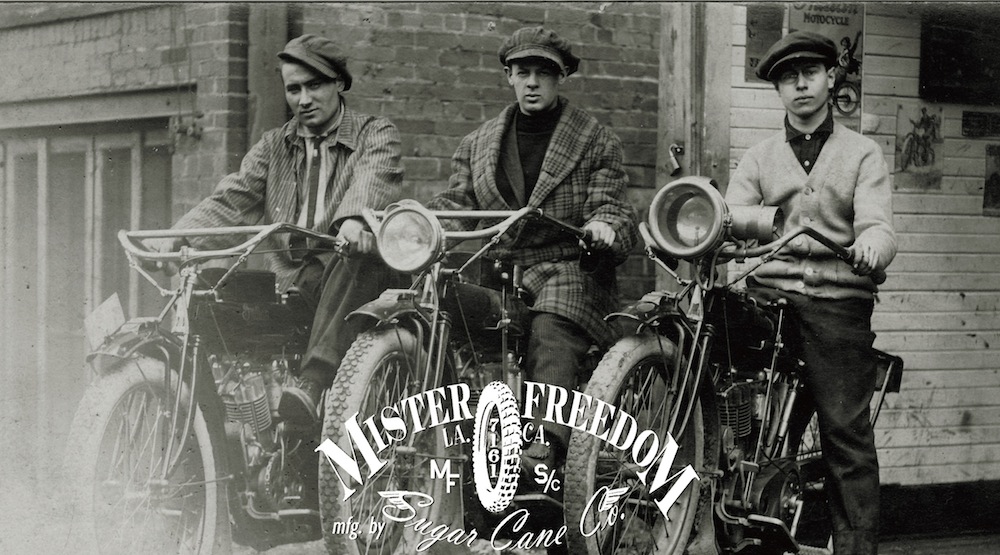 The resulting collection was comprised of a selection of the three brothers' favorite gear, as they were found in that abandoned Club House; exclusive original designs spanning from the early 1930's to the late 1960′s, which were produced in limited quantities.
For a more recent collection, Christophe went digging through his own past and the memories of his experience in the French navy…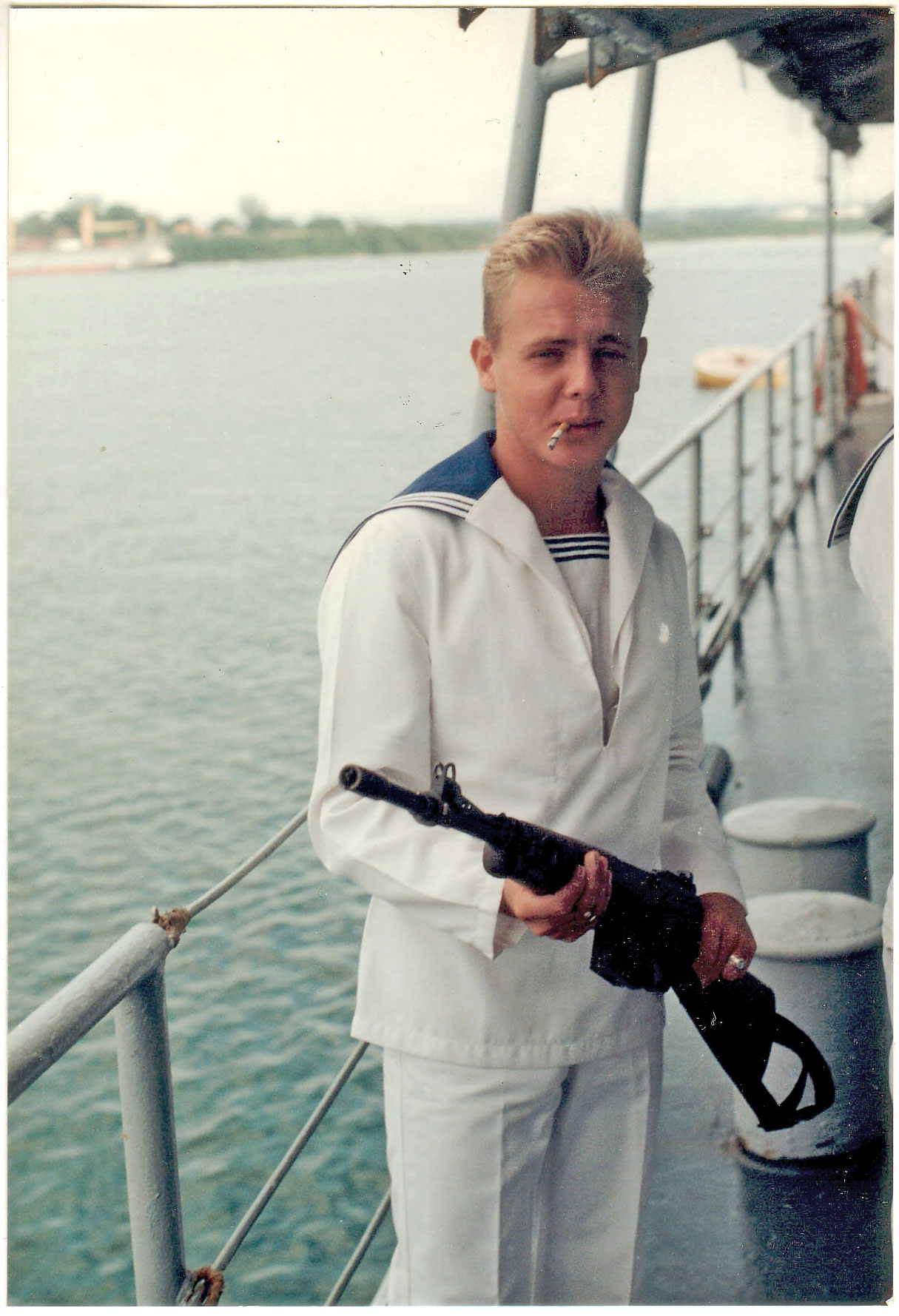 Pictured: Christophe during his service, holding a riffle which he later sold as a collector's item in his store. "Never fired, only dropped once."
For the inspiration behind 'Sea Hunt', the founder recalls his maritime adventures…
I had done some time aboard an old rusty ship of the "Marine Nationale", up and down the Indian Ocean, around 1985. For the French, Military Service was mandatory until 1996. Should you opt for the Navy, serving consisted of a 12 month course in evading-chores-by-looking-busy', punctuated by sleep deprivation for those at sea.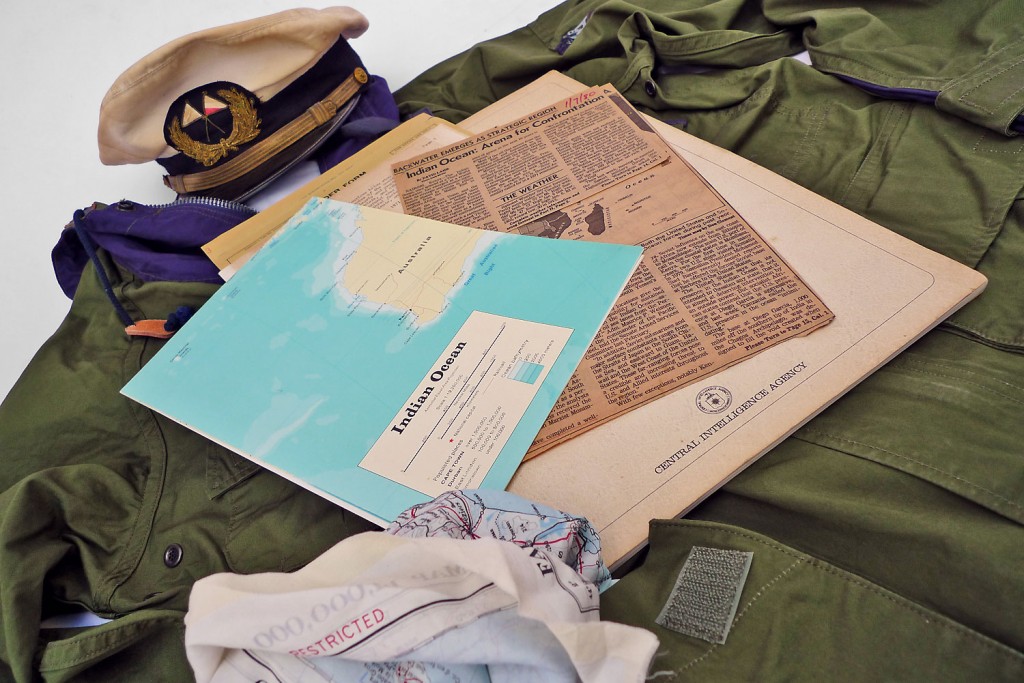 On another 'critical mission', we moored next to a very tiny remote Indian Ocean island called Juan de Nova. The island was inhabited by a group of intimidating sun-beaten French Paratroopers stationed there. I believe that mission was called: "Hey guys, we were nowhere in the neighborhood, so we decided to stop by". These Special Forces bunch hadn't seen much else than each others' mugs for a while, appeared quite content with it, and used words like they were rationed. Conversing with a yellow-haired skinny squid was not on their priority list … I took a solitary stroll around that island. I was trying to look at it from a Crusoe perspective, immersing in the concept of 'trapped in Paradise'. As postcard pretty as that island was, I came to the conclusion that I wasn't just ripe for marooning. Today, I might reconsider. These dudes and that island however, left quite an impression on me. I knew they had some stories. If that island could talk…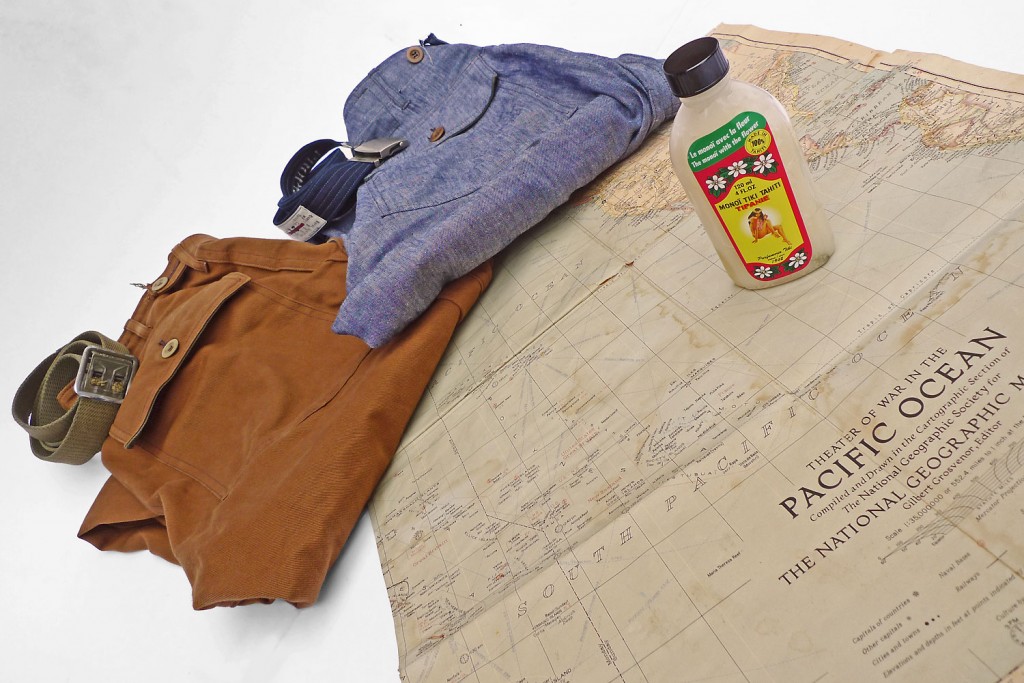 Some 30 years later, trying to piece a somewhat coherent story for a new concept, many of these snapshots and memories helped me come up with a brief script, the backdrop of Mister Freedom® mfsc Spring 2014 … I realized I was craving for a shot of sun-drenched islands, turquoise lagoons, luxuriant vegetation, adventure, coastal surveying, successful survival stories, tropical scientific journeys and treasure hunting! I wanted the fascinating mental escape that the lure of hidden mysteries brings.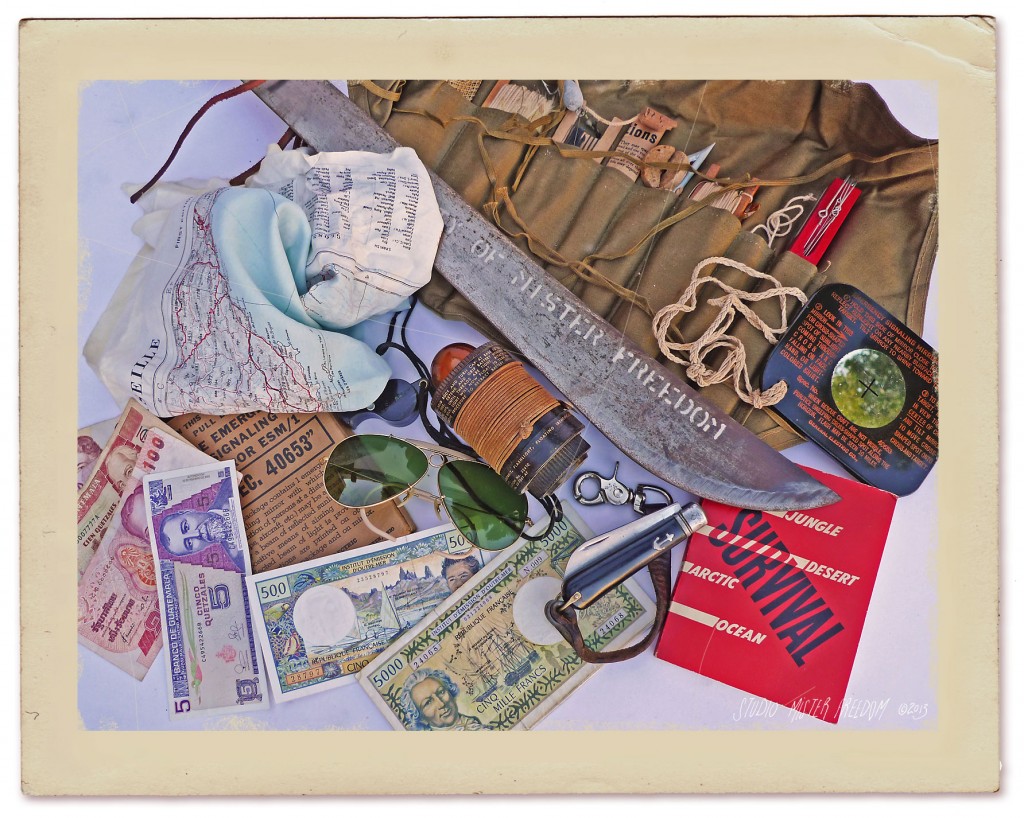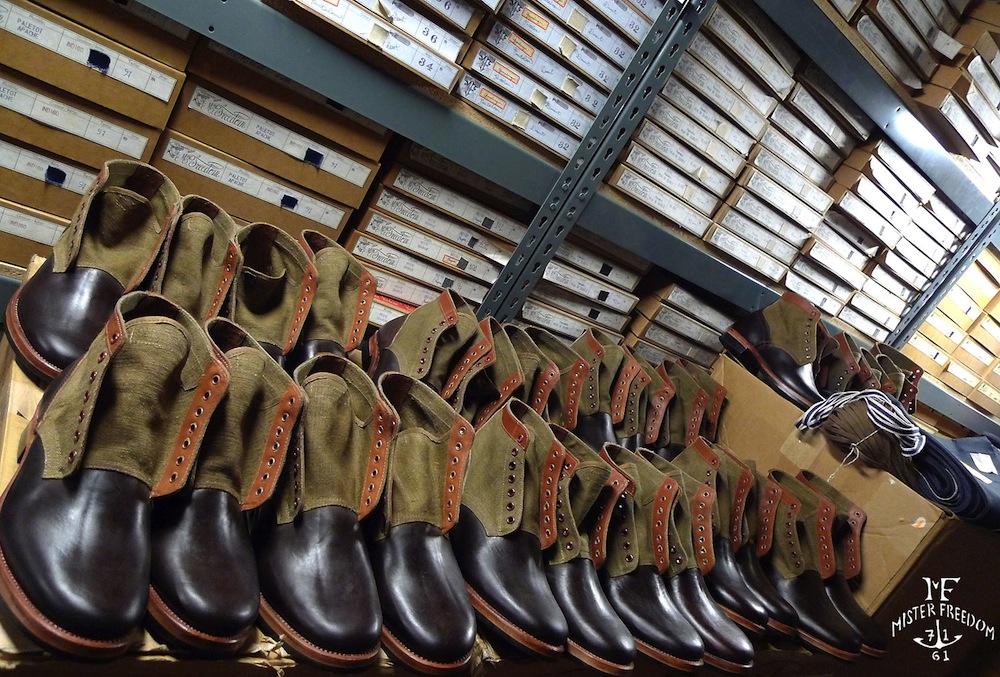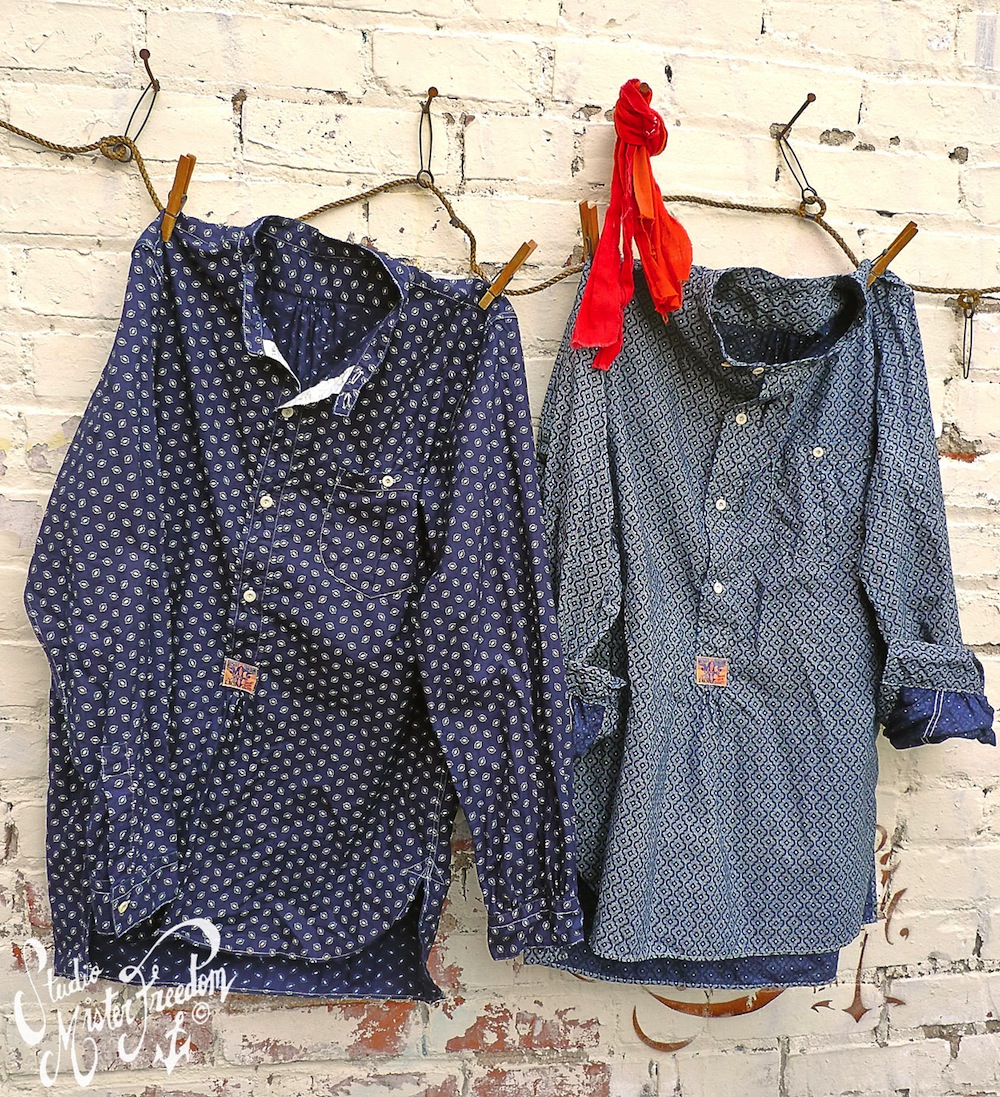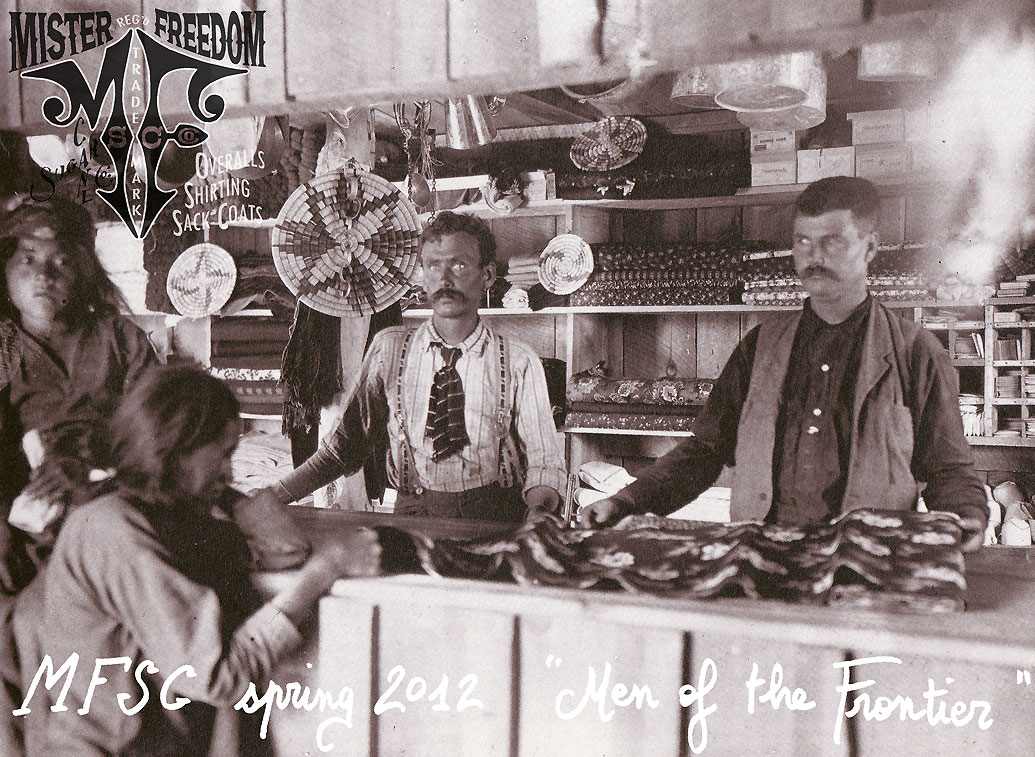 Above, a vintage photograph used for Mister Freedom's Spring 2012 collection, 'Men of the Frontier', inspired by "an explosive mix of guns, recent immigrants, Native Indians, European explorers, pioneers and early Spaniard settlers".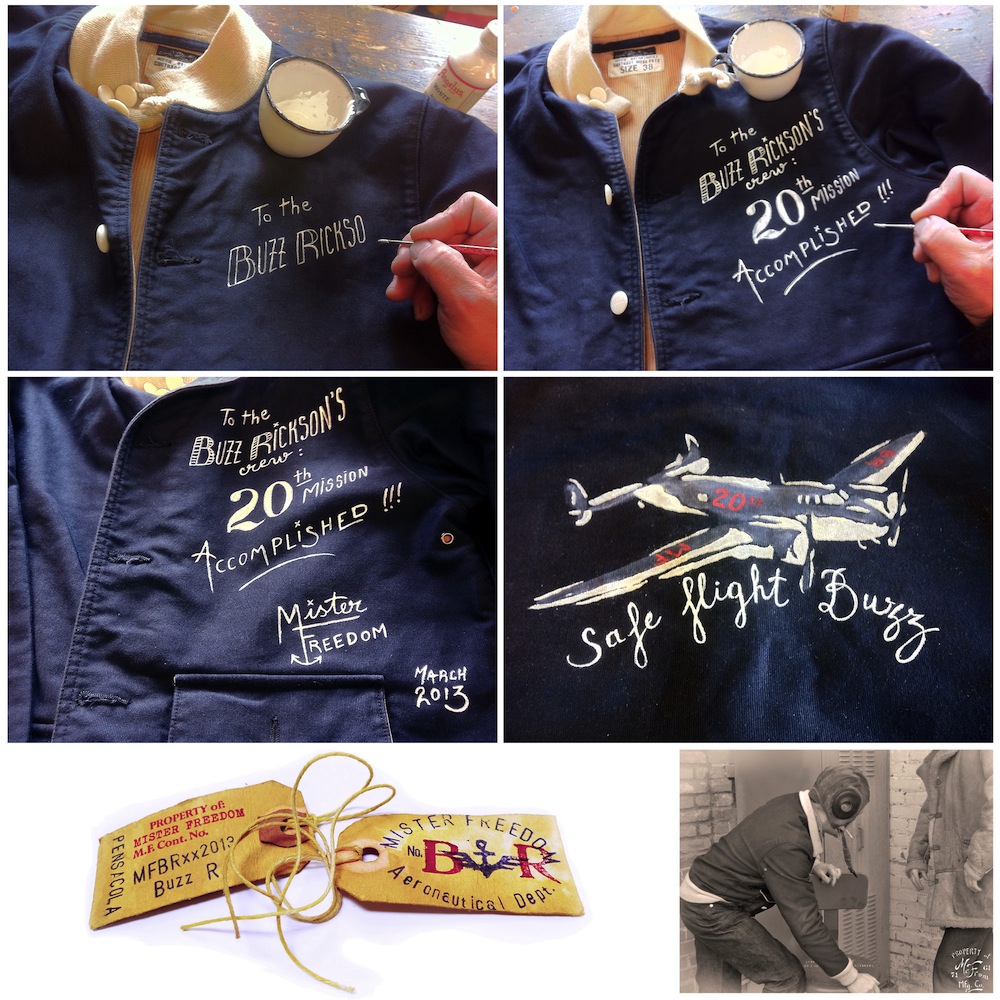 In the Mister Freedom studio space above the shop, Christophe and his team also offer in house custom graphics and one-of-a-kind prototype designs made with vintage fabrics from his archives.
(Customisable jacket pictured above, available here).
And it's all hands on deck at Mister Freedom– they even cut, label and stamp all their own price tags by hand. Check out their beautiful packaging too– the vintage style boxes alone are worthy of displaying on your shelf!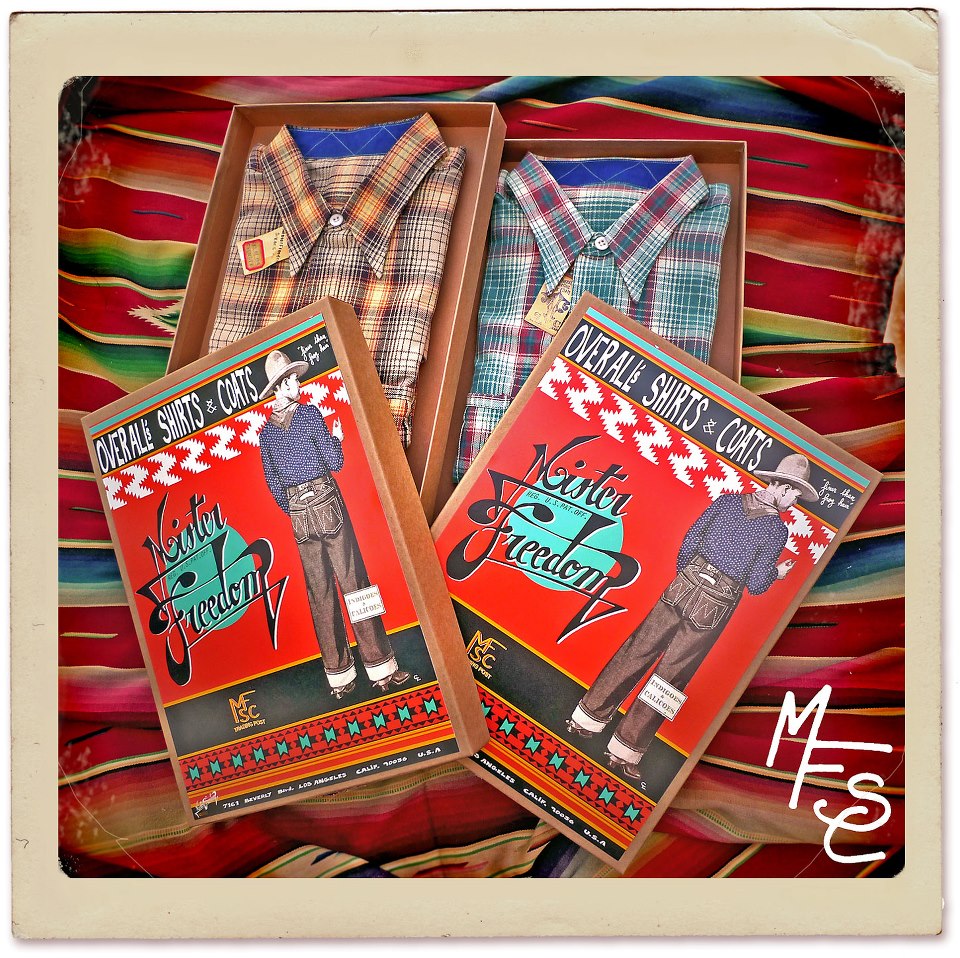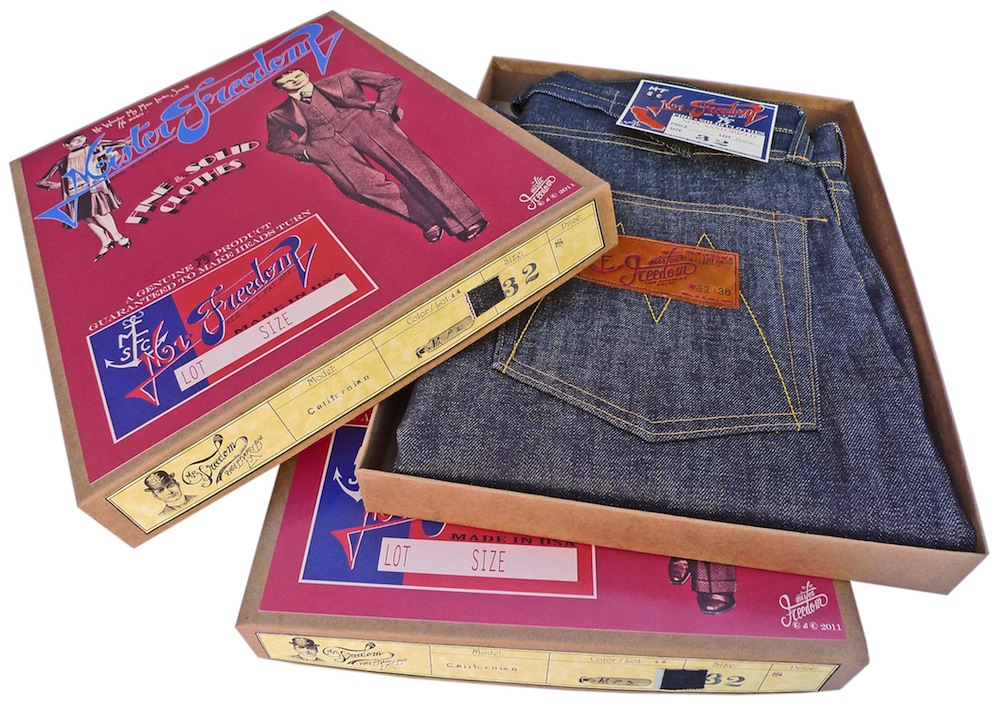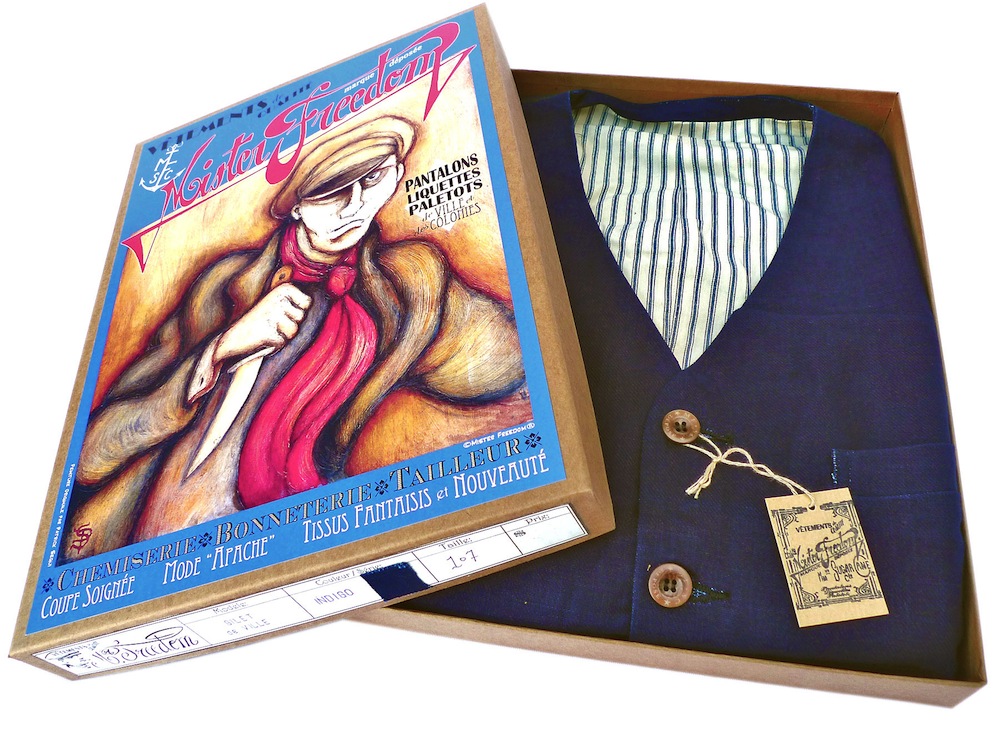 PS. Johnny Depp has that waistcoat.
So if you're in Los Angeles, be sure not to miss out on the sartorial rabbit hole that is Mister Freedom. Packed with treasures for both men and women, you're sure to come away with a piece of this Frenchman's nostalgic American dream.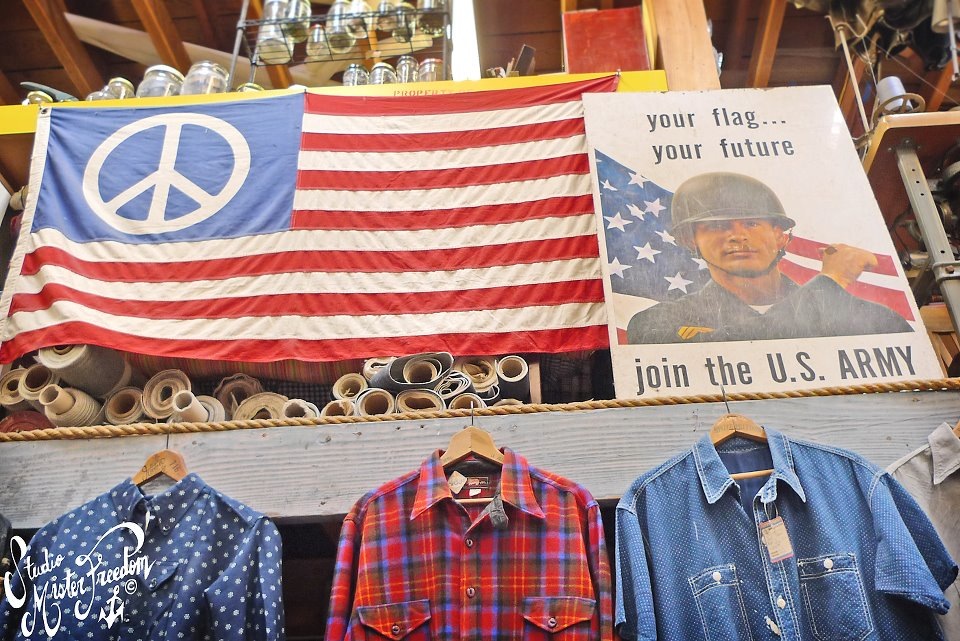 You can also browse the online shop in the meantime or visit Christophe's blog for old photos and great stories (clothing store blogs aren't usually very interesting but I had a great time poring over this one).
Meet the man himself in this State of Style profile (coincidentally the same guys who also happened to do a profile on little ol' MessyNessy). If you thought Johnny Depp was cool, check this guy out…