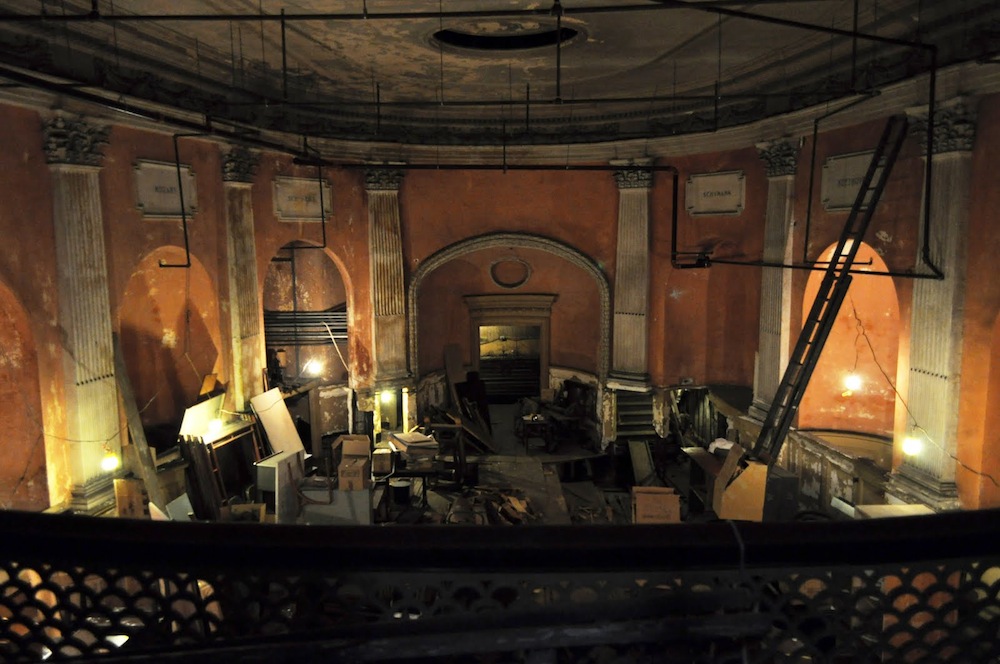 Boston has its own phantom of the opera: a vast and forgotten 120 year-old concert theatre buried 40 feet below street level. One of the city's best-kept secrets, the sleeping concert hall reminiscent of Italian Renaissance style, has been closed for more than 70 years, hidden away from the public below the unassuming old storefront of piano seller M. S Steinert & Sons on Boylston Street.
Lead image by Greig Lamont (c) Project of Ruins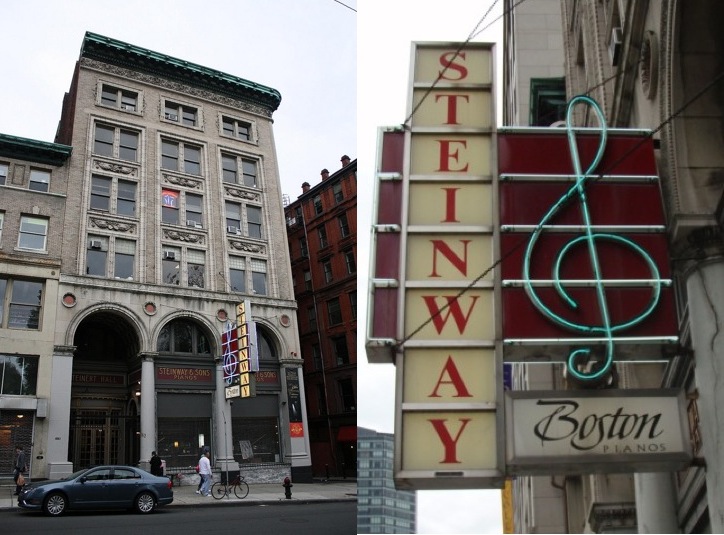 Steinert Hall was once a treasured performance space, hailed at the dawn of the 20th century as the "headquarters for the musical and artistic world of cultured Boston".
Today it doesn't serve as much more than a subterranean crypt for old pianos and their spare parts…
The "acoustically perfect" theatre was built by Alexander Steinert, son of Morris Steinert, a German immigrant who arrived in Boston in the mid 1800s along with his dream of opening an American piano store. Alexander commissioned the 650 seater concert hall for musicians to benefit from a unique acoustic environment, buried deep enough to entirely silence the noise of the busy Boston streets.
Images by Greig Lamont (c) Project of Ruins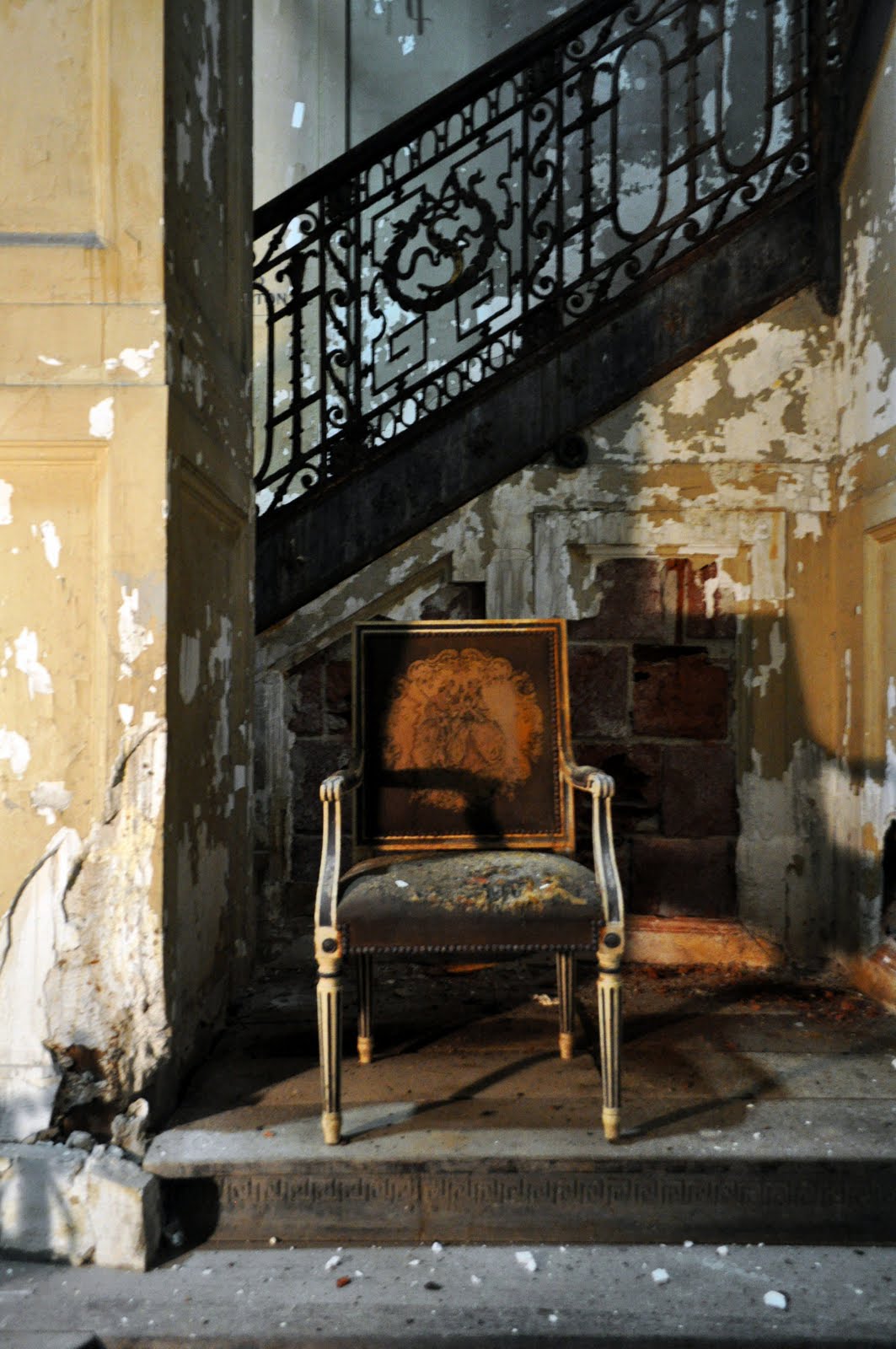 World-renowned pianists and opera singers alike performed on this stage but Steinert Hall hasn't hosted an audience or heard the echoes of musicians' instruments since 1942, the same year an unforgettable tragedy struck Boston's entertainment scene and shocked the nation.
It was the year 492 people would die in the deadliest nightclub fire in history at the Cocoanut Grove. Following the horrifying incident, building codes would never be the same again. Subterranean spaces in particular, became subject to strict fire regulations. With a capacity for 650 people and a serious lack of fire exits 40 feet below ground, Steinhert had no chance of surviving the new wave of laws that saw many establishments heavily fined and ultimately shut down. The costly upgrades were simply out of budget and the sounds of Steinhert Hall were silenced under lock and key.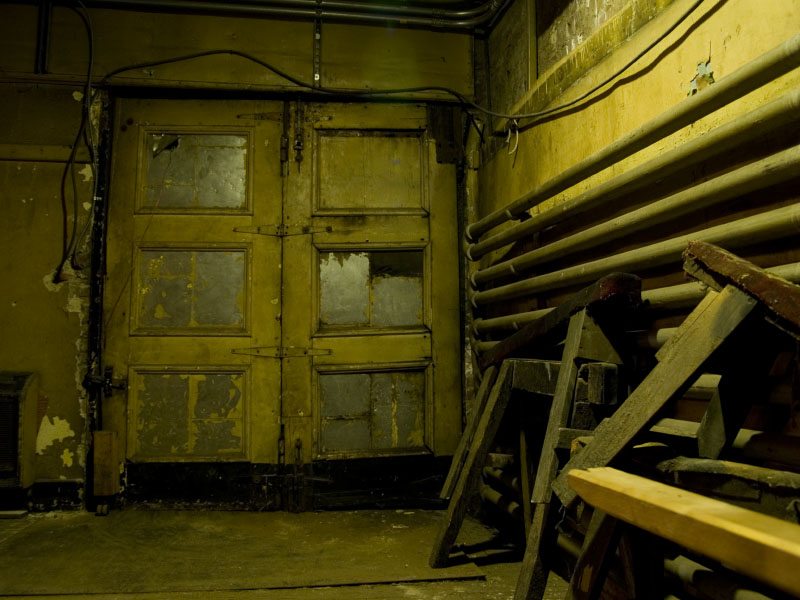 Image (c) Joe Kowalski
While the piano shop at ground-level continued to specialise in Steinways and become a well-known and trusted name in the Boston music community, the once treasured theatre was quickly forgotten by the cultural elite that had frequented its underground auditorium. As decades passed, it became a mysterious urban legend, unseen even by the majority of the staff themselves at M. S Steinert & Sons. Some in-the-know Bostonians heard the whispers of a secret subterranean theatre, but few believed it was really there. 
Below: A floor plan for Steinert Hall that dates back to 1904, via Emerson College radio website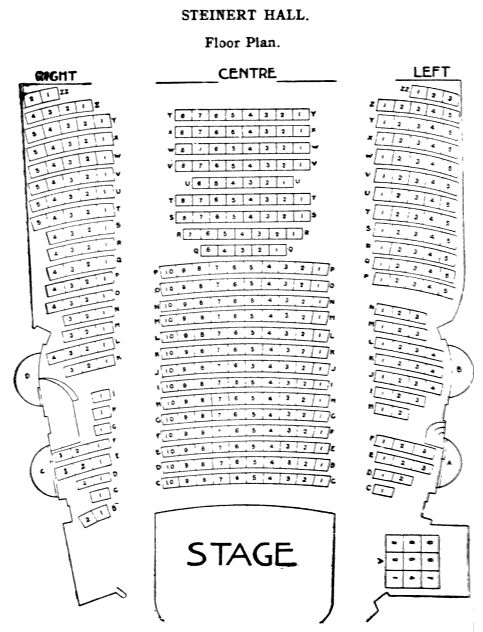 Then in 2011, one curious urban explorer, Greig Lamont published an article on his blog, A Project in Ruins, featuring photographs that confirmed the existence of the mysterious theatre for those that cared to know. After all these years, it had indeed been sitting right under the city's favourite old piano store at 162-168 Boylston St.
With special permission (presumably thanks to a talented way with words), Greig was given access to the bygone music hall accompanied by the building's maintenance man. 
In his article, he describes the theatre in its current state:
"With all but a few of the original chairs and benches removed, the Hall was used as glorified dumping-ground and store-room. Broken pianos, large wooden transportation crates, old toilets, boxes, cabinets, amongst other items of bric-a-brac lay strewn around its magnificent floor."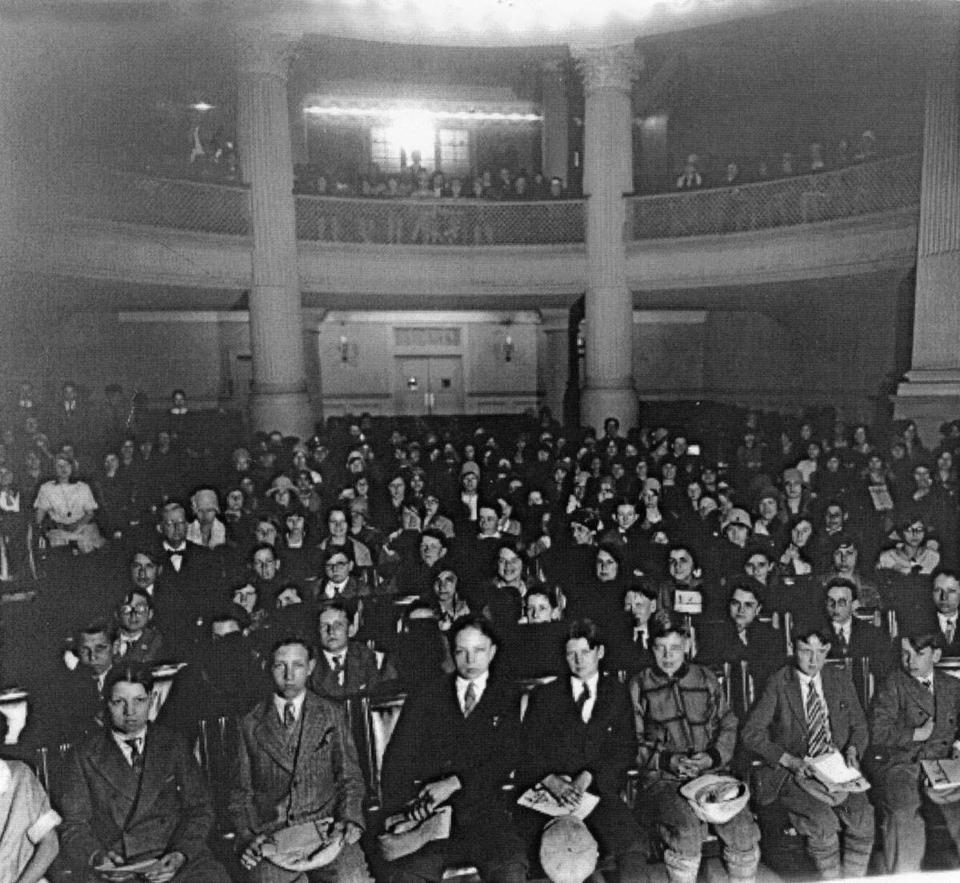 All but a few of the original 650 seats were donated to the Boston College High School and since its closure, the theatre has been a serious victim of water damage. In the 1960s, the construction of a nearby garage caused major flooding from a pipe break and over the years, water has continued to trickle down from the water table above. 
"Despite being in a bad state of disrepair much of the original plaster, stonework and paint survives, which the top balcony provided a perfect vantage point to inspect from," says Greig.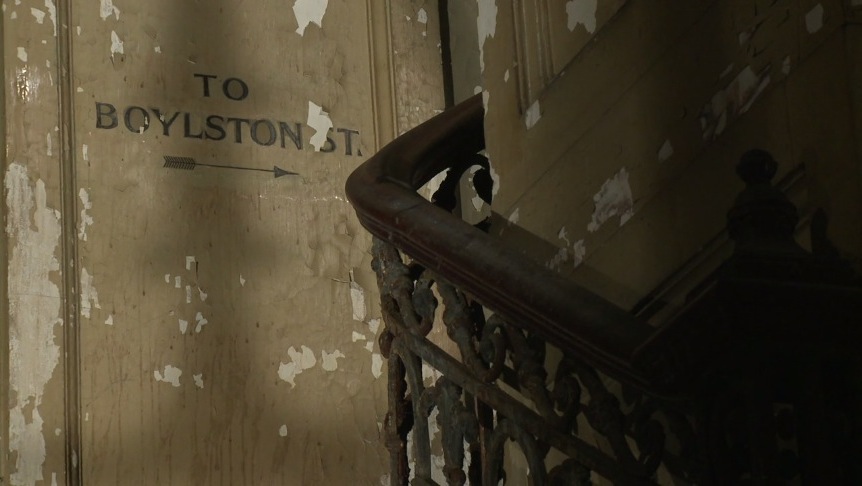 At one point the theatre had been designated as a public bomb shelter but fortunately it was never employed under such circumstances and remained a mystery to all but a few. Occasionally in-the-know musicians requested a visit, including Elton John who allegedly took a tour in the 90s. In 2013, the local Emerson College radio website ran a feature on the theatre, followed by the Boston Globe, sparking a wider-spread awareness of the hidden treasure. Still, Steinert Hall is officially closed to the public and Paul Murphy, today's president of M. Steinert & Sons, discourages requests for visitation due to the high safety risks.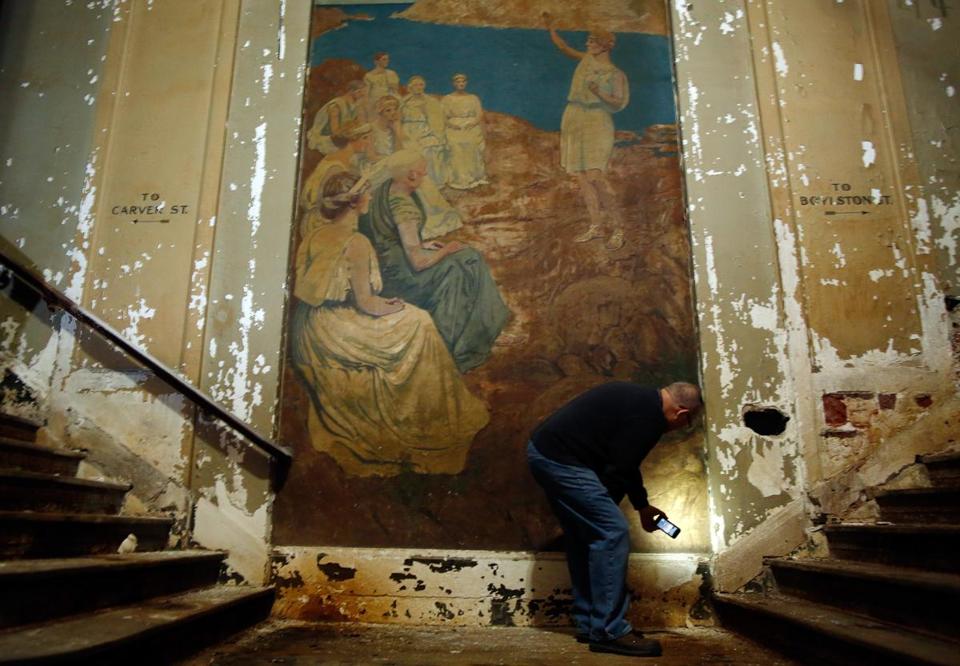 Image (c) Jessica Rinaldi for the Boston Globe
Murphy has had interest from various parties such as nightclub owners and theatre troupes to buy the old concert hall, but believes it would not be salvageable for anything less than $6 million– and that's just the repairs. 
The list of obstacles for the revival is no doubt a very long one and for the foreseeable future as Steinert & Sons have temporarily moved to a new location in Park Plaza Building for three years, whilst the new owners of its Boylston St home clear and renovate the building. We got in touch with Steinert & Sons in January of 2018, who told us that plans to fully restore the theatre to its old glory are ready to go. Now, however, it's just a waiting-game question. "There are currently residents in the building, so we have to wait on them to leave," they explained, "but there have been architects inside, and plans made."
So for the time being, the music from this phantom of the opera will truly have to play inside our minds…
In the meantime, take a virtual tour in this short video below:
Sources: A Project in Ruins, Emerson College radio website, The Boston Globe, Andrew Vella on Vimeo, Flickr
PS. If you want to stay on top of updates for the theatre, it might be worth following the M.Steinert & Sons Facebook page.