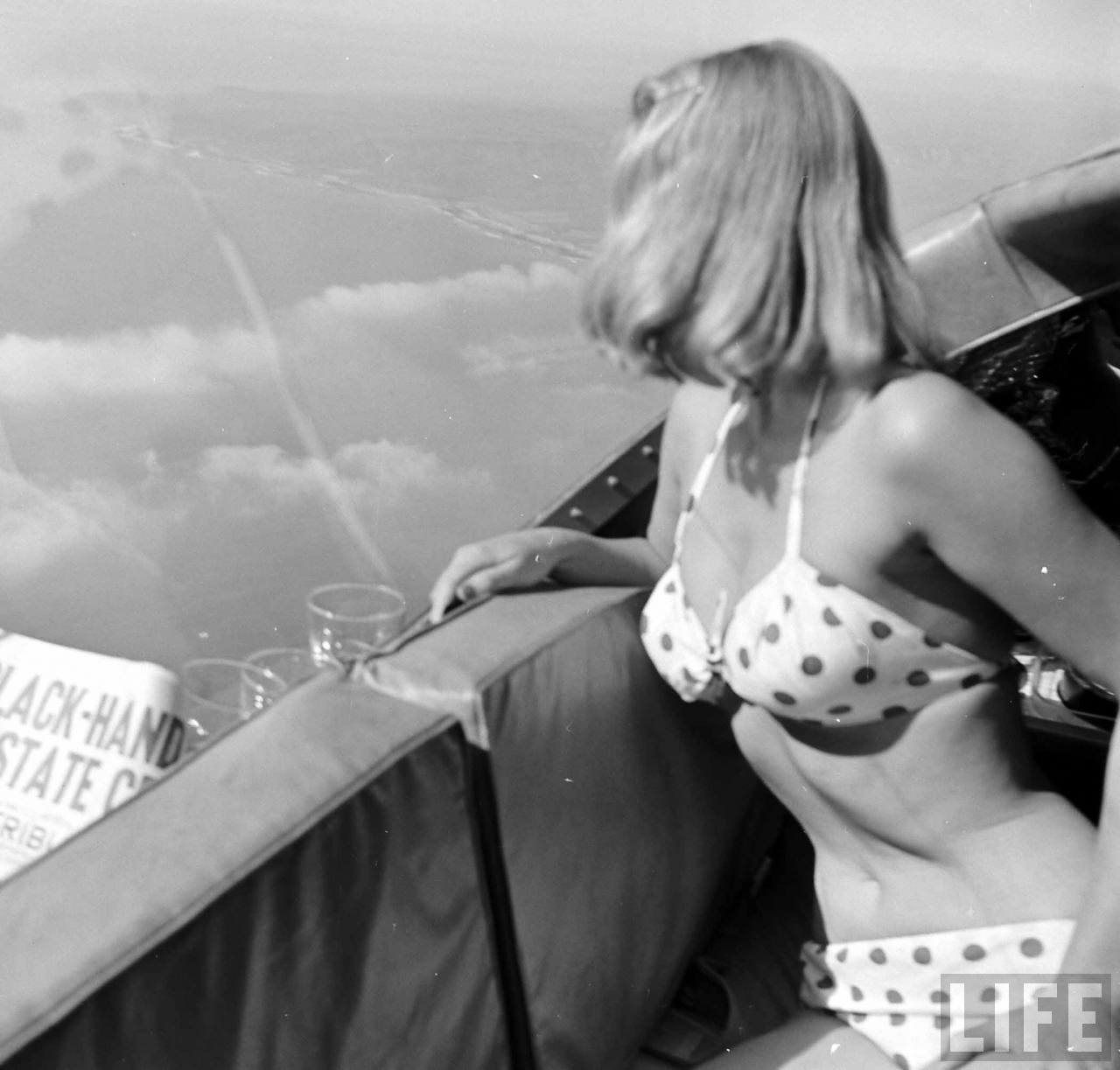 They don't call it the 'Golden Age of Travel' for nothing. If you thought you were having early symptoms of the pre-summer travel bug, this will surely finish you off. Found deep within LIFE magazine's archives, introducing "the flying yacht" …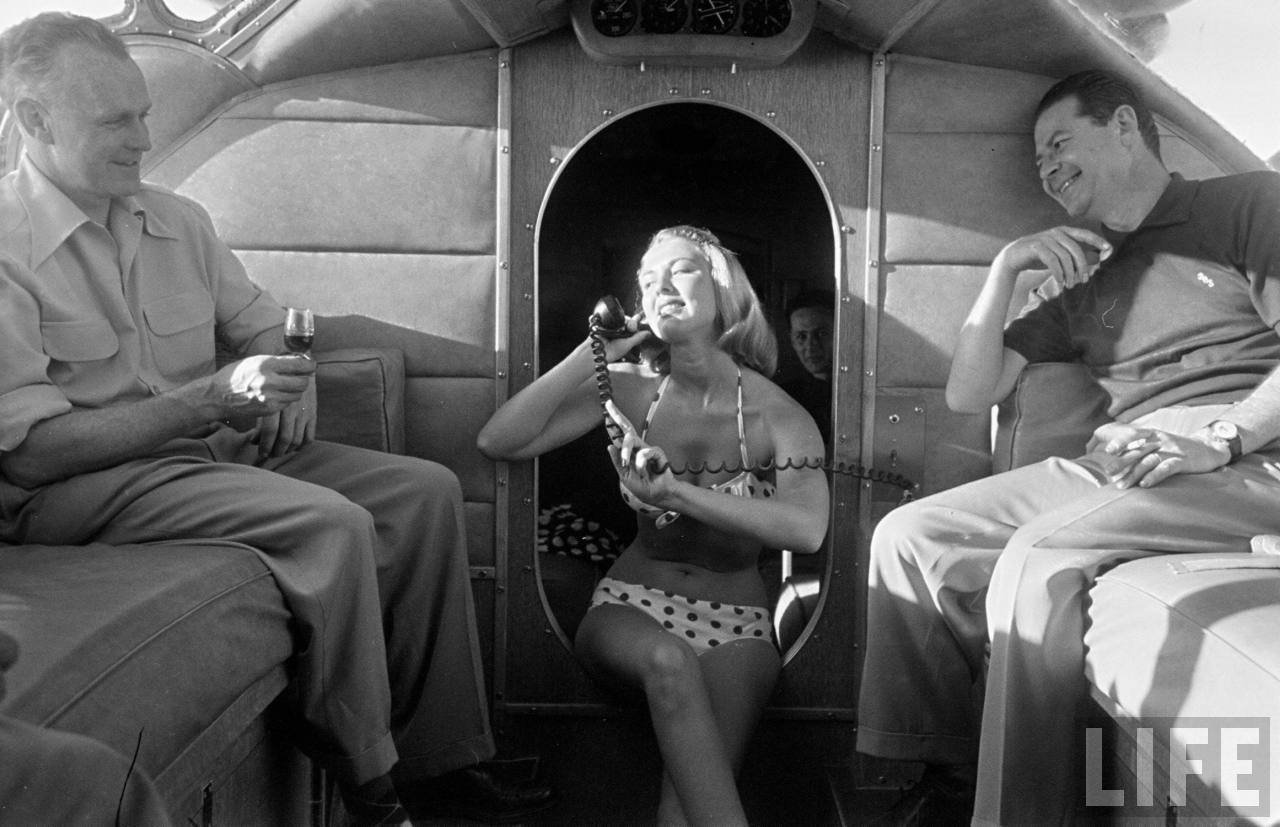 Hold the phone! A flying yacht in 1950?! Or an amphibious airplane, depending on your preference. We're looking at the photographs of LIFE veteran Loomis Dean, who was invited aboard this luxury post-war conversion of a consolidated PBY Catalina, one of the most versatile airplanes used in the Second World War. Before it was hosting blondes in polka dot bikinis, it served as a patrol bomber and submarine killer.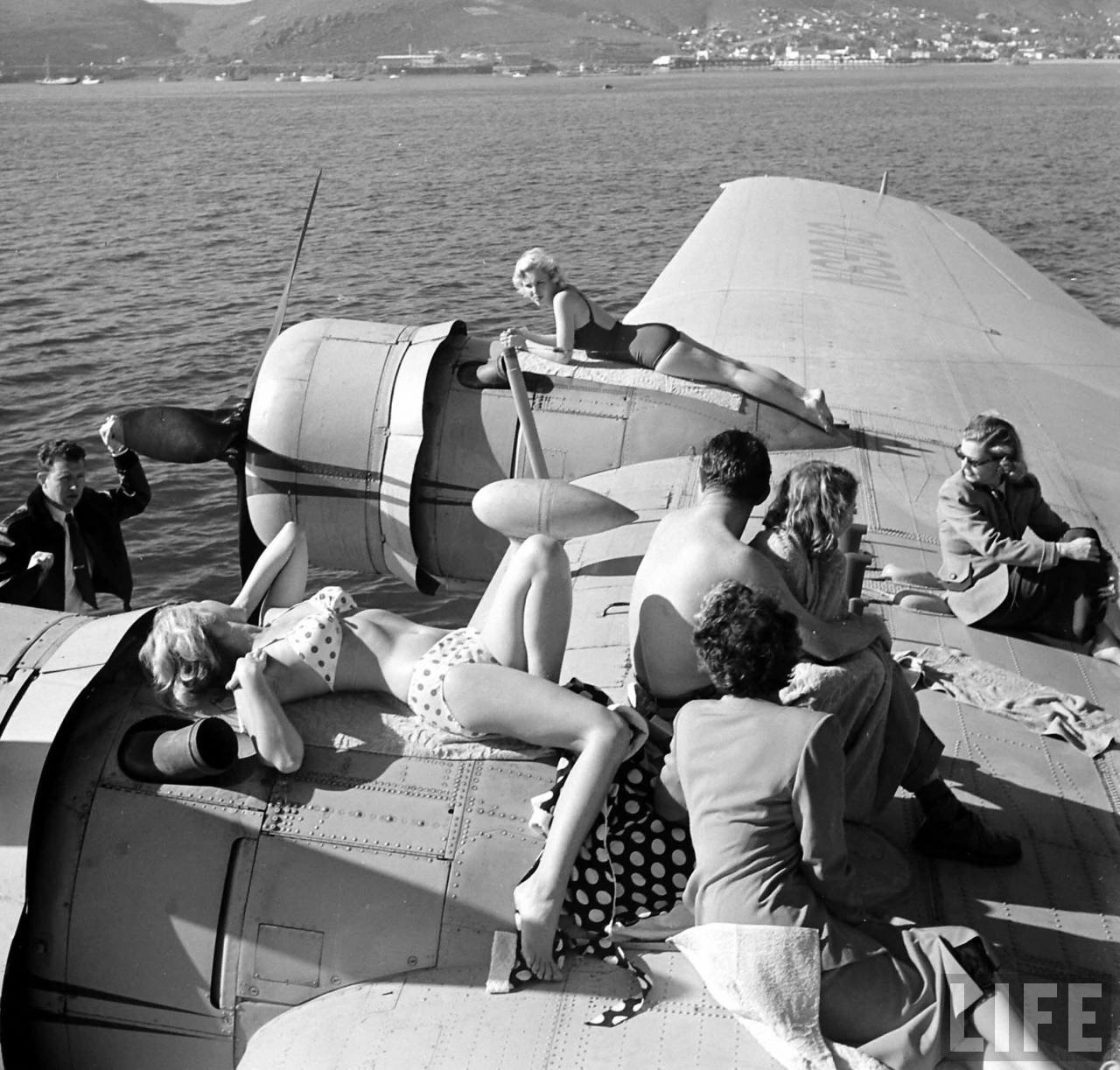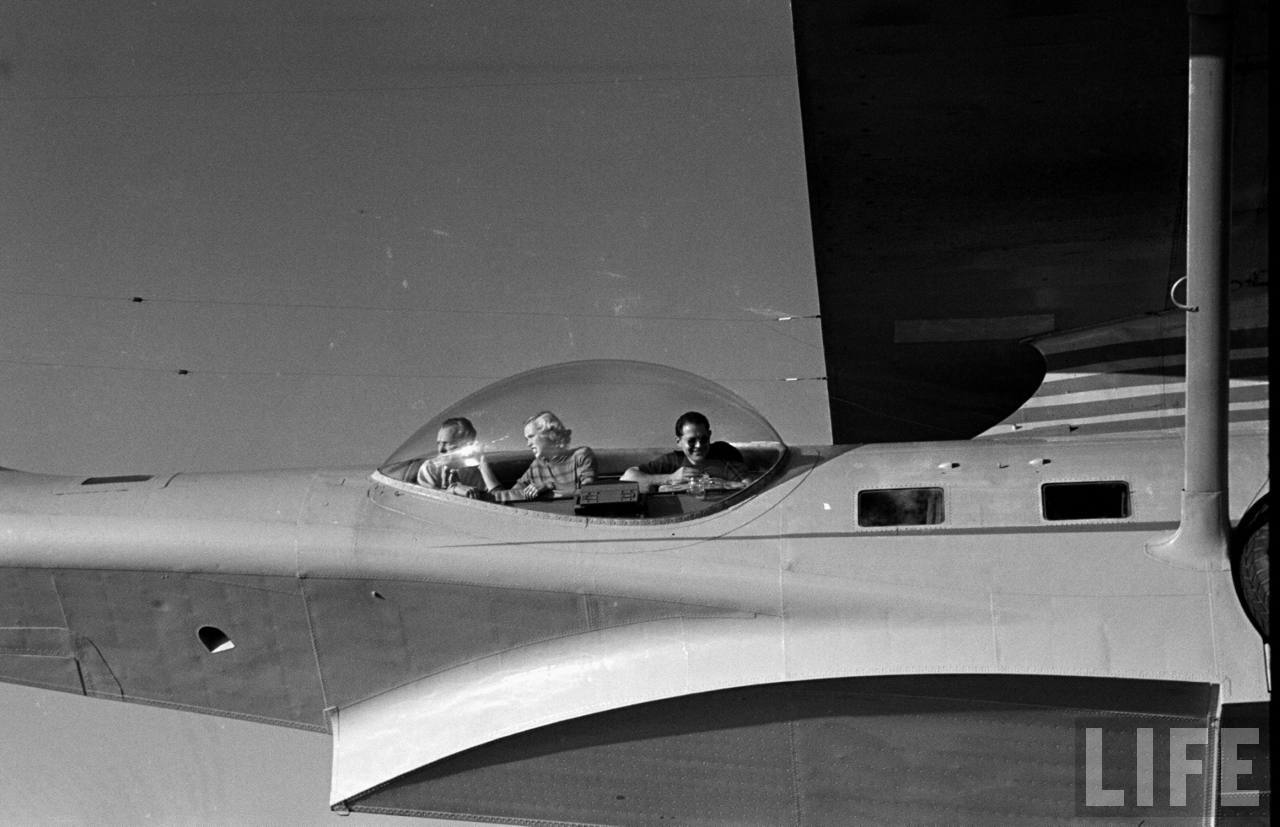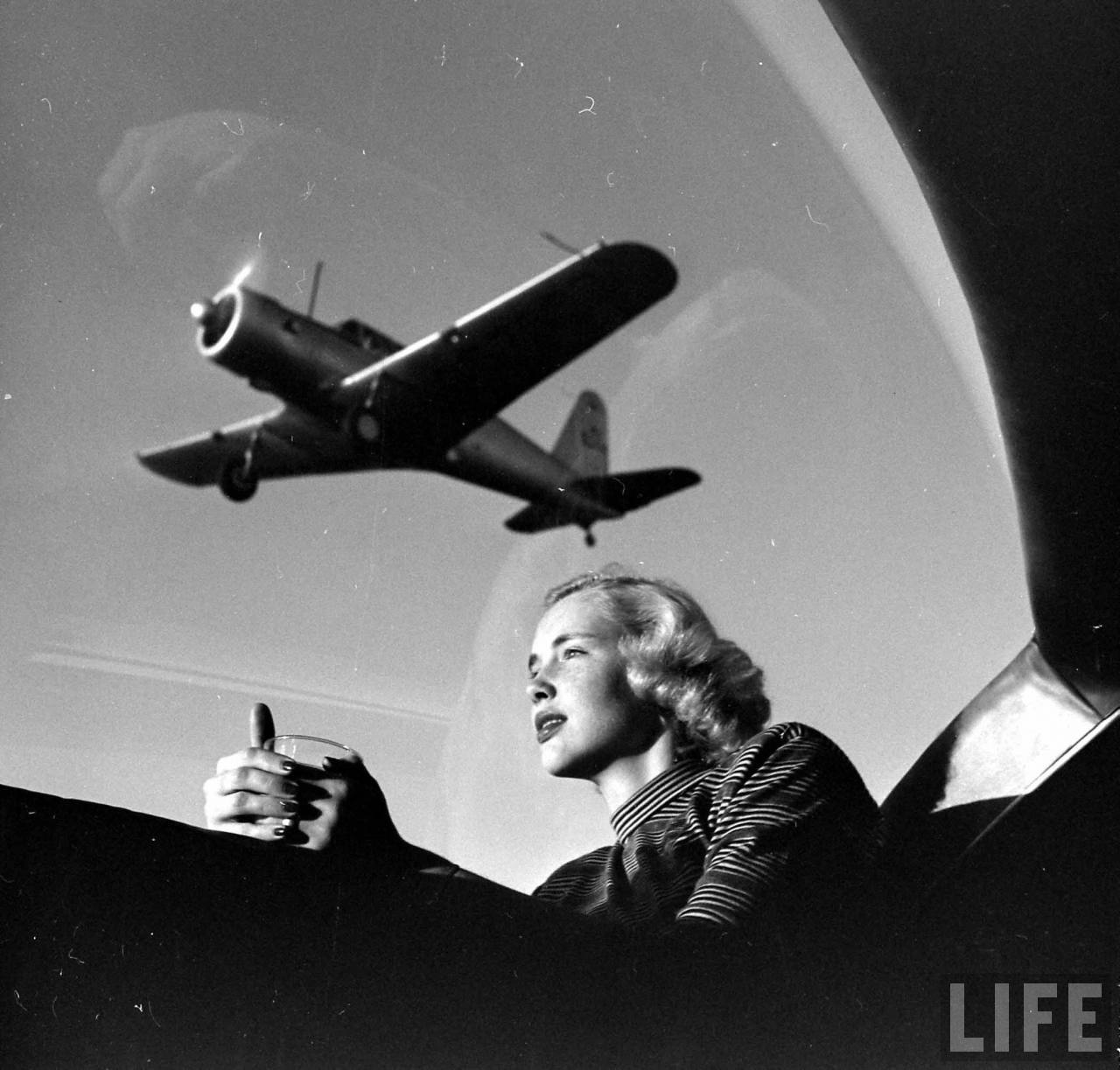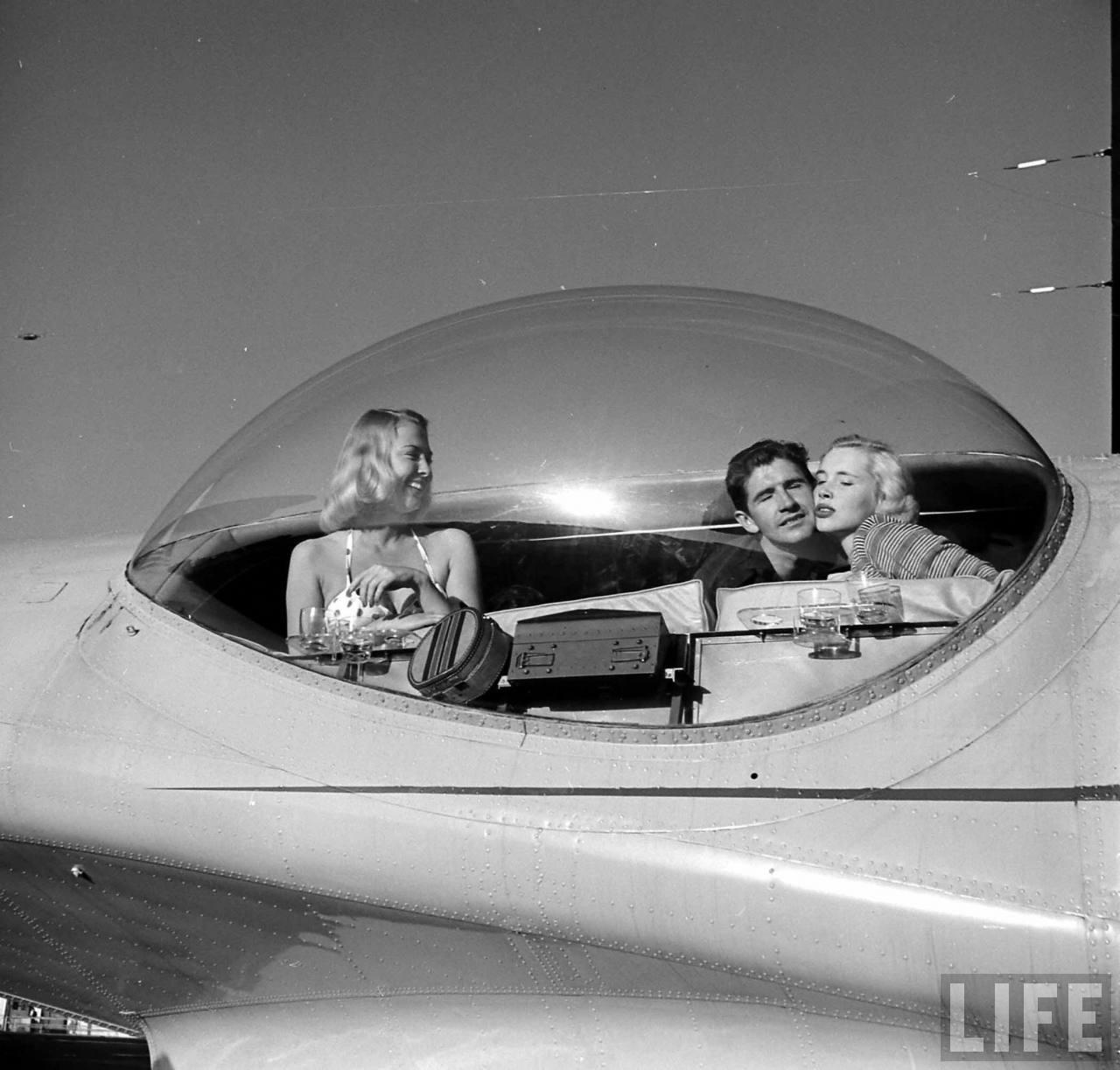 After the war, an entrepreneur by the name of Glenn Odekirk saw a new future for the roomy Catalinas as extreme luxury flying yachts. They were to be the epitome of glamorous travel that he called Landseaire.
"It seemed like no one was getting real utility out of a private airplane", Odekirk was quoted in a Flight magazine article in 1953. "Normally, it's just a means of transportation in which you ride from here to there with varying degrees of comfort. So, I decided to build an aerial luxury yacht in which you can land and live almost anywhere in the world with all the comforts of home."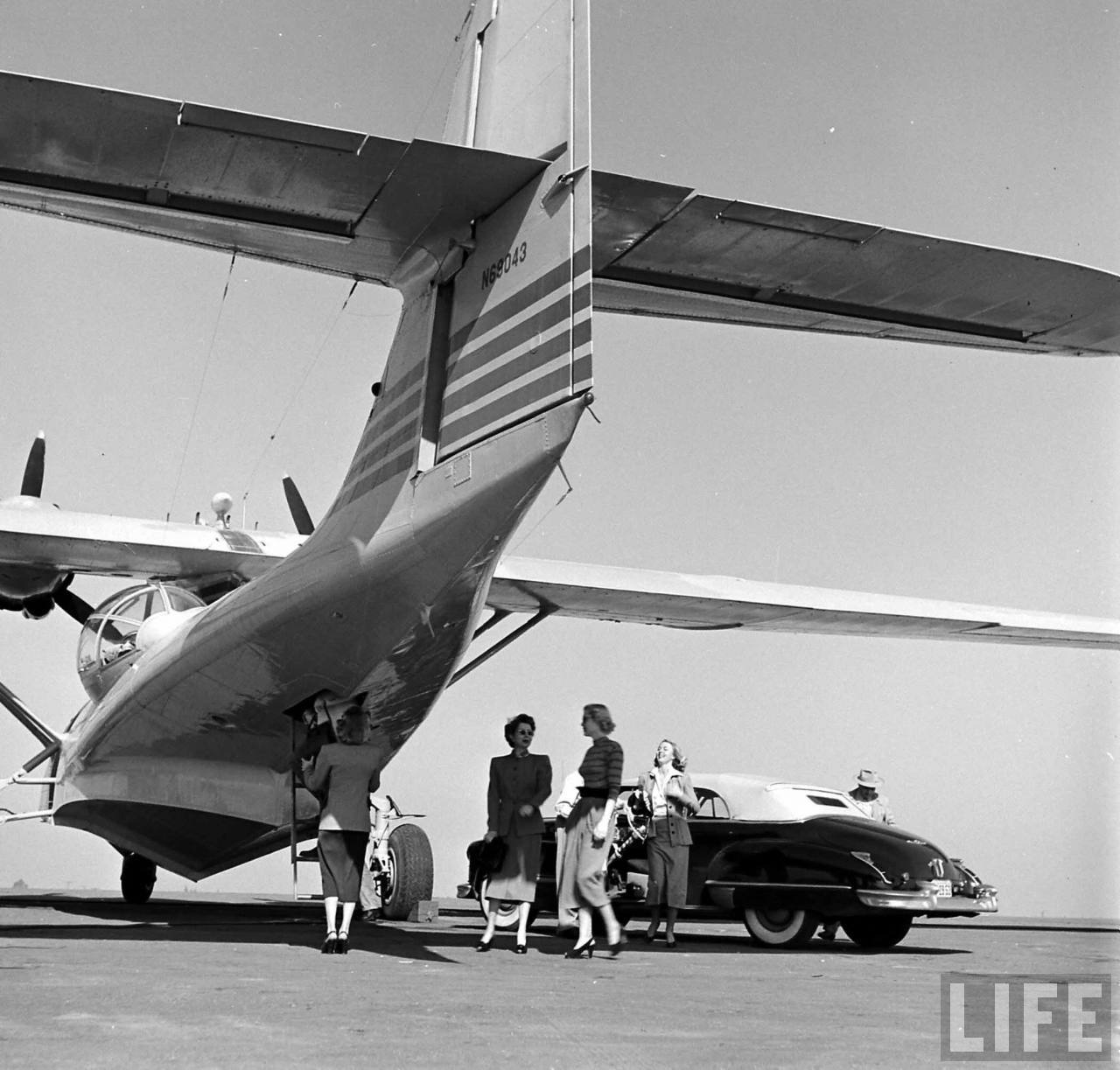 Of course, with your own private (amphibious) jet, one must arrive in style…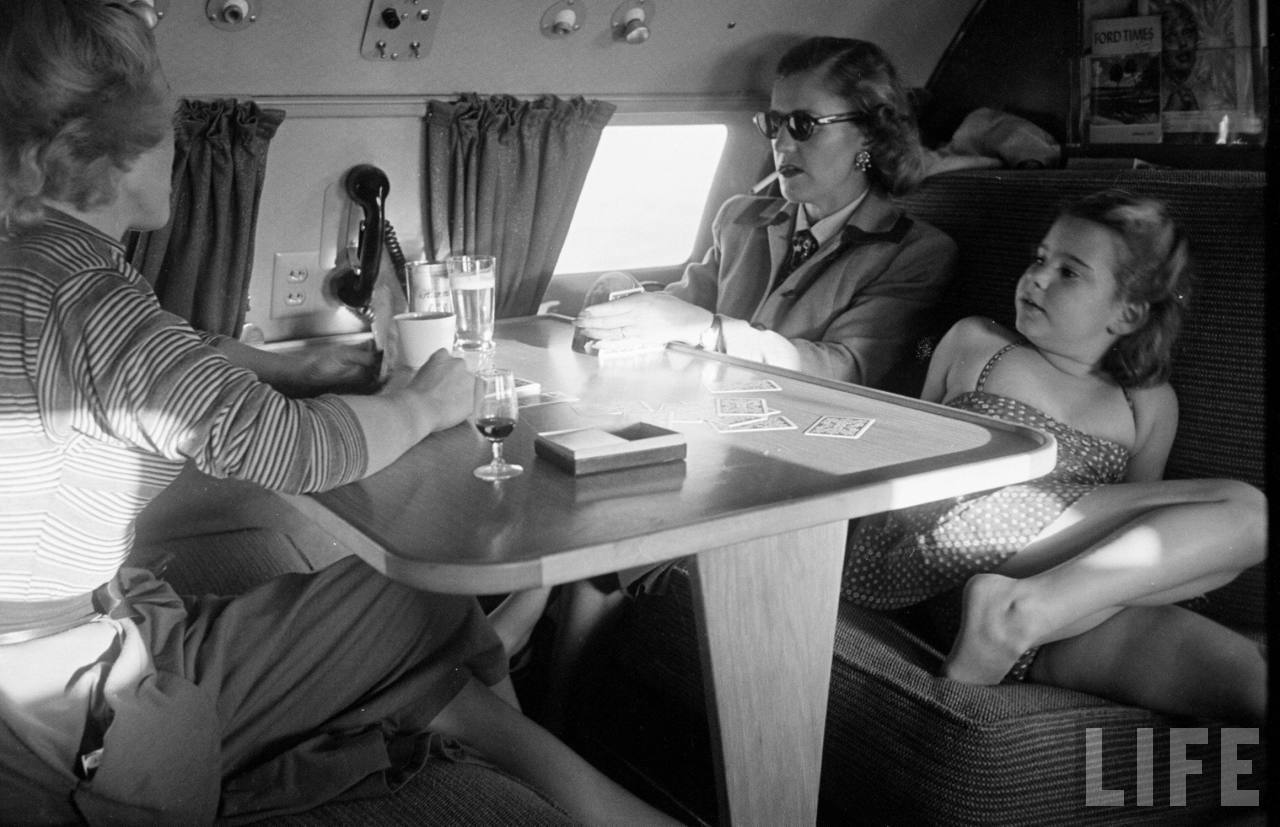 With plenty of leisurely games to pass the time…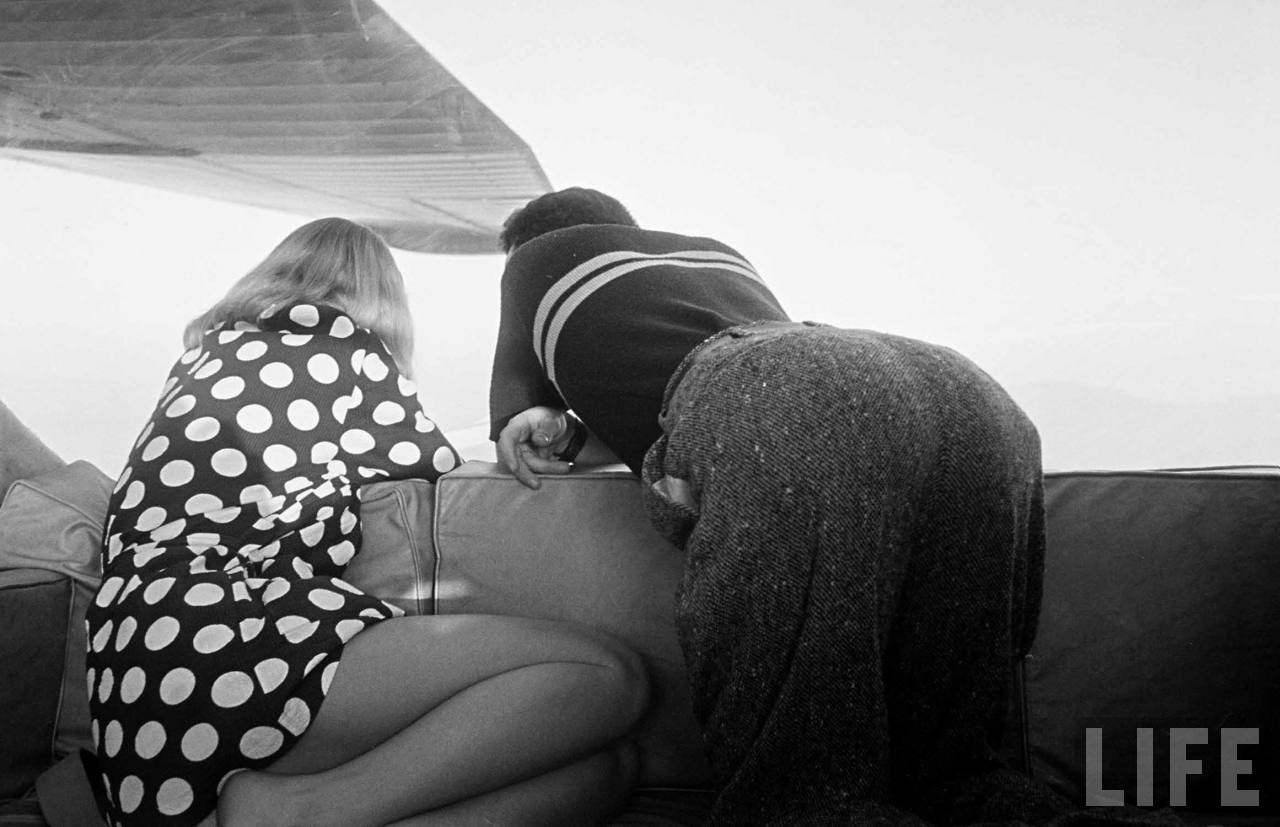 Scrap that! Who needs card games when you have panoramic views from the sky!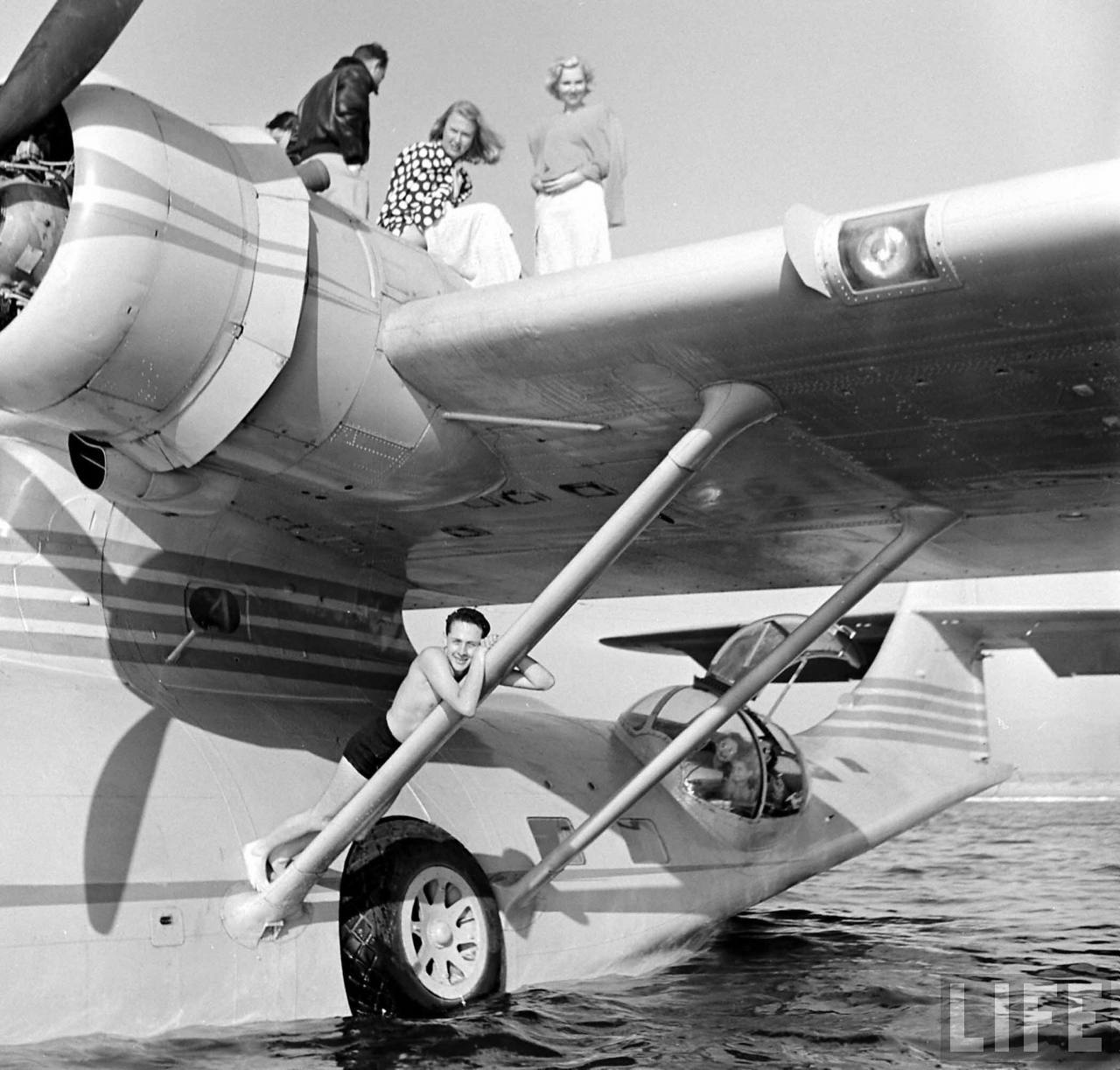 Not your average stop-over I imagine!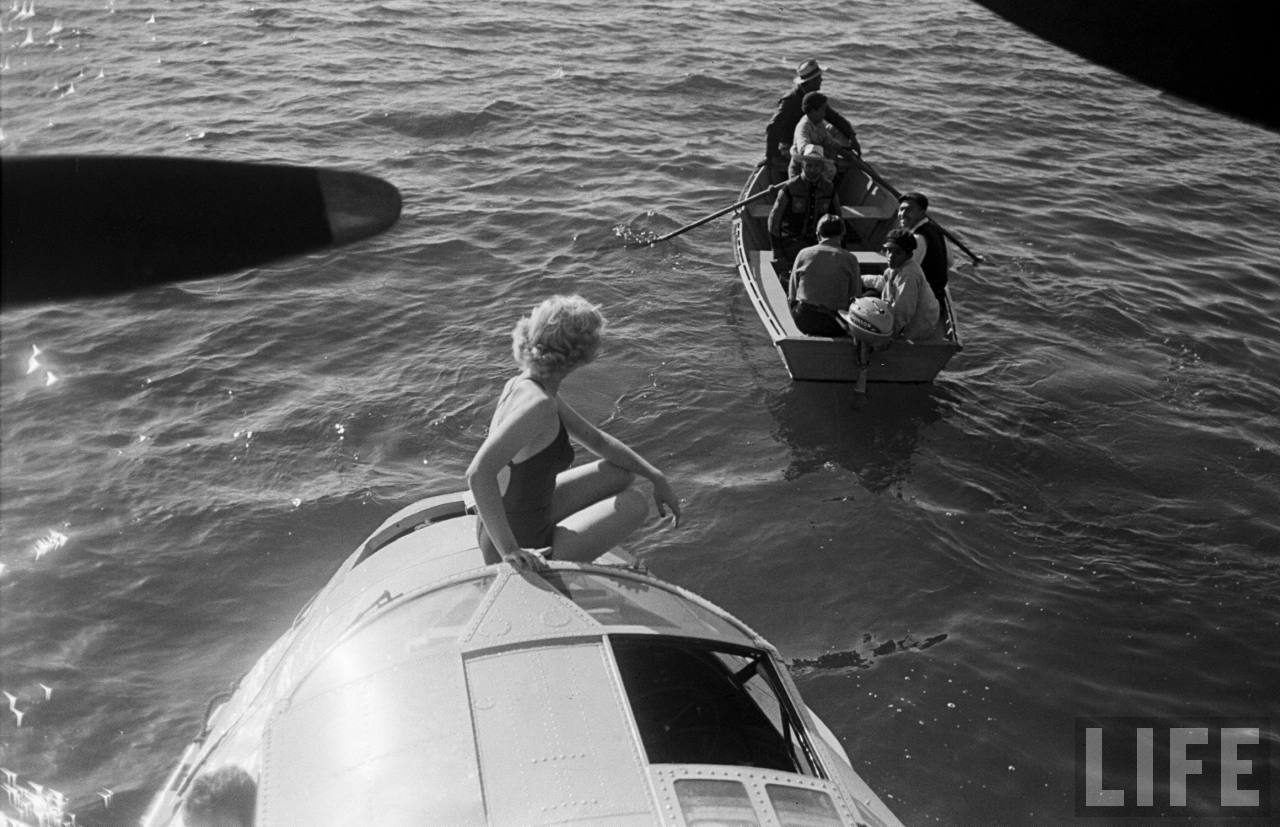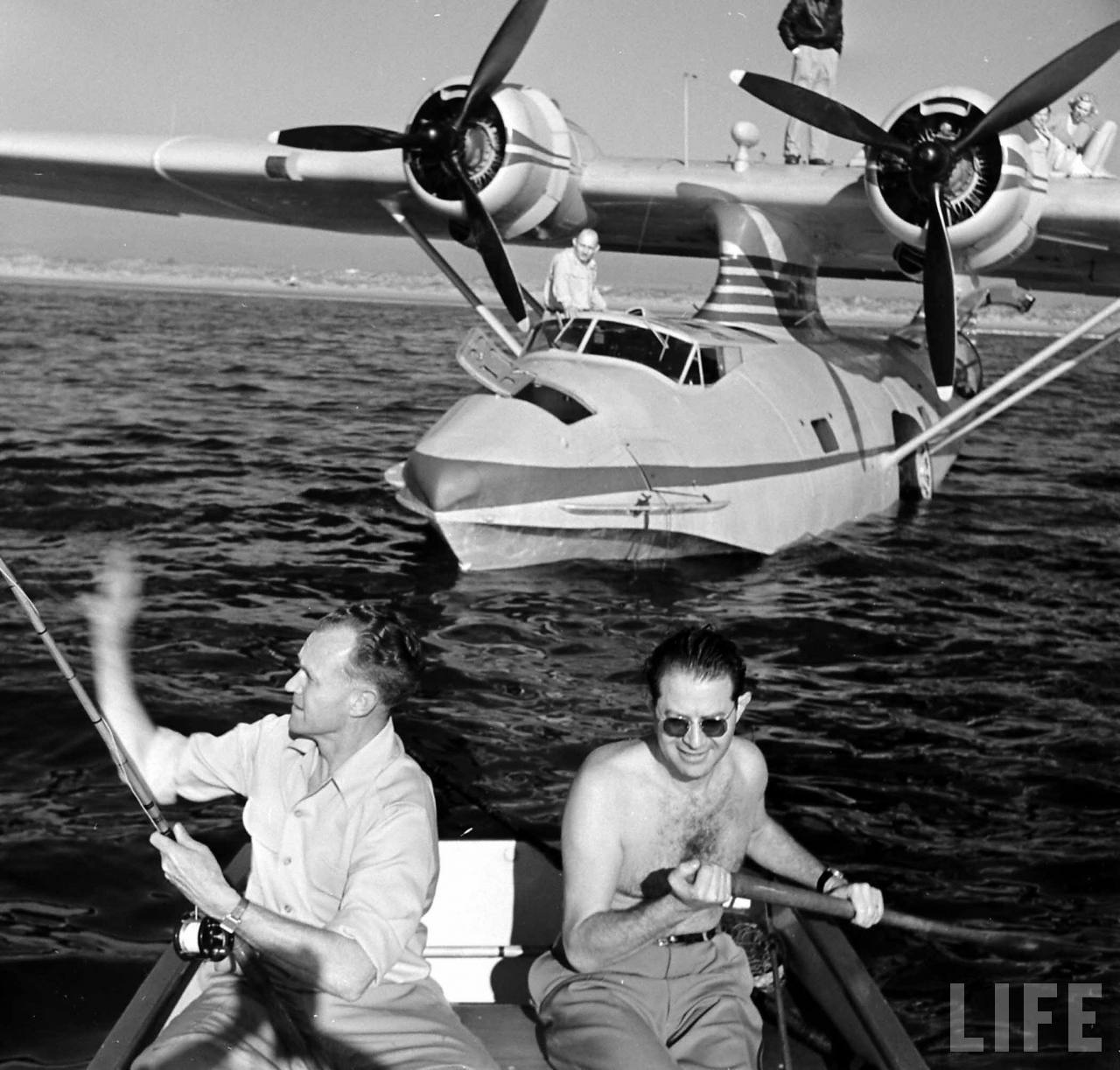 The man behind the flying yacht, Glenn Odekirk, is pictured here on the left, aboard his dingy, which would have been fixed under the wing during flight. He invited some fellow executives from the Southern California Aircraft Corp., family members and two attractive blonde aspiring actresses to lure the interest of the LIFE magazine camera lens. The day spent sightseeing along San Diego's coast was meant to generate publicity for Oderkirk, who was hoping to sell his planes to wealthy American industrialists.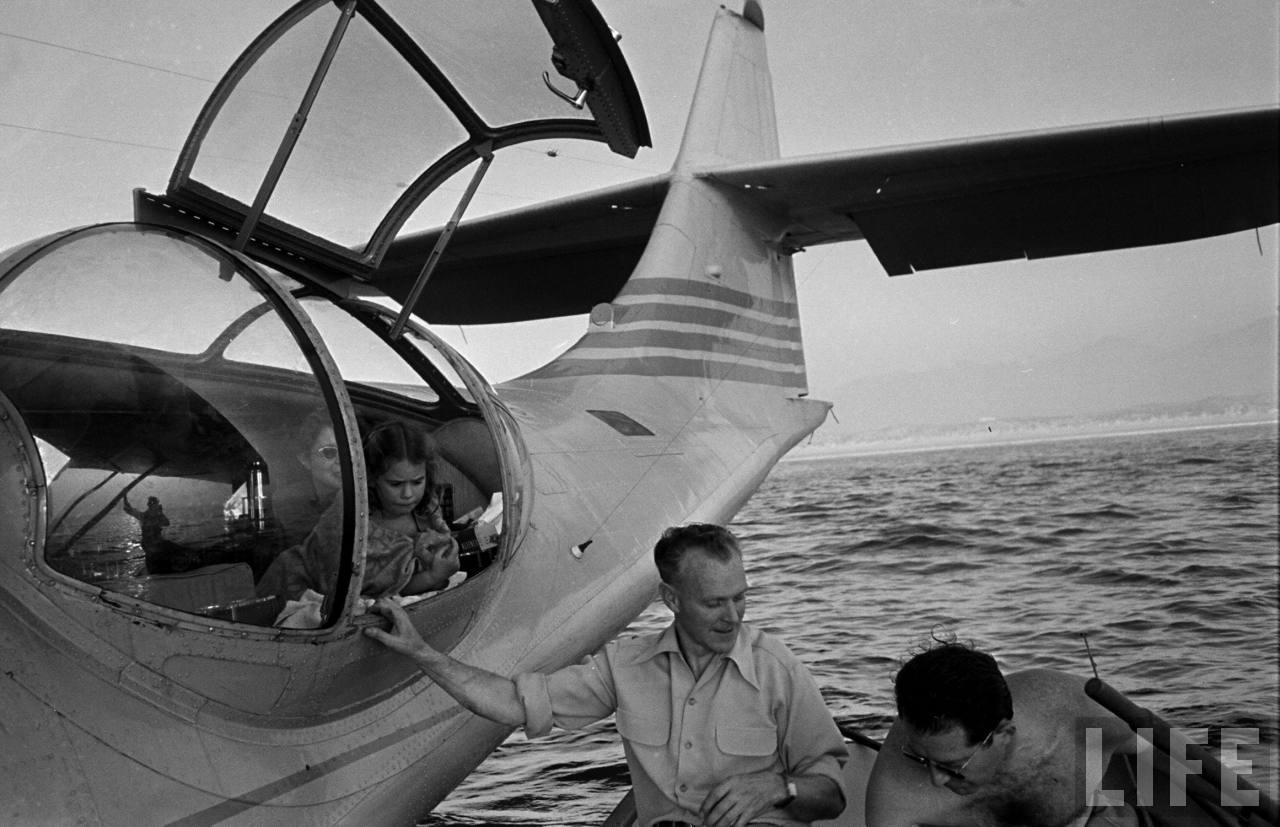 Noise is kept to a remarkably low level by a 4in-thick lining of Fiberglass. A Landseaire costs a lot of money—$265,000 is the basic price— something not far short of £100,000. This, coupled with heavy operating costs, virtually lifts the craft beyond the reach even of most millionaires. "
(Today, that's roughly $2.5 million)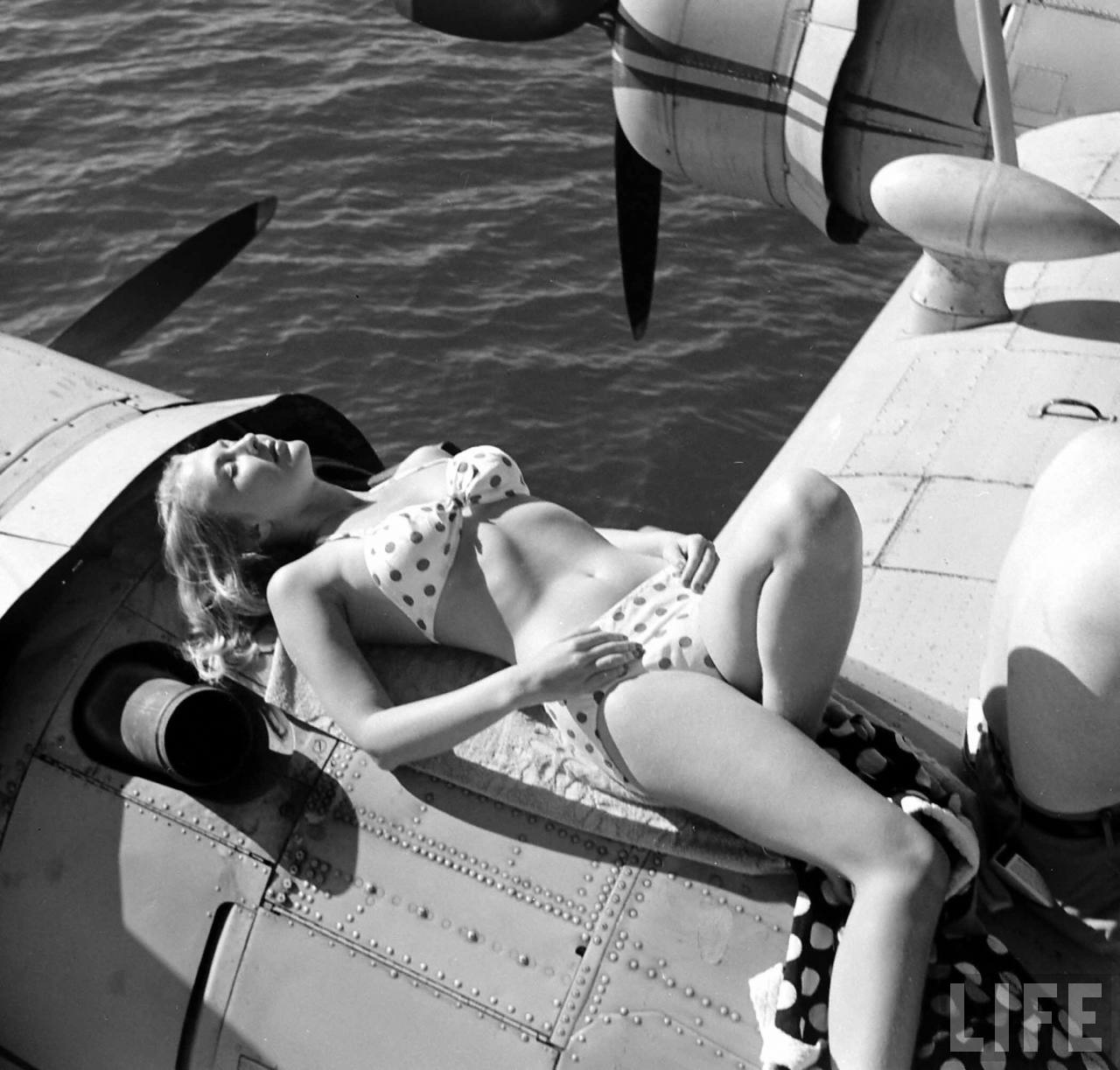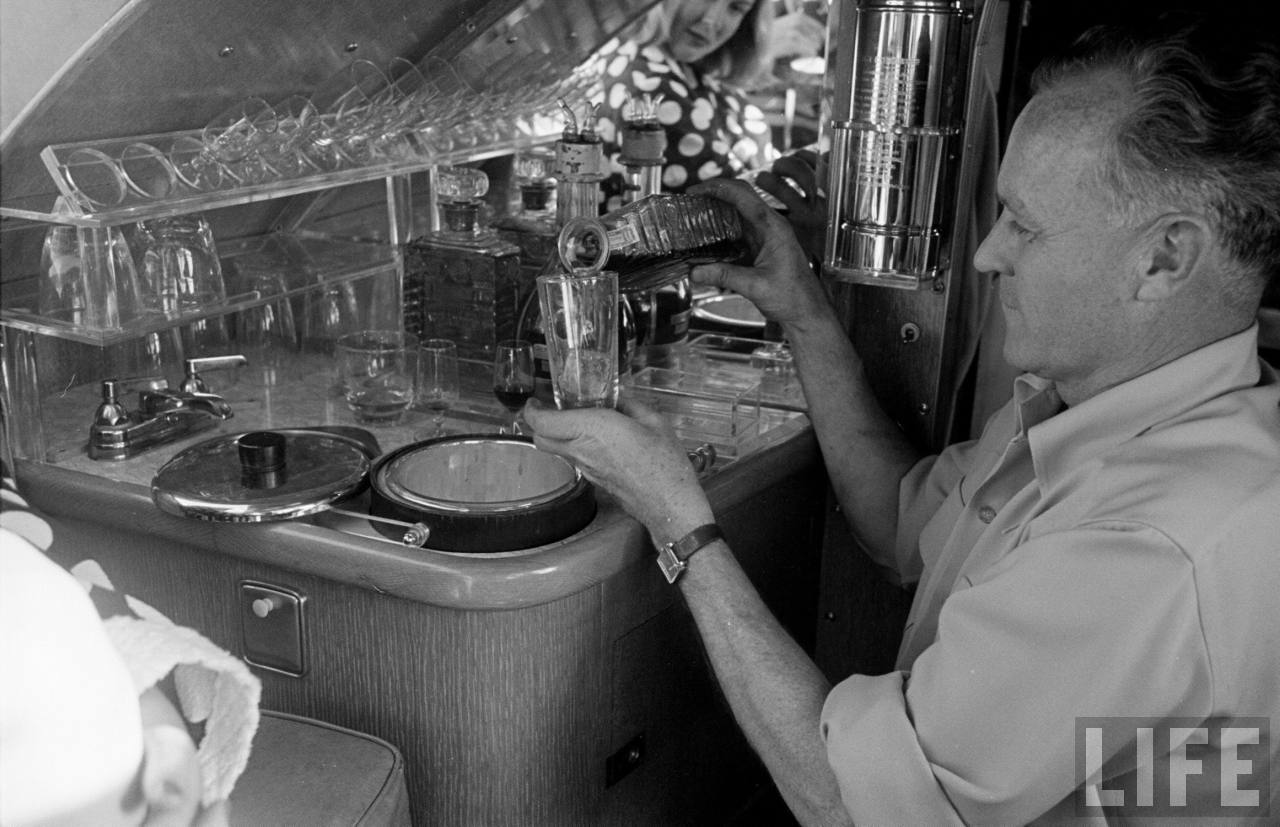 Now what kind of flying yacht would it be without a fully-stocked bar?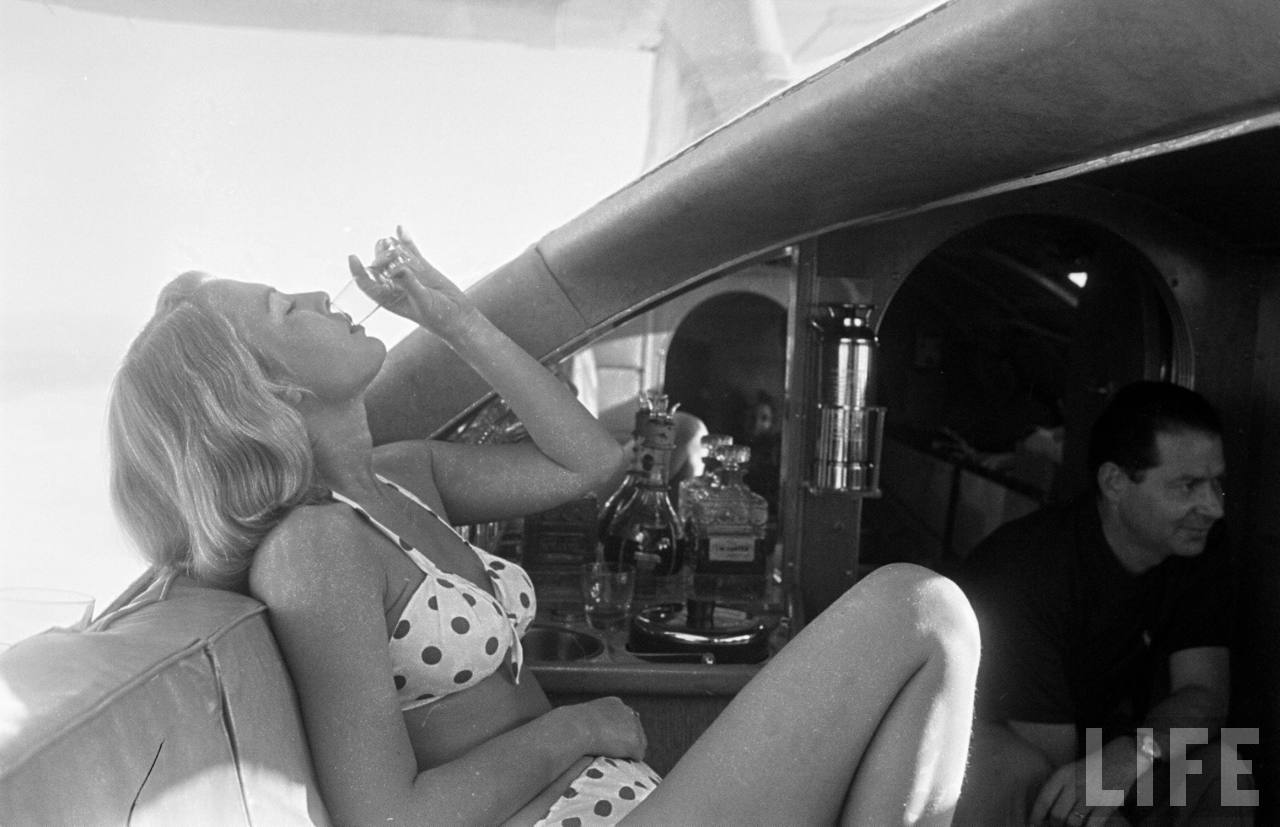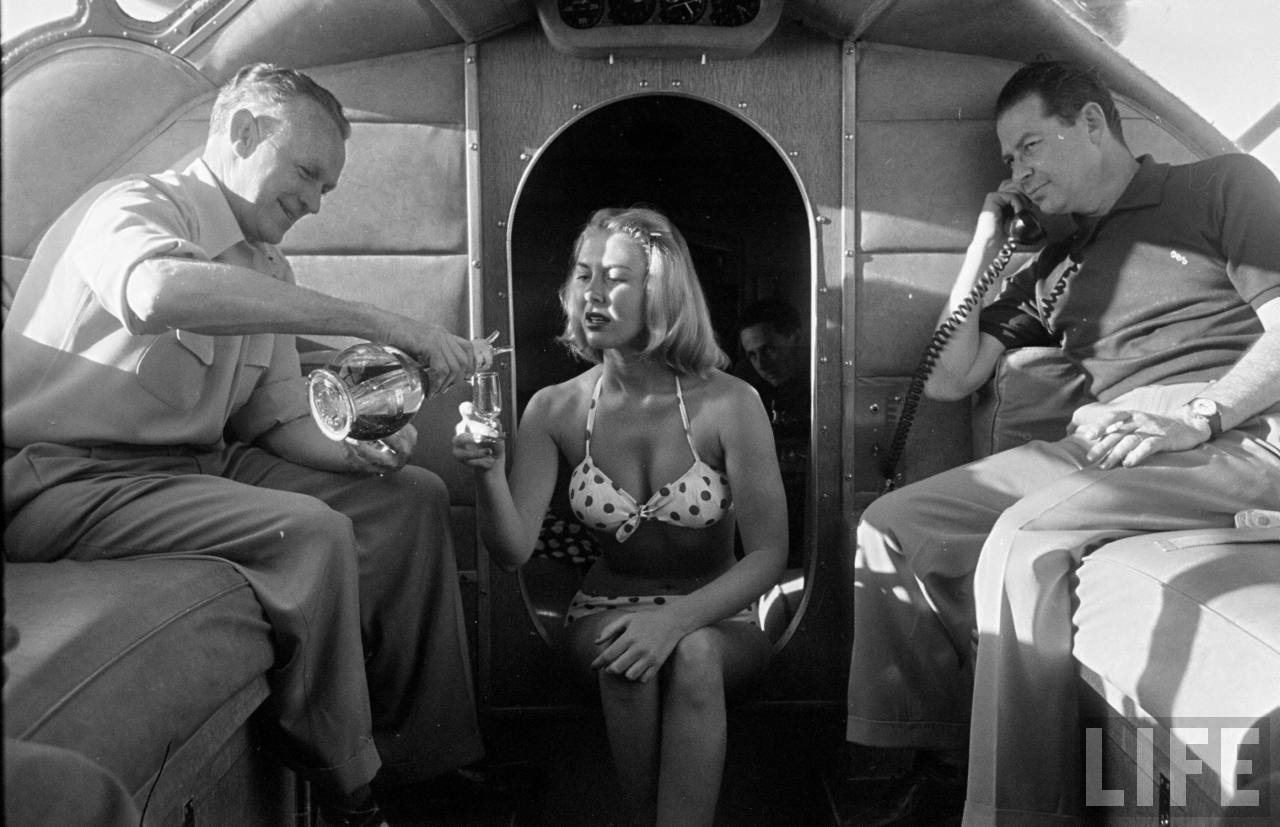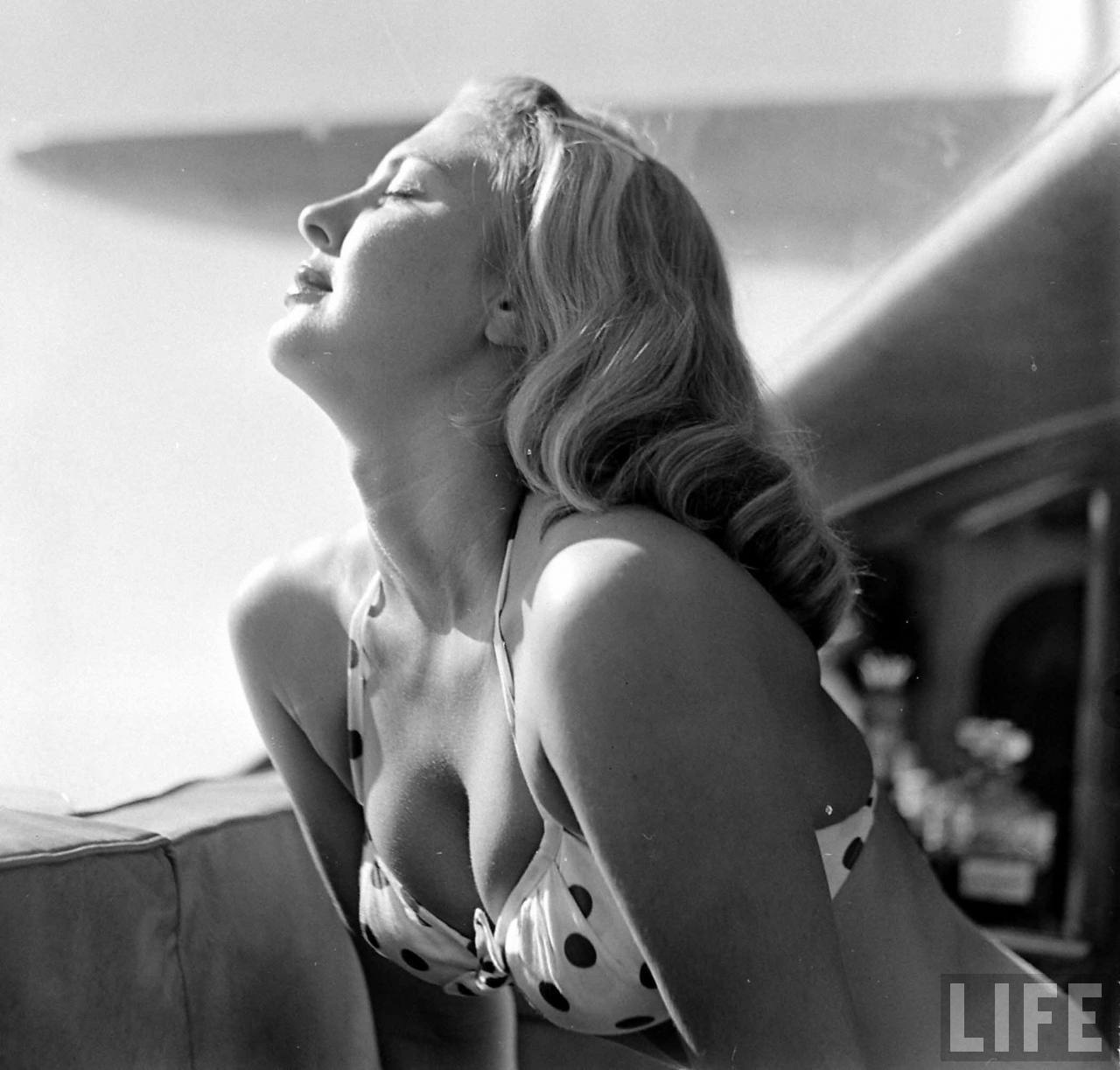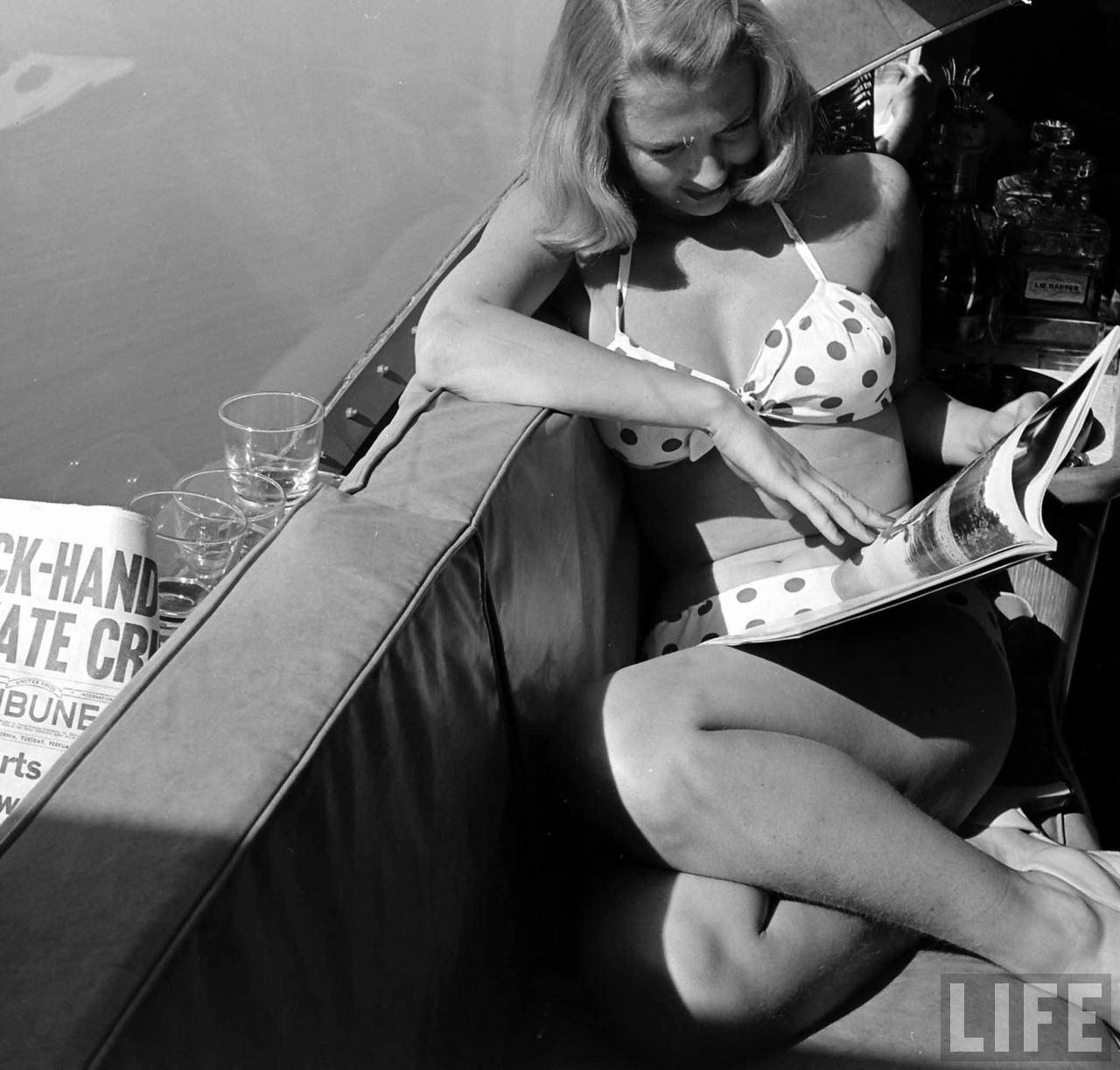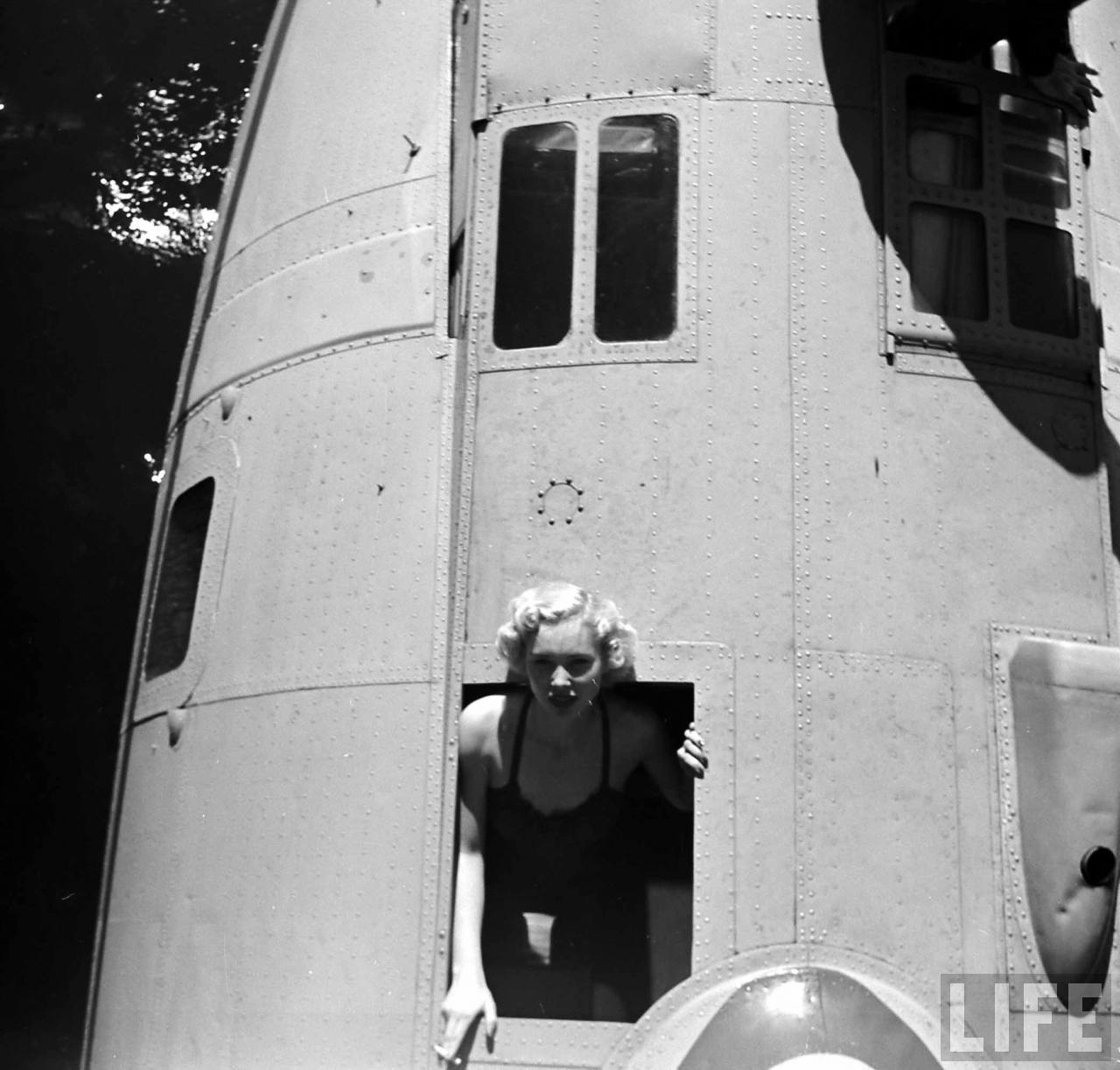 It's time to take her up.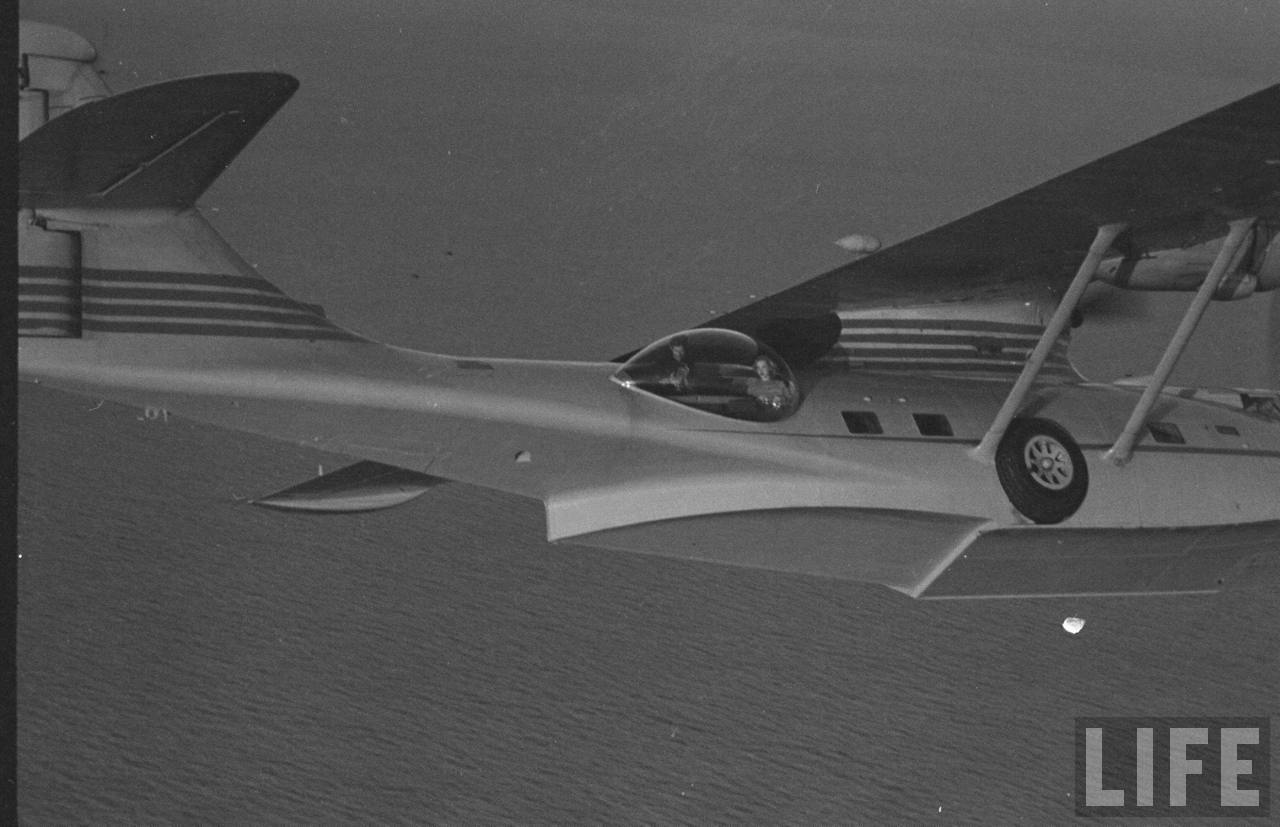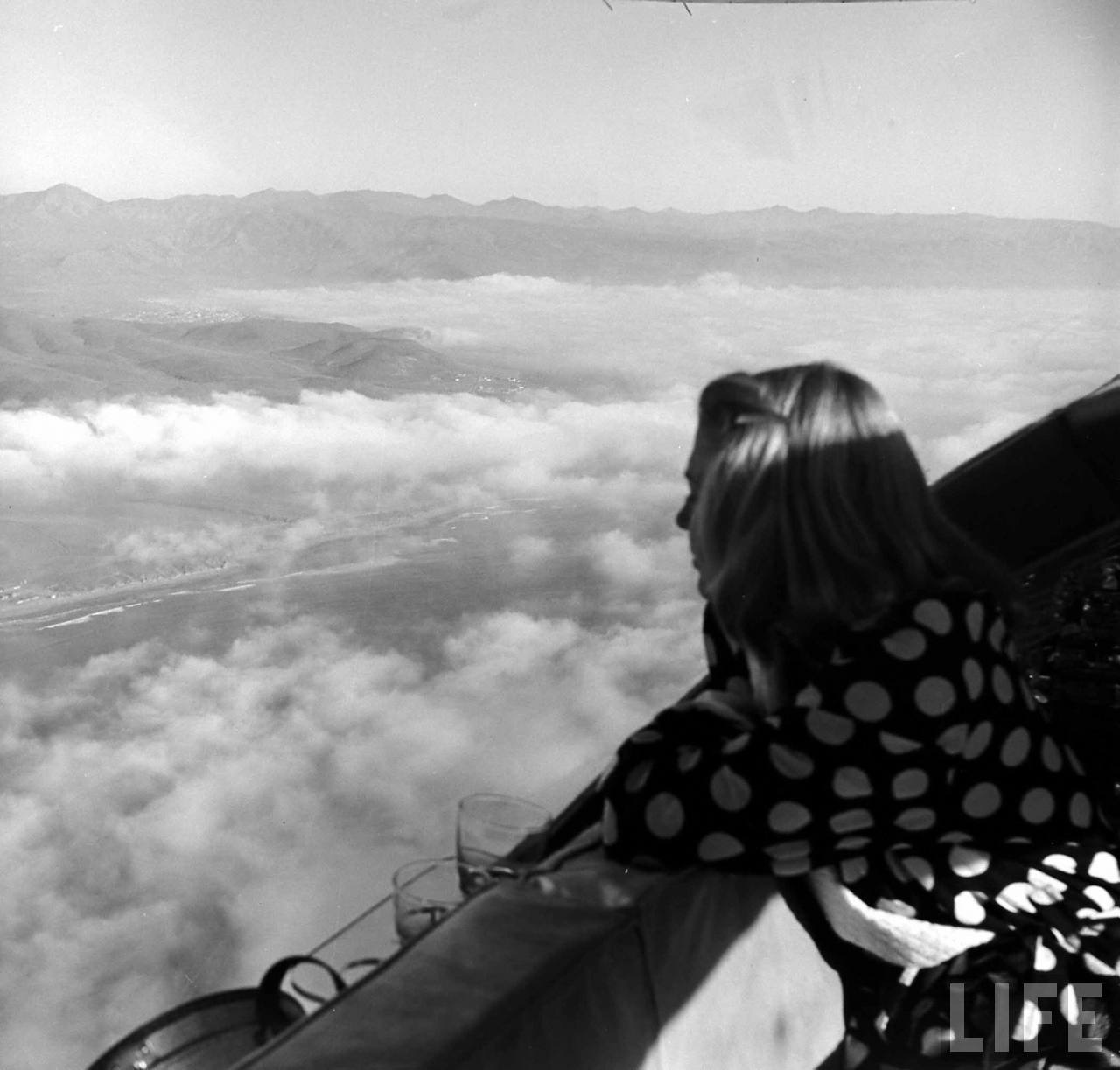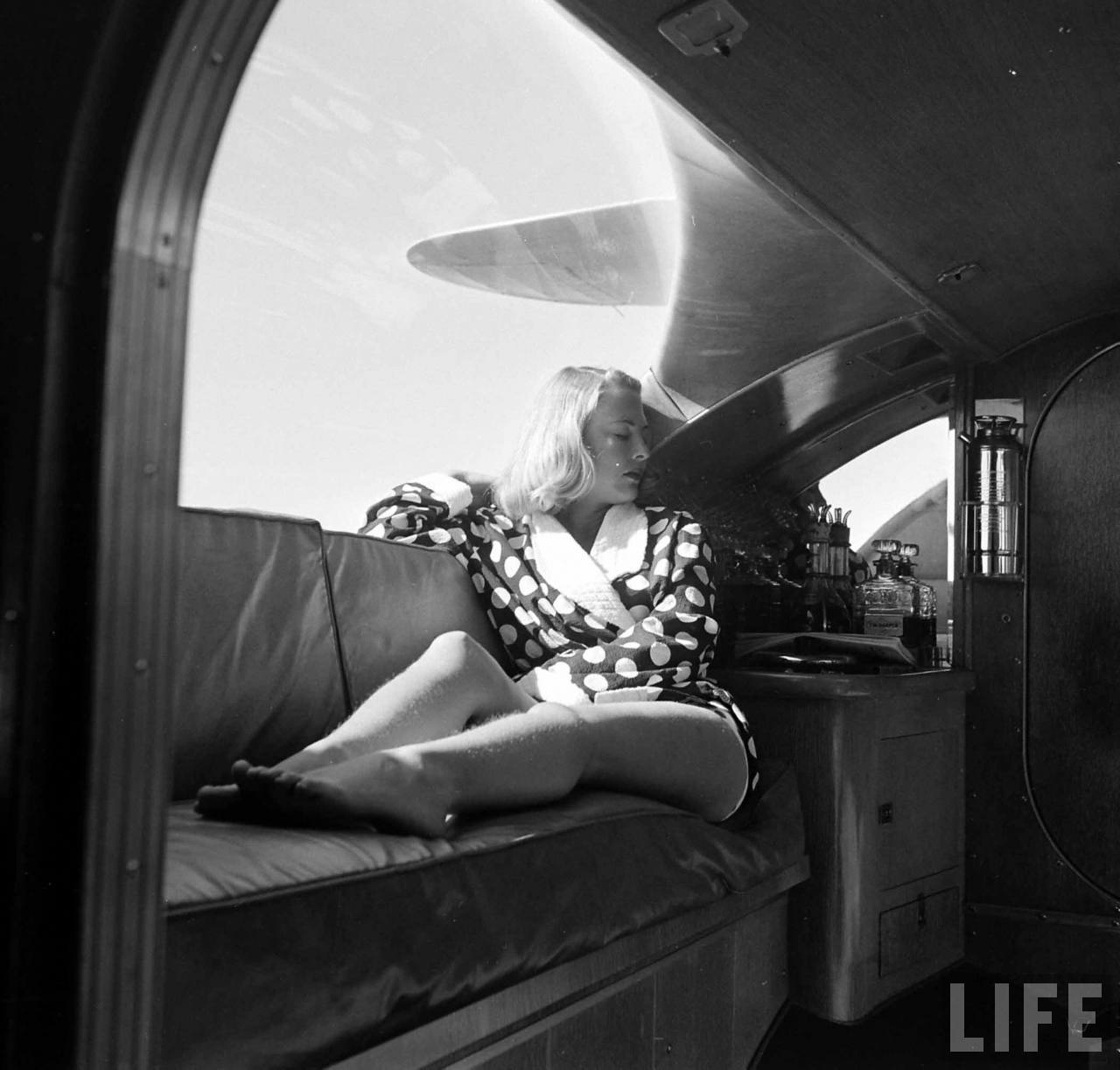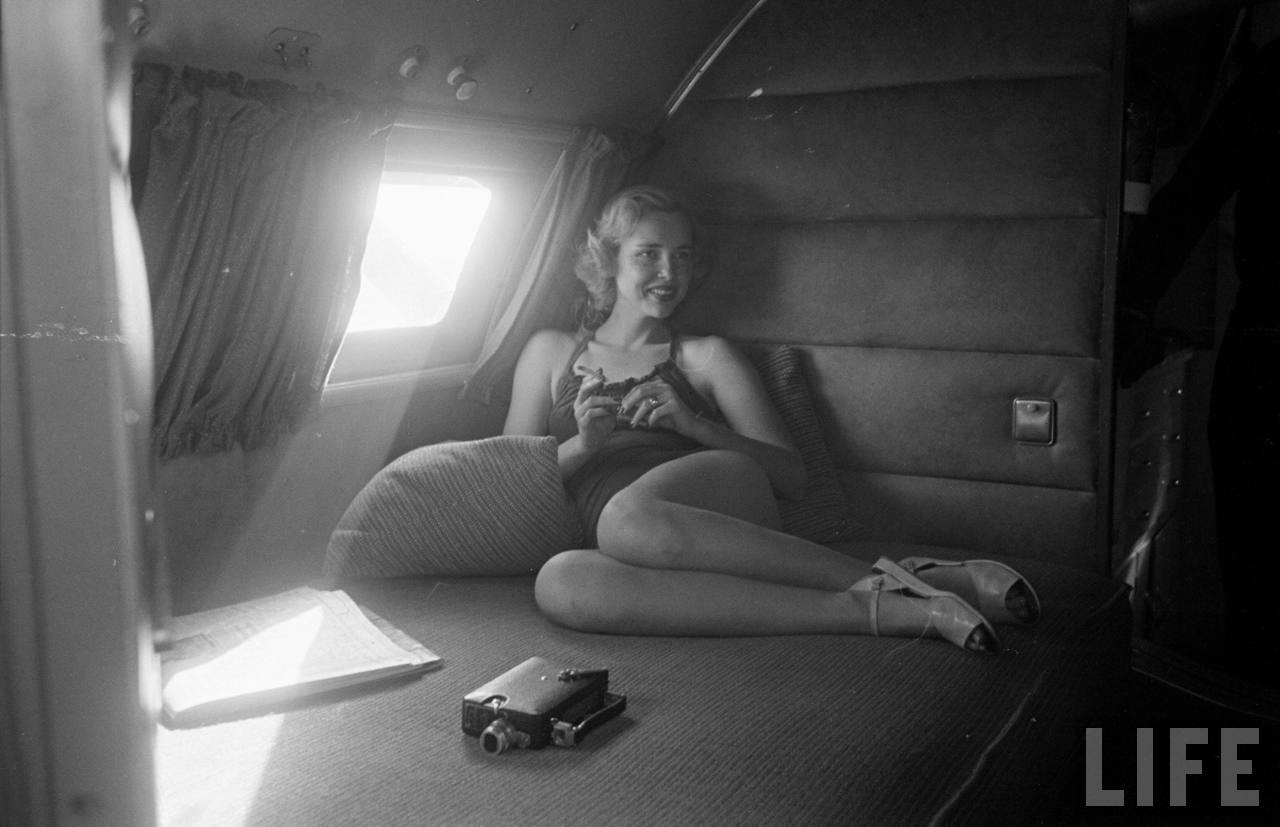 "Sleeping accommodation is provided for eight persons in three double beds and two singles. Near each bed are an individual light, radio switch and speaker, curtains, vents for air conditioning system, and a telephone. Occupants may contact the shore by means of a marine ship-to-shore telephone. In addition to this item of 'electrickery', the converted aircraft are fitted with no fewer than seven communications receivers, two transmitters, a broadcast receiver, FM-AM radio and a built-in television set!"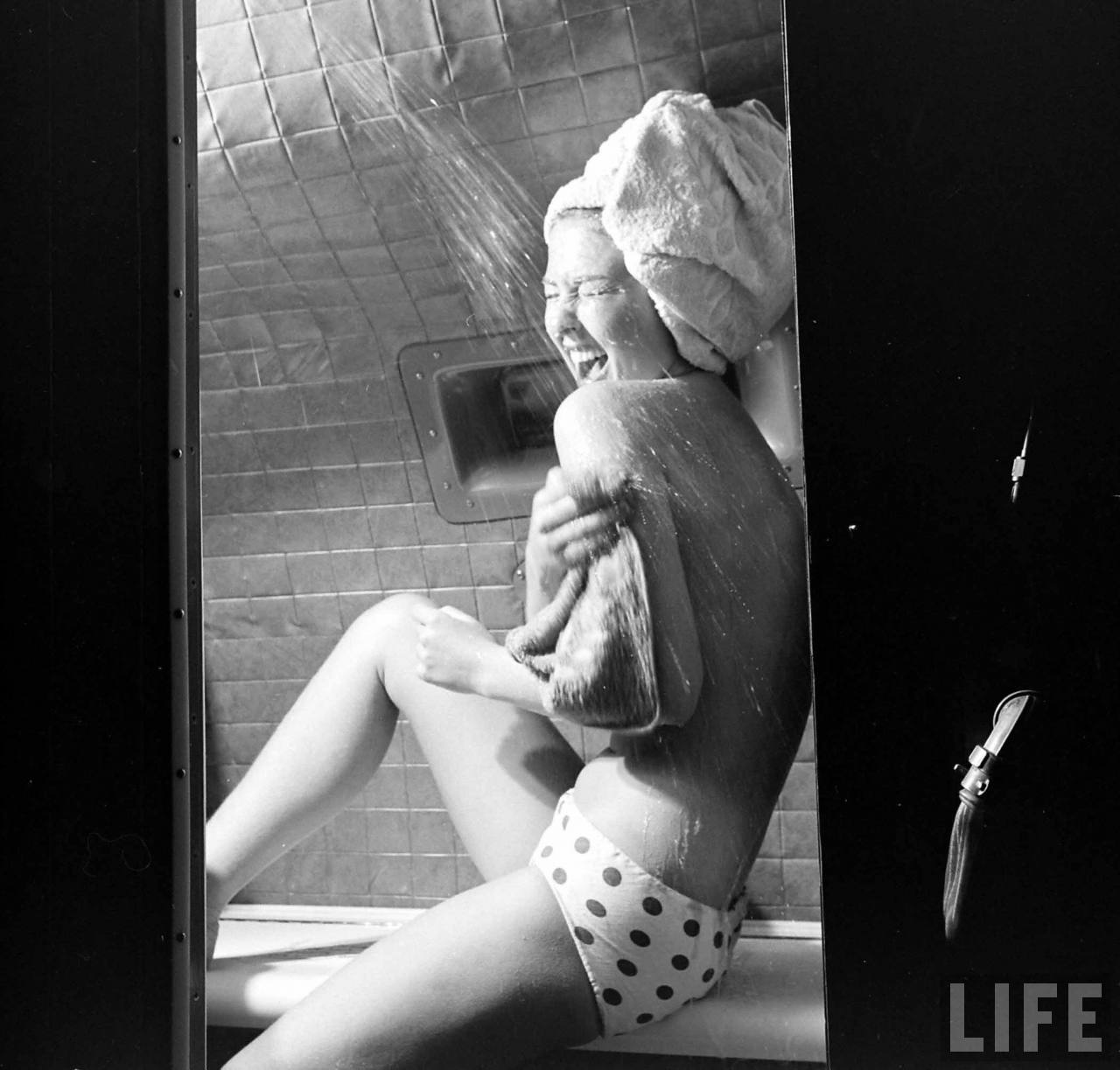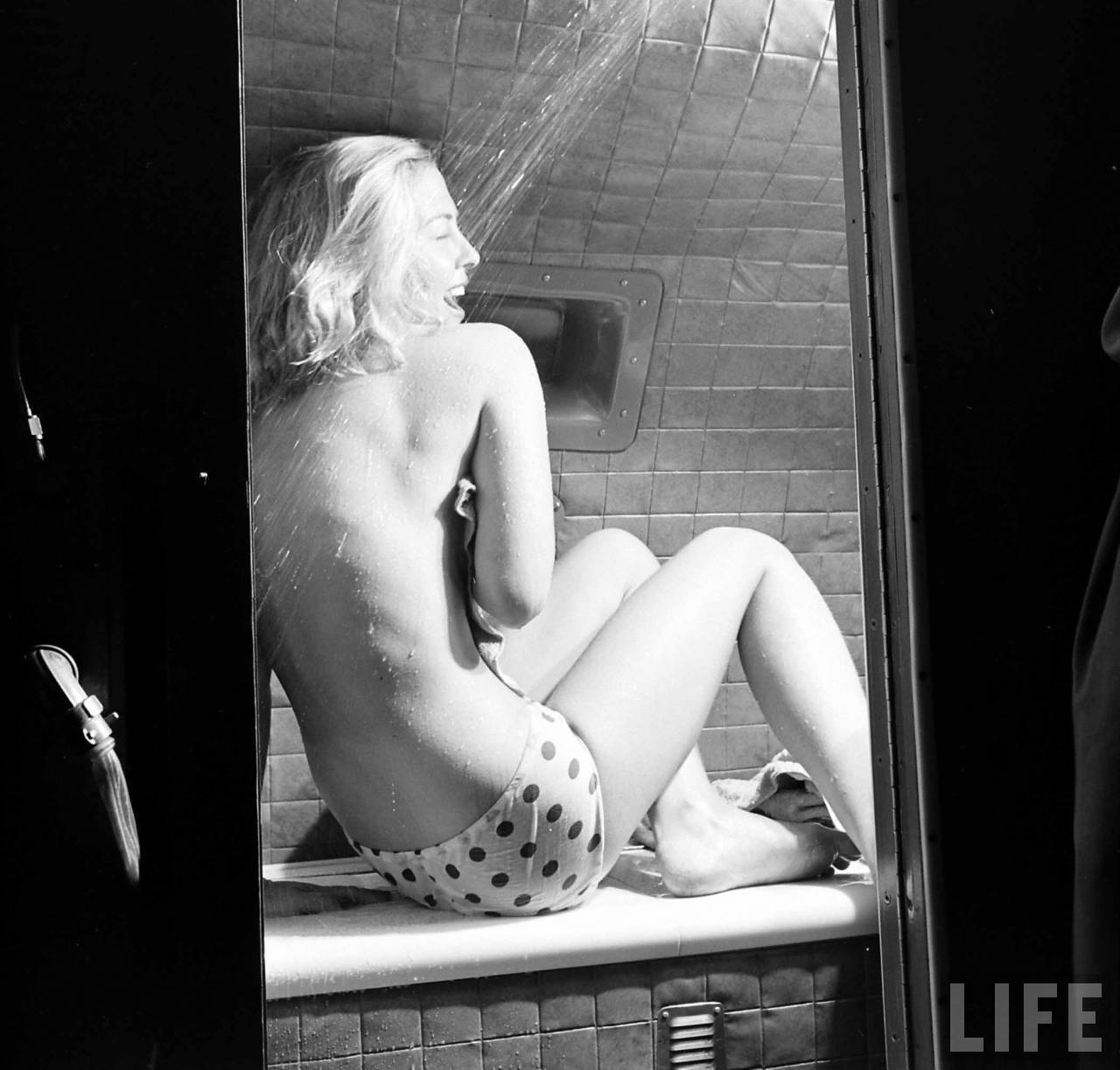 "Overall carpeting adds further to the comfort. A shower bath, in waterproof plastic, runs hot and cold water. The w.c. is electrically flushed when on water; in the air a chemical toilet is used. The galley, in white porcelain and stainless steel, rivals the equipment of the most modern kitchen. A three-plate cooking range, oven, large refrigerator and frozen-food unit are installed. "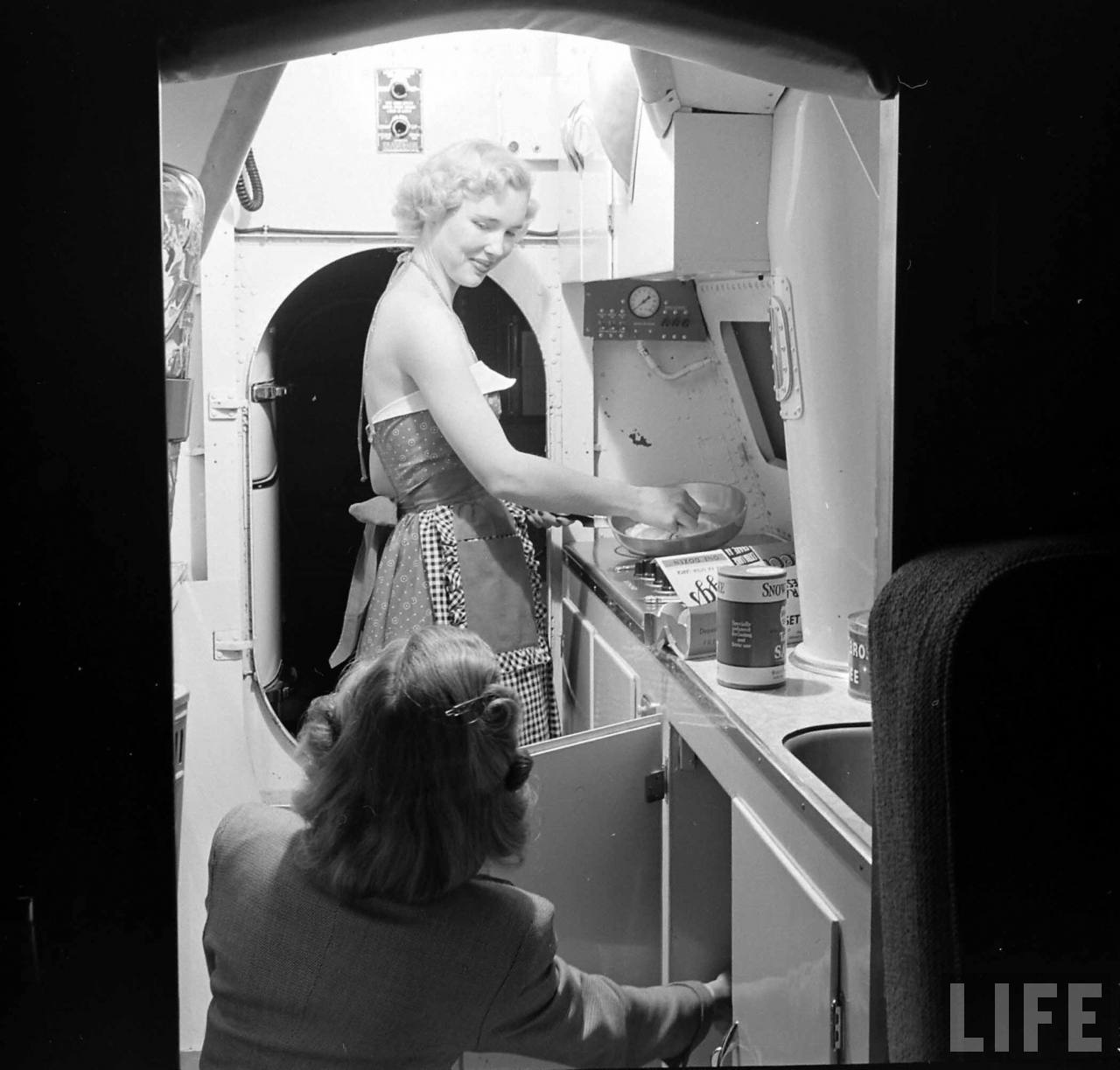 Pancakes on a plane? Why the hell not.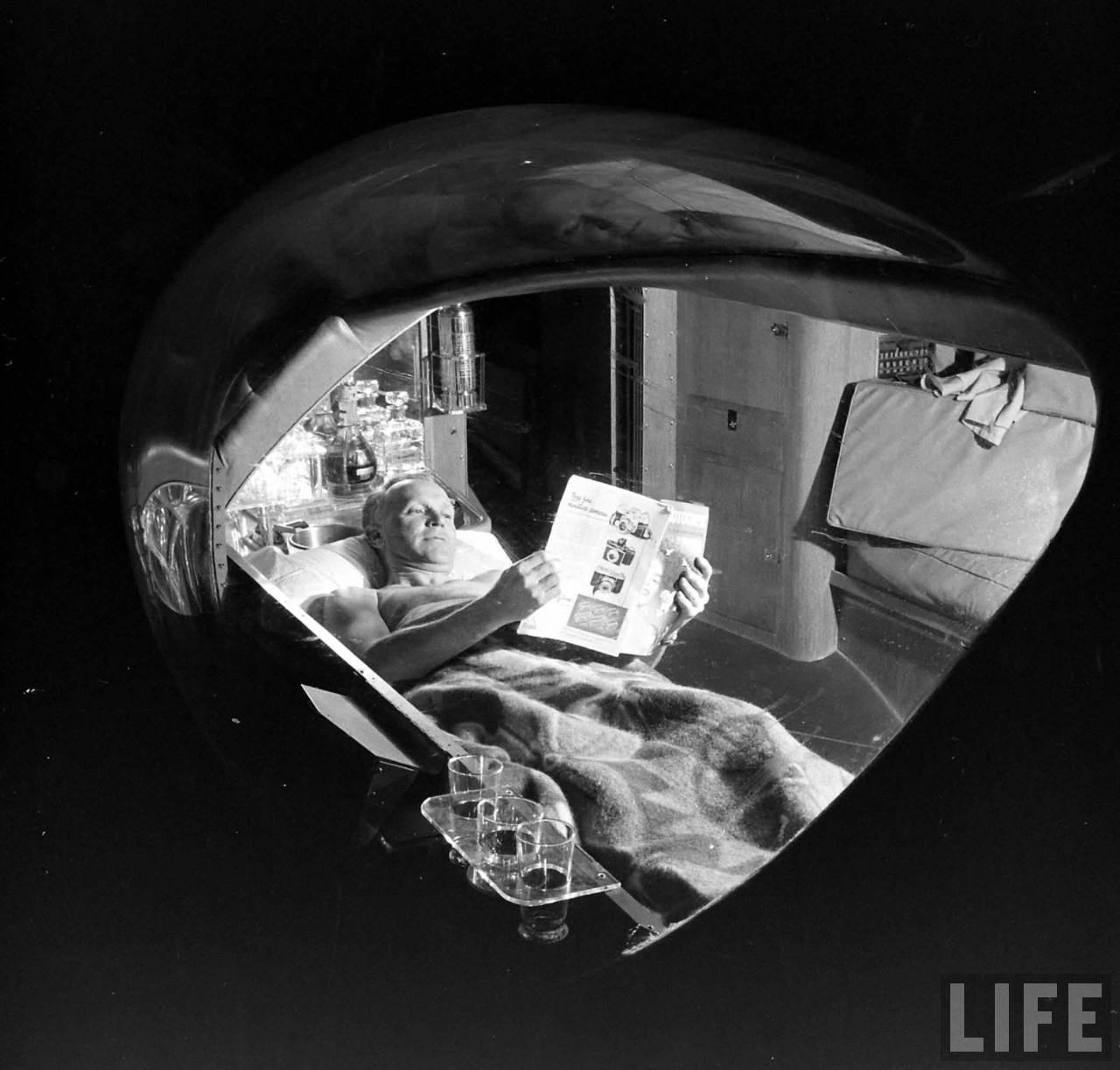 Don't forget to put it in cruise control!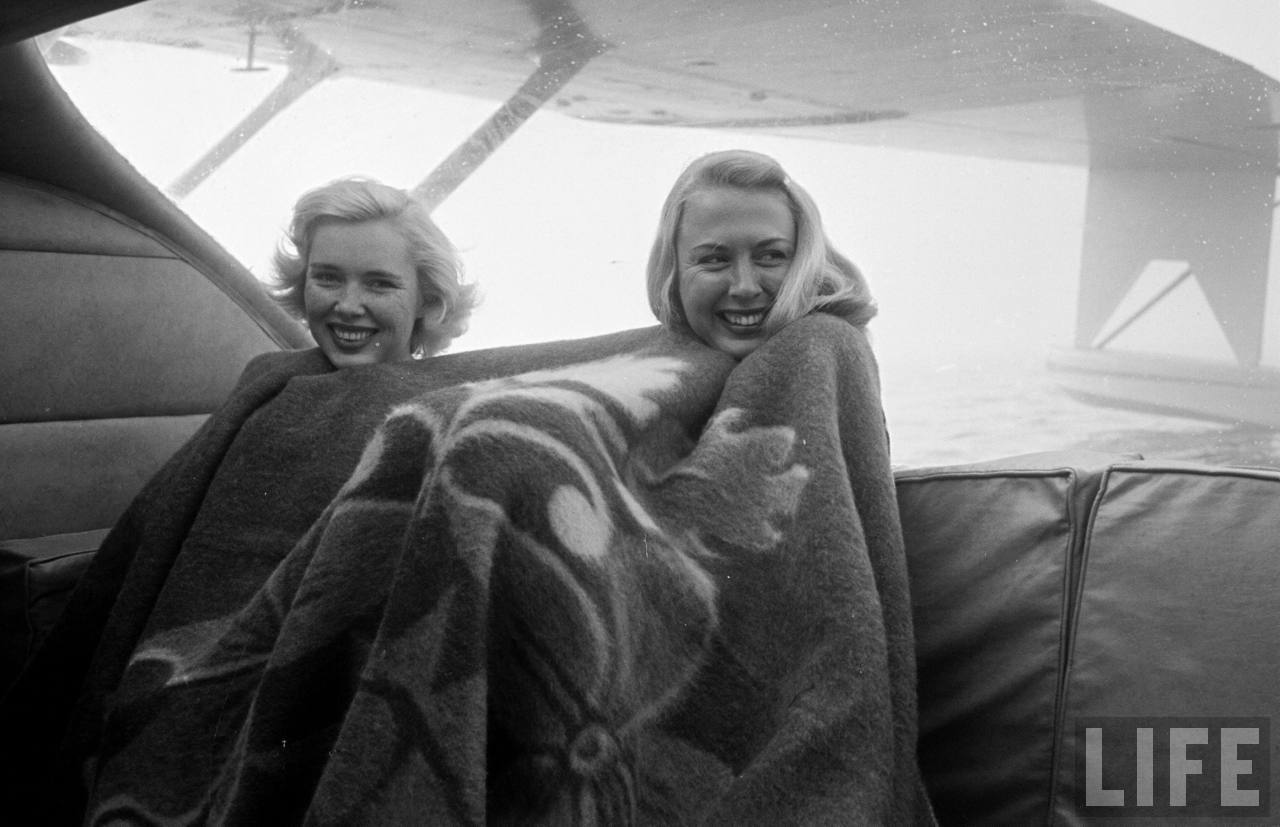 Everybody had a good night's sleep?!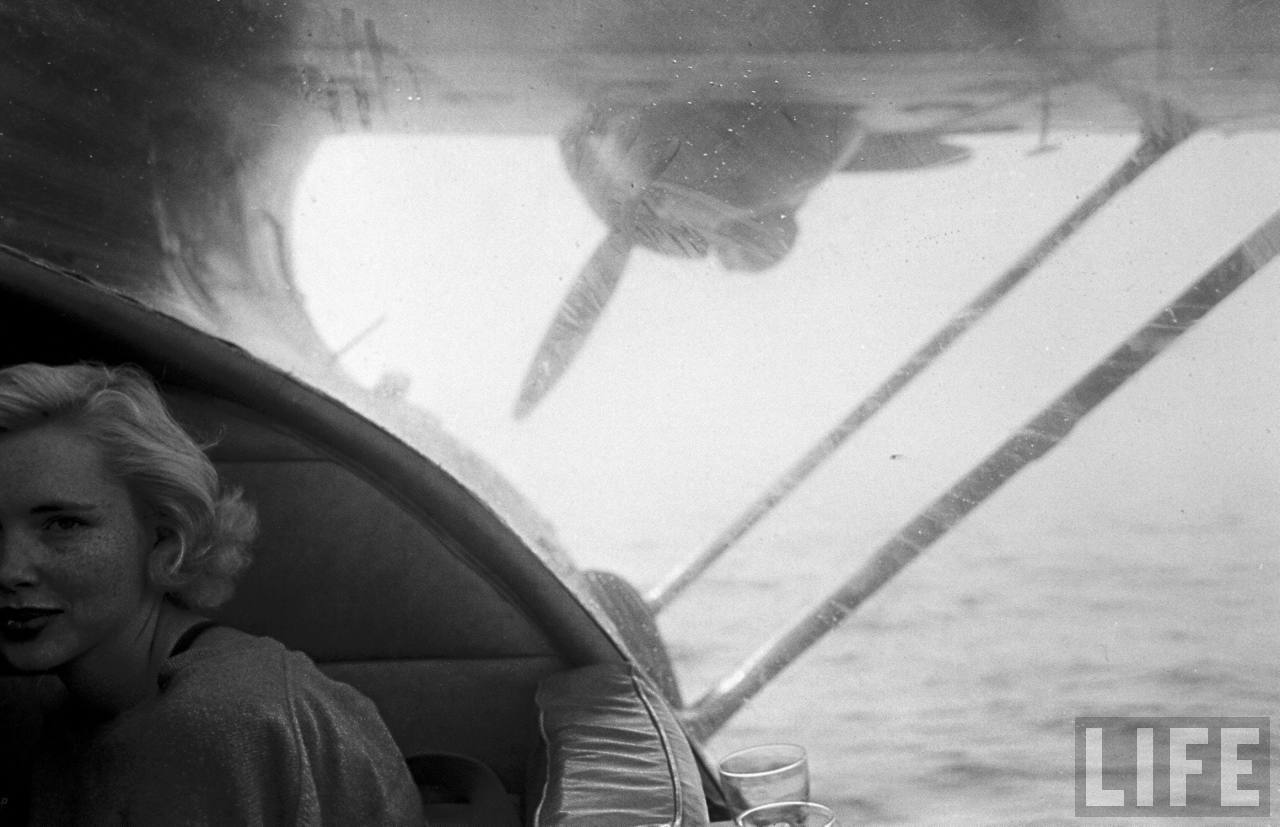 Hopefully nobody suffers from both jet lag and sea-sickness …
And as spacious as the Catalina is, there are chances you might start to drive each other mad…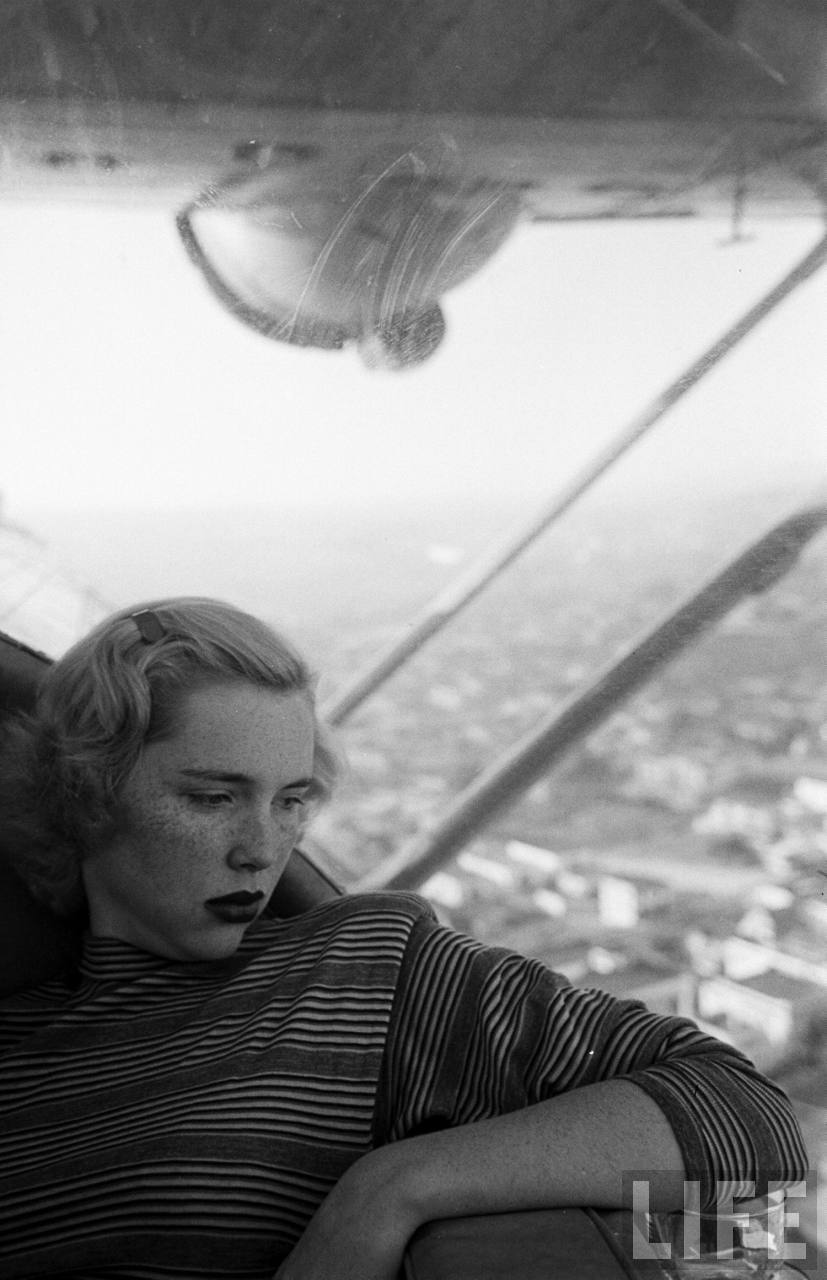 Soon it's time to land…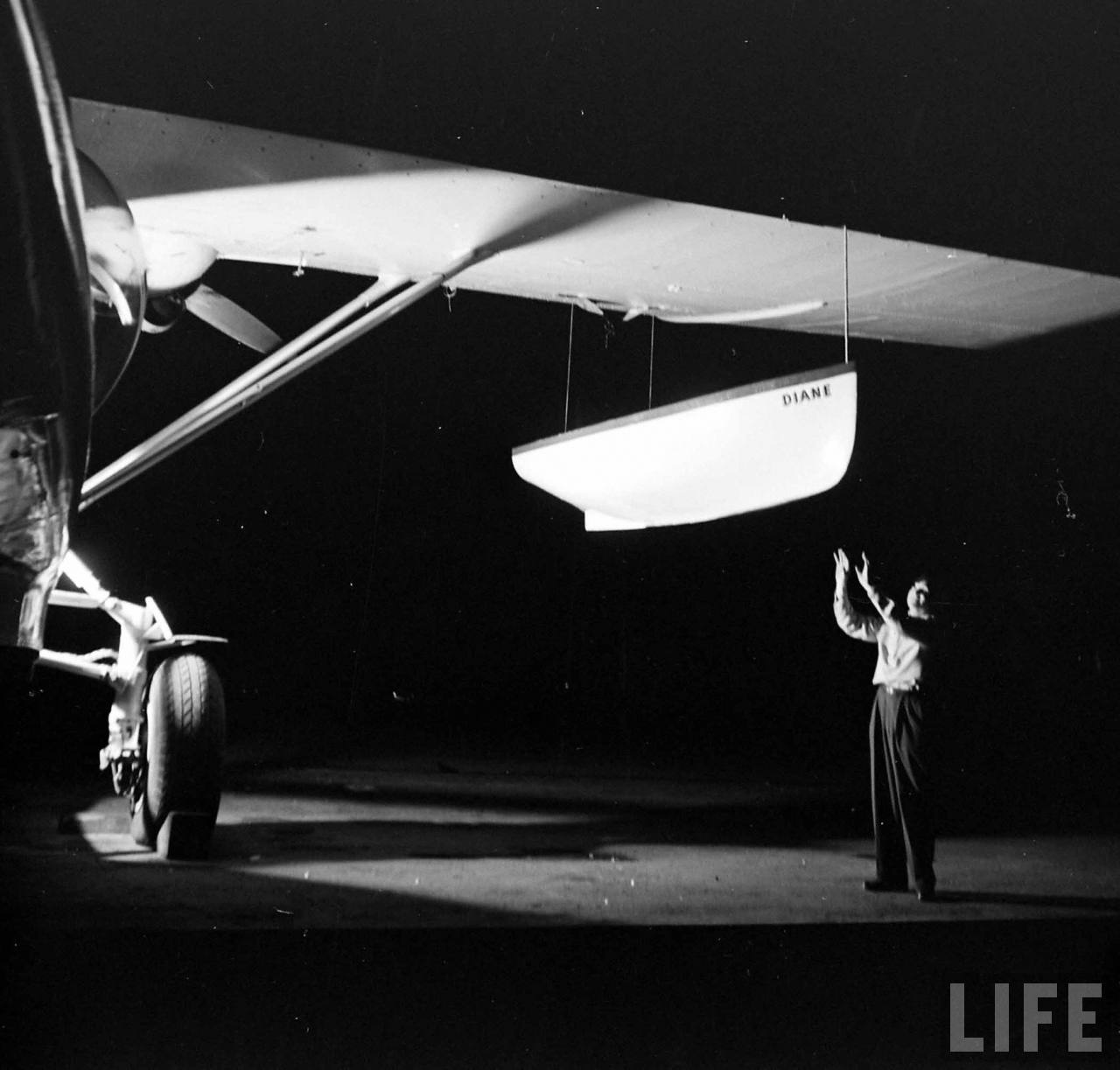 … and put her safely back in her hangar.
The Catalina Curse …
So what became of the glamorous Catalina from these photos? I'm sad to say it crashed in a landing accident near Ubatuba, Brazil and was damaged beyond repair on July 5th in 1953. I'm not sure how many planes Oderkirk managed to sell after that, but to this day, a very small number of Catalinas remain in airworthy condition. In the late 1950s, a rather harrowing incident involving a Catalina converted airborne yacht became somewhat of a cautionary tale for the wealthy clientele of such extravagant toys…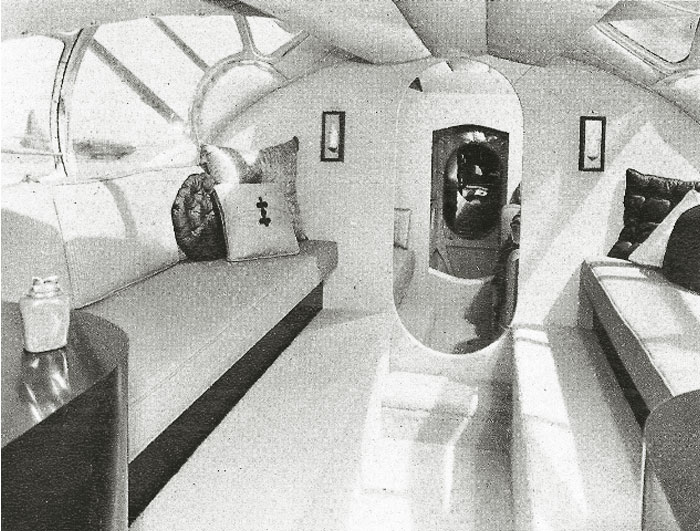 A wealthy Californian industrialist, Thomas W. Kendall, who had been inspired by Oderkirk's flying yachts and wanted to keep busy during his retirement, decided to purchase a dozen PBY WWII Catalinas to convert to luxury amphibious flying machines. You're looking at his handy work…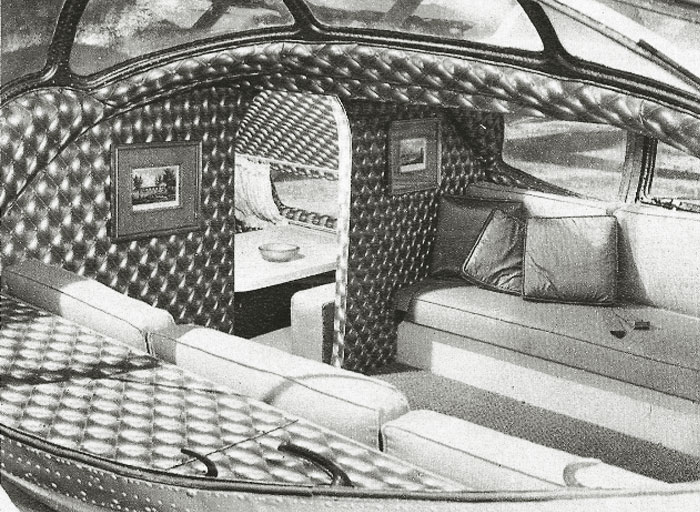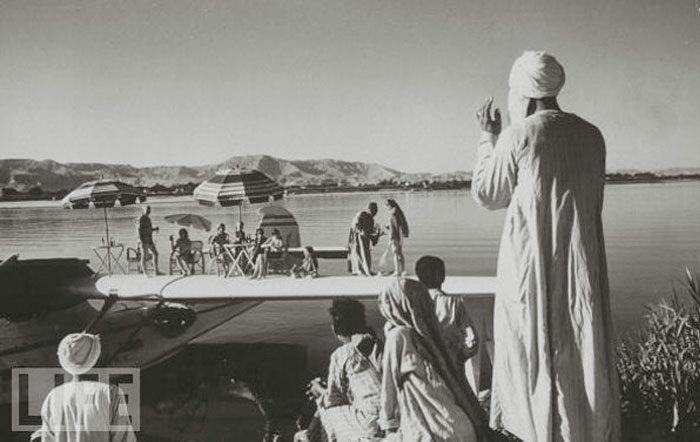 In 1959, along with his wife and children, he decided to test one of his creations on a year-long world-wide tour. In Egypt, they were joined by another LIFE photographer, David Lees, and carried on down to the Strait of Tirana, between Egypt's Sinai and Saudi Arabia.
It was here that their dream voyage would turn into a living nightmare when the family and their guests were suddenly ambushed on the beach by armed Bedouin tribesmen serving in the Saudi Arabian army. Despite Kendall's claims that they had hoisted their American flag above the pilot's compartment that morning, the Bedouin soldiers allegedly suspected the Kendalls were Israeli commandos in disguise.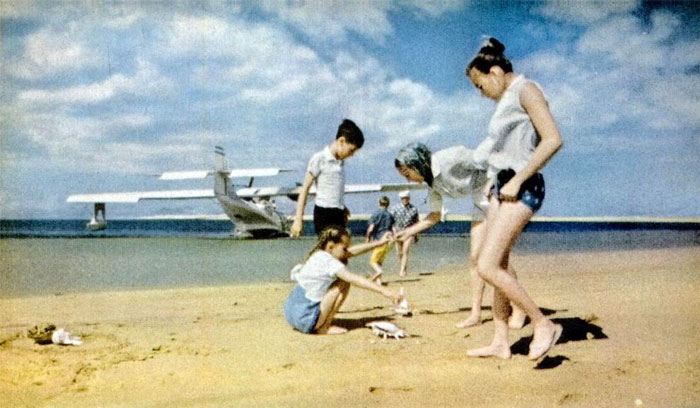 The harrowing ambush is described in this gripping account written for LIFE magazine by Thomas Kendall himself:
After a late lunch I went up on the wing to check the left engine. Bob was in the water checking some equipment in the nose. Stephen and Paul were wading in the shallows about 60 feet away, playing with our bright blue rubber life raft. Everyone else was in the plane. When I finally buttoned up the engine, I stood up and glanced around. Except for the boys, I saw nothing but rocks, low hills and empty sand. I looked at my watch. It was 4:32 exactly. Then I heard what sounded like distant firecrackers. My first thought was that some local Bedouins were celebrating the Muslim holiday of Ramadan, which was then in progress. In Luxor, Egypt, our last stop, they had celebrated by firing off a cannon. Suddenly, I noticed little splashes in the water beside the rubber raft. Somebody was shooting at the children …
As I ran I shouted for everyone to lie down on the floor because we were under fire. Mrs. Shearer ran with me to the tail and we watched our small sons dog-paddling very slowly toward the hatch, just their heads above water, towing the raft for cover between themselves and the bullets…
By now machine-gun and automatic-weapons fire was hitting the plane, I don't know how long we stood there screaming at the children to hurry—it felt like eons…
The ambush lasted 30 to 40 minutes, and only the cowardice of our attackers saved our lives. If they had come closer instead of hiding behind a knoll three quarters of a mile away, I am certain we would all have been killed.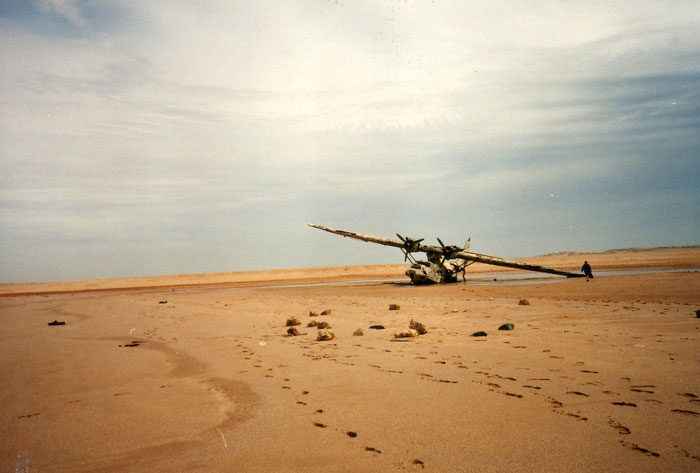 After a while we saw the upholstery was smoldering from a tracer bullet. I knew gas must be leaking everywhere. I could either stand up to start the engines and maybe get shot, or I could stay on the floor and maybe get us all burned alive. When I got up to go to the pilot's compartment to throw some switches so we could get out of there, there was another burst of fire and I felt a blow in the right side. The bullet entered just below my ribs and it spun me around and threw me about six feet. I fell down backward. When Mrs. Shearer heard me grunt that I'd been hit, she raised her head to look at me. Just then a bullet hit her right arm, exactly where her head had been. She clawed a big chunk of metal out with her fingernails but there were two more pieces she couldn't reach. I was dazed for a moment but she gave me a towel and then, somehow, lying on her back, she lifted the seat up so I could reach under and connect the batteries. Then I went forward to the cockpit to throw the switches.
The full article has been scanned and can be found here.
The Saudi Arabian government never accepted responsibility for the ambush, for the Kendall's injuries, or for the property lost.
More than 50 years on, the ambushed flying yacht (what is left of it) is still where the Kendalls were forced to abandon it.
(Photographed by Ken Stanford)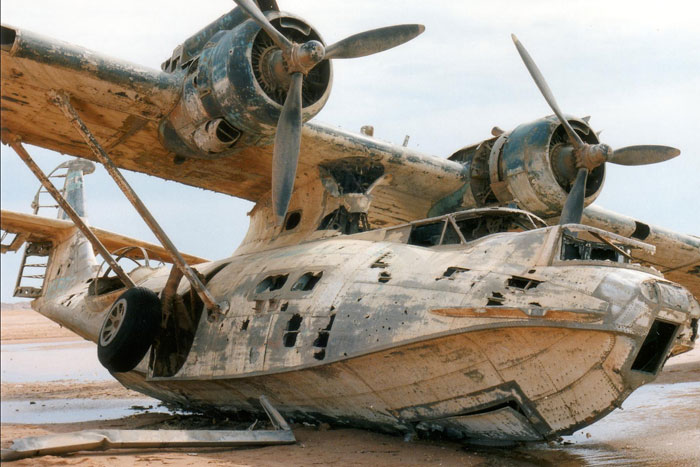 So much for the Golden Age of Travel.
Archive images by LIFE magazine and f urther reading on Vintage Wings