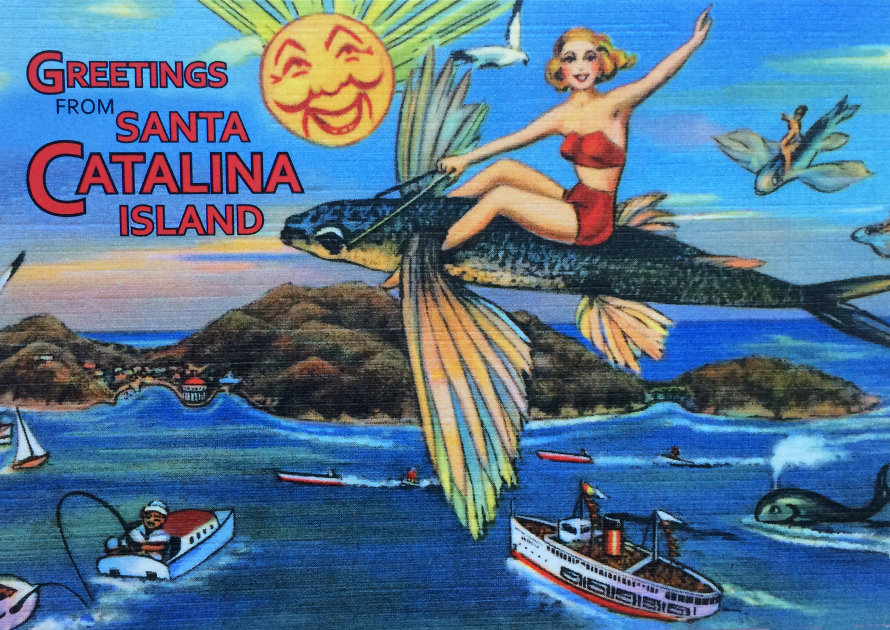 Ah, the joys of an island vacation. Feet in the sand, a piña colada in hand and…a herd of buffalo by the palms? On a small island off the coast of L.A., a curious population of non-native buffalo has been thriving since 1924, when they were brought over for a silent Hollywood film– and left there to save on the studio's budget. Having reached a population of 150 after nearly a century, they've become a oddly familiar site on Catalina Island, old Hollywood's "exotic" backlot for over 500 films and secret playground to the stars.
Being a mere 26-miles from the shores of LA, the versatile chaparral landscape made it the perfect back drop for classics like Ben Hur (1925), and Mutiny on the Bounty (1935). At 22 miles long and eight miles wide, it was big enough to host multiple film crews at once. Witnessing Clark Gable cross paths with Joan Crawford between takes for their respective projects was literally just another day at the beach.
It wasn't uncommon to see a young Marilyn, or Norma Jean, as she was known at the time, relaxing by the waves long before talk of Gentlemen Prefer Blondes. In 1943, the actress spent a year on the Island with her first husband, James Dougherty, who was training with the Merchant Marines. She was only 16 at the time of their marriage, and the little wooden bungalow they lived in is still perched on Metropole Avenue.
Orson Welles was also smitten with the Island in his youth, and you can find some romantic snapshots of the baby-faced actor catching rays (and fish) with his gal, Dolores Del Rio: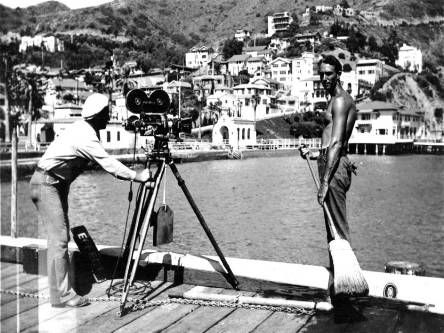 Catalina was the perfect place for directors and actors to work hard, and play hard, and silent films were made there as early as 1911. Charlie Chaplin spent many a day with his wife Paulette Goddard to angle fish, ride bikes, and escape the stresses of the city.
But the real stars of the Island are its curious herd of "Hollywood" buffalo. The animals were shipped off to the island for a 1924 western, The Vanishing American. For whatever reason, the buffalo never made the final cut and lack of funds made it difficult to transport the 14 animals back to the mainland ­— so they just stayed on Catalina.
At present, about 150 roam its hills, and they're so beloved by locals and tourists that one of the bars, Luau Larry's, created a "Buffalo Milk" cocktail. (Don't worry, it's not filled with actual buffalo milk).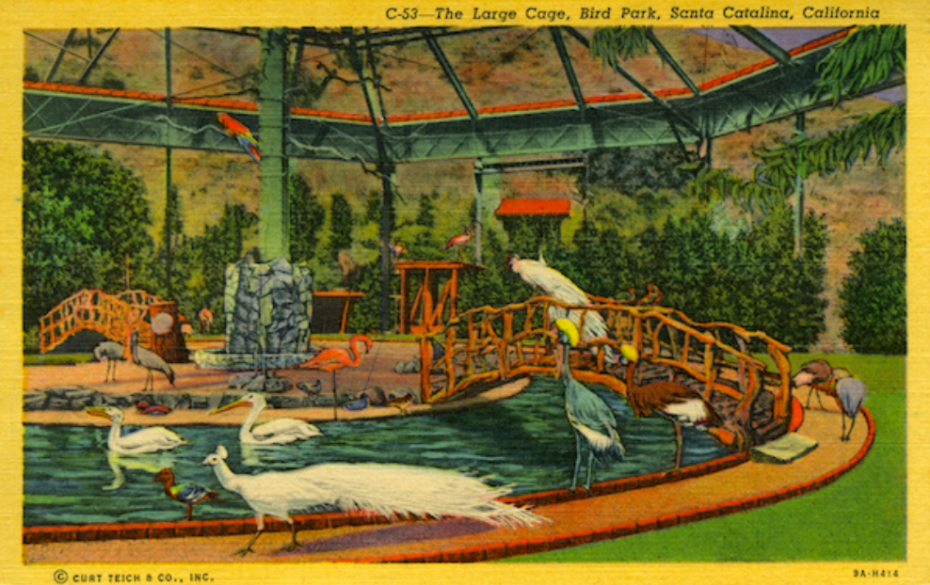 Buffalo weren't the only animals with a claim to fame. The Catalina Island Bird Park, which opened in 1929 and housed over 8,000 birds, became a useful resource for Hollywood studios. A sound crew from 1939's The Wizard of Oz came over to record more than 15,000 feet of birdcalls inside the immense glass structure. Those creepy sounds Dorothy hears in the "Haunted Forest"? Straight from sunny Catalina.
Catalina's ocean life is also worth a nod. Famous for it's flying fish– and giant monster fish! In 1910, the above sea creature was caught at Santa Catalina Island, it's weight estimated at 3,500 lbs.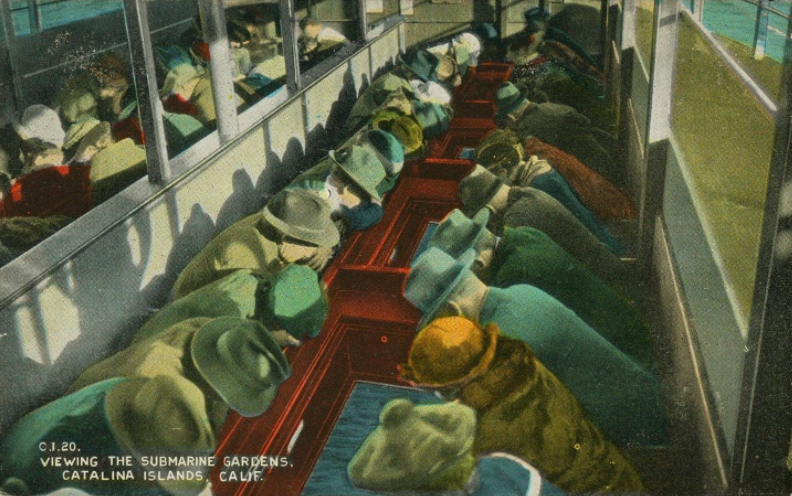 To this day, undersea expeditions and submarine tours are still popular with visitors looking to come face to face with the island's abundant marine life.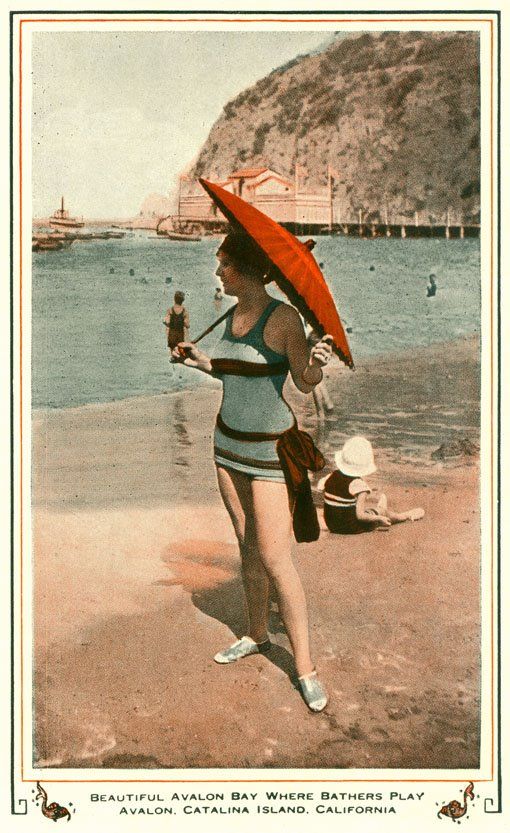 Back on shore, one of the island's hot spots for fashionable society was the Catalina Casino, an enormous Art-Deco-meets-Mediterranean-Revival structure jutting out into the sea, and completed by the Island's then-owner, William Wrigley Jr. (yes, as in Wrigley gum) in 1929…
Contrary to its name, there is no actual gambling casino in the space — but there is a ballroom and a movie theatre. The building still standing and in use today, remaining one of the island's grandest relics of its Hollywood glamour years.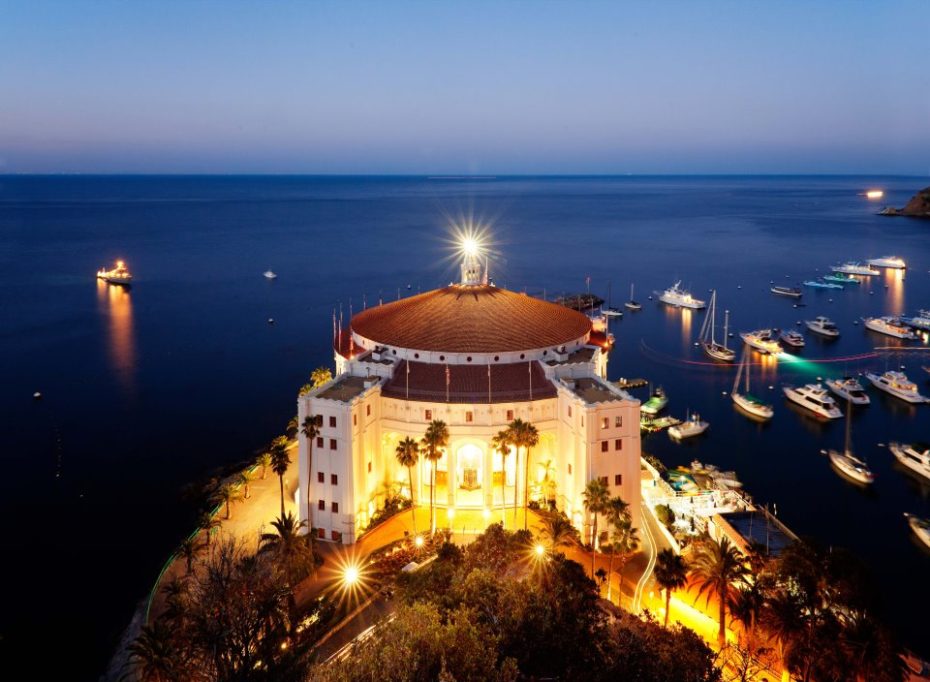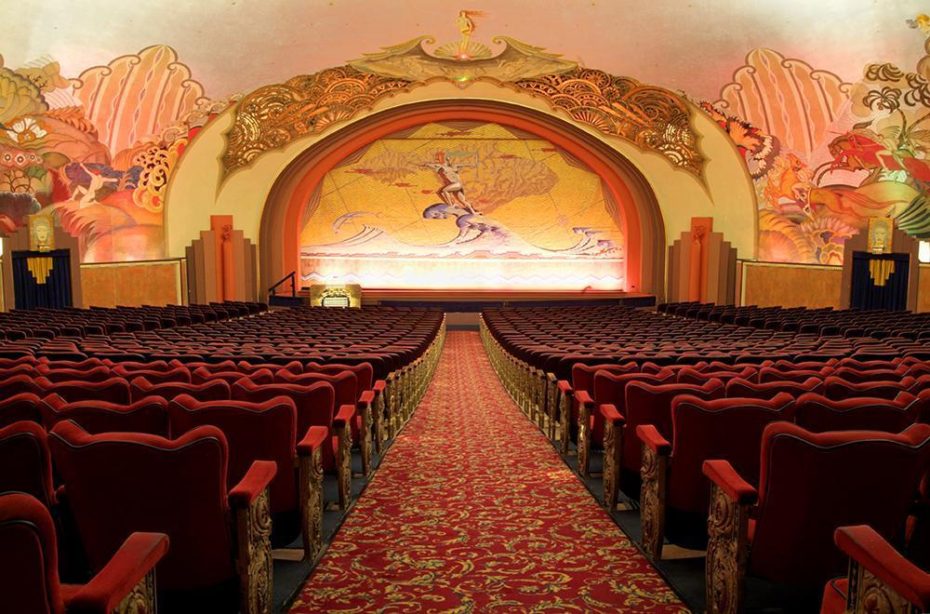 Ownership of the island has passed through multiple hands in its 120-year history as a tourist destination. At the dawn of the 20th century, a pair of business partners (and siblings) known as "the Banning Brothers" took development of Catalina to the next level. According to the Island's Chamber of Commerce, the brothers "paved the first dirt roads into the island's rugged interior, built hunting lodges, and created access to beach areas like Lovers Cove, Casino Point and Descanso Beach." Oh yeah, and this epic tent hotel: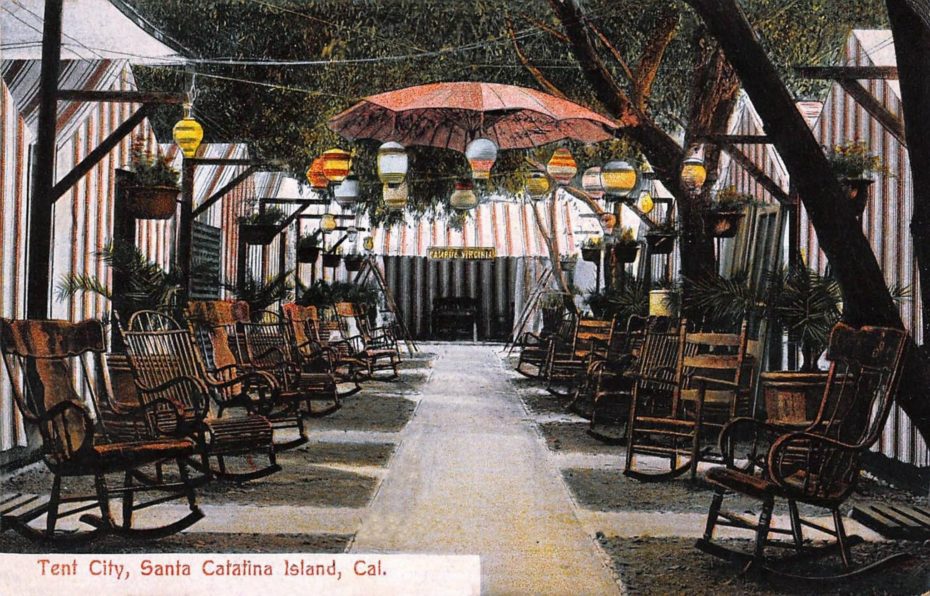 Tourism at Avalon Bay (Catalina's main port), first developed with campers pitching tents at Timm's Landing (now Avalon Bay), in the 1880s. With transportation to the island becoming more readily available, hundreds of tents would be rented each summer, renting for about $7.50 per week.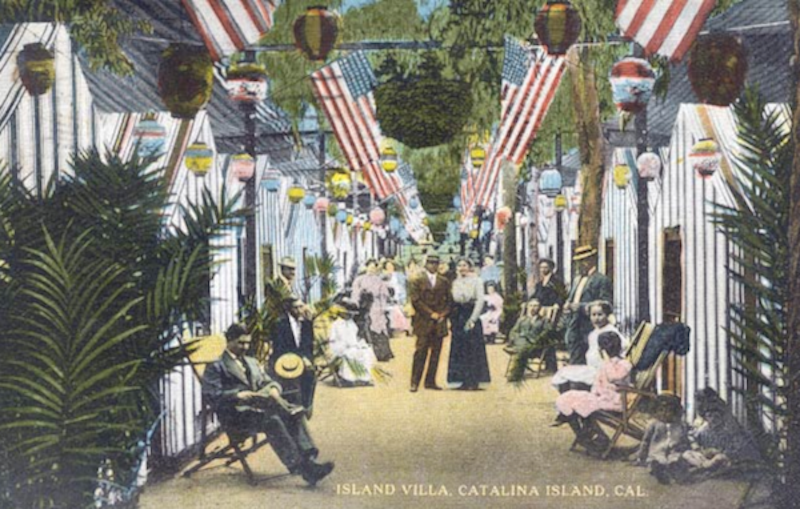 Life in "Tent City" included beds, bedding, basic furnishings and basic cooking facilities. Lively card games were common after dinner.
As tourism developed, no mini-metropolis would be complete without its own airport, and in 1940 Catalina boasted a glamorous "Airport in the Sky"…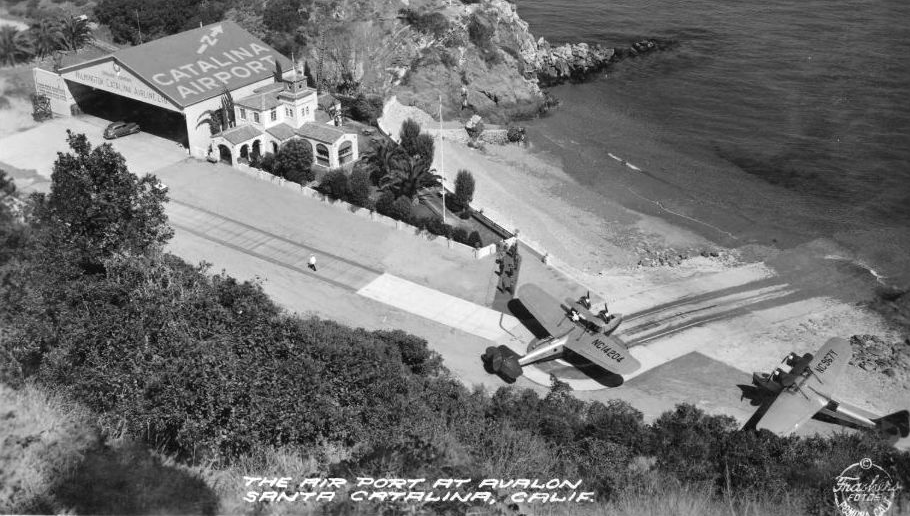 During the war years, the entire Island "was leased to the United States Government for $1 per year," according to an Airport spokesperson, "The runway was covered with debris so that enemy aircraft would not be able to use it as a base."
WWII certainly changed Catalina's care-free demeanor. The Island went from a happy-go-lucky retreat to a highly restricted training-site for U.S. soldiers, to a testing site for submarine warfare, convoy escorts, patrol bombing, and more.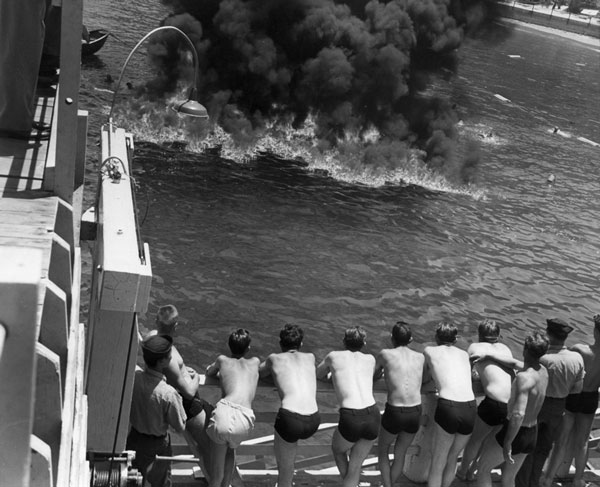 It wasn't until the war ended that the Island resumed its familiar role as a tourist destination and director's dream location ­— but when it did, it did so in full swing.
Needless to say, we've never been so jealous of a herd of buffalo.