Layovers are tricky. Successfully managing your time in an unfamiliar city with just enough (but never enough) hours to kill requires some careful and thoughtful research– especially for travellers who might prefer to balance offbeat discoveries with the obligatory tourist stops. Luckily, I've stumbled across artist Oliver Jeffers' "One city, Five Hours" project, which landed him a regular spot in the United Airlines magazine, Hemisphere, pairing his illustrations with various travel writers' five hour guides to common layover city stops. The thoughtful guides allow the traveler to take in the city's major sites and beautiful views en route to its best-kept secrets, historical oddities and food havens. And then there's Oliver Jeffers' charming sketchbook maps, which he says, "are all geographically accurate". Of course they are…
Paris: The city of lights in a flash…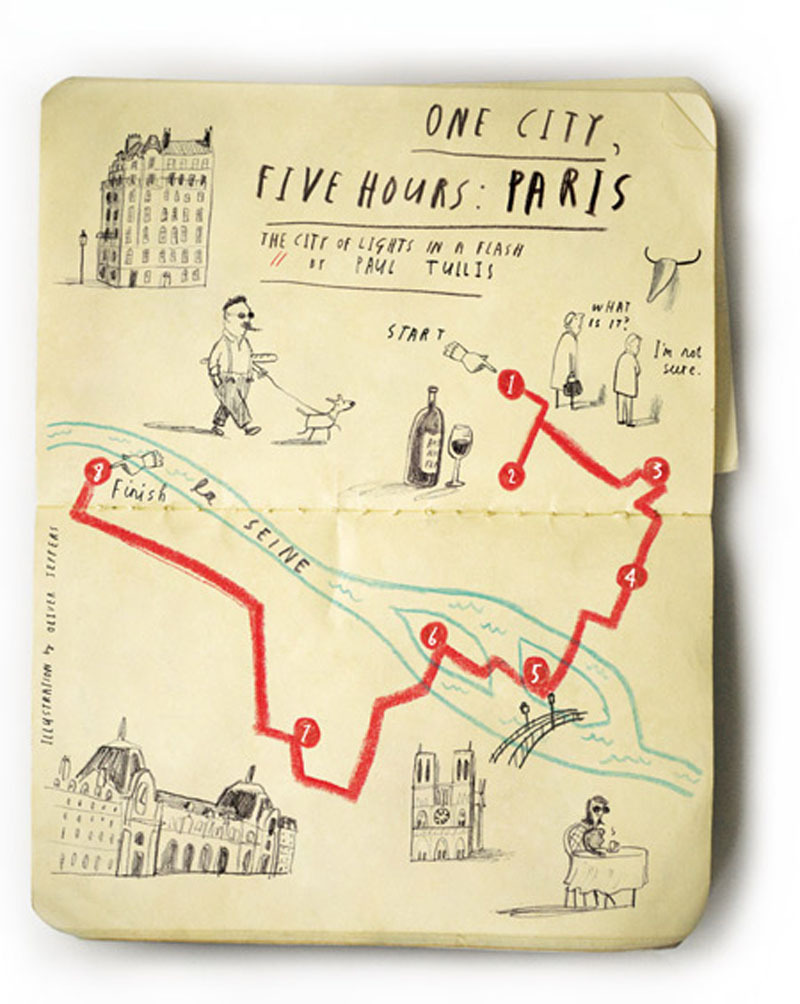 1. Hop the Metro to the Rambuteau stop and ask a stranger (in French, of course) for "luh pohm-pee-DOO." Follow his or her vague gesticulations to the shiny Centre Pompidou, but don't go in; there's no time. Instead, take in the jugglers, jesters and bizarre street performers in the plaza outside (www.centrepompidou.fr).
( 0:35 )
2. Make like a mime and walk silently to Auberge Nicolas Flamel, a restaurant in a 600-year-old house that the bearded alchemist once called home (51, Rue de Mont-morency, www.auberge-nicolas-flamel.fr). There's no gold here, but there is daurade, fondant au chocolat and lots of wine. ( 1:20 )
3. Head for Musée National Picasso in le Marais (5, Rue de Thorigny, www.musee-picasso.fr), a historic neighborhood that was once the Jewish ghetto. The museum houses thousands of works by the shrimpy Spaniard, but you're here for Bull's Head, a minimalist sculpture made out of old bicycle parts. ( 1:55 )
Read the rest of the Five Hour Guide to Paris.
San Francisco: Tour summer of love… and haight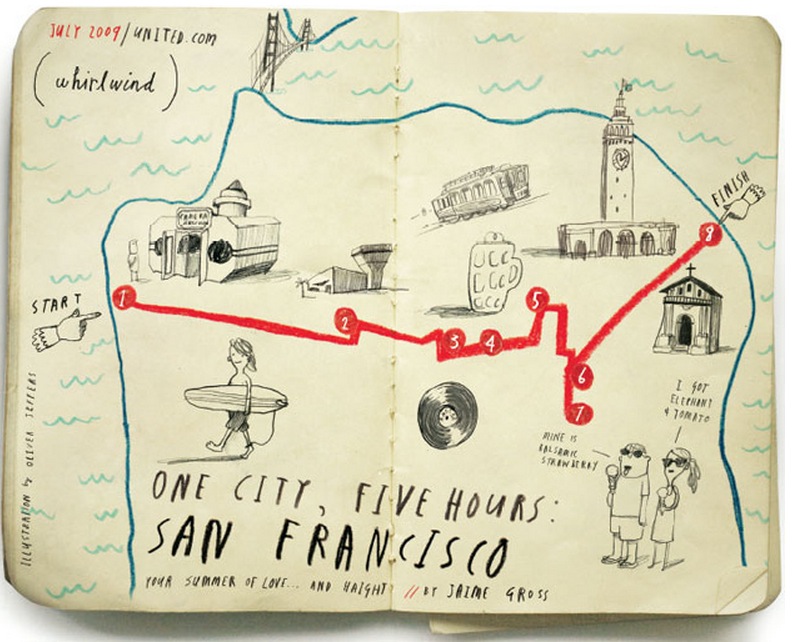 1. Start at the city's scenic westernmost edge and gawk at the swooping parasailers on Ocean Beach. Then duck into the old-timey Camera Obscura (1096 Point Lobos Ave.; www.giantcamera.com) for some 15th century optical magic. ( :30 )
2. Flag a cab and cruise through Golden Gate Park, slowing at the bison paddock for a glimpse of the city's cutest thousand-pound pets. Zip up to the top of the observation tower at the de Young Museum for a dizzying 360-degree view of San Fran's rippling hills (50 Hagiwara Tea Garden Dr.; www.deyoungmuseum.org). ( 1:15 )
3. Dash to Haight Street, ground zero for the hippie movement in the '60s and still a grungy, youthful strip. The neighborhood is home to legions of vintage shops, including Amoeba Music (1855 Haight St.;www.amoeba.com), one of the country's best (and last) record shops. ( 1:45 )
4. Local, seasonal, organic. These buzzwords are on menus all over town, and at the newly renovated Magnolia Pub and Brewery (1398 Haight St.; www.magnoliapub.com) you can sample all three in the form of locally brewed beer, asparagus and rabbit sausage. ( 2:30 )
5. After lunch, walk to Alamo Square Park to see the iconic "Painted Ladies," a row of colorful Victorian houses launched to stardom in the opening credits of Full House. ( 3:00 )
Read the rest of the Five Hour Guide to San Francisco.
Miami: SoBe it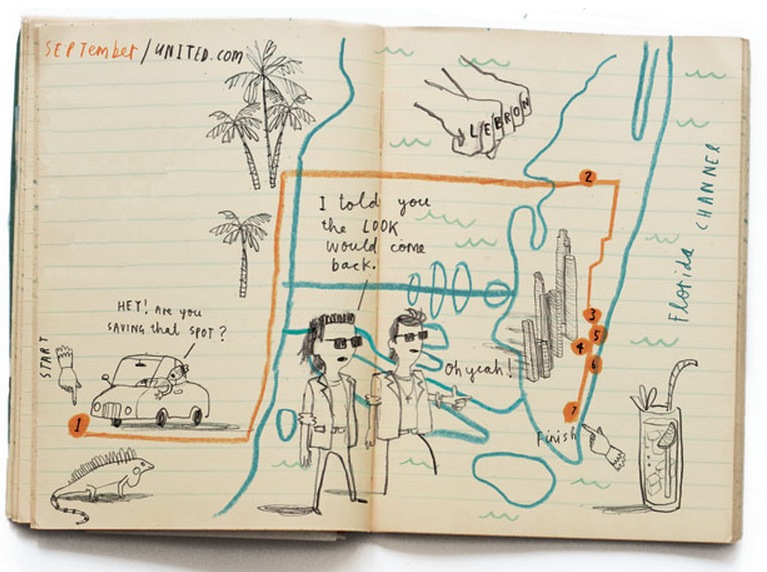 1. First stop: coffee. Strong, Cuban coffee in a demitasse cup from Versailles Restaurant (3555 SW Eighth St.), a landmark eatery on Calle Ocho in Miami's Little Havana. When you get to South Beach—SoBe for short—a vibrant strip of sand where retirement community meets party town, you'll be glad for the boost. (0:20)
2. Driving to the beach, enjoy the view on Julia Tuttle Causeway, a four-mile bridge over Biscayne Bay. If it's sunny—and it's always sunny—stop at Wells Fargo (750 Arthur Godfrey Rd.) to discover one of the city's best-kept secrets: dozens of enormous iguanas lying in the parking lot. (1:00)
3. Once on the South Beach strip, you're feeling a bit Hollywood, so you stop by Love Hate Tattoo Studio (1360 Washington Ave.; www.lovehatetatoos.com)—the home of TLC's Miami Ink. You're just browsing, of course; the dragon for your shoulder will have to wait for another day. (1:40)
Read the rest of the Five Hour Guide to Miami
Frankfurt: Deutsch treat…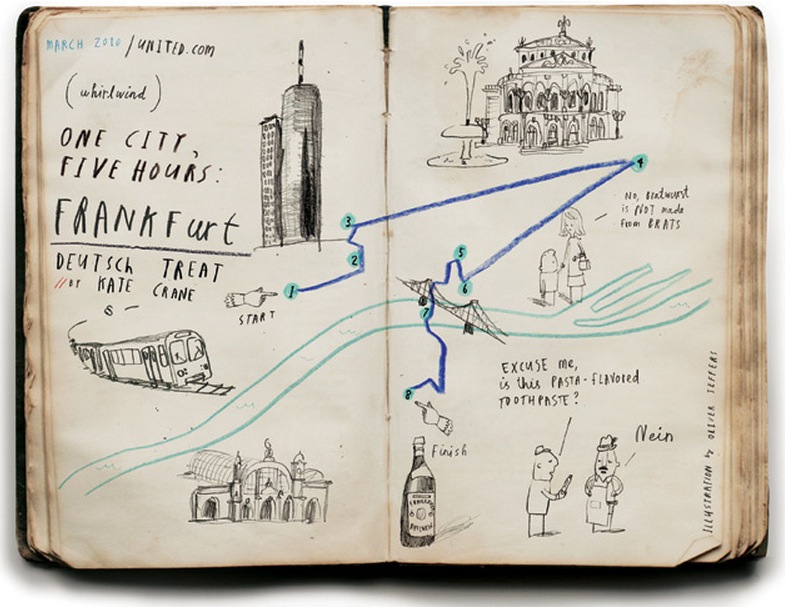 1. Your sprint through Frankfurt starts by taking the S-bahn to Taunusanlage. (Say that five times fast.) From there, walk to the spectacular Main Tower (Neue Mainzer Straße 52-58; www.maintower.de) and take the elevator to the 54th-floor viewing terrace. Comprising two towers, one round, one square, it's the fourth-highest skyscraper in "Mainhattan" and proof that all architects once played with Legos. (0:35)
2. Descend from the clouds and walk over to the Alte Oper (1 Opernplatz; www.alteoper.de). Its roof was destroyed in World War II, but the building reopened in 1981 with a Renaissance façade that's faithful to the original. Have a coffee in Cafe Rosso and imagine opening night 1880: Don Giovanni. (1:10)
3. Take the U-bahn to Bornheim, a hip shopping district and the only part of Frankfurt to survive WWII intact. Stroll Berger Straße toward Merianplatz; at Gate 05 (Berger Straße 46; www.gate05.de), stock up on the travel accessories you forgot to pack (a travel-size tube of Zahnpasta, perhaps?). (2:02)
4. Hop back on the U-bahn to Römerberg. Now you're in medieval Europe—kind of. Stroll along the city square's picturesque half-timbered buildings and stop in at Dom Sankt Bartholomäus (Domplatz 14;www.dom-frankfurt.de), where emperors were crowned during the Holy Roman Empire. Fascinating history, but you're getting hungry…
Read the rest of the Five Hour Guide to Frankfurt.
Sydney: A walk about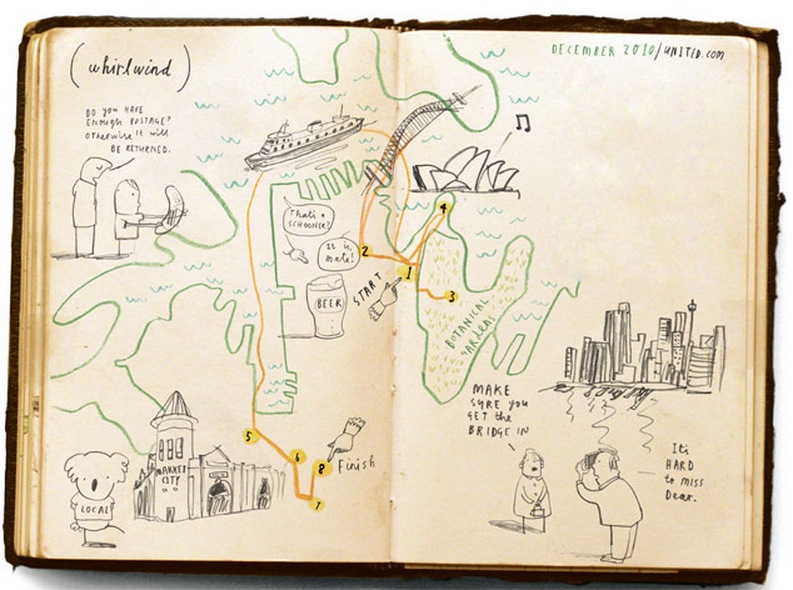 1. Head to Circular Quay (Alfred Street) to get your obligatory tourist photo of the Harbour Bridge. Walk out just far enough to get a good breath of sea air and a view of this majestic city, then turn back—time's a-wastin'. (0:25)
2. Stroll to Sydney proper through Australia's oldest neighborhood, The Rocks. Once home to the convicts who built the city, The Rocks is a warren of pubs, cafés and markets. Grab a beer at Fortune of War (137 George St.; www.fortuneofwar.com.au), which claims to be the city's oldest pub. (1:10)
3. It wouldn't be Sydney without a brush with nature. Hoof it to the Royal Botanic Gardens (Mrs. Macquaries Rd.; www.rbgsyd.nsw.gov.au) to see thousands of endangered flying-fox—the largest bats in the world. (1:40)
Read the rest of the Five Hour Guide to Sydney
Reno: The biggest little city in the world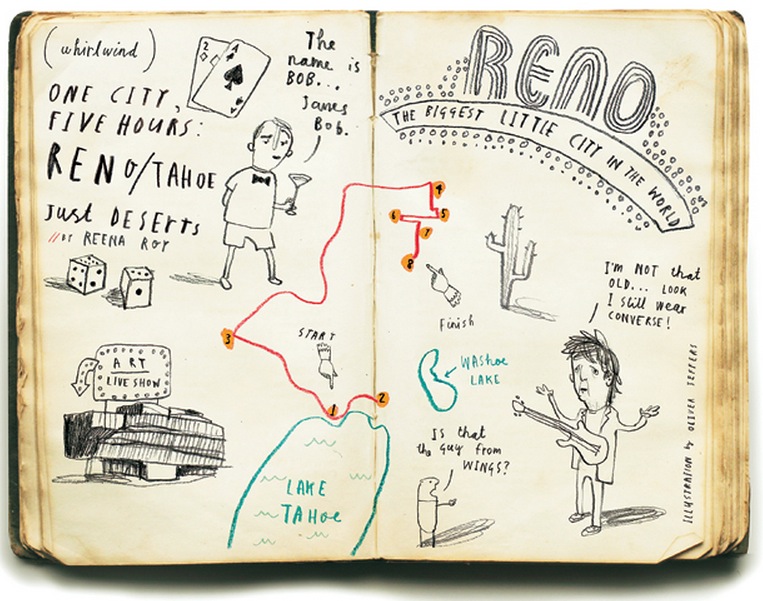 1. Voted best breakfast in North Lake Tahoe for dishes like crab cake eggs benedict and a french toast tower made out of cinnamon rolls, The Log Cabin Caffe (8692 North Lake Blvd., King's Beach, California; logcabinbreakfast.com) also serves a mean lunch. Fill up—you'll need the energy. (0:30)
2. Work off that meal with a hike on the Tahoe Rim Trail (tahoerimtrail.org). The 1.2-mile Interpretive Loop at Tahoe Meadows lets you scope out the exceptional wildflowers. (1:40)
3. Cool down with a beer at Moody's Bistro and Lounge (10007 Bridge St., Truckee, California; moodysbistro. com), and stay for the live music. If you're lucky you might see Paul McCartney, who pops in once in a while for an impromptu jam. (2:30)
Read more of the Five Hour Guide to Reno
Shanghai: ChinaTown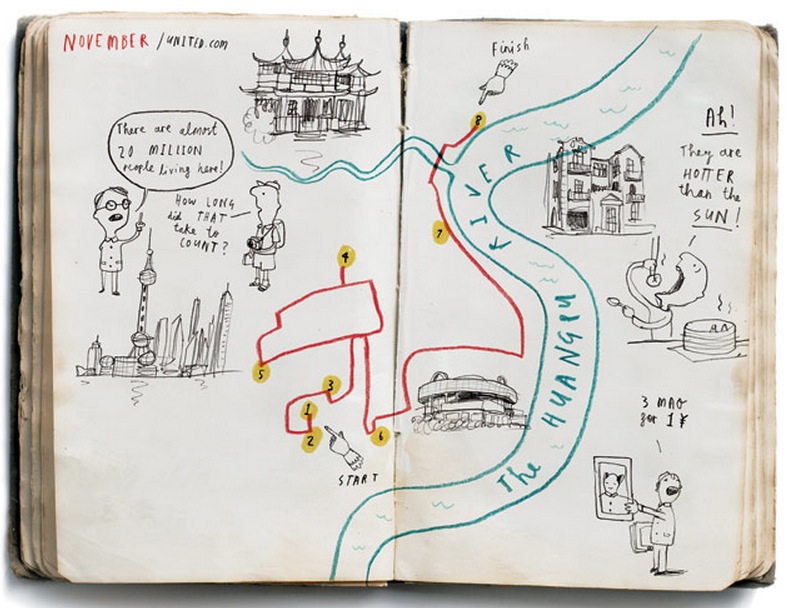 1. Start with Shanghai's succulent signature pork and crab soup dumplings, xiaolong bao, at Din Tai Fung(South Block, Unit 11, House 6, Ln. 123 Xingye Rd.; www.dintaifung.com.tw). Use the tried- and-true technique: Nibble a small hole in the dumpling and suck out the broth before biting into it-but beware, it's hot! (0:30)
2. Stroll into Xintiandi (www.xintiandi.com), where restored shikumen (stone gate) homes dating back to the 1860s now house chic restaurants and shops. Forget about the schlocky souvenirs, and buy something functional, like a contemporary teapot at Zen Lifestore or a handbag made from colorful sandbag cloth at Oshadai. (1:30)
3. Before leaving Xintiandi, peek into the Shikumen Open House Museum (25, Ln. 181, Taicang Rd.) to see a re-creation of what these cute houses looked like in the 1920s, complete with vintage sewing machines and magazines with Hollywood stars on the covers. (2:00)
Read the rest of the Five Hour Guide to Shanghai.