"So I heard about the tiniest antique shop in Paris that's stuck to the side of a church," said Mum over dinner one evening. Of course, the very next morning, I went to hunt it down…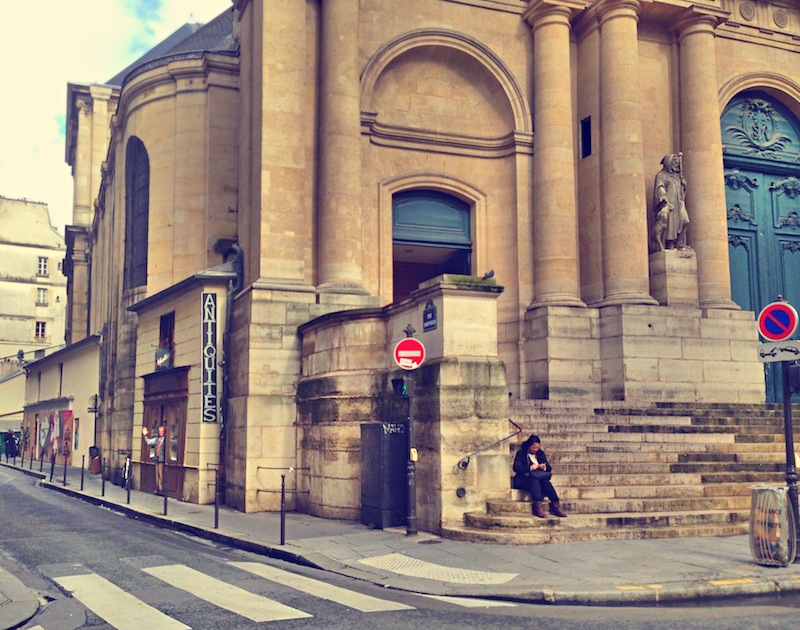 The Église Saint Roch is one of the most beautiful churches in Paris and it's where all the fancy Parisian families still congregate on Sundays in their best vintage Yves Saint Laurent. While I certainly recommend popping your head around those gigantesque blue doors, we're here to see something of a slightly smaller scale. Divert your eyes to the left of the church … do you see someone waving to us?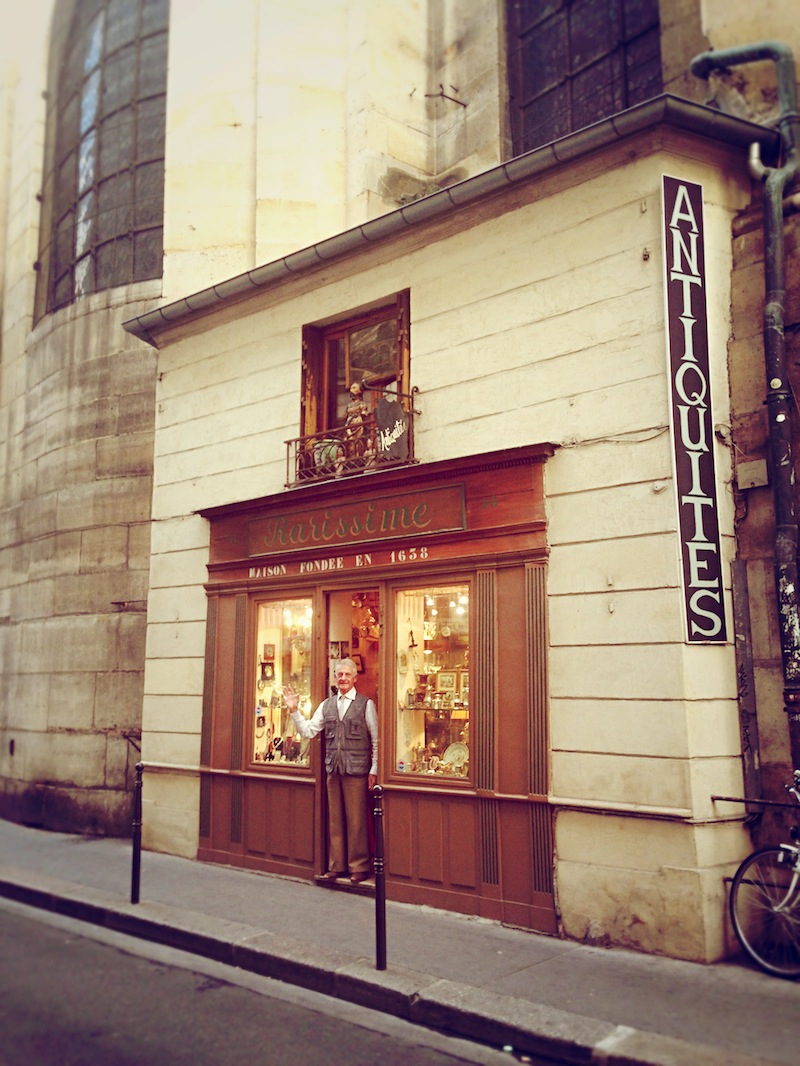 That's Roger, the 80-something year-old (and still kicking) shopkeeper of Rarissime, which appropriately translates into English as "extremely rare".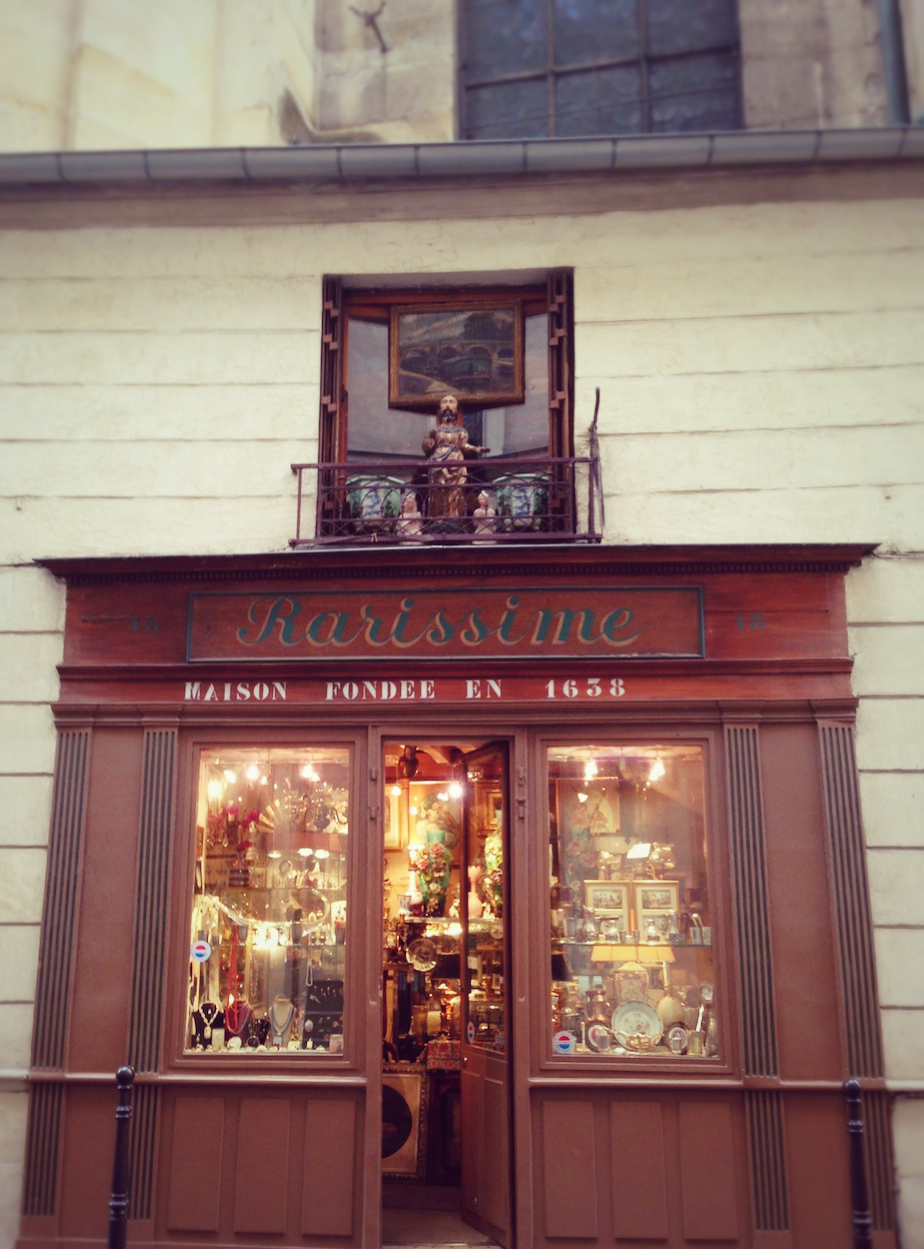 The boutique is without doubt one of the oldest and smallest in Paris. Sharing a corner with the city's superstreet of modern luxury retail, Rue Saint Honoré, just a stone's throw from über popular concept store, Colette; this unlikely little Parisian time capsule is certainly a rarity.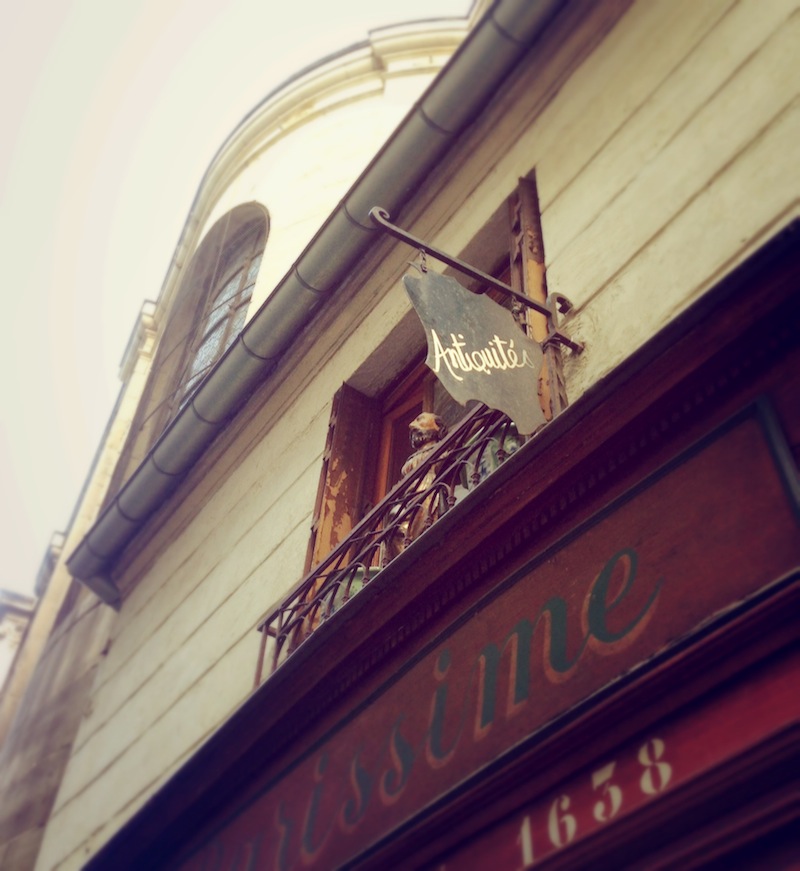 On the facade, it proudly says it was founded in 1638, fifteen years before the first stone of the church was even laid in 1653. Now, that's quite a statement, with perhaps a teeny tiny bit of truth bending! So here's the thing. There's no way to confirm when exactly it was founded, but Roger says the church originally used it in the 17th century as a separate space to sell small religious relics and keepsakes, because trade was technically forbidden inside the walls of the church.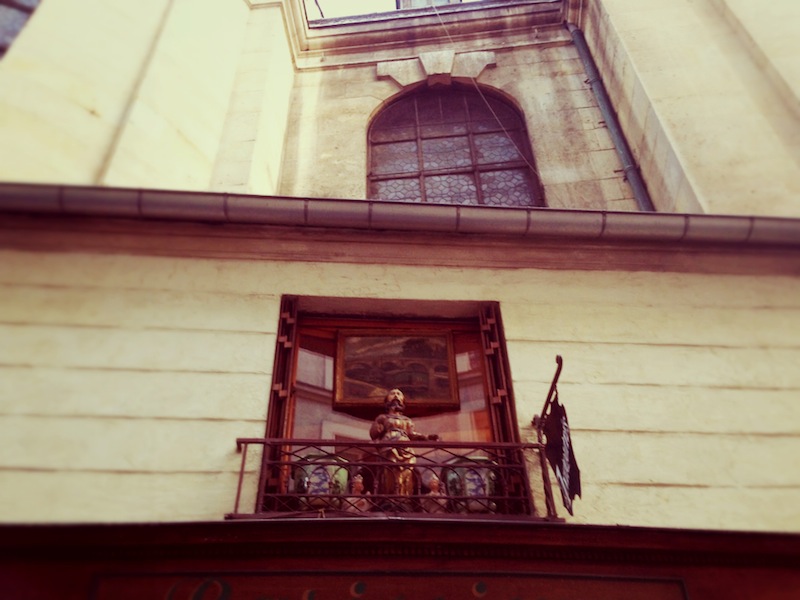 When he came along twenty years ago, it had been a gentlemen's barber shop for generations and was in pretty bad shape. He showed me this old photograph from World War II when it was a barbershop…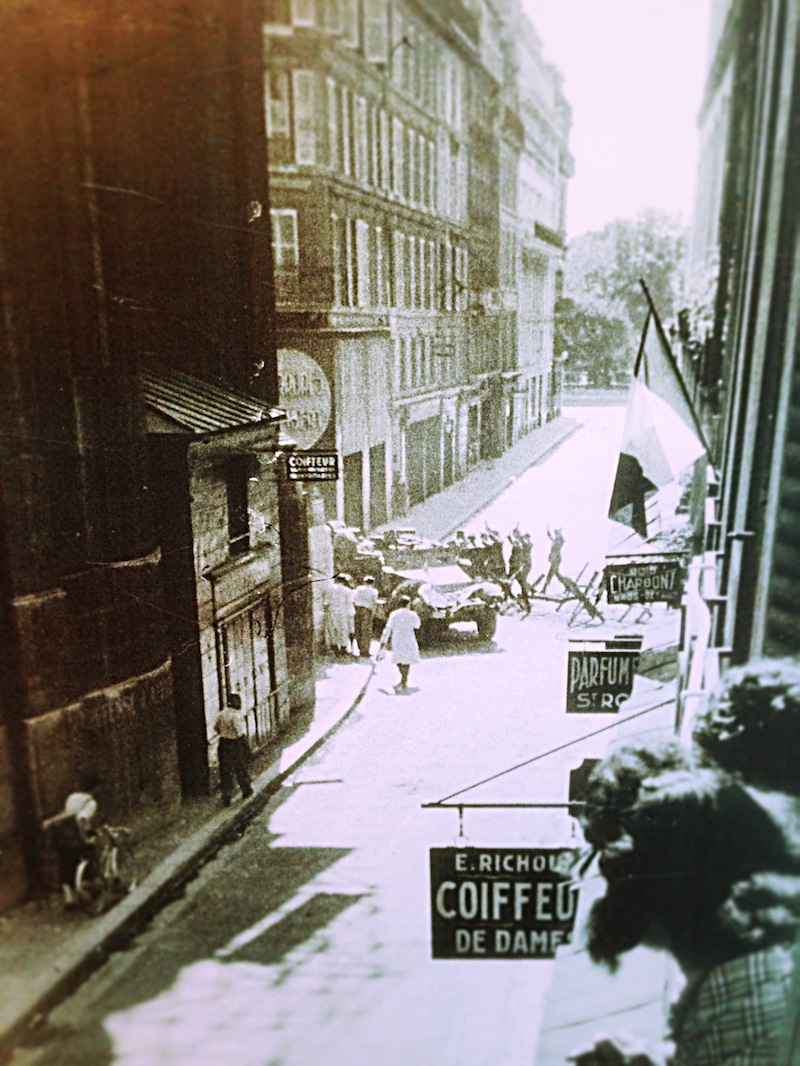 You can see it there on the left as German soldiers walk by on the Rue St. Honoré with their hands in the air on the day of the liberation of Paris.
Under the agreement that Roger would renovate the shop, the city of Paris rented it to him for today's equivalent of 750 euros, three times a year. To this day, he still pays the very same rate.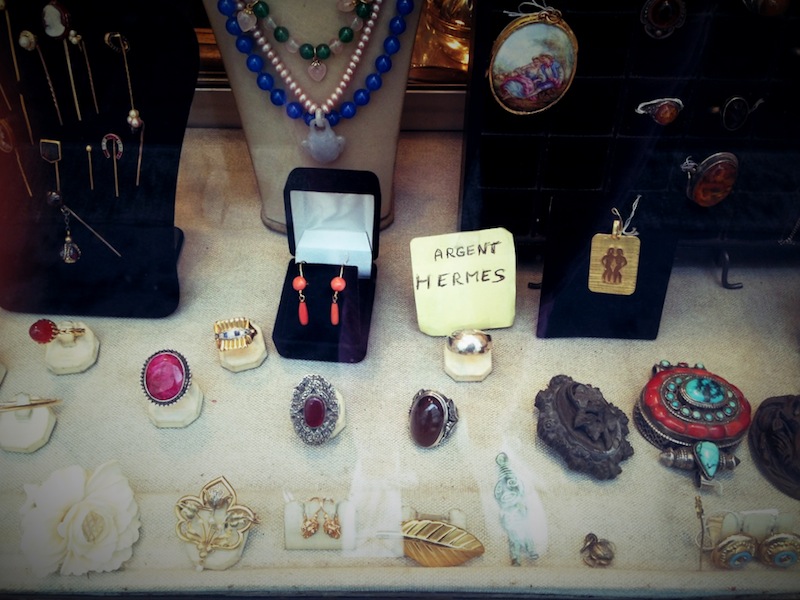 Its warmly-lit windows are filled with tiny trinkets once belonging to the Parisian bourgeoisie of the quartier…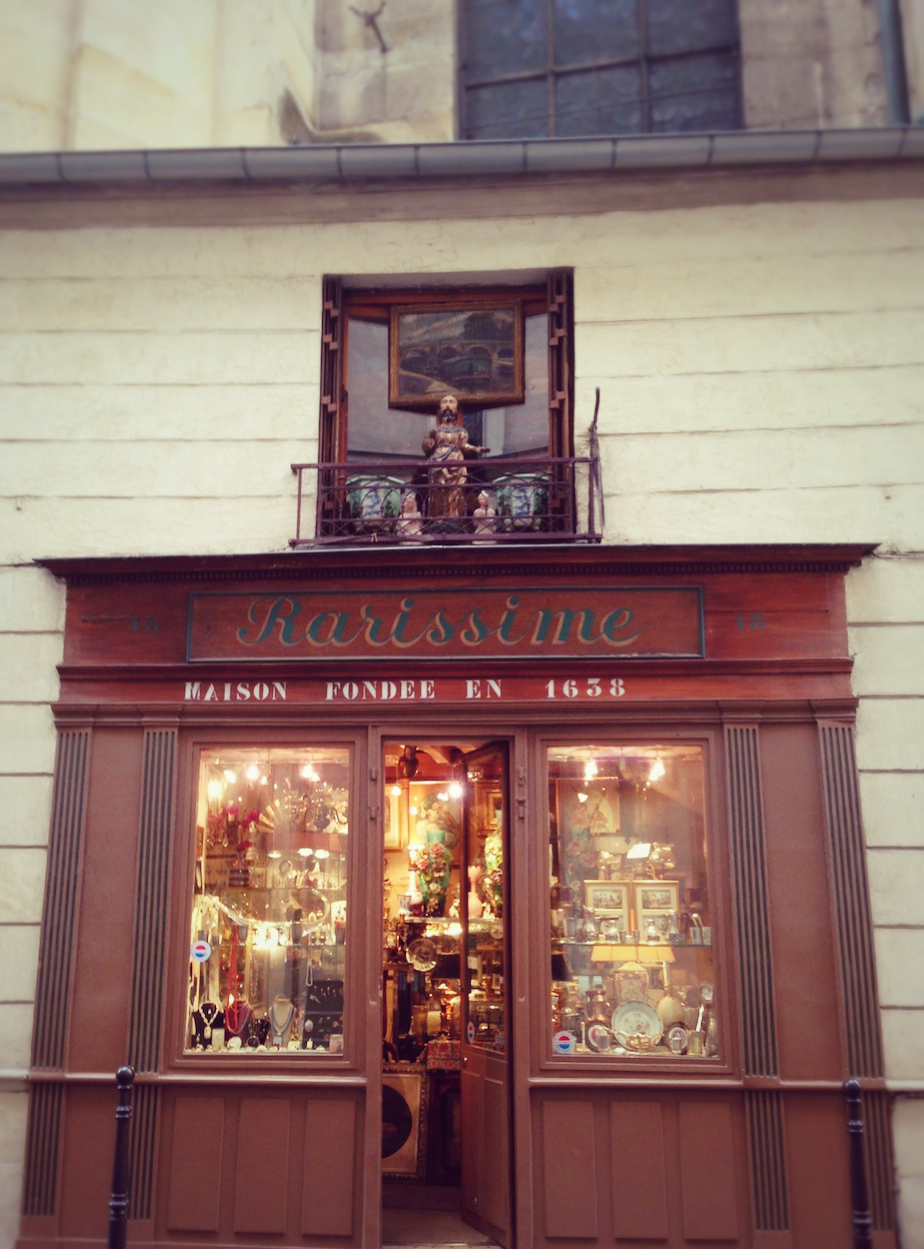 But enough hanging around outside, let's go inside…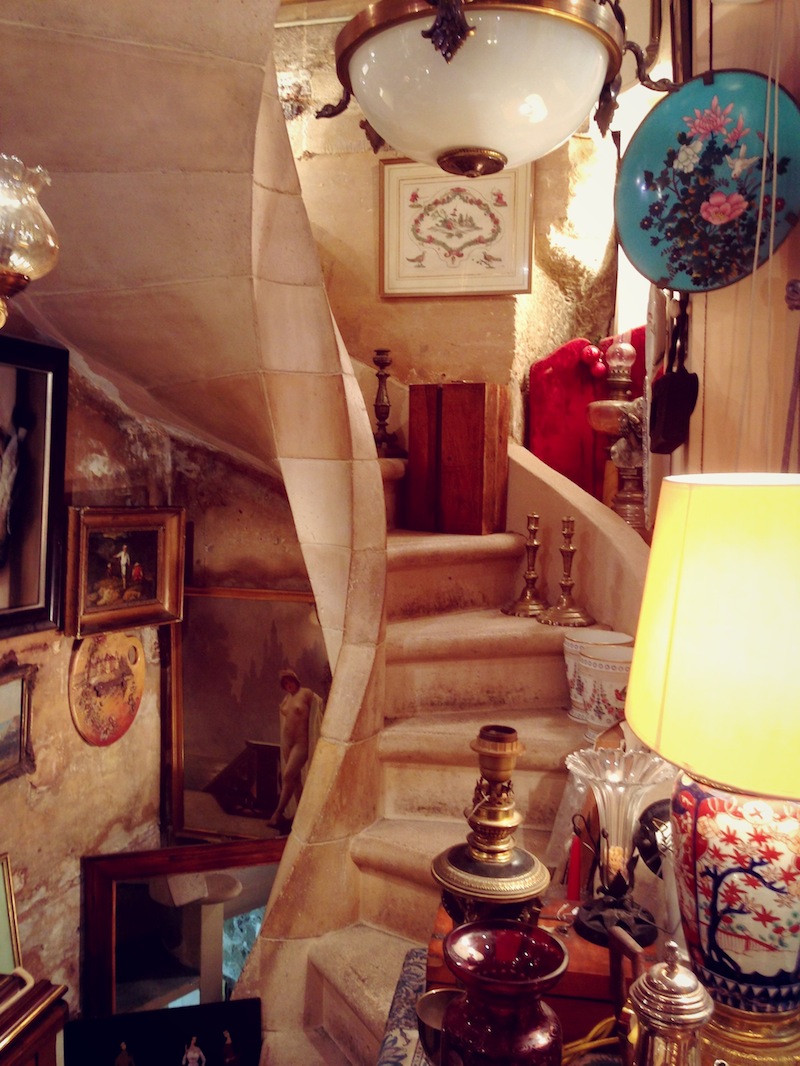 The first thing you'll notice about this space is how impossibly tiny it is. (Watch your elbows).
The next thing you'll notice is the impossibly grand staircase that's somehow managed to fit inside it.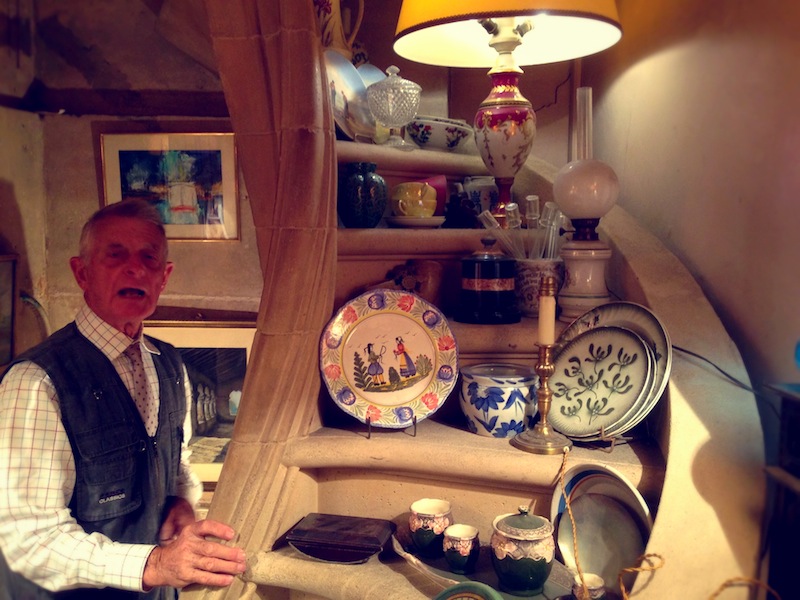 At first, I thought it was part of the neighbouring church, but Roger was only too happy to tell me all about the real centrepiece of Rarissime– because he built it himself! As an ex-mason, who specialised in building exquisite 16th century style spiral staircases, when Roger took over the shop he put his skills to work by complementing the old stone walls of the church with one of his own creations. His son Christophe has now taken over his staircase business if anyone is interested in having one of these babies installed in their home…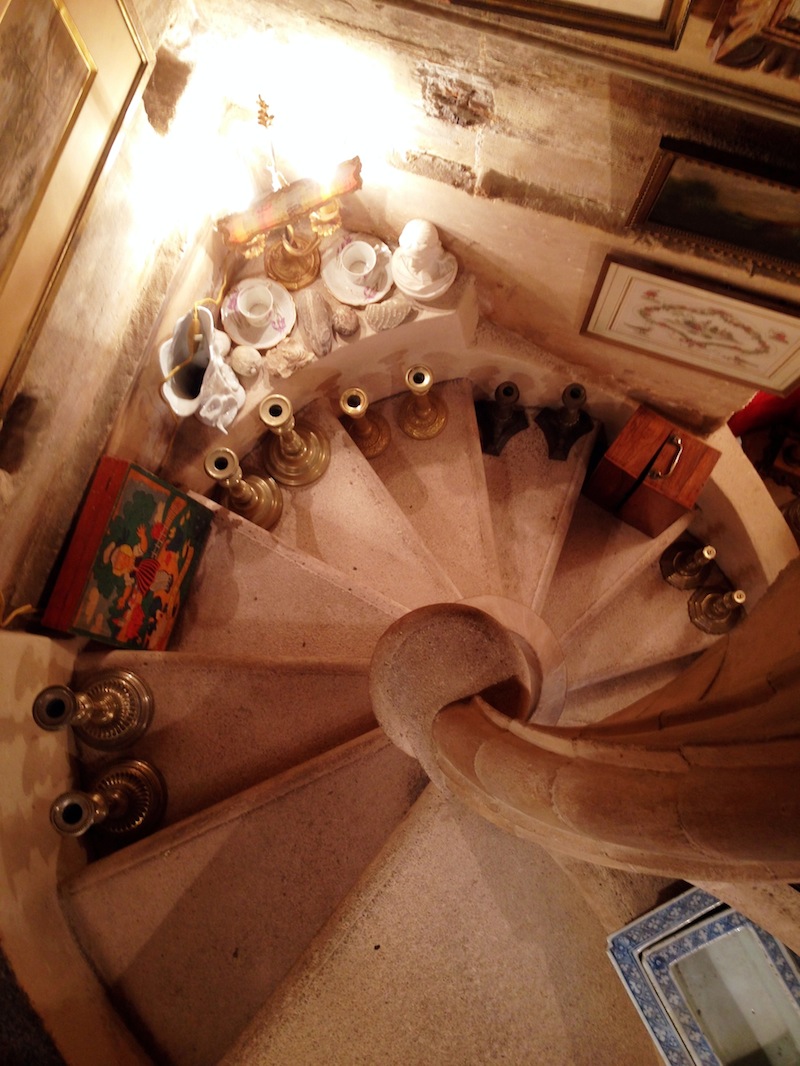 On both floors, everything from vintage ice skates to one-of-a-kind watches await new owners…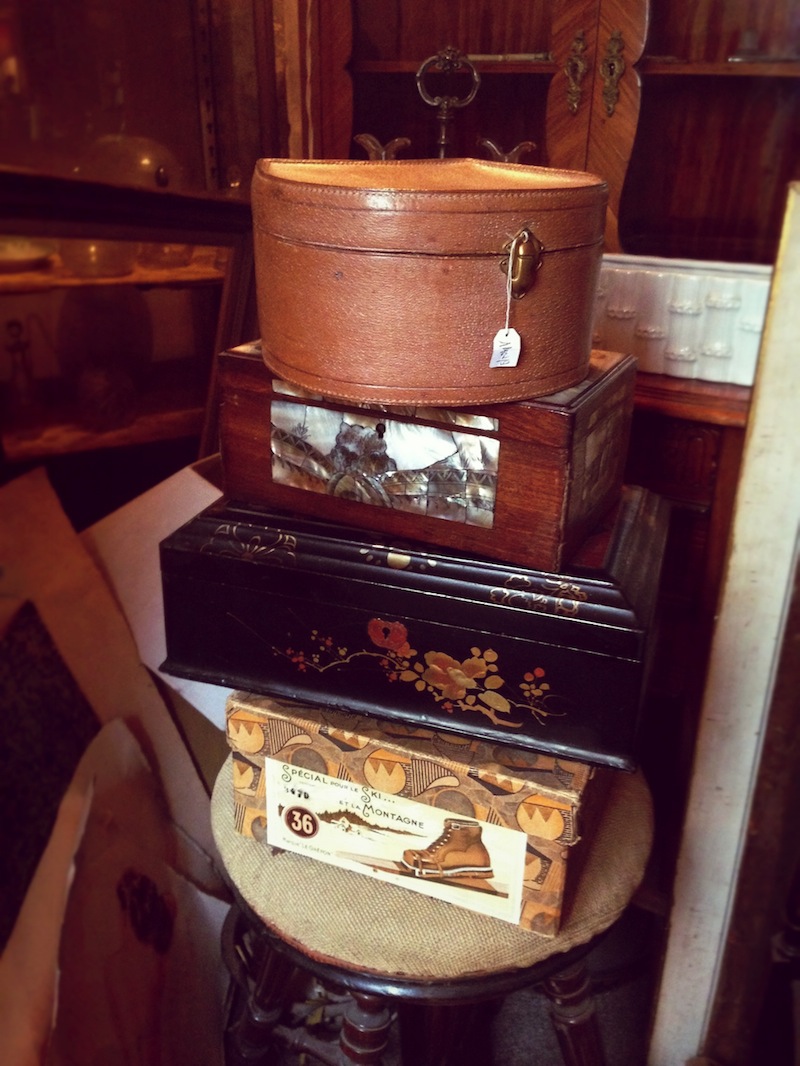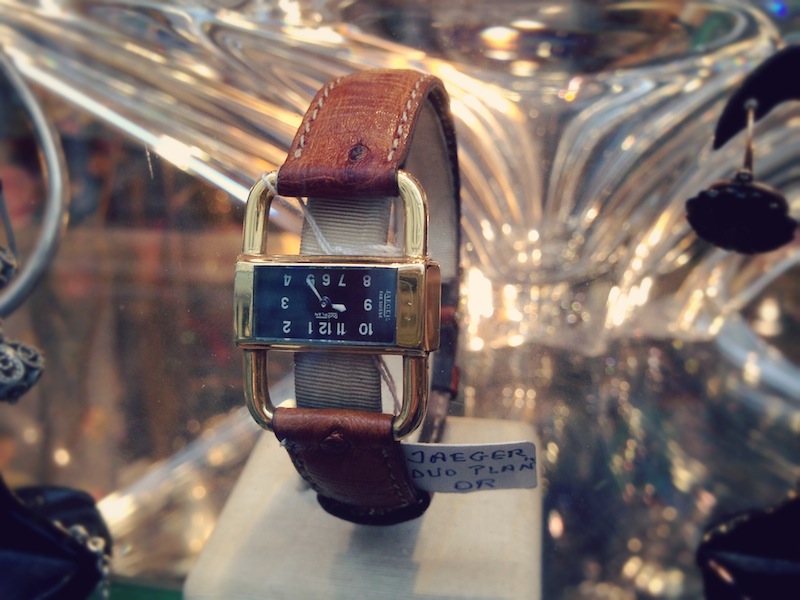 And of course all the while you're browsing, Roger is happily chatting away behind you…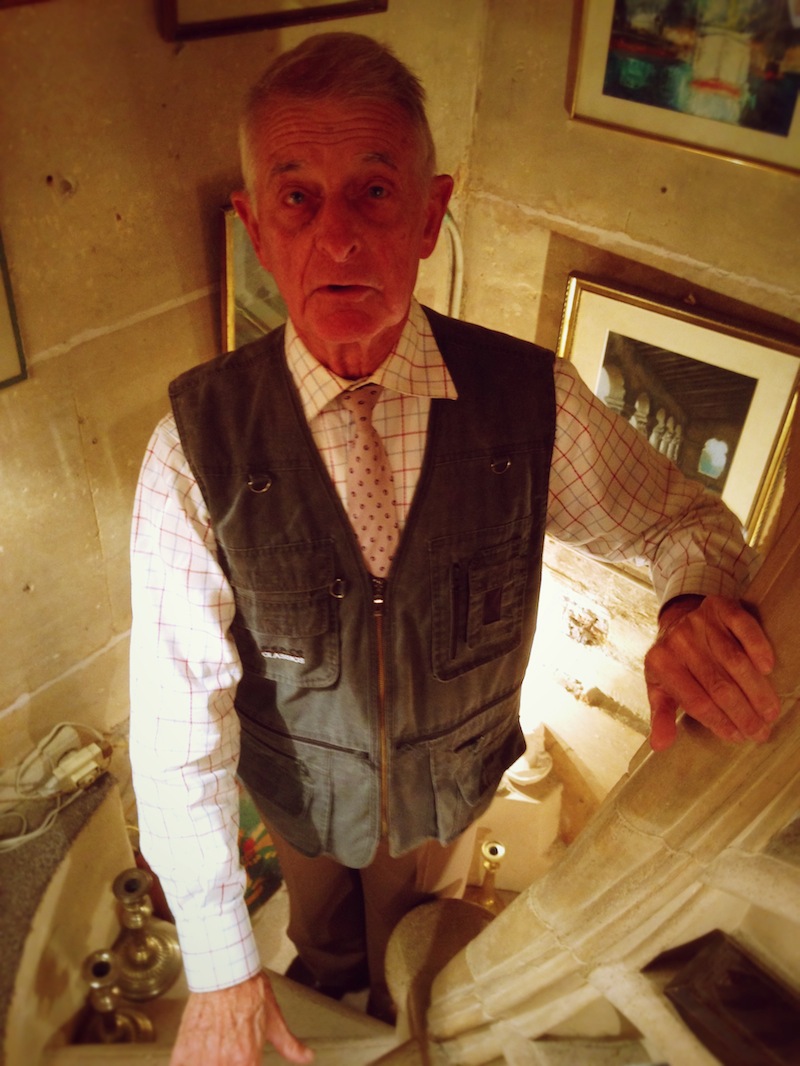 You see, you really can't discover Rarissime without making Roger your new friend in Paris. He is one of the kindest souls in town and if you speak just a tiny bit of French, you'll get on like a house on fire!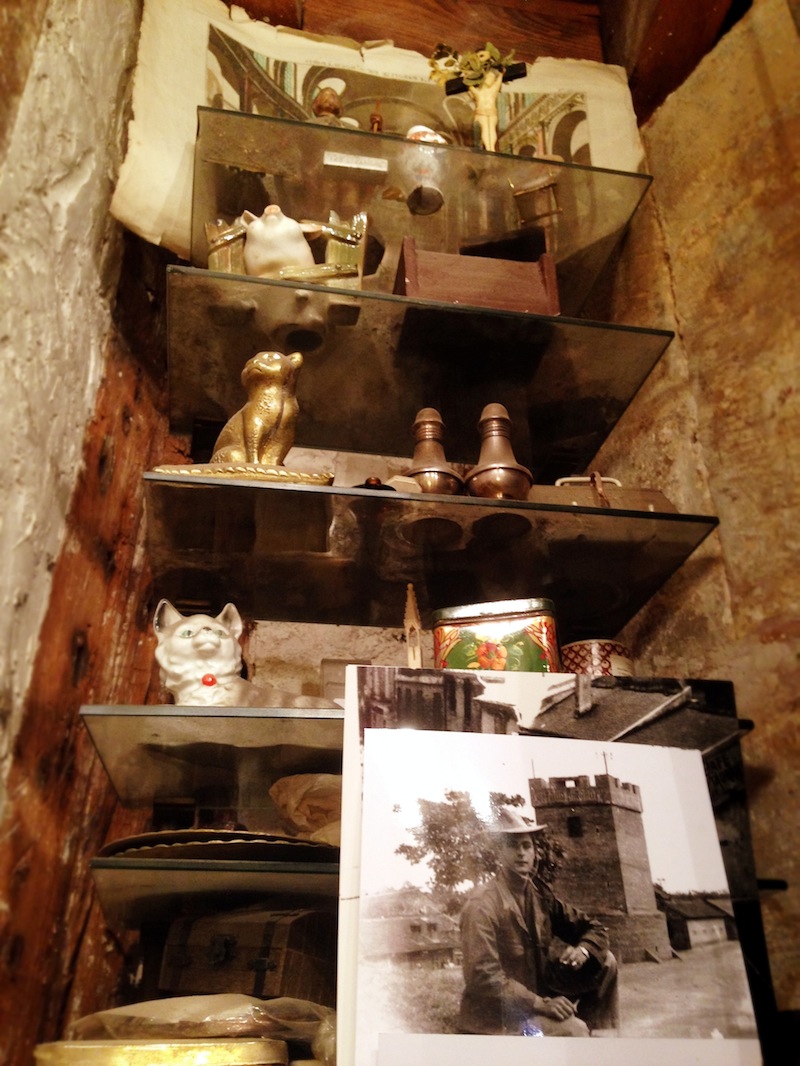 He'll pull out old photographs from his little cubby hole and tell you all about his years as a soldier in French Indochina…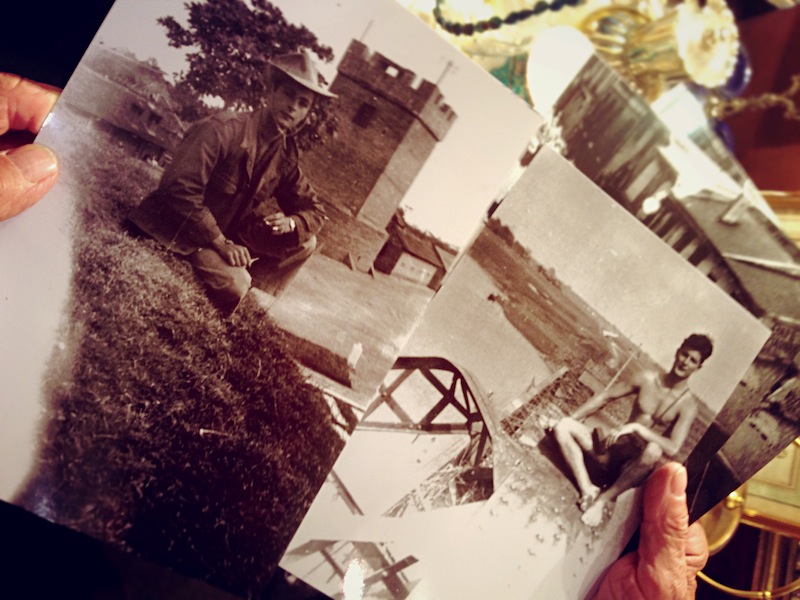 And every now and again, our conversation is interrupted by a knock at the door…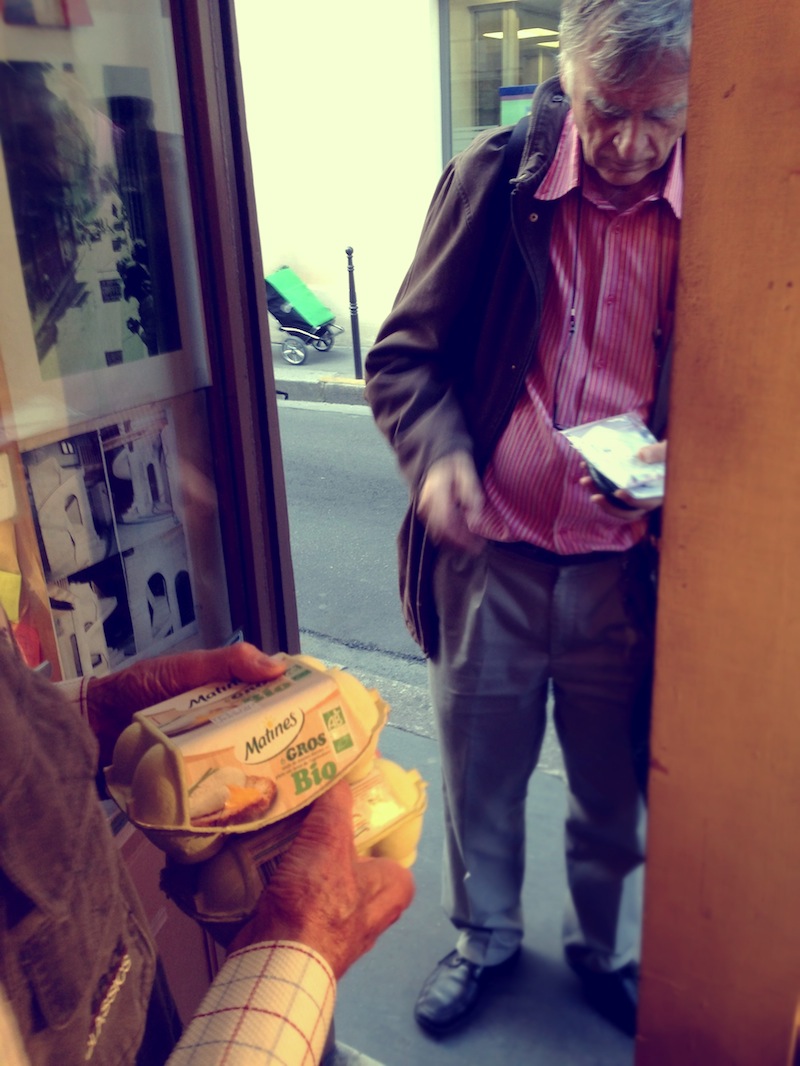 Oh yes, I forgot to mention– Roger also sells eggs. Yes, eggs from an antique shop! On the weekends, Roger lives in the countryside and brings in eggs freshly laid by the free-range chickens in his village outside of Paris. He sells to locals residents who stop by on their way home from work and to the neighbouring restaurants for a fraction of the price at the supermarkets. (Those are just recycled boxes he's using ↑ because the village farmer doesn't make his own cartons).
So there's that. Put in your order with Roger and no doubt you'll be serving up the rarest omelette in town!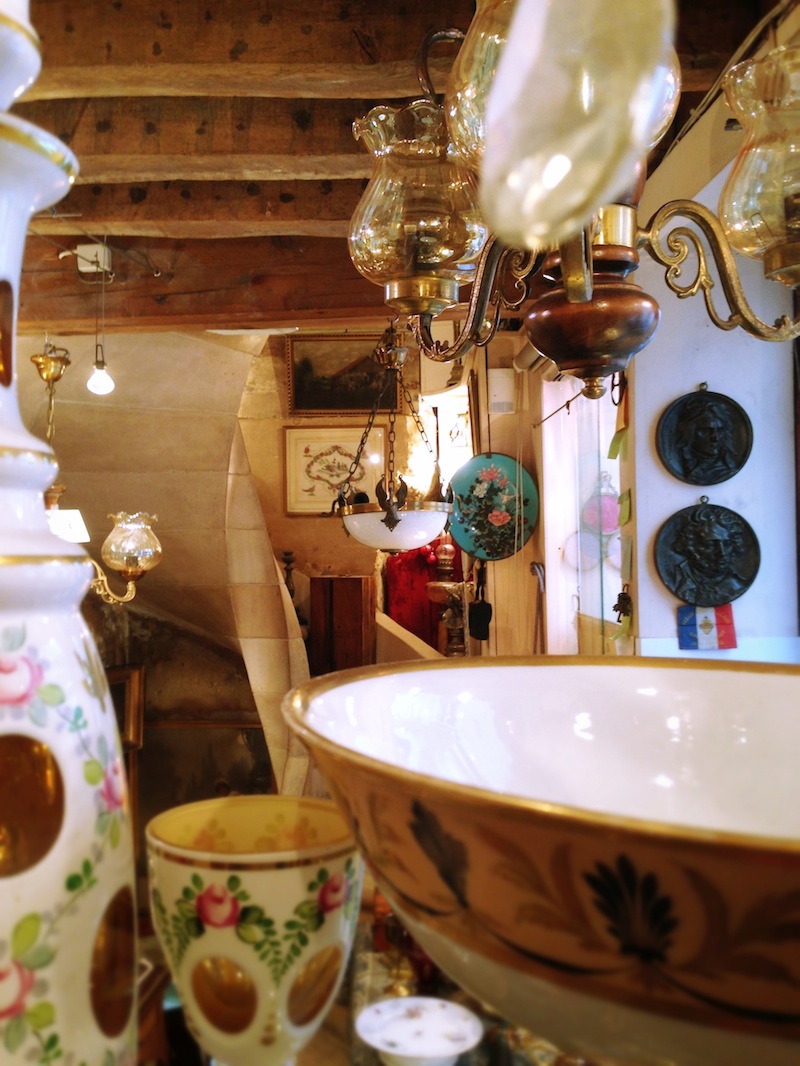 Before I know it, I've spent an hour in the tiniest shop in Paris…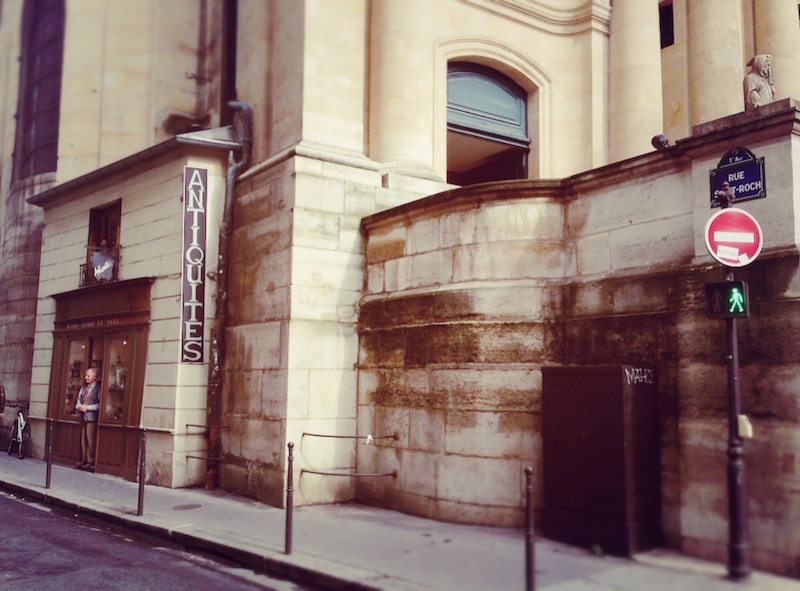 I kiss Roger on the cheeks and say my goodbyes, promising him I'll join him for lunch next week at one of the restaurants he sells his eggs to.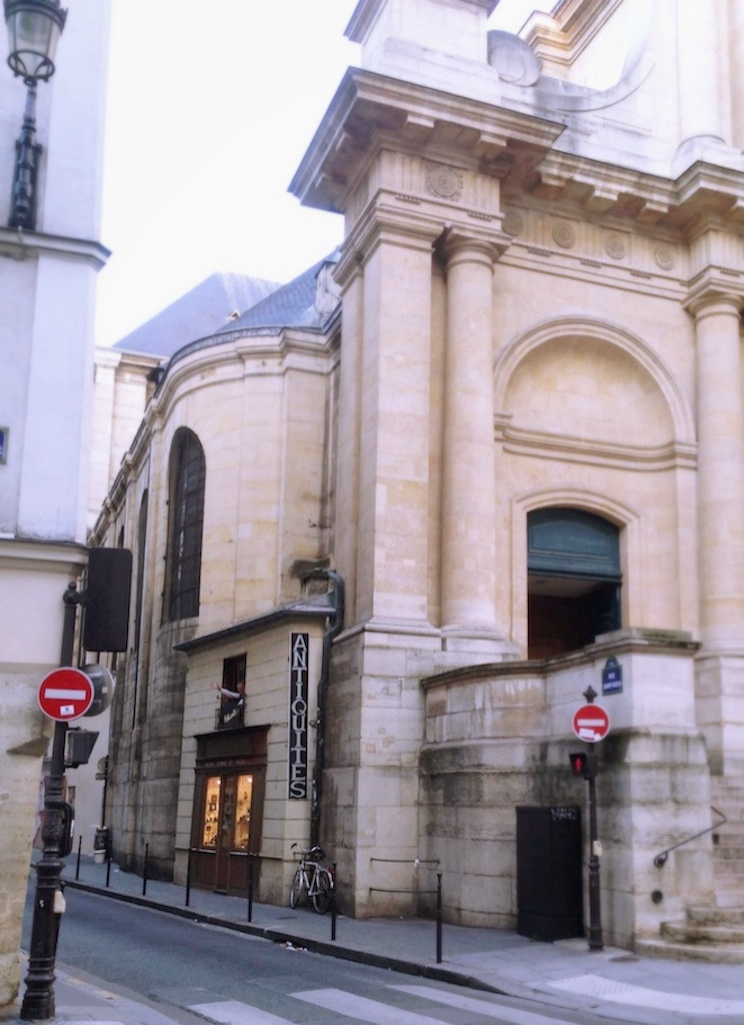 Across the street, I look back over my shoulder and he's waving enthusiastically out of the first floor window. My heart melts.
Make a new friend, buy some eggs or find yourself a treasure with a story you'll always remember at Rarissime, 18 Rue Saint-Roch, Paris (also near "My Secret Paris Archive" ↓)
UPDATE
When we heard Roger had retired to the countryside, we were sure his little shop would be overtaken by a soulless luxury boutique. But thankfully, the new occupant is just as whimsical as the last. Having kept the shop exactly as they found it, the talented French and Japanese duo behind Brigitte Tanaka have filled this unique shop with delightfully curated vintage pieces and upcycled antiques, unique jewellery and charming homewares. The fancy Parisian dames du quartier still congregate on Sundays at the Église Saint Roch in their best vintage Chanel suits too – no doubt sporting a Brigitte Tanaka brooch to complete the look. (19.09.19)
Hungry for more Paris? 
The updated edition of Don't Be a Tourist in Paris
 is now available.
Or become a MessyNessy Keyholder to gain access to our 
Travel eBook library
 and a direct line to our 
Keyholder Travel Concierge
 to plan your perfect trip. Need help planning a weekend in France? Need some restaurant recommendations for a remote village in the North Pole? We're here to help.