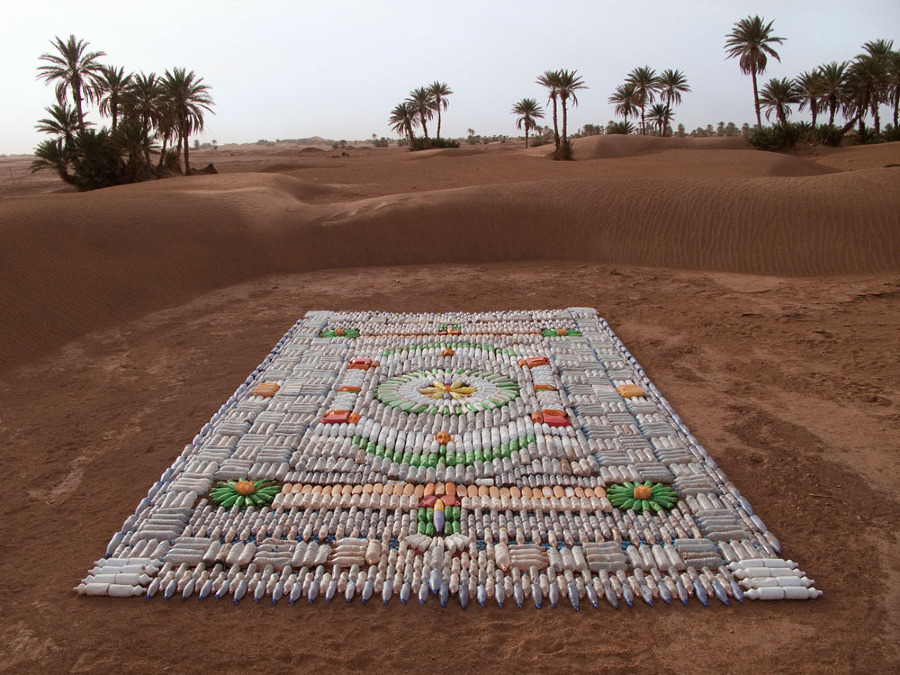 After seeing this, you may never look at an empty plastic bottle or your bathroom's Q-tips in quite the same way again. Think of any mundane, everyday object lying around in your home and We Make Carpets has probably used it or plan on using it to make a carpet so magical, it might as damn well just fly. Having said that however, We Make Carpets does not technically make carpets, at least, not the kind of carpet you can trample all over. Take a closer look…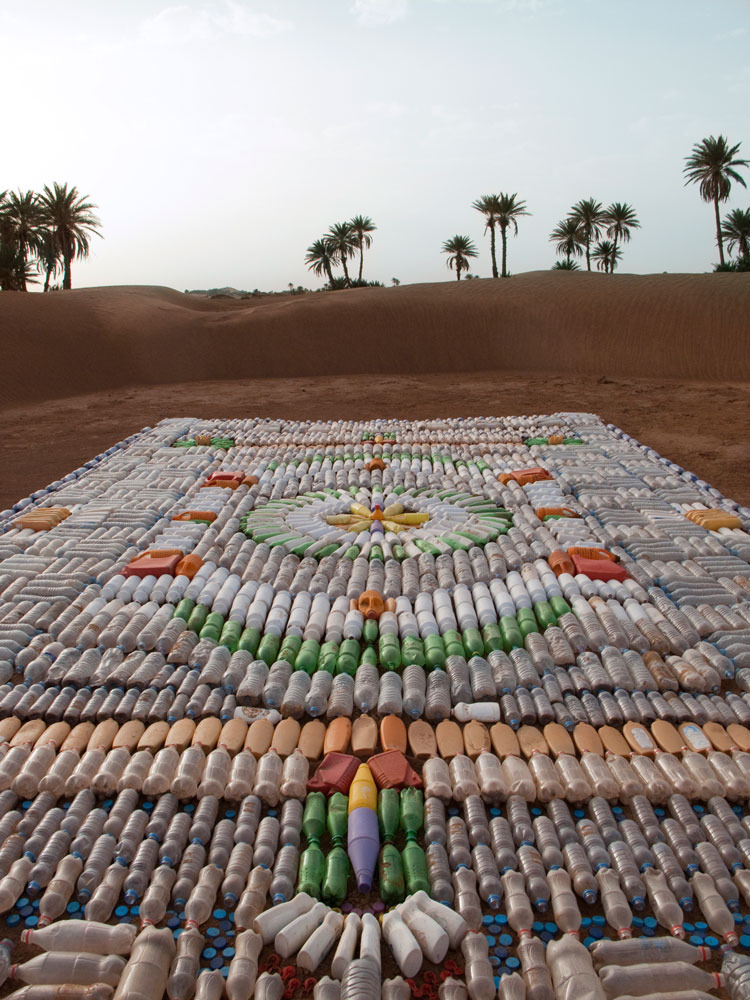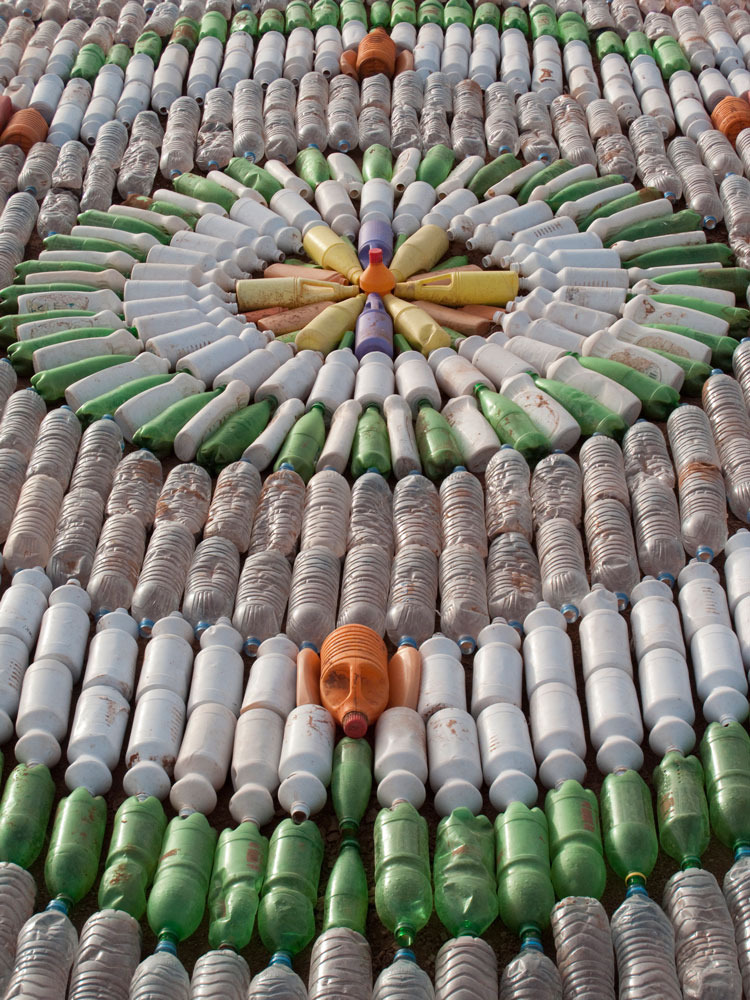 These are without doubt, works of art rather than ordinary carpets, but to glue everything down or put an art barrier around it?
"No. That doesn't fit with the work," explains the Amsterdam-based collective, a trio of friends and co-creators, Bob, Marcia and Stijn. "The carpets are not meant to be touched … but it sometimes happens anyway. From a distance it may look like a carpet but you have to come close to see it is actually made of clothes pegs. Or some other everyday product."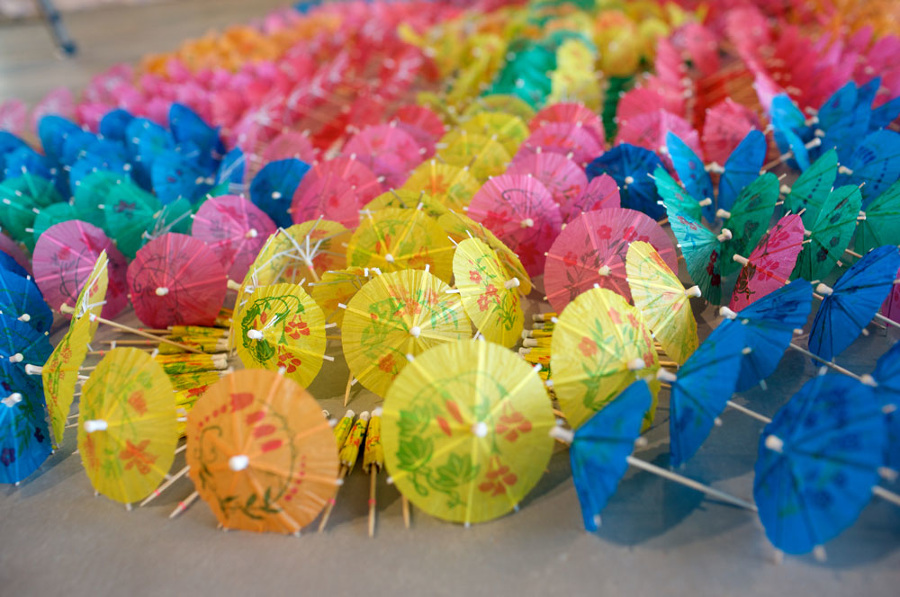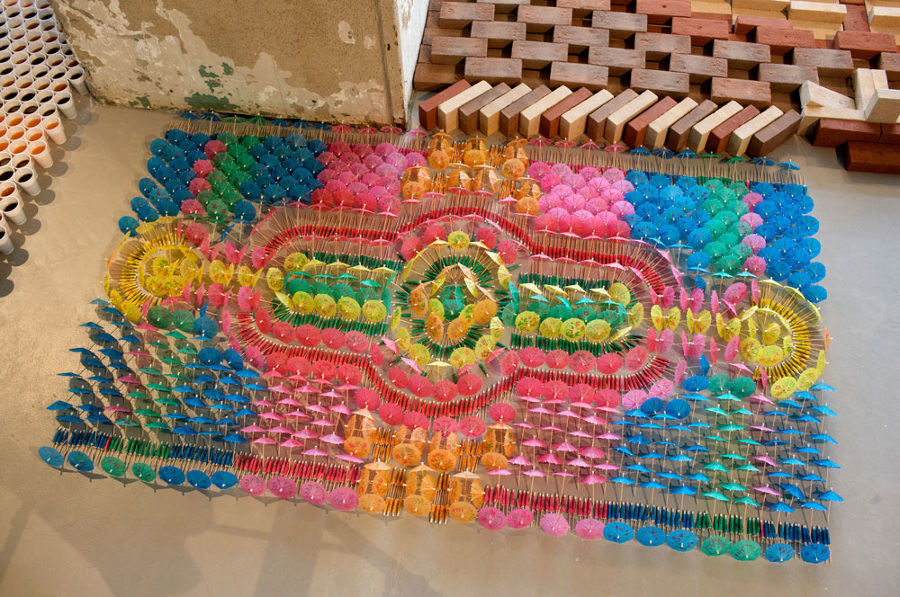 The three Dutch artists work in perfect synergy together, much like their carpets. A typical day in the studio looks like this: "There is beer. Bob holds a soldering iron. Marcia and Stijn are bending iron wires … There is no design. The material, location and size are set but other than that they work intuitively. Anyone can begin. In the centre. Follow long days on their knees or in other uncomfortable positions. Often till deep at night. It's a bit like meditating. We work in unity, always with the three of us, hardly taking any breaks."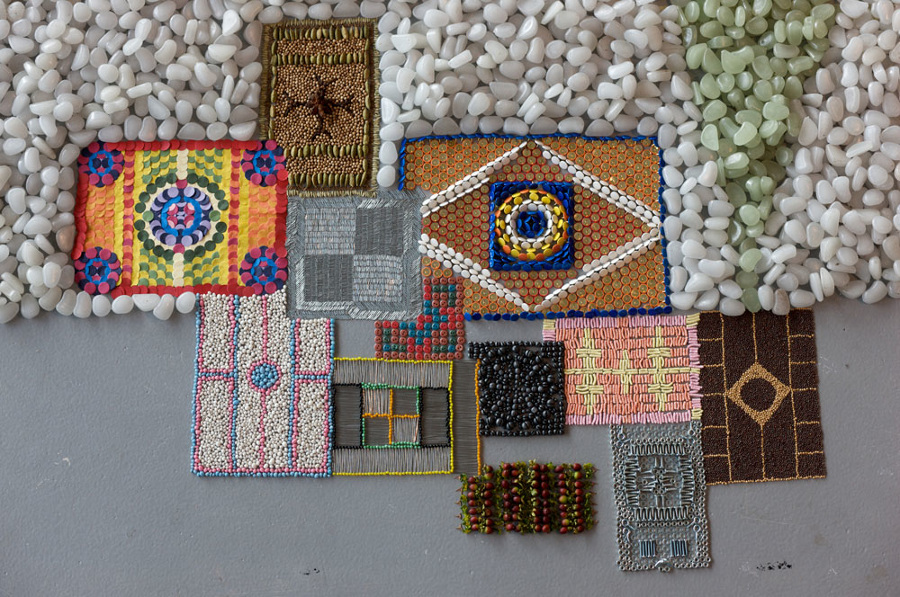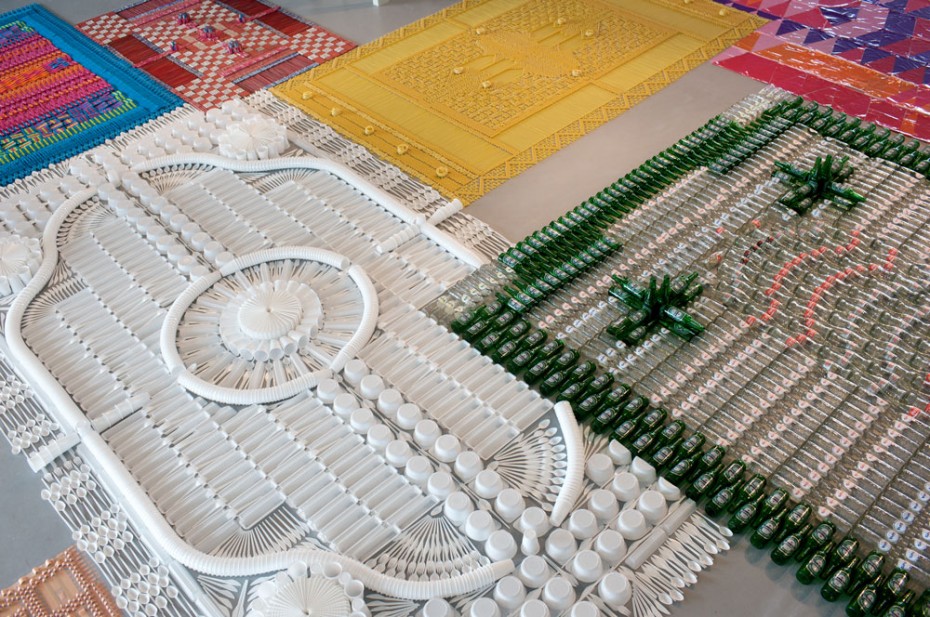 To We Make Carpets, what we might consider everyday "junk", they celebrate. 'We want people to take a fresh look at those products. We want them to become aware of their beauty. You don't buy a paperclip because it's beautiful, but it is.'.
Check out some of their most impressive designs…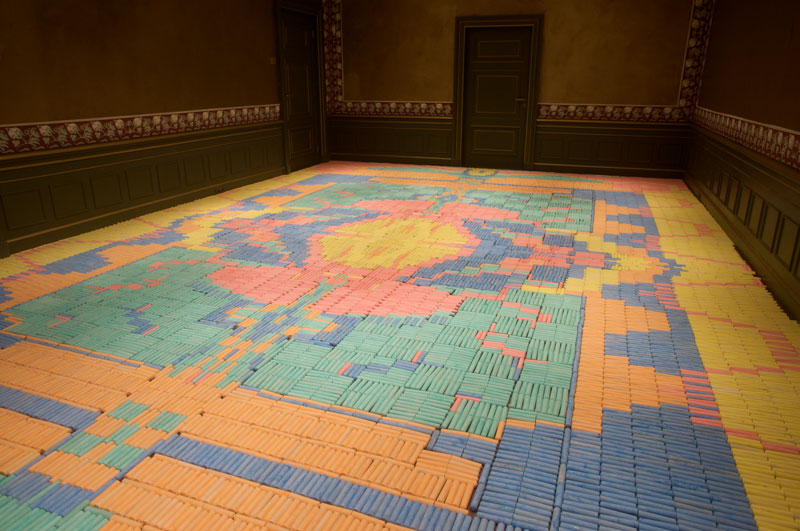 Crayon Carpet, built from 16.000 coloured crayons and covered 40 square meters.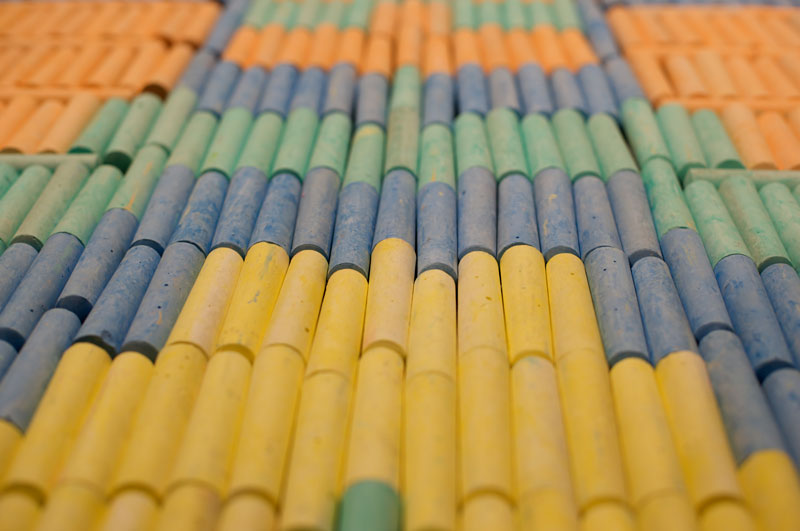 Fork carpet. (Number of forks: lost count).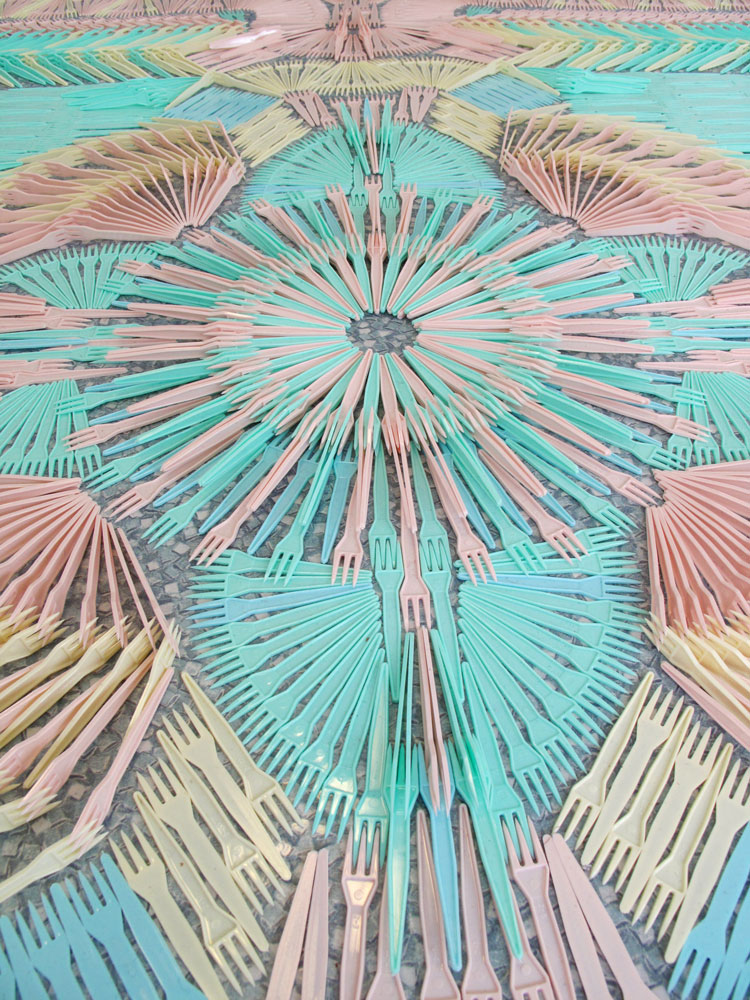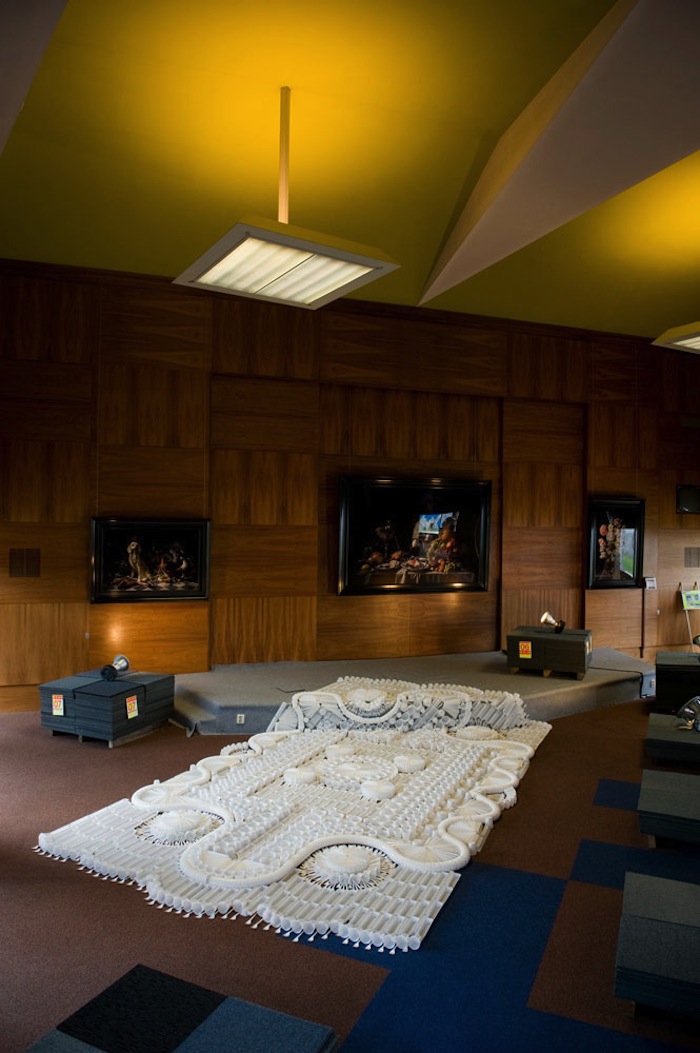 Disposable Carpet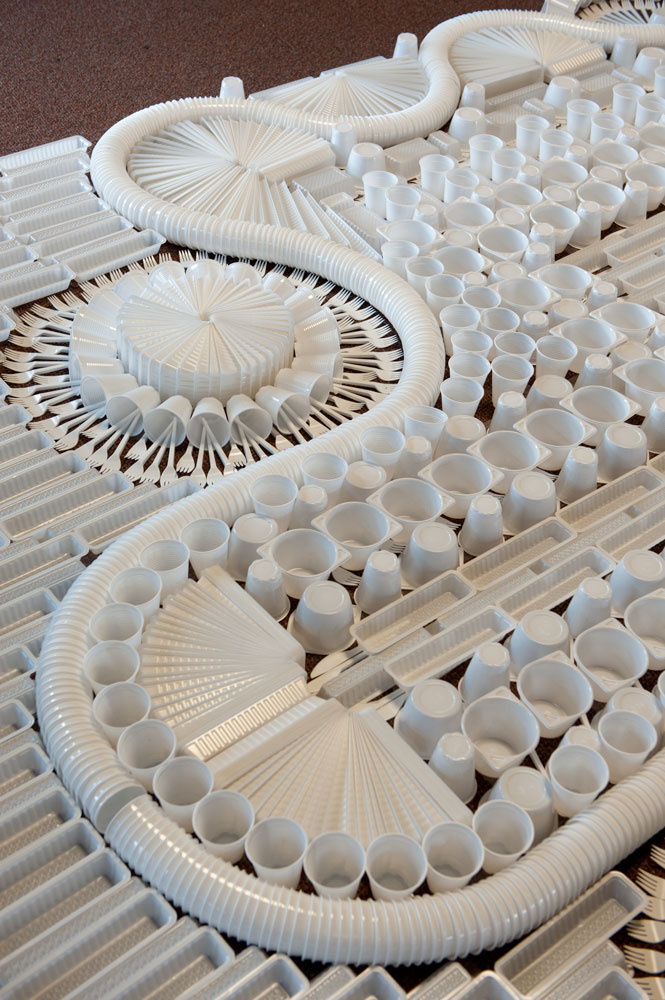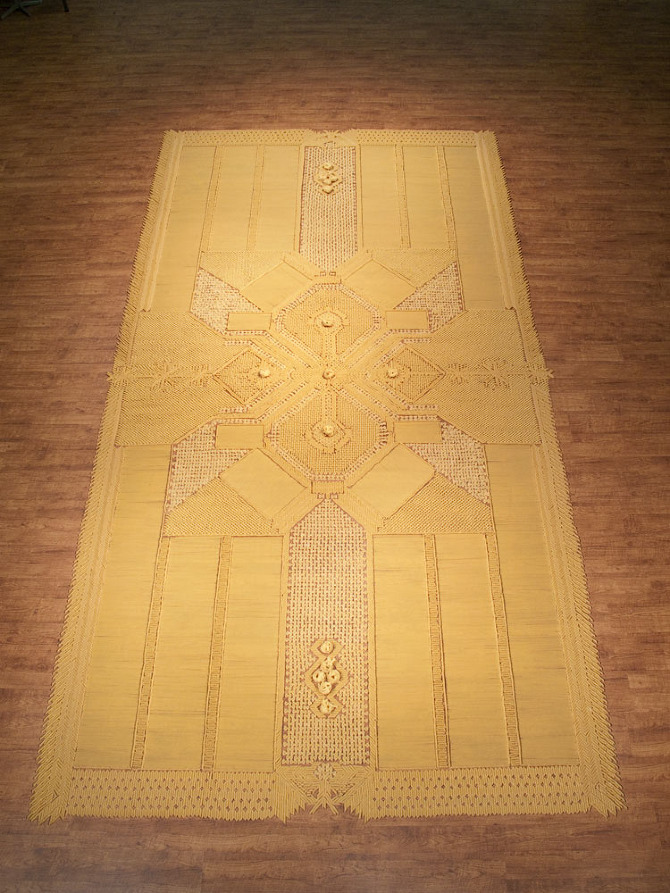 Pasta carpet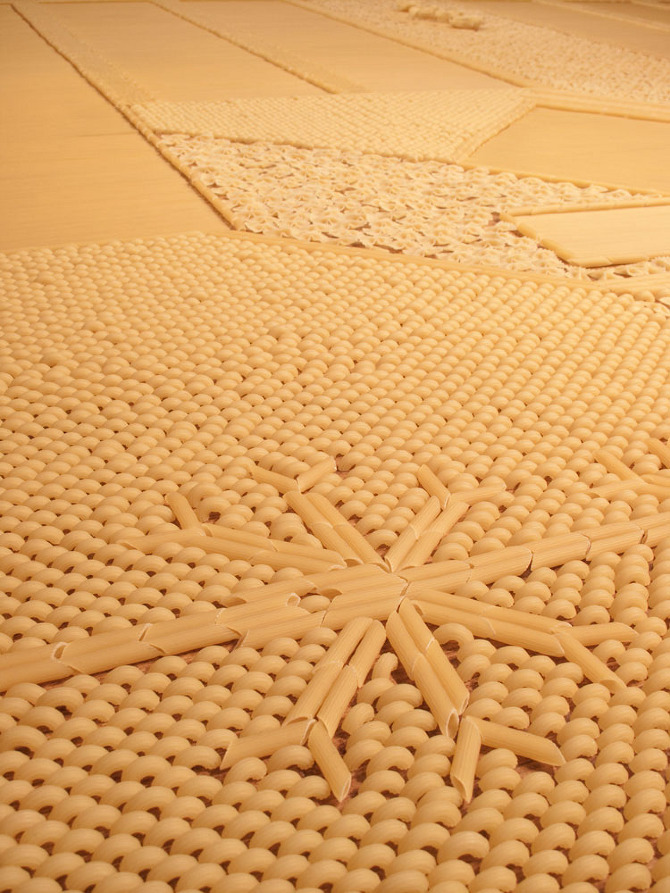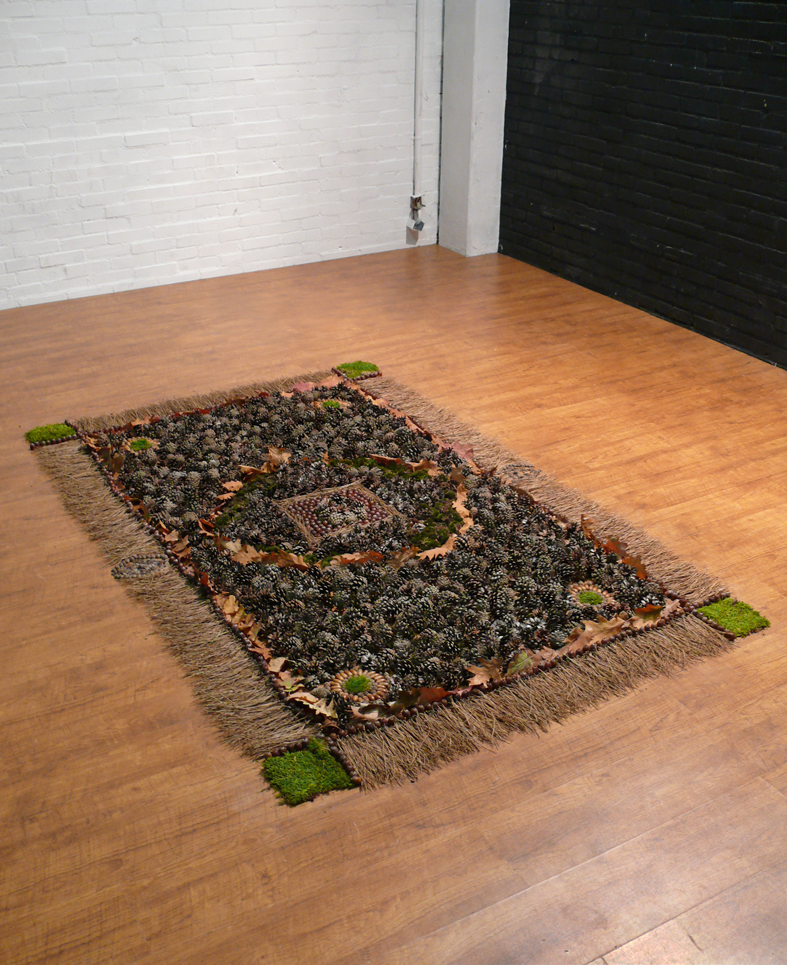 The trio made their first carpet in 2009. They were collaborating in the 'Instant Nature' exhibition during that year's Dutch Design Week. In the forest they collected pine cones and needles. These became Forest Carpet. The shape appealed to them and they developed their collaboration making six more carpets. 'There never was a preconceived plan, like "from now on the three of us will make carpets". It just happened. At the same time we had the feeling it might lead somewhere.'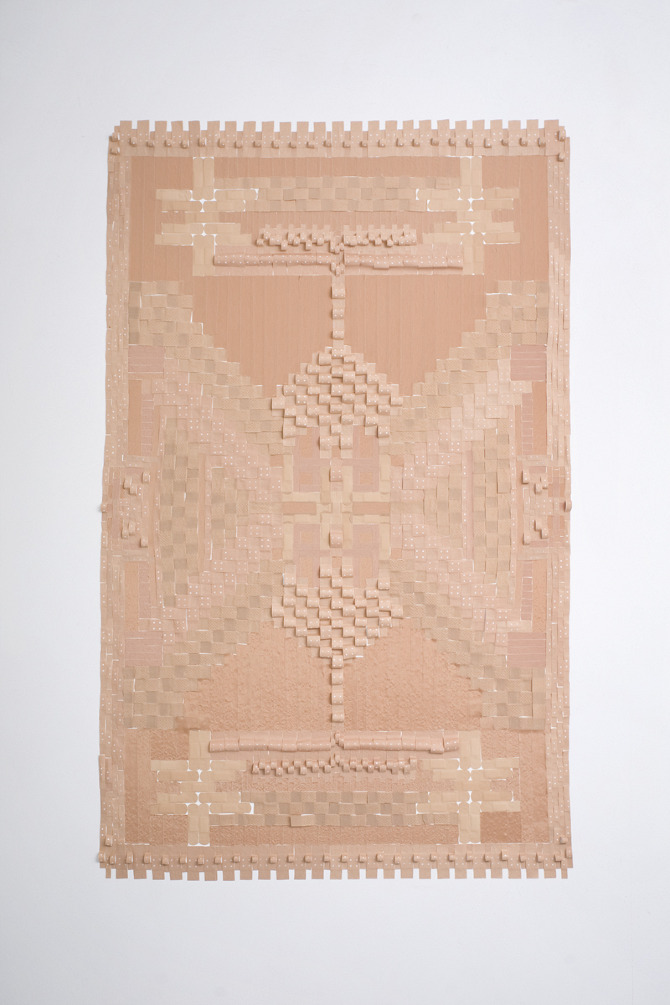 Band-aid carpet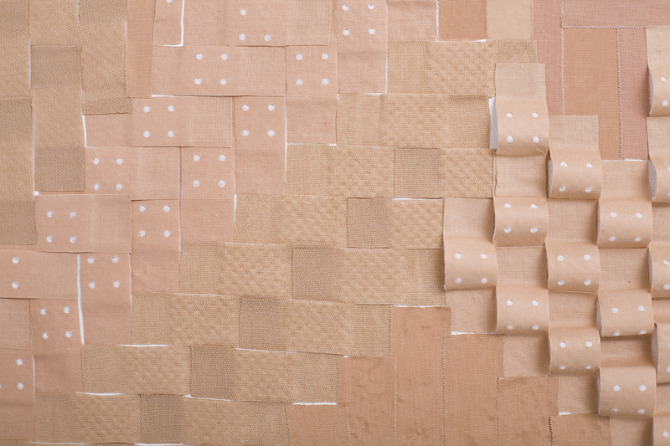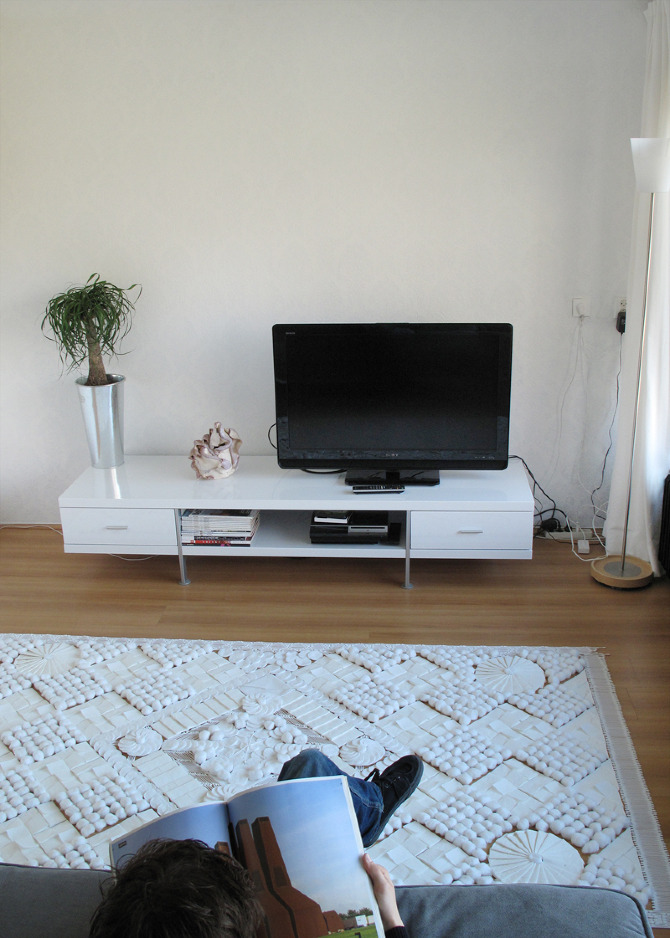 Clean carpet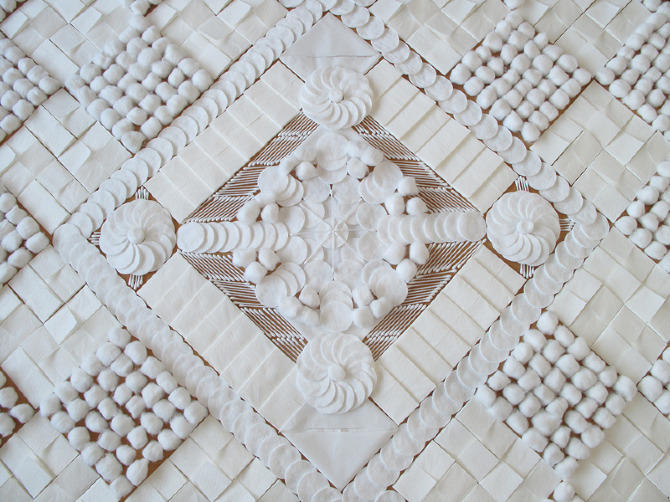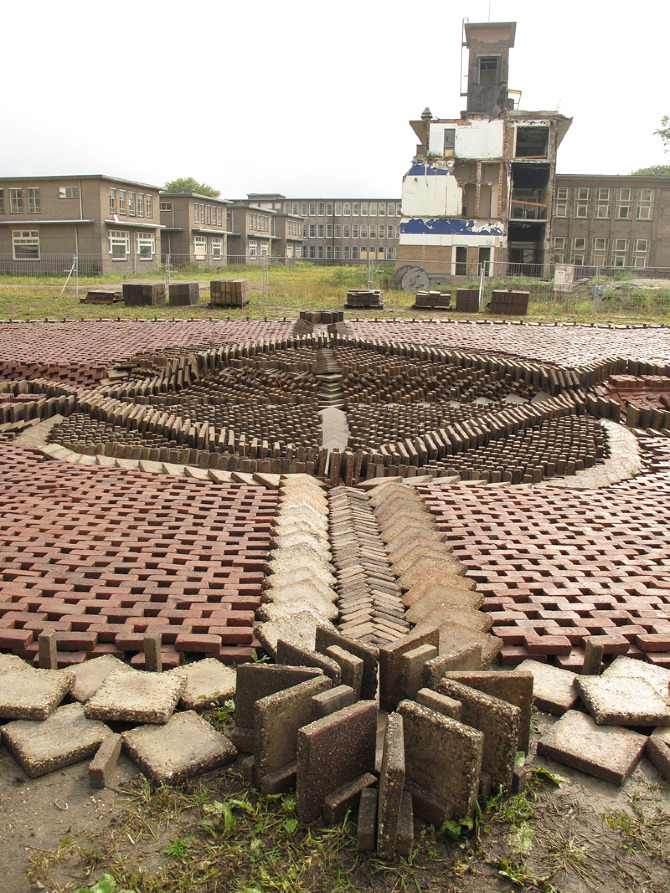 Brick Carpet was the collective's first paid assignment. It was a large outdoor piece of twenty by thirty meters.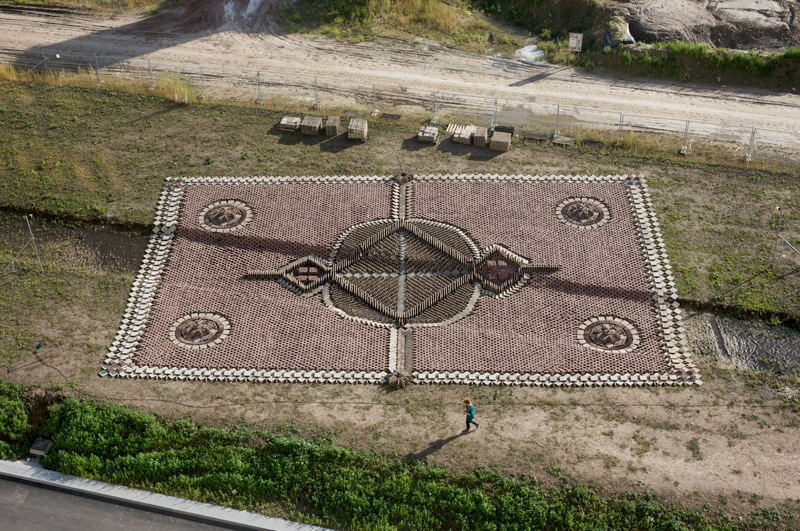 Two lorries full of bricks arrived. 'Watching them dump their load was awesome.' But the six days of sorting and laying that followed, gave Marcia a severe case of tendonitis. 'My wrists were squeaking. Literally.'
Now, I'm off to see what I can make out of my toothpicks.
Discover the magical world of We Make Carpets. And although you might not be able to have one of their fascinating creations at your feet, you can ogle at all of them in their book, yours to have on your coffee table here.