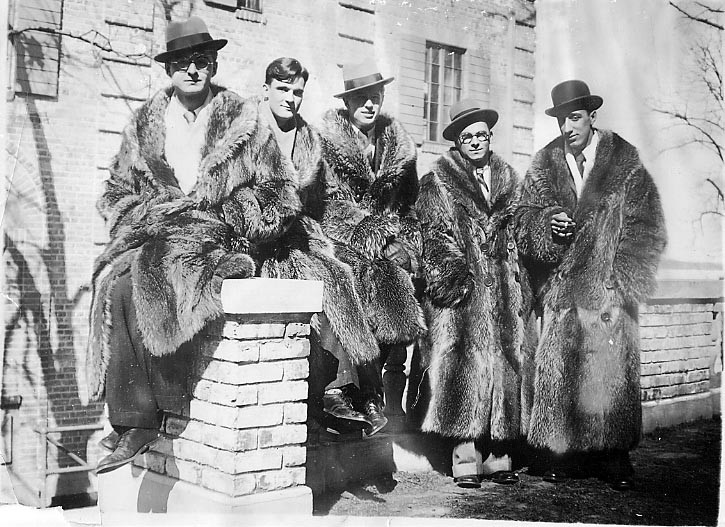 Man has worn fur since he was living in a cave, but there's something about this photograph and the fresh-faced young men, all "pimped-out" in full-length fur that stopped me in my tracks. I had stumbled upon a snapshot of a moment in fashion history when American Ivy league-ers and young college undergrads began sporting heavy, full-length raccoon coats, which set the trend in 1920s & 30s men's fashion and sparked a voracious demand for the extravagant garment across the country. If a man could afford a fur coat, he had one; bankers, salesmen and students alike used the style to signify or improve their social status.
And if you were a Ivy League undergrad in the 1920s with a reputation to keep, you wouldn't have been seen at the homecoming game without one…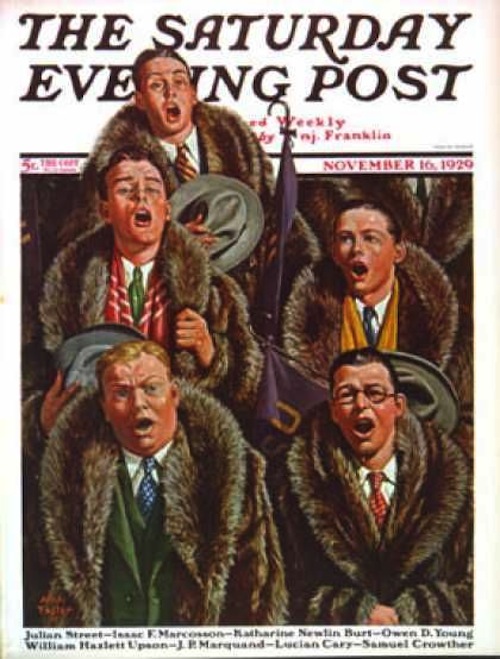 The trend allegedly emerged as a result of Davy Crockett mania and popular interest by an elite group of young white Americans in his stories. It spread even further by popular big band music jazz musicians embraced by the students who sang about the Ivy-league fur fad. In 1928, George Olsen released a recording highlighting the trend called "Doin' the Raccoon". The lyrics went…
College men, knowledge men,
Do a dance called raccoon;
It's the craze, nowadays,
And it will get you soon.
Buy a coat and try it,
I'll bet you'll be a riot,
It's a wow, learn to do it right now!

Oh, they wear 'em down at Princeton,
And they share 'em up at Yale,
They eat in them at Harvard,
But they sleep in them in jail!

From every college campus comes the cheer: oy-yoy!
The season for the raccoon coat is here, my boy!
Shortly after the song became a hit, The Saturday Evening Post featured a cover illustration of several college men wearing raccoon coats (pictured above),often accompanied by boater hats, and overnight the coat became a symbol of the Jazz Age as a cliché of collegiate enthusiasm.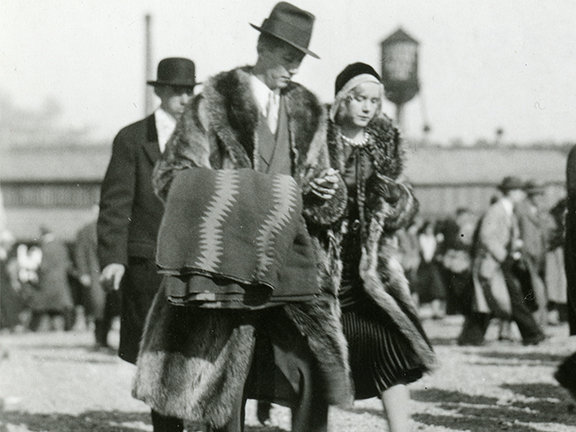 This photograph was published in the Michigan Daily in 1930 for an article entitled, "What they're Wearing on Campus". The fur-clad couple is on their way to the 1930 homecoming game against Illinois. It's hard to imagine sporting this pitch-side in the stands today, but raccoon coats were once regularly spotted wardrobe staples at football games. It was an era of football haute couture, representing a flamboyant and carefree culture, liberating itself from the dress of prior generations which reigned on university campuses across the country during the Jazz Age.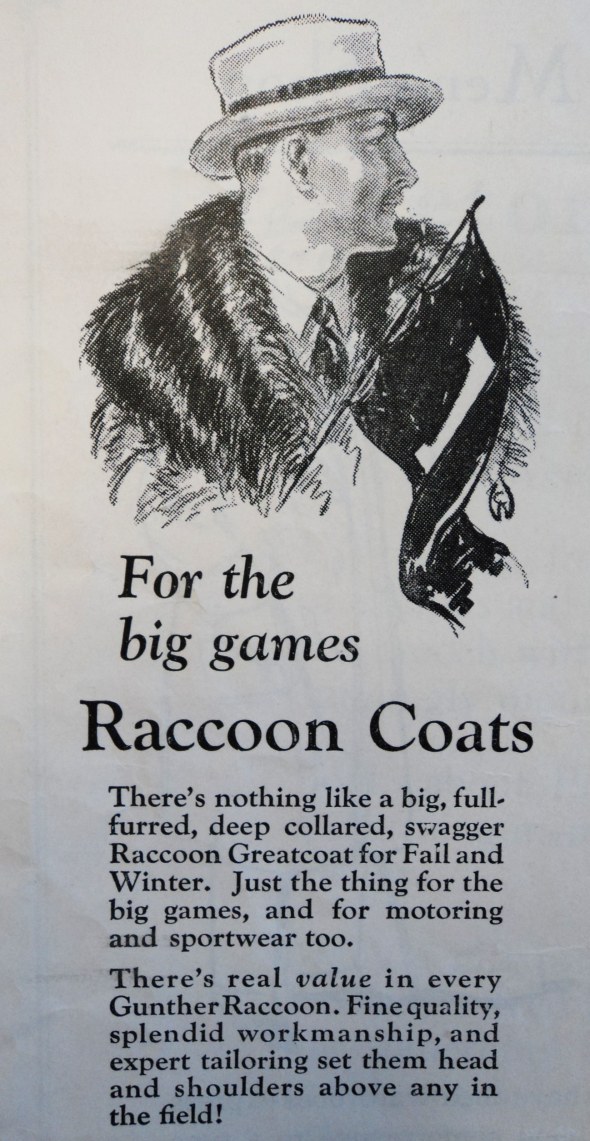 In 1935, the leading men's fashion magazine Men's Wear reported: "The raccoon coat is back in fashion. More were seen at the climax football games in the East this season than at any time in the past ten years. The best style, worn by undergraduates and alumni alike, is very dark in color, has a shawl collar and usually hefty leather buttons".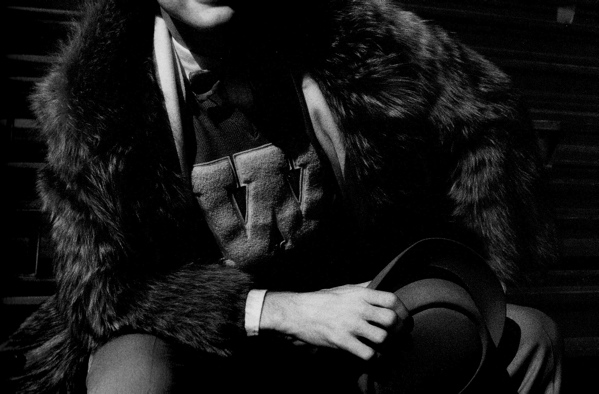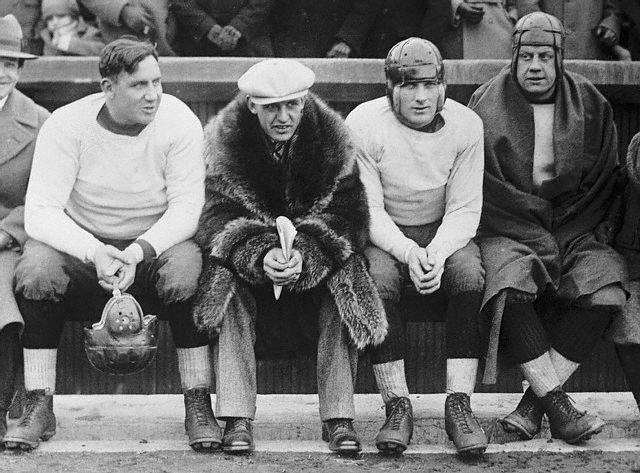 University of Illinois football star Red Grange (pictured above) and radio crooner Rudy Vallee blazed the fashion trail, sporting a wide-collared, ankle-length raccoon coats, particularly influencing young male jazz enthusiasts who championed the college trend and eventually earned the nickname "collegiates" for themselves, whether they attended a college or not.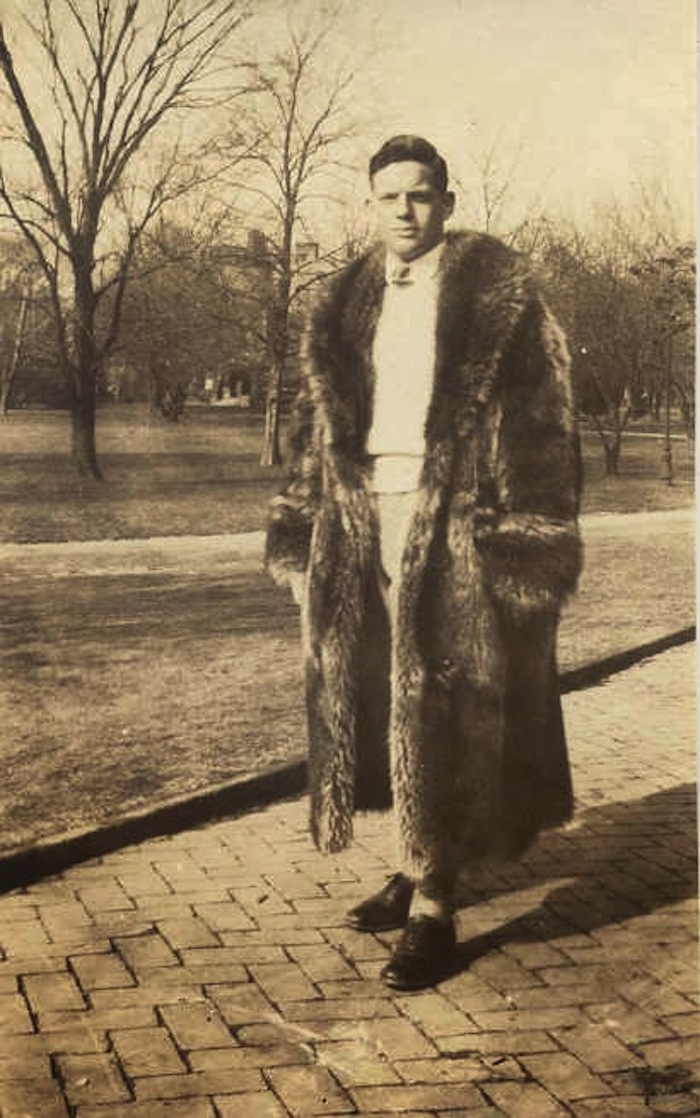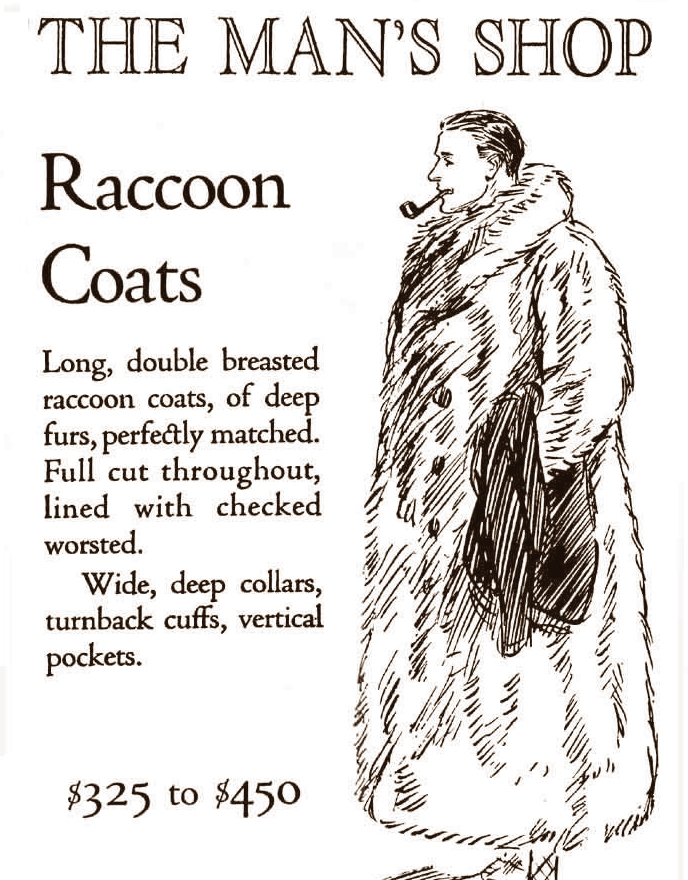 An advertisement from 1921 which advertises fur coats for $325 to $450, equivalent to a starting price of around $4,000, reflecting a period of unprecedented prosperity and indulgence, even amongst youth culture.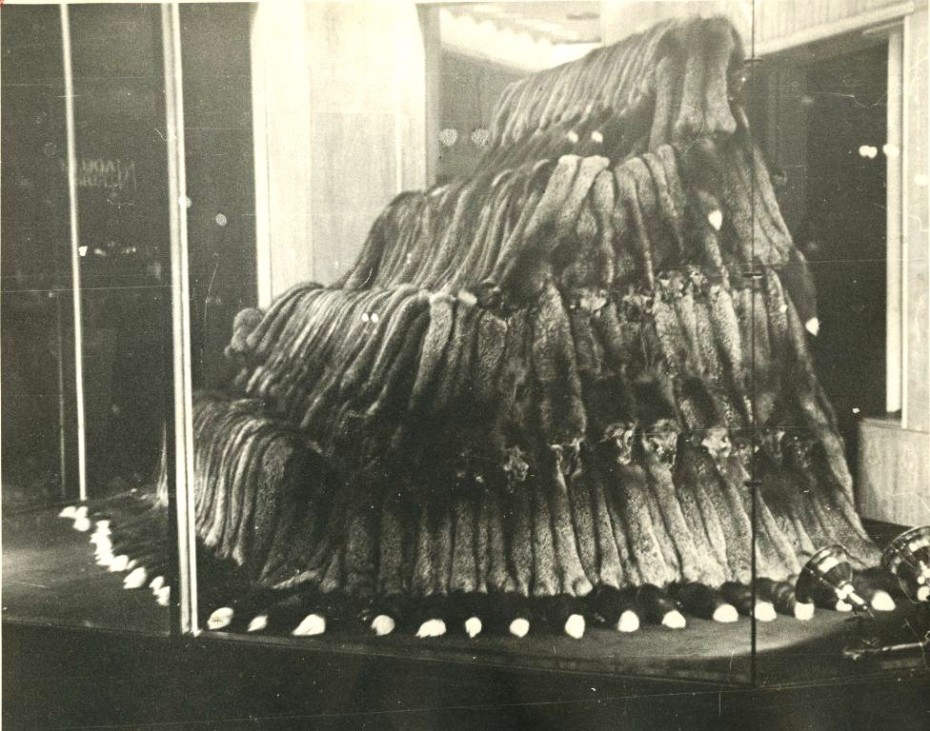 When the Great Depression hit however, the fur fad quickly disappear, only to re-emerge briefly decades later after the war in the 1950s. They story goes that it all started up again at a party in a Greenwich Village smoke-filled apartment. Chatting away with her party guests, socialite Sue Salzman was lamenting her loss at a chance to buy a beautiful second-hand raccoon coat on a whim, which had been snapped up by another customer. She was approached by a guest who overheard the conversation and offered to put her in contact with his relatives who just so happened to own a warehouse full of old raccoon coats leftover from the craze of the Jazz Age. To celebrate the good news, Sue Salzman and her husband declared they would not just buy coats for themselves but for everyone at their party.
The Salzmans and their friends received endless compliments and inquiries about the coats and decided to get into the business of selling the coats themselves.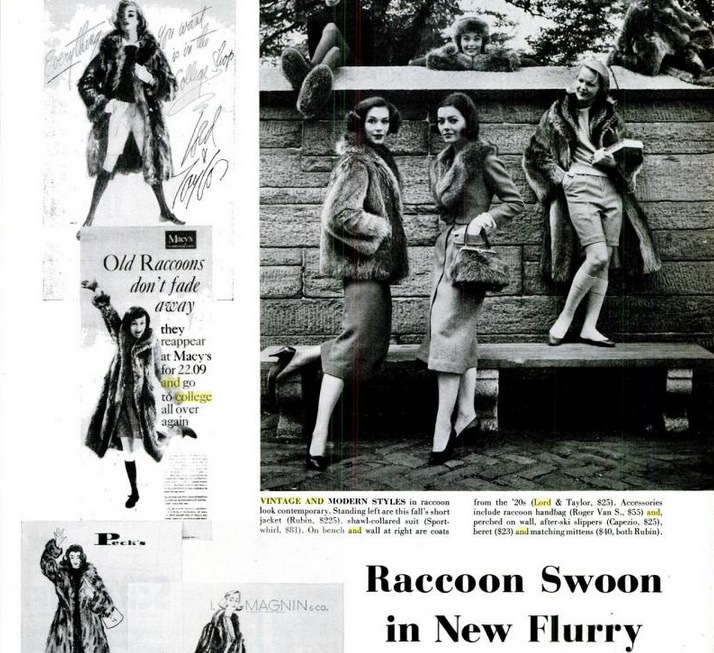 Glamour magazine featured their furs and in turn, the heavyweight collegiate style department store, Lord and Taylor took notice.
Mr. Salzman was quoted at the time admitting, "anything that Lord and Taylor does in college fashions is copied."
And the trend was re-born.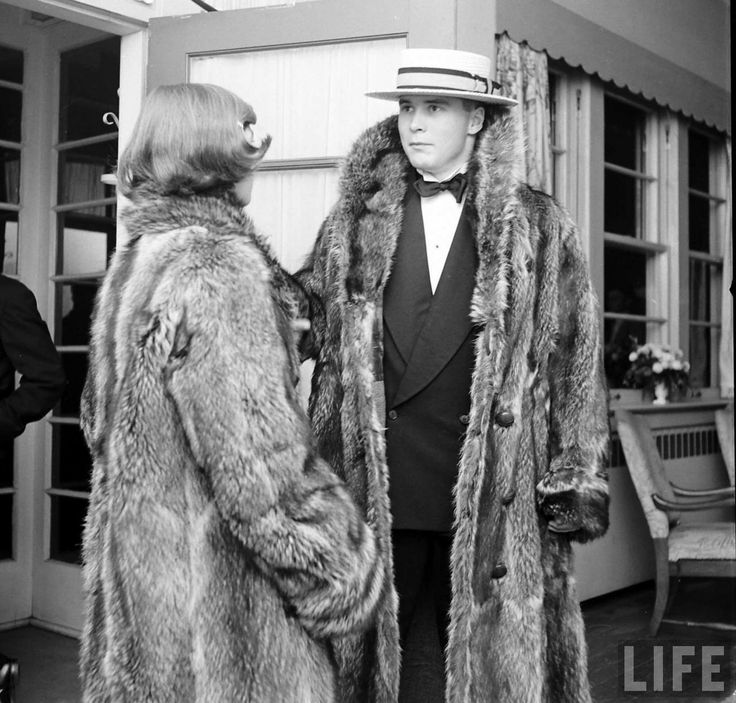 So the next-time you spot a full-length raccoon fur coat hanging in a vintage store window, give a thought to the early 20th century college kids who proudly wore them to cheer on their fellow students at football games. Who would have thought?!
Photos and info via Ivy Style