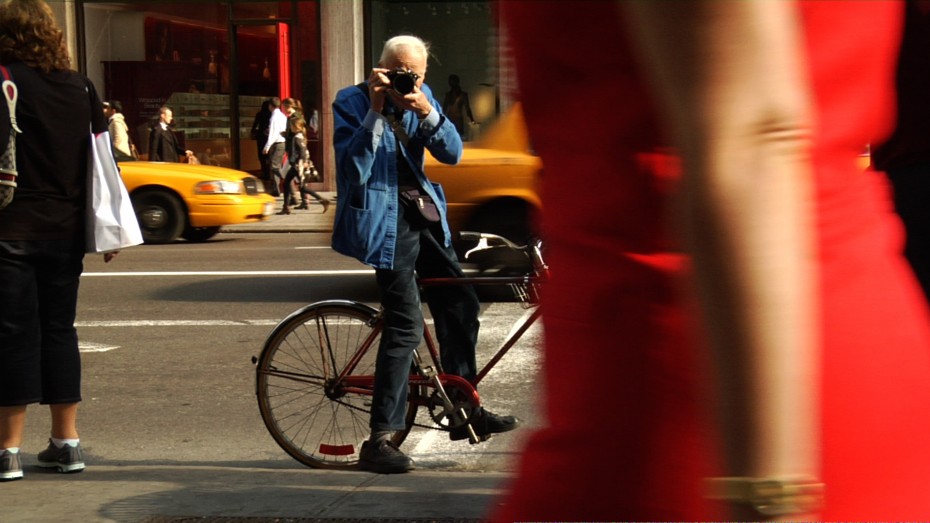 "Who the hell is that tourist in the blue jacket with the fancy camera?" I wondered. It was my first Fashion Week experience: I was shadowing photographer Eddie Newton, holding up a reflector as he shot passing fashionistas outside of the Chloé show. While the hoards were running left to capture Anna Wintour, then right to catch Kanye West, I couldn't take my eyes off this one little unassuming octogenarian among the Prada coats and Gucci bags, grinning like it was his birthday. He noticed my curious stare and nodded hello. "Damn," I thought, "this guy must have come to see the Louvre and stumbled upon celebrities. I bet he thinks he hit the jackpot."
I actually slapped myself on the forehead when I figured out who it was.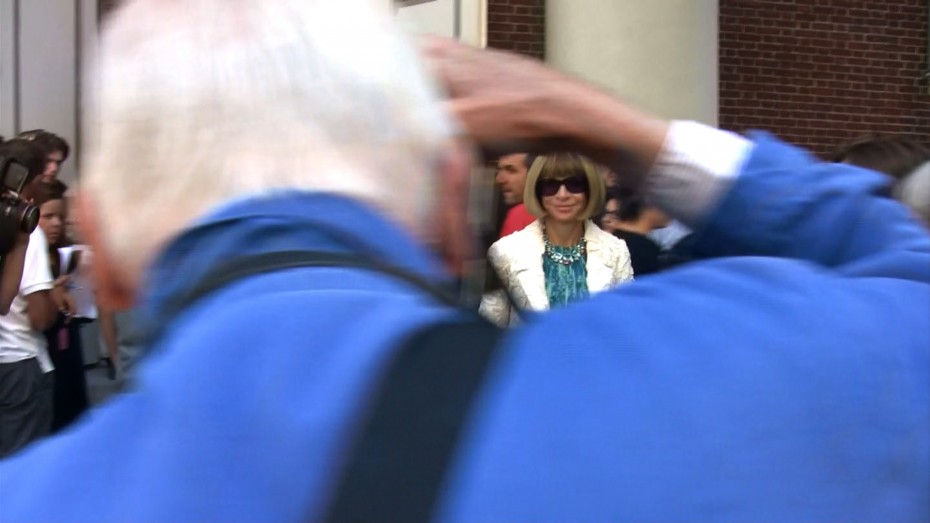 Bill Cunningham: the man that singlehandedly turned people-watching into a profession. His weekly column of street style photographs for the New York Times, On The Street, has been running since 1978. Anna Wintour even admitted, "we all dress for Bill."
But Bill wasn't a photographer until he was well into his thirties, when illustrator Antonio Lopez gave him his first camera. So what was he doing before?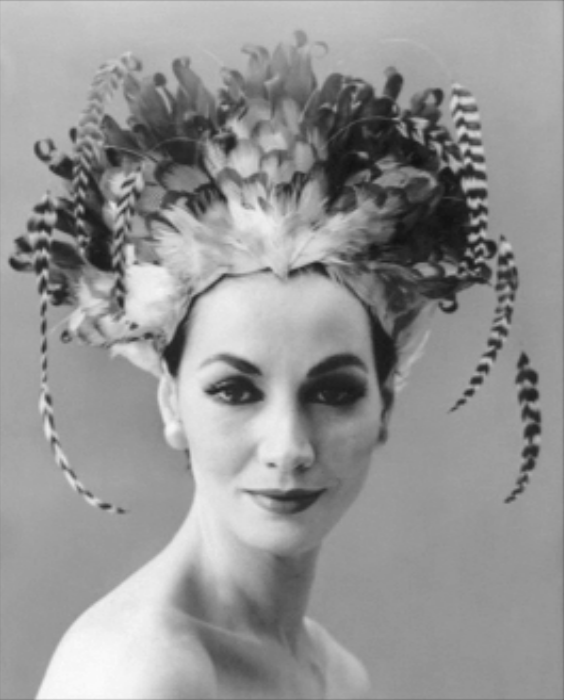 "I came to New York in 1948 at 19, after one term at Harvard. Well, Harvard wasn't for me at all. I lived first with my aunt and uncle. I was working at Bonwit's in the advertising department. Advertising was also my uncle's profession. That's why my family allowed me to come here and encouraged me to go into the business. I think they were worried I was becoming too interested in women's dresses. But it's been my hobby all my life. I could never concentrate on Sunday church services because I'd be concentrating on women's hats."
– Excerpt from The New York Times' article Bill on Bill
(Re) introducing … William J., the avant-garde hat designer who would one day become the father of street fashion photography.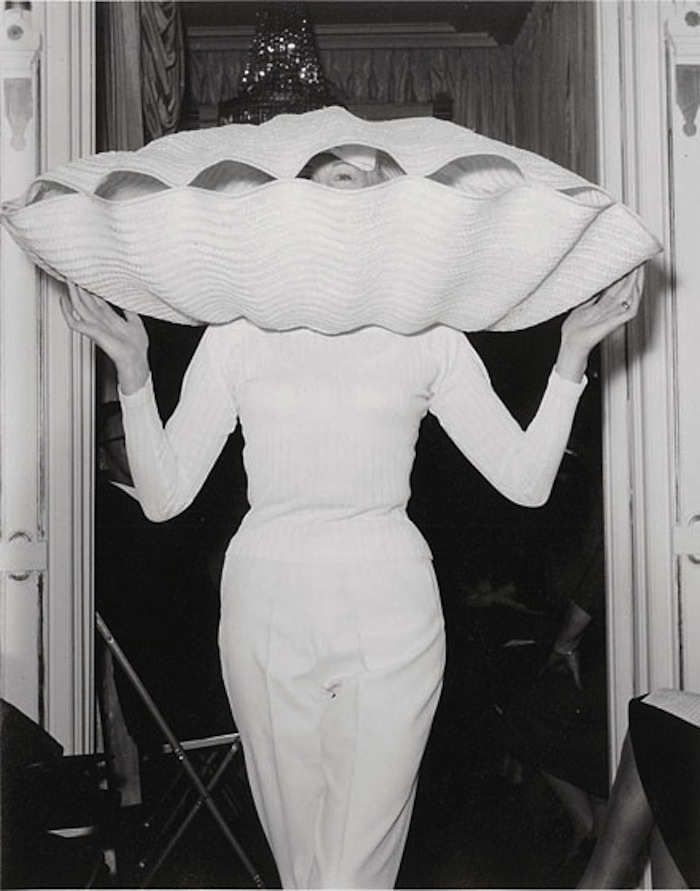 He set up shop (and lived) at 52nd street, between Madison and Park. He held his first fashion show in the back garden. It wasn't long before women of high society were queuing up for his fabulous creations. Marilyn Monroe, Mrs. Astor and Errol Flynn's girlfriend.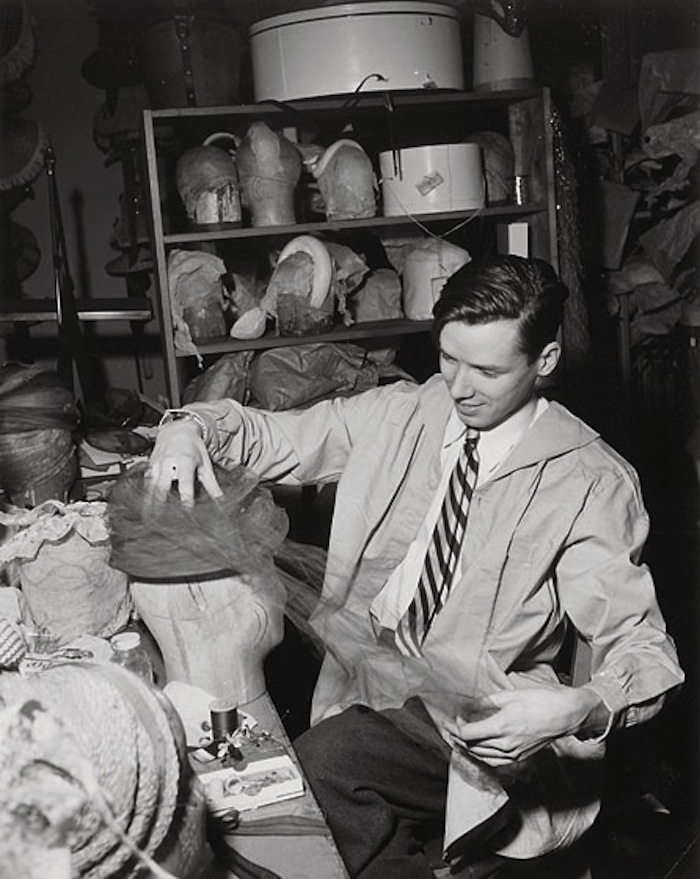 Despite his impressive clientele, Bill still worked two other jobs in the food industry to make ends meet. "Everything I did was a little too exotic – you know, for normal people." (Bill Cunningham: A Rare Bird's Feathers)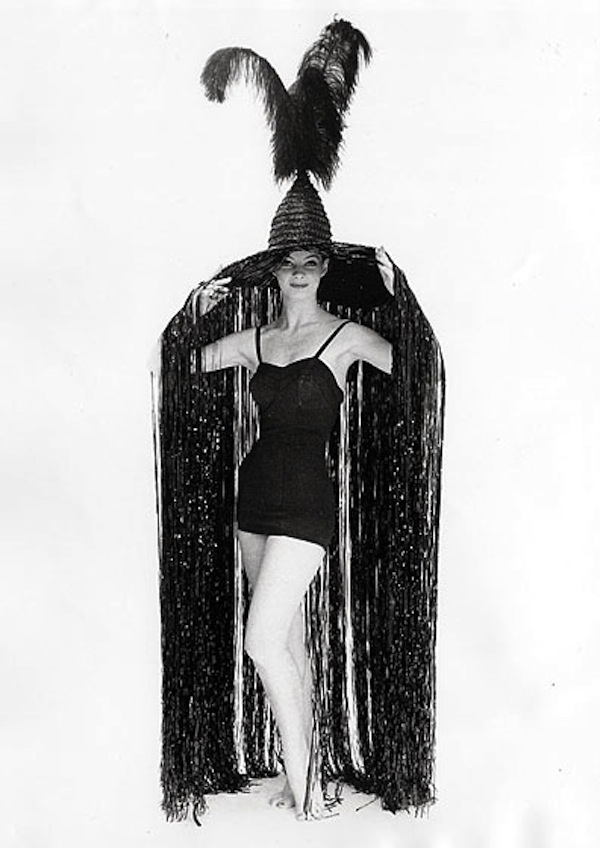 "I remember he had this hat in the window with fringe hanging from the brim to the ground. It was a bathing suit hat, and you were supposed to change your clothes behind the fringe. I called up Sally Kirkland, who was the fashion editor at Life, and I said, "You've got to see this!" She put it in Life. Bill was an absolute innovator right from the get-go. His hats were the grand opera of all time."
– Joe Eula, The Picture Subjects Talk Back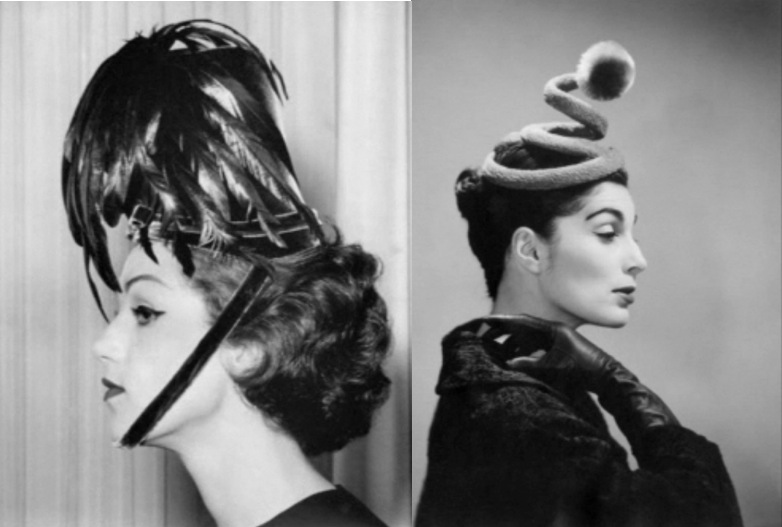 How much fun would it have been to hang out with this wild child back in the day? According to this 1956 New York Times review, William J.'s midnight fashion show turned into a block-party as an "overflow" of friends and curious passers-by, attracted by the "gold-spangled red carpet leading up the brownstone steps," crowded his "railroad-flat salon" that had been turned into "a sylvan dell hung with greenery." Neighbors hung out the windows, drinking beer and commenting on the guests' attire.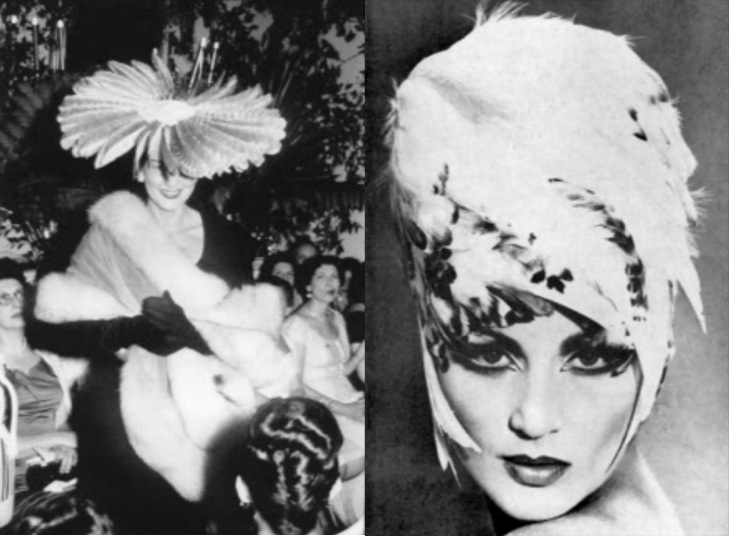 Even the military couldn't deter Bill from his millinery pursuits. Drafted during the Korean war, he worked in a "dress house" in Paris during his spare time until he returned to NYC re-open his hat shop. Eventually Bill became the full-time street photographer that we know and love today, living with passion and avoiding what he calls "the traps of the rich." He doesn't wear luxury fashion items, he prefers to live in a tiny apartment filled to the ceiling with negatives and he ripped up his first check from Details magazine, refusing to do what he loved for money. His hats, however, had a much flashier fate. Twenty-three of them were sold in 2012 for $20,000 in ten minutes to an anonymous buyer and donated them to the Metropolitan Museum of Art.
Find out more about the fascinating Mr. Cunningham with the wonderful documentary Bill Cunningham New York.
Rest in peace Mr. Cunningham, a man of many talents.
About this contributor
: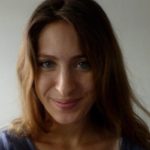 Rozena Crossman moved to Paris on a whim two-and-a-half years ago. Bilingual assistant by day and adventurer by night, she is relentlessly improving her linguistics in both English and French at the Graduate School of Life.

You can connect with Rozena via her Twitter / Instagram / LinkedIn profiles.